Lackluster JAL Hawaii Business Class and what a Little Rain can do to Kona!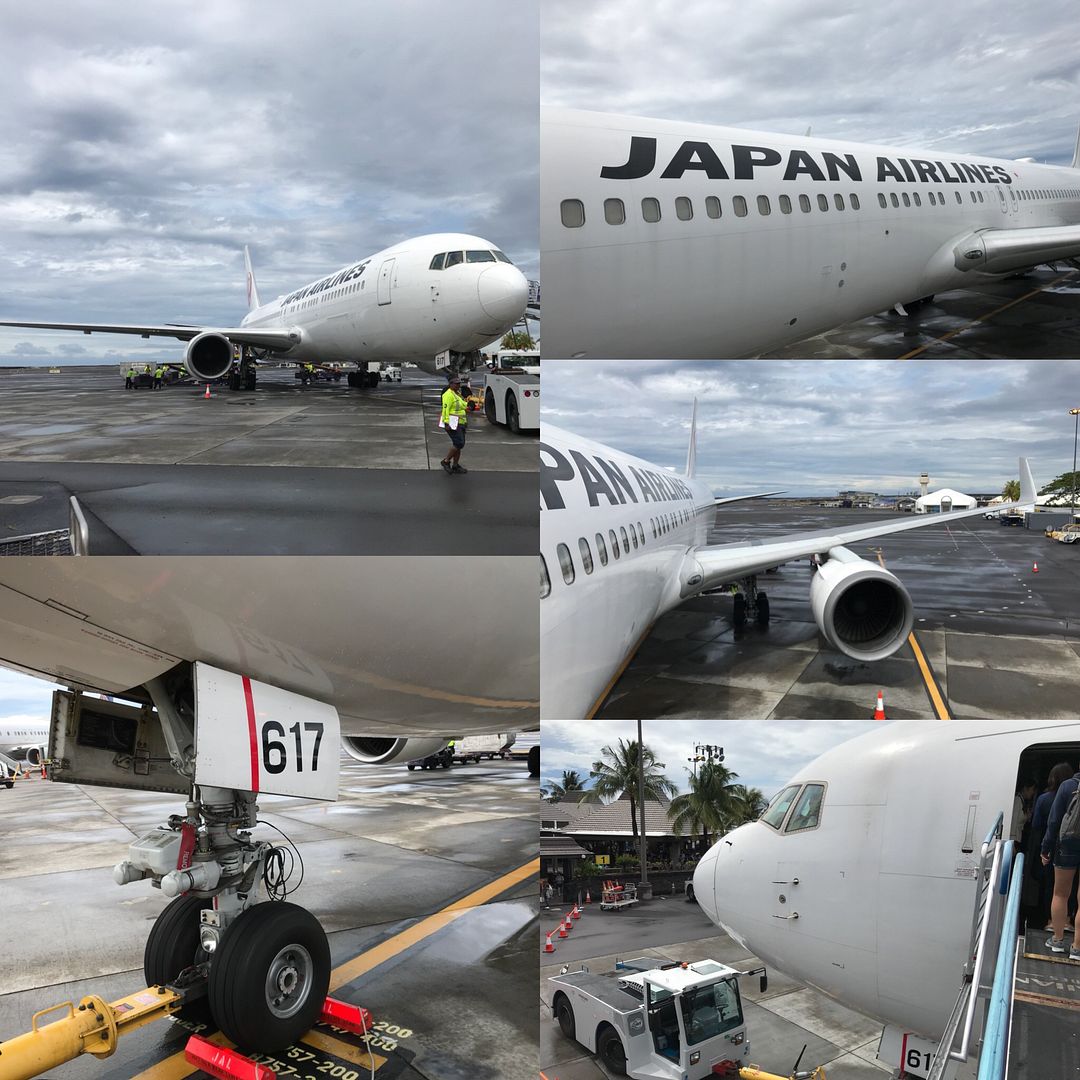 Japan Airlines' service never disappoints, and their flight attendants represent some of the best in the industry. However, its regional service to short haul Asian destinations, like China, Taiwan, and Hong Kong, feature really weak catering and the lack of cabin crews really make the service suffer, despite its large business class cabin. Unfortunately, its Hawaiian service is considered regional. While the two-course main meal service and nearly non-existent pre-arrival snack service might work for the short overnight flights to Hawaii, the same service does not work in the return daytime flight. Serving half a sandwich as a pre-arrival snack at 7pn Hawaiian time, is an insult, and I expect a heartier meal. Kona, as a new destination, also has an airport that is really not designed to handle international flights, and the open-air structure becomes a hindrance when it is raining. Plus, Japan Airlines has some strange rules in Kona, including opening check in just two hours prior to departure, and there is no lounge service for business class passengers. The overall service plus the troubles caused by rain and the breakdown of the Hawaiian Airlines' check in system created addition havoc to an already unpleasant ground experience. I want to reiterate that Japan Airlines' ground team did a relatively good job given the situation but at the same time, there are some inherent problems with JAL's ground operation at Kona and its Hawaiian service is pretty lackluster to begin with.
Photo link:
http://s1213.photobucket.com/user/Carfi ... ctober2017
October 24, 2017
JL 779 KOA-NRT Lv1205 Arr1600+1 Boeing 767-300ER Winglet JA617J
Prelude:
This is the return segment of my ticket attending the inaugural flight a month ago, when Japan Airlines returned to Kona. I wanted to fly back from Honolulu but the price immediately increases to a really high level. There is really little flexibility, so I decided to fly into Maui the night before, as it is only one of the few airports that have a decent airport hotel. Surprisingly, Honolulu has no decent airport hotel and I stayed at the Best Western and the Airport Honolulu Hotel before, which were pretty bad and expensive. Of course, that proved to be a poor situation.
It was raining in most parts of Hawaii when I arrived in the late afternoon. It was nothing crazy, and by the time I landed in Maui, the rain had briefly stopped. The rain continued throughout the night, and when I woke up at 4am the next morning, I realized that the power has gone off in the Island. I thought it would just be a short power outage because the rain wasn't bad. It was not light rain, but nothing torrential. When I was ready an hour later, the power was still off. Thankfully the hotel only had three stories, and I walked down to the lobby. I was told that there were some thunderstorm activities near midnight and they eventually killed the power around 3am. The power was off in the whole Island. The lobby receptionist offered me a shuttle ride to the airport, and gave me his cell phone number to call if power continued to be off and the airport remained closed. Standing in a dark airport was an interesting experience, but thankfully, the power came back on shortly after. It was clear that Hawaiian Airlines was no longer a viable option and I immediately found out that Mokulele Airlines, a regional airline using Cessna Caravan, has a flight from Maui to Kona nonstop. Since they flew these small planes, there was no TSA check, which was a plus today.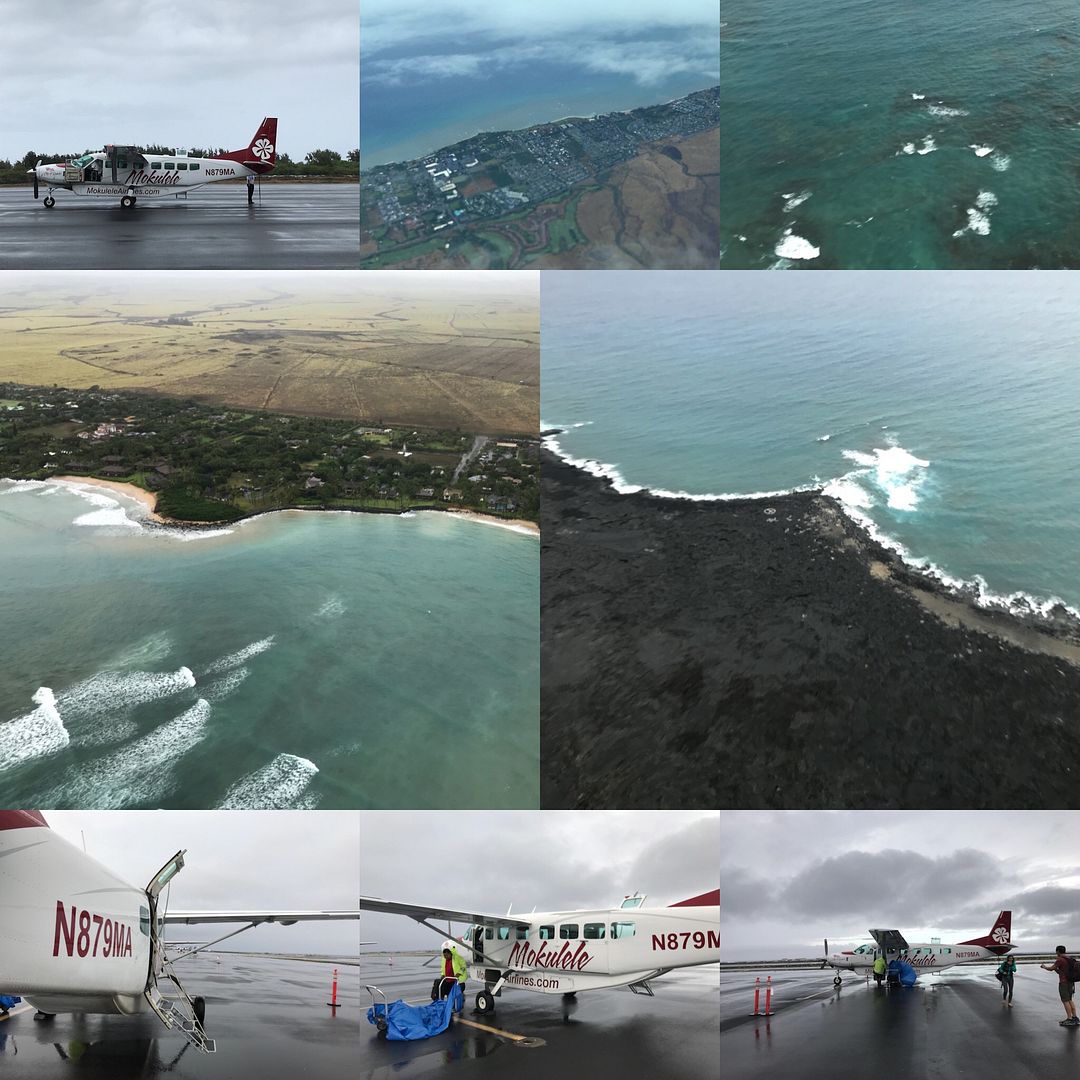 I ended up arriving Kona earlier than expected, but the walk from the commuter terminal to the main terminal under the rain was not fun. I was relieved that I would at least make it to my original flight.
Check-in:
As mentioned earlier, there was power outage at Maui and apparently some nearby smaller Islands. Apparently, that power outage also affected the check-in system of Hawaiian Airlines (and thankfully I called Hawaiian Airlines to cancel and refund my ticket before their system went down).
Nightmare queue at Hawaiian Airlines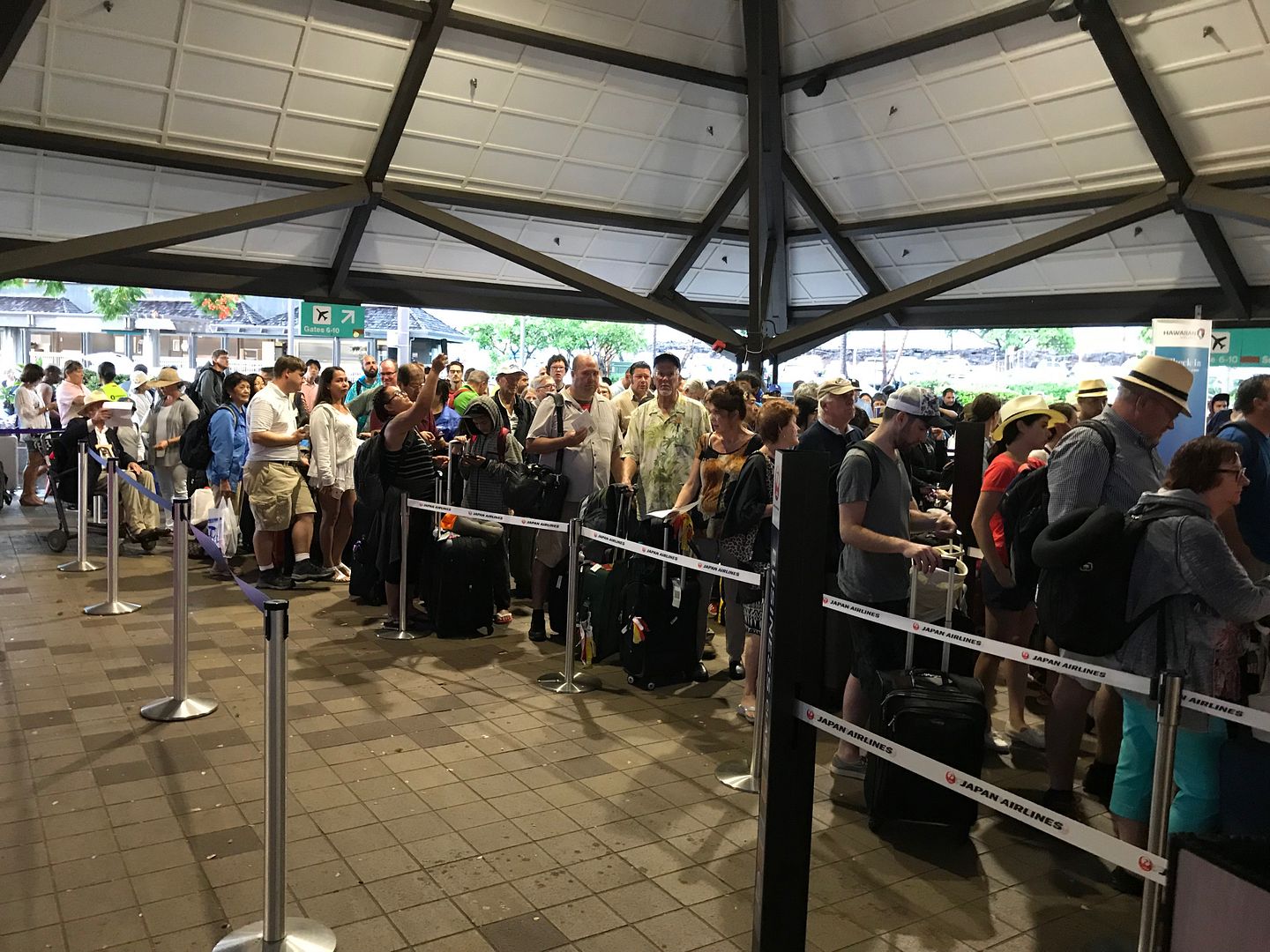 Kona International Airport is a cute regional airline with two small terminals. I notice some construction going on (and hopefully the new terminals will be fully enclosed). The check in area basically consists of a few "huts", and Hawaiian Airlines operates a major area for obvious reasons. However, its massive operation can no longer handle the huge amount of traffics without automation. With rain and the breakdown of the check-in system, the area was swarmed with people.
Not a fun scene
Japan Airlines also uses Hawaiian Airlines as its ground agent, and I presume JAL uses Hawaiian Airlines' check in system to print out boarding passes and check bags. Hawaiian Airlines basically allows JAL to use four counters for its daily 767 operations. Strangely, unlike other American destinations, Japan Airlines opened its Kona's check in only two hours prior to departure – 10am for the summer season.
I presume Japan Airlines knows that there is no lounge here at Kona, as well as insufficient eateries and stores, but the problem is that it is never communicated loudly to customers. I also bought my ticket directly from Japan Airlines and there is no notice warning me about the lack of facilities here in Kona.
Nonetheless I was thankful that I arrived early because it was clear that the situation was about to get worst. There were already a crowd arriving and the economy queue was already pretty long, and the covered area was having problem accommodating every passenger. Thankfully I located the priority line and yes there was even a separate queue for Emerald and JAL diamond members. There were a number of staffs trying to maintain some kind of order. One of the JAL staffs told me that check in would not open at 10am and I told him that I had nowhere to go. It was raining and that was why everyone was crammed into this uncomfortable hut filled with humidity.
At 10am, JAL staffs finally began to clear out the check in area, as many Hawaiian passengers were spilling into the JAL area. There were some full heated confrontations. But the check in was still not opened for the next 18 minutes. The staffs kept apologizing but no one was telling passengers about the truth. I just felt if they made an announcement that the outage of Hawaiian Airlines had unfortunately affected their check in system here at Kona too, passengers would be less irritated. Ultimately, we were not all waiting under a roof with air conditioning. Some passengers were holding their umbrella, as they were forced to stand outside. At 10:18am, we finally saw JAL staffs walking out from the back office and I finally realized why there were these major delays. All the office staffs were printing out boarding passes using the printer in the office. All the baggage tags would be hand-written and I was glad that I had a printed copy of my itinerary ready. I was among the first couple people being checked in, and it was basically a long process. The agents were flustered but I could not blame them.
When I asked about lounge, they told me that there was no lounge here. I was surprised that no meal voucher was passed out. Most airlines usually handed out a meal voucher to business class and elite passengers, if they could not find lounge facilities. It was really cheap of Japan Airlines, and for fare paying business class passengers, this was one of the major reasons for you not to fly out from Kona. IMHO, Kona's open-air structure makes a lounge for premium passengers a priority. I also noticed that there was a Hawaiian Airlines' lounge in terminal two and was curious on why Hawaiian Airlines would not let JAL just used a gate in that terminal. Hawaiian's own Tokyo flight departs around 3pm and is not even a daily operation. Hawaiian Airlines' lounge is nothing fancy but at least it is a covered place with air conditioning.
Since I was connecting to Taipei, the process took a bit longer. The Filipino couple in front of me scored a major victory, as they were trying to pay for excess baggage. The agent told them that it was their lucky day, and dealing with excess charges was the last thing they had time for.
About my boarding pass for my connection flight, the agent told me that the staffs at Narita would provide them upon my arrival. It was of course further the truth but at least my bag was tagged through to Taipei. There was no boarding time, as she told me that they could not even board the flight without checking in everyone.
Thankfully the rain briefly stopped after I finally completed check in. JAL, for some reason (capacity possibly), could not use terminal two, which Hawaiian Airlines used, and passengers had to take a short walk over terminal one.
There was only one queue opened but I was not in a hurry. The TSA agents were in pretty good mood given the rain and the long queue.
Terminal One – open air structure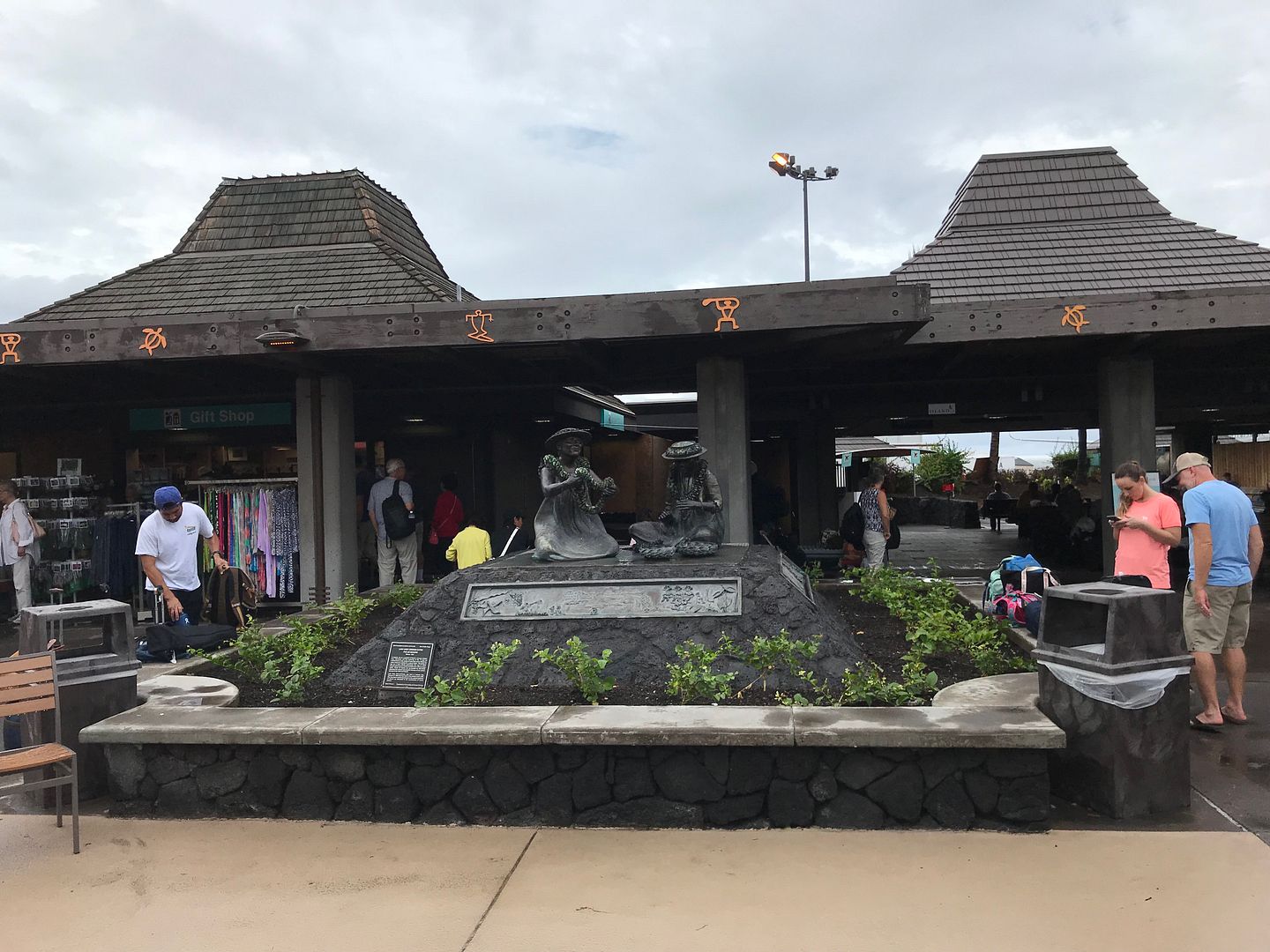 I immediately headed to the only restaurant/cafeteria in terminal one and got a bento, as I was so hungry as of that point. I also knew that the delay could be lengthy. I was so frustrated with the lack of seating area in the terminal and the open-air structure was just bad, given the rain situation. I was lucky to get a seat in an open-air area but still with a cover. There was a JAL staff walking around but it was just hard to gauge a takeoff time.
Gate 1 – one word of warning – there is absolutely no seating area for this particular gate. They have two benches of seats reserved for handicapped/special need passengers. Because of the special agricultural screening for Mainland bound passengers, nearby gates are also blocked off. It really made this raining situation even more unpleasant.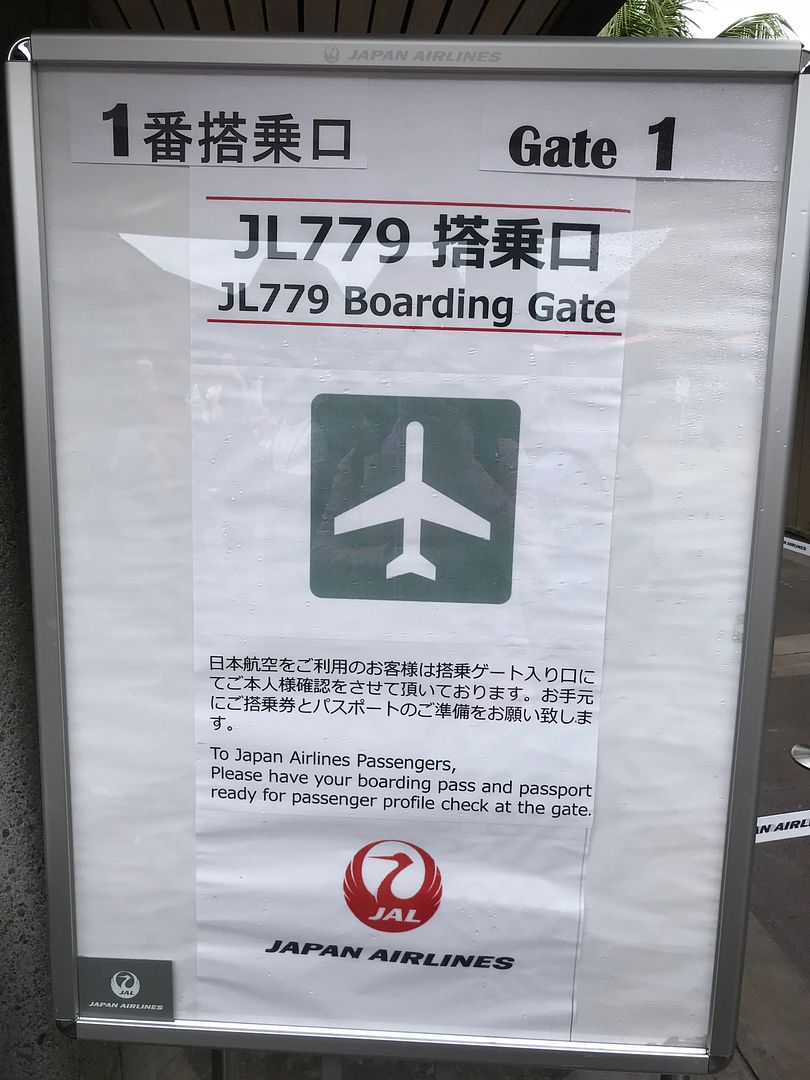 To give JAL credits, the delay was actually not bad. Our smaller Boeing 767 filled with mostly Tokyo bound passengers helped the situation, and boarding in the end was able to begin at 12:13pm.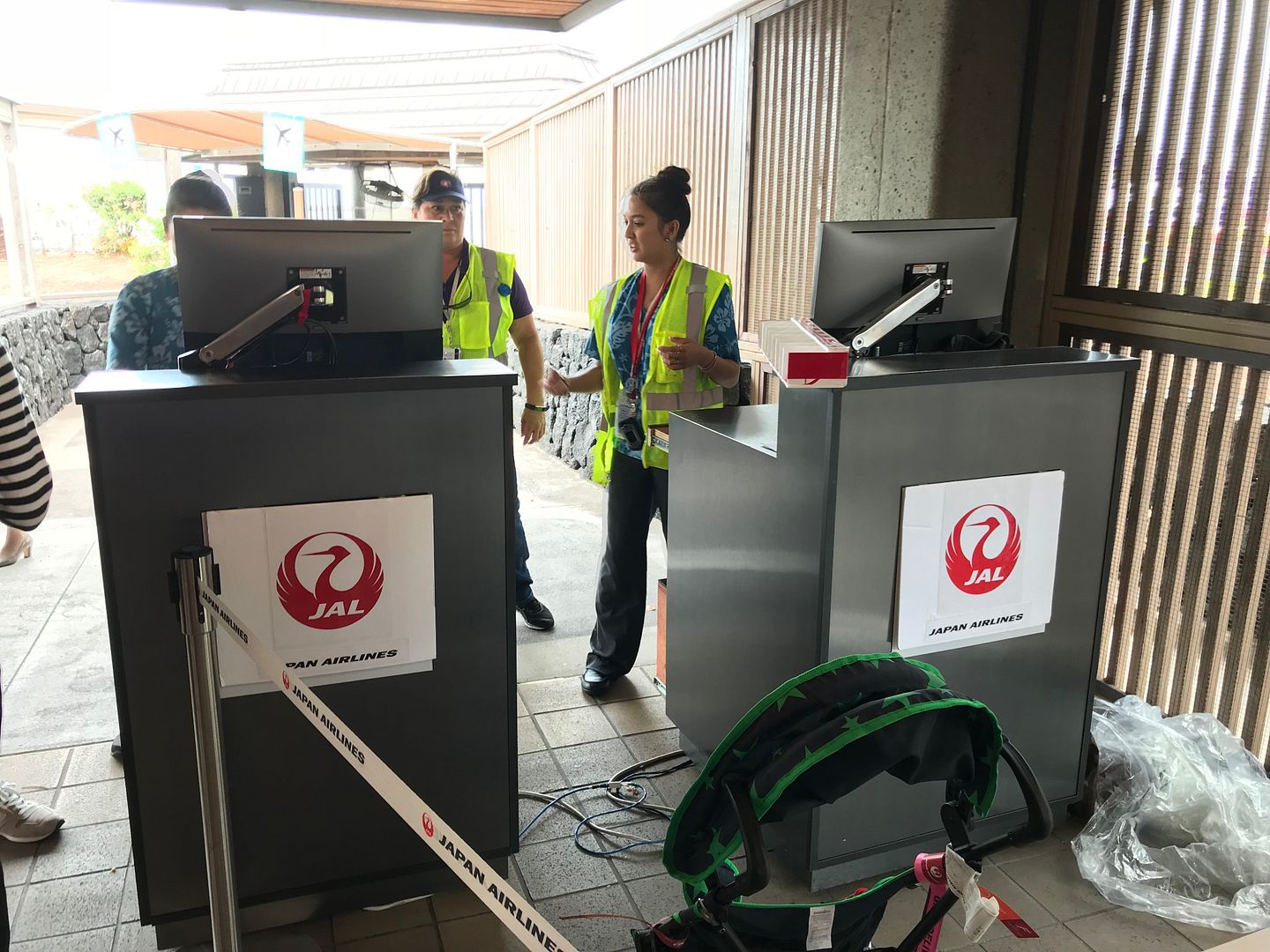 Lovely view of the plane – I enjoyed walking to the plane and thankfully the rain was not stopped.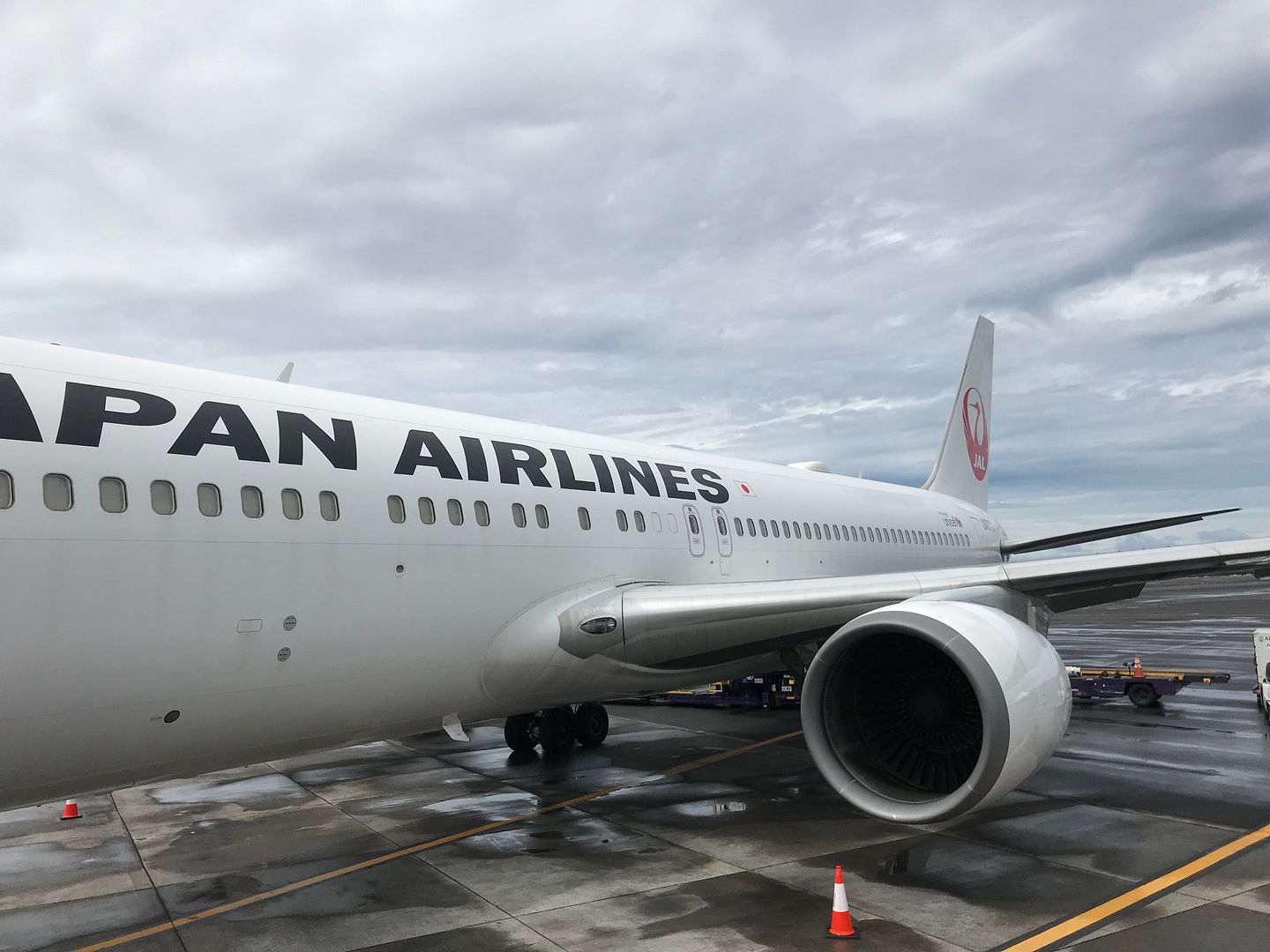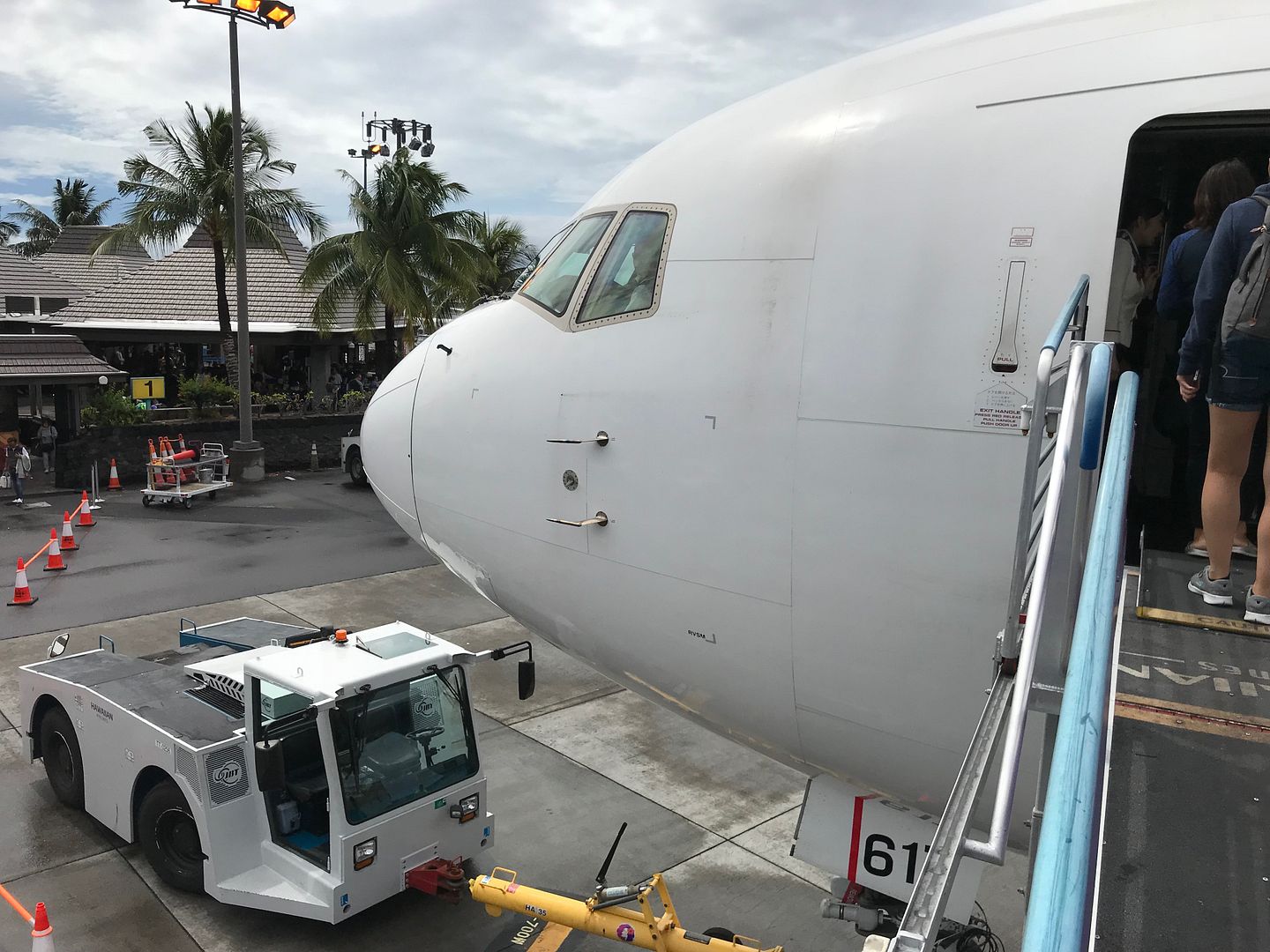 The cabin shot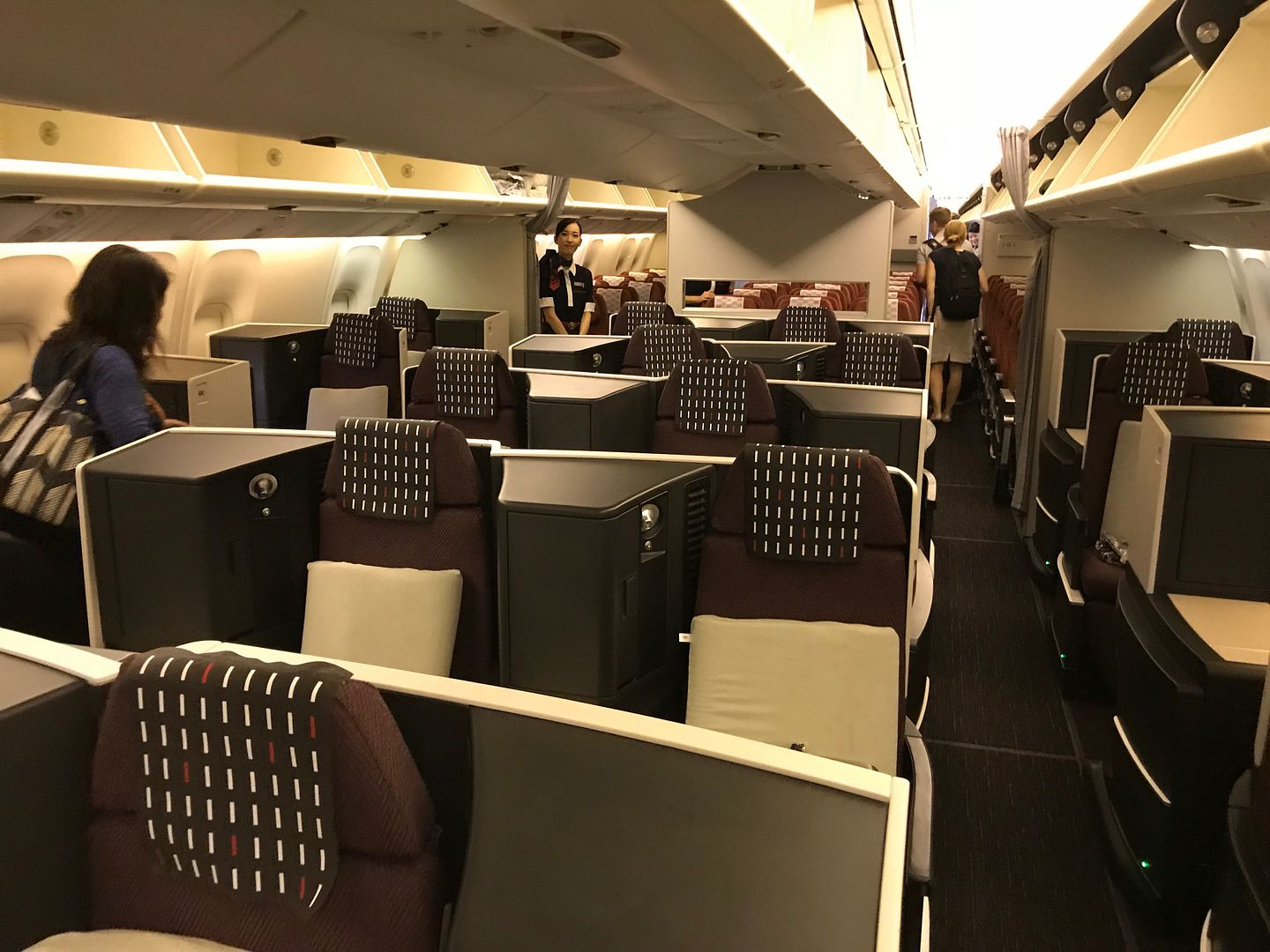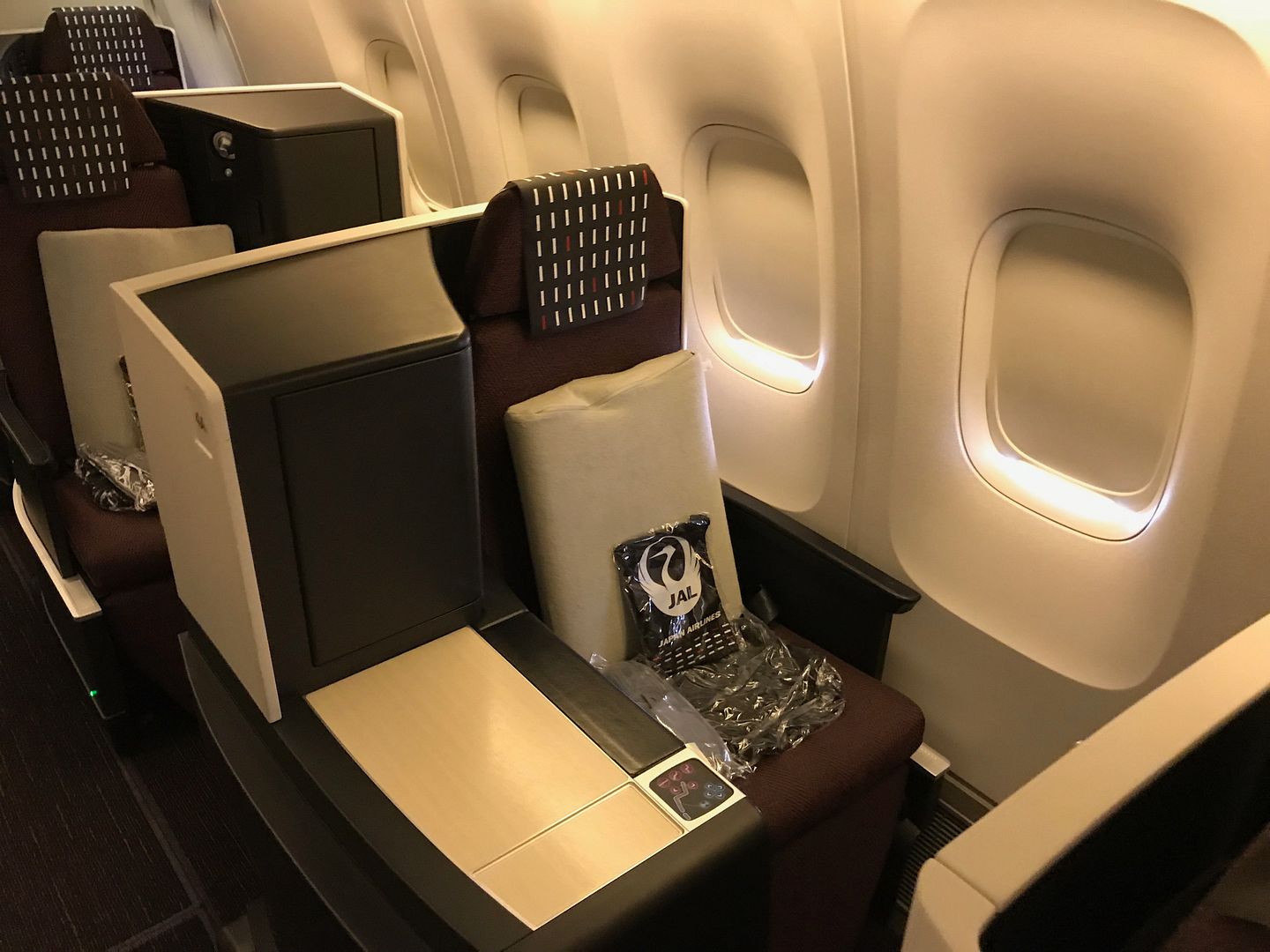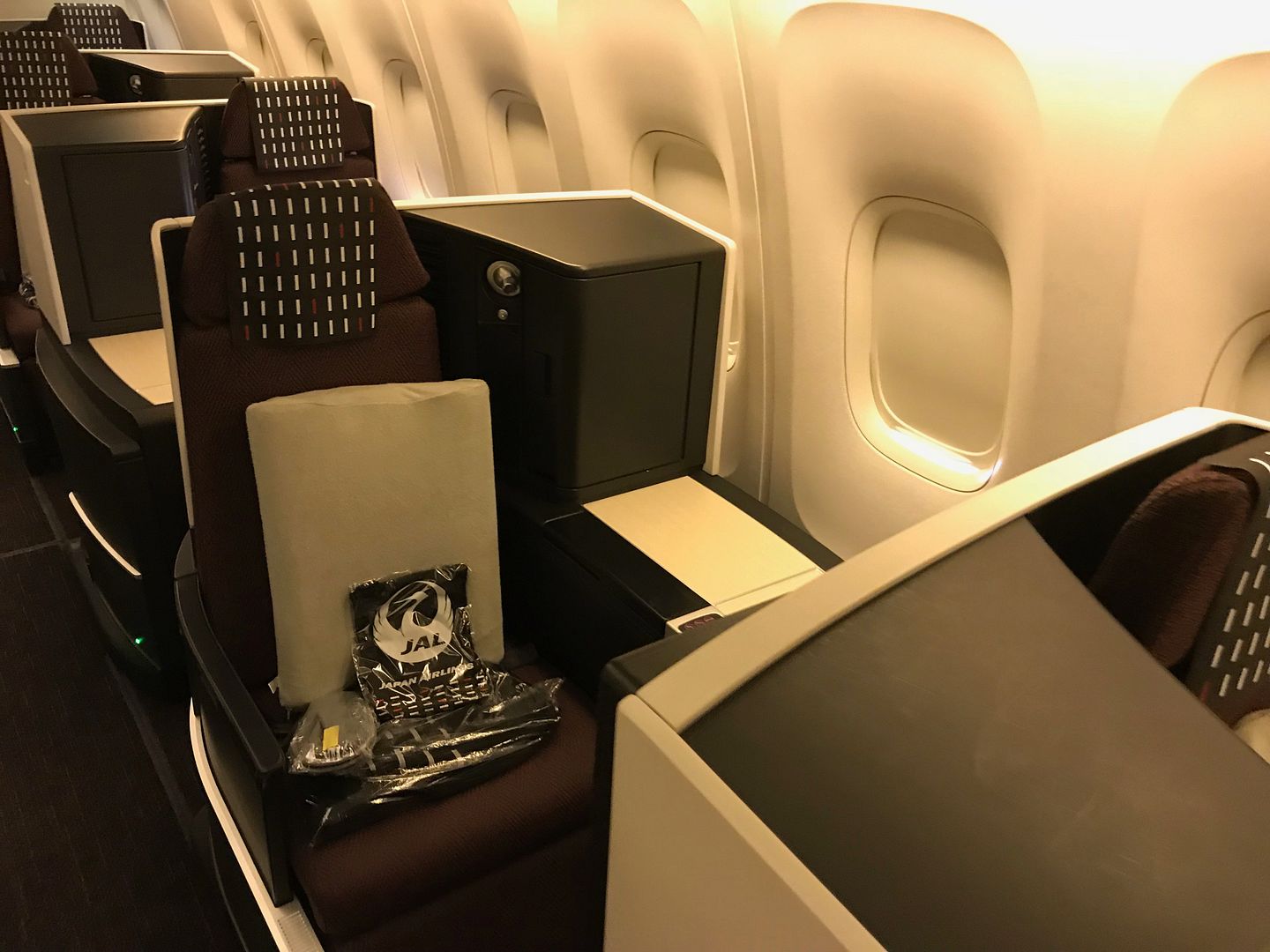 Halloween theme counter
Name plate of the plane
The F/As were as good as ever, and I felt that they had to possibly over perform a bit.
At each seat in business class, there was a blanket, a pair of slippers and headsets, as well as the regional "good night" kit. On Hawaiian flights, you didn't get the long-haul amenity kit and only the regional amenity kit.
Door was closed at 12:36pm and we pushed back five minutes later.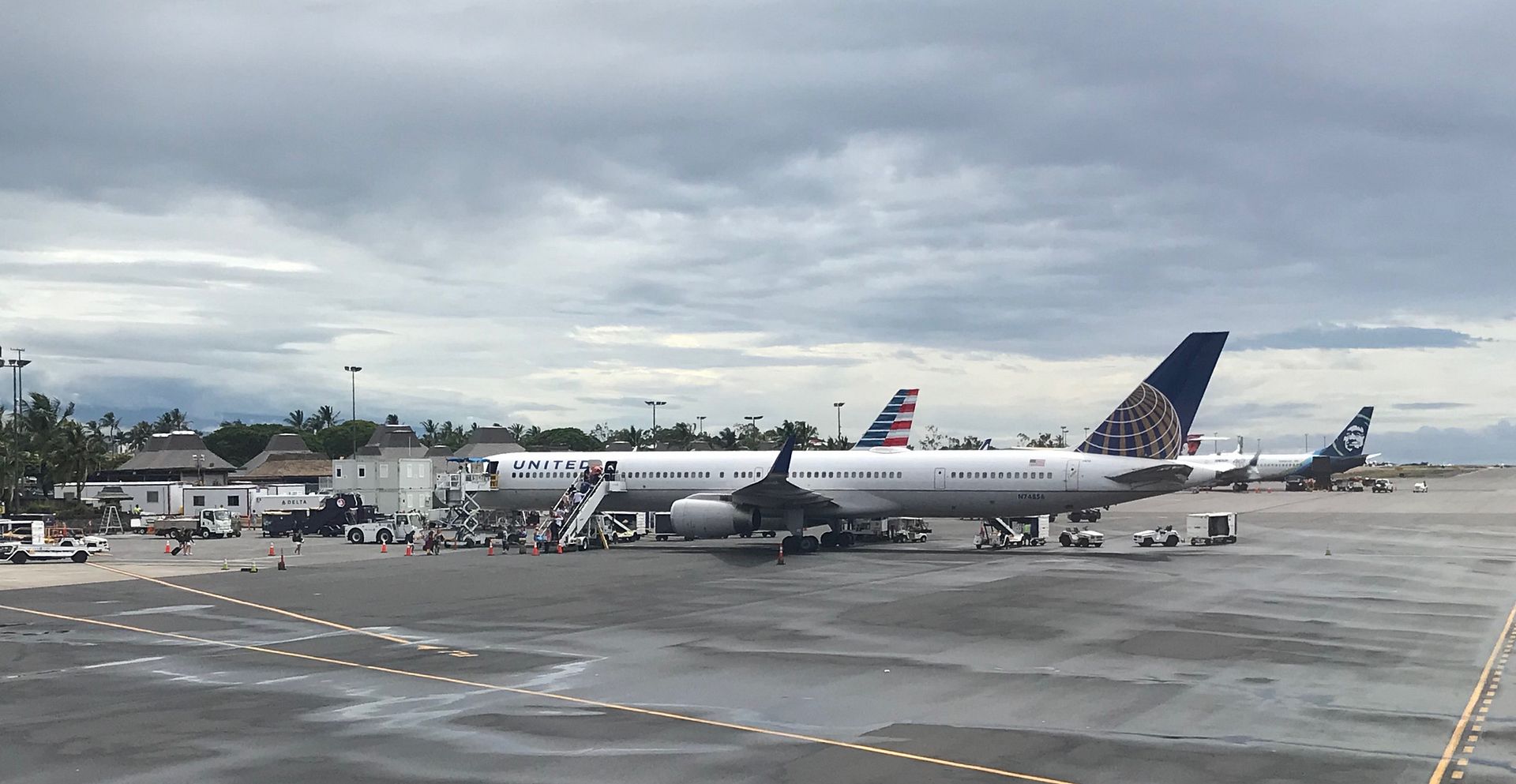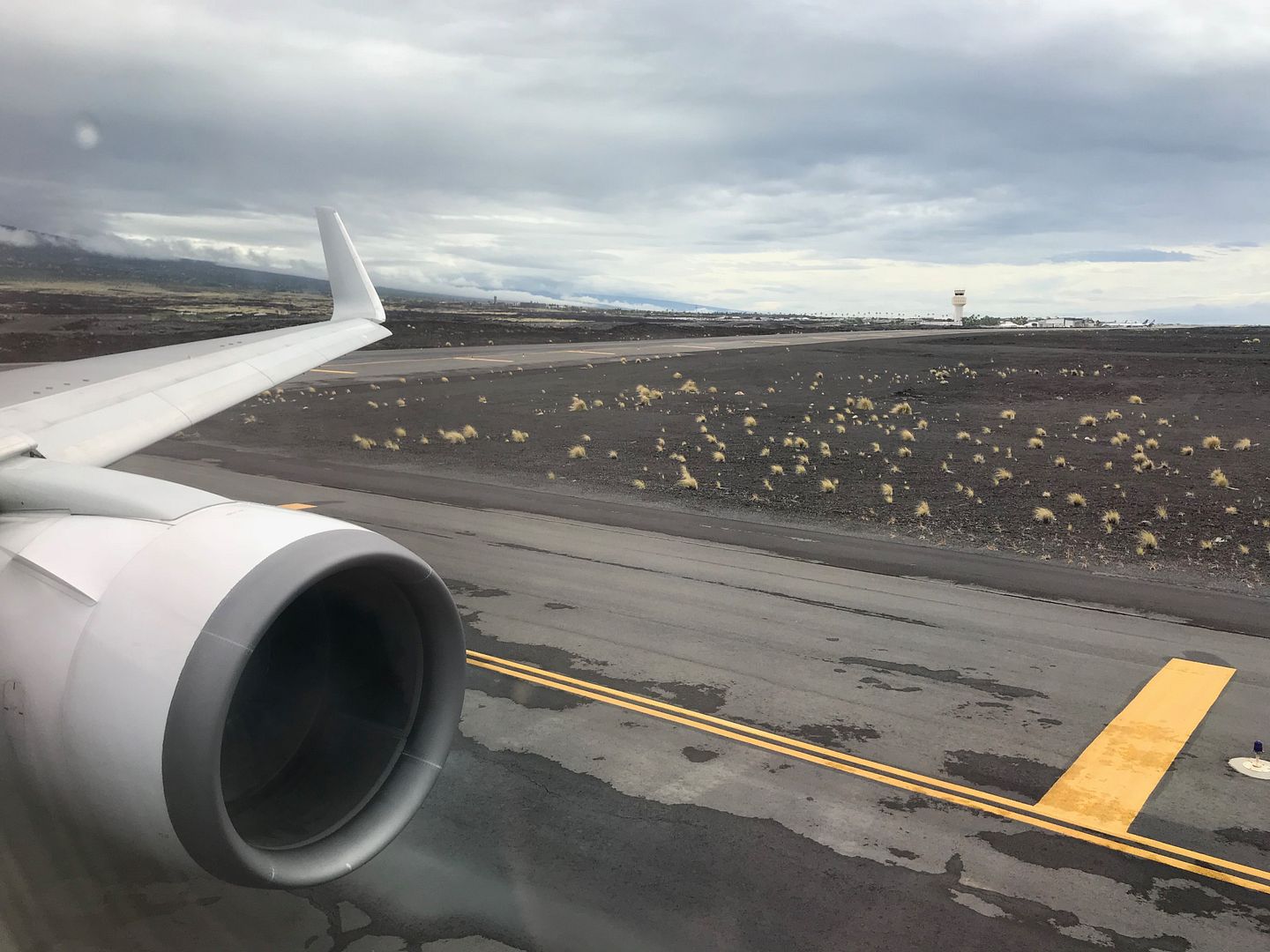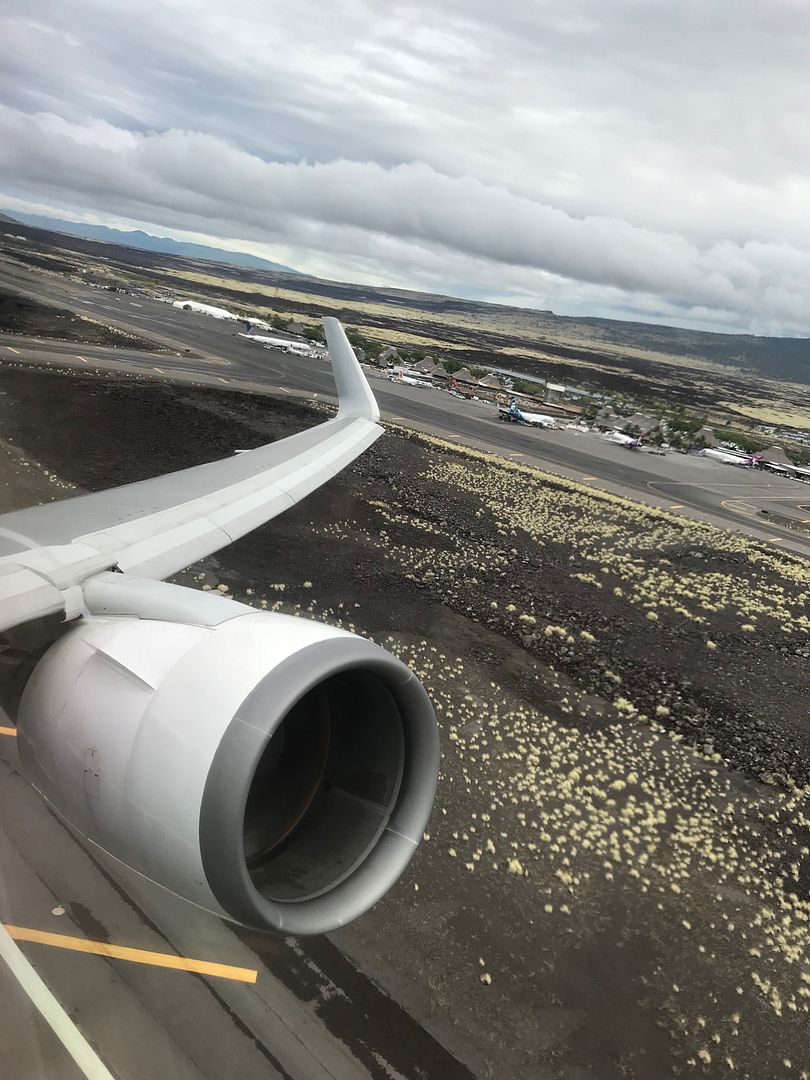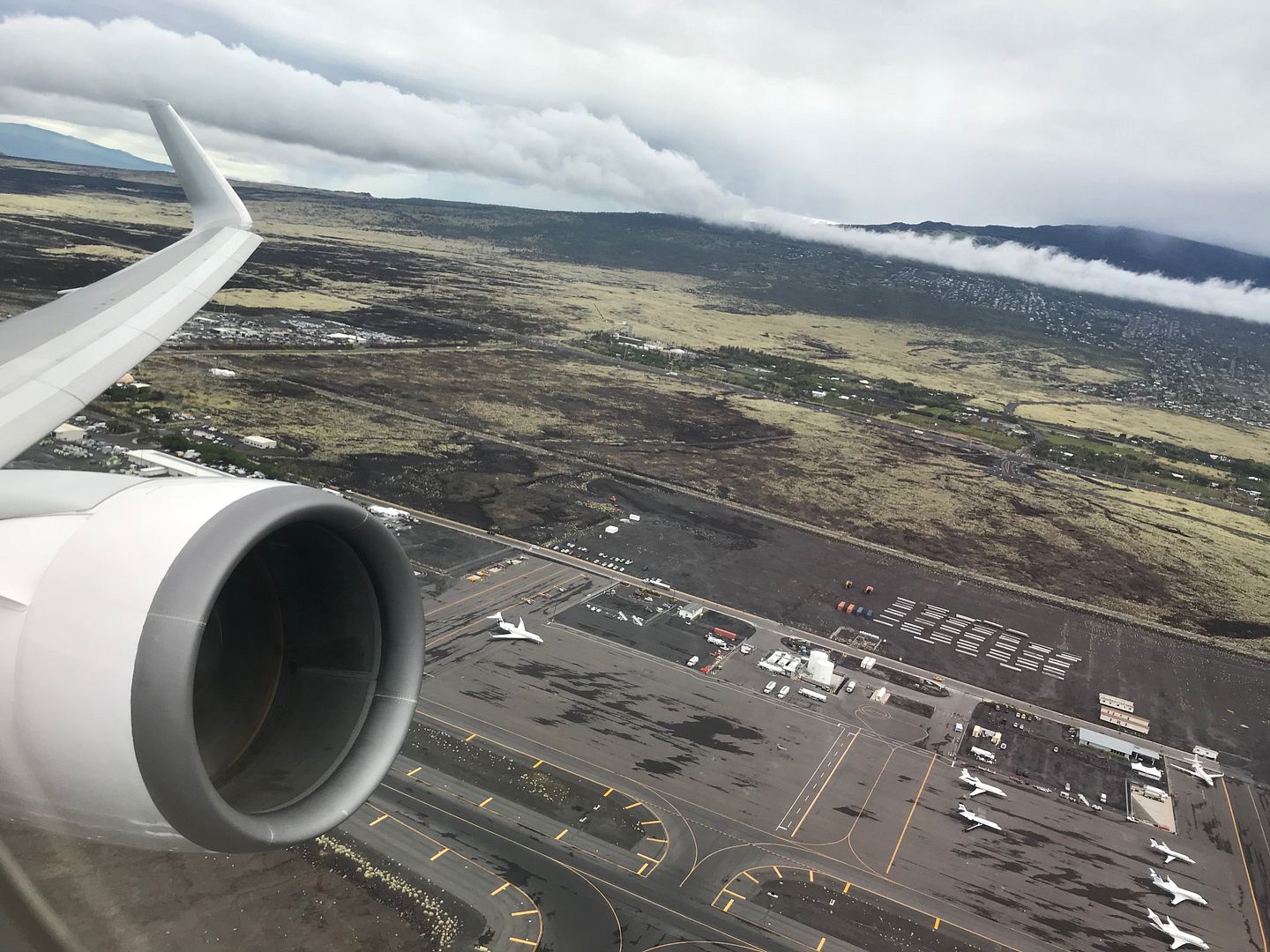 We took off from R/W17 at 12:54pm and thankfully due to weak head wind, we were able to catch up with an on-time arrival. Flying time was eight hours and five minutes, and we started off from 34,000ft and reached all the way to 40,000ft. The routing was all over water. Despite being over water most of the flight, I was able to use the WIFI in an efficient way. Things only slowed down towards the end of the flight, when many business class passengers used the free 60 minutes session.
Free WIFI for an hour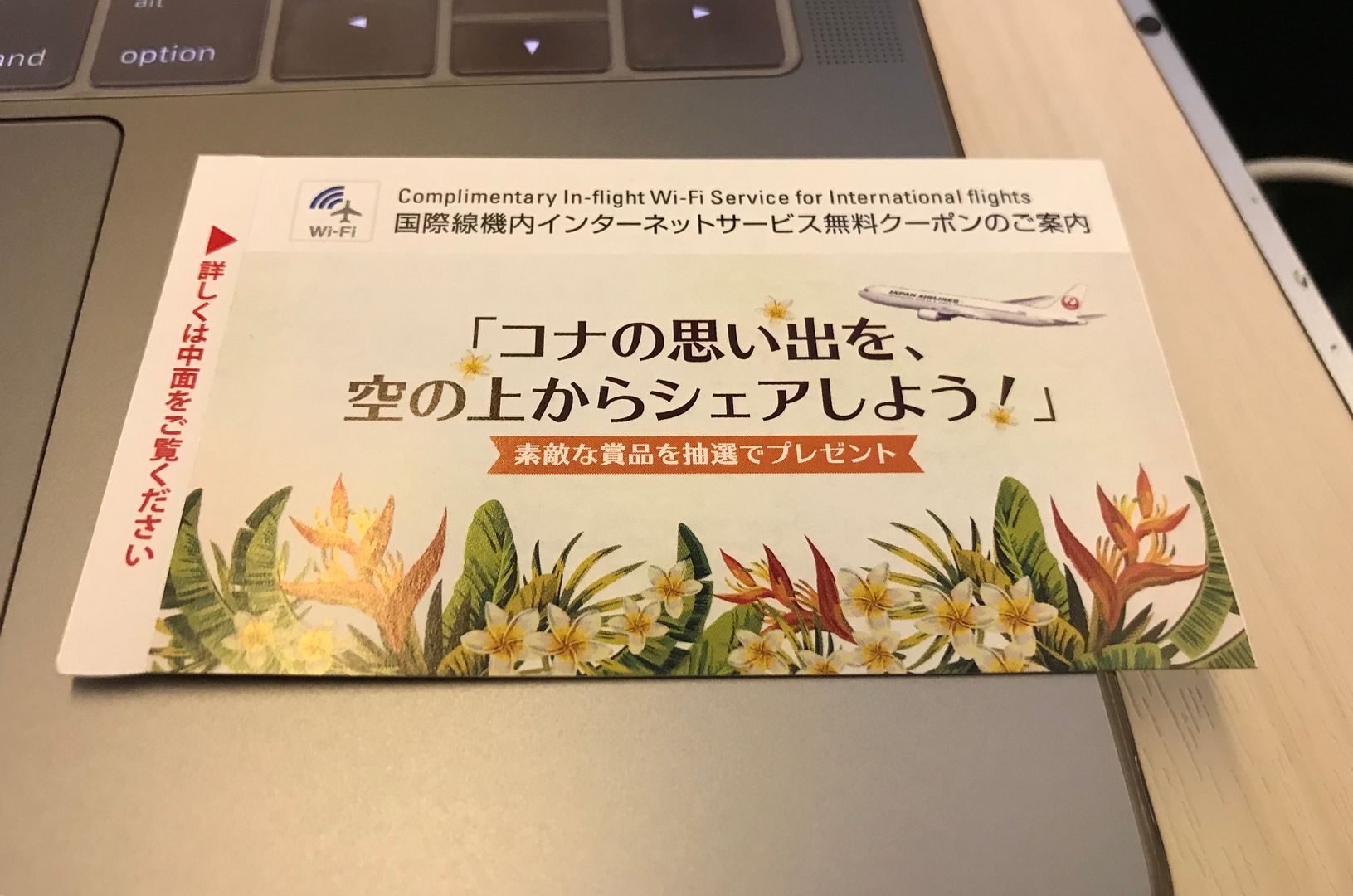 As I said earlier, while the regional style one tray catering is fine for the short seven hours late night departures to Hawaii, the same thing will not work for daytime flights. The service was identical with a first round of beverage service with rice crackers, and then followed by passing out of the main meal tray containing starters, main course, and bread, and then a dessert was served afterward. There is a midflight snack menu consists of cup noodles, cheese plate and assorted packaged cookies and snacks. Then about two hours prior to arrival, a light snack (really light) was served. Thankfully I ate the bento prior to boarding, or else I would be raiding all the cup noodles and cheese plates stocked on board.
Following is the menu and wine list:
Champagne & Wine
Champagne
Charles Heidsieck Brut Reserve N.V.
White Wine
Domaine Trouillet Pouilly-Fuisse
Or Murphy Goode California Chardonnay 2014 will be available
Tramin Pinot Grigio 2015
Or Woodside Park Sauvignon Blanc 2016 will be available
Sterhuis Chenin Blanc 2015
Or CAVE DE TURCKHEIM AOC RIESLING RESERVE 2014 Kleine Zalze Cellar Selection Chenin Blanc will be available
Red Wine
Kleine Zalze Vineyard Seleciton Pinotage 2015
Ot CH. Peyrabon, Haut-Medoc Cru Bourgeois 2007 will be available
Hahn Pinot Noir Monterey County 2015
Or Formation Monterey Pinot Noir 2014 will be available
Sake
Toyo-bijin Junmai Daiginjo (Yamgauchi)
Zaku Junmai Daiginjo (Mie)
Japanese Menu
Steamed Chicken dressed with Sesame Sauce
Kelp Marinated Tilapia
Poached Spinach
Japanese Pickles
Egg Cake, Boiled Prawn
Roast Beef, Squid Roll with Perilla
Cucumber with Unrefined Miso & Lotus Root
Steamed Vegetables
Dainomono
Grilled Salmon "Yu-an" style
Grilled Mushrooms & Scallop Cake
Steamed Rice
We are pleased to offer freshly steamed Koshihikari rice.
Miso Soup
Chestnut Panna Cotta
Western Menu
Tandoor Shrimp
Mango Yogurt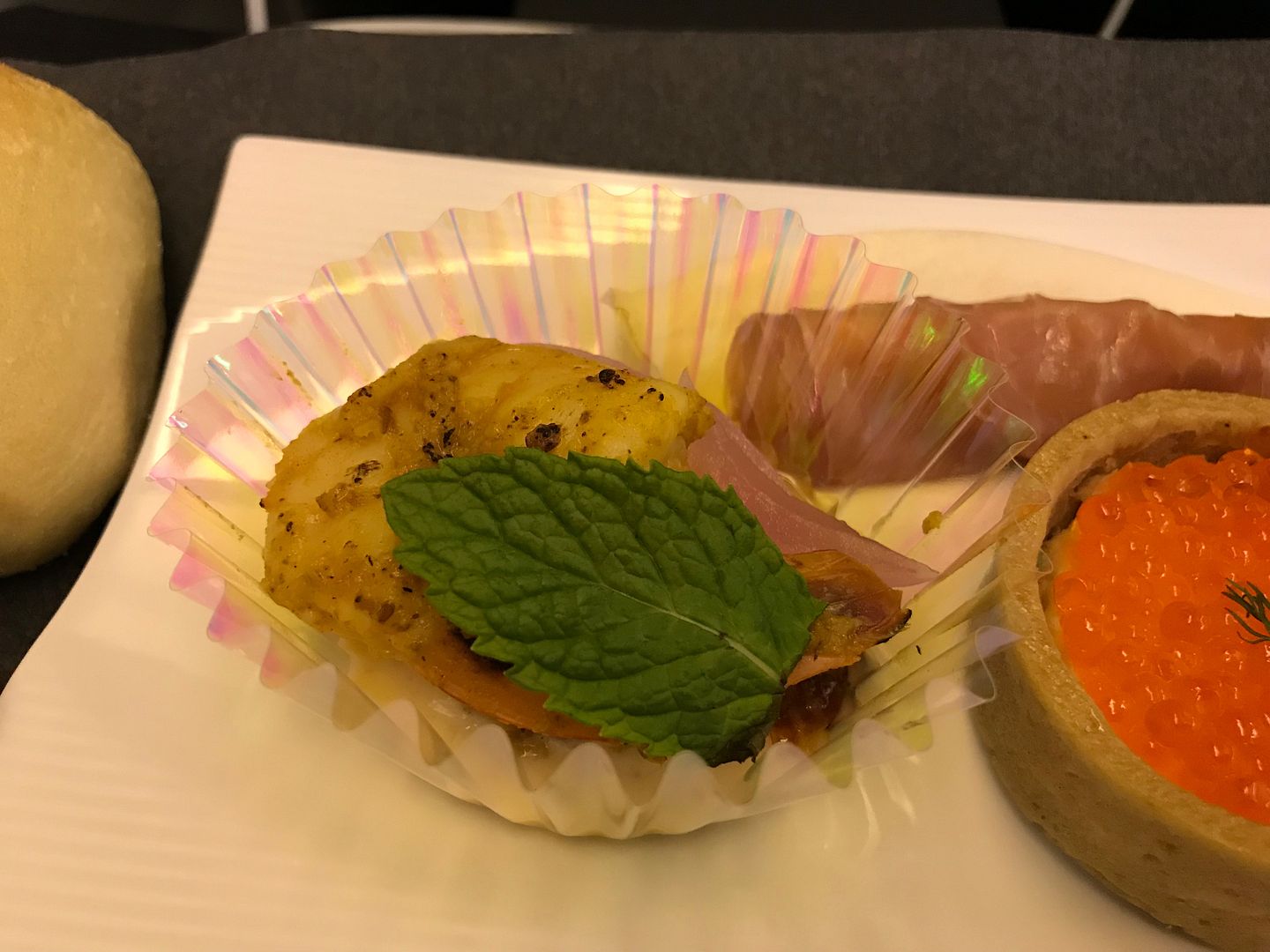 Papaya Prosciutto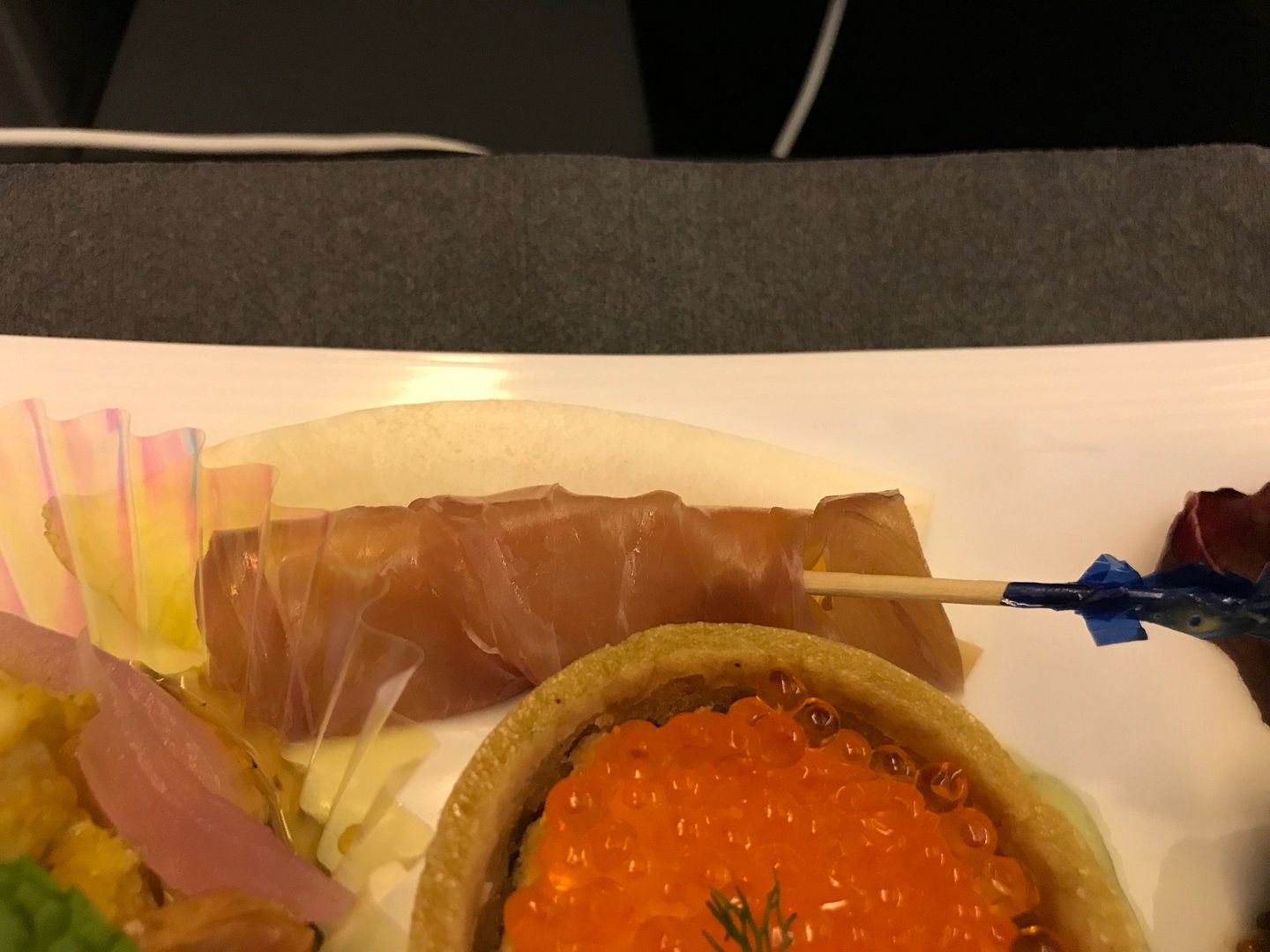 Panna Cotta Tart, Trout Caviar
Honey Mustard Chicken Galantine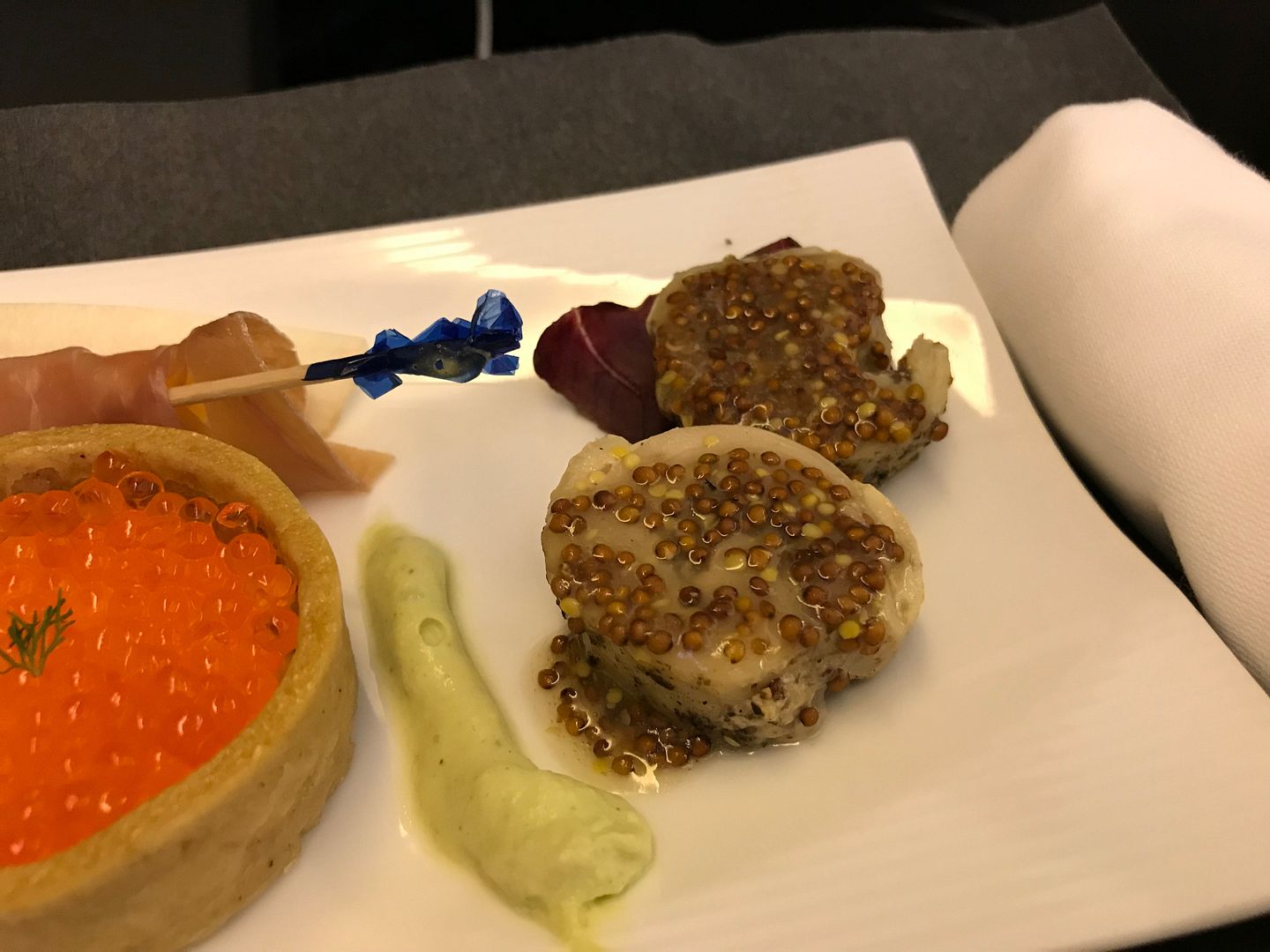 Chopped Cobb Salad Mille-feuille Style
Creamy Balsamic Dressing
Main Dish
Beef Florentine
Wild Mushroom Cream Sauce
Autumn Ratatouille, Spinach Flan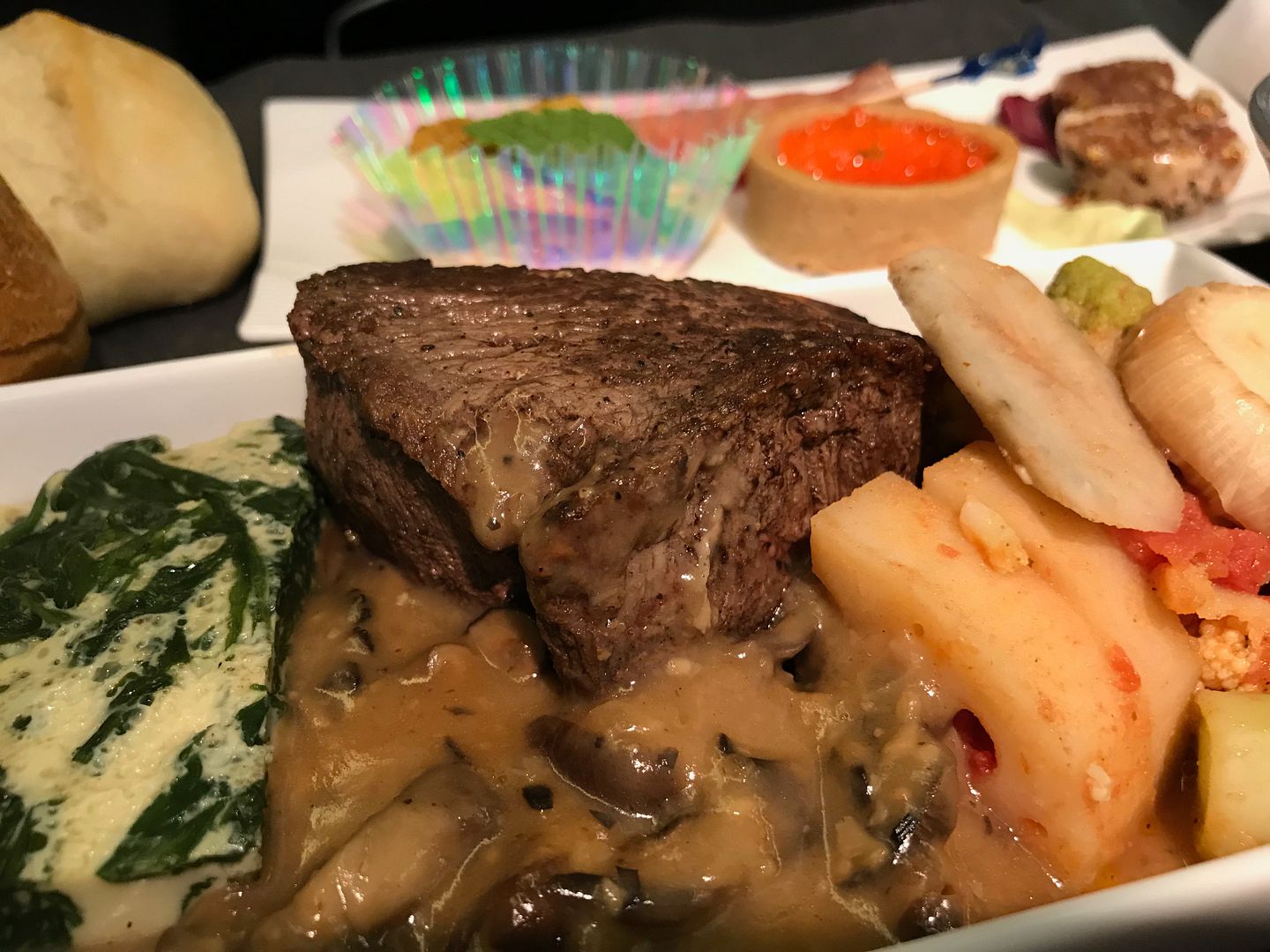 Assorted Gourmet Breads
Chestnut Panna Cotta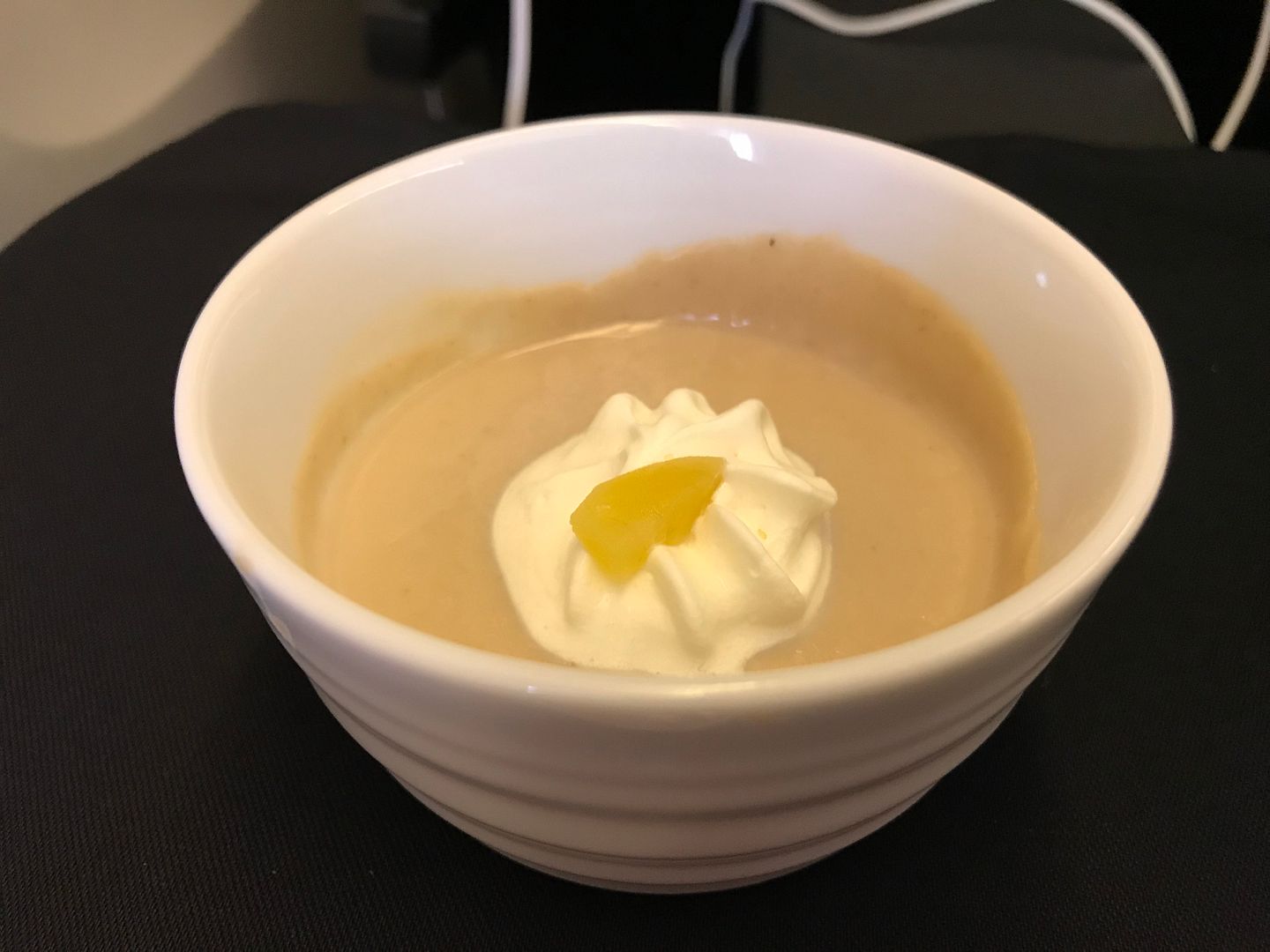 I want to reiterate that the quality of the lunch to be really good, but it was the quantity. I feel that there should be a separate starter service, along with a more elaborate dessert tray featuring cheese and fresh fruit. Bread basket needs to make a few more passes. This Hawaiian meal issues have been around for a long time but given how low yield the Hawaiian flights are, I don't think there will be changes. For me, I will possibly choose another carrier for my next trip between Japan and Hawaii.
Entertainment wise – these 767 with Sky Suites feature Magic V, whatever it means. There is basically nothing for me to watch but I come prepared – sleeping and watching my own iTunes library of various late-night TV and sitcoms. The flight went by quickly. I tried to take a picture of the snack counters, but some Japanese lady was there chatting with F/As. But the F/As came around with these special cookies later in flight. Those cookies were specially designed for the new Kona flights.
Feature of the seats: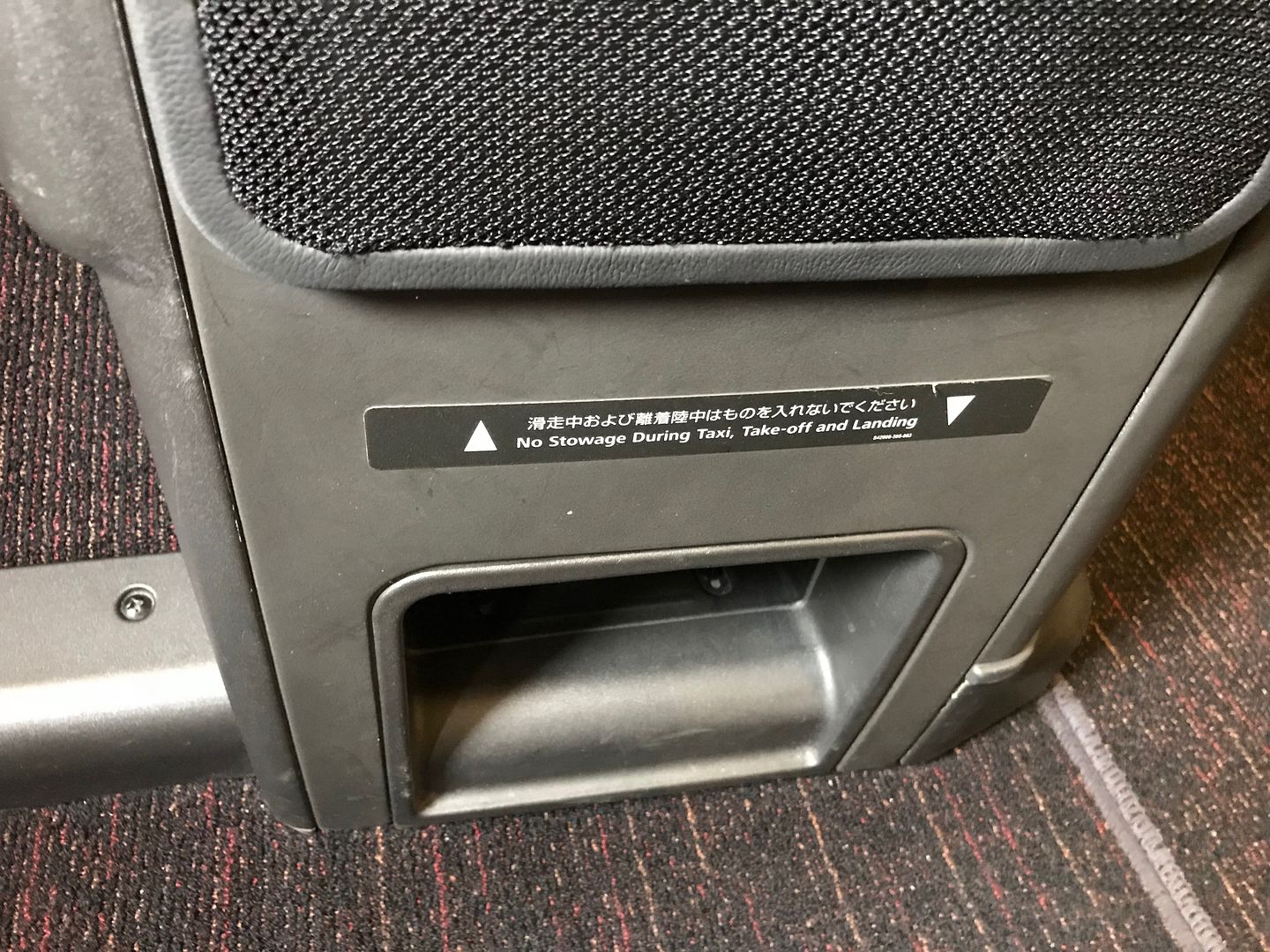 Seats in recline position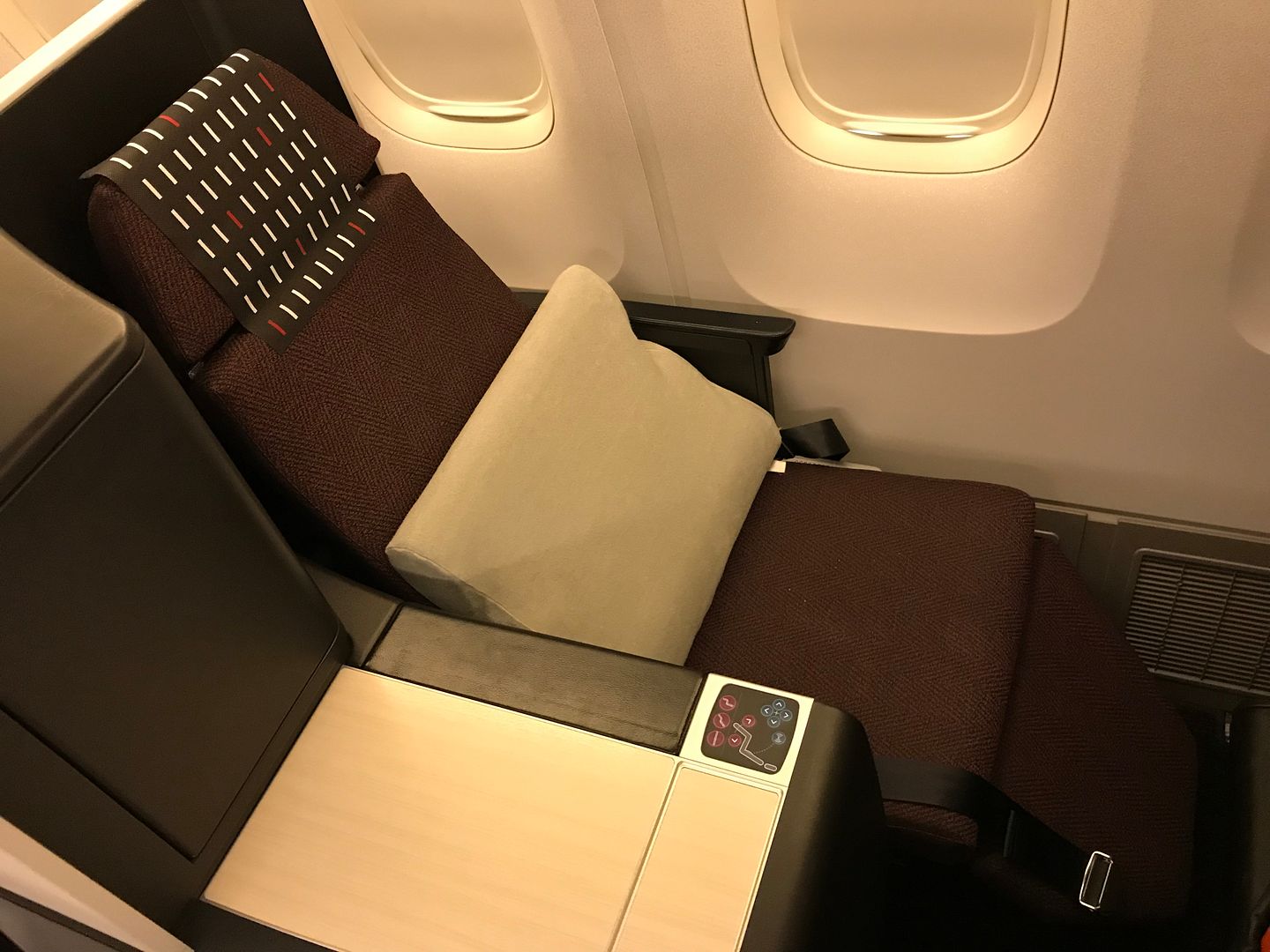 Seats in full flat position
Anytime
Fresh Fruit
Assorted Cheese
Cookie
Ice Cream
JAL Original Snack Noodle "UDON de SKY"
About two hours prior to arrival, hot towels were passed out and the second meal began. It was simply SAD to call it a meal. For some reasons, JAL could not even afford serving a full-sized sandwich. The half sandwich was warmed and delicious, but it was just too small even as a snack. The fruit bowl was even sadder with orange and grapefruit segments, along with a small cup of yogurt. I was not sure how JAL tried to kid here. I immediately asked for a cup noodle. Knowing that we were landing soon, that cup noodle would tide me over till I was in the lounge.
Prior to Arrival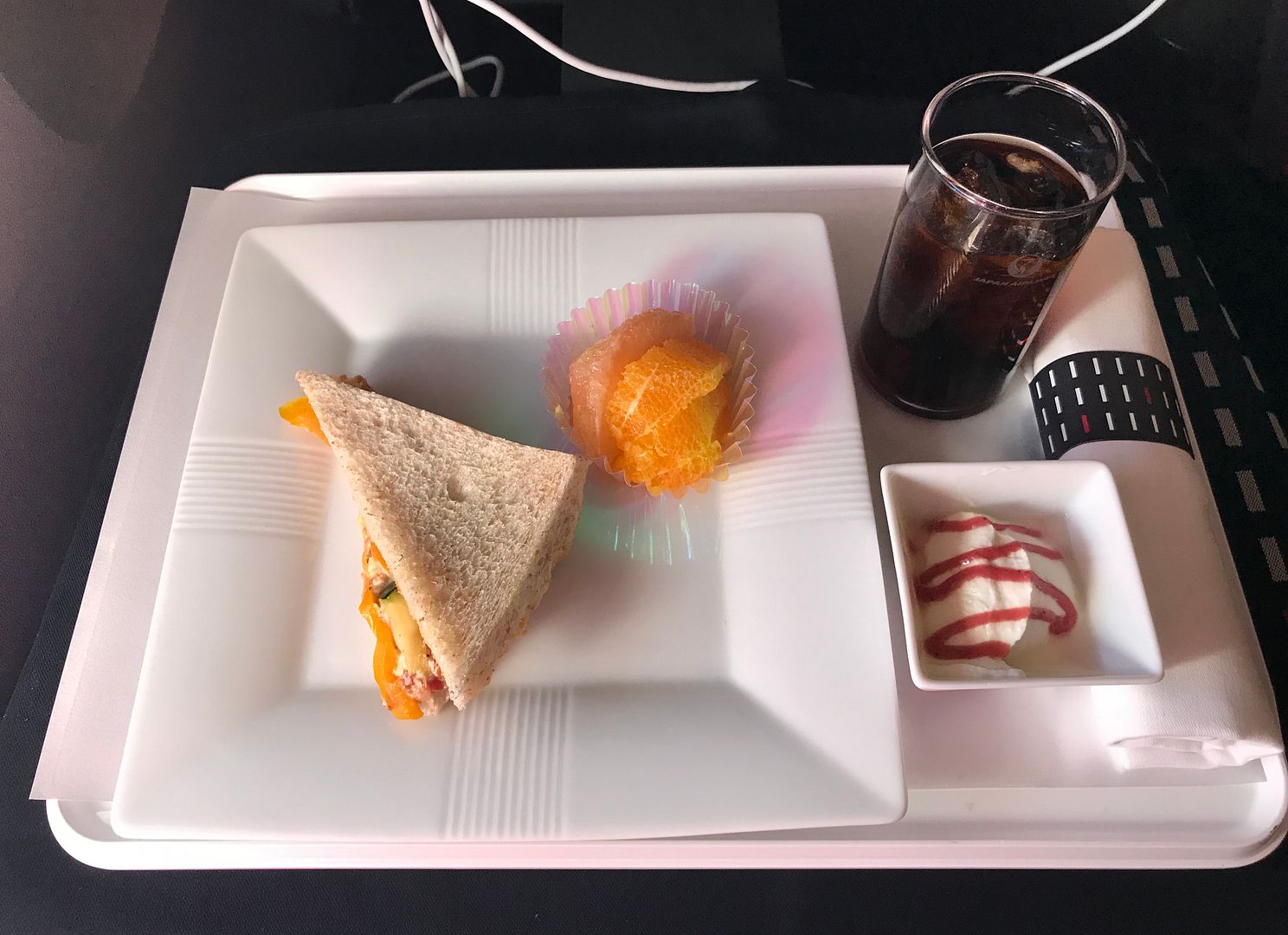 Hot Sandwich with Grilled Vegetables & Carbonara Salad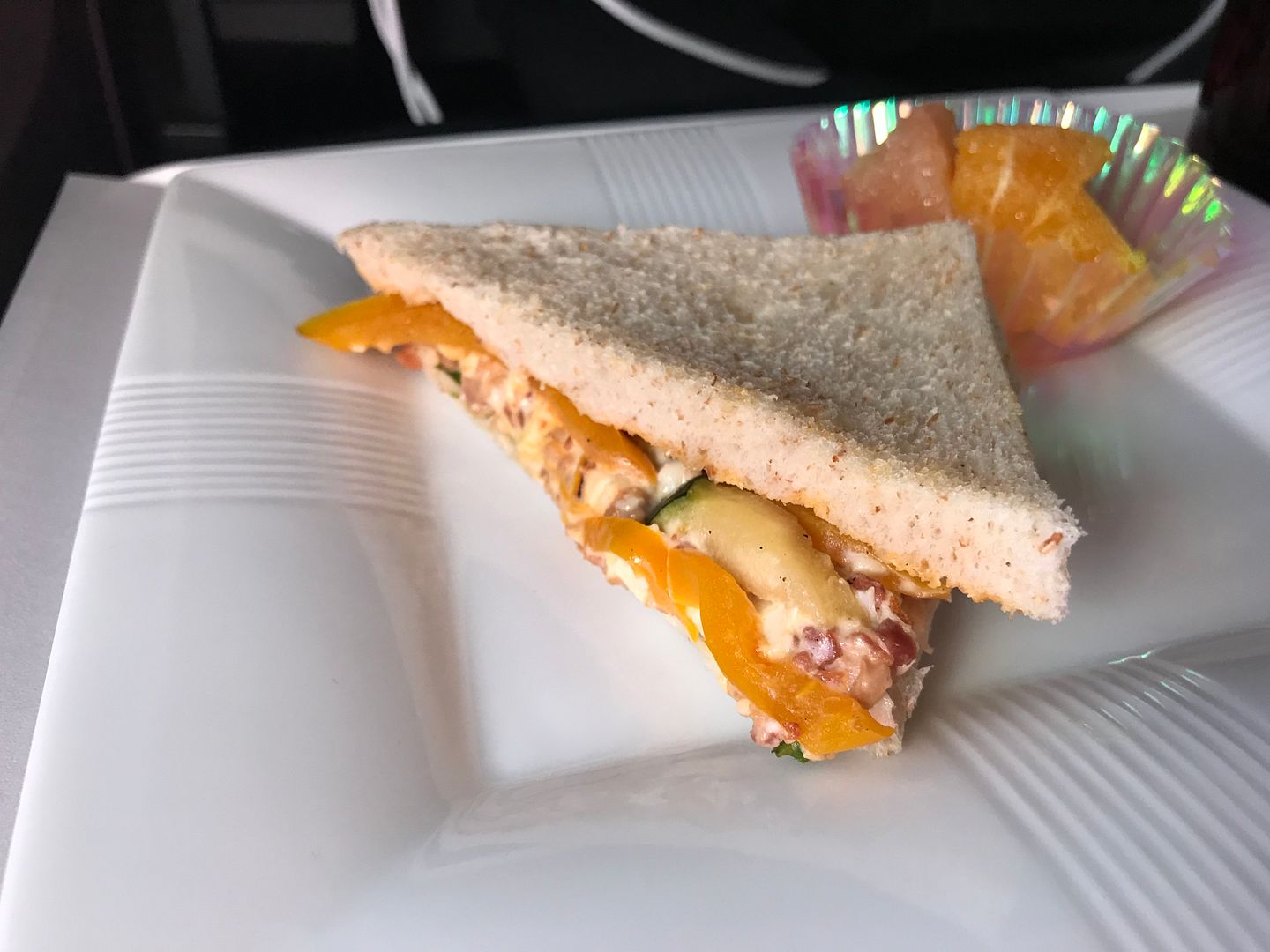 Fruits
Greek Yogurt with Strawberry Sauce
Descent began at 3:23pm Tokyo local time, and it was pretty choppy approaching Tokyo, as an unusual fall typhoon was hitting Japan soon.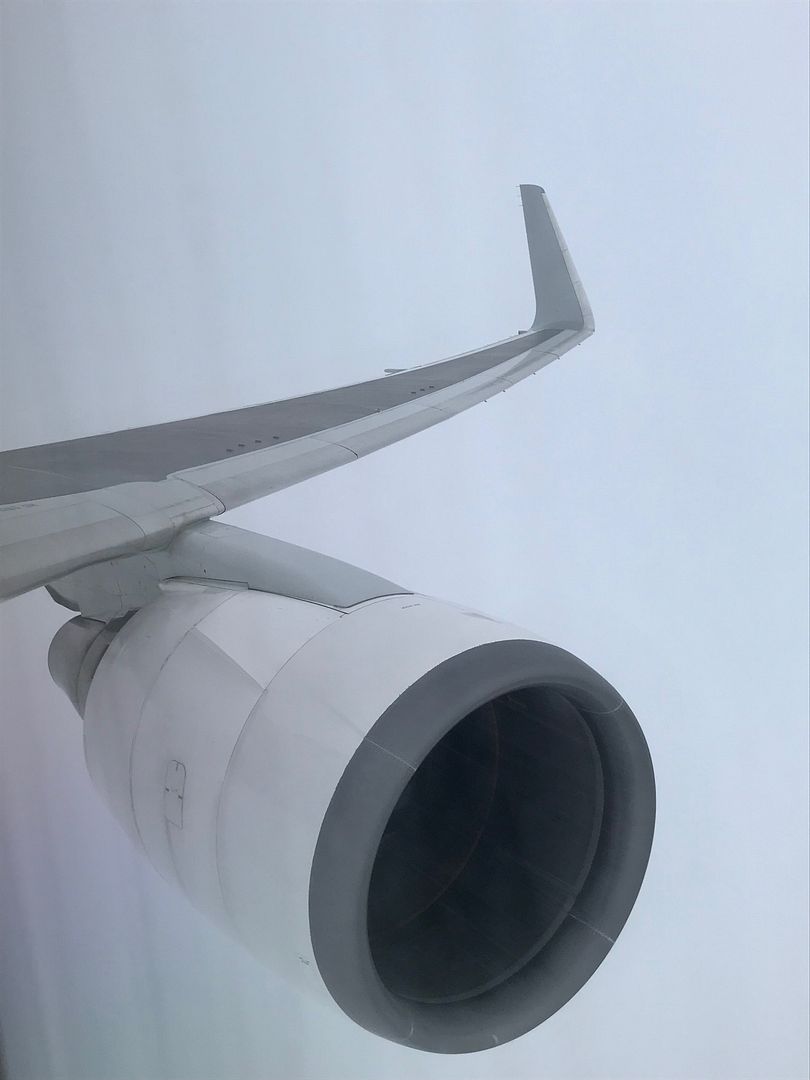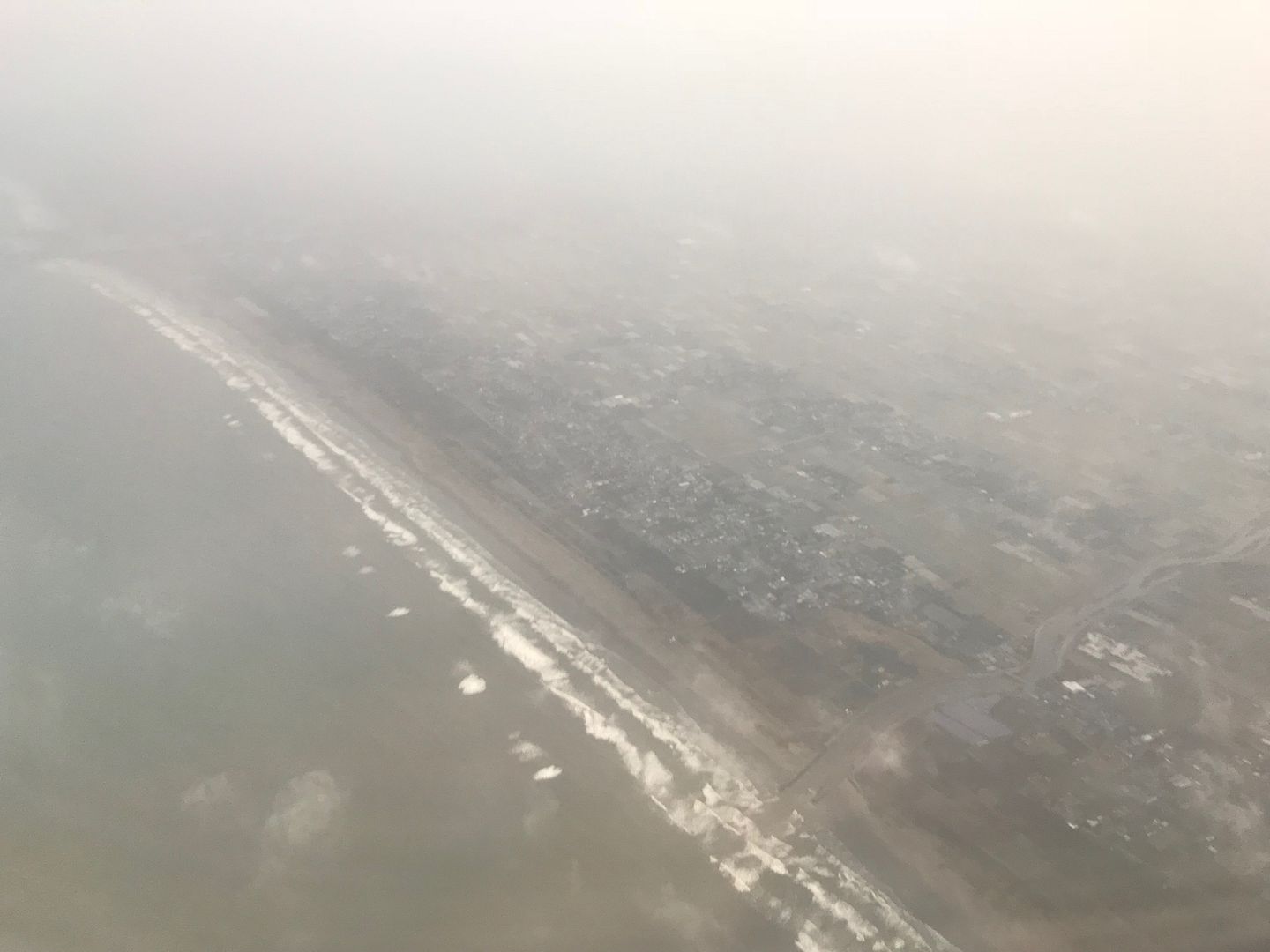 We landed on R/W34L at 3:59pm and parked at gate 89 at 4:08pm.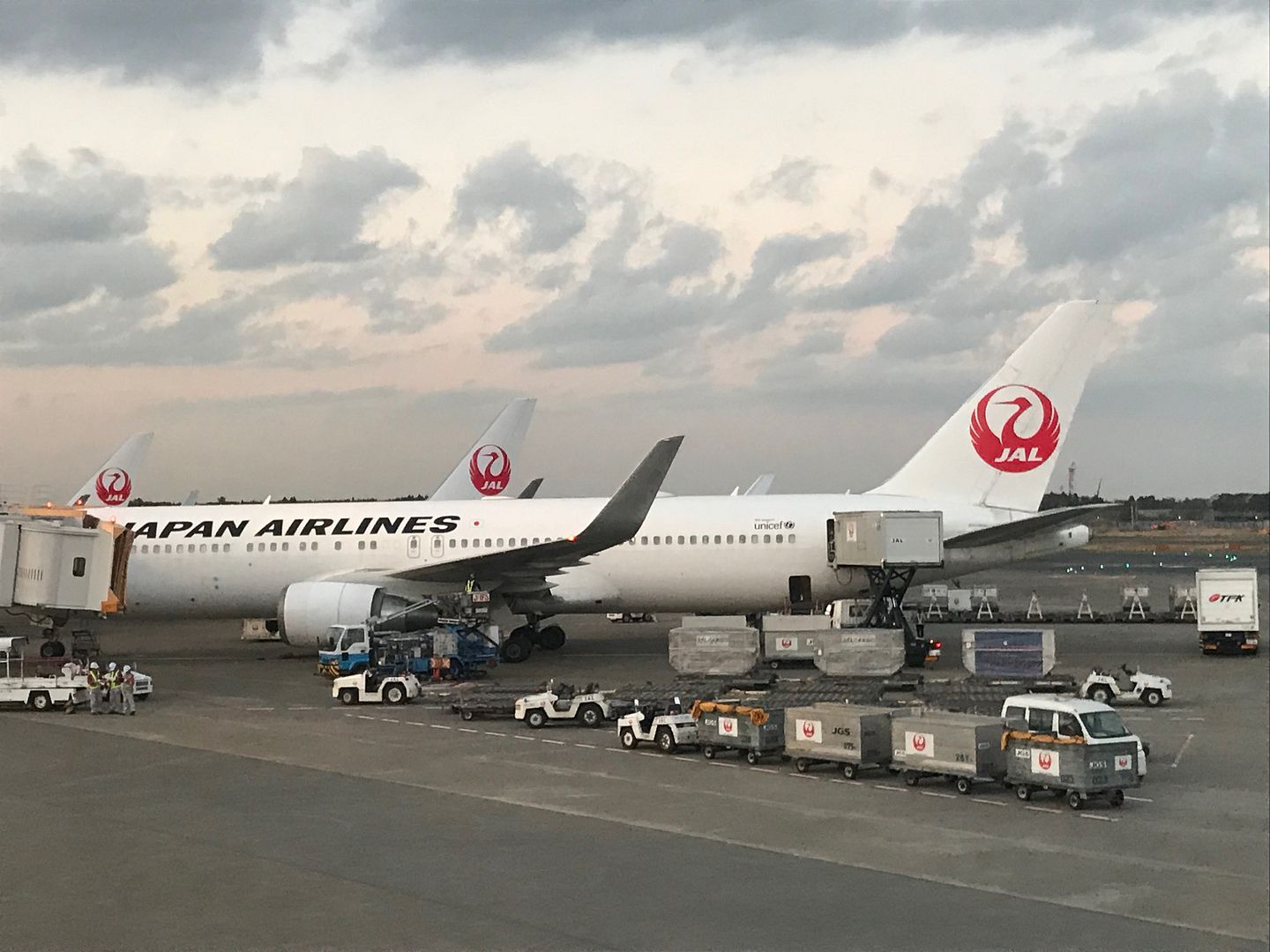 Ultimate disappointment
Shortly after takeoff, I had a quick chat with the purser about my connecting flight. Because of the breakdown of the check-in system, no connecting boarding passes were issued. The agent sort of promised me that there would be ground staffs handing out boarding passes at the gate. The purser told me that she would notify the gate agents at Narita. In the end, I was surprised that no one was there in the gate passing out boarding passes to connecting passengers. Only those passengers going to Hiroshima were contacted, but it might not be related to our issue. The gate agent I was handed to in the end just brushed me off and told me to go to the transit desk. First, there was no priority line, but thankfully it was a fairly quiet day. Second, our flights ended up not having many connecting passengers, which made their lack of preparation a "crime," IMHO. I counted that a couple next to me going to Bangkok, the earlier couple I met at Kona heading to Manila, and I was going to Taipei. Five boarding passes… not asking JAL much here but at least to make us wait in one less queue. To add insult to the situation, the agents were not aware of issues that we faced in Kona ten hours ago. No one at Kona bothered to tell Narita's transit desks that we had some passengers with strange looking paper boarding passes and hand-written baggage tags. When I showed the boarding pass and the baggage tag to the agent, she gave me the puzzling look. Then I explained to her that there was a major electricity outage in Maui, which affected Hawaiian Airlines' check-in system that JAL uses in Kona. Thankfully her English was good enough to understand the situation and then proceeded to print out my onward boarding pass to Taipei (which helped the other passengers behind me, when other agents saw these strange papers and tags). My agent communicated in Japanese to all the other agents. Then she proceeded to fill out a "baggage forward" form. In the end, they did not retag my bag but I was just happy to see the bag made it to Taipei.
In conclusion, I felt that Japan Airlines handled a bad situation well, except the arrival/transit at Tokyo Narita. With ten hours, someone should have called Narita and told them that five connecting passengers from this Kona flight would need their connecting boarding passes. That would relieve us from the stress originated earlier in Kona. For the Kona's staffs, they really did an amazing job by manually checking in 140 passengers within two hours. But the whole JAL operation at Kona International Airport is insufficient to begin with. JL has not communicated with passengers, especially those in premium cabin and elites that there was not much priority services or lounges to offer them. JL should have provided at least a meal voucher for premium passengers. I hope the current construction at Kona will upgrade this really lackluster ground experience. I hope that they will have a fully enclosed and air-conditioned terminal, as well as more food choices, and hopefully a lounge for Japan Airlines. Or in the least, there will be more restaurant spaces under a/c and a cover. Japan Airlines needs to serve more food on its daytime flight from Hawaii to Japan, although I am not counting on it to change. I personally will not recommend Japan Airlines' business class to anyone on these Hawaiian flights. Other Asian airlines seem to offer a much better product. Even China Airlines' flight from Honolulu to Tokyo Narita feature more food. Given my experience at Kona, I don't recommend anyone flying this new flight, especially on the return. I recommend a triangular flying pattern – flying JAL nonstop to Kona, which will allow you an easier immigration/custom experience, and then fly to some other Islands, and used Honolulu as your final point, before flying back to Tokyo. At least you get a lounge in Honolulu, as well as experiencing a more proper premium experience flying business class, or enjoying some elite experiences.
I hope you enjoy this trip report!
Carfield