Spur-of-the-Moment South Pacific Adventure: 1997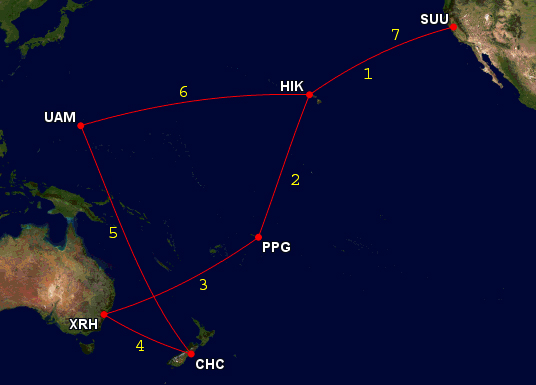 In the wee hours of the morning of September 26, 1997 I got a phone call from my boss at work. The question was brief, the answer was simple. "Moe, do you want to go to New Zealand? You need to be to work in an hour." My job, as a Supply Technician, was to accompany the "kit" of spare parts for the C-5B aircraft. Should the C-5 require replacement parts at any time during the mission I would provide that support.

And so began my so-called South Pacific Adventure. I crawled out of bed, quickly showered and shaved, got dressed in uniform, grabbed my "bug-out" bag and my camera bag, and headed out the door.

At work and now more awake, I only had to finalize my personal affairs to board the aircraft...the cargo loading had already occurred. With the draw-down of Travis AFB C-141 fleet earlier in the 90s, Travis AFB had relinquished the so-called "Operation Deep Freeze" Antarctic resupply missions. These missions were critical to providing much-needed heavy-lift aerial support to scientists on our southern-most continent.

The reason Travis AFB was involved in this particular mission was simple: a large helicopter (Bell 204-size) was being transported to Antarctica and the Lockheed C-5B Galaxy provided the necessary airlift capability. I imagine there was probably other cargo being transported as well and during the course of the journey I learned a crew of scientists would also travel to Antarctica for rotation with the current inhabitants.

As I compose this page in December 2017, I'm relying on memory more than anything to recall the nuances of the trip. The technical details concerning each flight are no problem - I've always kept reasonably good notes about my flights. As I am an avid aviation photographer, I took a lot of aircraft photos but not very many scenery photos.

What follows is a photo essay of my week-long journey.

Flight 1: Travis AFB, CA - Hickam AFB, HI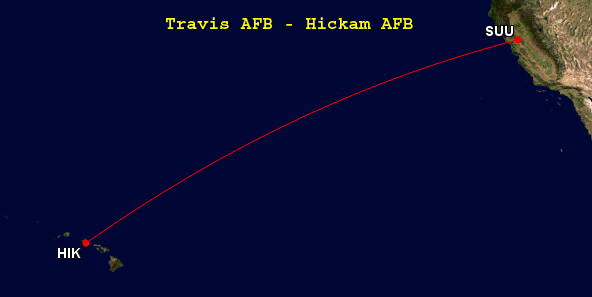 26 September 1997
USAF C-5B 87-0034
Dep: Rwy 21R 08:34 Local
Arr: Rwy 08L 10:51 Local
Time Enroute: 05:08
Distance: 2435 miles
Remarks: 1st time to Hawaii
I remember we were onboard the aircraft for at least a couple of hours prior to our early-morning departure. In my experience, travelling onboard a military transport is usually an exercise in "hurry up and wait". I'm not sure how many "Space-Available" passengers were onboard, but in my case I was on the manifest as a military member on duty so my seat was guaranteed. The rear portion of C-5 upper deck is fairly roomy and in most cases, contains 73 passenger seats. These seats are all located in a cabin behind the massive wing, above the main cargo compartment. The cabin is accessed via a modest internal ladder from the lower main cargo deck. Alternately, a very high mobile staircase can reach the external doorway from the ground. I've embarked/disembarked via both methods. In either case, if the
aircraft is going to be "kneeled" it is usually before the passengers can depart and the wait can seem excessively long, especially after a long flight.

I recall there was a necessary repair before we could depart Travis...something to do with overseas navigation requirements between New Zealand and Antarctica. At this point I wasn't sure if I would be travelling to "the ice" or not... I was probably under the impression that I would be.

My notes show we departed Travis AFB at 0834hrs Local on runway 21R. Our C-5 was tail number 70034...a C-5 "B Model" allocated a serial number from Fiscal Year 1987 funds. It was constructed during the 2nd batch of C-5 production that produced 50 of the more advanced "B Model" C-5s. This was my 5th flight in a C-5B in the last 5 months. Since there are not many passenger windows in the upper deck with which to view the goings-on outside, I may have had to ask a crew member which runway we used.

I don't remember much about the flight to Hickam...maybe I was asleep most of the way. We touched down on runway 08L at Honolulu Int'l airport just shy of 1100am Local and taxied back to the ramp at Hickam AFB. We deplaned the C-5 and milled about the "AMC Terminal". I was able to see airliners taking off and landing in the distance but Hickam is quite removed from the civilian action so I couldn't get any photos.

For some reason we were required to claim our checked baggage. Mine never showed up. The only bag I had with me was my trusty camera bag, and all that had in it was camera gear and my travelling papers. Another curiosity I don't recall the specific reason for is the lateness of our departure to Pago Pago: 0355hrs the next morning. As such, I had some time to kill. At the time one of my Air Force buddies and his family was stationed at Hickam AFB. I managed to get in touch with Tobin and he came by the AMC terminal and picked me up. I got a tour of the base and was able to see some airliners courtesy of Tobin taking me around a couple of spots at the airport.

We ended up at Tobin's base quarters so I could meet his family and probably have some dinner. I remember this now but I was only reminded of it while researching negatives from the trip and I found the photo of them.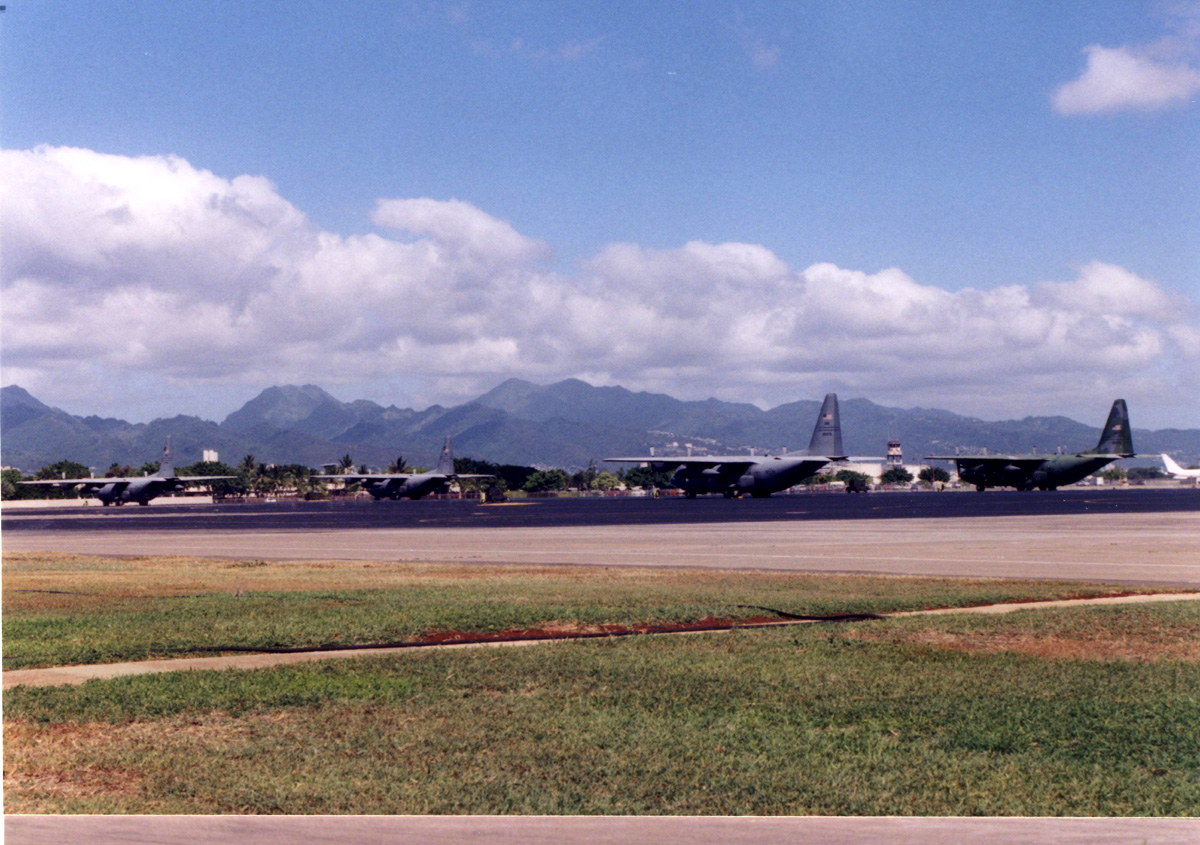 C-130s on the Hickam AFB ramp.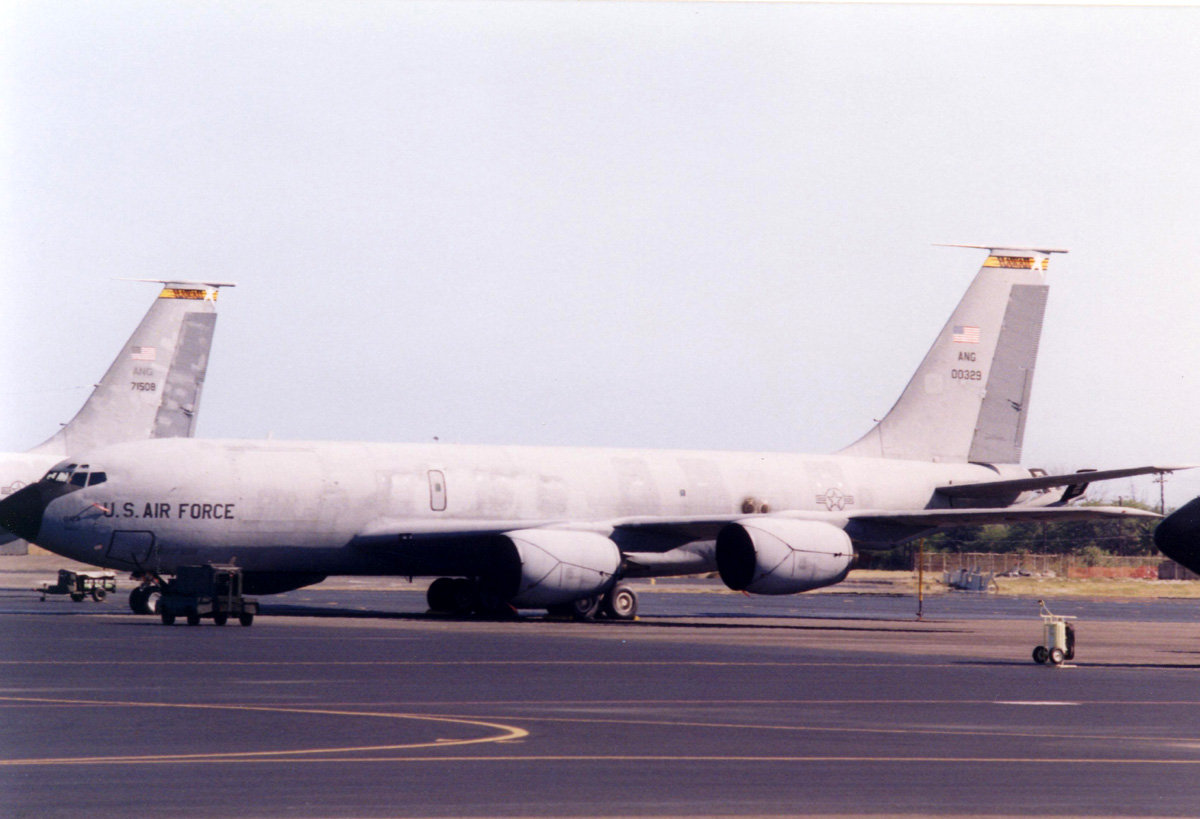 USAF / Hawaii ANG KC-135R 00329.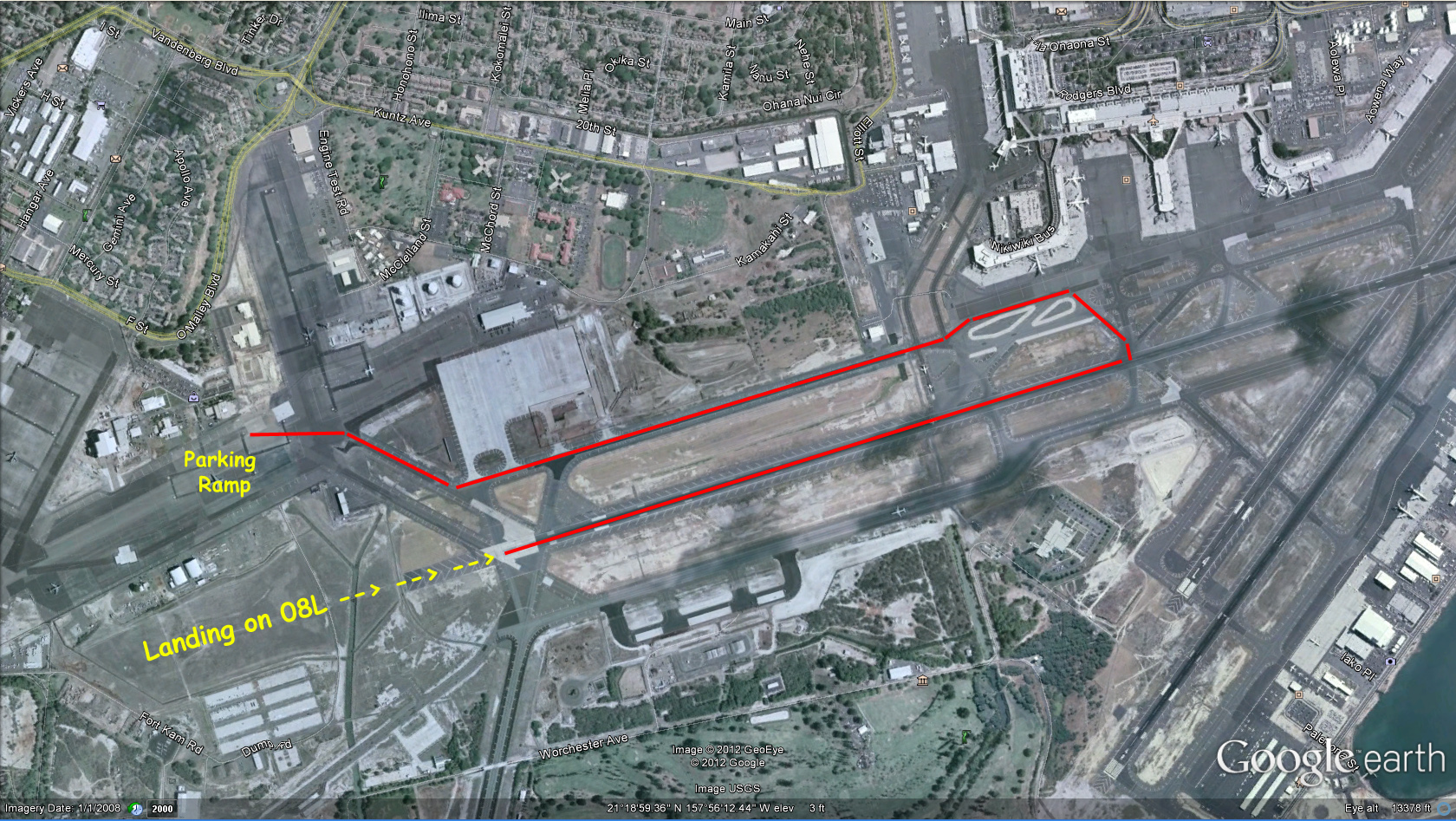 My estimation of our arrival at Hickam AFB.
Flight 2: Hickam AFB, HI - Pago Pago, American Samoa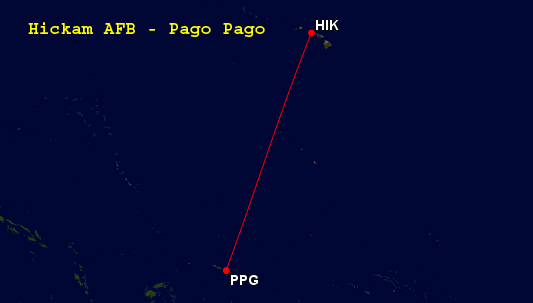 27 September 1997
USAF C-5B 87-0034
Dep: Rwy 08R 03:55 Local
Arr: Rwy 05 08:42 Local
Time Enroute: 05:48
Distance: 2600 miles
Remarks: 1st time crossing the equator
The 2nd leg of our trip was to Pago Pago, American Samoa. After departing Honolulu in the wee hours of darkness Saturday morning we made my first crossing of the equator some hours into the flight. I cant remember if the crew announced this fact...probably not. We landed at Pago Pago for a scheduled refueling stop, and we were on the ground for about 2 1/2 hours. As you can imagine, Pago Pago is a tropical island and the scenery is right off the set of "Gilligan's Island".

During the course of our stay, I was able to photograph three deHavilland Canada DHC-6 Twin Otters: two of Samoa Air and a single unit from Polynesian Airlines.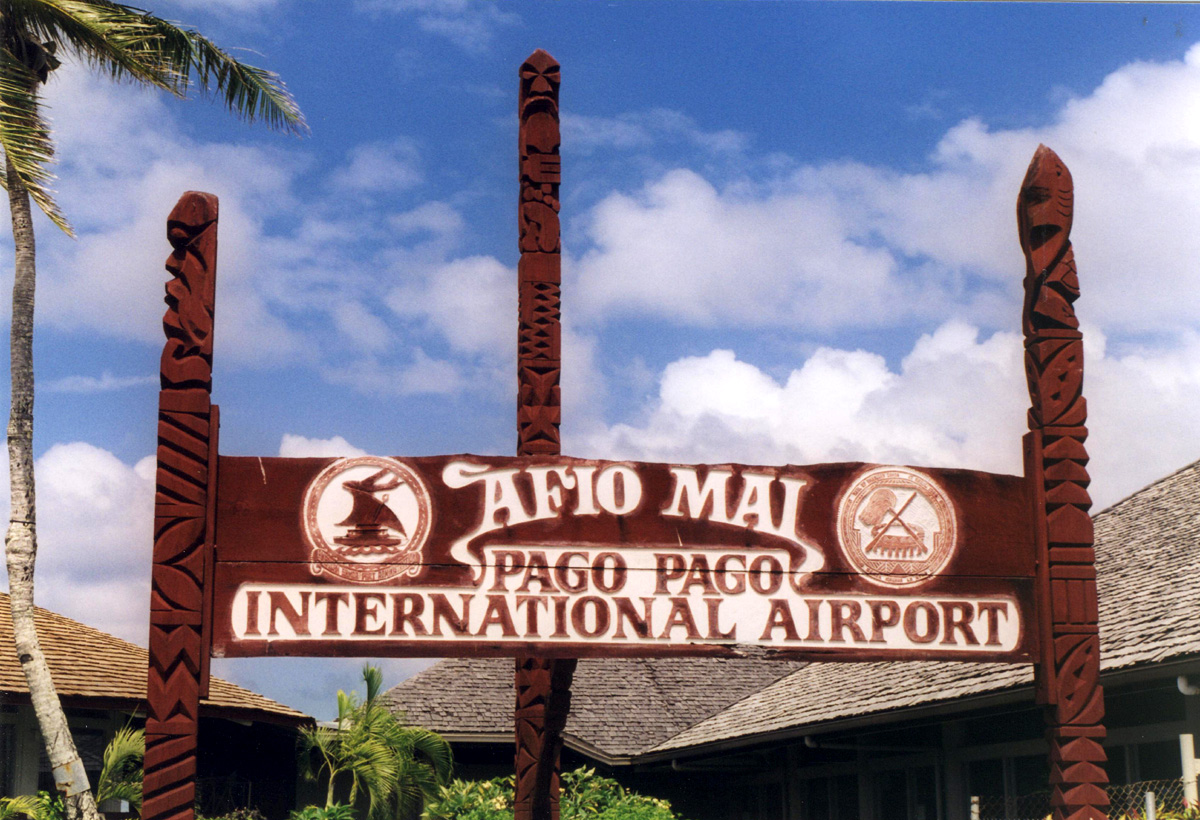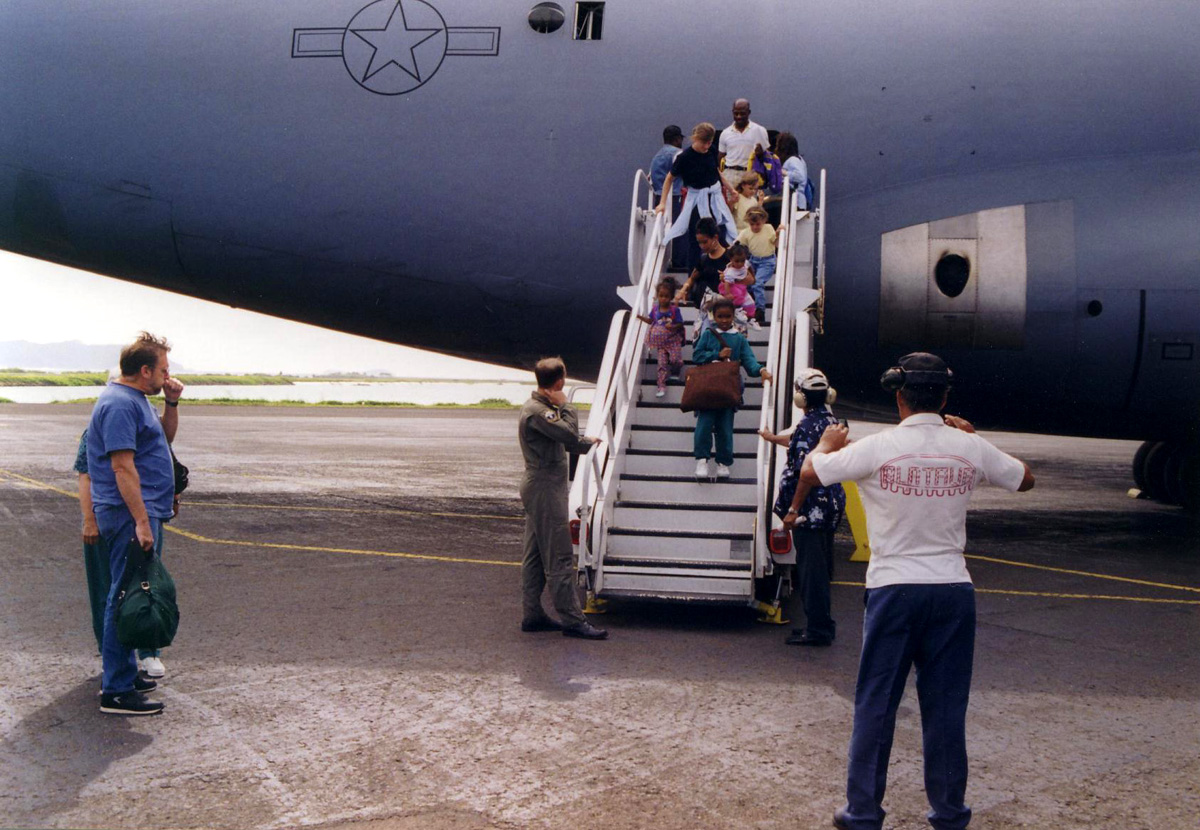 Unloading passengers at Pago Pago.
Moe at Pago Pago.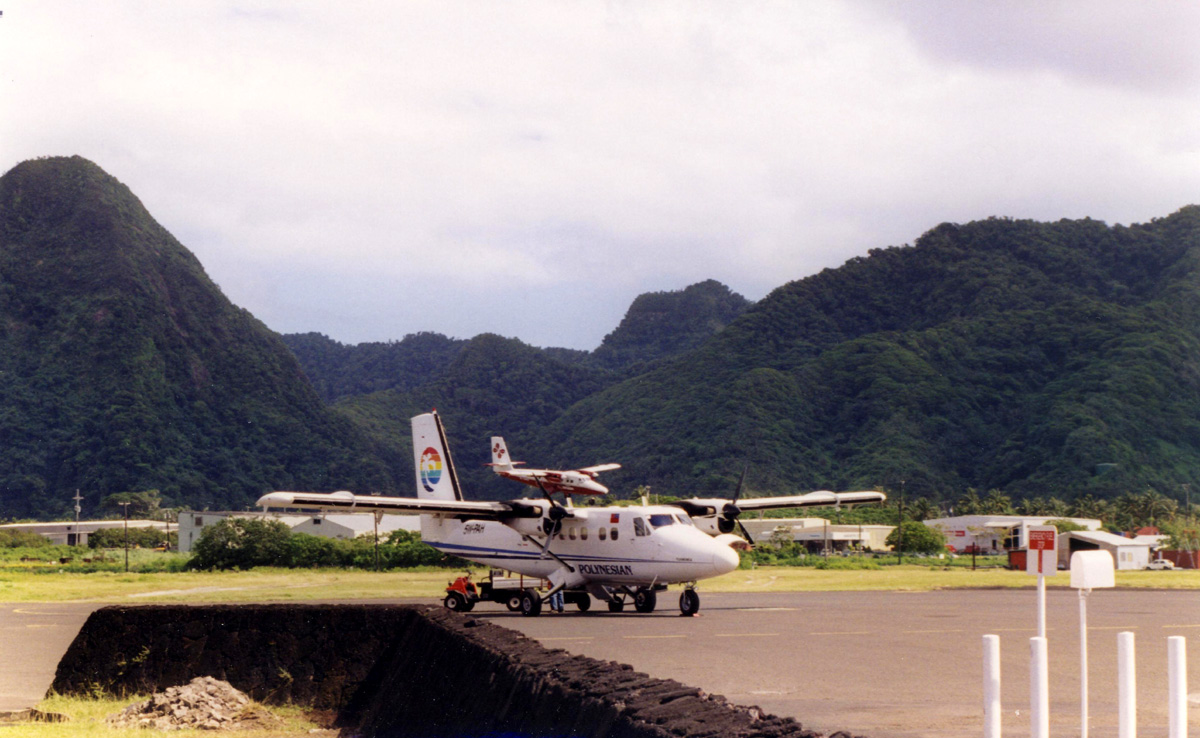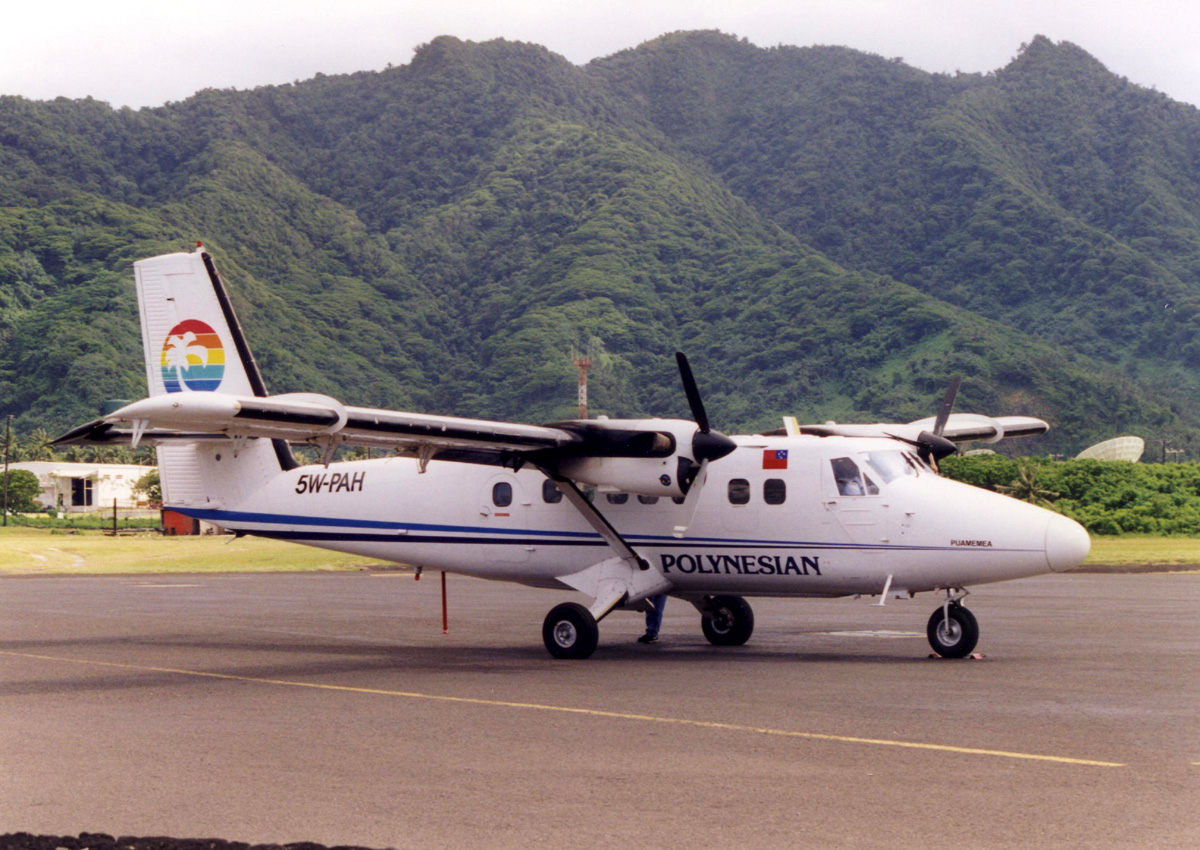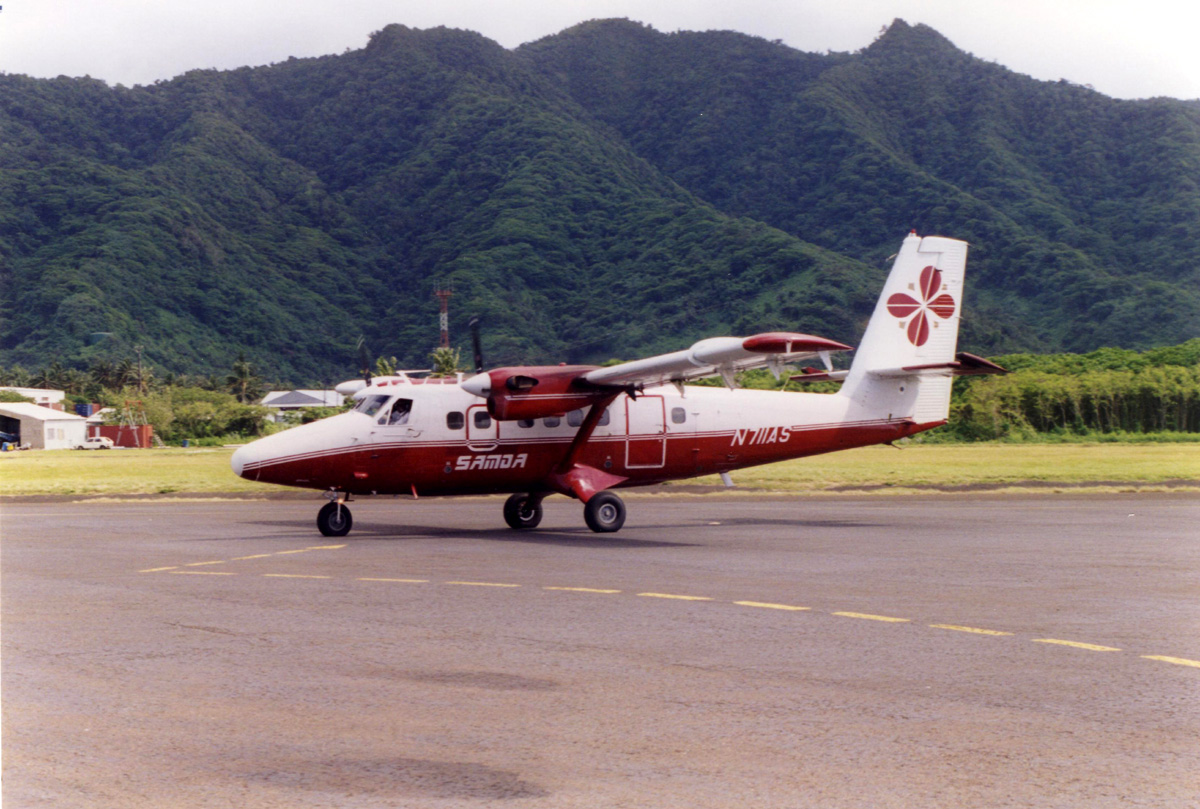 Samoa Air Twin Otter N711AS.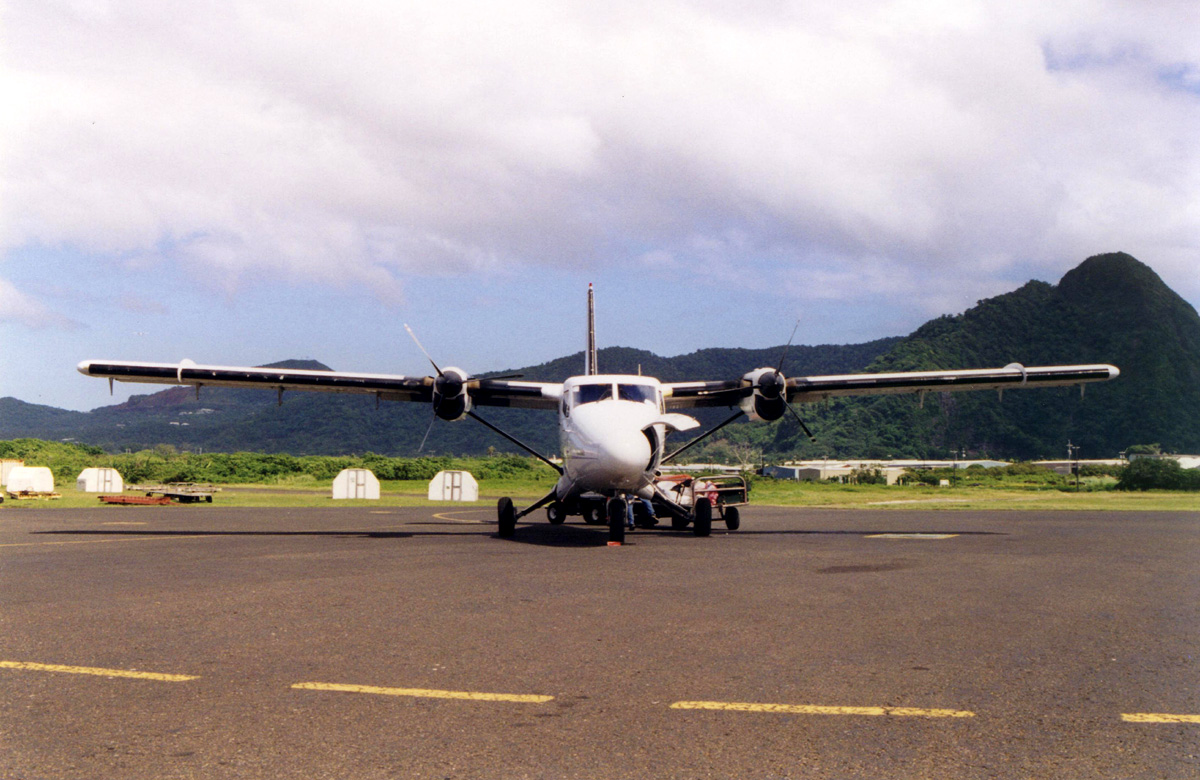 Polynesian Twin Otter 5W-PAH.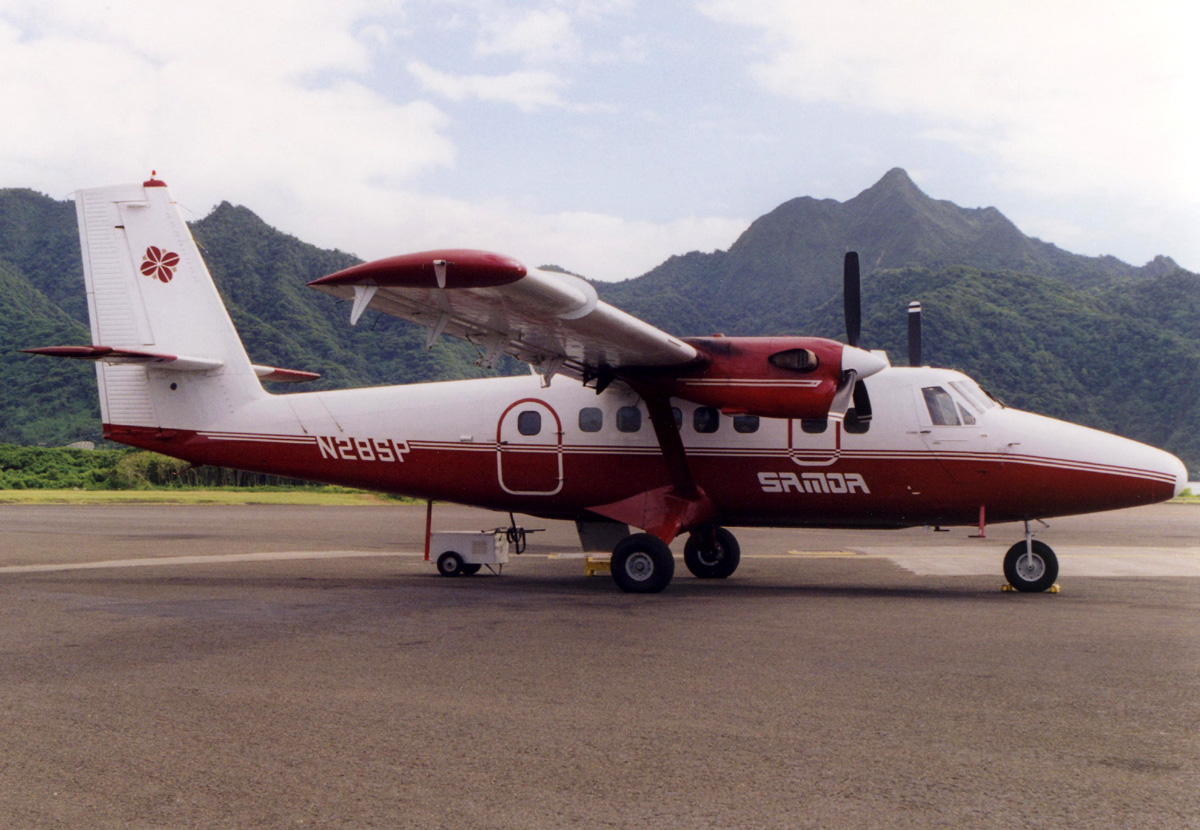 Samoa Air Twin Otter N28SP.
Flight 3: Pago Pago, American Samoa - RAAF Richmond, NSW, Australia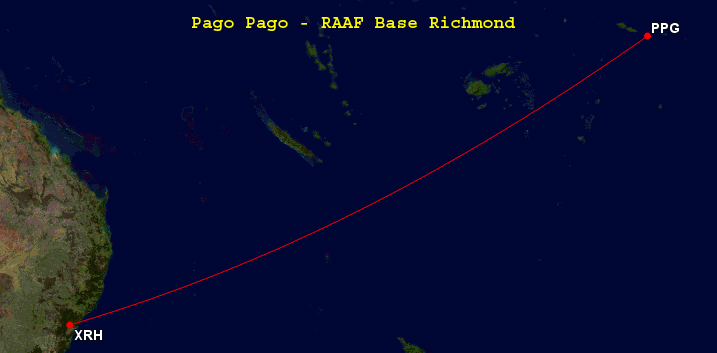 27 September 1997
USAF C-5B 87-0034
Dep: Rwy 05 11:24 Local
Arr: Rwy 10 15:15 Local (28 Sep)
Time Enroute: 06:51
Distance: 2750 miles
Remarks: 1st time crossing the equator; 1st time in Australia
The 3rd leg of our trip took us to the Australian continent. Why we "overshot" New Zealand by several hours and landed near Sydney is beyond me, although I'm not complaining. Before this trip, I'd never been anywhere south of the equator so any new destinations were fine by me.

I think I was able to see out one of the portholes and observe some of the cityscape around Sydney during our descent into RAAF Richmond - a Royal Australian Air Force transport base to the northwest of Sydney. At the time, RAAF Richmond was home to RAAF 707 and C-130 transports so it was perfectly capable of handling our C-5B.

During the course of our flight from Pago Pago we crossed the International Date Line so we jumped ahead to Sunday, September 28th. We landed at 3:15pm and as I recall we had to wait a couple of hours in the terminal before taxis were available to take us to a local hotel for our overnight stay. I was chomping at the bit to visit Sydney Airport and daylight was rapidly fading. The reason for the long delay at the air base was some silly national sporting event had basically shut down the community and everybody was concerned about the game...pudknockers.

In the end, we made it to a local hotel in Windsor, New South Wales, not too far from RAAF Richmond. I sussed out how to get to the airport via train and bus and managed to safely get there during the early evening. I have vague recollections of the journey but no photographs of either the trains or the airport. I did enjoy a couple hours of plane watching from the domestic terminal at Sydney, and I was happy to see Qantas A300B4s, 737s, and various other domestic airliners of the period.

I managed to get back to the hotel and get some sleep before an early rise to make the flight to Christchurch, New Zealand Monday morning. The only photograph I snapped in Australia was this photo in Windsor, NSW during the ride to the air base. In July 2012 I used Google Earth to determine the exact location this photograph was taken.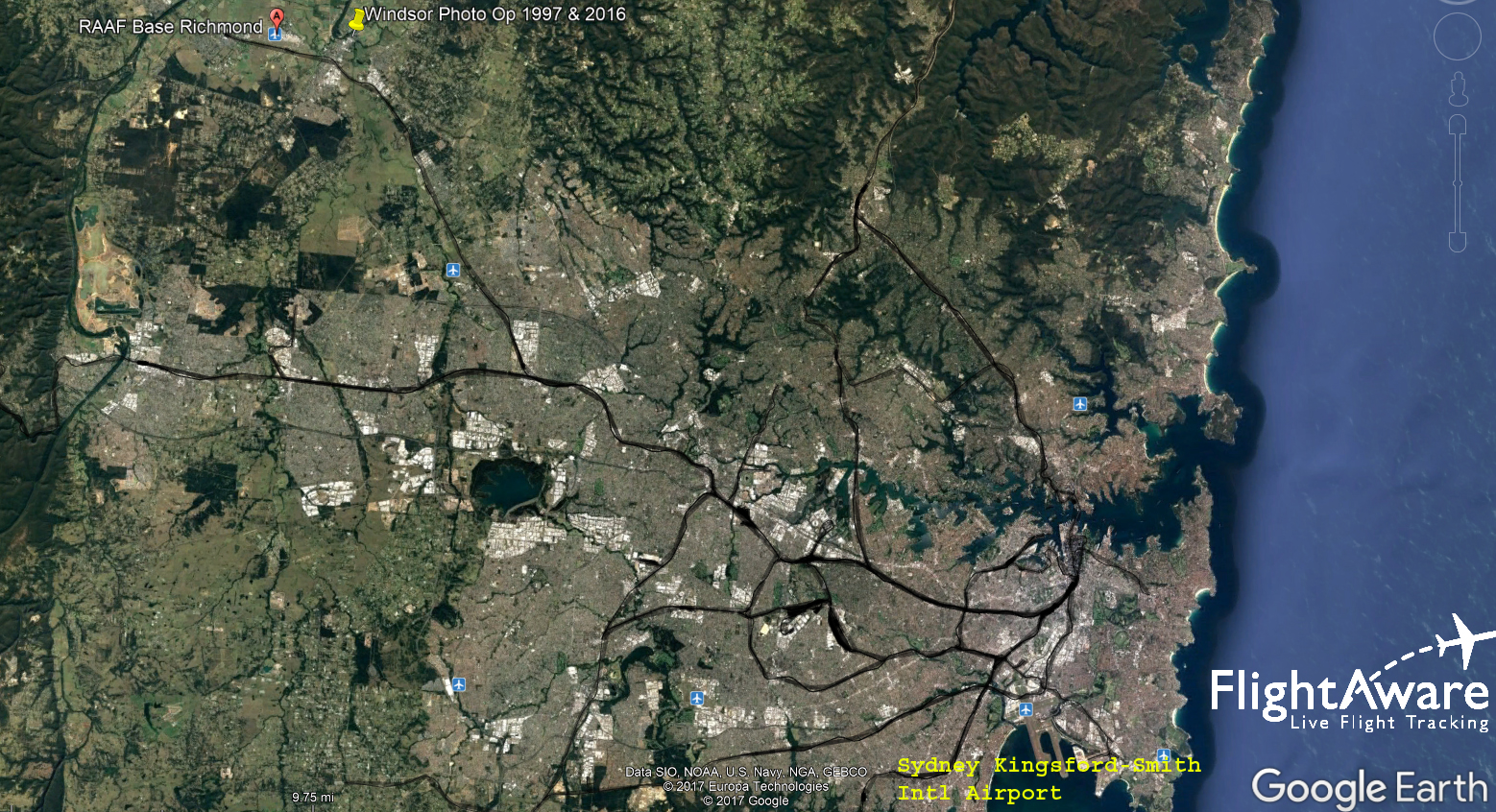 Google Earth showing locations of RAAF Richmond and Sydney.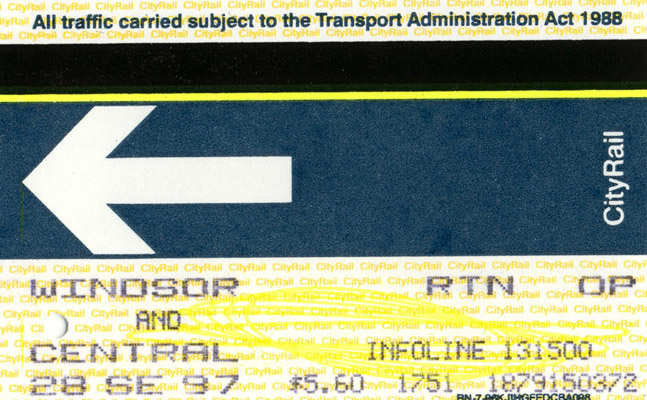 Sydney CityRail Ticket I used for my trip between Windsor and Sydney Central.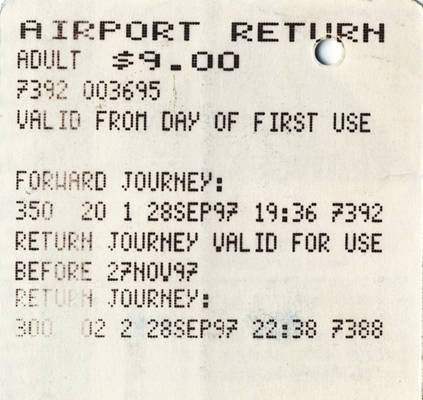 Sydney bus ticket for the return trip to Sydney Airport - Reverse.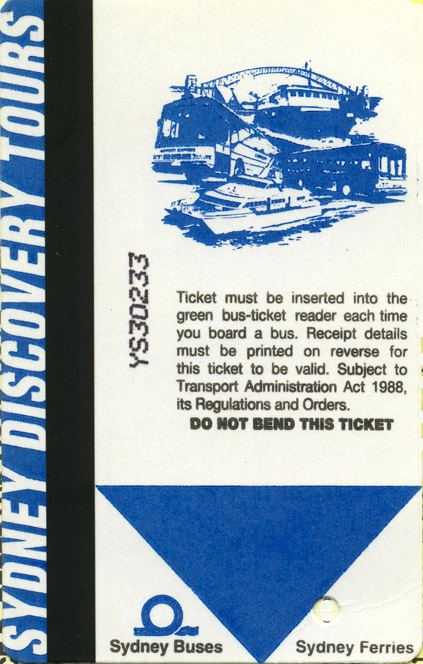 Sydney bus ticket for the return trip to Sydney Airport - Obverse.
The planes seen at SYD: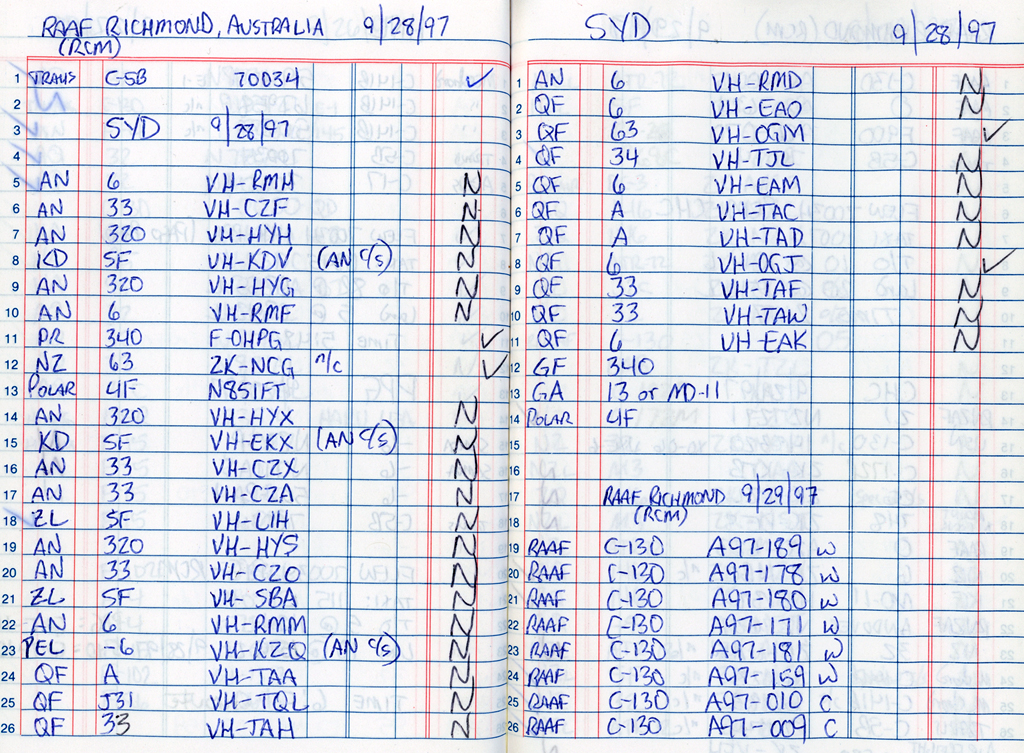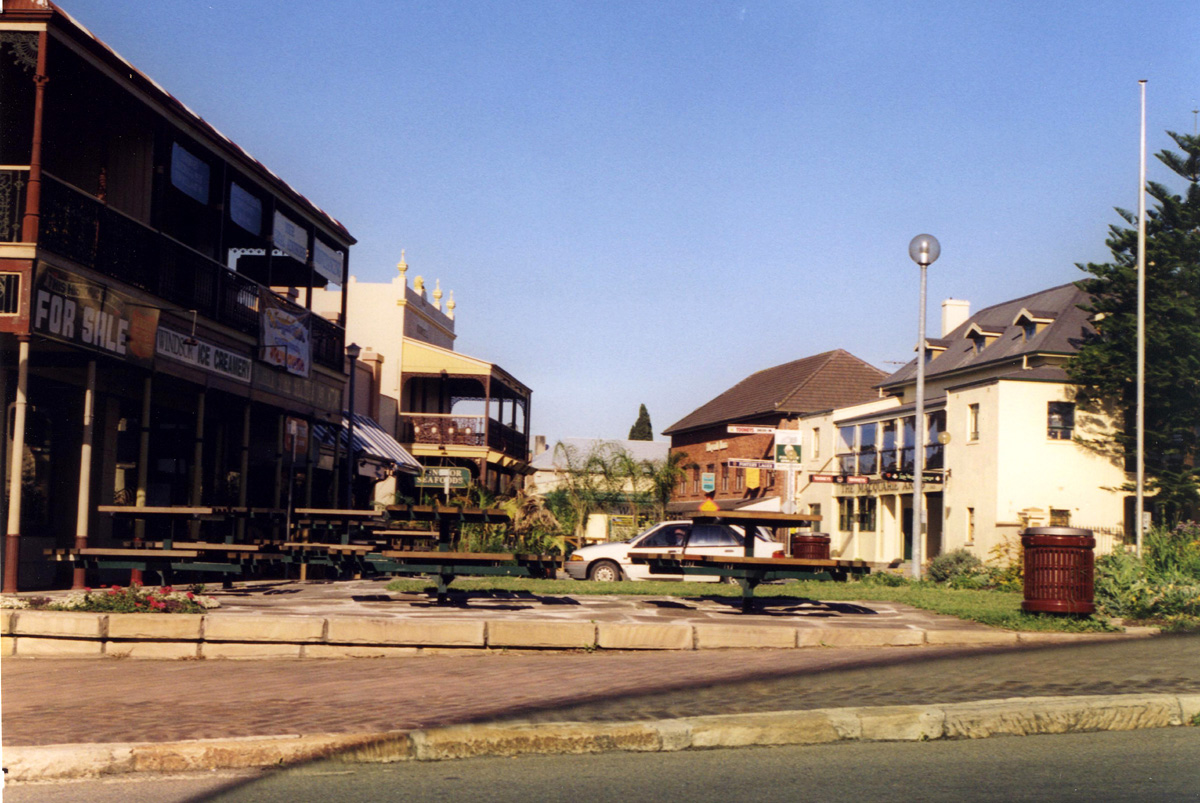 The ONLY photo I took in Australia was during the taxi ride to the base. I did a search on "Windsor Ice Creamery" (sign on the close building) and that nailed down the location
in Google Earth.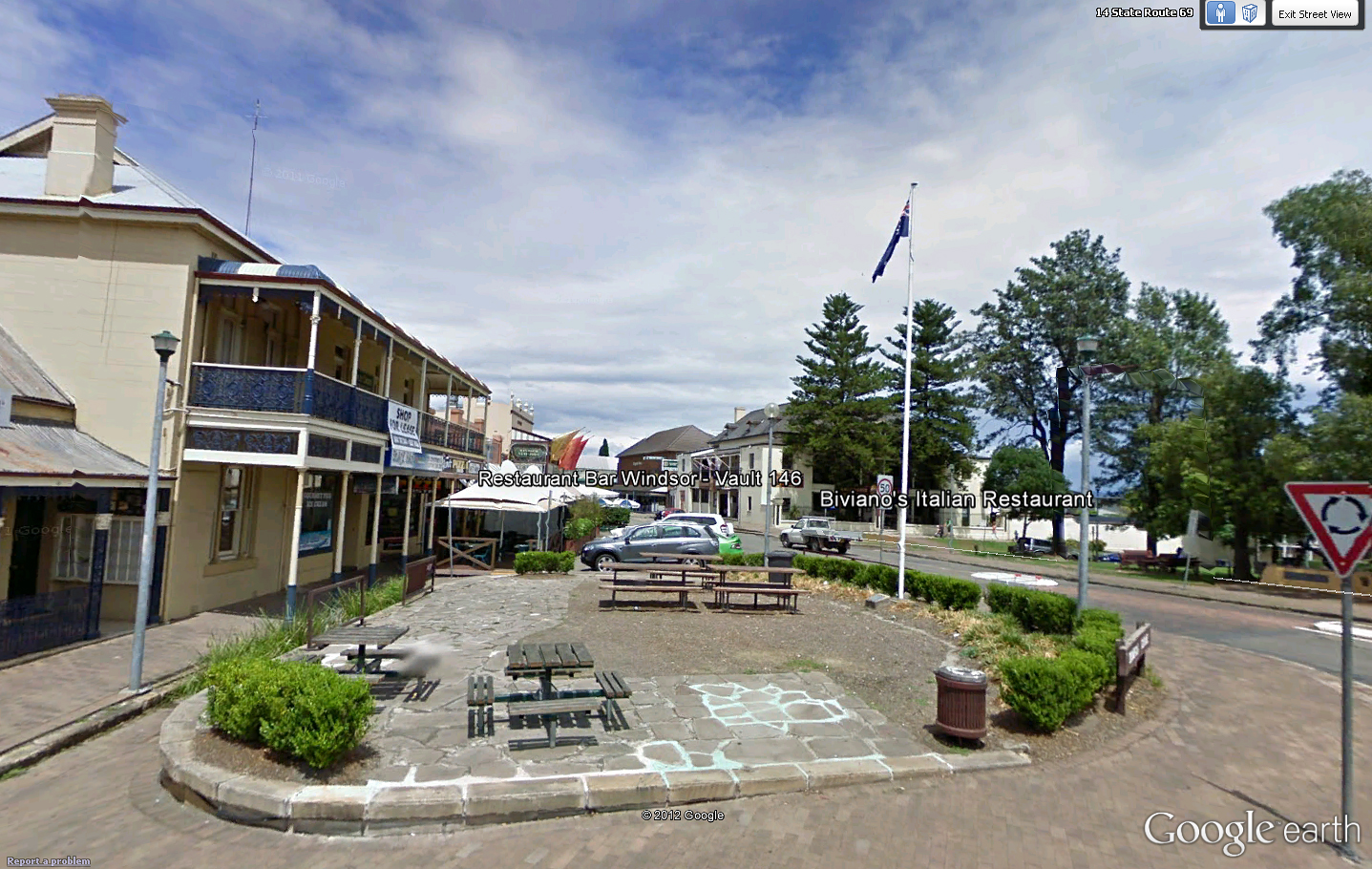 2012 Google Earth "Street View" screenshot of the above image.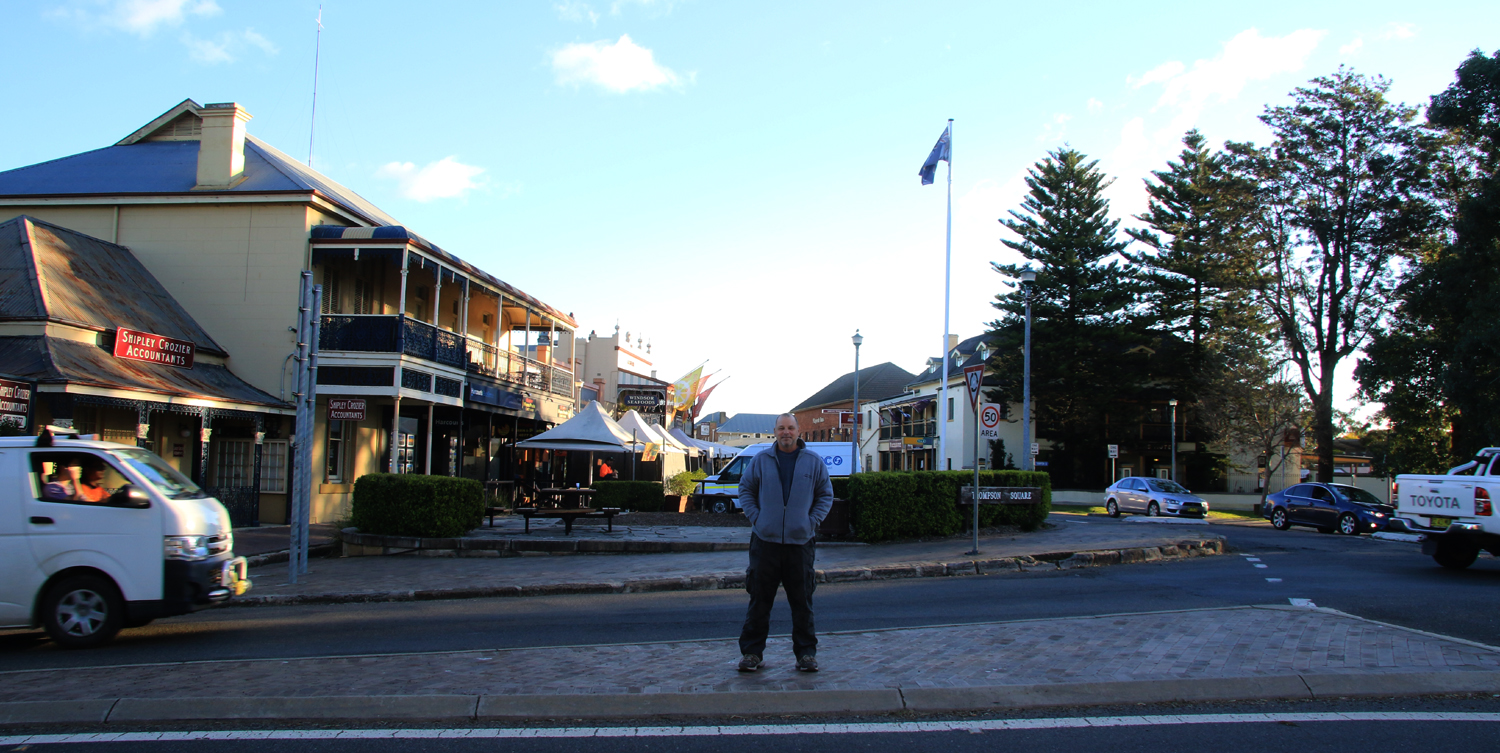 I was able to visit the exact location in Windsor during my week on Blue Mountain in July 2016.
Flight 4: RAAF Richmond, NSW, Australia - Christchurch, New Zealand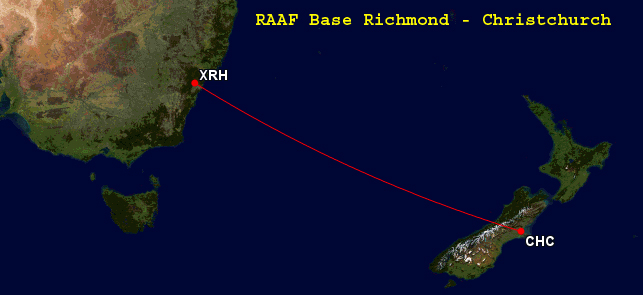 29 September 1997
USAF C-5B 87-0034
Dep: Rwy 10 10:19 Local
Arr: Rwy 20 15:16 Local
Time Enroute: 02:57
Distance: 1356 miles
Remarks: 1st time in New Zealand
Leg 4 of this trip was the shortest duration of the trip. New Zealand is located east of Australia, across the Tasman Sea. Our destination of Christchurch is located on the South Island, roughly 1350 miles east of Sydney. Christchurch International Airport is home to the International Antarctic Centre and would be our base of operations for the coming week.

Thankfully, CHC (airport code for Christchurch) had a US Naval Exchange store so I was able to stock up on some supplies and clothes that went missing with my duffel bag that never showed up at Honolulu. Despite the fact I'd been able to shower at the hotel in Australia, I was still wearing the same clothes I'd put on at the beginning of the whole journey. I was also able to purchase some Kodak slide film (Ektachrome, not Kodachrome) for my second camera body.

The hotel we stayed at was not terribly far from CHC, and I remember I even walked home from work on at least one occasion. Because there was already a USAF presence from McChord AFB, Washington at CHC, I was able to work the night shift while the NCO from McChord worked the day shift. This worked out very nicely as after work I was able to walk over to the airport terminal and watch planes for several hours each day. CHC has a very nice open-air observation deck atop the terminal building and the photography was top-notch. The weather most of the week was cloudy but on the Thursday it cleared up nicely. To the west, I could see part of the snow-covered "Southern Alps" mountain range in the distance.

During the mid 1990s I'd become interested in astronomy. I was aware there were "treasures" to be seen in these southern-hemisphere skies but I dont have any observation notes from the trip. It is evident we had cloudy days most of the time, and maybe this equated to cloudy nights when I would have been on duty at the airport and theoretically able to view the night sky. As I type this in July 2012, I've not ventured back to the southern hemisphere, but I'd definitely like to pursue such a trip. Edit: In July 2016 I made a trip to Sydney and Richmond Australia, my first visit South of the equator since this 1997 trip.

Early on after our arrival, it became clear I would not be travelling with the C-5 to Antarctica. I'm sure I was somewhat disappointed with not being able to visit the most isolated continent of earth, but apparently there wasn't enough cold weather gear aboard the C-5 to accommodate just one more tag-along: me. In the end, I was happy to watch and photograph 70034 depart on mission "Ice 03" in the morning sunshine. This occurred on Thursday October 2nd, and the plane arrived back in Christchurch sometime that night or early the next morning...I don't have any notes on the arrival.

Friday October 3rd we prepared for departure. We loaded the "kit" back onto the C-5 and a little after 6:30pm we departed Christchurch on the single longest leg of this trip: to Andersen AFB, Guam.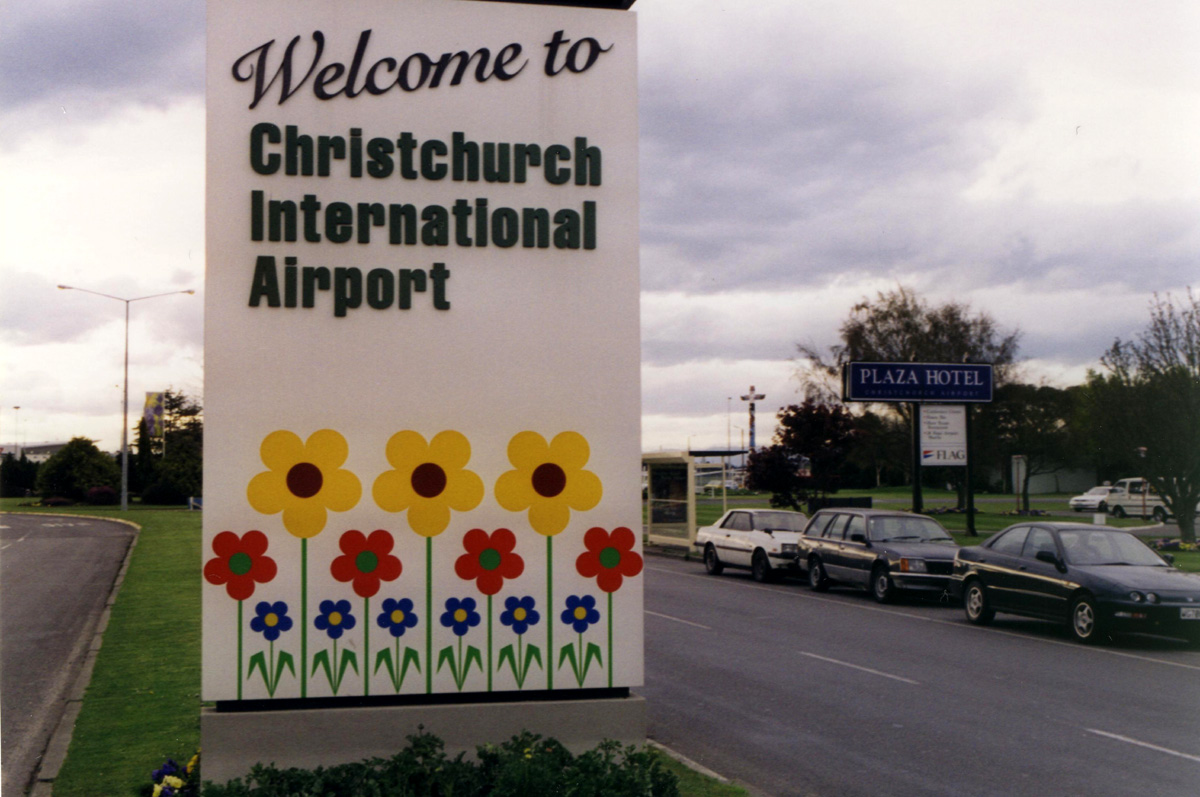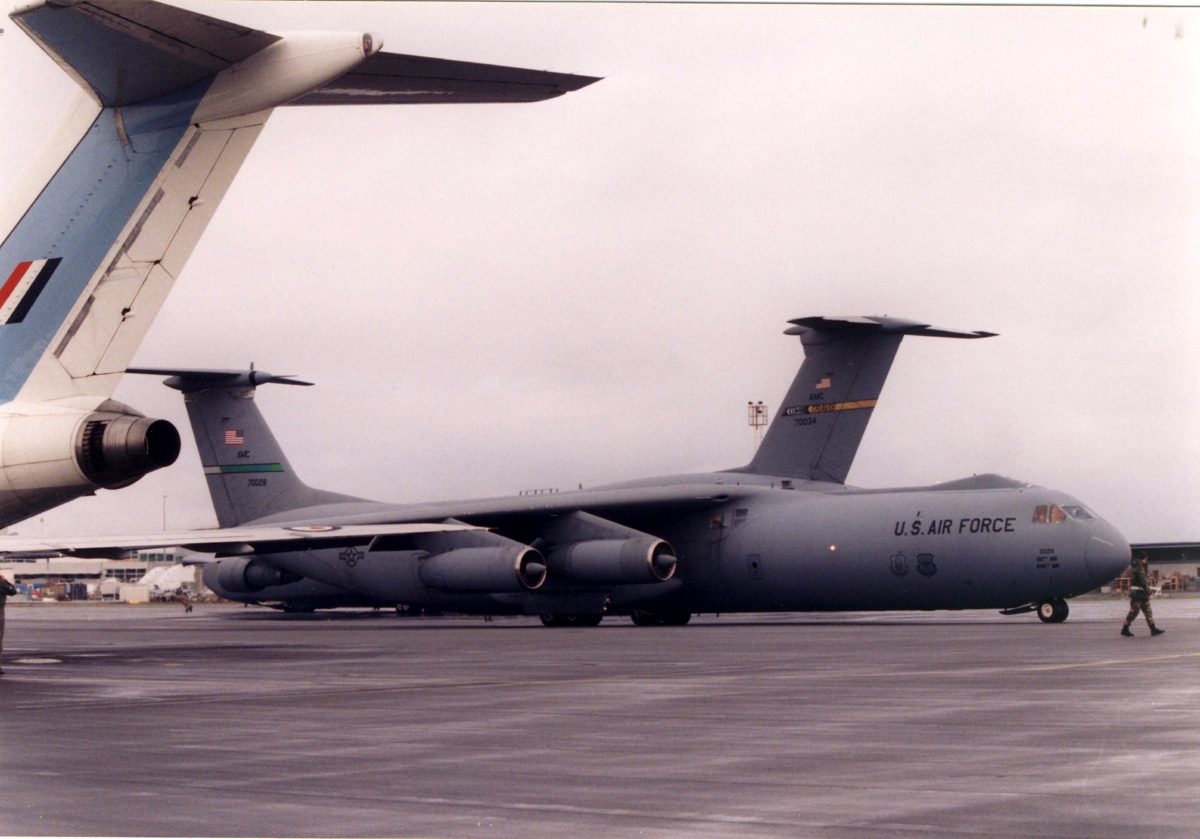 McChord AFB C-141B 70028 at CHC.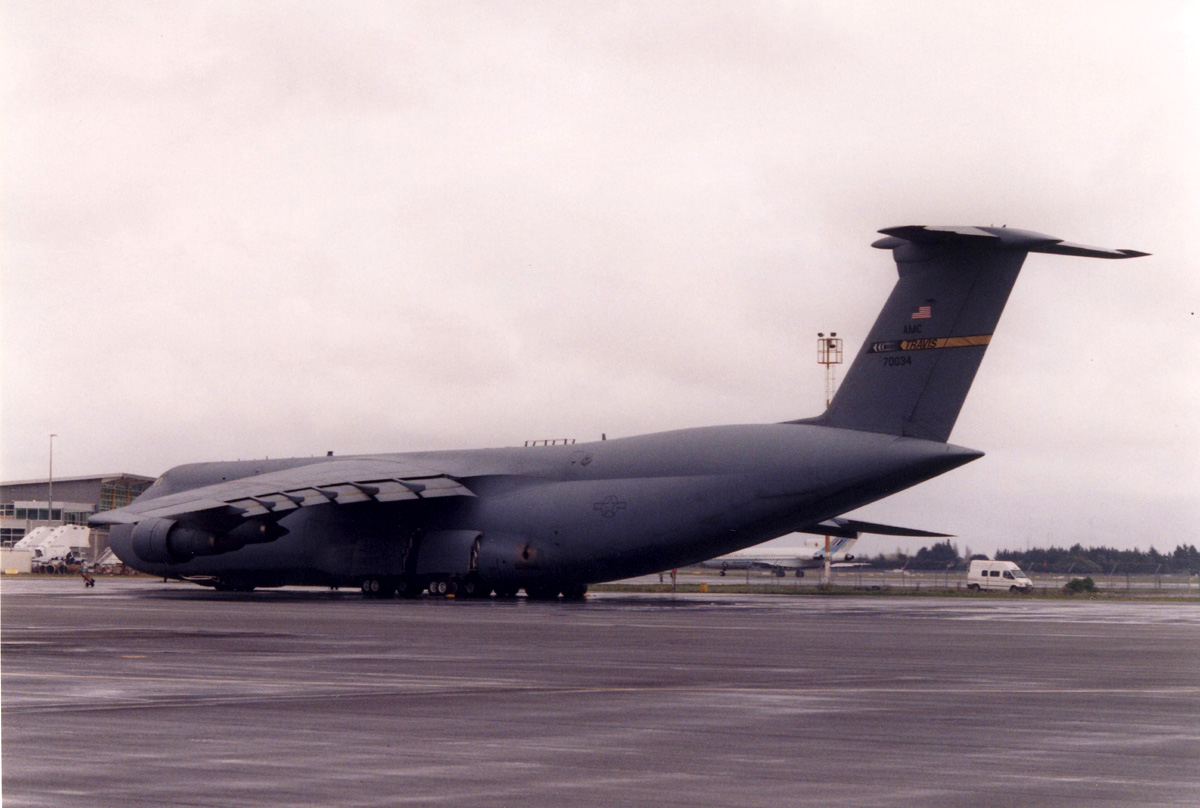 Our Travis C-5B 70034 at CHC.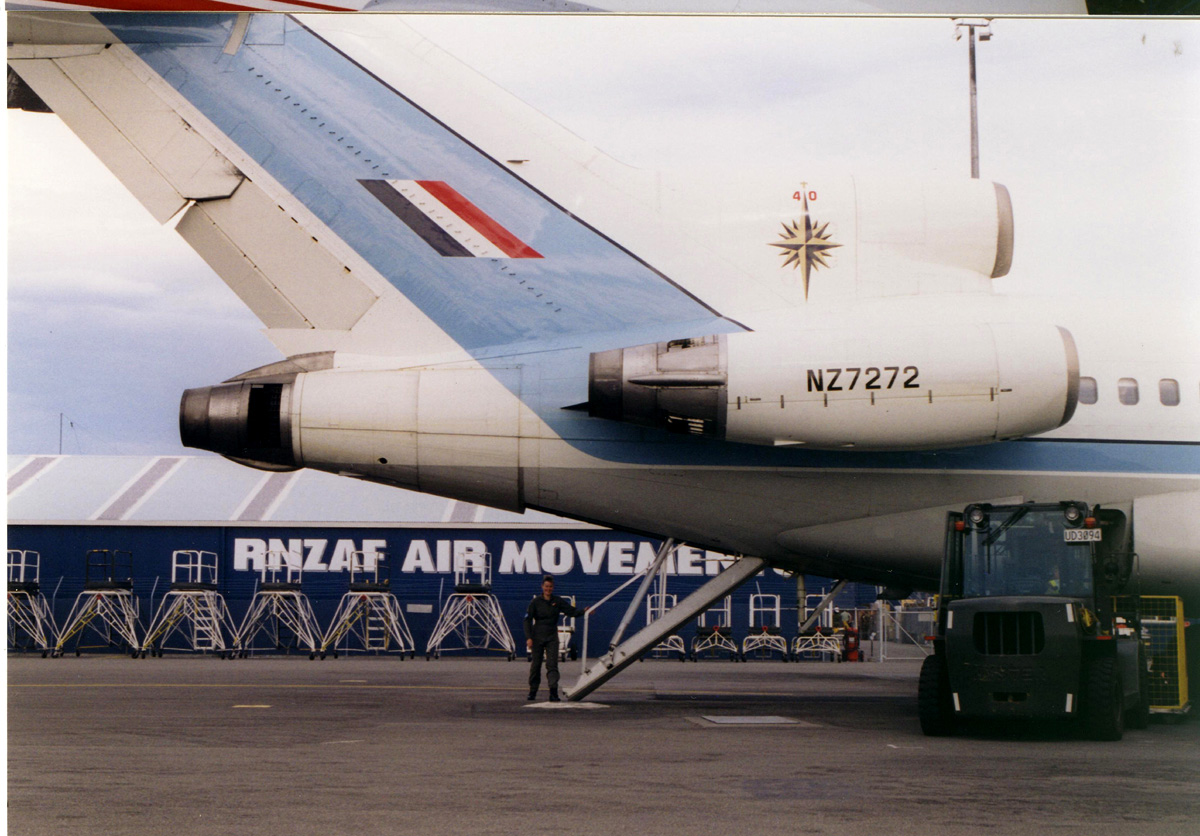 RNZAF 727-100 NZ7272 at CHC.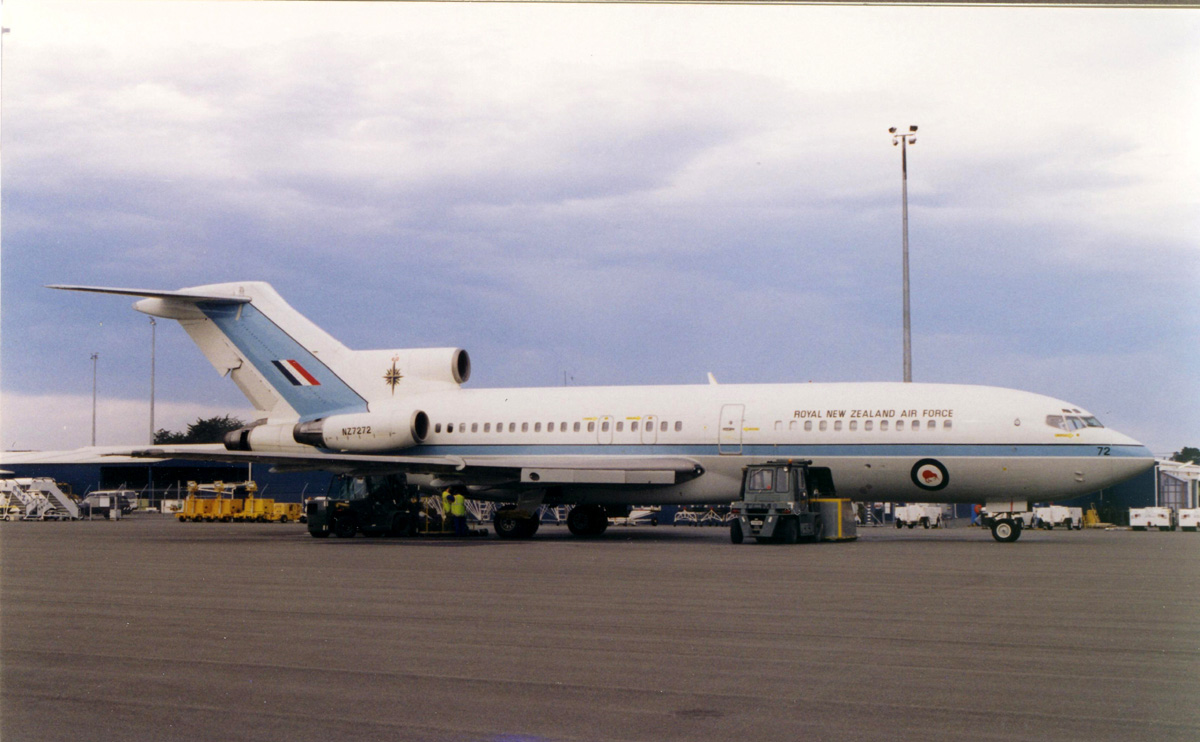 RNZAF 727-100 NZ7272 at CHC.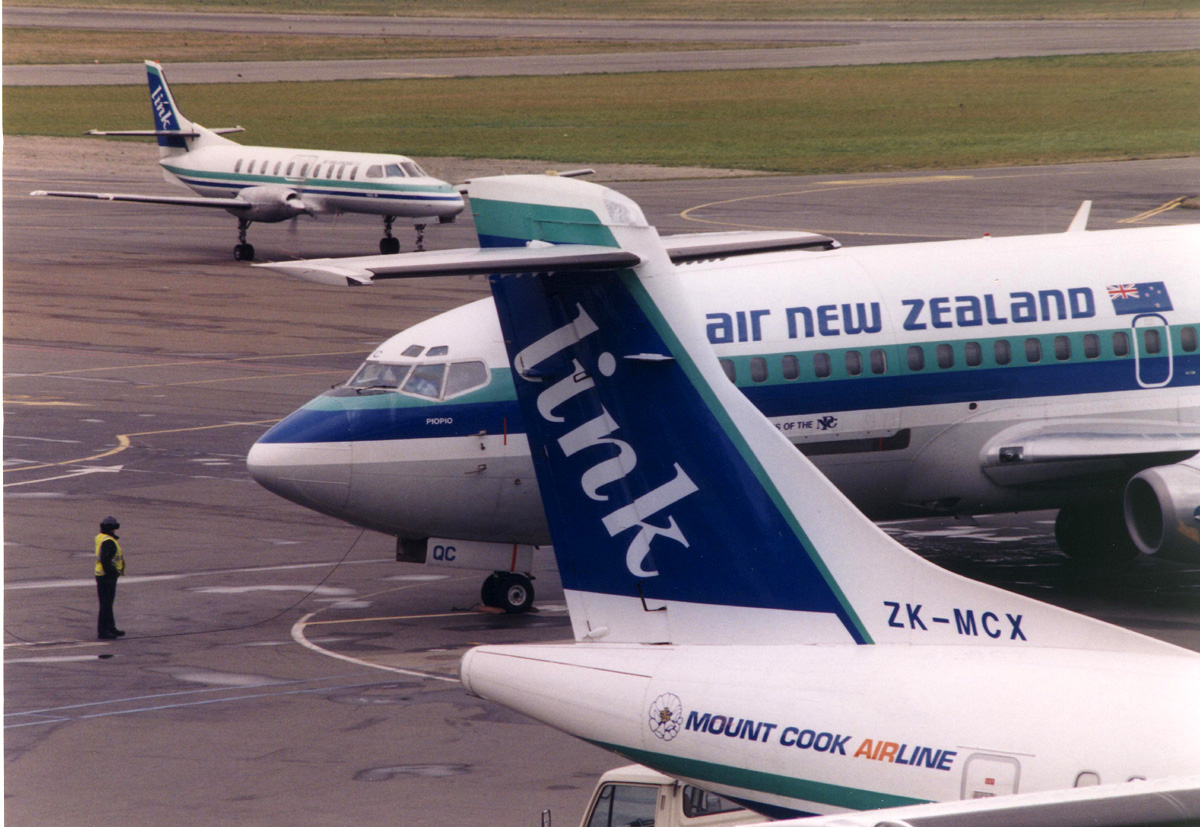 Open-air observation deck at CHC provided great views of the activity.
Air New Zealand Link SAAB and ATR plus an ANZ 747-400.
QANTAS 767-300 VH-OGA.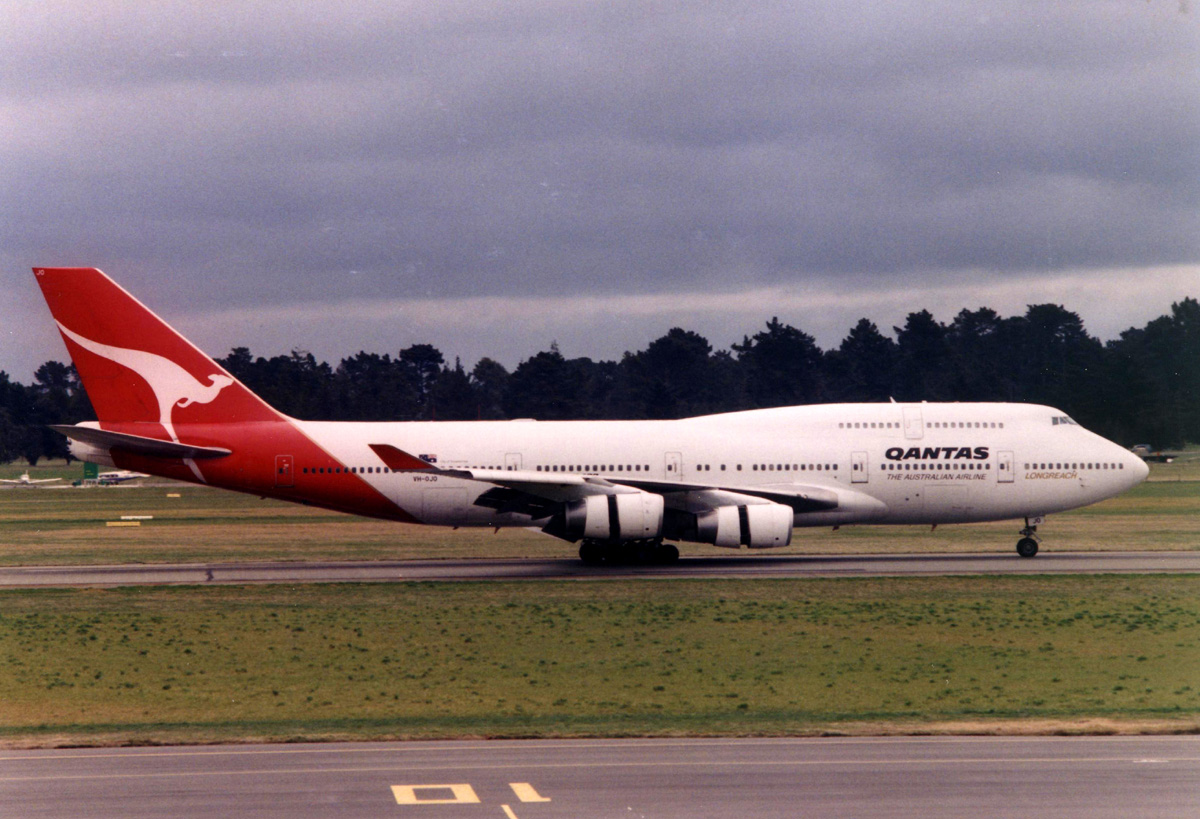 QANTAS 747-400 VH-OJO.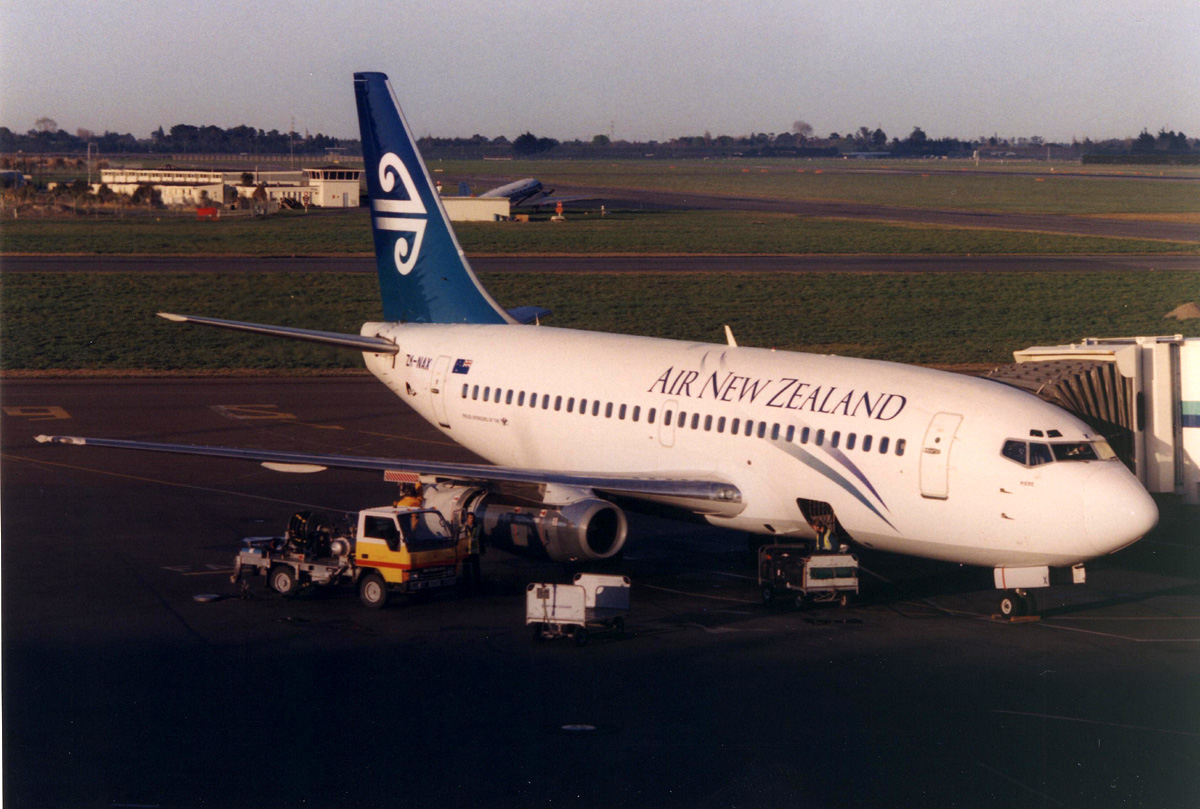 Air New Zealand 737-200 ZK-NAX with hush kits.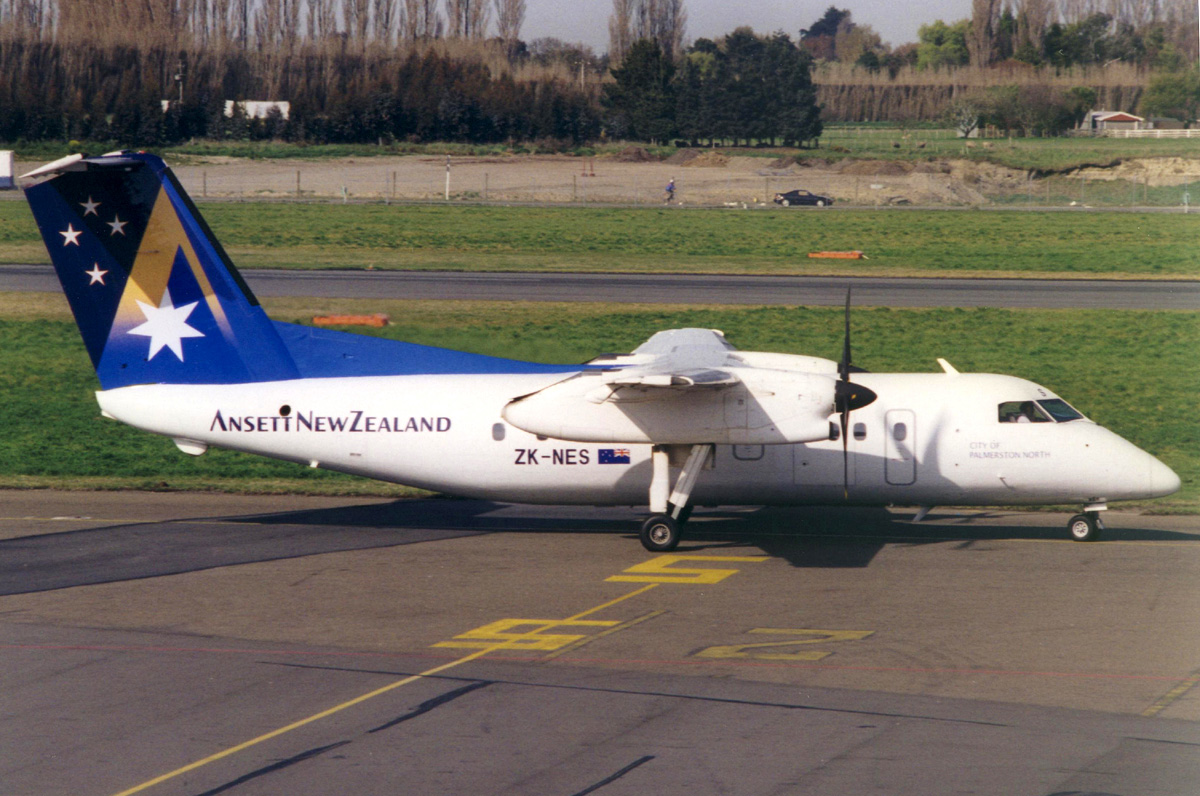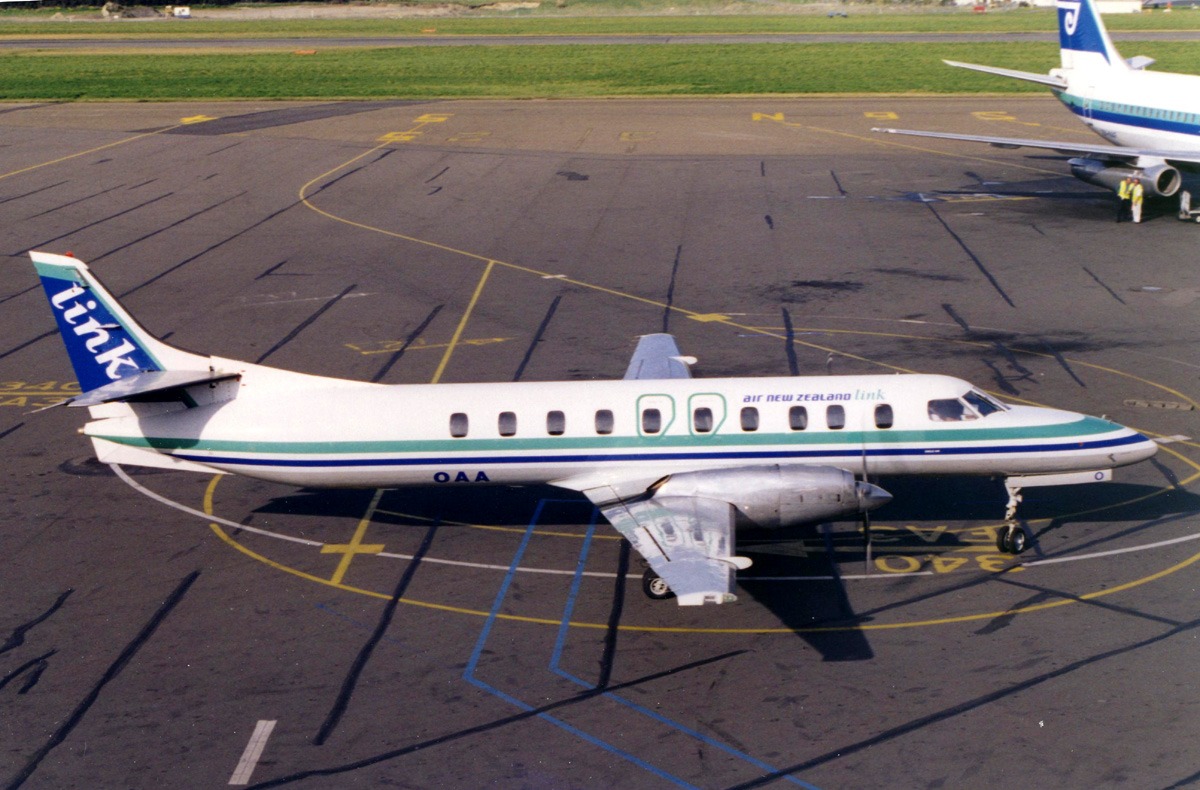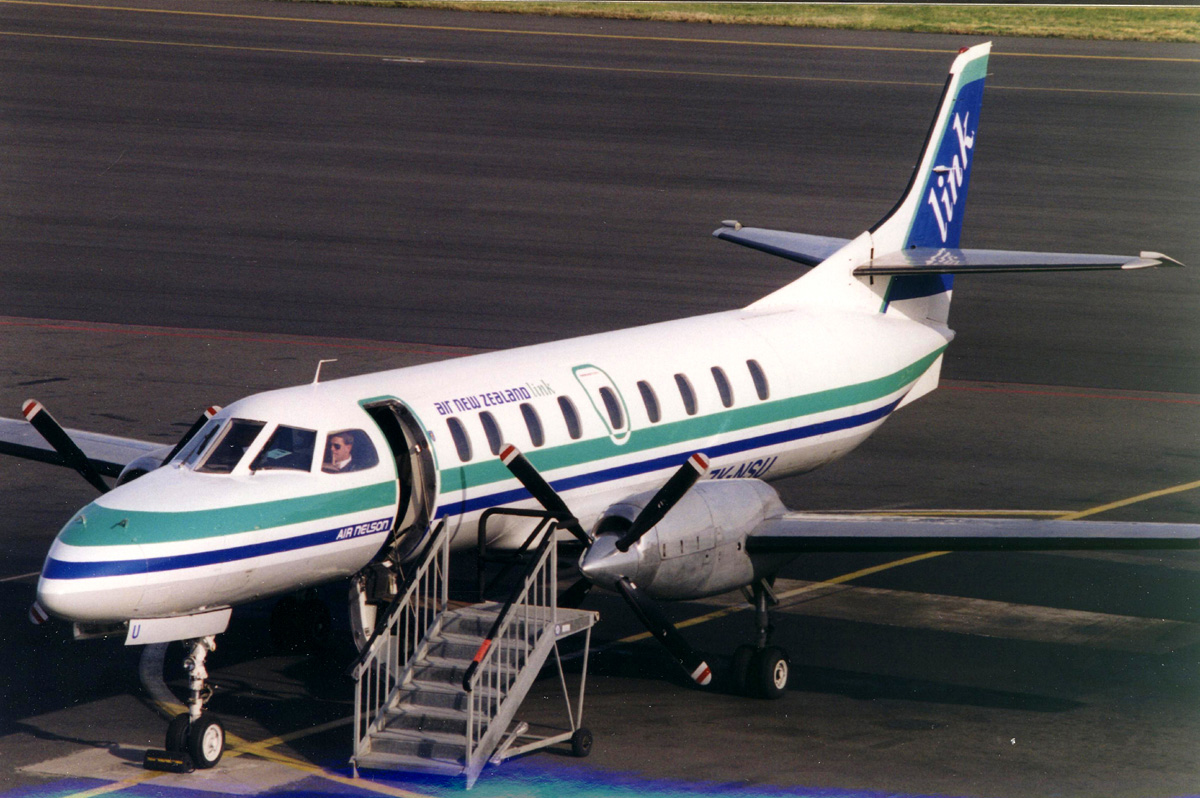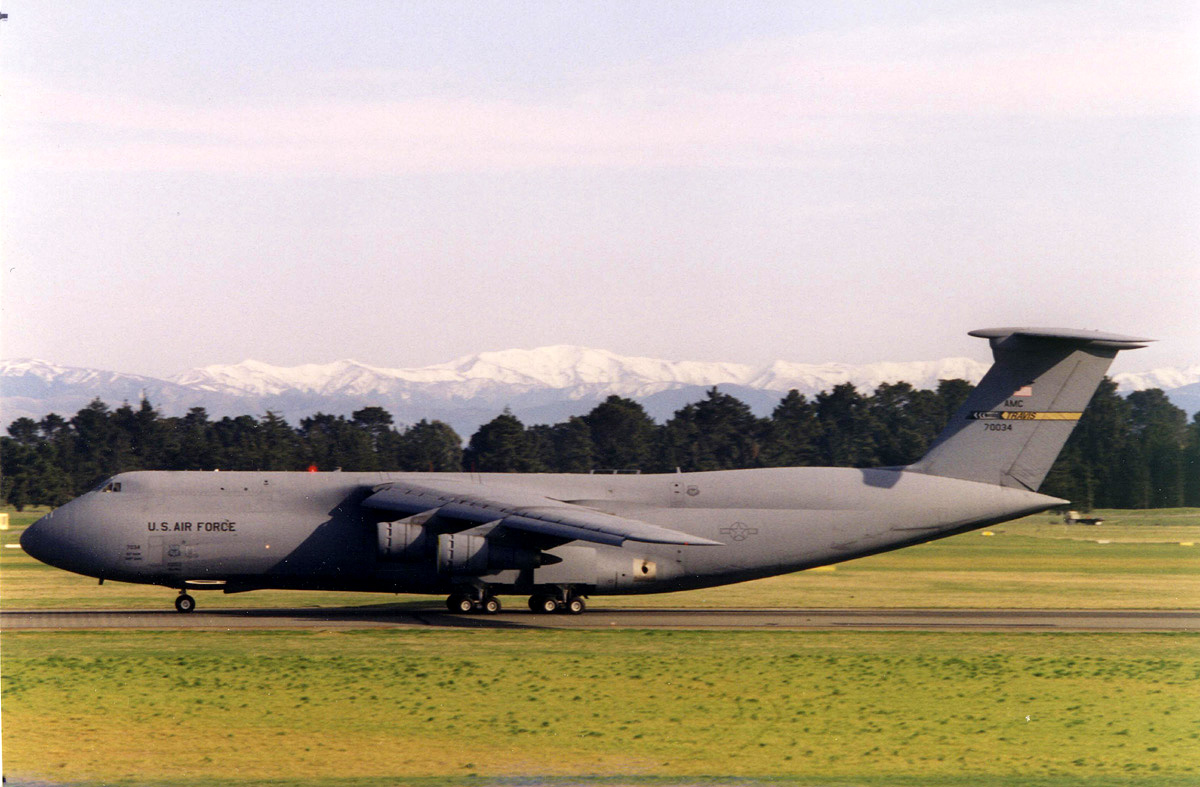 Callsign "Ice 03" departing CHC runway 02 for Antarctica.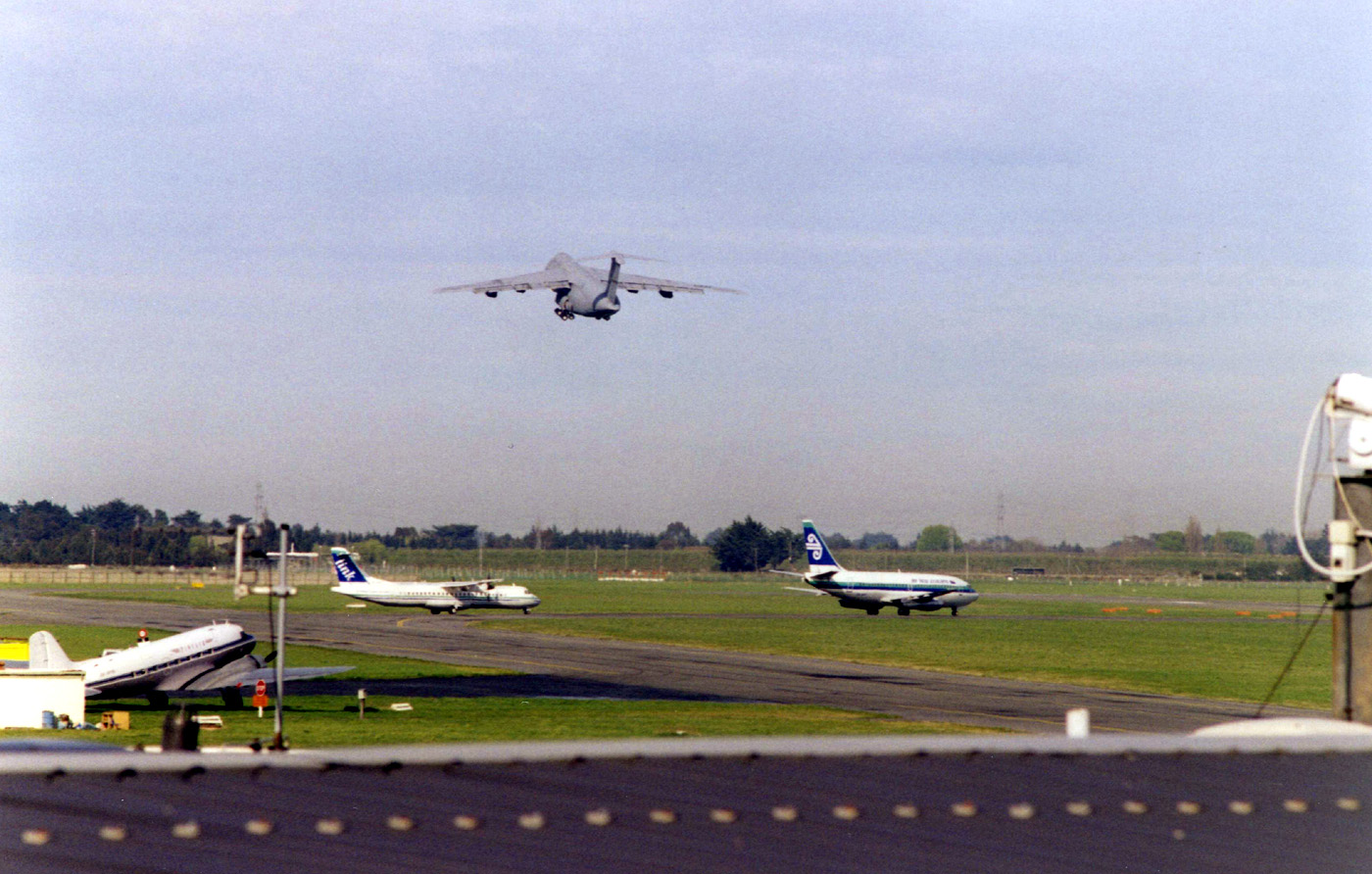 I was a little disappointed not to be travelling to Antarctica but I got over it.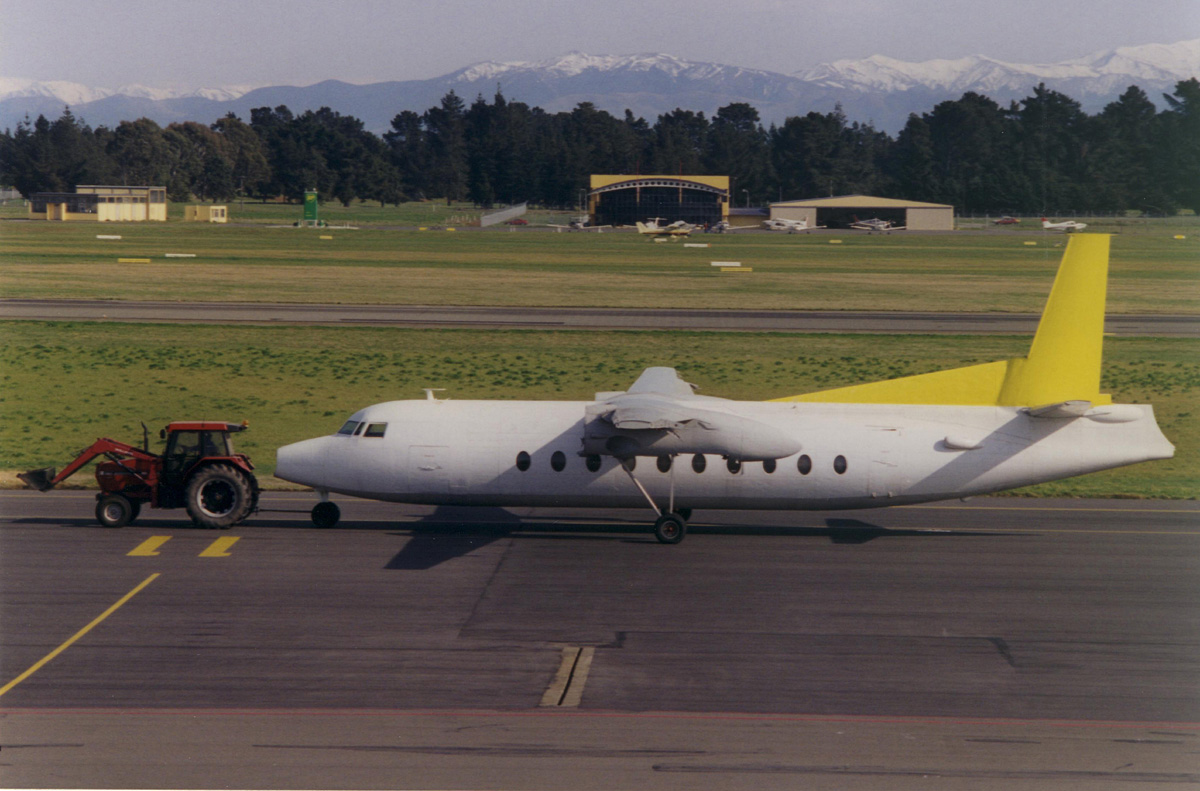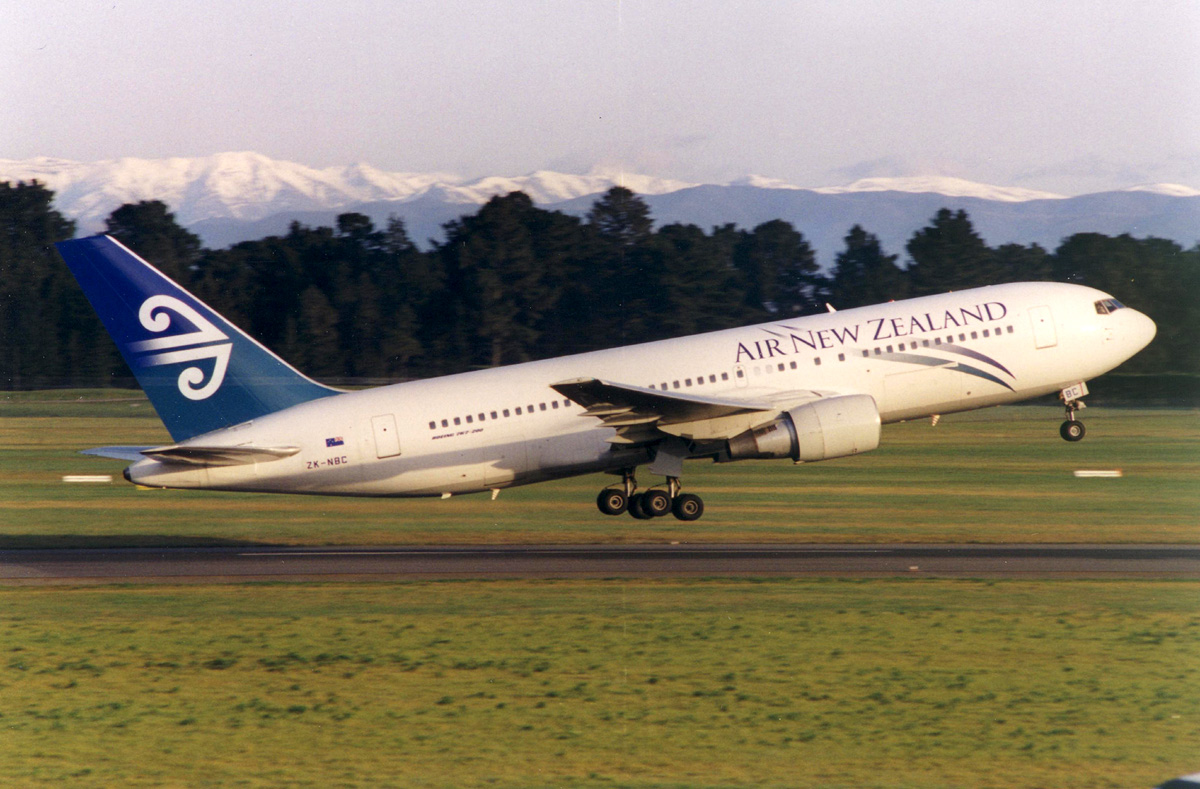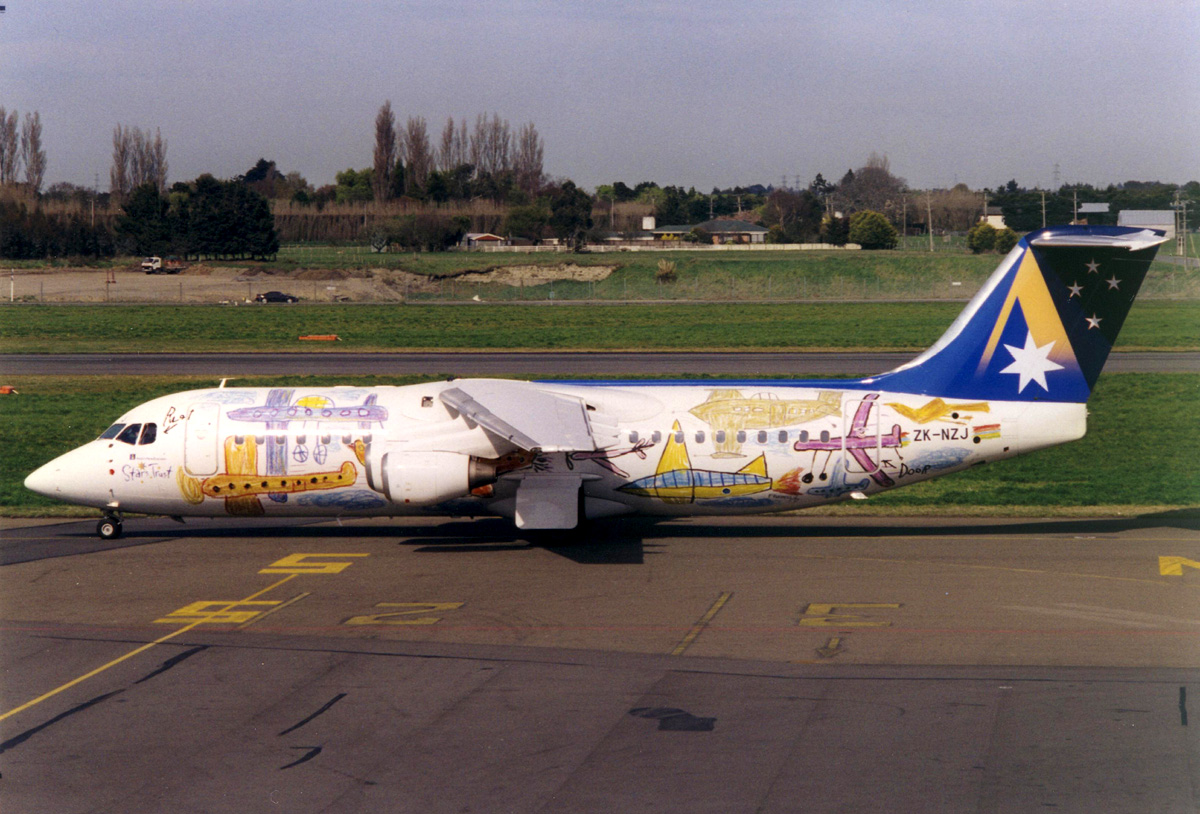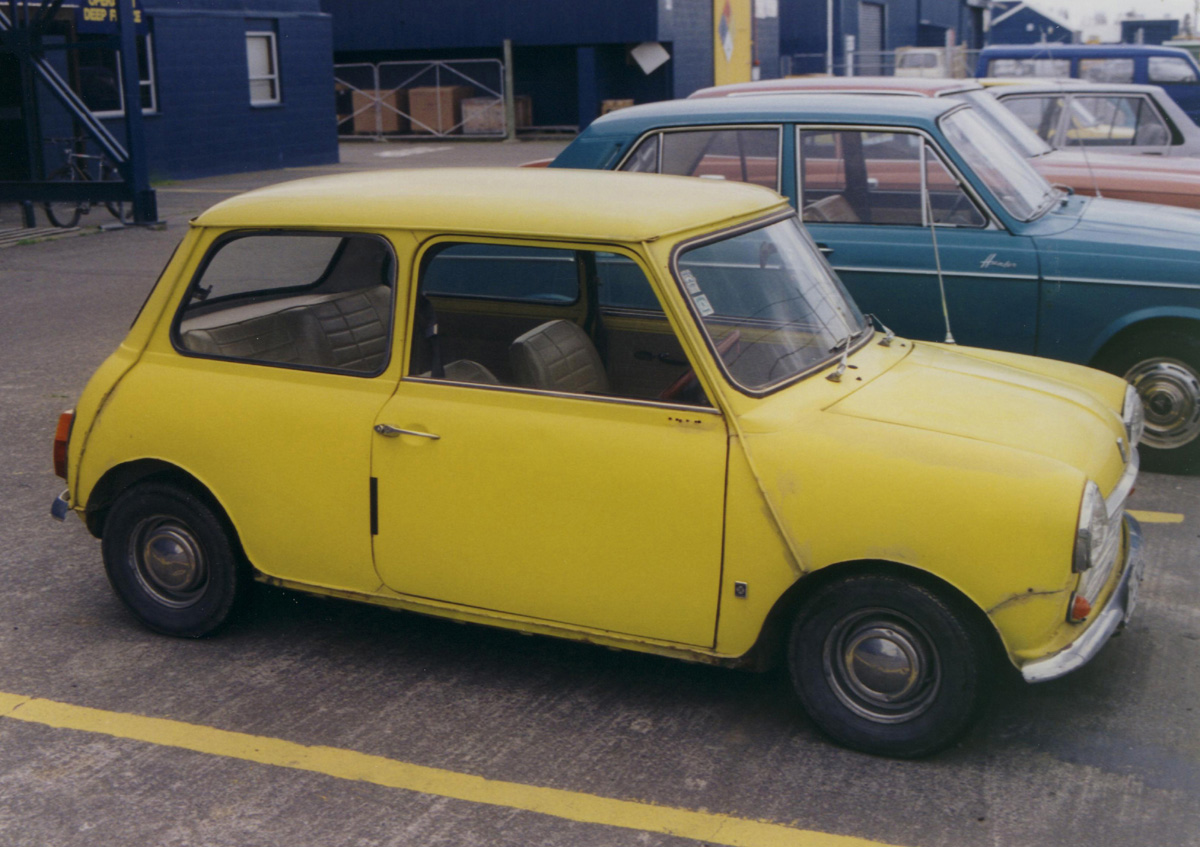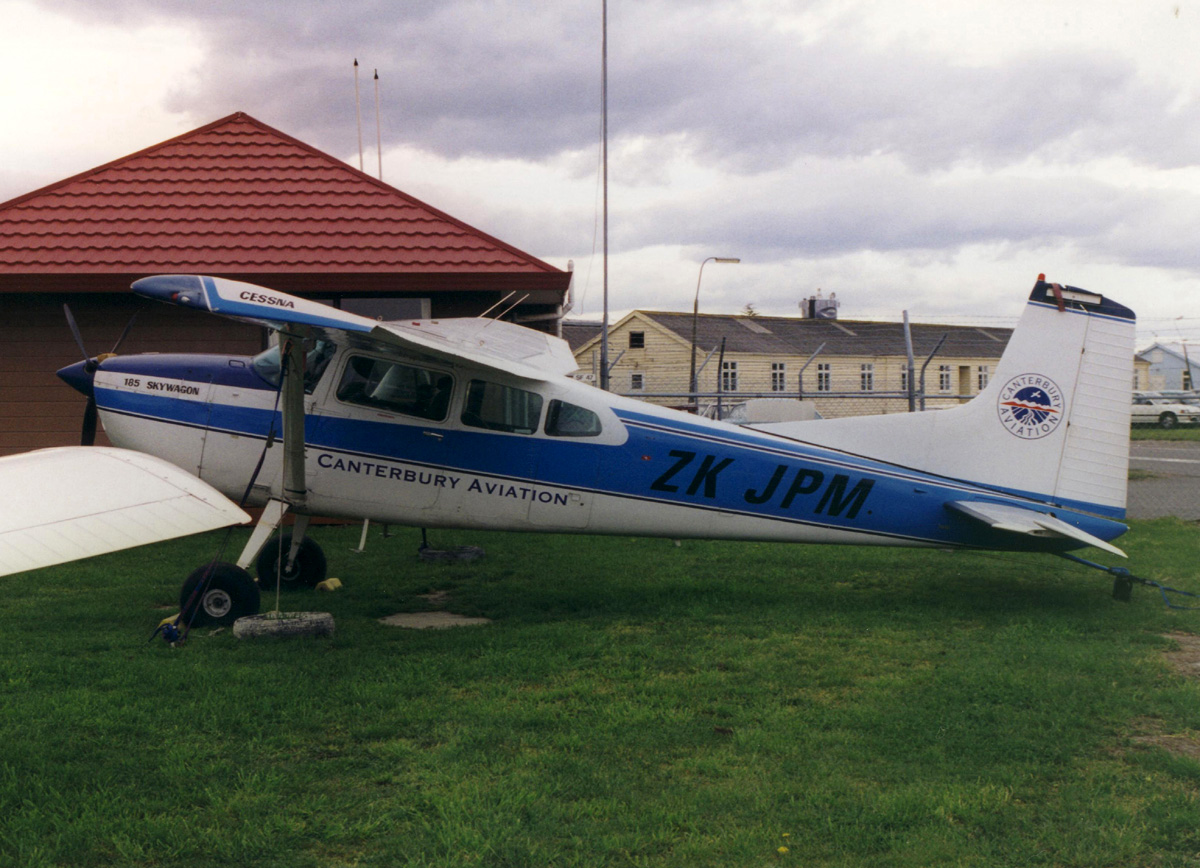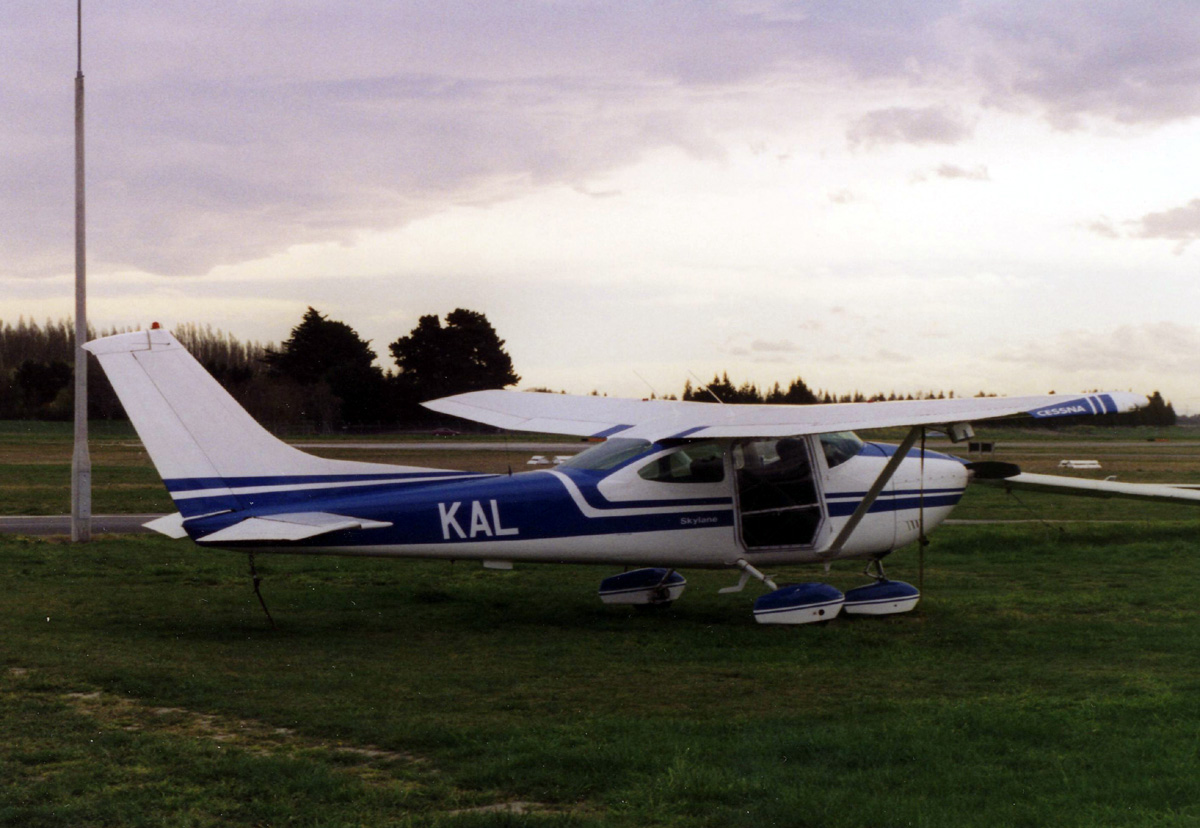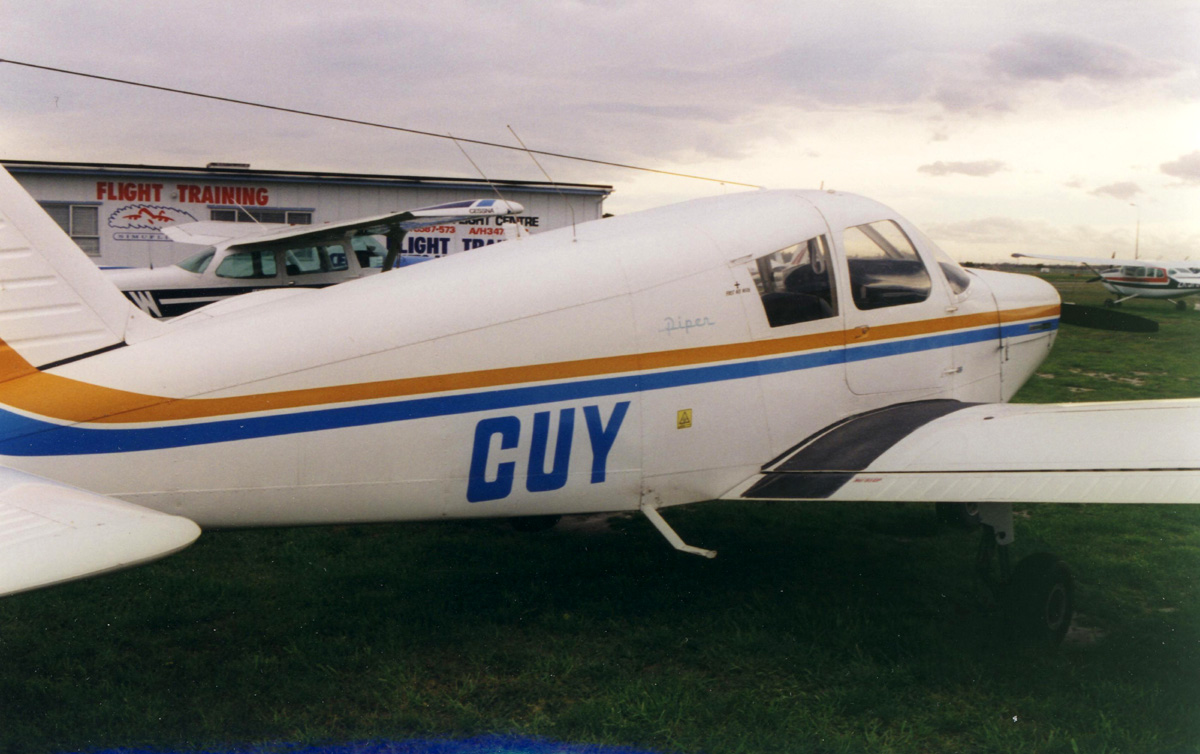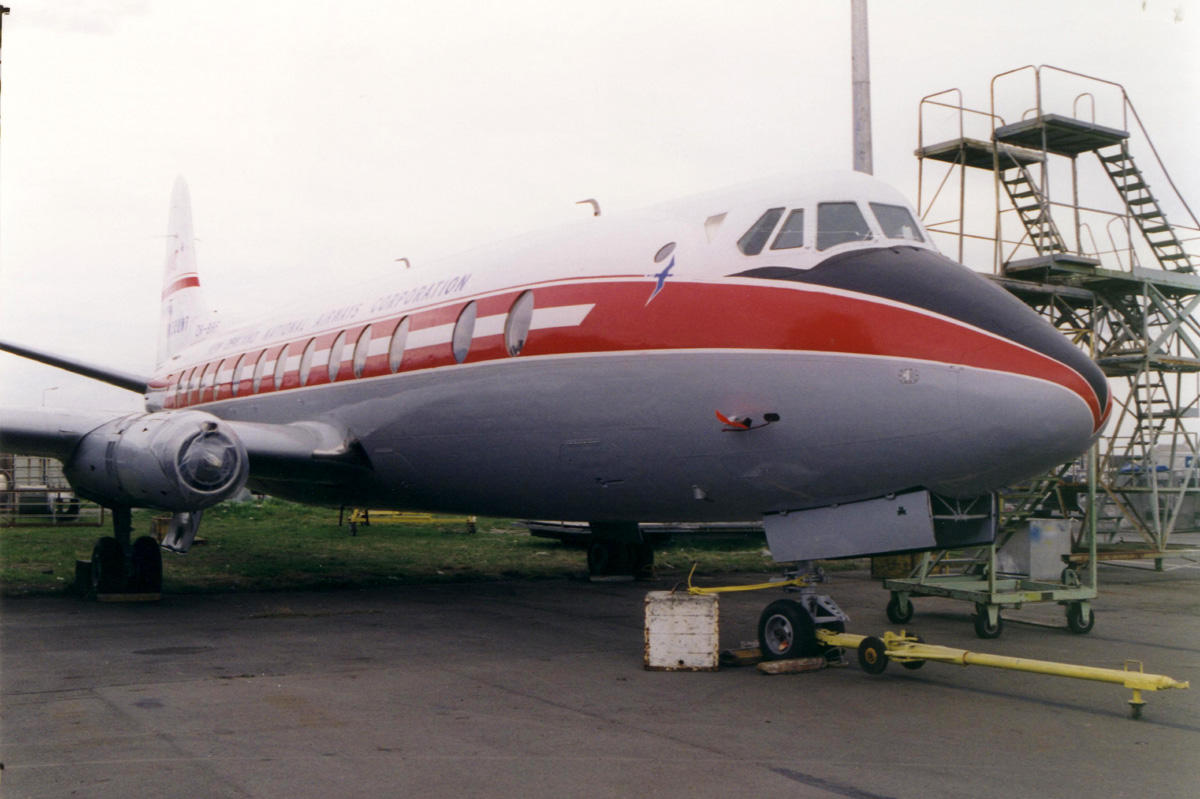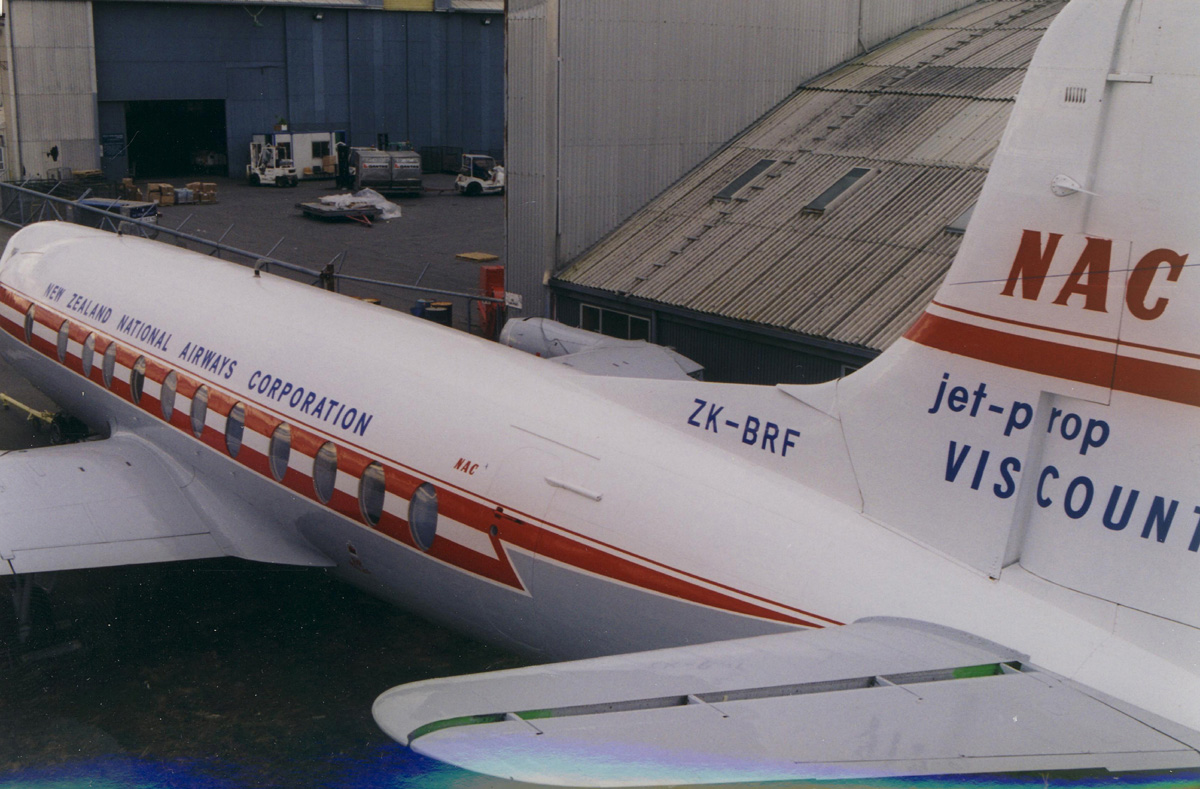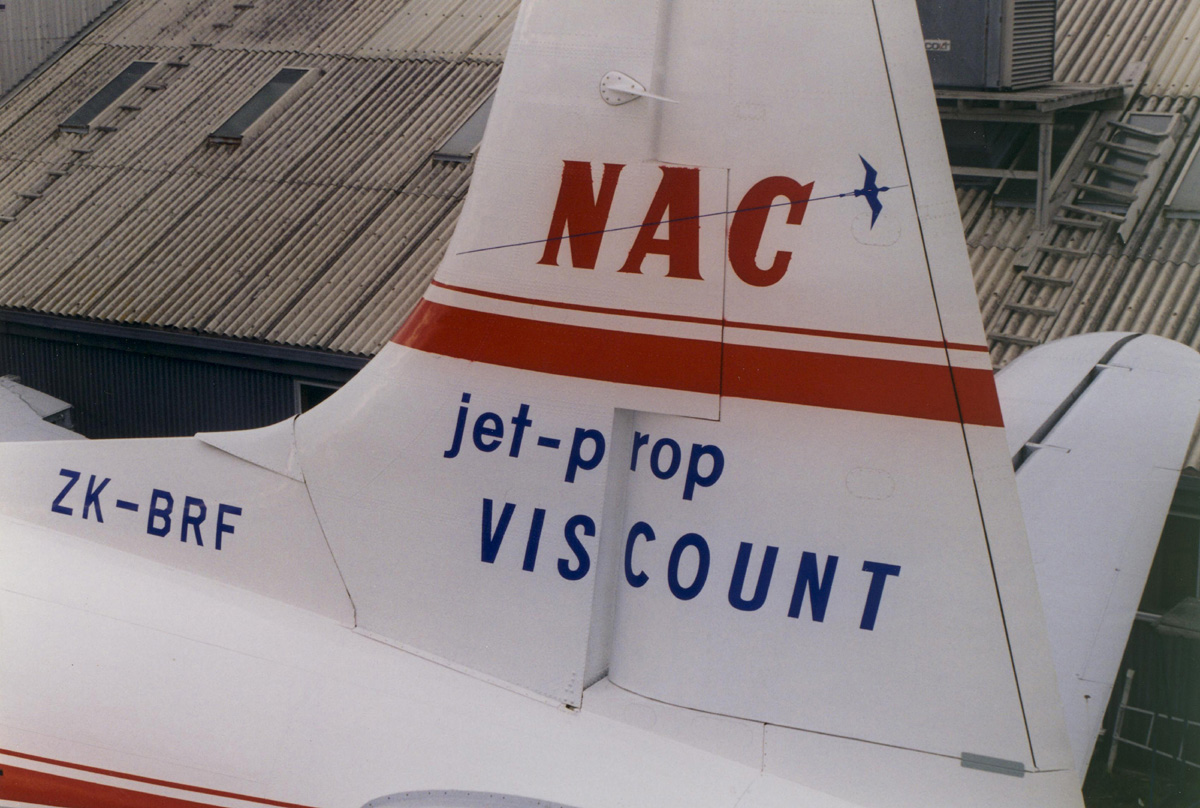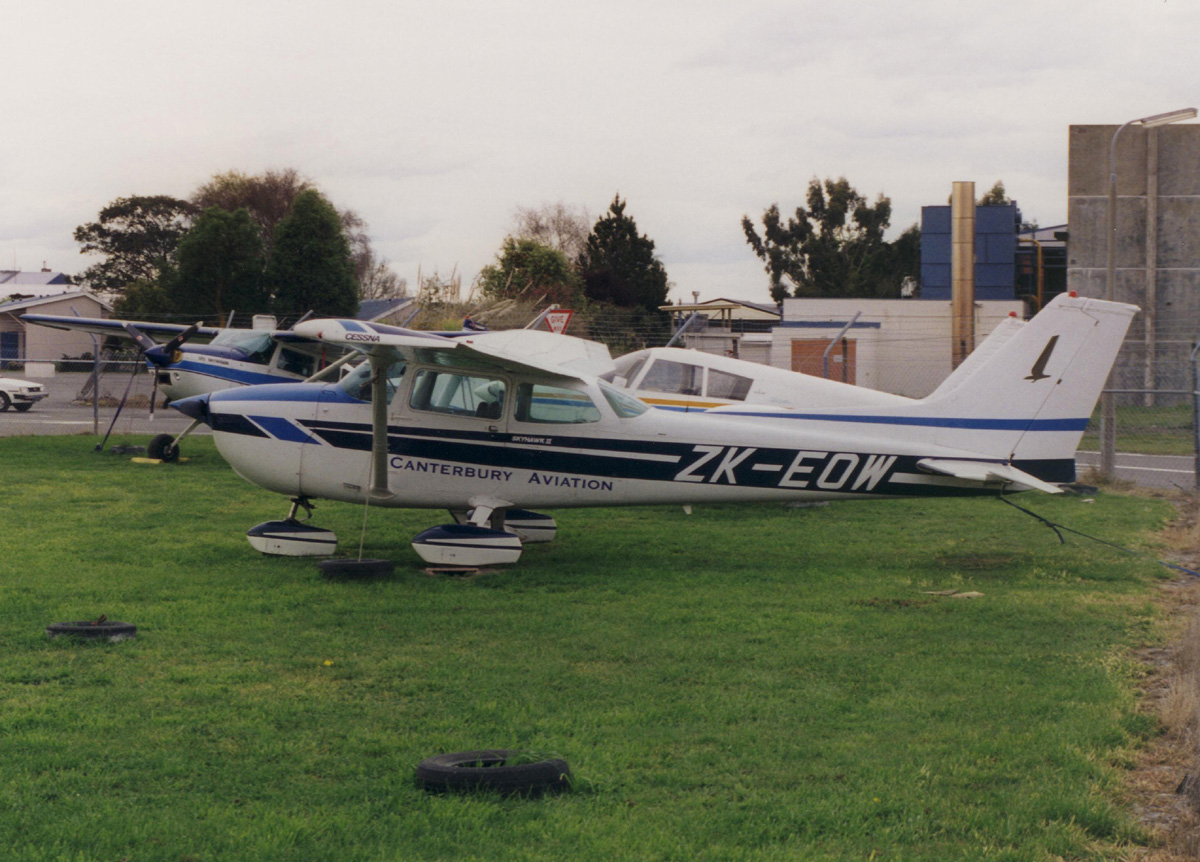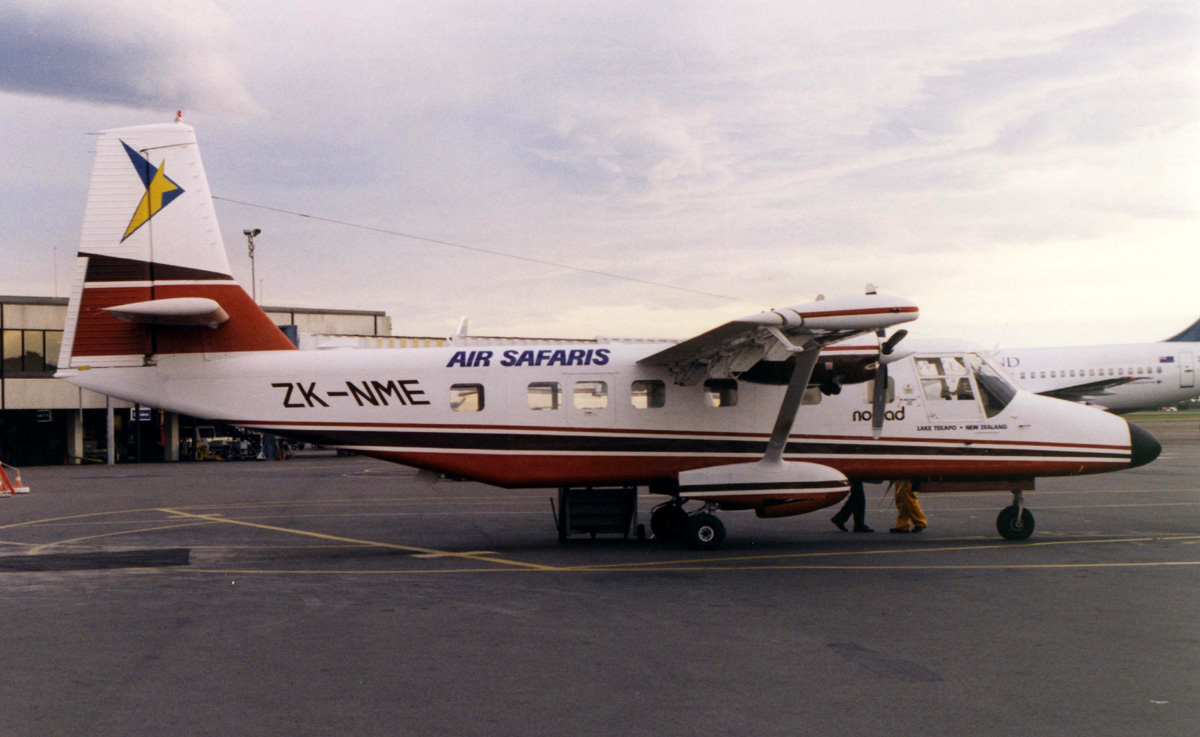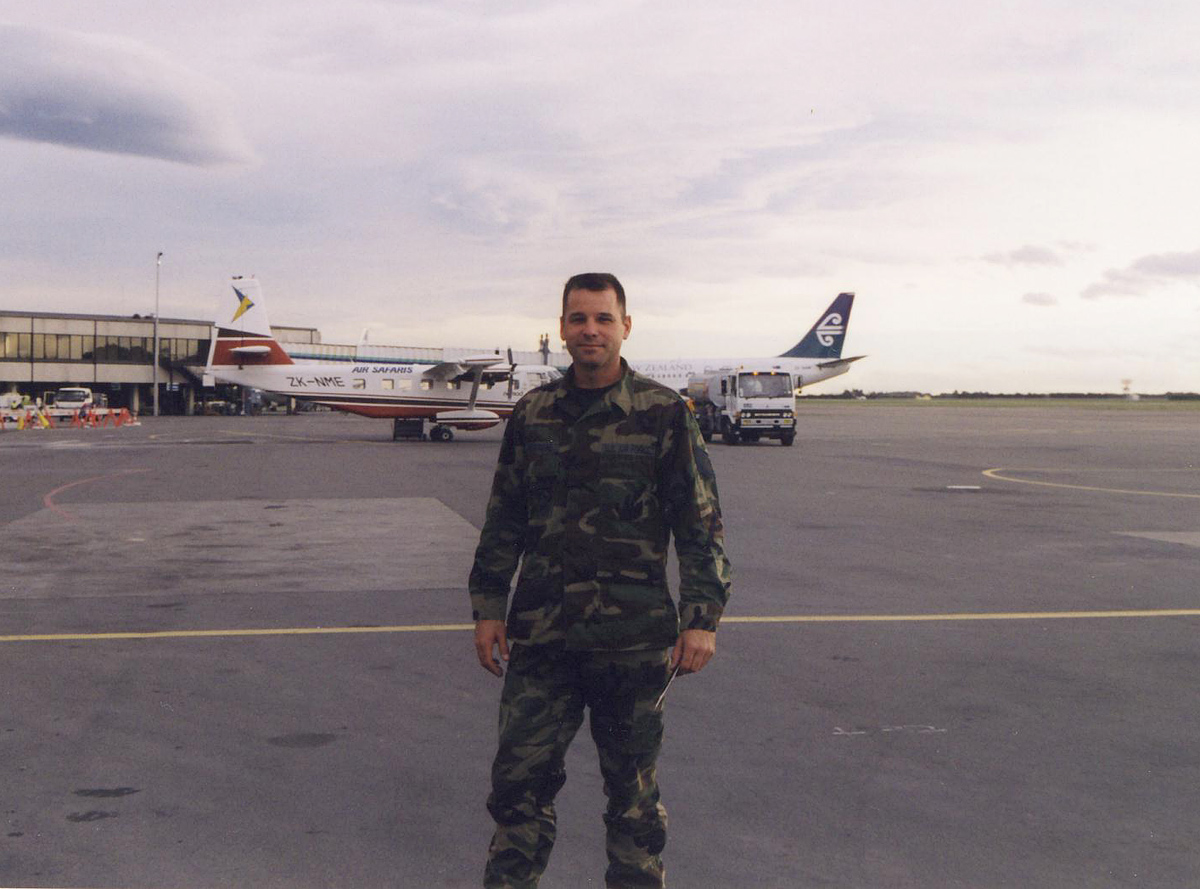 Moe on the ramp at Christchurch.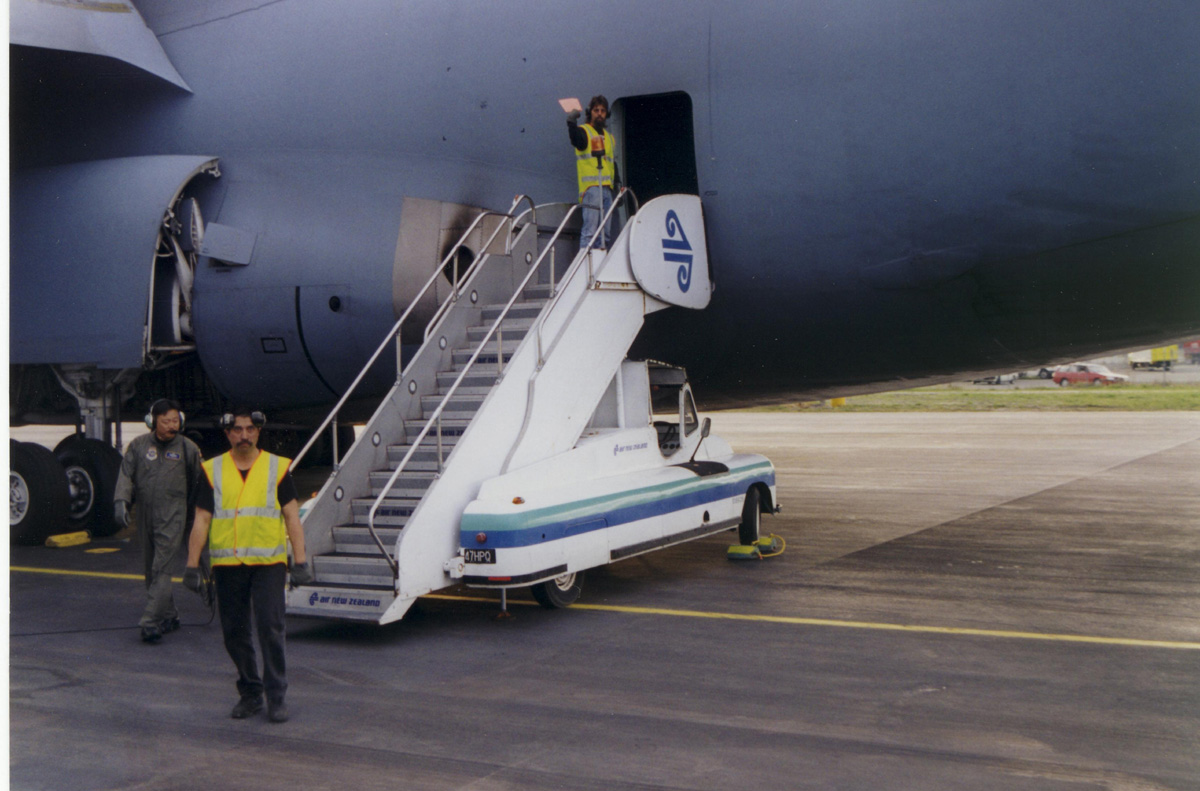 /
An example of some of the planes seen at CHC: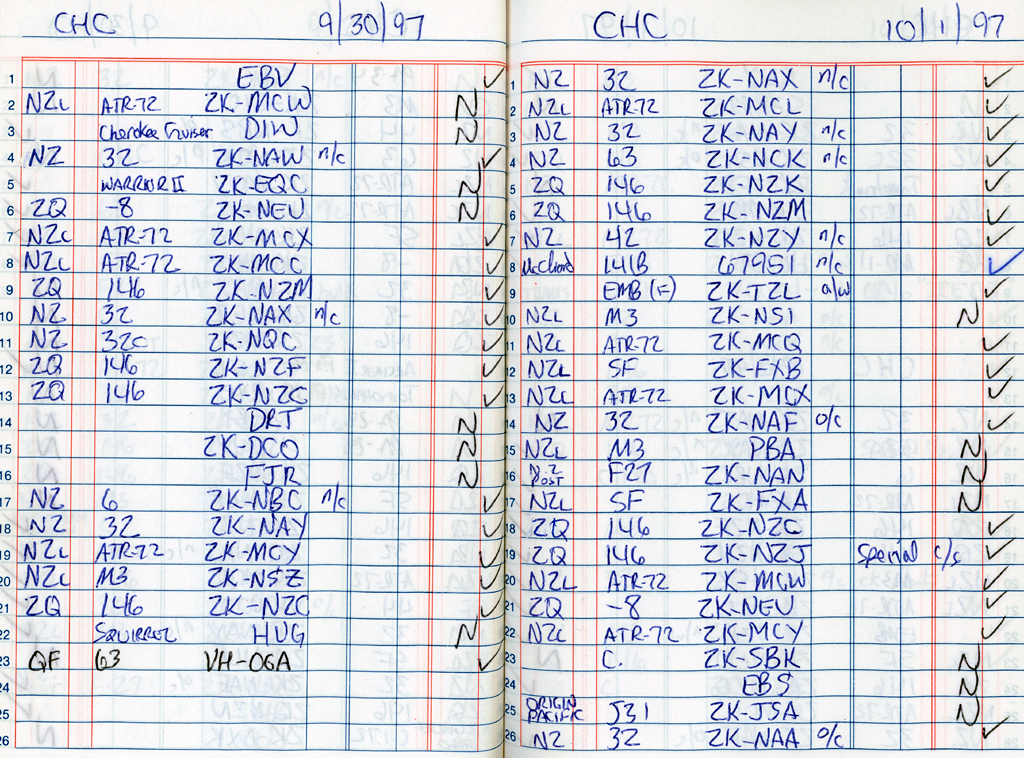 Flight 5: Christchurch, New Zealand - Andersen AFB, Guam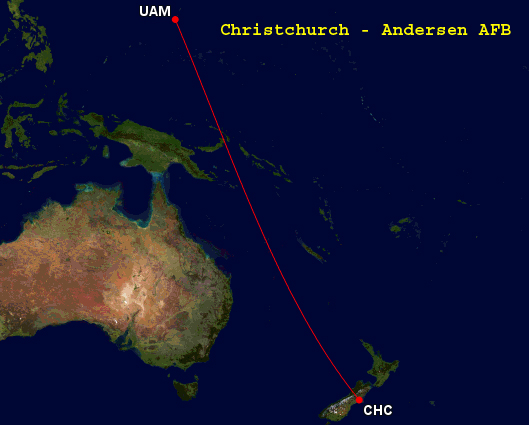 03 October 1997
USAF C-5B 87-0034
Dep: Rwy 02 18:34 Local
Arr: Rwy ___ 02:21 Local (04 Oct)
Time Enroute: 09:47
Distance: 4297 miles
Remarks: 1st time on Guam
The 5th leg of this trip turned out to be our longest: Christchurch to Andersen AFB, Guam. Guam is an unincorporated territory of the United States has been strategically important to the United States for over 100 years. After nearly 10-hours in the air, we touched down on Guam in the middle of the night. We'd covered nearly 57 degrees of latitude (almost 1/3 a hemisphere) in a northerly direction, roughly similar to a trip from La Paz, Bolivia to New York City.

Because we'd be staying on Guam the whole day, we got rooms in the base "billeting" (motel). This was fine, but I was interested in seeing the island after daybreak. I may have caught a nap, or I may have been rested enough from the flight...I don't know. I do know I was at the base rental-car agency when they opened and before long, I was driving along slippery coral roads in a rental car. I sorted out finding the main international airport and took a few photos of Northwest and Continental planes. At some point during the day, a rain storm hit the island but it didn't last too long. At the time I was on a winding little road heading down to a base beach but because of the rain, I didn't stay there very long. I seem to remember some folks were on the beach having a BBQ.

Interestingly, it appears Guam is the one location I managed to take the most "non-aviation" photos. I'm just as likely as the next guy to snap photos of clouds and sunsets, so I do have some record of the island scenery. I remember visiting the base commissary (grocery store) for a snack and getting the rental car turned in. Not sure if I went back to the billeting room for a nap or not, but we were back onboard 70034 and headed for Hickam AFB, Hawaii a little after 9pm. More importantly, we were finally heading east.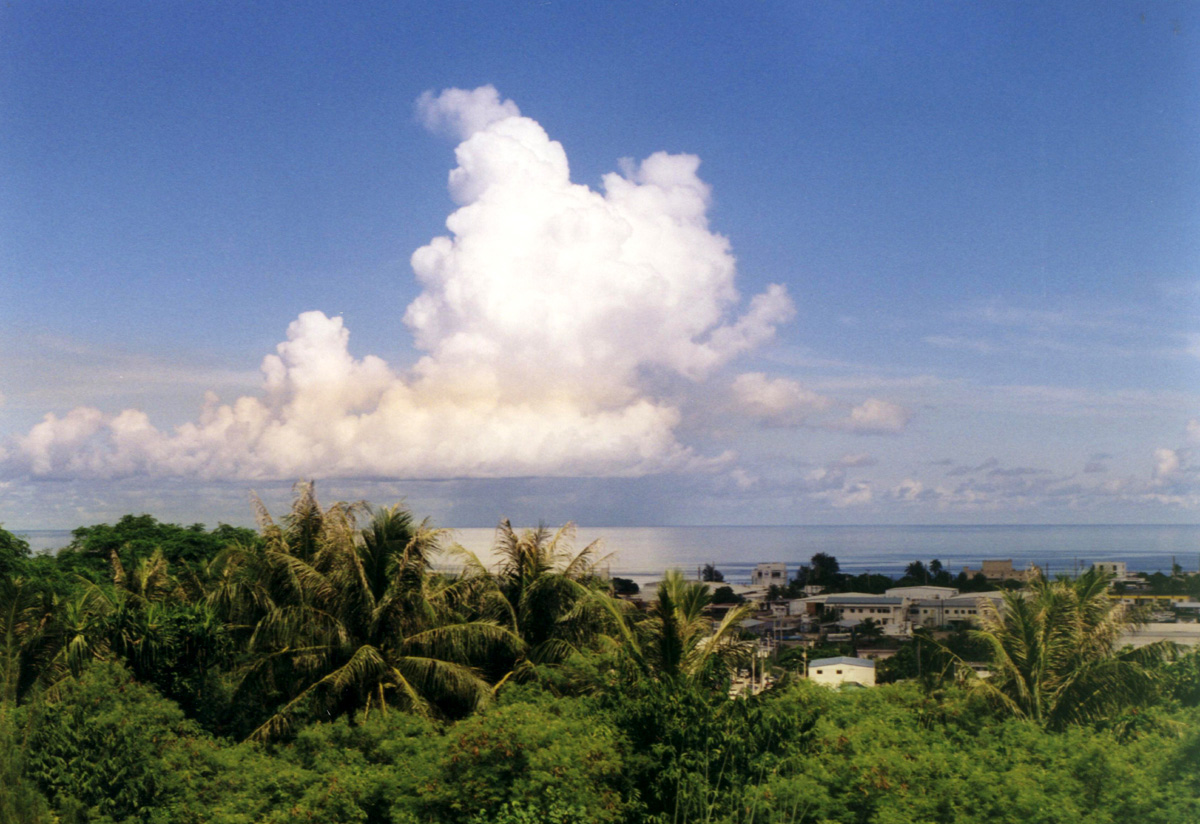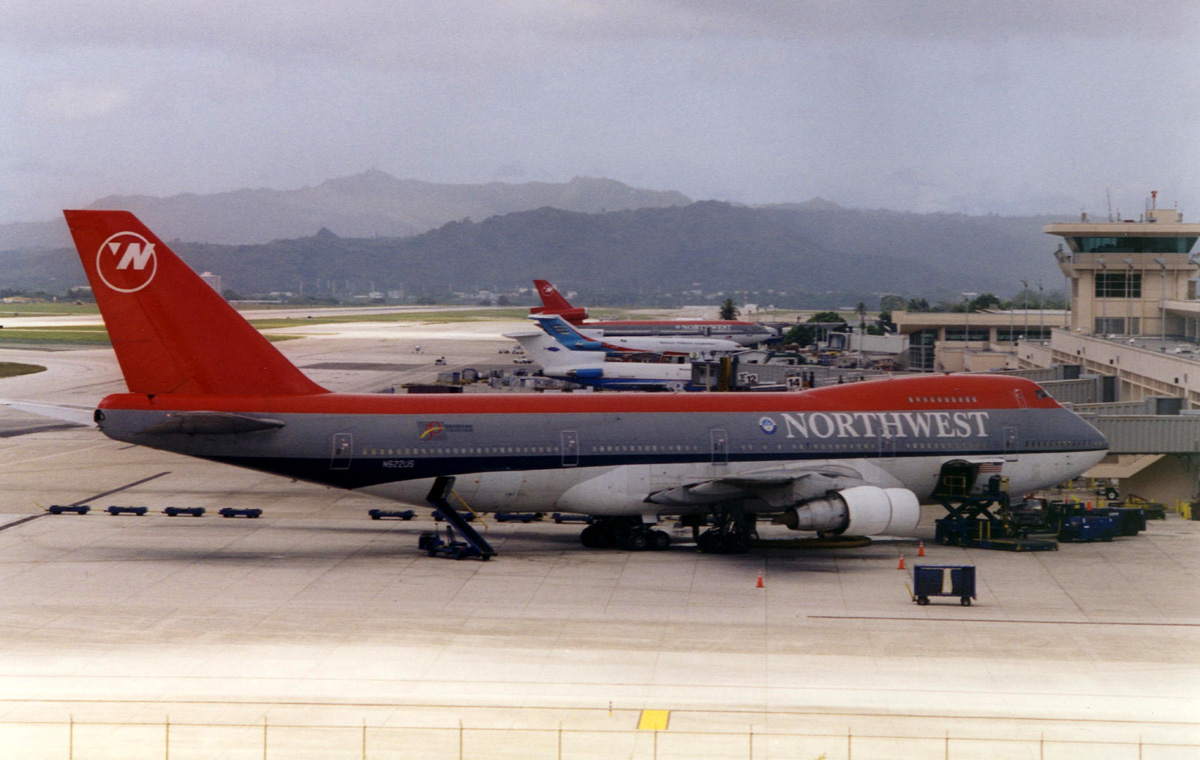 Northwest 747-251B N622US.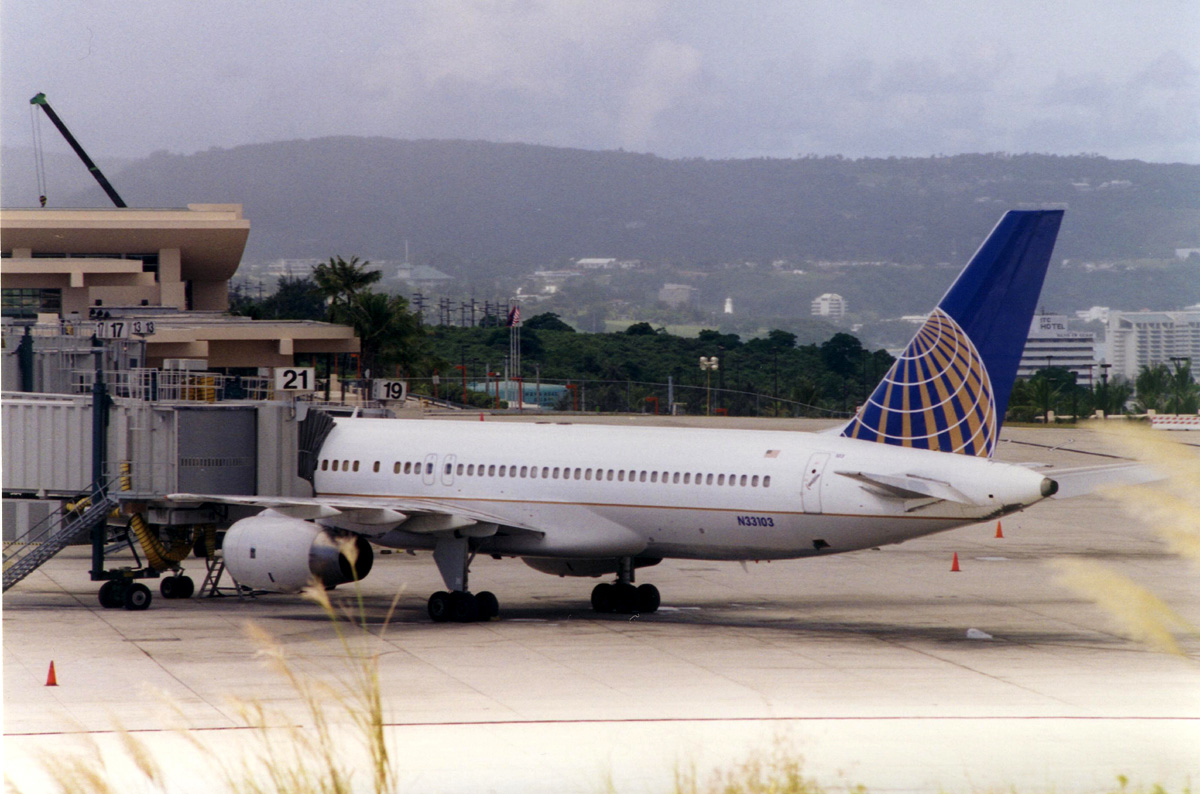 Continental 757-224 N33103.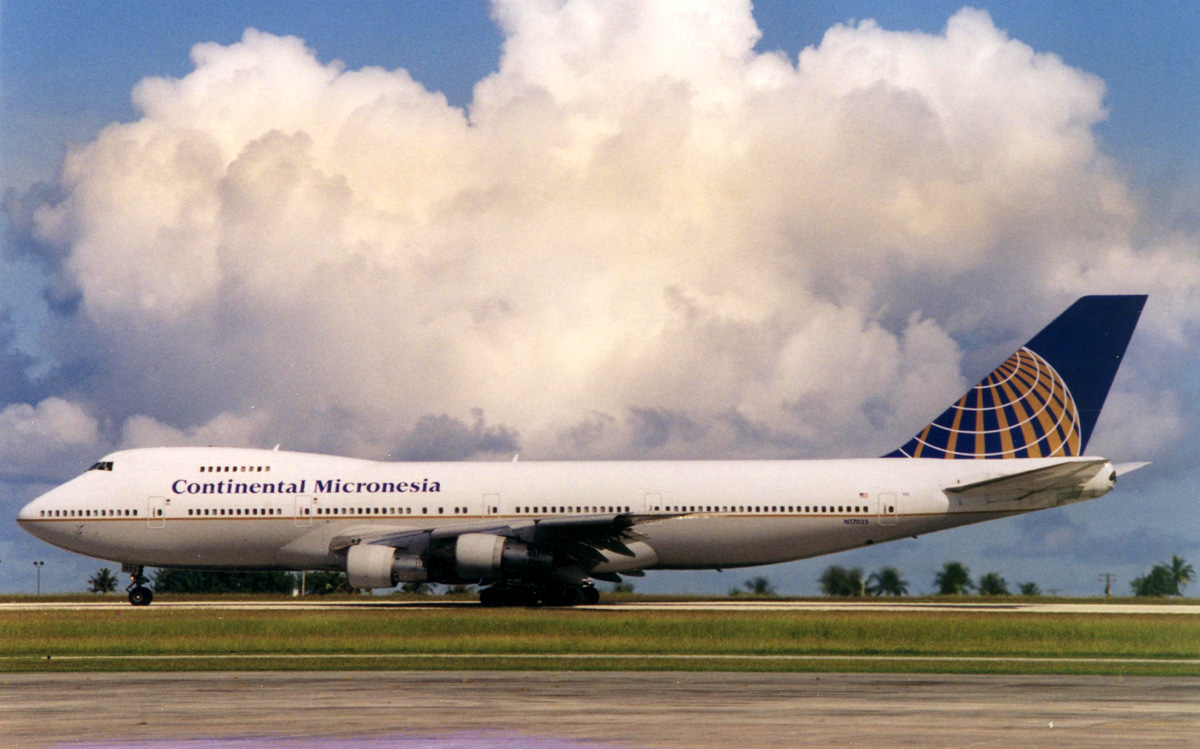 Continental Micronesia 747-238B N17025.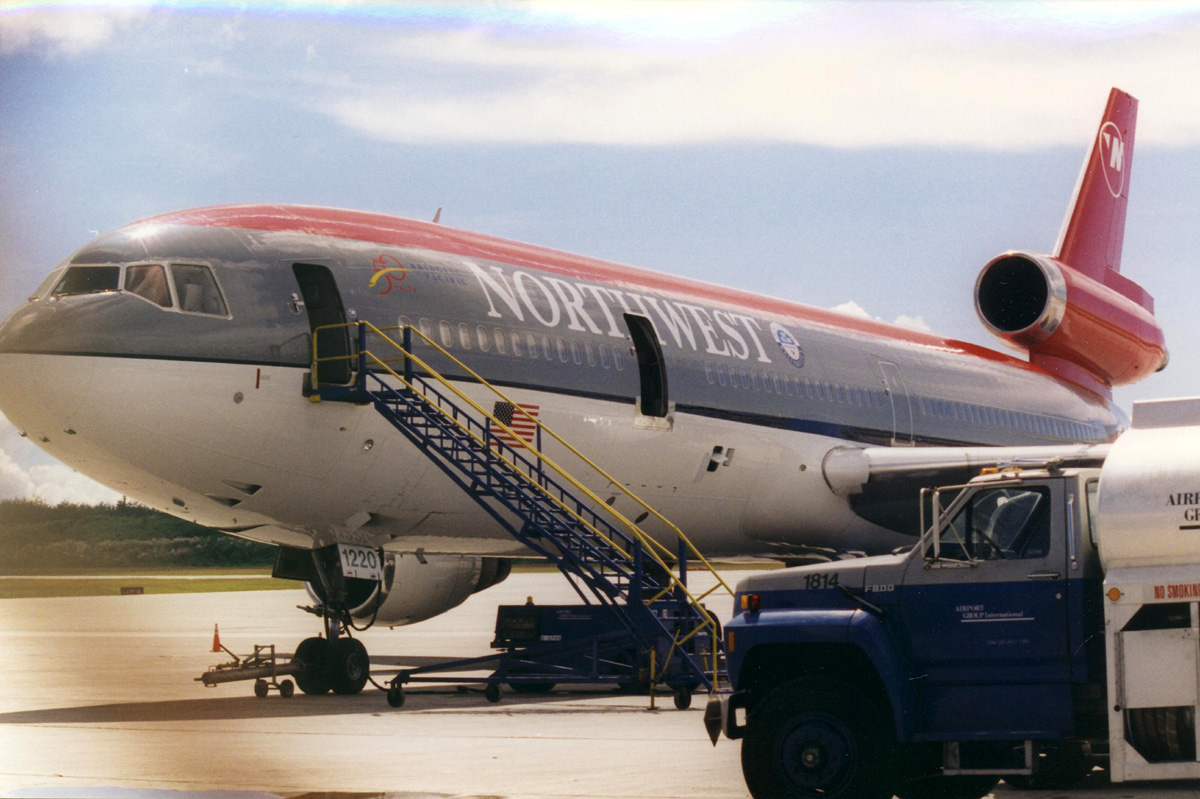 Northwest DC-10-30 N220US.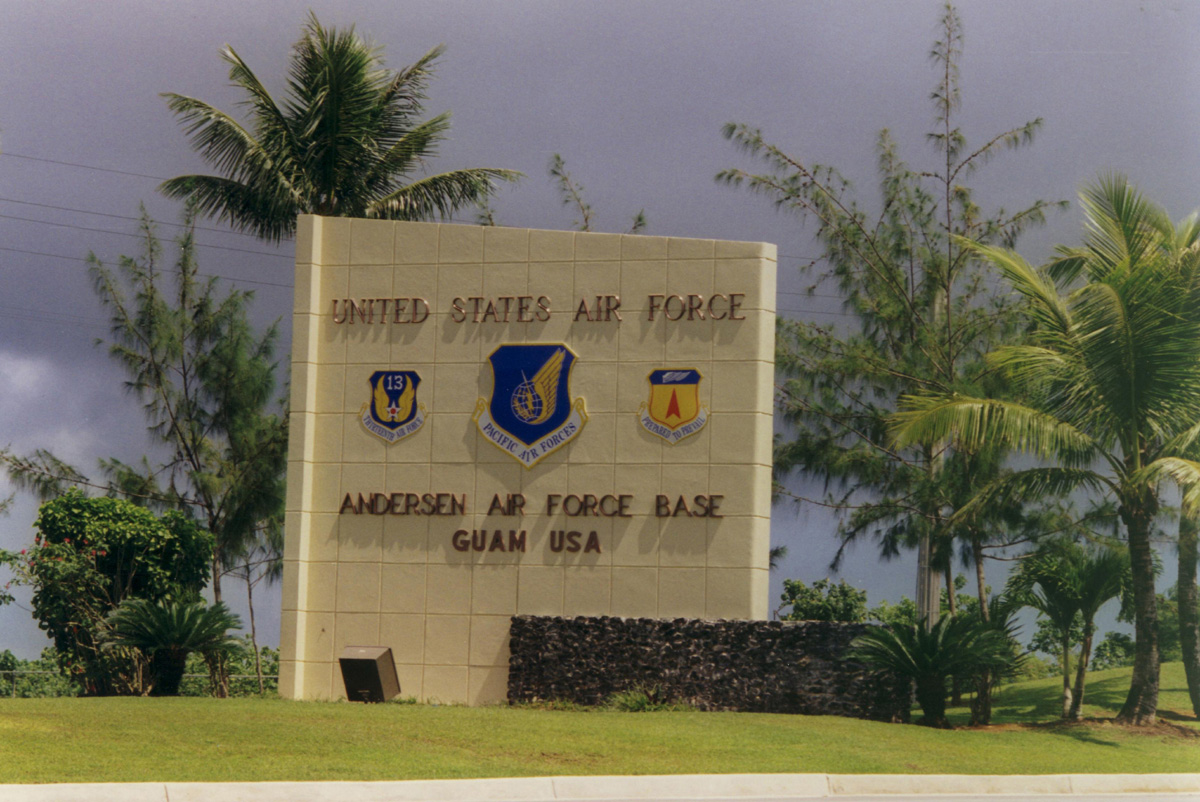 Andersen AFB front gate.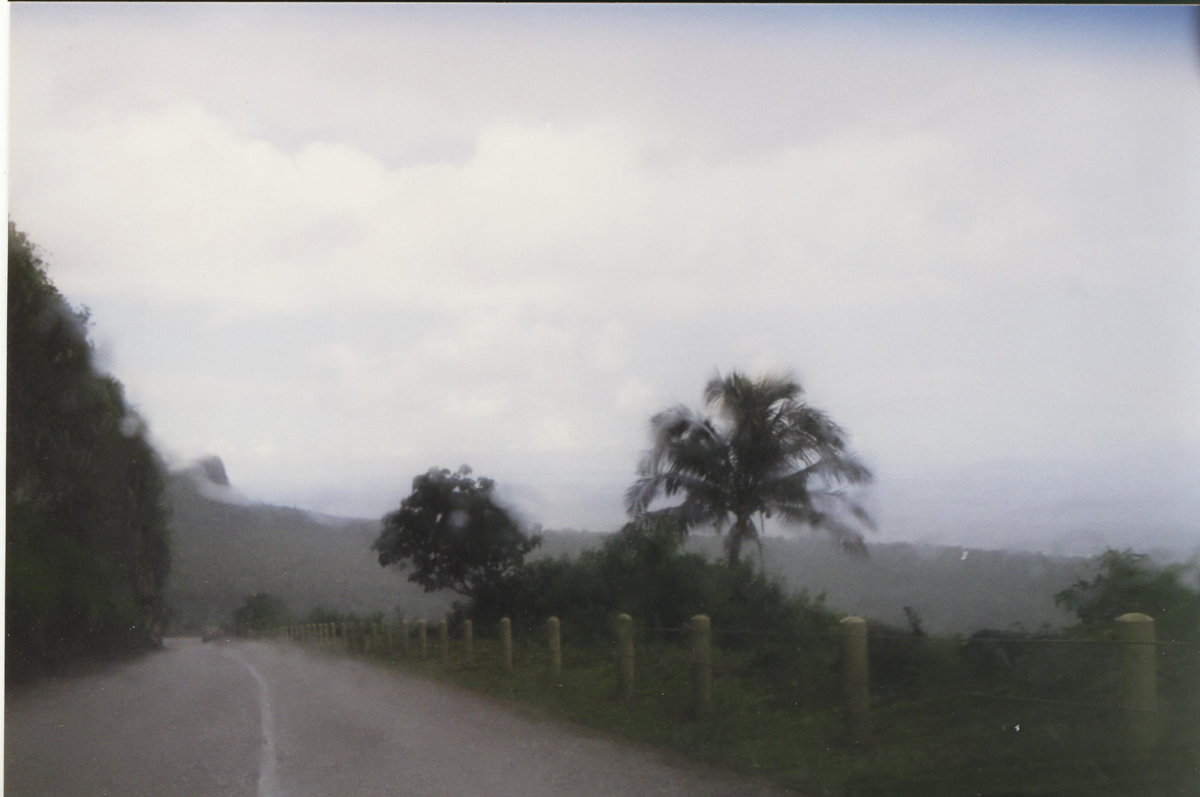 Afternoon rain shower driving down to a beach.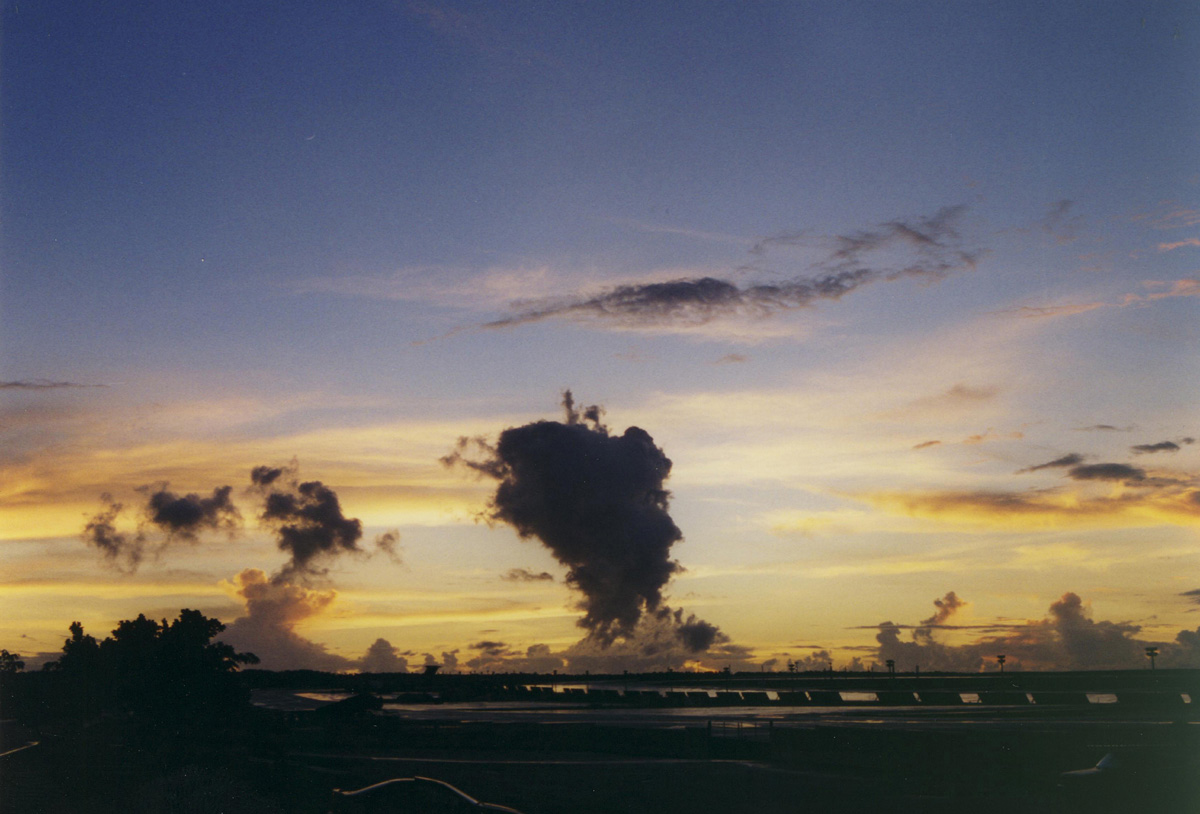 Sunset on Guam.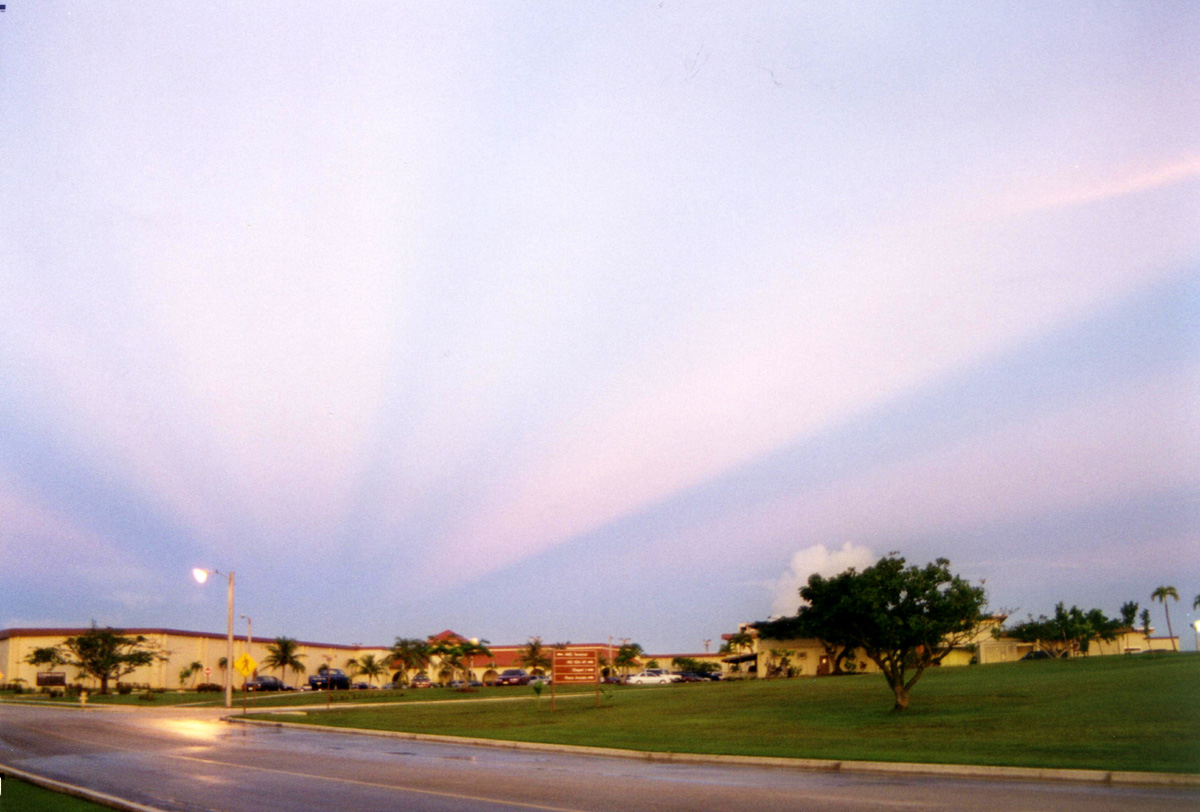 Crepescular Rays on Andersen AFB.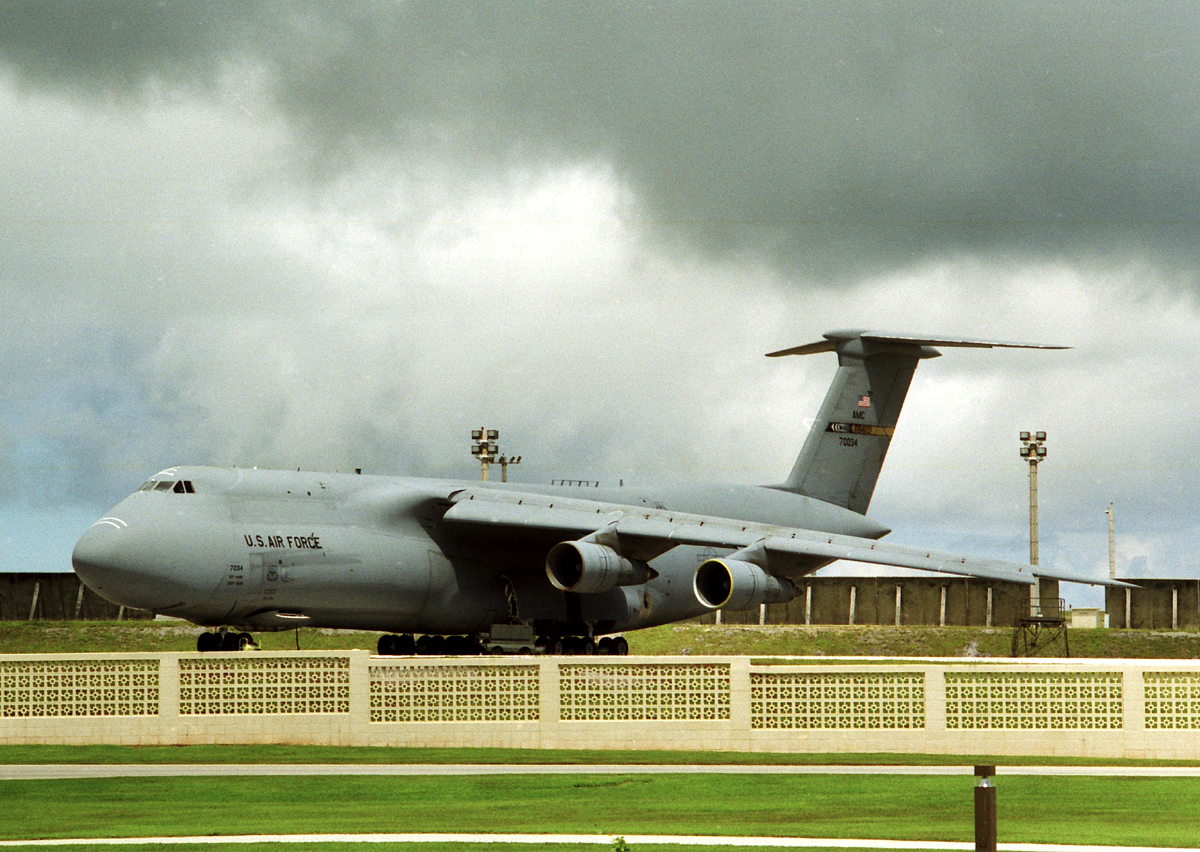 Our C-5B 87-0034 at Andersen AFB.
Flight 6: Andersen AFB, Guam - Hickam AFB, HI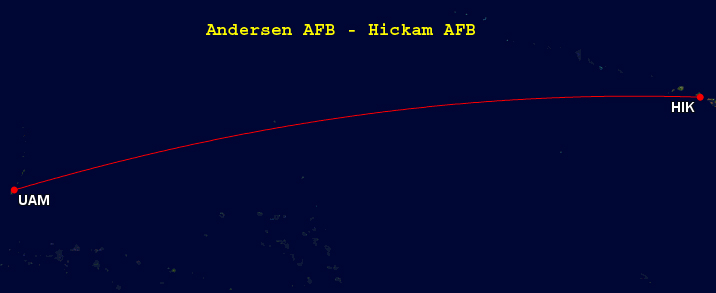 04 October 1997
USAF C-5B 87-0034
Dep: Rwy __ 21:18 Local
Arr: Rwy __ 08:54 Local
Time Enroute: 07:36
Distance: 3800 miles
Remarks: Back across the Date Line
The 6th and penultimate leg of this trip was the 2nd longest flight: just over 7 1/2 hours and nearly 3800 miles. We set down at Honolulu International Airport in mid-morning and since we'd crossed the International Date Line again, we regained the 4th of October. After deplaning, I inquired in the passenger terminal about my missing luggage, and wouldn't ya know it, they had it safely stashed away for me.

At some point I contacted my buddy Tobin again. Since it was a Saturday, he was off duty and able to meet up with me again. He took me 'round the airport and dropped me off near the terminal so I could do some photography. He also took me to a spot near the taxiway to the reef runway and I did some photography there as well.

Back at the AMC terminal, I was informed our C-5 was broken and we wouldn't be departing right away. I don't remember the situation but I ended up spending the night with Tobin and his family... saving the modest cost of a billeting room or hotel for the night. During the evening, I do remember we went to the Naval Exchange at Pearl Harbor and did a little shopping.

After a reasonable night's sleep, Tobin dutifully carted me back over to the AMC terminal and dropped me off for my flight to Travis. Thanks for your hospitality Tobin!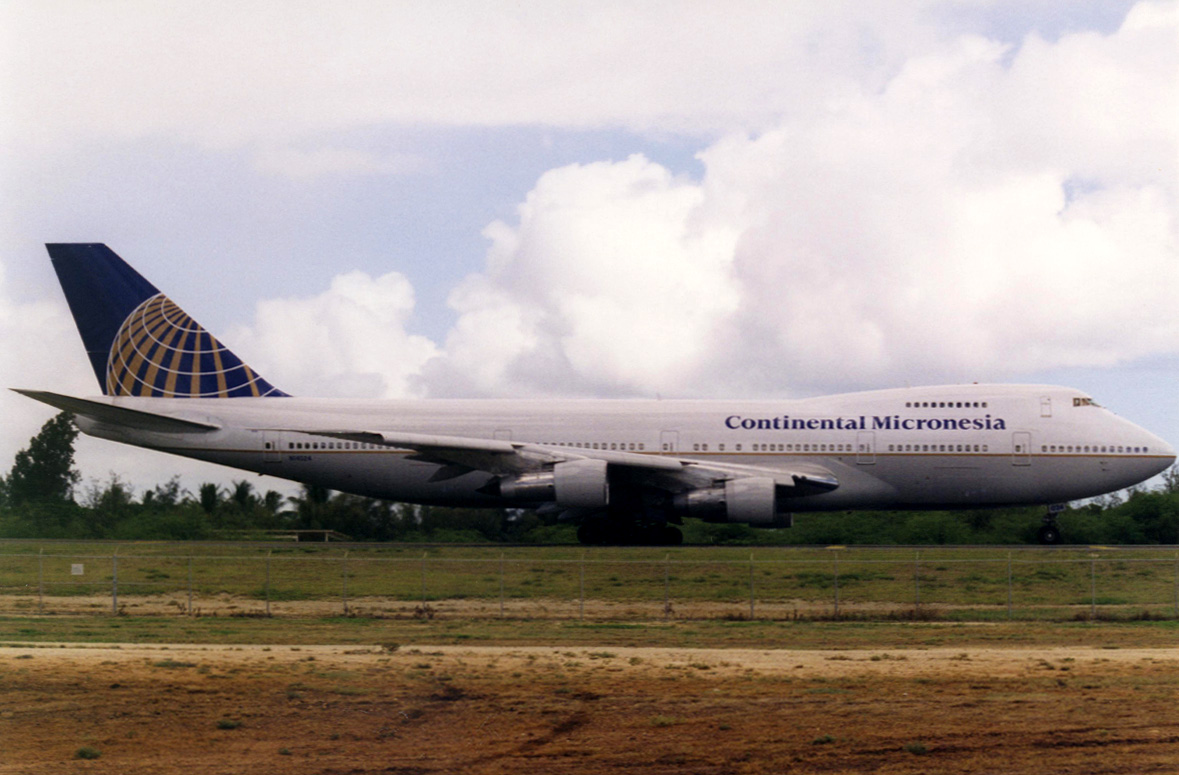 Continental Micronesia 747-238B N10024.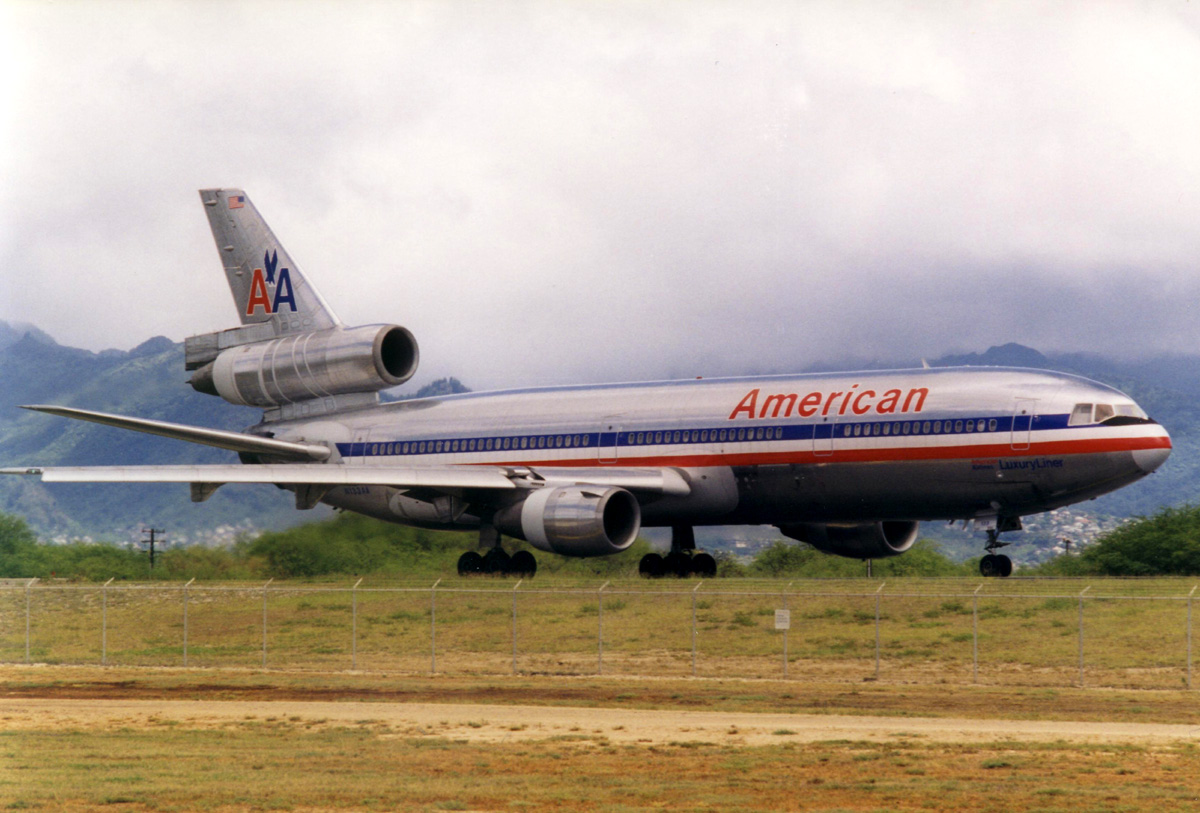 American DC-10-10 N133AA.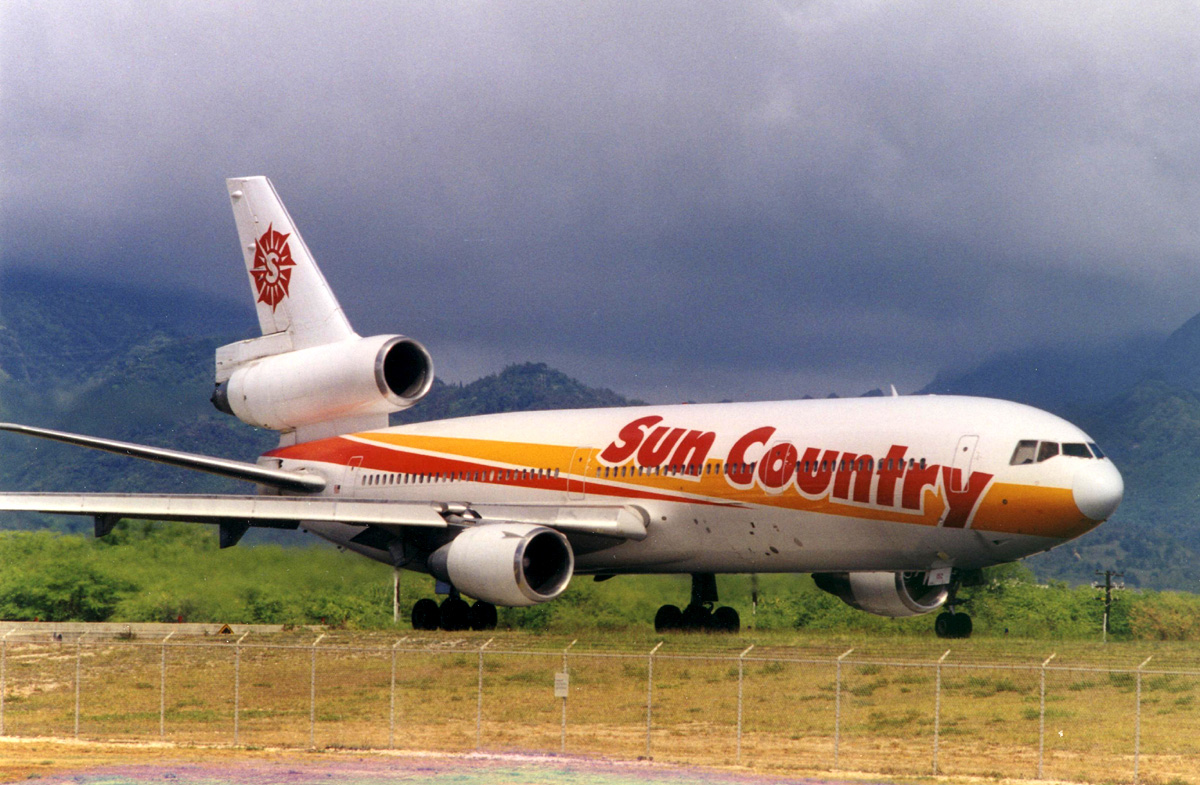 Sun Country DC-10-15 N152SY.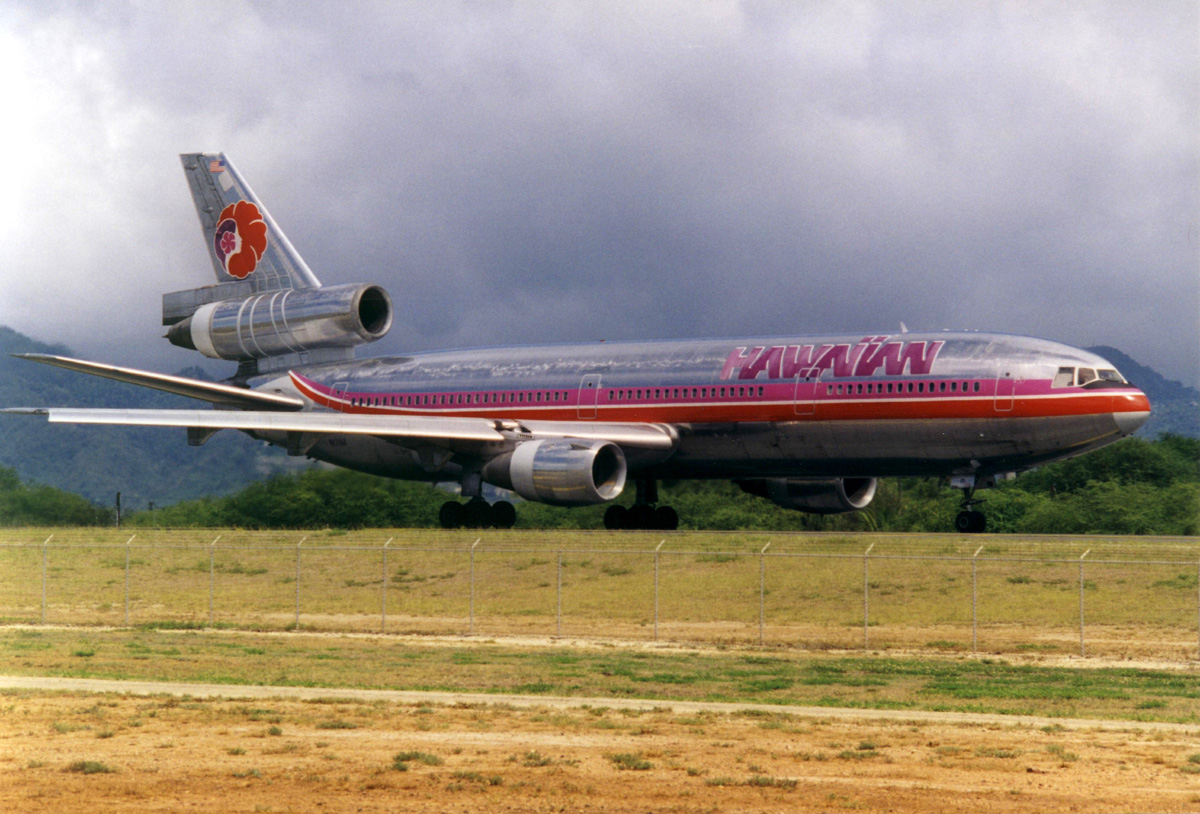 Hawaiian Air DC-10-10 N171AA.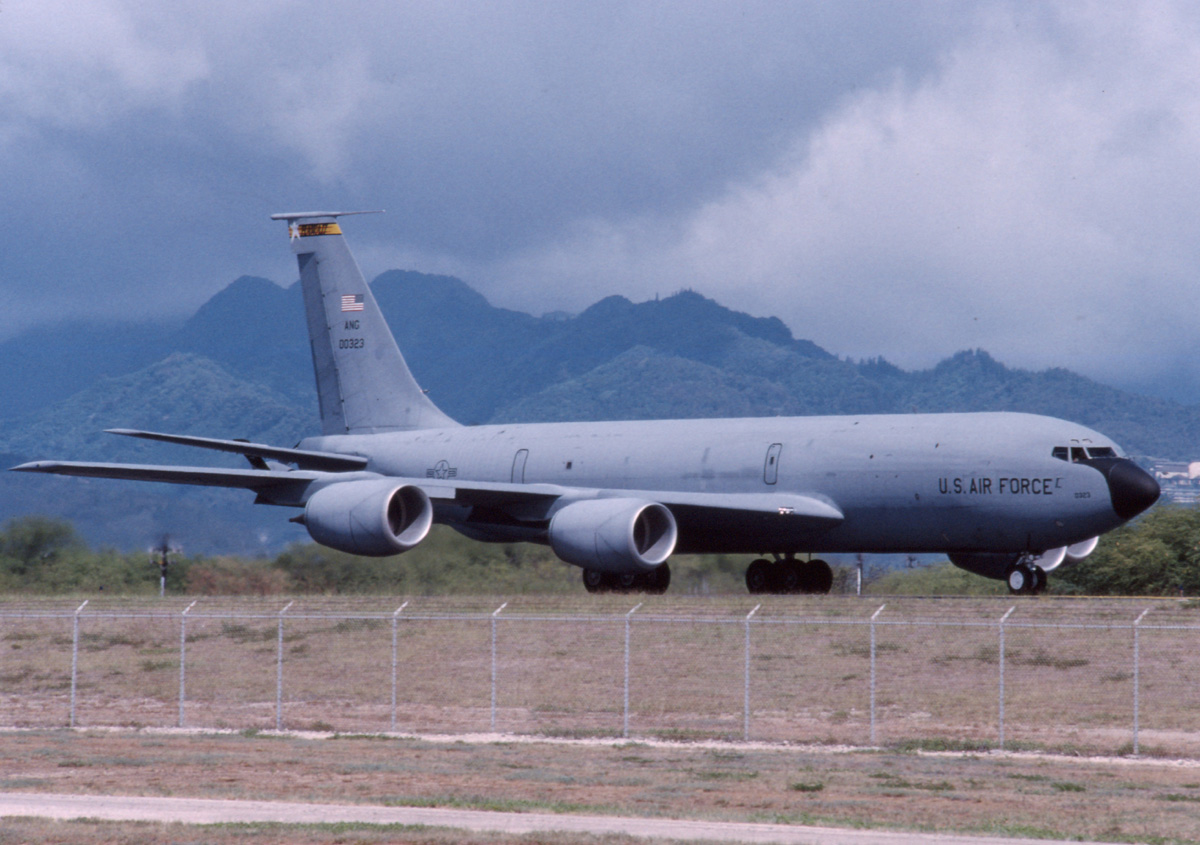 USAF / Hawaii ANG KC-135R 00323.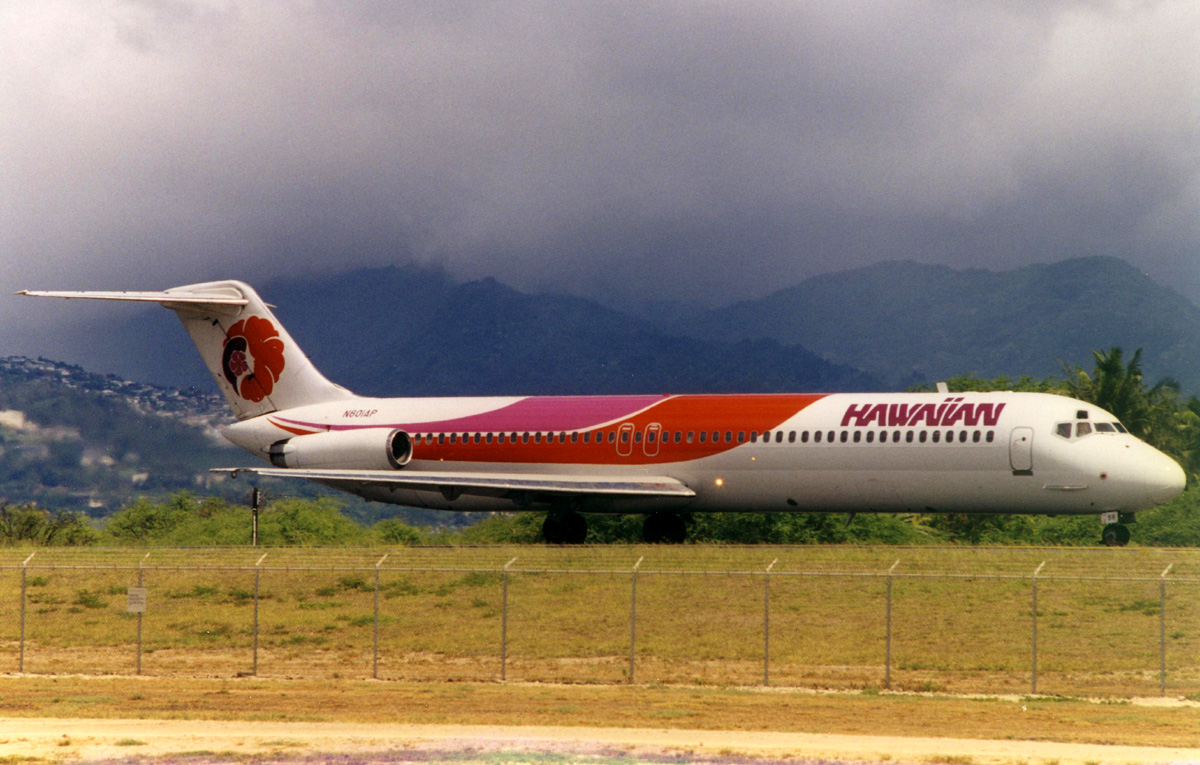 Hawaiian Air DC-9-51 N601AP.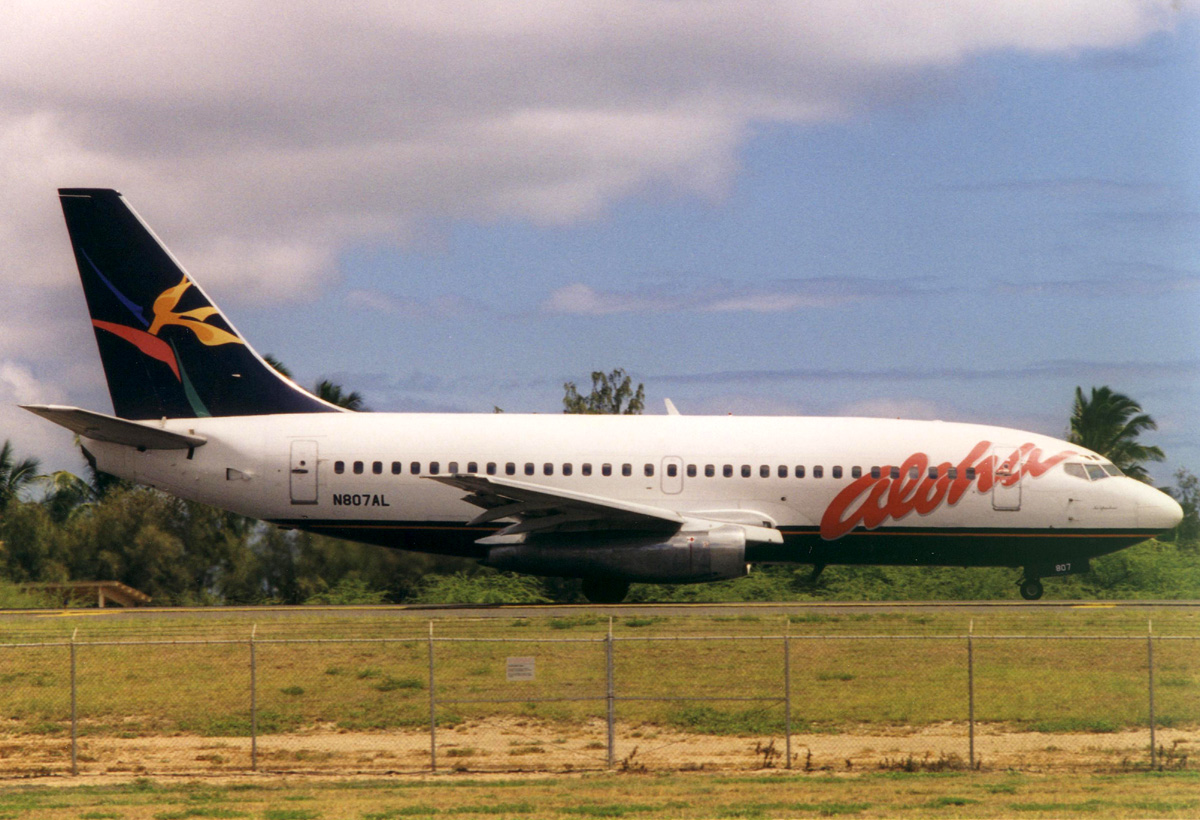 Aloha Airlines 737-200 N807AL.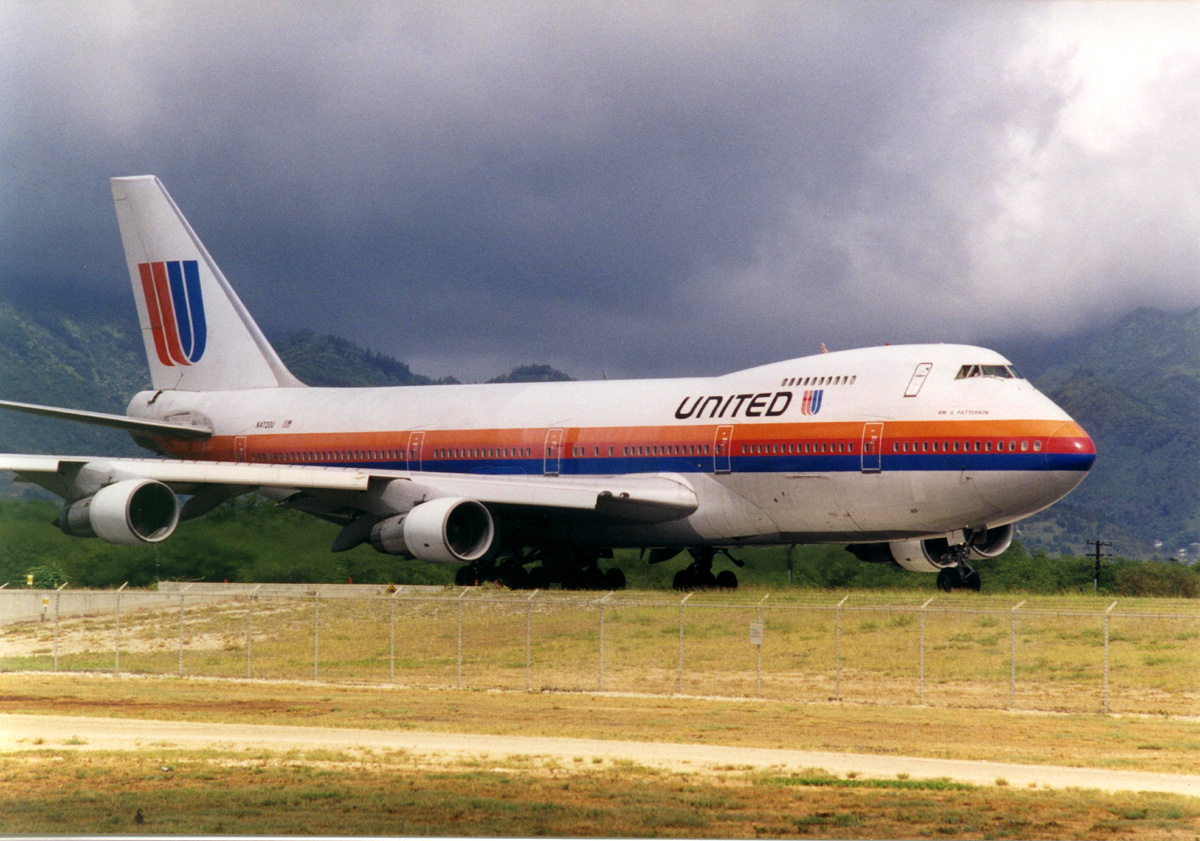 United 747-122 N4720U.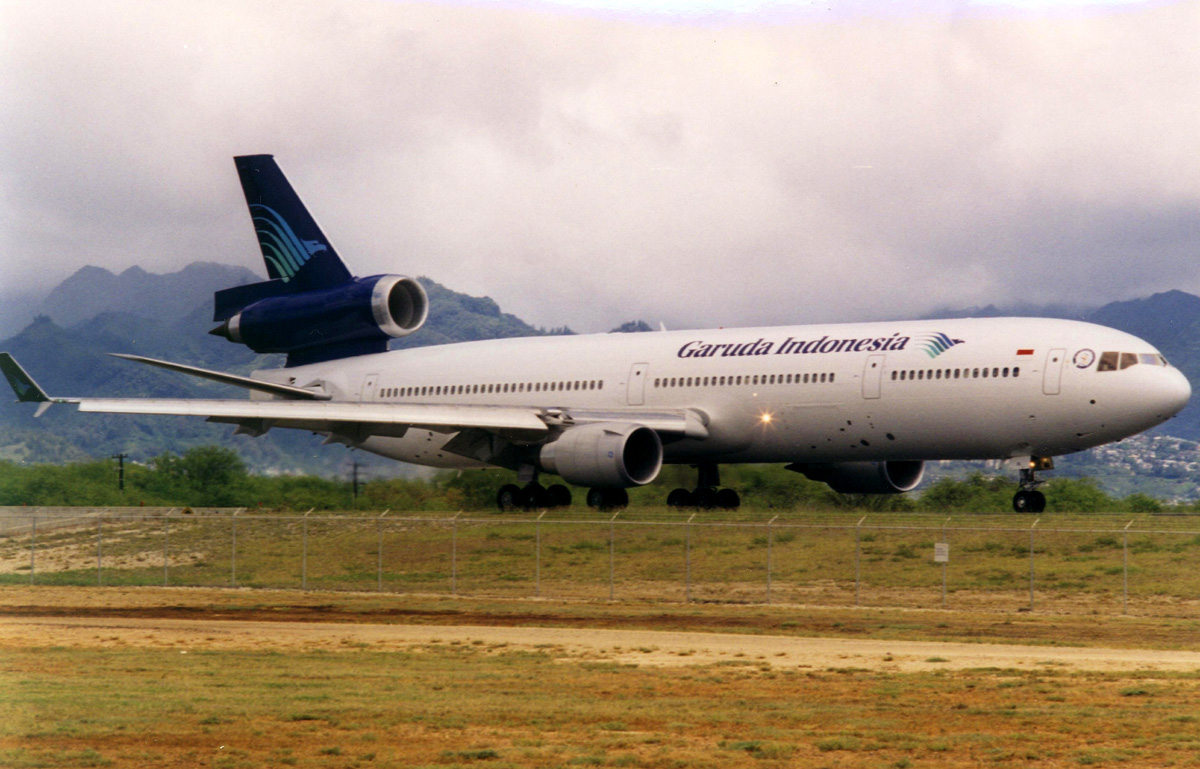 Garuda MD-11 PK-GIL.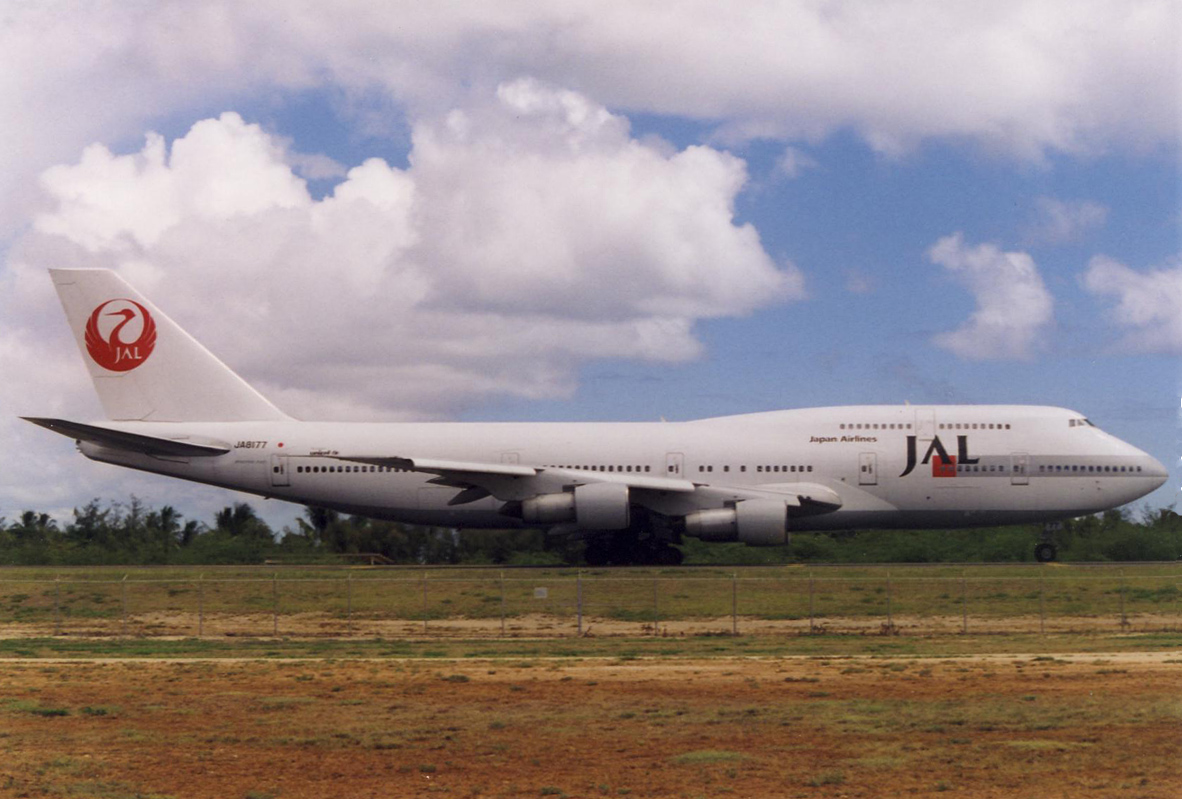 JAL 747-346 JA8177.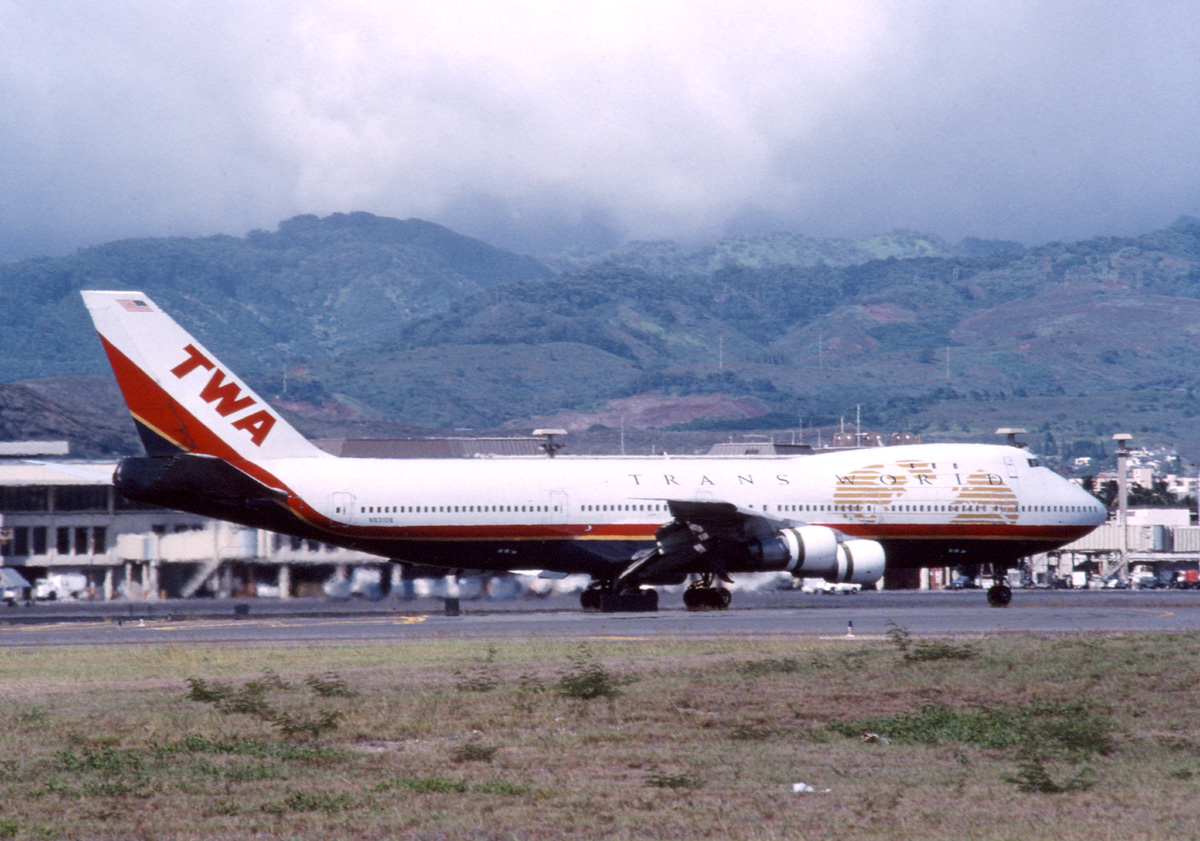 TWA 747-131 N93108.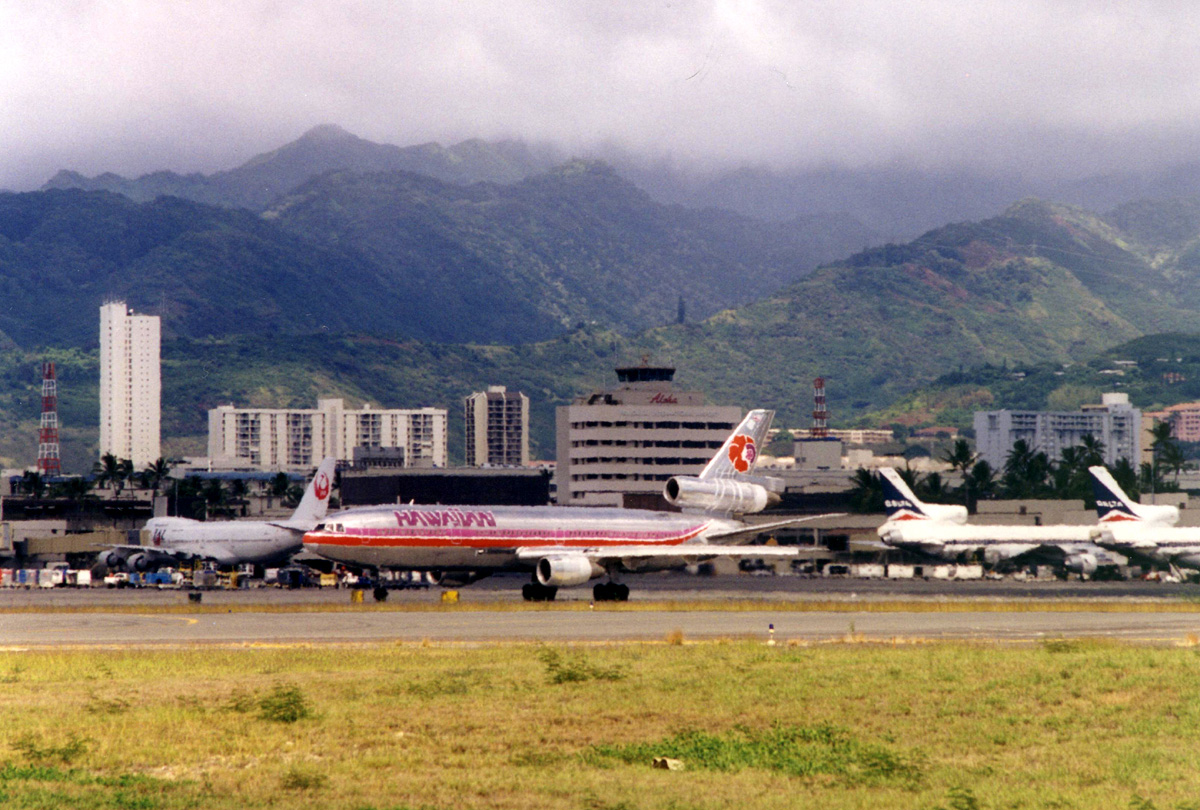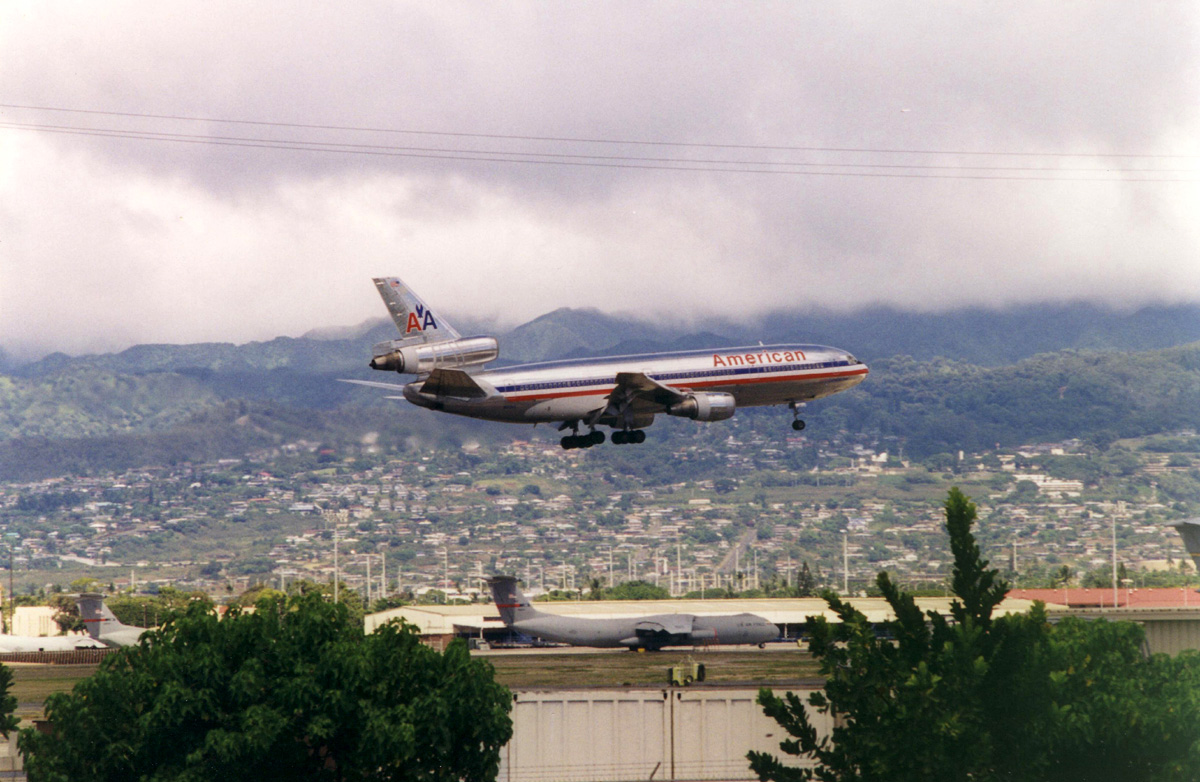 American DC-10-30 N163AA.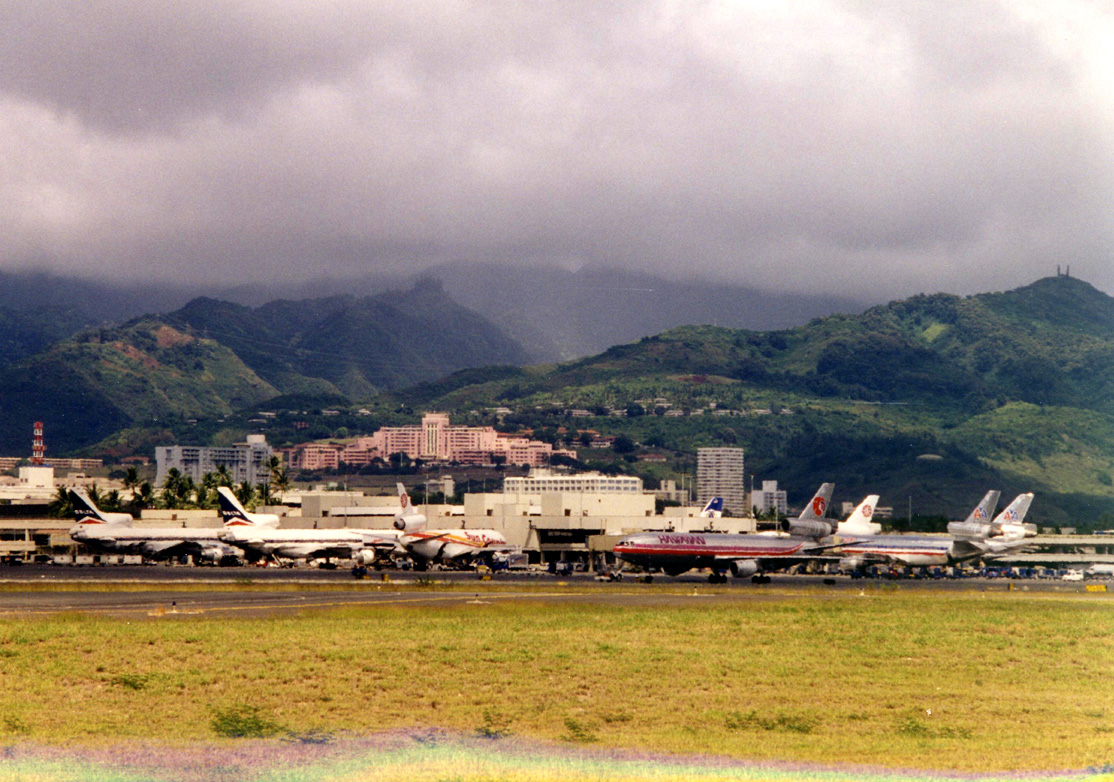 Nothing but tri-jets!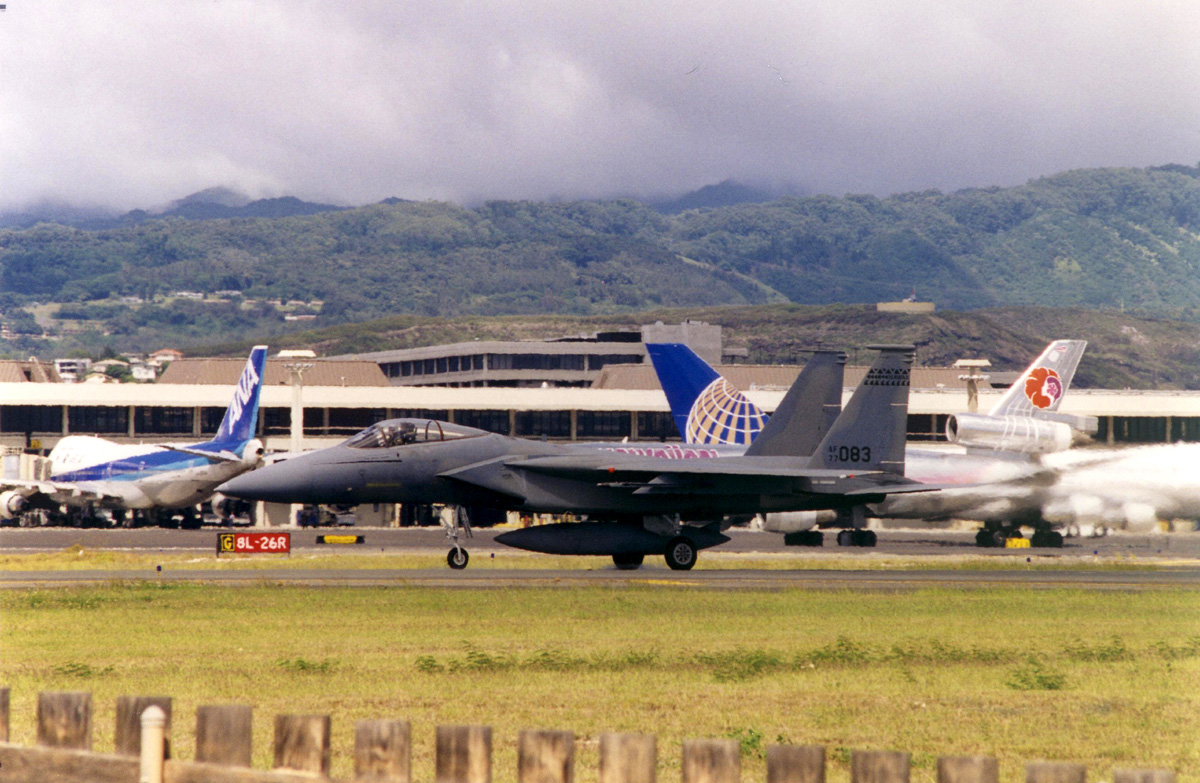 USAF / Hawaii ANG F-15.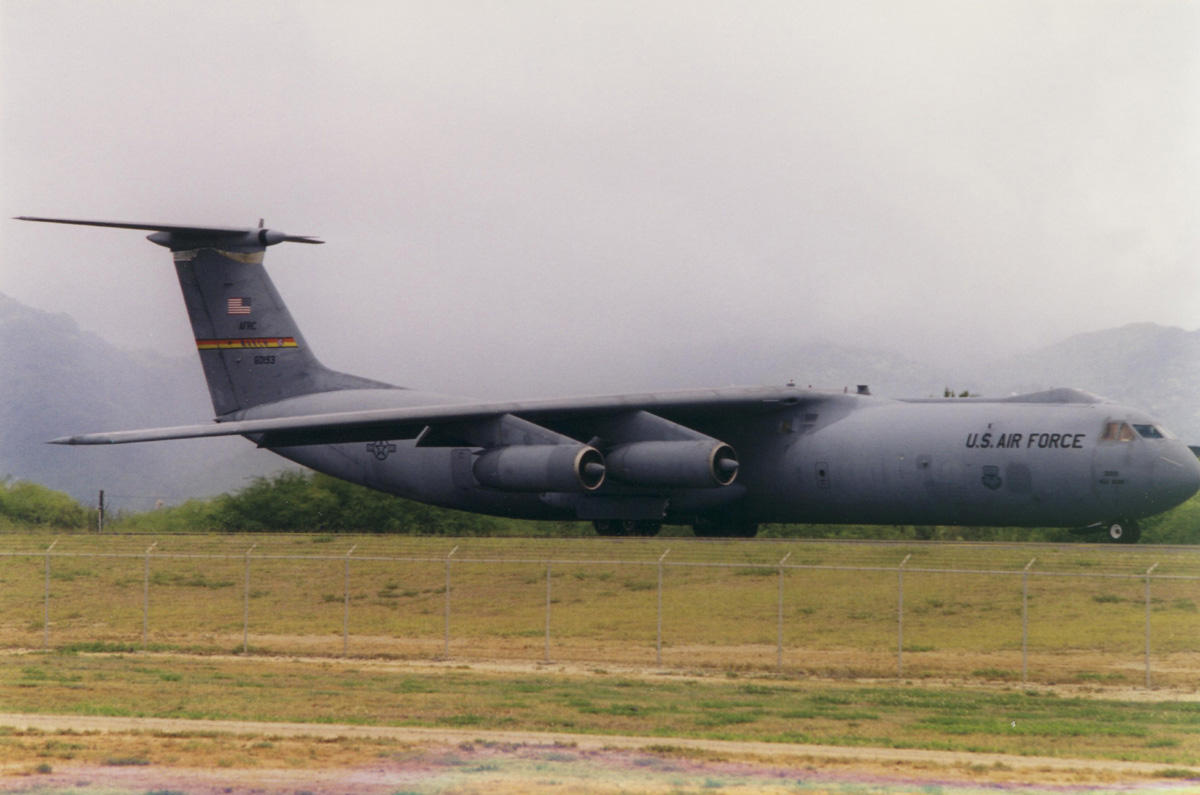 USAF C-141B.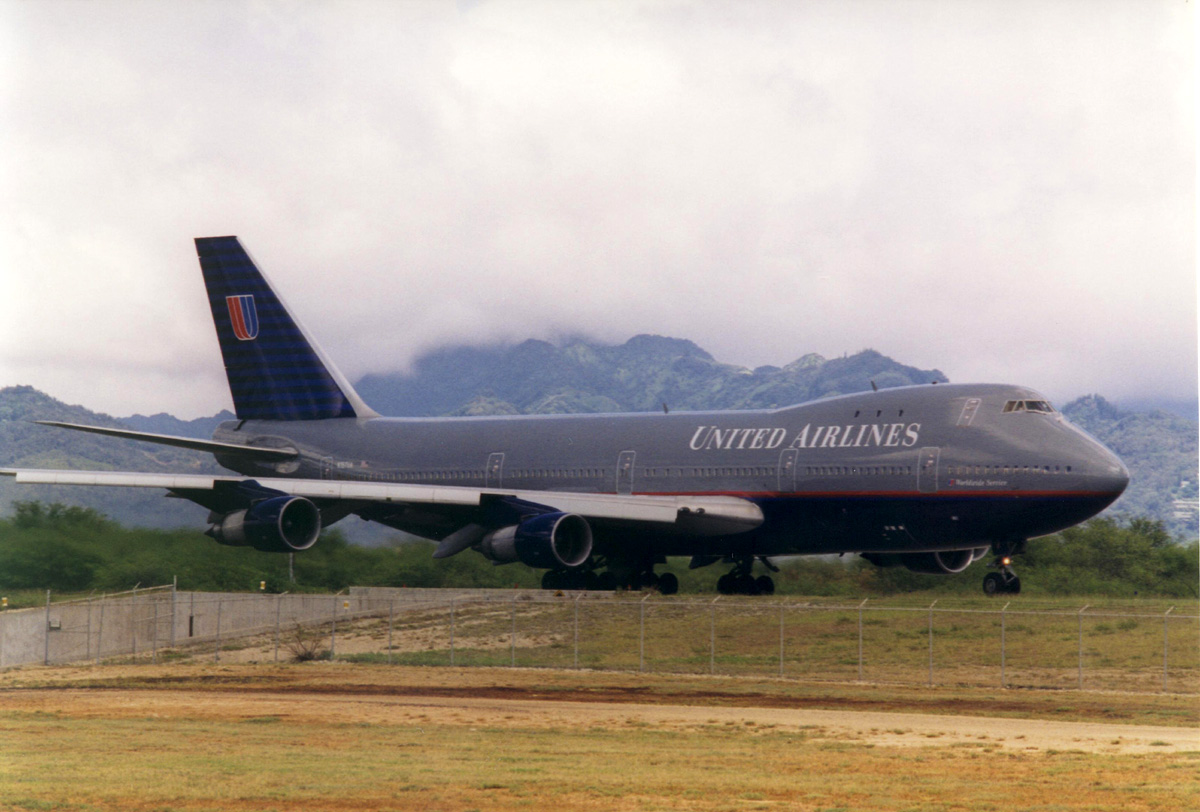 United 747-100 N157UA.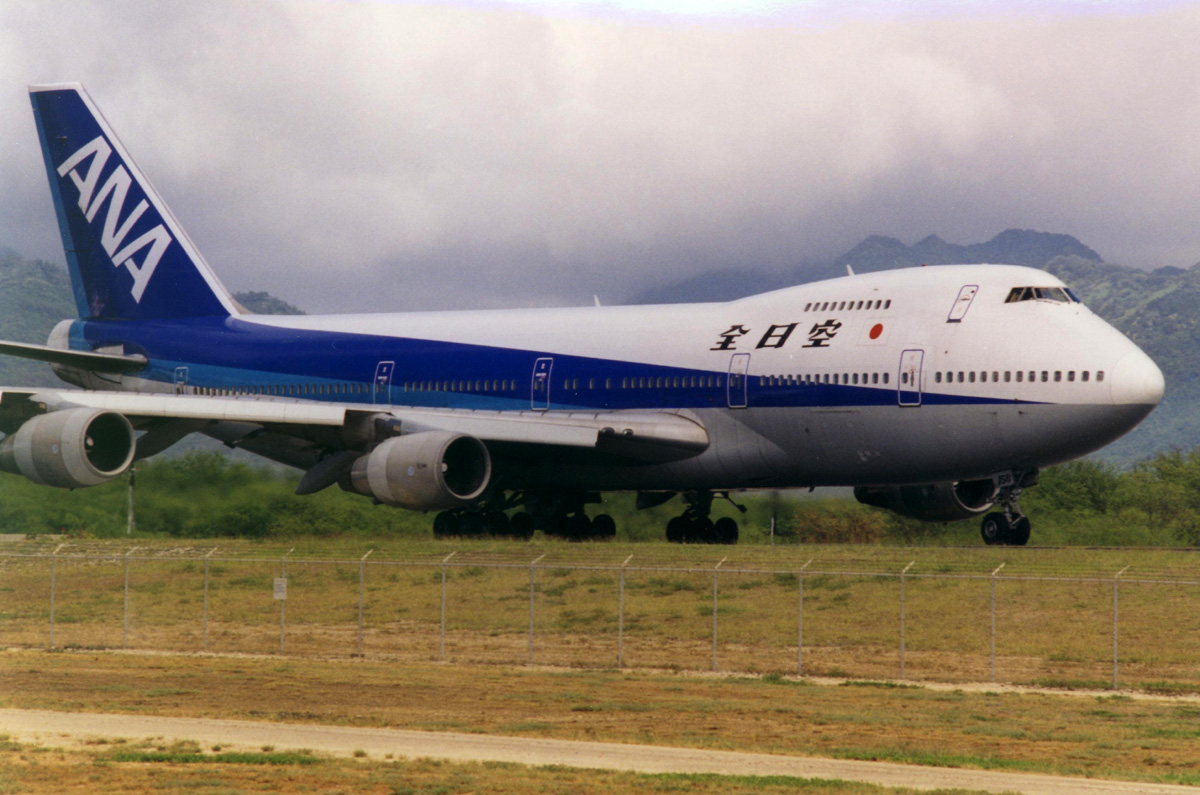 All Nippon 747-200 JA8156.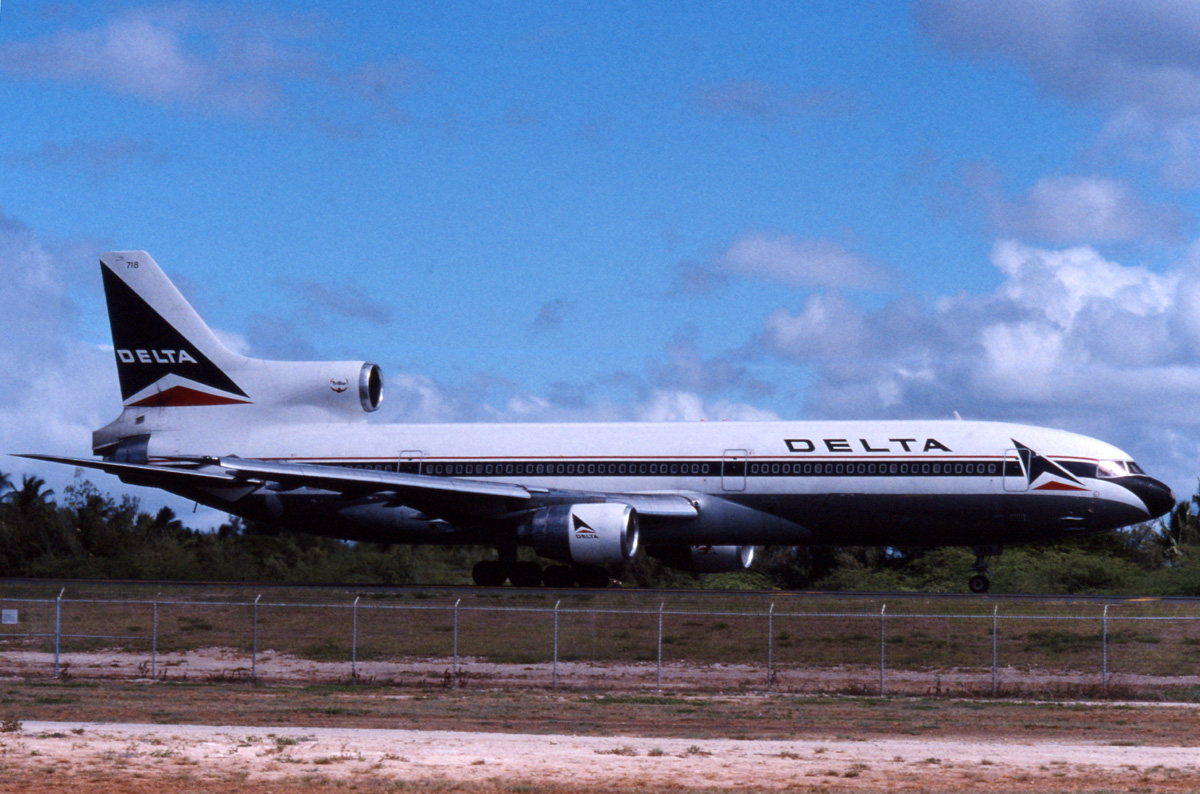 Delta L-1011 N718DL.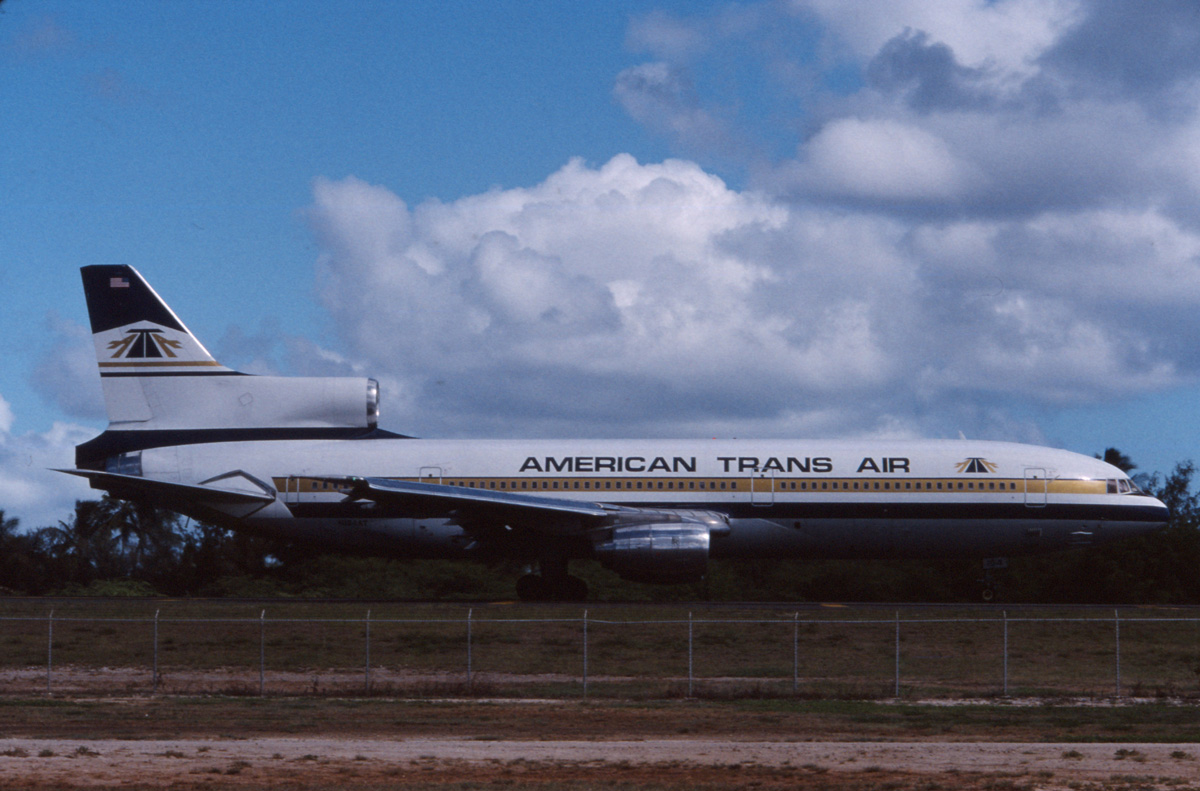 American Trans Air L-1011 N194AT. This airframe has a "Frisbee Fairing" below the #2 intake.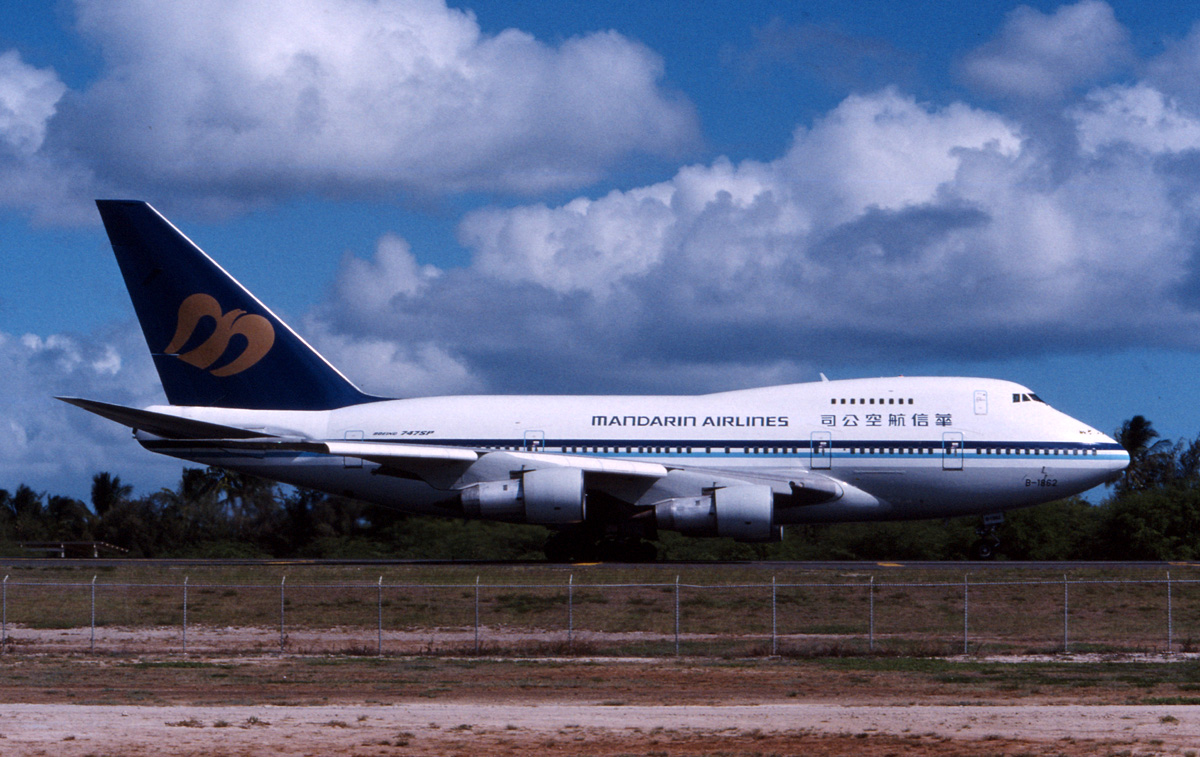 Mandarin Airlines 747SP-09 B-1862.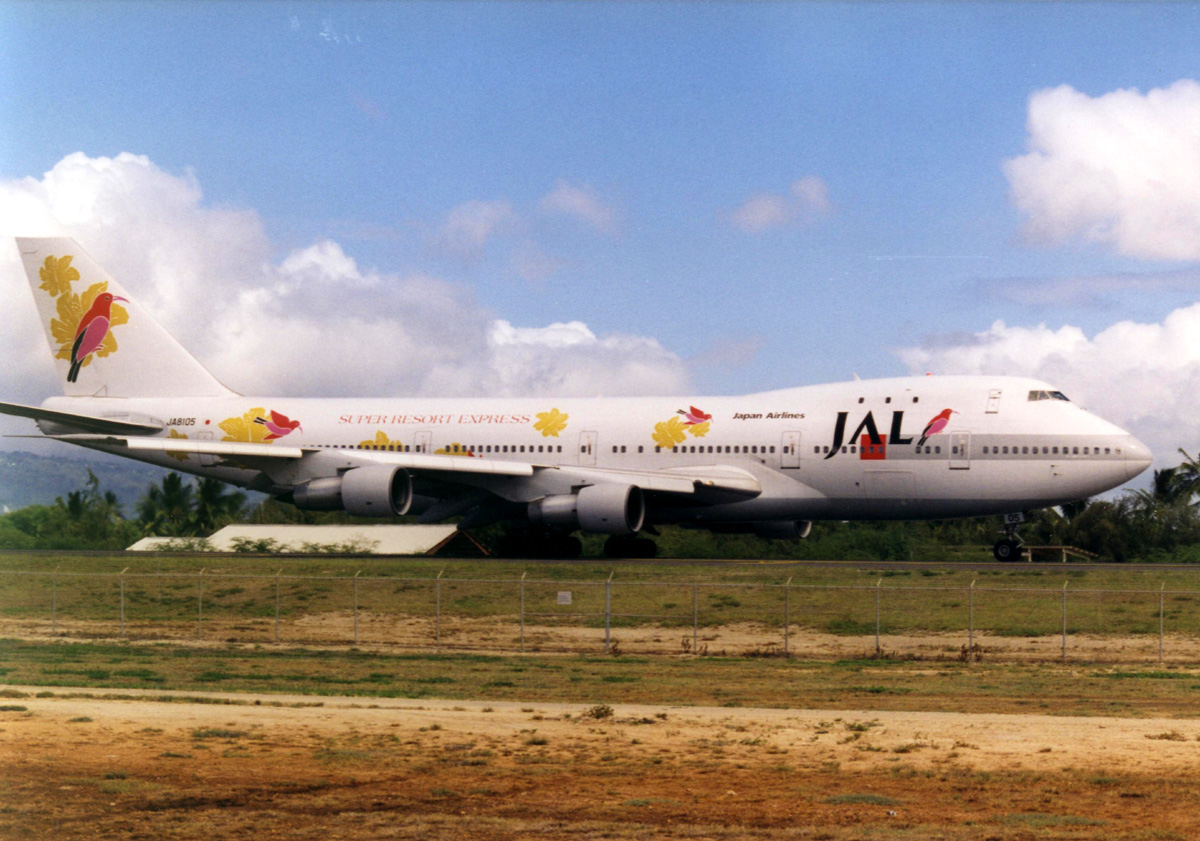 JAL 747-146 JA8105.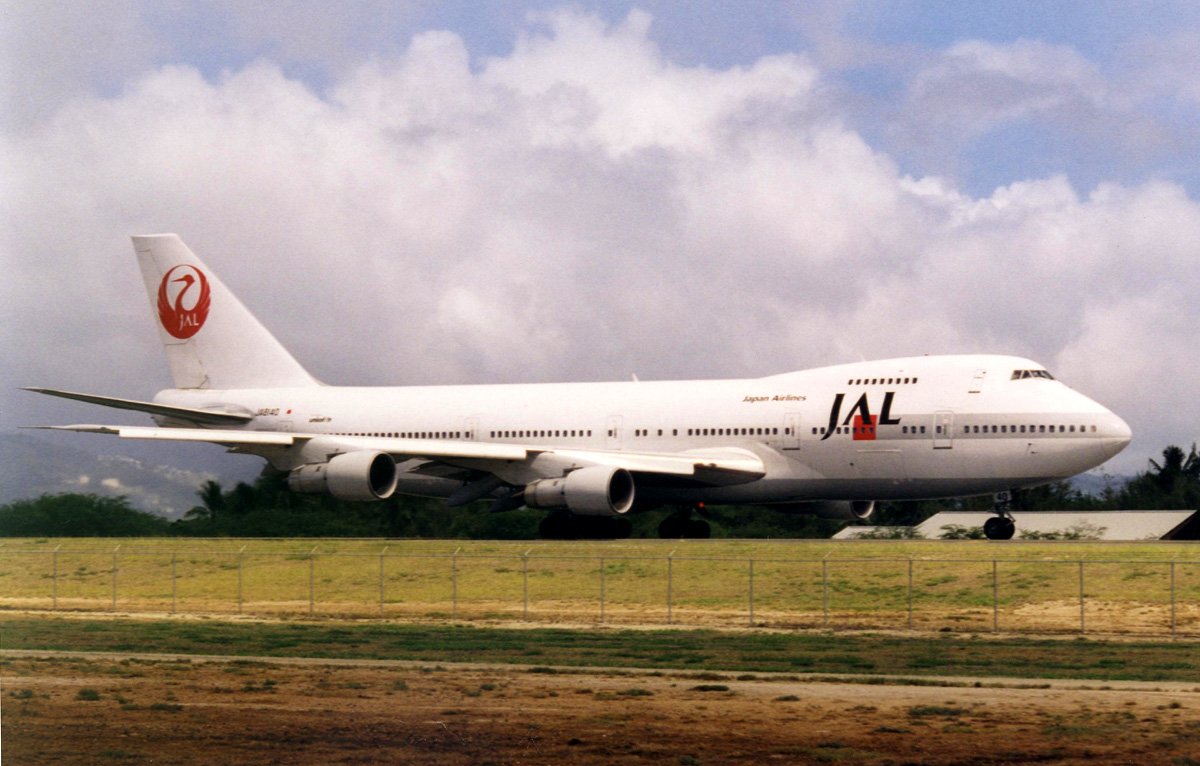 JAL 747-246B JA8140.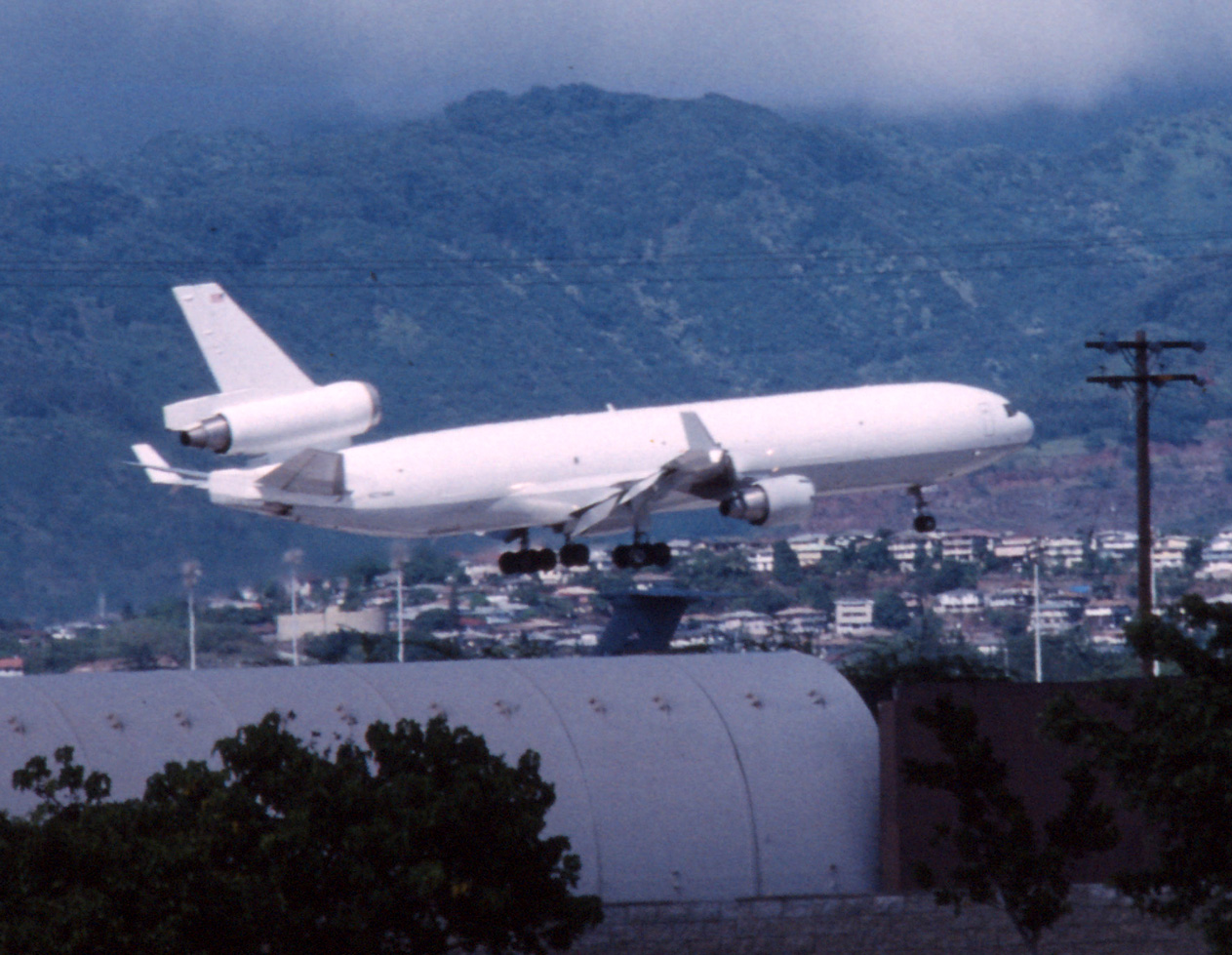 All-white World Airways MD-11F N274WA.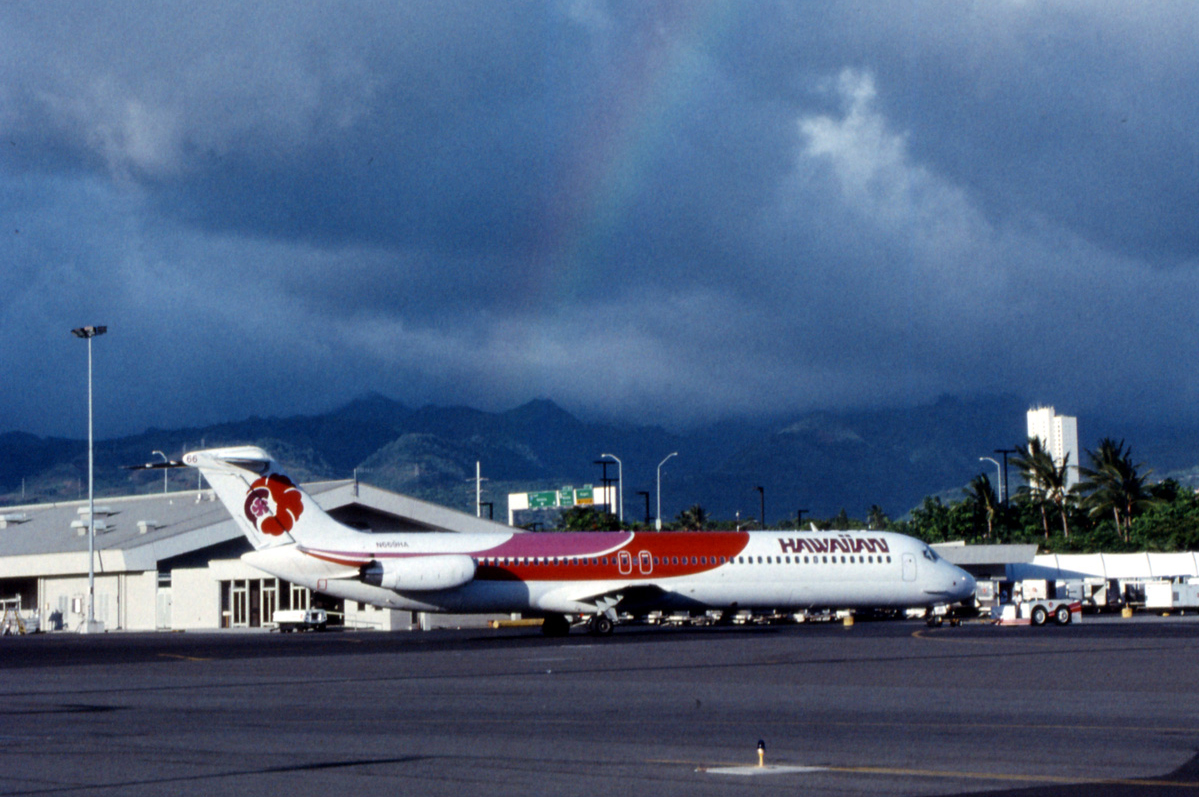 Hawaiian Air DC-9-51 N669HA.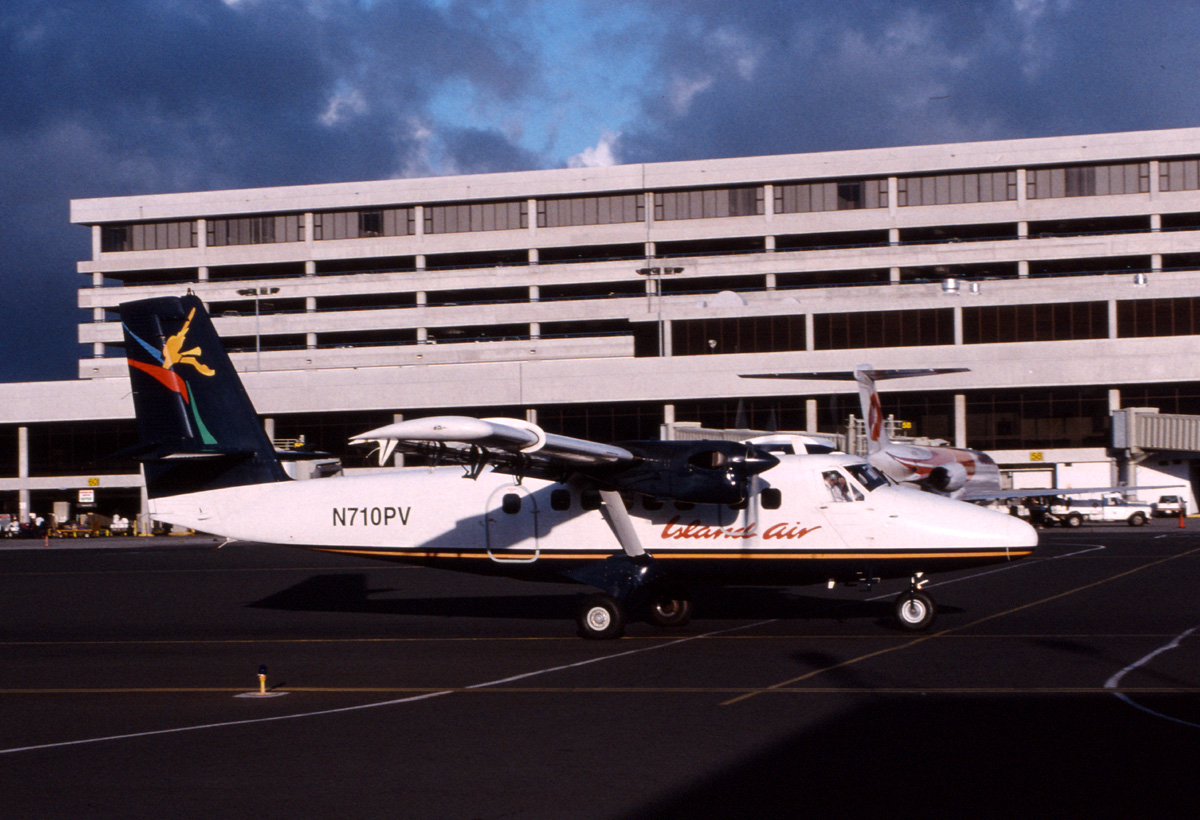 Aloha Inter Island Twin Otter N710PV.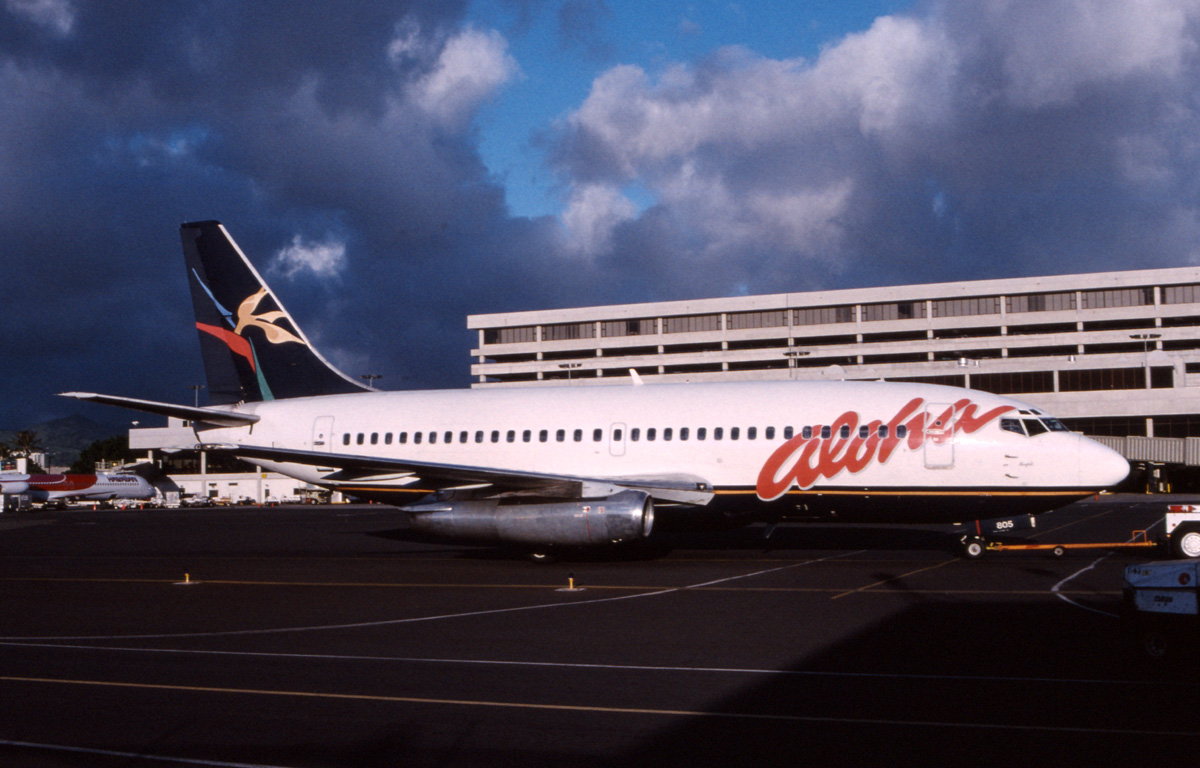 Aloha Airlines 737-200 N805AL.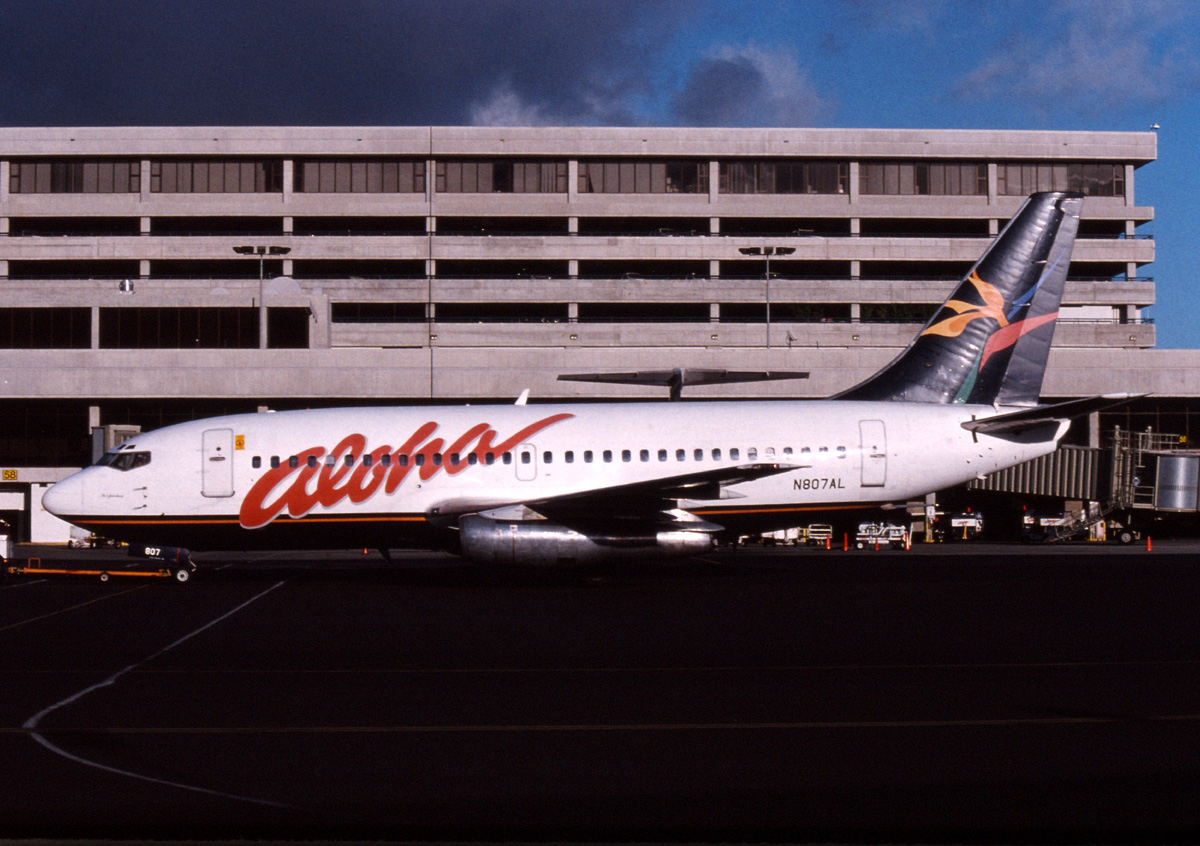 Aloha Airlines 737-200 N807AL.
Flight 7: Hickam AFB, HI - Travis AFB, CA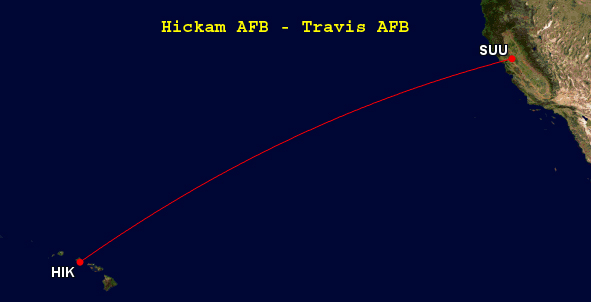 05 October 1997
USAF C-5B 84-0062
Dep: Rwy 08R 09:34 Local
Arr: Rwy 03R 17:22 Local
Time Enroute: 04:48
Distance: 2435 miles
Remarks: Different Travis C-5 for this flight
The final leg of this journey started out on Sunday morning. 70034 was still broken but another Travis C-5B was available to take me home. I don't remember how many of the original folks I was travelling with stayed behind or flew with me, but I was forced to leave the "kit" behind with 70034...I was assured it would be O.K.

We took off at 9:34am and after flying almost 5 hours, we touched down at Travis AFB at 5:22pm Sunday afternoon. I was glad to be home...the boss was a little perturbed I'd left the "kit" back at Hickam but she eventually got over it...and we eventually got the kit back.

And so ends my South Pacific Adventure. This was not my first trip aboard a C-5 nor would it be my last. Two more TDY's involving C-5s would come my way during the next 6 months.

I hope you have enjoyed reading this trip report.

Moe