The final destination in my list of December travels is a less visited destination by Singaporeans, Mandalay in Myanmar. Surprisingly, even during the peak travel season, flights availability were still wide open. Looking through the schedules, I settled on Myanmar National Airlines (MNA) Economy Class up to Mandalay, and SilkAir Business Class back.
Myanmar National Airlines is definitely not a commonly flown and reviewed airline. Some background on the airline from Wiki:
Myanmar National Airlines, formerly Union of Burma Airways, Burma Airways, and Myanma Airways, is a state-owned airline and the flag carrier of Myanmar, based in Yangon. It operates scheduled services to all major domestic destinations and to regional destinations in Asia. Its main base is Yangon International Airport. Founded in 1948.

The airline was founded by the government after independence on 15 September 1948, as the Union of Burma Airways (UBA). It initially operated domestic services only, and international services were added in 1950. The name was changed to Burma Airways in December 1972, and to Myanma Airways on 1 April 1989 following the renaming of the country from Burma to Myanmar. International services of Myanma Airways have been made as joint venture airline, Myanmar Airways International (MAI). Myanmar National Airlines is the majority shareholder of Joint Venture Company MAI, set up in 1993.[3] In 2003, it was proposed to set up a Myanmar-based airline for chartered international passenger and cargo flights, which was planned to be called Air Myanmar. What would have been a joint-venture between Myanma Airways and private investors was abandoned in 2005. Myanmar National Airlines provides ground-handling services for Other airline's charter,schedule and non schedule flight.

In mid-2012, Myanma Airways ordered to lease two new Embraer 190AR from GE Civil Aviation Services Co.Ltd, that replaced its Fokker F-28 from November 2012. On February 11, 2014, at the Singapore Airshow, Myanma Airways signed a $960 million deal with GECAS for four Boeing 737-800s and six Boeing 737 MAX planes. The deal is the largest commercial sale by a U.S. company to Myanmar in decades and is the largest single aircraft order in the history of Myanmar's aviation industry.

In December 2014, Myanma Airways re-branded itself as Myanmar National Airlines.

Following the arrival of its first Boeing 737-800 in June 2015, Myanmar National Airlines announced the resumption of international services after a 22-year hiatus to Singapore, Hong Kong and Bangkok. International services resumed with the inaugural flight to Singapore on 19 August 2015. Myanmar National Airlines then launched its second international service to Hong Kong on 4 December 2015 following the arrival of its second Boeing 737-800. Myanmar National Airlines (MNA) sets to begin its flights between Yangon and Bangkok starting from February 20, 2016 marking Thailand as its third international destination.
Singapore is MNA's first international destination after the rebranding and it now offers twice daily flights from Singapore to Yangon. Twice a week, the flight continues up to Mandalay on the same flight number, which is the flight I was booked on. The airlines currently operates a fleet of 4 new B737-800 on its international network.
MNA operates out of Terminal 3 at Changi and ground handling was performed by Dnata. Booking of tickets via its website was easy, but online check-in was not available. Hence, all passengers needed to do manual check-in, which was swift. Business Class was also offered, but not available for selection for Mandalay-bound pax. There was also a Premium Economy section onboard, with 6 rows of economy seats offering more seat pitch.
Boarding pass issued. The flight would be flying to Mandalay via Yangon. According to the check-in staff, Mandalay-bound pax would be seated towards the rear of the aircraft for ground handling purposes in Yangon, and it appeared most of the pax were Yangon-bound.
After a quick lunch at the T3 food court, we proceeded through immigration. Spot the aircraft right at the end of the terminal.
Departure gate was at A16. It was rather quiet at this time of the afternoon at T3.
Due to the location of the gate, it was impossible to get a clean shot of the aircraft.
28 December 2017
Myanmar National Airlines
UB 2
Singapore (SIN) - Yangon (RGN)
B737-800
XY-ALG
Economy Class
Flight Time: 2H27M
We would be flying on MNA's newest B737-800 in its fleet. Boarding was called and boarding sequence was enforced strictly. Welcomed by the UB female crew dressed in Burmese-styled red tunic.
First impression of the aircraft cabin was very good, with 8 Business Class seats upfront and the rest of the cabin fitted in with green-coloured Economy seats. Interestingly, both Business and Economy seats are of the exact same model as used on SilkAir's B738s.
Economy seats
Christmas decorations on the wall.
Seat pitch is good (better than SilkAir) and recline is decent. There were no pillows available but blankets could be requested from the crew if required.
Each seat has an adjustable headrest.
IFE controls in the armrest, which I believed served no purpose. Electrical sockets are available under the seats.
The inflight magazine, duty-free guide, safety card and airsick bag.
Boarding in progress.
View out the window.
Boarding almost completed. Flight was about 70% full on the sector up to Yangon. Pilot announced a 2.5hr flight to Yangon.
After boarding was completed, refreshing towels and arrival immigration cards were distributed.
Pushed back with the safety video played, first in Burmese followed by English.
Taxiing to the runway and passing the new Terminal 4.
Took off from Rwy02C.
https://www.youtube.com/watch?v=sBXwtGXARdk
MNA offers wifi-streaming IFE to laptop/mobile devices for its economy class passengers. Business Class seats are fitted with in-seat IFE monitors. The IFE app would need to be downloaded prior to the flight departure and would not be available for download onboard. Downloaded the app to the IFE system.
IFE menu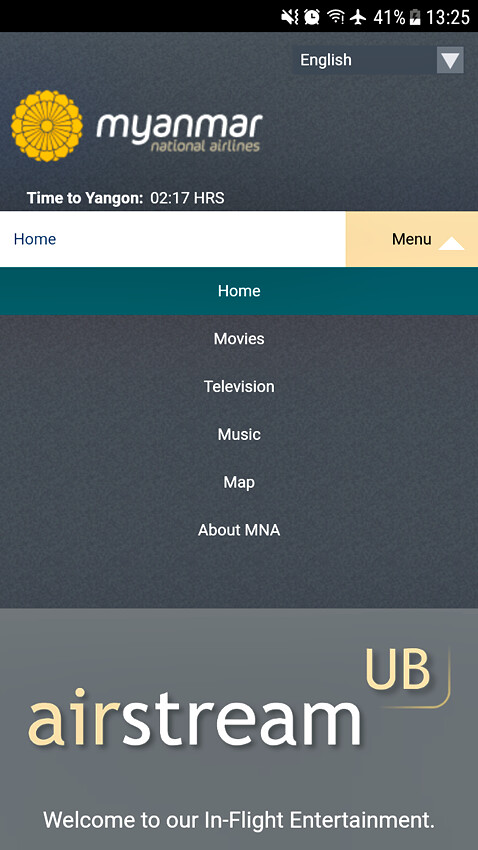 Offering a grand total of 4 movies....
A selection of music albums across different genres.
And the flight map, which was the only working selection as both movies and music crashed when trying to be loaded on my and my friend's mobile devices. MNA definitely needed to do something about its IFE system.
First, a round of beverages was offered from the bar cart. The full bar selection, including beers, wines, rum and soft drinks were available. The flight map was played on the dropdown monitors.
I saw that Mandalay rum was offered on the bar cart and ordered a Mandalay rum with Coke. Why not, since I am flying to Mandalay!
This was followed by the meal service. Crew were generally friendly and professional in conducting the inflight service, though smiles seemed forced on a few.
We were offered a choice of Chicken with noodles or Fish with rice. We chose a selection each. The meal tray came with a cold roll, butter and dessert cake. Cutlery was plastic. It seemed that only the main courses were uplifted from SIN and that the rest of the meal tray contents were from Yangon.
Soya sauce chicken with ee-fu noodles. The portion was big and taste was good as well.
Indian-styled spicy fish with rice and curried vegetables. This choice was delicious too!
Interesting butter packaging.
The chocolate cream cake was ok.
Ending with a cup of tea. Note the interesting salt and pepper sachets.
At 38000 feet.
Visit to the lavatory, which only had the necessary amenities. Also, this aircraft had the newer-styled lavatories, which seemed smaller than the rest.
Cabin view.
With no other entertainment available, I took bouts of naps till we started the descend into Yangon.
Slowing down during descend.
https://www.youtube.com/watch?v=4v6O-mxaKOw
Blue hues switched on for landing.
Interestingly, crew were only requested by the pilot to prepare cabin for landing at 10,000ft, and to be seated only when gears were lowered a couple of minutes before touch down.
Landed at Yangon International Airport Rwy21 slightly ahead of schedule.
https://www.youtube.com/watch?v=oqVClWsG2Ks
Exited the runway but required to hold as another aircraft taxied past.
Only a very short taxi to the terminal.
Yangon-bound passengers disembarked. Passengers heading to Mandalay were required to remain onboard while the crew did a headcount and cabin was cleaned. As told at check-in, all Mandalay-bound passengers were assigned seats towards the rear and the forward cabin was emptied as the Yangon pax disembarked. There would be a change of crew and domestic passengers joining.
This first flight on Myanmar National Airlines was better than expectations. Being a very small international carrier, it is expected that the offered frills, such as IFE, would not match up with the big players. However, with the comfortable seats, good catering and friendly service, MNA certainly offers a reasonable full-service experience.