Flying Transcon: American A330-200 SFO-PHL J
Background: While it's true that the New York to California transcon market is unique in the lower 48 states, given the premium products offered in Business Class and First Class, New York to California is hardly the
only
transcon market. In fact the flights to California are the longest to be found domestically out of my home airport of Philadelphia. The best flights were those offered by
Virgin America
, but those flights will soon transition to Alaska Airlines, who are planning substantial modifications to Virgin's unique experience. The other flights to California are PHL-LAX/SAN/SFO operated by American and PHL-SFO operated by United. American and United operate standard A319/320/321 on these routes, which are certainly nothing special when compared to the transcon flights from New York. Fortunately, American recently started operating an A330 on select flights, easily becoming the top option to fly transcon out of Philly. As the former US Airways flagship, the A330 offers a premium experience including flat-bed seats in Business Class, a spacious 2-4-2 configuration in the Main Cabin, and individual entertainment screens throughout. I always love a domestic widebody flight, and I've been fortunate to enjoy several prior AA A330 flights, but only on short flights to CLT and MIA. I was very excited to experience it this time on a long flight to California. Please enjoy the report, and I look forward to your comments.
SFO-PHL
American Airlines AA878
Departure: 08:20 (actual 08:26)
Arrival: 16:43 (actual 16:19)
Actual Block Time: 4h53
Actual Flight Time: 4h29
Seat: 5H
Airbus A330-200
My day began on the 06:08 hotel shuttle to San Francisco International Airport. It took a while longer than expected to get an in-person check-in and a cardstock boarding pass. I headed to TSA Precheck Security for Gates 40-59, and had about a 15-minute, constantly moving line. I was airside by 06:35. Boarding was set for 07:50, and departure for 08:20. I found the Admirals Club right inside security, but unlike transcon flights to JFK, transcon flights to Philly do not come with lounge access, even for the premium A330 service. I headed to the gate to find Flight AA445 to Charlotte just pushing back.
My aircraft arrived towed from a stand at 07:02. I was excited to see my widebody today...so much bigger than the B737 at all the adjacent gates. What a fun way to fly cross-country, perfect for the longest domestic nonstop offered in Philly. In fact this flight was to become my longest domestic widebody segment.
Arriving to the gate in SFO...gotta love the dot-matrix windows:
My plane today was N289AY, an Airbus A330-200 built in 2013 and put into service with US Airways, now part of American Airlines. N289AY is now my third AA A332.
The information screen at the gate began displaying boarding well in advance of the actual start of boarding, causing a very good mob to form, impatient to begin boarding. The screen also displayed today's aircraft type as an Airbus A320. The screen was certainly having issues this morning. Boarding finally began at 07:45 with Concierge Key, followed by Group 1 and active military. I boarded through L2, and passed through the galley to the second aisle. I found my seat, 5H, the last seat on the right hand side.
Seat 5H:
The American Airlines A330-200 has five rows of 1-2-1 Legacy-US Airways "Envoy" Business Class seats. These seats are in the reverse herringbone configuration, and I was pleased to find them refurbished with attractive new gray cloth. A blanket was provided. I thought it was a spacious seat, with good legroom and plenty of space, including a water bottle holder, individual screen, electrical outlet and USB port. And my own personal overhead compartment. This was the top seat offered by US Airways, and indeed it is still a modern, competitive seat. A pretty good way to spend 5h in the air.
Legroom Shot:
Safety Card:
Cabin Overview:
A very friendly flight attendant arrived to offer a pre-departure beverage, so I requested ice water. Meal orders were then taken, or in my case, my pre-order was verified, and I requested apple juice. There were no menus, but this was not unexpected, since AA considers this just a standard flight, not a special transcon. The two meal choices were
Smoked Fontina Cheese Omelette
with Peppadews, herbed potatoes, and Italian parmesan chicken sausage, or
Steel Cut Oatmeal
with brown sugar and various fruit garnishes. I had pre-ordered the omelette online during the booking process. I really like that AA offers pre-ordering of meals on all flights.
The captain's welcome message said he was expecting to pushback on time. We would have a relatively quick 4h23 flight time due to strong tail winds. The safety video was played on the front bulkhead screen. Earbuds were offered, but I noticed they were only single-prong, despite the connector being a three-prong style. I stuck with my own single-prong headset, hoping they'd work properly in the three-prong connector. Pushback was at 08:26.
During our taxi I enjoyed what could possibly be my last view of the Virgin America area of gates at their hub of SFO. I will be sad to see Virgin America go.
"Flight attendants, please prepare for takeoff." We were third to takeoff after a United Express E175 and a United Express CRJ. Our takeoff was from 1R at 08:44. A takeoff from a stop, thrust was slowly increasing more and more, and I was liking the sound of widebody power. It was a smooth takeoff. The moving map, displayed on the bulkhead screen, showed 4h38 left in flight.
The view from 5H after takeoff:
I began the flight by deploying my screen to check out over 70 pages of movies. I was definitely impressed by the extensive selection! I selected a German movie,
Jugend ohne Gott
. I can report that single-prong headphones work just fine plugged into one outlet of the three-prong connector. Hot towels began service, and I reclined to a nice comfortable lounge position. And I was using the blanket for a change...it was a very cold cabin.
Welcome screen:
Drinks were served individually, and then the trolley was brought out, stocked with meals and the bread basket. The flight attendant offered a mini chocolate croissant and a biscuit, so I accepted both. My entree was served. The breakfast was good, but perhaps not up to the level of past AA breakfasts, which were some of my best airplane breakfasts on any carrier. However I'd still say AA has the best airplane breakfasts in my experience.
My movie finished with 2h, or 1,000mi, to go. I received a refill of juice. My next movie was
Groundhog Day
.
As we passed over Chicago, the snack basket was brought out. I carefully examined the snack basket, and was happy to find the stroopwafel, my new favorite snack. For a drink I requested AA's newest craft beer, New Belgium
Voodoo Ranger IPA
. As I enjoyed my snack and beer, the movie was interrupted by the credit card offer.
I decided to spend the rest of the flight fully reclined in bed mode. Unfortunately the flight was quickly coming to an end, with the captain soon announcing that we were beginning decent, and expecting to land at 16:15.
Our flight path:
Descending into PHL: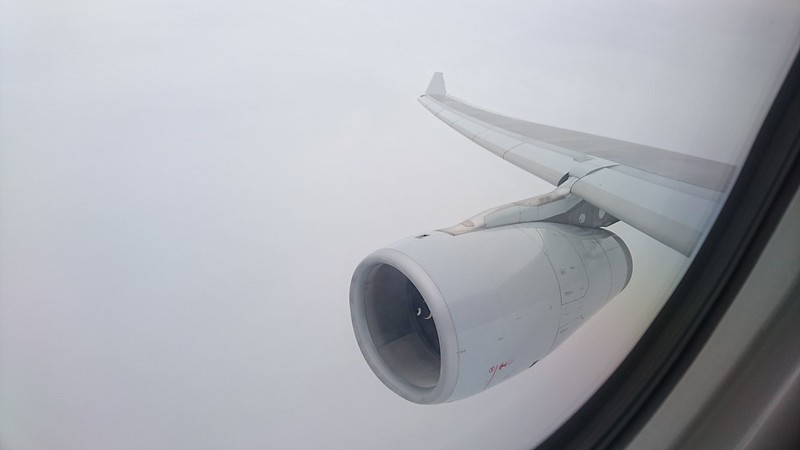 A mint concluded the flight, and I just managed to finish
Groundhog Day
. Landing was at 13:15, and we were at gate A24 in the international concourse at 13:19, or 16:19 Eastern Time.
Cabin after arrival:
At the gate in PHL:
As I walked through the international concourse, I was happy to see all of PHL's current exotic international airlines present at the same time: Lufthansa with the A340-300, British Airways with the B747-400, and Qatar with the A350-900. I loved seeing these unique aircraft, and was happy that these airlines provide PHL with such a good variety of aircraft. With no four-engine aircraft in service with any US-based airline, I enjoyed seeing the LH A343 and the BA B744. As my favorite plane, I was very happy when BA decided last year to send the B744 to PHL, after a long period of serving my home airport with the B777. And Qatar's A359, notably the first-ever scheduled A350 service to a US airport.
Lufthansa A340-300, D-AIGT, serving PHL-FRA:
British Airways B747-400, G-CIVS, serving PHL-LHR:
Qatar A350-900, A7-ALL, serving PHL-DOH:
This had been a very enjoyable flight. While the onboard service wasn't anything more than standard AA domestic service, on this occasion I thought it was certainly above average. I found the flight attendants to be very friendly and attentive, and the meal was good, along with the snack basket later in the flight. Most of all, though, the hard product can't be beat, with premium flat-bed seats and individual screens. It always pays to check the aircraft type. The A330 is way better than the standard Legacy-US Airways A321 which usually serves this route. Check the aircraft type when choosing your flight, and you just might find the A330 available. It would certainly be my pick for a great long transcon out of Philly.
Previous
Flying Transcon
trip reports:
Flying Transcon: United P.S. 757-200 JFK-SFO J
Flying Transcon: Virgin America A320 PHL-SFO F
Flying Transcon: Alaska Airlines B737-900ER SEA-PHL F