After a great day and a half in Phoenix, it was time to head back to cold, snowy Chicago (how does anyone in Phoenix get any work done? It's like living in some sort of glorious, sunny resort.)
We arrived at Sky Harbor a few hours early to do some spotting and wander around the terminal buildings. Our first stop was the mammoth Barry Goldwater Terminal 4, used by America West and Southwest. The rooftop parking garage offers great views across both sides of the airfield, as you can see from the photos.
Southwest's two concourses on the south side of the T4 complex:
Southwest is constructing a third concourse at T4:
Sky Harbor's northern runway was closed for renovations, so all traffic was using the two southern runways. This made for quite a busy scene at the runway thresholds (note the Southwest 737 with winglets in the foreground):
We then walked across the rooftop to America West's side of the terminal. America West has a HUGE hub at Phoenix - much larger than I imagined - with a substantial commuter operation. Here's the international concourse, which handles HP's flights to Mexico and Costa Rica, as well as British Airways, AeroMexico and a few Southwest flights:
America West's three domestic concourses (two opened with T4 in 1990, the other one was opened in 1999):
Looking west from the T4 rooftop towards T3 and the control tower:
We then headed over to Terminal 3, which is set up identically to T4, but on a smaller scale. The terminal architecture is very similar as well - lots of brown sandstone and tinted glass. Both T3 and T4 have pretty small windows and low ceilings, to minimize air conditioning costs during the hot summer months. Here's a view of the T3 North Concourse, used by Delta, Frontier and Northwest:
I didn't make it over to Terminal 2, which is used by Alaska, United, Continental, US Airways and Air Canada. It's very different from T3 and T4 - it's much older and has a single-level layout. Here's T2 viewed from T3, with a Chicago-bound United 757 parked at one of the gates:
Back at Terminal 3, I checked in and headed for the gates. The city has recently remodeled T3's main lobby, adding lots of national retailers and restaurants and modernizing the overall appearance:
My flight was leaving from Gate 6 on the South Concourse:
***********************************************
Sunday, February 8, 2004
American Airlines Flight 650
Phoenix Sky Harbor (PHX) - Chicago O'Hare (ORD)
Departs PHX 4:15pm, arrives ORD 8:45pm
McDonnell-Douglas MD80, seat 4F
Flying time: 3 hours, 5 minutes
When I arrived at the gate I was very disappointed to see another MD80... American's online timetable had listed a 757 as the equipment for this flight. I was looking forward to having IFE and a larger aircraft. Alas, it looked like I'd be in another 'Super 80'... but in first-class at least.
Boarding started about 20 minutes late, and I filed on with the rest of the first-class passengers. The FAs looked very frazzled as we found our seats, and didn't offer any pre-departure drinks.
Once the coach passengers had taken their seats, we pushed back from the gate, just a few minutes behind this MD80 departing for Dallas/Fort Worth:
The engines started up and we taxied ACROSS Runway 8L-26R to the outfield holding point. Only then did the captain bring the plane to a stop, shut down the engines, and deliver the grim news that we'd have a 90-minute ground delay due to flow control issues at O'Hare.
A collective groan rose up from the cabin, but as with all O'Hare flights, there's nothing the crew can do about flow control delays. We first-class passengers got our pre-departure drinks
and I was treated to a great view of aircraft arriving on Runway 26L:
The arrivals were mostly America West and Southwest twinjets, along with a surprising number of America West Express CRJs and Dash 800s. There were some interesting arrivals - a FedEx DC10, Midwest MD80 and the daily British Airways 777 from Heathrow - and the endless parade of aircraft helped the time go by quickly.
After about an hour and ten minutes, the seatbelt signs flashed and the engines slowly came back to life. It was now about 5:45pm and we were FINALLY getting off the ground.
Turning onto Runway 26R for takeoff with the Southwest maintenance complex in the background. Note how much lower the sun is in the sky - it's almost dark out!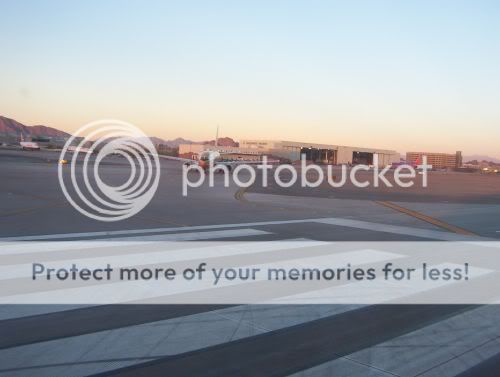 Takeoff:
Climbing out past downtown Phoenix, with the Bank One Ballpark and America West Arena visible in the foreground:
We flew west, then made a long sweeping turn over northern Phoenix back to the east. From the starboard side of the aircraft, I was afforded a great view of the city...
... and the airport:
Climbing out over Scottsdale and Paradise Valley, with Camelback Mountain sprouting out of the suburban sprawl:
We headed out over Fountain Hills and the "Four Peaks" mountains before leaving Phoenix behind altogether:
At that point the sun was basically down for the evening, and only the lights of scattered towns were visible out the window.
The first-class flight attendant came down the aisle shortly after takeoff to take drink and dinner orders. Our choices were salmon, chicken, or vegetarian pasta (I opted for the chicken) with a side salad. She also set out ramekins of warm mixed nuts, which I thought were a very nice touch.
My meal consisted of a barbecue chicken breast over rice, topped with roasted peppers and onions, and a mixed-green salad with vinaigrette dressing. It was very good, although as per normal for airline food, the chicken breast wasn't very big. Dessert was the customary American Airlines ice cream sundae with our choice of toppings.
Our route this evening was a little more southerly than my outbound leg, passing over Albuquerque (I had a great view of the city lights), then heading over the Oklahoma panhandle and across Kansas, where the captain called our attention to the lights of Wichita shining below. There was a full moon this evening, and almost no clouds, so it made for some breathtaking views.
About an hour out of Chicago several of the other first-class passengers began to get nervous about their connecting flights at O'Hare. Several passengers were on a flight to Boston that was due to leave within minutes of our arrival at the gate.
We began our descent into Chicago, and the FAs read the list of connecting flights. The flow-control issues had decimated American's schedule that evening, and almost all the connections were about an hour behind schedule. Most of the Boston-bound passengers looked relieved.
Scattered clouds turned into a solid overcast as we headed towards O'Hare, and for several minutes we flew through the dense clouds with only the blinking wing lights illuminating the mist. When we emerged we were on a northerly heading, passing over Aurora on our downwind leg for landing at ORD.
Flying into Chicago at night always gives you an idea of the enormity of the metro area - we were almost 50 miles from downtown, and there were lights spreading in every direction. Our MD80 flew north past Schaumburg and Hoffman Estates, then made a tight turn over Crystal Lake to line up with ORD's Runway 14R. As we turned I could see four or five aircraft ahead of us on final approach.
Finals took us down over Rolling Meadows and Elk Grove Village, then low over the industrial estates and warehouses along O'Hare's western perimeter. It was very windy in Chicago this evening, and we were wobbling back and forth all the way down to the runway. Finally we skimmed the fence and touched down on 14R, about an hour and five minutes behind schedule.
It wasn't snowing as we taxied off the runway, but the high winds were blowing existing snow across the taxiways... it looked like wisps of fog curling over the ground. The FAs came over the loudspeaker, asking everyone to remain in their seats until connecting passengers had left the aircraft.
We parked at Gate K14 next to a HUGE company 777, and the 15 or so connecting passengers rushed to the front of the plane and ran out the door. I left much more slowly, disappointed to be back in freezing, icy Chicago.
*********************************************
All in all I was very pleased with my two flights on American - they offer a very nice first class product, although I'm not wild about the seat design. I'll be flying ORD-SFO and back on American in about two weeks (in coach, alas) and I'll have a full report then. Stay tuned!