Seeing on how I finally got pictures to work (thank you jsnww81 for your help) and how I never posted ORD-FCO, just FCO-ORD here it is so enjoy!
The AGT train dropped us off from Remote Parking at Terminal Three, where we proceeded in the cramped terminal (it was under construction) to International Destinations Main-Cabin check in for American Airlines. We waited in line for about 10 minutes before an agent saw us. The check-in process took about 5 minutes and got our bags tagged to FCO and took them to the TSA and they went through the InVision screener. Flying is such a hassle now. We made our way to the main security checkpoint and went to the K Concourse.
The globe in the middle of the terminal, complete with Italy Flags.
Just the Italy flag, before the K/G Concourse Split
A poor quality shot of the K Concourse hall outside of our departure gate.
Our flight to Rome departed from gate K5.
Our 767-300 waiting at Gate K5, as you can clearly see, it was very cloudy.
March 25,2004
American Airlines flight 110
Chicago (ORD) - Rome (FCO)
STD: 3:40pm
ATD: 4:20pm (LATE)
STA: 7:55am
ATA: 8:32am (LATE)
Depart: Terminal Three, Gate K5
Arrive: Terminal C, Gate C30 (T8)
Boeing 767-300, N356AA, Seat 25G
Flight Time: 8h 45min
We took off late, after a 45 minute taxi on Runway 14L. Over New York, Dinner was served. It was very good, and big for a coach meal.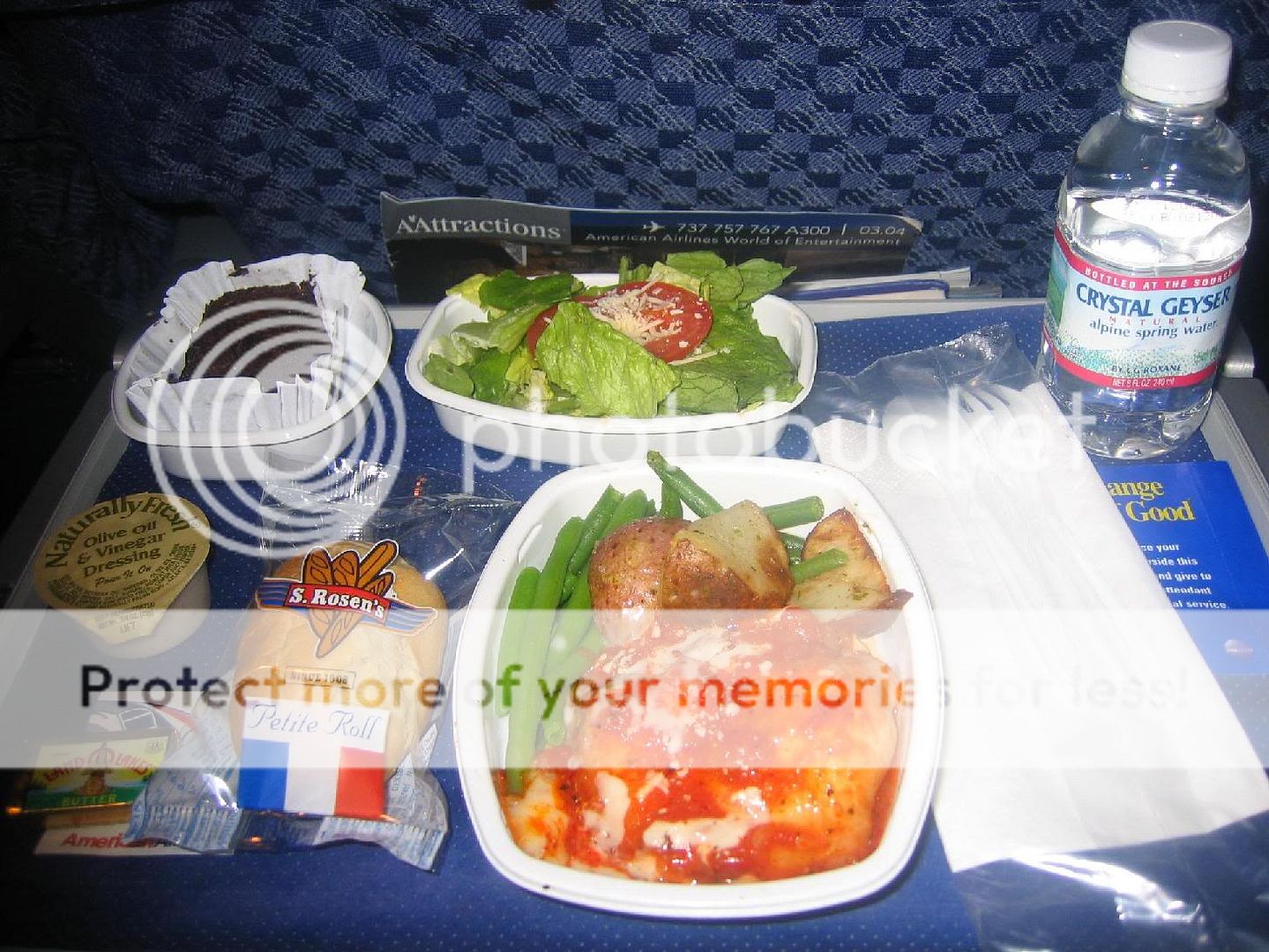 The Cabin at Night, over Portugal
They showed us Under the Tuscan Sun and In America. I fell asleep and missed most of the flight. I woke to a wonderful smell of Breakfast.
American Way Magazine :March 2004
We touched down late, and had no customs probelms. We took a train to Termini Station, called the Leonardo Express.
----------------------------------------------------------
Pictures coming back to Chicago
The 767-300 waiting to take us back to ORD at gate C30 at FCO
Our flight left from Terminal C
A cool outdoor fountain.
Questions and Comments are welcome.