Last week I finally took my much-awaited spring vacation to Hawaii (Oahu and Maui). I'd set up my tickets back in January, and prevailing winds being what they are, decided to break up the outbound trip with a stop on the west coast. SJC was an option, but I can never pass up a stop in Los Angeles (and SJC-HNL would have meant a 757 with Less Room Throughout Coach), so I booked myself on an ORD-LAX-HNL-ORD routing.
*******************************************************
Saturday, April 17, 2004
American Airlines Flight 1319
Chicago O'Hare (ORD) – Los Angeles (LAX)
Departs ORD 8:25am, arrives LAX xxx!!!!
Boeing 737-800, seat 23F
Flying time: 3 hours, 55 minutes
O'Hare was actually pretty quiet this Saturday morning… no wait at the check-in kiosks, and for the first time in months I actually used the central H/K security checkpoint. I finally got AAdvantage Gold status, and was able to go through the Gold/First Class security line.
On Concourse H the first flights of the day were preparing to go out. I noticed that American has coverted Gates H1, H2 and H3 to American Eagle gates, with lower jetbridges and extra parking positions. I hope this doesn't mean Eagle's regional jets will be taking over the H/K Concourse in the near future… I'm sick to death of the damn things.
The crowd at Gate H11 was predictably light; I'd checked my seat online the night before and noticed that the flight was only about half full. When boarding started around 7:50, I was pleased to see I had an entire section of three seats to myself.
I've said before that I'm not a huge fan of American's 737 fleet. I wish they'd ordered them with the flip-down flat screens that ATA has on their 737s (and that United and US Airways have on their A320 fleets.) Instead, they have the clunky TV monitors hanging down from the aisle ceiling, which means taller passengers like myself have to hunch over to avoid hitting our heads. For such new aircraft, they look deceptively old.
Waiting at the gate for pushback:
We shoved off the gate on time and waited behind an Eagle ERJ running its pre-takeoff check. The safety video played on the overhead monitors as we taxied out around the corner of Concourse G:
The captain came over the loudspeaker to welcome us aboard and inform us of our flying time (just under four hours). He said we were number one for takeoff – how many flights out of O'Hare can claim that! We turned onto Runway 32L (ORD's preferred runway for westbound departures in normal wind conditions) with the engines already spooling up, and made a rolling takeoff towards the northwest:
Climbing out over Elk Grove Village northwest of O'Hare. The 1979 American DC10 crash site is visible just above the mobile home park at right center:
Our 737 climbed out over the northwest suburbs, made a long turn west and headed out over Elgin:
In no time we were out over rural western Illinois, headed straight for Los Angeles. I don't recall us turning or deviating from this heading until we began our descent into LAX. The flight path took us across Illinois, following Interstate 80 to the Quad Cities, then crossing Iowa just north of Cedar Rapids and Des Moines.
As we passed over Iowa the cabin crew began a drink service, and I warily opened my Bistro bag. American's breakfast Bistro options were even leaner than their lunch or dinner offerings – a container of yogurt (that had pressurized and blasted yogurt all over my shirt when I opened it), some sort of 'breakfast' trail mix with raisins and granola, and (to quote Dave Barry), "the greenest, coldest, hardest banana I have ever touched in my life." Delicious…
Screening of the inflight movie – "Paycheck" with Ben Affleck and Aaron Eckhart – started shortly thereafter. I'd seen part of it on my trip to London the week before and it hadn't really held my interest, so I cracked open the
American Way
inflight magazine instead. The journalism major in me was pleased to see that the new editors are changing its lousy design – it's a lot fresher and more modern looking. The terminal maps in the back had also been revised, showing the first increment of the new Miami terminal open to passengers.
Crossing central Kansas:
Over eastern Colorado, the landscape became progressively browner and more arid:
In the far, far distance (out of range of my camera) I could see Denver sprawled at the base of the Rockies; I could even see the white blur of the main terminal at DEN. Our routing took us closer to Colorado Springs and Pike's Peak:
It was nice being on such an empty flight (although I'm sure American would have preferred a full one.) There was a real sense of spaciousness in the cabin, and I was able to get out and use the lavatory without having to climb over anyone. I really enjoyed it, particularly since I knew the flight to Honolulu would be jam-packed.
We crossed the desert, passing just above the Four Corners area. Half an hour later, the captain announced our position directly above the north rim of the Grand Canyon, which prompted a lot of oohing and aahing from the passengers: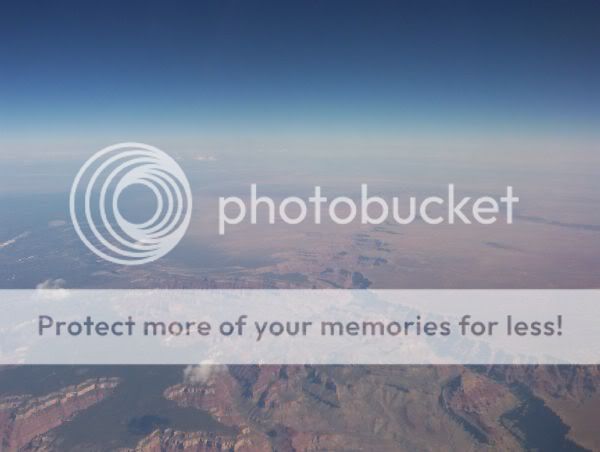 Our route took us over the Colorado River and Laughlin, Nevada (a sort of mini Las Vegas, although I could see the real thing very faintly in the distance), where we began our descent into LAX. Los Angeles was reporting a solid overcast with easterly winds and temperatures in the high 50s. Clouds obscured the desert as we headed down over Big Bear Lake:
For a few minutes we flew down through the shelf of clouds, and when we finally broke out we were well established on final approach to LAX:
Our approach path was pretty much straight-in, over south-central LA and the Harbor Freeway. Behind us I could see a Southwest 737 turning onto a parallel approach. It was pretty murky in the Los Angeles basin, although the skyscrapers downtown appeared to be getting some sun:
About ten miles out, over Inglewood:
Passing over the Hollywood Park racetrack with the Great Western Forum in the background:
Over the 405 freeway…
… and finally over the fence and touching down on 25L:
Weather at LAX was pretty nasty-looking, although it wasn't raining. We had to hold short of 25R for about five minutes as a whole line of aircraft departed, including three or four United Express Embraer 120s. The captain revved the engines and headed for the terminal, passing a Delta 767-400 on pushback:
Rounding the corner of Terminal 4. There were two Qantas 747-400s parked on the west side of the terminal, although I was only able to get one in the picture:
We pulled into our gate, right alongside the 767 that would be taking me to Honolulu:
******************************************************
Los Angeles International Airport
I had about 90 minutes' layover time in LAX, which I figured was plenty of time to leave security and do some spotting. American did a top-to-bottom renovation of Terminal 4 about two years ago, making it easily the nicest and newest-looking terminal at the airport (though it still felt pretty crowded as I made my way down the concourse):
T4 from the outside:
I headed towards the Tom Bradley International Terminal, which was packed with passengers headed for Asia. Two Korean Air 747s were resting between flights to Seoul, along with an ANA 777 bound for Narita:
A shot of the much-maligned TBIT:
Looking down the north end of TBIT at a Mexicana A320, A340s belonging to China Eastern and Air Tahiti Nui, and an Asiana 747-400:
For a timetable collector, TBIT has always been pretty decent. Most of the airlines don't keep them out on the counter, but if you ask they'll go behind the scenes and get one for you. I was able to snag the latest schedules for Korean Air, Asiana, AeroCalifornia, ANA and Malaysia Airlines, along with Korean Air's inflight magazine. I was told by the woman at the Lufthansa counter that due to a printing error, LH is only offering timetables at German airports; the rest of their network will have to go without until the fall. I hope the 'printing error' doesn't mean the end of paper schedules for LH…
After a brisk walk back to T4 it was time to board my flight to Honolulu.
****************************************************
American Airlines Flight 283
Los Angeles (LAX) – Honolulu (HNL)
Departs LAX !!!???, arrives HNL 3:30pm
Boeing 767-300, seat 34J
Flying time: 4 hours, 45 minutes
Unlike Continental and Delta, American doesn't put its newer 767s on Hawaii flight. I boarded one of the oldest and most decrepit 767s I'd ever seen… paneled in faded 1980s tan, with dirty overhead bins and dim lighting. A pretty dismal letdown after flying on a sparkling clean 777 to London just a week before.
Thankfully, the 767 fleet has More Room Throughout Coach (thought it felt more cramped than the 737 I'd flown to LAX on). The flight was carrying a full load today, including lots of noisy small children. When my parents took us to Hawaii to see family back in the early 1980s, we were given hearty spoonfuls of cough medicine for the benefit of our fellow passengers. I wish that were the case today.
The cabin crew was older – American's Hawaii flights are pretty coveted among its FAs (who can blame them?) so we had a pretty senior bunch serving us. The rear cabin crew was almost all men, and I have to say they were much friendlier than the matronly battle-axes you find on the Atlantic routes. Some of them actually seemed pleased to be serving the passengers (gasp).
The lack of space at LAX meant we were pushed back onto a live taxiway, so our engine startup and pre-takeoff check was run through quickly. The flaps were extended and we taxied out past a pair of Narita- and Kansai-bound JAL 747s in the old livery:
We would be taking off from one of the northern runways, so I got a nice scenic tour of LAX's more interesting north-side terminals. Here's the north side of TBIT, with the same Asiana and China Eastern birds visible:
The decrepit and relatively empty T3, populated only by one of AirTran/Ryan International's A320s:
Terminal 2, with a Northwest 747-400 and 757-300 in the new colors (obscured by the wing, unfortunately), along with a World Airways MD11:
And finally Terminal 1, where there were two US Airways A321s and, amazingly, no Southwest 737s parked on the gates:
Takeoff was on Runway 24L, out over Playa del Rey:
Our 767 climbed followed the coastline past Malibu and Ventura. The clouds began to thin out, and in a few minutes we had a much happier view:
Flying over the Channel Islands National Park, our last sight of land for the next four hours:
Once we hit our cruising altitude (34,000 feet) the captain switched off the seatbelt sign, although he said he expected some choppiness here and there (the sign came back on two or three times before we landed). A preview for the movie – "Something's Gotta Give" – was shown, followed by CBS Eye on American programming ("Everybody Loves Raymond", "King of Queens", CBS News and "Joan of Arcadia.")
The LAX-Hawaii flights are just long enough to merit a meal service; the meal trolleys came rumbling down the aisles about an hour after takeoff. Our choices in coach were chicken or lasagna; I chose the lasagna, which was served over rice with barbecue sauce, a small salad, dinner roll and a brownie. It was pretty ho-hum… the chicken was edible but it was remarkably similar to the fare offered on my transatlantic trip the week before. I guess I should be lucky I got a meal at all!
I put on my headphones and suffered through "Something's Gotta Give," which was entertaining for the first hour but really dragged on for the next hour and a half. The producers could have cut 45 minutes from that movie and it would have been a lot more tolerable. The plus side of such a long movie – as soon as the end credits began to roll, the captain came over the PA and announced the start of our descent into HNL.
Passengers on the port side of the 767 could see Mauna Kea and Mauna Loa (on the Big Island) and Haleakala (on Maui) jutting up through the clouds; our view on the starboard side wasn't quite as exciting. The ocean seemed to be a much deeper blue than in California, with lots of whitecaps and scattered clouds. The spoilers rose and fell on the wing, and a "Welcome to Hawaii" video featuring Governor Linda Lingle was shown on the screens in the cabin. The Oahu shoreline appeared up ahead, and we made our landfall just south of the Kailua-Kaneohe area:
Central Oahu was obscured by clouds as we crossed the Koolau mountain range and flew above downtown Honolulu. When they thinned out, I could see Honolulu International Airport and its offshore 'reef runway' just below us:
Our downwind leg took us along the Oahu shoreline to the western tip of the island, where we made a 180-degree turn back towards the airport. Below was the former Barbers Point Naval Air Station, now called Kalaeloa General Aviation Airport:
On final approach over Ewa Beach… I was surprised by how many new homes were being built on the former sugarcane fields below:
Short finals over the Iroqois Point military reservation – all the houses below are inhabited by servicemen working at Pearl Harbor and their families:
And finally onto Honolulu's runway 8L:
Turning off the runway with downtown Honolulu and Diamond Head visible in the distance:
Taxiing into our gate, we passed the Diamond Head Concourse, where three (three!) United 777s were parked on stand:
Our 767 parked at Gate 18 on the Central Concourse, which handles Delta, American, Continental and ATA flights. During the day it's packed with tourists, all wearing leis and aloha shirts, and twangy Hawaiian music plays over the loudspeakers constantly. Welcome to Hawaii!
This report has gone longer than I expected, so I'll post the HNL-ORD segment (as well as an interisland HNL-OGG-HNL report and photo tour of the Honolulu airport) separately. Hope you enjoyed it!