Well,this is my first trip report,so I hope you enjoy reading it 
BWI-ORD may 29
It was Memorial day weekend,and my mother and I were going to go to Chicago for a short vacation.The night before the flight,I decide not to sleep since our flight leaves at 6am, and we decided to leave at 3am even though it was a domestic flight. I spend the night simply on the net, drinking a venti vanilla latte from Starbucks. Still,I felt drowsy. At about 2:28 am my mother comes down stairs asking if everything is ready. Half an hour later,we have the luggage (which is no more than a small carry-on bag),and ready to go. One thing that was not a problem was traffic- who the hell drives around at 3am in the morning? Well we pull out of the neighborhood and onto the beltway. There is just something different about driving at 3am. At 3:30am we arrive at the long term B lot, and park at section G1. Since it is early morning, the shuttles run every 25 minutes, so we wait for a while at the stop, chatting with some people who were on the same flight. Finally a shuttle comes by, and heads over to the terminal.
Check-in:
We arrive shortly before 4am, so very few people were in the terminal. Although there was a little problem, like the fact that the self check-in machines start at 4:25am, and United Check-in started some time later. We could not use the self check-in machines, because there was a typo on the credit card we used. Unfortunately, I,and several other passengers in a line just see some United employees going in and out of some door behind the check-in counters, while those damn US airways passengers are briskly checking in. Finally, the start and get our boarding passes. We were in seats 9A and 9B on one of United's A319s. For BWI at 4:30am, he check-in line was a bit long. Although this was the first time ive seen everyone required to take off their shoes. Well, it was annoying, but not a problem. But stupid me, I leave my camera in the luggage as it goes through the x-ray machine, and it ends up being destroyed. Fortunetly I had another roll, and replaced it. We walk through the terminal to gate C25, and our bird is parked right there. Both of us had not eaten at all, but a quick walk through the area reveals that everything was closed. Cinabon, taco bell, etc. all closed. There was a starbucks that would open soon, and there was a line there. We asked someone, "when will the Starbucks open?". They said 5:30am. Too late for us-that's when boarding would begin. We decided to eat in chicago.
Boarding:
At 5:30am, the crew starts boarding. We were in section 2, near the front of the plane, so we boarded about 5 minutes later. Walking through the aircraft, I noticed the first class section took up quite a bit of the plane. Then I got to the row, and what a better place than right by the engine?
The legroom is very good, for domestic service. It seems as if its more than on United's transatlantic flights with their 777-200s. After a quick glance out the window, guess who is sitting at gate B13?
yep, non other than TED
this is the first time Ive seen the livery in real life, and it looks pretty nice. It looked like a full flight, but even so we pushed back fairly soon. Now the sun was rising, at 6:05am, and I couldn't wait to view it from the sky.
Anyway, the FAs were about to start the flight safety video, but there seemed to be a problem. They said over the PA "ok ladies and gentlemen, I guess we will do it the old fashioned way". So the pull out the life jackets and stuff and do the demonstration themselves. Quite funny actually.
Takeoff:
After a short taxi over to the runway, we are ready for take-off.
We roar down the runway, and simply takeoff
A short turn to the west and were climbing to cruise
Cruise:
Of course this was United, and one thing I havent listened to for a while was channel 9. I quickly switched to it, but did not find anything interesting. After a glance around the cabin, it seemed very clean. Nothing was on the ground, and the panels were more white than cream. Maybe The reason was that it was a morning flight and they have all the time in the world for overnight cleaning.
Shortly after, drink service began. I asked for coke, but they only had Pepsi (I later learn there's not 1 single can of coke in the whole city
), so I opted for that. This of course being an early morning flight, and me being drowsy I needed all the caffeine I could get on the damn plane
But this pepsi can was more than what met the eye. On the back it said "may 29th-fireworks at the navy pier at 10:15pm". This felt like a dream. That day was the 29th and what better than see a fireworks show there? Of course we went, and it was amazing ( more on that later). Another FA came around with coffee. Just as she left, I decided to taste United's coffee. I did not take it with sugar or anything. The taste-Id rather lick the sh*t out of a dog's ass. Ive heard that airline coffee sucks but this was a punishment to swallow. It said on the front "we proudly brew starbucks coffee". What a joke that was.I was disappointed there was not even a snack, on this flight.After a while it gets a little choppy, but no major turbulence.
Before descending into ORD, it started getting cloudy, and overcast.
Finally, we start descent. Theres nothing like skimming on top of those clouds is there? Well we get below them and I look down to see the suburbs of chicago.Then I turn the camera to the right side of the aircraft to get a pic of the beaches on lake erie
I wondered if any A.net nutter was looking up at us….
We keep descending, and of all things, I spot MDW
Looks like there was about 15 or so of southwest's 737s parked at the terminal. We keep descending smoothly down to the ground
Then, we touch down at ORD, back on earth
But as the person I am, Both of us wait until almost everyone is off, and go up to ask the FA if I could visit the cockpit. Before she answers, the Captain says "sure, come on". I go down the narrow corridor with my camera, and into the little blue room
It looked really modern, with almost nothing but the CRT screens. Note there no yoke, just a side stick which made it look more modern. I get off, and at 7am Central time, inside ORD
Now, pepsi cans dont lie,and I said I had more on those fireworks, so here ya go
and before that show, there were jugglers doing an impromptu show. go a bit of a croud too
ORD-BWI may 31
After a nice trip there, I had to go back. After an $85 lunch, and a long subway ride, we get the the concourse. Our flight was to leave at 6:05pm central, but I was really excited because this would be my first 757 flight.
Check-in :
It was memorial day and ORD was packed. Check-in took a long while but we got through with no problem. Security was fast. This time they hand checked the camera, but told me 400 speed film can survive the x-ray machine. Oh well. After a long walk under the tarmac to concourse C, We go to gate C25 one hour before departure to find it empty with no plane there yet. I got a coke (finally) and took a pic of lufthansa's D-AIGR being pushed back.
Boarding:
10 min before departure, we still have no aircraft and the flight is delayed 20 min. the delay turns into an hour. I do get worried that the plane was replaced with something I had flown on, like a 767. But a 757-200 pulls up and I heave a sigh of relief.
This time boarding took extremely long ,but we had different seats. I could have been near the front, but I wanted a window seat at 19A. I take a look at the aircraft next to a man with his child. Being a little bored, I ask him "Do you have any idea what type of aircraft this is?" he responds, " well, the last time I flew was about 11 years ago on the tristar, is this it?" I tell him no, and the correct type. As I walk away, I feel pity and envy for him. He didn't know a 757 from an L1011, but he flew on the tristar, which is becoming VERY rare. Before we walk down the jetway, the agent asks us "would you like to sit togeather?" and we end up at 20A and 20B, with some guy who also speaks russian. I get to the seat, right next to the flaps.
After a while, we push back, with 2 other united 757-200s
We taxi to the runway, and end up 14th in a 15 aircraft queue! It took so long. But I saw many different aircraft take off. An a340, countless 737s,757s,767s, etc. we were parellel to a runway used for landing, and get my camera out to capture one of Northwest's Dc-9 landing in ORD.
We finally get to take-off, before an unlucky United 737-300, last in the longest queue ive ever seen.
During the safety demo, I notice this aircraft does not have life jackets, but the seat cushion is a flotation device. I have never seen this on other aircraft.
Takeoff:
The 757 starts roaring down the runway at full power, and soon is airborne
The only thing more beautiful than sunrise from the sky is sunset. We climb over lake Erie, and I couldn't resist taking more pics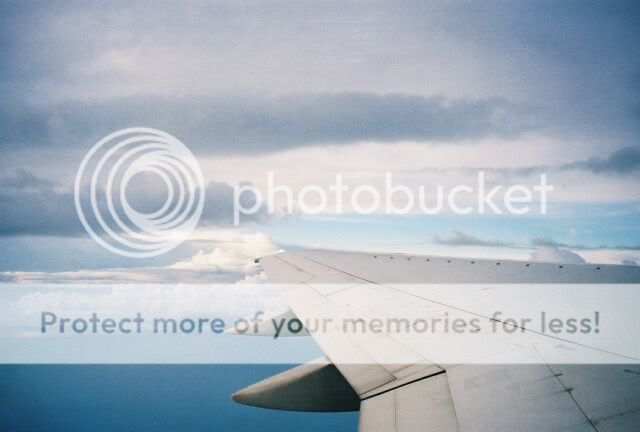 Cruise
Finally we are at cruise, and it keeps getting darker by the minute. I notice the windows are more of a square compared to the round ones on airbus. The aircraft is also a bit dirtier, and legroom is not as great. The cabin is a lot louder too. Finally the cabin crew start drink service. I decide to get ginger ale. At least this time there is a small snack. They started to show Friends on the little screens, and some other stuff. But then, guess who shows up
yea, its TED again. But when I took this picture- whoops! I didn't turn off the flash. How embarrassing. Nothing interesting happens, until descent starts. Its now dark, and very cloudy, because several storms had just past through baltimore
we go through the clouds, and you can barley see anything, except the wing.
the crew go around for trash one more time, just as the guy next to us finishes his pizza as if it's a race.Finally after a lot of turbulence and darkness, were almost on final
We get on the ground safetly, and at almost 10pm, get to the gate. Again, we wait until everyone is off and go to the cockpit. A mechanic was in there, as I take this picture.
The captain comes in. he said he has flown for 30 years. I ask him "which do you prefer to fly, airbus or boeing?" he says boeing is way better. Then the mechanic makes a smartass remark "Airbus is a lot easier to fix-just power down and power up
". Oh well. We get off of the plane,( and the wrong shuttle stop later), to conclude my trip to one of the best cities ever
Please leave your comments