A few weeks ago I flew out to Los Angeles to visit some friends/family and attend the 2004 Airliners International show at the Sheraton Hotel near LAX. It was my first time attending the international show (I've been to smaller shows in Chicago and Dallas) and it didn't disappoint. As per usual, I flew American, and here's the rundown…
*******************************************************
Chicago O'Hare International Airport
Thursday, July 8, 2004
I usually schedule flights from ORD during the crazy 5-7pm block, so Terminal 3 was already starting to empty out by the time I showed up around 8pm. I was through security in less than two minutes, and found myself with more than an hour to kill before departure.
My flight was leaving from Gate L6 – American maintains five gates on Concourse L, although they're used mostly during peak periods and are relatively quiet the rest of the day. An MD80 was heading for Albuquerque at L1, but the rest of the AA gates were quiet. Delta and Spirit share the five gates at the end of the concourse, where a 757 had just arrived from Atlanta. I picked up a copy of Delta's newest timetable; there were stacks of them at all the gate podiums. Very nice to see.
To kill time (and get some exercise) I took a stroll over to Terminal 2, where the usual swarm of United Express CRJs were jammed onto the apron. It's a shame United didn't sink more money into a respectable RJ terminal before 9/11, as American Eagle did with Concourse G. Of course, back in those days, the RJs still operated out of Terminal 1. Nowadays, their T2 operation is a zoo – six flights going out of every gate, and passengers sitting all over the floor.
Saw my first Independence Air CRJ down at the end of Concourse E. I was also pleased to see they're offering a printed timetable. It must be done by the same folks who print the AirTran schedules, as it has the same look and feel.
********************************************************
American Airlines Flight 1891
Chicago O'Hare (ORD) – Los Angeles (LAX)
Departs ORD 8:59pm, arrives LAX 11:10pm
Boeing 737-800, seat 24A
Flying time: 3 hours, 35 minutes
This was a night flight, so no pictures – sorry!
I hiked back to L6 just in time to hear the first-class boarding call for my flight. I filed on board with Group 1 just a few minutes later. American's 737s are pretty ho-hum… they're clean and comfortable, but they look a bit dated with the clunky overhead TV monitors.
The flight this evening was probably about 85 percent full, although the middle seat (next to me) was blessedly open. On a flight of more than an hour, that really makes a huge difference – it's nice to climb over just one person to get to the bathroom.
The sun had almost set as we pushed back from the gate and headed out of the alley between Concourses K and L. American reformatted the safety video earlier this year – instead of repeating each instruction in Spanish, they now play a second Spanish-only video immediately following the English version. The cabin volume was turned up a little high, so hearing the dramatic opening music twice wasn't a lot of fun.
O'Hare was running westerly takeoffs on 32L this evening (easterly takeoffs were alternating between 4L and 27L, with transatlantic heavies using 32R). Things were quiet enough that there was no takeoff queue for 32L – the seat belt sign flashed and we the engines were brought up to full power as we swung onto the runway.
Climbout was the usual 32L affair… over the lights of Elk Grove Village and Rolling Meadows before turning off the runway heading over the Motorola headquarters in Schaumburg. The captain came on to greet us, although he didn't say anything about our route of flight. Our cabin crew – three ladies – showed a preview for "Hidalgo," our film for the evening, and began the movie right afterwards. I chose not to watch the movie, although I pulled out my headphones for the short-subject program afterwards.
This being a later flight, there was no Bistro bag service… just two beverage services and a bag of pretzels. I dozed for about an hour after the service; when I woke up, the lights down below were much more spread out. I guessed we were out over the Rockies at that point.
When "Hidalgo" finished (it seemed like a pretty long movie) the CBS Eye on American programming started up – a 48 Hours segment on some dance troupe, followed by CBS Sports and a truly unfunny episode of "Two and a Half Men." The captain announced our position over the Arizona-California state line in the middle of the program, and asked the cabin crew to start preparing the cabin for arrival. There wasn't much to see outside – lights are few and far between over the Mojave Desert – as the engines eased back and we headed down.
We flew a straight-in approach to LAX, heading west over Riverside, Orange and Downey, then crossing over south-central LA. We hit some coastal clouds right after passing the 110 Freeway, and when we dropped below them we were firmly established on short final over Inglewood. I've only made one night landing at LAX (and it was one of the now-rare overwater approaches back in 1988) so I was enjoying the view. There are plenty of billboards to read along the streets in Inglewood.
Finally we skimmed past the Proud Bird restaurant and over Aviation Boulevard before touching down smoothly on runway 25L. We rolled all the way to end of the runway with no reverse thrust (is reverse thrust forbidden at LAX in the evenings?), turning off by the sand dunes, where we had to wait the customary five minutes for a string of over-ocean departures.
The captain came on and said our gate was occupied, so we'd need to hold for about fifteen minutes (bad news for me, since it meant I'd miss the last shuttle bus to my hotel). We nosed onto an apron near American's maintenance base for about ten minutes before resuming our taxi back to T4.
Our 737 pulled into Gate 49 alongside a Qantas 747-400 (another QF 747 was pushing back in the alley between T4 and the Bradley terminal) which dwarfed our tiny 737. I deplaned into a surprisingly busy Terminal 4 and headed down to the underground tunnel to baggage claim.
*********************************************************
Los Angeles International Airport
Sunday, July 11, 2004
I had a great two days in Los Angeles at the Airliners International show – visited the famous In N Out Burger and Imperial Hill spotting locations, met up with some friends, and saw some family – it was time to head back to Chicago. Here's an LAX overview I took from Imperial Hill on Friday:
My flight was leaving at the crack of dawn (6am) so I had to wake up a little before 4am to return my rental car and catch the shuttle to the airport.
LAX T4 was busier than I imagined at 5am… even the First Class/Elite check-in line was stretching to the doors. I had originally planned on checking my bag, but after about ten minutes in the Gold check-in line I gave up and headed for the security checkpoint. The Chicago flight was leaving from Gate 47A, all the way at the end of the concourse.
Traffic at LAX was still fairly light – mostly United and American redeyes arriving from Hawaii, and a few freighters bound for the south side of the airport. The first round of transcon flights were boarding, however – Miami, New York, Dallas/Fort Worth and Boston were all going out along with our 737.
*********************************************************
American Airlines Flight 1946
Los Angeles (LAX) – Chicago O'Hare (ORD)
Departs LAX 6:00am, arrives ORD 11:40am
Boeing 737-800, seat 23F
Flying time: 3 hours, 10 minutes
The flight was fuller than I'd imagined (probably about three-quarters full) although once again the seat next to mine was occupied. Good thing too, since the gentleman in 23D was on the heavy side and a middle-seat passenger would have been forced into my space.
At the gate waiting for pushback clearance:
We pushed out on time and taxied directly out to the threshold of 25R. Again, LAX wasn't too busy this early in the morning. As we taxied, a Northwest Cargo 747-200 took off, followed by a FedEx DC10. Both aircraft used the outside runway, 25L.
Turning onto 25R and taking off:
Takeoff was smooth and had the usual 737 'rocket' feeling. I've noticed that 737-800 tends to be pretty loud for the first minute or so after takeoff, especially if you're seated behind the wing. We hit clouds before we even crossed the shoreline:
After taking off we were vectored first to the south and then back towards the coastline. There was a considerable amount of clouds over the water, although as we turned back toward the east I could see Santa Catalina Island poking up through the fog:
The cloud cover thinned out as we passed back over the Orange County shore and then flew west, crossing above Temecula and Lake Elsinore, then over the Coachella Valley and the southern tip of the Salton Sea. The captain came over the PA to explain our route – over north-central Arizona, then near Farmington, New Mexico, over the Oklahoma panhandle, then across Kansas and Missouri towards Chicago.
Over the mountains near Coachella Valley:
The cabin crew started showing the movie about twenty minutes after takeoff. It was, to my disappointment, again "Hidalgo." American doesn't seem to assign movies to east- and westbound flights (they don't list movies in the AAttractions pamphlet, at least not on the 737) – this wasn't the first time I'd had the same film on outbound and inbound flights.
I opened my Bistro bag to find the usual fare inside – a container of highly pressurized yogurt (after some bad experiences, I remembered to face it away from myself when I opened it), an apple-cinnamon breakfast bar, and a bag of raisins. I wish they'd throw in a small container of orange juice or something; I definitely remember that Bistro bags *used* to contain four items a few years ago.
Over the northern New Mexico desert:
Repeat movie aside, this was a very pleasant flight. I always like flying in the early morning, and since we were flying almost directly into the sun there wasn't any glare off the wings to make things uncomfortable.
Out over the Kansas-Oklahoma-Colorado border, the landscape begins to flatten out:
Flying over the plains of Kansas west of Topeka:
There was a lot of traffic over Kansas; aircraft were whipping by us at various altitudes every two or three minutes. I saw a United A320, two American Eagle RJs, a Southwest 737 and a Northwest A320. We hooked up with Interstate 70 near Salina and more or less followed it all the way to Kansas City.
Outside of KC we hit some turbulence and the seat belt sign was switched on. I could see some pretty nasty-looking thunderheads outside the port windows, although from my side the view was still fairly clear. Here's a somewhat faint shot of Kansas City International Airport as we passed by:
As we headed northeast across Missouri the air became humid and it was tougher to see the ground down below. The landscape got a lot greener – this summer's crop of corn is ripening! Here we are passing into Illinois, over the town of Keokuk, Iowa. That's the Mississippi River down below:
We started our letdown into Chicago shortly after crossing into Illinois. The cabin crew read a list of connecting gate information (mostly American Eagle flights using Concourse G). We flew right over the Interstate 39/Interstate 80 junction near Peru, turned back to the northeast and flew straight in to ORD's runway 4R. It was a nice day in Chicago, with some scattered clouds but mostly clear skies. I could tell it was pretty steamy outside.
Breaking out of the clouds over Interstate 355 and the western suburbs:
Descending over Villa Park and Lombard:
Passing by Elmhurst and Elmhurst College as the flaps come down on final approach:
Crossing Interstate 290:
Short final over the Tri-State Tollway…
… and finally down over the huge railroad yard at the foot of runway 4R.
Touchdown:
We had accomplished something I didn't think was possible – we arrived at O'Hare early! I don't fly into ORD in the mornings very often, and it definitely has a quieter feel than it does in the afternoons (still very busy, but not frenzied like it is around 5pm). We made a quick taxi back towards Terminal 3, passing by Terminal 5. Here are two United 777s and British Airways' early 777 from Heathrow:
One of KLM's KLMasia 747s operating the first Amsterdam flight:
And JAL's daily 747 to Tokyo running its engine startup:
Finally, pulling into Gate K5: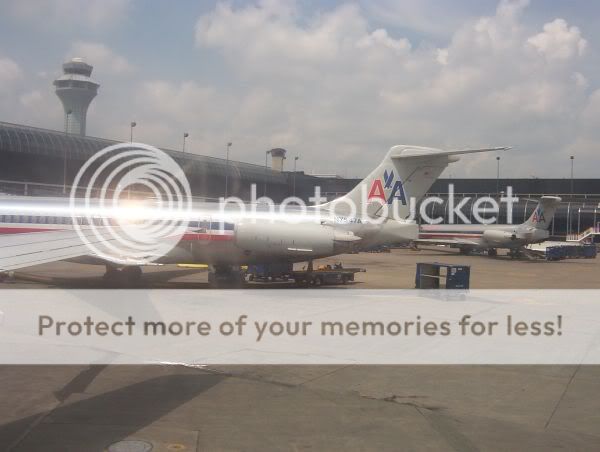 ********************************************************
It was nice to have two on-time flights after my last experience – a delay-filled fiasco on America West in May that was so bad I couldn't bring myself to write a trip report about it. American's mid-con product isn't spectacular (a meal service wouldn't be bad, although I know it'll never happen) but it's comfortable and both flights operated on-time.
Next year the Airliners International show is in Milwaukee, which will be much more convenient. I'm always up for a plane ride, but there's the wallet to think about too!
I'll be doing a quick jaunt to and from Detroit this weekend, again on American. Stay tuned until then!