Korean Air 036
Atlanta - Seoul Incheon
Depart July 31 at 1300
Arrive Aug. 1 at 1730
14:30 en route (departure delay)
B744 HL7491
After six-months of anticipation, the day for my first trip to Asia arrived. Even though I did not need to get up until 0800, I was out of bed at 0700 already very awake. After breakfast, I took the MARTA train down to Hartsfield where I made my way to the Korean Air counter in the South Terminal even though I had a Delta ticket. It only took about 10 minutes to check in, but, much to my dismay, the rather brusque Delta agent issued me a aisle seat.
After quickly passing through security, I took the tram to the Concourse E and went to the Korean Air counter in the lobby of the concourse. There, a friendly Delta agent gave me 34K, a window in the forward coach cabin.
I did get a shot of SAA's A346 leaving for the ~8400 mile trip to JNB.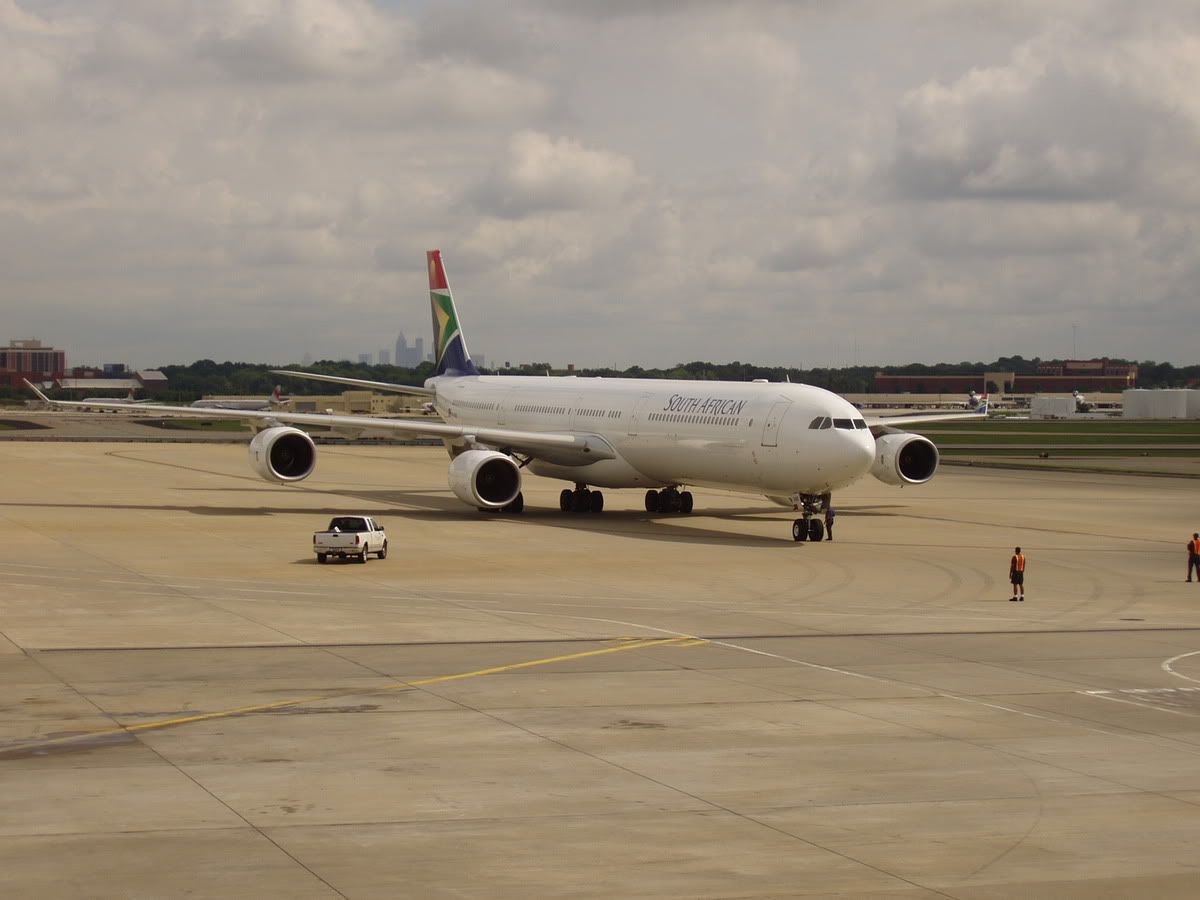 Then I went to gate E28 to watch the Korean Air B744 (HL7491) arrive at 1105.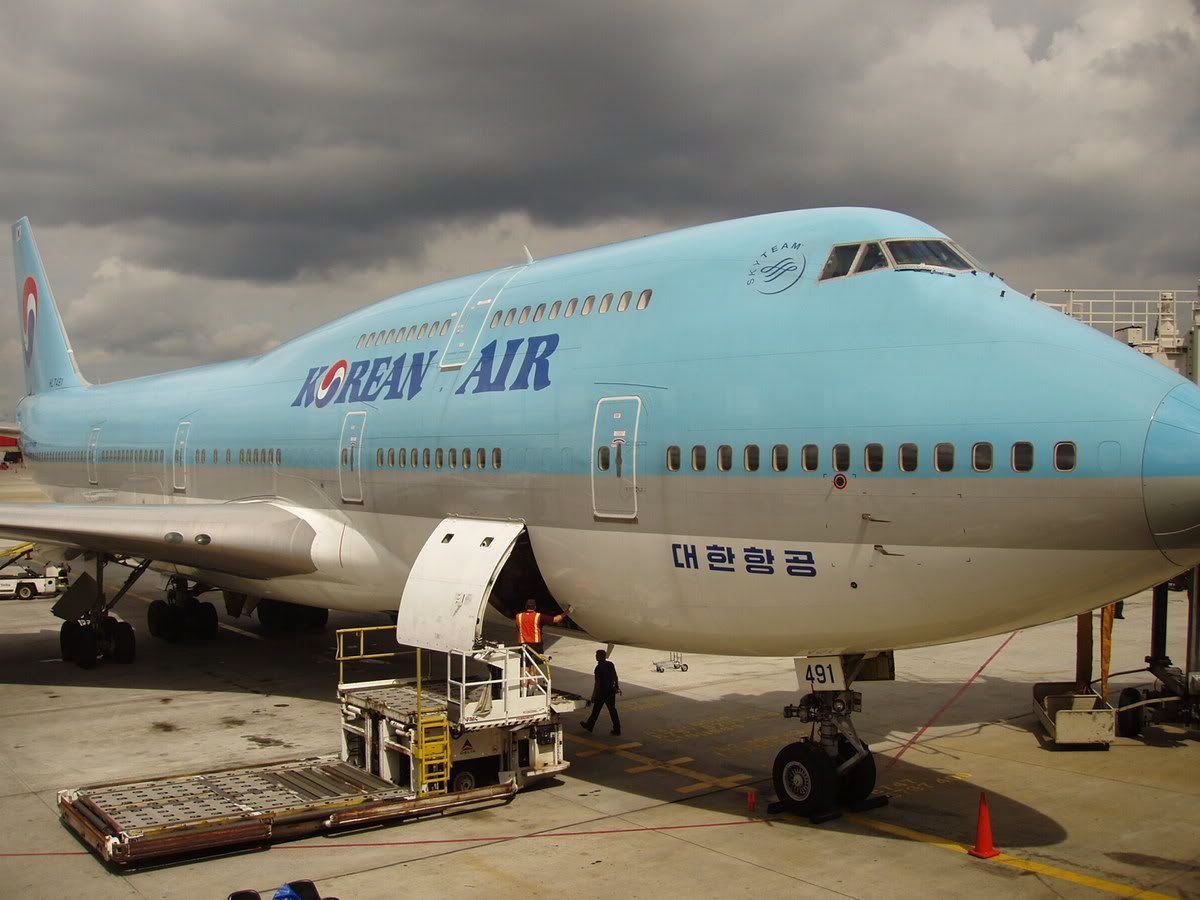 After walking through the concourse for the next 80 minutes and having my last Starbucks espresso for two weeks (or so I thought, I found another on in Bangkok
, it was time to board at 1230.
Two friendly female crew members greeted us and told us which aisle to pass though. At my seat was a pillow, blanket and connection guild for Incheon Airport. There was ample leg room and the seat was well padded. Moreover, the cabin was spotlessly clean. Many of the passengers on this flight were US service members returning to Korea after leave. At 1300 were scheduled to depart, however we did not move. At 1330 a young army man came to 34J and sat down. Apparently he had packed his duty papers in his hold baggage, and Korean Air would not let him board without first inspecting them. He was the cause for the delay.
Before pushback, the purser welcomed us aboard and the crew stood in the front of each section and bowed to the passengers! After pushback we taxied out while watching the safety video, and took off to the east. The take off roll took about 45 seconds and used about 10,000' of the runway on this hot Georgia summer day.
A photo of the wing while we were over Tennessee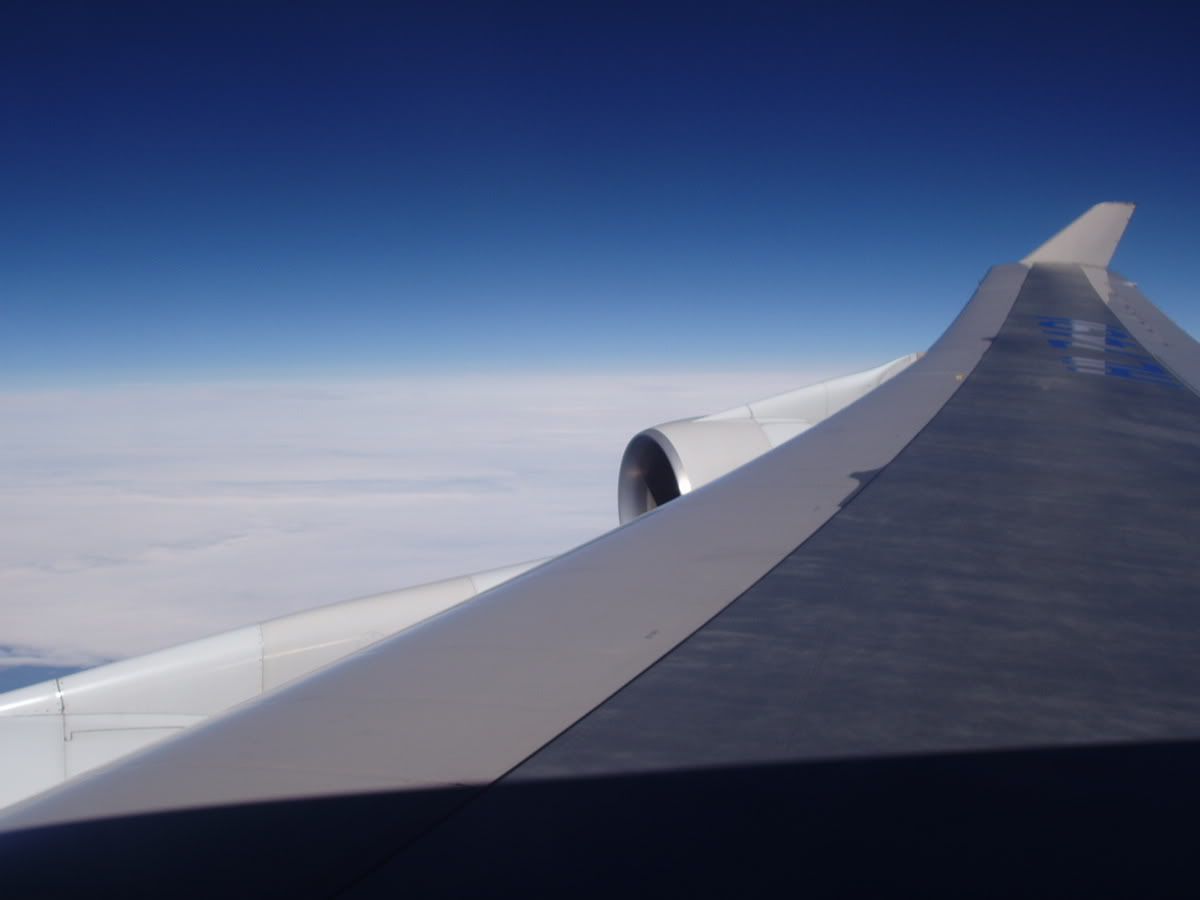 As we climbed out to the northwest over North Fulton and Cobb County towards Chattanooga, the crew distributed headphones. Next they brought trays of juice and nuts to snack on before lunch. Just before reaching Chicago, they served lunch. We had a choice of beef stew or bimibab, a Korean dish. I had the bimibab which was quite good. They also served hot sticky rice which was very tasty, along with white or red wine. During lunch, we watched the Korean Broadcasting Service news, which had English subtitles.
After lunch, I read
The Grapes of Wrath
before the crew asked us to lower our shades for the movie. The first movie was "50 First Dates" which was followed by "Starkey and Hutch." I had seen both before and did not like them the first time, but I glanced at them while reading. The crew passed through the aisle with drinks every 15 minutes, and you could ask for anything else that you wanted. I got up to go to the restroom at one point, and found one of the flight attendants cleaning them and another was using a small vacuum to remove some crumbs! The bathrooms had toothbushes, lotion and cologne as well as liquid soap.
I opened my shade while over the Yukon, and took this photo.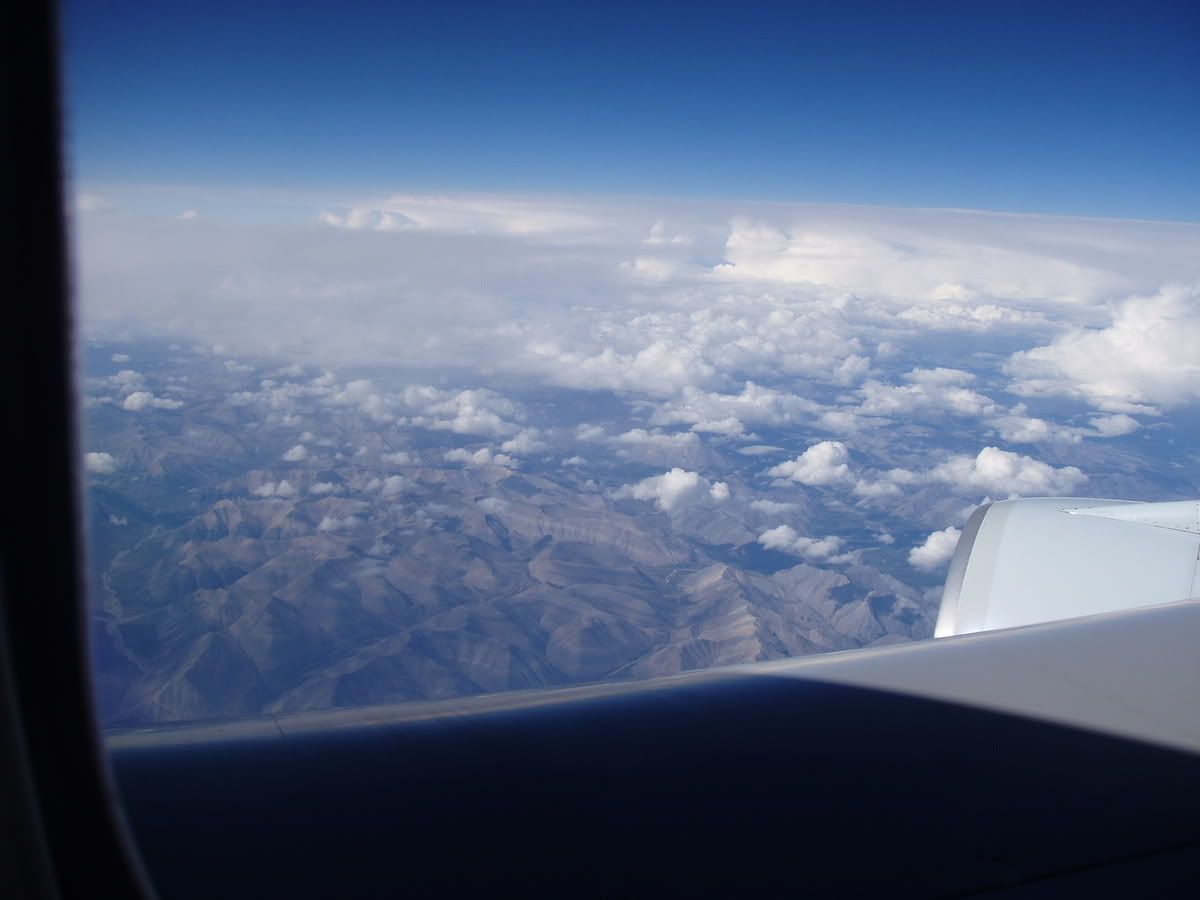 After the movie, it was time for dinner while we were leaving North America. (sorry for the poor quality)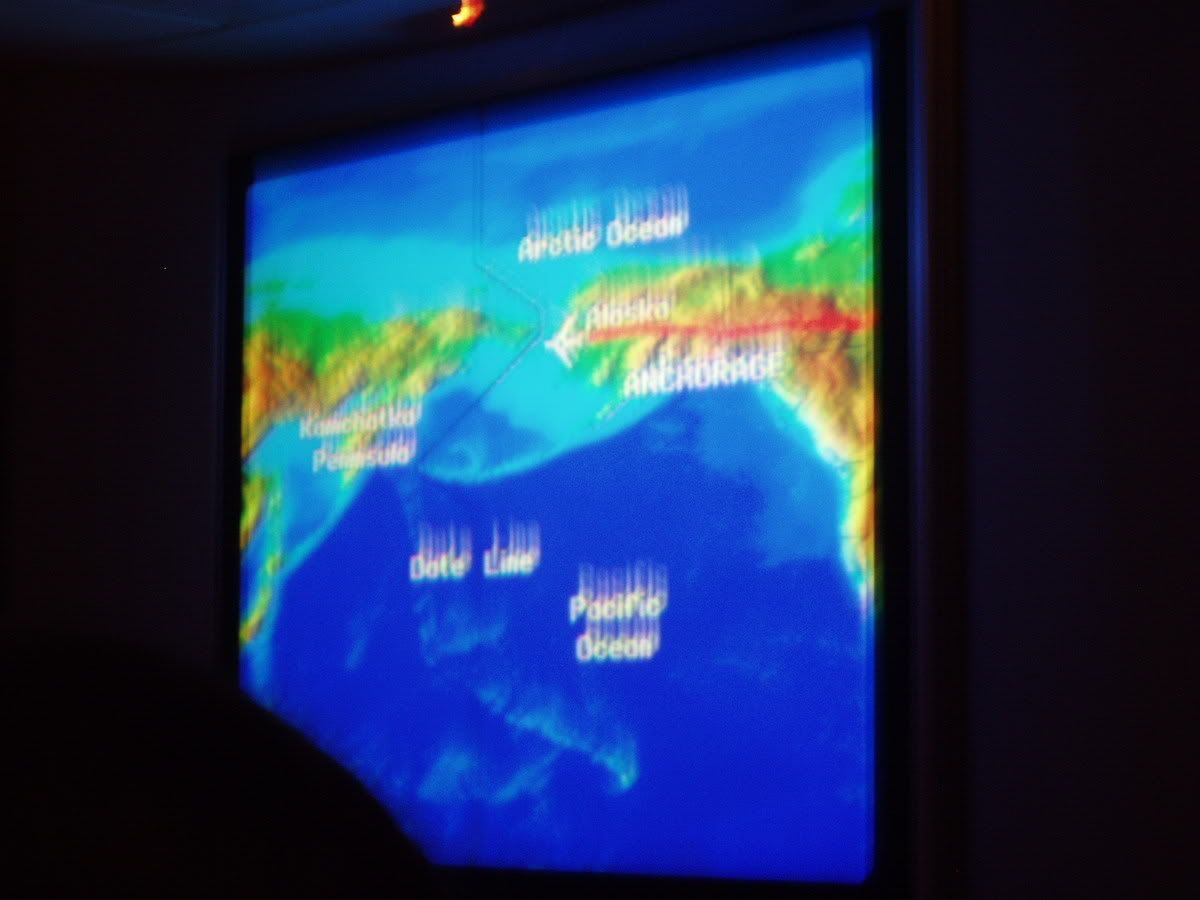 We had a choice of chicken or fish. I had the chicken, and it was hot and savory.
After lunch, we crossed into Siberia.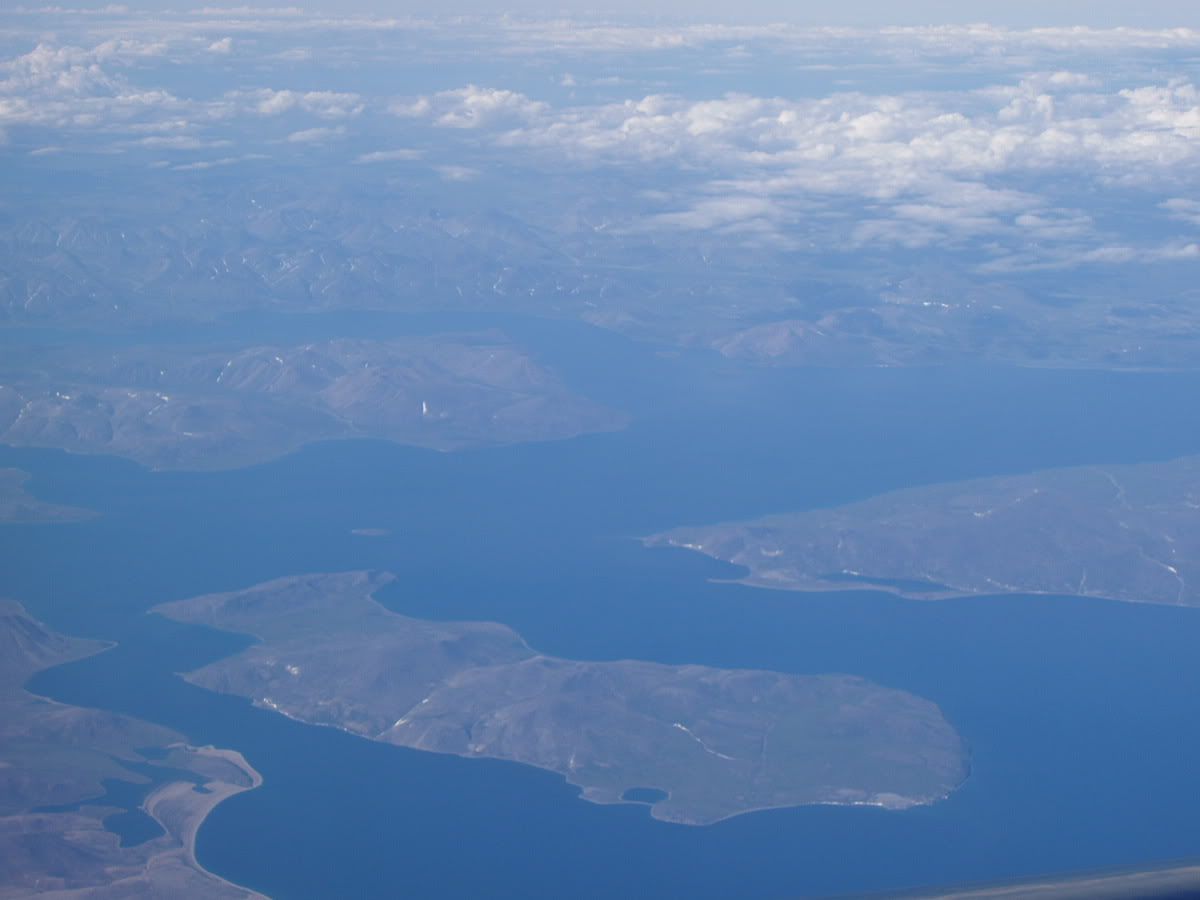 I was very tired at this point, and I fell asleep for the next four hours.
I awoke while were were over the East Sea.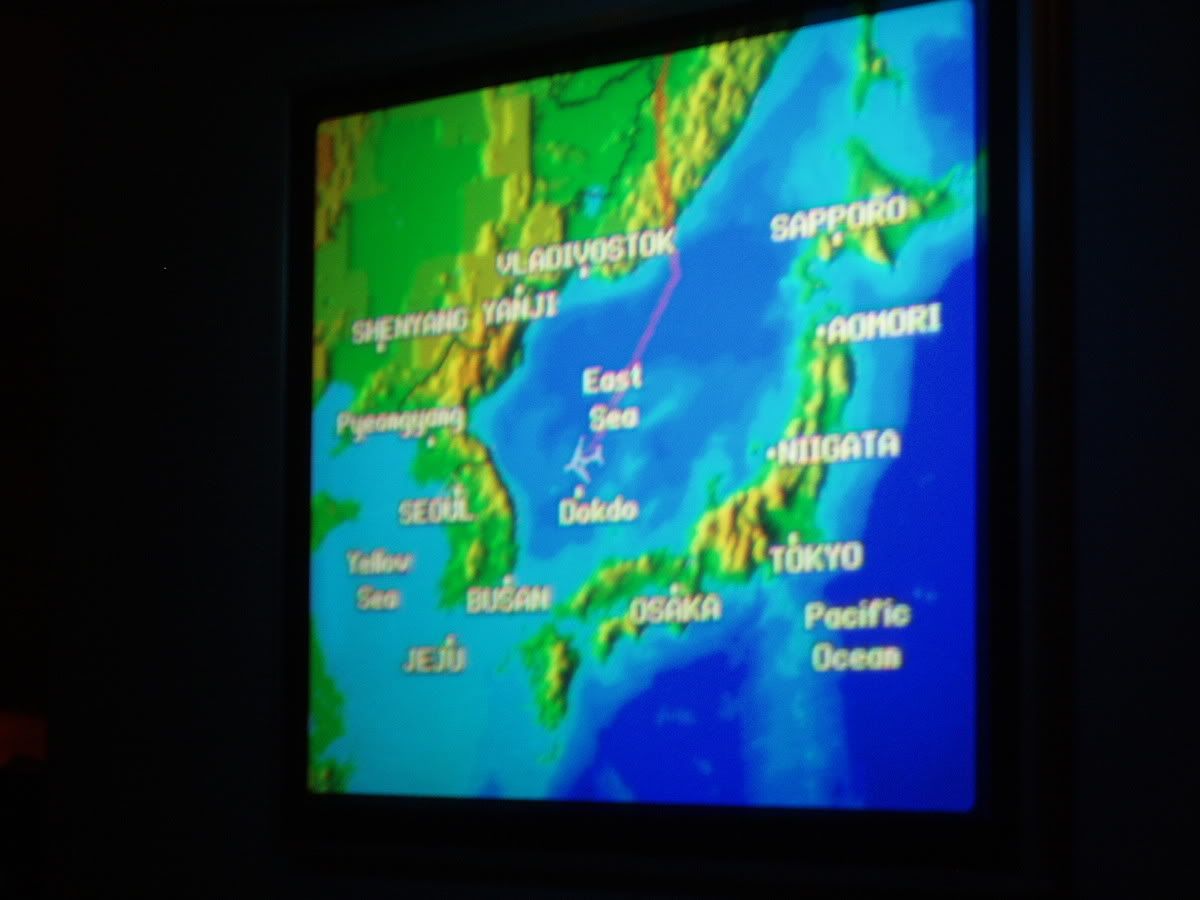 I got another poor quality shot of our entire route.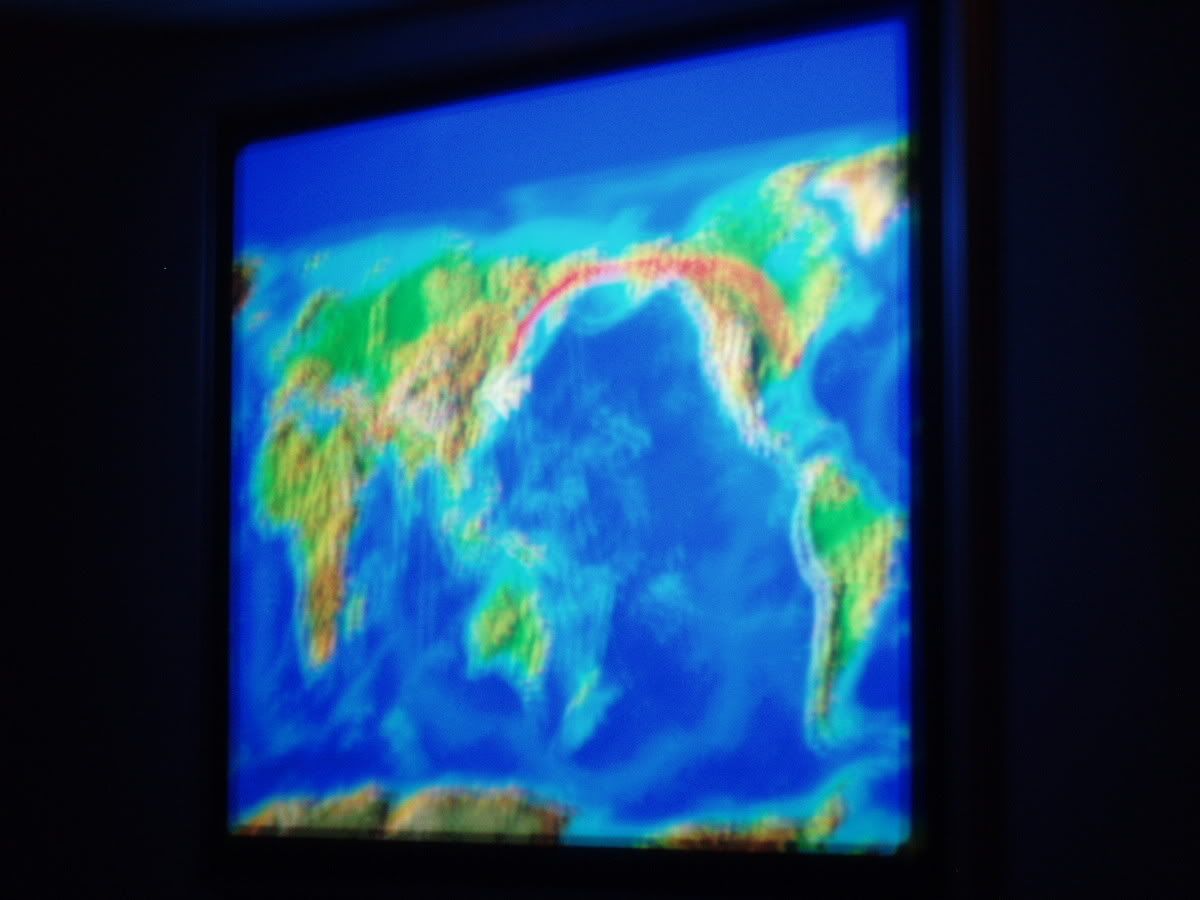 Basically, we flew from Atlanta to Chattanooga to Chicago to Duluth to Yellowknife to Fairbanks to Nome over Northern Kamchatka to Magadan over North Sakalin to Khabarovsk and, finally, due south to avoid North Korea before turning west to Seoul.
The crew continued to pass out juice while we watched the arrival video for Seoul. My seat mate, who caused the delay, slept for most of the flight, but the crew had saved dinner for him for whenever he wanted it! Before landing, they collected our headsets.
We landed about 30 minutes late and taxied to gate 50. The crew bowed at the door was we left the aircraft.
Seoul Incheon Airport
My flight to Bangkok left at 2015, so I had about 3 hours in Seoul. After leaving the plane, I followed the signs for international transit via long hall with big picture windows. At the transit station, an white gloved police officer checked my passport and boarding pass (issued in ATL) and the bowed to me. I then entered a small room for security where the friendly white gloved officers directed me to put my luggage in the machine and go through the metal detector. I took an escalator up to the main terminal which was very bright and airy.
The terminal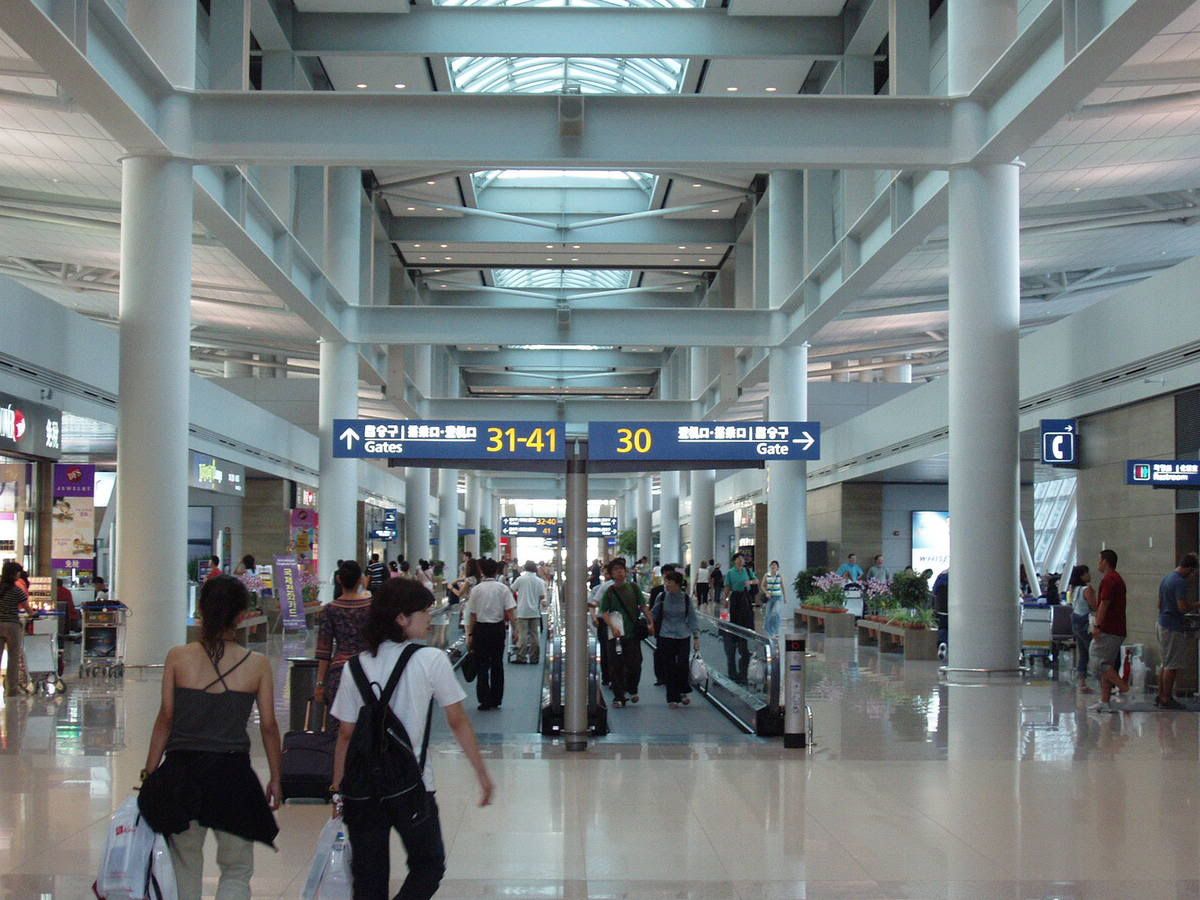 The waiting areas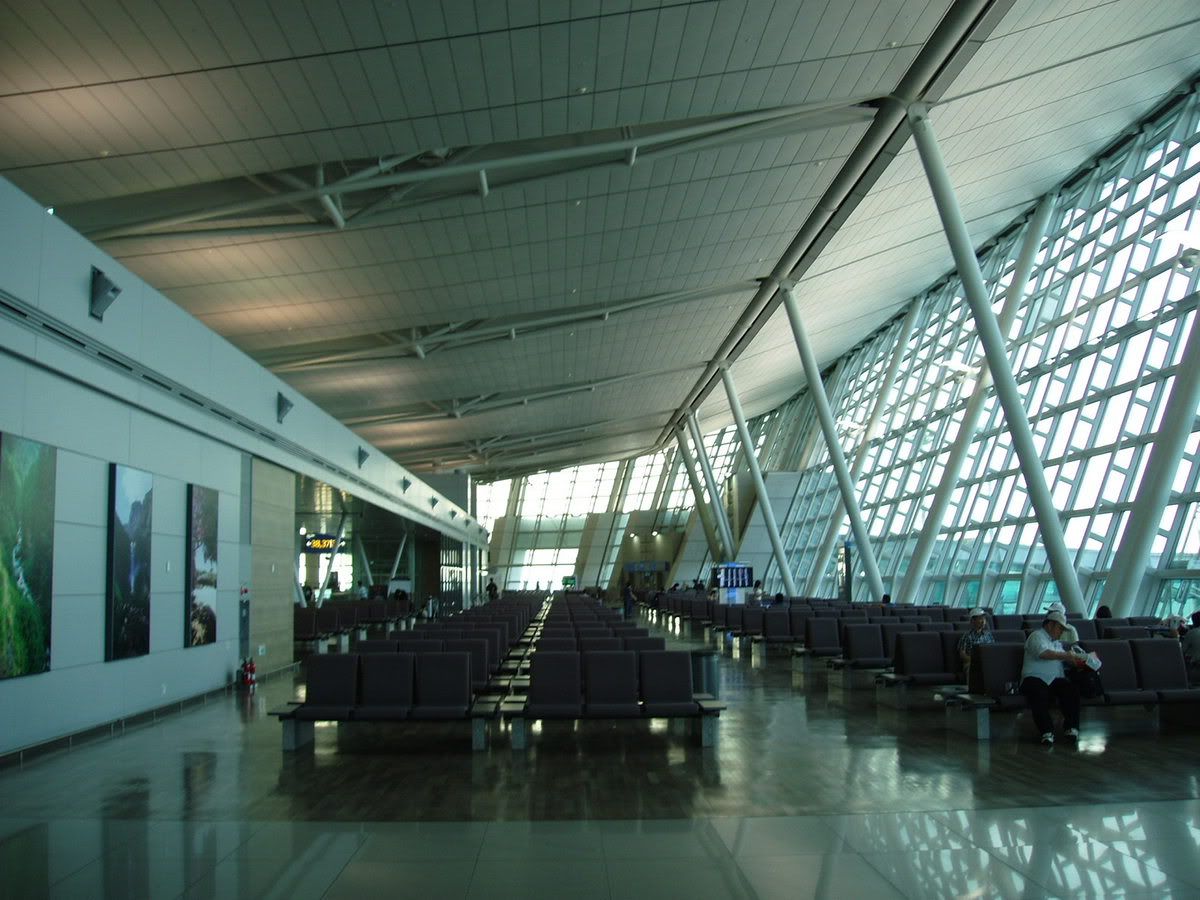 I was hungry so I bought some Udon soup and kimichi to hold me over until dinner on the flight to BKK.
After my snack, I walked around to take a few more photos.
A CX A333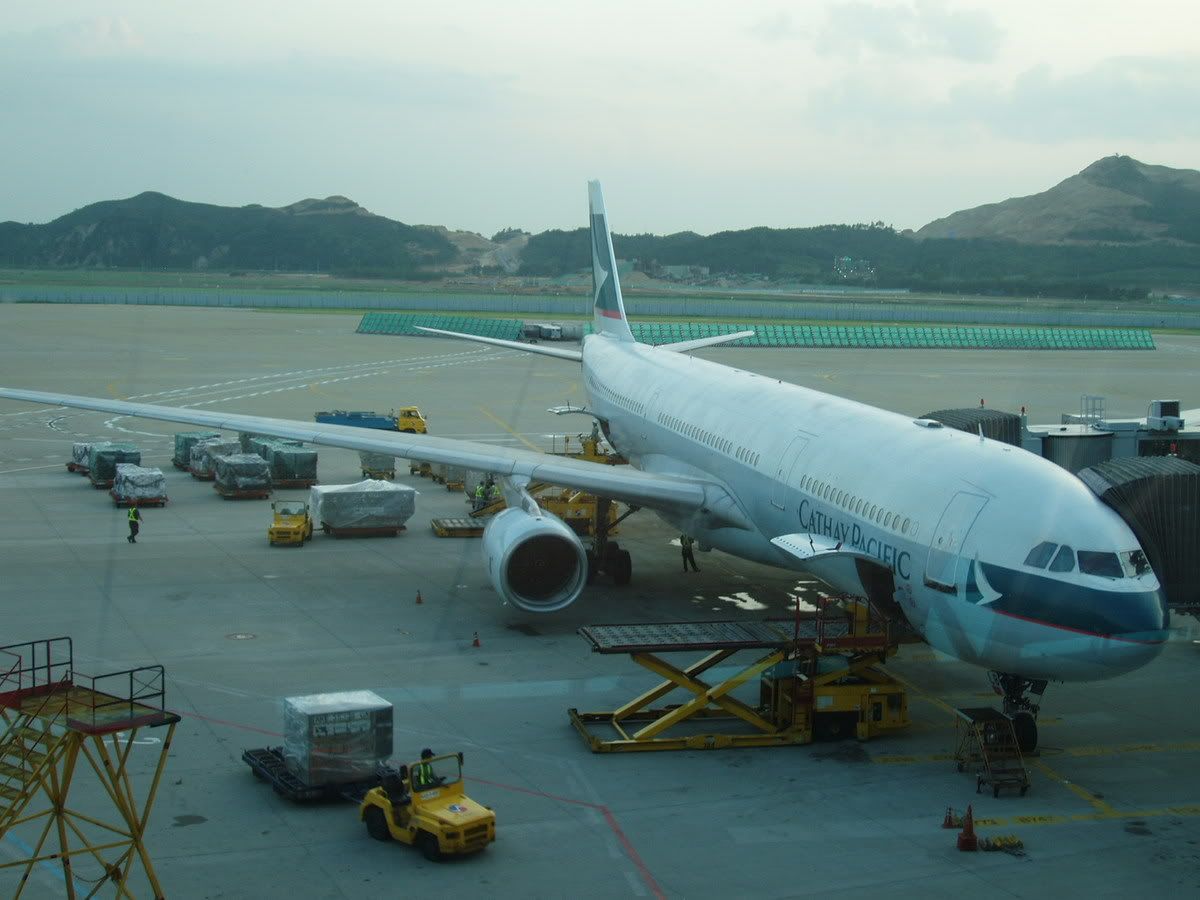 A OZ A321 and KE B738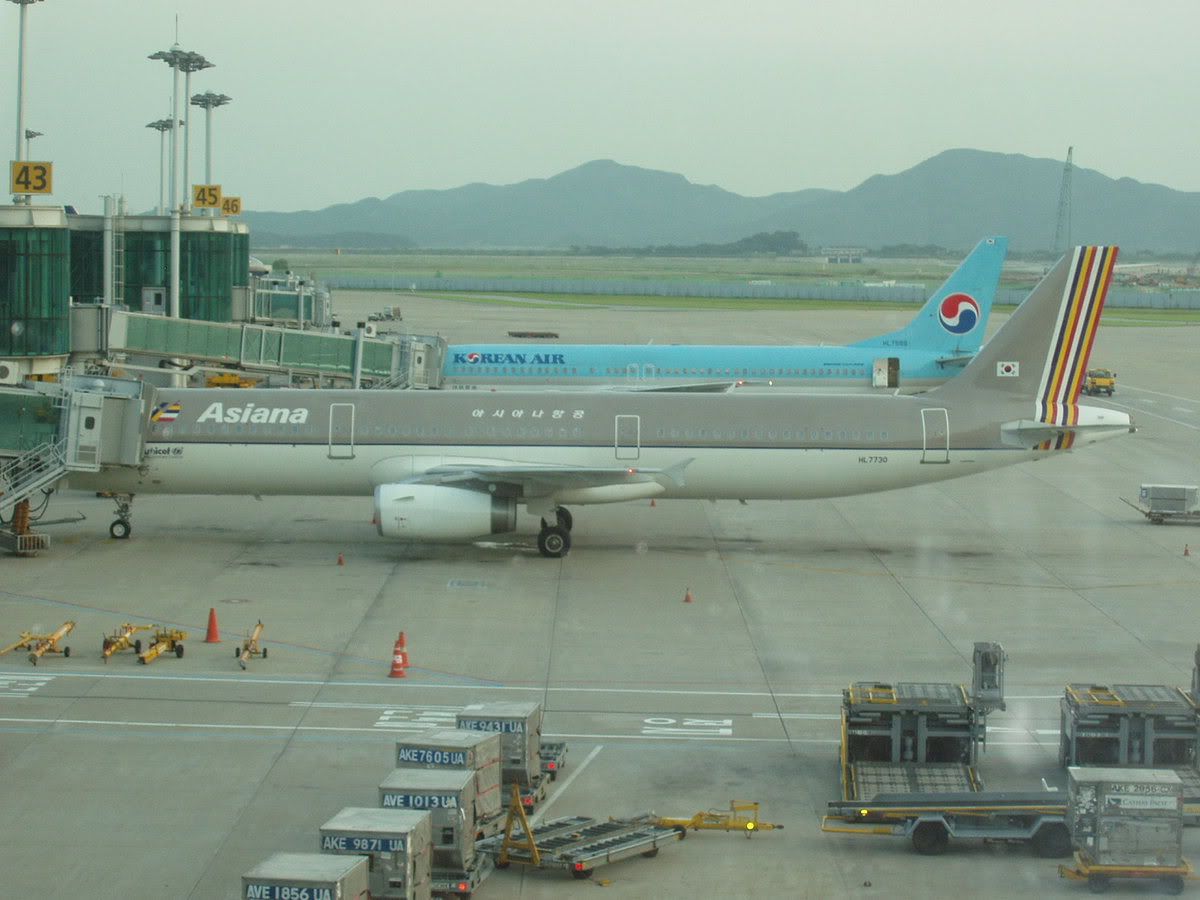 The departures board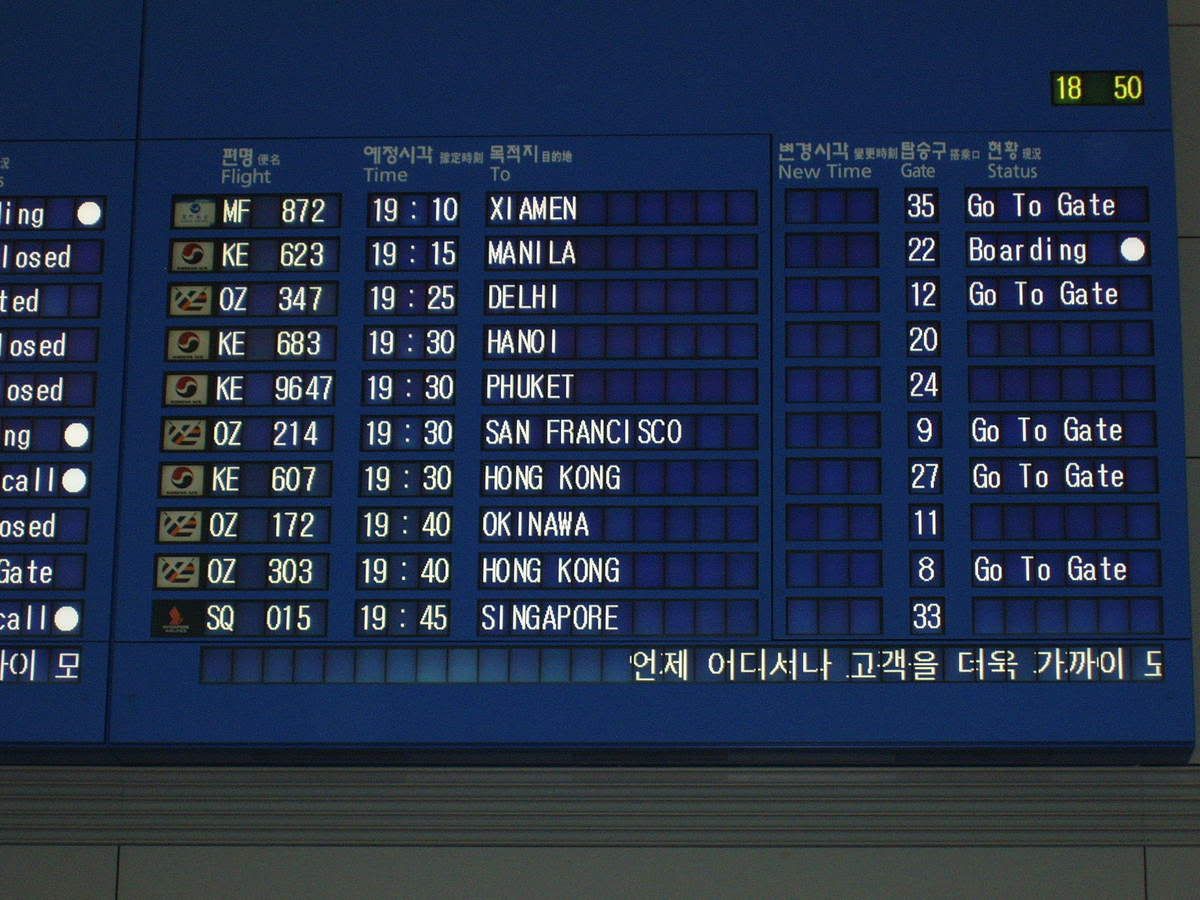 Since night was falling, I paid US$1.5 to use the internet for an hour before my flight.
Korean Air 654
Seoul Incheon - Bangkok
Depart Aug. 1 at 2015 local
Arrive Aug. 1 at 2345 local
4:45 en route
B743 (the last one in KE's fleet)
Due to jet leg, I was quite tired when I took this flight and forgot to take photos. Our route took us from Seoul to Jeju to Shanghai to Hong Kong to De Nang to Bangkok.
Although this 19-year old 747-300 had the same comfy seats and friendly crew, the airplane was noticeably tired on the inside.
We pushed back after the bowing the safety video, and finally took off at 2050. I fell asleep immediately, and the crew left a headset and immigration forms for me. I awoke in time for dinner, and I selected beef rather than the Korean option. It was hot and tasty.
After dinner, I helped myself to some wine from the open bar that I found in the galley and the watched "Shreck 2." I fell asleep again before we landed in Bangkok and awoke when the flight attendant asked me to raise my seat. We landed at 2335 and were at the gate on time at 2345.
*****
This was the best flight that I have ever taken in coach, and would definitely fly Korean Air again. The crew was friendly and attentive, and the cabin service was excellent. It can only get better when KE installs PTV's in the next few years.