Hi everyone,
This is my report on two airlines I flew on Tuesday to Amsterdam!
I'm a KLM Silver Elite Flying Dutchman member and had quite a lot of points to use before they would expire for this year. So I decided to take me and my friend to AMS for a day of spotting on an Award Booking.
I only had enough miles to go one-way, so we decided to fly to Schiphol from Manchester with KLM, and back with easyJet to Liverpool. It would be our first flight with easyJet and our first flight on a Fokker 70!
We booked our flights in June, and got a very good fare with easyJet. KLM charged us for the taxes though, so not entirely a free flight!
As time got closer to the flight date I was getting more excited, as this would be my first "airline" flight since February with British Airways.
I have tried to make this trip report as
detailed
as possible, so I apologize if it is too long!
Enjoy!
August 17, 2004
KLM Cityhopper KL1074
Manchester - International (MAN / EGCC) to Amsterdam - Schiphol (AMS / EHAM)
Fokker 70 (F-28-0070) PH-KZF (CN 11577)
Gate Departure Scheduled/Actual 0820/0819 Local Time
Gate Arrival Scheduled/Actual 1040/1035 Local Time
Economy Class, Seat 03E
Having only had 2-3 hours sleep, we got up at 4.00 am. Surprisingly I wasn't that tired, must have been all the excitement! All my stuff was packed ready, so we left for the airport at around 4.30, my mates dad kindly took us to MAN. The sun was just starting to rise as we drove along the motorway, and around 20-30 minutes later we had arrived at Terminal 2!
It was a nice day for a change in Manchester, not too much cloud cover.
View Large
View Medium


Photo © John Farrington
KLM had previously used Terminal 1, but since the merger with Air France they have moved to T2.
T2 this morning was packed with holidaymakers flying with First Choice, Britannia and Excel. We tried to check-in for our flight straight away, but the check-in agent said we were a bit too early, and said to come back in another 10 minutes. We decided to have a quick walk down the skylink, and it looked excellent all lit up!
When we were down the skylink a MyTravel B757
G-RJGR
was seen on finals to 24R. So we knew we would be departing from 24L!
View Large
View Medium


Photo © Kevin Minter
We walked back to the check-in area, and then checked-in for our flight. We only had hand baggage so it was a very quick and easy process. We were one of the first to check-in. We then got handed our Aviance boarding passes, last time I flew with KLM they had their own!
Here is mine, in all its glory!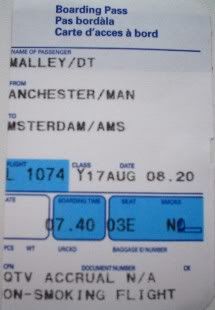 We went straight to the departure lounge, which has recently had a re-vamp. A few shops and bars have been added, but it looks pretty much the same!
We noticed one aircraft straight away that you don't see everyday at Manchester, it was an Air Greenland B757 parked at a remote stand, in the beautiful new livery!
It positioned in on Monday to operate for MyTravel to Ibiza as MYT115.
View Large
View Medium


Photo © Thomas Klein
Virgin's two 742s were also seen, as well as two BY 767s in the old livery, one was a 200. The stands were filled with charter airlines, with a KL 734 and AF A320 in between! We decided to have a walk down the terminal, and spotted an Astraeus Sched. 73G pushing back for Malta. An ex. Britannia 762
G-BOPB
was also seen on stand, now with Excel.
View Large
View Medium


Photo © Lee Collins
We had a quick look at the Alpha duty free shop, and then went to have a drink in the ex. Virgin Sun cafe. It only has recently re-opened, it still has the old Virgin Sun slogans down the side!
We saw quite a few aircraft taxi by, including a Ryanair 732
EI-COX
rushing to get to its gate. The time passed fairly quickly and before we knew it, it was time to head towards our gate; thankfully it was only a few metres away!
Our bird then landed
PH-KZF
, this was going to be an
on-time
departure, a first for me with KLM! The Aviance staff then came towards the gate getting ready to board the flight. The passengers of KL1073 then disembarked via the Fokker 70s own stairs. The First Officer then conducted a walkaround of the aircraft.
At this point we were so excited, only a few more minutes and then we will be on-board! This flight was going to be packed, and I sadly counted how many business men were on-board this flight, about 15 or so!
Anyway, the time came to board; we were at the front of the queue so we went walked down the gate and saw our nice looking F-70 out in the sun! Got a very nice view of the other aircraft as we walked towards our Fokker. We eventually boarded and the two smart cabin crew (wearing the new style uniform!) directed to our seats 3D and 3E, the flight deck door was open, and we had a great view of the Cpt and F/O preparing for our departure.
The Fokker 70, like the 100 is configured with a 3-2 seating layout; you can see our cabin on this photo below.
View Large
View Medium


Photo © Jan-Peter Seier
A nice selection of newspapers was to be found, I didn't take one though, looking out of the window is my entertainment! We sat down, and began to realize how comfy these seats actually were, really soft fabric, with some nice legroom to match (32in. or so!). The flight deck door was still open, and the ATC was heard! All the passengers boarded pretty quickly, and within 5 minutes everybody had boarded.
The door was closed and we were ready to begin our pushback, the two F/A's started their safety demo at the gate. It was done in both Dutch and English, once the demo had finished we started pushing.
Our number two RR TAY 620-15, began to slowly wind up. It was quite quiet up here so you couldn't really tell the engine was beginning to start at all. Pushback was soon completed, and our two Tay's were fully started. While we stopped to await taxi clearance, the Captain came on with a few details.
The aircraft had a faulty APU, so the captain said the aircraft would be a bit hot, it was. But when he would apply power, the bleed air from the engines would make the aircraft cool, via the air-conditioning. He said not to worry about it; it's something we all have to live with!
He said to enjoy the flight and he would tell us a few more details of the flight once we had got airborne, he was a very friendly guy! So was the First Officer, we found this out when we got a flight deck visit, more about that later!
These following pics are from my friend, he hogged the window seat for this part of the flight!
MyAviation.net photo:


Photo © Craig Moss
We then started to taxi, to 24L.
As the Cpt. applied power a big whoosh of air conditioning came on, we passed a PIA 777 on the way, that was going to be departing to Toronto in a few hours time. This was going to be a 0 flap departure today; this is very normal on the Fokker 100 and 70. We soon taxied across 24R, and lined up straight away on 24L. A British Airways Dash-8 and ERJ were holding.
The Captain spooled the Tay's up slowly towards 40-50% N1, and then applied the required reduced thrust for take-off, 13,850s worth of thrust was now powering us down the runway! You could really feel pushed back into your seat; this is what I love about a take-off, the sense of power! The cabin wasn't really noisy at all during the roll, but after about 20 seconds we smoothly rotated, just passing the bridge under the runway. We started climbing in a nice steep angle, around 20 degrees.
We soon passed the clouds over Knutsford in Cheshire (a very nice town by the way!), at around 3000 feet or so.
MyAviation.net photo:


Photo © Craig Moss
We began a right hand turn over Cheshire to position ourselves towards the direction of AMS. My friend took a nice overview shot of MAN at this point, look how busy the airport was!
MyAviation.net photo:


Photo © Craig Moss
The seat-belt sign was turned off at this point, and the cabin-crew began preparing the sandwich and beverage service in the galley. We climbed pretty quickly, and soon made our up to our cruising altitude of 27,000 feet.
MyAviation.net photo:


Photo © Craig Moss
It was a beautiful day for flying, and there was only little cloud cover on the ground.
My photos from now on!
We then passed over East Anglia; you can just make out the coast on this photo below.
MyAviation.net photo:


Photo © Daniel Smalley
I had a quick look at KLM's excellent in-flight magazine, Holland Herald. It is very good; I especially like the fleet page and route map. It said on the front "Your copy to keep", so that is what I did after the flight!
We are now cruising steadily along at 27,000 feet, and what a beautiful day it was outside! I took a photo of the rounded window, which is seldom seen on other aircraft types.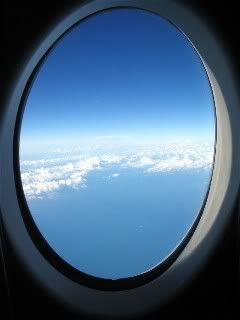 At this point I was getting pretty hungry, so I glad to see the trolley's appearing from the galley!
The male cabin-crew offered a choice of either chicken or cheese sandwich, with either tea or coffee or a juice. Most people chose the chicken sandwich (including my friend!), but I went for the cheese!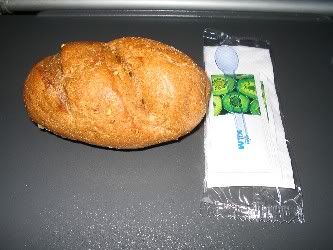 My Gouda cheese sandwich with pesto!
The drinks were served after the sandwich, which is why my Orange Juice is not in the pic! The sandwich was really good, and the pesto underneath the cheese gave it a really nice taste! It was a bit on the small side though!
MyAviation.net photo:

Photo © Daniel Smalley

MyAviation.net photo:

Photo © Daniel Smalley
Cruising along at 27,000 feet!
We both were thoroughly enjoying the KLM Cityhopper experience, as well as the Fokker 70s performance! It was nearly time to start the descend into Schiphol. So the cabin-crew began collecting everyone's rubbish in, it only took them a matter of minutes to do this as this is only an 80 seater!
After nicely cruising along at 27,000 feet for 55 minutes, the Tay's winded their way down slowly to idle. The seat belt sign was switched back on, and our airbrake was deployed at the back, the buffeting affect was felt! The descent at this point became steeper, because of the airbrake.
The famous "Cabin crew prepare for landing" was heard over the flight interphone!
We then passed some mean looking clouds as we just approached the Dutch coast. I was hoping for a few bumps, but they never came.
MyAviation.net photo:


Photo © Daniel Smalley
We then approached into Holland, there was a very small airfield right on the coast, and a few gliders were there. Does anyone know what this airfield was called?
MyAviation.net photo:


Photo © Daniel Smalley
The flaps were then slowly extended and we could hear the A/P being disconnected in the flight deck, so no auto land would be happening today! We then approached over a few of the famous dykes, and with a thud the landing gear was brought down.
MyAviation.net photo:


Photo © Daniel Smalley
MyAviation.net photo:


Photo © Daniel Smalley
Full flap was selected and we could see some input from the pilot flying (PF), a very smooth approach was flown by him!
We were only a few seconds from landing at this point, and I got really nice shot of our aircraft reflected in the ground!
MyAviation.net photo:


Photo © Daniel Smalley
The power slowly winded away, flared nicely over the threshold and floated for a bit, power was brought down to idle, and we had a nice firm touchdown a little after the TDZE on 18R!
MyAviation.net photo:


Photo © Daniel Smalley
I couldn't hear the reverse being deployed, so I don't know if we used any. We might have used idle reverse, but im sure if someone spotted our flight landing they could clear that up for me! We braked quite nicely and came to a stop in a short distance.
Here are us vacating 18R, with the spoilers deployed.
MyAviation.net photo:


Photo © Daniel Smalley
We taxied pretty quickly and passed the famous bridge that is over the motorway! After around 5 minutes of taxing, the Captain came on and said that we were waiting for a follow-me-car, to bring us to a stand next to the other KLM Fokker's.
We parked up, our two Tay's winded down, and that was it flight over! We waited until everyone had got off, so we could as the cabin crew for a visit to the flight deck. Within a few minutes everyone had disembarked, and we asked the cabin crew, she said yes no problem.
We went straight in, and you could feel how cramped it was. They both were very friendly guys, and they were going to explain a lot more about "there" flight deck, but the bus was waiting and we had to go, so I couldn't get a pic!
Anyway, here is what one looks like.
View Large
View Medium


Photo © Bart Noëth
So we boarded the bus, and had a good view of all the aircraft as we went to arrivals.
KLM Cityhopper were fantastic on this trip, and I was really impressed with power of the Fokker 70!
I have never had a bad flight on KLM, and they
are
in my opinion better then British Airways short-haul and long-haul. Keep up the good work!
Hope you have enjoyed my report, any comments or questions will be welcome!
Watch out for my return easyJet trip report to Liverpool coming soon!
Thanks
Ryanair737