Hi,
This trip report continues straight after where my previous report ended, you can view it
here
!
We spent the whole day at the excellent "Panorama Terrace"; a great view of the aircraft could be seen from here. They pushed back, and taxied virtually straight past you! And the sheer size of the terrace was impressive to say the least!
We had some very nice weather in AMS, it was thundering back home!
It is seen on these two photos.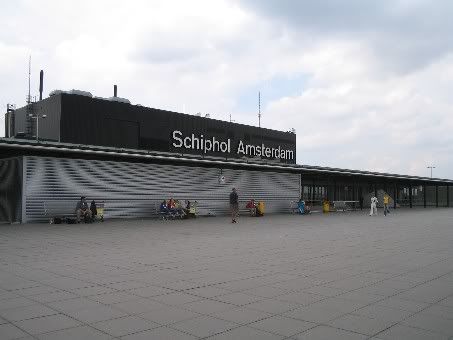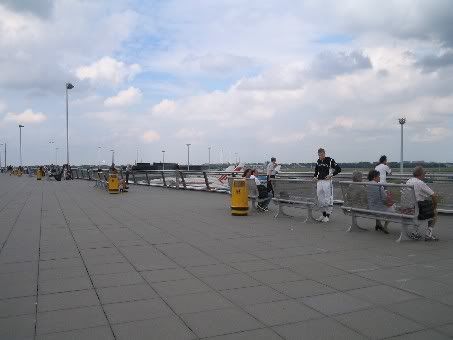 The "Panorama Terrace"
Here are my favourite shots taken from there.
MyAviation.net photo:

Photo © Daniel Smalley

MyAviation.net photo:

Photo © Daniel Smalley
MyAviation.net photo:


Photo © Daniel Smalley
A great day was spent up there, and we saw lots of different aircraft and airlines that you don't see at MAN.
In only a few hours time we would be boarding yet another flight, but this time with U2. Ryanair737 flying
easyJet
, that is something that doesn't happen everyday!
We were quite looking forward to this flight, as it would be our first flight on
easyJet
, and hopefully our first flight on an old ex
Go
737-300! And our first flight into Liverpool John Lennon!
Unfortunately, no window pics were possible, because it was so dark! But I do have photos of various other things!
This is another long trip report, so I apologise
again
.
Enjoy!
August 17, 2004
easyJet EZY7014
Amsterdam - Schiphol (AMS / EHAM) to Liverpool - John Lennon (LPL / EGGP)
Boeing 737-3Y0 G-IGOW (CN 23923)
Gate Departure Scheduled/Actual 2140/2211 Local Time
Gate Arrival Scheduled/Actual 2200/2235 Local Time
Seat 15F

Year built: 1988
Here is
"G-IGOW"
in service with
Go
, with the title's
Go
Escape and Hasta Lue
go
! This aircraft was also the first
Go
aircraft to carry the Spanish titles.
After a few attempts at checking in for our late evening flight at 3.00 in the afternoon, we eventually checked in at around 5.30. Again, it was a very easy process, with no hand luggage to check-in.
We got handed our nice looking
orange
boarding passes, which makes a change from them awful plastic ones they hand out!
Here is mine.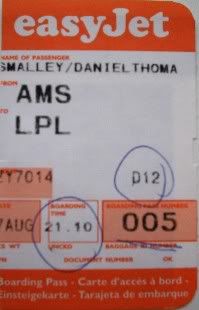 We then went straight through to the departure lounge. I was in need of something to eat, so we went to the McDonald's that was located in the nice lounge.
At this point we saw two aircraft parking on to stand near us. This was a Helvetic F-100
HB-JVA
(these look so nice up close!), and a nice looking Sky Airlines 734.
After I had finished my burger, we went to where the Helvetic had parked up, to have a closer look at the beauty! It was funny watching people walk by, looking at the colour scheme, it sure draws attention!
I managed to take a nice shot of the Fokker!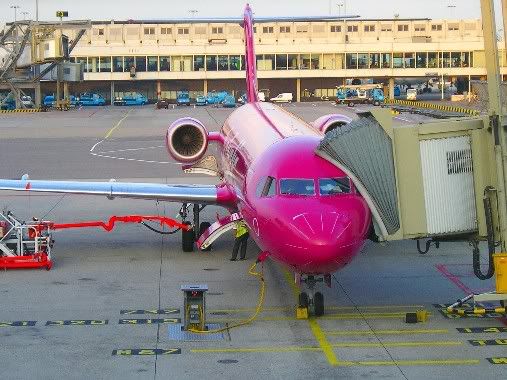 Look at the light on this beautiful aircraft, simply stunning!
At that moment I really wanted to take a flight on that aircraft to ZRH!
The light was starting to get lower and lower at this point, which made for some nice reflections in the aircraft!
Anyway, at this moment it was time to go to our gate (12) on the D pier, actually as we found out the view of the runway was pretty good at our gate! As we started walking back to our gate, we got a nice view of a KLM 744 about to be pushed for somewhere in Asia.
Schiphol is a fantastic airport, it really does puts some European airports to shame (Heathrow!). AMS is so easy to work your way around as well, as it is one big terminal.
We now were approaching our gate; a BA ERJ was at D12 about to push for Manchester. So we decided to have a wonder around that bit of the terminal. A Jet2 733 was seen taxing to stand from LBA, and countless
easyJet's
were seen.
Including an EZY A319,
G-EZED
. This was going to Geneva; I never knew they used G reg. A319s to/from GVA on non UK routes? Maybe DoorsToManual can clear this up for me!
View Large
View Medium


Photo © Michael W. Rosa
Anyway, it was now about 8.50, so time to go to the gate ready for our flight. Our aircraft would be the last aircraft to park at that gate tonight. We sat down in the rather nice seating area ready to board. The flight would only be half full tonight I thought.
I had a feeling this flight would be delayed, it had been for the last week or so (this is not surprising, being the last flight of the day for that aircraft). The staff came to our desk, getting ready to board the flight shortly. They then made this announcement "Passengers on EZY7014 to Liverpool expect a delay of 30 minutes".
The time actually went by very quickly, and before we knew it our aircraft was taxing to stand at 21.40. To our relief it was an ex.
Go
bird, one of the old ones as well, built in 1988!
It was now fully dark.
We had boarding pass numbers, 005 and 006 so we got accepted through straight away. There was an old lady in a Wheelchair, and everyone was just pushing through trying to get to the front, and no one helped her.
Some people are so ignorant!
Eventually, the check-in staff realized she was behind everyone, so the brought her to the front and checked her in. Meanwhile, the passengers of EZY7013 were disembarking as well, looked like a pretty empty flight as well.
We eventually boarded, one of the friendly
easyJet
cabin crew was stood at the front of the aircraft. The flight deck door was open, but I only got a small glimpse of it, don't they look great all lit up!
The ex.
Go
interior was still on this aircraft (are any of the ex.
Go
aircraft fitted with the
easyJet
interior?).
The
easyJet
headrests, looked good against the blue seats!
We made our way to 15 E and F, this time I had the window seat! These seats were just by the wing, so we could see the flap/reverse deployment! The legroom obviously wasn't as much on the Fokker, but it was fine!
A few tickets were on the floor, this aircraft had been to Basle and Madrid today! They sure work them hard!
"G-IGOW"
has clearly had a hard life, it looked very tired inside. But it didn't bother me; it was a pleasure to fly on this aircraft!
Our seats (I didn't take this photo!).
MyAviation.net photo:


Photo © Clement Guivarc h
Everyone boarded pretty quickly, as there was only 70-80 passengers. Only 3 cabin crew on this flight, 2 female and 1 male. They were all scousers!
The Captain then gave quite a nice briefing about our flight; he said the short delay was due to technical problems at LPL (which is always nice to hear!), it took the engineers a little while to sort it out. The paperwork was just being finished, and he said we would be pushing in the next 5 minutes.
The very friendly female cabin crew then closed the forward door. The flight deck door was then closed, and we began pushing (21 mins behind schedule!)
Now came the engine start up, our number two CFM56-3B2 was started up first. A beautiful whining then came from the engine, as the N2 got to 25%; fuel was let into the engine! This procedure was repeated on engine two. As both engines were stabilised, the cabin crew started their safety demonstration.
Our cabin crew today were Jenny, Emma and Andrew!
Obviously the male cabin crew was making this female F/A laugh, this made the safety demonstration seem unprofessional (you defiantly wouldn't catch BA cabin crew doing that!). Anyway, they eventually completed it!
The PF pushed the thrust levers up, and that nice distinctive howl was heard, we heard another whine, as the flaps were selected to 5. As we reached taxing speed, the flight control check was done, and the throttles then came back to idle.
Our cabin lights were then dimmed, don't you just love it when that happens!
We only had a short taxi to our departure runway; no traffic was on the runway so we were going to do a rolling take-off. The PF slowly stabilised the engines as we were entering the runway, held them for around 5 seconds, and then pressed the TOGA switch on the thrust levers!
After a fairly quick roll we rotated rather steeply into the skies, and the landing gear was selected up soon after. We got a great view of Schiphol and the various runways during the early stages of the climb.
Flaps were soon selected to 1, and then to up. After a left hand turn at around 3000 feet, we began our climb up to a flight level of
initially
FL300.
Seat belt signs were switched off at around FL120, and the cabin crew handed out the in-flight guides (to be quite honest, I don't know why they don't just leave them in the seat pocket!)
Here was my copy.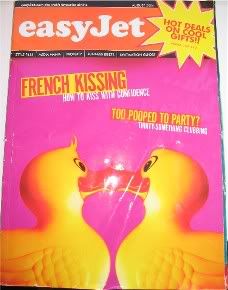 It is actually a very good magazine, but it is a shame that they don't offer the
easyJet
branded products anymore! I wanted one of there 737s to add to my model collection!
The cabin crew then announced, due to expected turbulence they would not be able to bring the trolley's out, but if you pressed your call button you could order the various items from the
easyKiosk
! This was good, as I wanted to order a sandwich and a drink!
We soon reached our cruising altitude of 30,000, but shortly after that we made a climb to FL340 to avoid turbulence! There were some pretty dark clouds around! Not much of a view could be seen out of the window, as we were going in/out of clouds all the time!
Anyway, me and my friend both pressed our call button, as we both wanted sandwiches! Quite a few of the passengers wanted to order something out of the
easyKiosk
!
Although, the idiot which caused the serious incident with a member of the cabin crew prior to our descent was pressing it for another reason, (more about that later).
After waiting for around 5 minutes, the pleasant female cabin crew came to take our order! The choice of sandwiches were "Chicken salad, or a BLT", we both went for the BLT. I ordered a Pepsi as well; it came to £3.60 in total, not too heavily priced!
The "Snacks" menu in the in-flight guide.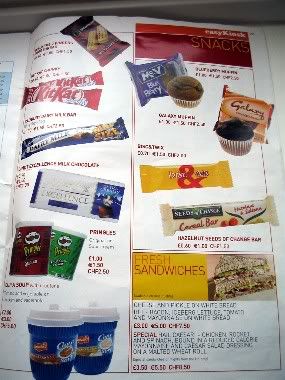 Here is what I ordered.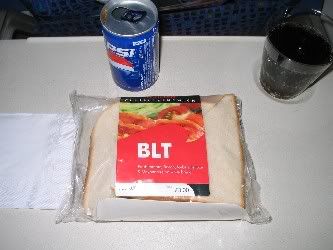 BLT with a Pepsi!
It was pretty tasty actually!
We were now passing over Anglia again, and our
easyJet
experience was nearly over, not quite though!
The F/O came on the PA, and said we had begun our descent (over the Norwich area, quite early I thought?! Possibly because of the height we were at). He said that we made quite a lot of time up in the air, and we would only be 10 mins late. Of course we would have been, if it wasn't for the idiot, who delayed us on the ground!
He made quite a long winded PA, but he seemed like a nice guy!
There were quite a few bumps now; the wing was shaking a hell of a lot!
Anyway, our rubbish was collected in by the F/A. The spoilers came out during the descent, and that nice buffeting affect was then felt again! We hit a few mean clouds; no view of England could be seen at all. It became quite bumpy during this stage, we loved it though!
At this point, the abuse started happening. The female F/A told the man to put his seat back up, because we were preparing for the landing. He started shouting loads of abuse at her; it wasn't very nice to hear at all.
Seat belt signs were now switched on by the F/O!
Anyway, the F/A then said "You carry on, and I'll get the Police on you!" this was easily heard inside the cabin. Anyway, he did carry on, and the police were called during the flight (more about this after we have landed!). He thought he was dead good, showing off in front of his mates. He didn't actually believe that the police were being called!
We had just had come through the clouds, and ground was in sight. The weather was atrocious, windy and rainy! Flaps were beginning to be selected, and with another thud the landing gear was brought down!
We were about 5 miles from LPL at this moment, and could see the runway in use (27); we had 2 reds and 2 whites on the PAPI, perfect!
The PF was flying manually now; I could see some aileron deployment on the wing. Around flaps 30 were selected at this point, a vapour trail was now forming from our wingtip, what a great sight that was!
The engines slowly came back to idle, we flared over 27 and made a rather nice landing. Speed brakes were deployed straight away, and idle reverse was applied, we braked quite hard. Reverse was slowly brought forward at around 60 knots, and we exited right at the bottom of the runway (09).
We probably would have taken an earlier exit, but due to what happened on-board the Captain wanted to give the police enough time to arrive. We taxied very slowly on to stand; at least we got more time on-board the aircraft!
Flaps and speed brakes were selected up during our short taxi to stand. The Captain then made an announcement saying "There has been a serious incident on-board, where a cabin crew member has been threatened; we are taxing very slowly to stand to allow the police time to come to our aircraft once we reach stand."
Meanwhile a Ryanair 732 had just completed pushback for DUB!
I was looking forward to a flight deck visit as well, no chance of that now!
Anyway we eventually reached our stand, and we were told that we couldn't de-board until the police had arrived (this was a good 10-15 minutes). The seat belt signs were kept on, and no one was allowed to stand up. The police eventually came onto the aircraft, and escorted this idiot off. His behaviour was appalling; I could understand it happening on a bus or a train, but on an aircraft!
We eventually got told that we could de-board, we got off last, so we could take the in-flight mag etc.
So we deboarded via the aircraft stairs, and then walked slowly towards Liverpool's smart new terminal, quite a few
easyJet
aircraft were parked up, waiting for their morning duties!
The FR 732 took-off as we were walking to arrivals, and what a fantastic noise it made!
We then went through the arrivals hall.
My dad was waiting for us, and that was it, AMS trip over!
-----------------------------------
This was a fantastic trip, AMS is a great airport, and we plan to go back next year!
easyJet
were very good as well, although we could have done without the idiot!
I hope to fly with them again soon, and try and get on another
Go
733!
Hope you have enjoyed reading these two reports, I have enjoyed writing them!
Watch out for my next trip report to Stuttgart on a B737 with another low-cost airline Hapag-Lloyd Express. That should be coming your way in September!
Thanks for reading, any comments or questions are always appreciated!
Thanks
Ryanair737
[Edited 2004-08-21 21:45:42]