1 October 2004
Continental 1855
Pittsburgh (PIT) - Houston (IAH)
Boeing 737-500
Seat: 14F
Departure Gate: D79
Arrival Gate: C33
Scheduled Departure Time: 5:50 pm
Actual Departure Time: 5:53 pm
Scheduled Arrival Time: 7:56 pm
Actual Arrival Time: 7:56 pm
Having had my psychology class run late by about 20 minutes (of course it happens on the day you actually have to do something), I found myself speeding down I-70 trying to get to PIT in time. I arrived at the airport in time, but long-term parking was nearly full and I had to park at one of the farthest spots in the lot from the terminal.
The Continental ticket counter was empty when I arrived, but a couple got in line behind me once I was there. I checked in using the kiosk, which I found very easy to use. An agent with a think accent walked over, "Are you going to Newark?" "No, Los Angeles through Houston." "I see." The agent attached a baggage tag and sent me to screening. Down the escalator at security, the line was thankfully short. My parents had flown a few days earlier and told me the line snaked clear in to the short-term parking lot.
I arrived at D79 in plenty of time, which allowed me to grab a sandwich from T.G.I.Fridays across the concourse. An ERJ to EWR was just boarding at D77. Delta seemed to have quite a situation on their hands over at D80, where it an MD-80 was very late arriving from ATL, and passengers seemed very angry and were demanding information.
Boarding began shortly before 6:00 pm, and a friendly flight attendant greeted me as I boarded. I found a younger woman sitting in my seat. She seemed a bit confused about what was going on. Poor thing.
Once all the passengers were onboard, I could see the load on this flight was quite light. I'd say only about 50-60%. Plenty of empty seats to be found. Pushback began and we taxied out away from Concourse D.
Looking at Concourse C from D79: an Independence Air CRJ to IAD sits at C56, a USA3000 A320 to FLL at C58, and the European departures behind - a US 767 to LGW at C60 and a US A330 to FRA at C61.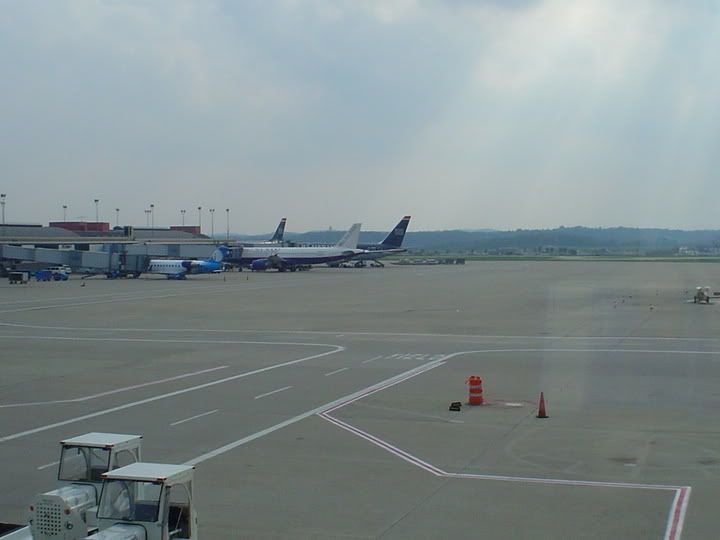 Onboard the 735 - AirTran's gates are empty.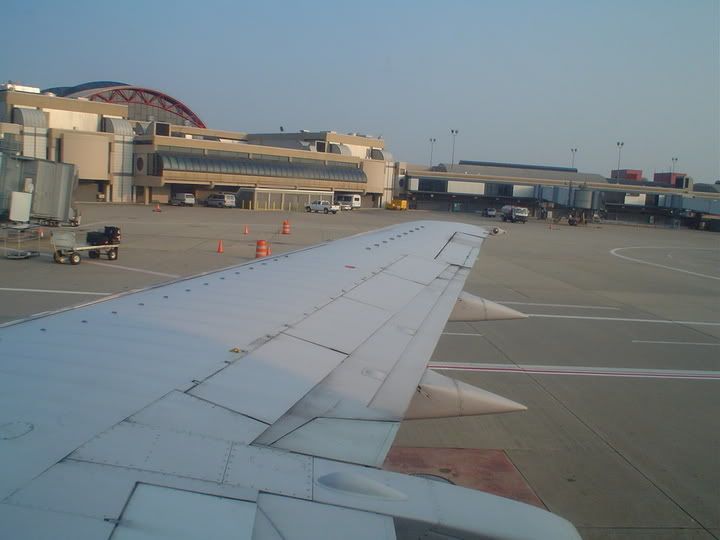 Taxiing out.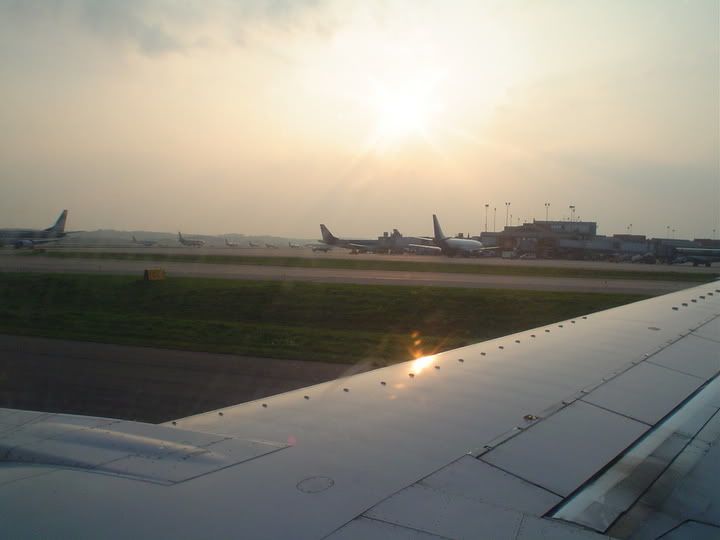 Our 737-500 joins the long queue for takeoff, mostly US Airways.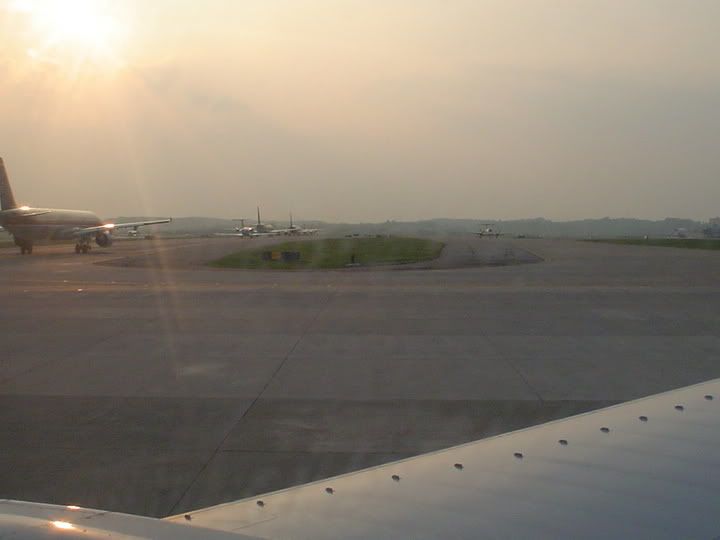 After what was probably a 10-15 minute wait for the active runway, the captain announced our departure, and we made a rare Runway 10C departure. Shortly after takeoff, the three sitting behind me began a loud conversation, nearly screaming, which would continue for most of the flight. I hate that.
I was a bit surprised CO's 735's have no audio systems. Near cruising altitude, the F/A's began snack service. The dinner snack consisted of a small ham or turkey sandwich, a bag of Lay's Potato Chips, and a fun size pack of M&M's candies. I chose the ham, which was on a small piece of bread, like a dinner roll. It was decent. Interestingly, the F/A wrote down drink orders instead of pulling around a cart. I ordered a ginger ale, which came shortly thereafter. Service was nice and efficient, but not overly-friendly.
The captain announced our path, along the Ohio River, through eastern Kentucky, to near Knoxville, to Birmingham, to Jackson, to Alexandria, and over to Houston. Several times we flew through a light-to-moderate chop and the captain made altitude adjustments accordingly.
After departure from PIT.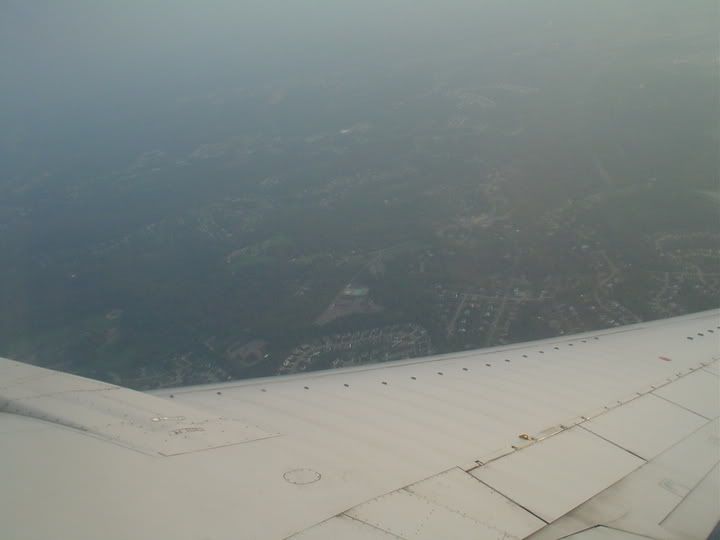 Sunset over the Southeastern U.S.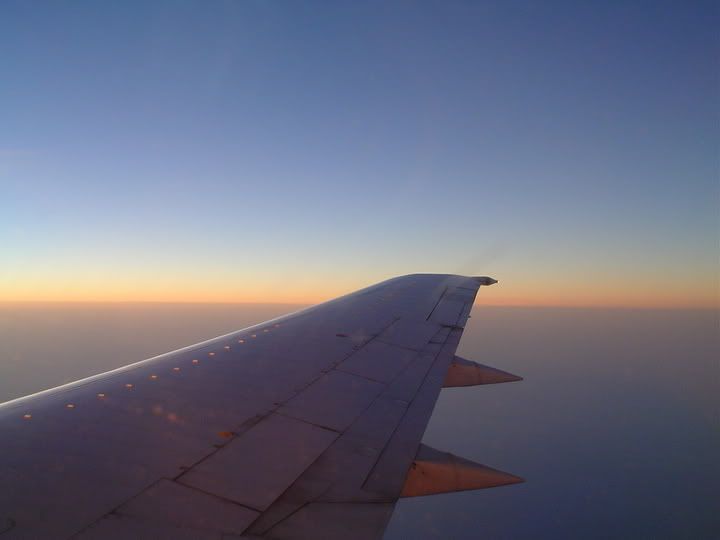 Flight attendants came around again offering beverages. Descent in the dark began into Houston, and I couldn't recognize anything on the ground. Touchdown was shortly before 8 p.m, and we began our taxi toward C33. Even though it was dark, I still recognized the incredible Peter Max parked at E19. Truly a beautiful aircraft. Not surprisingly, I saw no non-Continental aircraft on our taxi to C33 - nothing but CO 737's and 757's.
Earlier in the day, I checked continental.com which said the IAH-LAX was leaving from E2. My boarding pass also said E2, however, upon arriving into IAH, a Continental agent asked me where I was going, I replied Los Angeles, and she said E9. Hmmm.
I must say, Terminal E is very impressive - much better than the tired-looking Terminal C. I love the glass everywhere and the terminal itself is very modern and open.
No pictures for the IAH-LAX leg, as the entire flight was in the dark.
1 October 2004
Continental 47
Houston (IAH) - Los Angeles (LAX)
Boeing 757-300
Seat: 20A
Departure Gate: E9
Arrival Gate: 62
Scheduled Departure Time: 8:55 p.m.
Actual Departure Time: 8:56 p.m.
Scheduled Arrival Time: 10:32 p.m.
Actual Arrival Time: 10:28 p.m.
Boarding had already begun when I arrived at E9, though it was only for Elite customers. One of the agents announced there were be no meal service onboard and to buy food now and take it onboard.
As my row was called, the agent scanned my boarding pass, returned it to me, and I passed through the double glass doors, and down the hallway through the cloud of purple lights to the jetway. This was my first time on a 753, and one thing I noticed - the 753 looks just as long on the inside as it does on the outside. Standing at the front of the economy cabin, the rear is an incredible distance away. My seat at 20A was empty this time, and I sat down amid the chaos in the aisle. A few people loading bags into the overhead bins caused a huge line through the aisle.
We pushed back on time, and the Gordon Bethune welcome message and the safety video began on flip-down monitors. The lights were dimmed and we began our taxi out to 15L. There were only a few aircraft ahead of us, so 15L was open quickly. The RB211's spooled up and we were airborne shortly after. IMO, the 753 doesn't have as much back-in-your-seat factor as its younger sibling, the 752, does.
Once high above central Texas, the F/A's began the movie, 'White Chicks', of which I had no interest - so I passed on buying a $5 headset. I was exhausted by this time, and actually was able to sleep for most of the flight, which turned out to be chop-free. Approach to LAX was uneventful, and we touched down on 25L. However, LAX on the ground was very congested, and we waited about 25 minutes just to cross 25R. The captain then explained the LAX tow-in gates, and we shut down engines and were towed in to gate 62, passing a CO 737 on the way.
---
5 October 2004
Continental 1703
Los Angeles (LAX) - Newark (EWR)
Boeing 767-200ER
Seat: 32L
Departure Gate: 62
Arrival Gate: C82
Scheduled Departure Time: 8:30 am
Actual Departure Time: 8:21 am
Scheduled Arrival Time: 4:39 pm
Actual Arrival Time: 4:32 pm
I was concerned I wasn't going to make it to LAX in time. Traffic on the 405 freeway from Long Beach was insane, and I barely made it. Check-in at LAX went smoothly. I checked-in using a kiosk again, and a female agent prompted, 'Are you going to Pittsburgh?' 'Yes.' She attached the tag and headed for the T6 security checkpoint. The TSA agents were friendly, and I made my way to gate 62, where the boarding lounge was already full. The gate agent announced boarding for elite passengers, and shortly after economy passengers.
Though I already knew how to get there, onboard a friendly flight attendant directed me to my seat. The 762 was very impressive - it still felt new, and the large overhead bins were nice, as were the movable headrests.
As my luck would have it, as soon as the girl in front of me sat down, she pushed her seat back as far as it would go, into my knees, and it stayed there for the entire flight. How pleasant.
Boarding went much more smoothly, and we taxied out. The seatback monitors were turned on and the again the Bethune message was played ('You're flying on one of hundreds of modern aircraft...') followed by the safety video. The captain announced were were #1 for departure, and we departed above the Pacific Ocean and turned back toward land.
Onboard the 767-200ER, from gate 62 at LAX.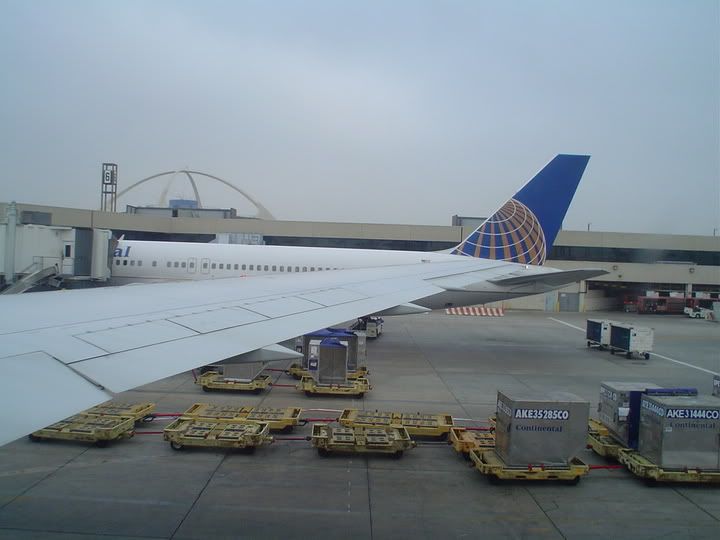 Making a right turn over a cloudy southern California.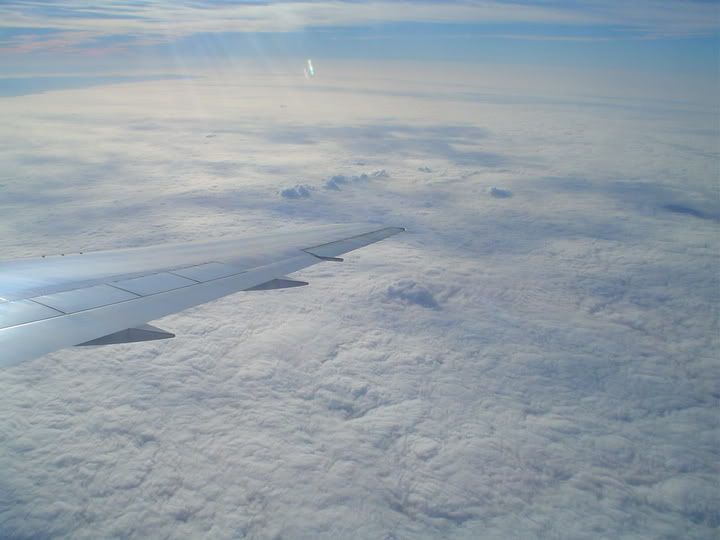 Shortly after departure, the seatback monitors were turned back on, and the IFE started. I found myself not really interested in any of the movies, and listened to the music and played a few card games most of the way and checked Airshow every so often. I must say, the PTV's are very nice to have on a longer flight.
Breakfast service was started close to reaching cruising altitude (FL360). Again the service was very efficient. Breakfast was an egg and cheese croissant sandwich, some strawberry banana yogurt, a banana nut muffin, and a cup of fruit with cantaloupe, honeydew, and pineapple. A very nice little breakfast.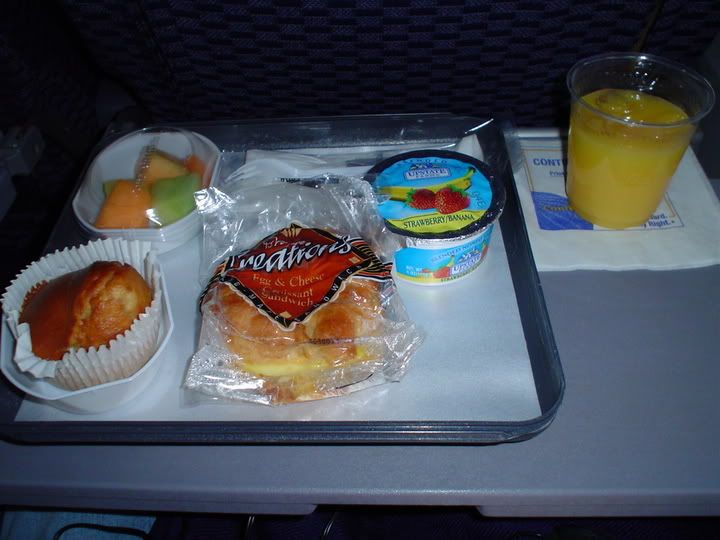 The sandwich was surprisingly very good, and the muffin was okay. I'm just not a big fan of banana nut.
Our path brought us over southern Nevada, central Utah, northern Colorado, across Nebraska, over Iowa, across northern Illinois and over Chicago, southern Michigan, across Lake Erie, and across northern Pennsylvania toward Newark.
I was able to sleep on and off most of the way, and I listened to music a bit and watched our path on Airshow. The flight attendants came around three additional times offering beverages and mini pretzels.
Heading over the mountains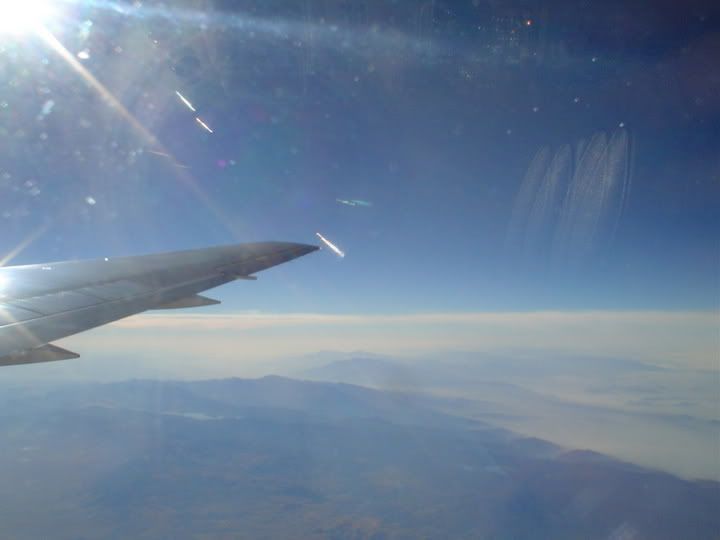 Passing over Chicago. You can see Midway Airport at the very bottom of the picture.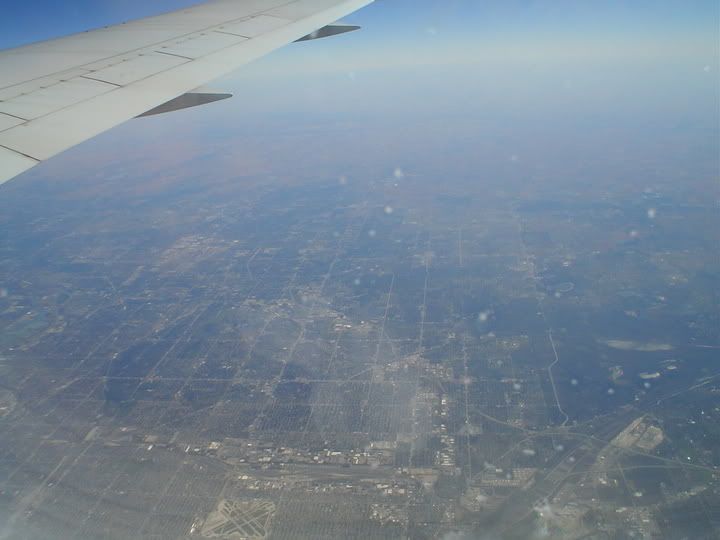 Descending into EWR.
The captain announced our descent into Newark, and we made a few turns to line up with Runway 4R. I had a slight view of downtown Manhattan out my window, which was impressive.
Final approach for Runway 4R.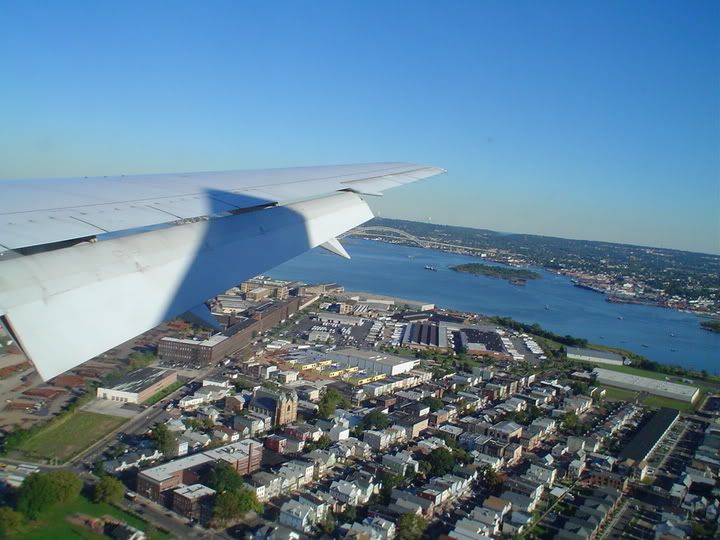 Touchdown on 4R.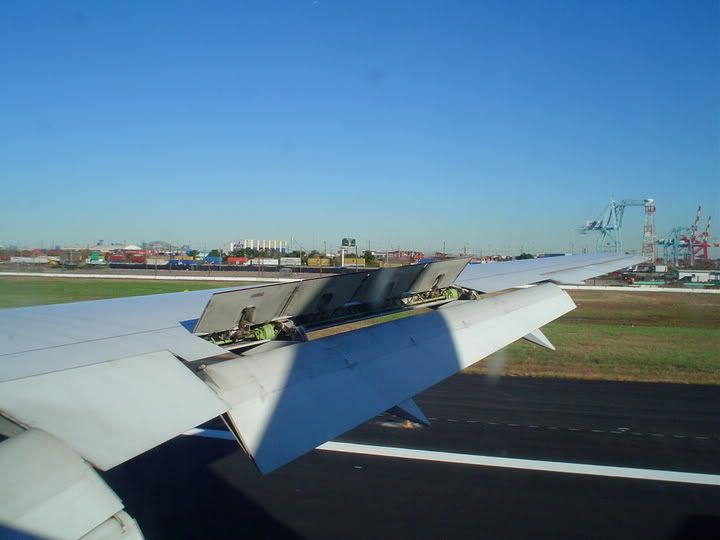 Exiting the runway.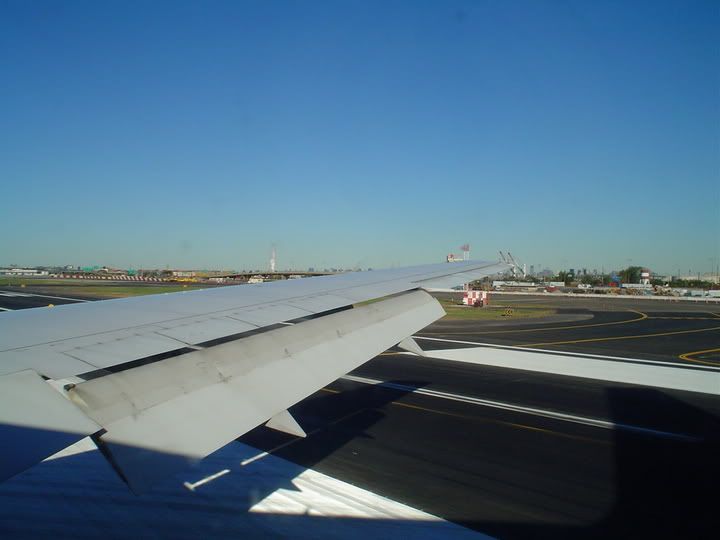 Touchdown went smoothly on 4R, and the weather in Newark was beautiful, thankfully. We taxied to our gate, C82, passing several Continental aircraft, a BA Chelsea Rose 777, SAS A330, and a Lufthansa A340.
Newark was busy, and Terminal C was crowded. It turned out I had quite the trek to my connecting gate, 115A. The boarding lounge was in a small area on a lower level that is reached by an escalator. Quite dark and isolated down there, actually. Boarding began for Elite passengers, and then for all other passengers at once (which I thought was strange).
5 October 2004
Continental 2575 (operated by ExpressJet - CO Express)
Newark (EWR) - Pittsburgh (PIT)
Embraer ERJ-145
Seat: 10A
Departure Gate: C115A
Arrival Gate: D77
Scheduled Departure Time: 5:25 pm
Actual Departure Time: 5:22 pm
Scheduled Arrival Time: 6:57 pm
Actual Arrival Time: 7:07 pm
I guess I was a little surprised about the size of the ERJ after having flown a 762 (though I've flown the ERJ several times before). I'm 6'2" and I can't stand fully upright. Pushback was ontime, and we began our taxi.
The male flight attendant welcomed us onboard, though he didn't seem to know where we were going. Several times, he'd say something like 'Welcome board Continental Express flight 2575, service to
uhh...Pittsburgh.>

A Triple Seven taxiing.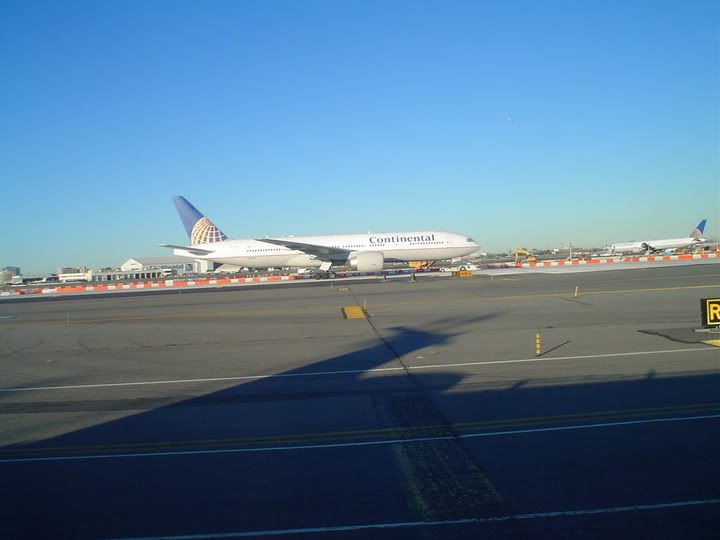 The captain informed us we were #15 for departure and that we'd have another 15 minutes wait. The pilots shut down the #2 engine in the meantime. The flight attendant offered water to everyone while we were waiting, which was a nice touch.

I watched several aircraft depart 4L, mostly Continental aircraft, but also an Air Canada CRJ, and an Alitalia 777. We reached the threshold of Rwy 4L, and made a quick departure, one in which the ERJ rattled a good bit.

Turning onto 4L, looking back at the long queue for takeoff.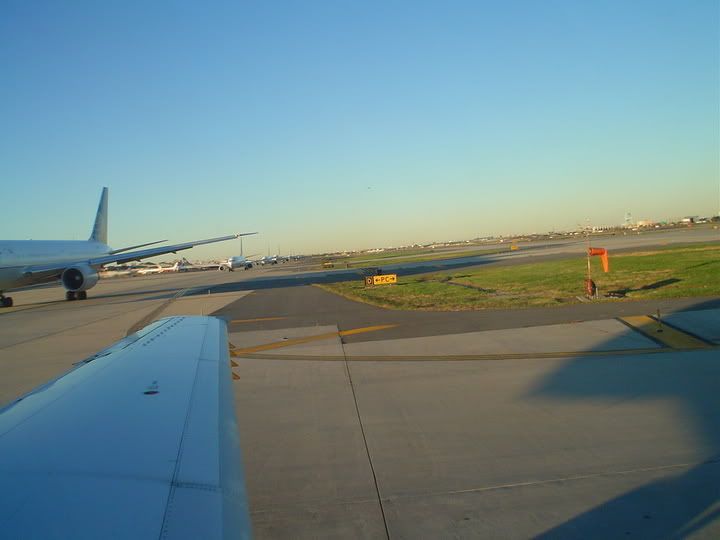 After departure, downtown Newark.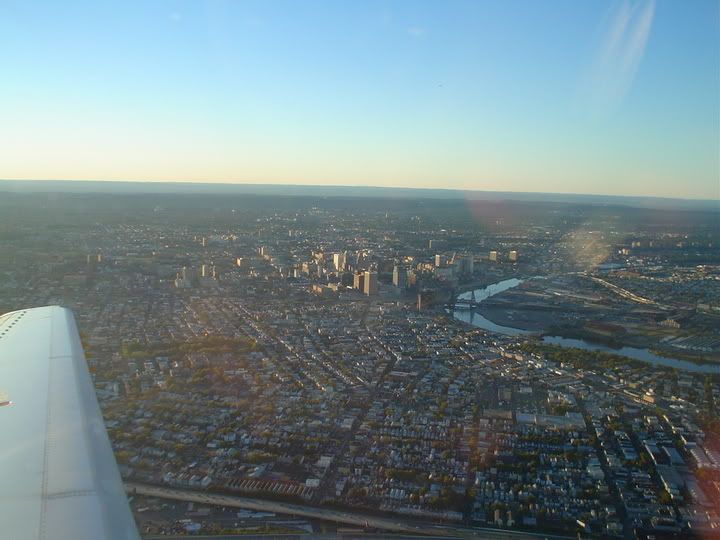 After departure, we turned over downtown Newark and headed west for Pittsburgh, and the flight attendant apologized for the delay on the ground and began beverage service. I ordered a Coke, and he gave me a cup of ice and a full can of Coke with a bag of mini pretzels.

We passed over the ridges of central Pennsylvania, and descent began shortly after beverage service ended - the flight was only 55 minutes. We touched down on Runway 32 to a very quiet PIT - the only aircraft I saw while taxiing in was a NW DC-9 which was taxiing out for departure.

We parked at D77 and deplaned via jetway.

A NW DC-9 and an ATA 737-800 parked at Concourse D.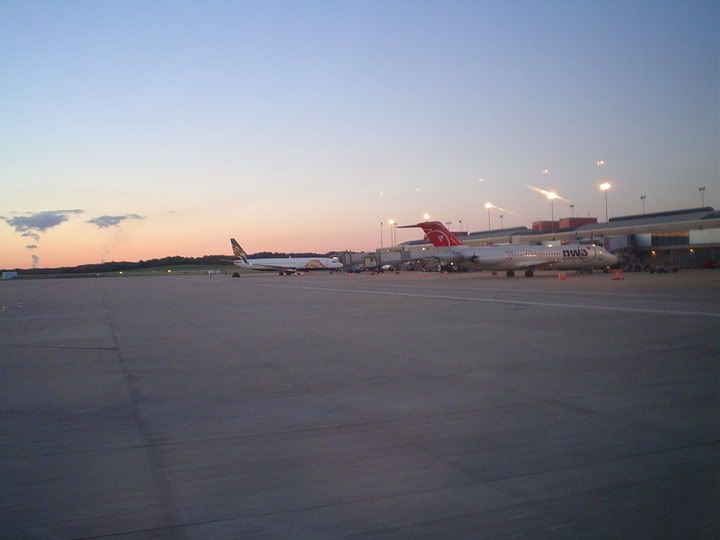 ---

I thought Continental did a great job. They certainly do run a great airline. Much better than my experiences with a few other carriers. I'd probably give the trip 9/10.

Thanks for reading. Comments welcome.


N670UW