In April I chose to book myself up for my summer vacation. Having not been to San Francisco and spoken to a few friends about the place it seemed the obvious choice to me. As the flight was going to be in the vicinity of 11hrs I was pretty adamant about getting myself seats in business class. British Airways was the obvious choice with a great business class product I had flown around two dozen times and with the airline being my preferred carrier. I chose early September as it meant the UK kids had gone back to school allowing for slightly discounted flights and the weather in San Francisco was still (as always) going to be fine.
The day before my flight and from the public library near where I worked I played 'The race to seat 62K', 62K being the preferred seat on the upper deck of many of the guys on the BA forum and regular Club World travellers. Alas my timing was a little poor and 62K had gone by the time my slow connection had got through, although I was lucky enough to secure the next best seat 62A.
Thankfully (and as per routine now!) my father was able to drop me off at Heathrow Terminal 1 for my flight. It was my first time flying out of Terminal 1 on a longhaul flight since British Airways moved a select number of operations from Terminal 4 over to the centre of the airfield. I arrived at 9.45am, a little earlier than anticipated for my 12.55pm departure and made my way to the new Zone R, away from the hustle and bustle of the domestic and European flights in the main hall from Terminal 1.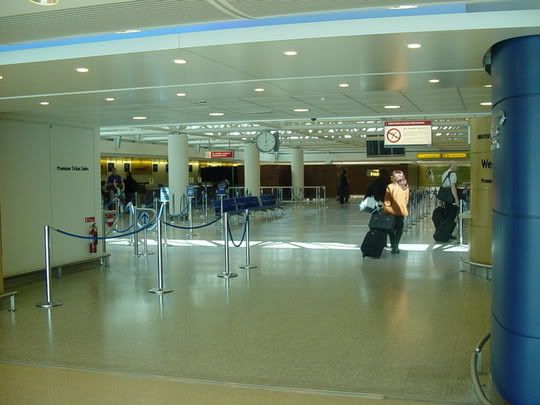 Considering this was fairly early in the morning (for a student anyhow!) and where all the Club Europe, oneworld elites, Club World and First for a number of flights were meant to check-in I was surprised at how empty the place was. After queuing behind one other person at the Club World check-in desks another person opened up for me. I explained I knew I was a little early (around 5mins before my maximum 3hr check-in) but that I was on the 12.55 to San Francisco. Cue conversation
Check-in lady: 'Excuse me, the 10.40 is scheduled to depart in the next 45mins you'll have to rush very fast'
Me: 'No its ok I am on the 12.55 to San Francisco'
Her: 'I'm sorry was that the 287 to Los Angeles?'
Me (Almost thinking this a joke at this stage!) : 'I'm sorry, the BA287 to San Francisco'
Her: 'Oh, it appears you are a little early Mr Davidson'
Me: (Laughing at this stage) 'By any chance is seat 62K available? I checked in online very early and it was already gone.'
Her: 'I'm afraid 62K is not available on this flight but I can probably get it for you on the Los Angeles flight'.
We both laugh at this stage and she told me my bag would be put to one side for a few moments. I took my boarding pass for seat 62A and I headed off for security, peeking behind the First screen to see how busy things are round there. Again only one other person in front of me in the security line and within a minute I am in surprise, surprise a BAA Duty Free store; one of many thousands to be found within the vicinity of Heathrow. I make a beeline for the renamed Lounge Pavilion, a title previously reserved for the British Airways Lounge complex near gate 10 at Terminal 4. My early arrival isn't without reason, I am hoping to try out the Terminal 1 counterpart of the Molton Brown Spa I used at Terminal 4 a few months ago. Since only longhaul Club World & First passengers (and BA Golds flying longhaul) can get massage treatments as opposed to just showers getting myself an appointment came back with a great list of possible times. I chose an 11.30 booking leaving a bit of time before my flight to do some last minute shopping. I took a seat on the mezzanine level of the Terraces lounge, a quiet haven amongst the rest of the bustling lounge full of European bound passengers.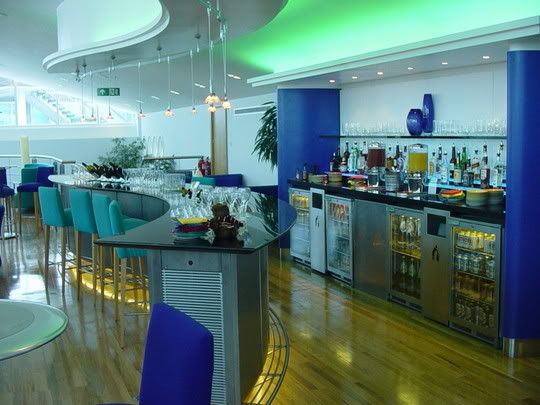 I read the papers and have a drink in numerous parts of the lounge before checking Flyertalk and then for a little shopping. Dixons to stock up on AAA and AA batteries for my new travelling companion, the Bose QC2 headphones and my minidisc player respectively. I was yet to buy any proper presents for Kirstin, on all my previous trips I have taken a different perfume but due to exorbitant stock in her bathroom I have now been cut off. Passing HMV I noticed a promotional stand for the Mercury Music Awards and the self titled Franz Ferdinand album. As a fan myself I thought this a different choice of genre to my other Paul van Dyk and Cafe del Mar CDs. I even managed to get a student discount on top of the duty free discount, any more money off and they'd be paying me to take it out of the shop! Before long it was time for my appointment in the Molton Brown Spa so once again I checked into the lounge and the masseuse was ready for me. I opted for my preferred back massage and after 20mins of quiet serenity I gathered my clothes and took a seat in the lounge before remembering the 10th was the final day of a certain British Airways / Travelex promotion. I nipped off to the desk in the lounge and stocked myself up with a few thousand pounds worth of Sterling Travellers Cheques.....a nice little BA miles earner if ever there was one. Especially if like the previous month at Gatwick they forget to charge you commission
The flight - Boeing 747-400: G-BNLB
The first call for my flight was made and as it was at Gate 50 I thought I'd pop back to the HMV store and purchase a second copy of the Franz Ferdinand album for my younger brother who is a fan. On the way from the lounge (after leaving a number of empty Newcastle Brown Ale cans behind) I sped somewhat from the lounge, a small crowd were in the way and I passed them to the right and almost walked straight over (she is a small woman!) double Olympic Gold medal winning athlete Kelly Holmes. Although we didn't collide I felt obliged to apologise and went my separate ways as the current golden gal of British athletics walked through the terminal to cheers and congratulatory comments thrown from those seated in the terminal. I then walked and travelated my way to the gate where a mass of people were around the gate area. As I rounded the corner around 20mins before departure I almost stood in aghast as I saw a 747 attached to the gate! For the first time in a number of BA flights out of Heathrow I was to board the aircraft from the jetway! Obviously the message I was flying didn't get through to BA Ops. Passengers were already forming a line and it was at this point I thought pre-boarding for elites and premium travellers was going to be chaos. I stood amongst this melee (quite why I don't know) and happened to be beside the passenger in seat 2A, as long as I kept close to him I thought I'd be fine. A number of families, old people and children boarded before any official annoucement was made. This consisted of shouting, 'if any Club World or First passengers (to which I held my hand up as did the 2A passenger, in hope they would wave us through) would please come round to the fast track desk'. A small line formed and I as soon as I entered the jetway I was pulled to one side and given the once over by security. I'm always polite though and know these guys are just doing their job and then gather my stuff (which was neatly arranged ) and board the aircraft. Making my way up the stairs with my boarding card in hand I am shown to my seat by Claudia, the fraulein assistant of the upper deck purser Mary. As I get some of the necessaries out for the flight and put my bag away the gentleman seated in 62K arrives. I make a humourous comment that he must have got to Online Check-In a few seconds before me, he laughed and said his boarding pass indicated he was Sequence no. 2; mine was no.3. Nevermind, I had a very good rearward facing, exit-row, sleeper seat so can't really complain . I settled back into my seat with a glass of orange juice, I needed something a little stronger!
Pushback was a little late, must have been nearer 1.20pm and we stopped for a lengthy period of time before the captain coming on the PA system and saying we'd experienced problems closing the door and would have to park up while engineering come and sort it out. During this time Mary and Claudia passed through the cabin keeping us fuelled on non-alcoholic beverages and also came around with the menus taking our orders for lunch. An American in 61J had some problems deciding between the Duchy of Cornwall sausages and the prawn dish (see below for menus and wine list). The purser, Mary was with this customer for about five minutes or so making humurous references and drawing parallels between this and the upcoming US elections and also the fact there, 'is nothing quite like a good bit of royal sausage' . I said to my seatmate, 'Apparently Sarah Ferguson said excatly the same thing' causing him to almost splutter a load of Minute Maid across his lap For the next hour or so I listened to my minidisc enjoying for the first time the use of my noise cancelling headphones. Based on what they did while standing I couldn't wait to take-off and try them in the air. Meanwhile I had to enjoy leafing through Business Life magazine, the view of an El Al 747 parked up beside us and the numerous flourescent jacketted folks coming up to the cockpit. After an hour I was a little nervous that we would have to deboard and find alternative ways to San Francisco costing precious hours and potentially days of my holiday. I was thankful though that I wasn't stuck in the back of the bus no doubt with a howling toddler sitting beside me! At around 2.55pm an announcement was made that we were to be on our way and thankfully at 3pm the routine runway change was made at Heathrow so we were a short taxi from our departing 27R runway. At 3.15pm we took off and shortly after appetisers and drinks (now alcoholic ) were served, I chose my favoured Kir Royale.
***LUNCH***
Appetisers
Kiln fired salmon and crayfish tails with wasabi and watercress dressing
or
Mozarella cheese, Goat cheese and roast tomato timbale
Fresh seasonal salad served with vinaigrette
Main Courses
Duchy of Cornwall free-range pork sausages with creamed potato and roast red onion jus
Grilled prawns in coconut and coriander sauce served with cashew nut and shallot rice
Roast vegetable lasagne with red pepper coulis
Main course salad of duck confit, foie gras, baby Kenyan beans and shallot with bitter orange dressing
Dessert
Lemon and passion fruit tart
English Stilton, Somerset Camembert and Butler's Secret cheese
Fresh fruit
Coffee, decaffeinated coffee or tea
Selection of herbal teas - peppermint, blackcurrant, apple or camomile and honey.
__________________
I have always found in Club World that the starters and desserts have always been particuarly good and well presented with the main being a bit disappointing. Alas this was no exception, in the last few weeks people on the British Airways forum had been saying about the decline in catering in the forward BA cabins and I thought this was going to be awful. The starter was excellent, very tasty well presented and left me wanting more! And this had raw tomato in it, which I usually take a real dislike to, in this case I couldn't get enough. The main option was harder to decide however the prawns won over in the end, I almost regretted it despite being a big prawn fan, a bit of a mish-mash with the rice and with hindsight I'd have gone for Mary's recommendation of the Royal sausage The dessert again was a much better than the main, although a matter of personal taste meant it lacked far behind my best ever inflight dessert, the chocolate morello. After the dessert was taken away I took an apple from the fruit basket and also a glass of brandy.
The inflight entertainment consisted of trying to decipher which channel was which as it formed very little of what was in the film guide and although I was hoping to watch Kill Bill Vol 2 an unfortunate problem with the particular channel caused me to switch over to watch Laws of Attration with Julianne Moore, my favourite actress and Pierce Brosnan. A pleasant way to pass some of the 11hr flight and with a couple of glasses of the rather pleasant Meursault. How pleasant. As a student I can hardly call myself a wine buff but was thankful Claudia kept me topped up with the Meursault without prompting! After the movie I chose to bed down and get some shuteye, based on previous 11hr flights in recent times I figured I was going to be sick of the cabin after 13hrs (add two for ground delay) and also to try and keep myself from nodding off within 30mins of landing at San Francisco. I thought I did pretty well, waking up some two and half or three hours before landing, I am sure the new headphones had something to do with that as they were comfortable to sleep with. The rest of the cabin was in a similar state to myself with all but a couple of window shades down and I felt after taking a long sleep I needed to stretch my legs. I popped into the galley to see Claudia as I always feel slightly pretentious hitting the call button.
I took my newly refilled Kir Royale downstairs for the walk of shame down to the back of the 747 and up the other aisle, after all I wasn't keen on pacing up and down the five rows of seats on the upper deck for five minutes! Does taking a glass of champagne count as pretentious? I suspect not although if I was in the supplied First class pyjamas perhaps so!
Despite this passengers in the first few rows of World Traveller Plus and World Traveller did look at me as if I had two heads and I ducked and dived around numerous people and legs dangling in the aisles before getting a couple of snacks from the Tuck Box in the economy class galley. I then made my way upstairs to enjoy the view passing over western Canada and Washington state. This offered particularly excellent views although my camera failed to pick them up. It was at this point we offered a 'light meal'
***LIGHT MEAL***
Sandwiches of gammon ham with tomato
and English mustard mayonnaise
and Wensleydale cheese with carrot chutney
or
Sandwiches of egg mayonnaise with cress
and chicken Caesar
Savoury danish pastry
Flaked almond Bakewell
Coffee, decaffeinated coffee or tea
Selection of herbal teas -
peppermint, blackcurrant, apple or camomile and honey
_______________________
Personally I thought this was a poor meal, a similar amount of food, if not less than on previous 8hr Club World flights to Washington DC. Although this was presented much worse. In comparison to the London-Washington flight nine months ago the sandwiches came wrapped and this just looked poor and something more suited to a meal found in World Traveller. As such I just expected it to not taste as good and so took not much more than a nibble of some of the sandwiches before giving up to instead look out the window.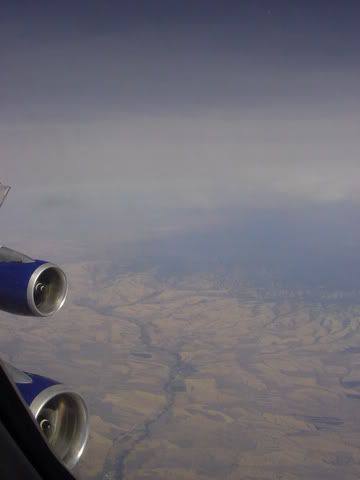 Before long the views of Washington state became a little greener and I took my customary visit to the washroom to freshen up before landing. The new styled Molton Brown amenity bag has a nice little set of toiletries and the mouthwash does contain a deceptively large amount of strong mouthwash in it, although I always end up bringing along my trusty BA First Anya bag from a few trips ago. It fits nicely in my carryon and I can get all the stuff I don't get in the amenity bag in it; wax, hairbrush, proper toothpaste and an electric toothbrush at a squeeze.
The flight came in over the west of the bay area across Marin County and with the Golden Gate Bridge and downtown San Francisco. The captain forewarned us of our spectacular approach and I was not the only one with my camera out snapping away.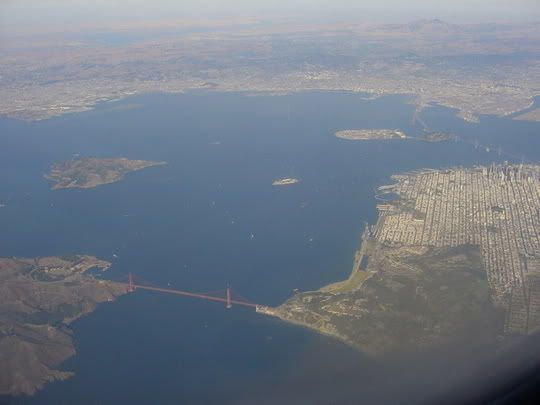 We then banked right around before landing on runway 28L and during taxiing to the terminal building I could see a couple of the fabled parallel landings in progress. Despite the 2hr 20min late departure from Heathrow we arrived exactly an hour late, not bad going. I gathered my bits from the around my seat as we waited for a Virgin 747 to pass us before we emptied the overhead bins and exited the aircraft, the WT+ passengers held back for us to disembark. Having previously experienced lengthy lines at Dulles seeing a number of immigration officials waiting for passengers was a welcome sight. Although the plane had only parked up five minutes before my bag was at the carousel before me, complete with orange BA Priority baggage tag. The first time I had seen one in action on BA, since I believed they had dropped this 'privilege'. I passed round the corner into the public area and saw Kirstin waiting just ahead and we quickly made our way to the BART for the 40min ride into town.
__________________________
BA286 San Francisco-London in Club World (Seat 63A) Boeing 747-400 - G-CIVJ
Kirstin sat as I went to check-in, the Economy line stretching for what looked like an eternity and the First check-in also had a couple of people in line. I had the best of all and so stepped into the line, a customer in the Y line stepped out in front of me and called across to the J check-in lady to ask if his AA Plat card would allow him to get in the J queue, obviously not an FTer Soon after I passed him a passenger in business dress stopped me and said it was for Business Class only, I just ignored him and went to check in. Perhaps it was the sailing club t-shirt, flip flops and shorts that made him think otherwise. I always look back on similar occurences and just wished I had smart ass answers prepared! The check-in agent was superb and unlike the other passengers chose not to discriminate the fact I was dressed like something out the Americas Cup. She was very efficient and friendly and even noted the fact I had checked-in online and asked how I found it. She then spent the rest of the time complimenting me on the fact I look very similar to Tom Cruise Flattery will get you everywhere! Perhaps a little stretch of imagination required although this was not the first or second time someone has mentioned the likeliness to me! I then opted to spend the maximum amount of time with Kirstin as possible so we went to an landside bar and reminisced although as always tinged with a hint of sadness. At around 6pm I said my final goodbyes and passed through to airside always looking back from security, those final glances are the hardest I then tried to gather myself together and made my way to the downstairs Terraces lounge.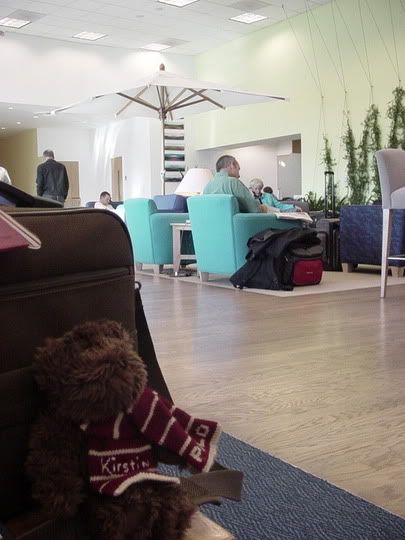 I helped myself to a glass of white and then the First passengers came through in a group to board through the library. I didn't go immediately with the rest of the J passengers but chose to finish my glass of wine. I was then given the once over again by the security chaps before fighting my way across the constant stream of Y passengers and taking the elite jetway onboard. The downstairs J cabin was near empty as I passed through on the way to the upper deck stairs where I was welcomed on board by the upper deck purser. The cabin was around half full when I boarded and it wasn't long before all 20 seats were occupied. I took my seat and got out my minidisc player and headphones to keep me occupied before pushback which occurred some 35mins after boarding. We took off at 7.25pm some 25mins later than scheduled and banked round to the east over Reno, NV and out towards Wyoming where Devils Tower and the oddly named Pumpkin Buttes (sticks in my mind in particular) were highlighted on the moving map. Dinner was served soon after take off:
***DINNER***
Appetisers
Prawn cocktail
or
Sun dried tomato and basil savoury cheesecake on walnut, almond and pecan nut biscuit
Fresh seasonal salad served with vinaigrette
Main Courses
Grilled fillet steak in mushroom and red wine sauce
Seared Atlantic salmon with dill and asparagus
Mushroom cappalletti pasta
Main course char-grilled chicken Caesar salad
Dessert
Triple chocolate brownie
Selection of cheese
Fresh fruit
Coffee, decaffeinated coffee or tea
Selection of herbal teas - peppermint, blackcurrant, apple or camomile and honey
opted for the prawn cocktail which was superb, followed by the steak and then chocolate brownie washed down with a Kir Royale, glass of Meursault and water. Once again the main course despite being good was worst of the three courses. The inflight entertainment experienced some problems and keep requiring a ten minute reboot and in normal circumstances I would have watched a film (either the 'Day After Tomorrow' (seen already) or 'Mean Girls' (Lindsay Lohan )) but due to the problems and the fact I was starting to flag as soon as dinner was cleared I got my eye shades out from the amenity pack and put the bed down. I fell asleep very easily and slept like a baby, only waking to see, according to the moving map, us just off the coast of Ireland and after a leg stretch down to the back of the plane I was just in time for breakfast, the Continental offering.
***CONTINENTAL BREAKFAST***
Orange juice and ruby grapefruit juice
Our special wake-up energising smoothie (probably got absinthe in it )
Fresh seasonal fruit
or
Cereal with fresh milk
Hot bacon rolls
or
Cheese and black pepper savouries
Selection of breakfast pastries
Coffee, decaffeinated coffee or tea
Selection of herbal teas - peppermint, blackcurrant, apple or camomile and honey
____________
I opted for the bacon roll which has been pleasant on previous flights although this time was ruined by cardboard-esque, dry bread. I feared for my teeth and so just ate the bacon. I wasn't that hungry anyway and went to the bathroom to sort myself out a little before flying over Oxford and round the north of London and touching down on the southern runway at Heathrow. You know you are arriving in London because you see the streaks of water running across the window on final approach Total flight time: 9hrs 5mins After a short taxi round to the stand we disembarked and I power marched my way in front of most of the people on my flight (most on cell phones) to make immigration line shorter. If this was anything like San Francisco then my bag would beat me there Well I did pass them all and was first to the carousel but alas no bags, in fact all the tagged standby bags came off first and the people who I saw waiting in the First line and SFO took them. I was waiting for at least twenty minutes before my bag came around alas without priority tag, only the little silver Club World tag.
I wheeled my way up the stairs and through the lines of people on Terminal 1 departures level and past Zone R where I had been just five days before and to try out the Terminal 1 Arrivals Lounge for the first time.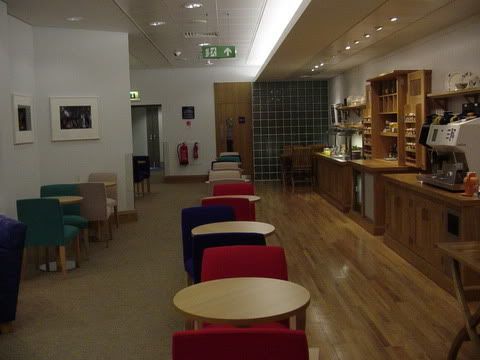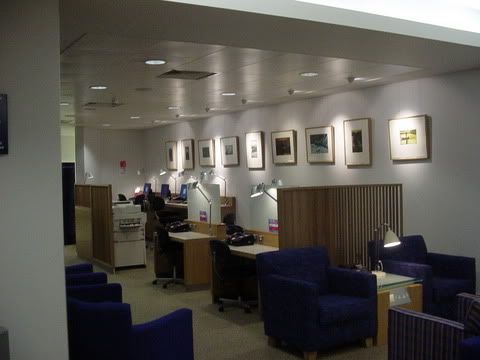 The lounge was very much akin to other Terraces lounges although I chose to make use of the showers available to me. It was great to freshen up at the airport and come out smelling rather nice, got to love those Molton Brown aromas! I called my driver (my Dad) who told me he would arrive in ten minutes on the departure ramp. I was joined by only one other person in the Arrivals Lounge where I quickly checked my email and took a few photos since there seems to be a lot of myth about the Terminal 1 Arrivals Lounge on the BA board.
Again as for the arrival in San Francisco I failed to show any signs of jetlag, and didn't feel the need for sleep in the afternoon although getting up the next morning for work was a little harder than normal....
[Edited 2004-10-13 23:59:41]