Vacation to Phuket with Air Asia!
Note: I didn¡¦t put too much effort in writing this report. It¡¦s mostly because I have more exciting trips coming up. However, I wanted you guys to enjoy the pics, so that¡¦s why I mostly posted pics and no text¡K Enjoy!
Introduction
After 2 great holidays in September to Bangkok and Vietnam, it was time for some serious studying, sadly. October was hard as I had lots of exams, projects and presentations for my university classes. I rarely went out, and most of my friends thought I had some weird disease¡K (namely, Docpepz).
Half way through the month of October, I had decided that I really wanted another vacation after my last project was due in early November (ok, this makes me sound like a spoiled brat¡K but I¡¦m not!). When I realized that my nice tan was fading away, I quickly started looking for flights to Phuket, Thailand. It¡¦s a short flight, just enough for a weekend trip, and I¡¦ve had heard from friends that it¡¦s a crazy party island (well, I think anywhere in Thailand is a crazy party!).
I had 4 choices, Thai, Silk Air, Air Asia, and the newest LCC in South-East Asia, Tiger Airways. Air Asia had the cheapest flights, 150$ SGD (90$ USD) round-trip for a 1.5 hour trip. Considering this was a weekend flight, where fares are generally more expensive, I thought it was a good deal, so I booked it! Joining me on my trip this time was my Australian friend Tayo. He booked his flight a week later (more expensive fare hehe), whereas Rachel and Hanna (English girls) said they¡¦ll meet us at the airport in Phuket as they¡¦ll be coming in from BKK.

Friday, November 5th, 2004
Route: SIN-HKT
Flight #: Thai Air Asia
Equipment: B737-300
Registration: 9M-AAV
Flight time: 1:35
Departure Time: 12:45pm
Arrival Time: 1:20pm

Woke up fairly de-stressed that morning; I had given in my last project the evening before, so the idea of ¡§no more school work for the next week¡¨ was comforting. I only took my backpack for this short 4 day trip, so packing took less than 15 minutes (surprisingly¡K I¡¦m usually such a girl when it comes to packing).
I had planned to take the MRT to the airport to save money. It¡¦s only 2$ with public transportation, compared to 20$ with a cab (well actually 10$ considering I would be sharing the cab with Tayo). Since it takes about 1 hour to get from our residence to SIN, I thought about leaving at 9:30am. But Tayo hates public transportation, and in no way was I able to convince him in saving $$, so we ended up taking a cab¡K I took advantage of the extra time we had and ate breakfast. We finally left at 10:30 and reached the airport by 10:45am.
Check-in
Air Asia operates from Terminal 1, which is a first for me as my two previous flights were with SQ (Terminal 2). There weren¡¦t many people at the Air Asia check-in.
Air Asia check-in and little Tayo waiting in line.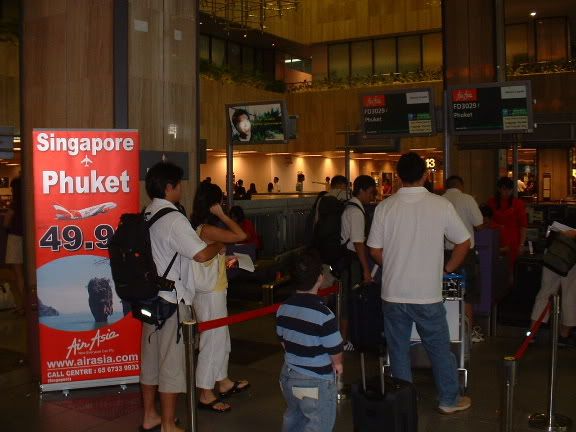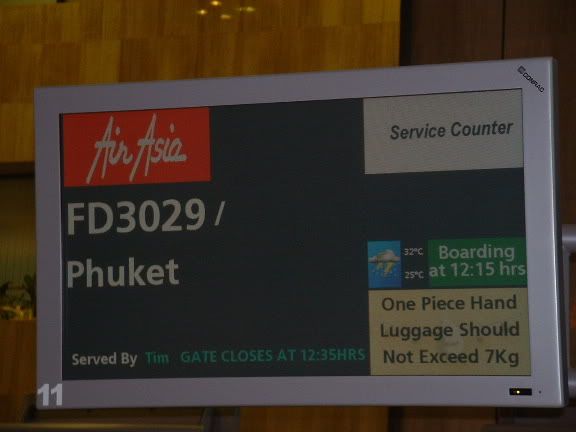 A friendly agent greeted me¡K kinda nerdy looking though, Singaporean nerdy style¡Kƒº I gave him my booking reference and my passport. He had a list of passengers printed out, and he crossed out my name.
¡§Any suitcases you would like to check-in?¡¨
¡§Nope, I¡¦ll keep my backpack with me¡¨
¡§Ok, here¡¦s your boarding pass, have a good flight!¡¨
So just to let you guys know, this whole process took literally 20 seconds. No computers: everything was manually done. Boarding passes were previously prepared; the agents just wrote my name on it, and voila! Very efficient! The boarding pass was on some cheap paper¡K but who cares¡K
I headed to immigration, which is a breeze as usual with my student¡¦s pass¡K no questions asked. Then it was spotting time! So, what is available today?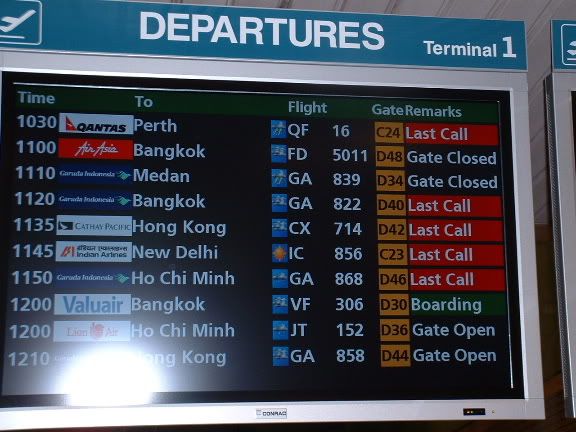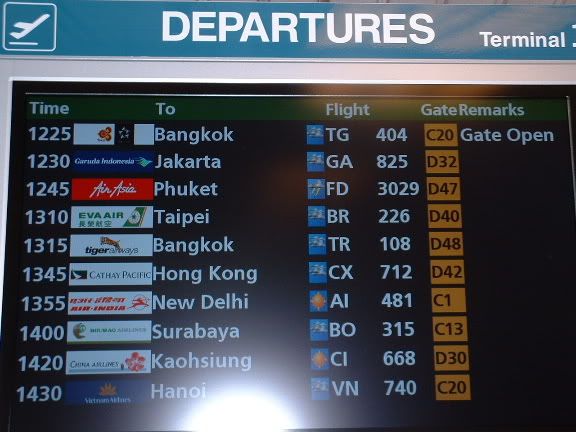 Most of you don¡¦t know my obsession with Australia (drop me an email, and I¡¦ll tell you all about it), so when I saw QF departing to Perth on the info screens, I got all excited and ran to gate C24. Half way through my marathon, I thought ¡§Shit, I left Tayo behind!¡¨ So I ran back looking for him, and the poor guy had trouble keeping up with me. So I explained to him that I was gonna run around like a 10 year old kid for the next hour trying to catch good pics of planes, so it was better to separate and meet up at our departure gate later on. He agreed, and I headed back to gate C24.
On my way there, TG A330-300 bound for BKK.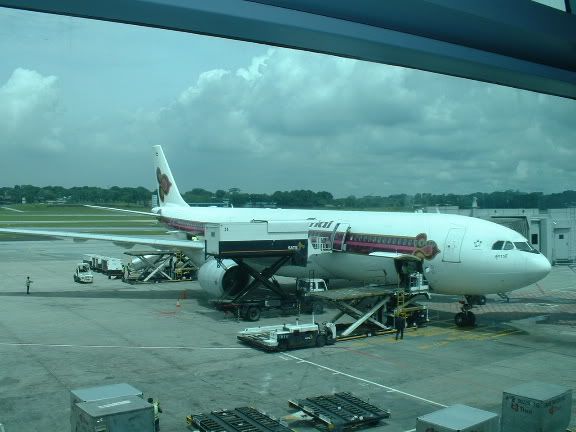 Valuair and Garuda!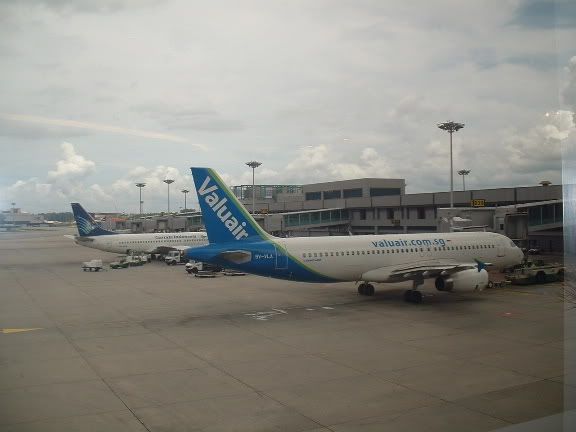 As I was getting close to gate C24, I realized I wasn¡¦t only going to encounter any QF plane, but it was Wunala Dreaming, one of the most beautiful liveries in the world. This was the first time I ever saw her.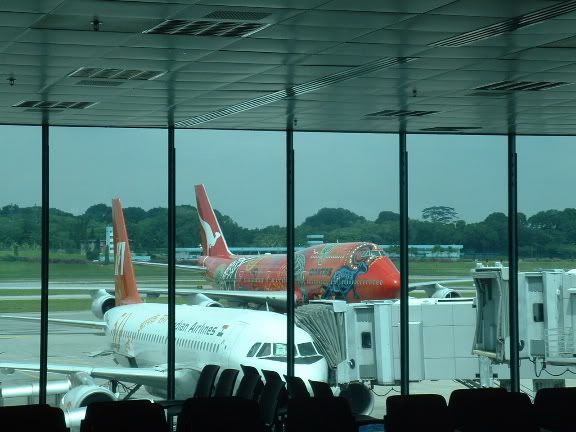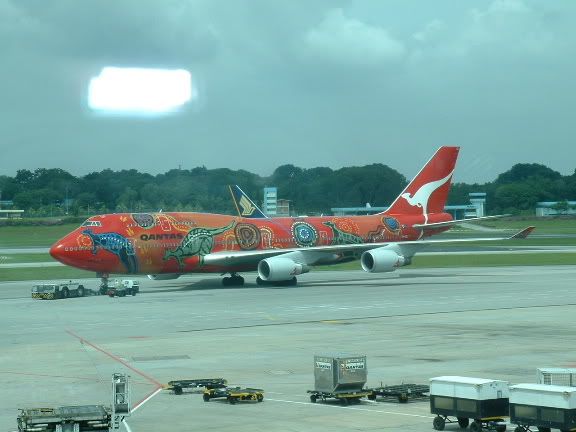 I was more than ecstatic, I just couldn¡¦t control my excitement anymore¡K I was actually wondering a couple of weeks before if I would ever have a chance of seeing her during my stay in SIN¡K
I tried finding a better location to take pics of planes taking off. I noticed some coffee shops on the second level with nice viewing terraces. The terrace was actually a smoking area, but I didn¡¦t care. I was trying to see if there was a nice view of the tarmac from there. I actually had to go behind the bushes and fake trees to get a decent view of the tarmac action.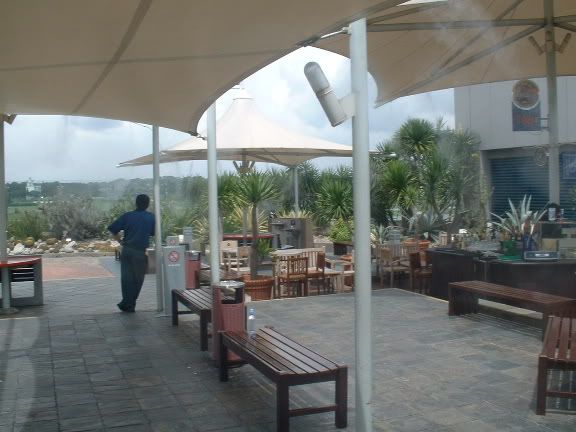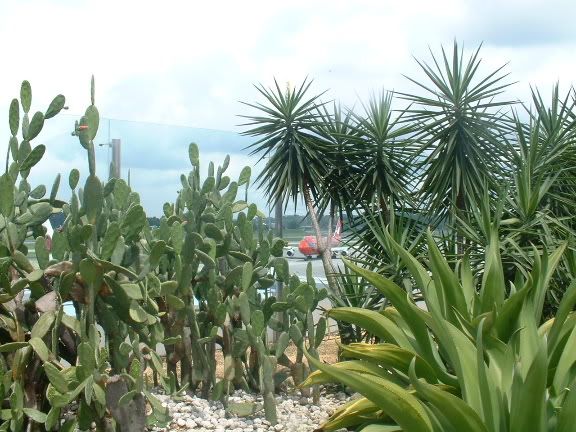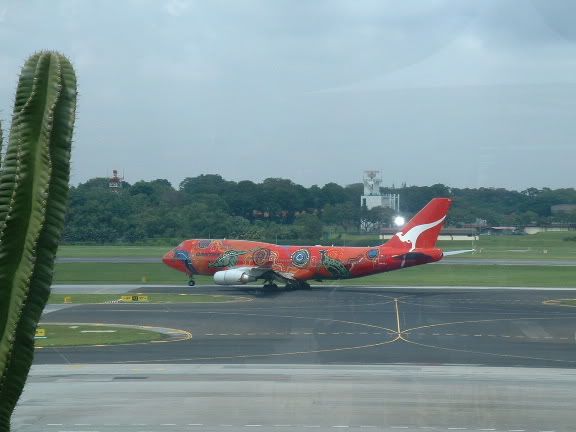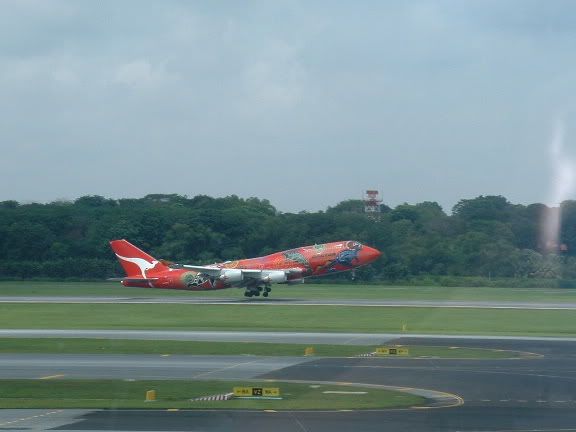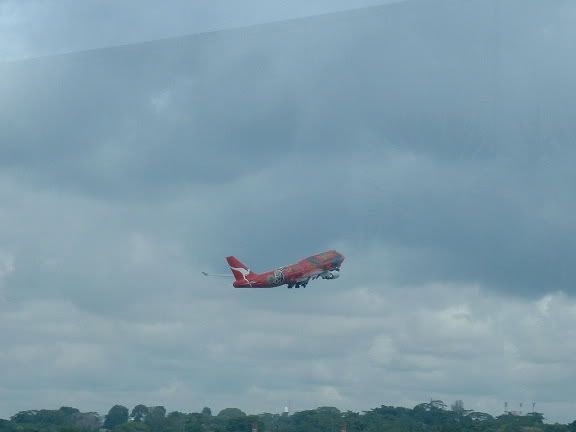 That was an orgasmic experience, to say the least. These are other pictures I took from the terrace.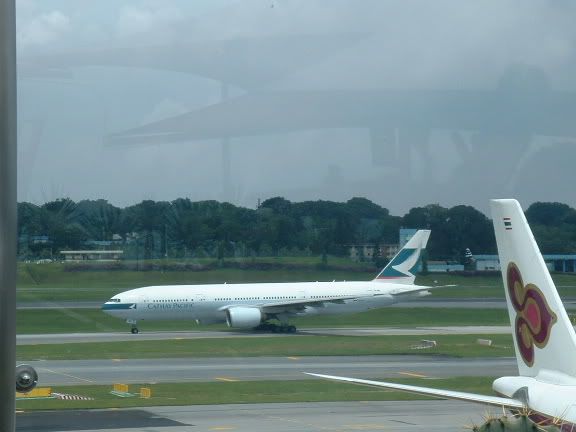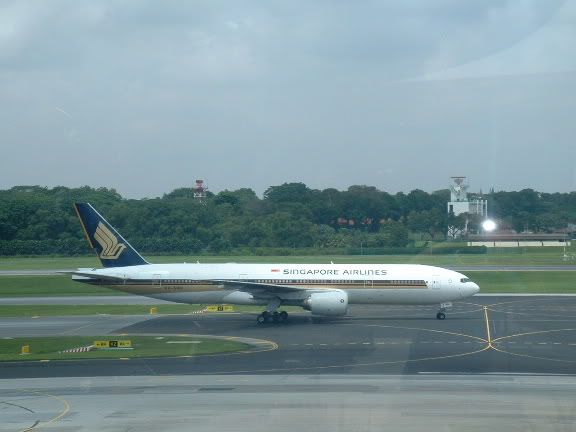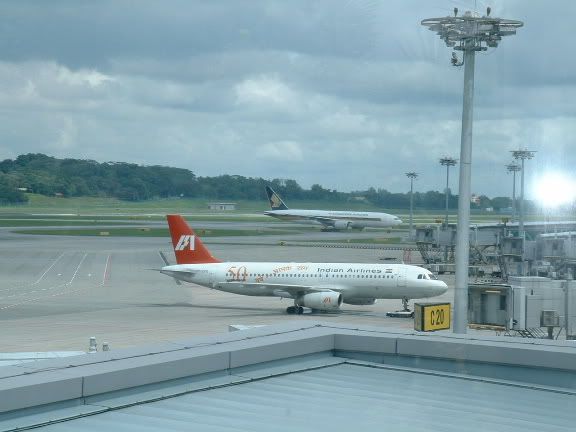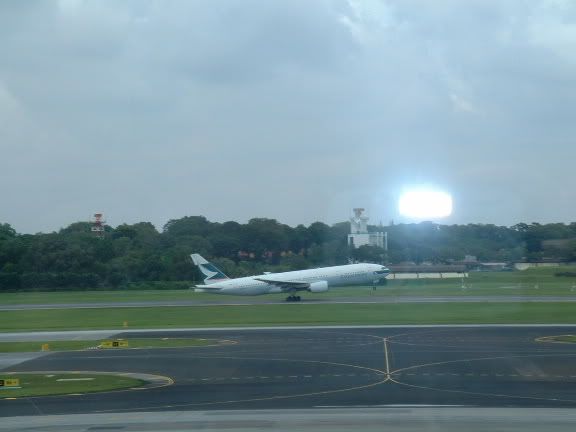 I went back inside and decided to take a couple of pics of the several restos and coffee shops in Changi.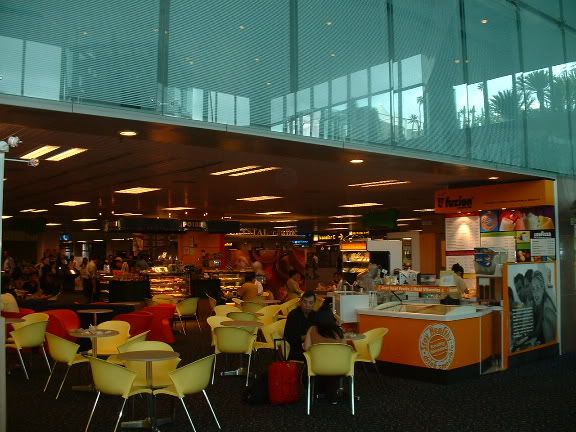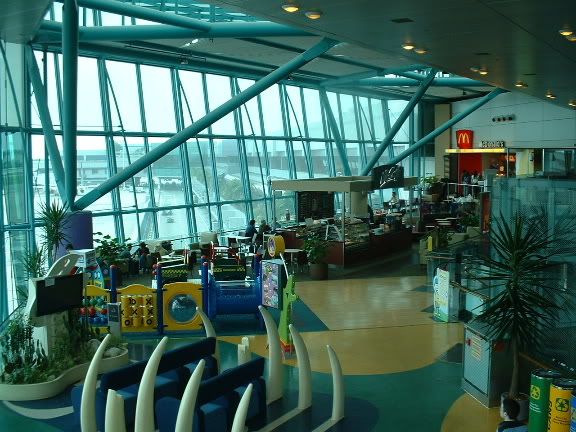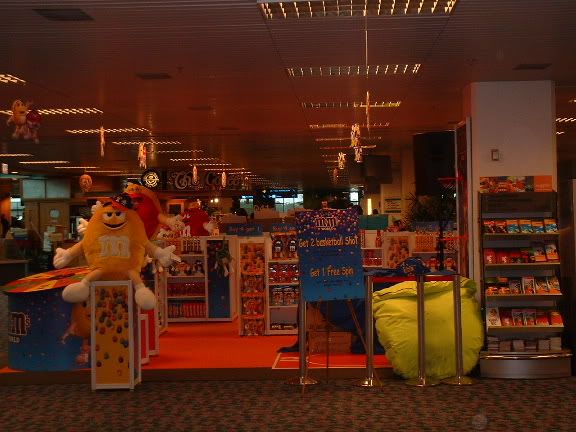 At around noon, it was time to head to my departure gate, D47.
This is the D concourse, spacious and beautiful.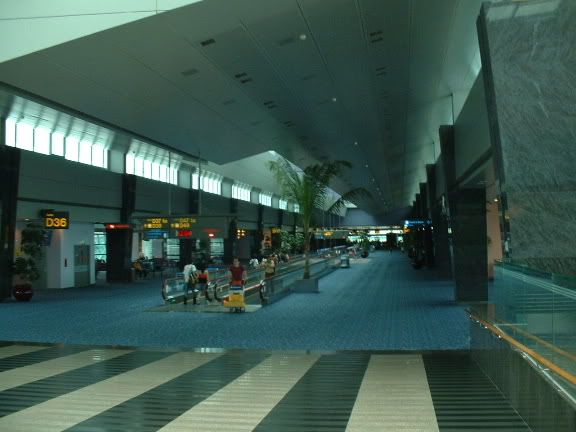 Boarding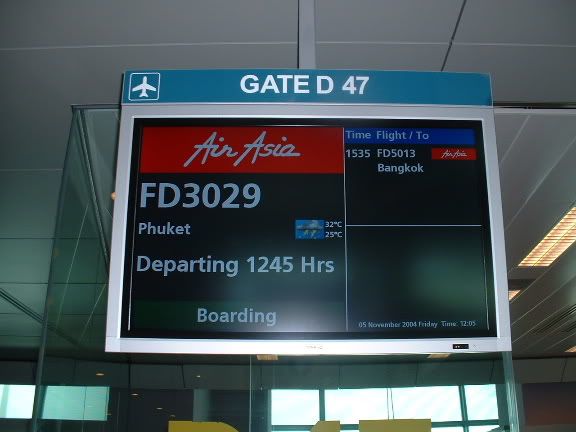 Air Asia flight 3028 coming in from HKT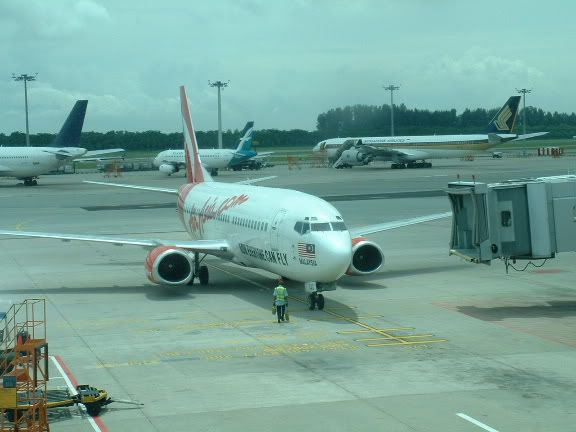 That was my first time experiencing a ¡§free-seating¡¨ policy. Luckily, today¡¦s flight had a light load (30 to 40%), therefore, I was guaranteed a window seat, so I wasn¡¦t really worried¡K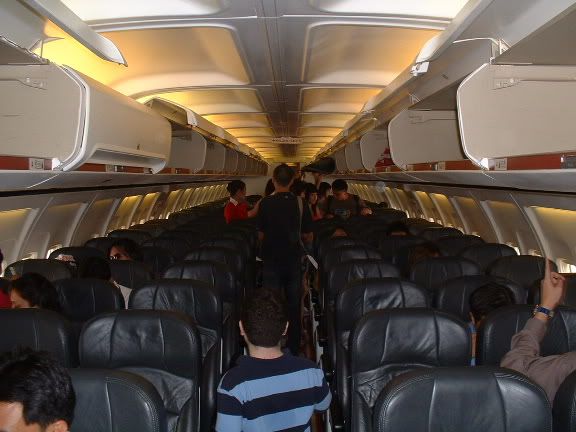 Pax tend to fill up the first several rows for some reason¡K I took advantage of it and grabbed the emergency exit seats. Plenty of legroom!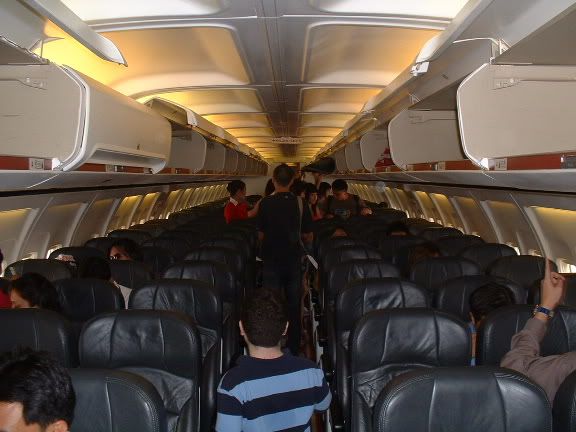 Tiger Airways to BKK.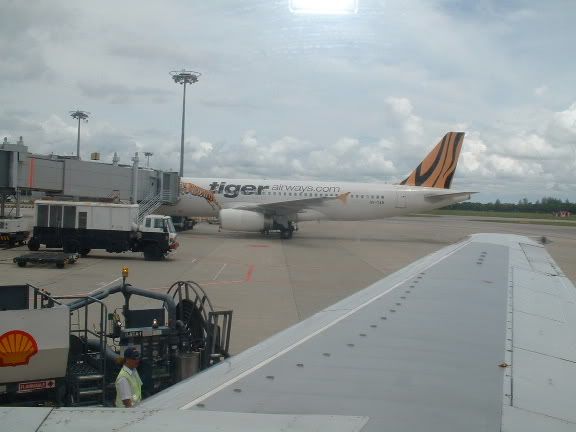 We waited for a couple of pax, and shortly after, doors were shut and we were ready for push-back.
Flight
There were no TV monitors on the plane, so safety demo was made traditionally! (long time I haven¡¦t seen that!)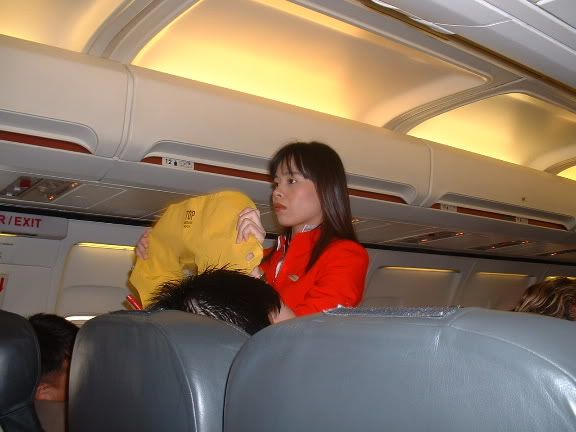 We taxied pretty quickly to runway 02L. This is a sneak preview of Changi¡¦s new Terminal 3!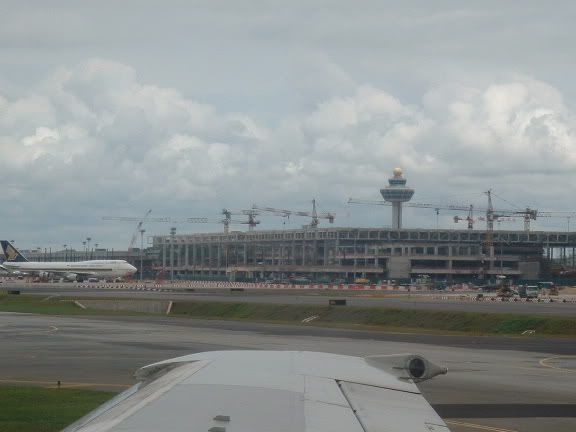 Cleared for take-off!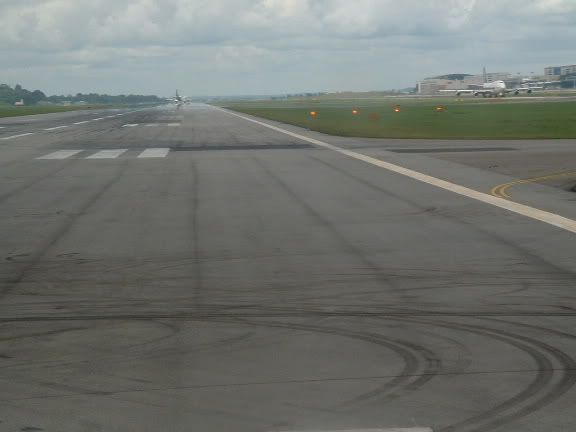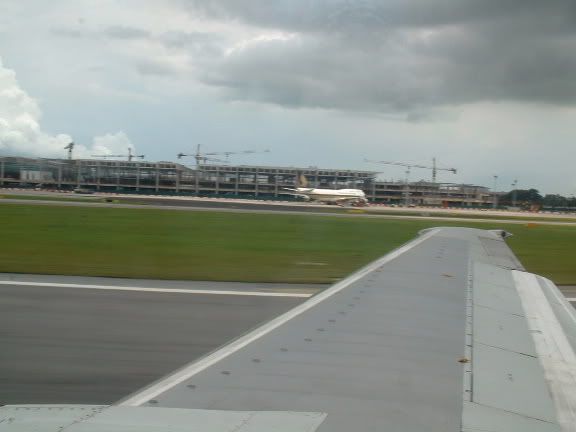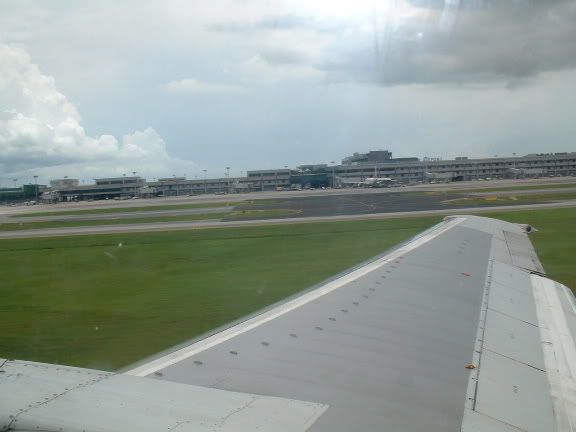 Here¡¦s a nice view of the Changi¡¦s Terminal 1, C and D jetties.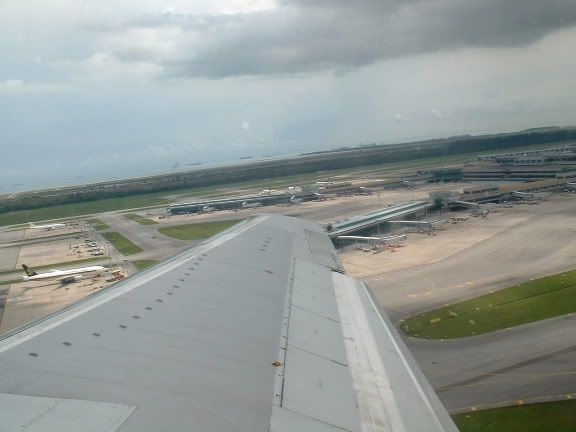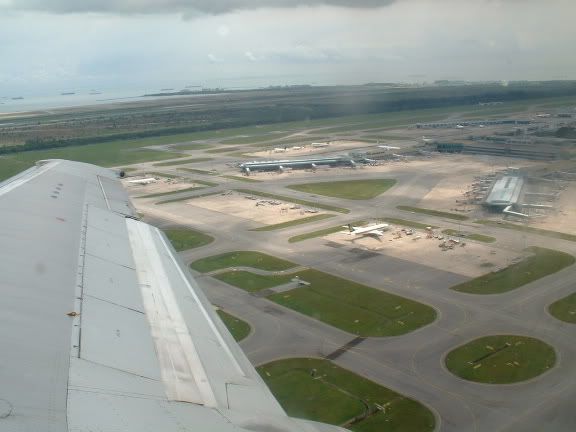 And up in the clouds we went! I like the red engines!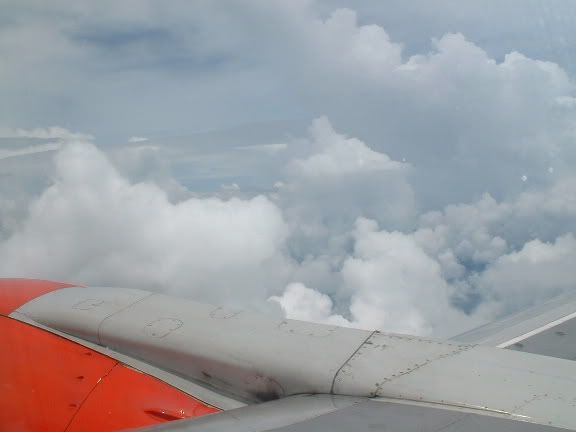 The captain announced our route today. We would fly over KL and on to Malaysia¡¦s western peninsula, right before commencing our descent to Phuket.
Empty flight today.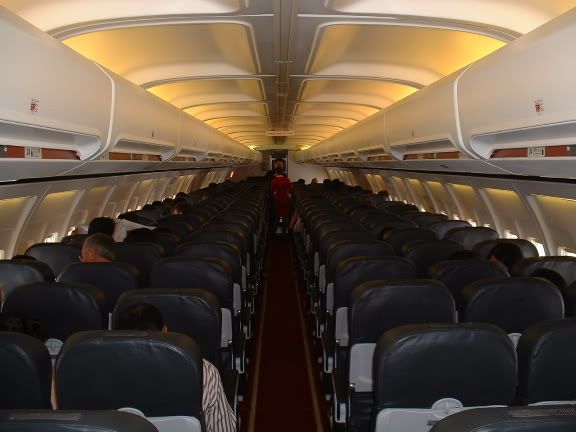 Nice leather seats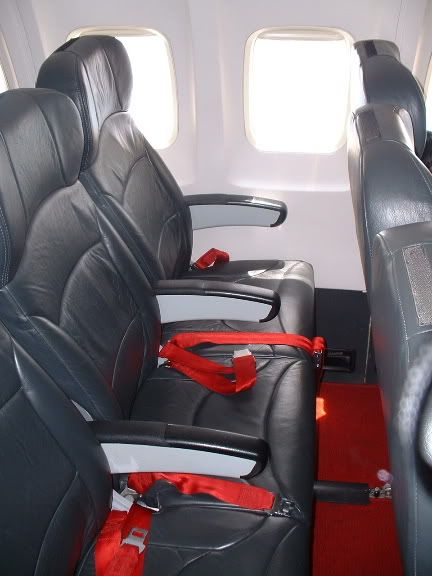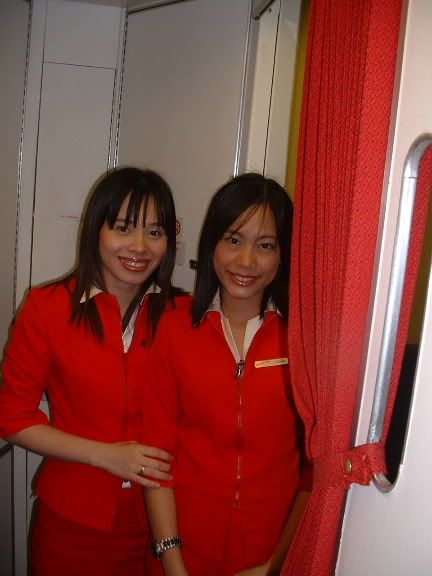 I played some cars with Tayo, wrote a paragraph in my journal, and shortly after, we started our descent.
On downwind to HKT. This must be either Katon or Karon beach in Phuket.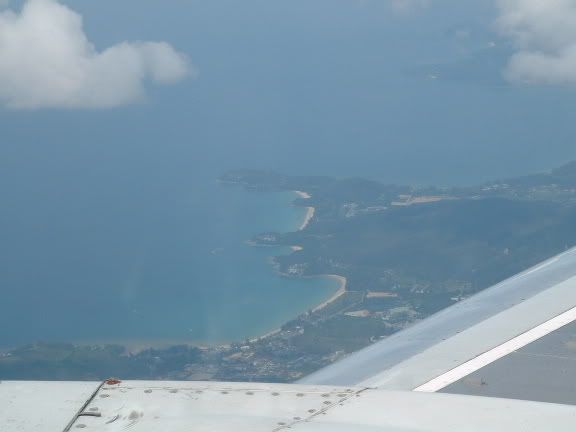 On final.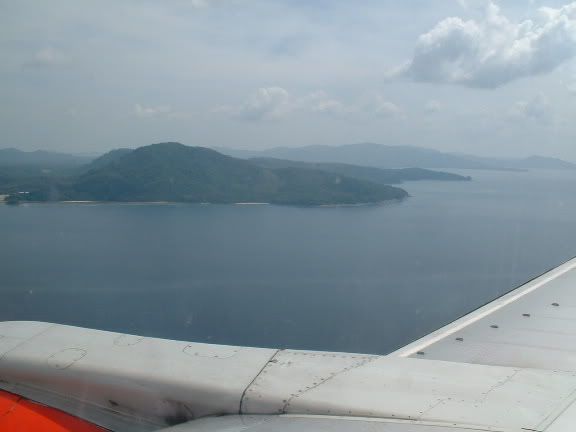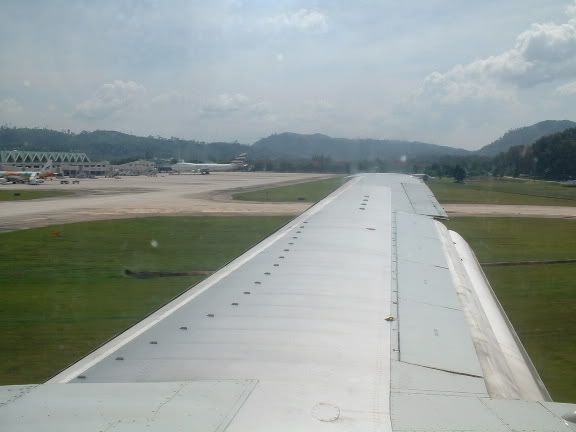 Cool control tower!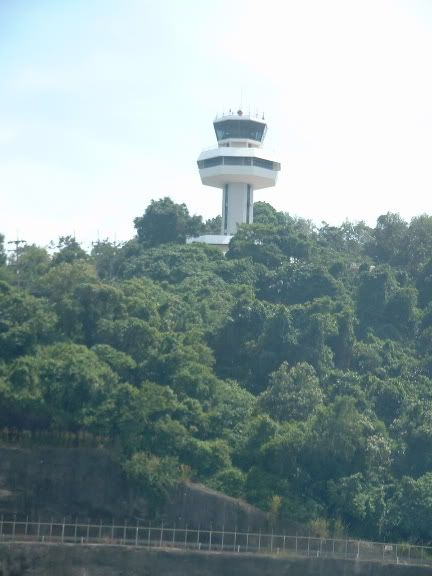 These outfits are funny¡K are they actually the ground crew?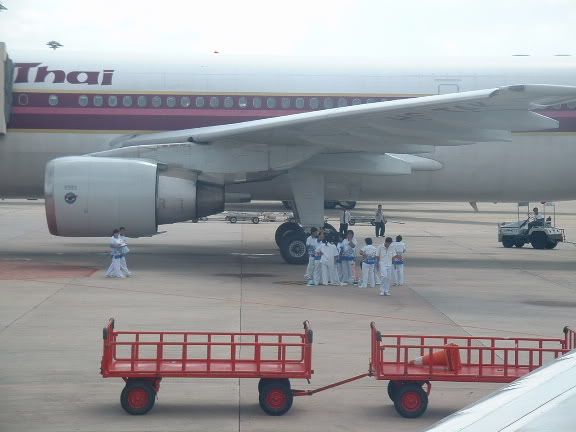 Arrival
Surprisingly enough, the terminal looked much nicer than BKK¡¦s.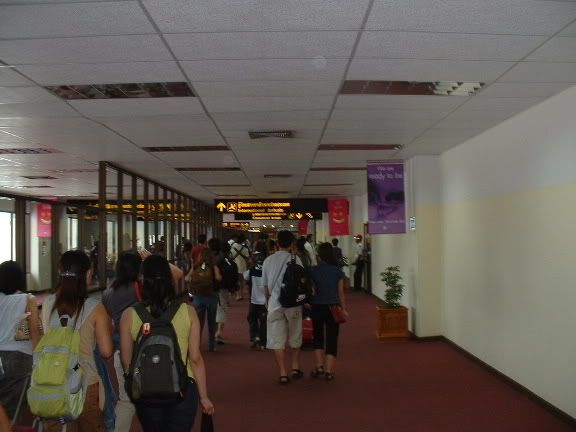 We passed immigration (another stamp in my passport! Woohoo!!) and headed to the baggage claim where Tayo was collecting his small suitcase.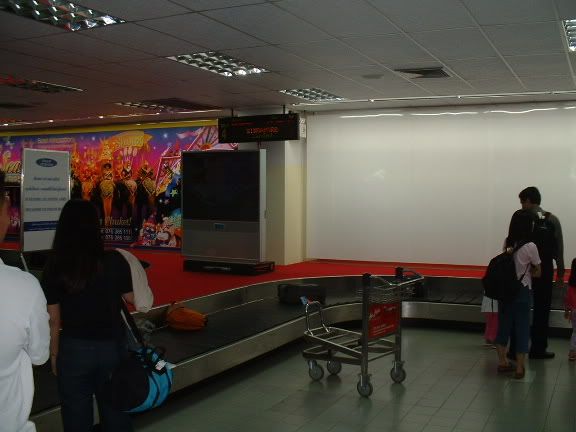 Then we proceeded to the exit where we met Hanna and Rachel. They enjoyed their small vacation in Bangkok, but now, it was time to explore Phuket!
Vacation in Phuket
Ok, I have never experienced such craziness in my life! I think Thailand as a whole is one major party 24/7. I loved it, but I know some people can¡¦t stand the crowd in Phuket. If anyone needs more info and pics, drop me an email.
Return to Singapore (sigh¡K)

Monday, November 8th, 2004
Route: HKT-SIN
Flight #: Thai Air Asia
Equipment: B737-300
Registration: 9M-AAO
Flight time: 1:40
Departure Time: 9:30am
Arrival Time: 12:10pm
View Large
View Medium


Photo © M Radzi Desa
View Large
View Medium


Photo © Andrew Hunt - AirTeamImages
We woke up early, around 6:30am, ate breakfast, packed our bags, and took the 30 minute shuttle bus ride to the airport. We arrived at the airport at around 8:15am. it was a pretty busy morning with a couple of international flights departing to Singapore (Tiger, Slik Air, Air Asia) and Condor to Frankfurt. Domestic flight had Thai to BKK and Bangkok Airways to Koh Samui and BKK.
Check-in
Again, very few people in line, most pax seemed to have checked-in already.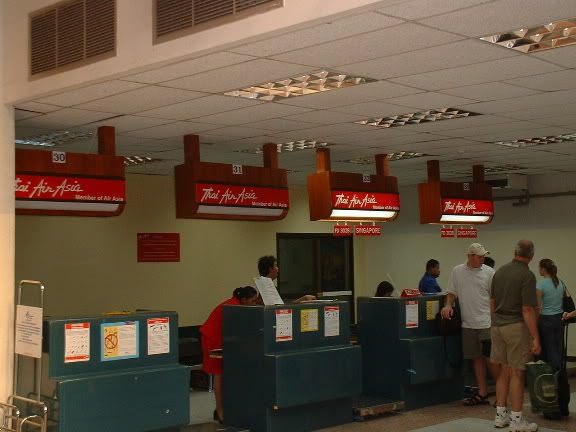 Again, check-in was fast and painless.
My boarding pass this time looked like a cheap receipt from a grocery store¡K oh well, anything to keep low operating costs I guess¡K I don¡¦t really care to tell you the truth, as long as they keep low fares, I¡¦m happy.
We bought our 500 Baht (around 13 USD) departure tax and headed to immigration.
Departure lounge at HKT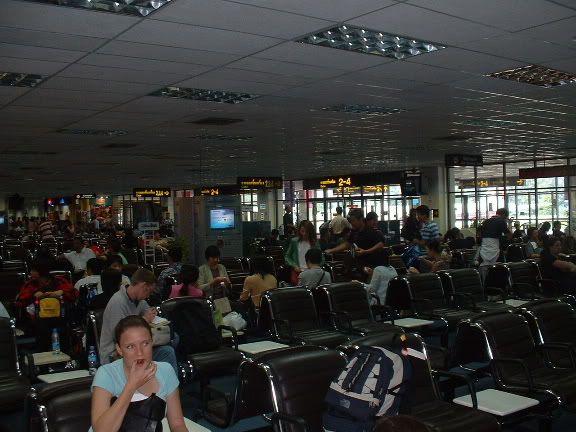 Then, we had just enough time to write 10 postcards each, buy stamps and mail them to our friends in our respective home countries. Mailing in Thailand is slightly cheaper then in Singapore.
At 9am, we should have started boarding, but our plane had just landed¡K
I took advantage of it and shot more pics¡K.
Tiger from Singapore touching down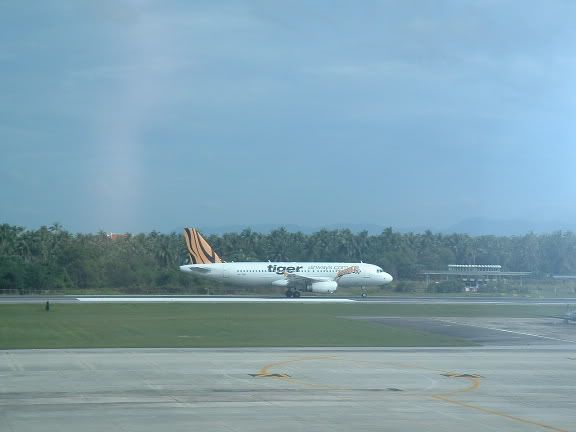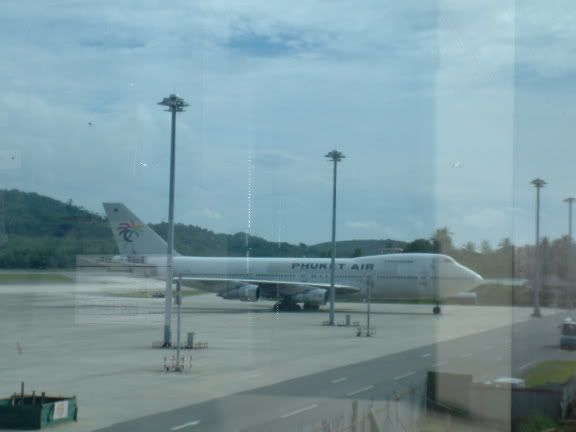 Royal Barge Thai 744!! This is truly a weekend of special liveries for me!!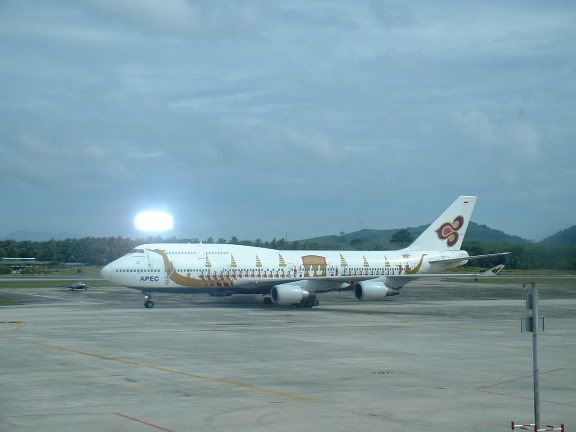 Boarding
Around 9:15, we were called for boarding. Air Asia will be using a bus today to board.
On my way to the bus¡K Condor 767 to FRA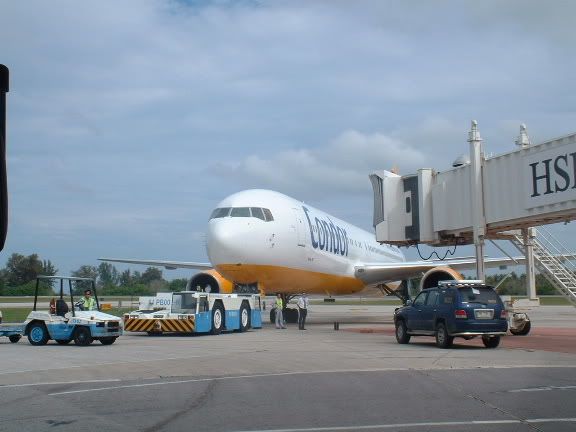 We reached our plane parked at the far side of the tarmac. I kept on taking pics, until the FA told me to hurry up on board the place because they were running late.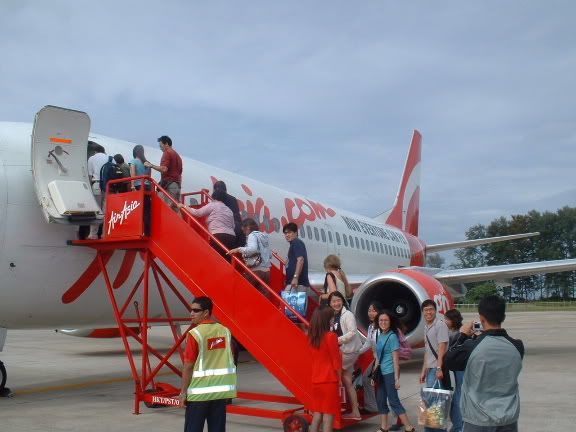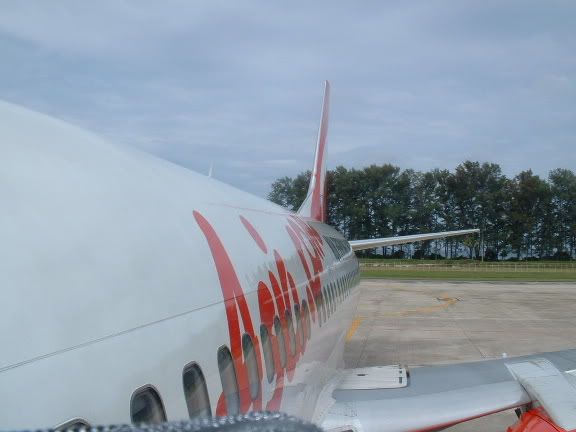 Again, a light load today, I wouldn¡¦t think more than 40% full. I went all the way to the back and got myself three empty seats.
Orient Thai (charter flight)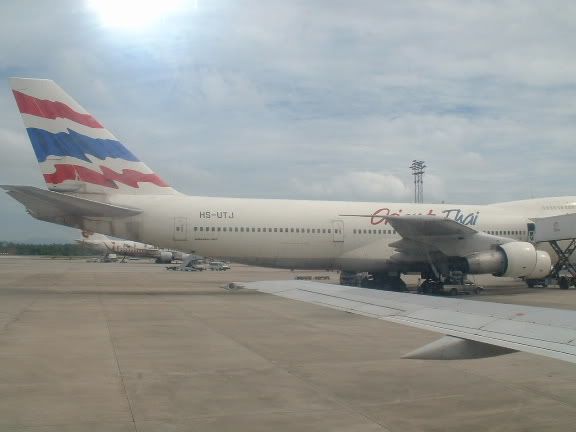 After a couple of announcements, doors were shut and we were on our way!
Flight
Silk Air from Singapore.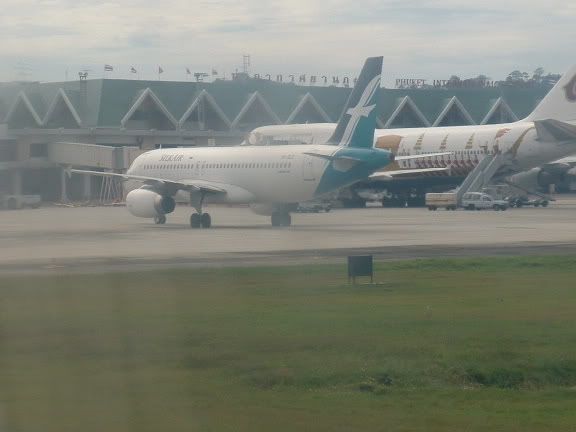 Cleared for take-off!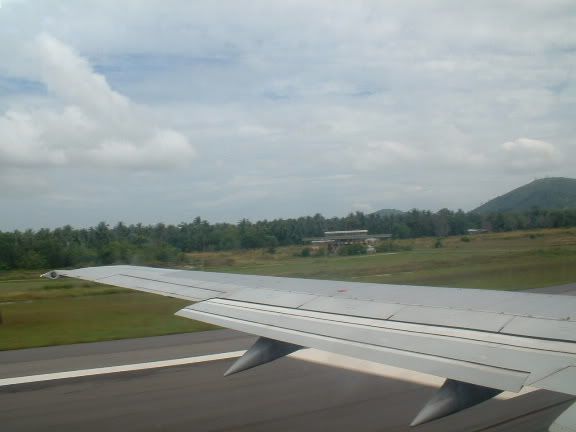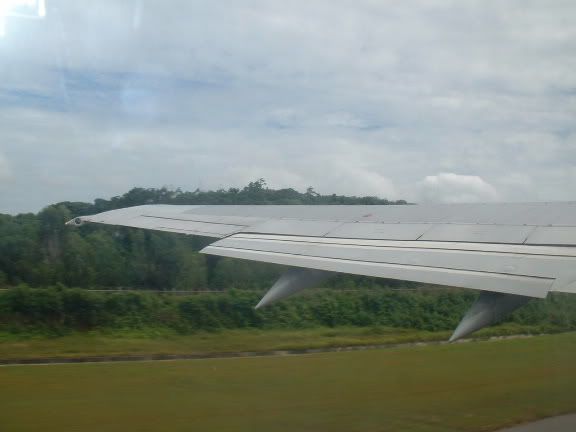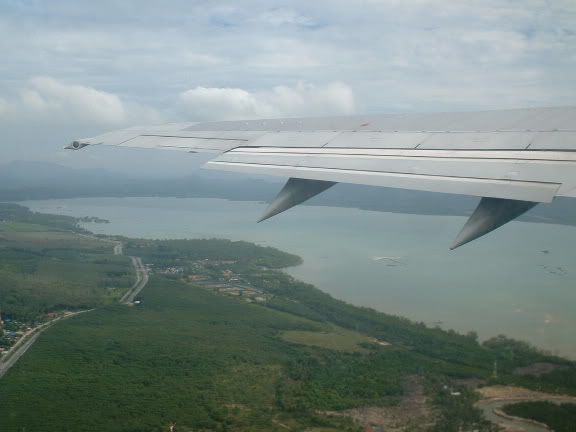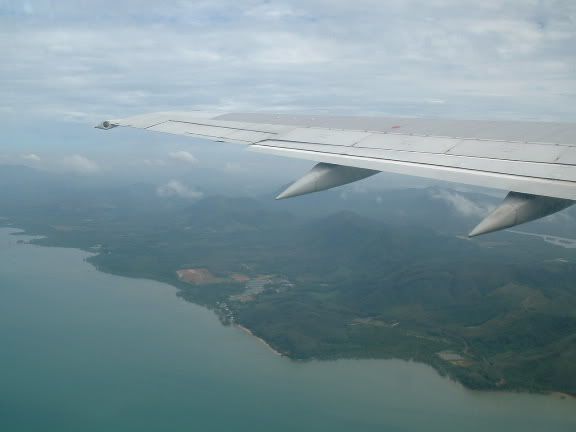 Beautiful scenery here, enjoy!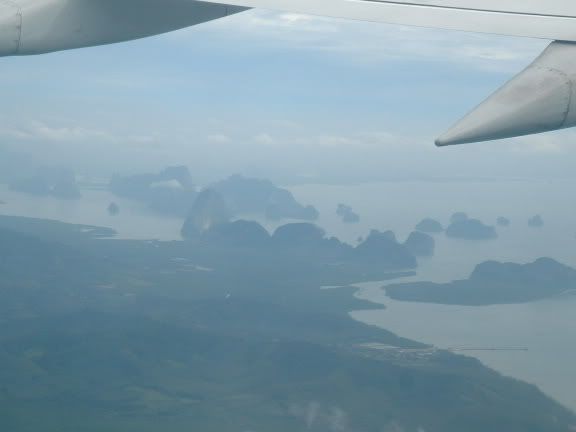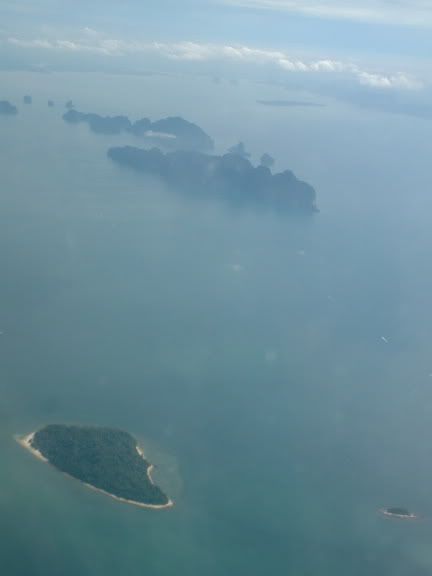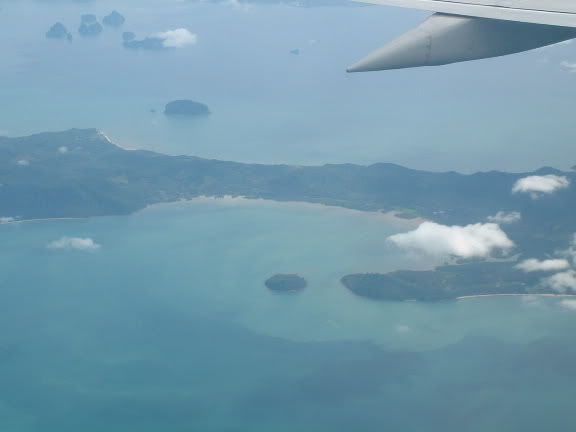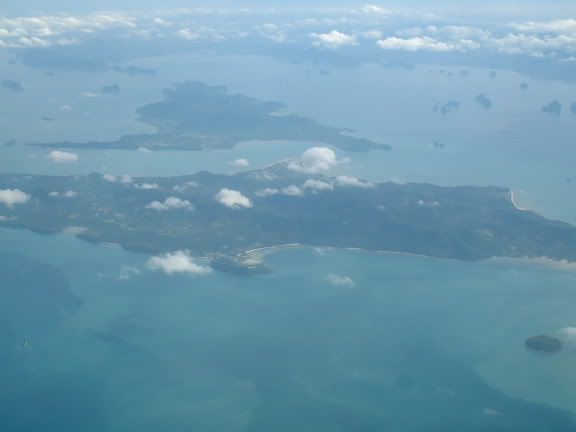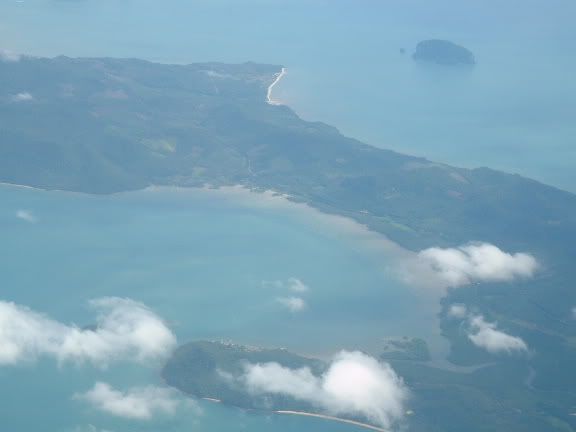 A great way to end my vacation!
The FAs were all cute again on this flight. They¡¦re young and very professional. They played games with the kids on board and sang to them as well.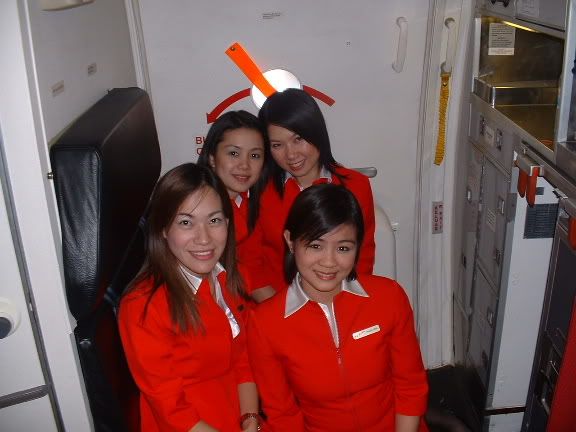 I was soooo tired as I had little sleep the previous night, so I dozed off for the entire flight until we started our descent.
Changi!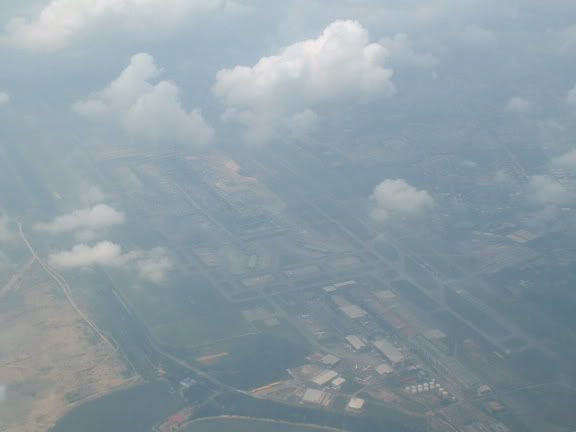 On final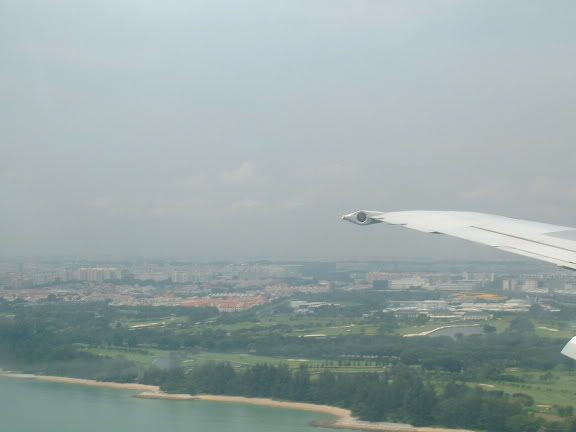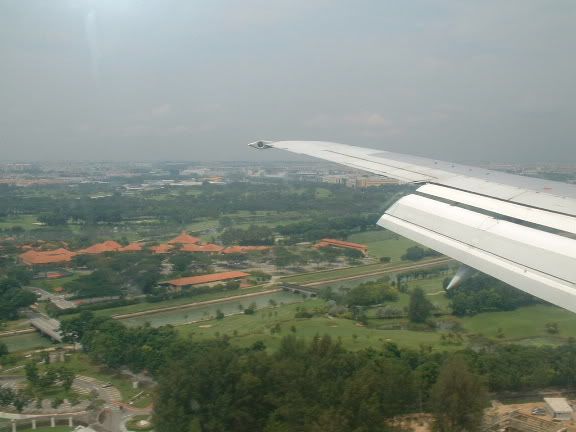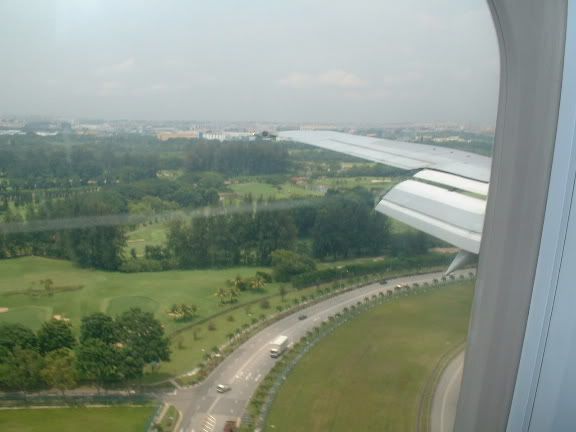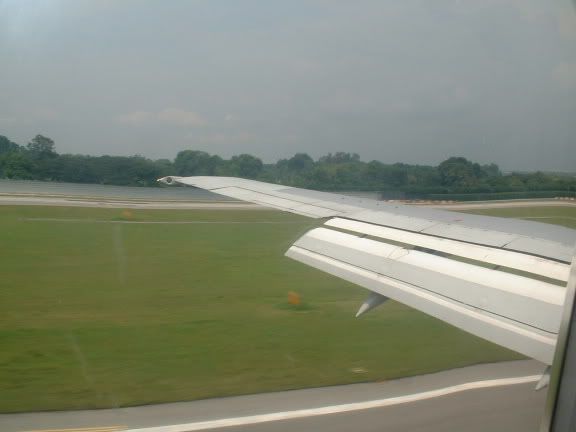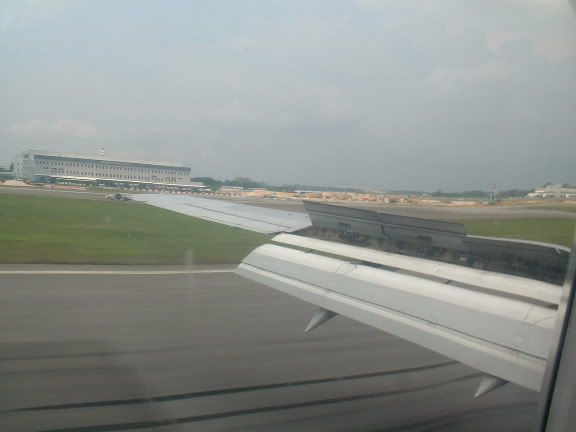 I tend to miss SQ after a weekend not flying with them!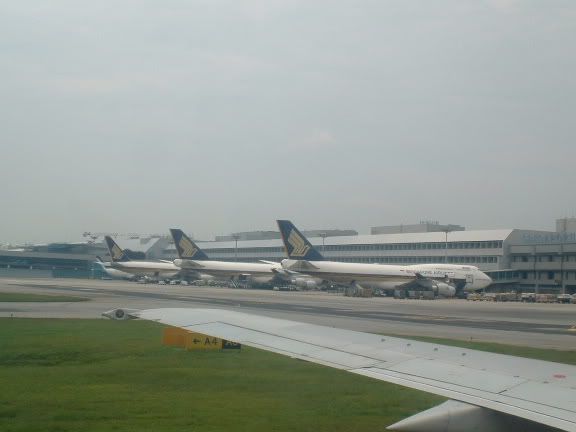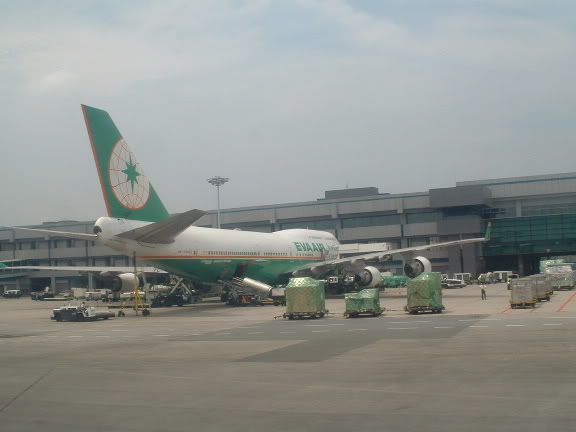 Arrival
Arrival was uneventful. We were out of the airport and in a cab within 20 minutes of landing, typical Changi style.
That¡¦s all for my trip! I have 5 exams to study for now, and hopefully I¡¦ll pass one of them!
Australia is around the corner!! I¡¦ll be heading to SYD on November 26th on Garuda through DPS. I can¡¦t wait!
Until then, take care everyone!
Imad