A trip to Malaga via Barcelona with my friends Ron Bacardi, Glenn Morangie and Johnnie Walker
I made a very early start from home, alas a 5am start warranted me making my own way to Heathrow this time! I arrived at the NCP Flightpath parking around 6am and within 10minutes was on the bus to Terminal 1. I arrived a little earlier than expected for my flight and made my way from the Arrivals level upstairs and across to Zone R where the British Airways Premium passengers check-in is situated.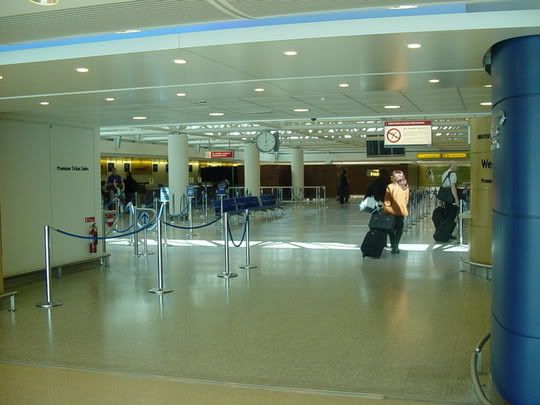 The area was exceptionally quite with only a couple of other passengers present and the BA representatives at the entrance to keep away the undesirables warmly welcomed me. Since there was no wait at the desks I opted to deal with a human than with one of the Self Service Check-In desks, alas I had no option since I was deliberately booked on an Iberia codeshare. I was expecting to get an awful middle seat on the 767 however was happy when 4K came my way. The security line was non-existent reaffirming my belief that Zone R check-in is the best I have experienced anywhere in my 20yrs of flying. I did a spot of shopping picking up some perfume for my mother and some CDs for a friend at Uni before heading for the BA Lounge Pavilion. I got a bite to eat and a drink of Orange juice before killing the time I would rather have enjoyed in bed by leafing through the latest edition of Business Traveller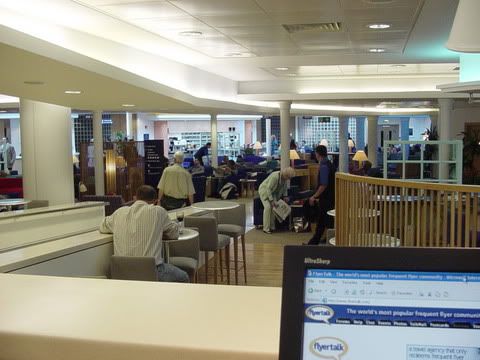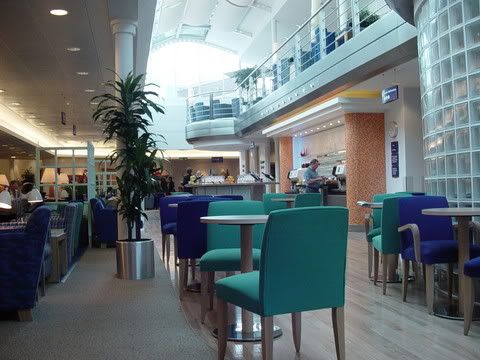 At around 7.35am my flight, BA478 was called at Gate 24, not far from the lounge and by the time I had reached the Gate the initial call had been made for passengers, there was quite a melee in the departure area and I went to the front where a much smaller line had gathered for the premium passengers. I made it aboard and was escorted to 4K where the young FA offered to take my coat. I sat in my seat as around half of the six rows of Club Europe cabin filled up, and despite this everyone had the seat beside them empty (unless they were travelling with somebody else). Soon after another FA in full uniform settled into 3K and fell asleep as we taxiied to 27R for a take off to the west. Due to the position of the curtain I awkwardly had to duck around it to get to the bathroom followed by the 'two headed look' from the ET passengers. A full standard CE breakfast was served within 25mins of takeoff; a welcome addition since I chose to skip breakfast after my 4am start at home. The service was excellent and some people in 5A & 5C were obviously celebrating as they had started on the champagne despite the fact it was not past 9am! I chose to wash my breakfast down with a coffee and a few orange juices, much more civilised.
The sky was very clear and after breakfast was cleared away I wasn't sure whether to look out the window at the amazing view of central France or fo some reading for Uni, ultimately the reading won! I have to maintain some form of education over the weekend however when we reached the Pyrenees it was hard not to take out the camera for a few snaps
The turbulence started soon after and the captain announced that the seatbelt sign was to remain on for the last 15mins of the flight. As we descended into Barcelona the city was laid out before me although my camera decided to take the morning off and malfunction! We landed as far away from the terminal as possible before taxiing back to the end nearest the sea, and then back to the terminal. Almost as much taxiing as flight time!
As ever Club Europe passengers disembarked first and I made my way down the concourse as far as M2 to where the Iberia lounge was. I picked up my boarding passes for the flights back and forth to Malaga although I couldn't pick up my boarding pass for BA 481. The IB lounge was much nicer than I expected and certainly surpassed my expectations. Almost a UA Red Carpet Club with a hint of BA Terraces and Ikea! I poured myself a rather large sherry and passed another hour or so reading Youdi Schipper's 'Environmental Costs and Liberalization in European Air Transport: A Welfare Economic Analysis'....not your average piece of light reading!
At 12.05 a first boarding announcement was made for IB1248 and fortunately the gate was right outside the lounge. Boarding was a rather fraught affair with babies and old people alike being crushed amongst the other people desparate to board the MD-87. I settled into 1F and with only two others in C class the divider was right behind row 2 and we each had a block of seats (or row) to ourselves. We made a punctual pushback and took off to the south before heading east and then south west again. The purser took our drinks order in my case, initially coffee and then a cava (thanks to a language misintepretation) and our small snack of cheese, breadsticks and various meats were handed out. The two FAs working three passengers seemed quite happy to keep my cava topped up and after another couple of dozen pages of Schipper's book we began our approach once again over the sea into Malaga. We parked up on remote stand and were bussed to the terminal.
I made my way upstairs to the departures level where I noticed GB Airways office. I enquired whether they were able to issue my boarding pass for the BCN-LHR leg however they were just able to shuffle me around the cabin a little. I went straight through security to the VIP lounge, not surprisingly for Spain the smoking section was of equal size to the non-smoking.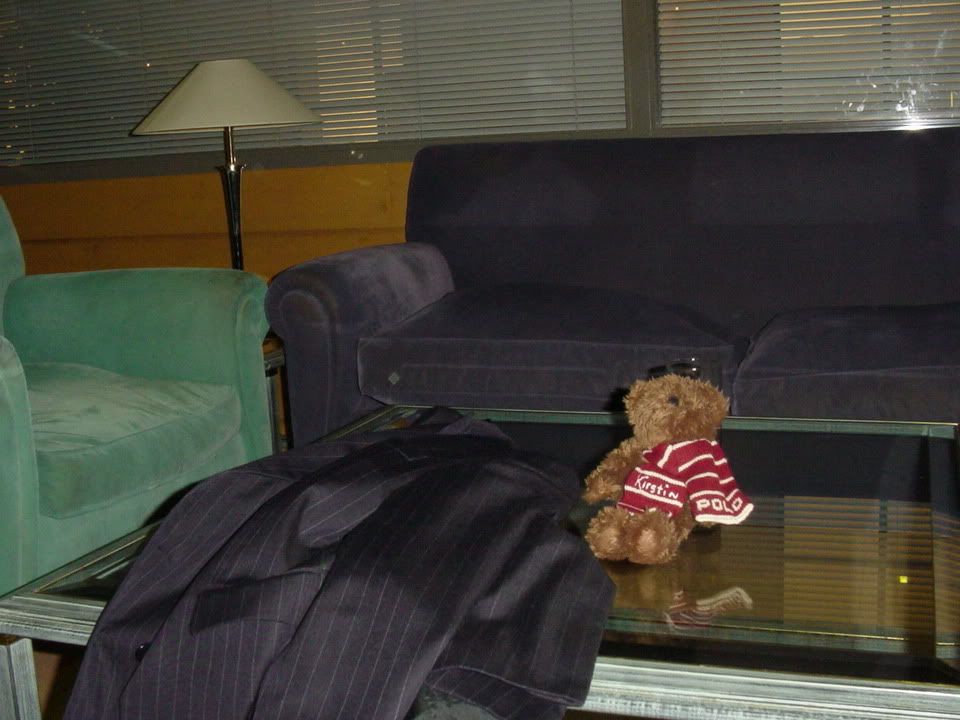 The lounge was rather spacious yet dark but had a number of couches, a self service bar, a few snacks and a television. I continued to read Schipper's book for the proceeding hour with a couple of Martini Rossos and yet more sherry before heading to the gate to catch IB1239 back to Barcelona. We boarded by bus and unsurprisingly I was welcomed back onboard by the same FAs who couldn't quite believe their eyes. To add to the sense of deja vu I once again sat in 1F and the same purser came around and while taking the drinks order taught me a little Spanish! Once again there were just three of us in C occupying the front two rows.
We took off away from the coast before turning to the north and soon after takeoff a selection of snacks were offered for lunch. I took a chorizo panini to go with my cava and settled back listening to my minidisc on Bose QC2 cancelled heaven......alas my reading disrupted it a little. The FAs tended to hide away a little more than what I was used to in shorthaul business on BA and upon landing in Barcelona I felt as though I had experienced more of an economy and a little bit more; something I don't often feel on BA. For example on one occasion I had to pop my head around the curtain to get a top-up on the drink and at the end of the flight I handed my glass back to the FA upon deboarding. However, they were very friendly and personality goes a long way in the service industry.
I went through the arrivals hall and into the departures level finding my way at the BA desk 1hr 40mins before the flight was set to depart. A BA representative came over all eager to show me the Self Service Check-In. I knew it wasn't going to work but was too polite to dampen her enthusiasm. Instead I checked in at the desk where I was told 1A was available if I wanted it and that 1C could be blocked off, which I took. Security wasn't an issue and I headed back to the same lounge I had been in some five hours before to once again settle down with my book.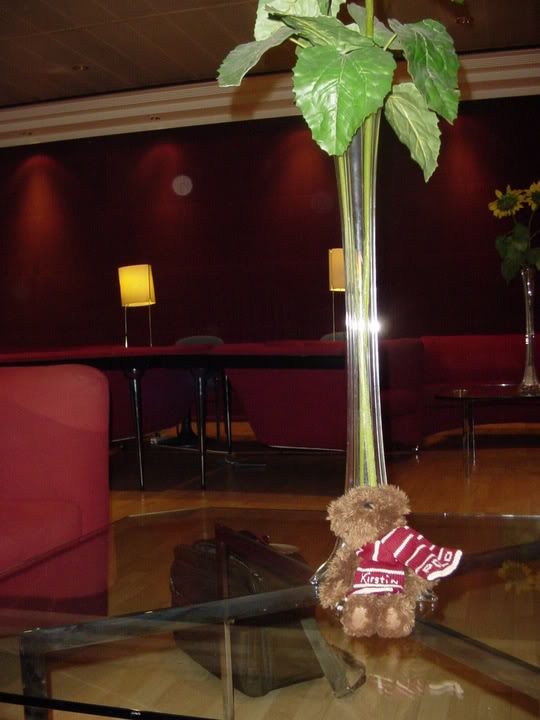 The lounge was empty with the exception of one chap who was on the phone for the whole 90mins I was there! I settled down with another couple of cavas and continued to read, the laptops provided with wireless internet would have been a welcome distraction had any of the eight laptops been working.
At 6.40pm aware of how far the BA stands were I set off, despite walking at a brisk pace it still took the best part of ten minutes to reach there and just as I sat down the first boarding call was made. One person jumped ahead of me and despite how much people are told to have their boarding pass and passport ready I never fail to be amazed by the number who hide these in the bottom of their carryon.
I was the first into 1A on the A319 and my jacket was swiftly taken from me. Another eight people seated themselves down in the Club Europe cabin while many including Heart FM DJ, Z list celebrity and former kids TV presenter from my youth, Toby Anstis wandered down to the back of the aircraft.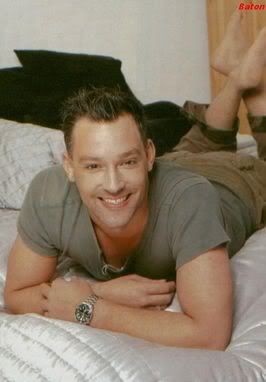 Pushback was delayed as the FAs tried to work out how 9 passengers in Club Europe (including two upgrades) on the mainfest made nine in the cabin. A little deduction and it was discovered that the two people in 1E and 1F tried to smuggle their way in from 4E and 4F. They were sent back without much argument and very red faced! The gentleman in 1D was reading papers and seemed very unbothered by what was going on around him. We pushed back around five minutes later and took off in teh direction of London, although we were warned that there was strong turbulence over the Pyrenees. I took this time to have a brief nap before the initial drinks round was conducted. I asked for a bottle of Piper although was given three and since I was driving only drank the one and put the other two in my carry-on for back at Uni. Dinner was Green Thai Curry which was delicious and followed by a sort of pre-packed chocolate ice cream thing. Accompanied by bread roll and cheese I was happy to get a good meal inside me. The gentleman in 1D refused everything and instead read his papers, noticing he had a Marquis Jets card and BA Premier tag on his carry-on I wondered why he hadn't taken the G-V back to LHR
The flight back was operated in a very solid manner, service was top notch and was always being checked-on to see if drinks were at suitable level etc etc.
Approach over London was spectacular as fireworks were being let off all over the city, it was a case when I really hoped my camera had been working! You just needed to look into middle distance to notice all the flashes of light across the sky. I was completely disorientated at this stage after numerous circuits until I noticed the position of Twickenham rugby stadium in the window. We were due to land on the northern runway from the east and so would have a good view of G-BOAB parked up beside runway 23. We parked at the gate and as we all retrieved our things from the overhead locker the purser asked me all about my Concorde trip! I was somewhat confused until she mentioned she had seen the 'unusual yet distinctive silver tag' while boarding. They thanked me and gave me another bottle of Piper! Immigration had no queue and within five minutes of deboarding I was at stand 7 waiting for the bus back to the parking.
Conclusion:
Overall I felt the BA experience was much more akin to the C class experience one should expect when paying that kind of fare. Better food, better service, more room and ground facilities. Zone R is such a winner in my eyes
On IB I felt slightly underwhelmed and the things I enjoyed about the flight were not exactly because of being in C. I liked the fact I had nobody sitting next to me although every seat in the back was filled. I liked the fact I didn't have a wait for the bathroom and that there was one between three people (one of whom was asleep!). The staff were good to me as I had been on both sectors and so we had a bit of a laugh and a joke but the chap in 2D must have felt somewhat neglected and at times so did I.
On IB I didn't feel that distinction between Y and C that you can't quite put your finger on although I certainly did get that on BA.
Four flights, two airlines, too many drinks (but lots of coffees too!), three airports, 2379 miles, 4244 BA miles earned and 160 tier points all in thirteen hours
Apologies however I don't have all the photos on this computer. Some of them are pinched from other trip reports ex-T1 that I have done and for a lot of the trip my camera was unsure whether it wanted to work or not
[Edited 2004-11-15 20:25:24]