Well, decided to do a quick mileage run that cost me $219...(+$75 for the 3 upgrades I bought too
)
01-Dec-04
AA 371 MCO-DFW
B757-200 N711ZX
Seat 22F
Checked in around 06:15 about an hour before departure. Went to the self check-in kiosk, where my worst fear happened, the computer froze. So I gave the agent my D.L. and she looked at my reservation. She quickly had a confused look on her face. "Your flying Orlando-Dallas-Los Angeles......Seattle?........San Francisco??.......Chicago???.....Orlando!? You're flying all that?!?". I said "Yes I am"
. I didn't go into details, but I wasn't in the mood to explain myself. She called another agent over and it turned out they could only issue me 2 boarding passes because after LAX I would have to check in with Alaska. I laid my MCO badge on the counter and she asked if she could see it real quick, I held it up, and she seemed a bit 'relieved' to put it lightly haha. I submitted an upgrade request for MCO-DFW, SFO-ORD, ORD-MCO, but this was the only flight where I didn't make it. Went through security and headed over to B.K. for a quick bite to eat since I wasn't getting any breakfast.
I boarded with group 1, and took my seat in 22F. We pushed back on time and headed out to runway 18L where we turned and burned heading south, then turned to the west near Sea World. Our cruise altitude was only FL280. Got a bit choppy I think around the panhandel of FLA where a small cold front was pushing through. They actually showed a movie on this flight, which was "A Cinderella Story". They were selling headsets for $5, I passed but then it made me realize I forgot mine at home, so I made sure to buy one on the next flight. I have like 10 of these stupid things at home already! We landed on time (runway 17L?) and headed to the gate.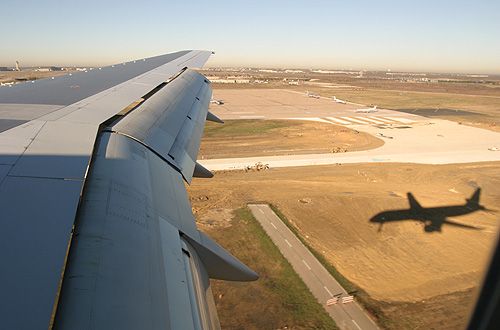 01-Dec-04
AA 2421 DFW-LAX
B777-200/ER N799AN
Seat 10J
I had about 1hr 15mins in DFW so I walked around the terminals while I tried to find somthing in one of the shops. On my way I stopped by my connecting gate to make sure everything was on time etc. Walked around for another 20 mins, grabbed a sub at subway, and headed over to my gate and to my suprise, NO pax in the boarding area, and no plane. This was about 45 mins prior to departure. Started to think I screwed up somewhere, but it was only and hour difference and I knew that. Found an agent and luckily they had moved my flight to another gate......right in front of the subway I was at, D'oh! Began boarding about 5 minutes late. I was wearing my Boeing 777 shirt, the F/A's seemed to love that. "Wow perfect day to wear that, hey XXXX check out this guys shirt, he deserves a gold star!". Righttt.... hahaha. Took my seat in the spacious 10J. Thank god for AA only making this a 2 class plane on domestic flights. Pushed back 10 mins late, and headed out to runway 18L. We held short of the runway for another 5-8 minutes while they finshed up some paper work or something. Turned onto the runway and spooled up the engines a bit with the brakes still on. Nice little jolt once he released the brakes.
. Our cruise Alt. was 31,000 ft, and had a few choices of inflight movies. I ended up watching 'the bourne supremacy'.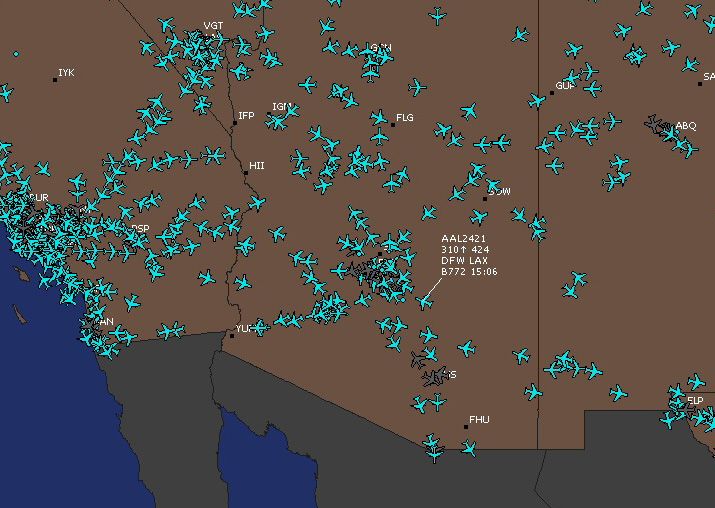 (thanks Justin Idle for the screen shot). I got about half way through before I fell asleep. We landed in LAX about on runway 25R about 15 mins late.
Transferring to T3 for Alaska airlines was cool because I got to take the American Eagle shuttle. First thing we passed on the ramp was the Lufty 744 star allicane plane, Thai 744 royal barge, AirTran 737 etc. Checked in at gate 32 and still had a good hour to kill so I found somewhat of a clean window to take photos from.
01-Dec-04
AS 547 LAX-SEA
MD-82 N934AS
Seat 16A
View Large
View Medium


Photo © James Richard Covington, Jr
First thing I noticed about this plane was the patterns in the seats and on the bulkhead, gave it a nice feeling instead of a plain blue steats and a white wall. Pushed back a few mins late and started the engines. Over the speakers I could faintly hear and alarm going off right before each engine started. I know it's normal, but I've never heard it over the speakers before. Taxied out to runway 24L and immediately took off out over the pacific then headed North. This is my 3rd or 4th MD80 series flight, amazing how quiet it is front of the wings. I'm really starting to like this plane.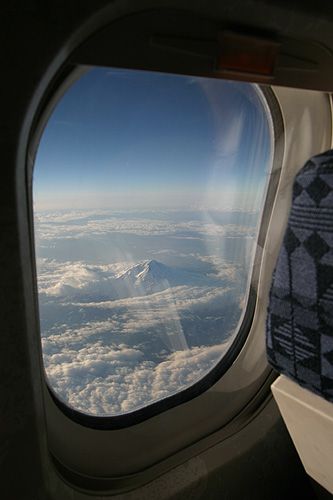 We pretty much followed the coast line on this 2hr flight up to SEA. During decent, then sun was setting and Mt. St. Helens and Rainier were to our right side, would have made for a great photo if I was on that side. We passed over BFI and landed in SEA around 16:40 where it was almost completely dark out (southern boy ain't used to that
).
01-Dec-04
AS 596 SEA-SFO
B737-900 N305AS
Seat 08A
View Large
View Medium


Photo © Jason Whitebird
After killing 3.5 hours in SEA and getting a smoked salmon and cream cheese bagel…mmmmmmmm bagel.

I went to D5 and and checked in. After boarding first class, I noticed on the previous flight as well they just call all rows. This flight was not nearly as full though. First thing I noticed about the -900 was how dirty it was
. The leather first class seats seemed to look worn out, and the coach seats were dirty and it was noticeable. The interior reminds me of an updated cabin on a 757-200. We pushed back ontime and headed out to the runway. Take off was smooth and a nice sound of the CFM engine's buzzing away.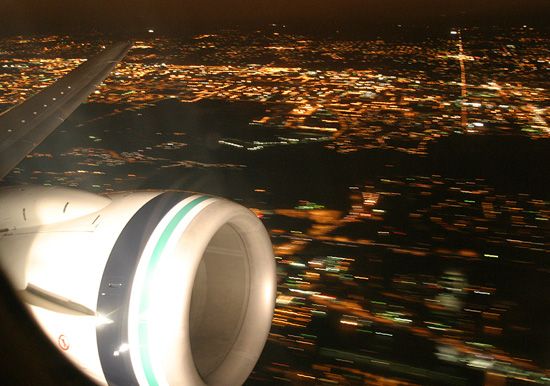 I noticed the people at AS are very friendly, gate agents, and F/A's (well except for one guy, he just seemed tired). Served the regular drink and pretzels. The flight time was about 1hr and 30 mins. It's a shame there is no audio/video on this plane. Must be a long flight from MCO-SEA on it. We landed on time in SFO and taxied to our gate. The -900 was nothing special, but it was nice to finally fly on one. Just need to fly on a -100 and -600 and I'll be done with the 737
.
01-Dec-04
AA 1608 SFO-ORD
B737-800 N977AA
Seat 05F
View Large
View Medium


Photo © Justin Cederholm
Ended up having to exit security and head down to the check-in counter at AA (nice little walk). My upgrades went through and I had seat 05F this flight. Began boarding 30 mins before departure and I took my seat. Grabbed a blanket and pillow and tried to stay awake until after departure. Departed ontime at 11:59pm and headed out to the runway (can't remember which one). The inflight movie was 'Thunderbirds'. Yeah sleeping sounded good right about now. Woke up during decent, and landed on time in ORD. Sorry, there just isn't much detail for this flight.
02-Dec-04
AA 716 ORD-MCO
MD-82 N954U
Seat 04F
View Large
View Medium


Photo © Kevin E. Cook
F/A came around and asked if what everyone wanted to drink before departure. The lady sitting in 04B wanted a beer. F/A said let me check. Comes back and says there is no beer. Lady asked for wine then, F/A said they don't stock us up with that early in the morning (it's 06:30 btw). Lady says "What is this?! I thought this was first class!?". Her shirt also said "Rugby doesn't kill people, I kill people.". Classy
. We pushed back and started up the engines. Funny thing is I couldn't hear the engines start from the front of the plane, I can't imagine what an MD90 is like. We took off to the east and began our trek back to MCO. Breakfast was an egg and cheese omelet or pancakes. I took the pancakes which turned out to be a bit hard around the edges, oh well! Once again slept through most of this flight. Began the decent into Orlando, and finally popped through the clouds around ORL. We were lined up for runway 18R, and passed over my neighborhood. My initial thought was we were a bit low.
View Large
View Medium


Photo © Justin Cederholm
We were a lot lower on this flight than that photo I took a year ago. We were about ¾ of a mile from the runway when I felt a bit of extra power in the engines. A few seconds later I heard a thump of the gear coming up, then we slowly went up. We stayed over the runway then went back into the clouds and turned right. For the next 10 mins I couldn't see anything. But I think we turned somewhere around Sea World, headed north past downtown and came back in sequence. Once again we popped out of the clouds over ORL and successfully landed on runway 18R. We taxied to the gate area, where he attempted to turn into the USAir/United gate area, but then quickly took a sharp left turn out and went to the AA gates. With this flight it appears I just qualified for Gold on AA again, and I should now have enough miles in my account for a trip to SYD within the next year or so!
Justin