This report is a little belatedly written… last month my job sent me to Seattle for a weekend conference. I hadn't visited the area in about ten years (my last trip was a family vacation in junior high school), and even though the purpose of the trip was work I was still excited to get out to that corner of the country again.
Our preferred carriers at work are American and Northwest, and when I called the travel desk I was happy to hear that American had the lower fare (and a nonstop flight too.) Chicago to Seattle is a long flight, and I could use the miles. The trip itself was going to be very short – out on Saturday morning and back the following evening. With American downgrading to MD80s on most of its long-haul routes from Chicago (the higher-capacity 737-800s are being sent to Miami to operate Caribbean services), I decided to splurge and use some upgrades to first class on both segments.
*********************************************************
Saturday, November 13, 2004
Chicago O'Hare International Airport
I arrived at O'Hare's Terminal 3 about an hour before flight time – I wasn't checking luggage and the place isn't too busy on Saturday mornings anyhow.
The FACE reconstruction program at Terminals 2 and 3 is really hustling along… the new departure canopies are complete along more than half of the terminal frontage now, and the first expanded ticket-lobby section at Terminal 3 is now open. The terminal circulation area has been expanded about 30 feet, into the former courtyards along the elevated roadway. The new section also has renovated ticket counters with electronic signage and a LOT more queuing area. It should be a big improvement when it's all done.
My flight was departing from Gate K13. Here's our MD80 parked at the gate: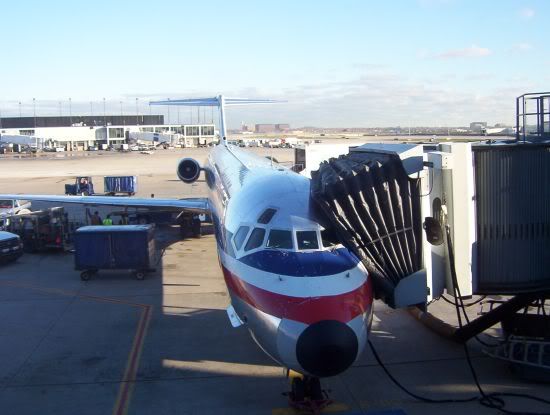 **********************************************************
American Airlines Flight 1611
Chicago O'Hare (ORD) – Seattle/Tacoma (SEA)
Departs ORD 8:30am, arrives SEA 11:45am
McDonnell-Douglas MD80, seat 3A
Flying time: 4 hours, 10 minutes
There was a Bistro cart parked in the jetway, but I passed since first class was scheduled to receive a breakfast service. The load in first class was pretty light – only seven out of twelve seats occupied – and I was pleased to find the aisle seat next to me empty.
I haven't made my mind up regarding American's first-class seats on the MD80. The legroom is very generous, and I especially like the extra seatback pocket, which is very handy if you've brought a book or magazine on board. I'm not a big fan of the seats, however – they're nice and wide in the shoulder area, but they have an odd scooped-out design that doesn't give your back a ton of support. Hey, when you're flying first class for free, you can't complain, eh?
The first-class flight attendant (a very cheerful woman who looked to be in her late 40s) offered pre-departure drinks as we pushed off the gate. We taxied out past a completely dead Terminal 5 – there were only two Mexicana A320s and a Japan Airlines 747 parked at the gates – and headed for the west side of the airfield.
A United 737 in the new colors was ahead of us in the departure queue. I have to admit, I really like United's new scheme when I see it in person. I don't think it looks nearly as good in photographs, but I'll let you be the judge: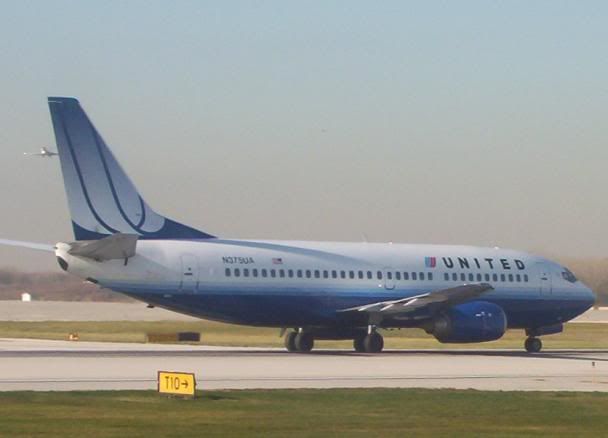 Takeoff today was on runway 32L, ORD's longest at almost 14,000 feet. Here we are turning onto the runway: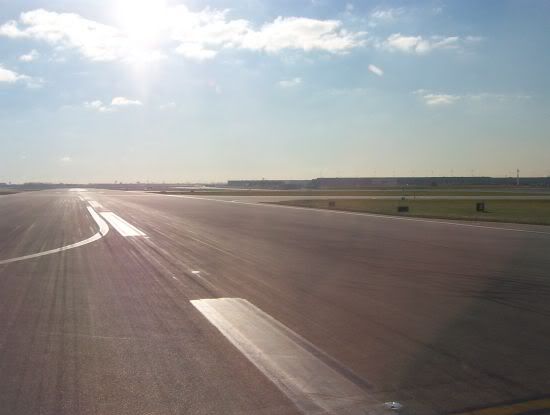 … and taking off to the northwest: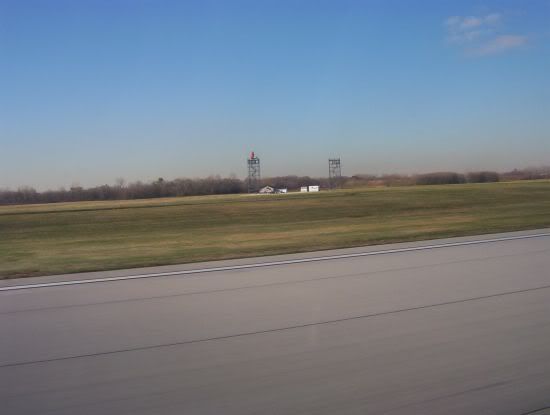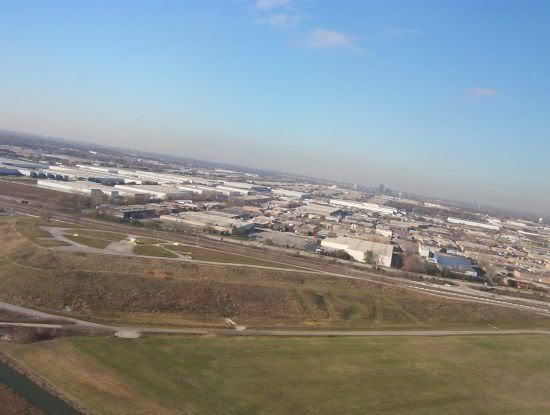 Climbing out over Elk Grove Village and Arlington Heights, with United's world headquarters at center: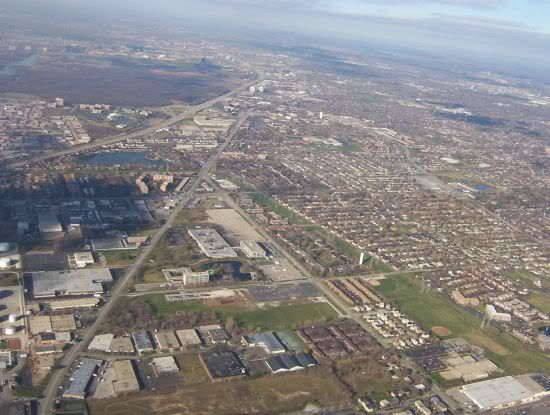 We executed a right turn a few miles out from the runway, following a strange S-shaped track over the northern suburbs and the Wisconsin state line. Along the way we passed almost directly above Palwaukee Airport in Wheeling…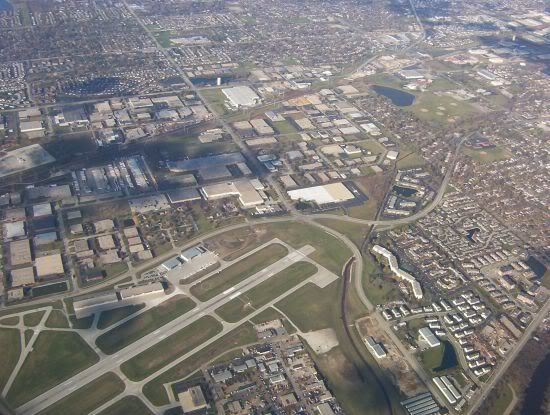 … and right above the corporate park in Lake Forest where my company is headquartered: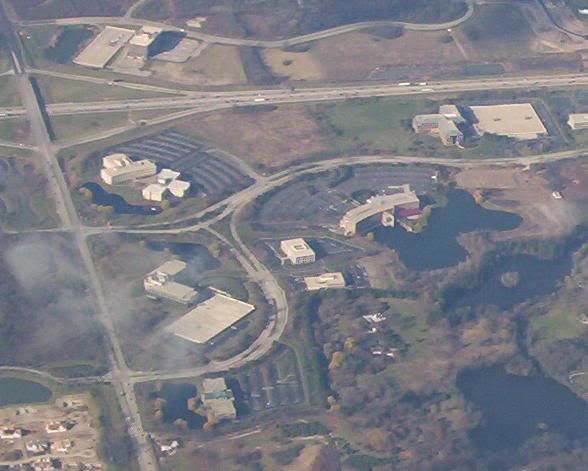 Once we reached Wisconsin we banked northwest and assumed a more realistic flight path. I assume our erratic climbout had something to do with arrival patterns into O'Hare… anything goes on flights to and from ORD.
Several minutes later we reached our cruising altitude and were overhead Madison, Wisconsin: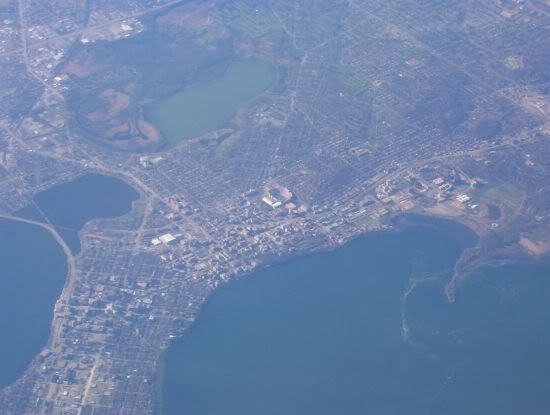 It was a beautiful morning for flying – almost no clouds and plenty of sun. The landscape grew hillier as we headed out over western Wisconsin and into Minnesota, crossing the Mississippi River: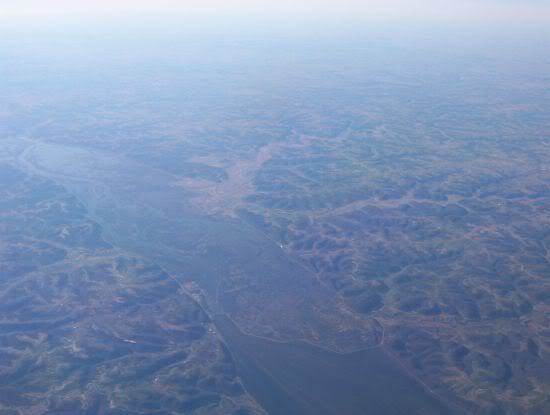 Breakfast was served shortly thereafter; our choices were cereal and fruit or a breakfast quesadilla. I chose the quesadilla (I'm pretty sure everyone in first class did; who would pick cereal?) and was not disappointed – it was excellent, stuffed with eggs, onions cheese and melt-in-your-mouth chorizo sausage. It was accompanied by salsa and a platter of fruit. For those of you who like to see the food, here's a shot of breakfast: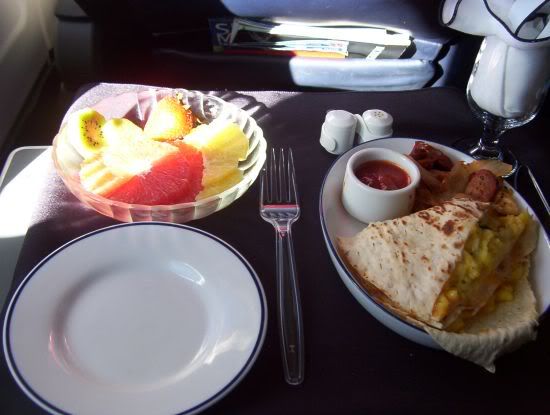 Our route took us just south of the Twin Cities, right over Rochester. Here's their little airport, which is served by Northwest and American Eagle: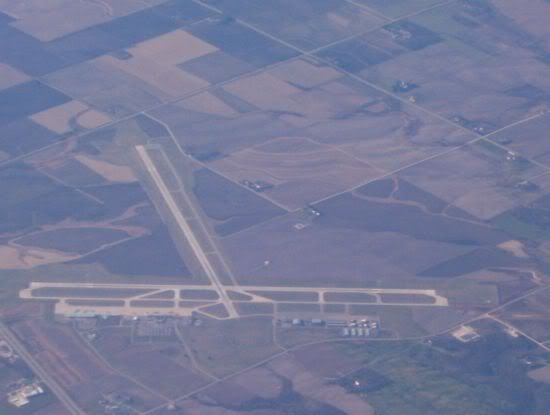 I've flown midcons from Chicago to California before, but never to the Pacific Northwest; it was nice to see some new territory. We flew across Minnesota and crossed into South Dakota – here's Interstate 29 making its way south: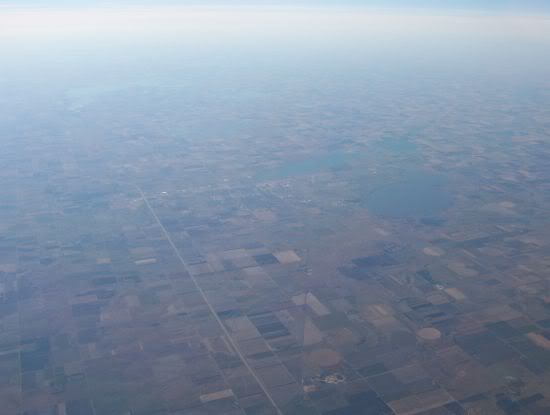 Over Lake Oahe in central South Dakota: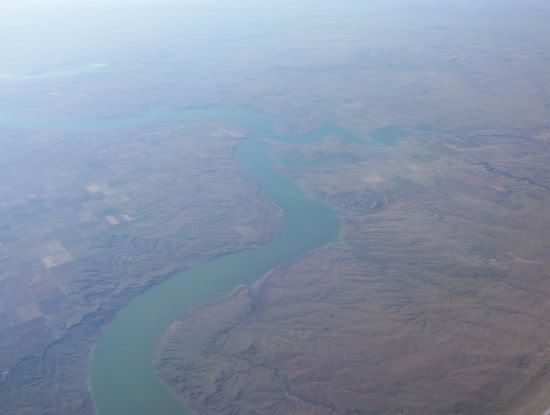 Things started to look a little more 'western' as we headed for Montana: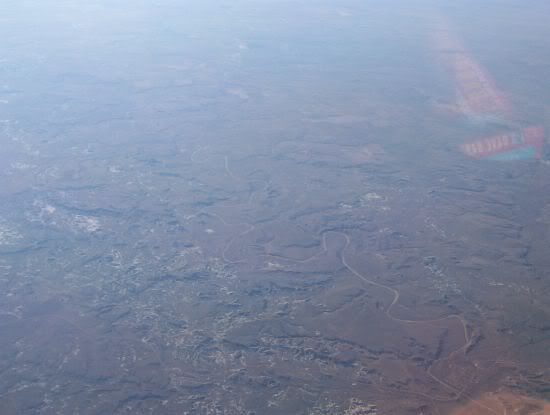 Once over Montana I got my first glimpse of the northern Rockies: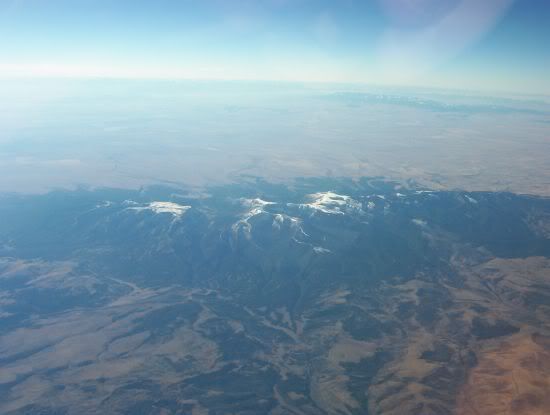 The clouds below grew thicker as we crossed Montana and eventually I couldn't see the ground anymore. I cracked open a book (a movie would have been nice, but the MD80 isn't equipped with any inflight entertainment) while the flight attendant offered drinks and hot towels to our cabin.
About an hour later the captain announced the start of our descent into Seattle and called our attention to Mount Rainier off the port side of the aircraft: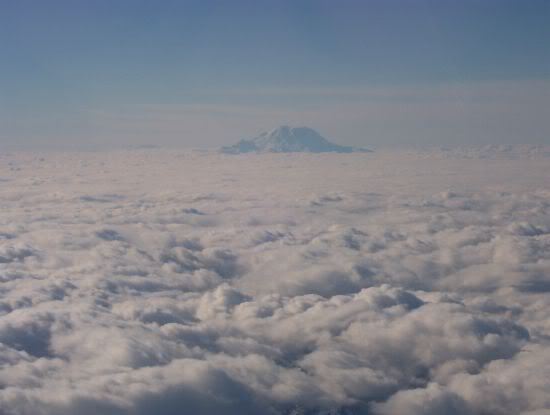 Most of the higher peaks in the Cascade Range were poking above the clouds… I could even see the very pointy Mount Hood in Oregon, way off in the distance. As we headed steadily down I could see some lesser snow-covered ridges poking through the clouds: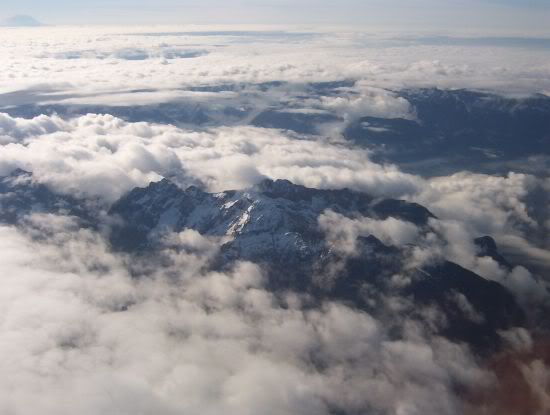 The cloud base grew thicker and I could only catch fleeting glimpses of the ground. We made a sharp right turn in the clouds and the landing gear dropped down, so I assumed we were approaching SEA from the north. When we dropped out of the mist, we were firmly established on final approach, over Boeing Field and the Museum of Flight: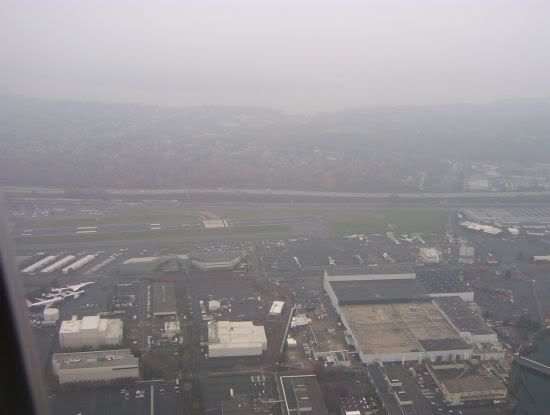 A few miles out from the airport, over the Seattle suburbs: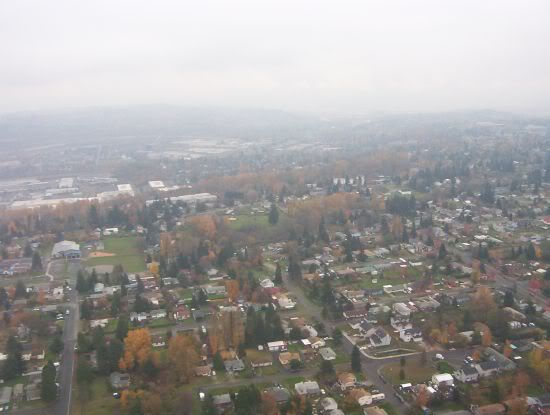 Skimming over Route 518 and crossing the airport boundary: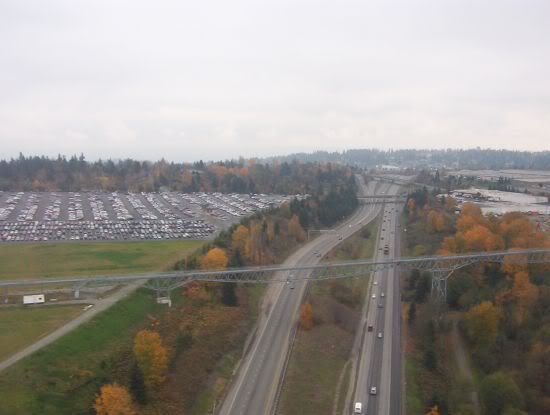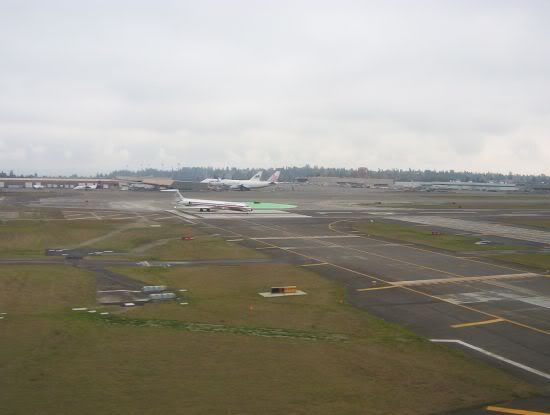 Touchdown on Seattle's runway 16R: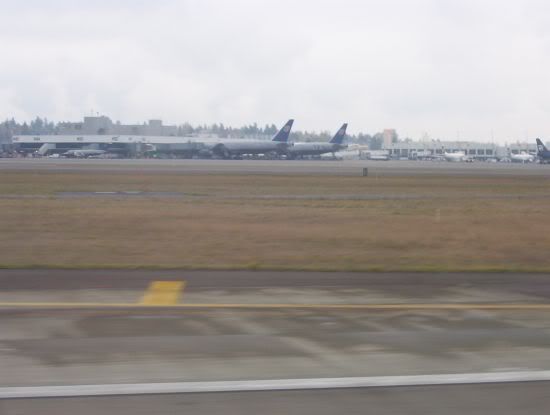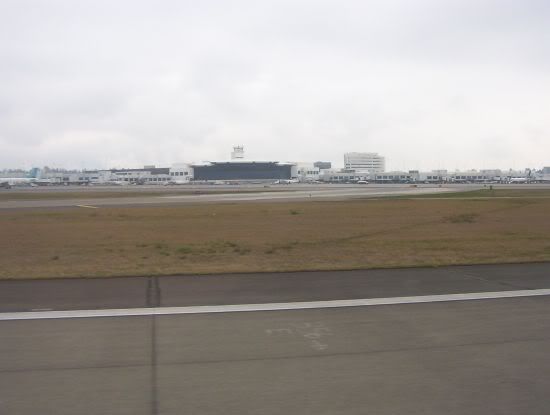 As we turned off the runway I saw one of Northwest's new A330s parked at the South Satellite, presumably getting ready to depart for Tokyo: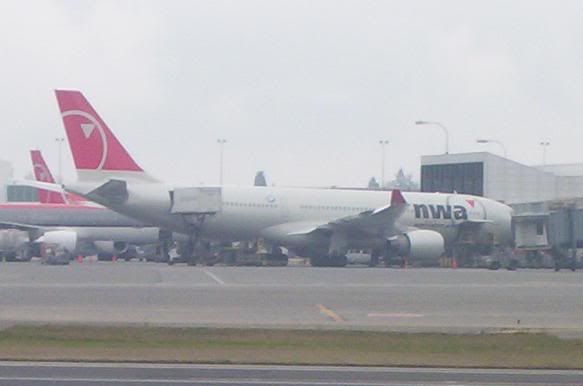 Taxiing in past Concourse B, with a few Continental and America West 737s parked at the gates: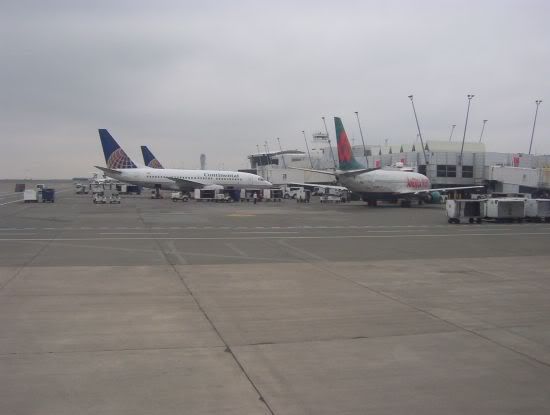 Pulling into the gate at SEA's brand-new Concourse A: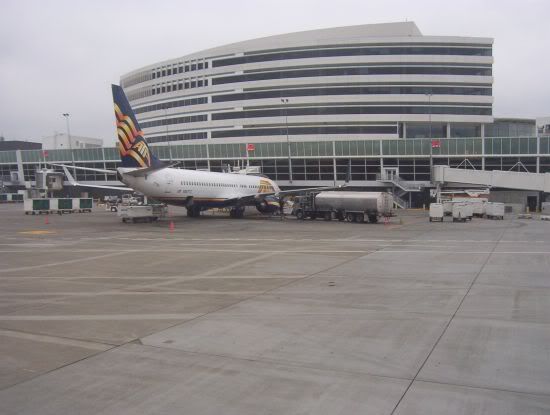 I deplaned into the new Concourse A, which is used by ATA, Hawaiian, Delta, American and Midwest. It's a nice facility – wide and spacious, with plenty of natural light and local art: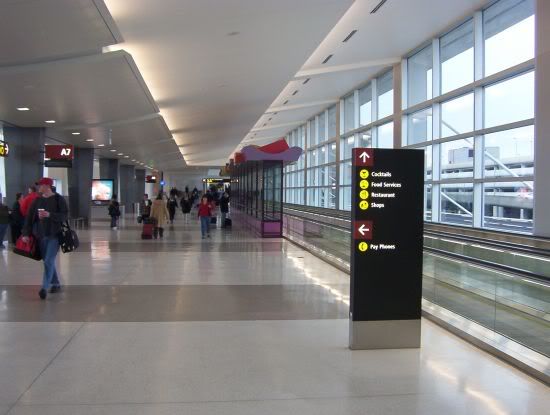 *******************************************************
Seattle/Tacoma International Airport
Sunday, November 14
The conference turned out to be even shorter than we expected, which left us with lots of time to explore Seattle. It's a great city – full of interesting neighborhoods, lots of restored older houses and scenic views across the water everywhere you look. We stayed at the Sheraton Hotel downtown, which I highly recommend; it's right in the heart of the city, surrounded by shops and restaurants. The rainy weather notwithstanding, I was very impressed with Seattle.
I arrived at the airport around noon on Sunday (I'd heard conflicting reports about security hassles at SEA and figured I'd give myself lots of time). The main SEA terminal dates back to the 1970s, although it's been expanded several times since then: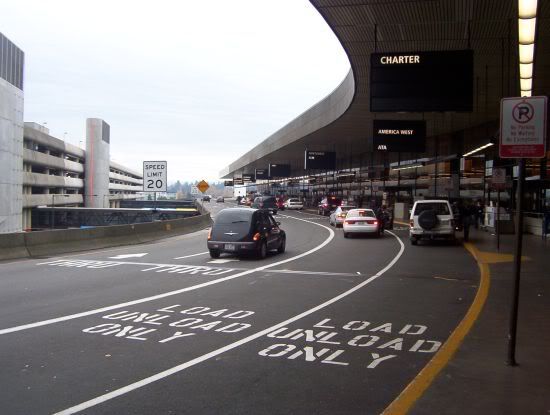 The ticket lobby is pretty cramped, especially with the new screening equipment installed post-9/11. It's being renovated and airlines are shuffling around following the opening of Concourse A: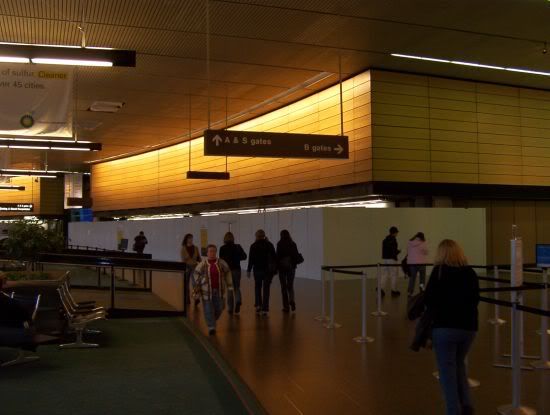 At the far end of the lobby is the new South Terminal addition, which was completed late last year. It houses check-in and arrivals for SEA's international carriers (Aeroflot, SAS, British Airways, EVA Air, Asiana and China Airlines), as well as ground transportation services: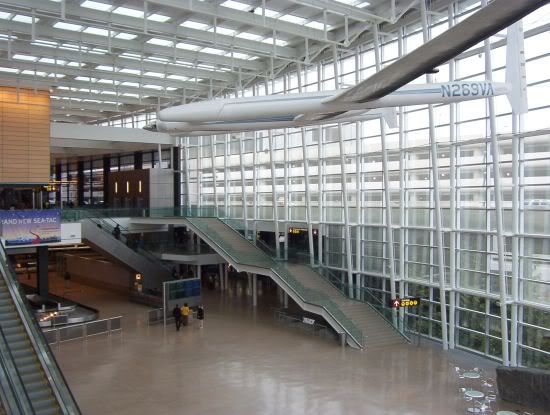 Not surprisingly, I cleared security with no trouble at all and found myself at loose ends for more than an hour before my flight was scheduled to depart. I did some walking around the terminal to pass the time. The central terminal is under very heavy construction – a massive addition on the apron side of the building, full of shops and restaurants, is scheduled to open early next year. It should offer pretty spectacular views across the airfield, judging from the two-story glass walls: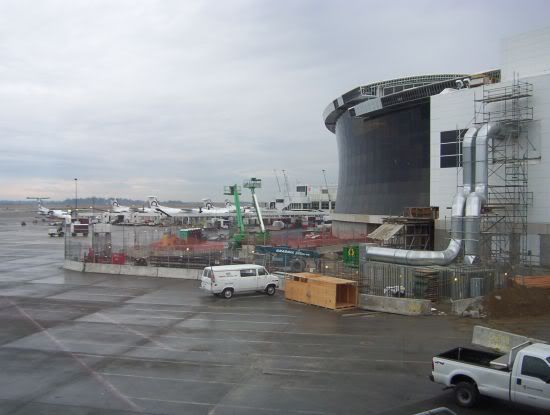 One of Horizon's propliners preparing to depart from Concourse C: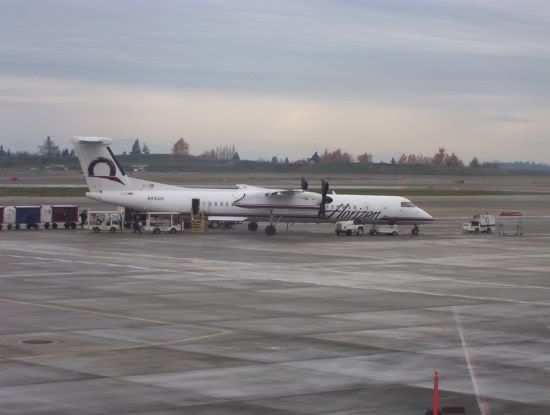 A Frontier A319 arriving onto Concourse A from Denver: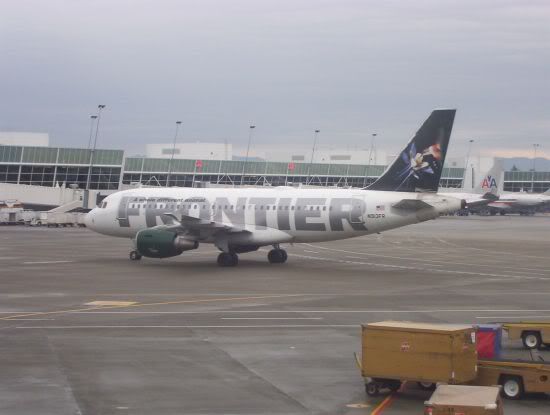 Looking across the southern apron, with one of Southwest's 737s and EVA Air's daily 747 to Taipei preparing for departure: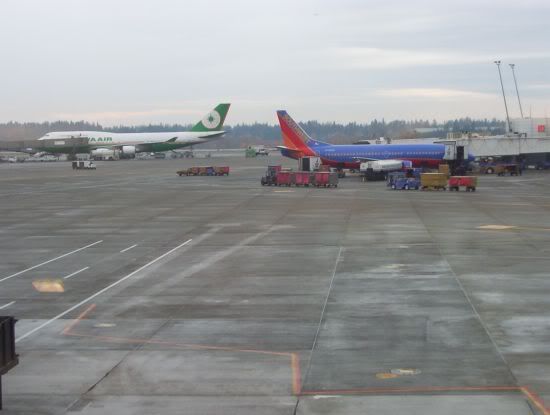 China Airlines began Seattle service earlier this year, using the A340. The flight continues on to Houston from SEA – here it is parked at the South Satellite: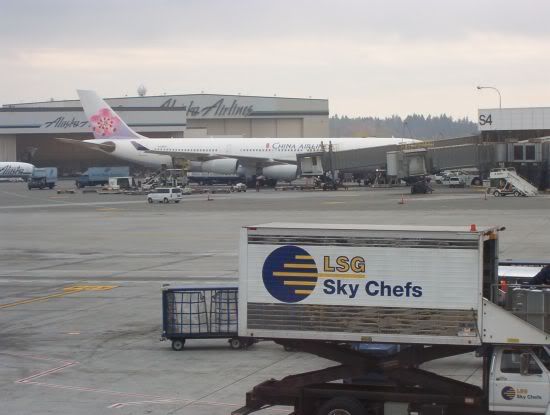 By the time I arrived back at my gate on Concourse A, my return flight to Chicago was boarding… nice timing!
*********************************************************
American Airlines Flight 336
Seattle/Tacoma (SEA) – Chicago O'Hare (ORD)
Departs SEA 2:45pm, arrives ORD 8:40pm
McDonnell-Douglas MD80, seat 4A
Flying time: 3 hours, 35 minutes
This MD80 must have been a little older than the one I flew the day before; the wall paneling was faded and the carpet definitely felt more worn underfoot. Both first class and coach were completely full (not too surprising for a Sunday evening flight), so boarding took quite awhile. By the time everyone was seated the flight was ready to depart, so the pre-departure drink service was very rushed.
Pushing back from the gate, with one of Northwest's 757-300s parked on the South Satellite. NW flies the 753 from SEA to Minneapolis/St. Paul and to Honolulu and Kahului in Hawaii: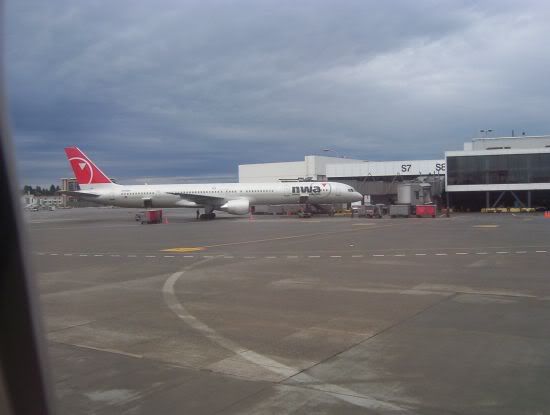 We turned onto the taxiway and began the long taxi out to the 16L threshold. The EVA Air 747 roared past my window – it would have made a great picture, but I couldn't get the camera out in time. Off in the distance I could see some work underway on SEA's third runway, which wins the award for America's Slowest Airport Construction Project. They've been talking about, fighting over, and very slowly building the runway for the better part of two decades. The land where the runway is situated is very hilly – they have to raise the terrain by more than 100 feet in some places. When everything is finished (supposedly by 2008), Seattle will have the ability to handle parallel arrivals, even in zero visiblity.
Turning onto 16L: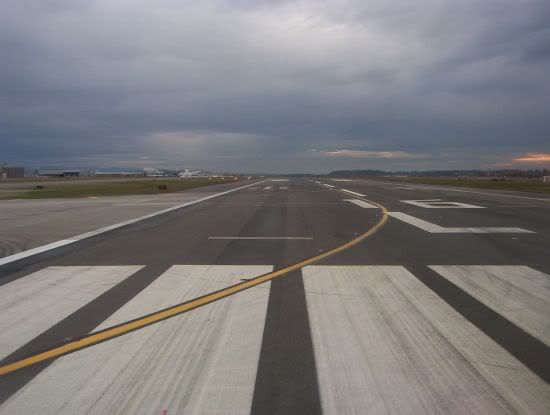 Takeoff to the south, passing SEA's new control tower and the terminal area: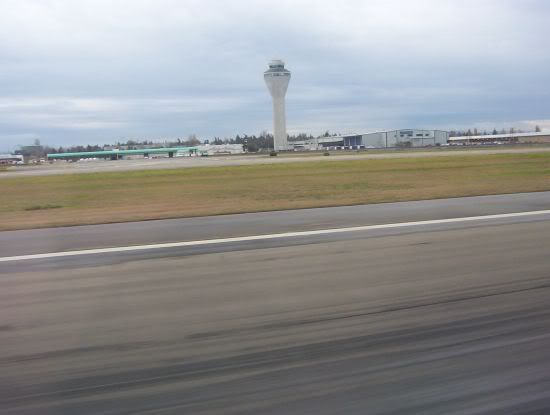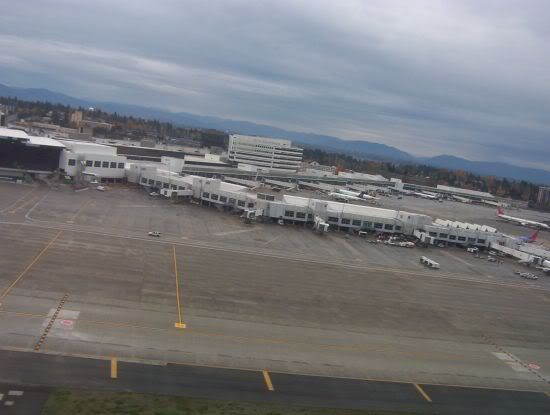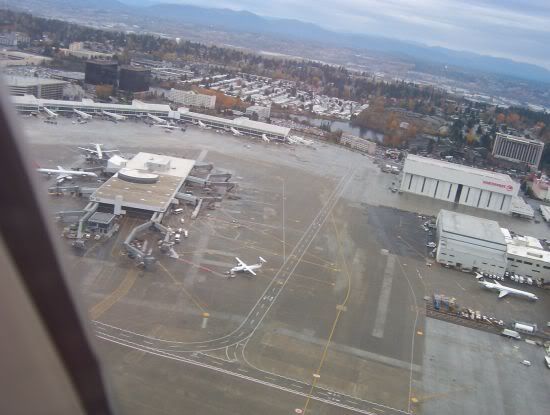 Climbout was over the suburbs between Seattle and Tacoma, with a pretty nice view of the mountains off in the distance: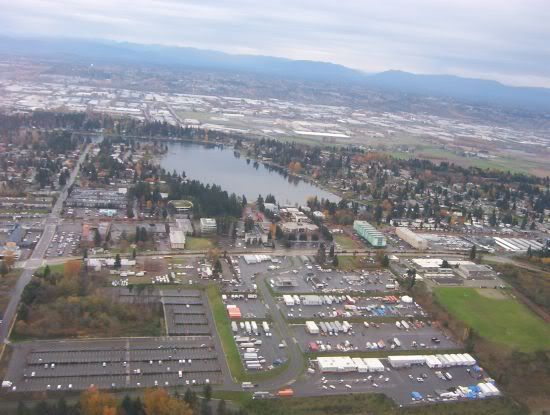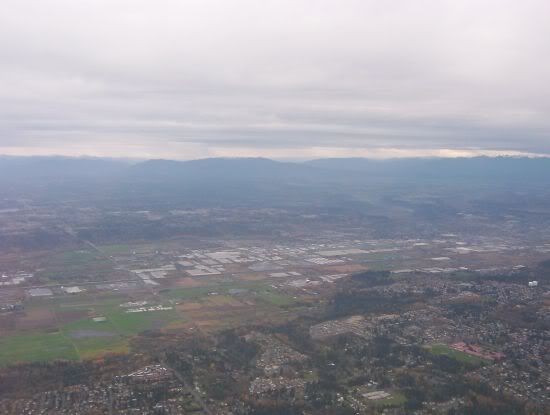 We banked east a few minutes after departure and set off across the mountains. The captain came over the loudspeaker to outline our route – pretty much the opposite of my route from the day before – and to advise everyone to use the lavatory in his/her ticketed cabin. I'm pretty neutral on the coach-passengers-using-the-first-class-lav issue; as long as they don't stand in line in the aisle, it doesn't bother me if they come up front – particulary if there's a beverage cart keeping them from using the rear lavatories. But hey, more power to American if they want to enforce the rules.
Dinner was served about an hour out of Seattle, starting with a ramekin of heated mixed nuts. It was followed by a very large dinner salad and choice of bread, then a choice of chicken or beef – although by the time the flight attendant got to my row all the chicken was gone. The beef was decent – it was strips of meat covered in some kind of barbecue-like sauce, with mashed potatoes and green beans on the side. We were offered more bread with dinner as well. Not too shabby.
Dessert was the signature American ice cream sundae, which was apparently prepared long before departure and frozen solid in the galley. My seatmate set about chiseling his ice cream to pieces with a spoon, while I opted to wait for the bowl to warm up. About half an hour later the ice cream was still barely soft enough to cut with a spoon.
It was almost completely dark outside by this point, although the views across the mountains were decent: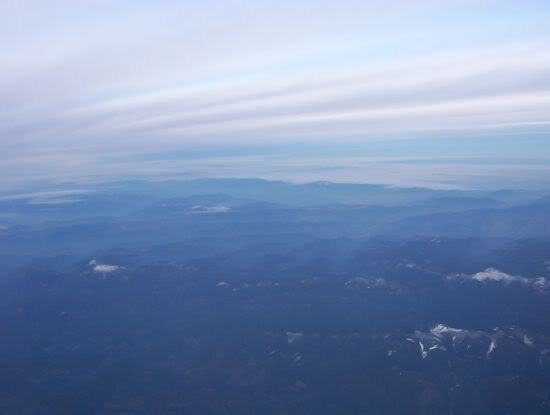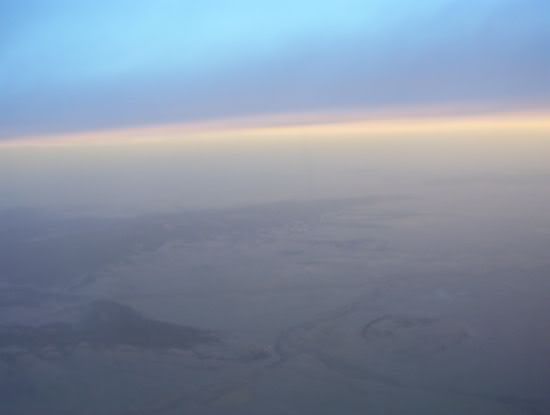 For the next few hours I read and caught up on some work that I'd brought along for the ride; in no time at all the cabin crew was securing the cabin for arrival. The flight attendant read a very long list of connecting flights over the PA as we descended. Soon enough we were somewhere over the mass of lights that made up Chicagoland.
We banked due east over Schaumburg and Hoffman Estates to line up with O'Hare's runway 9R, and a few minutes later we were pulling into (drumroll, please) Gate K13, the same gate I'd departed from the day before.
*********************************************************
All in all a great two flights. American's domestic first class is very comfortable and the food (especially the breakfast) was great. Definitely some upgrades well spent. I wish American would deploy some larger equipment on the ORD-SEA route, although traditionally they've always been the number-two carrier on the route, behind United (who flies A320s, 757s and 767s).
My next trip is ORD-DFW-ORD later this month – going home for the holidays. Be sure to check out
my trip to Frankfurt
as well!