Decided to visit a friend from Junior College in Jakarta, so another friend and I booked with SIA to Jakarta (CGK). CX was the cheapest on the days we wanted to leave, at S$180. However, the schedules were horrid. Arrival into Jakarta at close to midnight and departure at 8am….. Thai was the next cheapest at $199 with only one flight a day but with an afternoon departure from SIN and early evening departure from Jakarta. SQ, GA, LH were $250 . Thought that the $50 extra would be worth it for SQ since they flew 8 times a day and we could book a morning departure ex SIN on Sat 4th Dec and an evening departure ex CGK on Wed 8th Dec.
Did an internet check-in for SQ156 SIN-CGK the day before which was quite user friendly.
Arrived at Changi Airport ay 8.20am for our 10am departure on Sat 4th December. Terminal Two was overflowing with people. I had never seen SIN so crowded in my life. There were long queues extending out of each check-in row…… I guess it was cos 2 rows were shut for renovation but even then, even if they were open I don't think it would have made much of a difference.
Not wanting to join the queue and having very little luggage, decided to do an express check-in. There was no queue for that counter and we were issued boarding passes in under 2 minutes.
The queue at immigration was quite long too for Singapore standards. I gather we spent at least 8 minutes in the queue which is a record time for SIN. I have never ever spent more than 3-4 mins in line.
Just past immigration I noticed the SQ 744 in a Star Alliance livery (9V-SPP) so I caught a shot of it.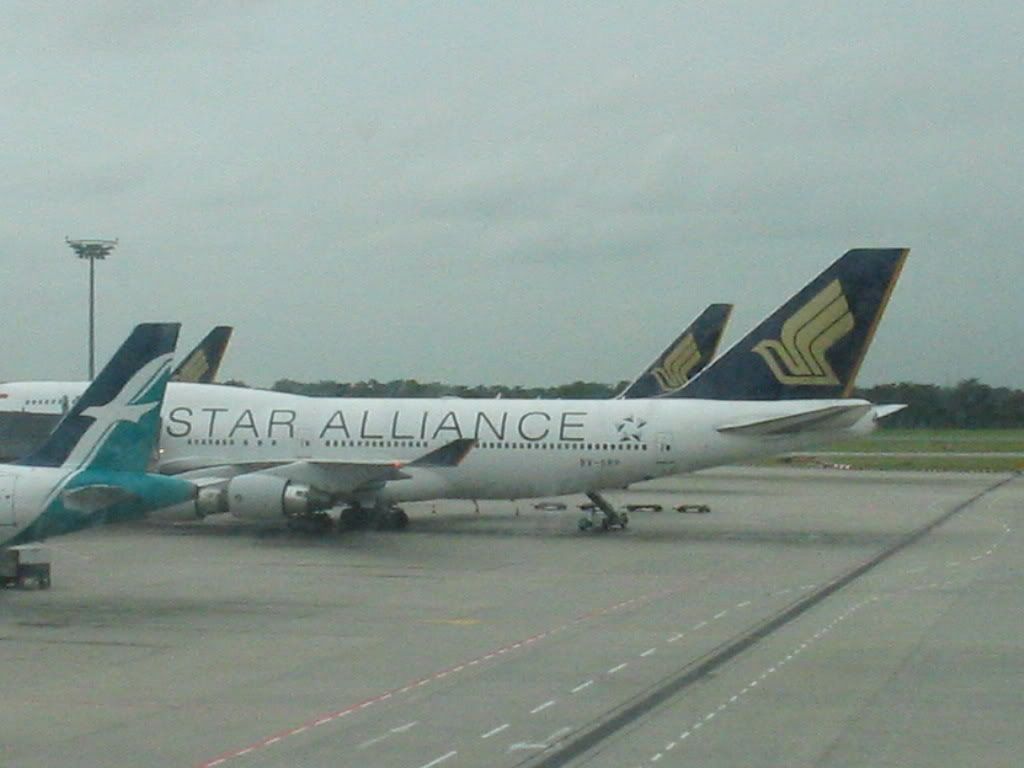 You don't get much variety in Terminal Two at Changi!!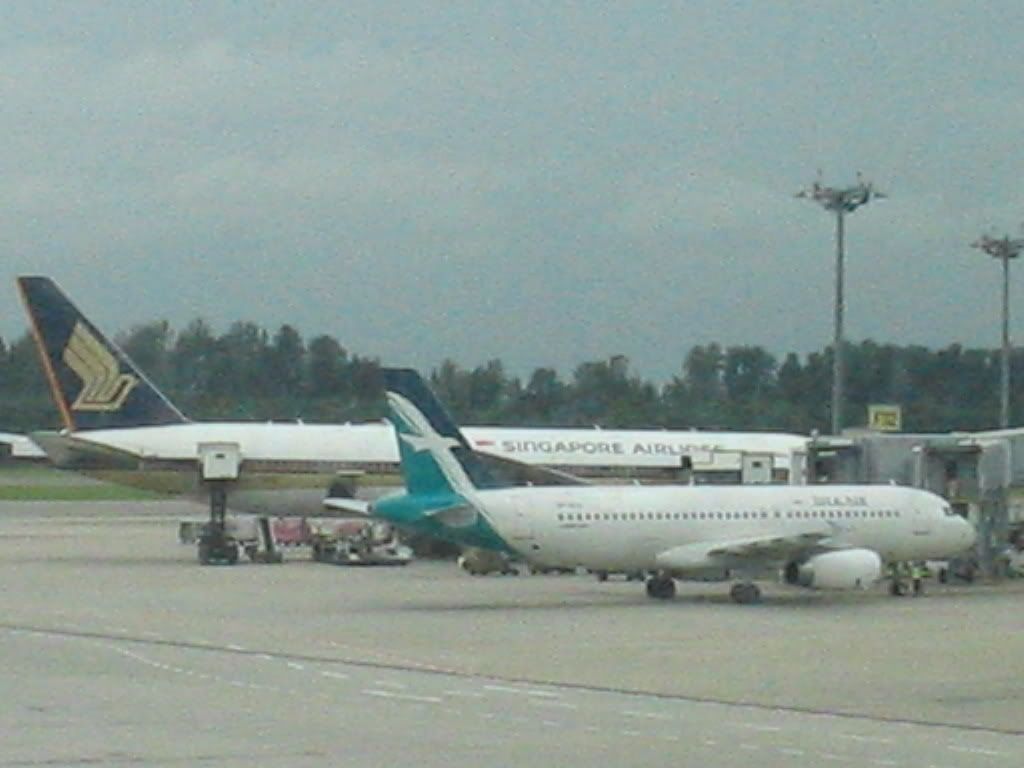 The departure area (will try to get a better shot the next time)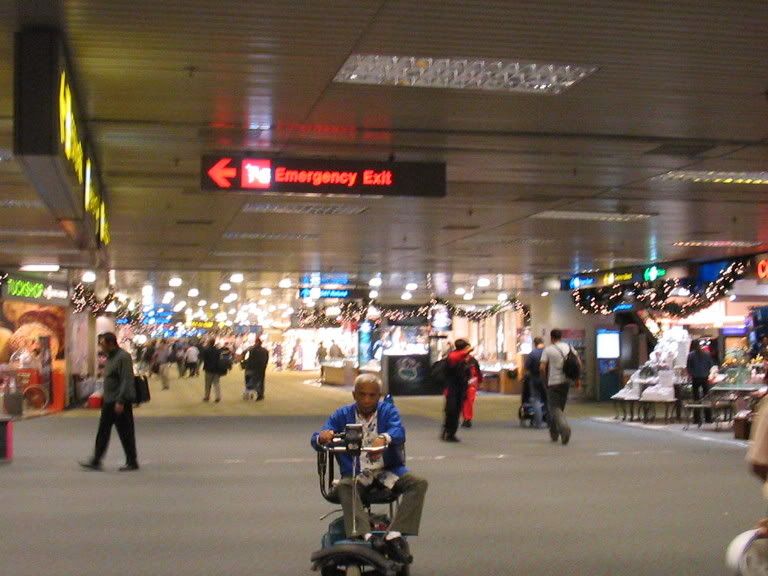 Wandered around a bit…. and we boarded SQ156 at 9.45am, 15 minutes before the scheduled departure time at 10am
As we neared the gate at F56, I noticed that we would be taking the SQ 777-300 in the Star livery!
9V-SYE operating SQ156 to Jakarta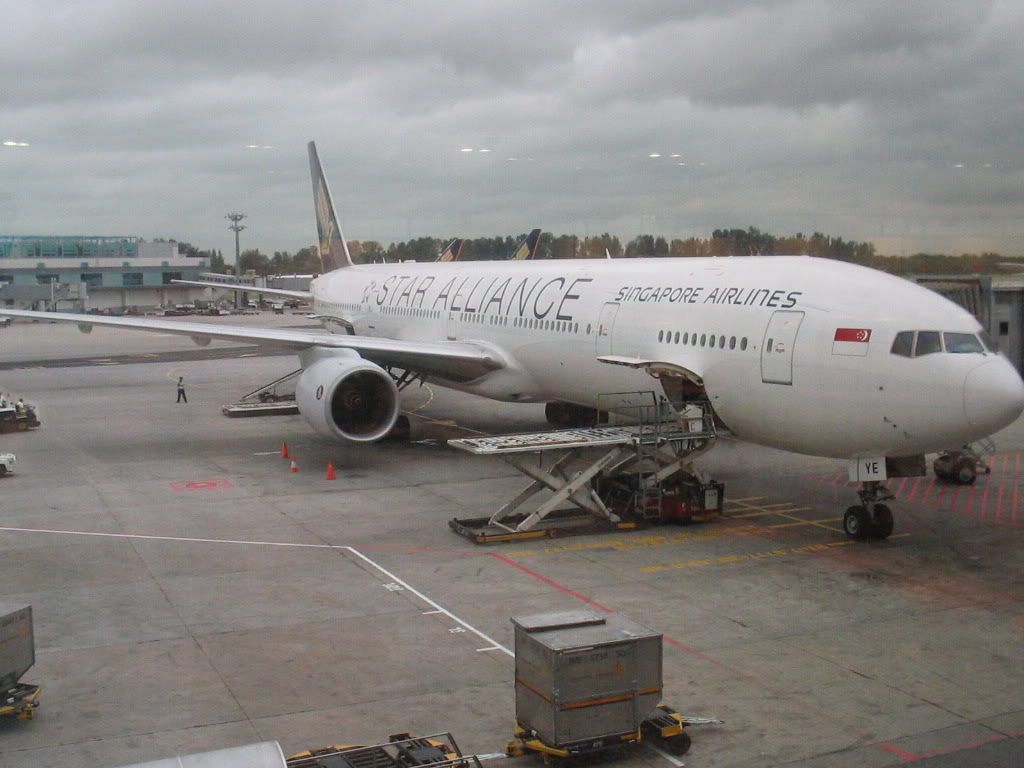 Another shot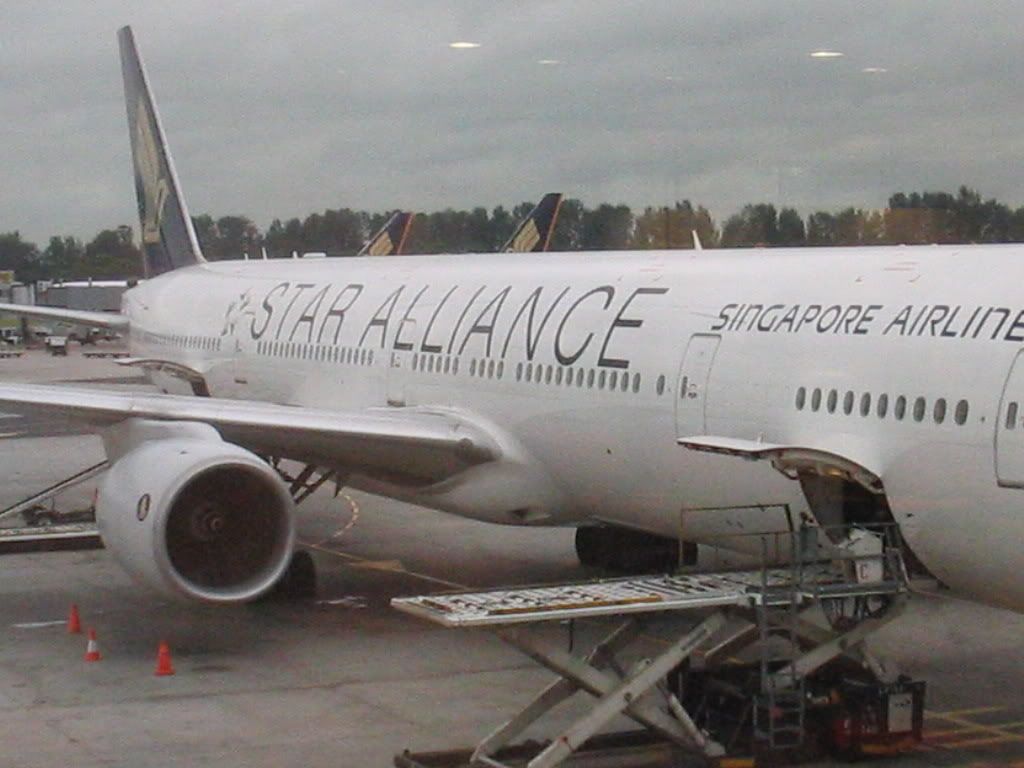 A whole row of SQ aircraft!
Boarded the 773 (my first time on a 773) and grabbed a copy of The Straits Times on a newspaper rack by the door…..which was when I noticed that the flight was about 25% full. Y class was virtually empty! I wasn't all that surprised though. Being a Saturday, and Jakarta being a business destination, (no one goes there for holidays!) all the business pax wouldn't have been travelling that day.
Flight time this morning was 1h11min.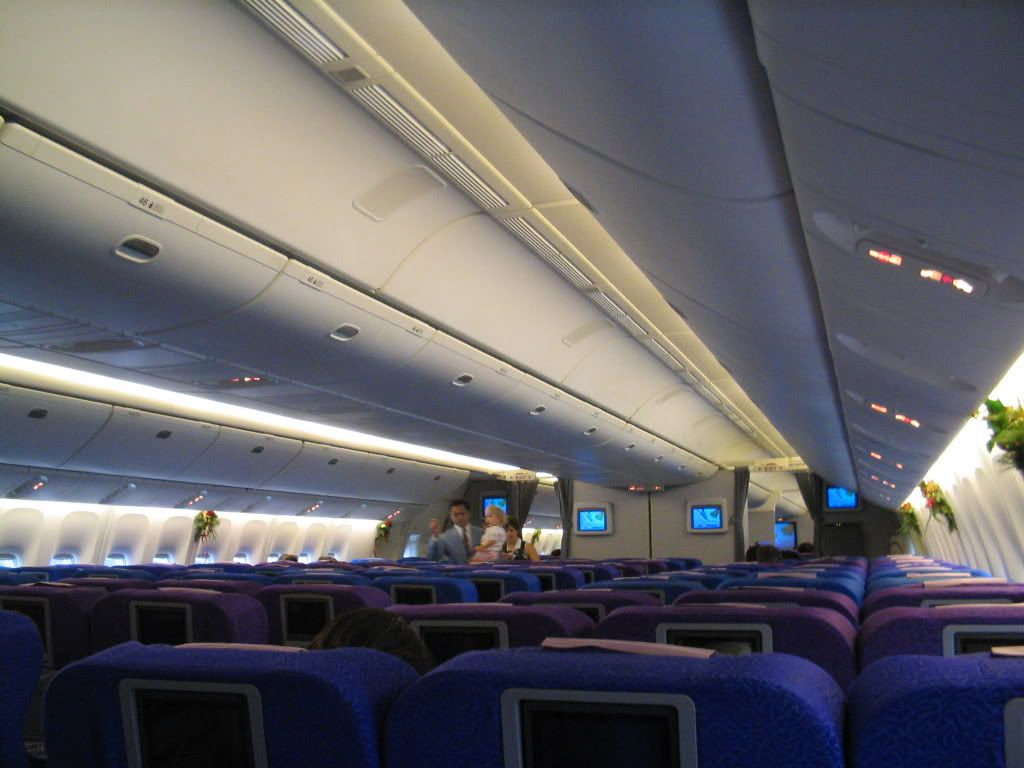 The aircraft had Christmas decorations as is usual of SIA at this time of the year.
Just before takeoff, cabin crew came round with hot towels. (I dedicated the wiping of my face at that moment to Singapore_Air. If you are reading this I hope you're grateful at my sheer dedication to you! =) )
I totally forgot which runway we took off on, but it was in the northeast direction towards Malaysia. As we took off, forgive me for sounding stupid but…. I noticed another runway on my right on reclaimed land that looked like it was just completed. Am I out of the loop or was what I saw really the third runway that was supposed to materialise?
Anyway here it is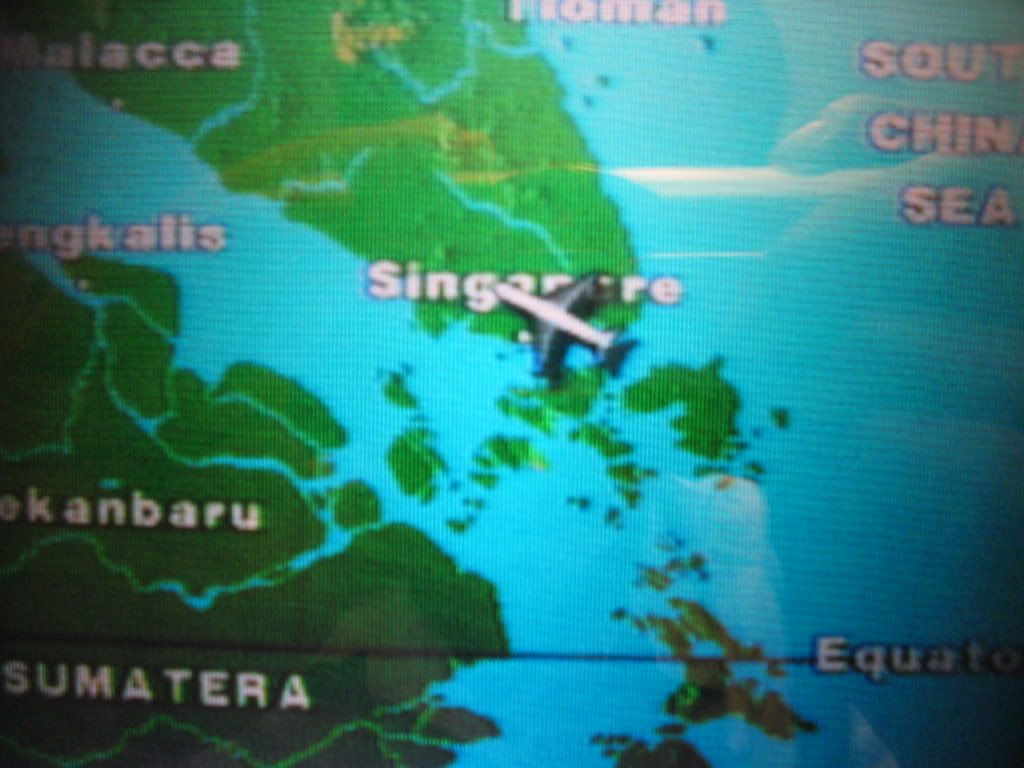 After the seatbelt sign was turned off, cabin crew rushed to the galley to prepare the light meal service.
This morning, we had a choice of either beef steak with potatoes or Fish with rice. I thought I was committing a faux-pas by choosing the western option since SATS catering in SIN isn't usually that great at their western food preparation as compared to asian food, but I chose the steak anyway.
Here it is….
Here it is now!!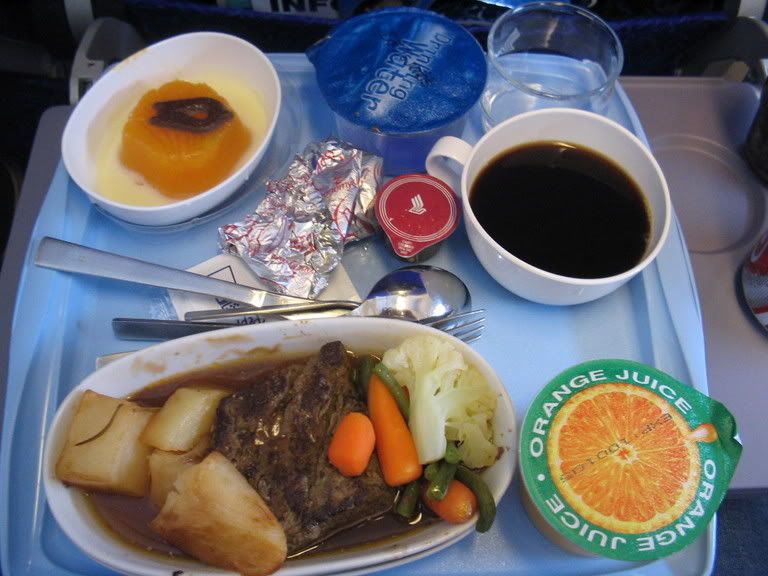 Well, it was one of the best steaks I had ever had on an aircraft. How steak prepared a couple of days back, frozen, sterilised, microwaved again and served at 37 000 feet could still be so juicy, I do not know how.
Dessert was some sort of flan with vanilla sauce. It was really tasty too. Together with the meal service we were also offered a full bar service.
I did notice an absence of bread rolls which I found rather unusual. Perhaps the bread rolls take too long to microwave for such a short flight?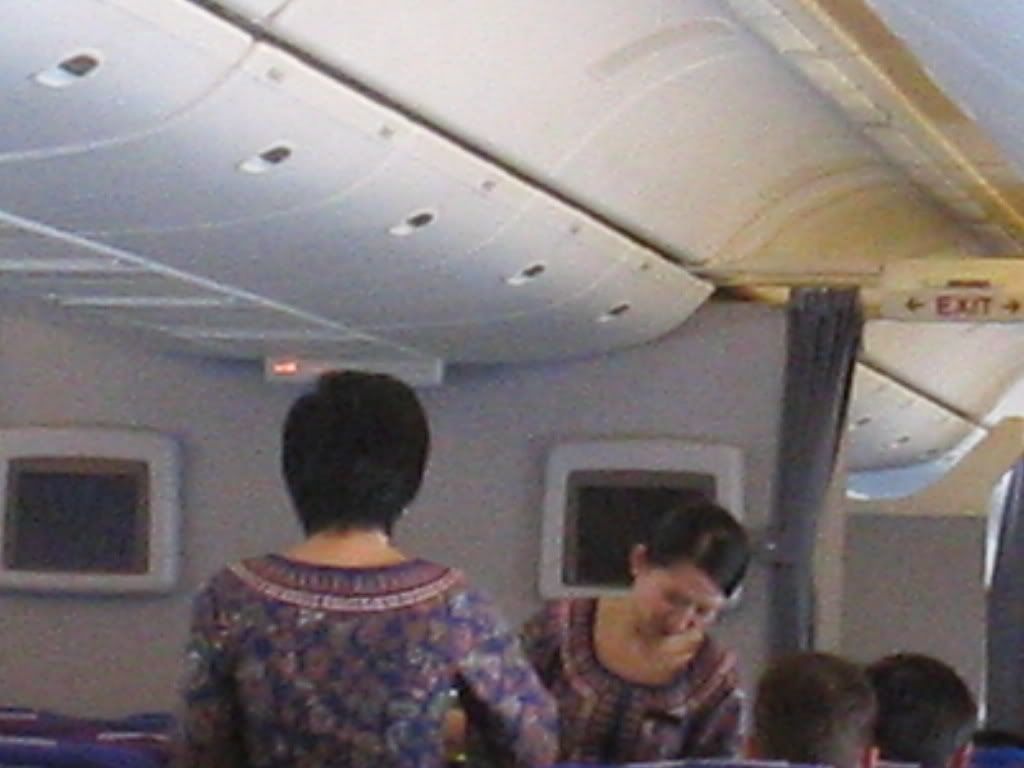 Being a really empty flight, the cabin crew finished the meal service really quickly and collected all the meals back in half an hour. We still have about 25 minutes of flight time left and I noticed some of the crew eating at the back galley of the aircraft.
I asked for some postcards and playing cards and got them promptly with a pen. Wrote a couple of postcards to some people and got them posted free by SIA.
Krisworld, the inflight entertainment system was turned on. However, headsets were not distributed as it was a short flight. (They are available for First and Business Class pax) I fiddled around with the system, played a couple of games and watched some movies without the soundtrack, only to lose interest after erm, 10 seconds?
Visited the lavatory. Here is a photo of the amenities available. I hope Singapore_Air is sufficiently grateful. No I couldn't find sanitary napkins and didn't conduct extensive tests on them to ensure that they were of superlative standards.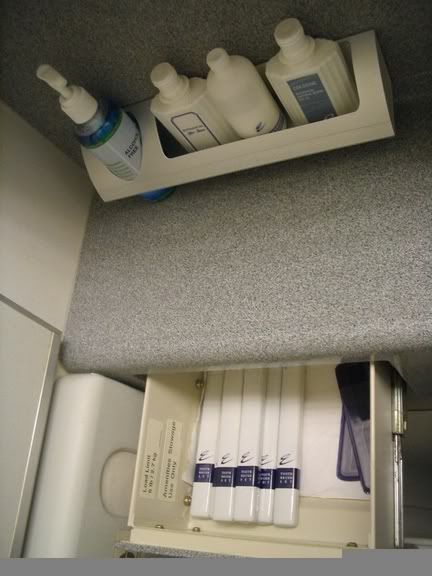 Flight Map just before arrival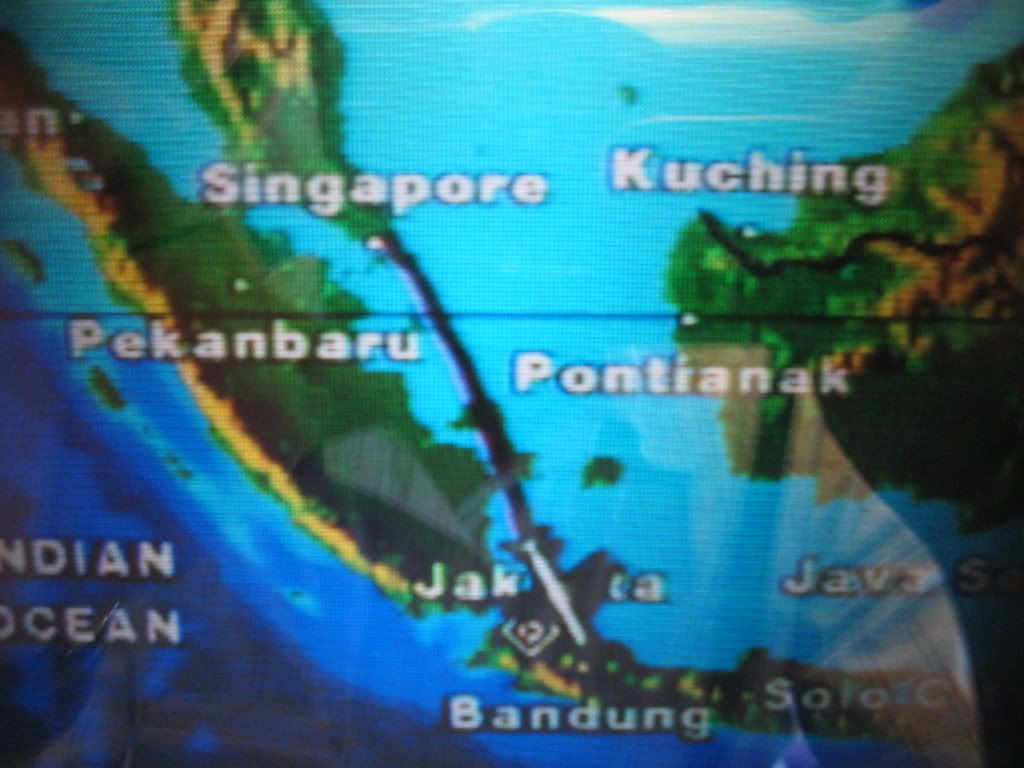 Fish traps in the sea??? (What are those?)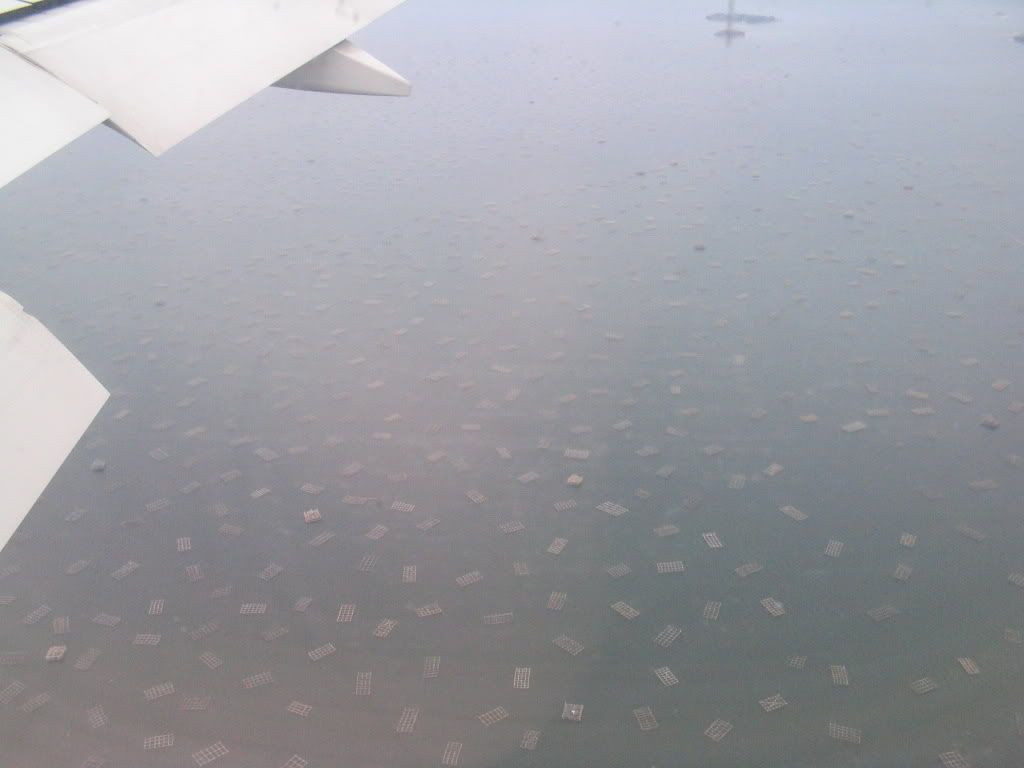 Just before landing……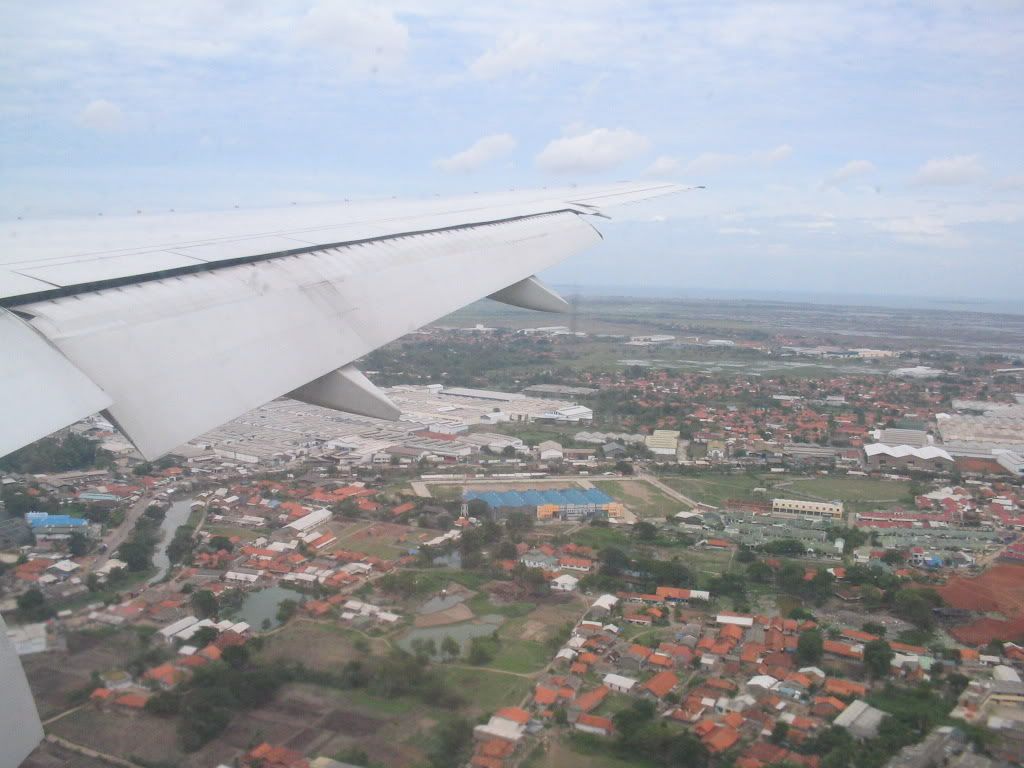 Landed 1h15mins after take off from Singapore. As our aircraft came to a halt at gate D1, an SQ A345 9V-SGB was preparing for departure to SIN.
Immigration at Jakarta was a bit of a pain. The immigration officer didn't quite understand the concept of an e ticket when he asked the person in front of me for her return ticket and that held me back for a few mins. Luckily I printed my e ticket receipt out to prevent any confusion…..
Didn't have any check-in luggage so went straight through customs and out to the arrivals area to meet my friend.
All in all it was another good flight on SQ. As usual, nothing out of the ordinary. Service was prompt and efficient and less rushed as it was an empty flight.