Hey,
We decided to go to Paris for the weekend, as my dad had some BA Executive Club miles to use up. Because this was an Executive Club booking we decided to connect at LHR as the direct flight BA offered us from MAN departed at an inconvenient time.
So after quite an uneventful MAN-LHR flight on A319
G-EUPF
, I was really looking forward to this flight. It would be on an 8 day old A321!
Enjoy!
December 10, 2004
British Airways BAW0316
London - Heathrow (LHR / EGLL) to Paris - Charles de Gaulle (Roissy) (CDG / LFPG)
Airbus A321-231 G-EUXG (CN 2351)
Gate Departure Scheduled/Actual 1500/1508 Local Time
Gate Arrival Scheduled/Actual 1715/1720 Local Time
Seat 15A
View Large
View Medium


Photo © Henry Lidster
Only the one photo in the database at the moment!
We had already checked in for this flight at MAN, so we proceeded to the flight connections centre. After a 10 minute bus journey we finally arrived at Terminal 4. It was very busy, a lot of long haul flights were boarding when we arrived. I managed to take a quick shot of the waiting area! The weather was pretty miserable at LHR!
I walked over to the windows and I managed to see a BA B747-400 pull onto stand from Los Angeles. This aircraft was actually
G-BNLG
, an aircraft which I flew this year from Cape Town!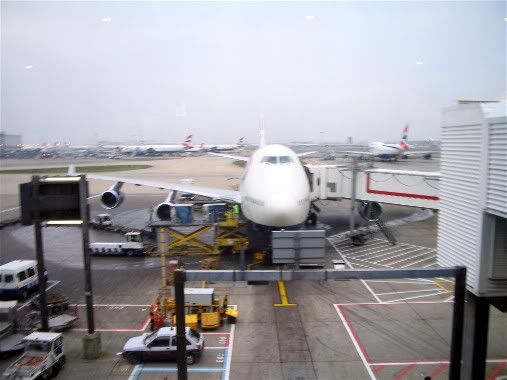 The time was now 14:40 so we proceeded to gate 1A, where we caught another bus to our aircraft
G-EUXG
which was on a remote stand parked next to a BA B777
G-YMMH
which was being loaded for BA0293 to Boston.
G-EUXG
looked pretty nice close up, and it was very clean!
We arrived at the aircraft and we boarded by air stairs, the cabin crew at the door welcomed us and directed us to our seats, I proceeded to 15A, a window seat!
A smell of brand new leather hit my face as walked to my seat, it smelt almost like a brand new car! This particular aircraft had only been in service for 8 days, certainly the newest aircraft I have ever been on!
First impressions were that the seat colour was a different shade of leather to the normal seating; I thought it was a nicer colour though. I settled down and I managed to get a shot of the cabin from my seat.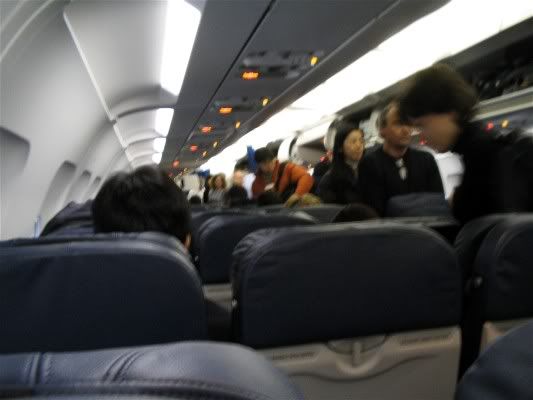 The seats were extremely comfortable, and the legroom was good. I didn't feel that there was as much legroom as you got in the A319s, but it was fine for the length of journey.
G-YMMH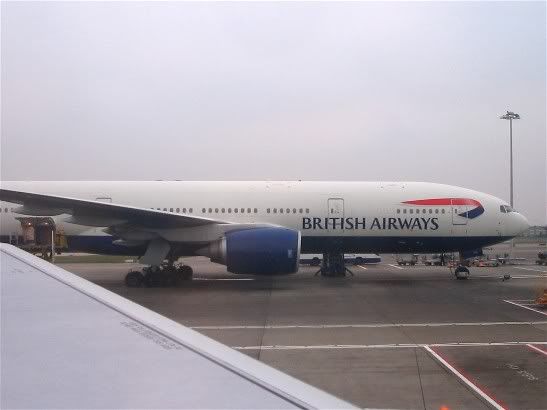 All of the passengers had now boarded, mostly business men were on this flight. So this would be about an 80% load for the flight. The Purser made an announcement welcoming everyone onboard, etc. Soon after this we started the push from our stand, around 10 mins late (not a problem!).
The captain said a few words about our flight, and to take notice of the safety demonstration. He said that the flight time to CDG would be 45 mins. He also stated that the First Officer would be flying this sector.
The safety demo then started, it was a manual demonstration. Normally the LCD screens drop down, but as the A321 is new in BA's mainline fleet they have yet to have one produced for the type.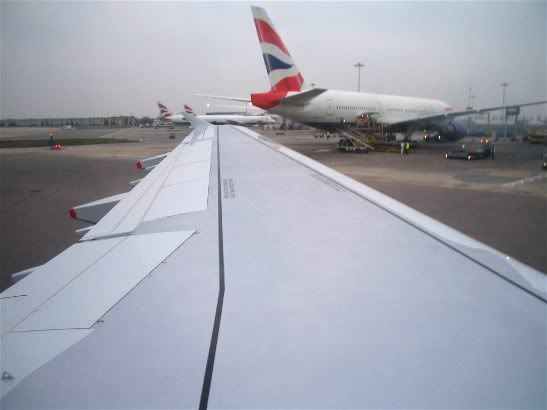 The left IAE V2533-A5 began to slowly wind up, the engine soon stabilised and the right engine was then started. Push had completed and flap was selected.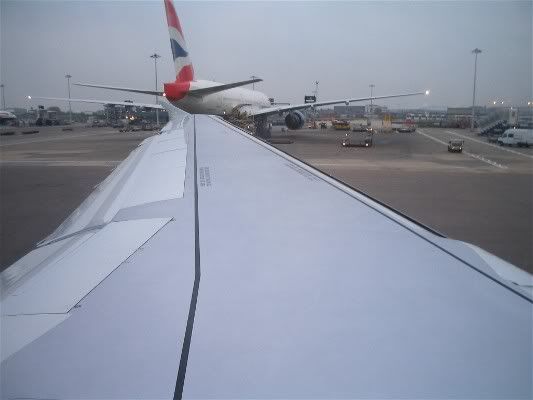 The parking brake was released and our A321 began the taxi to 27L, shortly after we passed a KLM B737-900 heading for AMS. The familiar IAE whine was heard inside the cabin as we were taxing.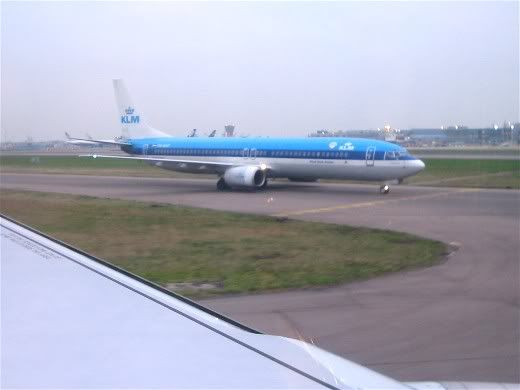 We soon joined a BA B777 holding for 27L and a BA B757 on the runway.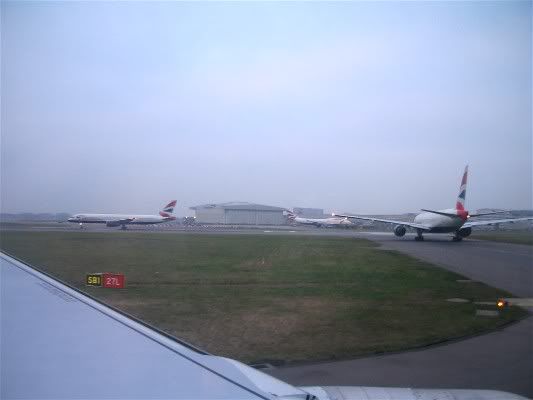 We now entered onto 27L.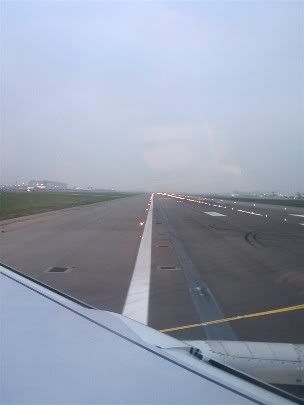 The thrust was opened just slightly as we lined up, and then was brought back to the idle position.
After a few minutes sat on 27L, waiting for the jet wake to clear as a B777 had just departed. The thrust was stabilised for a few seconds, and then the First Officer put the thrust levers in the FLX Detent (I'm assuming that we did do a FLX take-off!).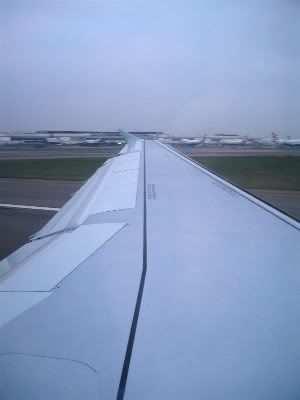 After a rather bumpy 30 second roll on 27L, the First Officer smoothly rotated our A321 into the murky LHR skies.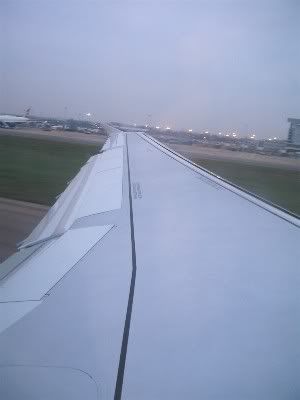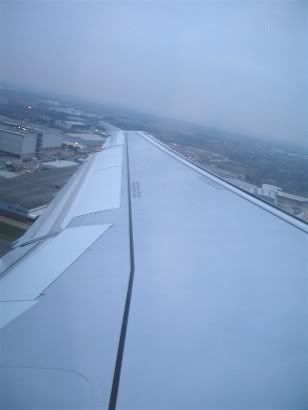 After the initial climb out of 27L, we soon it the low cloudbase. I was looking forward to seeing a nice sunset on this flight, and I wasn't disappointed!
After we passed 1500 feet, the thrust levers were brought back into the CLB detent. Our A321 initially banked left on the MID3G departure, the flaps were soon brought up, and we came out of the clouds at last! What a great sight.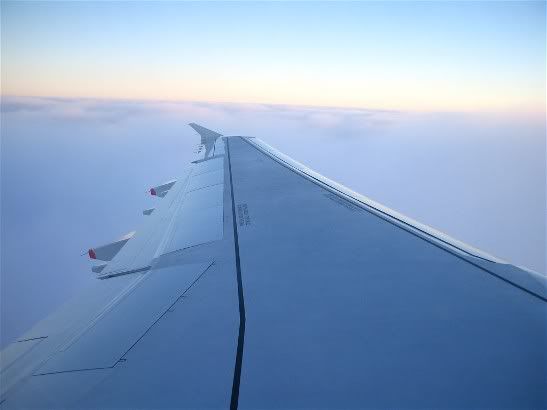 The drop down LCD screens came down, and they showed an Sky Map, which I think is an excellent feature. Some people said that the LCD screens were not going to be fitted on BA's mainline A321s, but I can confirm that they do have them!
I managed to get another shot of the cabin, this time with the screens down.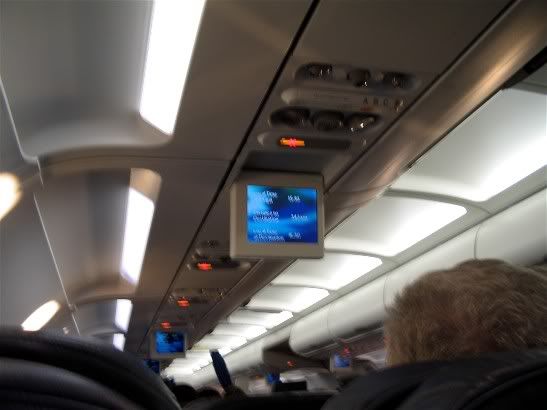 The cabin crew were released from there seats, and they announced that they would be serving a small snack and a drink from the bar.
The Seat belt signs were then switched off, and we soon levelled off at our cruising altitude of 23,000 Feet.
Our flight route would take us south of London, over the English Channel, then over Rouen, Beauvais, and then approaching Paris over the west.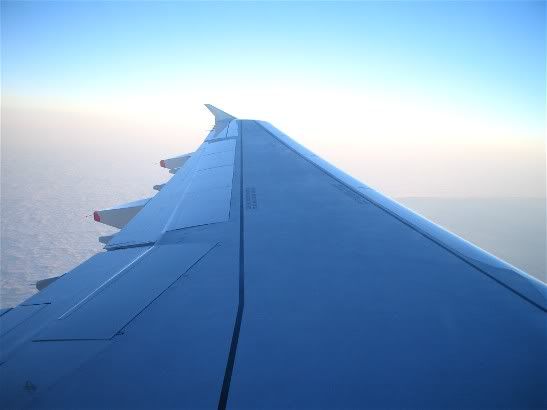 The friendly cabin crew soon came round and they offered either a sweet or savoury snack. I chose the sweet option; it contained Shortbread, a Blueberry Muffin, a Kit Kat and a flapjack. I also had a coke. I think it was pretty reasonable for the length of flight and the time of day. I quite enjoyed it!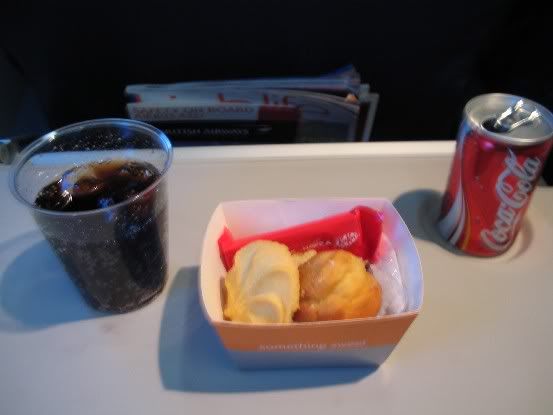 The Captain then updated us on our position, saying the weather in Paris was about the same as in London, but much colder (around -1!). He said that we were just going to begin our descent into CDG in a few minutes.
The sky was spectacular at this point.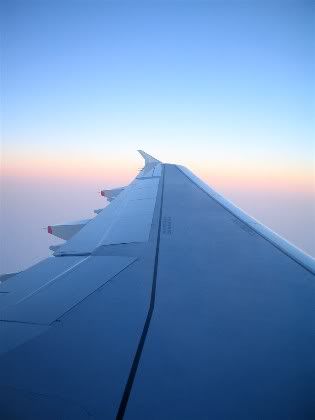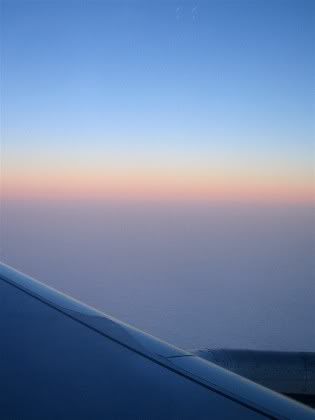 The flying conditions had been very smooth throughout; I was really impressed with the A321.
We now had started our descent into CDG, the engines slowly came back. In the early part of the decent we made use of the Spoilers, to try and get our speed down.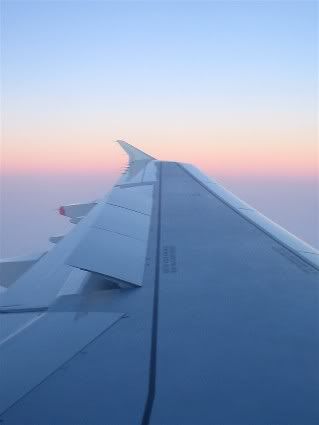 The seat belt signs were switched on and the cabin crew were told "10 minutes to landing". We started to make a left hand turn to position ourselves on the approach to 09R at CDG.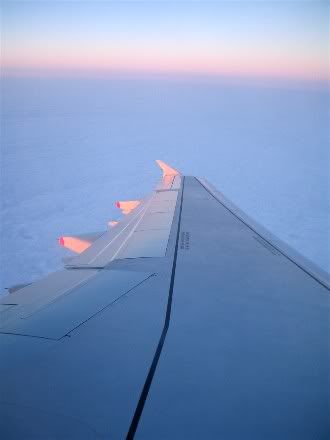 Our flaps were selected and we entered the cloud layer, we must have been pretty close to CDG at this point (maybe 3-4 miles).
We soon came out of the clouds, and were greeted by dark, foggy weather. It was amazing to think that we were in fairly light conditions above the clouds; this meant that no pictures of the approach could be taken. The shots came out really fuzzy, so there is no point putting them on here.
We had trailing vapour streaking from the winglets, which was nice to see! We soon smoothly approached over the threshold of 09R, the First Officer smoothly brought the thrust to idle and we gently contacted with the runway. It was a fantastic landing! The spoilers and reversers came out, and we excited the runway right at the bottom (27R).
We made a left turn onto the taxiway and the spoilers came down. We started a very long taxi to our parking position, which was in Terminal 2B. It seemed to take forever to taxi to our stand! We parked next to a JAT B733
YU-ANK
.
View Large
View Medium


Photo © PatrickB
As we came slowly to a halt our two IAE V2533-A5's were shut down. The seat belt sign was switched off, and everyone made a rush to get off as usual! I wanted to stay behind as I was going to ask for a Flight Deck visit. Soon enough the time came, I asked and they said it would be fine!
I proceeded to the Flight Deck of
G-EUXG
and there was the CPT and F/O preparing for there flight back to LHR. They were extremely friendly guys, and they explained a few bits and pieces of the flight deck to me. The F/O mentioned that BA want to keep the A321s as nice as possible, so they are using them on mainly business routes to Oslo, Vienna, Amsterdam and Paris. I asked if it was possible for me to take a photo, they agreed to it!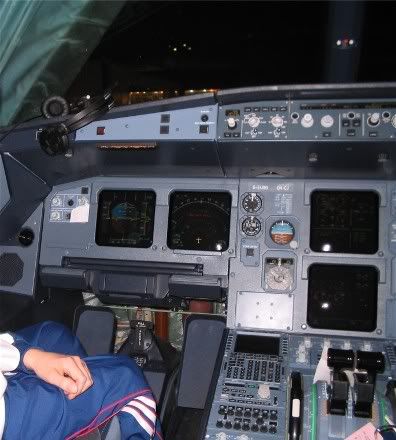 I thanked the very nice flight crew and the cabin crew. And entered the terminal building. Ready to begin a very cold weekend in Paris!
-------------------------
I hope you enjoyed my trip report of this very short 45 min flight from LHR to CDG on BA's 8 day old A321
G-EUXG
!
BA were excellent on this flight, I think you will struggle to find a better airline short haul in Europe. The A321 was also an excellent aircraft to fly on.
Any comments/questions are always welcome!
Thanks for reading!
Ryanair737