QATAR AIRWAYS TRIP REPORT (BAH-DOH-KUL, 11 NOV 2004)
BAH-DOH 11 NOV QR159
My journey starts in Khobar, Saudi Arabia, where a vast majority of the population use Bahrain International Airport, a short one hour and a half drive across the Saudi Arabia – Bahrain causeway, as their airport of choice, due to its wide range of accessible destinations, comfort and convenience.
I had decided to spend the Muslim Eid el Fitr Holidays in Malaysia with my brother, as we had heard a great deal about Malaysia, its natural wonders, beautiful resorts and its modern capital, Kuala Lumpur.
We arrived in the airport at 18:40, roughly two hours prior to departure time. The airport was crowded, with hosts of travelers from the Middle East, Indian subcontinent and Europe, departing for the Eid Holidays. The terminal building projects a smart image, however in comparison with other airports in the region such as Dubai, is in dire need of a contemporary facelift. For instance, the ceilings are too low, and the check-in area seems too cutt off with no views. Credit must go to the management, however, for their installation of PLASMA screens for both flight announcements and check-in counter information. Also, some banks have renovated their offices into sleek, free-standing structures with impressive lighting effects and warm materials. The security check, prior to check-in, was quick and in no time I arrived at the check-in desk of Qatar Airways. I requested and obtained both boarding passes for the BAH-DOH and DOH-KUL sector. Ten minutes later, I was walking around the award-winning Duty Free Shop of Bahrian International Airport, where I purchased a digital camera to capture some moments of beauty and personal interest. The shopping "avenue" snakes through a series of restaurants, boutiques, and the modest yet practical book shop where I enthusiastically purchased a few magazines.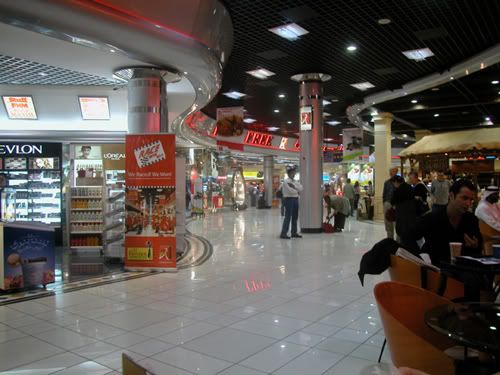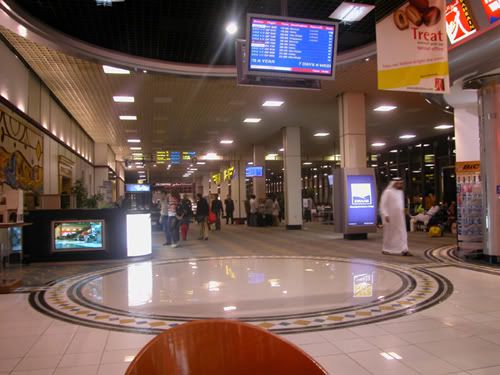 Boarding was on time, and before I knew it I was settled in my seat, 17K, in the Airbus A300-600R operating the flight to Doha. It was pleasing to see the flight crew's cheerful mood (and young looks) as this was a far cry from an earlier experience with Qatar Airways in January, where most of the crew looked sad and demoralized. This time around, the crew was from Morocco, another probably from Russia, the Middle East and Indian Subcontinent. A quick animated review of the inflight safety procedures was shown on the screens. The lack of video-on-demand on this aircraft made me wonder whether QR was planning to phase this equipment out of its fleet, in line with its unrelenting modernization and expansion programs.
It was interesting to view, from the port side of the aircraft, two exotic cargo operators parked in the cargo area. The first was a DAS Air Cargo, Ugandan/British operator, with a DC-10 and the other was an MK Air Cargo DC-8.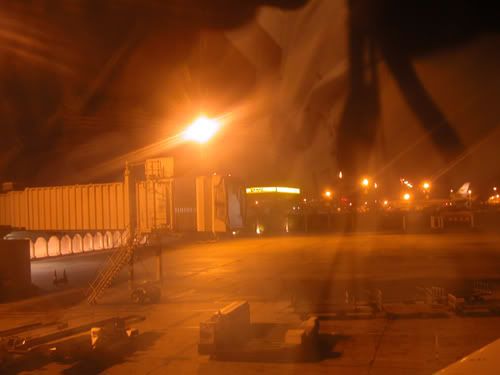 The aircraft took off from Runway 19 and overflew the Eastern part of the island. Bahrain is currently experiencing a boom, although smaller in comparison to Dubai's stunning pace of development, especially in its banking and tourism industries. Just recently, the government announced new incentives to encourage overseas citizens to retire in Bahrain, offering tax breaks, no residency complications, and new residential/golf projects similar to the Palm developments in Dubai. During the short flight, a snack and beverages were served by the friendly crew.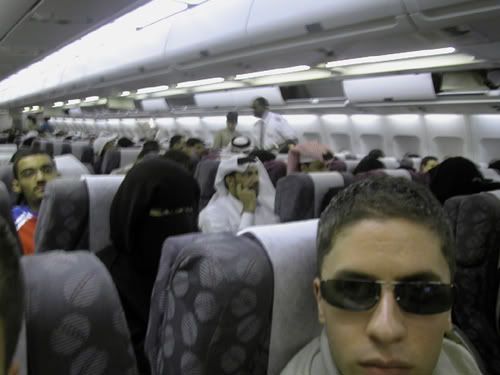 The short hop over the Persian Gulf ended 25 minutes later when the aircraft landed in Doha International Airport. We taxiied to the parking stand, adjacent to the small yet newly renovated terminal and we were quickly settled in the apron Cobus 3000 buses for tranfer to the terminal building. The 2-minute journey was pleasant and afforded me some plane spotting (Oman Air 737-700, Qatar Airways, etc.). Well, I thought to myself, an aviobridge is almost a must these days for its speedy and comfortable passage into the terminal. No wonder, Doha Airport is embarking on an expansion program with the help of Aeroport de Paris and some other world-class consultants.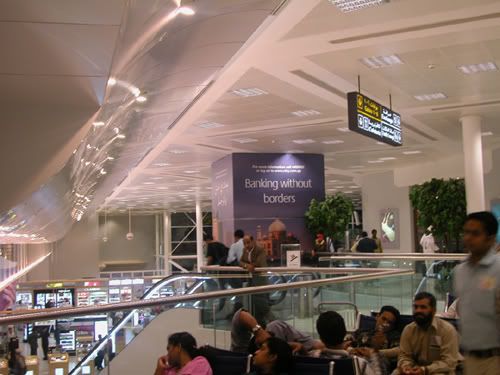 Doha Airport 2nd Floor Departure Hall
Walking through security and into the shopping-filled transit hall which was totally glazed towards the apron, my immediate impression was that this airport is crowded and in dire need of temporary expansion. The compact design is a refreshing break when compared to other mega airports such as Heathrow where it can take 30 minutes to circulate between terminals. Upstairs in the cafeteria I started my laptop and hoped to connect to a wireless wi-fi connection. This never happened, as the business lounge attendant informed me that the wi-fi network is only running on an experimental basis and is only accessible to airport employees.
DOH-KUL 11 NOV QR620
Two hours after arrival in Doha International Airport, we were sitting in Gate # 4 awaiting the final bus to take us to our Airbus A300-600R, departing to Kuala Lumpur and continuing to Jakarta. Upon entering the aircraft, I was immediately concerned by the lack of legroom during this longer flight. I would have to say that the seat pitch was less than my dreaded KLM 767-300 and 747-300 seat pitch which has not been improved for years.
In ten minutes the Islamic Travel prayers were quickly recited on the display screens, followed by the safety presentation. We were also handed candies and a complementary ammenity bag which, unusually, included high-tech looking inflight entertainment headsets, which hardly resemble archaic ones offered by other airlines.
Take off was ontime and shortly after departure, a delicious hot dinner was served. I was not particularly interested in the inflight entertainment as the outdated Airbus A300-600R offered no PTVs or VOD (Video on demand), which are only available on the carriers's news Airbus A330s. Since it was a red-eye flight I decided to sleep until shortly prior to arrival in Kuala Lumpur.
Thanks to an innovative head rest mechanism in the seat, I was actually able to brace my head and sleep during most of the flight. The 8-inch vertical
padded headrest, forming part of the seat, is hinged at the seat top and can be lifted up to provide a comfortable headrest. I believe this is a reasonable attempt in achieving minimum comfort levels for long haul travelers. I have tried other airlines' 'headrests' and I personally believe that they fall short of delivering a minimum level of comfort to allow for sleep.
A few hours later I opened the window cover and glimpsed at the Far East, some thirty thousand feet below. I had never been anywhere further eastward than Dubai, and I thought Malaysia would be a good starting point in discovering Asia. At this point out our aircraft had been overflying the Bay of Bengal, approaching the strait between Malaysia and the island of Medan in Indonesia. We were quickly served a light breakfast prior to starting our descent to Kuala Lumpur International Airport.
I was excited and curious to arrive in this airport as I had read about its grand opening in the late 1990s. The airport is located some 70 Kms from the center of Kuala Lumpur, but is easily accessible by KLIAekspres, a high speed train able to complete the voyage between KL's Sentral station and the airport in 28 minutes. This was extremely convenient for me as I had stayed in the brand new Hilton in Sentral station.
Our final approach during good weather and visibility had allowed for good views in the areas adjacent to the airport (palm trees, agricultural trenches, modern highway). We taxiied following a smooth landing to our gate, located in the international terminal, in the shape of a "+". Shortly after disembarkation we proceeded to the impressive terminal train shuttle which takes passengers to the arrival hall.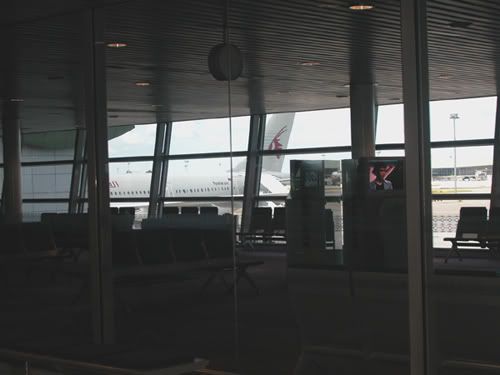 Qatar Airways A300-600R as viewed from inside the KUL Internationa terminal.
My overall experience with Qatar Airways is favorable, apart from the outdated Airbus A300-600R which offered limited inflight entertainment and limited legroom. However, during my return trip a week later, another A300-600R was operating the route and offered a significantly increased legroom. Qatar Airways is also in the process of replacing their A300-600Rs with brandnew Airbus A330-200s and -300 series aircraft. I believe that once this is completed, Qatar Airways would be truly offering a consistent '5 start airline service' on all of its routes.