Hi all this is my first ever trip report on this forum. I noticed there aren't many trip reports for Turkish Airlines, so I will be glad to provide one here for referral. I was travelling to Tunisia for a 2 week break, and Turkish provided the fastest and most economical connection into Tunis. I would just describe my experiences on the SIN-IST sectors first ..
18th Dec 2004
Turkish Airlines TK 061
Operated by : A340-311 TC-JDK "Isparta"
Route : Singapore Changi - Bangkok Don Muang -Istanbul Ataturk Intl.
ETD : 2225 hrs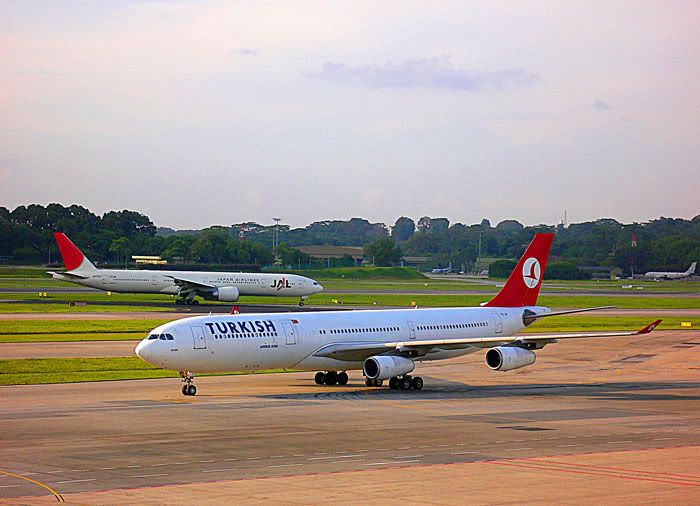 "Aydin" Turkish Airlines .. didn't manage to capture a shot of "Isparta"
It was a calm Saturday evening, as my Toyota rolled to a gentle halt in front of Departure Hall Entrance 4 of Singapore Changi Airport Terminal 1. The time was 2025 hrs, exactly 2 hrs before the ETD of Turkish Airlines TK 061. Changi was really crowded tonight , with the festive season just round the corner and the onslaught of budget airlines offering dirt-cheap regional flights for the past week.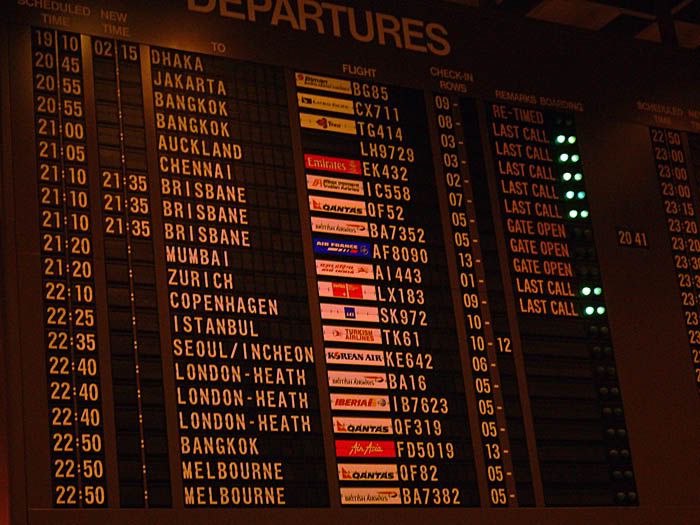 The check-in row for TK 061 was Row 10, together with Scandinavian SK972 to Copenhagen. Our travel agent had advised us to promptly check in 2 hrs before our flight, as the Turkish Airlines Singapore airport manager was known to be pretty strict and hard on late-comers.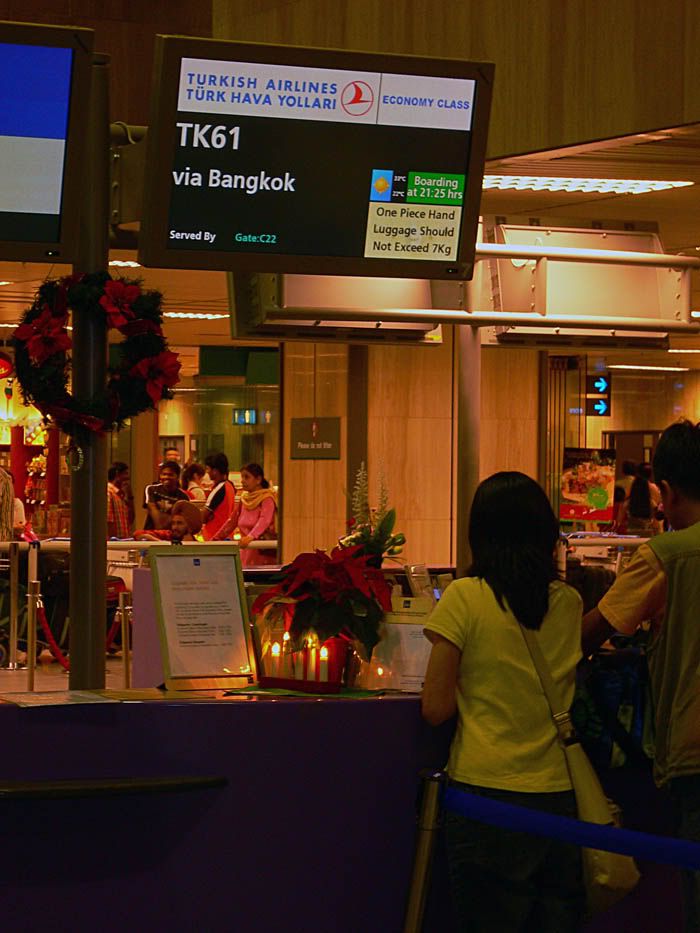 The counters were all nicely lit with Christmas hollies and candles. The check-in agent told me the sector from Bangkok to Istanbul was overbooked, but she said since we checked in rather promptly, it was still possible to get window seats. Indeed, she did manage to , and my allocated seat was 32K. Strangely, none of the counters had Turkish Airlines baggage tags. She checked in all of our bags straight to Tunis, and pointed out our gate number C22 on the boarding pass.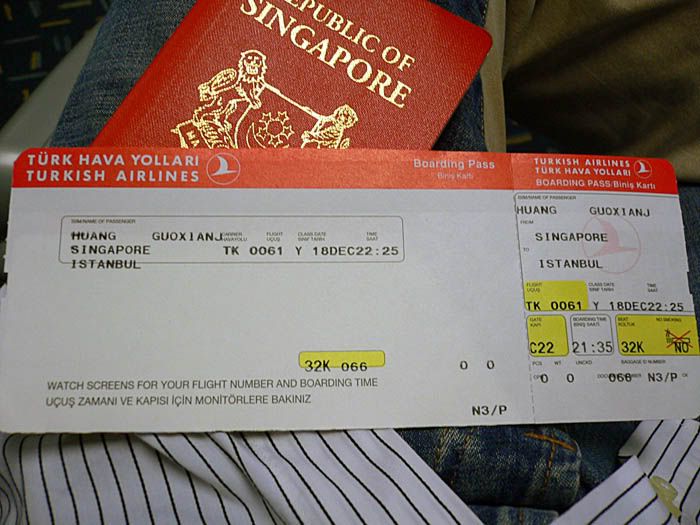 After sailing through immigration and lingering around the departure lounge of Changi, Turkish Airlines announced a boarding announcement for all passengers to Bangkok and Istanbul. "Last Call" flashed for TK 061 on the inflight information screens.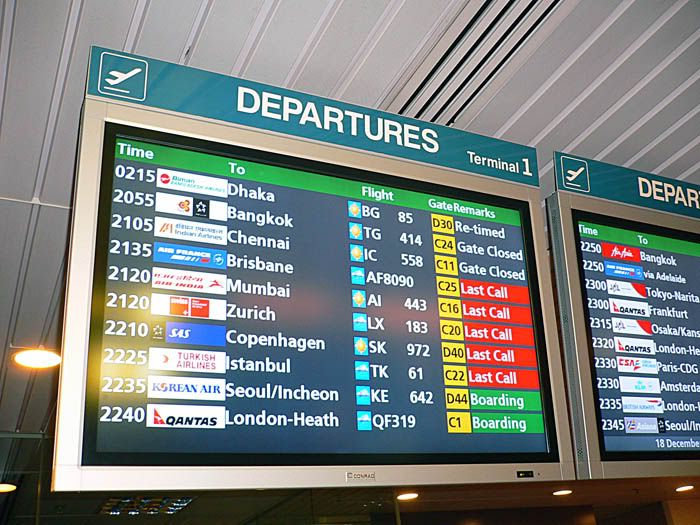 I hastened my pace towards C22, and tried to avoid getting trampled upon by the herds of British Airways/Qantas cabin crew who dominated most of the "C" gates' area. An anorexic looking Santa Claus stood outside the gate of an arriving British Airways flight from Melbourne, bellowing at the tired and jet-lagged passengers who only cast weary glances. Overall, the mood at the airport was very cheery and vibrant !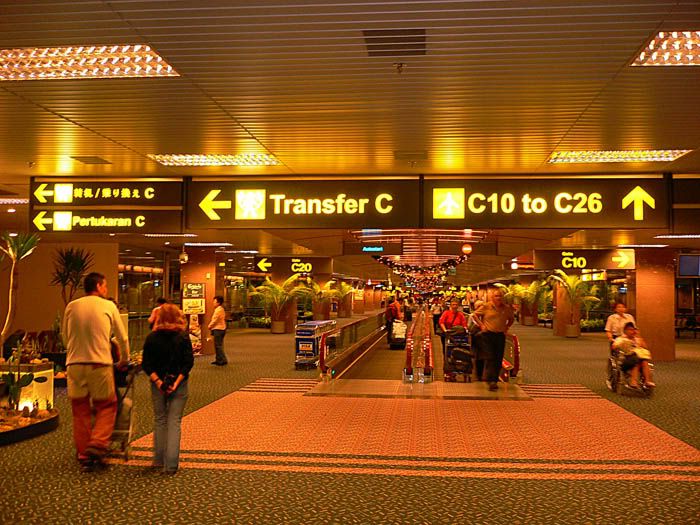 A long queue had gathered outside Gate C22 for TK 061.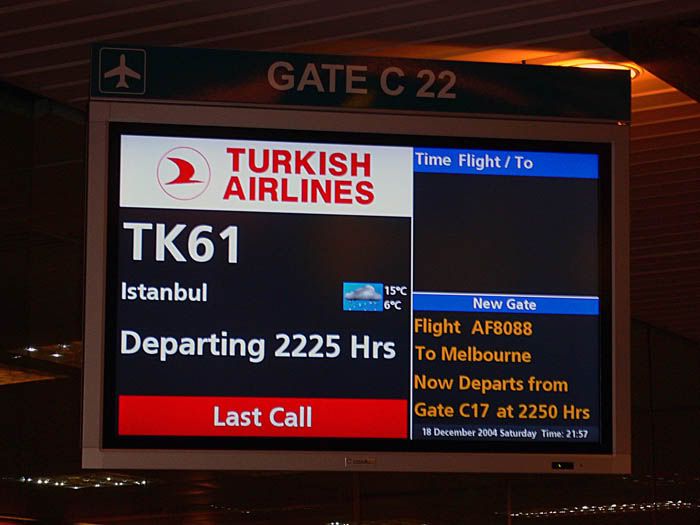 When finally I managed to get past security, I finally waited together with the rest in the departure lounge. Tonight's flight leaving from Singapore looked very much full, although ground staff said even more passengers were going to join us in Bangkok. TK used to be one of the cheaper options for SIN-BKK-SIN.
A picture of the Turkish Airlines Singapore ground staff member. She is quite an aggressive character. On the return journey home, she was anxiously waiting outside the gate for some transfer passengers on a tight connection to Denpasar,Bali, and was politely lecturing some innocent looking European tourists on the technique of forcing your way out of the plane when you are on a tight connection. When one poor young , obviously junior airport staff member did not hold the placard reading "Denpasar Bali" high up, she grabbed the poor girl's hands and yanked them high up in the air.
Since 32K was at the back of the plane, my boarding call came first and I strolled down the aerobridge sans the crowd and all the ruckus.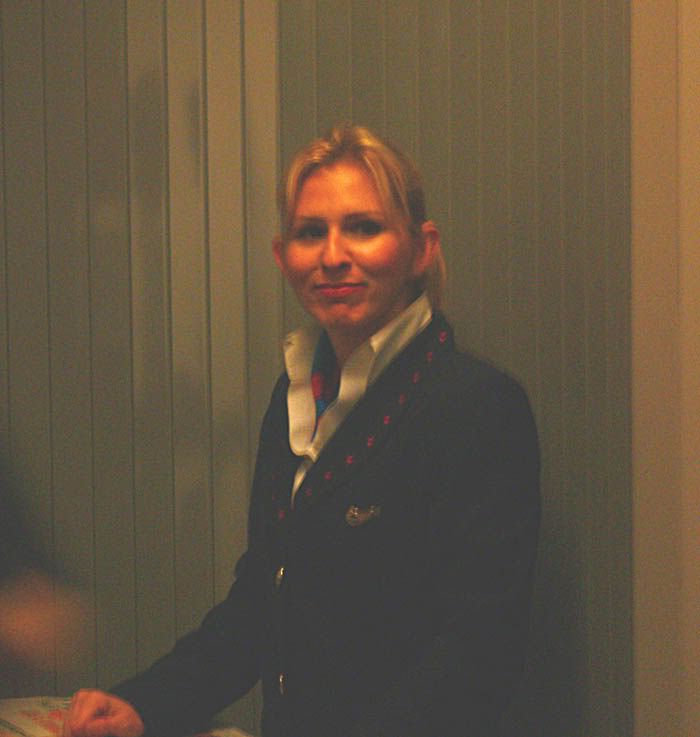 A Turkish Airlines flight attendant stood just outside the door, with a trolley of local newspapers to select from. I was directed to my seat 32K, and waited for all the other passengers to file in. I noticed that there was very good legroom ! i believe 34" contrary to 32" that is in the Seat Pitch guide of www.airlinequality.com. I am 1.76m and could stretch out my legs pretty comfortably !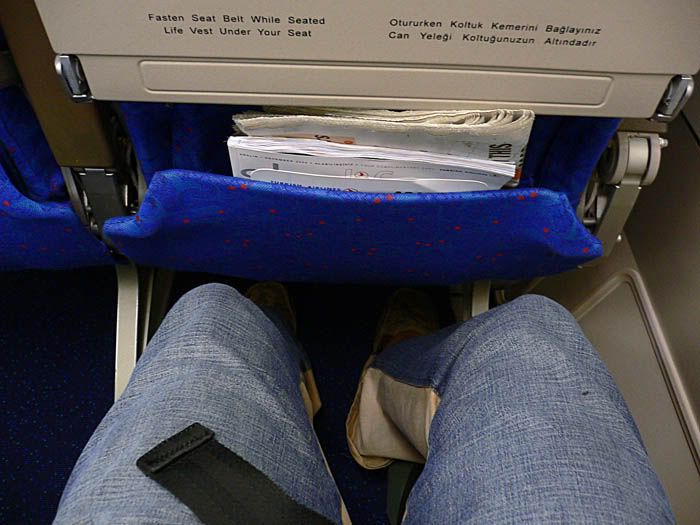 The seat next to me was vacant. There was a red "Scottish kilt"-design blanket wrapped in plastic placed on every seat.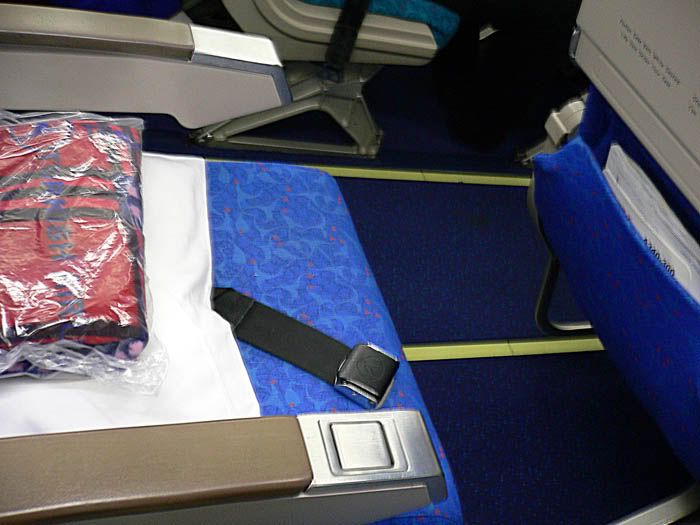 The cabin-crew all didn't look very friendly .. rather surly in fact. Well I was anticipating this , but the cheery X'mas atmosphere in Changi was so infectious that nothing really could dampen my mood.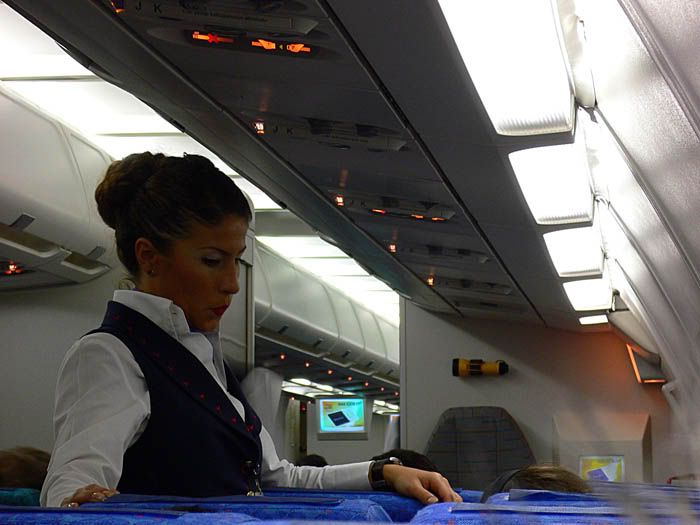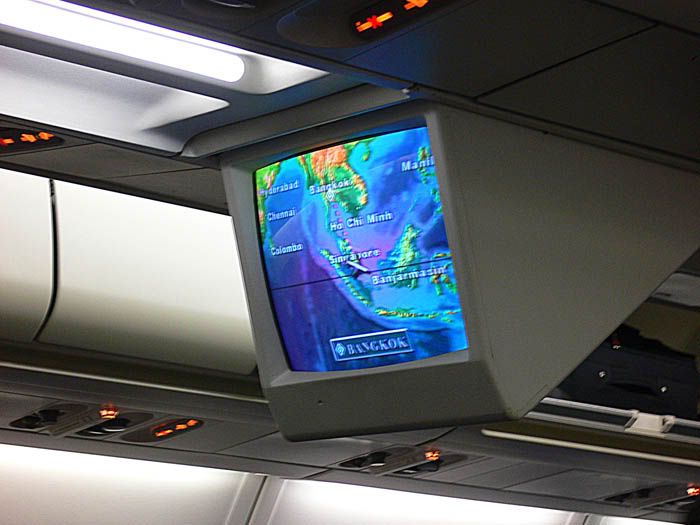 Flipping through the inflight magazine, the entertainment options were quite frightful, considering this was a 14 hrs journey from Singapore to Istanbul. Some really old movies like The Princess Diaries were being screened on this little TV set in the middle. The audio selection wasn't anything to rave about .. mostly Turkish hits and some English selections, including a tribute to Jennifer Lopez ( god ! why would anyone pay a tribute to her ? ). Anyway, I was anticipating the poor entertainment options , so I wasn't too shocked about it.I was going to sleep through the whole flight anyway with the help of my iPod, Scottish blanket and pillow !
The aircraft pushed back at 2230 hrs, and lined up for take-off as there was a good number of arriving and departing aircraft at that time. We waited for a Cargolux 747 , an arriving Asiana B767 and Tiger Airways A320, before we were cleared for take-off. As we turned onto the runway, engines bellowed and the jet roared as we accelerated down into darkness. The plane effortlessly lifted off into the night sky, and was instantly enveloped into darkness. One thing I noticed was that the crew did not dim the cabinlights for take-off , and we took off with the cabin blindingly bright !
As the aircraft levelled off, the cabin crew , with the surly faces , hastened off to start the dinner service. No menu was provided. The elf-look alike flight attendant simply asked me if I wanted "Beef or Pasta". I chose Beef. With that, she handed me a tray and later placed a bun on my tray.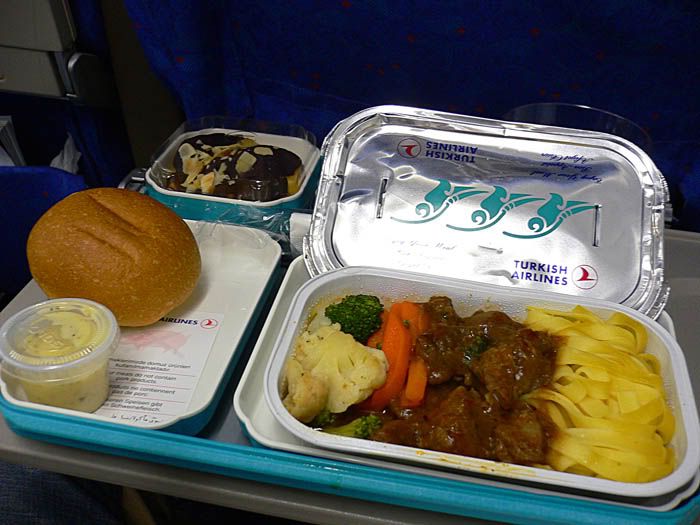 The beef was fairly alright, but I figure some people may not like the way it was done. It had the typical meaty odour , which reminded me more of mutton.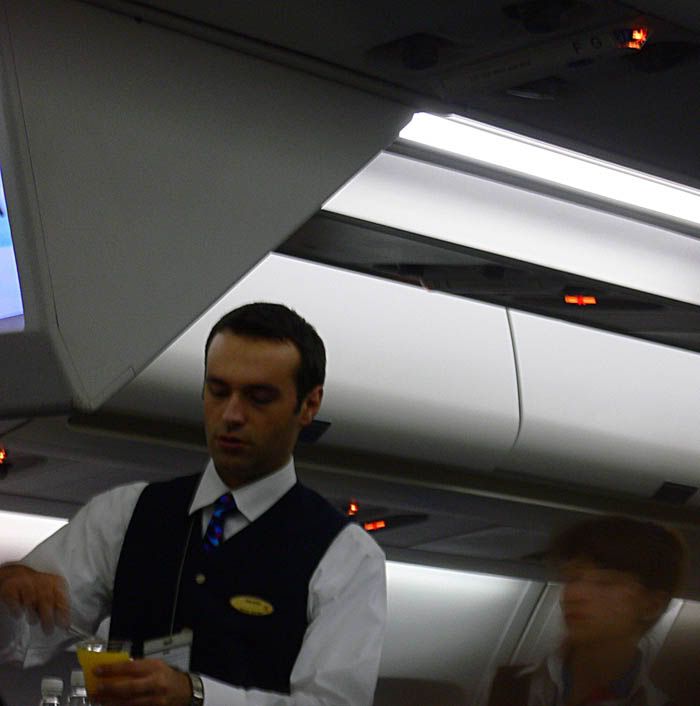 Meal service was efficient but minus all that girly smiles, warmth , pampering Asians are so used to. The cabin crew came for one more round for coffee and tea , collected the trays and disappeared. We all stared at the Airshow map and awaited our arrival into Bangkok.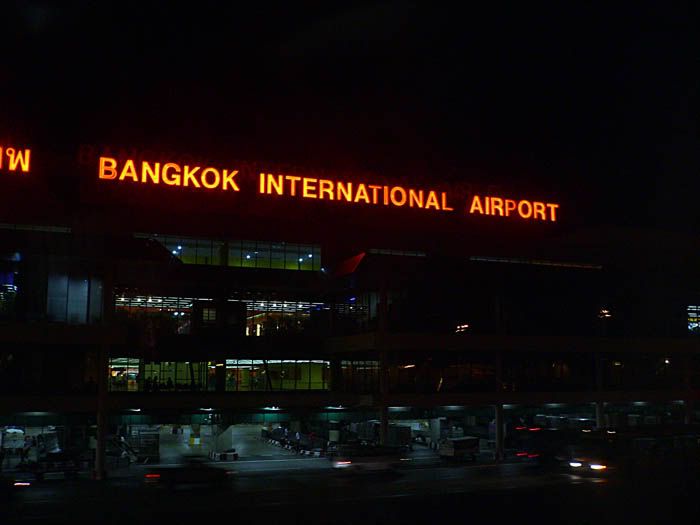 We touchdowned at Bangkok as on schedule, and immediately taxiied off the runway towards the gate. The cabin-crew first announced for Bangkok passengers to deplane first. Then we were told that only 15 minutes was given to passengers, who wished to smoke, to proceed to the smoking lounge in the terminal with their passports and boarding card. All the rest of the passengers were to remain in their seats for the next hour while the aircraft was being refueled. We were quite crudely and bluntly warned by a crew member that we "cannot shit otherwise our buttocks will get sucked into the toilet bowls". A Thai ground staff member at the door was frantically dissuading people from leaving the aircraft unless they wanted to smoke. Nevertheless, people didn't want their buttocks "sucked" so they protested and left the aircraft anyway in search for a loo.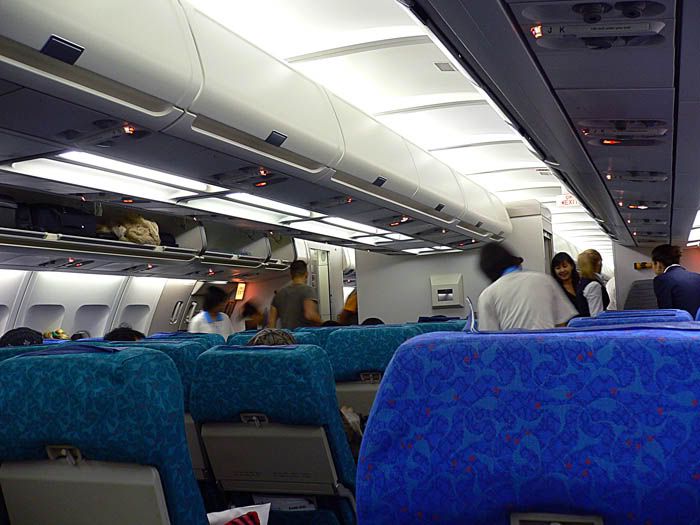 Meanwhile, a team of 20-30 Thai cleaning crew came onboard, and started to clean up the aircraft. It was really difficult for them to do their jobs especially with all the transit passengers lingering about.
At close to midnight local time , passengers joining us for the Bangkok-Istanbul sector began to file into the aircraft and began to fill up the seats at the rear of the aircraft that were empty from Singapore. There was no crew change at Bangkok unlike other airlines, and the crew looked even more weary than ever.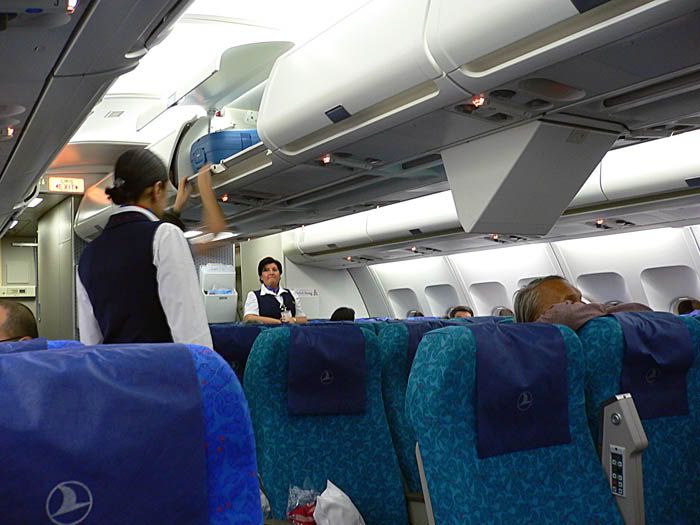 I was so tired and the aircraft cabin felt so hot while on the ground. I was just so anxious to get into the air, and I felt that the transit stop would be so much more tolerable if they allowed all of us to deplane albeit the logistical inconvienience.
A German passenger headed for home took the empty seat next to me, and he was heading for Frankfurt. I curiously asked him why he didn't choose Lufthansa or Thai, and he said Turkish offered really cheap fares. He also started telling me all his adventures on "lower-cost options" like Royal Jordanian , Kuwaiti and even a horror story of Royal Brunei , on how the aircraft was delayed for 3 days.
We were handed our headphones and an amenity kit, which was either red or yellow ( I hadn't seen any other colours ). After waiting for like what seemed like decades for the meal service to reach my seatrow, my eyes were barely open when a tray of Chinese noodles was abruptly thrust in front of me , followed by the customary bun.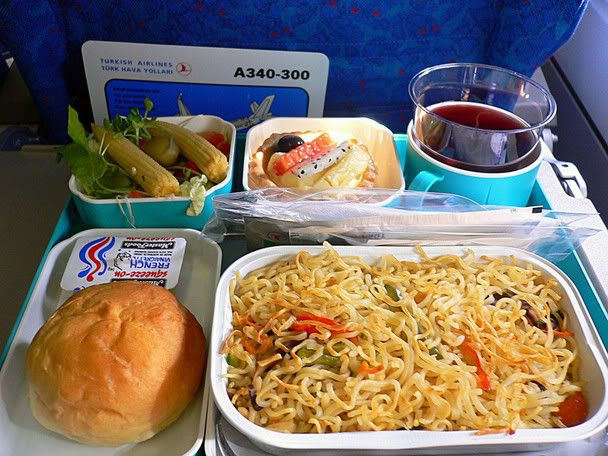 This was my second meal onboard within 2 hrs, thanks to the stop in Bangkok. The noodles tasted OK ; they were dry just like the way I liked it. I gobbled up the meal, and went into a light sleep where I was plagued by nightmares of being trapped in a salt-and-pepper shaker. The turbulence seemed to be really bad for hours since we left Bangkok.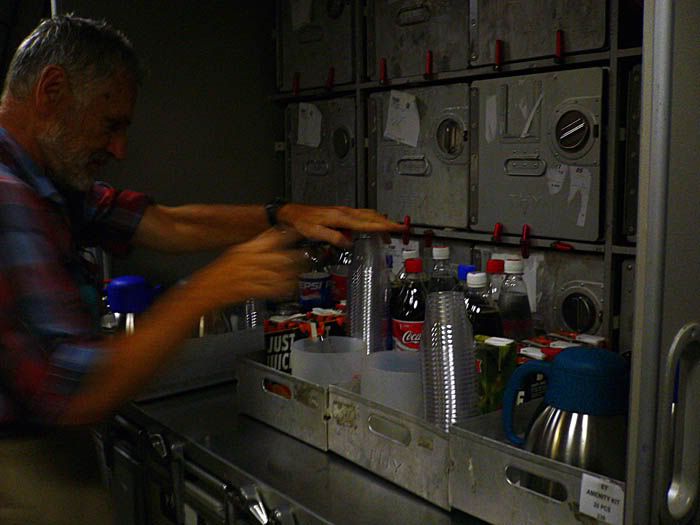 The cabin-crew doesn't do any drink rounds during the flight. Passengers can go to the galley and help themselves to any drinks they wish.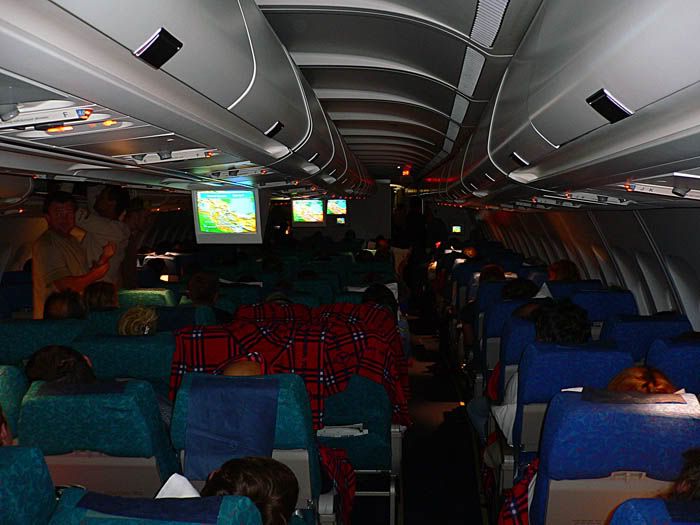 As in the picture, some passengers found the eyepatches insufficient and very innovatively used the Scottish blanket and draped it over two adjacent rows to form a nice canopy over their heads.
Hours went past, and after hours of staring into the seatback and flipping through the inflight magazine, it was time for the breakfast service.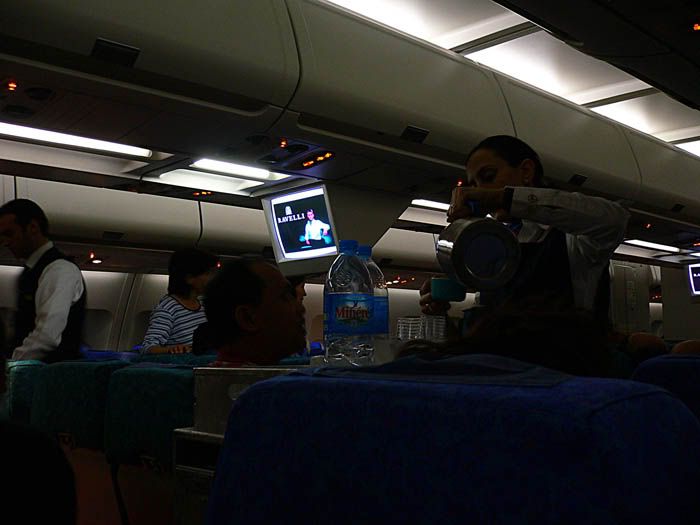 As for the supper service, we didn't have any choice and I was just thrusted a tray of this, plus the customary bun of course.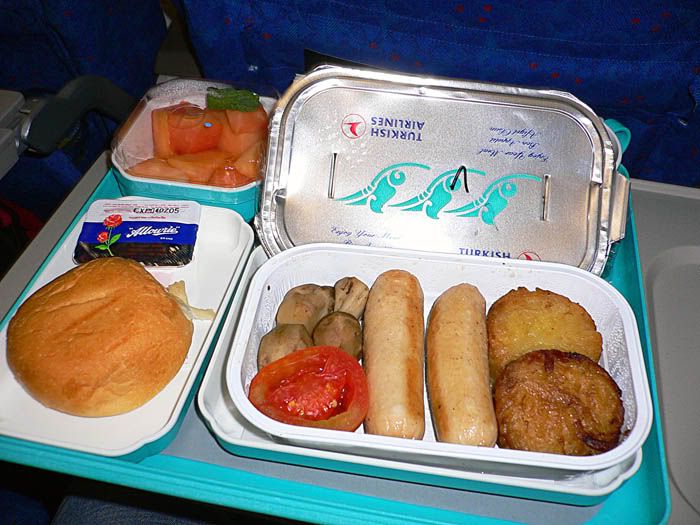 Breakfast was simple and very standard. Suddenly, I smelt a wisp of my breath and it smelt as if Jabba the Hutt died inside. Must be that strange-smelling beef from the SIN-BKK sector. Not wanting to be accused of carrying hazardous gases and violating Section 2920 of Turkish Civil Aviation act, I whipped out my Turkish Airlines amenity kit and headed for the lavatory.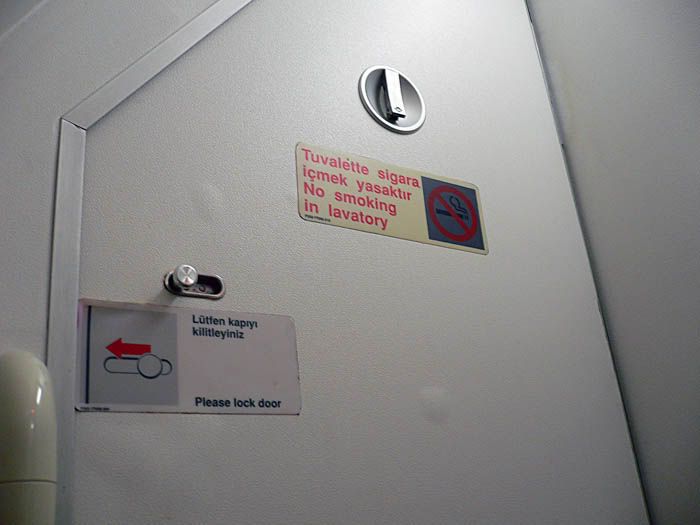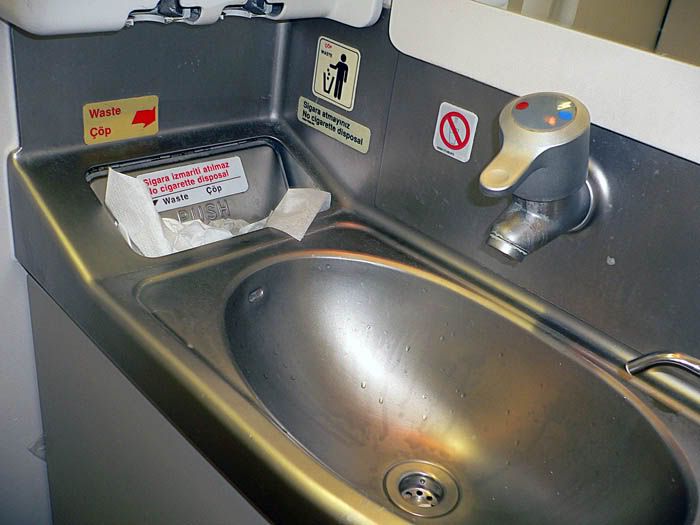 The toilet was clean enough but obviously no one bothered to empty the bin of all that paper. After brushing my teeth, I cleaned up the sink and gingerly reached to stuff my used tissues into the already-stuffed bin. I noticed that there was no cologne or any moisturiser provided. Oh well.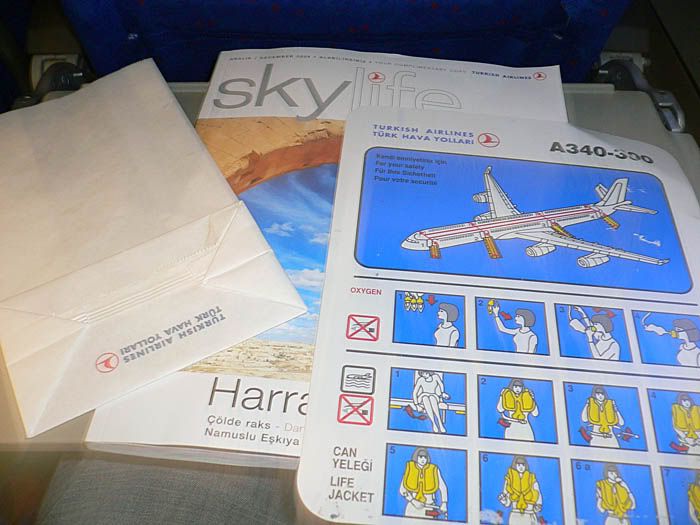 Here's a picture of my friends in my seatpocket which kept me company throughout the flight ! I liked the SkyLife magazine .. it seemed rather interesting to read, and had an fairly informative section of Ataturk Airport.
Soon it was time for descent...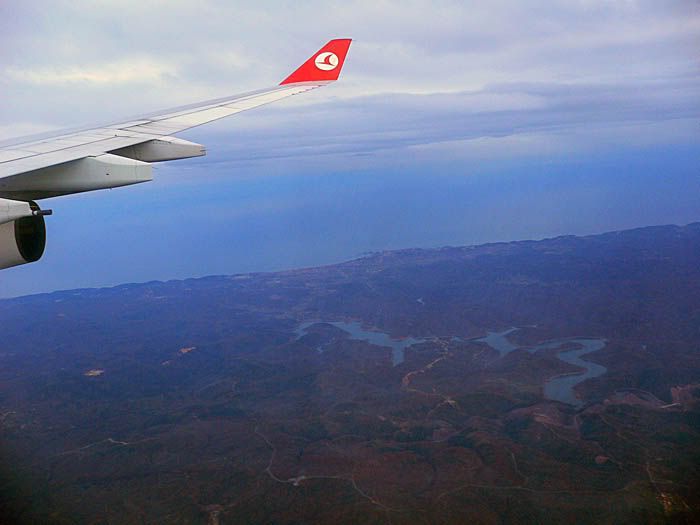 On final approach into Ataturk ...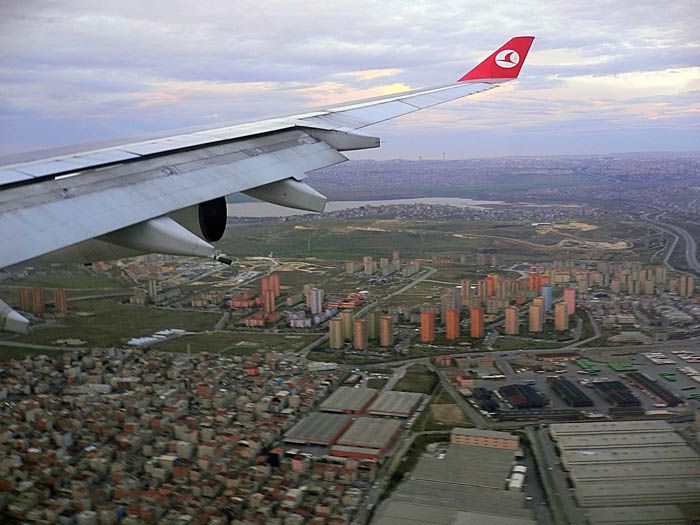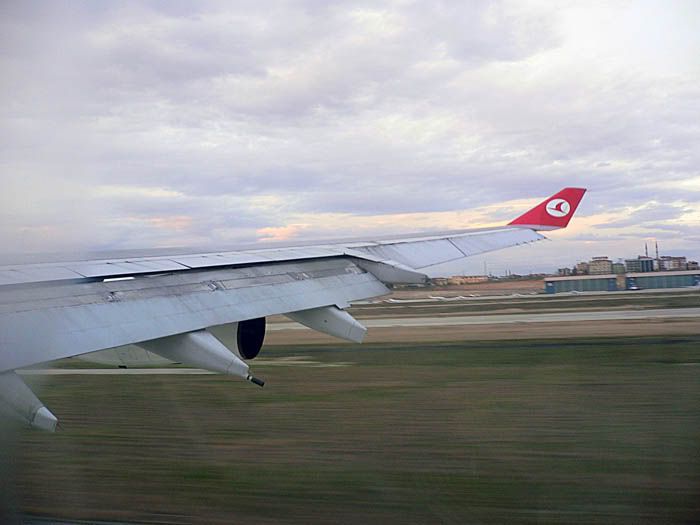 Spoilers deployed !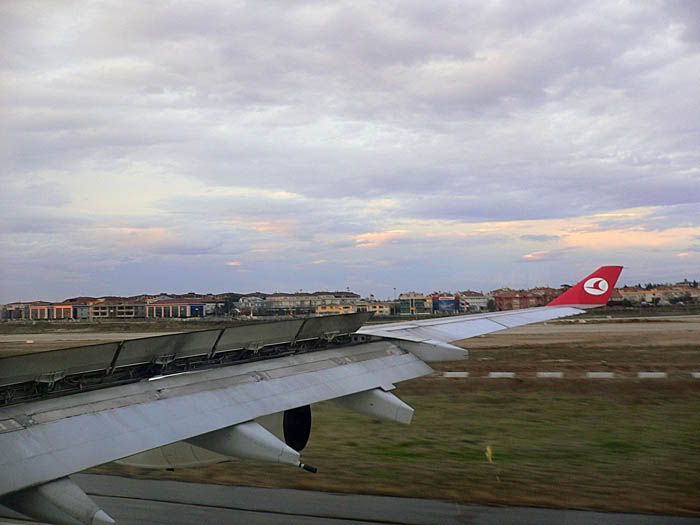 The warm glow of the morning sun !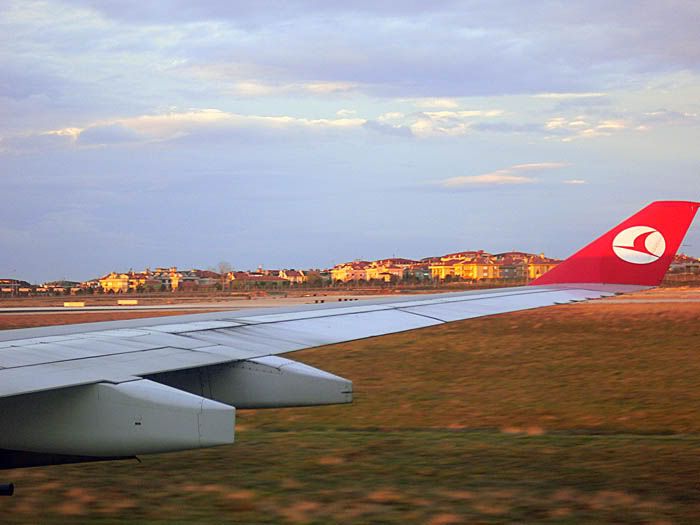 After a rather long taxi, we proceed to dock at Gate 223.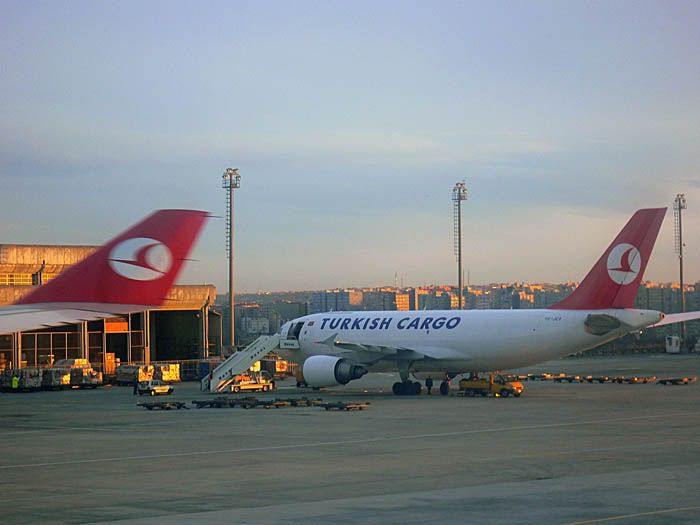 Parking brakes set.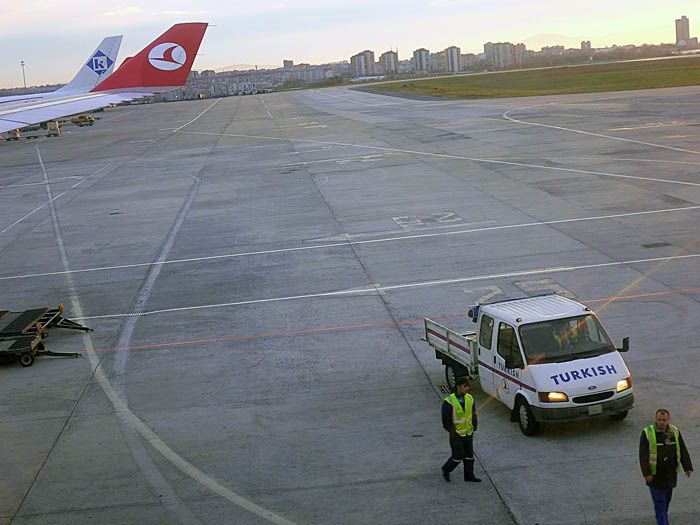 Generally, I find Turkish Airlines a mediocre yet very efficient airline. It is effectively a low-cost full-service carrier especially for those plying the Europe-Asia routes. There is nothing really lousy or awful about the service, but it is just plain , "discharge the food tray on the table" kinda service. Well as we all say, you only get what you paid for !