Part 1: Aussie Trip with Garuda!
Introduction
Can you believe it? The last 5 months passed way too quickly. I had a blast during my stay in Singapore, met lots of cool people from all over the world (mostly Swedes, Brits and Germans… you guys are everywhere!). Exams at uni started around mid-November, and I wrote my last paper on the 25th. My ticket back to Montreal wasn't set until December 17th, so I basically had another 3 weeks or so of traveling and fooling around (this was intentional of course).
It's been a couple of years I've been obsessed with Australia and I've always wanted to visit the country. I took advantage for my relative "closeness" to Australia (7 hour flight from Singapore compared to 25+ from Montreal). I knew I had to book early to get good deals on flights. So in August, after shopping around on the internet (I recommend www.zuji.com), I booked the cheapest fare I found on-line, 719 SGD (480 USD) with Garuda Indonesia via Denpasar-Bali!
Some friends suggested that I stopover in Bali for a couple of days, so I asked the agent when I picked up my ticket if I was able to stay in Bali, and after a couple of complications, the final result was 3 nights in Bali, 1st night paid by Garuda in 5 star Hotel (Sanur Beach Hotel), all for 70$ SGD (rebooking fees and stupid fuel taxes…).
No way can I afford 100$ US per night for the following 2 nights, so I found a cheaper hotel in Kuta.
I wake up on the morning of Friday November 26th, totally stressed out (as usual…). I basically had 7 hours to do laundry, pack my entire room (fill 3 suitcases), pass by the uni's administration and say my last farewells to my friends.

Friday, November 26th, 2004
Route: SIN-DPS
Flight #: Garuda Indonesia GA 841
Equipment: B737-400
Registration: PK-GZL
Flight time: 2:35
Departure Time: 6:30pm
Arrival Time: 9:05 pm

View Large
View Medium


Photo © Carsten Bauer
My Canadian friend Patrick came with me to the airport. We were also meeting up Docpepz and Carmy from A.net. Patrick went to look for them as I checked-in
Check-in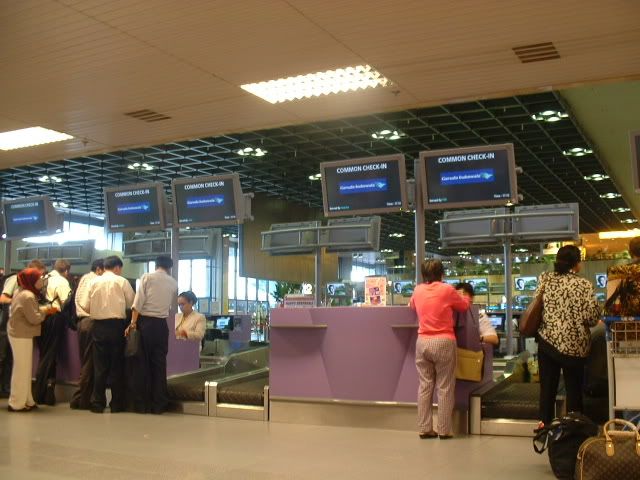 Not too many people were waiting in line. I took about 10 minutes for the next available agent.
I gave him my ticket and passport, and asked him if the bulk head seat 5A would be available.
"Oh I don't know lah, it's a full flight tonight."
But he continued on typing and typing until the printer spat out two boarding passes, with seat 5A to DPS and 28A to SYD. I thanked him and met up with the guys.
We went upstairs to the viewing area to spot some planes.
GZL to Denpasar-Bali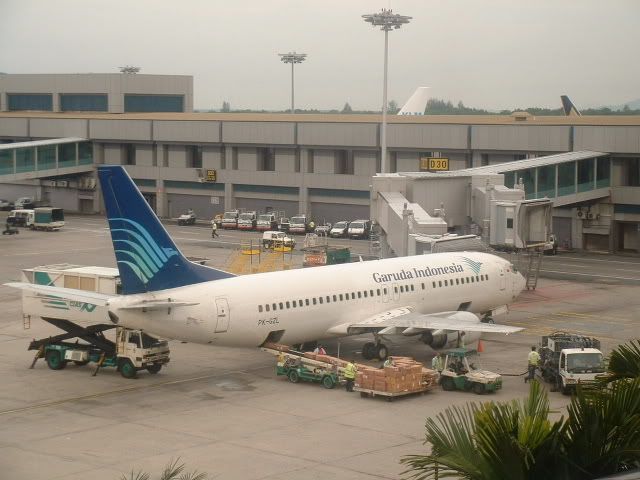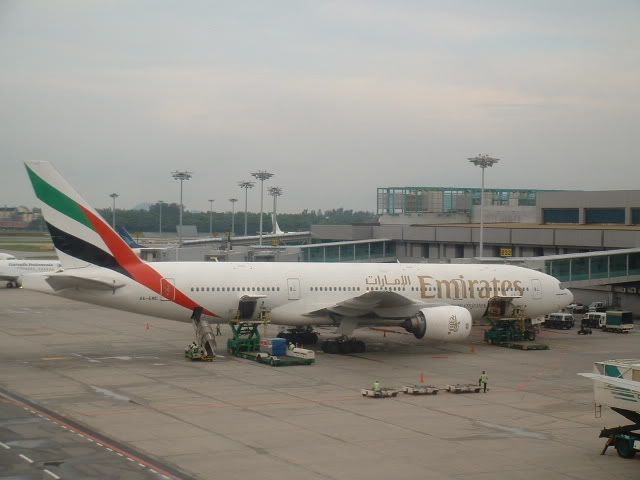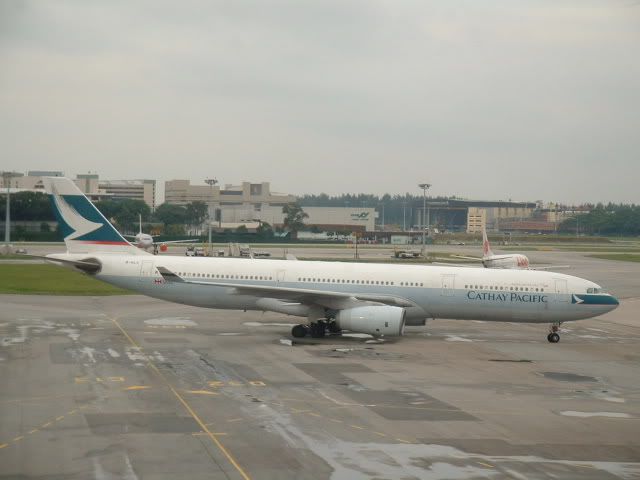 We also spotted Qantas, BA and loads of SQ birds.
At 6pm, we went back downstairs to the entrance of immigration where I had to say my goodbyes to Docpepz. Thanks a lot for your Singaporean hospitality Prak! I would see Patrick and Carmy when I return to Singapore in a couple of weeks.
There was a little line up at immigration, but apparently, for Changi standards, that was a lot of people. Passed immigration, I directly headed to the gate as it was already 10 past 6.
Boarding
I called my mom right before boarding the plane just to tell her that I'm leaving Singapore and that my mobile phone would be deactivated (so that she doesn't worry).
In the waiting lounge, I was taking a picture of the plane when an American couple showed up behind me, took a look at it, and laughed.
"Oh boy, let's sure hope that thing's gonna fly!"
Ok, wait… just because it's an Indonesian airline and not some world renowned airline, you're gonna make a stupid ignorant comment like that? Fly SQ if you're not comfortable with it. I'm sorry, but if there's one thing I hate, it's people who say ignorant comments out loud in front of employees just to attract attention. And little do they know it's a Boeing plane, therefore, manufactured in the US.
Anyways, I was greeted by the purser who showed me to my seat. I passed by the business class seats which looked very comfortable. I don't understand how European airlines like LH, BA, AF have 3-2 layouts in biz. I once travelled in LH biz class, and the supposed Business Class section was fitted with economy seats with just a little more elbow room. Anyways, glad to see that GA had proper Biz seats.
Economy was full, whereas biz was only half full. I took my seat 5A and waited for the rest of the pax to board. Meanwhile, orange juice was distributed to all pax by the lovely FAs.
We waited for a couple of late pax (it's so rude to be late), and we were on our way at 6:30pm.
Flight
Safety demo started with Indonesian and English instructions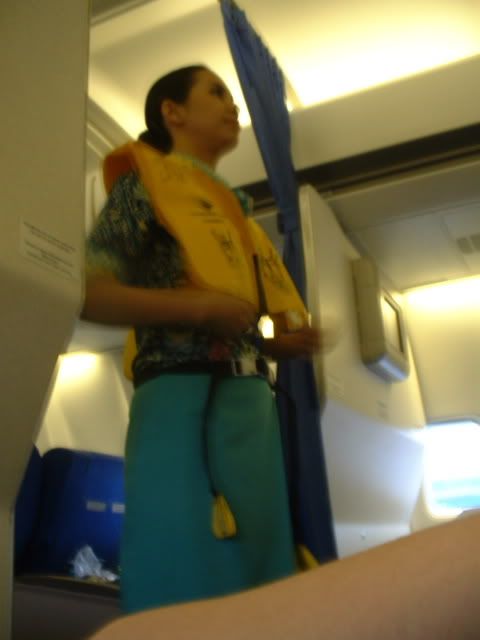 View from my window, Australian Airlines to Sydney via Bali.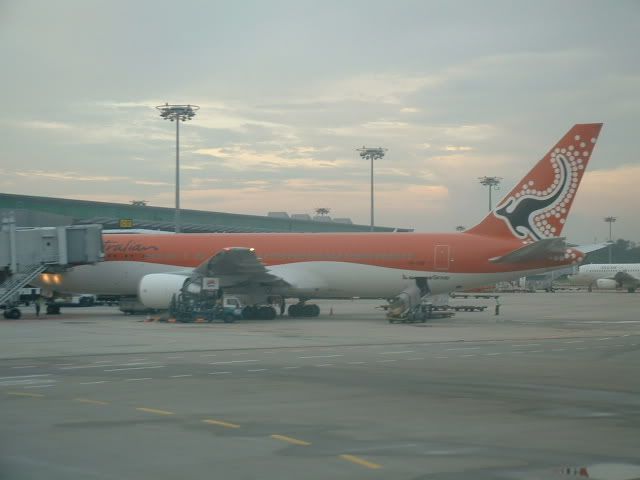 It was a looooong taxi to runway 02L. The new airline Jetstar Asia, which would start service later on in December.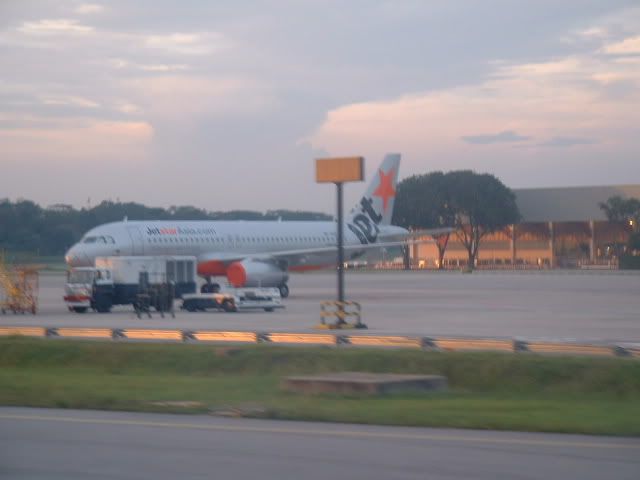 And cleared for take-off!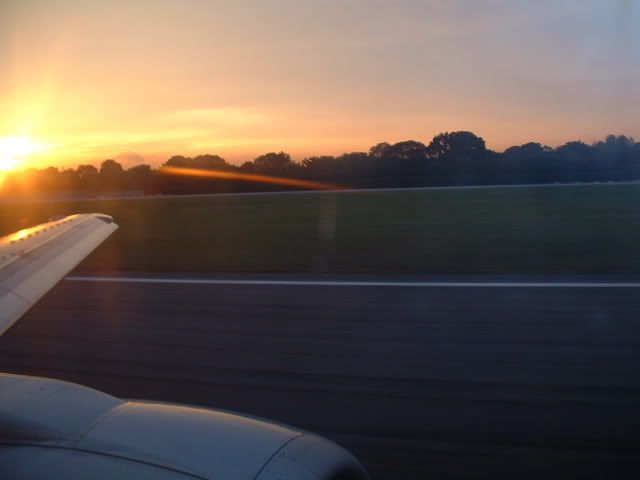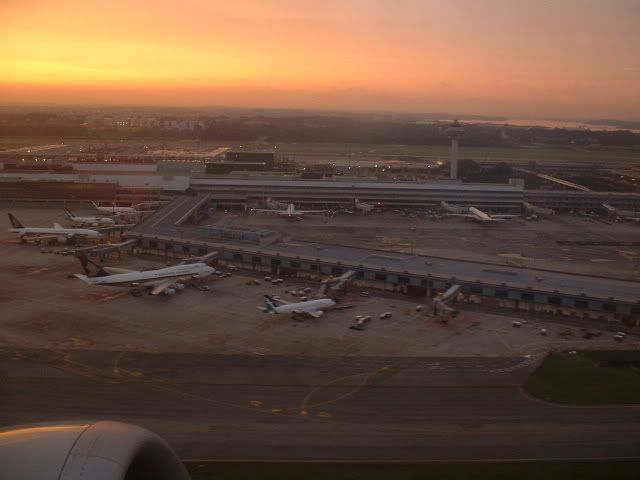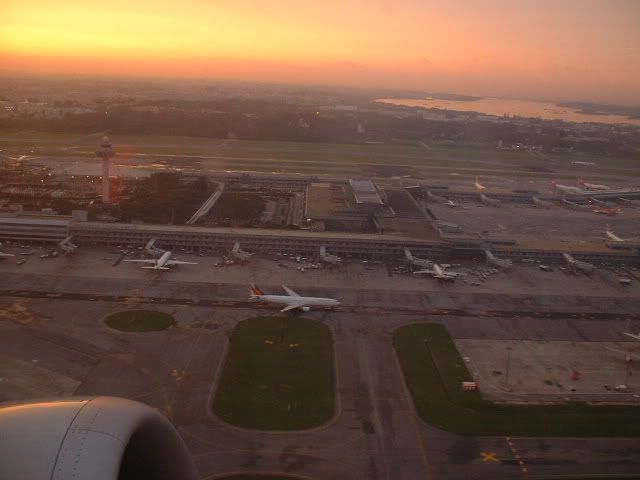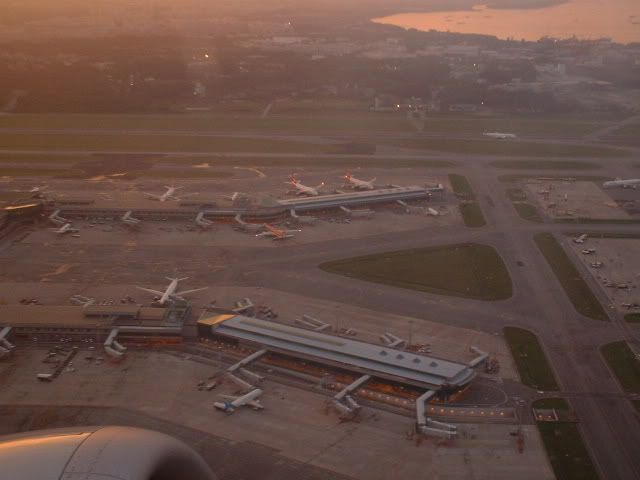 The B737s have the best take-offs, like a rocket!
Meal service began shortly after take-off. Great food!
As for entertainment, they were showing "Just for Laughs" clips. It's a very popular show in Canada, and I didn't know it was shown on international screens. Half the clips were shot in London, the other half in Montreal. All the cabin was watching and laughing! When the credits rolled at the end, both the Canadian and Quebec flags were displayed, which put a huge smile on my face!
2 hours flew by very quickly, and we were on our way down in no time.
My first and only night shot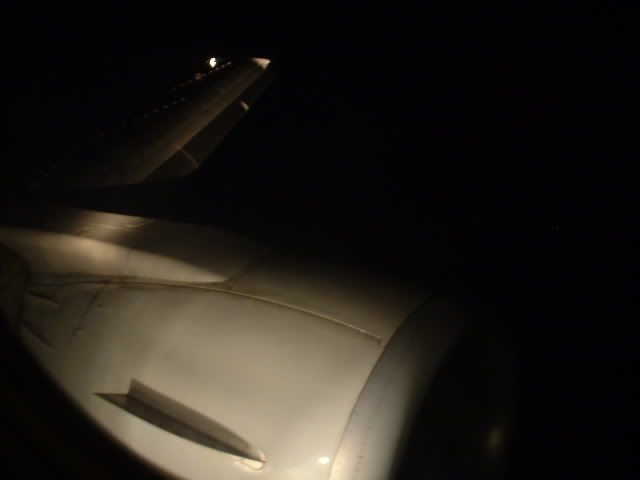 The approach was over the sea. Since I was seated on the left, I saw the western side of the island, (Kuta, Legian, etc). Landing was slightly rough, and it was a short taxi to gate 2.
Transfer in DPS
The terminal looked ok, very basic though, rectangular shape with gates along its back side. Lots of shops too, but unfortunately, no one was buying (the shop workers looked pretty depressed…).
I pulled out my Garuda timetable, and looked up the seatmap for the A333. To my horror, seat 28A was an exit row seat. This meant no window!!! (I had done my research before…)
View Large
View Medium


Photo © Chris Finney
I started panicking and went directly to the transfer desk and asked for another window seat. The agent kept on telling me that 28A is a window seat, but I was explaining to him that this seat in particular didn't have a window. He then gave up, and asked me what I would prefer. I told him any seat on the left (apparently, A seats get the best view of SYD). He finally gave me 19A.
It was 9:20, and I had another 40 minutes to spare before boarding started. There were tons of flights heading to Australia. Perth was departing from gate 2 (so it's serviced with a B734, the flight I just came on). Air Paradise had flights to Brisbane, Melbourne and Sydney. Garuda had Sydney, Melbourne and another city. Australian Airlines also was heading to Sydney.
So, that makes loads of hot Aussie guys everywhere in the airport, I was in heaven! If that's just in Bali, imagine what Australia had to offer! Now I know what my friend meant when she said that Bali is an extension of Australia
Everyone was tanned, and that really made me anxious for my flight back when I would be stopping there for a couple of days.
There was a couple of other Asian flight (JAL, Air China). My flight got delayed half an hour due to "late arrival of the aircraft". OK, meanwhile Australian Airlines, who left Singapore after us, was on its way to Sydney before us
Walked around, checked out more Aussie guys, and by 10:30pm, I headed to gate 5 for boarding!

Friday, November 26th, 2004
Route: DPS-SYD
Flight #: Garuda Indonesia GA 714
Equipment: A330-300
Registration: PK-GPC
Flight time: 5:50
Departure Time: 11:00pm
Arrival Time: 7:50am (next day)

View Large
View Medium


Photo © Colin Hunter
View Large
View Medium


Photo © Scotty Curtis - TeamJetspotter
Boarding
The departure lounge didn't seem that busy, so I wasn't expecting a full flight. I waited until there was no queue and I then made my way to the aircraft.
I was greeted by a lovely FA again. The girls really do their best to look beautiful.
The flight was only 2/3 full. I had an Asian business man sitting next to me. Although he seemed very nice, I was gonna try finding two empty A-B seats, and by the looks of it, there were some available.
Lead purser welcomed us onboard and explained a bunch of stuff in Indonesian first then in English. But his English wasn't really good, so no one understood him, and some people were unfortunately laughing at him.
Flight
I finally settled in 29A after the crew closed the doors. The only down side is that it was next to the washrooms. Pre-departure drinks were distributed (water, juice), and we were on our way at 11:00pm.
Flight demo video was professional, but I still found that Garuda has some safety and security issues. Although they clearly ask passengers to store away they belongings under the seats or in the overhead bins, they don't pass around to check if everything is properly done. Even with seat belts. My neighbor had his bag right in front of him. That's basic safety procedures that must be followed.
It was a short taxi to the runway and I had the pleasure of experiencing my favorite aircraft's gentle and quiet take-off!!
I had a nice view of Bali, where tourists were most probably getting ready to head out partying.
The seat itself was very basic, but legroom was awesome. The pitch was easily 34", and since there are no PTVs, you had lots of space to stretch your legs.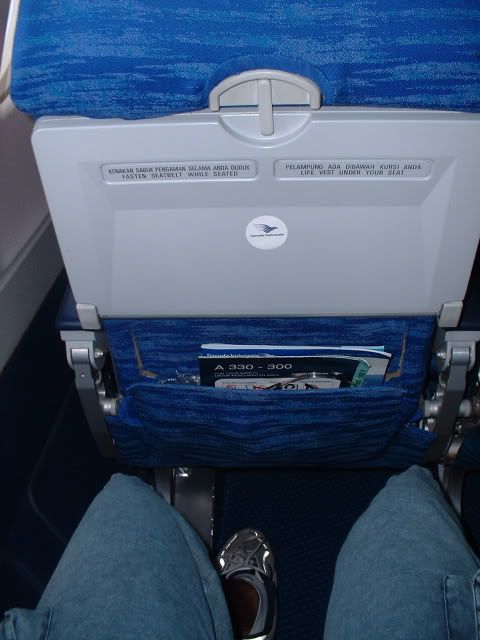 Drink and meal service began shortly after. I was getting hungry, so it was good timing. Again, I was impressed with the quantity and quality of food.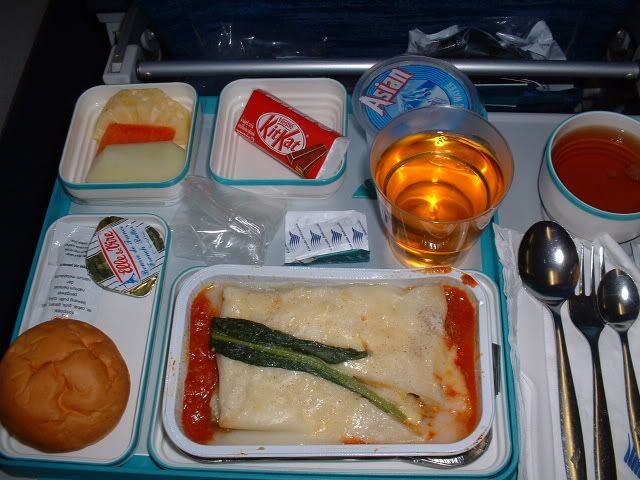 After cleaning up, the crew dimmed the lights, which allowed pax to rest and sleep. Some people watched the movie playing on the main screen "The Notebook", but the last thing I wanted to watch was a cheesy romantic movie about love because that would just depress me (yes, my love life sucks!). So I decided to nap. I slept for a good 2.5 hours, and woke up just 2 hours before landing.
View of the cabin.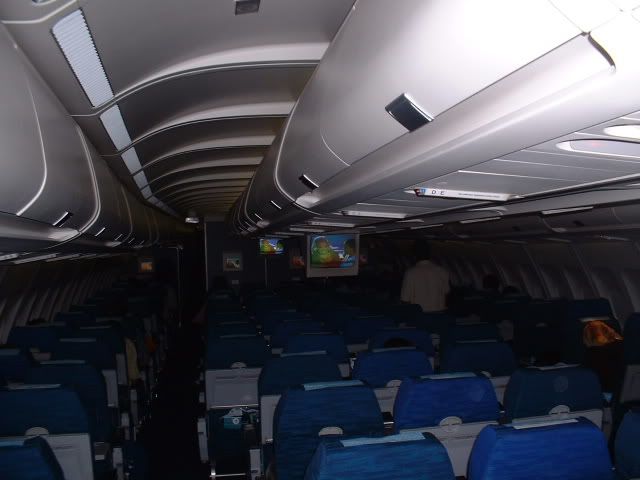 I woke up to this beautiful sunrise above the Australian desert.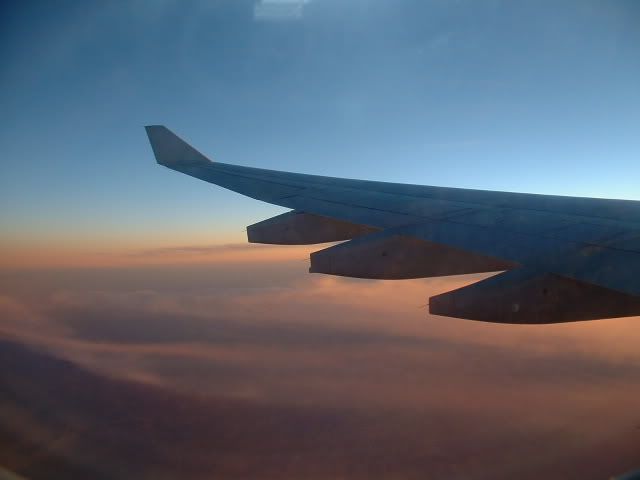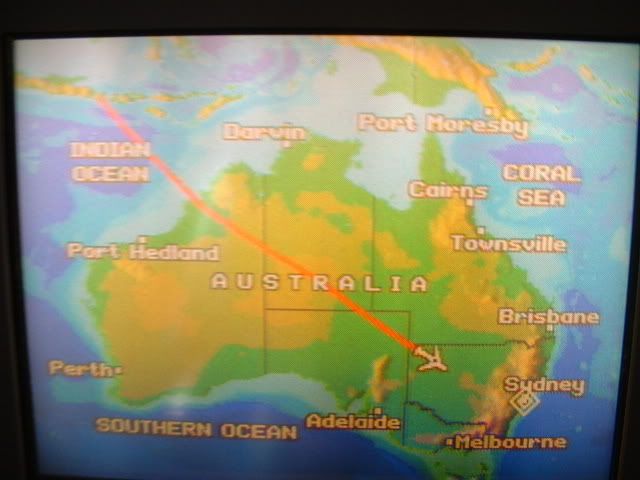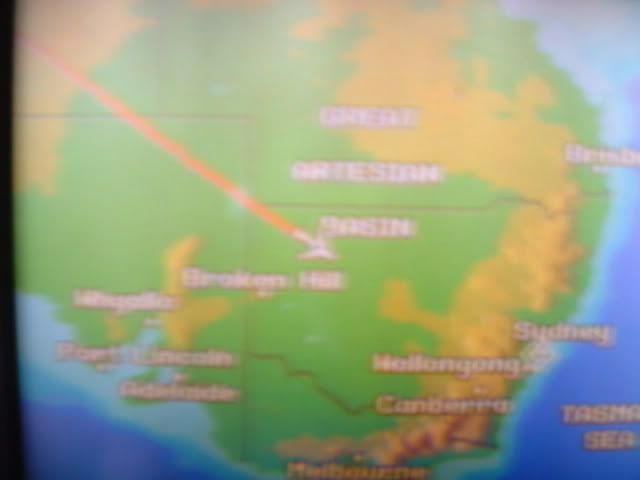 The crew served us a little breakfast, muffins and juice.
I just stared out my window for the remainder of the flight. Took out my binoculars and tried spotting some kangaroos jumping around, but I couldn't see any
We started our descent around 7:15am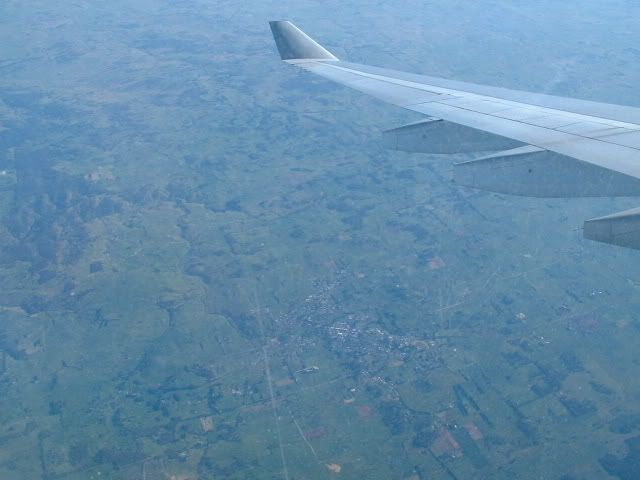 This was downwind I believe.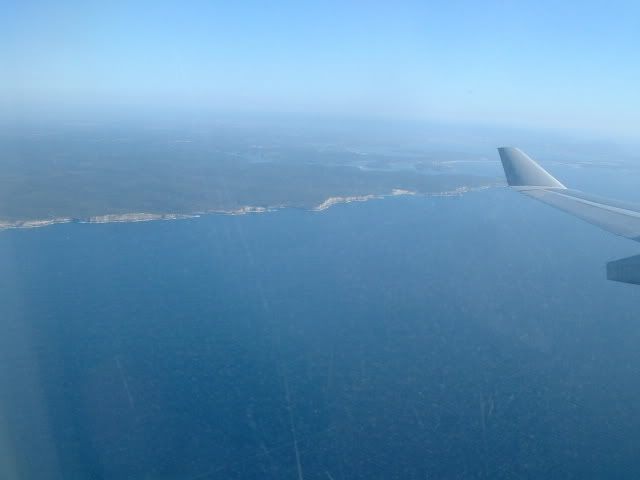 And on final.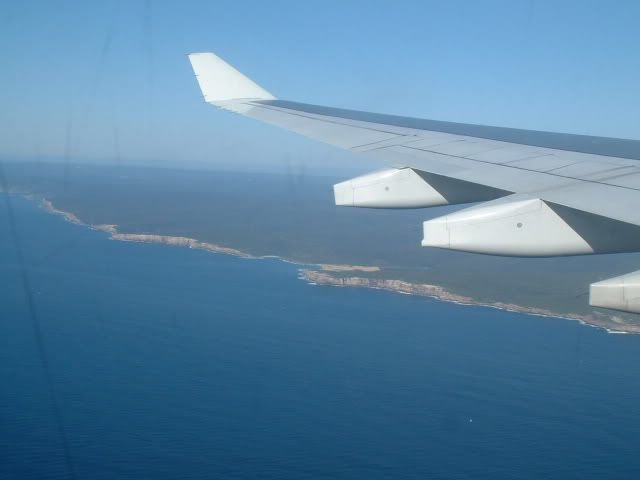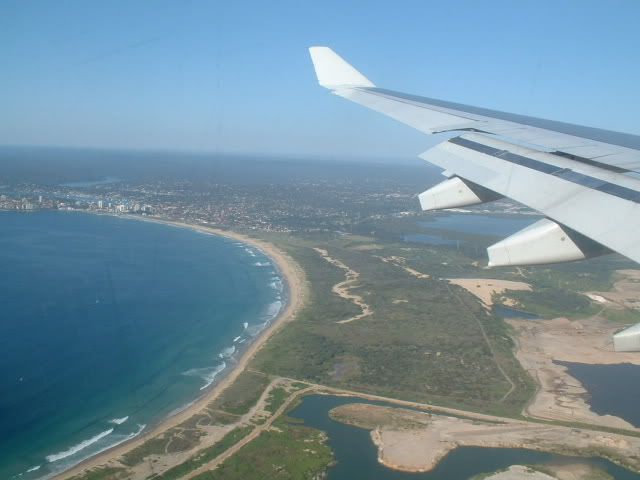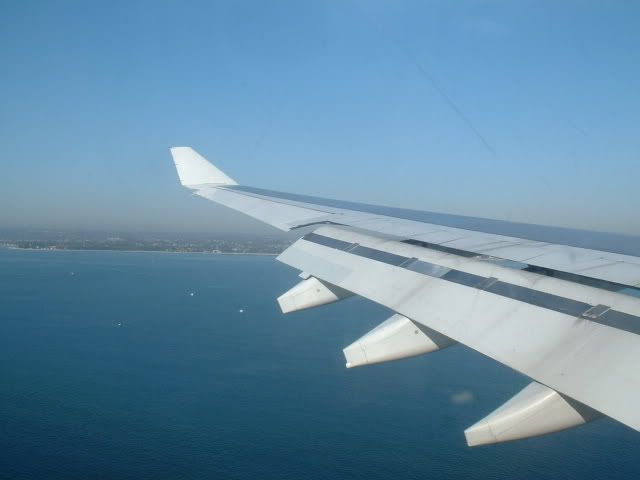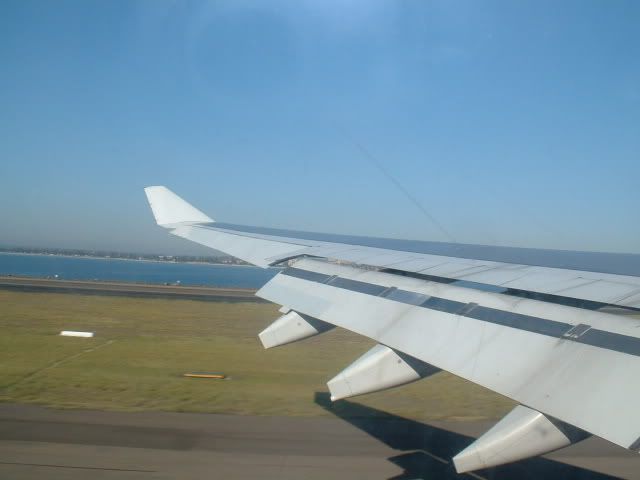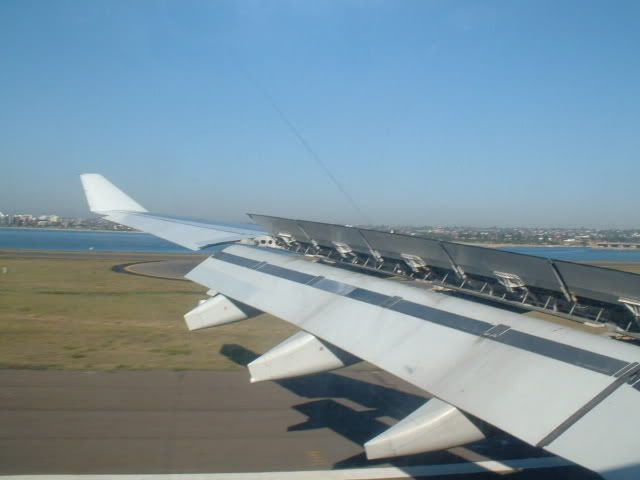 That was the best landing I had ever experienced. It was so smooth, and had I not had a window seat, I wouldn't have known whether we had landed or not. Awesome piloting!
My first Emirates A345!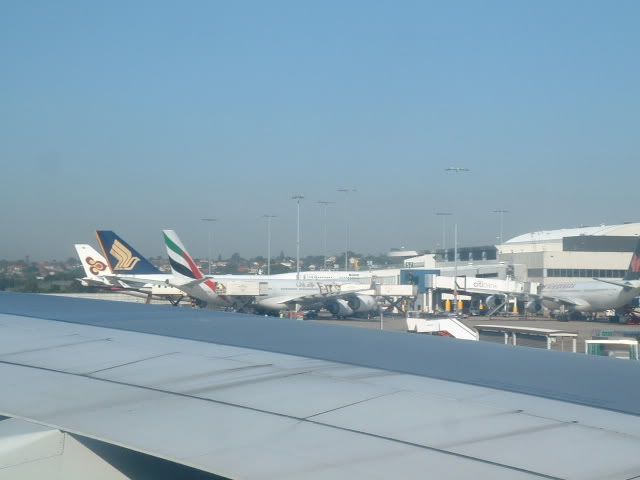 And my first Air Canada bird in a looong time!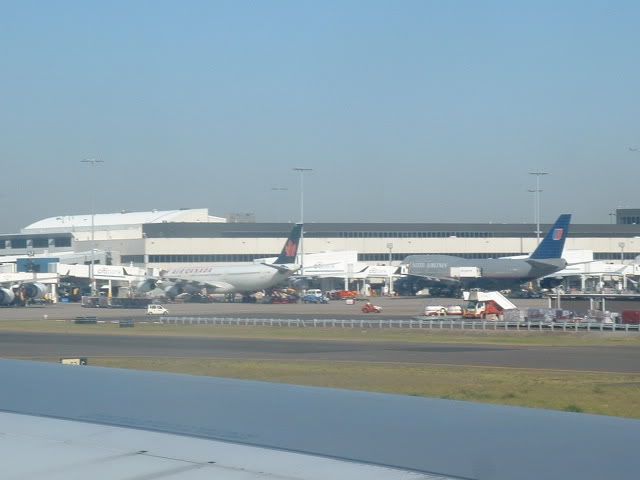 Arrival
We deplaned and it looked like arrivals are a level lower than departures, which I find more efficient because it reduces congestion in the departure hall.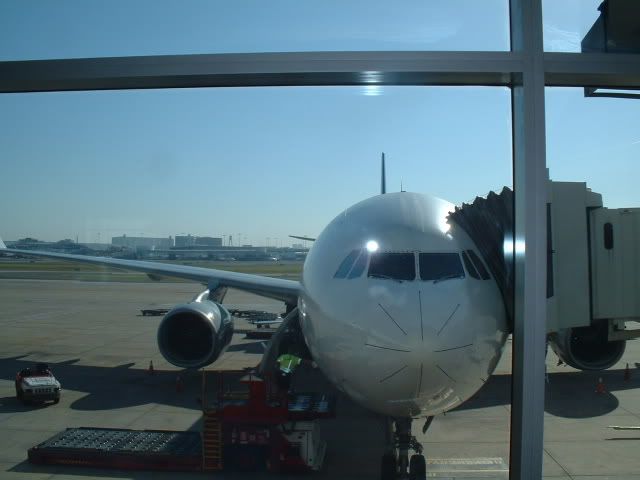 Walking towards immigration and luggage claim.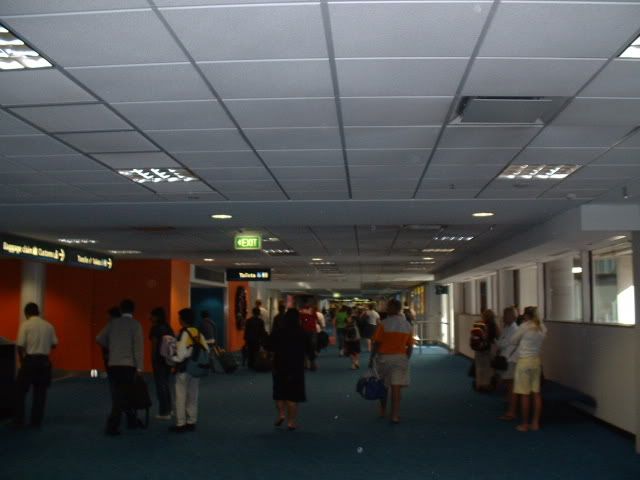 I took another shot of the nice AC A340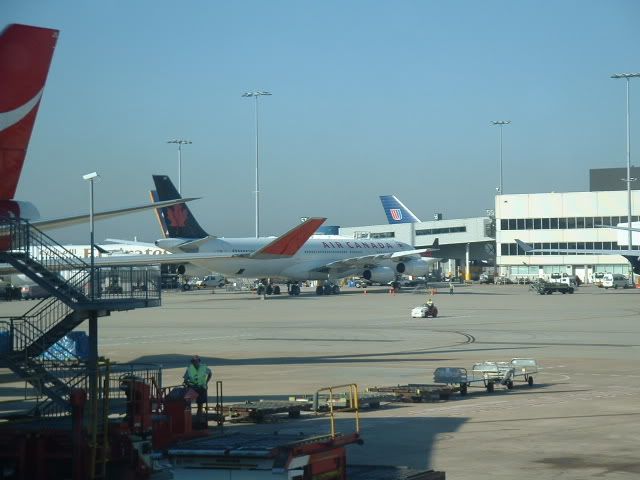 When I reached immigration, I noticed how they separate arriving paxs in Crew/Diplomats, Aussie/NZ nationals, and Others. Very efficient. They should start doing that back home. I lined up in "others", and waited less than 20 seconds. A friendly agent took my passport, stamped it, and wished me a pleasant trip in Australia!
I went to the luggage belt, waited 10 minutes until the bags started coming out. Mine was in the first batch, took it and proceeded to customs. I've never seen a country so obsessed with customs. Forget about drugs, these people are after the food you're bringing into the country. It's a strict rule, no exterior food allowed (I don't know about sweets though). However, it's understandable knowing that Australia heavily relies on its agriculture industry. All I saw was rows and rows of agents searching through suitcases looking for food. Whoa! That was totally weird.
My suitcase got x-rayed.
"Ya here to study?" one agent said in a cool Aussie accent.
"Oh no, just on vacation"
"Alright, have fun!"
Awww, these people are so nice! Beats my connection experience in New York where I got harassed! (yes, and I was only connecting…refer to YUL-EWR-SIN trip report).
I made my way out to the crowded visitors area where I exchanged some money and caught the KST shuttle bus to my hostel (I really recommend Wake Up! Hostel on George and Pitt St, in central Sydney, right beside Central Station. Amazingly clean rooms and bathrooms, great atmosphere and awesome location).
I'm in Australia!! WOOHOO!!
Australia
What followed was 16 days of fun fun fun and sun! (and rain…
) I did my best to travel around and see as much as I can… but for those who know Australia, you understand that it's really hard to see lots of cities in just 16 days. That's why I decided to skip bus trips and fly across to major cities. I had booked really early and made sure I found cheap seats.
You could now pause here and read my Trip Report on the 3 domestic flights I took within Australia called
"Part 2: Aussie Flying with QF and JQ"
I loved Australia, people are awesome (I'll spare you my thoughts on aussie guys though, but you should know by now what I think about them
) but I have one complaint: it's so damn expensive out there!! Half way through my trip I realized that I had 100$ left in my bank account. I urgently called home and asked for $$!
The party is not over yet
Nope, it aint! After living it up in Australia for 2 weeks, it was time to head to Bali for a 4 day vacation (no wait, I'm already on vacation…). I was meeting up with my friends (exchange students from Singapore), who luckily for me were backpacking the region.
I woke up early around 7am on the December 13th, showered and quietly packed my stuff so that I don't wake up my roommates in my hostel room, and made my way downstairs to check out and wait for the KST shuttle bus to the airport.
The KST went all around Sydney to pick up people which was really annoying. At one time, it actually went back to the hostel. The airport ride usually lasts 10 to 15 minutes. This bus ride lasted over an hour. But I was warned about that, so I had it all well timed. I arrived at the international terminal a good 2 hours before the scheduled departure time of 10:25am.

Monday, December 13th, 2004
Route: SYD-DPS
Flight #: Garuda Indonesia GA 715
Equipment: A330-300
Registration: PK-GPA
Flight time: 6:45
Departure Time: 10:25am
Arrival Time: 2:10pm

View Large
View Medium


Photo © Xiao min
View Large
View Medium


Photo © Craig Murray
Ok, I'm gonna speed this up a bit, cuz it's getting really long.
Check-in
A few people were waiting in the queue. Qantas handles Garuda in SYD.
Friendly check-in agent , who gave me my boarding pass and my requested seat 9A (bulkhead!) in no time.
Mornings are the busiest at SYD as most international departures occur.
I proceeded to immigration where there were long queues. I waited a good 10 minutes for my turn. My passport got stamped and I was on my way to some cool spotting!
Air Canada A340 Star Alliance to Honolulu and Vancouver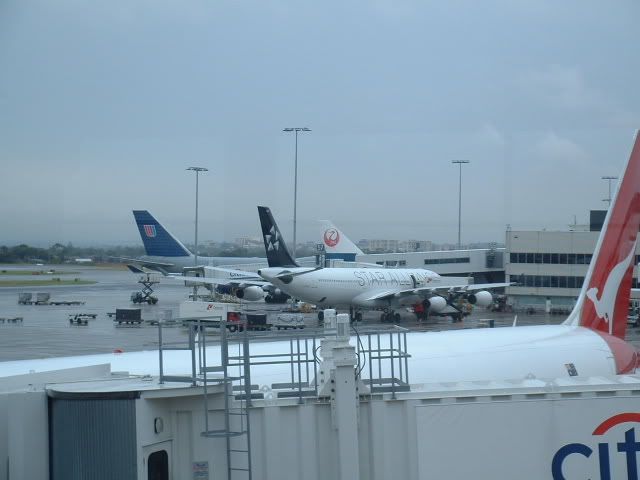 LAN Chile A340 to Auckland and Santiago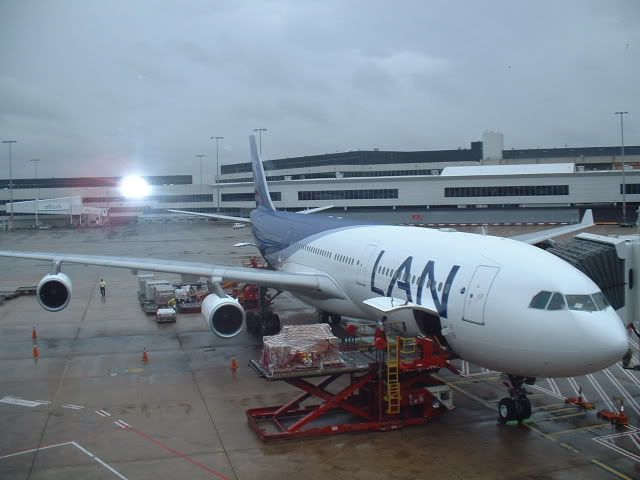 Vietnam Airlines B777 to Saigon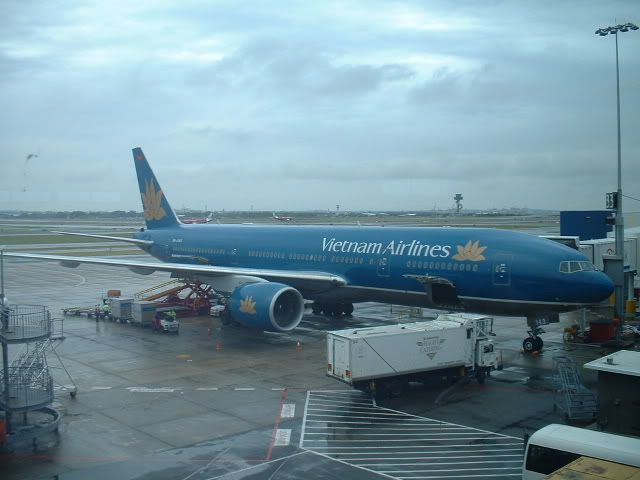 Korean Air B744 to Seoul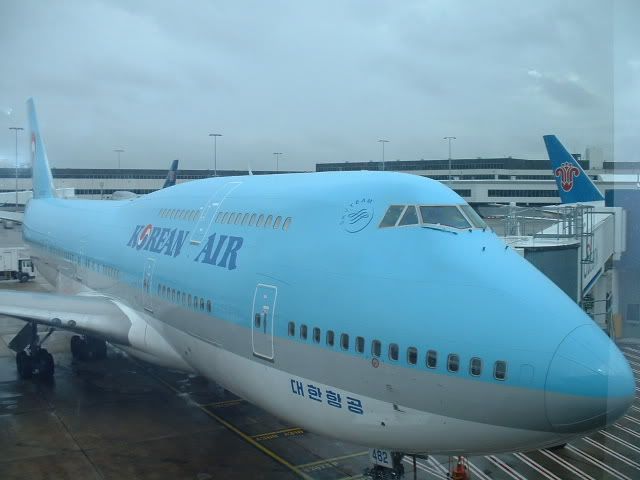 United Airlines B744 to Melbourne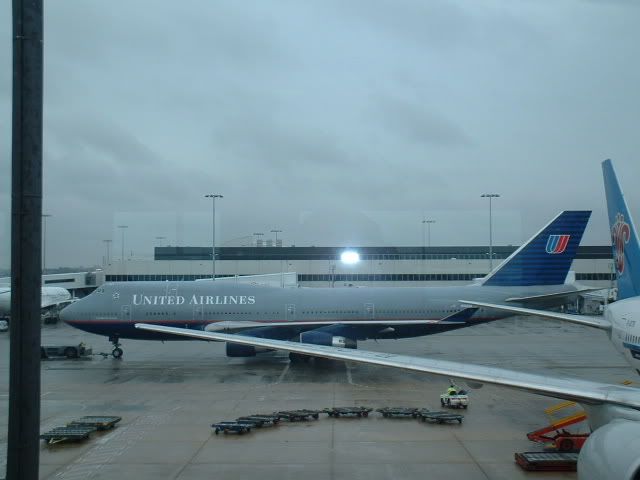 China Southern B777 to… PVG? PEK?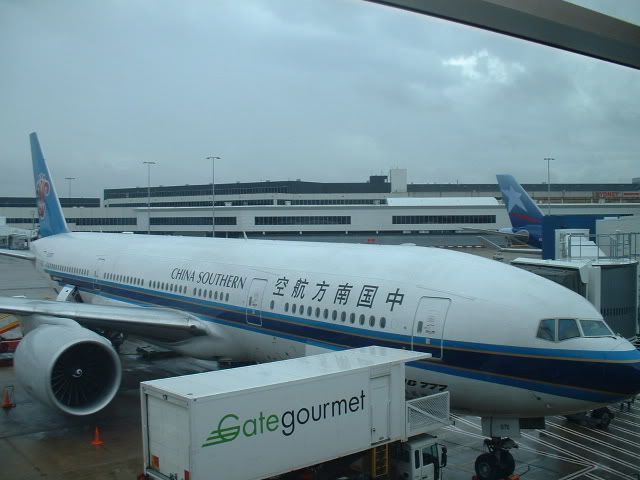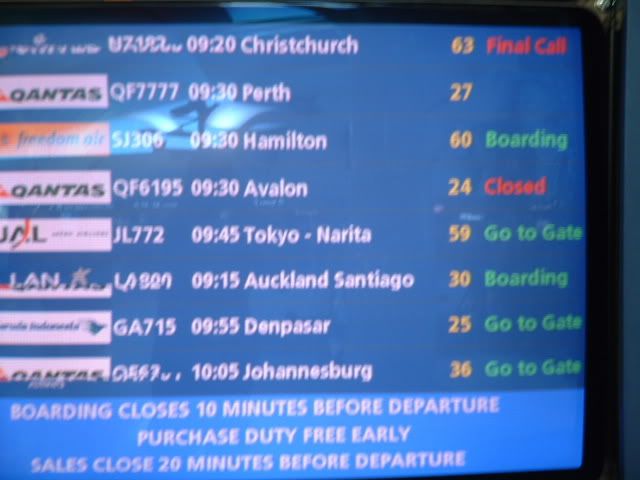 I had around 4$ in change which I had saved for breakfast. In Australia, good luck finding something with that! Well, I found a small muffin, that kept me alive until breakfast on the plane.
I headed out to the gate at 10am where boarding had already started.
Boarding
Again, I was greeted by the friendly purser. Flight looked half full this time. I was surprised, as we were approaching high season. Is it that Australians don't enjoy flying on GA or that Bali flights are never full?
Anyways, pre-departure drinks were distributed along with headphones. Doors closed and we were on our way to Bali!
Flight
Same safety briefing, so I'll cut right away to take-off.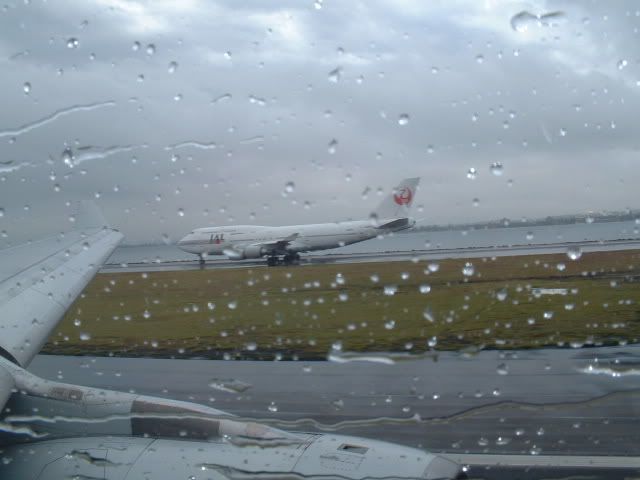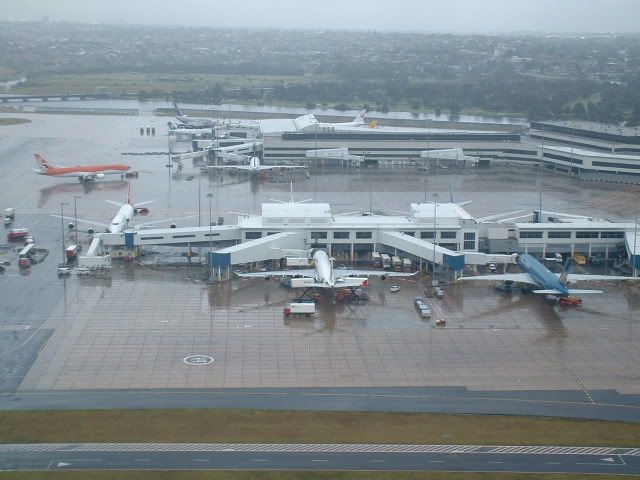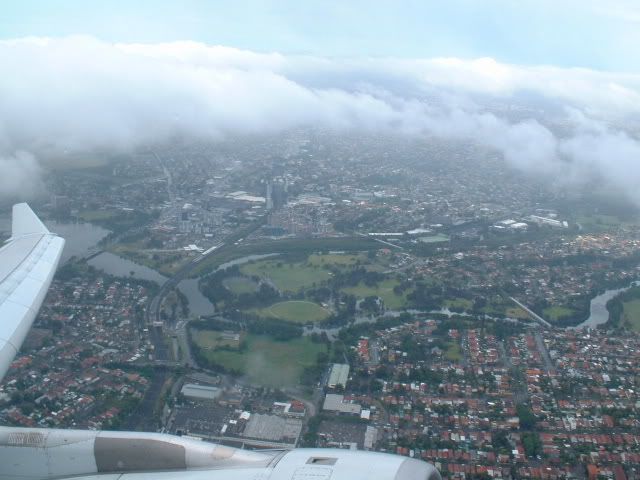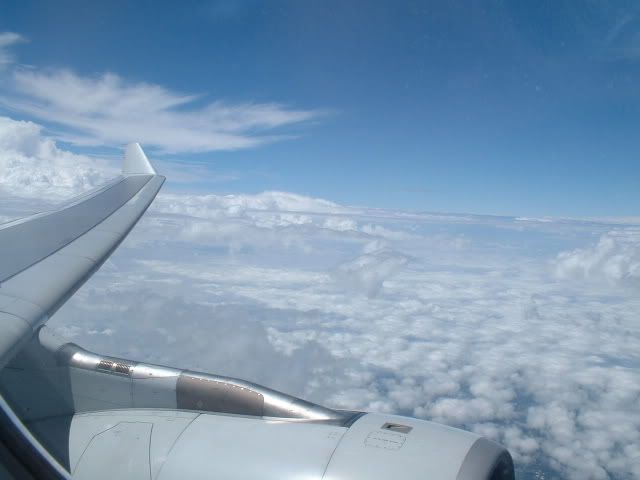 As usual meal service began shortly after. Great food!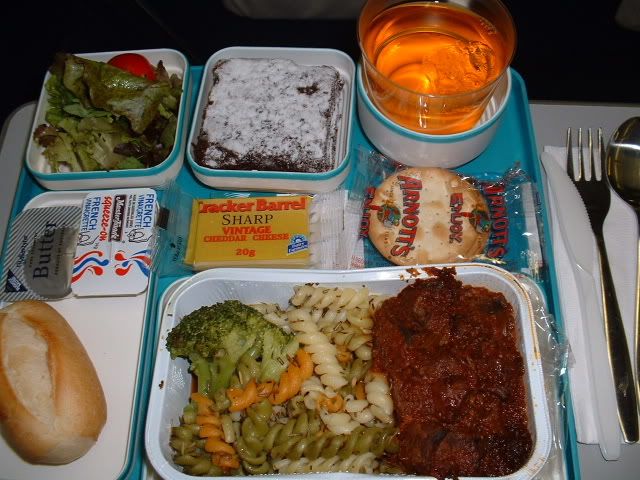 I watched Spider-Man 2, which I had been looking forward too for a long time. I wasn't disappointed!
By that time, a good 3 hours had passed. I read my book, took a small nap, and walked around the cabin.
I chatted with some FAs and took their pic.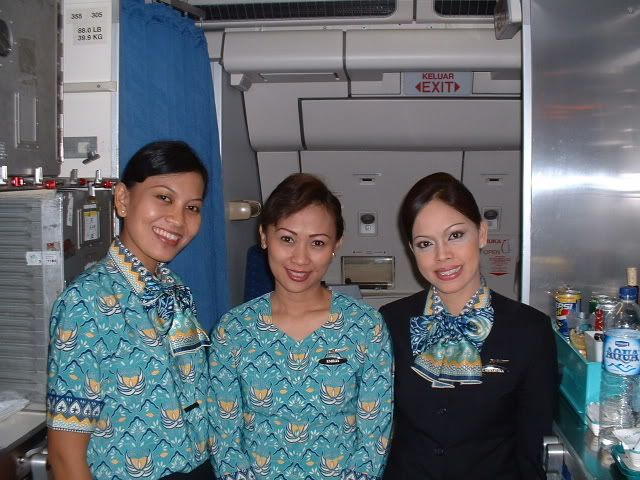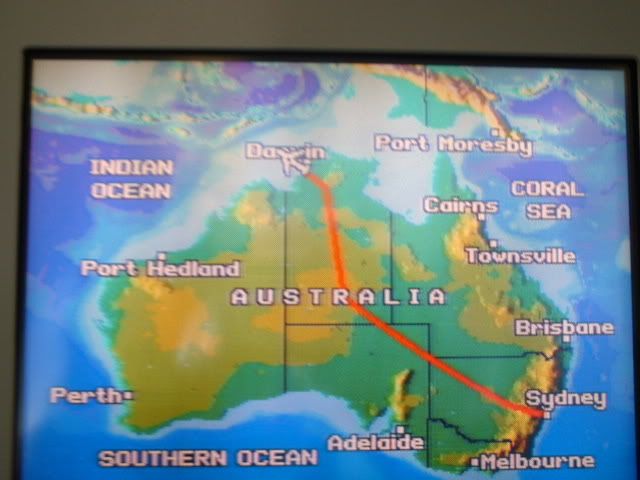 Before landing, the crew came around with Magnum ice cream!!!
Landing time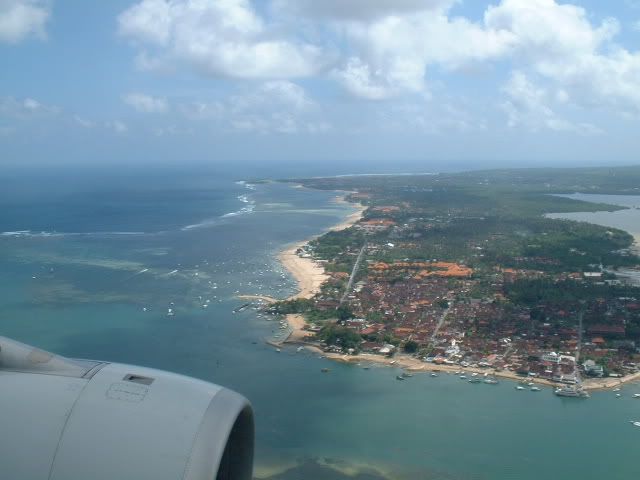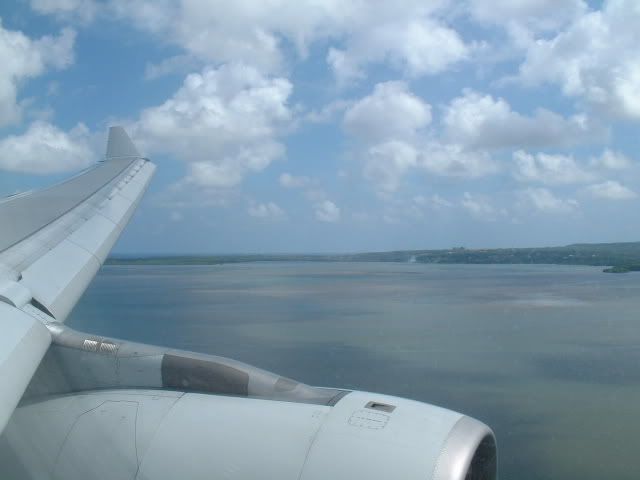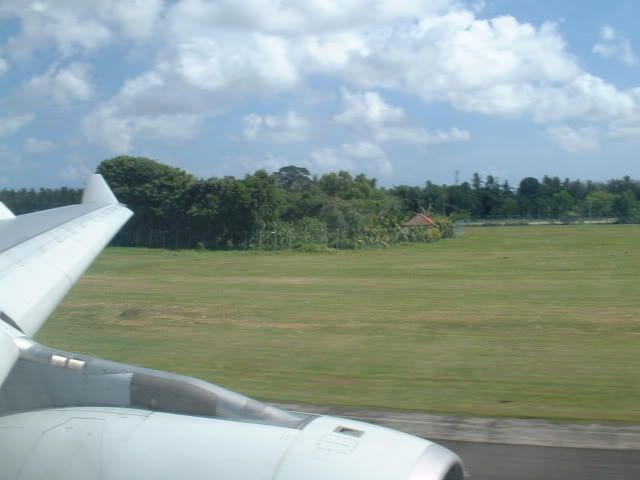 Again, a very smooth landing.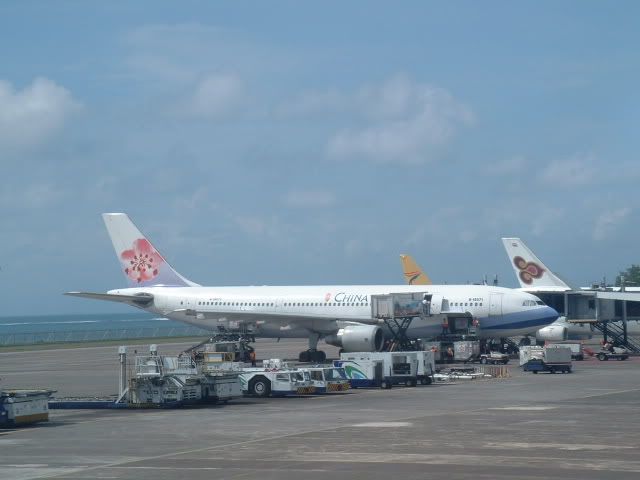 Arrival
I made my way quickly to immigration to avoid the long queues. I like the "Visa on Arrival" option Indonesia offers for selected countries. I paid with my credit card also, which saved me some trouble. Then proceeded to the immigration officer who stuck the nice visa sticker in my passport and stamped it.
I collected my suitcase and made my way out to the heat. God I missed the humidity of South-East Asia! I spotted my name written on a board, held by the driver of the hotel. Within 45 minutes, I reached Sanur Beach Hotel.
Bali
I love Bali! What a great party island! I basically slept 4 hours per night throughout my stay, just because I didn't wanna miss out on all the fun and activities! I'm surely coming back to this place!
This is a pic of my friends and I, on a cliff, watching the sunset (I'm on the right, bad smile… I miss my tan!)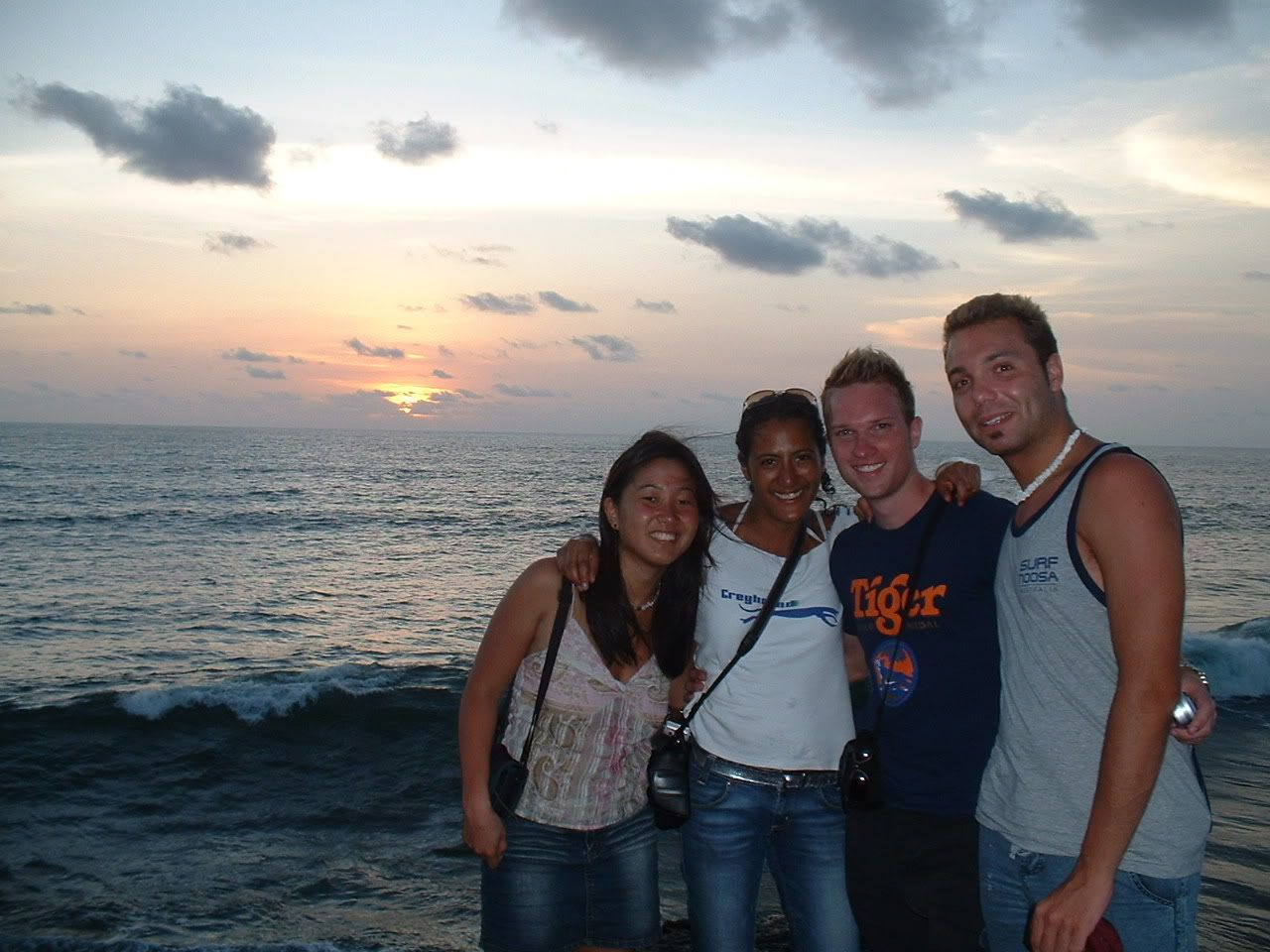 The End of an Affair??
Sadly, on December 16th, it was my last day of a 5 months vacation. I was heading back to Singapore for one night to collect my stuff, and then flying back home to Canada the next day. It was the end of my 5 months affair with the beach, the sun,… eh, basically, of a stress-free life.

Thursday, December 16th, 2004
Route: DPS-SIN
Flight #: Garuda Indonesia GA 840
Equipment: B737-400
Registration: I dunno, I lost my boarding pass

Flight time: 2:40
Departure Time: 2:50pm
Arrival Time: 5:30pm

I had a complimentary transfer to the airport from my hotel in an SUV! The driver was very nice and we chatted about my travels throughout the 15 minute journey.
Check-in
The terminal was very quiet. Not many flights depart at that time. There was no one in the Garuda check-in counter. Will be it an empty flight I asked? The agent assured me that the flight is 100% full but that he found a window seat for me. Phew!
He gave something like 18F. Don't really remember… Anyways, I paid the airport tax fee of around 10 USD (that's a lot of money for Bali), and made my way through immigration.
The departure hall.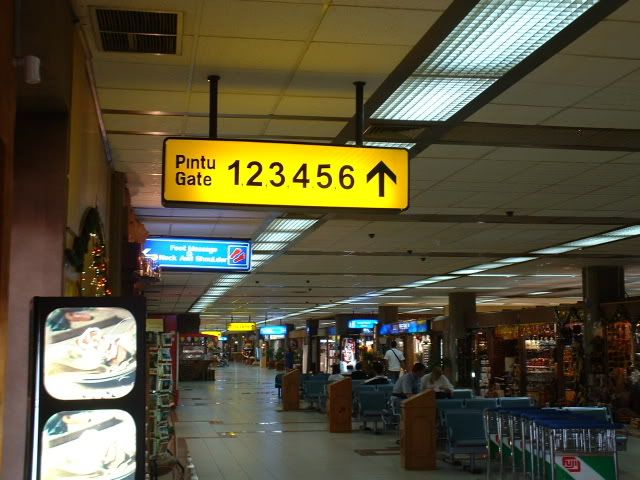 There wasn't much to do, so I sat at a coffee shop and read my book until boarding. Took a couple of shots as well.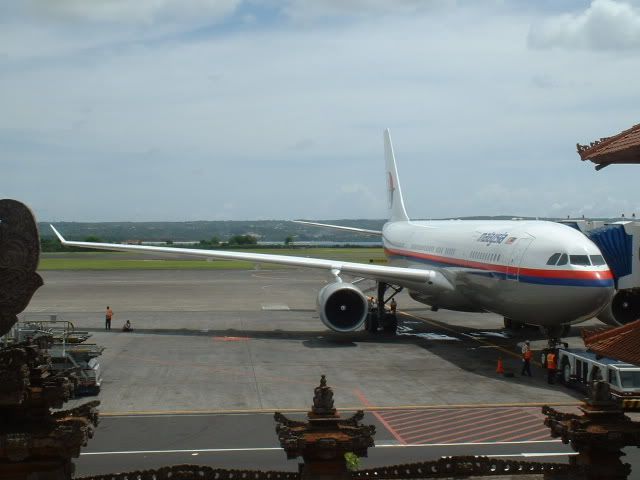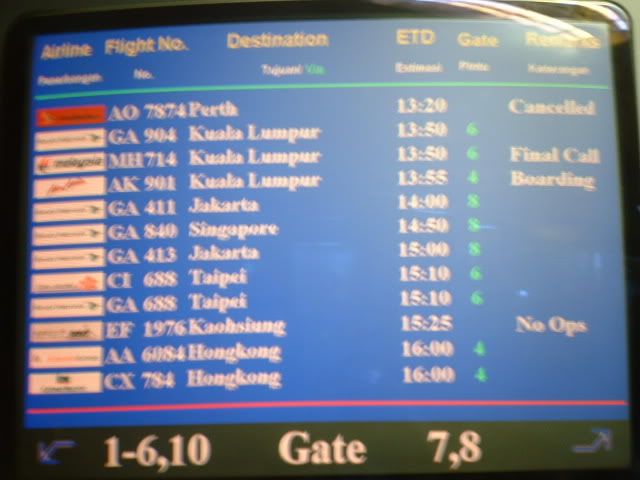 Borading
Bla bla yatta yatta, same thing over and over.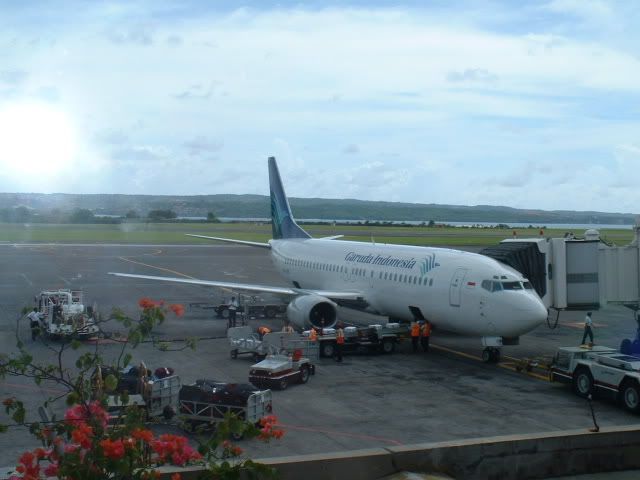 Settled in my seat, the guy behind me looked pretty weird. Big white guy, shaved head, eyes wide open, leaning forward and his pretty girl next to him. He looked like a football player.
From my seat, Eva Air from Tapei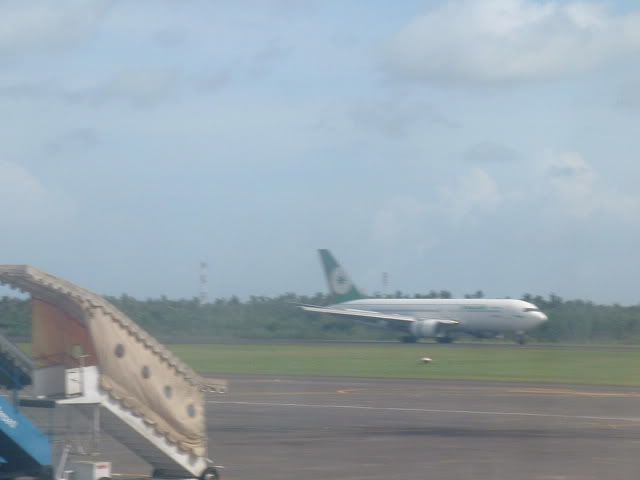 Apparently, Merpati is a horrible airline.
Flight
When I took that picture above, the plane had begun its pushback. And that's when I heard a gruesome voice behind me:
"Not during the flight, man!" the big white said, with an English accent.
"Huh?"
"Turn that off!", clearly talking about my camera.
What a wanker. Great. So I had 2 choices. Ignore his comment and risk getting yelled at by him and the crew, or notice that he's a nervous flyer and respect his "status". I chose #2. Besides, I had loads of pics by that point. So I store away my camera and enjoyed the rocket take-off!
Meal was a disappointment this time. By the time they reached my seat (middle section of the plane), they had run out of choices, and I had potatoes and cheese…. Weird, but whatever, good enough for a little 2 hour flight.
Took a small nap, and we were soon heading down to Singapore in no time.
The girl next to me was on her way to Oslo, Norway. She had 5 hours to spare until her connecting KLM flight to AMS, so I suggested to visit the city. I promised to accompany her on the MRT train (as it was on my way to the Univerisity residence), and to tell her what to see, where to go, etc.
Flaps down, we flew over the small islands of Indonesia (Bintam, Batam, etc…) and touch down around 5:30pm.
Arrival
There were 3 or 4 other Garuda planes; flights going to Jakarta, Surabaya, and other little Indonesian cities. SIN is a mini-hub for GA.
Immigration was easy as usual. The Norwegian girl and I were on our way to take the MRT to the city within 30 minutes of landing, which is what I call Changi efficiency!
That was it for me! I had one more night of Singaporean lifestyle. I headed over to my friends Patrick's place at the university residence. He was nice enough to keep all my stuff I didn't need for Australia.
Once I arrived, I quickly packed up my 2 huge suitcases for Canada, took a shower, and went out with him and my friends celebrating at "Happy" club my official last night in Singapore!
Next up:
Part 3: Journey back home SQ/AC in J