Part 2: Aussie Flying with QF and JQ!
Introduction
Well, this is Part 2 of 3 parts of a long trip to Australia. You might get confused, but this trip report actually comes in the middle of
Part 1: Aussie Trip with Garuda
, which is my trip to and from Australia. I took 3 internal domestic flights during my stay.
I won't detail too much here just because these are short 1 hour domestic flights. Nonetheless, the pics are cool.
So just to recap, I arrived in Sydney on a beautiful Saturday morning on November 27th. I stayed there for a whole week, and met loads of fun people. I loved Bondi beach, I actually went there 3 times (although I know locals don't like it as much).
My next stop was Melbourne! I was looking forward to Melbourne as most people told me it was an close replica of Montreal. So I was gonna go check that out for myself!

Sunday, December 5th, 2004
Route: SYD-MEL
Flight #: Qantas QF002
Equipment: B747-400
Registration: VH-OJM
Flight time: 1:20
Departure Time: 9:30am
Arrival Time: 10:50am

View Large
View Medium


Photo © Martin Aves
View Large
View Medium


Photo © Jay Piboontum
I woke up at 6am, showered, quietly took my backpack and suitcase, and headed down to check-out from my hostel.
It was a short 2 minute walk to central station where I bought a one-way train ticket to the airport for 12$ (for a 10 minute train ride, that's called stealing money from your clients, not making profit). I also stored my suitcase in a locker (for 8$/day… again, no comment), as all I needed was my backpack for the upcoming week.
Train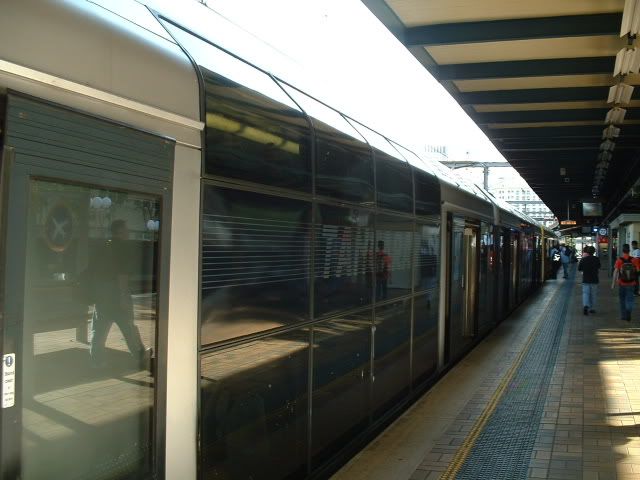 I specifically chose QF002 because it's a B744, and I very rarely travel on them. It was also at a cheap price of 76$ AUD (Red e-deal, tax incl). The flight comes in from London and Bangkok and continues on to Melbourne. Therefore, it departs from the International terminal.
Check-in
Qantas had a long queue for this morning. I was looking at the self-service check-in kiosks. I asked one of their floor agents.
"We only have those in our domestic terminal, sorry darling. But since you don't have any bags on you, I'll make you go first in line."
How nice if her! 5/5 for this generous act! I wanted a window seat, but the agent told me that it was a full flight coming in from BKK and that all windows are taken already. My seat number: 75D. Boy, that seems really far back. She put an orange sticker on my boarding pass with huge "D" on it for Domestic. She told me that would allow me to bypass immigration.
Indeed, the immigration officer just checked to ID, and off I went exploring SYD international!
Asiana B777 coming in from Seoul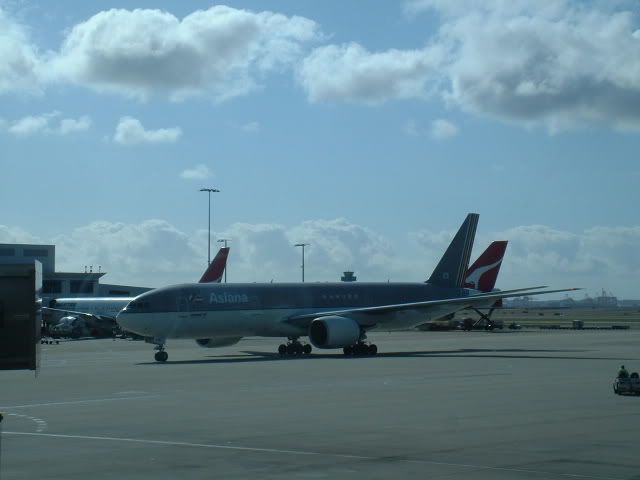 Emirates A345 on its way to AKL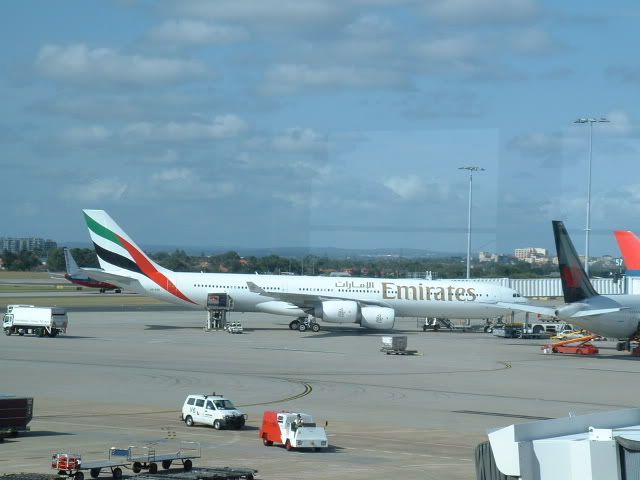 Garuda A333 coming in from Bali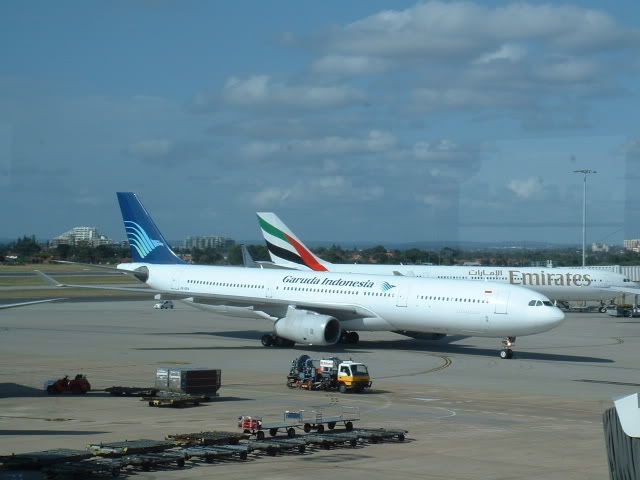 Aerolineas Argentinas A343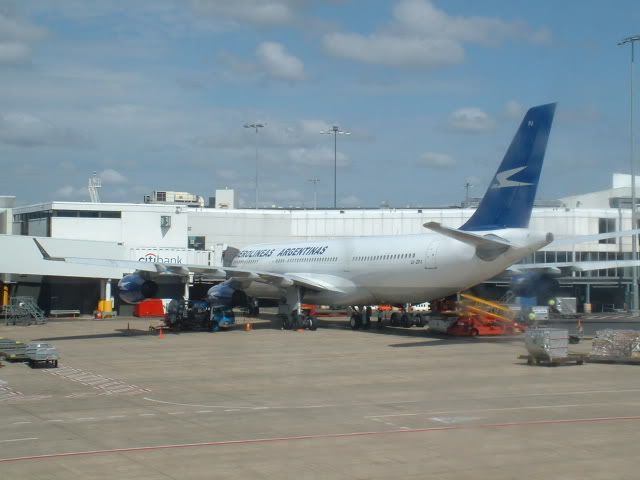 OJM, my bird to MEL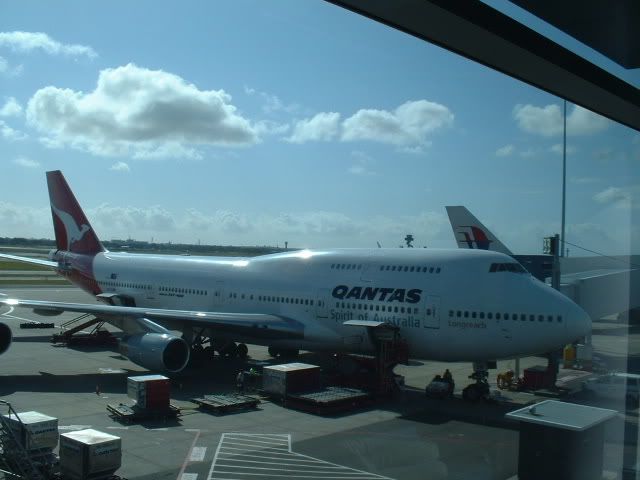 Boarding
Right before boarding, I asked the gate agent if any window seats were available.
"Full flight!" he replied. Ok, thanks.
I angrily made my way down the boarding bridge. I hate not having my window seat. 75D was believe it or not, the last row of the plane. The seat didn't even recline. An FA was standing there, waiting for everyone to settle in. No one was sitting next to me yet in 75E. But I noticed that 72A and B were still vacant. I told the FA that, once the doors closed, if I can move to these 2 seats. No problem he said.
"You're coming from Bangkok?"
"No, I just boarded." He obviously noticed from my accent that I wasn't Australian
"Had fun in Sydney?"
"Oh yeah, I had an amazing 8 days here."
"What d'you see?
I told him my activities and it was obvious from his comments that he was hitting on me, which I found pretty funny.
Then this Asian woman runs towards us and settles down next to me looking quite exhausted.
"No one told me this flight departs from the international terminal!"
"Well", I told her, "it's clearly written that Qantas flights QF001 to QF399 operate from the international terminal". And I pointed out that comment on her ticket.
She looked at me with sad eyes. I felt bad, but hey, open your eyes lady.
Anyways, doors closed and I moved to 72AB. Two empty seats to myself! I guess the flight wasn't 100% full. Are the gate agents that lazy??
Flight
Safety demo started and we started our long taxi to the runway. We were #1 for take-off.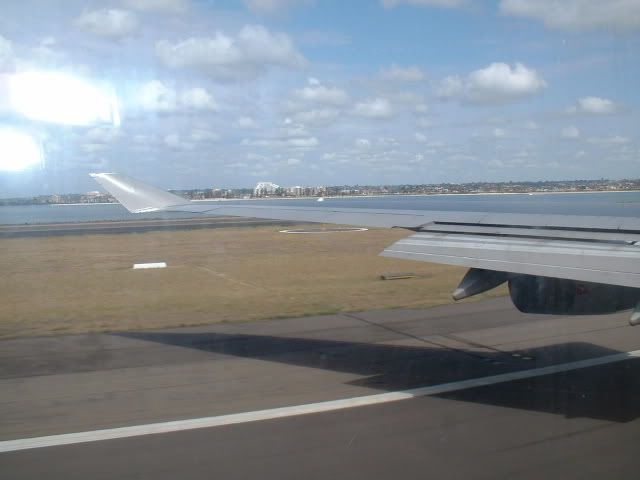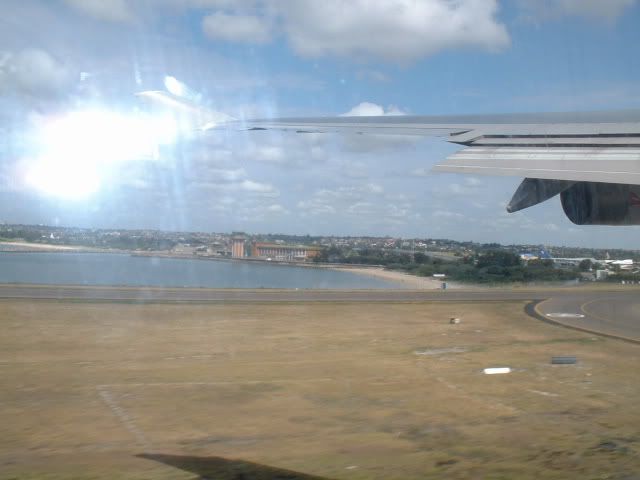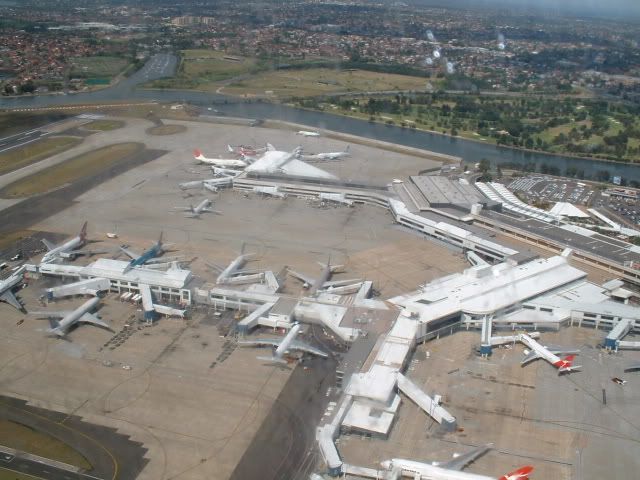 The crew told us that they would switch on the entertainment system (we had PTVs!!) but warned us that they will have to switch them off in 1 hour.
We were served continental breakfast (cereal, banana, juice, and yogurt). I watched the map show.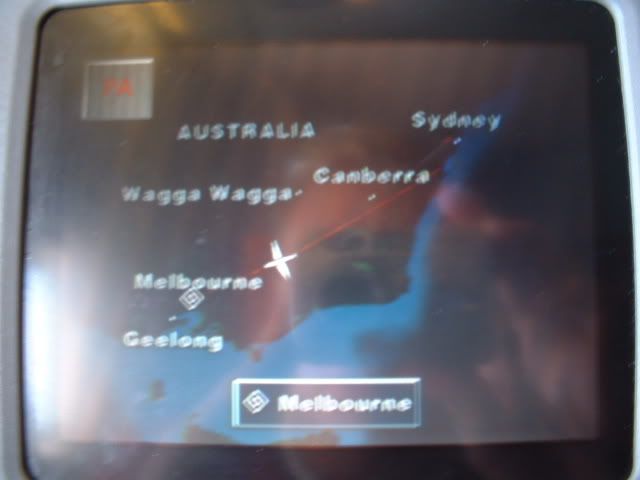 I read my Lonely Planet "East Coast Australia" book to prepare myself for my arrival in Melbourne.
We started our descent around 10:30am.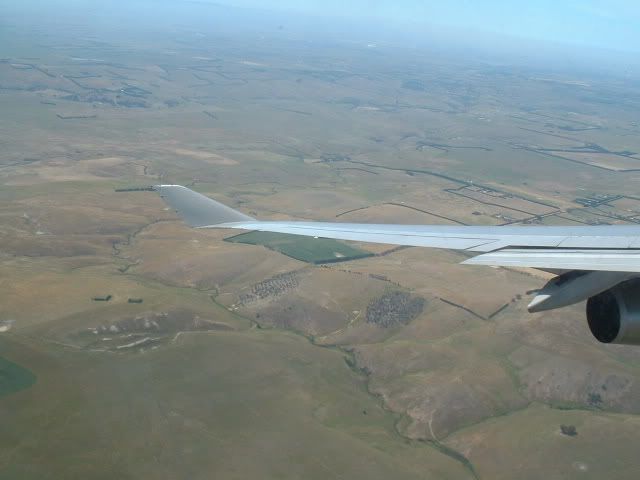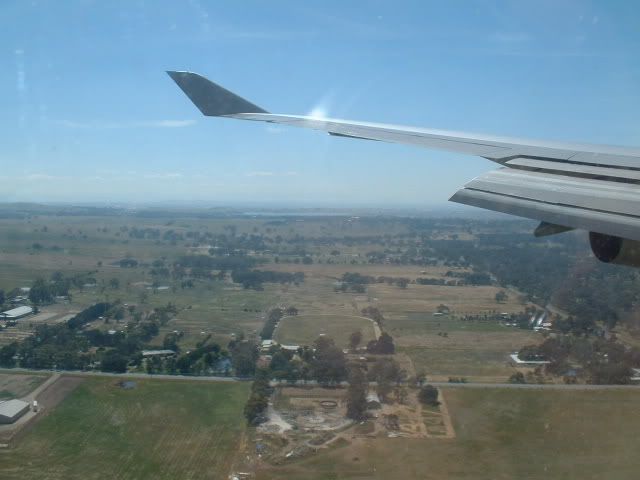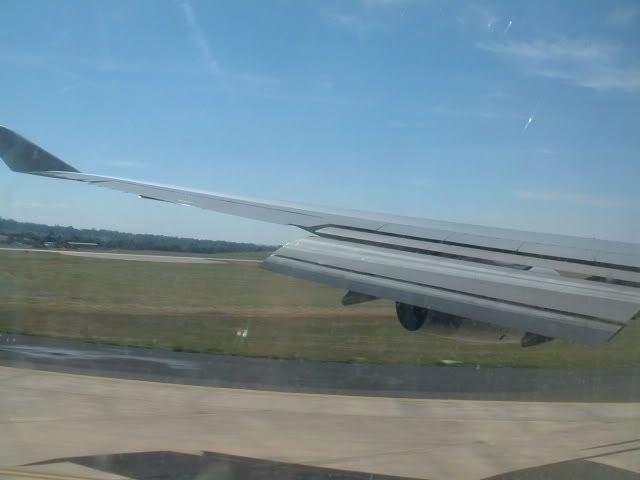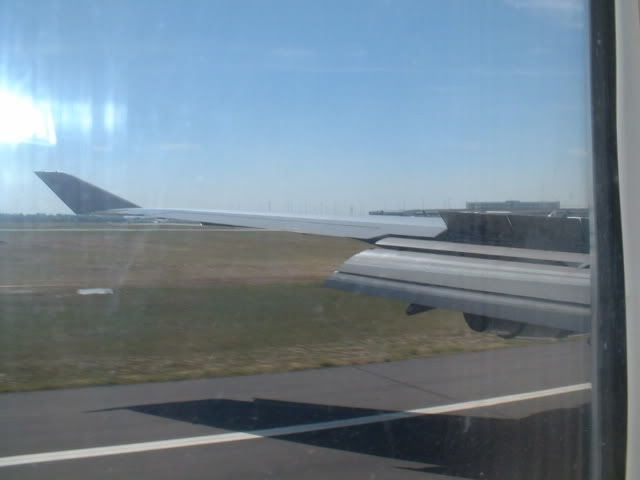 We pulled in next to a beautiful Air New Zealand B744.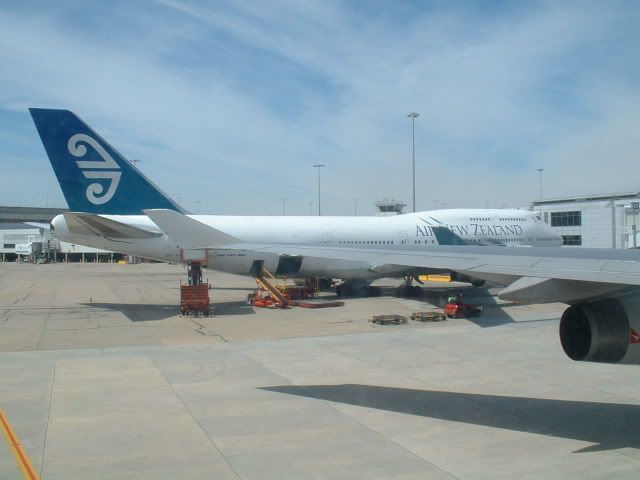 The FA who was hitting on me wished me a nice stay and proposed an area where I should look for a hostel. I thanked him and said I would take his advice, although I had already booked my hostel (you know, just to be nice)
On my way out, I took a pic of the new Qantas Biz seat….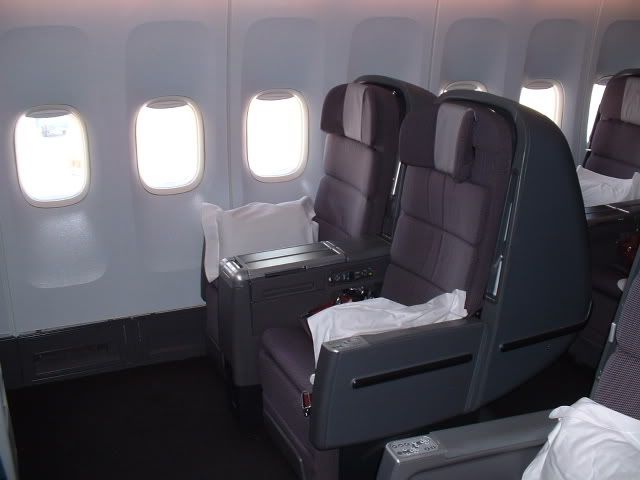 …and First Class seat.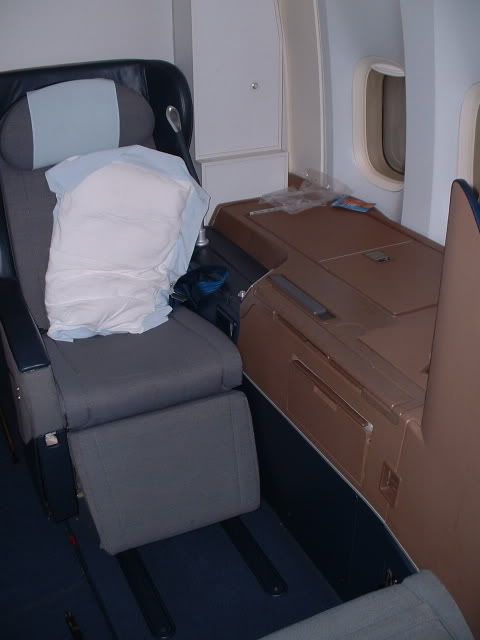 Arrival
We were told to keep our boarding passes to show the immigration officials that we were domestic pax.
Once I passed customs, I made my way out to the shuttle bus which took me to Spencer St. station.

Tuesday, December 7th 2004
Route: MEL-BNE
Flight #: Qantas QF614
Equipment: B737-800
Registration: VH-VXP
Flight time: 1:20
Departure Time: 11:05am
Arrival Time: 12:10pm

View Large
View Medium


Photo © Sam Chui
View Large
View Medium


Photo © Joe Corrigan
Melbourne is a beautiful city. It indeed looks like Montreal with its cafes, terraces, shopping, river, etc. I found it quieter than Sydney though, but still, I liked it.
I was excited about my next flight because
1) It's my first winglet experience!
2) Queensland is all about sun and beaches!
3) I was gonna meet up with my friend from Montreal in Brisbane!
The bus drop me off in the domestic terminal. I showed up pretty early around 9am for my 11:05 departure flight. I tend not to fly LCCs, especially when the fares are very competitive. Both QF and Virgin were selling this flight for 118 AUD (tax incl.), so, I went for QF!
Check-in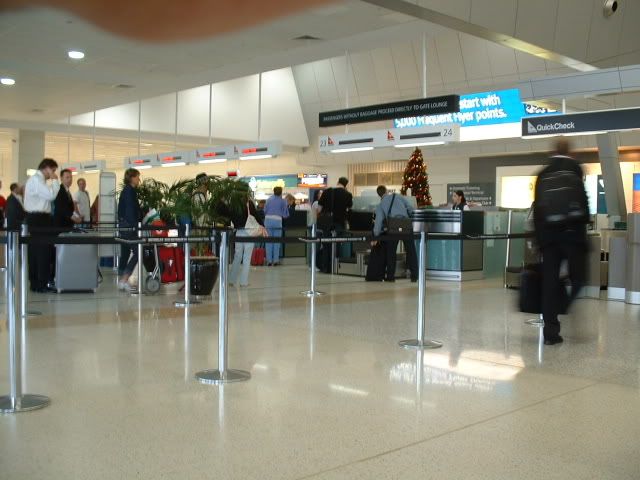 I try to use these self-service kiosks when possible. They were available in MEL. I just slipped in my credit card, and it displayed my reservation. There was an option "Choose an earlier flight". I tried this option hoping I would get on the 10:05 flight, but after 20 seconds of searching, it said "your fare doesn't allow you to choose this option". Ok well, AC gets more points for allowing anyone with any fare to fly standby on earlier flights.
The computer displayed a seat map and I chose 4F, a bulkhead window seat.
It looked as if there was more action in the international side judging by the number of aircrafts parked at the gates. But still, I was able to get a couple of nice shots.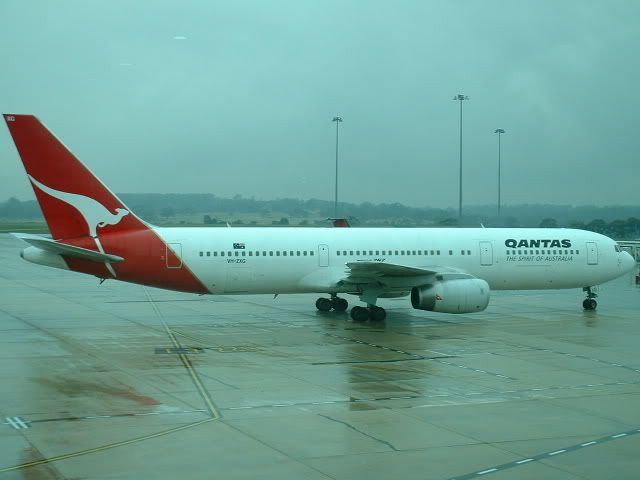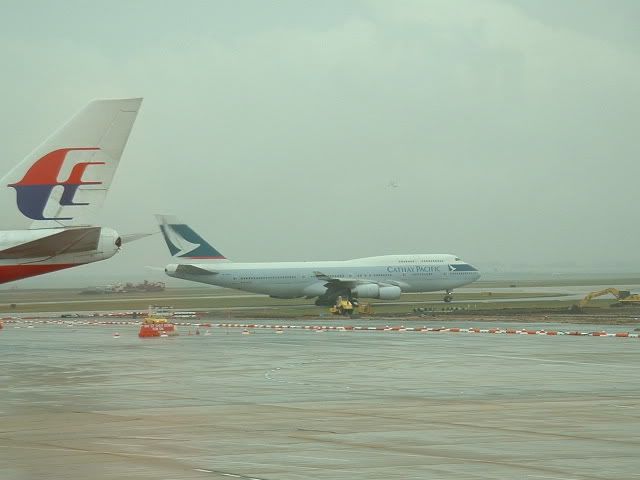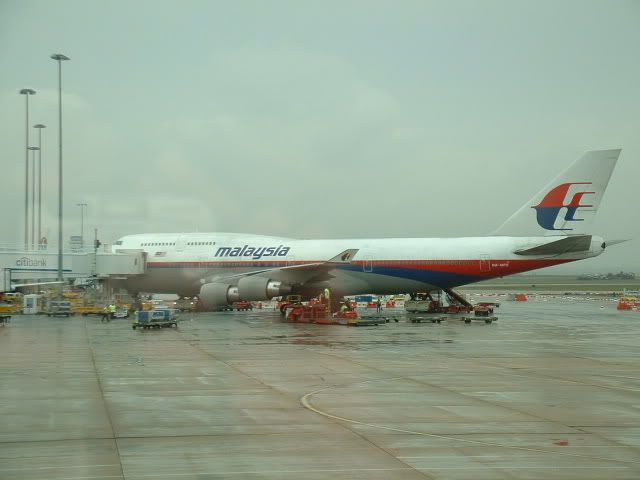 All three are racing for departure!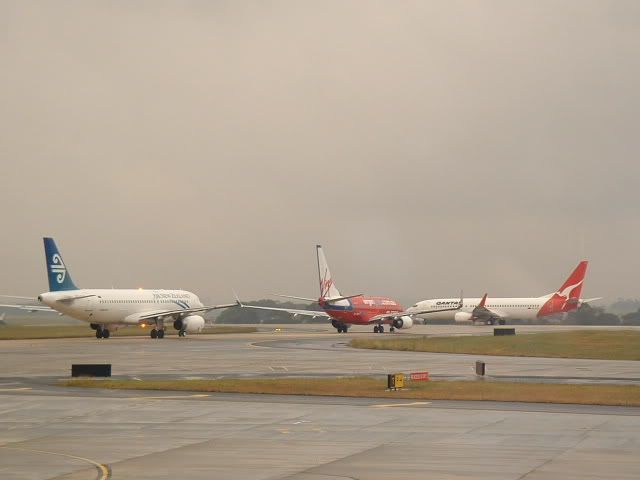 Just to show you how diverse it is in the domestic side…. not.
I called my mom back in Canada and updated her on my trip. Then I drank a good hot chocolate and read my travel book until boarding.
Boarding
I waited until there was no longer a queue. Business class looked full, whereas economy was I say 80% full.
View from my window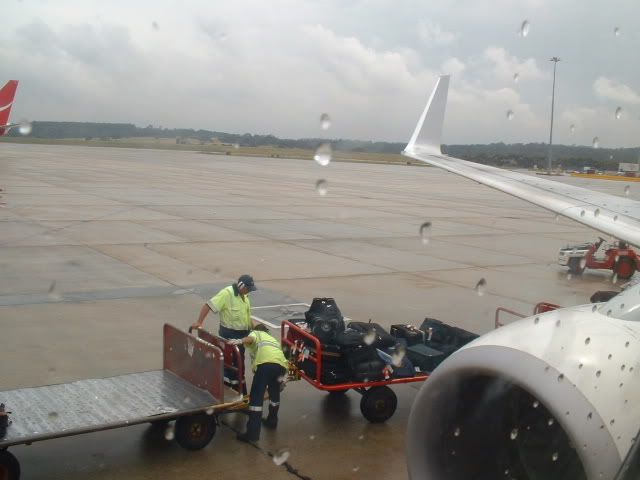 Flight
The moment the crew had shut the door of the aircraft, I realised that I had lost my jacket somewhere in the airport. Too bad I told myself… that gives me a reason to shop Brisbane!
Safety briefing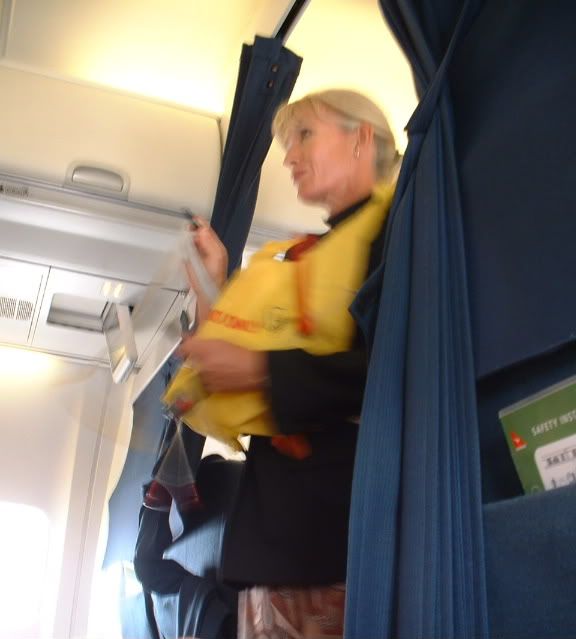 Runway was very close, so short taxi.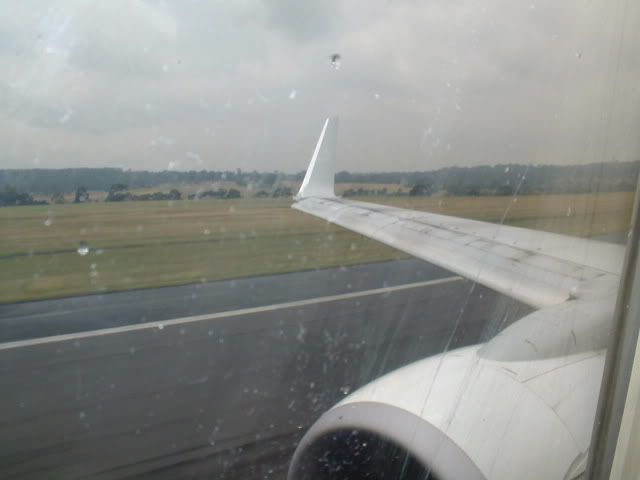 Like a rocket!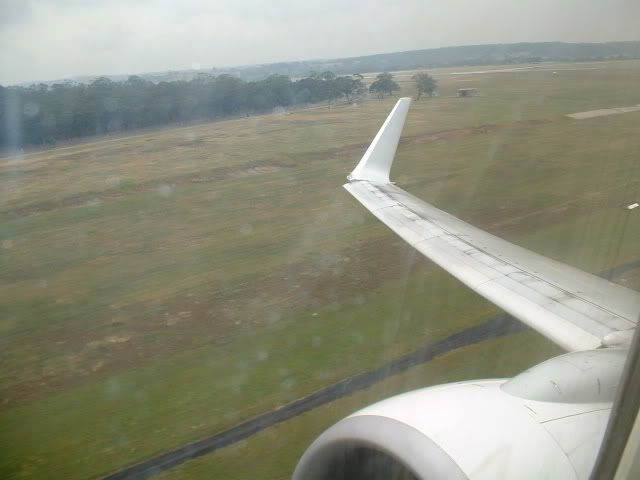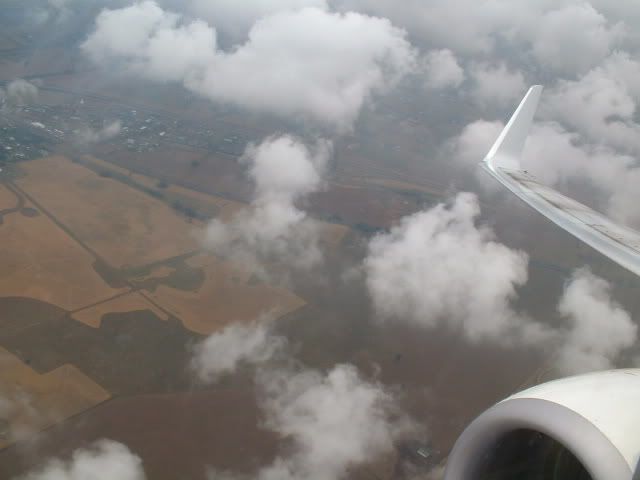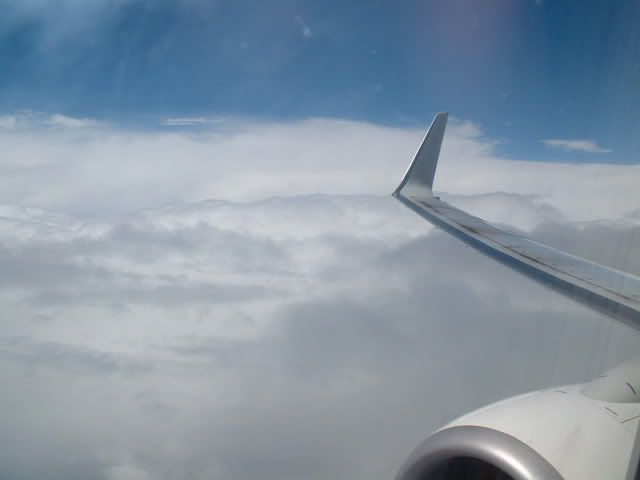 The captain made a few announcements, telling us that it'll be a bumpy ride all the way to Brisbane because of the bad weather.
The crew served us some muffins and juice for breakfast. The crew seemed cheerful, happy to do their job.
I continued reading about Brisbane and made my little touristy plans for the day until we started are extremely bumpy descent into BNE.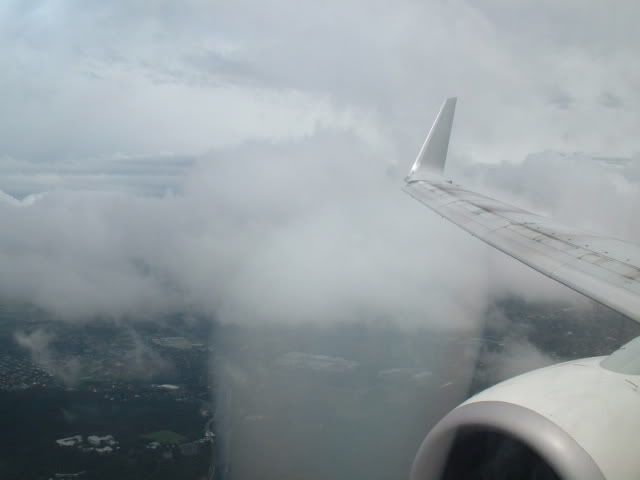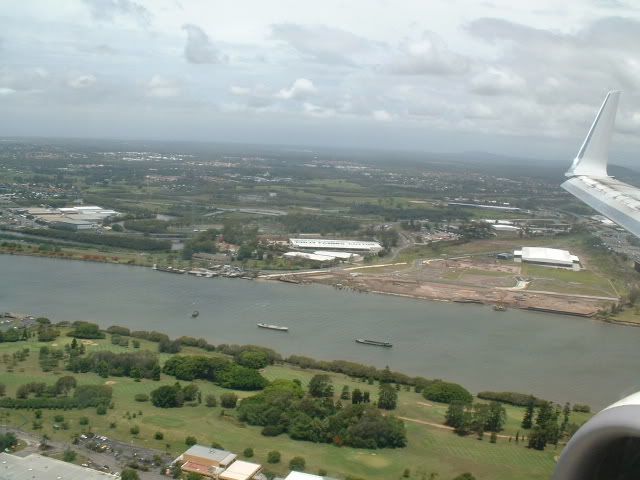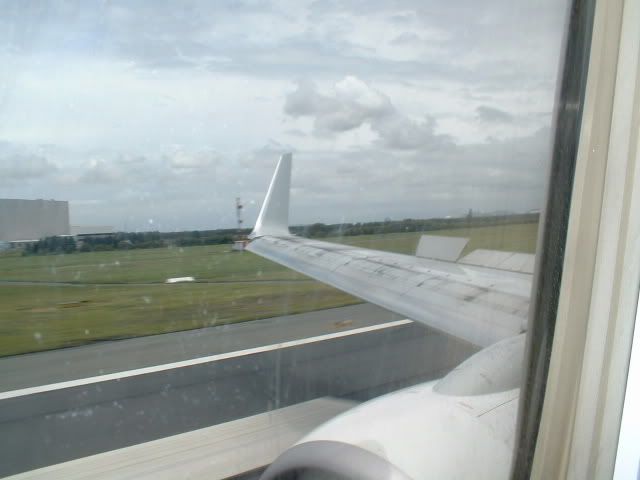 Before stepping out of the plane, I asked the lead FA if I was able to chat with the pilot, or whether they were on a tight turn around.
"Tight turn around sorry. But, always ask!"
Had she not said that last sentence, I would have probably not believed her. But she sounded honest.
Arrival
BNE domestic looked as modern as MEL and SYD. Have all the Australian airports been upgraded recently?
I caught the train to Brunswick St in Fortitude Valley. I was very impressed with the facilities offered in Australian airports to get to the city. Montreal (YUL) should learn a lot from here.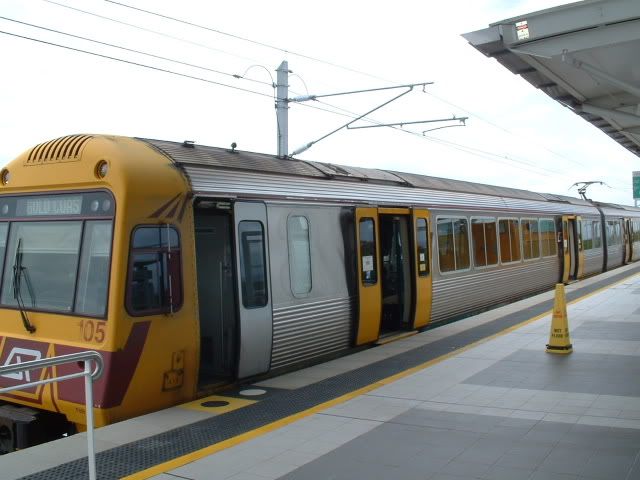 Queensland!
Brisbane was adorable. Cute little city, and again, it reminded me of back home. Too bad it was raining during most of my stay. I really wanted to go to Stradbroke Island for a nice quiet time at the beach, but the weather didn't allow it. Oh well, next time!
After 2 nights in Brissie, I took a 2 hour bus ride up to Noosa, a little town in Sunshine Coast. I had a fabulous time there for 3 days, even though it was still raining. I met fun people and the hostel I stayed at organized cool activities to keep us busy.
Next, I went back down to Surfer's Paradise. Ok, the city itself is pretty tacky, but I really liked the beach. Clean, white sand, and huge! There was not one cloud in the sky. So I took advantage of it and sun tanned until it was time to head to Gold Coast airport (OOL).

Sunday, December 12th 2004
Route: OOL-SYD
Flight #: Jetstar Airlines JQ211
Equipment: A320
Registration: VH-JQG
Flight time: 1:20
Departure Time: 3:55pm
Arrival Time: 6:15pm

View Large
View Medium


Photo © Anthony Jackson
View Large
View Medium


Photo © Craig Murray
View Large
View Medium


Photo © Kurt Ams
Qantas stopped serving Coolangatta Airport (or Gold Coast, OOL) when they launched Jetstar. So for this sector, I had the choice between the latter and Virgin, two Australian LCCs. Again, both airlines offered the same fare (76 AUD, tax incl), so I opted for JQ, just because I think the silver and orange looks much sharper than red and blue! (haha, I really don't have a reason for it). My initial plan was to catch a flight to SYD that would get me in 4 hours ahead of my Garuda flight to Bali, but the earliest flight came in around 7:30am, which is too risky. So that's why I decided to go back to Sydney
The shuttle bus picked me up at 1:45pm, and went around other hostels and hotels for more people. By the time we arrived at OOL, it was half past 2.
This is a nice shot I found of Coolangatta airport, very small terminal.
View Large
View Medium


Photo © Sam Chui
Check-in
Small line up at check-in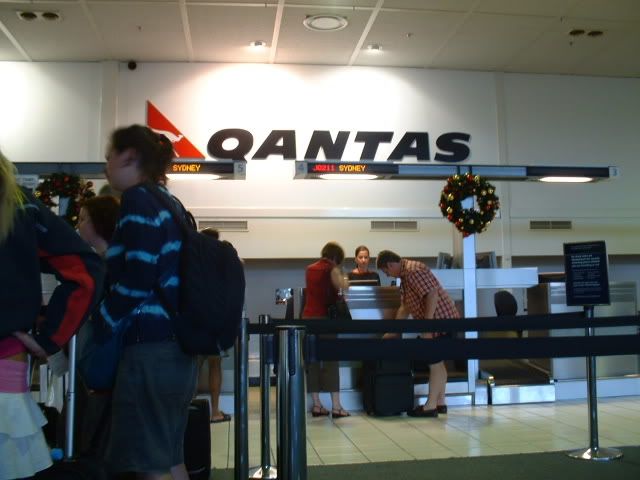 When I reached the counter, I gave the agent my passport. She typed something up and printed some sort of a receipt, which she stapled to an information slip. That was my "boarding pass".
"Have you ever flown Jetstar before?" she asked.
"Nope"
"Ok, well, we don't allocate seats, but you'll be in the 2nd group that boards the plane, the first group being pax needing assistance, etc."
So off I went, knowing that I'm almost guaranteed a window seat. The terminal resembles a box. 1 level only, ground floor. Not jet bridges. Boarding is done by stairs.
When I got in the airport, it was nice and sunny. By the time I checked in and past security, 15 minutes had past. Apparently, that's enough time to bring in dark clouds and a storm! The departure area has a huge window façade, and we all stared at the storm which was rocking the two planes on the ground (Jetstar B717 and Virgin B737). Then it started hailing. It stayed that way for 15 minutes, until the sun suddenly came out. 1 minute later, Virgin made its way to the runway! I guess pax had already boarded and the pilot was waiting for the storm to pass.
JQ's flight to MEL left which emptied out the departure lounge. Next, JQ's A320 came in from Sydney, and 10 minutes after the last pax came out, it was time to board.
Boarding
The first group had Orange passes. Not lots of them. I was in the second group (blue passes), and one of the first in line.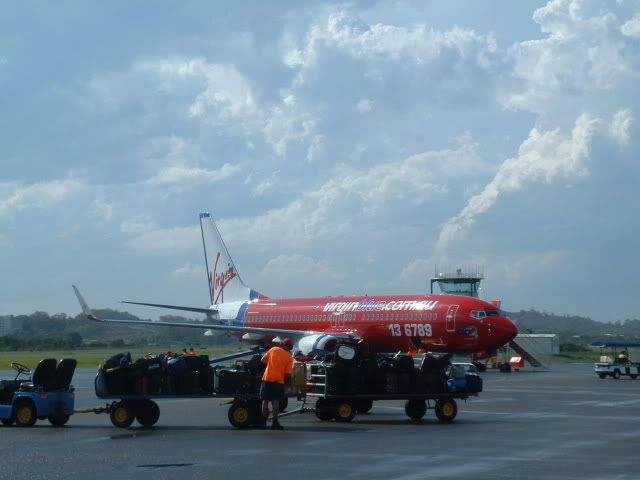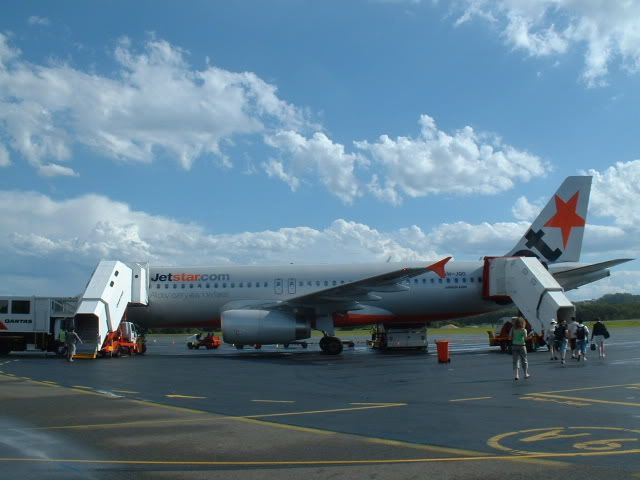 I boarded by the back door. That's smart of JQ since they accelerate the boarding process this way. I sat 5 rows from the back on the left side. The FAs had basic uniforms. They basically wear black T-Shirts and pants with a stripe of orange. Looks sharp. The good thing is that the guys wear fitted T-shirt, and one the FAs was really hot and muscled… hehe, kept on staring at him.
The plane was pretty full. LOTS of 20 year olds traveling back to Sydney, and gosh were they loud. They must have spent a week partying in Gold Coast, I think they're called "Schoolies"?
Well, at 3:55pm sharp, we were on our way to Sydney!
Flight
Safety demo was not pre-recorded. The lead FA was reciting over the PA while the others where demonstrating the procedures.
One of the FAs saw me taking a pic and told me not to use my camera during take-off and landing. I smiled and said "Ok". But I ended up using it hehe. It was the first time I was warned not to use my camera, but it's a stupid rule. What kind of frequencies are emitted from a digi cam?
The runway is pretty close to the terminal. Here we are holding short while DJ lands.
We backtracked to the tip of the runway, did a 180, and off we went!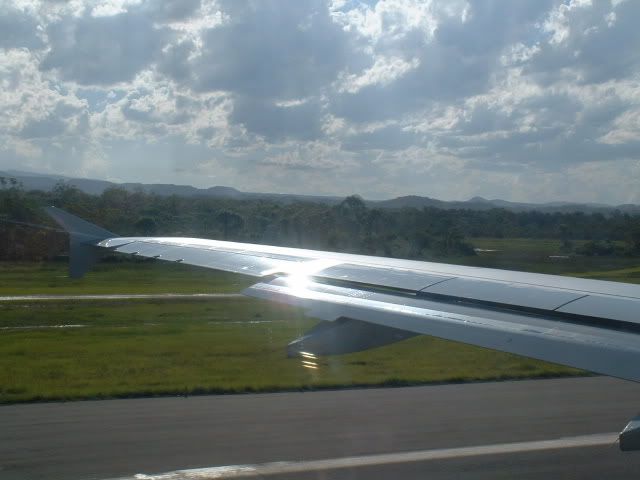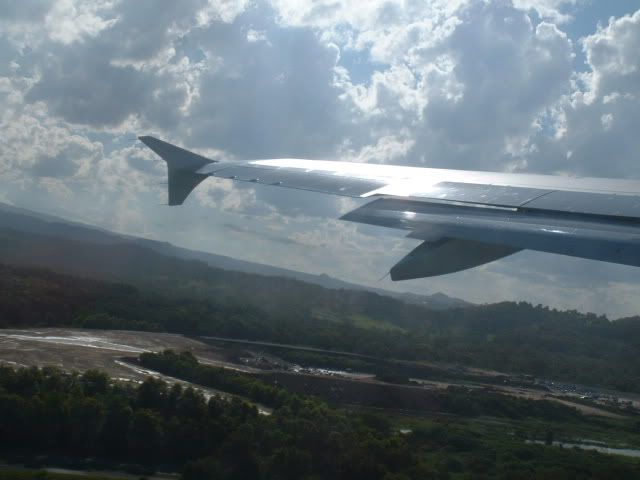 View of the Gold Coast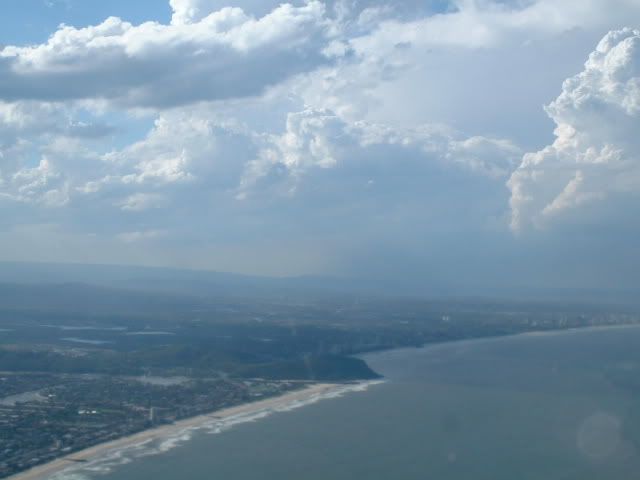 The hot FA went around the cabin with earphones, but being on an LCC, you had to pay for them. Nonetheless, a few people bought some.
Bar service started right away. Lots of snacks and drinks, but none were complimentary. I decided to wait until I reached Sydney to eat.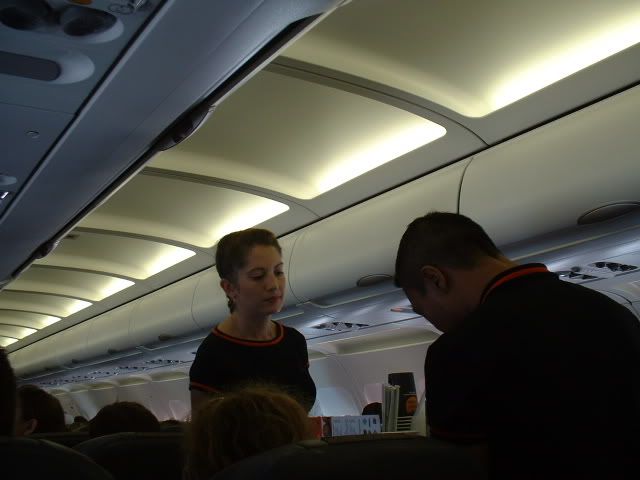 Soon, we were on our way down to a cloudy SYD. Here's a awful shot of the harbor and Opera House.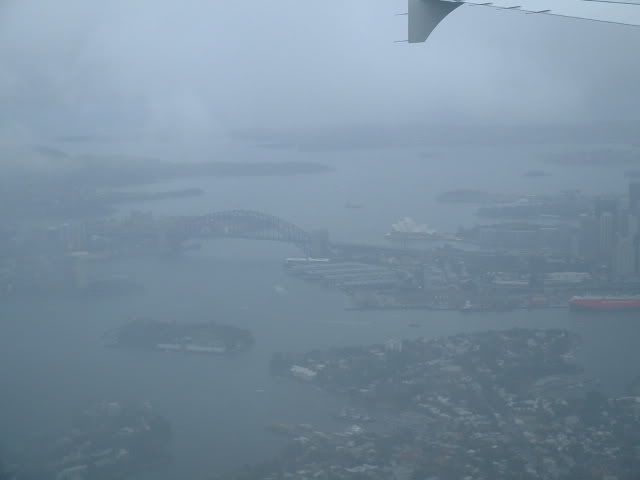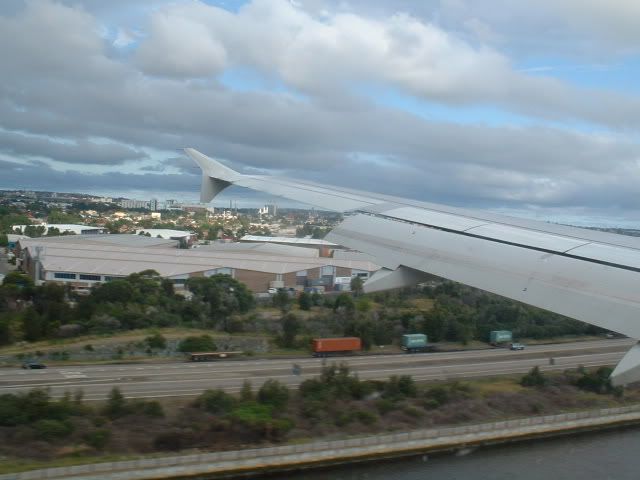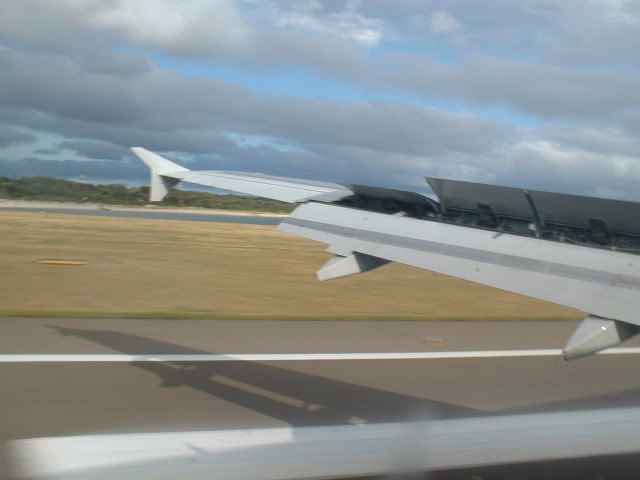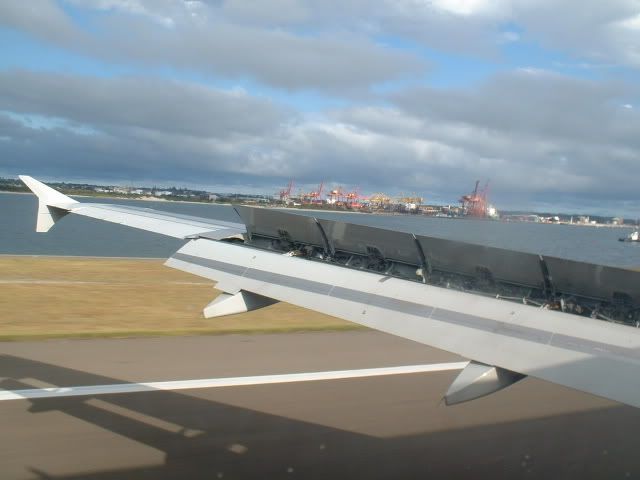 It was a long taxi back to the domestic terminal.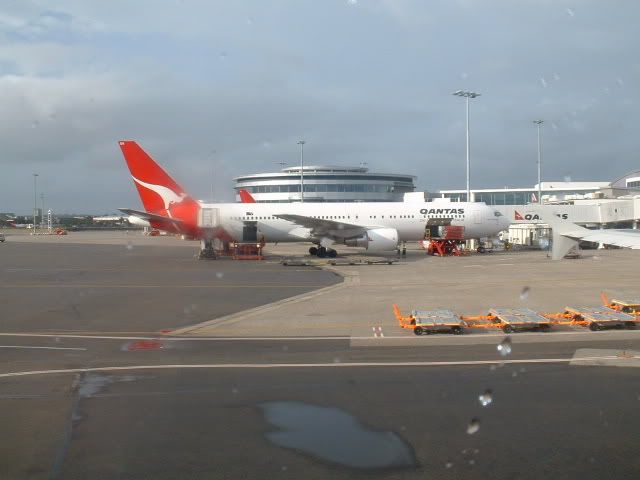 Arrival
The pilot's door was open when the pax were deplaning, I took advantage of it and chatted with them. Nice folks.
As I did when I came from Singapore, got on the KST shuttle bus to my hostel.
Conclusion
Well, that was my Aussie experience! Wonderful country, wonderful people, I will be back!
Now, you can go back and read the second half of
Part 1: Aussie trip with Garuda
, and once that's done, read the final episode of the trilogy
Part 3: Journey Back Home: SQ/AC J Class
. Enjoy!