After days of studying for finals, it was finally time for our yearly trip to visit my grandparents in San Francisco for Christmas. We would be flying United, and an international 777 no less. We headed to the airport at about 6 AM for our departure near 8:30. We parked and rode the bus into the terminal. As the bose drove up, I thought I saw what looked like an Air France A330 sitting on the signature flight support ramp. I dismissed this and didn't think anything of it. Little did I know however, it was a QR 330 bringing some VIPs in for a week of skiing, as Alex Kroychik would later inform me.
Lines for check-in this morning were absolutely astronomical - although I had no chance to see how fast they were moving - we just used the skycap. After getting our boarding passes, we headed through security and down to the underground tram. We popped up in concourse B and I sat at our gate for the next 30 minutes watching planes taxi by our gate. For some reason I shot all of the photos at ISO 400.
Needless to say, all of the shots were way too grainy.
MyAviation.net photo:


Photo © Kyle Matson
MyAviation.net photo:

Photo © Kyle Matson

MyAviation.net photo:

Photo © Kyle Matson
Friday, December 24 2004
Denver International (DEN) – San Francisco International (SFO)
United Airlines 893
Boeing 777-222
N799UA Delivered: 1998 -05-08
Scheduled departure: 8:34 AM, Actual: 8:50 AM
Gate ?
Scheduled arrival: 10:15 AM, Actual: 10:10 AM
Gate G92
United Economy, Seat 36A
Channel 9 Availability: Yes
Boarding was called and after scarfing down an Egg McMuffin, I headed on board. I took a seat in 36A, which was a window seat. It had just enough of the wing in the way of my pictures that I could not take good ones, yet there was just a tad too little of the wing in the picture for airliners.net acceptances. The captain came on and mentioned that they were still trying to locate some bags, so there would be a slight delay. A few minutes later, they were having trouble pumping fuel onto the plane. The pump had frozen.
Soon enough our pushback began, being that it was so cold outside, as the engine started, a gigantic plume of smoke rose from it, but soon dissipated. I was able to get one picture of a United 737 in new colors. My brother and mom flew that plane last summer.
Listening to channel 9, I heard some planes getting deiced, but apparently our plane was not worthy, or not special enough. We headed for Runway 25, and after a couple of planes in front of us, we hauled down the runway on our way to SFO. I still cannot get over just how fast a 777 gets airborne.
I glued my eyes to the window and waited for the city of Denver to come under our wing.
MyAviation.net photo:


Photo © Kyle Matson
After about 30 minutes, the flight attendants came around with Biscoff and drinks. I asked one of them if I could visit the Flight Deck once we had landed, and he said that it would be no problem at all. Great! Under the guise of using the bathroom, I headed back and took some pictures of the cabin:
MyAviation.net photo:


Photo © Kyle Matson
I switched around the PTV a bit. Their was a feature on the Do It Yourself channel about the Denver Nuggets general manager's home, so I watched that for a bit. I also watched bits and pieces of a show called Monk on USA. Once those two were over, I glued my eyes back to the window along with my camera. We didn't pass over anything very interesting, just some nice scenery. Out the window, there seemed to be either a Continental or Airtran narrowbody flying along with us. Here are two pictures of it. if you have any ideas at all as to what it is, let me know! Maybe a FedEx Airbus?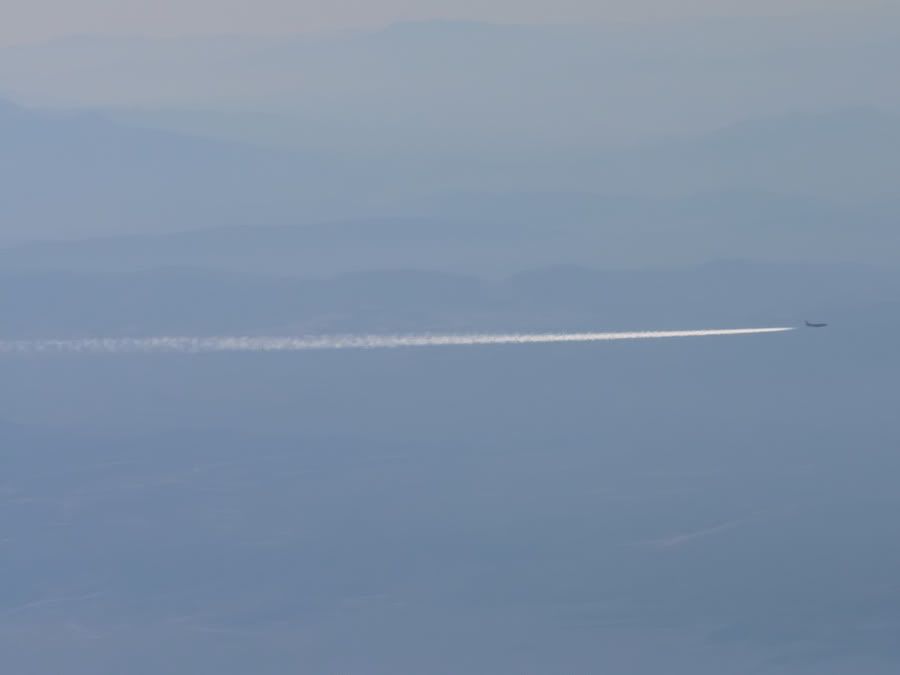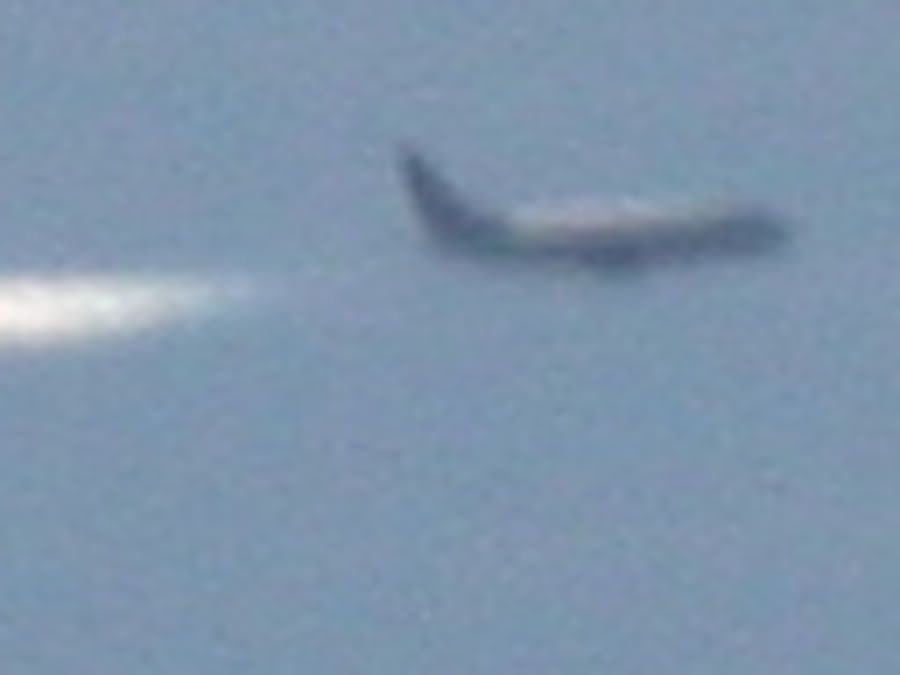 Soon enough, we were on approach to SFO. We flew over SJC, and then made our way in for a smooth landing on runway 28R.
MyAviation.net photo:


Photo © Kyle Matson
When it was time to deplane, I headed up to the cockpit and talked to the nice pilots. They said I could take some pictures, but they would have to kill me.
View Large
View Medium


Photo © Kyle Matson
Well, I escaped, hehe. I deplaned and wandered around the lovely San Francisco International Terminal. Our plane was continuing to ICN, so it had parked there. We had to walk over to United's Domestic Terminal to get our bags, which was actually a surprisingly short walk.
<-------------------------------------------------------------------->
We left my grandparent's home in the east bay at a little before noon to make our 2:12 flight at Oakland. The traffic was minimal and we arrived early. We used Easy Checkin for the first time, and it was very nice. Overall, it was quite speedy. We headed down towards the terminal. There was a very small line at security, and we cleared it quickly. I was feeling like a rebel so I left my shoes on when I walked through.
We still had over an hour until our flight was to leave. I decided I would wander around the terminal with my new camera and try to get some good pictures. I used aperture priority mode, and not thinking, I set it to 8.0 and set the Exposure composition at +1. This meant that my shutter was open way too long on almost all of my pictures and most turned out like crap. Why it took me until I got home to realize this blunder is still beyond me.
View Large
View Medium


Photo © Kyle Matson
MyAviation.net photo:


Photo © Kyle Matson
The Alaska Airlines DisneyLand plane was there as well, and I patiently waited for it to push back, as I had a perfect angle on it from the walkway that goes from the Southwest gates to the rest of the terminal. Just as it was beginning to push back, an America West Airbus pulled right in front and ruined my chances for anything but a head-on. Here it is:
View Large
View Medium


Photo © Kyle Matson
I grabbed a smoothie and headed back to the gate. My dad is a frequent flyer with United and he walked up to the gate agent and talked with her for a few minutes. He came back with four first class tickets, even though we were confirmed in economy. There were two un-attended minors flying on the flight and they wanted to sit together, so we gave them our seats that were together and UA put us in first class in exchange. Hurray! Eventually, it was time to board.
Friday, December 31 2004
Oakland International (OAK) - Denver International (DEN)
United Airlines 738
Boeing 737-322
N393UA Delivered: 1990-07-30
Scheduled departure: 2:12 PM, Actual: 12:12 PM
Gate 5
Scheduled arrival: 5:35 PM, Actual: 5:20 PM
Gate ?
United First, Seat 2A
Channel 9 Availability: Yes
The friendly flight attendant offered my dad & me a choice of orange juice or water. OJ for me! In addition to my family, the first class section was occupied by a FX pilot non-revving, a cadet at the Naval Academy, and UA flight attendant non-revving.
We pushed back, and began our taxi for departure on runway 29. As we took off, I could see a FedEx MD-11 and 727, waiting next to us for departure, I passed my brother the camera, but my settings were still screwed, so those pics are little more than a blurry mess. Take off was pretty quick, I could see SFO across the bay, and as we started to cross the bay bridge, the clouds hit, so I was unable to get any photos of the San Francisco scenery - for lack of a better term. For the next 15-20 minutes, I kept my face and camera glued to the window while listening to channel 9. I got a Mountain Dew, and continued peering down towards earth. We passed just south of Lake Tahoe, and because of the awkward way I had to contort my body to look out the window with the camera pointed at the engine and wing, none of the photos came out to well. (and I am also too lazy to photoshop them) About this time, the FA discovered that the Pilot for FedEx sitting in front of us had flown F-16s up until a year ago. He was sitting next to the guy from Annapolis, so she gave them a hard time, comparing the two branches. The flight attendant then brought up a man from Economy who was in the Army. I don't know if he was on leave from Iraq, or what the case was, but I thought this was a nice touch. The FedEx pilot then gave his seat up, went back and found the soldier's wife in economy and traded seats with her, so that they could fly first class together. The flight attendant asked the man from the Army what his wife's favorite kind of wine was – white incidentally – and had a class waiting for her when she came up.
I continued listening to the chatter on Channel 9, we were just contacting Denver Center; we couldn't be that far out. The pilot came on a few minutes later saying that we had about 30 minutes until landing and that it would be bumpy going in, so passengers should plan ahead and use the restrooms now if they needed to. We popped out of the mountains near Loveland and curved down in approach to runway 16R. A Great Lakes Beech 1900 was coming in parallel to us on runway 16L. If only it was day outside, and that plane was a 777.
The landing was smooth and we slowed down very quickly. We taxied for another 5 minutes before stopping at the gate. I asked to see the cockpit, and the pilots had no problem. I went in and took a bunch of pictures. They were all coming out poorly and I tried to rectify the situation, but I couldn't and so I left, as the pilots were waiting to get back in to get there stuff, and they had a quick transfer to make. Later I realized the problem. The camera was set on manual focus.
Oh well. I headed over to Concourse A, hoping to see the LH 346 – I have never seen one before - but alas, it had left just before we pulled in. I walked across the bridge back to the terminal, where I met my family who had taken the underground train the entire way and already collected our bags. Our trip was over.
If you have any questions or comments, PLEASE post them, it is always great to hear what you guys think after I spend a few hours typing all this nonsense out.
//// United Will Stand