Note: I do apologise for my horrid photo taking skills and would advise KrisworldB777, Carmy, Jeffrysky and Jubilee777 to kindly refrain from any horrible comments they might have! However my flight was bumpy for much of the way and my horrid photo-taking skills, coupled with my horrid camera is a perfect recipe for a photo-taking nightmare!
==========
I am sorry to bore all of you with yet another SIA trip report, but this one's different from the rest – It's in Raffles Class. My mum in her very generous mood decided to redeem us on J class to and from New Zealand using her miles – I was thrilled of course.
3 days before departure, I decided that, since it was going to be my last time on a premium cabin in a very long time, I should make full use of it and book the cook! So I called the reservations hotline and booked Lobster Thermidor for my dinner service ex SIN.
CHECK IN
SQ285 was due to depart at 9pm. But I arrived at Changi Airport at 6 to meet a couple of friends for some drinks. Checked in by myself at the Raffles counter. My parents checked in later at 7 and went to the First Class Lounge, with mum being a PPS with SQ. I decided to stay with my friends for coffee at Coffee Bean, and my mum was like "Wow you're giving up the First Class Lounge for Starbucks!" Well my friends had made the trip down to the airport specially and I couldn't just leave them there!
At 8.10 I decided that as much as I treasured my friendship with Yizhong and Lionel it would be a travesty if I didn't even have a five minute peek at the First Class Lounge and I bade them farewell and went straight through immigration (there was a short queue which took about 3 minutes to clear) and up to the Silver Kris Lounge Area.
LOUNGE
It was 8.20 by the time I entered the lounge. Due to the limited time I had there, I didn't take any photos. But here are some photos of the First Class Lounge that I took on a previous visit.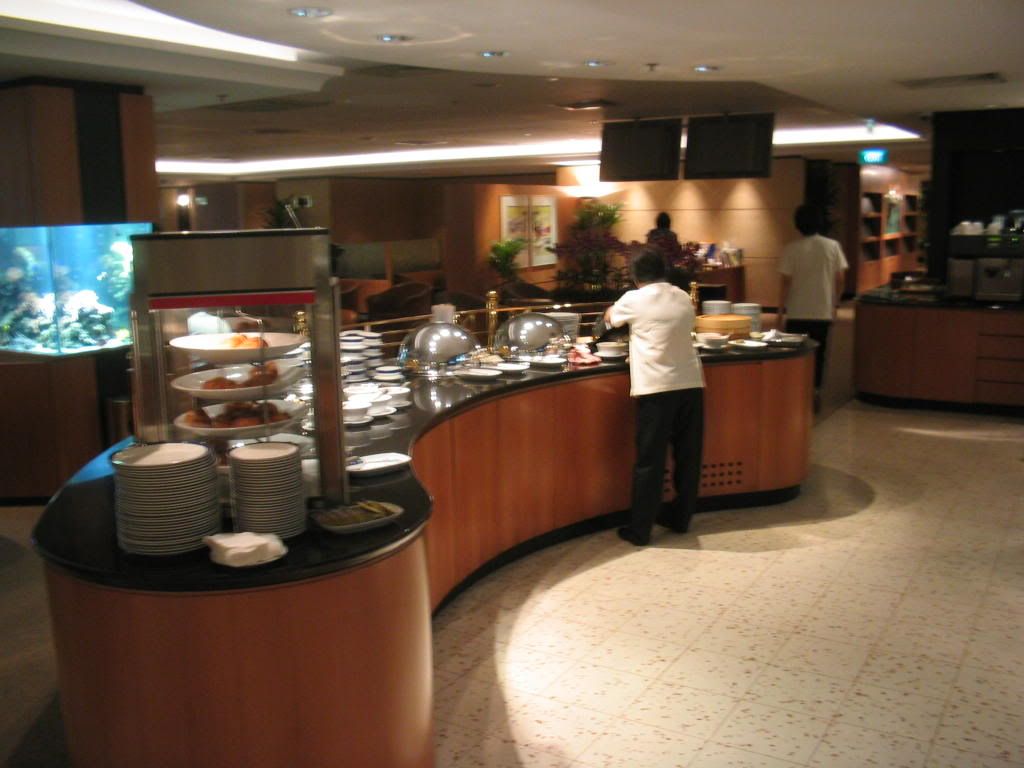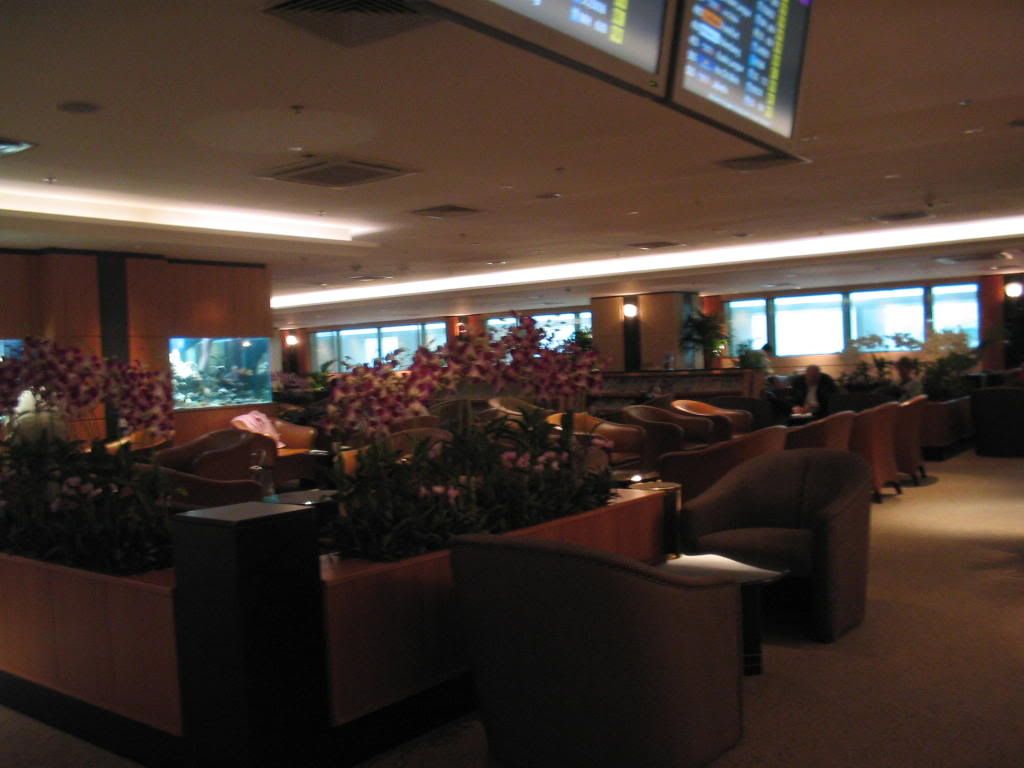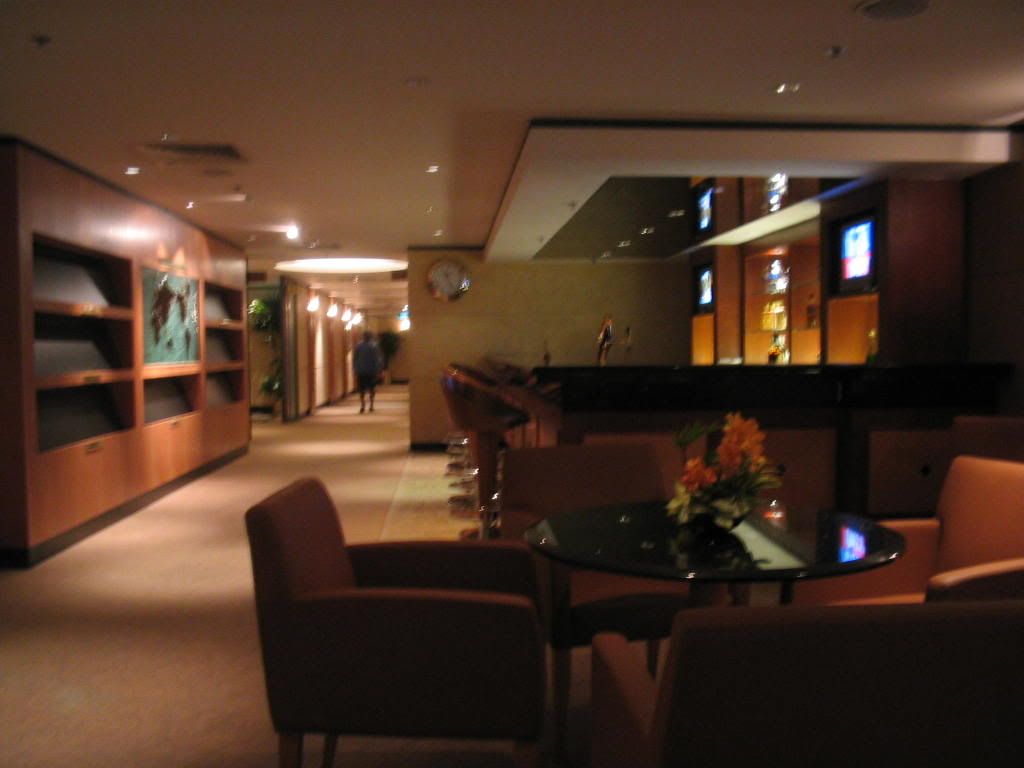 View Large
View Medium


Photo © Charles Ryan Teo
So off I went to board the Megatopless 747. It felt great to stroll down the aerobridge and turning left instead of joining the huge queue going to economy! (Once in a lifetime experience, so don't blame me for making the hugest fuss!)
INFLIGHT - Boeing 747-400 Registration 9V-SPN ETD 2100 ETA 1140. Block time 9h40min
I forgot to mention that at the time of reservation, there were only 2 seats open in J class for reservation. One in the upper deck and one in the lower deck. My mum prefers the upper deck so I booked that for her and I took the lower deck seat of 22D.
The Inflight Supervisor was welcoming people on board at this gate. He would look at the boarding passes of everyone, then address them by their full name. Like "Thank you Mr Brown…. Your seat is on your left. Or Welcome aboard Mrs Tan your seat is straight ahead on the right." I notice many crew on SQ do this for most flights when boarding passengers, even in Economy.
As I got to the lower deck Raffles Class cabin, I noticed that there were only 2 empty seats. My seat and the seat next to me. The entire cabin had at least 8-10 kids of 6 years or younger. And they were already screaming. Oh oh….. They so were going to spoil my one and only time traveling on Raffles Class!
So I went upstairs and told my mum that there were screaming kids all over the lower deck Raffles cabin. The American passenger sitting next to her laughed. I then asked him "You wouldn't be so kind as to swap seats with me would you? Haha"
Back down in the cabin, the crew were coming round with welcome drinks of Orange Juice, Champagne or wine. I helped myself to some Orange juice, and soon after, they were coming round for orders for after-takeoff drinks. Everyone was addressed by their names of course.
Hot Towels came and went, and the Captain (Singaporean guy) welcomed us on board and told us that our flight time would be 8 hours 45 mins to Auckland. Safety video was screened and we were soon on our way for taxi and take-off. That was very uneventful and since I didn't have a window seat and it was dark, I couldn't see much of what was going on outside.
After takeoff, I decided to fiddle around with the famed Spacebed. Since it was my first time using that "voluptuous purple madam", as KrisworldB777 aka Anthony James Watson Hawkins terms it, I hadn't a clue how to operate it. At first, I couldn't pinpoint the location of the 3-pin plugs. Eventually I found it between the seats (as in at the space separating the back rest of each seat) I tried to fiddle around with the controls too and ended up (unintentionally) in silly positions.
View Large
View Medium


Photo © Christoph Triska
Looking at the screen in front of me I wondered if it were electronically operated or if you just did it the nice old way of using your hands to shift its position. I wasn't going to start mauling the screen with my bare hands as the 5 year olds around me used their seat controls to gently shift the screens forward by 2 degrees.
I then decided that instead of causing further embarrassment to myself, I should observe what everyone else was doing and learn from my fellow passengers. It didn't help that most of the 5 year olds were more interested in screaming than testing out the Spacebed and that their parents were busy trying to calm them down instead of fiddling with the spacebed control buttons.
At that moment, one steward came up to me and asked "Excuse me sir are you Anthony?" I said yes. She said "There is an empty seat in the upper deck and your mum asked if you would like to move there."
I said "Yeah why not?" He then said "But it's 6 rows in front of her. You will not be sitting next to her." I then told him it wasn't a problem at all – Anything to get away from the screaming children.
So off to the upperdeck I went and I was seated 5 rows from the cockpit next to an old English lady, who gave me a polite smile but I'm sure hated me for occupying the empty seat next to her.
Next, a hot stewardess came up to me and went "Sir, how would you like the members of the cabin crew to address you?"
Oh God I thought. What should I say? Didn't they have the manifest? Or perhaps the upper deck has its list of names and the lower deck has its list of names and since I swapped they didn't have my name?"
Anyway I thought that saying "Address me by my sirname" would be too pretentious for a young man like myself - I bet the stewardess was my age too. So I continued going "erm… erm…." and she went with a smile "That is, sir, how would you like us to call you?" So I said "Anthony. Anthony would be great."
Well for the rest of the flight she was calling me "Mr Anthony" while the rest of the crew just called me Anthony.
I then went to my mum at the back of the upper deck and asked her how the video screens were operated. She placed her right hand on the screen and moved it up and down. Oh my god. That simple. Silly me. No niffy gadgets to press where things start popping out and what not.
After my after-takeoff drink of a Coke was served, the crew started dinner service.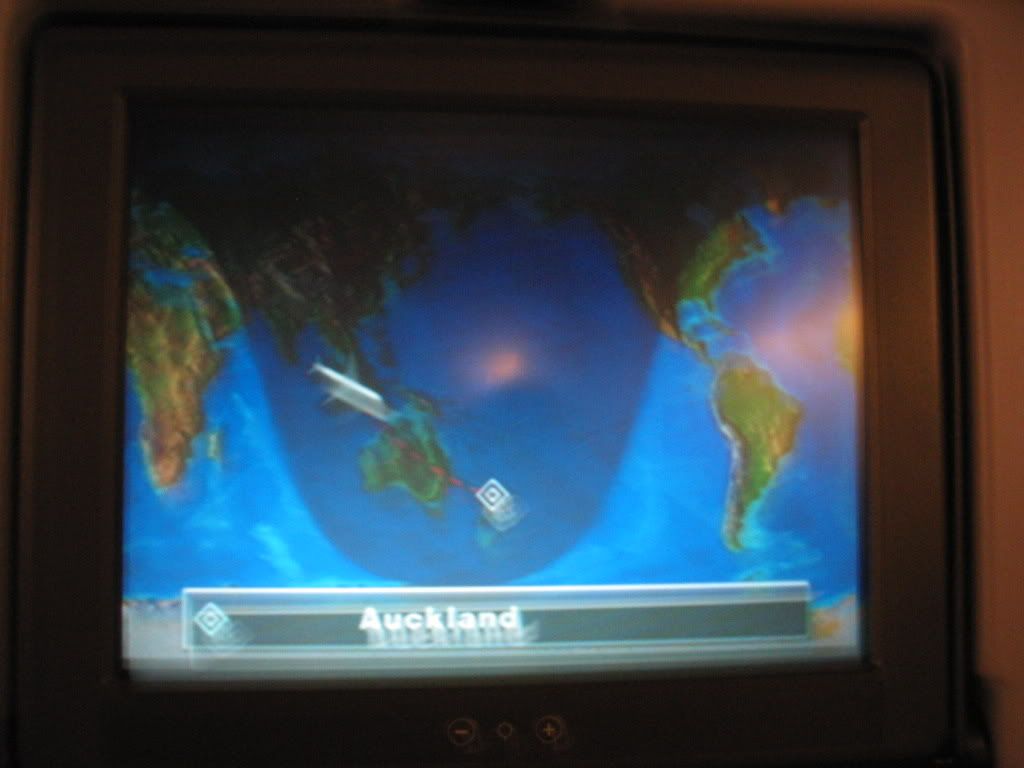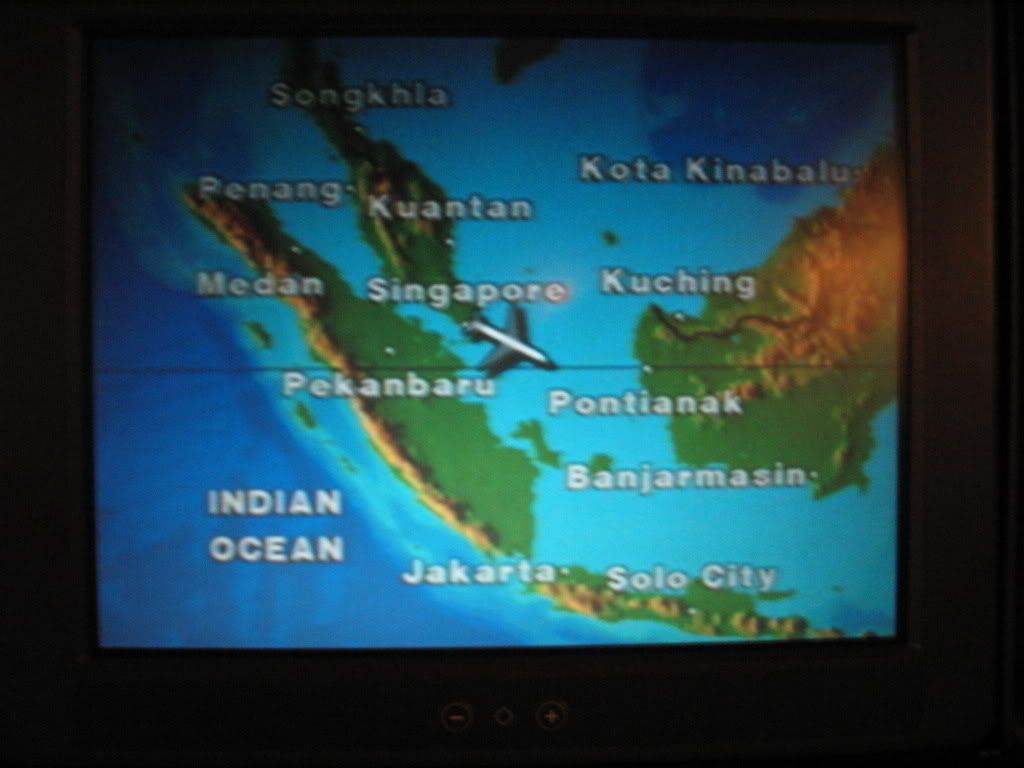 Here are some photos of the menu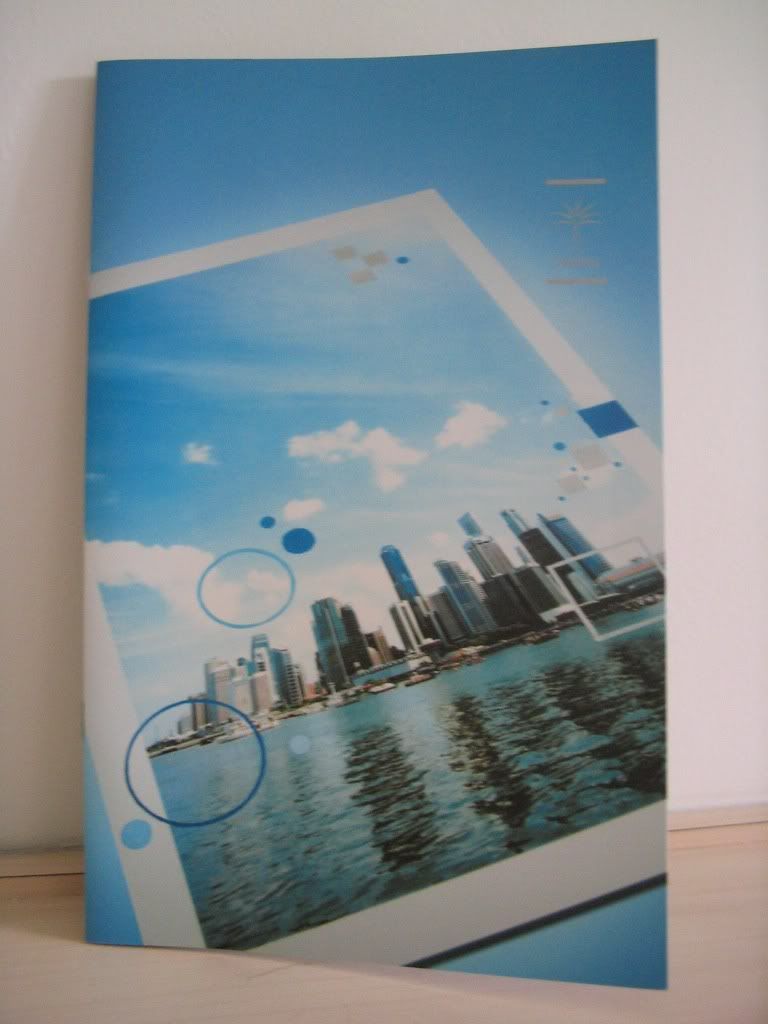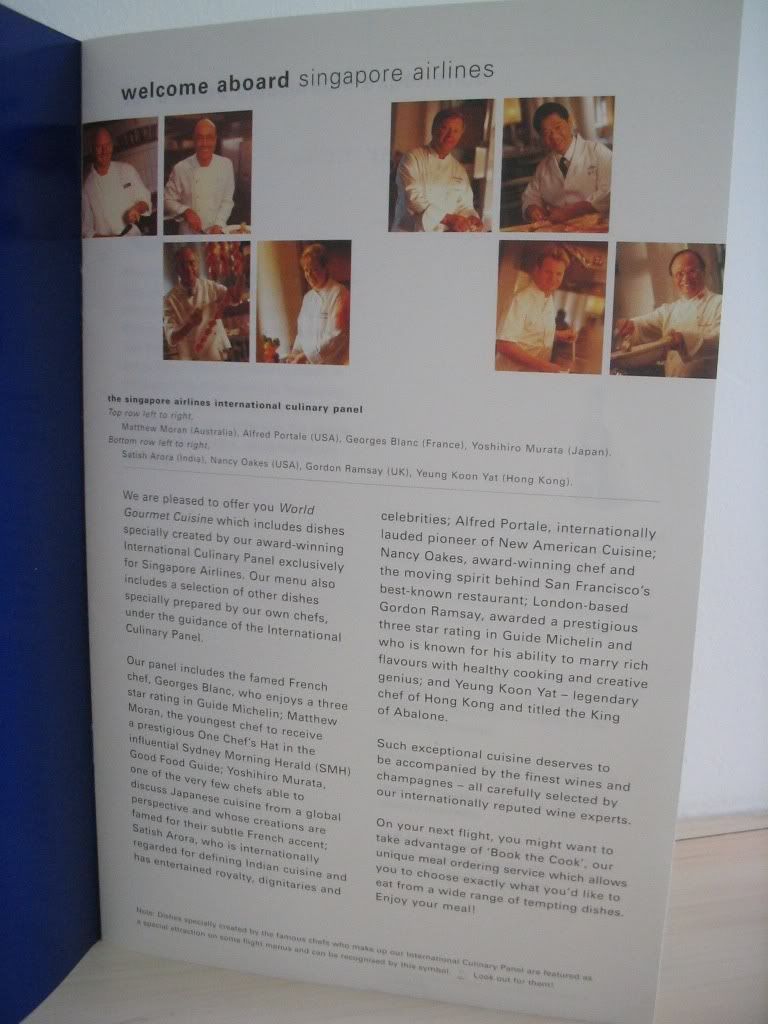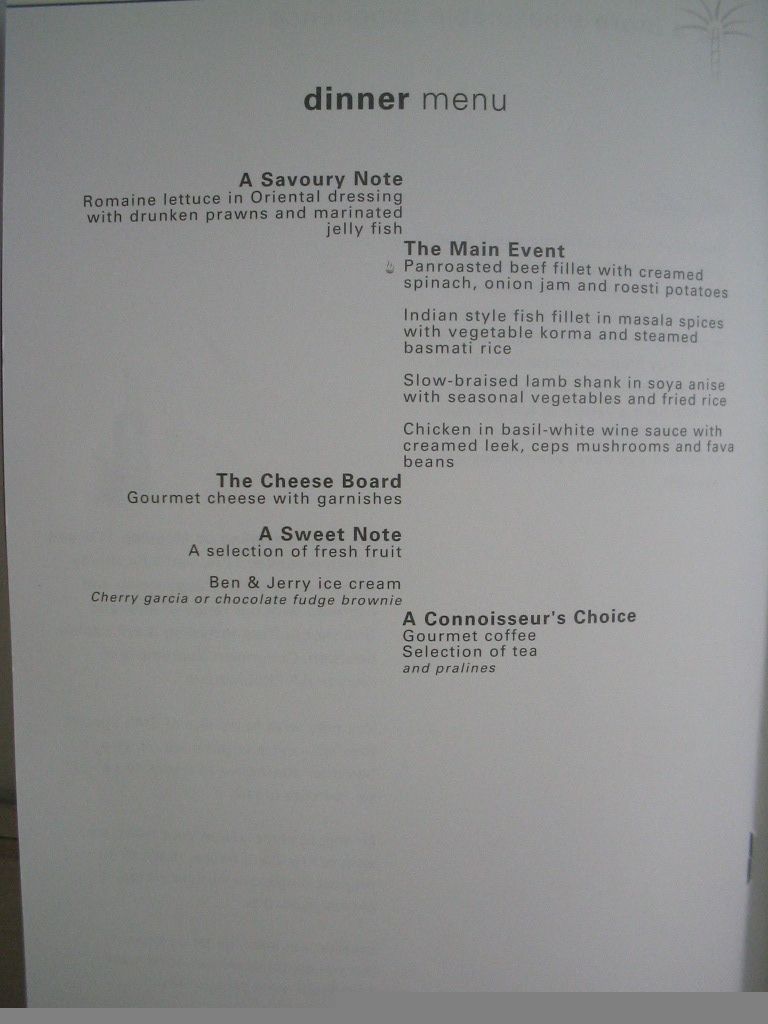 Dinner
A Savoury Note
Romaine lettuce in Oriental dressing with drunken prawns and marinated jelly fish.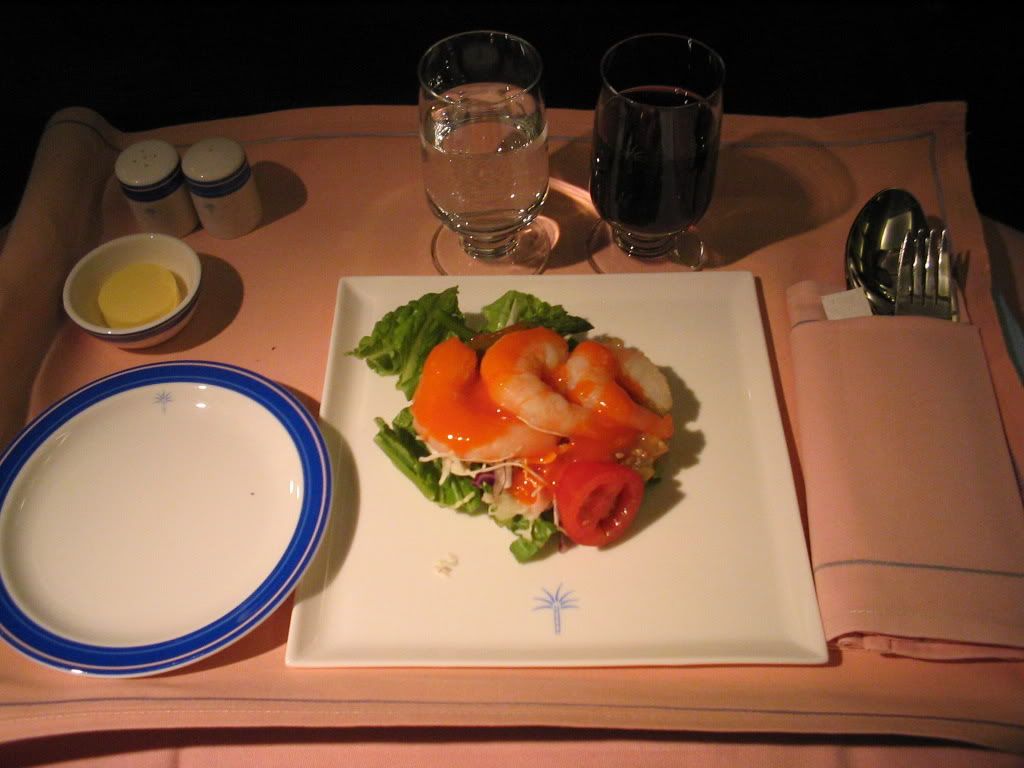 The prawns were great. I love Jelly fish but I think many westerners are not used to eating it and the lady to my left and the gentleman to my right left the jelly fish alone
The Main Event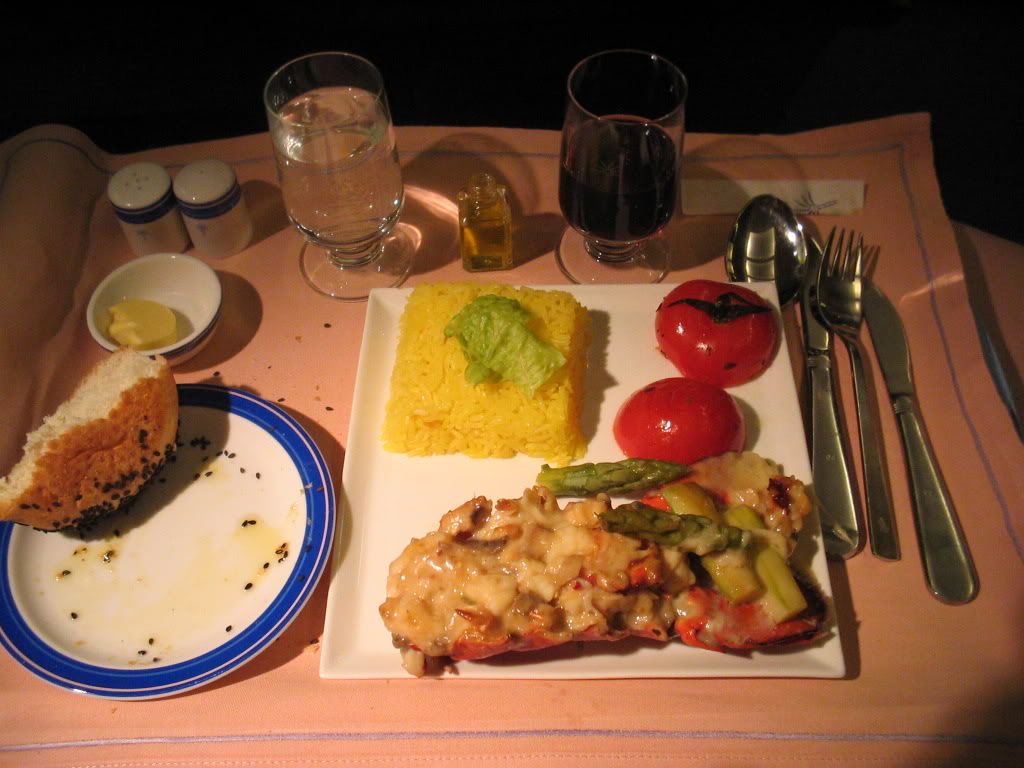 Lobster Thermidor - It was really really good!
The Cheese Board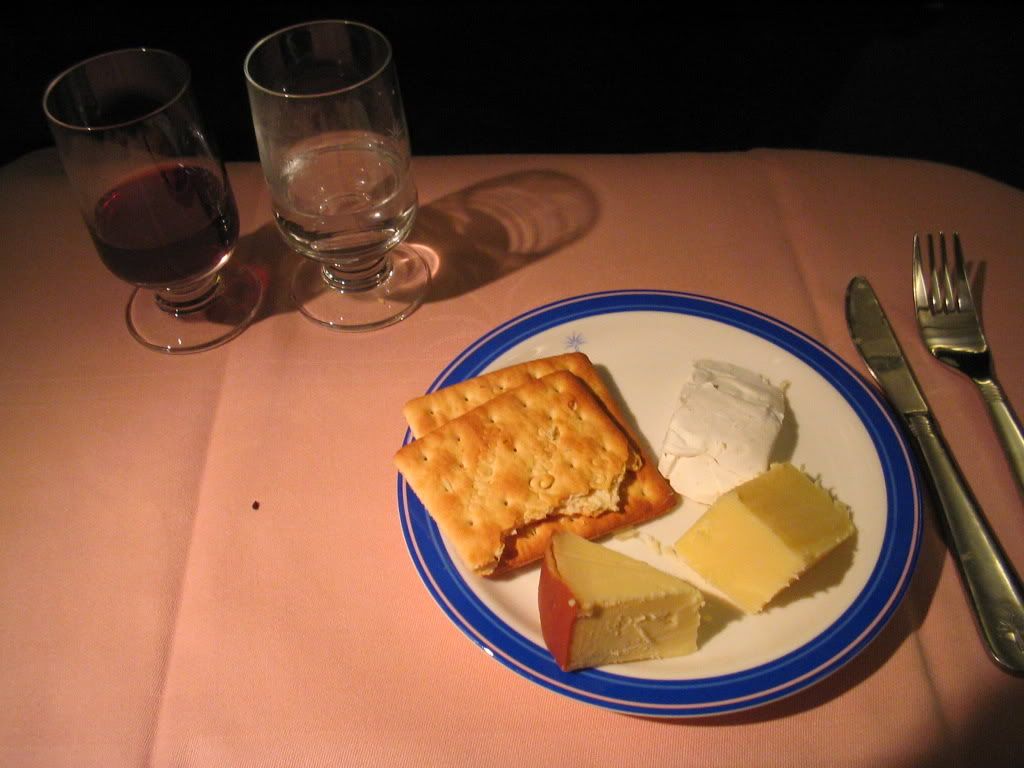 Gourmet cheese with garnishes
I ate the garnishes of carrot and cucumber sticks before I took this photo, so I do apologise. At this point I would like to remind YUL2010 that all good airlines, and not only AC, serve a cheese board in Business Class! (He claimed in his AC Trip report that he thought the cheese was exclusive to AC)
A Sweet Note
A selection of fresh fruit – I passed that
Ben and Jerry ice cream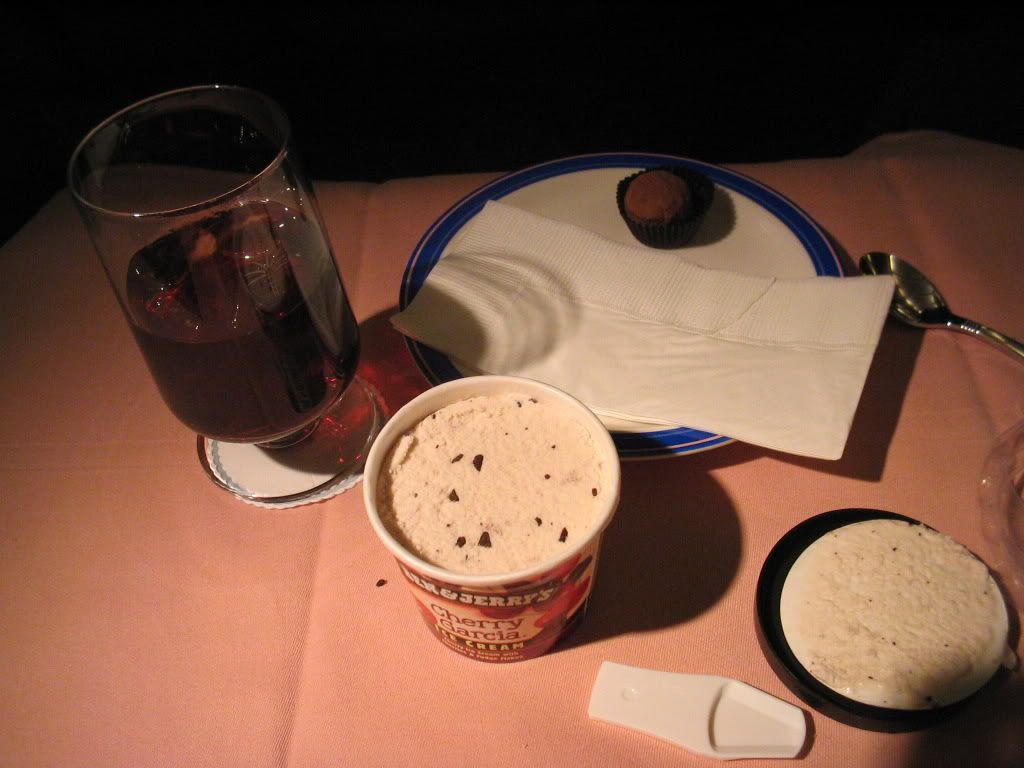 Cherry garcia or chocolate fudge brownie
I chose Cherry Garcia. Ben and Jerrys ice cream is always good.
A Connoisseur's Choice
Gourmet coffee
Selection of tea
and pralines
I had a cappuccino and 2 pralines before they cleared my table. Hot Towels were given to pax again at the end of meal service, by which we had just over 6 hours to go and we were just off the coast of Northern Territory in Australia.
I was SO STUFFED. So I decided to take a walk downstairs to Economy and see what was going on there. It was 100% full with at least 80% or more of the pax being of Western origin. I wouldn't be surprised if most of them connected from Europe and much of South East Asia. This is very typical of the passenger profile on SQ flights anyway, to Australia and New Zealand.
Anyway got back to my seat, still stuffed and decided to fully recline it and watch something on Krisworld. There were heaps of movies and shows on demand, but I had watched many of them before, and those which I hadn't, I hadn't an interest in them. So I decided to go get some sleep.
The Spacebed – Oh well. The voluptuous purple madam, when fully reclined, is not in a very comfortable sleeping position. Plus because I was sleeping on a full stomach, I wasn't very comfortable to begin with and during those moments I fell asleep, I got nightmares. One of which involved us crashing in Darwin, but that's besides the point.
My parents have no complaints whatsoever about the Spacebed (Like most professionals who do Business Travel I don't think any of them care at all!) and neither does YUL2010 who said I was "too picky". When YUL2010 says I'm too picky about something it probably is true since he has complaints about everything and anything!!!! =)
HOWEVER, The Spacebed is way more comfortable than an Economy Class seat, so, considering that this was such a treat to begin with, what right do I have to complain?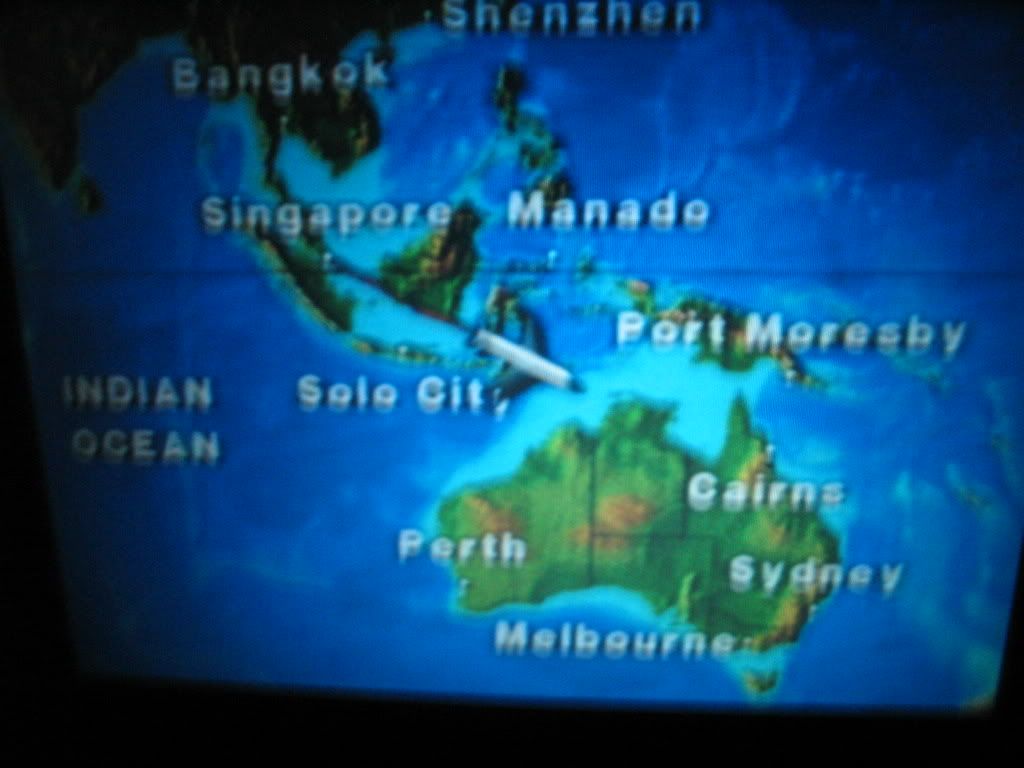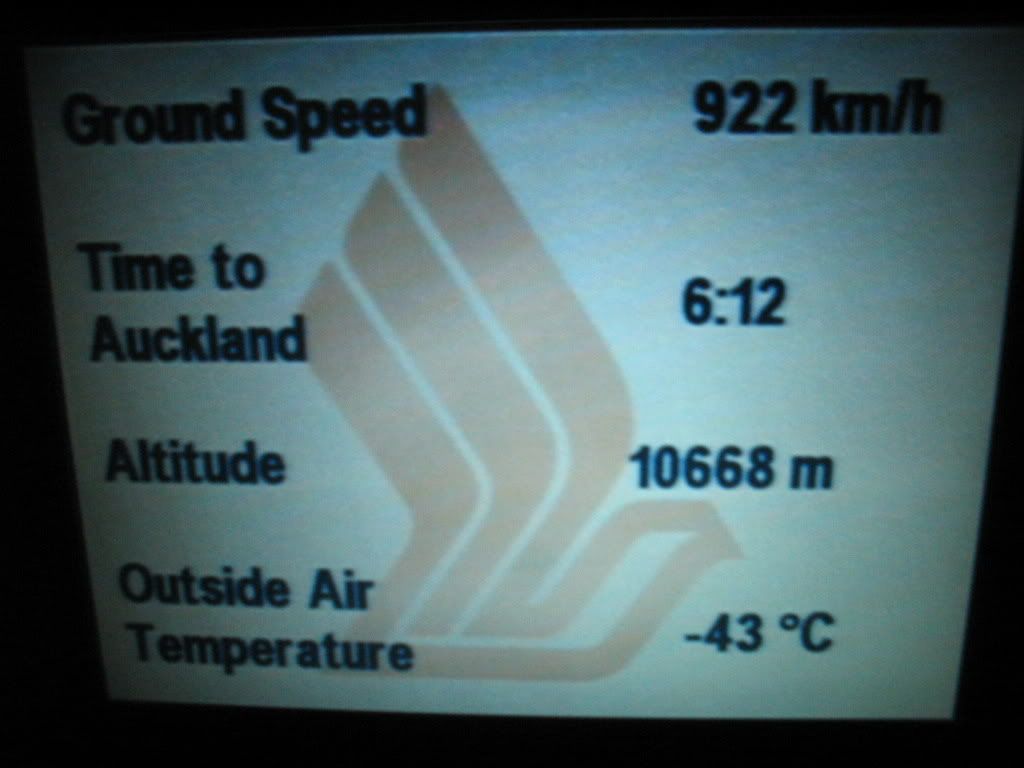 Just over 2 hours before our arrival into Auckland, after passing Brisbane into the Tasman Sea, a stewardess woke me up "Mr Anthony, Good morning. A hot towel for you. We will be serving breakfast shortly"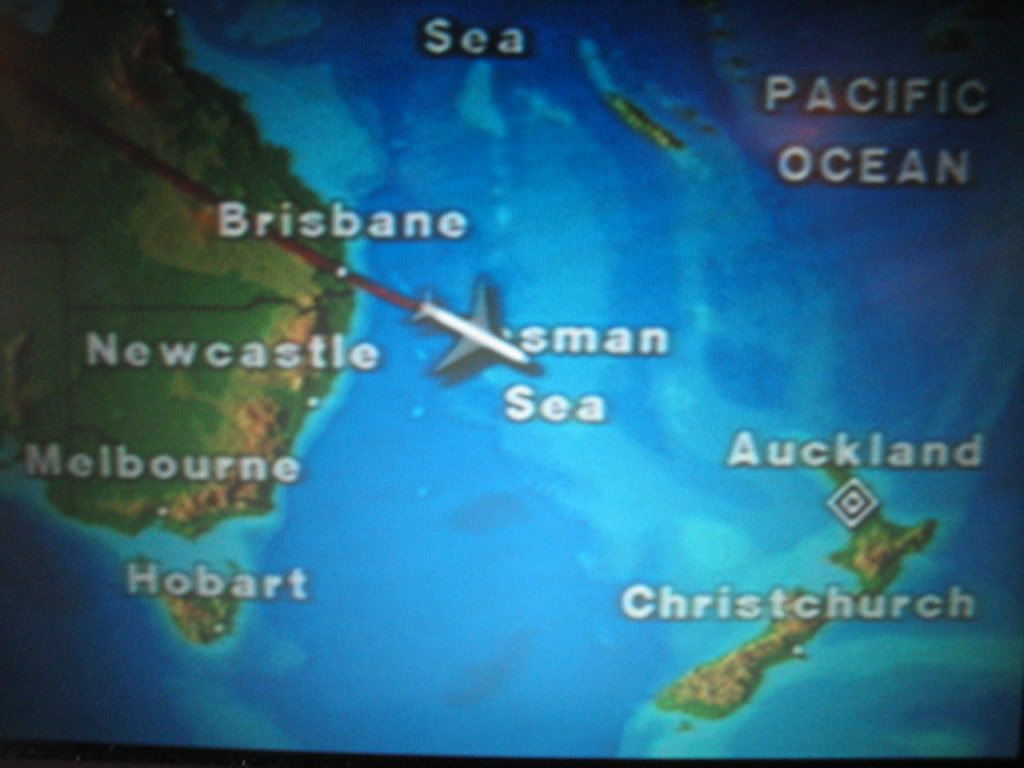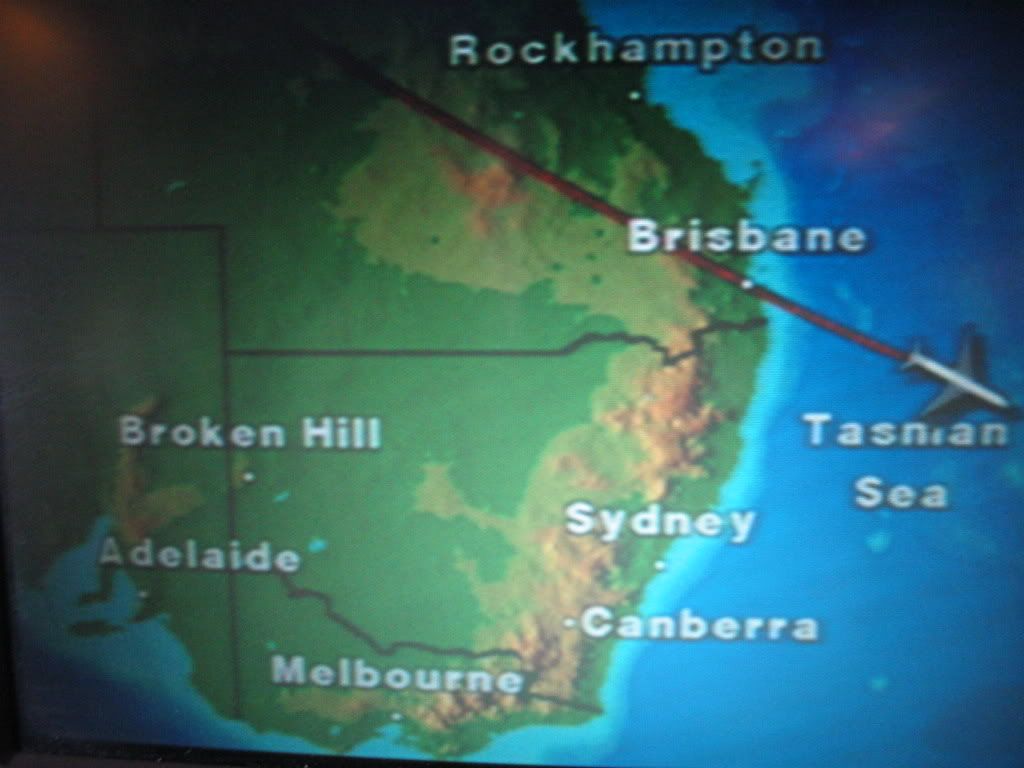 It was what, 3am in Singapore and barely 4 hours after I had finished that Lobster Thermidor. I wasn't hungry at all, but for the purpose of this trip report, I decided to have the full breakfast service.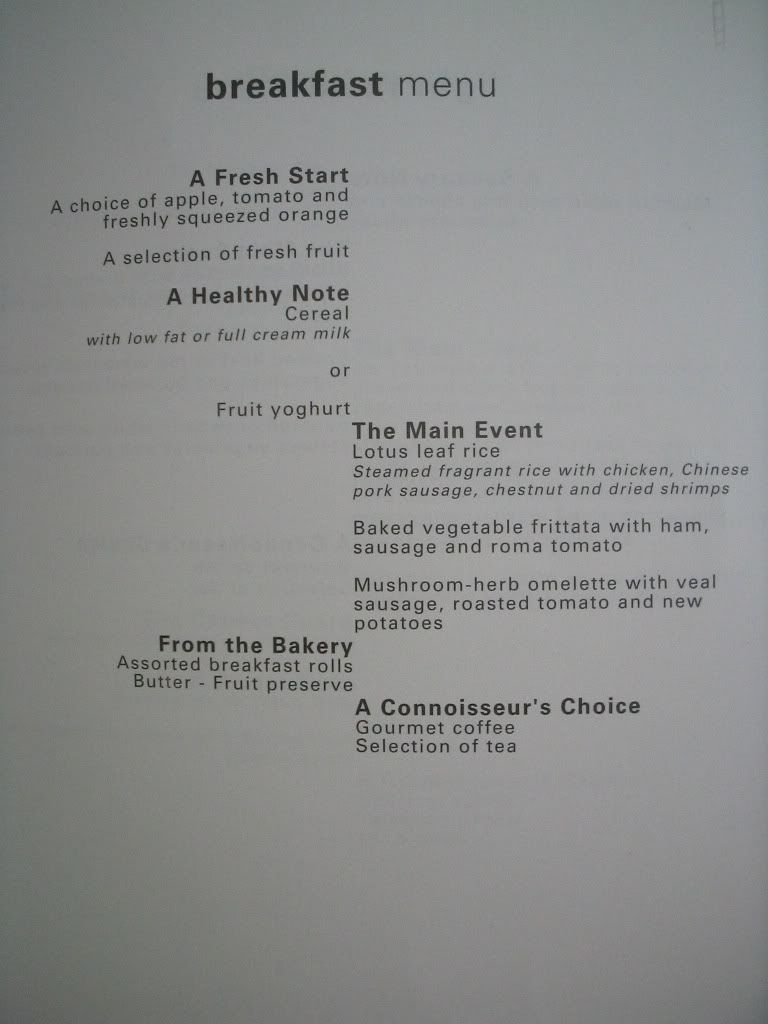 Breakfast Menu
A Fresh Start
A choice of apple, tomato and freshly squeezed orange
A selection of fresh fruit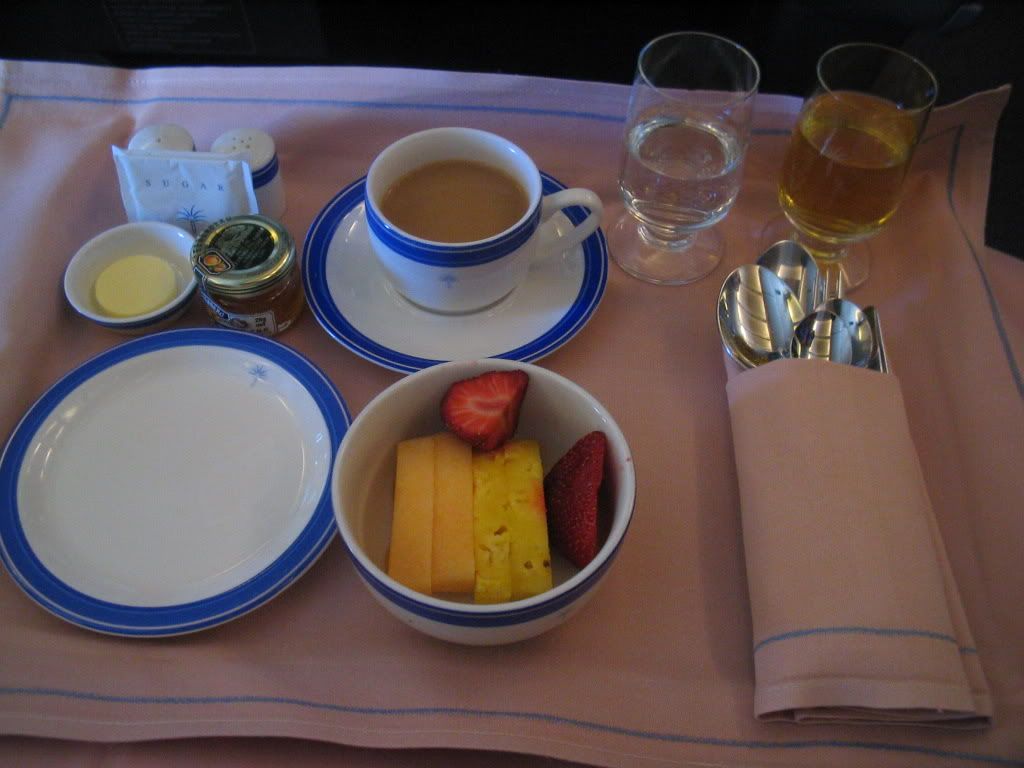 A Healthy Note
Cereal
with low fat or full cream milk
or
Fruit yoghurt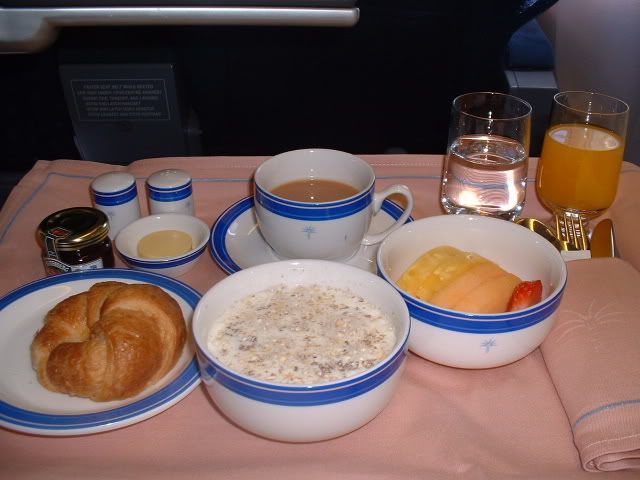 I skipped the cereal/yoghurt service and went straight to the main course because there was no way I could stomach any more food. However, for the sake of completeness, here is a photo of the cereal part of the meal from YUL2010's trip report on SIN-HKG!
The Main Event
Lotus leaf rice
Steamed fragrant rice with chicken, Chinese pork sausage and dried shrimps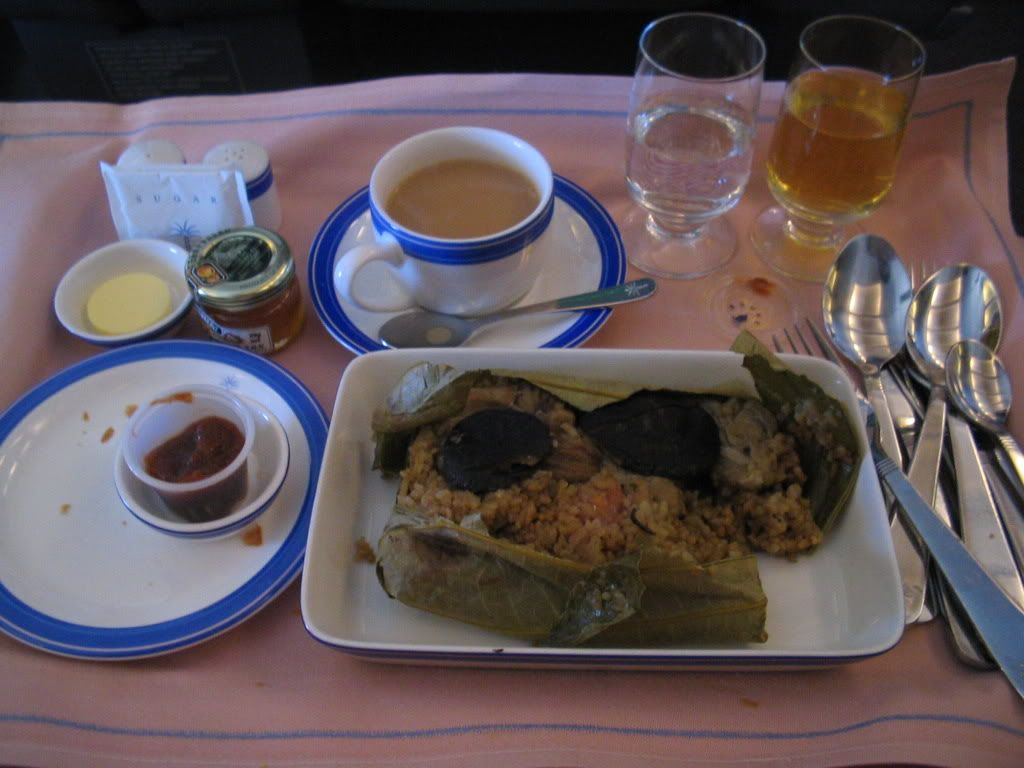 I find that eggs done on aircraft usually turn out horribly, and bacon/sausages/omelettes really bore me to tears so I took the Asian option for breakfast, as I usually do. All my western friends find it horrifying that we would eat Rice with pork sausages and dried shrimps, or Noodles with roasted pork and leafy greens for breakfast but whatever the case, Asian breakfasts are usually more to my liking! Hehe.
It would be unfair for me to comment on the quality of the food because I was half asleep and too full from my previous meals to truly enjoy the food. However, it seemed more than adequate to me, if not excellent.
From the Bakery
Assorted breakfast rolls
Butter - Fruit Preserve
A Connoisseur's Choice
Gourmet coffee
Selection of tea
After our tables were cleared, hot towels were given again. Soon, it was time to land and we approached from the west into Auckland. I have no details on what runway we used etc etc so I'm sorry I'm unable to furnish you with any such trivia.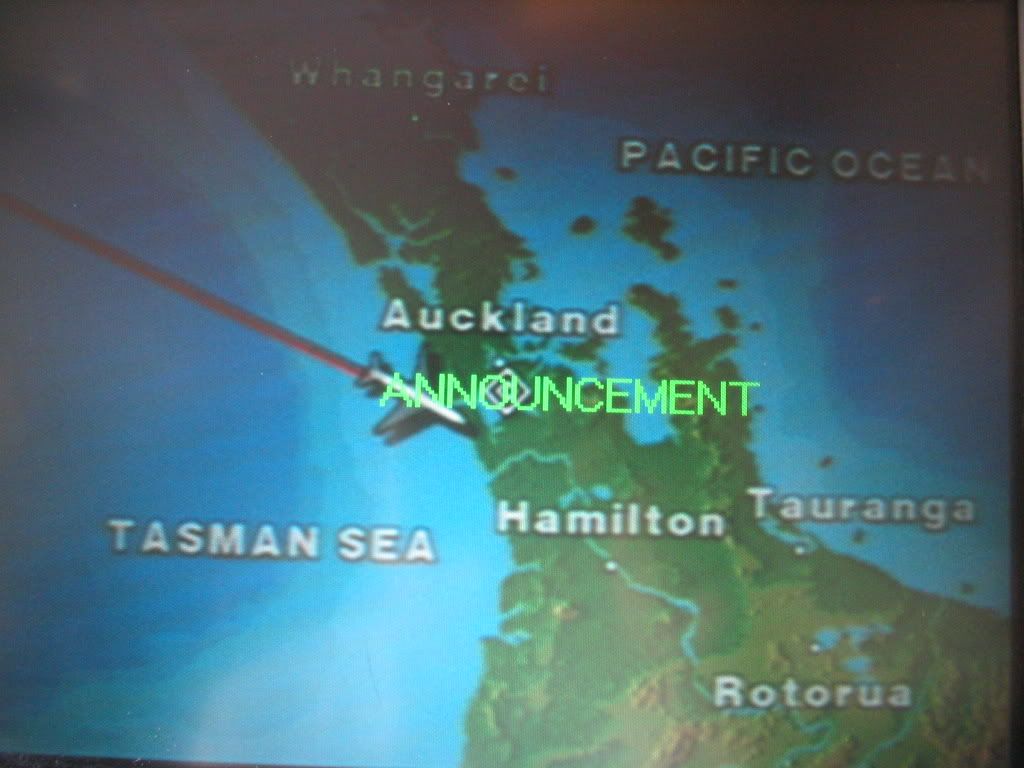 We docked at Gate 3 just past 11.10 and entered the terminal building. There were lots of renovations going on at AKL and many signs were not posted clearly. The departures area was a pretty messy site. The next day, a ceiling in the check-in area of the airport collapsed and hurt 14 staff checking in Cathay passengers to Hong Kong.
Immigration was a breeze, probably because we were on the first few off the aircraft, and our luggage, which was Priority-tagged came out quickly and we went to the arrivals area to meet our friends.
Because I over-ate I had a stomach upset for the rest of the day. Oh well, small price to pay for the joys of taking Raffles Class!
I'm afraid I cannot offer you guys any comparisons with the Business Class products of other airlines because I have never taken J class in other airlines ever (not that I travel much on other airlines anyway haha), in my life. But one thing is for sure – Raffles Class sure does beat Economy Class!!
==========================
Auckland-Christchurch on Air New Zealand
After 8 days in the North Island we were to fly to Christchurch to meet another group of family friends. Back in October I had already booked a one-way ticket from AKL to CHC for NZD143 without taxes. That's about USD100.
We got to the Auckland Airport Domestic Terminal (very non-descript building) and checked in at about 7pm, 1h50min before our flight's scheduled departure at 8.50. However, that we were told that the flight would now be departing at 9.15. Oh well. Heaps of time to kill at the very exciting AKL Domestic Terminal!
The Boarding passes used for NZ's domestic are tiny, like a movie ticket. I have never quite seen boarding passes this small. Here it is, in comparison to an SQ boarding pass. It's really cute: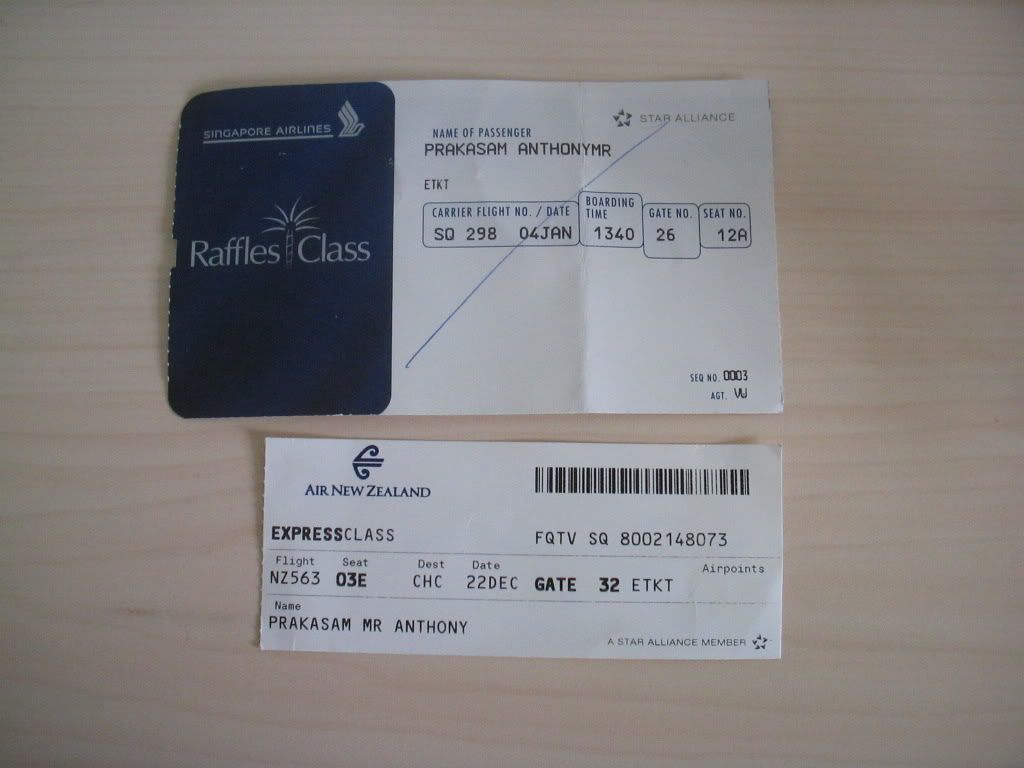 Luckily for my mum's Star Gold Status we were allowed into the Air NZ Koru Club Lounge. It has nice furnishings with good views of the domestic tarmac – so you see a good spread of Air NZ 733s and little propeller planes.
Here are some shots of the lounge: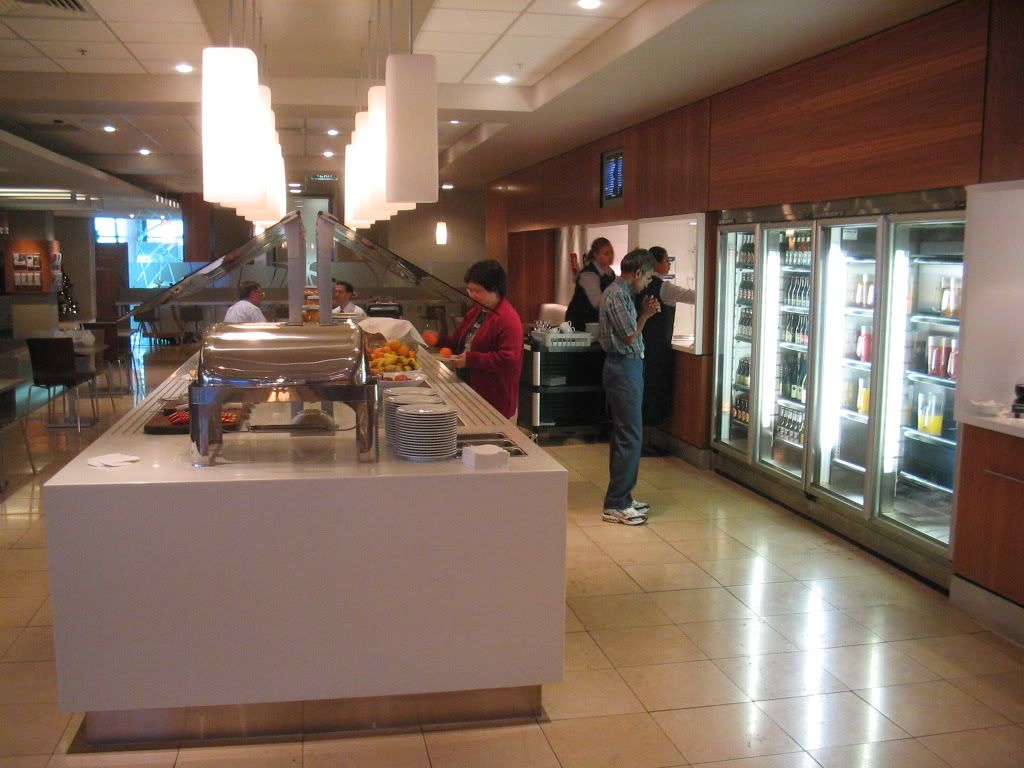 There wasn't much food available and don't be deceived by the hot food tray you see in the pictures – It was not in use. You have some cheeses and a couple of pastries and a decent selection of wine but no hot dinner food. As I hadn't had dinner I was rather hungry and ate quite a few lamingtons and pieces of Christmas cake and cheese. I would have thought there would have been some hot food in view of the dinner-time departure!
I went of to the business centre to surf the net. Air NZ has net nanny installed in all its lounge computers and that net nanny's a very enthusiastic one. It prevented me from entering airliners.net (but allowed me into flyertalk.com) citing "Restricted Adult Content". I found it very amusing!
At 9, an announcement said that NZ563 to Christchurch would be boarding at 9.30 instead of 9.15. Oh well…. At least we were in the lounge so it wasn't too bad.
Continued surfing the net, entering websites that Air NZ approved of me entering. (For a while I wasn't even allowed into The Straits Times website, the site of Singapore's largest newspaper!)
At 9.25 we headed to the gate – The flight looked very full.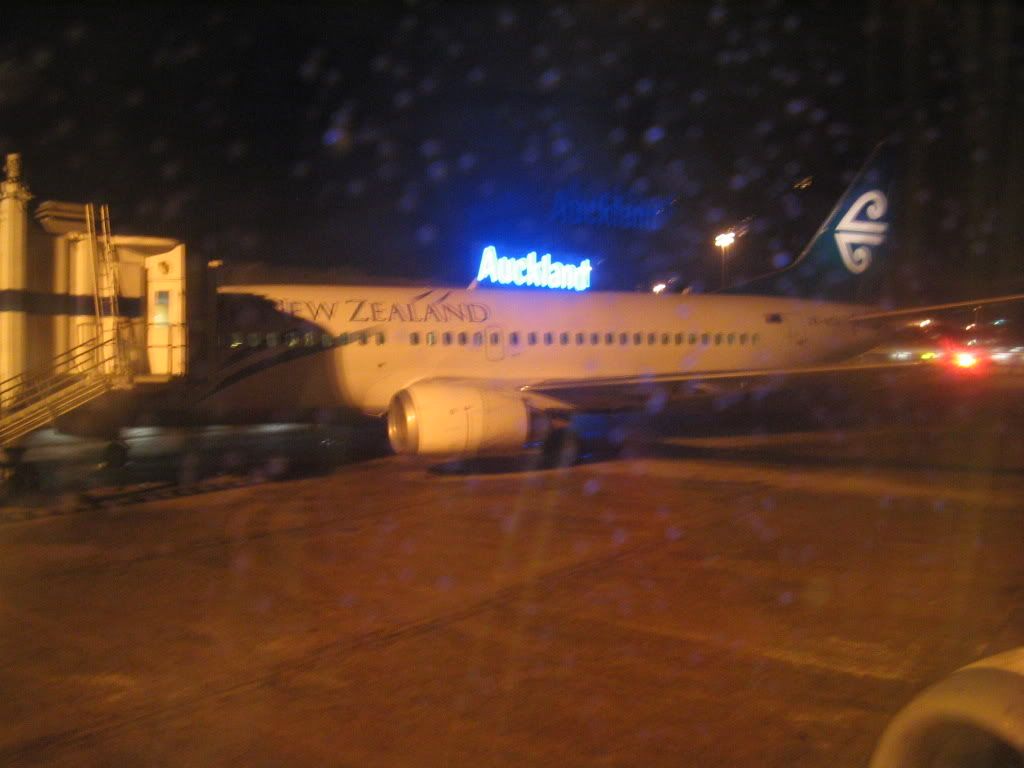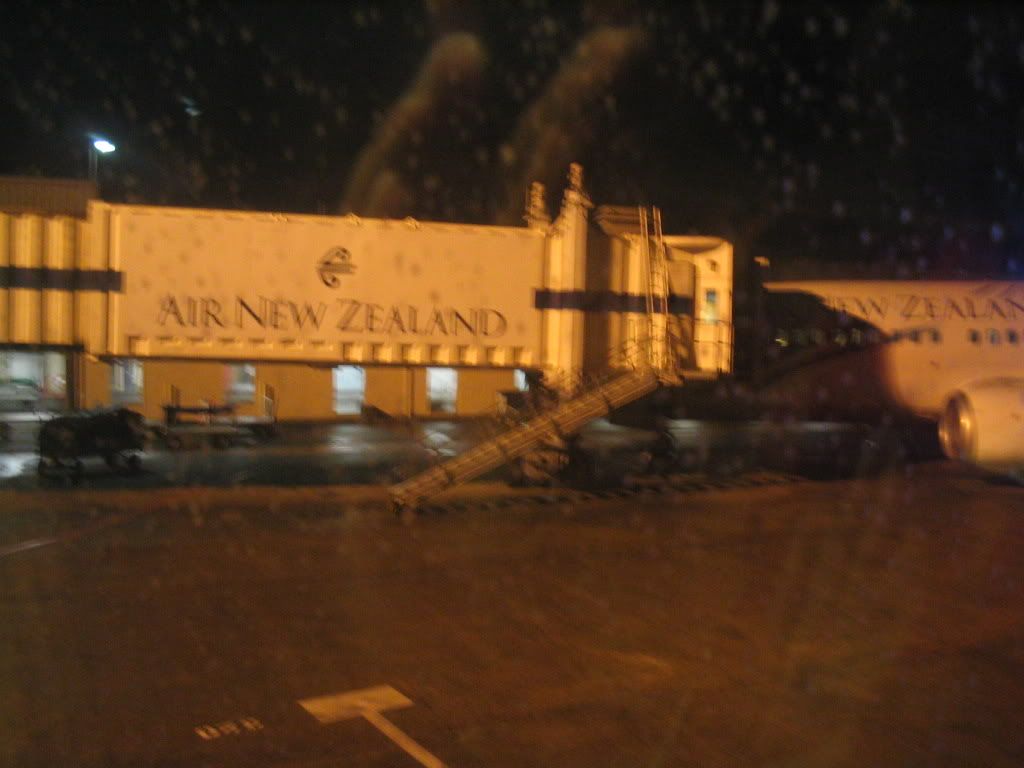 We were welcomed aboard by a female flight attendant and I headed for my seat – 3D.
I didn't catch the registration number of this 737-300 plane for it was dark, and the crew were always too busy for me to bother them with such a trivial question
Today's flight was 100% full. The Captain was male and the first officer was female. He came on to inform us that our flight time to CHC would be 1h10min this evening and hoped we would enjoy our Express Class service.
Now, "Express Class service" is very very basic. Air NZ got rid of food service for domestic flights, as well as got rid of Business Class, a couple of years back.
Also, there are no inflight magazines in the seat pocket. Perhaps they're too heavy to carry? I guess 200-300 Inflight Magazines could add significantly to fuel costs, but I'm not too sure.
First, crew come round and hand everyone empty paper cups. In the paper cups are sugar, a plastic spoon, milk and a tiny chocolate. Here it is:
Next, one member of the cabin crew would come round with a pot of coffee and offer coffee to anyone wanting it. After that, another member of the cabin crew would come round with a pot of tea and offer tea to anyone wanting it.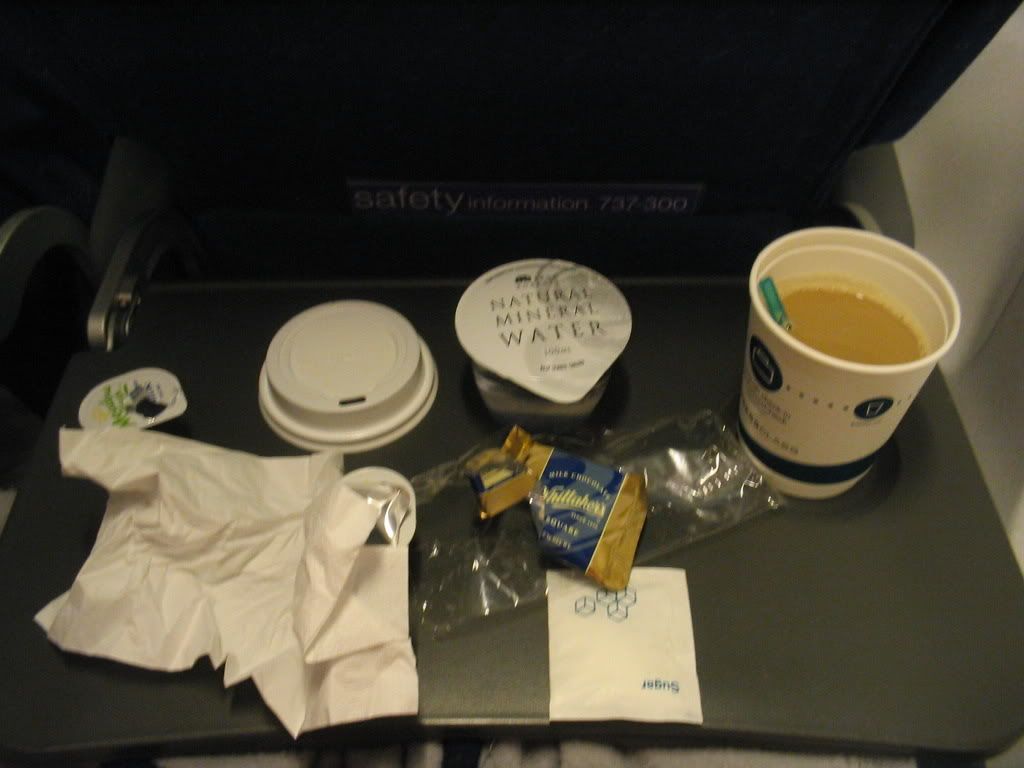 Then they would disappear till the First Officer comes on the PA system and ask the crew to prepare the cabin for landing, where the crew would come round with huge rubbish bags and collect everyone's used cups. No refills are offered.
Well as much as I wasn't fond of it I think this is the way air travel will move towards in the coming years. Well, for flights of similar length (1h10min-1h30min) in Europe you still get a full bar service and a sandwich! In Asia of course you will get a full meal service for flights of that length. 10 years ago I think European airlines gave a decent meal for intra-European flights. Perhaps in Asia we're 10 years behind…. In 10 years we'll get sandwiches for flights below 3 hours perhaps? Haha.
So to entertain myself I read my book and before long, we landed in Christchurch Airport, where it was a warm, balmy 8 degrees Celsius, on 22 Dec 2004, supposedly just after the start of summer in the southern Hemisphere. (New Zealanders, if you're reading this, I pray that your summer has not been what it was in December!)
So that's it for my short flight from Auckland to Christchurch on Air New Zealand's Express Class service.
==============
After 3 weeks of a wintry summer in New Zealand, it was time to head home on SQ298 to Singapore.
CHECK IN
I did an internet check-in the day before my flight, and arrived at Christchurch International Airport at 12.45pm for my 2pm departure to Singapore. That was around the time all the SIA cabin crew got off their bus and entered the terminal building, so it gave me some time to check them out and see what the quality of the crew for today's flight would be. Thankfully they were all fine with some hot ones. My mum, who left 2 days before, had a very scary looking set of Singapore girls for which I was thankful I was not on her flight!
One of the best things about CHC airport is there is an open air viewing deck where you have an unrivalled view of nearly the entire tarmac (domestic and international) of the airport. However, it's nearer the domestic terminal and I managed to take some photos: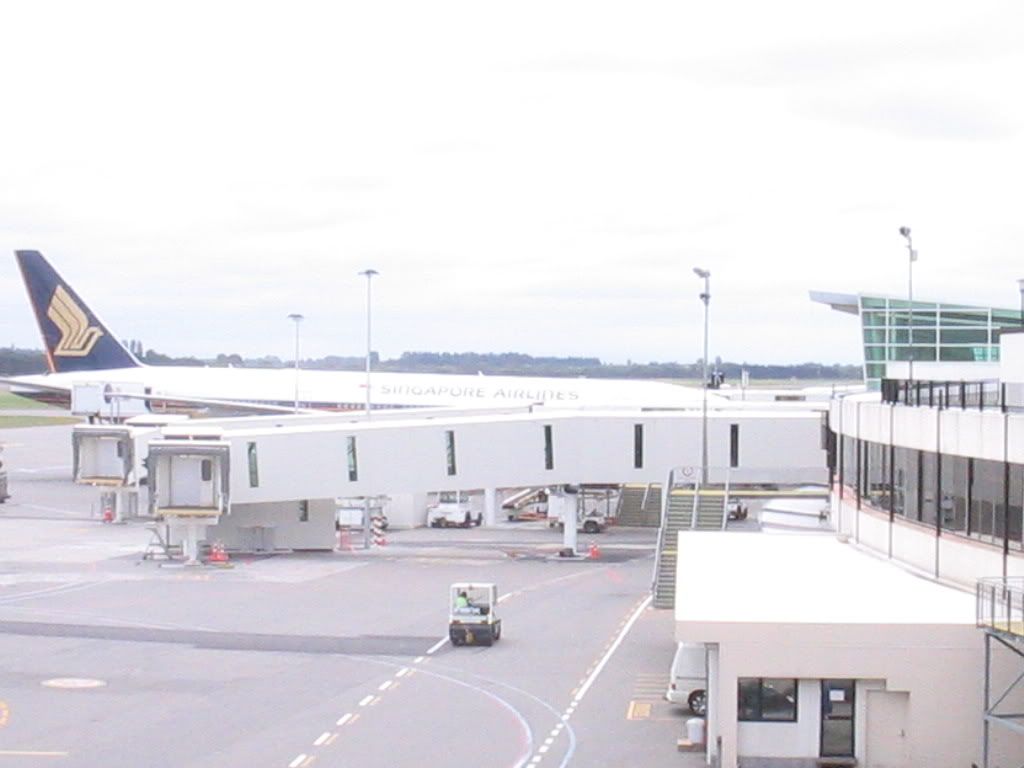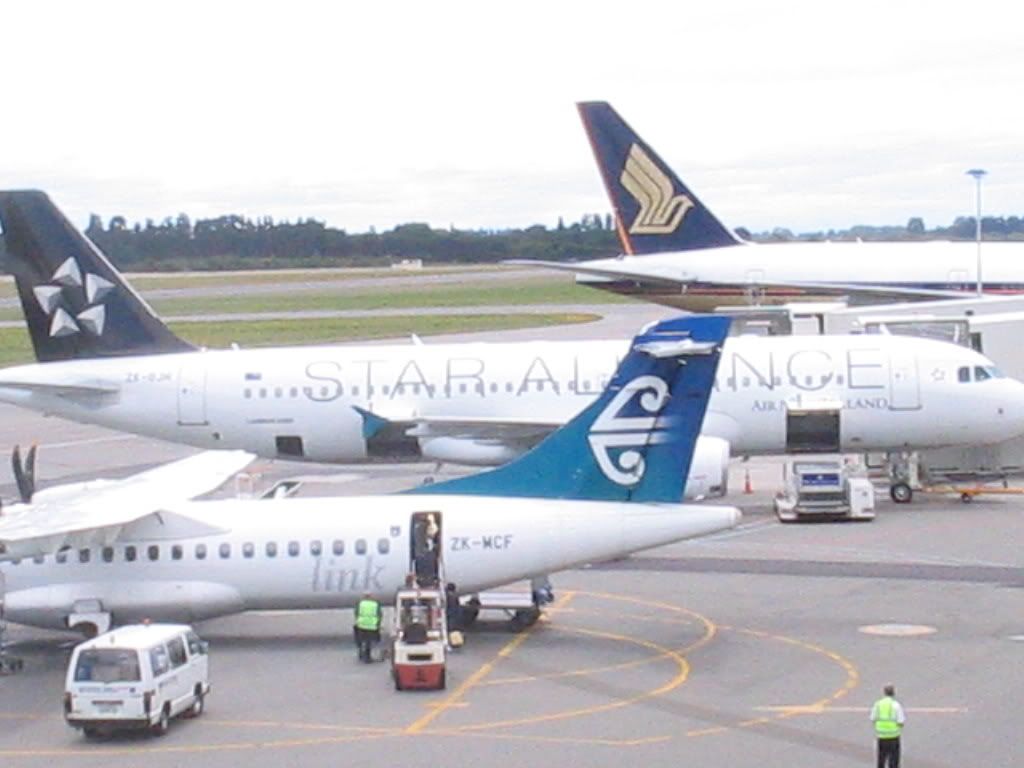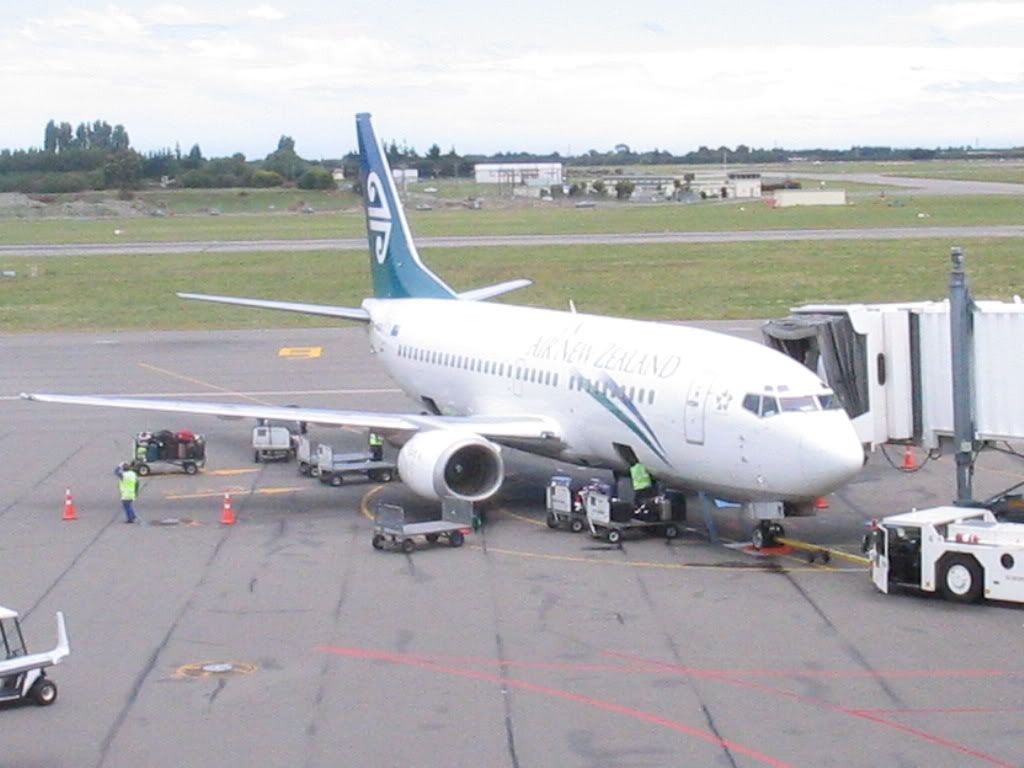 Also caught an Emirates A345 in from Dubai and Melbourne.
Went past immigration into the Air New Zealand International Lounge. Naturally, being a lunch time departure I was hoping for some hot lunch food but there were just some sandwiches, burritos and beef pastrami at the savoury section. Oh well, I guess that was good enough to fill my stomach for the time being.
Managed to take a close up shot of an Air NZ A320 in the Star Livery. It was going to Brisbane at 2pm.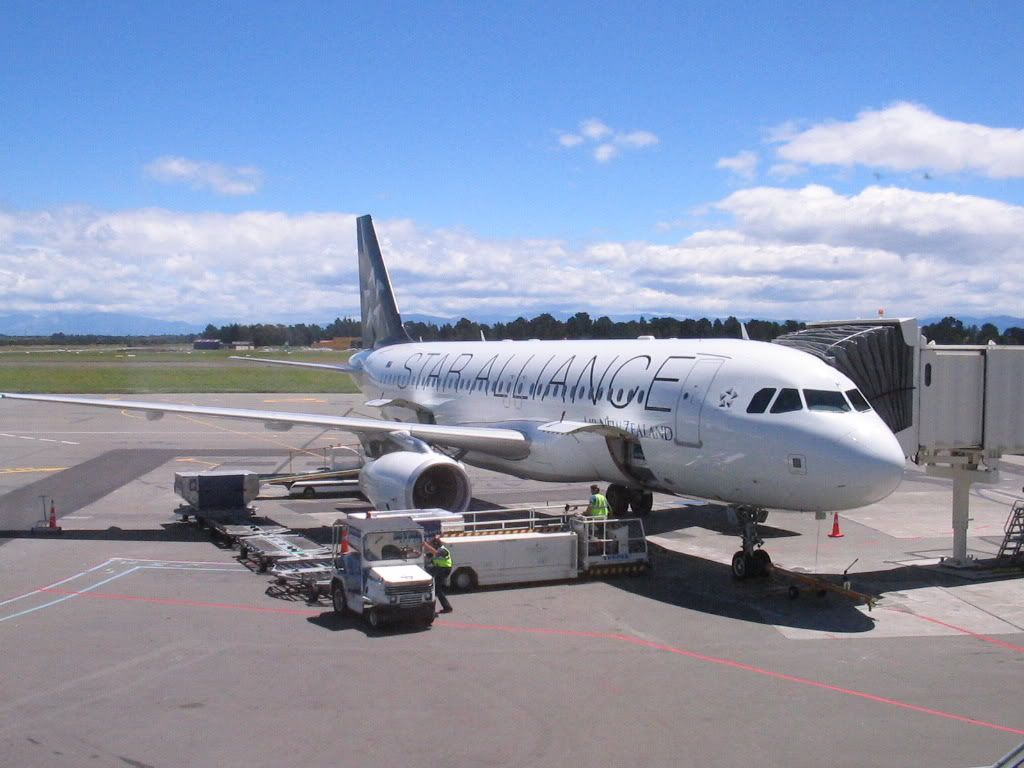 Soon, a boarding announcement was made for passengers to board our flight. I went to the departures lounge area and took a photo of the (still is!) Jubilee 777-200ER operating SQ298 to Singapore.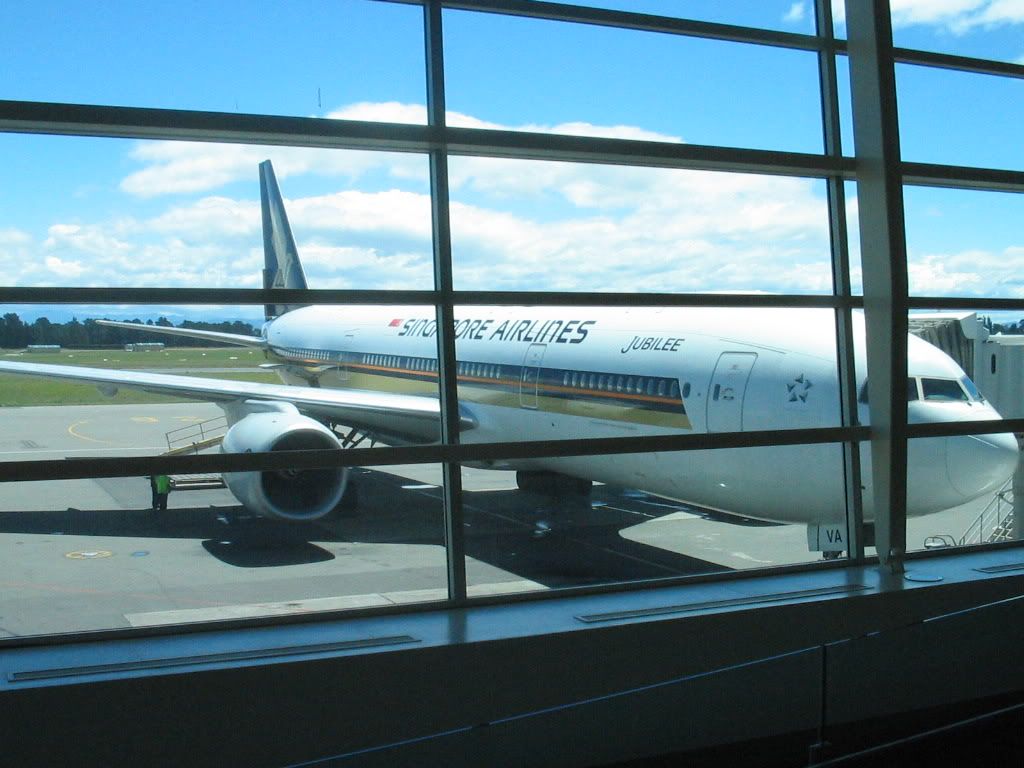 Was rushing so managed this quick shot of the Christchurch International Terminal area. For a small airport CHC has done an excellent job with its International Terminal and it really is a pleasure to arrive and depart from this airport.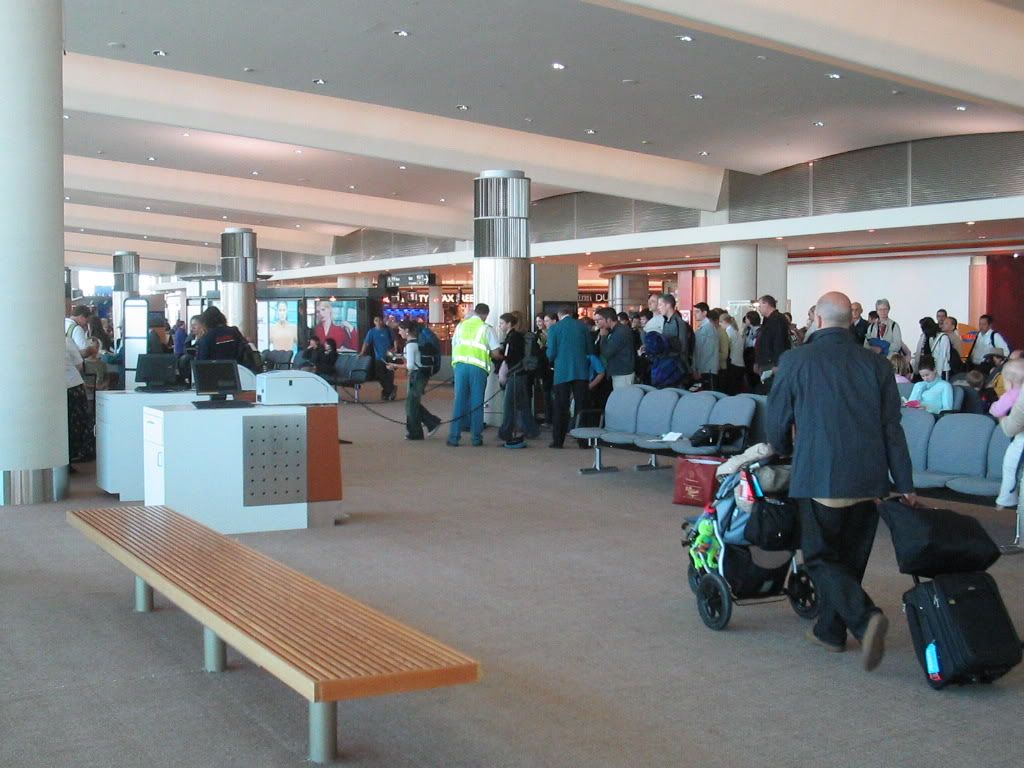 BOARDING
Boarding was only done through one aerobridge. The Inflight Supervisor (a perhaps 50-ish year old Chinese Singaporean guy) was very enthusiastically welcoming everyone on board. He too made the effort to address each and every passenger by his/her name after inspecting his/her boarding pass. And he managed to make small talk with nearly each and every person who boarded the aircraft.
My camera was running out of battery so I decided not to waste a shot on taking a photo of the cabin, but here it is from the airliners.net database. Today's 772ER was 9V SVA:
View Large
View Medium


Photo © Bailey - AirTeamImages
INFLIGHT – Registration: 9V SVA. ETD 1400 ETA 1930 Block time: 10h30min
I was initially seated next to an American gentleman by the window but after the doors were closed I noticed the middle 2 seats across the aisle were not taken and I swapped seats to give both of us more space.
Hot Towels, before takeoff drinks, after takeoff drinks (Usual works) were offered.
Our Captain today was a Briton by the name of John (something). He was a very chatty man who came on the PA system no less than 5 times during the flight.
He gave us a very long introduction on our flight Path – Taking off from Christchurch and heading west across the Canterbury plains, Passing the west coast of the South Island through Hokitika into the Tasman Sea, up towards Brisbane, crossing Queensland and Northern Territory, leaving the Australian continent just under Darwin, into Bali, skirting Java and just north of Sumatra into Singapore. He then asked the passengers to enjoy the "Singapore Airlines hospitality and trusts that my crew will do their utmost to make sure your flight is a very enjoyable one" Oh he seemed to be having so much fun on the PA system he couldn't stop! Well I for one didn't mind the commentary!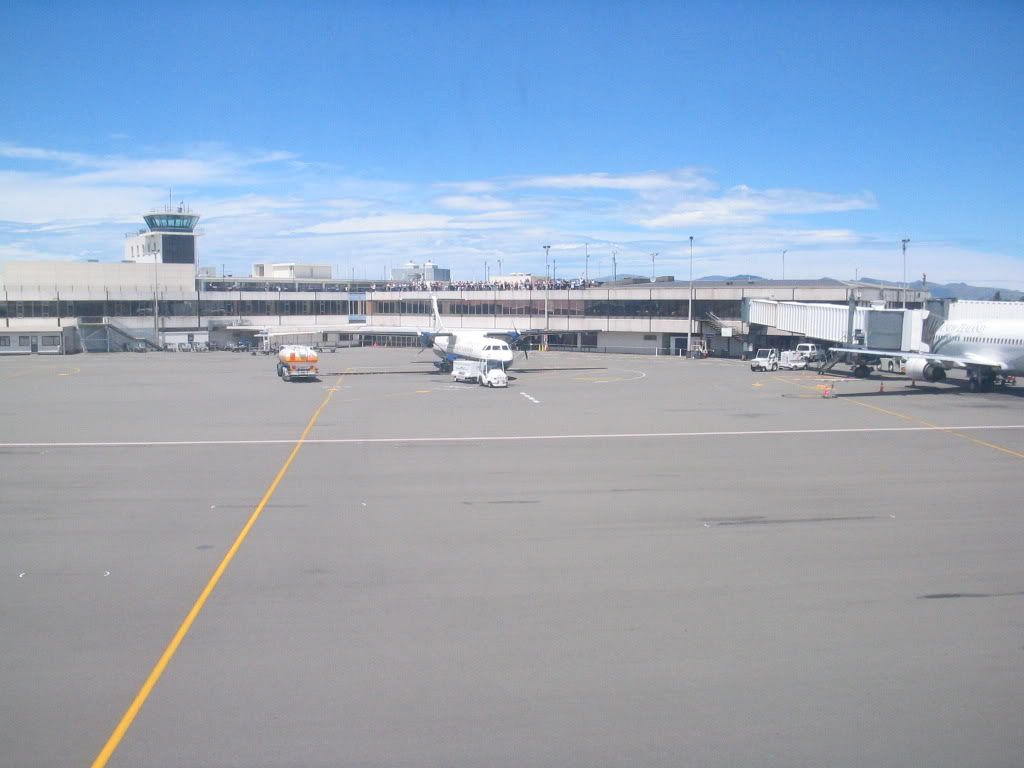 Shot after takeoff - Canterbury Plains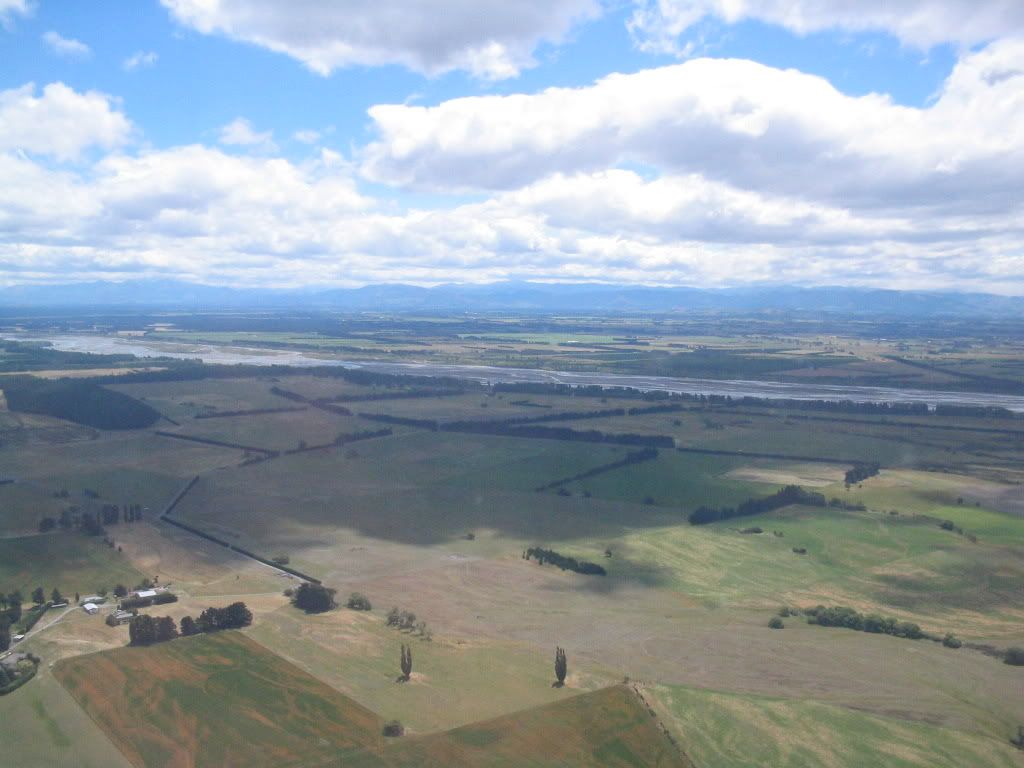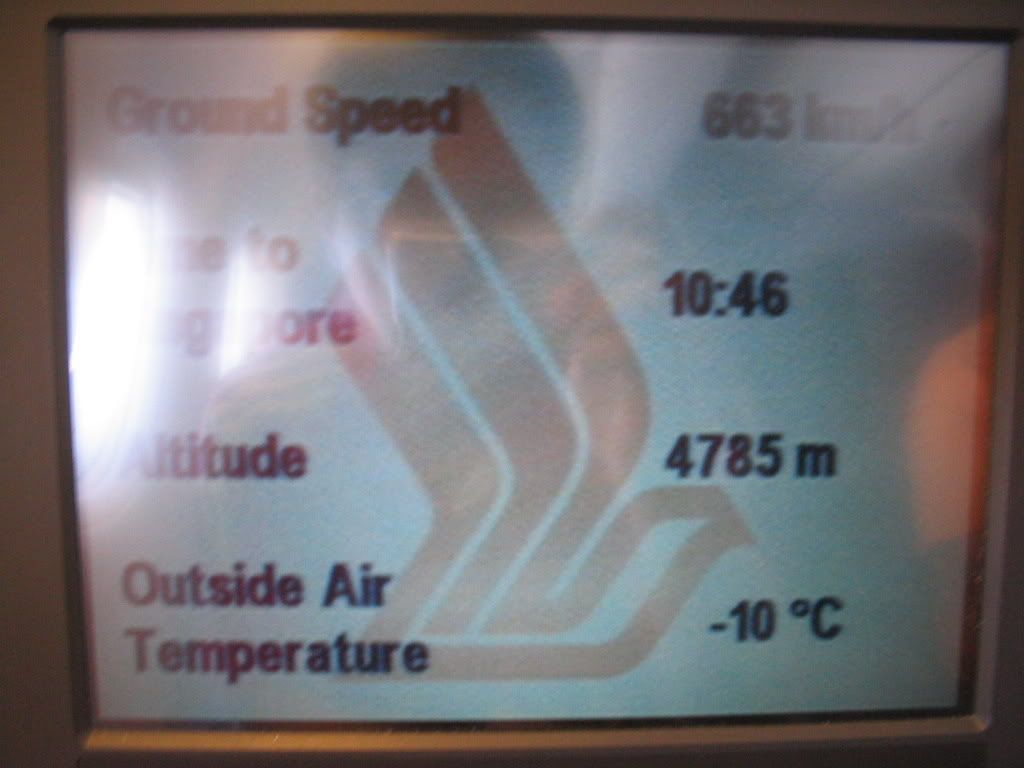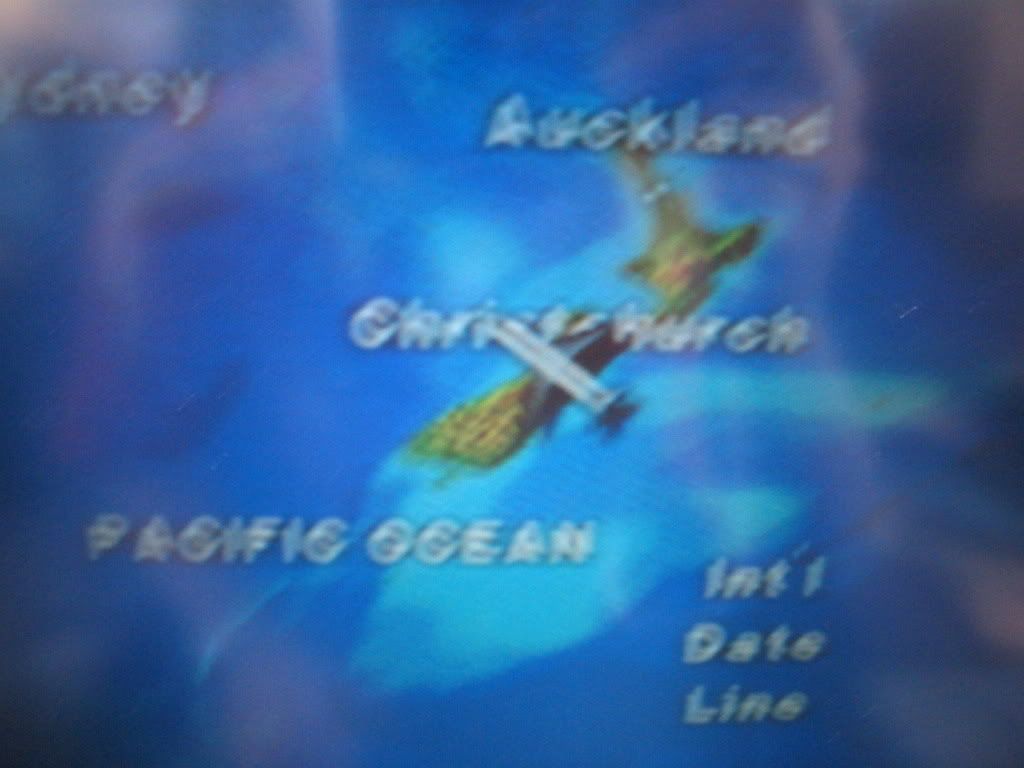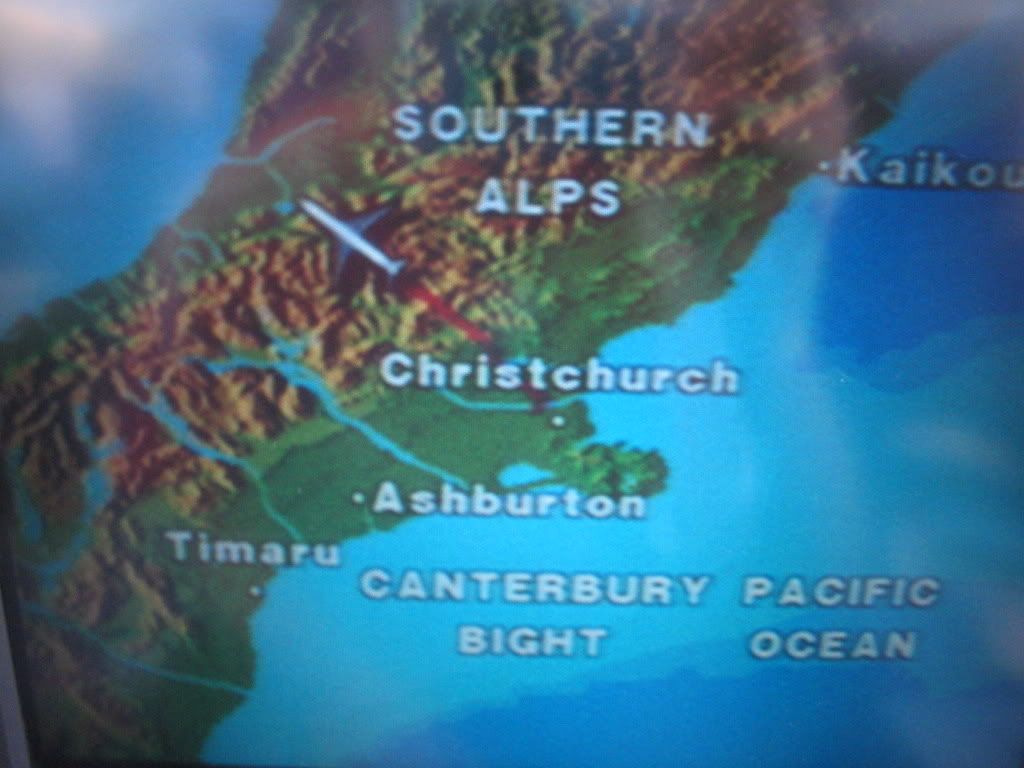 A Light Meal was served after takeoff:
A Savoury Note
Mesclun Salad with feta cheese and kalamatta olives
The Main Event
Stir Fried chicken with mango and lemon myrtle, seasonal vegetables and fragrant rice
Braised beef in red wine with seasonal vegetables and buttered noodles
Sauteed prawns in white wine sauce, stewed vegetables and potatos
A Sweet Note
Grilled pineapple with glazed pink peppercorns and mascarpone cream
A Connoisseur's Choice
Gourmet coffee
Selection of tea
I do apologise for the poor quality of the photos for, coupled with my atrocious camera and photo-taking abilities (or lack of) the heavy turbulence during meal service made the taking of clear, crisp sharp images close to impossible. So shut up Hawkins, James and Kelvin!
Mesclun salad with feta cheese and kalamatta olives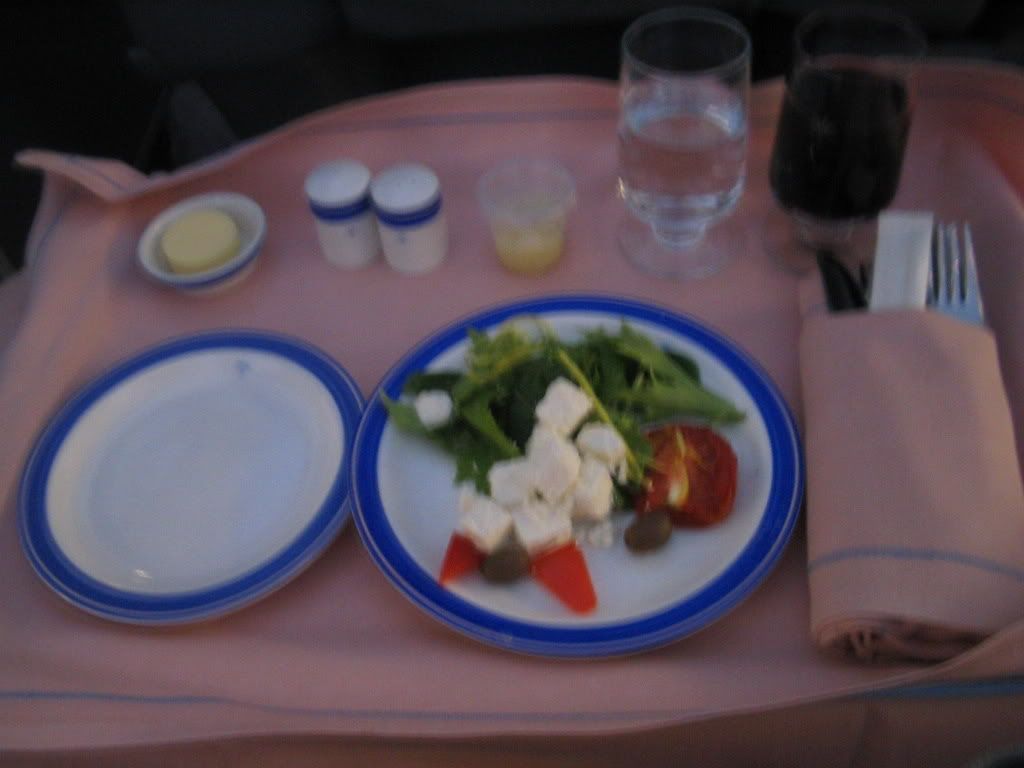 Braised Beef in red wine with seasonal vegetables and buttered noodles, which I chose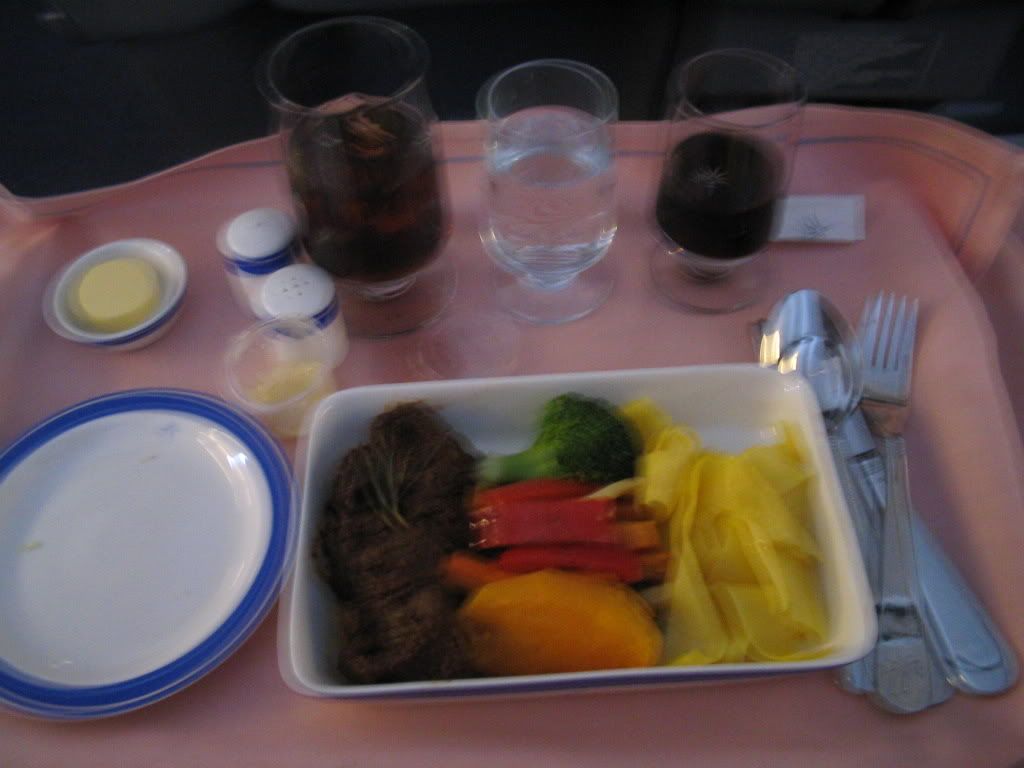 Dessert – Grilled pineapple with glazed pink peppercorns and mascarpone cream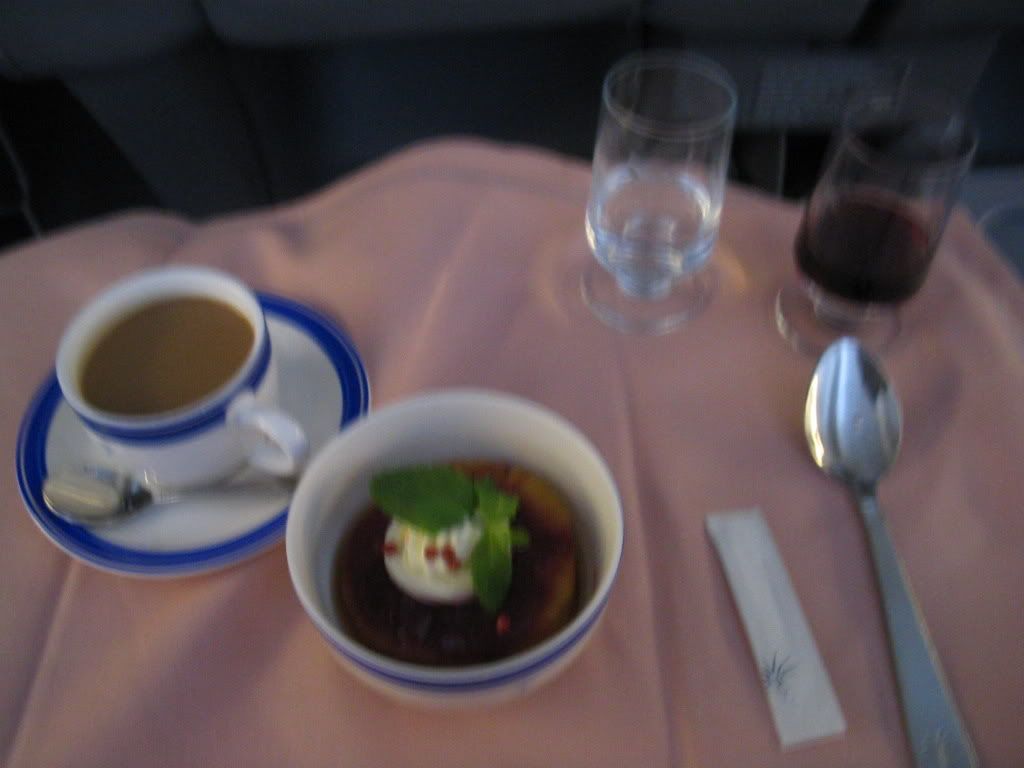 The food was fine. Not bad, but nothing extraordinary. I glanced at the dinner menu and that looked very sumptuous. However I am sorry to say that my camera soon died on me and I was unable to take any photos of the lavish dinner service that followed!
My last, useless photo!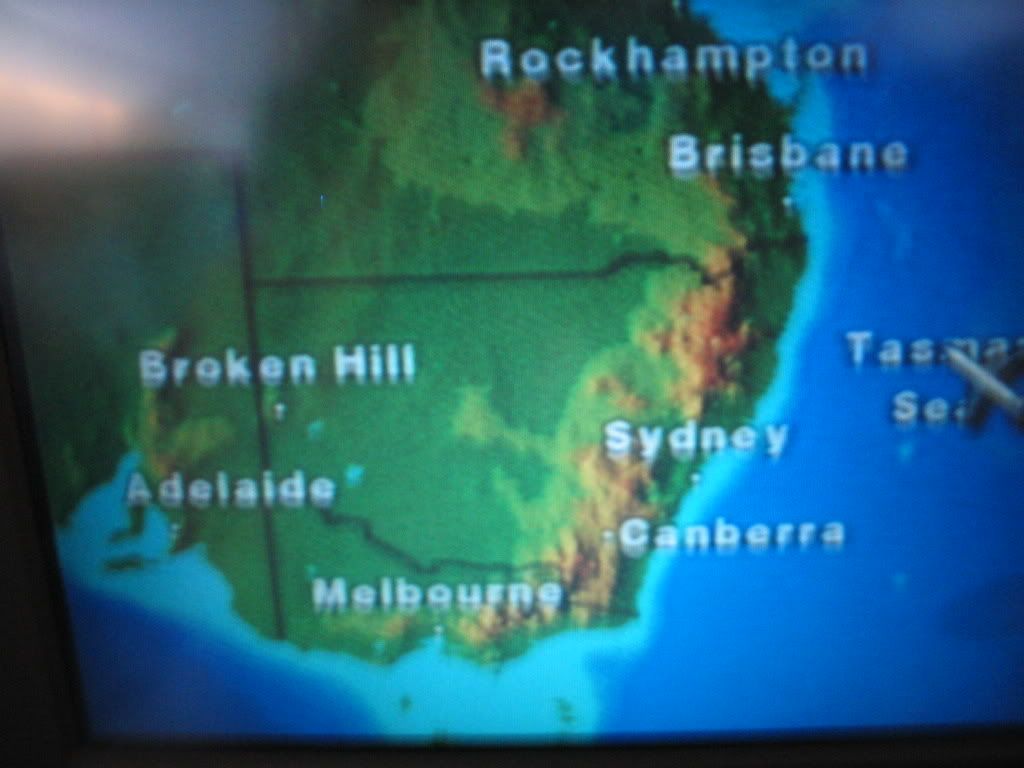 The service was very good. A very pretty and slender Chinese Singaporean stewardess serving the J cabin today, which had 22/30 seats filled, together with the Inflight Supervisor and another Singaporean Indian steward.
However I was quite bemused that the Inflight Supervisor asked me how old I was when I asked for white wine with my meal. At 22, surely I don't look younger than 18!
They came round the cabin every 5-10 mins to see if they could offer the pax anything. Since it was a daylight flight pax were awake for the full 10h30min of the flight.
5 hours into the flight, it was approaching dinner time in Christchurch and I was getting hungry. Dinner would not be served till 3 hours later. I asked for some instant noodles which was prepared in a bowl, with fresh Chinese vegetables added in. Other snacks available for the J cabin were hot soups, crackers, an assortment of sandwiches and chocolates.
A wide selection of coffee, including cappuccino, iced mocha, latte etc were available too.
Walked over to the Economy cabin which was 100% full. At first I couldn't spot a single Asian passenger but in the end there were perhaps less than 20 of them. The Y cabin had a decent selection of snacks too, from sandwiches to cookies, crackers, instant noodles and all sorts of junk food!
There was a lot of turbulence between the Tasman Sea and Darwin (about 3 hours) and the Captain kept coming on, justifying his actions each time he had to switch the seatbelt sign on or off.
"Ladies and Gentleman, I trust you're enjoying your flight but due to unexpected severe turbulence I'm afraid I will have to ask my cabin crew to suspend all inflight service and take their seats. I thank you for your understanding and I am sure you do realize that your safety is of paramount importance to us……."
And when he switched it off
"Ladies and Gentleman we seem to have passed the most turbulent areas and I shall now switch the seatbelt sign off and cabin crew may resume their duties. I understand that there are many children with us this evening and parents may wish to accompany them to the lavatories but I do advise you to stay in your seats as far as possible….. etc etc etc etc"
I've never had such a chatty pilot in my life! I did not mind it at all however – it was a nice change for once!
I watched "Wimbledon" and "Princess Diaries, Royal Engagement" (I'm embarrassed to say I watched the second one!) The other 58 movies just simply didn't appeal to me at all.
There was a laptop plug on the seat and I had my laptop with me and had an assignment due in university in 10 days. I would have felt guilty if I didn't do a bit of work – so I plugged my laptop in. At least if I were in Economy there would have been no plug and thus no guilt if I didn't do any work! (Kidding!)
3 hours before landing, dinner was served. I asked for Champagne to accompany my satay.
DINNER MENU
To Nibble On…
Satay
With Onion, cucumber and spicy peanut sauce
A Savoury Note
Garden salad with smoked salmon and tomato salsa
Balsamico Dressing
The Main Event
Ah Yat style scallops with beanskin in preserved black beans, asparagus, capsicums and steamed rice – I chose this.
Manuka smoked lamb rack in pepper sauce, fruit chutney, vegetables and roasted rosemary-kumara
Chicken with grain mustard sauce, green beans, carrot and potatoes
Fettuccine in cream sauce with button mushrooms and parmesan cheese
The Cheese Board
Gourmet cheese with garnishes
A Sweet Note
A selection of fresh fruit
Irish cream ice cream with Bailey Irish Cream sauce
A Connoisseur's Choice
Gourmet coffee
Selection of tea
and pralines
Dinner was very lavish and excellent. The scallops were really good. Perhaps I just missed Asian food after being in NZ for 3 weeks and eating Asian food rather sparingly!
The ice cream was just perfect too. It was served in a bowl topped with irish cream sauce and I wish I had taken a photo of it!
When we were somewhere just north of Sumatra, 184 nautical miles south of Singapore (184 nautical miles seems to be the magic number. All my flights seem to commence their descent 184 miles from SIN) we begun our descent. Flew right over Batam in Indonesia, and headed Singapore from the South West direction, having a great view of the Singapore skyline, the East Coast Parkway, Singapore Expo, Institute of Technical Education (East), the MRT train depots and the apartments of the entire East Coast Area of Singapore before we landed in Changi Airport at 7.50pm – 20 mins behind schedule, I think due to severely strong headwinds.
DISEMBARKATION
We arrived at gate F54, and after disembarking the aircraft I noticed that the same aircraft was leaving for Christchurch an hour later.
Anyway it took me 4 minutes to get from F54 to the immigration area, 30 seconds to clear immigration and I waited by the baggage claim area. The first bag was out in 5 mins (That is, 10 minutes after the flight arrived at the gate) and my bag was out soon after. I then went out to the arrivals area to meet a friend for another round of dinner in the airport! So it took me just 12 minutes to get from the aircraft to the arrivals area. That's what I love about Changi Airport.
So guys, that's my trip to and from New Zealand on Raffles Class. As far as I'm concerned, it's a once in a lifetime experience and I can't see when I'll ever be in a premium cabin again!