Flight: from Manchester (MAN-Manchester International) to Southampton (SOU-Southampton)

Depart: Manchester International - MAN - Sunday 19th December 2004
Arrive: Southampton - SOU - Sunday 19th December 2004
Flight: BE863
Aircraft: BAe 146-200
Duration: 35 minutes
Distance: 171 mile(s)
Economy/Coach Class

Aircraft: G-JEAY
Part One:
http://www.airliners.net/discussions/trip_reports/read.main/52834
After spending a night up in the north with Alex/MYT332, it was time for me to head back down south to blighty. I had a VERY enjoyable weekend with Alex and his family and we didn't stop drinking the entire time!
We spent Sunday morning out in his garden shooting contrails and just generally mucking about. The weather was crisp and clear, not a cloud in the sky today! It made it all the more pleasurable to be freezing my ass off outside!
After lunch at a fine Italian restaurant it was time for me to head off to MAN. Alex's Dad kindly took me to the airport where we said our goodbyes! This had been the first time I had seen my "second parents" since May! Got to love 'em! Alex: Thanks for the Christmas present mate!
We went into T3 as this is where all domestic departures take place; we walked around looking for a damn FlyBe desk, with no luck we looked at the departure board. "Please go to Terminal 1" is what we were faced with. So we took the advice and walked over to Terminal 1. What a pis* take!
We found the small FlyBe desk, and waited for the people in front to be checked in. Each one of them complained about the fact they had also walked from Terminal 3! We were greeted by a rather "up himself" tw*t (Sorry if you read the forum
Actually No, I'm not sorry you tw*t!) Who asked me to take 1.5kg out of my camera bag. I explained to him how I was not able to do this due to the value and delicacy of my equipment.
Anyway, I was checked in and I was actually asked if I had a preference on the type of seat I wanted. I immediately said window, of course!
I asked if it was a BAe 146 for this evening's flight, with that I got a very startled look, followed by "Erm, yes it is..." I said thanks and we walked off in the direction of T1.
Myself and Alex sat down after the stupidly long walks that just took place, and I had about 15 minutes to boarding so we had to make it short and sweet! Alex lit up a cig and we discussed how busy T3 is, we then said our goodbyes.
I headed in the direction of T1 Departures, the place in which we had walked through just 7 months ago on our MAN-CCC adventures. Security was short and sweet but I was frisked down with the metal detector!
No I didn't enjoy this you sick puppies!
I made my way inside the Departure lounge and stood in front of a board with all the departures lined up. Our flight was yet to have a gate so I popped into WH Smith and got myself some stuff. By the time the gimp at the counter had served me, it was time to board.
I headed towards my gate in a kind of rushed way as I was eager to see what aircraft I would be flying on tonight! To my surprise it was G-JEAY! I see this plane on every visit to SOU, so it was good to be able to see her once more! I sat in the gate lounge and got out my camera. The picture summed up my weekend...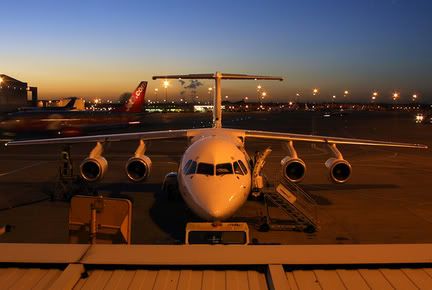 After taking a few shots I packed my gear up and waited for the boarding call. Whilst stood there admiring the stance of Alpha Yankee, a guy next to me had his camera phone out and was also taking pictures of the 146!
Eventually the flight was called for boarding. I was one of the first in the queue! I was greeted by a young man of about 18/19, he wished me a happy flight and I waked down the stairs to become airside. This was just amazing! Our aircraft was looking rather clean and I was getting excited about the flight ahead!
I walked into the aircraft and first impressions were not as expected! This thing felt relatively big for its size and I was most impressed. I was greeted by a smiling F/A, similar to all previous flights! I was directed to my seat (Oh thanks
) 11F and I sat down and let out a sigh.
After sitting down for about 10 minutes the last few passengers boarded and the doors were closed. The safety announcement was given and we pushed back into an eerie Manchester evening. I was completely knackered at this point, and couldn't wait to touchdown at Southampton.
We made the long taxi out towards the 06 end (Can't remember which runway it was) passing Concorde and the Avro RJ. I had been there the day before, the great memories came flooding back as we lined up on 06L/R and blissfully departed into the dark Manchester sky.
The 146 was just a complete dream! It was not like any A319/A320 in terms of take off. It was quite fast but at the same time it was just so gentle! I really did like this plane!
Anyway, we made our way up for FL190 and levelled off. The captain came on the P/A and announced that we had a massive tail wind and we were expected to be on stand some 15-20 mins earlier than planned. This was a relief for me, but at the same time less time to experience the 146!
The refreshment services began, and I decided to skip this as I was feeling a bit tipsy from the drinks I had at lunch! It wore off during the flight, which was cool!
So to recap, my 1st two flights on FlyBe I was either half cut or tipsy! I like the skills!
We started our descent in the dark evening sky, as we got nearer more local landmarks become more apparent! It's just a shame that it was a little bit too dark to take some shots! We passed over the River Itchen and lined up for Runway 02. I could see the runway lit up as we banked, this was just awesome! We passed over the St Mary's Stadium which was illuminated by the floodlights. This also made great viewing.
Whilst we descended into Runway 02 I passed over my house and the surrounding areas and eventually we passed over the M27. This was one breathtaking experience, as I felt as if we were too low! The cars were passing underneath us as we dived into a plume of darkness. Eventually I saw some light, and this was a good indication we were on target!
We touched down on Runway 02 and we slowed down heavily, we made the turning with an inch to spare! We taxied to one of the remote stands in front of the Short Stay car park! We disembarked onto the tarmac and I turned my phone on as I entered the bus that was at the bottom. Some Aviance woman went mad at me, whoa lady keep your panties on!
Anyway, I made my way through the baggage hall to see my luggage was the first off! I made my way to the exit where the cold Southampton air woke me up a little bit. I rang my folks to find out they were 2 minutes away. They arrived and picked me up. Great!
I hope you enjoyed this report! I had a fantastic weekend with Alex and his parents, thank you all for a wonderful time!
Best Regards,
Justin
Edit: Some pedantic basta*d corrected me on typos!
[Edited 2005-01-14 11:47:01]