Having flown various European and American carriers on my biannual visit from Berlin to Los Angeles, I looked forward to trying Air-India. For me it was especially exciting to be flying with the national airline of my origin (India) from the country of my residence (Germany) to the country where I grew up (USA). Through an ethnic travel agent in Frankfurt I got a good deal in spite of the holiday peak for less than €650 return.
26.December TXL-FRA 10.25 – 11.30
Flight: LH181
Aircraft: Coburg (D-AIRD) / Airbus A321-100
Seat: 12F (Economy)
Due to the Christmas period, Lufthansa actually reduced the number of flights on the TXL-FRA run this day, so I was rescheduled to fly at 10.25 instead of 9.30. Check-in queues at Tegel were short, so I proceeded to the counter quickly. Given the recent alliance between Lufthansa and Air-India, I was curious to see how the agent handled my itinerary. Although she was able to check my luggage all the way to LAX, she was neither able to issue me a boarding pass for the FRA-LAX leg on Air-India nor enter my Miles&More number for the same leg … so much for partnership! She politely told me to go to the Air-India check-in desk in Frankfurt to pick up my second boarding pass.
Boarding and take-off both took place punctually and efficiently. The A321 is one of my favourite aircrafts. I was seated in the second row of Economy class behind the second set of exit doors, which give the aircraft a spacious feeling. Everyone in Row 12 but myself was a Lufthansa flight attendant enroute to work in Frankfurt! Our female pilot took off in an easterly direction affording those of us on the right of the plane dramatic views of Berlin.
On reaching Frankfurt I was initially disappointed that we had an external parking position. But, then we pulled up next to this beauty!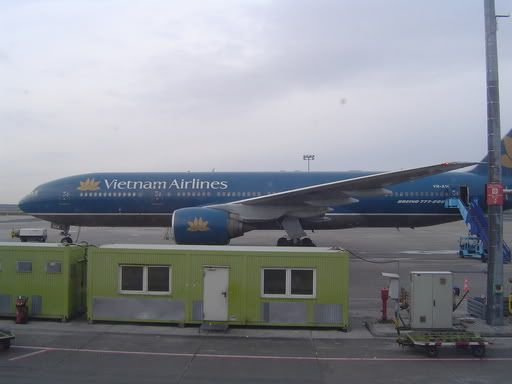 This was my first time seeing Vietnam Airline's T7 in Germany – what a lucky opportunity!
After being bussed to Hall A of Terminal 1, I went directly to the Air-India counter located in Hall C. There were large queues before the counters of airlines like Royal Jordanian, Tunisair and Emirates. There were only 3 positions at Air-India's counter handling both the Mumbai-Bangalore flight which had come in from Chicago as well as the later LAX bound flight coming in from Mumbai. The majority of passengers waiting to check-in were German, but there were some Iranians and also one large group of nearly 20 Vietnamese from Germany. Both Germany and Southern California have significant Vietnamese and Iranian populations, so it was nice to see how AI is connecting different diasporic communities!
Because I had already checked my luggage in Berlin, I did not have to wait in the first queue for bags to be screened. After answering the questions of a security agent, I was called to the Executive Class counter by a Globe Ground agent. She recorded the numbers of my luggage tags from Berlin, confirmed my vegetarian meal that I had pre-ordered on AI's webpage, and then politely asked me my seating preferences. She assigned me the aisle seat 51G which had an open seat next to it.
My layover went by quickly, as MrNiji's sister and her husband were so kind to come see me, so the time passed quickly. The inbound aircraft from Mumbai was delayed by one hour, so I was in no hurry. The security lines in Hall C were horrendously long and poorly managed – I hope it was only because the airport was lacking staff during the holiday because it would otherwise make Frankfurt airport very annoying. Some passengers were panicking in the queues because they were moving so painfully slow – myself included!
26.December FRA-LAX 14.00 – 16.45 (actual departure time was 15.00)
Flight: AI137
Aircraft: Fatehpur Sikri (VT-EVJ) / Boeing 747-400
Seat: 51G (Economy)
When I finally reached the far-away Gate 13, a beautiful site greeted my eyes: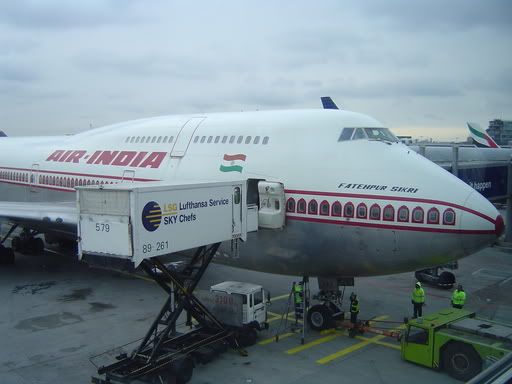 All passengers who had originated in India had been deplaned and were seated in the waiting area, the majority of whom were Indians – either from India itself or residents of the USA. It was truly a fascinating mix of people together with the Germans, Vietnamese, Iranians and Americans! The ground crew twice apologized for the delay due to the late arrival of the inbound aircraft. He instructed the awaiting passengers in English and German regarding the boarding procedures by row numbers. The boarding was surprisingly smooth, and those passengers who tried to sneak in before their row was called were told with patience, a smile and a laugh not to hurry because nobody was going to steal their seats – nice!
When I reached the aircraft door, both a male and female flight attendant were greeting passengers with a smile and the traditional Indian "Namaste." They also directed passengers to the appropriate aisles based on their seat assignments. When I was nearing my seating area, a female flight attendant politely asked for my boarding pass and personally escorted me to my seat, where an older Indian man was already seated. She gracefully told him that the seat actually belonged to me, but because he seemed reluctant to move, I told her not to worry and took the aisle seat diagonally across from my original assignment. It, too, had an open seat next to it. She thanked me for my cooperation with a smile.
Before we even pulled away from the gate, the flight attendants were bringing around welcome drinks on trays… in economy class! I received orange juice in an aluminium covered plastic cup. I appreciated the thirst-quencher so early on board. The flight attendants went down the aisles with insecticide spraying low toward the floors. Later as we were taxiing to the runway, the flight attendants were still rushing about the cabin assisting passengers to move to a seat of their preference – even helping those who did not ask such as one elderly couple a few rows ahead of me. Already I was truly touched by the hospitality they were so generously offering. Simultaneously a safety video was shown on the main cabin screens, first in Hindi and then in English.
Fatehpur Sikri must be one of the aircraft on dry-lease from Korean Airlines because all of the inflight signage was in English, Korean and Hindi! I did not know whether to thank Air-India or Korean Airlines for the generous legroom in economy class on this aircraft – it was brilliant! Even the German woman seated in my row at the window commented that it was far superior to Lufthansa. It was so nice to be able to stretch out my legs as I have never before in Economy.
Take-off was a powerful and smooth glide out. After pulling into the skies a second video was shown highlighting use of the lavatories and the inflight magazine "Namaskaar." Thereafter, another video was shown on inflight exercises – instructed by an odd cartoon character. Although the captain had already spoken a few words just before the take-off, he came on again speaking some of the most fond words I have ever heard a pilot speak:
"To all of our German passengers on board today, I wish you a belated Merry Christmas (in German), and please forgive my terrible German; it's the most I learned from my German friends. To all others on board, those who have begun the journey with us today somewhere in India, who are now crossing the seven seas for Los Angeles – perhaps in search of greener pastures, perhaps on your way back to school or work: to all of you, on behalf of Air-India, we wish you all the best for the New Year. Prosperity, happiness and joy. Take care and thanks again for flying with Air-India!"
I looked at my neighbour, and we both smiled – what welcoming words! That pilot was incredible, always pointing out interesting cities or landscapes from above. He was half the entertainment of the flight!
The flight attendants were quickly coming down the aisles again offering refreshments and a salty snack. I got Lays' Tangy Tomato potato chips (with an embarrassing image of the Bollywood actor Saif Ali Khan in a Spanish outfit on the package). The napkins had Air-India flowers and the centaur on them. It was not too long before the meal service began. Before moving down the aisle with the food cart, the flight attendant first handed out all special meals including Jain meals for the couple before me and my vegetarian meal. When serving an elderly Indian couple seated behind me, she served it as though they were her own grandparents saying in polite Hindi, "Grandmother, Grandfather, please take this food. Please take it." That kind of respect and reverence for elders is so touching.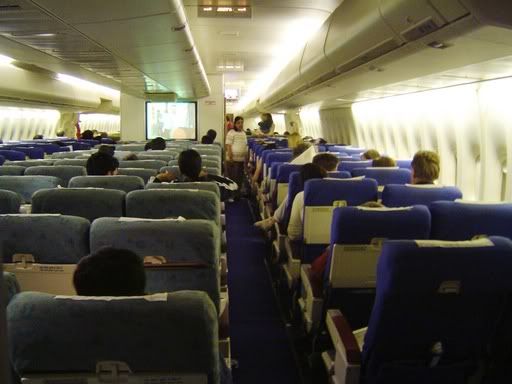 Although the lunch was flavourful (okra vegetable, navratan korma with paneer), the salad came without dressing. I was also surprised that there were no typical Indian condiments such as pickle or raita (yoghurt). However, the flight attendant did come around twice offering hot papads. During the meal she offered coffee, which to me was poor timing. It should be served following the meal. Otherwise the meal/beverage service was very good.
It seemed as though the majority of passengers slept during most of the flight, probably because they had already been underway having started in India. In this sense, this daylight transatlantic crossing differed from my previous flights with European or American carriers since in those cases the majority of passengers are awake and either reading or watching the movie. The flight attendants seemed to respond to this fact by only occasionally coming down the aisle with water. I would have liked to see them come up and down the aisles a few more times, but when I asked for a refill, I was immediately brought a glass, and again with a smile.
The lavatories were relatively clean, but the faucets were showing their age. No leaks, just a bit flimsy. Can anyone explain to me why there is this stairwell at the rear of the aircraft?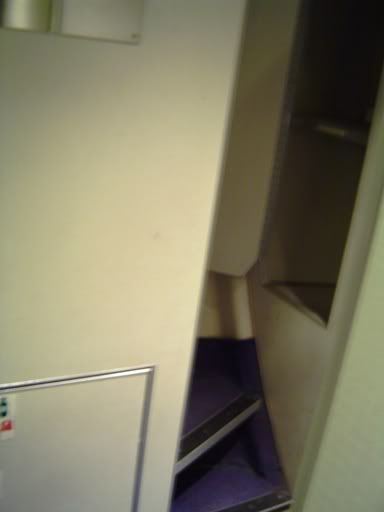 There was a second meal service after two films had been shown. Again, the food was tasteful, but without pickle or yoghurt. The pilot alerted us to Canadian snow, the Rocky Mountains and eventually Las Vegas. After passing out the immigration forms, several flight attendants assisted passengers needing help with the forms, even kneeling in the aisles to help write in information.
Our jolly pilot made the smoothest landing I have experienced in ages. My German neighbour looked at me and said with a smile, "Er kennt sein Handwerk!" (he knows his craft!).
09.January LAX-FRA 19.15 – 15.00 (actual departure time was 23.00)
Flight: AI136
Aircraft: Ajanta (VT-ESP) / Boeing 747-400
Seat: 73A (Economy)
I had already tracked my flight from Mumbai, so I knew that it had left India with nearly four hours delay a night before I even flew myself. On the day of my flight I called Air-India reservations, who informed me that the departure time was 3 hours behind schedule. When I next called Air-India at LAX airport, a recorded message said that one had to check-in on time despite the delay to the inclement weather and for security reasons (???).
When we got to the check-in line at LAX, there were several passengers who were actually grateful for the delay because the severe rainstorms flooded some highways, and many got to the airport late. The check-in queue was long, but there were at least 8 agents, some of whom spoke Hindi and one was speaking German. The passengers were mostly Indians, but at least 20% were Germans.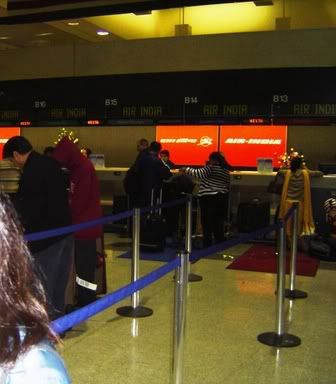 Knowing that I was going to miss my connection to Berlin in Frankfurt, I was keen to see how the agent handled my situation. When I reached the counter, she checked my bags all the way to Berlin on my existing flight reservation. Again, she was unable to issue me a boarding pass for the Lufthansa leg, and told me that and AI representative in Frankfurt would assist if I missed the connecting flight. However, this time my Miles&More numbers were already in the reservation. After handing me boarding pass (this time printed on Air-India paper), she gave me a meal voucher valued at $8USD.
It was utter chaos at the international terminal of LAX with several flights going to Taipei, Singapore, Seoul, London etc… After checking in, one has to take their luggage to a security line to have it x-rayed which took another 40 minutes because one has to wait for both the other passengers and to identify the luggage after it has gone through the machine. This is not one of my favourite airports for international departures and arrivals.
When I finally got onto Ajanta and walked down the aisle to my seat, I was again personally escorted by a smiling male attendant to my seat. And again: there was someone seated in my assigned seat!! This time it was a young German boy seated next to his mother, and he wanted to look out the window instead of sitting in the aisle. I let him have the seat and took the aisle seat right in front of the main screen. To my surprise, in only this row before the screen could one not raise the armrests and lie down.
Ajanta was in a much more tattered state than Fatehpur Sikri. I do not know if my eyes deceive me, but it seemed there was less legroom (am I wrong?). Furthermore, the seats, the carpets and walls looked tired and aged. In stark contrast, the entire crew was especially bright. Air-India should do this flying palace justice and fix up the cabin
There were several indications that the turnaround of this aircraft was rushed. There were no blankets at the seats, and the attendants were justly struggling to distribute what they had amongst everyone. The cabin temperature went hot to freezing several times before they seemed to nail the optimal temperature. The middle economy section's movie system was not working, so some people moved to the rear part of the cabin where I was seated. Nonetheless, I was impressed that there was a selection of Hindi, German and English magazines.
A stunning female attendant with green eyes and a red sari was doing her best to help people find a seat of their preference. She also followed up on everyone's request for blankets to her best ability. Both she and the male flight attendant served welcome drinks.
In all honesty, I reclined my tattered seat back and slept through most of the flight, only waking up for the dinner. Dinner was mattar paneer, cauliflower vegetable, and pulao rice. And this time it was served with yoghurt and the salad had dressing! The breakfast, served when we were over the United Kingdom, was a South Indian upama with potato curry and aloo parantha(!), croissant, fruit salad, and yoghurt. A vary savoury and tasty selection for breakfast I'd say! I was too drowsy to eat very much of it.
After arrival into Frankfurt, there were two representative of Air-India handling all arriving passengers with connections. We had landed fours behind schedule, so my connection was long gone. However, the agent had already booked me on the next available Lufthansa flight which was leaving in 20 minutes! He advised me on a short-cut through the terminal using the SkyLine train to get to my next gate. I actually made it, and when I arrived at the Lufthansa gate she told me that the AI representative had called the gate to let them know I was coming – nice. I was the last passenger to board that flight. My luggage did not make the connection, but it was promptly delivered to me the early next morning. My hat off to Lufthansa for the professional handling.
SUMMARY
Would I fly Air-India again? A definite YES! Perhaps there is a novelty factor in my judgement, but at least for the two legs I flew on, the crews were exceptionally friendly and the food above average. As LH Miles&More member it is great to be able to earn the miles, too. I know others have had worse experiences with AI, but I hope that my more recent experiences with them are a positive indication that Air-India is actually changing and is on its way to again living their motto of being "your palace in the sky."