**
Departure Airport: Manchester, United Kingdom (EGCC/MAN)
Arrival Airport: Dublin, Eire (EIDW/DUB)
Airline: Luxair
Flight number: LG 4981
Aircraft type: Embraer ERJ-145LU
Registration: LX-LGZ (c/n 145258)
Date: 17th January 2005
Class: Y (Economy)
Ticket Status: Standby
Flight time: 50mins
I was working an 1800-0600 nightshift at MAN on 16th Jan, with the intention of checking-in for the 0745 LG flight MAN-DUB after my shift. I phoned Luxair's handling agent at approx 1am to check on the booked load for this flight, as I would be travelling on a staff standby ticket. I was informed that were only 11 pax booked on the MAN-DUB sector, but this flight was a 2-sector flight, operating LUX-MAN-DUB. The staff member was unable to check on the transiting load originating in LUX, so I could not get an accurate figure. The flight was scheduled to be operated by an Embraer 145 aircraft, with 49 seats in a 2-class configuration. I have never seen any other type operate this flight, despite Luxair also operating F50, 735 & 73G equipment. I checked the status of the flight in Amadeus, and established that it would be operating in a C13M36 config, which meant the cabin divider would be behind row 5. The scheduled times of this flight are as follows:
Depart LUX 0655
Arrive MAN 0725
Depart MAN 0745
Arrive DUB 0835
It was imperative to me that this flight was to leave on schedule, as check-in closure for my next flight was 0910. I checked the FIDS screens in my office at 0315 to see if a registration had been entered for the flight, but there was no information at this time. Interestingly, three MAN-DUB flights were scheduled to leave at around the same time, as follows:
LG4981 STD0745 ER4
FR 553 STD0755 732 EI-CNT
EI 203 STD0800 735
The whole purpose of choosing this routing for my trip home was to have one last flight on the Boeing 737-200, so normally I'd have chosen the FR flight, but with only a 1hr 15min connection at DUB, I couldn't afford to take the chance, and opted for LG. The FIDS screen showed the FR flight to be operated by EI-CNT, which I didn't think I had flown on before. A quick check on a.net revealed this a/c to be the Vodafone logojet, which I had seen at MAN the previous evening operating the last DUB flight. Hmmm, would this perhaps operate my DUB-MME flight later?? Probably not, as it would be a long turnaround in DUB - too long for Ryanair to have an aircraft sitting on the ground, anyway. But then a further search revealed that it also used to be the SuperSunic/News of the World logojet - which I had 'done' before! The next FR departure to DUB at 1045 was already showing as 732 EI-CON, which I had also flown before, so I was not too bothered that this couldn't be the one operating my next flight.
Anyway, back to my Luxair flight! Can you tell that the thought of an ERJ-145 wasn't getting me going as much as the thought of a classic 737-200?? I've flown on ERJ-145 aircraft of bmi regional & BA CitiExpress before, and had found them to be a nice enough little jet, but I'd never flown Luxair before and was quite looking forward to it. My shift ended at 0600, and I handed the operation over to my colleague before wandering down to Terminal 1 to check-in at desk 67. Also checking-in at this part of Terminal 1 were Ryanair, FlyBe, Aer Arran, Aurigny Air Services, City Airline & Swiss. As I already knew there were only 11 pax booked on this sector, I was not expecting a queue. I was checked-in and allocated seat 14A. That meant I was by a window, and on my own, as the seating on the ERJ-145 is in a 1-2 arrangement. Just what I wanted!
I wandered back to my office, had a cuppa and sat with my colleaue for a while. The flight was scheduled into MAN at 0725, but another check on the FIDS screen revealed that the flight was estimating 0740, with an ETD of 0800. Clearly my connection through DUB was gonna be dodgy! The reg of the a/c had also been confirmed as LX-LGZ.
View Large
View Medium


Photo © Airsnaps - AirlinesOnPrint
I headed down to Terminal 1 departures at about 0720 and called at WHSmiths for a newspaper. I checked the departure screens for my gate, and headed off to Gate 1. 0740 came and went with no sign of an aircraft, and I began to worry even more about my connection in DUB. Departure calls had already been made for the Aer Lingus flight, and as no calls were made for the Ryanair flight, I assume this flight was already in the process of departing. Eventually the Luxair aircraft landed, and the young lady at the gate put out a call apologising for the short delay, and informed us that the flight would be boarding in approximately 15 minutes. I was really pushing it for time now. Luckily, the aircraft arrived on stand just after she had made the call, and boarding commenced about 5 minutes later. I was last to board, and consequently struggled for overhead locker space. I was carrying a small rucksack and a small over-the-shoulder type bag, and placed them, along with my jacket, in the locker at the back above row 18. I then took my seat in 14A, and continued to worry about making my Ryanair flight in DUB.
The light grey leather seats were comfortable, if a little worn, and offered good legroom. I had never sat this far back in an ERJ-145 before, having always been seated in Business Class with bmi regional
. The cabin of the Luxair aircraft looked like it was arranged in a single-class layout. There didn't seem to be a noticeable cabin divider, and the only apparent difference in the first 5 rows were the words 'Business Class' on the disposeable headrest covers. Doors were closed and we pushed back from the gate at approximately 0820. By this time I had almost accepted that I had no chance of making check-in for thr Ryanair flight at DUB, and guessed that I would be using a spare set of bmi MAN-LHR-MAN standby tickets on DUB-LHR-MME flights. I'd like to point out that by this time I'd been awake since 1200 the previous day so was beginning to feel the fatigue setting in... What on earth was I doing?!
Luckily, after only a 5 minute taxi to runway 24L, we were able to get airborne straight away, with only a First Choice Airways 767-300 landing in front of us as we approached to cross runway 24R. The noise difference between the front and back of the ERJ-145 was noticeable in comparison to my previous ER4 flights, but all in all it is a quiet, comfortable aircraft on which to fly.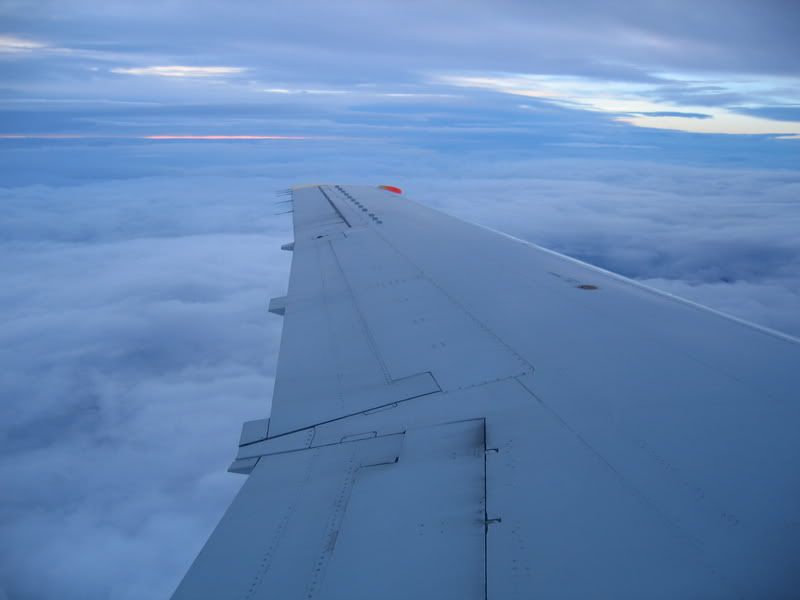 As we climbed to a cruising altitude of 20000ft the service began, and each passenger was offered a choice of orange juice or champagne. It was 0840 in the morning, I had been awake for almost 21 hours, and my eyes were stinging with tiredness...... so I had the champagne, and admired the sun rising on the horizon ahead of us above the clouds.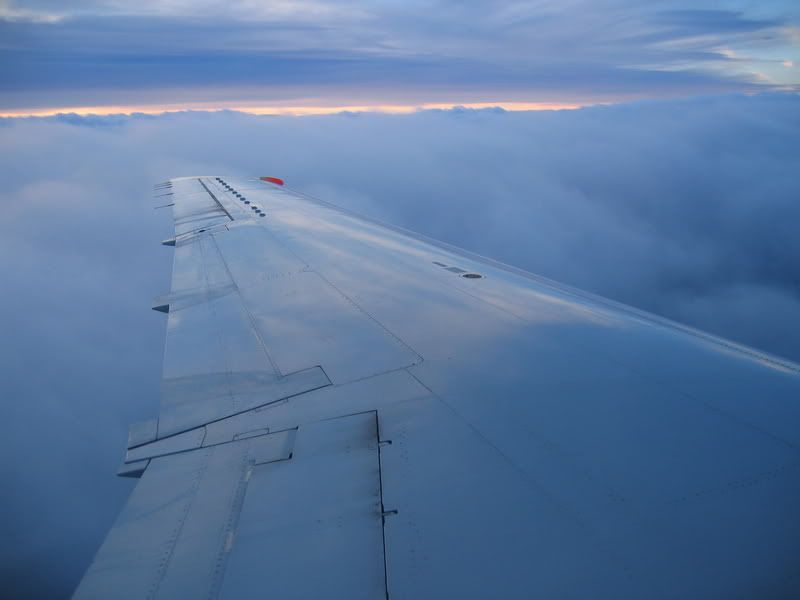 After a very brief cruise over the Irish Sea, we began our descent towards DUB. The sea looked rather choppy and uninviting below , but made for a pleasant sight as I tried to relax and not think about the mad dash I was about to make on arrival. We approached the airport in a pretty straight approach, heading in with Dublin Bay on our left.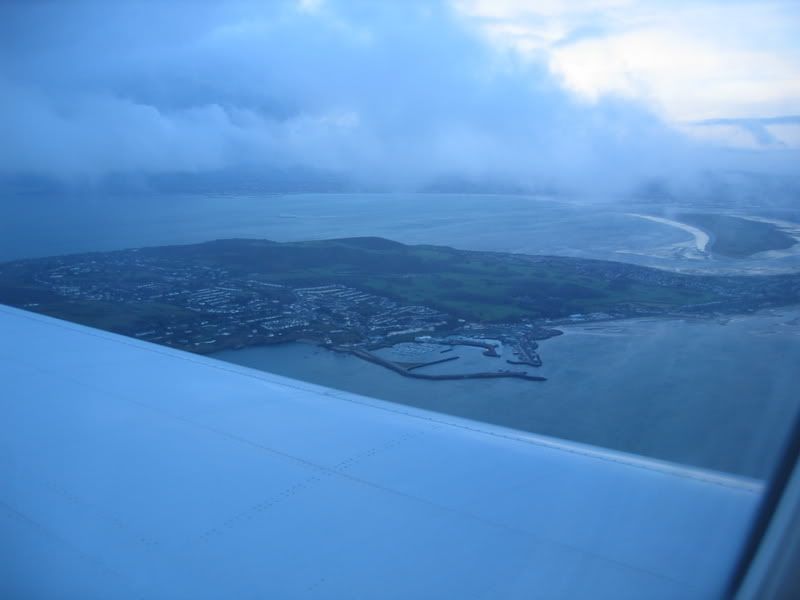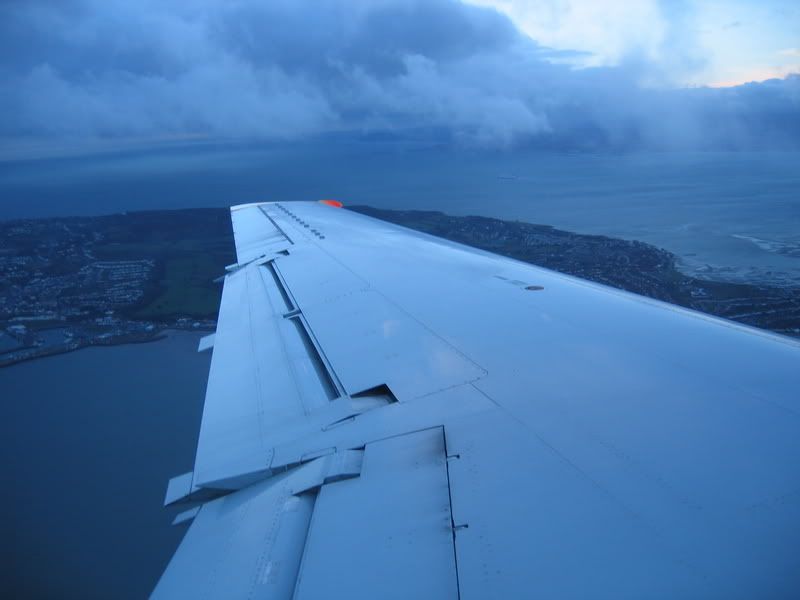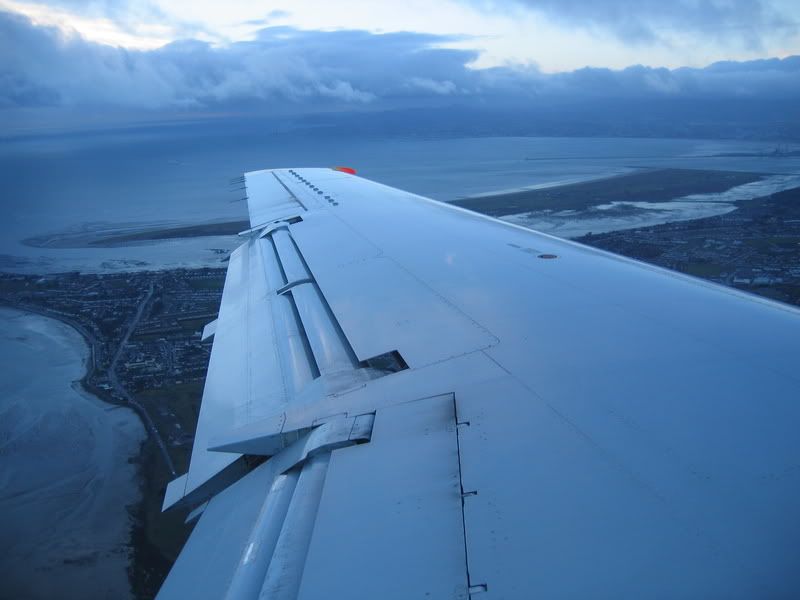 The gusting wind became apparent as we were on final approach, but the aircraft remained generally stable, and a nice view was had, despite the rather grey Irish morning.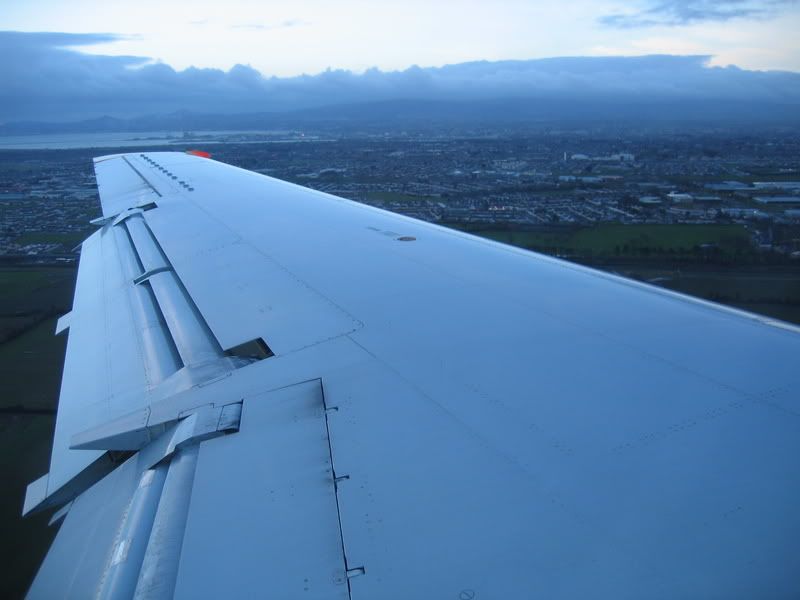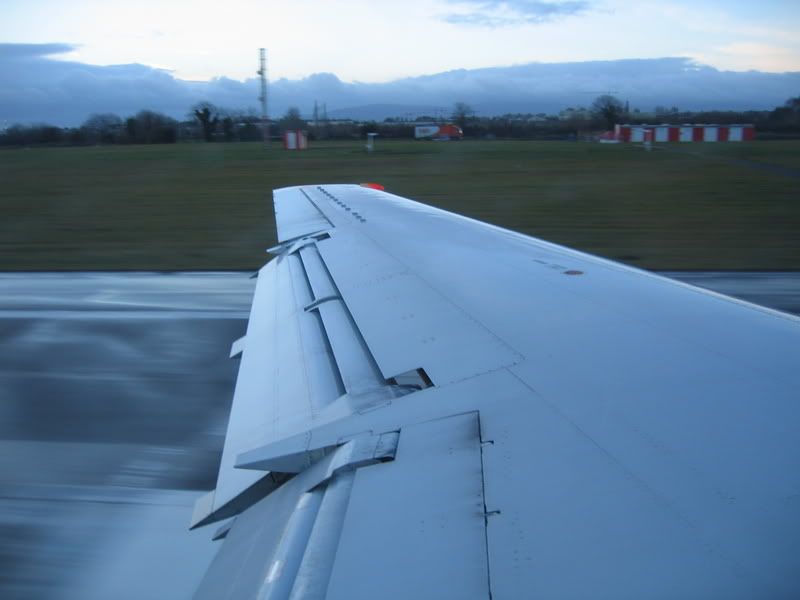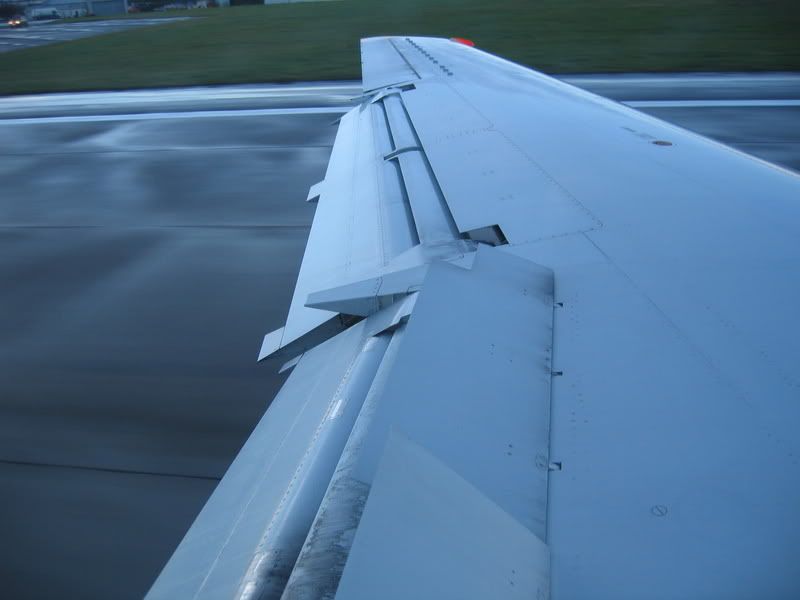 We touched down at approx 0855, and took just over 5 minutes to taxi to the gate.
At this point I regretted putting my cabin baggage above row 18, as I'd have to wait until everyone else had passed me before disembarking. I left the aircraft last and walked briskly across to the terminal. Once inside, the realisation of how unfit I am began to strike home as I ran in the direction of arrivals, constantly looking out for clocks to see just how many minutes I had to spare, but didn't see any until I got to Ryanair check-in on the departures level. It was 0907 - I had made it by 3 minutes... Phew!
Now for my 2nd flight...
**
Departure Airport: Dublin, Eire (EIDW/DUB)
Arrival Airport: Durham Tees Valley, United Kingdom (EGNV/MME)
Airline: Ryanair
Flight number: FR 602
Aircraft type: Boeing 737-230/Adv (c/n 22115/694)
Registration: EI-CNT
Date: 17th January 2005
Class: Y (Economy)
Ticket Status: Confirmed
Flight time: 55mins
I made it to the Ryanair check-in at 0907, and was clearly going to be one of the last to check-in for flight 603 to Durham Tees Valley, which was due to close for check-in at 0910. There were two pax in front of me who were sent to the ticket sales desk to pay for excess baggage, and I was eventually checked-in just after 0910.
My boarding pass howed the flight to be departing gate A19, which was on the same pier that my Luxair flight had just arrived on. I proceeded through departures, and walked straight along to Pier A. Gate A19 is downstairs to the right at ground level, and is the last gate before the end of the corridor. The only aircraft outside the gate appeared to be 737-800 EI-DAX. My heart sank! I wouldn't have busted my arse to get here just for a ride on a 738! Then I noticed the wing and engine of a 737-200 to the right, but not quite adjacent to gate A19. It was a red and silver aircraft, and I realised it was the bloody Vodafone logojet, EI-CJT, which I'd flown on before, and just followed across from MAN! Still, not complaining, I got my -200. As is usual with Ryanair flights, as soon as staff members appeared at the gate, everyone surged towards them like cattle. As is also usual, passengers requiring assistance and those travelling with infants and small children were invited to board first, and the 'cattle' were asked to move out of the way. About a minute later, the boarding call was made. The gate area had been segregated into 2 lanes with tensa barriers, which ran around the edge of the lounge. Passengers with boarding numbers 1-65 were asked to queue in the outer lane, and 66+ the inner lane. I was boarding number 73, and only one person checked-in after me, so I took the inner lane along with a small number of other passengers, assuming I would be one of the last to board. Damn, I wasn't going to get that window seat just behind the wing. As it happened, passengers were boarded from both lanes, so I was actually among the first twenty to board. My passport and boarding pass were checked by the CSA at the gate, and I made my way across the apron to the aircraft.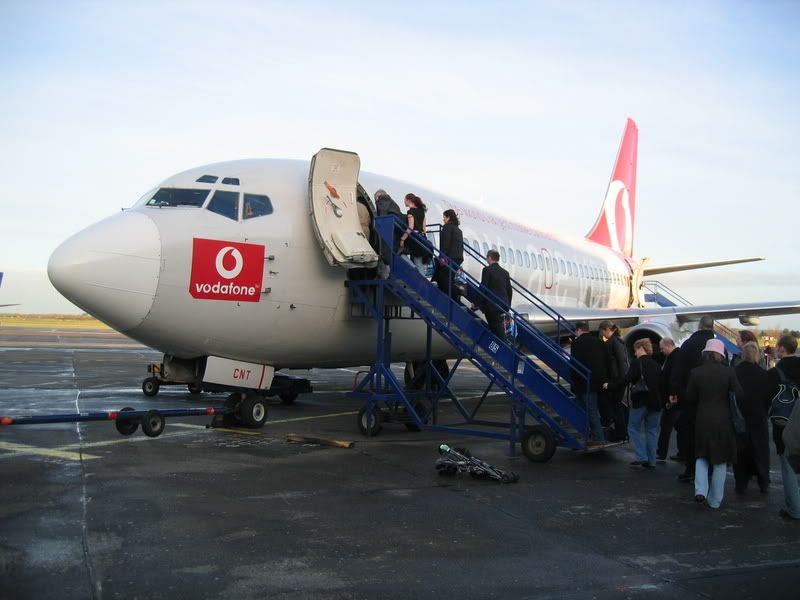 I usually find that people always queue at the forward steps on these flights, so I did my usual thing and proceeded straight to the aft steps where there were only one or two people boarding.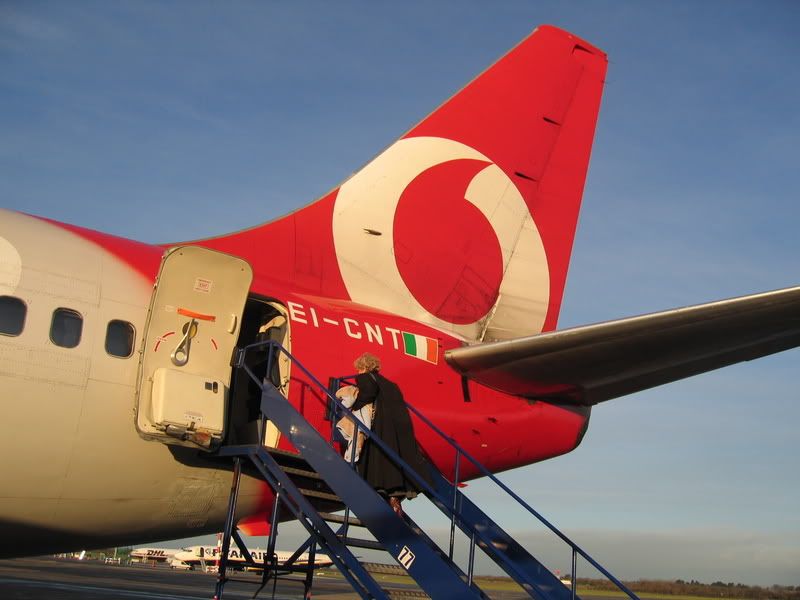 The forward half of the cabin was already filling up with people who had boarded via the forward steps, so plenty of seats were available behind the wing. I took seat 18A, and placed a bag on seat 18B. There were only 74 pax on the flight, and the aircraft was in a Y130 seating config, so I didn't feel bad about 'reserving' seat 18B for my bag & camera! Recent pics on a.net have shown that Ryanair's 737-800s have the safety instructions on stickers on the seatbacks, so I was half expecting this on the -200 too, but this was not the case, and a rather worn safety card was in the seatback pocket.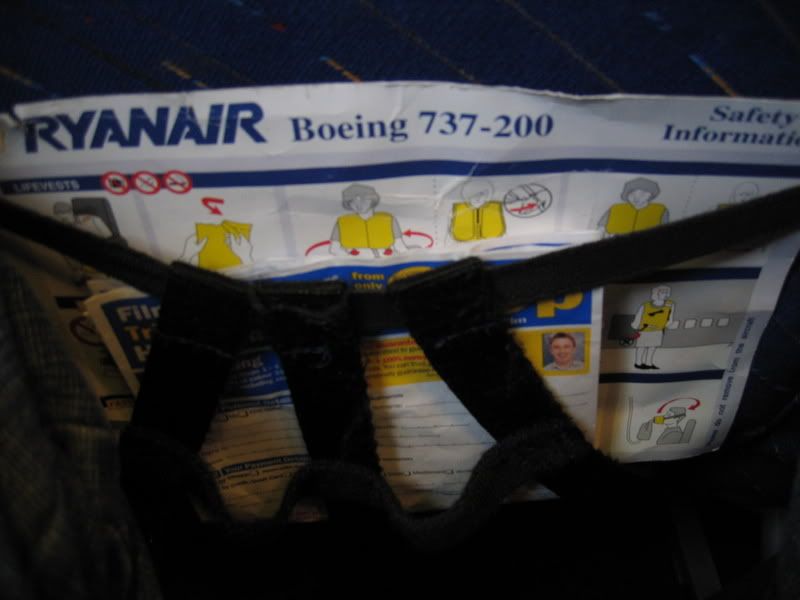 All passengers were boarded swiftly, and row 18 was only occupied by myself in 18A, and a young lady across in 18F. Doors were closed for departure, and pushback was early at approximately 1040. It was nice to hear those old engines kick into life, and the flaps being set for departure. We taxied past 737-800 EI-DAX which was still at gate A18, and soon passed -200 EI-CNX.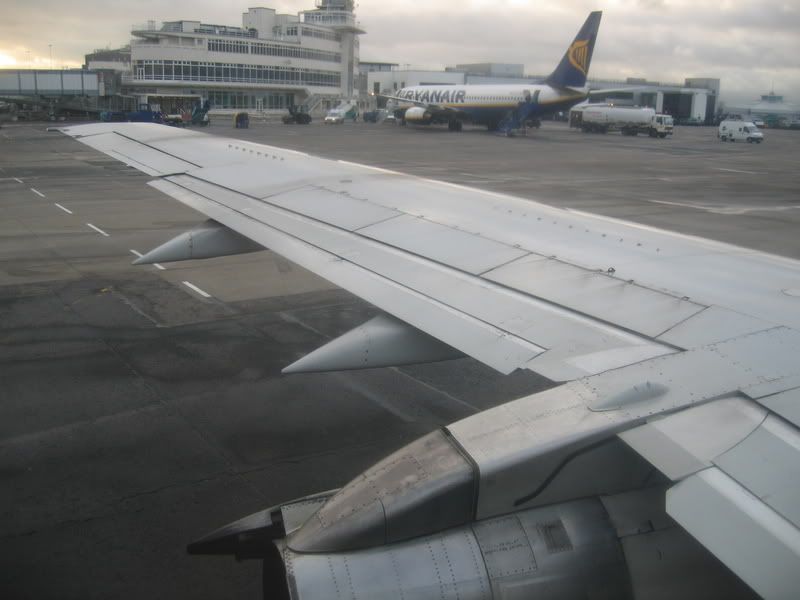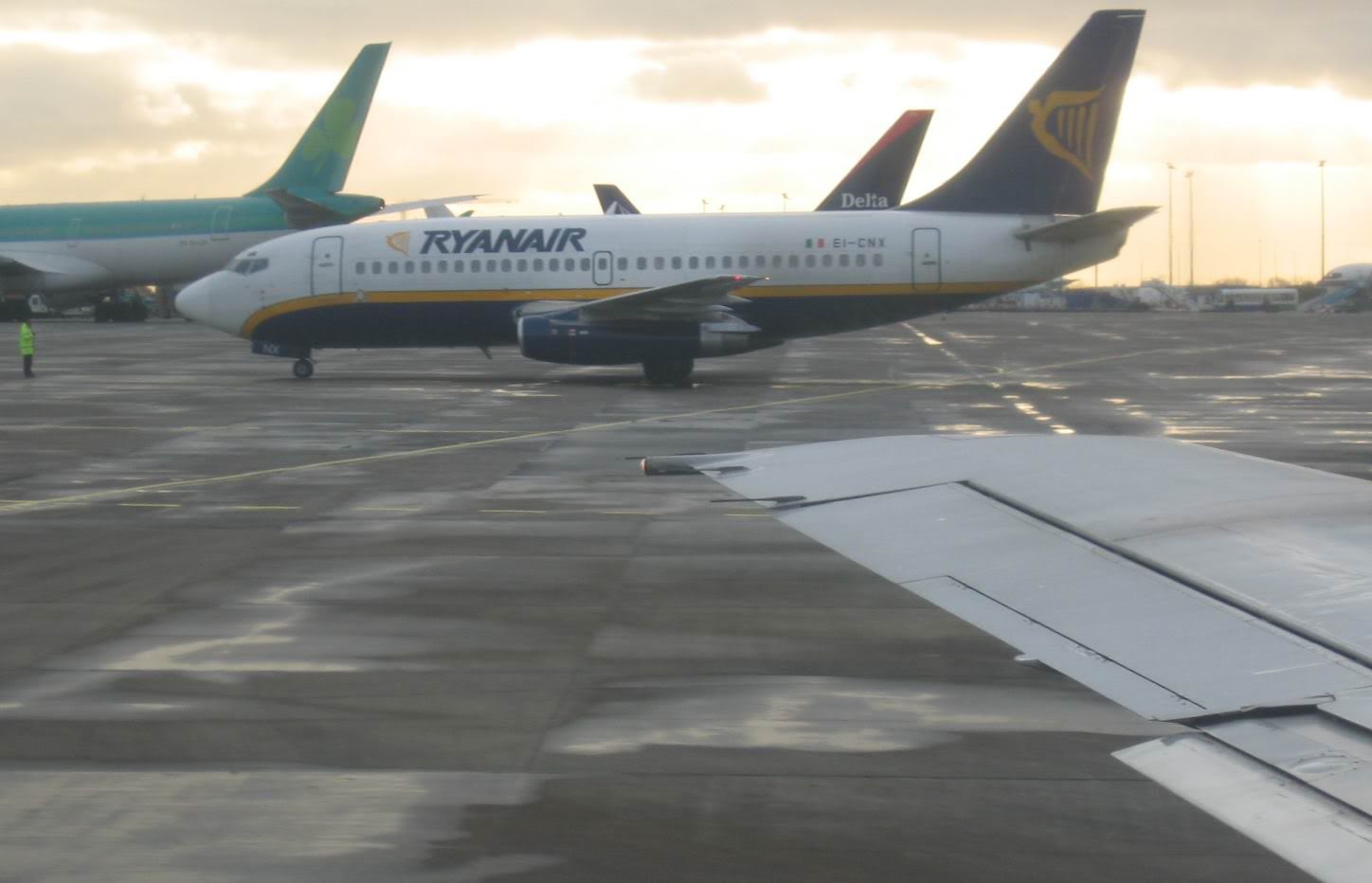 We taxied to the departure runway and held short for a minute or so. After the "cabin crew seats for take-off" call from the Captain, we turned onto the active runway, the engines roared as the thrust was increased, and 'NT thundered down the runway.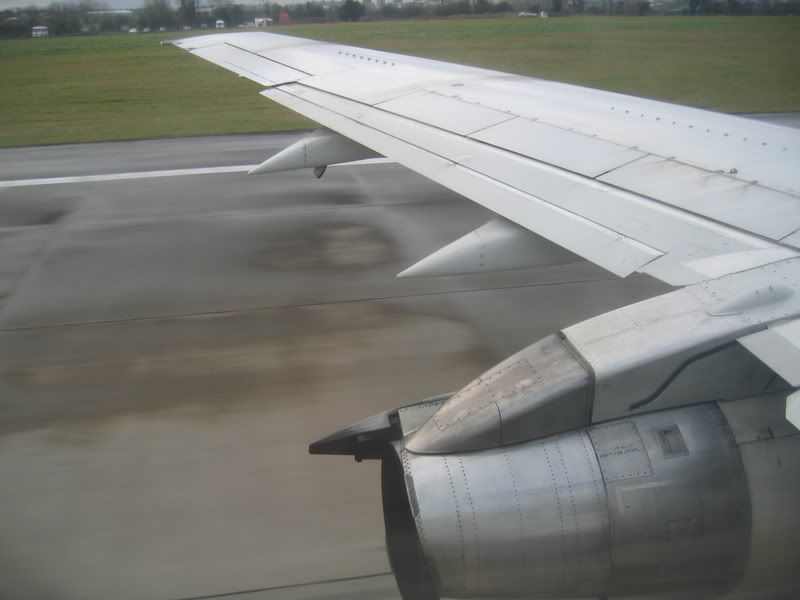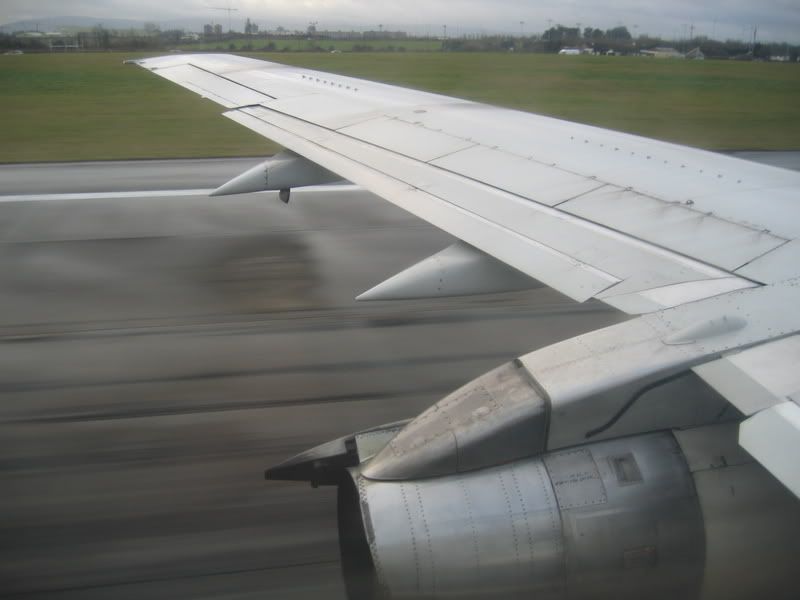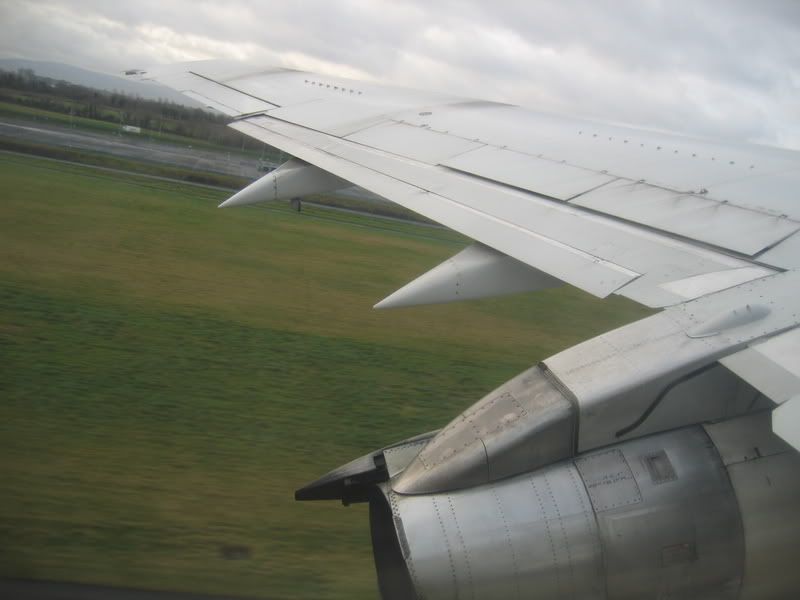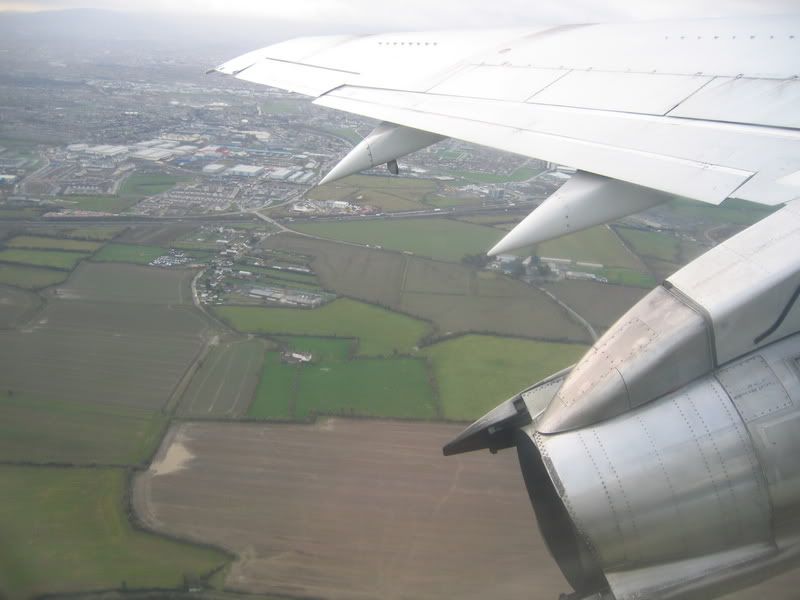 Shortly after take-off, the aircraft banked to the left and continued climbing.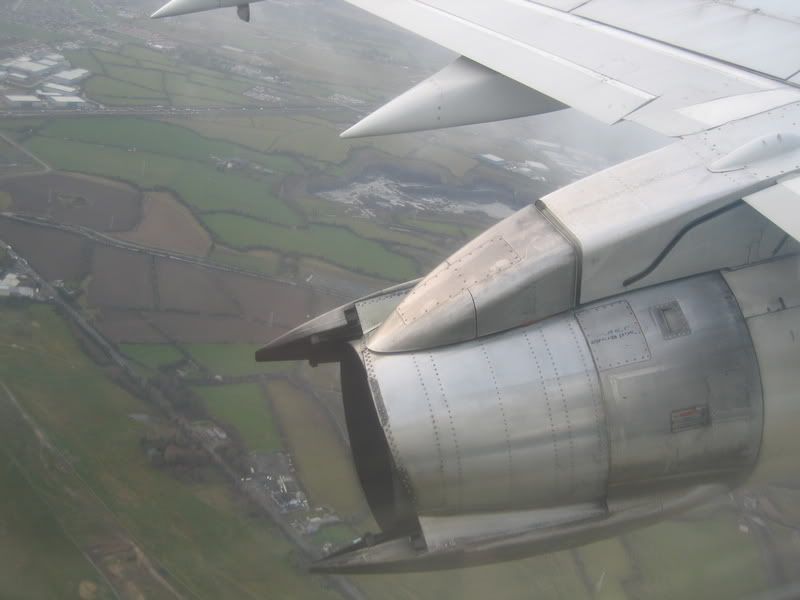 During the short cruise, Ryanair offered their usual extensive selection of snacks and beverages, and I decided a cup of tea might perk me up a bit. One pound & Ninety-five pence bought me a nice cup of PG - pricey I know, but I felt I needed it. Whilst relaxing and drinking my tea, I noticed the yellow oily streaks moving along the outside of the engine, which I had noticed on previous flights, and had been pointed out by another trip reporter recently: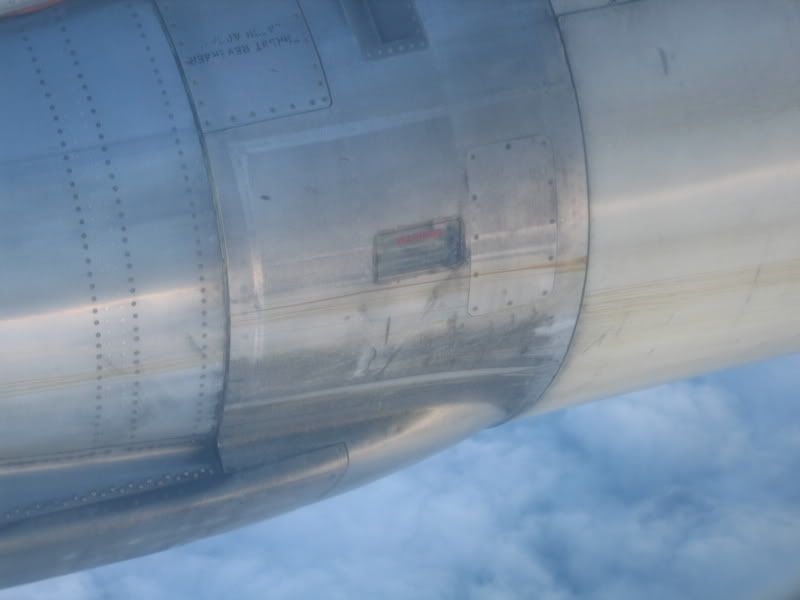 Does anyone know what these are?
It was not long after the descent started, and we were shortly overflying the northern parts of North Yorkshire and the Dales, which offered a nice purple landscape in the higher areas.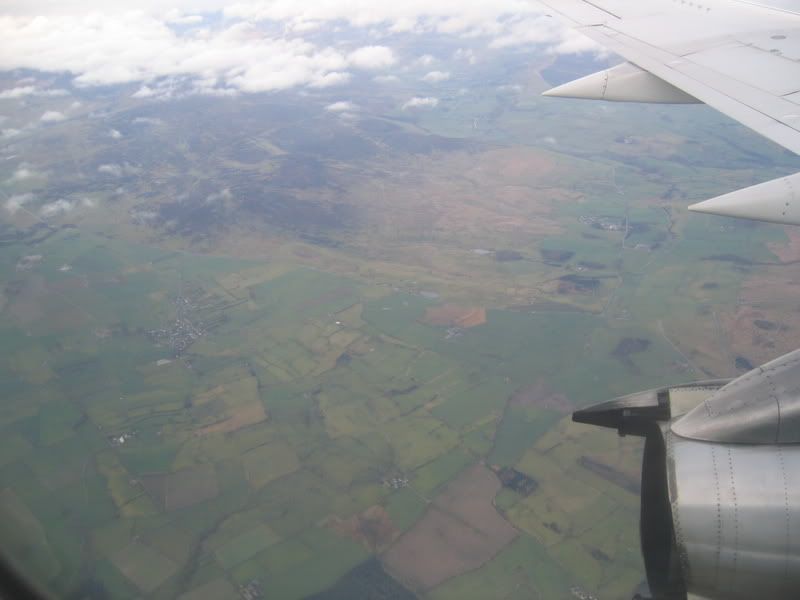 I started to recognise several landmarks as we descended further, such as Scotch Corner services on the A1(M). Shortly afterwards, we passed over my home town of Darlington, County Durham, which was my final destination today, and I was able to take this photograph. Anyone who knows Darlington will be able to recognise the railway station, and the Geneva Road/Yarm Road area which is quite distinguishable. My parents' house is located in the west end, and would have been out of the photo by the top left corner: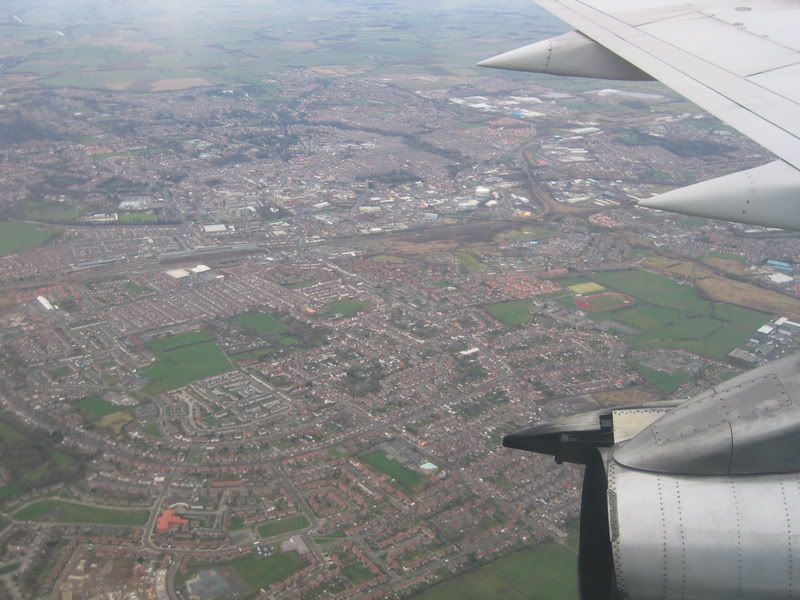 As the aircraft got to the Middlesbrough area, it began to turn almost back on itself for the final approach into MME. The famous Transporter Bridge and Riverside Stadium came into clear view, but sadly the aircraft was was being thrown around by the wind somewhat, and each time I took a photograph there was too much camera-shake.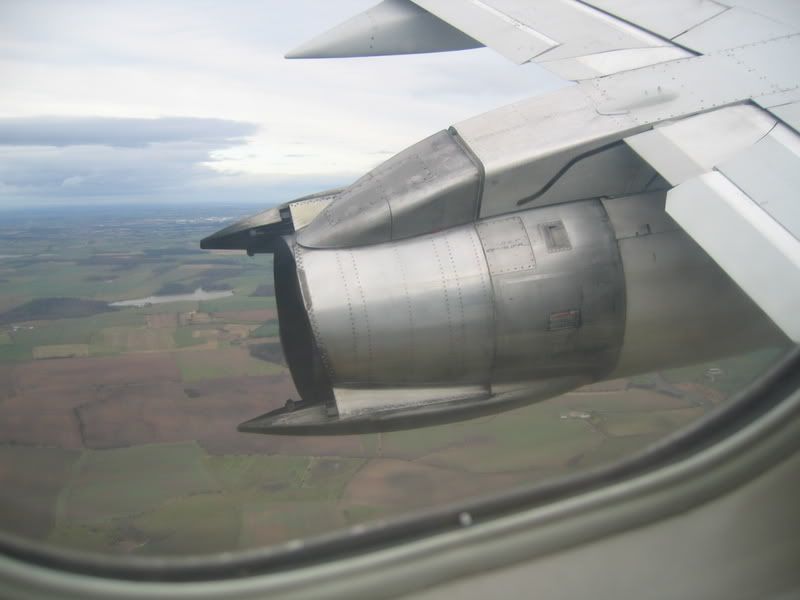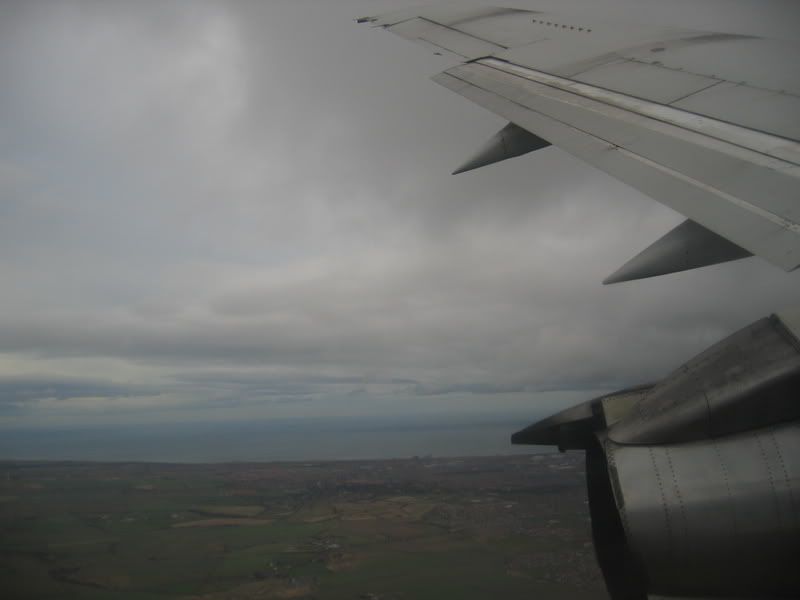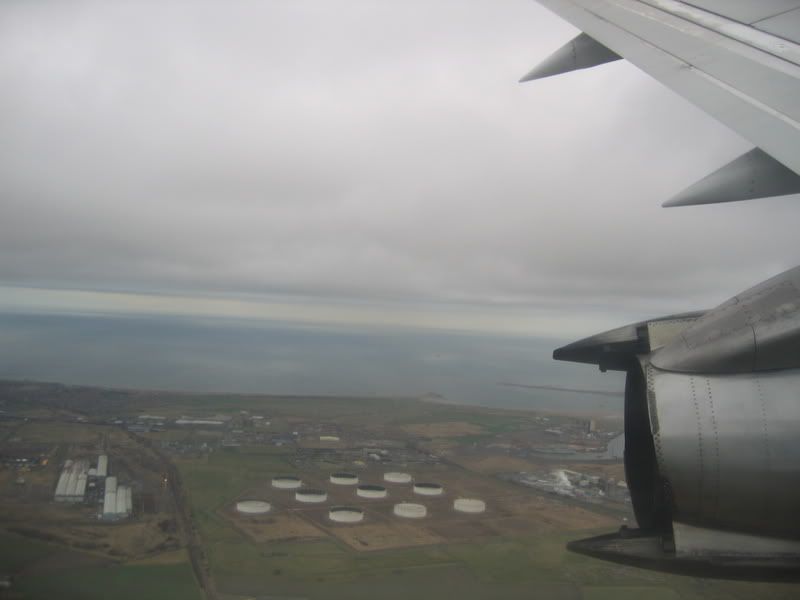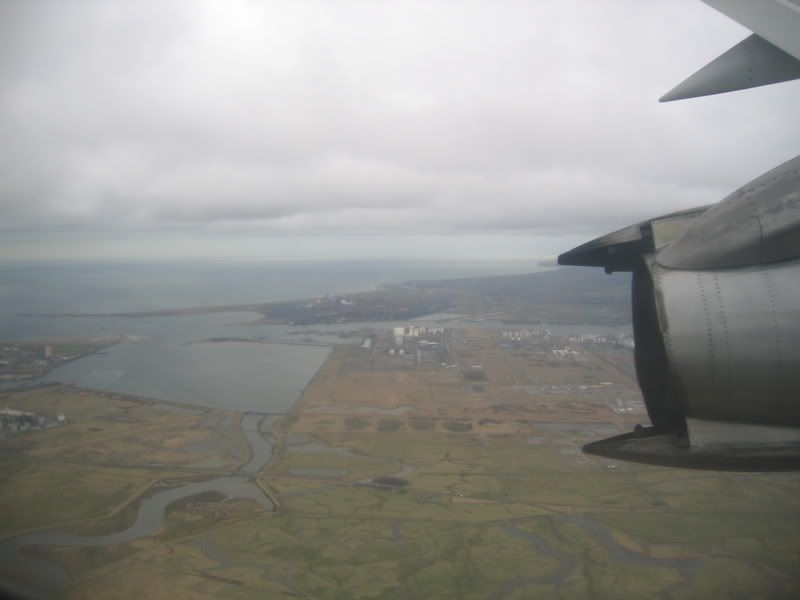 Once lined-up on finals, we passed over the Stockton-on-Tees area, and continued our windy approach into Durham Tees Valley Airport.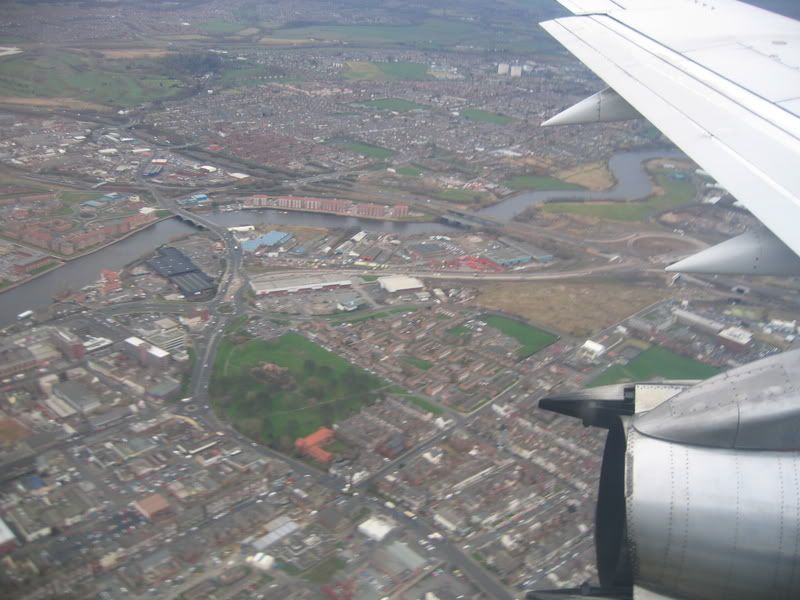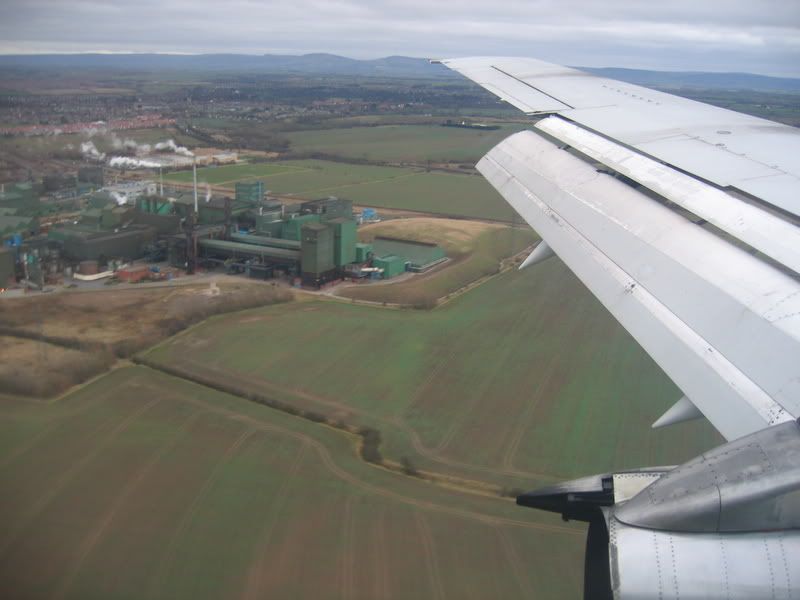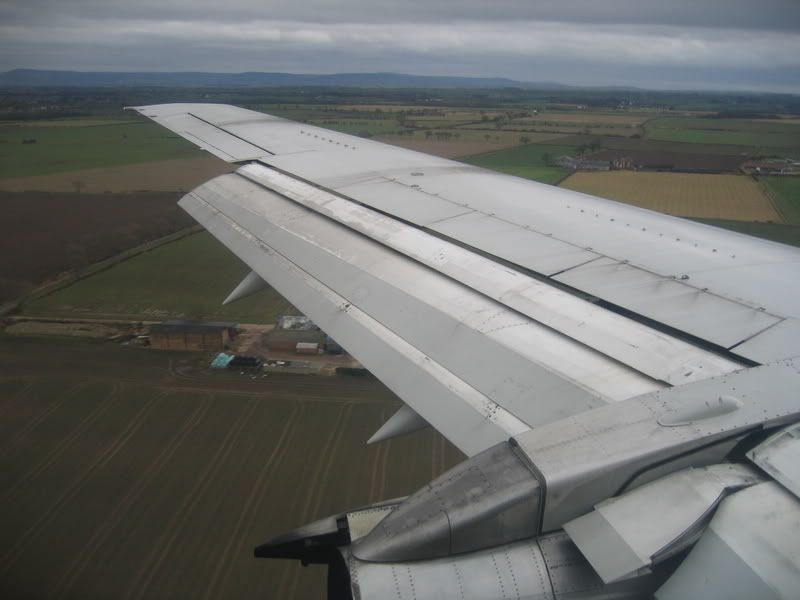 I tried to photograph the Tridents and Viscount in the International Fire Training Centre just before touchdown, but again the wind got the better of me, so to speak, and before I knew it we touched town, thrust reversers and 'clamshells' springing into action immediately: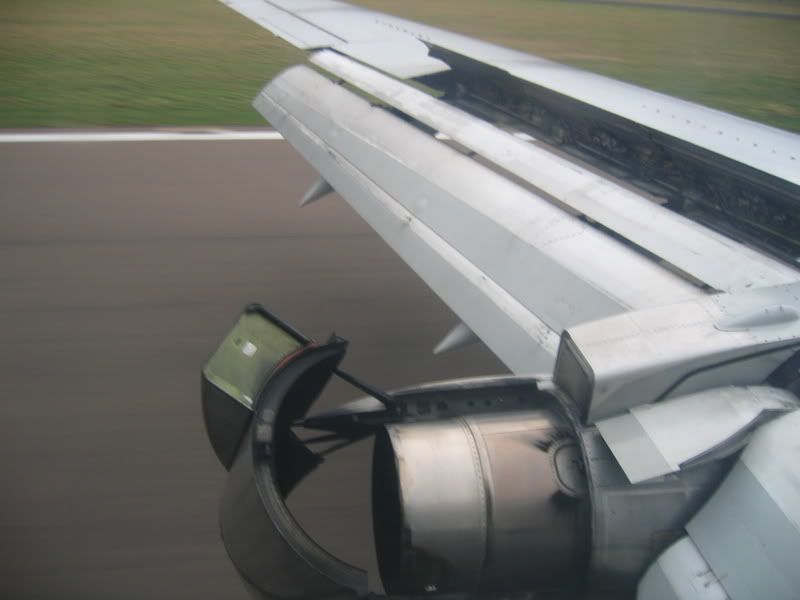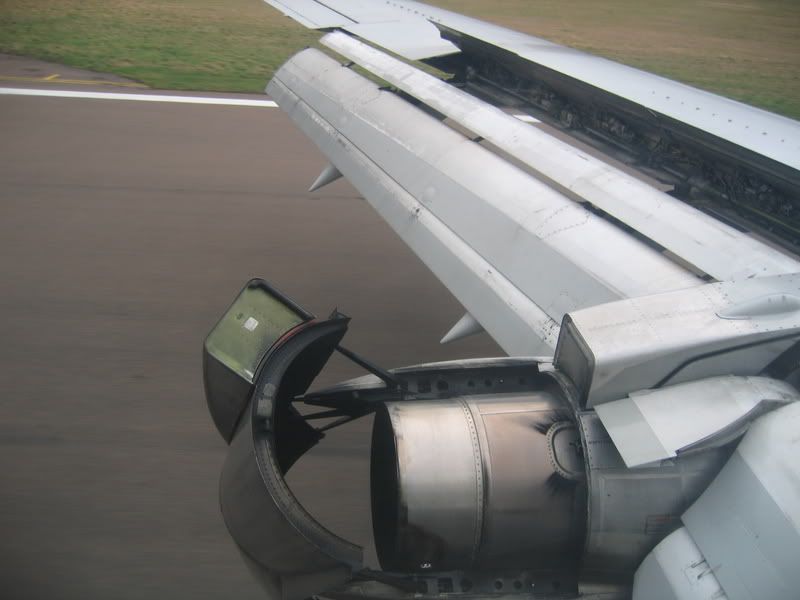 The aircraft slowed down very quickly and left at the first intersection, which leads directly to the apron, and taxied straight onto stand 4.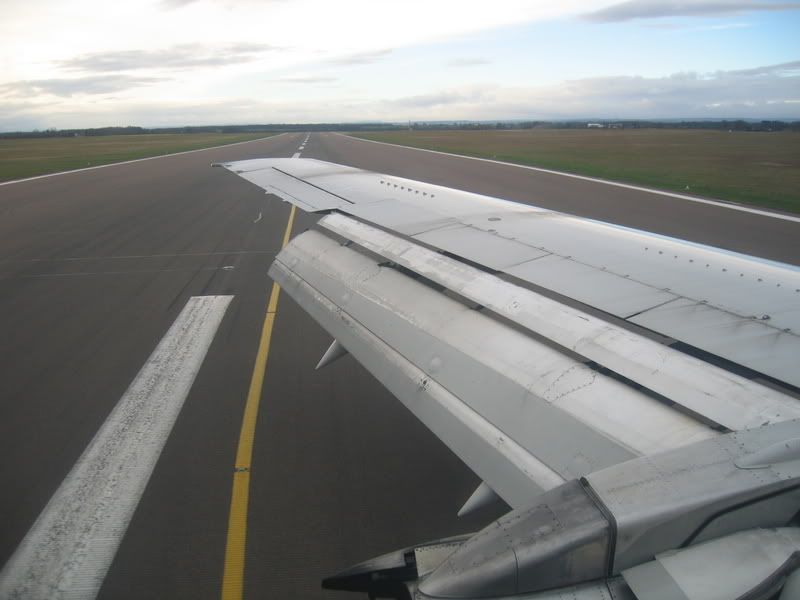 I disembarked via the aft stairs, and took one more look at 'NT as I walked across the apron. It looked rather 'patched-up' up-close, much like many of the other FR -200s. A KLM Cityhopper F70 was pushing back from an adjacent stand as I walked into the building. Despite the rather hectic connection at DUB, I enjoyed my two flights very much, and was thrilled to be flying on the 737-200 again before Ryanair retire the type.
When I saw my dad that night, he asked if the 'silver and red plane landing at around 1030' was mine - I said it was. It had overflown his workplace in Stockton-on-Tees when on finals.
***
***
After I arrived home and had my much needed B I G sleep, I checked some of the details of the two a/c I had just flown on, on a.net, and found out the following:
LX-LGZ was the ERJ-145 which ran off the runway at LUX in September 2003:
View Large
View Medium


Photo © Luc Willems
...and, as I already knew, EI-CNT is an ex-Lufthansa machine, and was the New of the World / Sun logojet earlier in its Ryanair career:
View Large
View Medium


Photo © Michel Gilliand
***
***
Look out for my report on my return trip, with Ryanair & Aer Lingus!