It's that time of the year in Canada where the temperature is anywhere between 0 and -40 (topped off with freezing rain this year) and some of us need a vacation down south. Now, having worked nearly all days between Christmas and Jan 2nd (including boxing day, New year's eve and New year's day), I was one of those. Some students (including myself
) here in Quebec are off until January 20th so I took advantage of the ridiculous prices offered on last-minutes all inclusive vacations. I actually found on Friday, Jan. 7th a deal to the Maritim Varadero Beach Resort, a 4.5 star-rated hotel for less than a 1000$ and direct from YOW so I jumped on it. The package was being offered by Sunquest so I knew I was going to fly the feared Skyservice (world-renowned for their delays) but it was a chance to give them a try... So here it goes:
JAN. 9th 2005
5G 422 YOW-VRA
Sched. 17:00 -->21:45
Actual: 17:30 -->21:56
A320 C-GTDM? (I am guessing it was GTDM because they are only 6 V2500-powered 320s in SSV's fleet and the one I flew on still had german markings inside, which would mean it has been leased recently, which is GTDM's case)
Sunday came quickly enough and after some last-minute packing, I drove in a hurry to the airport in order to get my tickets at the Sunquest counters and be there 3 hours before the departure time so I could get an emergency exit row and strech my legs in this sardine can-like A320. I wasn't able to pre-select my seats for 10$ on the outbound journey having booked too late. I effectively got at MacDonald Cartier International at around 13:50 for the 17:00 departure but there was already a huuuuge queue. I apparently had an horrific look on my face when I saw that according to my father who drove me there... I wonder why. Now, I was looking for the Sunquest counter to pick-up my tickets but it wasn't anywhere to be seen. I finally found that there was a bunch of people vigurously fighting to get to somebody standing in the middle of the terminal... Here was the Sunquest lady! When I got to her, I gave her my name but she couldn't find my reservation or tickets. Great first impression of Sunquest/AlbaTours... When she found out that I had booked on Friday, she told me that the tickets had been printed on Friday morning and that they were hand-writing the other ones. Seeing the line was only growing, I decided to proceed to the Skyservice counters anyways. After approximately 15 minutes, the agent finally handed me my tickets and it was another 15 minutes before I reached to check-in agent. First Air ground staff does the check-in at Ottawa airport for SSV, so I was greeted by a young and sweet lady that was obviously new in the business. I kindly asked If she had emergency exit seats left and was quick to give me row 12, seat A. As I knew row 12 and 13 are the exit rows on a 180-seat A320, I asked If she had 13A so I could get the seat that reclined (she didn't know If 12A reclined or not so I decided not to take a chance). But I questionned myself later as to why I asked this because I wasn't the one who was going to recline for the poor fellow seating behind me... Anyways, I still consider myself lucky considering at least a 100 people checked-in before me and the agent beside her was anything but helpful and friendly. The lady waiting in front of me also wanted the exit row but she didn't get it as that agent told her nothing was left (and that person was not disabled, overweight or anything that could have prevented her from operating the exit). By the time all that process was completed, it was approaching 15:00 and as she wasn't able to tell If we were going to have a hot meal or a cold, bistro-style snack that charters love so much (even though TS decided to bring back free soft drinks and meals, probably because of heavy competition from AC Vacations and Zoom/GTD, which both offer a far superior product), so I went to grab a combo at Harvey's, always very filling
. I watched the little action there was by the immense windows that overlooks the tarmac from YOW's new (and did I mention beautiful?
) terminal building... The envy of Canada, the 8th wonder of the world! Just kidding.
The more interesting stuff at YOW is passed security so by 15:30, I went threw. The process was a breeze this time, a welcome change from this summer's adventure when I was picked up on the way and back from YYC for the random check. As I was picking up my bag from the x-ray machine, a PA annoucement confirmed what I suspected after looking at my boarding pass (which was indicating gate 15) while the screens were showing 13. A gate change. So I slowly made my way to the furthest gate down the hall, which is where a huge glass window separates pre-cleared US gates (1-12) from the domestic/intl. ones (13-22). The same usual A/C were sitting at the other gates, a mix of AC A320 family planes and WJ's 737s. A UAX CRJ was departing to ORD too. Around 16:00, our A320 landed from MBJ, a little late but nothin g that could really delay our departure. Unfortunately, I was unable at this point to get the registration because of the configuration of Gate 13, you can only see to the left of the A/C so it's impossible to see the registration. Hence, my guess in the beginning. Passengers quickly got off from the MBJ flight and by 16:15, the A/C was being catered and cleaned for it's next flight to sunny Varadero!
Boarding started at 16:35 and it was now clear that we would have to be de-iced as freezing rain had been pouring on the A320 ever since it landed. Upon entering the A/C I we were greeted by the purser, a confident looking women who was quite cheery but upon seing the rest of the crew and their sour faces, my good first impression quickly faded. I took 13A and literally laughed when I sat down. The seat cushion was obviously in dire need of upholstery and had well-taken the curvatures of the previous occupants butt's
. Actually, in all seriouness, my seatmate who was maybe 5'6 at most (and I'm 5'9) was sitting higher then me. I took that with humor, knowing I would only be there for about 3.5 hours. I also used the pillow to protect my back from that metal bar I could feel in the seatback. At least, aaaah, the legroom! One thing I noticed, every drawings on that plane were in both German/English instead of English/French. Unless this is temporary, this is not respectful of Transport Canada's policies. Well, the FA quickly briefed us on what to do with the exit in case of emergency and even though at leat half of our fully-loaded A320 was French-speaking, including 10 out of 12 emergency exit seat occupants, French was unexistant on SSV. That FA who briefed us spoke French (as per overhearing her later on) but never bothered doing it for us in French or serving us through the flight in that language. That kind of pissed off the many franco-Ontarians travelling on board. Doors were closed by 17:05 and we we were on our way. The Captain came to have a look to the wings and announced just what I had expected, de-icing. The purser made the usual pre-flight announcement and advised us at the same time that the IFE was inoperative today and that they apologized for this. Ok, I thought, I'm not a big fan of the movie they normally show. No biggie. Some people were rather unimpressed, especially those who had paid 2000$ for their week. I muttered to myself... "you get what you pay for". While being de-iced, our very talkative Captain explained to seasoned traveller the procedure and the details of our flight: 35000 ft. cruising altitude, passing over Washington D.C then on over South Carolina, Savannah... etc. Smooth sailing all the way to VRA, and it indeed was.
The de-icing procedure was followed by a quick taxi to RWY 14 which is highly unusual here in YOW. That runway is barely used, but I guess this was to save a couple of minutes lost. The engines roared and it took a while before we painfully lifted off the ground and climbed, not hard to understand with a full load of fuel and passengers on an A320. We turned slightly to the left, to head full south I guess and the seat belt sign must have been switched off at around 18000' , around 10 minutes after taking off. Upon reaching our cruising altitude, today's service features were promoted and what I expected was confirmed, "Bistro style snack". At least, Sunquest has brought back free soft drinks and water. Here's what our lunchboxes looked like: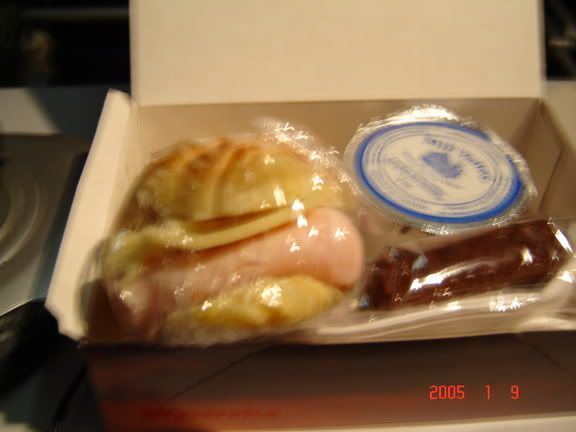 The content of the box: A mini mini cup of water, crackers with Black Diamond cheese, a ham and cheese croissant (for supper?) and a chocolate brownie. The Croissant was alright, I didn't expect much anyways. TS's wraps were better then this. This was followed by one drink service and duty free. Before we started our descent, they came back in the cabin with water. Never any of the 4 FAs serving the aft and front cabin cracked a smile. Only the purser seemed to enjoy her job. They never went into hiding in the galleys though and this was a good point. The service was just plain slow and disorganized. Disenterest from the FA? Inconsistent training, I don't know, but the more I fly Canada's charters, the better AC looks and the less I understand the AC bashing. I mean, in the last 2 years, all the AC crews I had would have beaten hands down both the SSV and TS crews I had this year.
I didn't take any pictures in flight apart from the boxed lunch as it was completely dark outside and I didn't feel like attracting the attention of 180 passengers with a flash for a cabin photo. After 3:05 minutes in the air, we started our descent and the captain was quick as switching on the seat bealt sign, immediately when we started it. I guess this is the rule at SSV. Captain came back on the PA to explain us that we would be in touch with Havana Center shortly and that the VRA approach implied steep turns to the left for the usual landing on RWY 06. He was indeed correct and reassured that they would "try to hold the white stuff" for our return
. We made a smooth landing on 06 and we settled at our stand at 22:02 (about the time, Cuba did not go back to EST but stayed on DST due to electricity shortages in some provinces), in a congested VRA airport. By congested, I really mean that this airport is WAAAAY too small for the volume of traffic it handles. There are only 4 gates, including 3 airbrigdes and otherwise, 3 buses that can move people around. Our A320 parked beside a Livingston A330 that was still deplaning. At the same time, an AC A320 had just arrived from YUL and that's what I noticed (more on the traffic later on). Now, we got off by stairs and the bus ride was ridiculous. Not joking, it took two buses to move us 50 feet (barely 25 meters). Yes, no kidding. They could easily have letted us walk, just like they did in HOG last year. Immigration in Cuba is always fun, really. The agent will either look at you for 10 minutes or you will get threw in one. Depends on who you get and how you look. Once again, joking apart, they were 7 immigration booth open for about 750 passengers arriving, a nightmare. So we waited, and waited, and when my turn came about an hour later, my lovely immigration lady decided that her shift was finished and so, I was sent at the back of another line, and so were the 30 people behind me. At this point, we all started laughing and well, "We're in Cuba"! Tho other line moved quicly and I was in in less than a minute. Now time to pick up the luggage. Of course, with the congestion, our bags weren't on the carrousel yet. Oh wellll. It took a good 15 minutes before I retrieved my bags and I finally found the bus to the Maritim. Sorry, one of the FOUR buses heading to the Maritim. Looks like Sunquest had a good deal
.
Cuba
I had a blast in Cuba. Maritim Varadero was a much better resort than Villa Cuna I stayed at four years before. The rooms were exceptionally nice (especially for Cuba) but don't dare talking about those damn Unican electronic door locks hahaha. Course, I do like fancy technology but isn't it a little too fancy when it takes 10 minutes to figure out which way you must swipe your card? Many great poeple I met there had trouble too, especially after a trip to the night club where everybody's favorite bar tender, Mercedes, was perhaps being a little too generous on the alcool. You were dared to ask for water...
I also went to Havana by taxi this time, and was once again impressed with the architecture and how much restoration work has been accomplished in the last four years! It's like If I visited a different city. After going to Spain, Havana truly ressembles, poverty apart, to Madrid. I made it a must to go to the "Museo del Aire" (Air Museum) and I absolutely must share the rare photos I snapped there with you guys!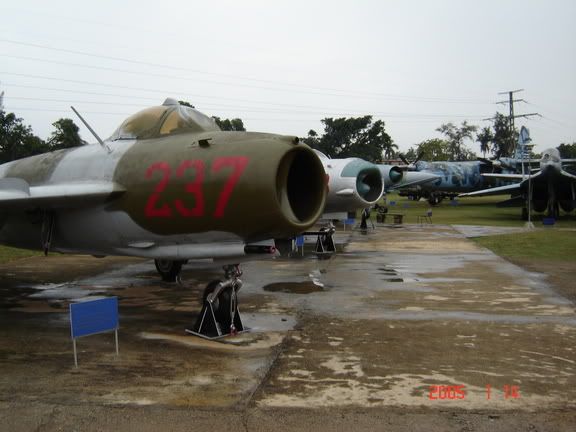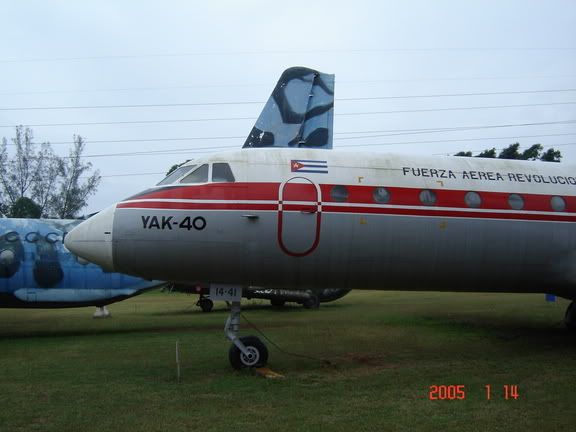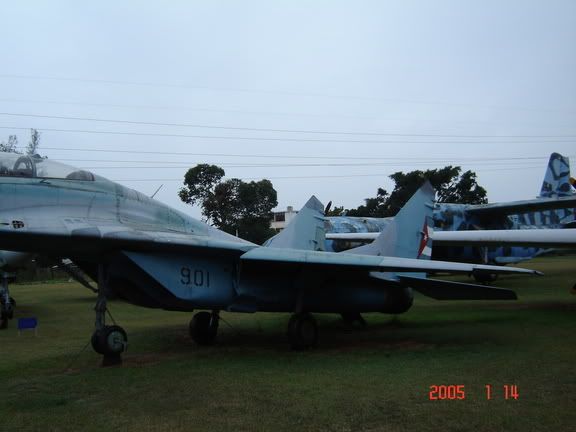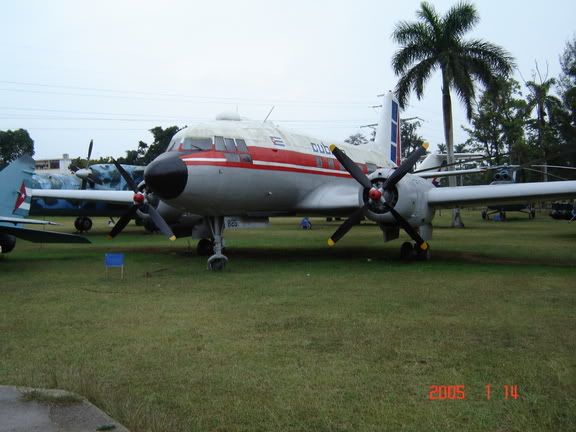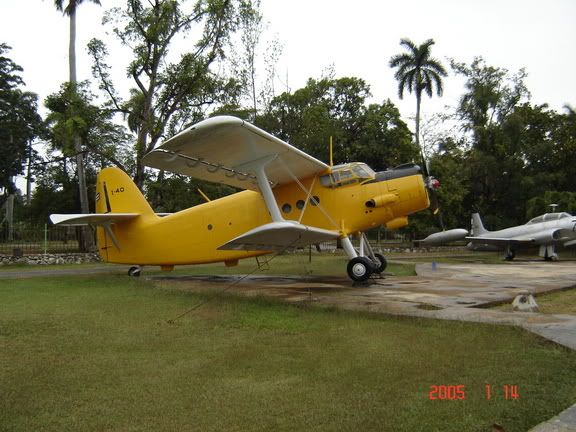 Pictures of the resort, for the American-eye who can't go:
The beach (not the best strech at our hotel though) from the second floor of the beach bar&grill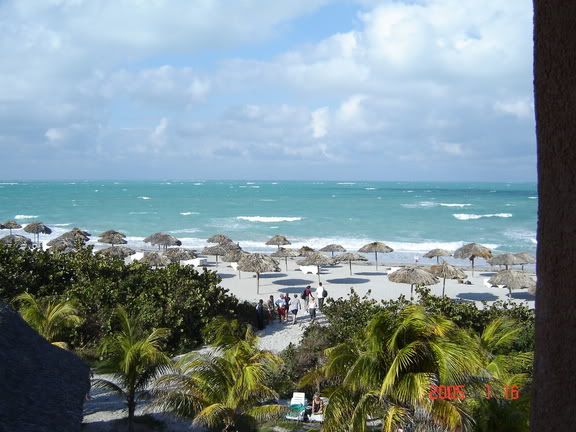 Walkway to the beach and to room blocks closer to the beach: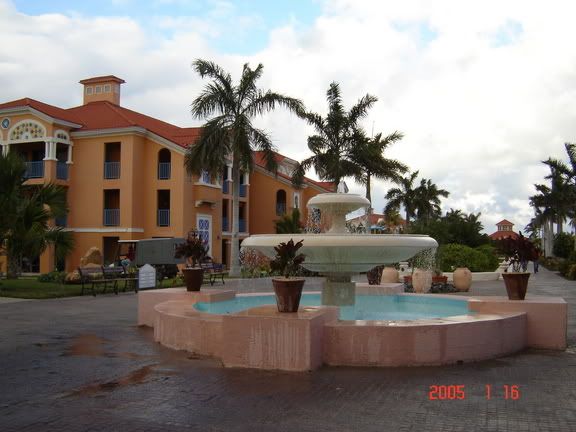 Hotel room: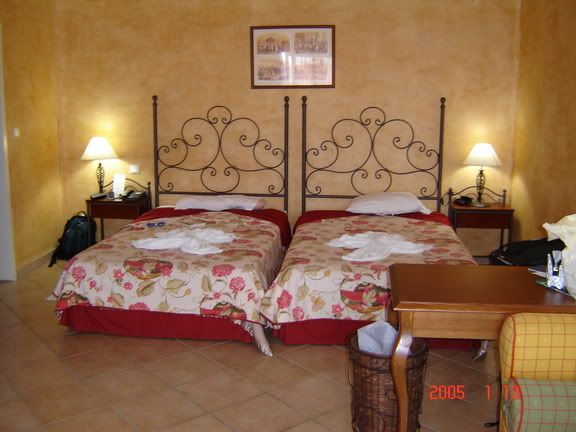 The week came too quickly to an end and it was soon time to get on the bus back to Juan G. Gomez Intl.
JAN. 16th 2005
5G 423 VRA-YOW
Sched. 22:45 --> 1:25
Actual: 00:22 --> 2:28
Flying time: 3:06 minutes
A320 C-GTDM? (Same as outbound leg)
The bus dropped us exactly 3 hours prior the schedule departure time and when I entered the departure hall, my face fell in amazement. So did the one of all fellow vacationers on the same bus... I mean, that place was a zoo, a complete chaos, I still wonder as to why I didn't snap a picture of this, you guys would also have been amazed. They were about 10 flights leaving roughly within a two-hour periode, meaning about 2000 passengers trying to check-in... with 18 check-in counters, yes 18. 16 were open, two for our flight. At this point, I considered myself lucky to have pre-selected my seat. I took about an hour to reach the agent and luckily, VRA check-in is now done automatically and not by hand like they used too in 2001. I don't want to imagine how much time it would have taken otherwise. I proceeded to pay the departure tax and once again, more line-ups! This time for immigration. And I swear I must have had the slowest immigration officer as some of the people I had met before passed before me even though they got in line a good 15 minutes after. After that, I was glad that security didn't have another line-up, I would have gone mad. Now Cuban officials must look at the situation in VRA, the airport is a mess; congested, ultra-crowded, it's not pleasant. As reported before, for 4 gates, you had (with the delays): 1 AC A319 to YYC, 2 AC A320 (one to YYZ, other to YUL), one SSV A319 and a 757 to YYZ, our SSV A320 to YOW, the Livingston A330 to MXP?, a Condor 763, a LTU A330 and a Excel (for Zoom) 738 all departing within a 2-hour period. Like our representative said: they have an airport that was designed for 1 million passengers, but that's going to reach the 3.5 million tag this year... And they are still building new, larger and larger hotels, so much that VRA is starting to look like CUN, slowly but surely (38 or 39 hotels on the peninsula now apparently). The newest will be Blau Varadero with it's 550+ rooms and 14-stories.
Back to the flight, I seated myself with the friends I made there at the Cafetaria and we were waiting for our A320 to show up... 21:45, 22:00, 22:15, and on the screens: 5G 423, 22:45 "ON TIME". Mmmmmm. It wasn't before 22:35 that the it landed on 06 but the screens were still showing on-time and nobody was going to answer questions, no word on which gate, nothing. We saw in the distance that they were unloading the A/C in the middle of the field, space lacking on the tarmac. How we were going to make it, even with a small delay, was beyond me. Effectively, they waited for the Condor flight to depart and the A/C was towed there. By 23:30, boarding was still not started and passengers were forming a line in front of gate 3, even though nothing was indicated there. Around 23:45, an agent showed up and everybody already there to board with no rows being called meant that it was once again, chaotic.
We boarded the same A/C that had brough us to VRA the week before and I was greeted by... the same purser. The rest of the crew had changed though and whoa, what a change. The one serving with the purser at the front was especially sweet and very friendly. Her colleagues in the back seemed to be in much better spirits also. It took a while for the door to be closed after boarding was completed while I settled in 10F and we were pushing back at 00:22. I was surprised at the legroom I had in a normal row. For whatever reason, it was more spacious than the TS 320 I had flown in March (same config). Still, that did not mean it was spacious... It's a charter. By 00:30, we were up and running, taking off from the usual RWY in VRA, 06. We did have a few bumps shortly after departing, understandable given the wind gusts that had been hitting VRA all day. We cruised at 31000 ft. for the flight back to YOW tonight. This time, the IFE was working and headsets were distributed for the cost of 5$ Can. The featured film sounded boring and I had never heard of it so I decided to pass and fell asleep shortly after the same "bistro snack" service (which btw, had the exact same content as the previous flight). One thing I noticed, no compensation were offered for the delay, the airline still had the guts to charfe for headsets and alcoolic drinks, something that doesn't happen normally when you have a delay with AC/TS/Zoom. I slept until we began the descent to YOW so I can't comment on the rest of the service but they must have done the usual duty free run. We landed in YOW close to 2:30 on RWY 32, pretty direct approach and the flight came to an end. An AC A319 was apparently parked at our gate and had to be removed before we deplaned. Immigration in Canada was a breeze and heaven compared to Cuba (not many flight arriving in YOW at 2:30 ...).
CONCLUSION:
Did I like Varadero and the Maritim? The hotel yes, Varadero less, it's starting to be waaay too commercial and touristic. Cuba, of course I liked!
Would I book with Sunquest again (even last-minute)? In one word: No.
Would I give Skyservice another try? Perhaps, considering that the travel provider determines the level of service, I'm not sure of whom to blame for the same snack twice. Delays, that's SSV job to inform passengers and they sure didn't. Basically, service was inconsistent and my first seat, a pain in the ass (and I mean it literally). But I don't like to judge based on one experience so chances of seing me back on board are good
.
Hope you have enjoyed and feel free to comment or ask questions!
(To SSV employees on this board, any reason why this particular A320 didn't have air vents for each passengers which seems to be a standard feature among other A320 operators? Why no handles in case of turbulence in the lavatories also? Just wondering).
'Safe.