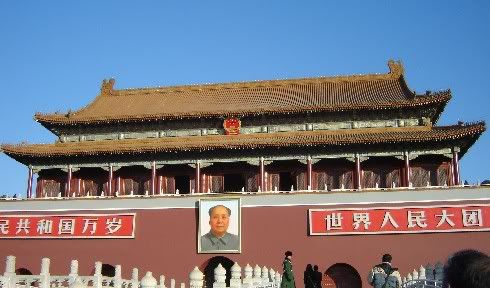 UNITED 889/888
AIR CHINA 8889/8888
Howdy folks,
This was a last minute trip (well, not really last minute but with one week headsup) to Beijing from San Francisco and back. The ticket was issued by Air China with actual flight on United Airlines. After a long time I was flying an American carrier to Asia and both flights were great with service level (call center, check-in, cabin service, in-flight service, luggage handling) exceeding my expectations. Trip was on 2nd week of January and I was in Beijing for six days.
Preparation for the trip
Couple of days before the trip I called United's toll-free number for International travel. I was able to get to the agent with no wait time (I called at 11PM PST) and she assigned me window with both seats next to me vacant. Also confirmed my special meal request and put my FF number into the record (our travel agent said she had put those, but UA was not seeing it – is it because ticket was issued by Air China and they dropped the ball?). Anyway full marks to the call center agent who helped me. Very professional and polite and this was beyond my expectations as my ticket was on Air China stock on a dirt cheap fare.
San Francisco to Beijing on United Airlines
UA 889

Boeing 747-400
Registration: N128UA
Scheduled Departure: 1:35PM
Actual Departure: 2:00PM
Scheduled Arrival: 5:55PM
Actual Arrival: 5:40PM
Flight Time: 12 hours

View Large
View Medium


Photo © Manas Barooah
Check-in at San Francisco
I was at the International Terminal by 11:20AM and was astonished to see long check-in lines at United's Economy class counter. I was expecting it though with all the afternoon United departures to London, Ho Chi Minh, Shanghai, Taipei etc. To cut the long story short, I was able to get into Star Alliance member counter and check-in my bag. Check-in agent was courteous and assured me my bag will make it to the plane as it was 12:40PM by now. But I saw the dreaded SSSS both on my boarding pass and luggage tag.
So with SSSS to take care of, I could not spend any time at WH Smith for any reading material purchase and headed straight to security and was promptly sent to the left most line special for "selectees". I really laughed when I saw the assortment of "selectees" in front of me – it looked straight out of a security checkpoint of some Indian airport – an Indian family with parents and two small kids followed by two elderly Sikh gentlemen in wheel chair. So it took a while to screen them and I was getting nervous if I will make it as it was 12:45PM now. But the Team SFO – private screeners – were efficient and polite as ever and made it quick but very thorough. Carry ons were opened and checked completely with the offer that if I need privacy they can do the checks indoor as well - which I declined.
Anyway by the time I ran to the gate it was a last call for all Beijing passengers. At the gate, no passengers were there and after gate agent tore the boarding pass I headed straight to the plane. Oddly enough, no FAs greeted or were present and even after I entered the plane and walked till my seat none of the FAs standing and chatting cared to wish or smile or make eye contact. Definitely a weird experience – and I wondered if I am invisible for some reason. But not so when I reached my seat where I saw an elderly Chinese gentleman making himself comfortable with his custom bedsheet etc. I politely showed my boarding card and he moved back.
Plane was hardly full today as no one is crazy enough to go to Beijing in winter I guess. Business Class was kind of full but economy was wide open with several rows having just one passenger.
Plenty of leg room on Economy Plus seats, though the cover and headrest looked old, but not dirty. Also the pillow and bet sheet appeared used as sheet was not in the plastic envelope. (or is this a norm in UA?)
Meanwhile Captain on PA and made a very detailed announcement about weather, route and about his colleagues. Also mentioned about Channel 9. We were scheduled to leave ahead of schedule but after few minutes gate agents scanned the plane for two passengers who had checked in but had not boarded. Due to the fact that there were many non-English speaking Chinese on board did not help the situation and they decided to pull the bags out which took solid 20 minutes.
I really pitied the luggage handlers going through the bags in heavy rain and winds. But a short Vietnamese (am assuming he is Vietnamese) dude was amazing and was dancing even in that chilly weather. I later saw him guiding the plane with sticks and doing some kung-fu stunts on the taxi-way to keep the stopped traffic entertained! Meanwhile FAs came with warm towel (or napkin, not the cloth towel like Asian carriers).
Pushback at 1:55PM and we headed to a very cloudy San Francisco weather.
San Francisco Tower - heavy rains and cloudy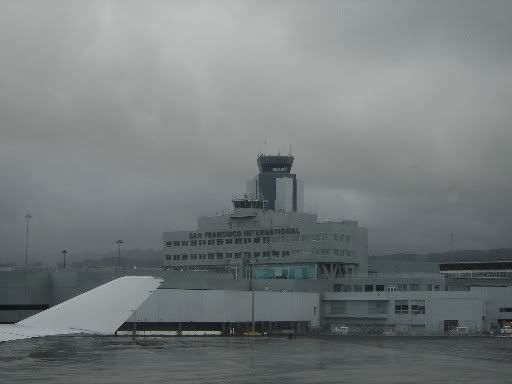 We waited for an Alaska Airlines plane to land before taking off with a powerful roar.
As mentioned it was cloudy, but after bit of altitude gain saw this amazing sight of rainbow around our plane's shadow.
Amazing raindow due to condensation and refraction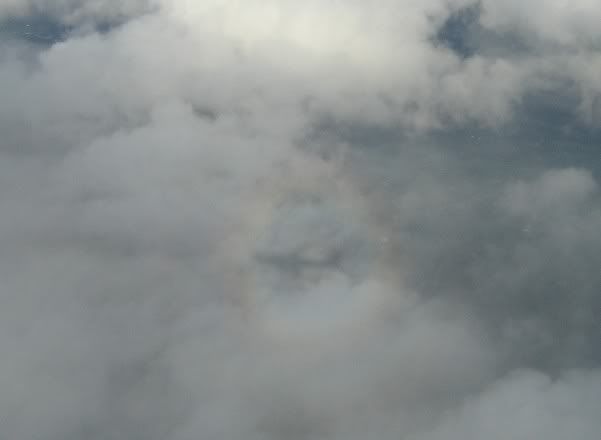 The rainbow halo remained for several minutes. Since this was the first time I have seen this, I made sure that I am not seeing things and videotaped the whole thing! (Since then I have learned that this is quite common). Several passengers were also excited at this point and were rushing to window seats and FAs had to remind everyone that seat belt sign is still on. With clouds gone now we were now over pacific.
Purser came online explained the in-flight services. Dining included lunch + snack box + lunch. And the purser also announced that the galley will be open and we are welcome to ask for tea, snacks, and instant noodles any time.
I received the lunch quite early as I had requested for special meals. Food tasted good and quantity was just perfect – and I was hungry as well.
My AVML - was quite good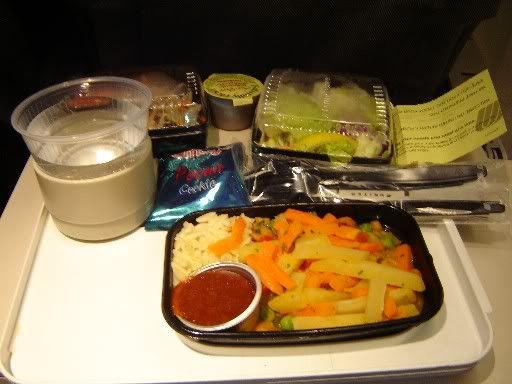 The FA serving our section was an East Indian Male who had an uncanny appearance of Apu of Simpsons. I am not making this up, anyone from UA reading this you know who this person is! This is also the first time I have seen East Indian male FA on an American carrier. But he was one of the most active and friendly FA who was serving passengers non-stop. Whenever I woke up I saw him going around asking for tea, water etc. Later while deplaning, seeing that I was dressed in my business casual (I drove to SFO directly from office) he made a comment "I hope you have warm clothes as it is -7 Deg C outside". Great chap and he could speak Chinese as well.
After drinking cups of Chinese tea I decided to stretch legs and headed to rear toilet. Was quite dirty actually. Only amneties in the toilet were Tampax Tampons – standard issue with no United Logo etc. (and of course I remembered our esteemed Airners.net member "Singapore_Air").
I also saw an elderly Chinese gentleman loitering around and could smell some cigarette smoke! I returned to my seat just as I saw two FAs rushing to rear of the plane saying someone has been smoking! Immediately a stern announcement was made along with the fines that will be imposed etc – both in English and Chinese.
I setup my bed across 3 seats and slept nicely for three hours. At some point my special snack box was placed near me and when I woke up Apu came with tea and more tea. All other passengers were having instant noodles (part of their lunch box). Mine contained some fresh salad and very tasty cucumber sandwich. So I slept again listening to Channel 9. Not sure if it was Russia but the ATC transmission was full of static, but the chap was having a busy day directing many North America – Asia flights in a very grumpy voice.
It was getting dark at this point and saw an airport below. I am not sure if it was Mongolia or if it was some airport in Russia?
Some airport over somewhere: Mongolia? Siberia?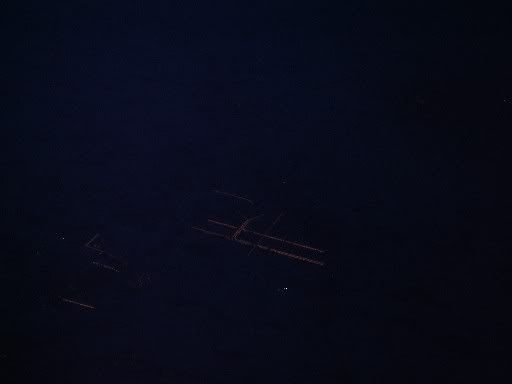 With 90 minutes to land, cabin lights were switched on and we were treated to another round of lunch. Again, I received it before other passengers – and it tasted good as well.
At this time I filled Chinese immigration and customs paperwork. It was interesting to see how little details are asked in the immigration form. I had the same experience getting Chinese visa at San Francisco as well. I expected all sort of documentation, but to my surprise all they required was passport and dollars along with completed application. Compare that to applying for Schengen or Canadian visas which require complete confirmed itenary along with hotel reservations, invitation letter etc. (Before some wise says "But who on earth wants to go to China anyway?", I would humbly request this person to check the profile of travelers to China from US. With everything from pins to cars coming from China, there is a huge group of Americans who travel all the time to China). Got to wonder which really is "closed" country.
Arrival at Beijing
Once everything cleaned up, FAs came for some more rounds of tea. Captain at this point announced that we will be starting our descent into Beijing. Smoth descent and after a very large U turn we started our final approach. Many well lit squares were visible but since airport is quite far from the city center did not really see many lights as one would expect out of a large capital city.
First impressions of China
Landing was smooth and on the right side saw lot of construction work going on as we taxied. It was very dark around the runways though. At the terminals saw some Air China and behind us was Air China 747Combi which tagged us all along from San Francisco!
While deplaning Apu commented that it is very cold outside. I thanked the FAs for great service. There were couple of cops (or military) at the bridge. It was quite a walk to customs and immigration but I was impressed with the airport – spanking new and well maintained. I also liked the huge mural while going down the escalator.
Customs form was taken before immigration. There are tons of immigration counter – separate for Chinese and foreigners and both had equal number of passengers. They opened some more counters with our flight and I went straight to the officer. Officers were well dressed but as cold as any immigration officers. Not a word spoken and my passport was stamped.
Went to luggage claim and found my bag and headed straight to taxi stand. True to some guide book's warning, there are some touts inside the terminal pestering you to take their taxi and they even flash "Official taxi" badge at you. Outside, a cop guided to the taxi and handed me info booklet on how to complain about bad/cheating taxi drivers etc.
After 30 minutes drive to downtown, I checked in to my hotel. It was -4 Deg C outside! Since it was quite dark could not really see anything much - only thing I remember was it was quite cold and I had to tell the driver in sign language not to smoke!
***


RETURN LEG:

Beijing to San Francisco

UA 888

Boeing 747-400
Registration: Could not get – due to SSSS distraction at gate
Scheduled Departure: 1:30PM
Actual Departure: 1:25PM
Scheduled Arrival: 8:25AM
Actual Arrival: 8:10AM
Flight time: 10 Hrs 40 Mins


I will make this quick:
Left my hotel at 9AM and after beating not-so-bad Beijing traffic reached the airport around 10AM.
Toll booth on the way to Beijing Airport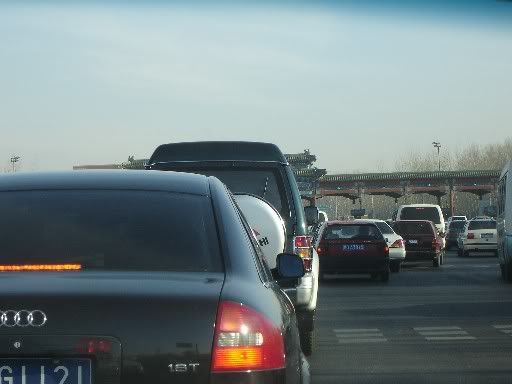 Went looking around for Depature Tax counter but could not find one. An American was also running around and we found that it is no longer collected at airport, but is part of the ticket. (another reason to read the breakdown of feesl!). So went to customs check-point – all foreigners were entering "Nothing to declare" while there was a huge queue of Chinese nationals at the red channel. Once inside went to UA counters – agents were not yet in but came around 10:20AM with identical transparent lunch boxes like school children. All agents were very well dressed compared to the agents in US.
I was one of the first 10 in the line and once the counters were open went and requested for window seat. Again I was assigned Economy Plus seat. Again with the SSSS on it. The agent asked me to take my check-in luggage to a table right in the middle of other passengers checking in. Opened the bag and this lady did not have any gloves – but went through all my undies and stuff. Only time I got alarmed was when she opened the whole stack of DVDs I had bought and went through them one by one. (BTW 80% of the DVD prints were excellent including "Meet the Fockers", "Aviator" - 20% were screen prints or don't work – but hey for less than a dollar for a DVD it's a good bargain. I am sorry if I offend anyone here on the board who are offended by pirate DVDs). Once that is done bag was closed a sticker was placed on the bag and I was asked to go to counter 17 and deposit the bag. An agent came with the luggage tag and tied it.
Departure Immigration
Immigration was quick – again no smile, no words exchanged – just cold stare by the officer. Then came hand luggage check – my torch raised alarm and bag was thoroughly checked and batteries removed and inserted.
At this point it was 11:30AM and since I still had 1.45 hrs I went around the airport. Pretty much Air China planes but Ethiopian ET-ALL was getting ready to depart to New Delhi on the way to Adis Ababa. Also some Japan Airlines, Aseana and Korean Airlines were in the gates. An Aeroflot departed to Moscow late at 12:15PM. I was quite impressed with Aeroflot livery – am seeing after a long time and last time I saw SU was when they were flying to SFO.
ET-ALL Ethiopian 767 - was on the way to New Delhi and then onto Addis Ababa
View Large
View Medium


Photo © Shenzhe
Meanwhile watched TV and also found Beijing Capital International Airport magazine. Quite a glossy magazine with a warning that it is for airport reading only. English in the magazine was hilarious - it appeared it was translated word to word from Chinese. I was really tempted to take the mag, but did not as I could see "eyes" everywhere.
Went to Gate 14 just as the announcement was made to fill in our names on the back of boarding pass "due to security reasons and FAA regulations". Boarding call was made according to Group Numbers (and was strictly enforced). Not surprisingly I was sent for screening again at the gate due to SSSS – right to the gate where five really bored folks went through my bag and screened me. I am not sure if boarding was put on hold for some reason – anyway when I was done boarding had stopped, but I was allowed to walk to jetway and to the plane without any crowd.
Found my seat and again no greetings or smiles while boarding. Overheard an FA saying flight is full and so is Shanghai to SFO. It was indeed a full flight and there were many what appeared to be first time air travelers as FAs had to show them how to wear seat belts and stow the luggage for them etc. Chinese speaking FAs really had a busy time during the whole flight.
Pushback as well as departure was ahead of schedule. My neighbor was a marine looking businessman dealing with automotive parts and said they supply stuff to Toyota.
Beijing Airport Tower
I switched to channel 9 and was quite impressed to hear lady ATC with perfect English. It was also funny to hear cockpit crew and ATC saying "United Eight Eight Eight".
Final view of Beijing Capital International Airport
We waited for this China Xinhua Airlines to land before taking off with powerful roar. Since it appeared we headed north I looked in vein for any signs of Great Wall. We climbed quite slowly per ATC instruction (due to oncoming traffic).
China Xinhua plane landing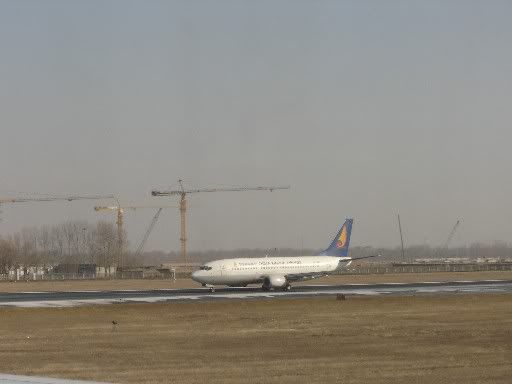 We were again given warm towel followed by drinks, lunch. I again received my lunch earlier than others – and tasted very good. FAs were quite busy with the first time air travelers, so did not quite seem them going around with drinks etc as I saw on SFO – PEK sector. But I slept nicely during this sector so do not remember much of what happened. Lunch box again had cucumber sandwich, cookies while others received instant noodles.
Just before arrival – it was still dark – we received breakfast which was good.
Sunrise over Pacific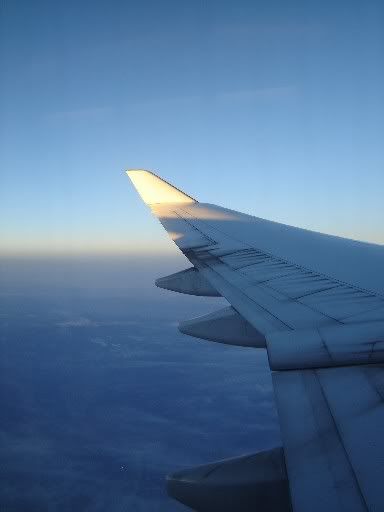 It was cloudy as we the beautiful Bay Area entered into the view and I was still on Channel 9. Oakland center had quite a busy time with all the United heavies pouring in from Asia. Some samples: UA886 Osaka, UA892 Incheon, UA862 Ho Chi Minh, UA852 Taipei. There was some confusion whenever UA852 and UA862 were referenced with both pilots responding to the call.
First view of US West Coast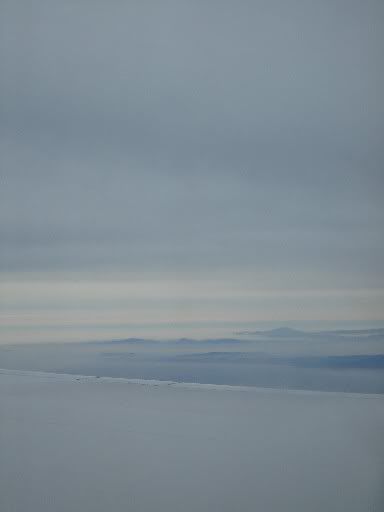 Pilots could not locate the runway or bridge and ATC guided them through for some time and then we heard "Prepare for landing" instruction and landed beautifully ahead of schedule at San Francisco. Nothing like coming home!
SF Bay Area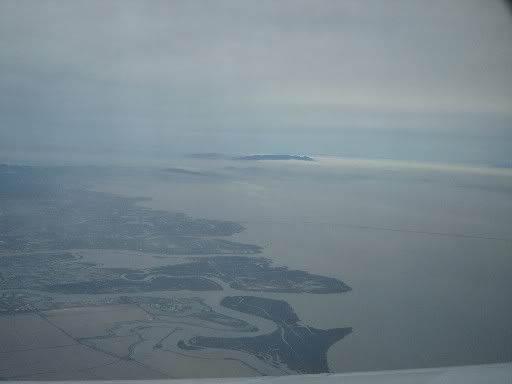 Since I knew there were tons of heavies right behind us, I made a run to the immigration to beat the rush. (there was no passport check at the gate). Luckily ours appeared to be the first one with UA from Osaka right behind us. There was hardly any line at immigration counters and some officers were just booting up the computers. The cheerful immigration Officer wished me "Have a great day Sir!" at the end of fingerprinting and photo routine and I felt right at home. Always a great contrast when compared to immigration officers of other countries. My experience with SFO immigration officers always has been excellent - it is amazing that they have friendly attitude and do a great job even when massive heavies full of non-English passengers arrive.
Bags were just starting to appear at this point and after a wait of 5 minutes my bag arrived and I passed customs/food inspection without any issues with the FDA/Customs Officer again wishing "Have a good day Sir".
Walked straight to Parking Garage G and headed home to end one of the very hectic but a very differend kind of trip I ever took! (notes on Beijing at the end for those who are interested)
Summary:
United Airlines definitely was a surprise – especially considering the dirt cheap fare paid on Air China stock.
Here is my score list for SFO – PEK
Pre check-in
: Phone customer service 10/10. Agent went beyond the requirement to put all the details into my reservation – even though I was on Air China stock.
Check-in
: 9/10. Long queue, but not United's fault. Good idea to arrive at airport 2.5 hours before departure.
Boarding:
4/10. Gate agents were busy counting boarding passes and did not even acknowledge my presence. Had to wave my boarding pass which she quickly tore and sent me down the bridge. But oddly enough the FAs also did not ack my presence at the door and were busy talking among themselves! I don't really expect SQ style welcome where even for Y class passengers the FAs address them by name and show the seat, but what about the basic courtesy!?
In-flight entertainment
: 6/10 - Catwoman etc with the overhead shaky monitors was pretty much useless and I really longed for the air show. Channel 9 a definite plus since it gave some pointers on where we are at.
Plane condition:
6/10 – N128UA has seen better days, but considering its comparatively young age (delivery 5/12/2000) seats and interior were quite shabby – or was it the lighting? Anyway just did not get the usual crisp and bright "plane" feel I entered the plane. Toilets were in bad condition as well. Overhead monitors were displaying shaky black and white images.
Seat pitch
: 9/10. Economy Plus seat was fine (I am 5.9) and the empty seats next to me was a definite bonus!
In-flight service:
9/10. FAs were around all the time with tea, water, juice etc and were quite prompt in attending the call. And yes, most of the FAs looked quite old, but polite and helpful. Not as cheerful and made of "spring in the steps" FAs of SQ or CX or for that matter JAL – but am not a demanding passenger anyway, so did not really matter to me. I was quite impressed that FAs just did not disappear and couple of them were always there going around non-stop with water, tea etc.
So all in all I was pleasantly surprised with the service on United. And I will fly them again to Asia based on this experience. (with only wish being PTVs – not for entertainment but for the airshow map!). Kudos United!
RANDOM NOTES:
Who really puts SSSS on the ticket?
Since my boarding pass issued at Beijing had SSSS on it – who really decides to put this SSSS thingy? Is it United or the Supreme God FAA or some uber computer which is connected from all over the world? Or is it for any round trip tickets issued in USA? If that is the case, will a non-US carrier boarding pass also contain SSSS? For example: Air China from Beijing to San Francisco?
Some A380 Notes:
• Airbus A380 ads were quite common on Chinese TV with ads both in Chinese and English.
• Huge A380 hoarding right outside Beijing airport on the way to Beijing city
• Malaysia Airlines ad for A380 launch customer was also being repeated on CNN Asia.
Non-Aviation:
As Nixon said "It sure is a great wall"!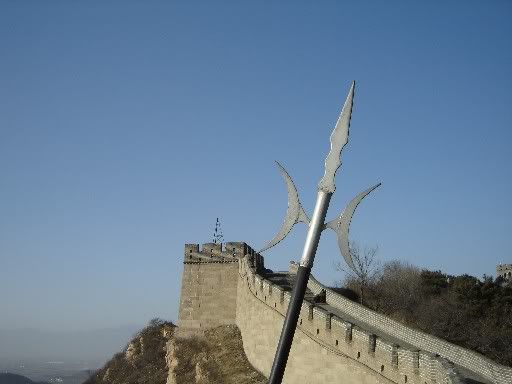 Notes on Beijing
China is on the move and the amount of construction going on in preparation of Olympics is just amazing. It is as if Chinese are trying to prove something to the world. Also many of the impressions I had about China were shattered – right from the moment I applied for visa – to the experiences I had at Beijing. Some areas are right out of Manhattan while some lanes and slums are right out of Calcutta – so like any other capital city, Beijing was city of contrasts.
***
Good cabbies of Beijing
During my stay at China at no point I felt cheated by cabbies – everyone went by meter, so no scope for argument etc. Only issue was contrary to governments claim that 80% of the taxi drivers speak English none of the drivers I had spoke any English and had to be given instruction in Chinese by the cops or by the hotel
***
Hotels
Being winter offpeak season, the usual hordes of Korean and Japanese tourists were missing. And that means excellent deals at Five Star hotels. Dinners I ordered room service and was excellent – since I am a vegetarian and had trouble finding vegetarian food at restaurants. For three nights the Frontdesk even pestered me for full body "massage" in the room which I politely declined.
***
Sightseeing in winter/Notes on Gray Line Beijing Packages
I was lucky enough to do some sightseeing for couple of days – even in minus 7 Deg C – skies were clear so I really enjoyed the sights. Climbed GreatWall twice (and have my twisted foot to prove it) as the GrayLine Tours I took had that in common on both days, but no regrets. Very few tourists due to off-peak season so I enjoyed the solitude climbing the wall and walking for few kilometers. I highly recommend Gray Line tours (can be booked through Expedia.com) – very professional with hotel pickup and good English speaking guides. Only let down were the trips to Jade Stores and to the Friendship stores. (be ready for heavy bargaining). I took "Greatwall Tour" on one day and "Essential Beijing" on the second day. Forbidden City was a huge let down though - typical tourist trap. And for Olympics some sections are being completely rebuilt in wood and made to look authentic.
***
Traffic
All horror stories about Beijing traffic is true to some extent during peak hours, but infrastructure is also being added rapidly.
***
English, TV, Media etc
Lack of English can be a problem if you are on your own in the street. But English works at most of the upmarket places and for shopping there is always the calculator! Odd thing I observed was the Weather man, Sports Anchor on the China TV English broadcast were Americans. Are they students or some backpackers making some money working in China? Also the Chinese anchors on English broadcast had American accent (I expected British). I received China Daily every morning - very dull newspaper with full of propaganda printed on cheap smelly newsprint.. Oddly no advertisements in whole newspaper.
***
All in all it was a great trip and good cultural experience. Looking forward to my trip to Shanghai in summer. If you have any questions about this trip report let me know!
.END