As you may have read on my earlier outbound report on NW from JFK-DTW-FCO, I noticed a lack of motivation on the part of the airline employees. Not that they were rude to me but they could be if a passenger didn't treat them in an optimal way. Whatever the case may be, they didn't seem to enjoy what they were doing, something I took for granted flying Swissair up until a few years ago. I was hoping KLM would provide me with a similar experience.
The last time I flew KLM was in 1999 ZRH-AMS-DTW; JFK-AMS-ZRH and their service seemed to be OK despite the fact the planes I was on were a bit old (both the trans-atlantic flights were on the older B747-206B SUDs). I was hoping for them to improve a bit on that. So, after spending some nice long days at home and at the spotter terrace in ZRH and grabbing some nice shots from there, it was finally time to go back to the U.S.
Date: August 21, 2004
Leaving: Zurich ZRH
Arriving: Amsterdam AMS
Airline: KLM
Flight Number: 1952
Scheduled Departure: 07:05
Actual Departure: 07:02 takeoff 07:09
Scheduled Arrival: 08:45
Actual Arrival: 08:23 landing 08:20
Departure Gate: E52
Arrival Gate: D46
Departure Runway: 32
Arrival Runway: 6
Seat: 21A
Aircraft: Boeing 737-406
Registration: PH-BDY new colors
View Large
View Medium


Photo © Manfred Biel
Woke up at 04:15 bright and early to catch this 07:05 KLM flight to AMS with a connection to JFK. The Swiss leg of my vacation had come to a close and the final stretch of the one in New York was to begin. My dad drove me to ZRH at 05:00, arriving 20 minutes later with no traffic in downtown Zurich. He would later catch the 12:40 SWISS flight to JFK and we'd meet up there at Terminal 4, arriving an hour earlier than me.
KLM, unlike most airlines, chooses its aircraft on base of demand and thus varies every particular day. KL1952 is assigned to be a 737, as are most flights out of ZRH to AMS. Sometimes it's a B733, other times a B734 or B738. I'd previously checked out what type of aircraft it was on the Zurich-airport.com website, which lists registrations. It listed it as a B737-400, registration PH-BDY. Once in AMS, I would hop on a new B777 to JFK with a 5 ½ hour layover in between. Or so that was going to be the case…
Arrived at KLM's check in counter at 05:20. There were four desks; one for Business, the other three Economy. I joined the shortest Y-class line. As soon as the sole passengers at the C-class line checked in, an attractive agent approached me and asked if I was traveling alone and that I could check in there. This was great – no waiting in line. I handed over my passport and she asked whether my final destination was New York JFK to which I replied "yes". She also asked to see my hand luggage. I asked for a window seat on both flights as I was only able to find a middle seat on the AMS-JFK leg when I booked. After about 30 seconds of waiting, she said she found window seats for me on BOTH flights – 21A for the ZRH-AMS and 27A for AMS-JFK. I was thrilled as my only previous flight on the B777 I could only get a middle seat (an AF flight from ATL-CDG) at the last-minute thing since I'd missed the direct flight ATL-ZRH. But that's another story.
The check-in agent made an excellent first impression of KLM – polite, but most of all, bright and cheery even at this ungodly hour and seemed to enjoy working. Also, the boarding passes were glossy with a full-color "Swissport" logo on them. Very nifty.
Passport control is right in front of the desks. After less than a minute of waiting behind some 7 or-so traveling parties, it was my turn at the desk. I held out my passport and boarding pass with the intent to place it on the desk but the guy told me "you can go" in a very rude tone. From the passport control, there is an escalator down to the now-defunct Terminal 2. The only operating gates there aren't even gates – just boarding areas. Aircraft park by the jet-bridges but only to wait the hours when they aren't disembarking or receiving passengers at the new terminal (some Asian aircraft are in ZRH for five or six hours). It is a very sad sight as I can remember flying out of there not too long ago. It is in horrible shape.
Almost immediately after the escalator, there is a walkway that connects Terminal 2 with Terminal 1. It is in this walkway, in the middle, that there are the escalators down to the train station to access Terminal E. The train station itself is pretty nice. There are trains every three minutes and it takes two minutes to complete the journey. There are two trains. It is very much like an underground version of the trains at DTW though these travel a bit faster – probably somewhere around 50 to 60 km/h. Once at Terminal E, I ascended up an escalator as the first one off the train. There was no line whatsoever and, judging by the length of tape surrounding it, it seems lines here can get quite long. In fact, there was nobody at all. Proceeded through security, which is very efficient and thorough.
Terminal E is very modern but very empty. There were few overnighters, one of which was PH-BDY. In fact, the only other two were a Belair 757 and a CSA 735. It is very clean and bright. I sat down in one of these extremely comfortable chairs that conform to the contour of the body. I could only stay there for a few minutes as the wave of runway 34 arrivals was about to start at precisely 06:15. It was 06:00 when I sat down. In reality, I could spend hours there probably sleeping. In fact, that is the best place to spend a layover after a long flight where you can actually sleep. These chairs are very scarce, though. At this hour, there was nobody. I counted about five of these chairs, dispersed among the various gates.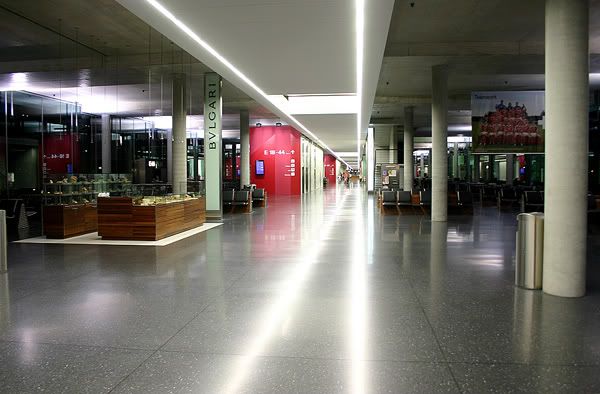 It was a SWISS A340, which wishes to remain anonymous, that disturbed me from the great comfort of this chair. I fixed my eyes on the window looking for lights signaling other arriving planes. I can actually see these arrivals from my house, though very far away, coming over on the other side of the Lake Zurich and they come one right after the other. A pair of SWISS A330s followed suit as HB-IQK and HB-IQO touched down. I'd seen both those planes depart ZRH the previous day so now they were arriving from their respective locations (BOM for HB-IQO). After, 9V-SPE, a Singapore B744 touched down and arrived at its gate and two other A343s. This is wide-body heaven!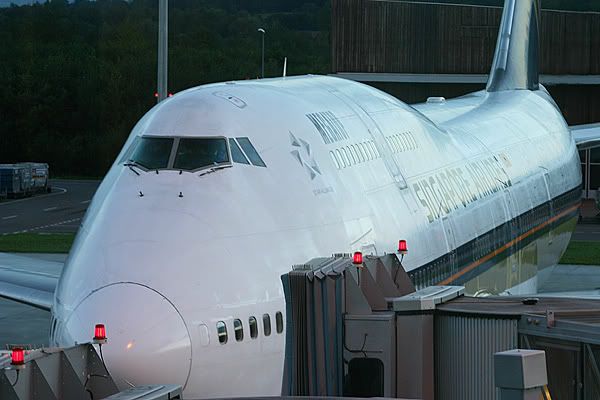 I headed over to gate E52, where the KLM flight was due out of. Boarding was at 06:35 but it was very hard to tell which rows had been called. After a few minutes, I heard "rows 15 to 26", so I joined the short line and made my way through the beautiful glass air-bridge onto PH-BDY. I touched the fuselage and entered and found the cabin to be in very good shape. In fact, if I didn't know the type, I would have mistaken it for a B738. The C-class seats didn't seem to have a whole lot of legroom and were in 3-3 configuration. I haven't heard anything about their short-haul premium service but I've heard great things about their long-haul product. But that was not me. I headed back to seat 21A in Y-class.
The seats are on the firm side and are narrow. Legroom was better than I'd imagined. Load factors for the flight were around 80% and the middle seat next to me remained unoccupied. Pushback was three minutes early at 07:02. We started what looked like taxi to runway 28. I started to get a bit suspicious when we turned left rather than right at the end of the concourse. I couldn't understand whether there was another way to get to 28 or we were taking off from 32. Less than a minute later, runway 32 was in sight and we aligned on it. Runway 32 is very rarely used at ZRH – out of the many times I've gone spotting, I've only seen it being used as the active once.
Takeoff roll was a rather lengthy 38 seconds and we made, expectedly, a left turn shortly after departure not to disturb the Germans mere miles ahead from the runway centerline. It was one beautiful day in Zurich with the sun having just risen. I was able to make out the city of Zurich and the various lakes. It was to be a short flight, so I popped in some music on my CD player, sat back and relaxed. More specifically, I put in some of Holland's own DJ Tiesto to get me into the mood.
The snack service was started as soon as we reached FL330, our cruising altitude. It was going to be a short flight of just over an hour. A rather young flight attendant in a beautiful blue uniform served me this whole wheat sandwich along with a beverage. The sandwich had some sort of cheese, about three slices but why stop there? Usually sandwiches have a few different things inside of it. This one had only the cheese and the bread was very thick. Not very appealing – I would give it about a 3 out of 10. At least it is more than what you get on a one-hour domestic U.S. flight.
The flight attendant came around a second time asking for coffee or tea. I took some tea. Shortly thereafter, I headed to the lavatory. For some strange reason, the toilet had problems flushing some toilet paper from a previous user as there was some remaining. Maybe the flushing system should be more potent. Nobody likes to poke their hands down there just to get the stuff through. I sure didn't.
With tunes from In Search of Sunrise Vol. 3 filling my ears, the remainder of the flight was quite enjoyable. The seats aren't as bad as they seem; I wouldn't have too many problems trying to fall asleep for longer flights. The descent was already underway but the cloud cover was thick. Despite this, the descent was very smooth.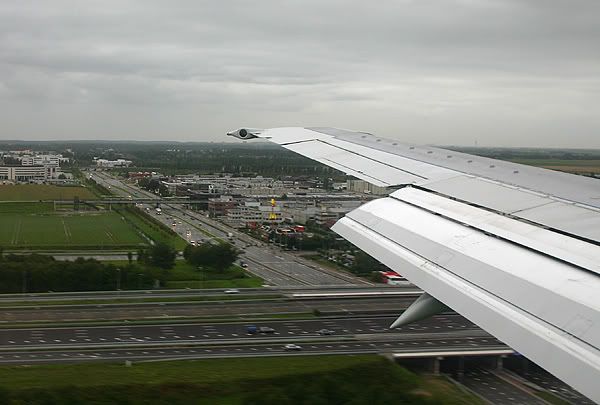 It was drizzling very slightly as soon as we broke out of the clouds a few thousand feet up. Landing on runway 6 was perfect and we passed a few cargo buildings on the right. It was barely 08:20. It was a short taxi to gate D46, where we arrived three minutes later at 08:23. Deplaning was very organized and I made my way out of the plane to the terminal overall very impressed with the service on short-haul flights on KLM's part.
AMS airport:
Our arrival was more than 20 minutes early so that meant I would be spending at least 6 hours at the airport. I was very much thinking about that flight on the Triple Seven. I spotted an MD-11 over at gate D3 PH-KCB. I saw a few B747s from that window parked at pier E. Upon reaching the central area of the terminal, I checked the monitors for information on my connecting flight and also where PH-BDY was headed. The monitors were only listing departures up until 13:15, so mine wasn't listed. My boarding pass listed gate F6, so I was going to go there. Also, PH-BDY was going to WAW. I wondered if I was going to catch it arriving back in AMS hours later.
The layout of the airport is the best I've seen so far. There are wide moving walkways throughout the terminal and the distances aren't huge at all. There is only one terminal with various concourses (piers). Near the F-gates, I noticed a Mercedes S600 stretch limo which attracted the attention of more than a few passengers, myself included. At 145,000 Euros, who needs the twice as expensive Maybach when you've got this? A B744 was parked at gate F6 doing the 10:20 departure to ORD. There are monitors at every gate that display flight information for that particular gate. The next flight leaving out of that gate was KL641, my flight to New York.
I did a bit of spotting at the E-pier where there were two NW A333s (none of them N808NW, sadly) and a Singapore Airlines B777 9V-SVN. From there, it was off to check out some of the U.S. airlines over at the G-pier. There was a Continental B777, a pair of Delta 767s, and a United B777 parked at a remote stand. The United one was N775UA, the first one painted in the new colors. Unfortunately, window reflections made it impossible to get a good shot of it.
Walking back from G, I began to feel it. I'd been up since 04:00 having slept only three hours. I was starting to feel very tired again with little energy to continue and move. I was content with the spotting results so I headed over to an area with plenty of seats. The closest I could find was one near an electronics shop with an excellent view of gate D3. I was there a good hour or so from 09:40 to 10:40. The seats are nothing special but I was able to get some good rest. By the time I left, I was already feeling much better.
As I rose from the comfortable seats, I was thinking my flight should be listed on the monitors. I checked the monitors nearby. It was indeed. KL641 14:15 departure to New York JFK leaving from gate F6 delayed until 17:00. Delayed??? There my flight was delayed 3 hours on top of another long connection. I waited until 11:00 (05:00 in New York) to call my mom as she was picking up both my dad and I at JFK. This meant I would be spending more time in this wonderful airport and taking more photos of planes. I'd already spotted a few KL 777s, obviously not mine, so I figured I could pretty much tell which one mine was going to be just by process of elimination. There are only 7 Triple Sevens in the KLM fleet.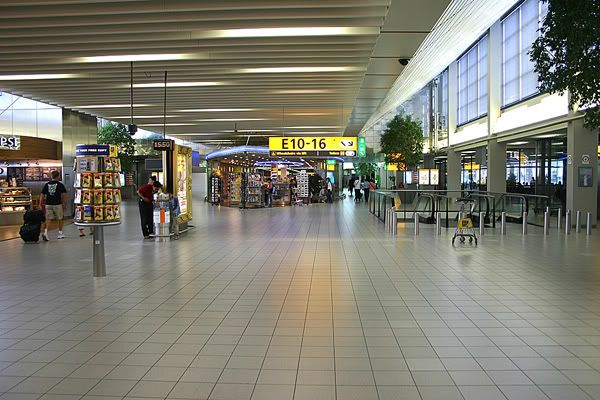 I took a few photos of a NW DC-10 pushing back then decided to check out the famous AMS observation area. Of course, I would have to clear security again afterwards. I had to show my passport on the way out to the baggage claim area. From there, I went outside to get some good photos of the tower.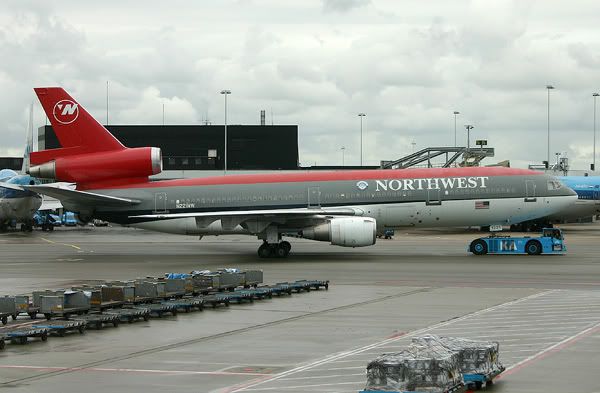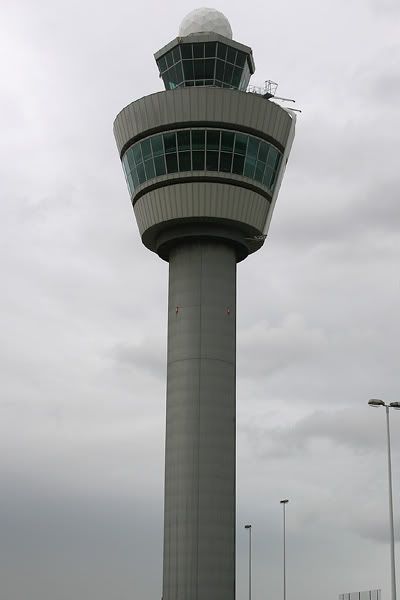 It was a cool, breezy day in August, about 55 degrees Fahrenheit. I checked out a parking garage to see if it had some good views of the action but it didn't. I re-entered the building and followed some clearly-marked signs to the observation area, written in English. This is in contrast to the Zurich airport's observation area, where the signs are in German, so people who can't understand German don't know where to go.
I passed a few bars on the way up to the observation deck. The first thing I noticed about the deck is you access it by these revolving doors – there is no security screening area as there is in ZRH. Second of all, admission is free. I was in awe at this. Entering the area, there was a pungent smell of Jet A fuel. Even though the weather wasn't great, there viewing area was full of people. ZRH only has this many people when the weather is nice. At least it wasn't raining. At least not yet.
I captured a few shots of a NW DC-10 in the new colors N239NW as well as one of KLM MD-11s in the new colors, one I'd seen in MIA exactly six months previous. It was starting to rain and there are very few covered areas. I took a few more photos and headed back inside to clear security after about an hour. Overall, I was impressed with the viewing area, however it is impossible to get any action shots, especially the type ZRH is famous for. With lots of spotting areas around the airport perimeter, locals have a chance at some excellent shots.
The lines for check in were very long. I sure was glad I already had my boarding pass for the JFK flight printed out in ZRH. I joined a security line that was not ridiculously long. But then I noticed it was only for the A-gates to the D-gates. My flight was out of the F-gates, and although I had very much time, I didn't know whether the officials would say anything. Better play it safe and find the correct security line. A bit later down the line, I found it. The lines were equally long as the previous ones. It took just under 10 minutes to wait for security. The officials there are quite friendly, I find. I took a few more photos and went over to the area between the F-gates and the G-gates to find a place to eat. The actual restaurants are quite expensive, especially if you only have U.S. Dollars on you. I grabbed a quick burger at McD's – which has some nice views of the terminal and tarmac – and resumed spotting.
By then, I'd caught nearly every 777 in KL's fleet except for PH-BQA and PH-BQF. I spotted one in the distance but didn't have time to check it out closely (turns out it was BQF). It could have been either one of those two. I made my way back over to the D-gates for some spotting. There was a Holland Air B767 and SWISS Avro RJ-100. Taxiing by was an Air Transat A332 C-GITS.
On my way back into the main concourse area, I observed a B734 in the new KLM colors parking at gate D3. It was PH-BDY arriving from WAW. It was 15:15. I wouldn't have caught it had my flight left on time but now I did. I hurried over to the area I was resting at and got a nice shot of it. When you leave a plane, it turns around to collect passengers, then leaves for a distant European city, turns around there, and then returns all in the space of time you are at that airport, that's when you can say the layover is long.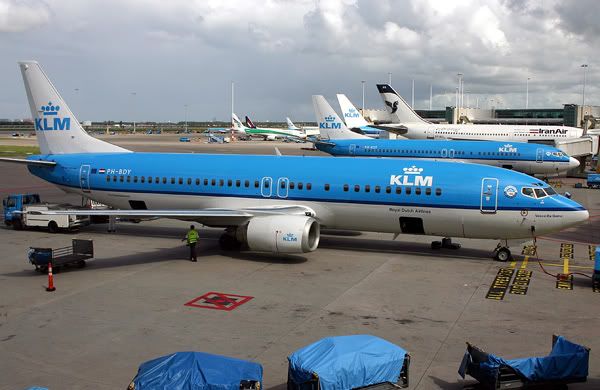 As it was past 15:00, I was thinking my plane was already at its gate. I started a brisk walk, eager to see whether it was PH-BQA or PH-BQF. I collected registrations along the way including a B767 in the new colors at gate E5. I noticed a few 747s parked in the background and got those registrations as well. One was in the new colors and the other in the old colors. The registrations were PH-BFT and PH-BFD. I collected those registrations in my logbook and then my heart sank. It had just occurred to me one of those 747s (that would be BFD) was parked at gate F6. I returned to the spot where I took the registrations down and noticed indeed that was gate F6. I turned to the nearest monitor and saw my flight was still leaving out of F6. Was this an equipment change?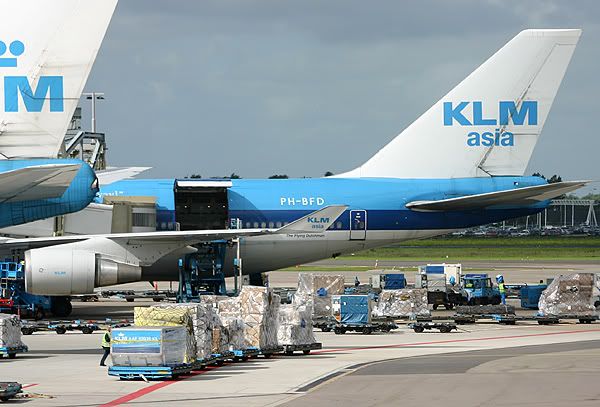 I promptly went over to gate F6 where the gate monitor showed the JFK departure being delayed until 17:00 and PH-BFD, a B747-400M, City of Dubai in the KLM Asia colors being loaded up with various cargo. From there, I started a brisk walk over to the transfer desk to find out more. The gate was crowed with people so I was thinking it was going to be tough to get a window seat as I would likely have to have my seat changed.
At the transfer desk, a young woman asked if I needed anything. "Yes, what is the situation with KLM641? I noticed a 747 at the gate but the flight should be a 777. Is this an equipment change?" The agent replied "Well, this flight was having mechanical problems, which is the reason for the delay. The plane had to be changed." "Where is the 777?" "Oh, it is in the hangar" "Have the seat assignments been changed?" I asked handing over my boarding pass. "A lot of people have had to change seats but you're still assigned in 27A." "Thank you very much".
So maybe that's the reason the check in agent in Zurich was able to find me a window seat. Maybe she knew there was going to be an equipment change. As much as I like the B747, I've flown on it many times. The B777 I've only flown once. I was bummed not to be flying it. I was hoping the experience was going to be quite good the same. Mechanical delays like this is not the airline's fault and if it means the aircraft won't be repaired on time, by all means replace the aircraft. I was wondering if this is considered an upgrade or a downgrade in equipment. The B747 is a far larger aircraft than the Triple Seven thus constituting an upgrade, but, as that particular B747 is in a Mixed (Combi) configuration, it seats fewer people (downgrade). At least I kept the window seat.
I ordered some Heineken on draught at a bar (should have gone for the vodka instead) and then went straight for the gate as I knew there were many passengers from KL641 waiting on some sort of line. That line turns out to be a second security line. Passengers have to clear security again just to get into the gate area. The line was quite long and, by the time I'd cleared it, the diminutive waiting area was looking quite packed. It was 16:15, less than an hour before departure. I found an empty seat and took a few photos of the plane outside. It was 16:15. I had no idea whether this flight was going to be the flight from hell or a very good one.
Date: August 21, 2004
Leaving: Amsterdam AMS
Arriving: New York JFK
Airline: KLM
Flight Number: 641
Scheduled Departure: 14:15
Actual Departure: 17:05 takeoff 19:20
Scheduled Arrival: 16:15
Actual Arrival: 18:39 landing 18:29
Departure Gate: F6
Arrival Gate: A6
Departure Runway: 36L
Arrival Runway: 31R
Seat: 27A
Aircraft: Boeing 747-406M
Registration: PH-BFD
View Large
View Medium


Photo © Miguel Snoep
The waiting area was becoming even more full as more passengers went through security. There were at least 200 to 250 passengers waiting for boarding. The first boarding announcement was a bit later than I expected at 16:30 for C-class passengers and families with small children. About six minutes later, the agent comes on the PA saying "everyone else can now board". This was going to be a crazy mess. People were pushing and shoving themselves to get a good spot. This was probably the worst part.
Actually, it wasn't that bad. It resembled a lot the deplaning procedure where people merge into the single line from where they are located. The agent stressed that passengers seated in rows 30 and higher should bear right in the air-bridge and all others should bear left. The air-bridge splits into two at a certain point, one goes to the 2L door, the other to the 3L door. Really what I don't get is why 737s get organized boarding but all Y-class passengers board the 747s at once.
The air-bridge was not that crowded and at that "fork" there was both an agent and signs saying where to turn. I entered the jumbo from the 2L door touching the fuselage and was greeted by a pair of flight attendants in blue uniform. Coffee was being brewed somewhere and I could definitely smell it.
I took seat 27A next to two middle-aged men. The seat is located a few rows behind the 2L door I just entered and has an excellent view of the stairs. The closest monitor is one row behind so the monitor near door 2L would have to do. The seats are very comfortable though the legroom is not that great. I believe these are the new-style KLM seats with the winged headrests. It is slightly more comfortable than the one on the NW A333 I was on a month earlier.
The captain came on the PA around 16:55 saying we would be underway shortly and apologized for this delay. He explained it was a mechanical problem with the 777 we were supposed to be on (PH-BQA, which operated the later KL643 to JFK) but now we were on a 747-400. Pushback was 10 minutes later at 17:05, just after another KLM B744 PH-BFT, parked next to us at F4, pushed back. I spotted a few aircraft from my seat and took photos. There were a few Martinair MD-11s and an ex-KLM Surinam Airways B747-300, definitely the highlight of the trip to the runway.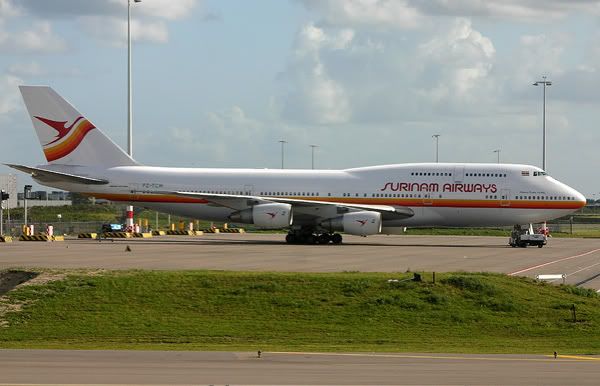 Along the way, I spotted some cars parked and people standing there watching us and taking photos. Some people even waved at us and, in response, some people in the cabin waved back. Hopefully some people took some photos. It was all great to watch. It was a rather long taxi but there wasn't much traffic ahead. At 17:19 we lined up with runway 36L (this is the new Polderbaan) and started the takeoff roll.
The takeoff roll was quite long probably due to the fact this was a nearly-full flight with cargo in the back. The maximum takeoff weight (MTOW) of the B744 Mixed is significantly higher than that of the all-passenger B744 but with the same engines. The takeoff roll was 44 seconds. The monitors showed the air-show program. We banked to the left and flew over the coastline.
The flight attendants got started with the snack service right away after reaching cruising altitude. It was a miniscule snack mix with these tiny crackers. It took about a minute to finish. The flight attendants were all very cheery and upbeat and were young-middle aged, mostly in their 30s. A nice change from the very senior ones on Northwest. Like the check-in agent in Zurich, these FAs were enjoying their work.
I started to flip through KLM's magazine to see what was on the in-flight entertainment. There were going to be two full-length movies and some comedy shows with air-show in between. Then, I checked out the music channels. I was excited when I saw one of them was featuring another one of my favorite artists: Pat Metheny. But I looked up and saw this program was only for flights to Amsterdam. The movie was starting to play on the main screens, which I believe was The Day After Tomorrow. My seatmates were glued to the screen but I just laid back and enjoyed some music from the Dance channel, which had some pretty good music. Too bad they don't list the song titles in the magazine.
A little while later, the flight attendants came around with the lunch cart. The dreaded choice of chicken or pasta loomed over my head. "Chicken" I replied. At least I could compare it with the chicken served on Northwest.
Lunch consisted of Asian rice (how appropriate, our aircraft has the "KLM Asia" titles) alongside about eight or so small pieces of chicken with some sort of red sauce. There was some smoked salmon and some sort of coleslaw on the side. Dessert was some sort of cake that looked good but as it had strawberry flavor, it didn't appeal to me. The flight attendant had a plate with warm bread rolls. I had to try those. As a drink, I had water.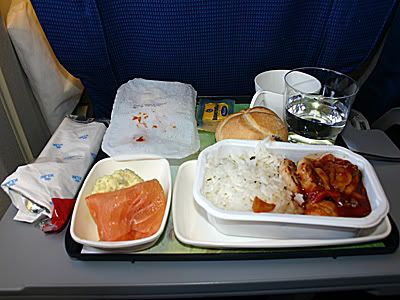 The chicken was very tender but not overcooked. They could not have done a better job on the chicken. Asian rice is often undercooked but this time was also cooked perfectly and was very good. This is one of the best meals I've had on a plane in a while. The bread roll was delicious, almost like it came right out of the oven. The salmon was OK and the coleslaw wasn't too great but edible. Overall quite a bit better than the meal I had on NW. Having flown KLM 5 years previous long-haul, I definitely see this as an improvement. I have read some complaints that the food wasn't too good on KLM of late, but with this meal I can disagree. Maybe this has something to do with the Air France merger…
The flight attendants handed out some moist towels following the meal. I haven't seen this kind of service since the old days with Swissair. Excellent job. Being a bit tired, I rested for a bit with some Tiesto playing in the background. I couldn't help but realize this could well be a world-class airline; so far the service in Y seemed to exceed that on British Airways. I flew BA ZRH-LHR-JFK exactly a year previous to this and though the service was good, I felt it could be even better, especially considering it is a world-class airline.
After about an hour's worth of digesting and resting, I grabbed my camera and headed for the rear part of the aircraft. Along the way, I passed a few water fountains, an excellent touch on a long haul aircraft. Every plane should have them. Forgetting this is a Combi aircraft, I was surprised there were no restrooms in the back. A flight attendant said they were in the middle. The lavatories, though nice and clean, can't compare to those in the newer NW cabins, especially the lavish A333 ones. I returned to the rear part of the aircraft to attempt some cabin shots. It was so bloody hard to catch the cabin during at least a relatively inactive period. The cabin was absolutely jumping with passengers walking the aisles and people waiting for the lavatories in the middle.
Meanwhile, the movie had just finished and air-show had started. We were approaching Greenland with just over 4 hours left. Estimated arrival time shuffled between 18:33 and 18:34. This would be about 2 hours 15 minutes late, not too shabby considering our delays in Amsterdam but still not as good as the 18:15 the captain predicted before we left. I hung out near the 4R door in the rear of the passenger section trying to find a small time frame where the cabin was at least relatively inactive. The main problem was this one man who kept facing me and wouldn't budge from the aisle. Finally, I got my wish when the man turned around for a few seconds during a time when nobody was walking down the aisle and grabbed an a.net shot. Again, I don't want to plug my own shots.
http://www.airliners.net/open.file/688391/L/
After the 15 minutes I spent waiting for that shot, I returned to my seat. The seats are very good for sleeping. I was instantly able to find a comfortable position to sleep in. Instead of placing the pillow on the headrest, you place it slightly below it. In terms of the actual seat materials, it is a great seat. I fell asleep and was awakened to the sound of the flight attendants coming around the cabin with their carts.
This time, it was the ice cream. Right away I had memories from eating Movenpick ice cream when flying on Swissair. Ice cream is a must for any great flight. The ice cream was this Belgian brand (I know they make good chocolate, so they must make good ice cream) in the Stracciatela flavor. It was more than delicious though it took a few minutes to soften up.
By then, a new movie The Prince and Me started to show on the main screens. I listened to a few tunes on the Hits music channel, going back in forth between music and the movie. Pretty much throughout the entire flight, the FAs were out and about the cabin assisting passengers. There was a family with a baby girl of probably less than a year seated in the bulkhead middle row, about two rows behind me. During boarding, this baby was practically screaming but now she was very quiet. The FA made sure she was doing OK and did her best to help out. There was a little girl seated right in front of me and she gave her some coloring pictures. Overall, all of the Flight Attendants were very polite and friendly, taking care of the little ones.
One of the differences between the B777 and B744 is that the B777 has a PTV at every seat with AVOD. Having tried out the one on NW, I was pretty sure the one on the 777 was going to be similar. Yet, the old Swissair was an excellent example of how to make a flight enjoyable without personal screens. In fact, this flight was reminding me very much of the ones I had flying direct from ZRH-JFK on the old 747-357s. This means everything from the service to the flight attendants to the atmosphere on board. It almost made me forget the delay.
After another snooze, I watched a little bit of the main movie before the flight attendant came around with another round of food and drinks. This time, it was some weird sort of soft hot roll. I chose the "chicken curry" but was hard pressed to find any chicken in it. In fact, I couldn't. Neither could my seatmate, who took the same thing I did. It was awful. Maybe I can start to feel those comments about the lousy food. I really think this should be offered before the ice cream if it is to be offered at all since that makes the most sense. Or at least offer up something a little more appetizing. My seatmate thought the same.
There were just under two hours remaining for the flight time. Less than an hour later, the flight attendant served a final round of drinks. I took some tea. By then, the air-show was playing on the main screen. By now, we were cruising along at 11km or FL360, up from FL310 during the initial cruise stages. The weather was very overcast and the clouds endless in both vertical and horizontal terms. These conditions persisted even throughout the descent.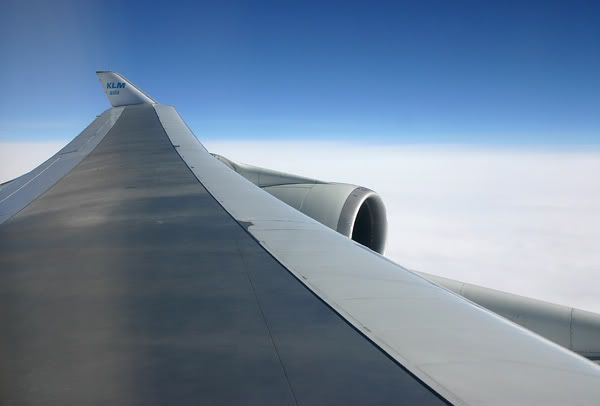 Landfall was made somewhere south of Boston then down towards Rhode Island and the islands in eastern Long Island though I couldn't see anything. Our estimated arrival time was still around 18:30. The captain came on the PA saying we would approach JFK from the south and make an arrival in 20 minutes. The entire descent was very smooth. In fact, there was very little in the way of turbulence and only once did the captain turn on the fasten seatbelt sign during the entire flight. It wasn't until the final approach that I could actually see the ground.
The air-show was still showing throughout the approach. I saw some quite nice houses below the flight path complete with pools. It must be very nice to live there with 747s flying over your house a few times per hour. Definitely beats the A319s/737s/MD80s that fly over my place on final for LGA runway 22. It's a bigger-is-better type of thing that you definitely don't get when flying even the Triple Seven.
Touchdown on runway 31R was at 18:29 local time and boy was it a perfect one. Passengers started clapping so it's not just an Italian thing. As we exited, I noticed a UA B763 landing just behind us. A BA B777 had just departed its gate and there were a pair of BA B744s. Sadly no more seeing World Tails or the Concorde parked there. A jetBlue A320 started its departure and two Delta Connection CRJs also started their taxi. I fully remember how huge a 747 looks from one of those things. Also a SWISS A332 HB-IQI was lined up for departure. This was the plane my dad had just flown in from ZRH. The other A332 HB-IQC was still parked at its gate. I spotted an El Al B777 4X-ECD completing my log for that fleet.
We arrived at gate A6 at 18:39, exactly 10 minutes after landing. I actually departed gate A6 at the start of the journey on the NW DC-9, so it was nice to arrive at the same point I started. KLM really did exceed my expectations of them and every aspect of the service was top-notch. I really hope to fly them again in the near future. As I was near the main exit, deplaning was very quick. For some reason, the new Terminal 4 did not keep the old Terminal 4's dual air-bridge system like the ones they have in AMS.
After a few minutes of walking through the rather nice lower level, I arrived at the spacious arrival hall. There was someone there to direct us to a particular immigration desk. The lines for the U.S. citizens were very short and I was out of there within minutes. It took at least 20 minutes for the bag to arrive even though the bags started coming as soon as I arrived. In the distance, I spotted an Emirates A340-500 but I didn't want to take out my camera as there were many security officers. It would be nice to find out its registration.
The line for customs was very long; luckily it is a procedure that takes mere seconds. After that, I exited to the beautiful arrivals hall where my mom and dad were waiting. My dad was raving about the service he received on his SWISS flight which is good to know they are still up there. Of course, I couldn't have been happier with my flight.
Thanks for reading my report. Hope you enjoyed it. As usual, feel free to comment on anything.