Well, I waited five months to post this and now I finally have a chance. Sorry about the picture quality...I was a wee bit too excited to keep the camera still.
Hope you all enjoy and thanks for reading.
Back in September I was going to fly to the northwest where the boarding school I attended was located. The most convenient airport was GEG which was 2-3 hours from Bonners Ferry, Idaho where the school was located and the top contenders I took into consideration was either UA, AS, HP, and F9 from LAX. But I remembered that I could take PR flight 107 from LAS to YVR in which at YVR my relatives there could be able to pick me up and drive me down to the Idaho panhandle. So of course my mom and I weighed down the options: take the convenient way by flying out of LAX to GEG or to fly for the first time on an A340 w/ PAL out of LAS. In the end, I chose the route and airline that is the namesake of my topic.
Flight 107 LAS-YVR
September 9, 2004
Airbus A340-313X F-OHP?
First Class
View Large
View Medium


Photo © Matt Willmott-Sharp
After being held back by a accident near the California-Nevada border, we would show up to McCarran with the possibility that check-in would have been already closed.
The accident site...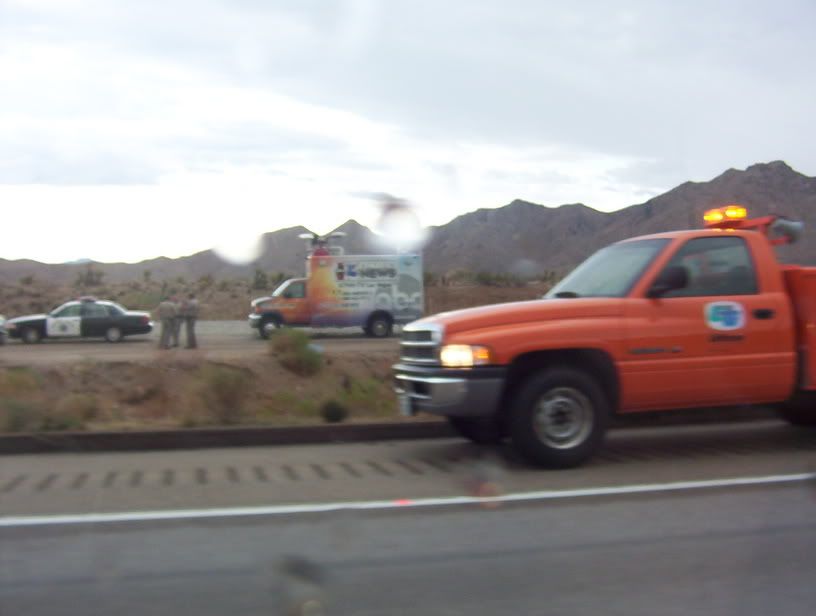 With hopes, my brother, mom, and I hustled from the Terminal 1 parking lot, down to the curbside, waited in a long queue for a taxi though my mom was able to cut ahead and get one(thanks to the decency of fellow travellers caring enough to notice our situation), and made it to terminal 2 with the welcoming sight of having the PR check-in counters still open with no line to worry about since we were close to boarding.
I decided to strike up a conversation with check-in staff on with any news with the airline. After telling them about our trip to get here and fly with them, they were a appreciative on the fact that I would choose to fly PR if given the opportunity, in which I was glad to recieve such gratitude considering the hassles we had to tackle in order to make sure we wouldn't miss the flight...
One thing that grabbed my attention was one of the staff members asked if I wanted to be a volunteer/intern/whateveryouwannacallit for PR...(which I was darn close on pushing myself away from containment.
)
A couple photos of the check in counters: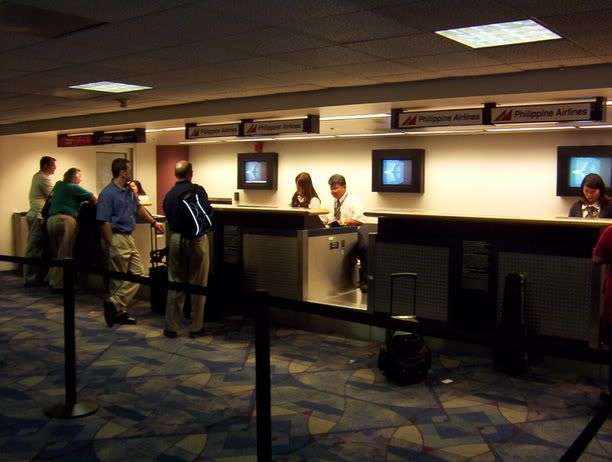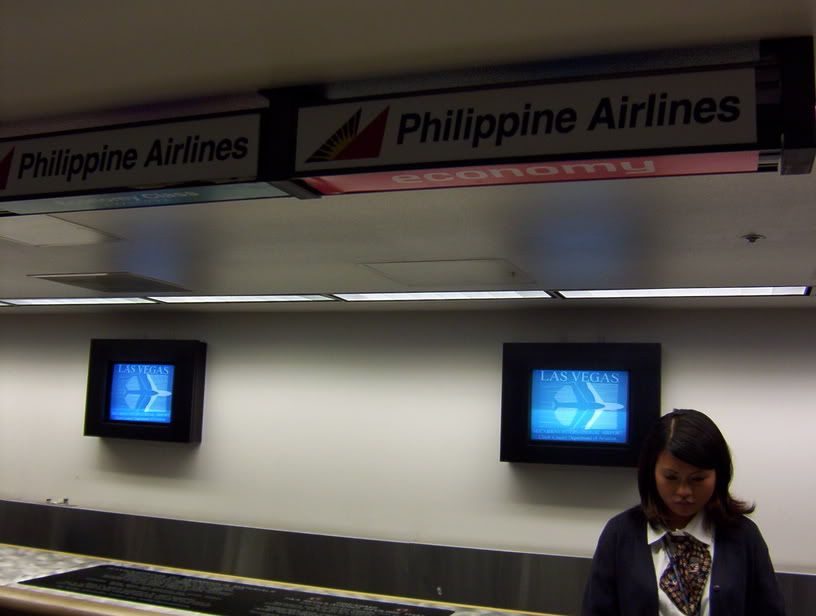 Terminal 2 pics: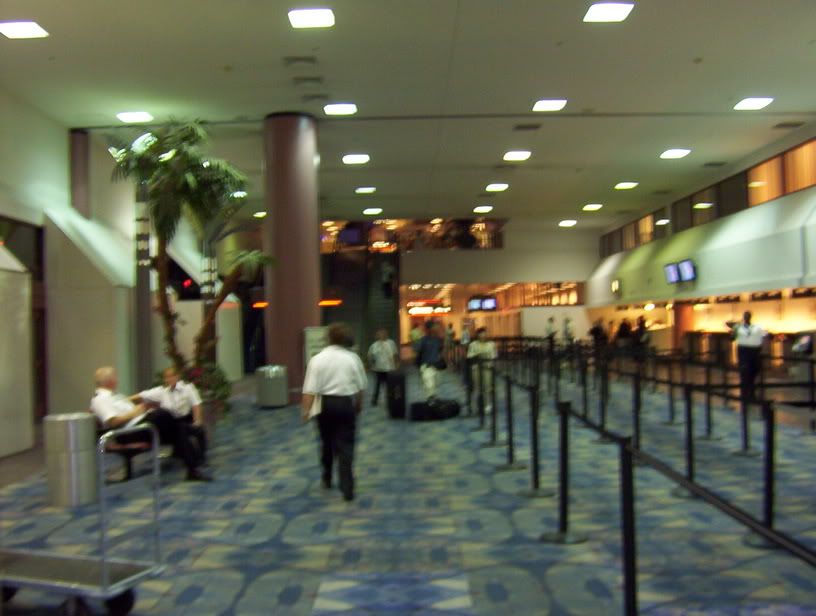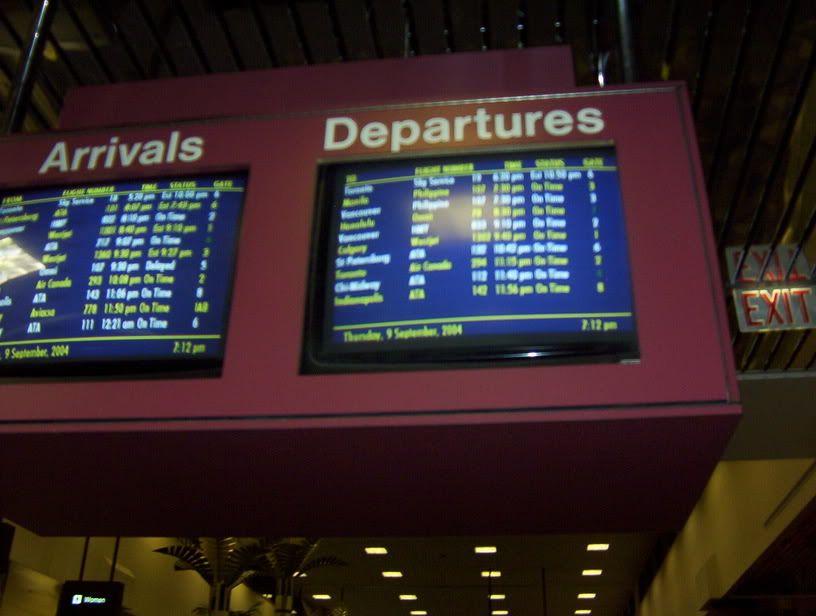 After a speedy security check, we made it to the gate and was welcomed by conga line of Fiesta Class passengers. Upon boarding, I seperated with my mom and bro whom were going to the Fiesta Class cabin while I headed to my seat in the First Class cabin. I was welcomed with an offering of orange juice which I turned down since I would be spending the time before taxi wandering around the aircraft.
Boarding: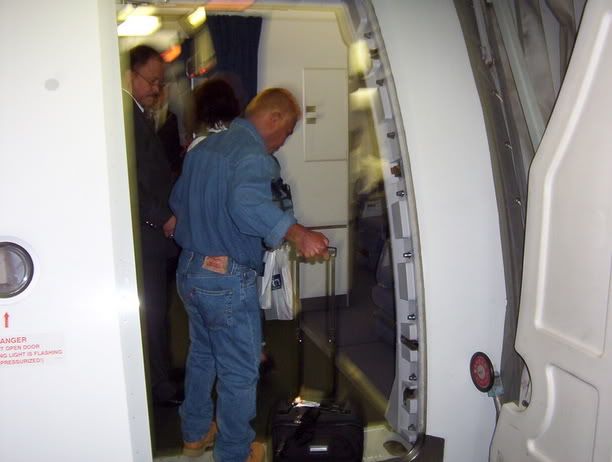 A photo of my seat (1H):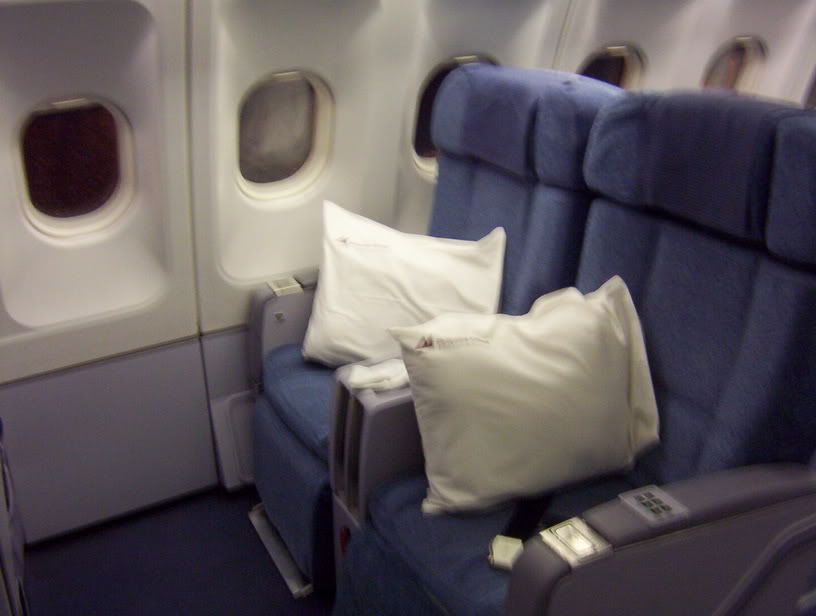 The rest of First Class: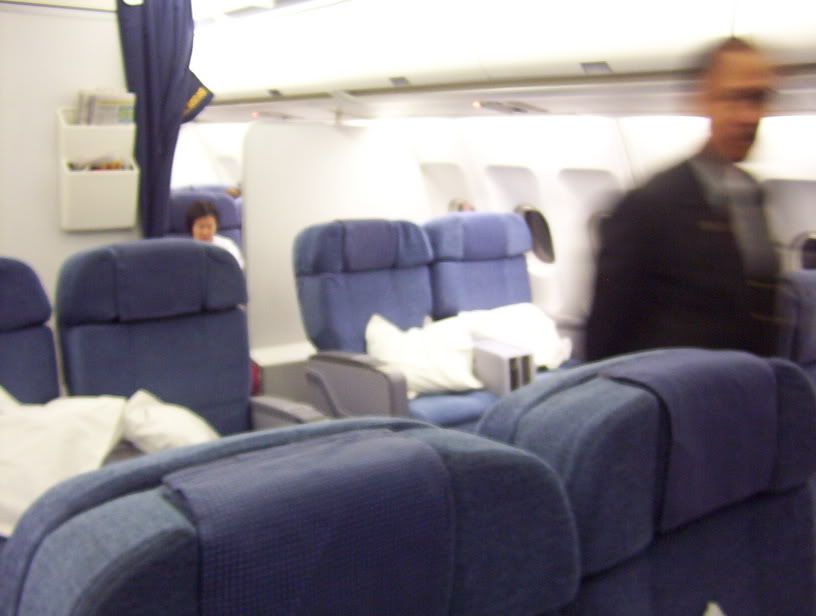 Mabuhay Class: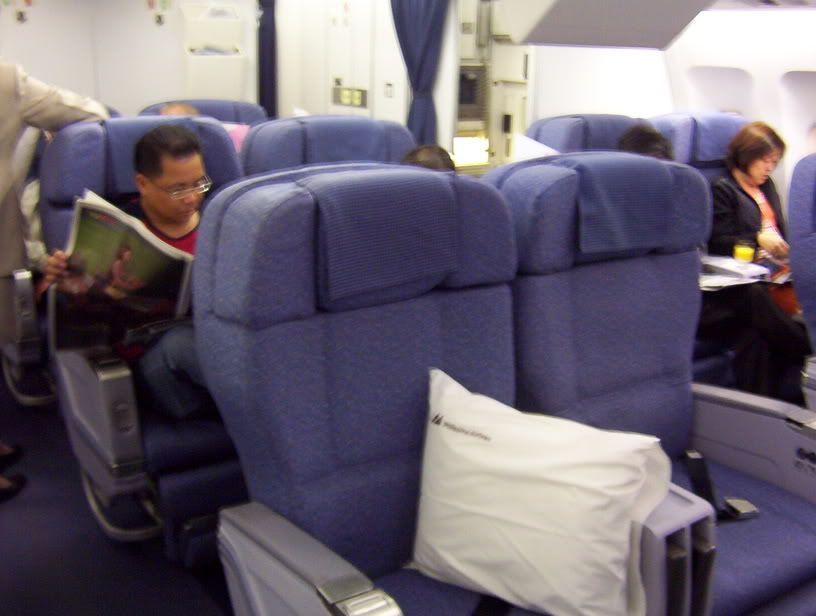 Fiesta Class: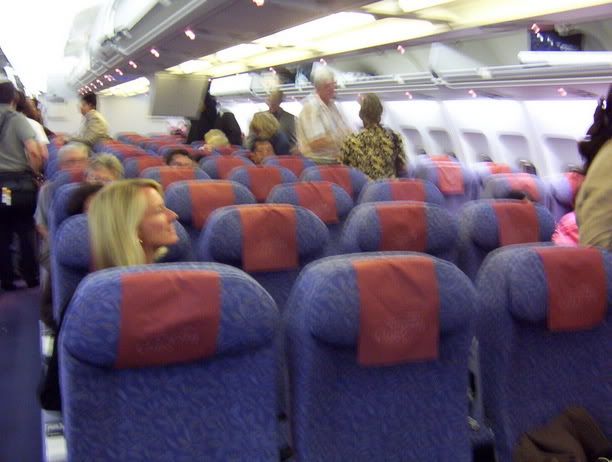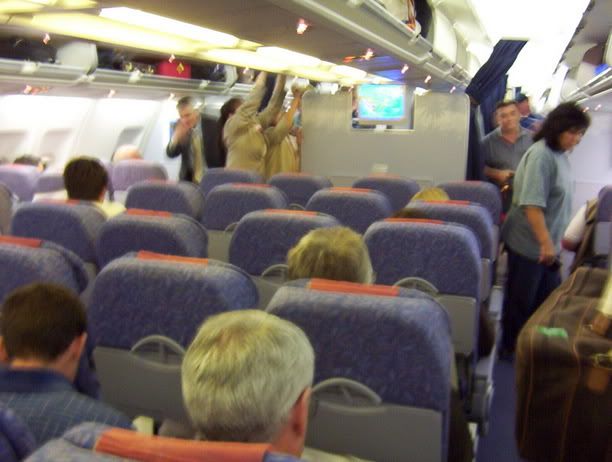 Airshow: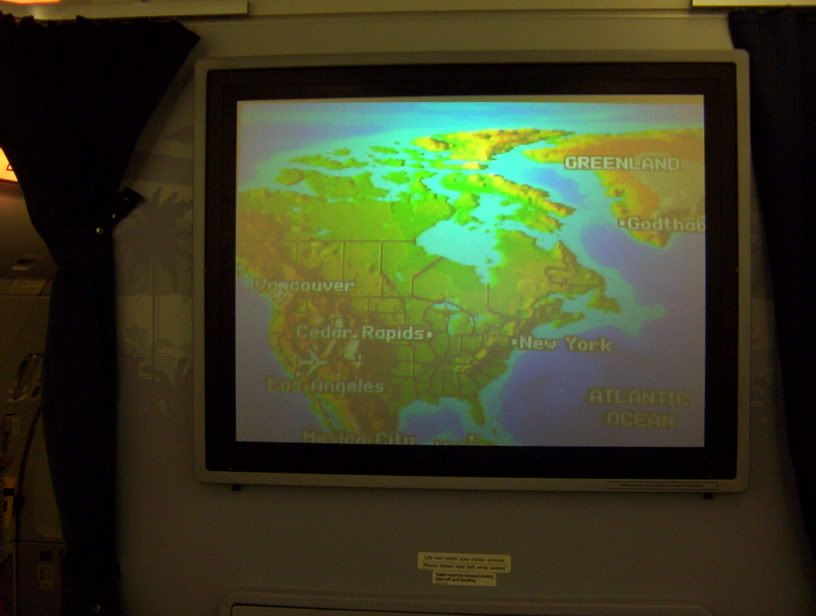 In the First Class cabin, there was only two other people: a senior seated at 1B and a person in his 20s to 30s in 2G. As seen in the above photos, the Fiesta and Mabuhay Class cabins were filled with Canadian gamblers returning home as well as Filipinos heading to MNL. After visiting my mom and brother, I invited Jeremy (my bro) to check out the first class cabin. When he returned to his seat back in Fiesta, an F/A was distributing the First Class menu. Another F/A came up to my seat and asked if I had connections with PAL or if my parents or even me were employees which kinda got me dumbfounded until she mentioned that some staff in check-in said something along the lines of a PAL spokesman onboard, which I just replied the usual "in my dreams" fashion.
First Class Menu: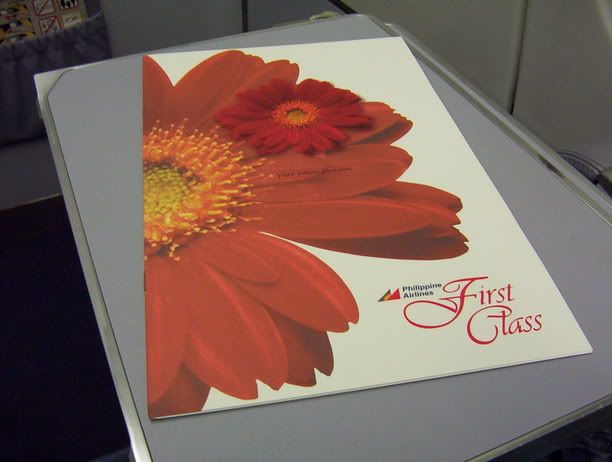 While waiting to take off, I decided to take a gander on what was next to us which turned out to be an Aviacsa 727.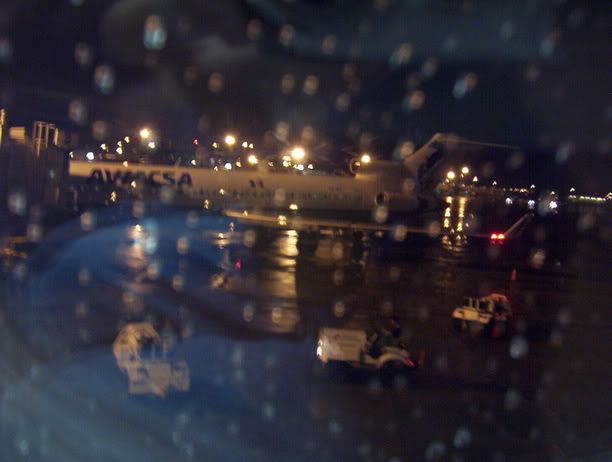 After a slight delay (which seems to be the norm for PAL...) we taxied off to the runway.
The mischevous safety video duo...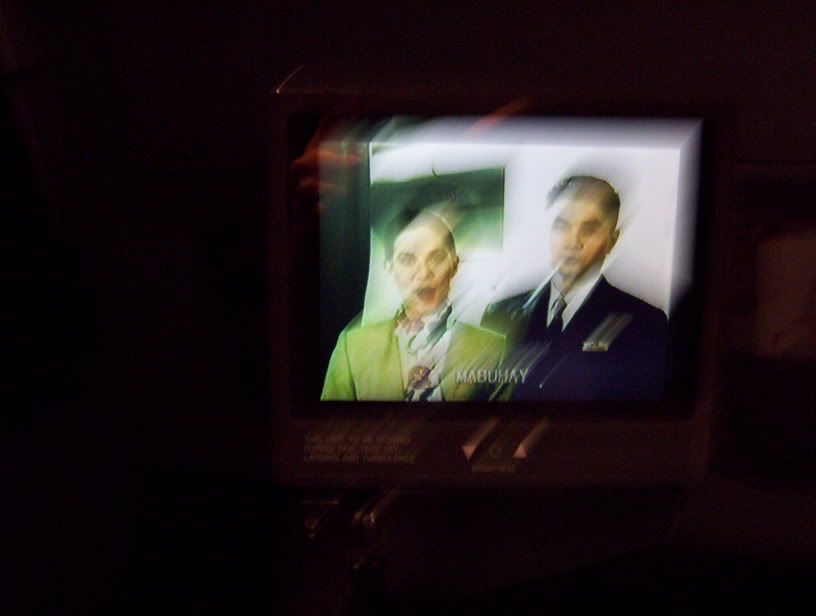 Terminal 1 parking garage: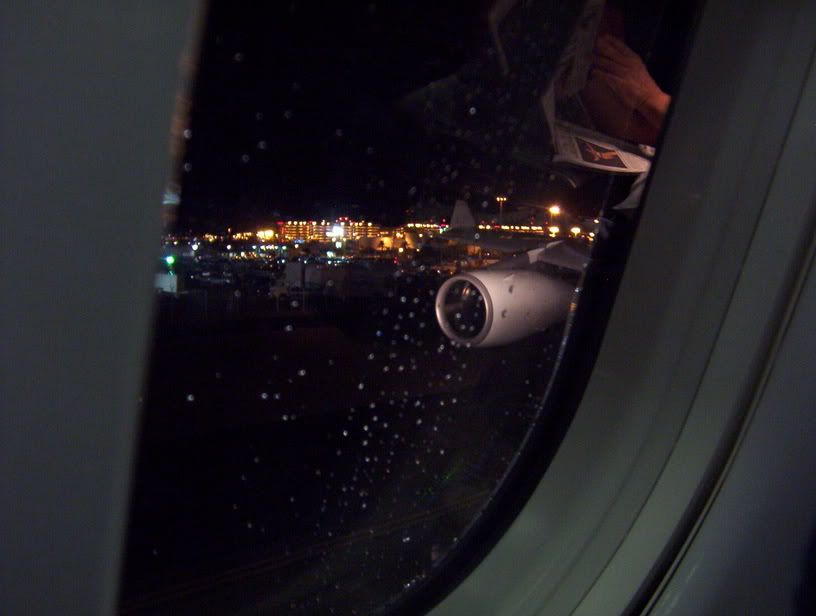 The Las Vegas Strip: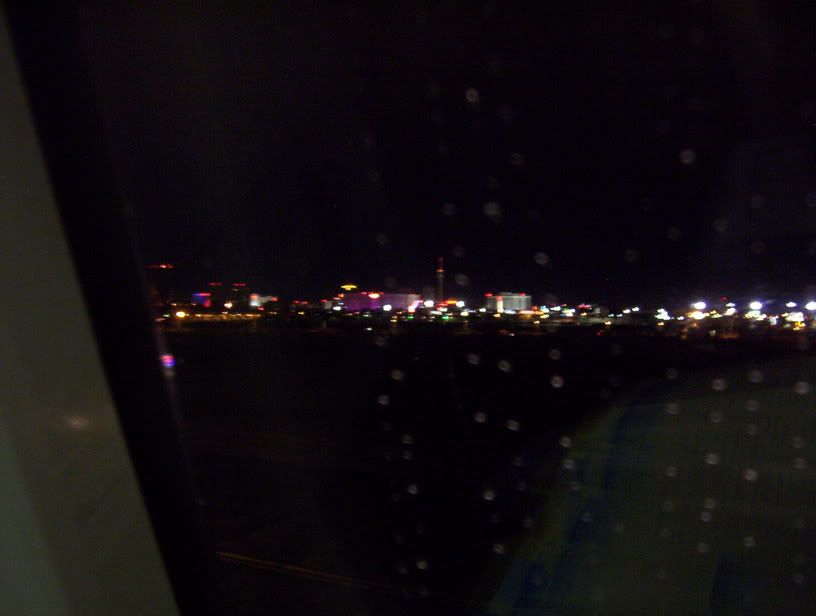 Takeoff: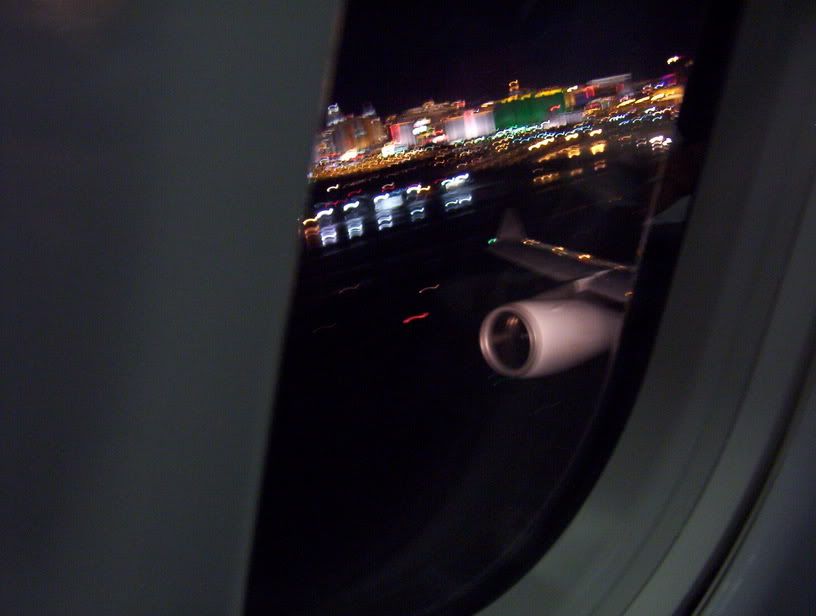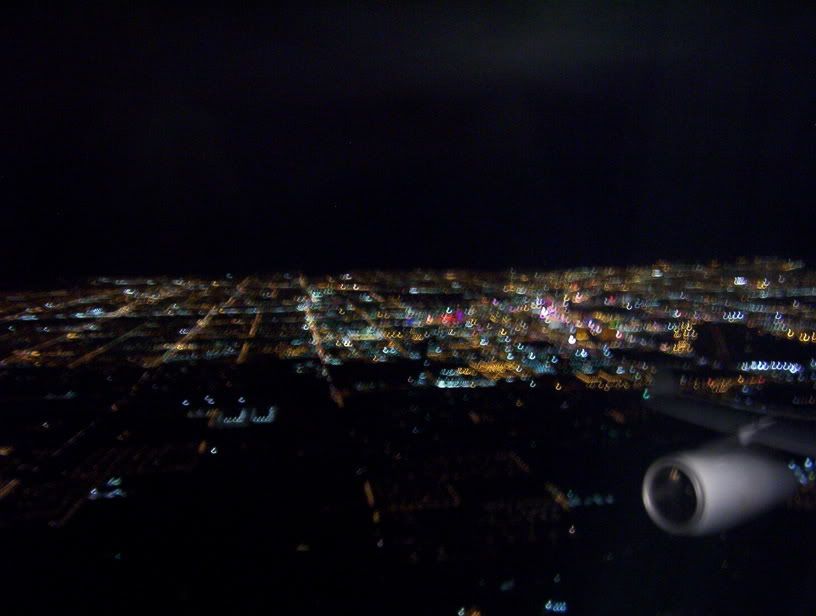 Once we leveled off, I decided to take advantage of the fact that the cabin was equipped with PTVs. (don't ask, never been in a flight with one before...:o ) One downer is that there was only one channel of short videos avaliable (I presume due to the short duration of the flight...) but heck I was still glad that my seat had one.
While somewhere over Northern Nevada/California, meals were ready to be served. Call me weird but I'm one of those whom get excited over meal service
so I saw the dinner as a treat.
The meal was excellent and it was even better since they had 7UP on board.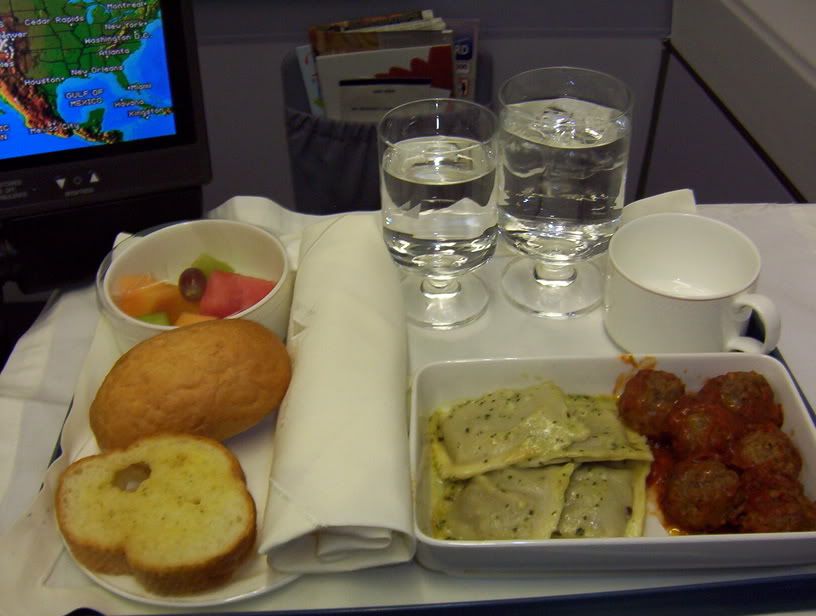 "Flights of Fancy" intro: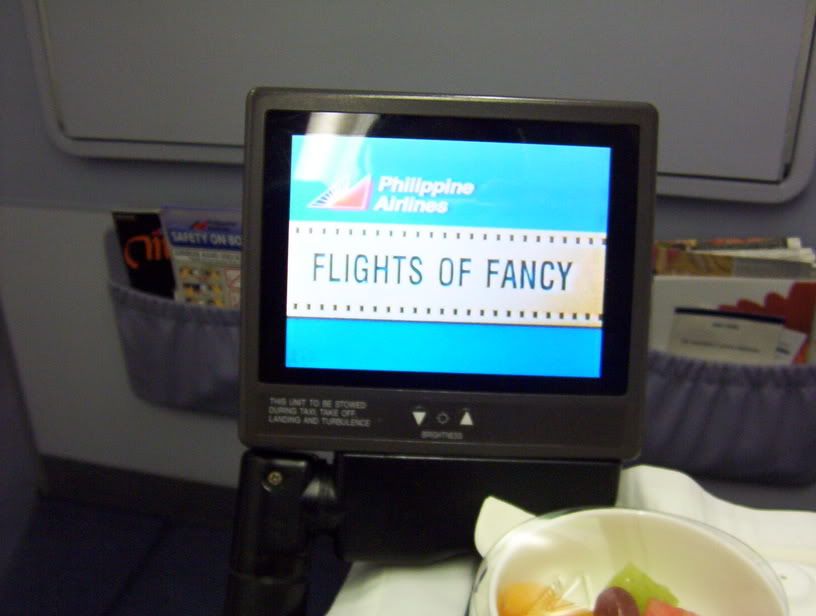 Philippine Dept. of Tourism video: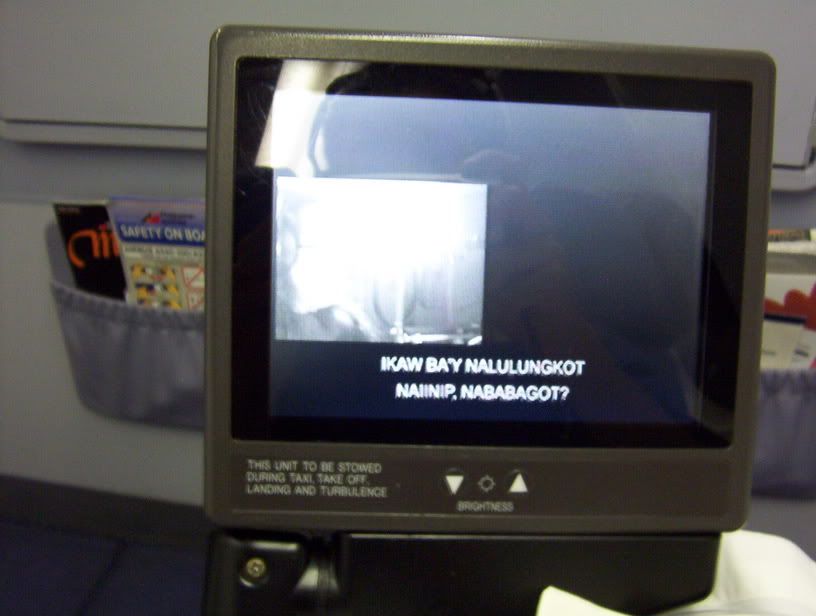 Some sitcom with Amanda Bynes (sorry I forgot the name of it.
)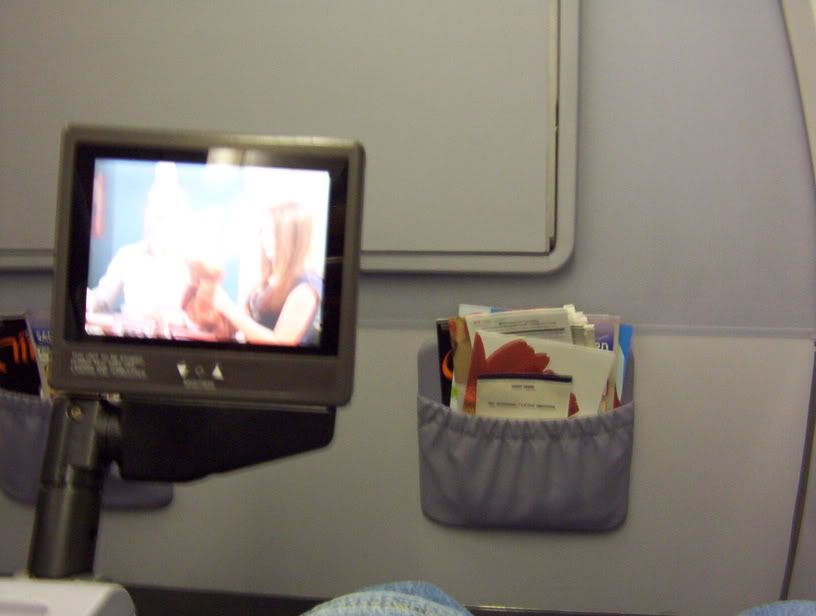 Mabuhay Miles advertisement: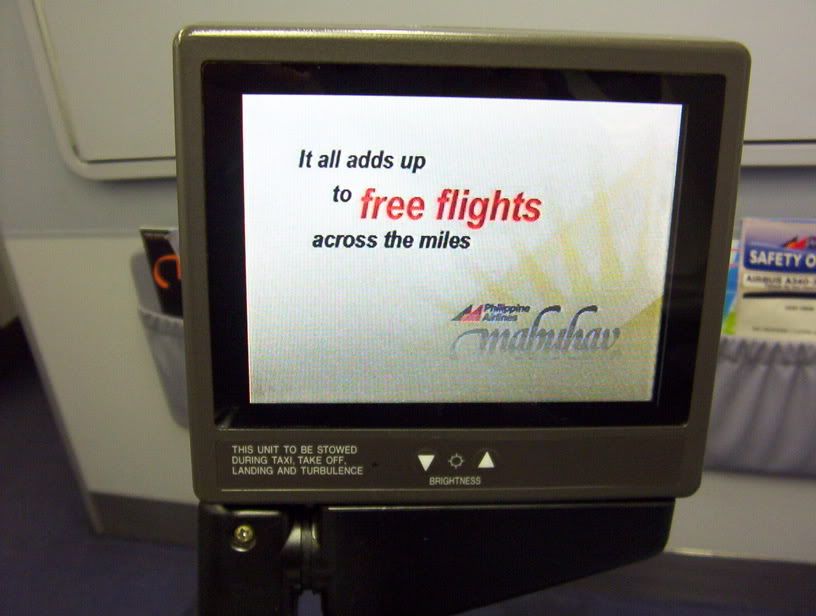 After dinner, I decided to visit my mom and bro in Fiesta Class in which I found out from my mom that the guy sitting in back of me was the Filipino singer Martin Nievera. Unfortunately I was not familiar with modern Filipino music so I kinda didn't share the same excitement as my mom...:o When I returned to my seat, I decided to strike a conversation with Mr. Nievera and I just recalled that I read an advertisement about his performance in Vegas a few days before which I somewhat thought it was coincidence to meet him. I have to admit, he was pretty friendly and was generous enough to give me an autographed copy of his latest CD.
Martin Nievera himself: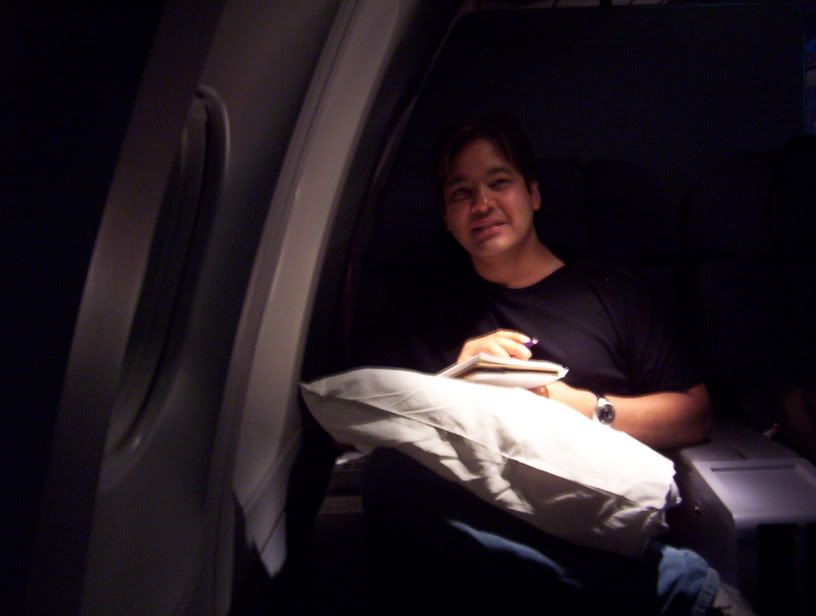 While over northern Washington the cabin lights were brought back on and I got my knicknacks ready before we would land in YVR. I couldn't wait to land since I would be seeing my aunts, uncles, and cousins at YVR plus I would be able to finally see the new International Terminal first hand.
F/A chatting with Mr. Nievera: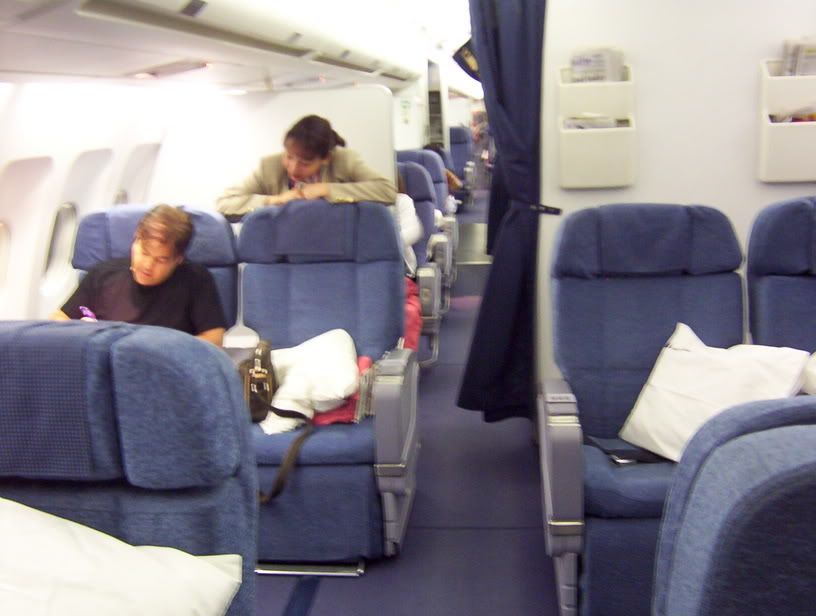 Landing went on smoothly and we taxied to the terminal in no time.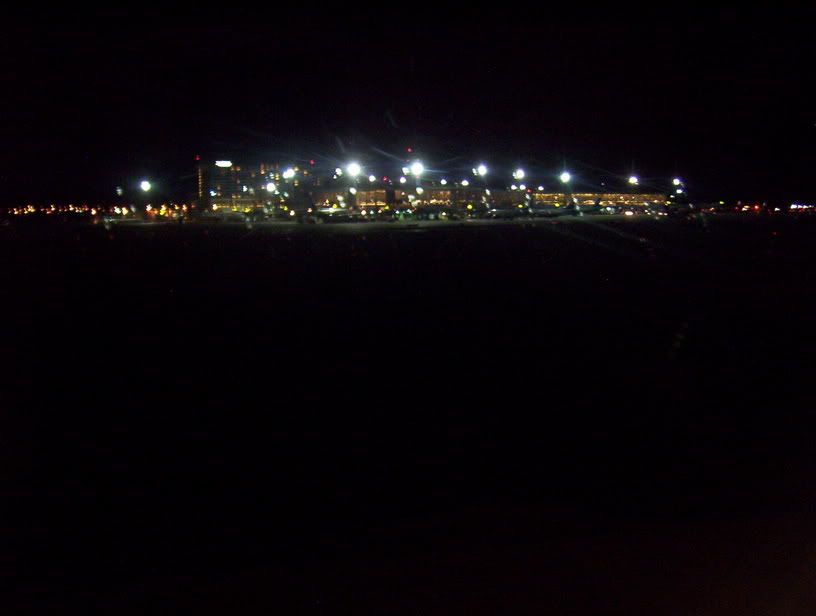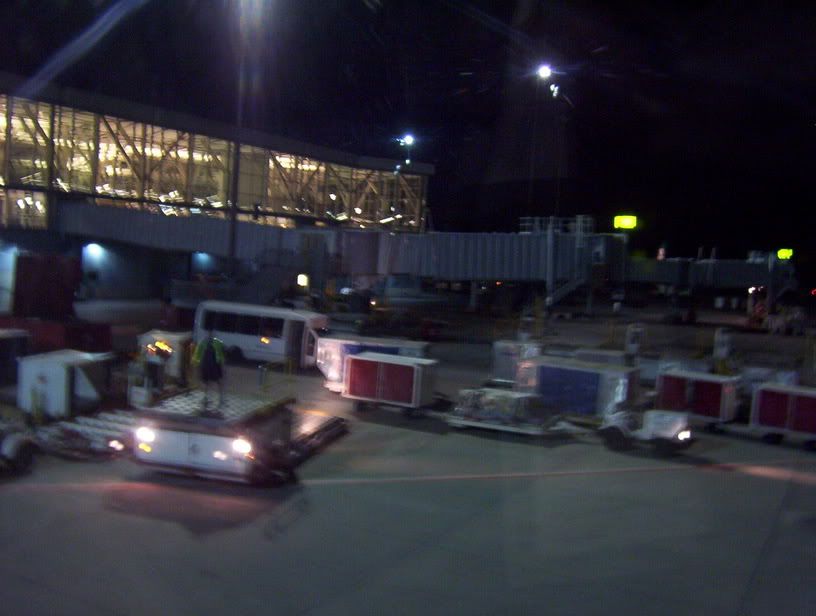 Upon deboarding I was juggling with my stuff but thankfully still had the opportunity to take a picture of the A340 one last time.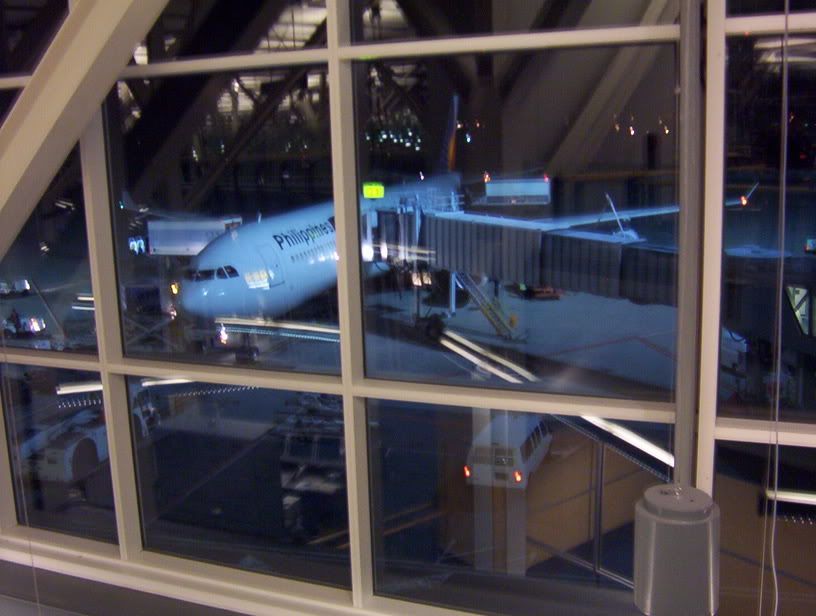 Passing through customs went swiftly and we then proceeded out of the terminal to see our relatives to pic us up.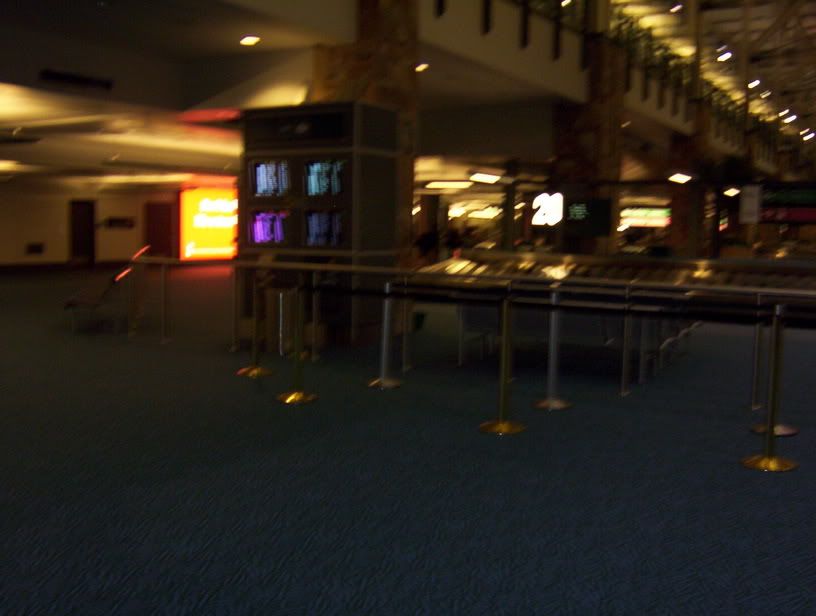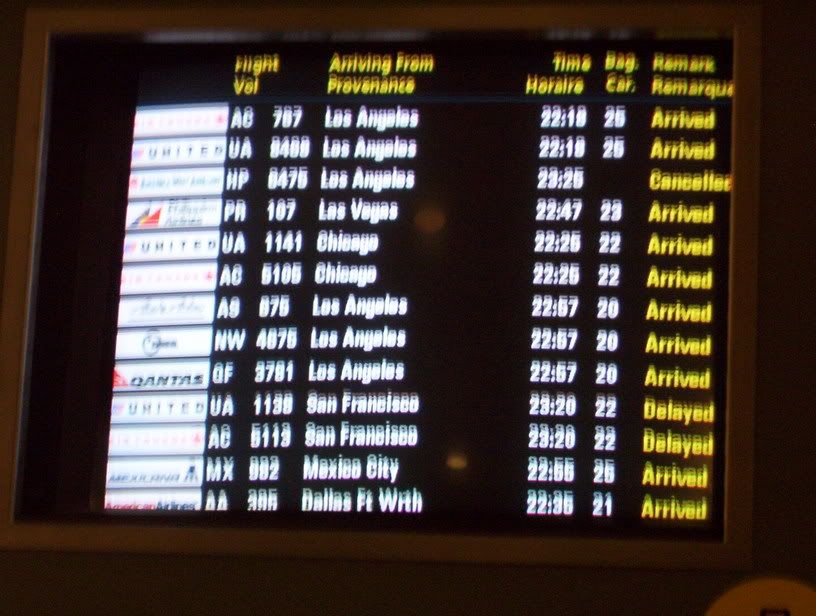 Overall this trip went well and flying First Class for the first time w/ PAL exceeded my expectations and I'd definitely enjoyed flying with them. If you ever decide to take LAS-YVR (v.v.), I'd highly recommend PAL. Well thanks for reading everyone.