Booking of Ticket
I booked my ticket on singaporeair.com around mid December 04 and selected the E-ticket option. I concluded the transaction by selecting my preferred seat (2A) on the seat map. My itinerary consisted of SYD-SIN (stop-over) then SIN-NRT, NRT-SIN-SYD.
I also modified my meal option to the Lobster Thermidor (my favourite BTC) on SYD-SIN, leaving the rest as default.
Check in online
About 48 hours prior to departure, I logged onto singaporeair website to check in online. Seat requested at booking was allocated to me (seat 2A) when I confirmed my check in.
At the airport
Woke up at 5am and had a quick shower and bid farewell to my 3 dogs and rabbit. Did some final packing and got my partner to drive me to the airport and arrived at around 6.30am. Put a $2 coin into the trolley service dispenser outside the airport so I can load up my 3 luggage bags. At the service desk, the agent was serving a passenger at the F counter so I waited for my turn to be served. As soon as the J counter beside the F was available, I was called and I presented her with my ticket, passport and FF card. Agent was very friendly/chirpy and was delighted to inform me that there were only 2 passengers, including myself in the F cabin.
Custom
When I was clearing custom at Sydney airport, the passenger next to me found a boarding pass and gave it to the immigration officer of hers, who was sitting next to mine. My immigration officer mentioned, '… that boarding pass must belong to that 'thing' whom I told her to go find her boarding pass before she comes back to me…'. I was pretty astound by his ghastly inference to the poor lady but that guy kept going on about, '… that woman who dressed like a man because in some countries, they raised their daughter as a boy because the parents badly wanted a boy instead.. and that she is not a tranny etc…' That immigration officer of mine was, in my opinion, a real sicko!
In the Silver Kris lounge
Presented my boarding pass to the counter and was invited to the F section of the lounge. There was already quite a lot of passengers waiting at the lounge so I grabbed a Twinning English breakfast tea and sat down to enjoy a cuppa tea before boarding. In front of the 2 plasma tv, I watched the report of the Kam Air plane crash. My deepest condolences to the families of the plane crash.
Boarding
I was the last few to board the aircraft but the first to board in the F cabin. The chief stewardess, leading stewardess and flight steward greeted me by last name and he helped me with one of my hand luggage and showed me to my seat, 2A. He made small chat with me about my destinations and my purpose of my visit in Singapore and Tokyo. He cautioned me about the cold weather in Tokyo at the moment and excused himself to bring me my pre-departure drink, an OJ.
The Leading stewardess, Aleena presented me with a variety of newspapers and magazines. I politely declined her offer. Instead, she recommended to me a few personal favourites on the IFE movies that were offered on this flight. She mentioned 'The Cellular' and I told her I would give it a try later after watching my favourite TV series, 'Kath & Kim'.
Aleena came back later with the headset, menu in a red leather folder and a tray of PJ in S & L sizes and a Gent amenity kit. I told Aleena I liked to have the ladies set instead as I was going to give it to my sister.
For breakfast, they were serving:

juices
A choice of apple, tomato & freshly squeezed orange

Fruit
A selection of fresh fruit

Light starters
Fresh Bircher muesli or cornflakes with low fat or full cream milk

Or

Reduced fat yoghurt
Plain or fruit flavoured

Wholesome beginnings
Mixed grill of lamb, veal and chicken sausage with meal jus, roasted tomato, mushroom and potatoes

Char siew and wanton noodle soup
Egg noodles in rich broth ganished with honey roasted pork, pork dumplings and leafy greens

Fresh eggs with grilled bacon or wagyu beef sausage, baked beans and mushrooms
Baked, soft boiled or scrambled on toasted muffin

From the bakery
Assorted breakfast rolls
Butter, jam, marmalade or honey

Hot beverages
Freshly brewed coffee
Espresso or cappcuccino
Selection of tea

Shortly, Aleena came back to take my breakfast order and I ordered the eggs with grilled bacon, baked beans and mushroom and skipped the light starter.
Push back
Push back was delayed by about 10 mins as a passenger in J class misplaced her hand luggage somewhere in the airport but the flight attendants were pretty nice about the delay, asking her if she needed any water to calm herself down. She took the offer and went on and on about the scare she had when she thought she almost lost her bag.
Pre-departure glasses were collected before takeoff.
We taxied behind a CX closely and proceeded to runway, L34. The CX ahead of us waited for a QF B744 to touch down before proceeding to its elegant takeoff. Shortly, our B744 jet took off and took a right bank and sitting on the left of the aircraft. I had a good view of the city skyline through the right windows.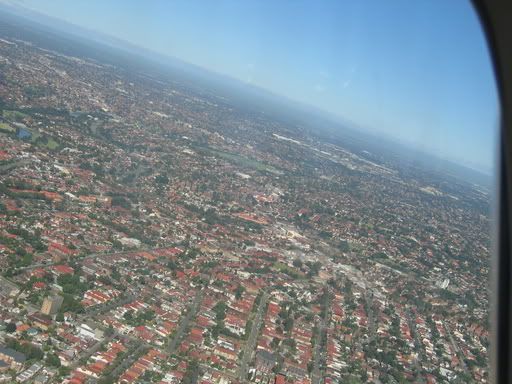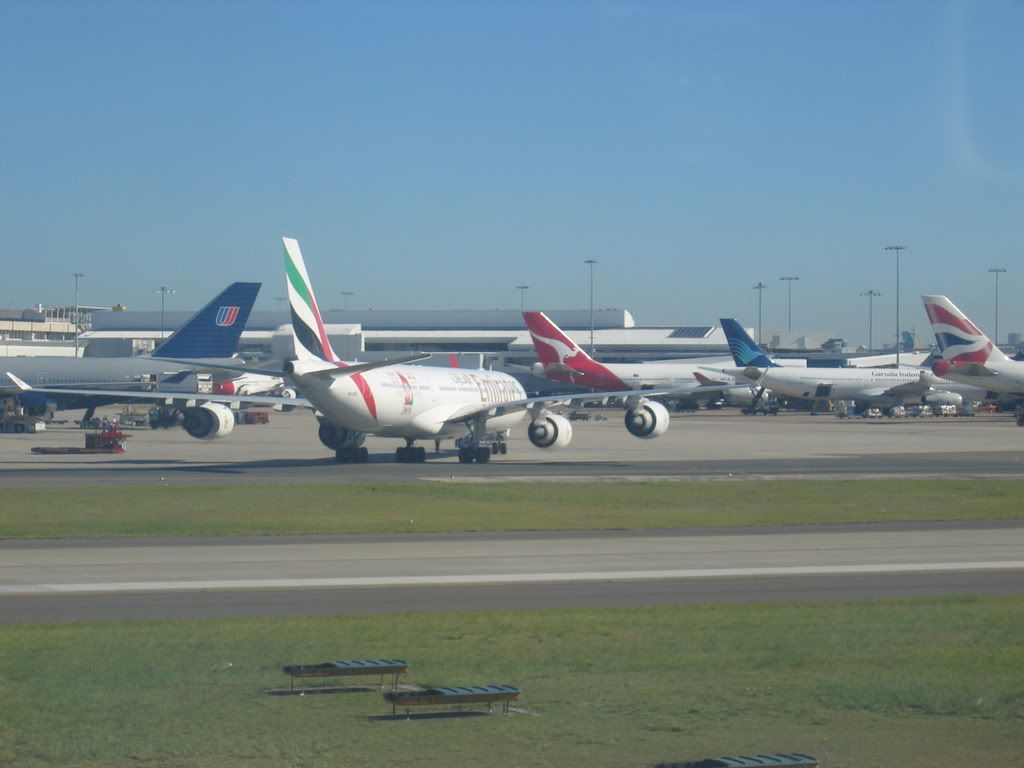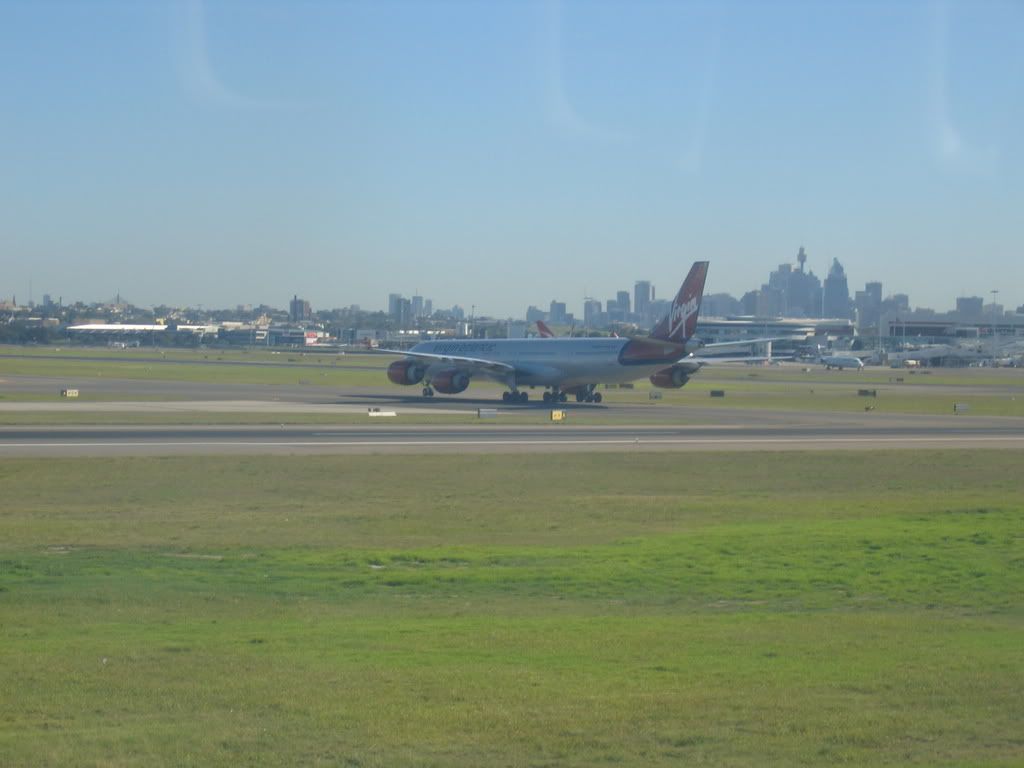 Cruising
As soon as the seat belt sign was turned off, table cloth was laid and the fine china was arranged in front of me by the Chief Stewardess. The knives were still in blue plastics.
OJ and water were poured into my glasses and a cup of cafe latte was also brewed for me. The fruit platter was a great way to start the day and I particularly enjoyed the berries very much. I took a raisin toast from the basket and asked for olive oil to go with it.
The main course I ordered was really tasty! The scrambled eggs were really well cooked and was firm but moist at the right temperature for consumption. The mushrooms and 3 slices of grilled bacons were not too dry and were just as good as the eggs. Needless to say, I finished everything on my plate!!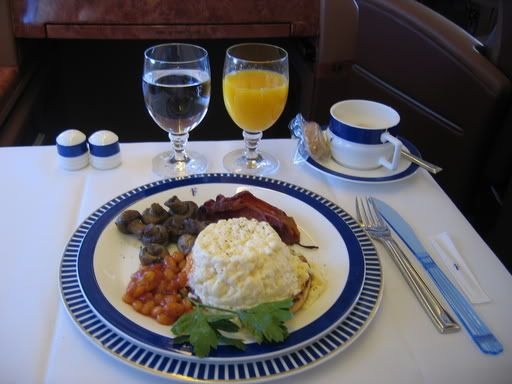 Aleena cleared up my tray table and asked if I wanted more OJ which I declined. While I was watching 'Kath & Kim', she came back and put a bottle of 'Mount Franklin' next to my glass of water. Wonder what happened to the evian but I never really liked evian as I find their taste quite funny and prefer spring water instead.
Window shades were all drawn down and Aleena went to fetch me a blanket which she unwrapped it for me and put it over me by covering my legs first.
I then settled and watched 'The Forgotten'. Lights were switched off and the cabin was pitch black. I thought I would watch 'The Cellular' later after my nap.
Took a nap after the first movie and woke up around 2 hours before landing. Warm nuts were served along with the drink of my choice, regular coca-cola.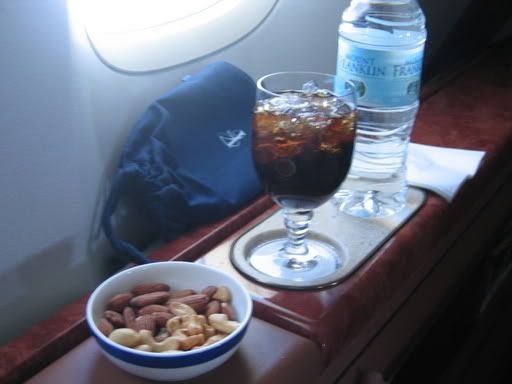 About 20 mins later, lunch was served and the entrée was some salad with yabbie, mango slices (*apologies for not taking down the lunch portion of the menu*). The chief stewardess presented the breadroll basket and I chose the garlic bread. I must say the garlic bread was an excellent delight to have! Hot crisp and not overempowering on the garlic spread.
From here on, my camera's battery went absolutely FLAT!!! Didn't manage to take anymore pictures from here on
For my main course, my BTC (Lobster Thermidor) was served and the chief stewardess commended me for the excellent choice as the lobster thermidor Ex-SYD was far better than the Ex-SIN one. To round up, I also had the dessert which was a mango ice-cream.
Pillows, blankets were all put away when I came back from the lavatory. My tray table was also locked back and stowed away.
First Officer announced our landing shortly in Singapore Changi Airport and thank us for flying with SIA.
Overall, I find the service professional, non-intrusive and gave us a lot of privacy when we required. However, I find whenever, I anticipated their service/attention, they somehow could sense that and approach your seat for whatever you required.
Would report on my SIN-NRT trip report after chinese new year and mean while, I wish everyone a happy lunar new year!
[Edited 2005-02-05 11:56:33]