Hello everyone!
This is my first trip report. I wrote it while I was a foreign exchange student in Winterset, Iowa last year. The quality of the pictures isn't the best, but I hope that you can still enjoy it!
---
I am currently an exchange student in America from Sweden, just like my father was 30 years ago. Me and my host brother Chris were invited to go to Florida for a weekend to visit my dad's host brother from when my dad was a foreign exchange student in 1974. We flew on Delta from Des Moines to Fort Lauderdale. I was excited because I was going to be flying on two aircraft that I hadn't flown on before, the CRJ and the B764.
DSM-ATL
Flight #: DL5852
Aircraft: CRJ-200
The day I had been waiting for was finally here. I went up around 7 to make sure that I had everything I needed and, to eat a big breakfast since we were going to be on a plane for most of the day and from what I have heard, the amount of food you get on domestic flights here in America is not extremely big.
My host sister was at home from college and took me and Chris to the airport at 8.48.
Around 9.30 we arrived at the Des Moines airport. We checked in and found out that Chris didn't have a seat reserved for him. The person at the check-in desk tried to find one for about 5 minutes before she finally found one. We had a window and an aisle seat for the DSM-ATL flight but seats in the middle for the ATL-FLL flight.
We said goodbye to my host sister and went to the shop to try to find a present for my dad's host brother. We bought a book about Iowa and I also bought the book "The Da Vinci code" by Dan Brown for myself.
We didn't have to wait in line for security and went through quite fast.
Once we got to the concourses, I did some spotting. I saw many regional jets.
At one point, Chris said "You act as if you have never been to an airport before".
I guess that you have to be an enthusiast to understand the fun with looking at 10 different Canadair regional jets with slightly different colors.
After taking pictures of all planes that were at their gates at the moment, we went to our gate A5. We saw several F16:s take of which was really cool (and loud). Our plane pulled up to the gate at around 11.22 and started to unload.
We boarded at around 11.40. I had 2A and Chris had 2B.
Our CRJ to ATL
As we were about to put our bags in the overhead bins, I realized that they were way too big. People were still coming in through the door and I had to do something with the bags. I put them on our seats and stood completely bent in front of the seat. It must have looked really stupid.
When all the passengers had boarded, the F/A asked if we wanted to put our bags in the cargo space (is it the name for it?) which we gladly did after taking out some things we wanted during the flight.
Before the doors closed, the F/A said that if someone on the plane was not going to ATL, she would suggest that they should tell her now. For some reason, I found that really funny.
We took off to the south and made a left turn.
During our climbout from DSM
An interstate crossing somewhere close to Des Moines
Not long after the take-off, pretzels and ginger crackers were served. After the pretzels, we got beverages, and then pretzels and the crackers again. I also had a peanut butter and jelly sandwich and cherry pop tarts with me.
We reached our cruising altitude (FL270) fast and flew over Missouri. The weather was perfect for flying, almost no clouds at all and no turbulence. I spent most of the time looking out the window, which resulted in a sore neck and back when we got out of the plane.
On our approach to ATL, we flew over downtown Atlanta which was fun.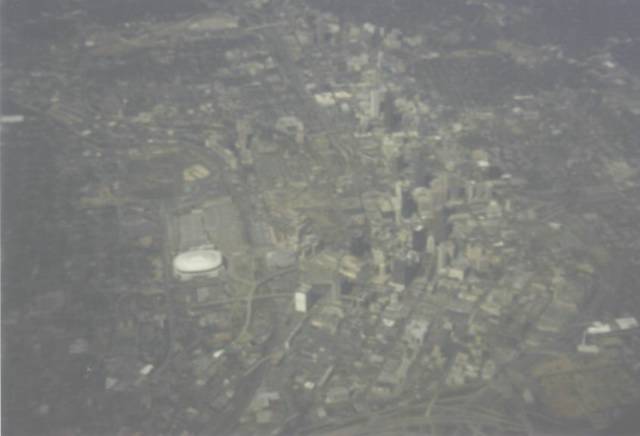 Downtown Atlanta
After we had landed, we waited for a long time next to the runway before we could cross it due to all traffic at that time.
My first thought when we stepped out of the plane was, "Now I remember how summer feels like!" It was nice and warm compared to chilly weather in Des Moines.
We grabbed our bags and went in to the C-concourse at ATL to find our next gate.
ATL-FLL
Flight #: DL324
Aircraft: B767-400
When we came in to the concourse, I was amazed of how big it was. It felt like it took forever to get to the subway that goes between the concourses. We took the subway to concourse A and went straight to our gate, A2. We called my host parents and my dads host brother to tell them that we arrived safely in ATL and would not miss our next flight. I went to buy a sandwich but the computer system was down so they couldn't sell anything. Slightly annoyed, I walked back to the gate to wait for clearance to board.
When they were boarding the first passengers, the passenger name Bon Jovi was called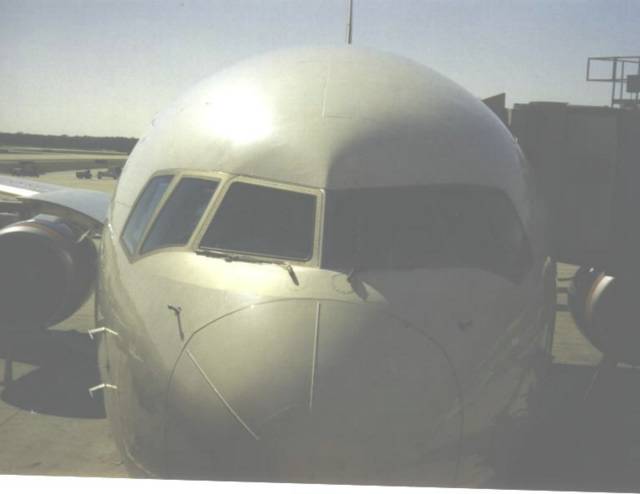 Our 764 to FLL
We boarded after a while and found our seats. I had 42D, which was in the absolute middle of the plane. As I approached my seat, a gentleman in 43B asked me if I wanted to trade seats with me since his wife was sitting in 42C. I agreed to that (I got closer to the window) and ended up sitting next to a girl in my age that was traveling with her family and their exchange student to Florida for a one week cruise. She was really nice. In the seats on the other side of the aisle, two parents with their baby son were sitting. The baby was crying quite a lot but it didn't bother me. I was probably quite loud at that age too.
The take-off was VERY powerful. We blasted off and took a left turn right after leaving the ground. During the flight, I was just talking to my seat mate about everything. School, faith, airplanes, and music were only some of the topics we covered. I didn't really pay attention to what was going on outside the plane except that the raked wingtips of the 764 look strange. We were once again being served pretzels and crackers. We landed on time (something unusual for Delta from what I have heard) and my dad's host brother picked us up.
We spent a wonderful weekend with him and his family. We flew his private plane to St. Augustin to see the old Spanish fort, went to Seaquarium, and relaxed on the beach.
On Monday morning, it was time to go home again.
FLL-ATL
Flight #: DL1531
Aircraft: B767-400
At 4.30, we woke up. I had a quick breakfast and we left for the airport. It took us about 30 minutes to get there. We said goodbye outside the terminal and went to check in. A lady from Delta said that if we had electronic tickets (which we had), we should check in at a kiosk. When we got there, we were told that we needed a credit card or a sky miles card. Since we didn't have any of those, we just went back. We were then told to go to the first class check in for some reason. When we told the woman at the check in desk that we were told to go there, to which she angrily replied "Why?" I told her that I had no idea and she gave me a look that clearly stated that she wasn't happy at all helping me and Chris at that time. Yes, it was early but I think I can expect a little more helpfulness and friendliness by the check-in staff.
The line for security was quite long and I got really tired waiting. When I went through the metal detector, a lady who worked there gave me a look which I interpreted as "You are so busted". I asked here if I had to go through again, which I didn't. It turned out that she was wondering if I could see anything through my hair (my hair is long and hangs down in my eyes all the time). We had a nice 10-second conversation about how annoying it can be before me and Chris went to our gate. We called my host parents to tell them that we were on our way and boarded the plane. We had seats 39C and 39D.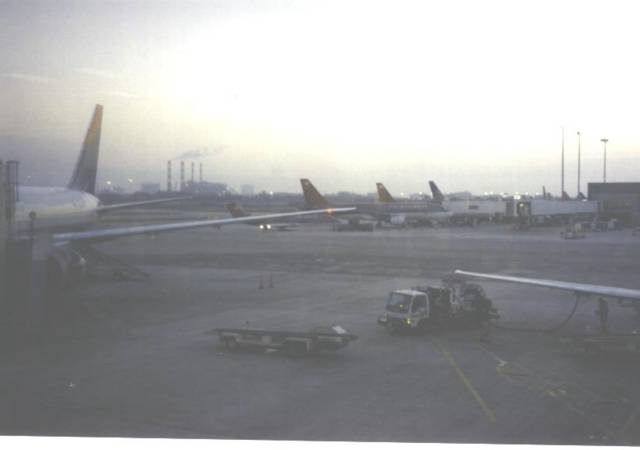 The aircraft that I could see at FLL that morning.
The take-off was once again powerful. The engines were also very quiet. Since I didn't have a window seat, I spent the flight reading my book that I bought in Des Moines. I can highly recommend it!
As we approached, I asked the F/A if I could visit the cockpit when we had pulled up to the gate, to which she said yes. When we landed, me and Chris stayed in our seats until everyone else had left the plane. One of the passengers spoke VERY loudly to someone on his cell phone. He kept talking about race horses. Another passenger noticed that I was reading the Da Vinci code and made a comment about it being an awesome book. It seems like that book is popular in many places in the US. When all the passengers had left, we went to the cockpit. The pilot we talked to was really friendly. He took pictures of me and Chris sitting in the cockpit seats and I asked him what planes he can fly, what plane he liked best etc. He said that most pilots like the 777 best. For some reason I'm not surprised.
When we walked the jetway to the concourse, there was a closed door there. I tried to open it but it was locked. We didn't have very much time to our next flight and we had been in the cockpit for a while so I was slightly stressed. Luckily, the pilot came by and locked up the door for us.
Chris and I in the 764 cockpit.
ATL-DSM
Flight #: DL5852
Aircraft: CRJ-200
We took the subway to concourse C to get to our gate for Des Moines. I discovered that we had more time than I thought so I took time to buy a sandwich. We went to our gate (C28) and I sat down to eat while Chris went to get pizza. They started the boarding of our flight and I wondered where Chris was. After a long time he came back. He had gone to the end of the concourse and there was a huge line there. He finished his food quick and I called my host parents and my dads host brother to tell them that we were OK. We boarded the CRJ and found our way to our seats. They were 9A and 9B, right behind the exit row. We sat down and I began reading my book. I noticed how hard and small the seats in the CRJ felt compared to the 764. We sat there for a while, than the F/A said that the plane was overweight and the company was right now deciding if they should drop passengers or luggage. I and Chris decided that if they asked for volunteers to take another flight, we would volunteer. After about 10 more minutes, they asked for people willing to take another flight. We raised our hands and went off the plane. We got our bags back and headed back to the concourse to get our new tickets.
ATL-CVG
Flight #: DL2112
Aircraft: B757-200
It turned out that we were going to go through Cincinnati. That meant that we would have another 3 hours to explore the airport. We also got a $7 lunch voucher and a $200 travel voucher. Not too disappointed, we called my host parents to tell them that we were going to arrive later than originally planned.
We then went to the E-concourse to look what international airlines we could see. We didn't see any. I bought a Frappucino from Starbucks and a Chicken whopper from Burger king for lunch. I also bought new ear phones for my CD-player. Chris bought hot dogs and the DVD "School of rock". It is a hilarious movie!!!!!
We took the subway back to the A concourse to go to our gate.
The Subway at ATL.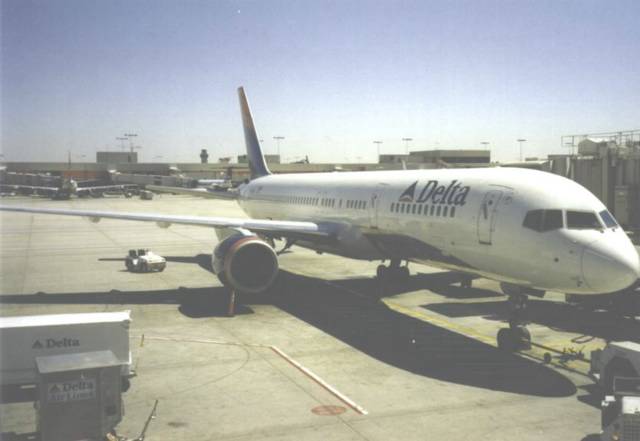 Our 752 at the gate.
When we got to the gate, we started watching School of rock on Chris' portable DVD-player. We were boarding in zone 1 so we got in the plane first which was nice. I had seat 20A, and Chris had 20B. When we reached the runway, the pilot turned off the taxiway and gave us the message that we had to wait about 10 minutes because of high traffic density in CVG. We saw some other planes take off and land before we turned on the runway. The beautiful sound of the 757 engines started to roar and we blasted away. How I love this plane!!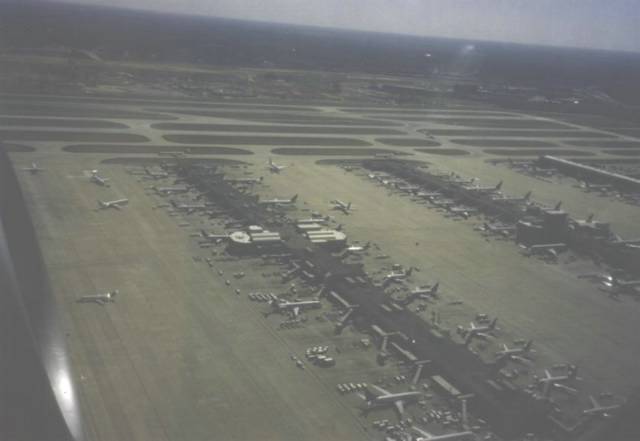 As we take off from ATL.
As the F/A:s started to serve the usual pretzels, the guy next to Chris asked them what else they served. Apparently, this guy was not used to flying or just used to fly first class. He was also flirting with the F/A:s during the whole flight.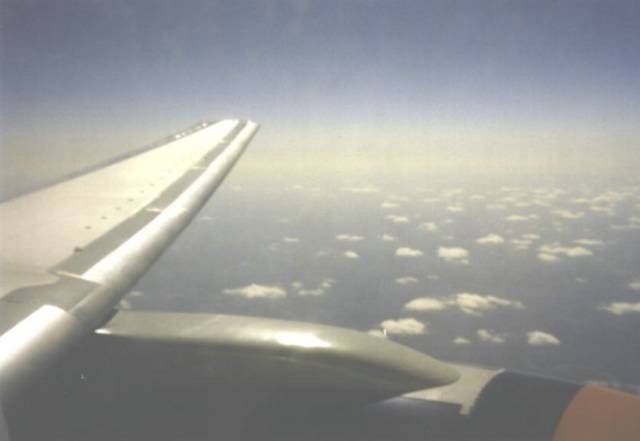 Somewhere between ATL and CVG.
When the F/A announced our descend into CVG, she forgot what she was supposed to say. She said "I would like to ask you to put your seats in the upright position, store all luggages safely in the overhead bins or in the seat in front of you and… eeerr… oh yeah, and to put your trays up"
Chris and I asked if we could see the cockpit after landing which was approved. We took some pictures and talked to the pilot for a while before we headed out to the shuttle to the C concourse.
Me in the 752 cockpit.
CVG-DSM
Flight #: DL5857
Aircraft: CRJ-200
CVG is an interesting airport. The main concourses are located in one building, and you can take a bus to the C concourse which is the heaven for all you regional jet lovers. It looks like a bus station to me. There are no real gates, just a big room for all the flights from the area. You then go through the boarding card check down a little hallway until you reach your exit to the plane. It is hard to explain but I hope you get some kind of picture of what I'm talking about.
After visiting the cockpit in the 752, we went straight to the shuttle to the C concourse. We found our gate and sat down. I phoned my host mom and Chris bought cookies from a bakery next to the waiting room. After about 20 minutes we boarded and took our seats, 8B and 8D. I switched seats with the gentleman in 8C so that I could sit next to Chris. Row 8 is an exit row which provided us with plenty of legroom.
When the doors closed, the F/A introduced the flight by saying "This is Comair flight 5857 to Honolulu, Hawaii with a stop in Des Moines for those who wants to go off there."
Most of the passengers laughed. When it was time for the seat belt demonstration, he (the F/A) said that if someone didn't see what he did, they just had to raise their hands and he would be more than happy to demonstrate it again. About one fourth of the passengers raised their hands just for fun.
Our CRJ to DSM before we boarded it in CVG.
Once the captain turned off the seatbelt sign after a powerful takeoff (I was surprised), the F/A introduced the meal service like this, "I will now serve the usual Comair meal. You can choose between a Caesar salad and a shrimp sandwich as a starter, steak or lobster for the main course, and lemon or apple pie for dessert. After that, I will serve pretzels and beverages. Please notice that if you choose the 3 course meal, you might have to wait a while before you get it and it will cost you some extra money".
This is the type of F/A that really makes you feel welcome on an airplane.
When he was serving drinks, both Chris and I asked for the full can of pop which we got. We then continued to watch School of rock. We flew over Indianapolis and the RCA dome where we went this fall to watch the Bands of America marching band championships. It was interesting to see everything from the air. When we started our descend, we turned off the movie and relaxed. While exiting the plane, the captain shook hands with the passengers and the F/A offered candy. This is really what makes people feel special when flying. Too bad that everyone doesn't have the same sense for service.
Once we came into the concourse, Chris called my host mom to see if she was at the airport. When he found out that she was, he started to make up a lie that we were in Dallas due to technical problems with the plane. She actually believed it!
When we came down the escalator, she saw us and started to laugh. We went straight to the car since we didn't have any check in luggage and drove back to Winterset after a wonderful vacation.
I really liked Delta. The service was good throughout the whole trip (with a few exceptions) and their planes were clean and nice.
Now I'm looking forward to use my voucher and go to France this fall.
Cheers!