Hi all,
warning, this is quite a long trip report of a recent less than 24hour trip to New York. It was fun though!
Enjoy!
Flight: BA113
Aircraft: 772
Reg: G-ZZZC
Seat: 11A
Scheduled departure: 5.30pm
Actual departure: 5.40pm
Scheduled arrival: 8.15pm
Actual arrival: 8.45pm
Warning: no pictures on the outward journey (because of night flight of course), some pictures on the way back though.
Here goes my second trip report, yet again on the LHR-JFK and back route.
However this time around it wasn't on a private trip, but on a business trip and we all know what that means: here I come business class, bring on the bubbly.
This trip was quite a tiring one. I was originally scheduled to leave on Wed, January 5th to be in NY for an important meeting the next day and fly back on Thursday night!
But as things happen in the crazy business world, the meeting got pushed back and I ended up leaving on Thursday night instead.
I was quite scared when I heard about the re-schedules meeting because I was so looking forward to testing both the 772 on the way out and then the 744 on the way back.
I had experiences the 744 in Club World before, but never the 777.
The good news was that my flight the next day would be same time, same a/c! Yes!
I spent the day at the office and left at 3pm to catch the wonderful (even if overpriced – expenses!) Heathrow Express to Terminal 4.
At this time of the day the Heathrow Express is nice and empty, just as the check-in counters.
I went straight up to lovely Jacqueline and we had a look at what was available.
Unfortunately, there weren't going to be any upgrades to First today, as the flight wasn't full.
I had checked seatguru.com of course but all the real good seats were already taken.
I was so excited to be on the 777 again, as my last flight was in business class with CX from Kuala Lumpur to Hong Kong back in April.
Man, was I looking forward to those GE90s!!
And that's why I opted for seat 11A, looking backwards but also right at the wing and on the GE90s!
I then went for the lounge, which was dull as usual. I had a quick smoke in the general smoking area to look at some departures and movement on the tarmac.
Boarding was quick and easy at gate 25 (loooong walk, which I find a bit of a disgrace) on our beautiful 772.
I settled down in my seat and immediately stared at those engines.
Those backward seats are quite interesting, because they are stuck to the windows and you sort of feel that you might have less space than the forward-facing people. I might be wrong here, but that is the impression I got.
I was immediately offered a drink (OJ), an evening paper and my essential BA kit for the flight. Is it me or did the socks get smaller since I last flew Club World??
We then taxied to take off (27L I think) which is just around the corner and took of immediately.
Now I consciously took a backwards-facing seat because I had never experiences it and oh my god! It messes with your brain as you take off but it's quite a sensational feeling.
We climbed very quickly to our flight level at 40,000ft and we pretty much stayed there all the way.
It was dark night outside and the only thing I could see was the red light lighting up every two seconds that made the GE90 decal appear for a split second, Beautiful.
I am always amazed at how silent these wide-bodies are. There I was sitting with head next to the window just outside the biggest passenger a/c engine ever built and yet there was less noise than in an A320. Not only a cruise level, but also on take off. On the A320 you keep thinking the engine is about to blow off the wing and half the fuselage with it when it accelerates,
This 777 was smooth and nice.
The interior was immaculate.
The other pax were mostly business people who kept their ties on for the entire flight, which I somehow found weird.
Shortly after take off I was greeted with my full name (an easy but very nice touch) to take my main course order (bangers and mash!).
The drinks (I took a Buck's Fizz cocktail as suggested on the menu and then a red 2002 Graves) were good and so was the food.
We then all settled in, even though the F/O had warned us that because of the strong headwinds we would probably have to fight with a little turbulence for the first 2-3 hours.
After an hour the F/O came back on and told us that the headwinds were so strong, we were practically losing 5mn per hours and our arrival would be delayed by about half an hour(which turned out to be exactly accurate).
Turbulence wasn't bad so I prepared to watch my first movie.
The programming is rather poor this January and I decided to go for The Village.
Quite boring and also very frustrating, as the LCDs in Club World were pathetic.
As I had read in other threads, it is very small screen inside a massive plastic casing. I even saw that things weren't that much better in First.
Whoever has flown in business on EK or SQ will be absolutely outraged by this.
The chief service director told me that they were having massive problems with IFE on this particular a/c and that it would soon be going in the shop for major repairs and refurbishment.
It's true that the crew had to do the safety instructions manually because the video wasn't working.
The second film I watched was Wimbledon – sort of funny but too close to landing and missed the very last 5minutes! Dammit!
Landing took a while, because we had to go all the way around JFK to land from the south. Clouds were hanging extremely low but landing was as smooth as ever in the 777.
I was sad to de-plane but I was the first at immigration, first out of the door and first in the cab. Took me less than 45 minutes from the moment I stepped off the plane to the moment I stepped in my hotel room in Manhattan. And that is quite a surprise by NY standards!
My meeting was on Friday and I was scheduled to leave on BA114 at 8.50pm the same day. Quite a trip.
JFK-LHR
Flight: BA114
Aircraft: 744
Reg: G-BNLJ
Seat: 62K
Scheduled departure: 8.50pm
Actual departure: 9.05pm
Scheduled arrival: 8.50am
Actual arrival: 8.40am
This was going to be a 744 and I was looking forward to comparing it to the 777.
It had to be upper deck of course! I had booked 63B (thanks seatguru) before leaving LHR.
But now that I had done the outward journey facing backwards, I was thinking I should really do it on the way back as well!
So as I checked in at Terminal 7 I asked for a different seat, either 62A or 62K.
Nothing was available but I was told to ask again in the lounge.
In the lounge they said they were going to see what could be done.
I went to check out the pre-flight supper and the buffer was quite nice that evening, a lot of asian dishes and some pasta varieties.
I have to admit it is nice to eat something comfortably before boarding.
Boarding started on time and I settled in my backwards-facing seat.
I had checked out the movie programme on-line and the movies really are terrible this month. I was going to try out Shark tale, but that turned out to be very boring.
We pushed back, got the safety video and took off to the south.
Now this is where the backward seats on the 747 are really weird: you are so high up on the upper deck that it feels like you are doing a barrel roll each time the time a/c turns. Quite disturbing, but not necessarily in a bad way.
The rest of the flight was uneventful. The Captain told us that tail winds were quite important and that the flight was going to be under 6 hours!
One thing that did surprise me is that the average age of the pax on the upper deck must have been around 30 (so am I, so it makes sense) but it was just weird, as business travellers tends to be older than that usually.
During the night I actually managed to get some sleep, but also went for the walk of shame around the cabin. And even though I have flown hundreds of times in economy on widebodies, it is always a shock: when you come from the upper deck in business class and pass the curtain to World Traveller…it is simply shocking – it really does look like cattle back there. Poor guys..I felt lucky not to be back there for once!
The sun was coming up slowly in front of us and before it was too late I got some breakfast and decided to rush down again to take some pictures of the wing.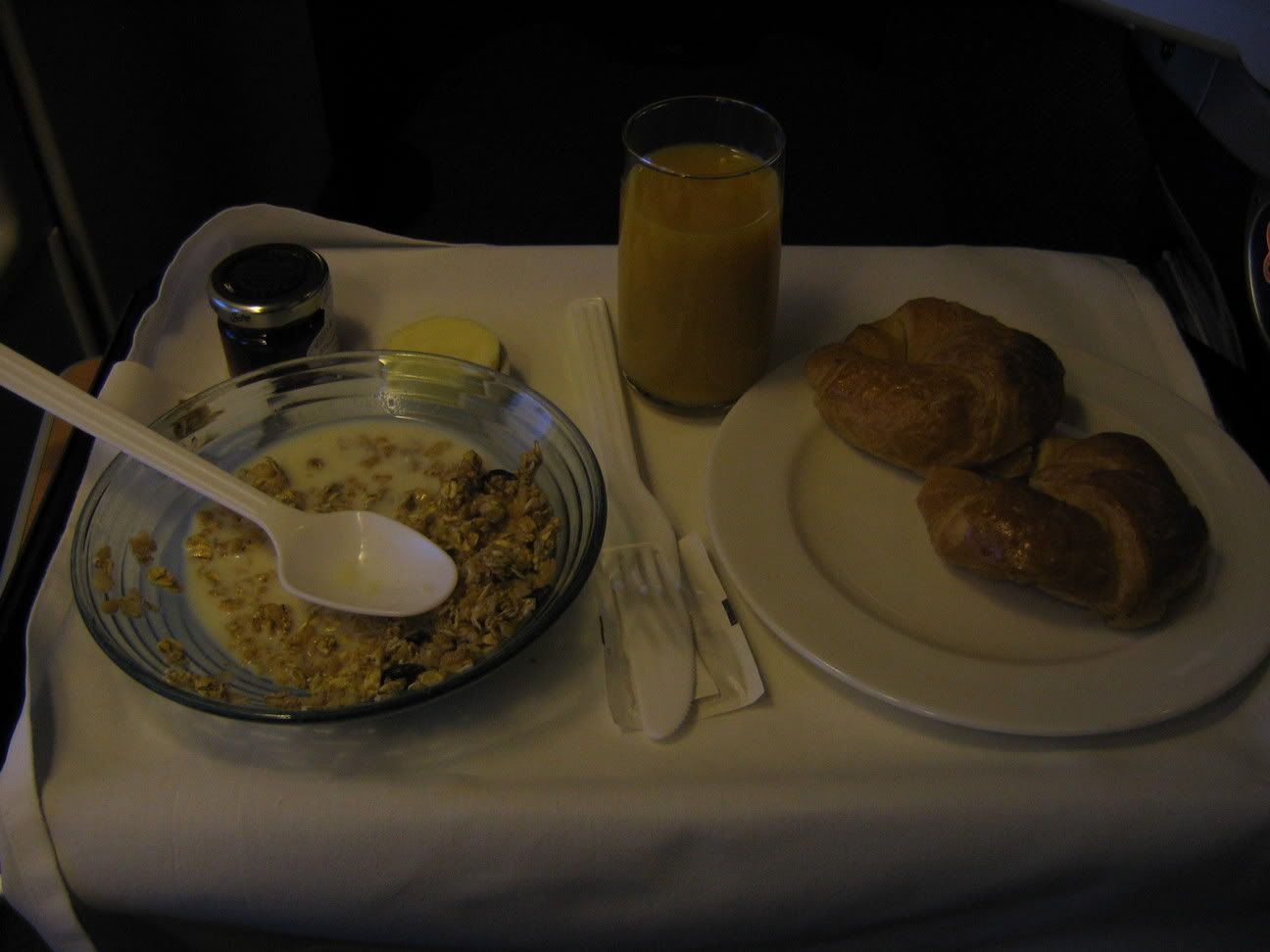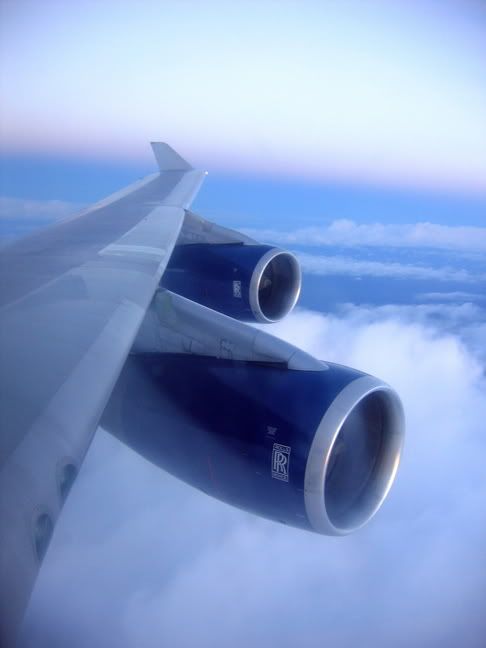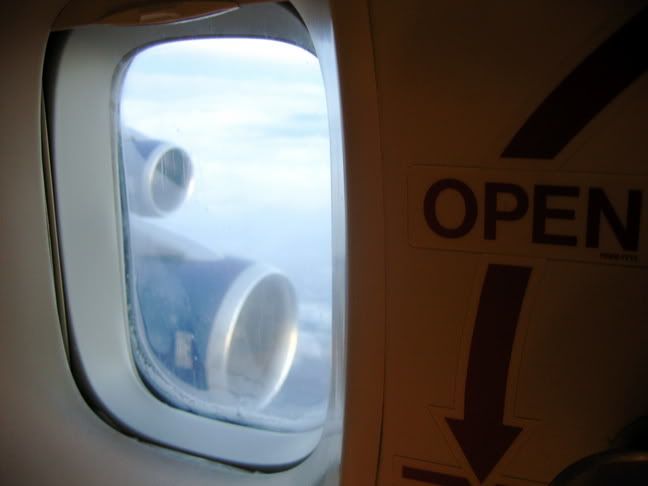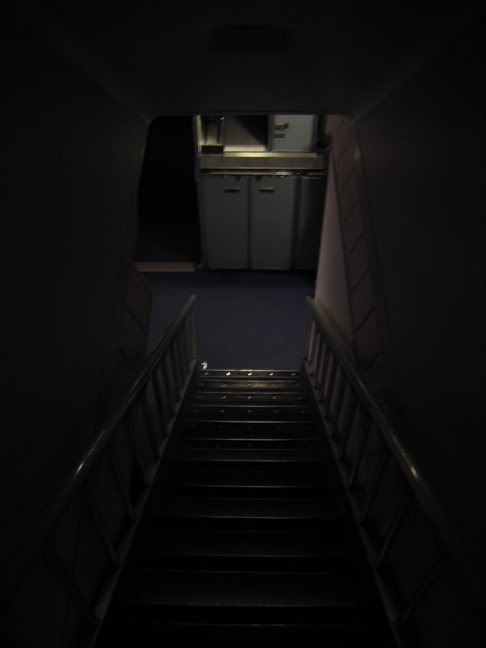 The Captain then came on to announce that we would have to go into a holding pattern south of London, which is so much more impressive on a 747 than on the regular A320 or 737s I take on my European travel.
He also warned us that landing would be a little bumpy due to heavy winds.
During the holding I saw a couple of other heavies doing the same and, again, it is always an impressive sight, even though I didn't manage to get a decent picture.
Here are some pictures coming into London: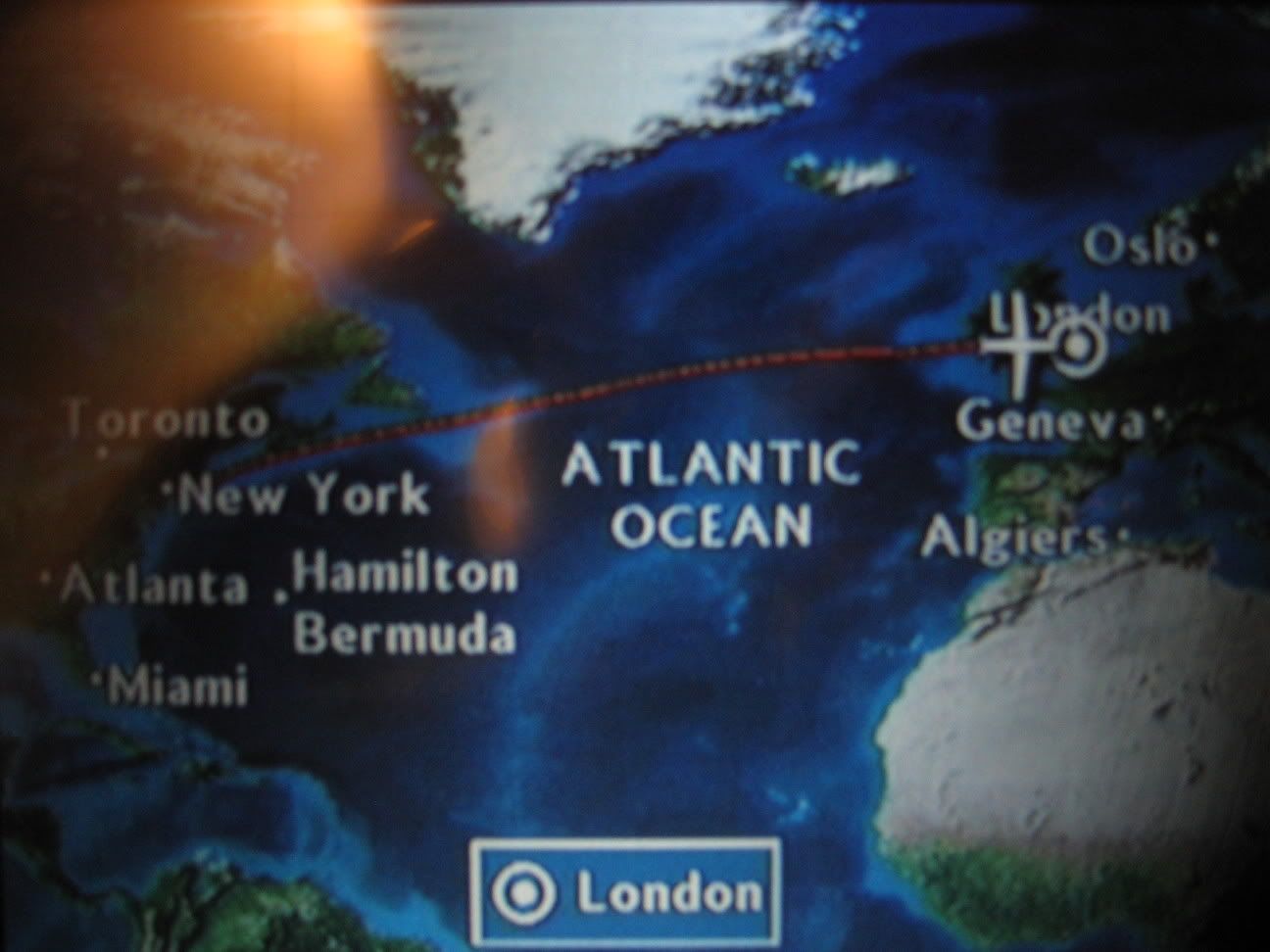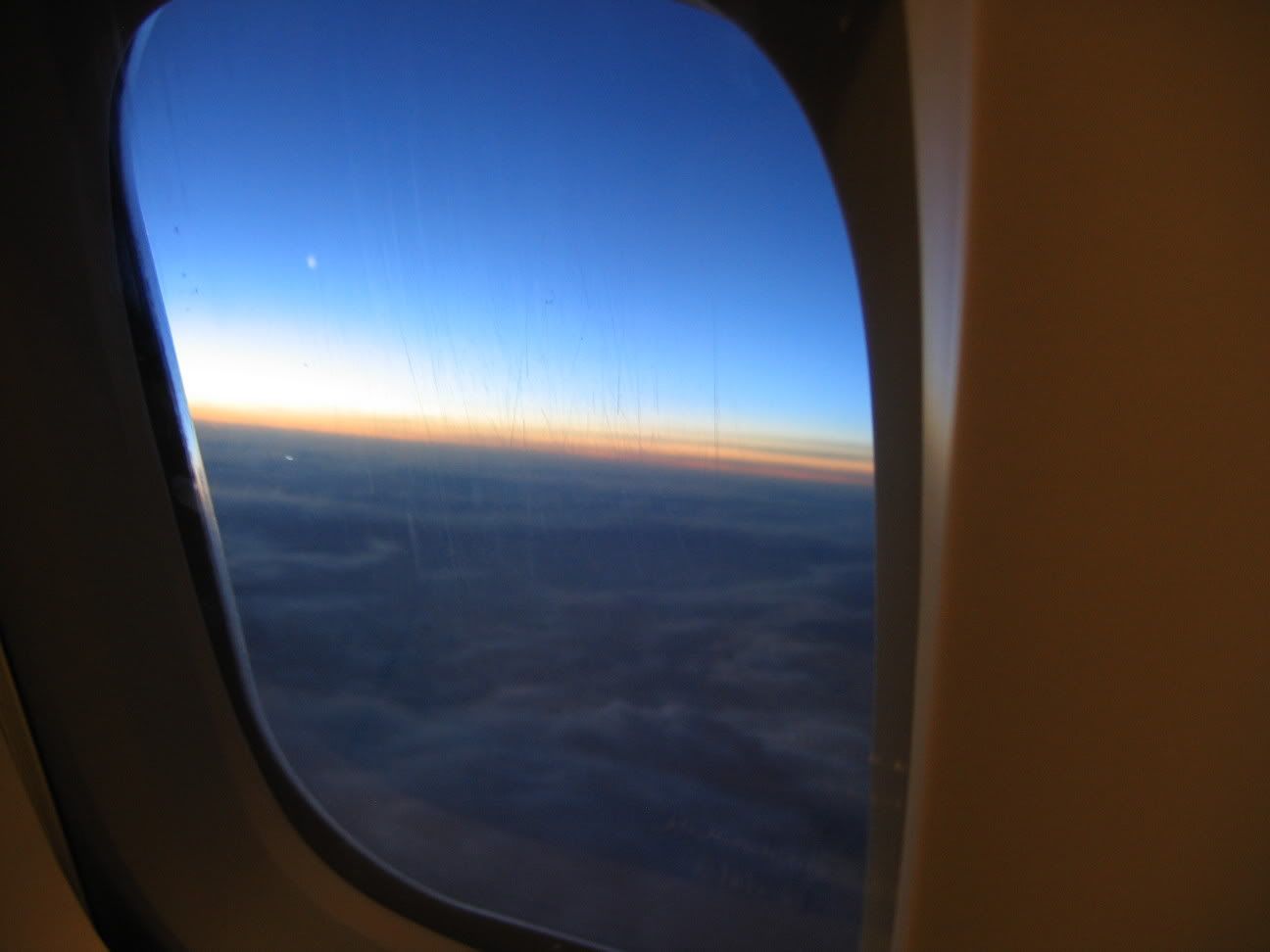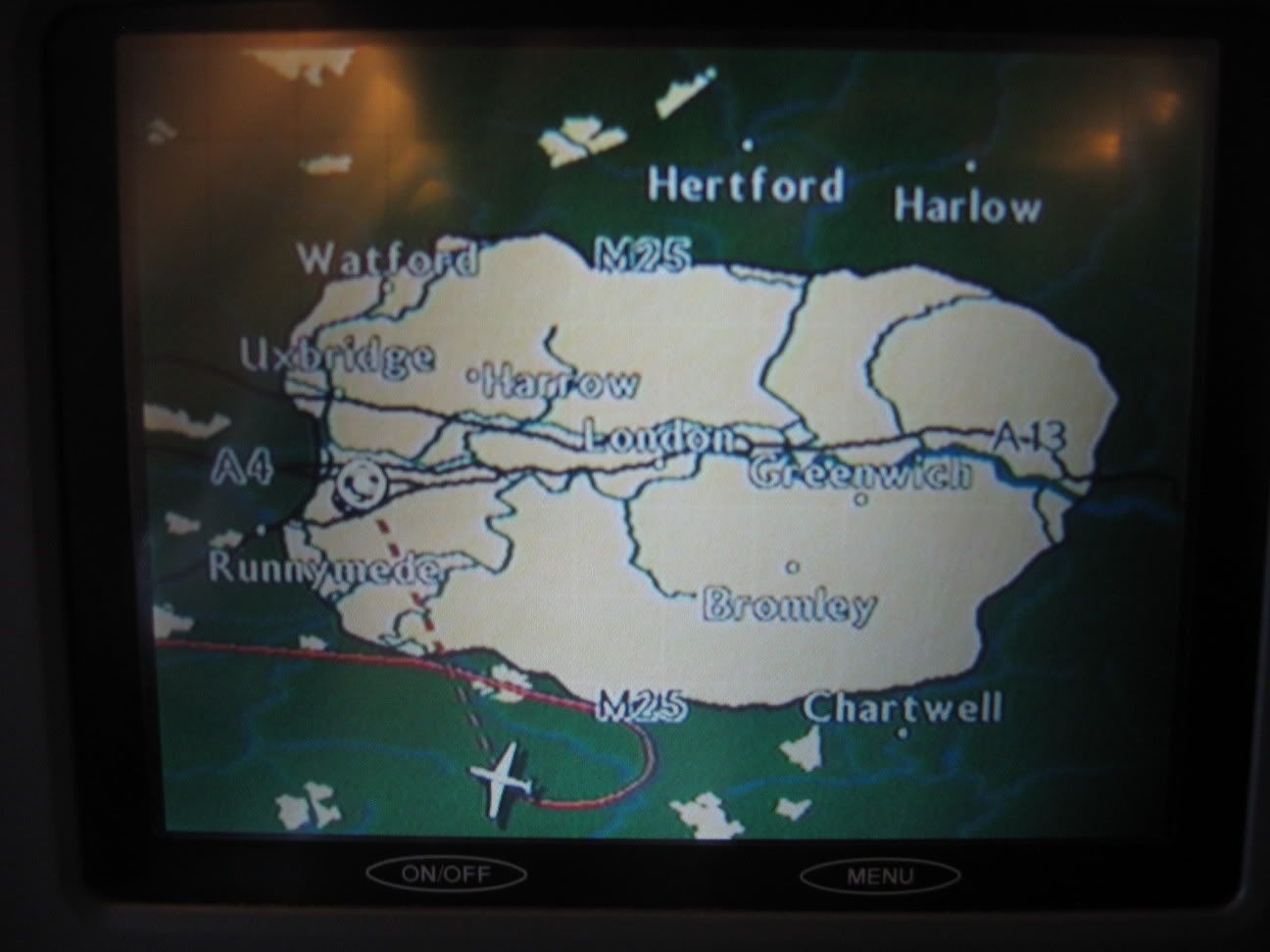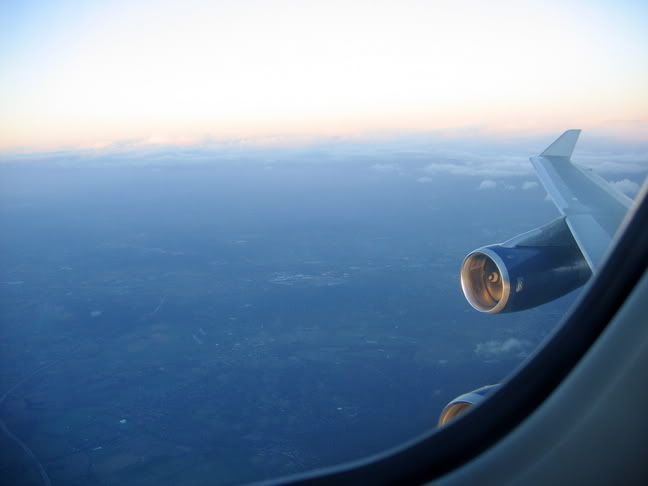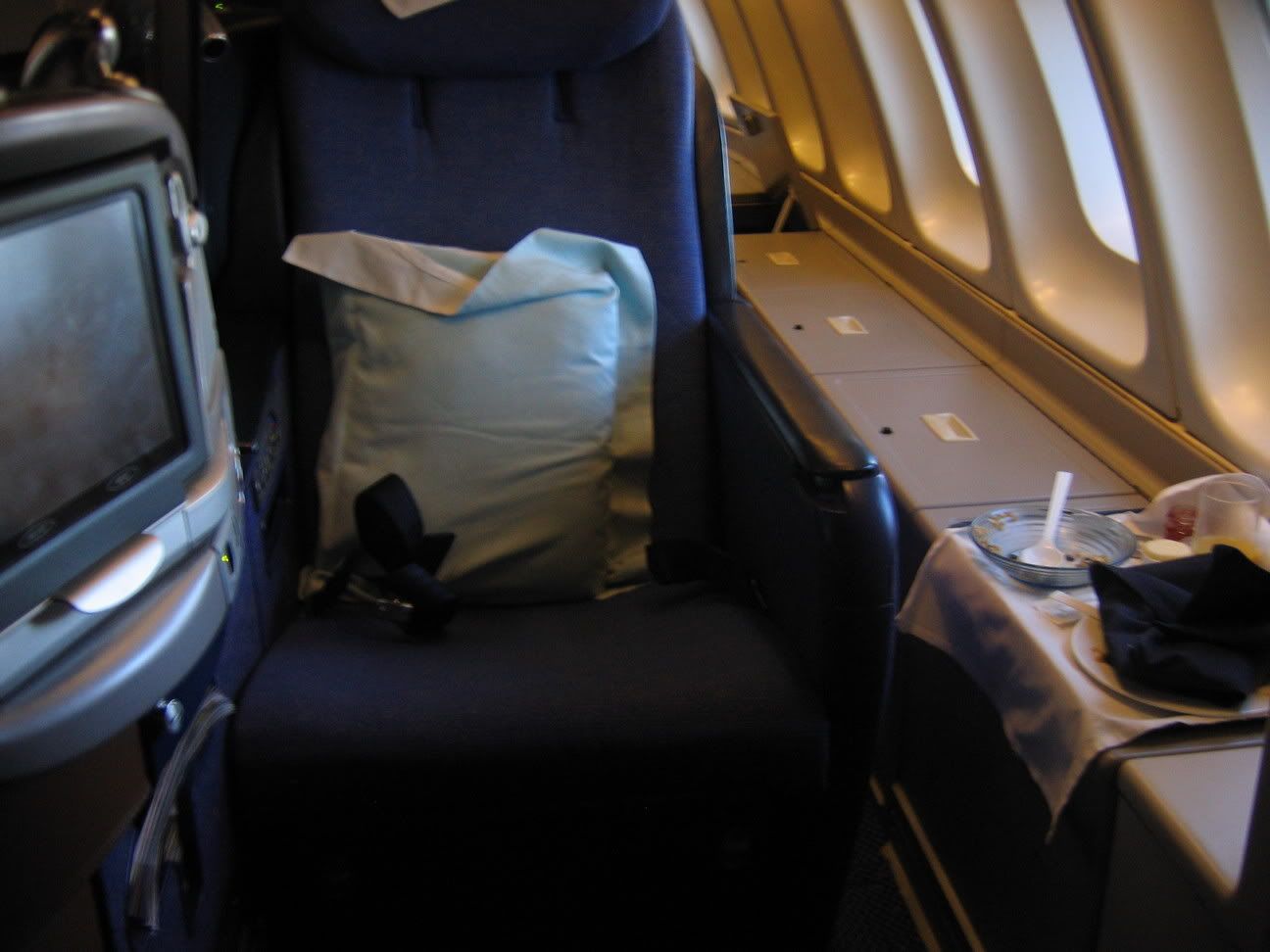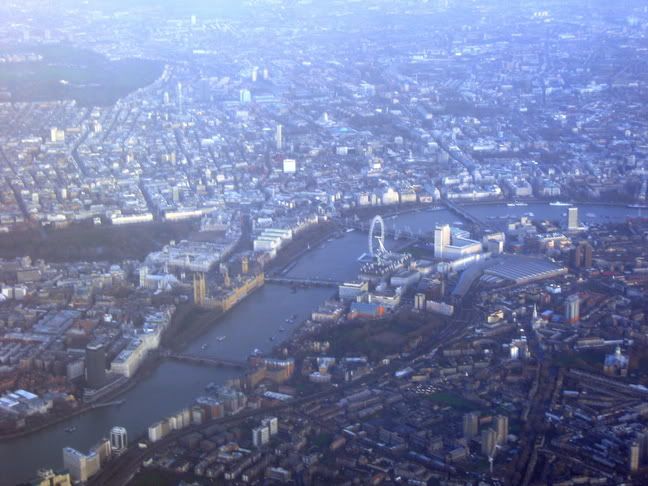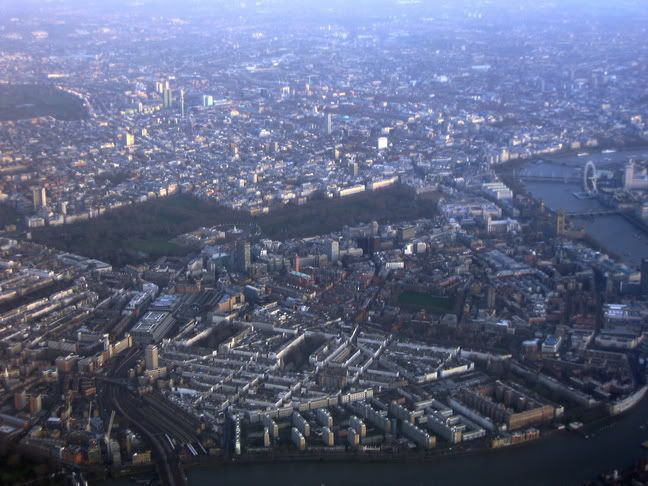 Landing was actually quite smooth and I managed to get some relatively good pictures of London.
And there I was on the ground again. Unfortunately we didn't get an apron and hat to de-plane using busses, which I always find disturbing after a long-haul flight.
Overall, I would have to say that BA did an outstanding job again. The FAs might not be the sexiest around, but they know what they are doing, are extremely professional, smiling and fun. They're British…what can you say..it's all good.
The cabin interiors are always in good condition, the Club World seats are excellent.
It's all less funky than VS for instance and the food is far from being up to CX or EK standards, but everything works perfectly well, fits together. It's a great product. I just like BA, what can I say?
Hope you enjoyed this looong report....feedback welcome!
-LoungeLover