Well, I decided to take another trip as I had some bonus money from school, so I hop onto Bmi.com and booked myself a Day trip to AMS to see the dutchies
.
ok so where do we start
OK, woken up at 5:30am by the alarm I I drag myself out of bed and start getting ready for my trip. Washed dressed, double check I have everything and then to wake mum up. I jumped onto the next quick to check the weather and aircraft stats. Weather was a bit cloudy and misty and I should be on a A321 on the first leg.
I left home while it was still dark, jumped into the car and started the 25 min trip to LHR.
We pulled up to T1 I say my goodbyes to my mum and then I jump out and enter the terminal. Not that busy at 7am. I decided to use the self check in service for the first time. So I head over to the Bmi part of the check in and find a vacent check in machine. I could not belive how simple it all was. Took me no longer than a minute. I scroll down the seat map to find the flight was looking fairly full, but I still got myself a window seat. I selected 25F, got my ticket printed and was amazed to see my return flight boarding pass also printed out. I had been assigned seat 14A which I knew was a window so no panic
.
LHR-AMS
Airline: Bmi
Aircraft: A321-231
Flight number: BD103
Class: economy
Departure time: 8:25am
Registration: you will see later
I proceed through security with no problem (this has happened 3 times now, I think I may be getting better at getting through hehe). Now I had only ever been to T1 Domestic departures so Flying to AMS would be in a different lounge so this was all new to me. My first impression.. Im to tired to be impressed....... I decided to have a look round to get to know where I was first and then maybe go and look at some parked up aircraft. So I head down one of the piers only to see nothing lol. so I thought I would go back to the lounge and get myself a drink or something. so I make my way towards the lounge again only to be stopped by security. I had to be screened again before going back in but they where friendly ounce they saw I was a bit lost with all this. Back into the departure lounge I go and I get myself all organized. Had a quick look around the shops and then look at the departure board to see I had been assigned a gate.so back down to the pier again. I found my gate and after going through MORE security I took a seat and awaited a boarding call. Soon enough it came and everyone rushed up at once. What amazed me now was that they announced that the flight would be boarding via stairs as it was a coaching stand and we would be coached to our aircraft. hmmm I though we was at Luton for a split second. So everyone rushing to the gate I decide to wait until the traffic dies down. Had my boarding pass ripped and given the go ahead. I asked if Delta Lima would be flying this leg today (sad I know but I wanted the star alliance A321 lol) She said she didn't know so fair enough ill wait and see
.
I headed down some stairs and out onto the LHR T1 apron. All the busses full up with pax I tried to squeeze onto one but jumped off quick seeing that another bus pulled up totally empty, me and a few other pax jumped onto this one and had at least 2 seats each hehe. so we pull away and head through the underground roads of T1, it was quite amazing to see actually, saw too all the baggage slides and places and stuff, pretty cool. It started to get lighter and soon enough we was driving around the north apron pier 4A. I was looking to see what aircraft we was going to pull up to and there came into view a black tail with a silver star logo onto it, there was Delta lima, with an air bridge attached at the first door so I didn't think I was lucky enough to get on her, But then I notice a set of stairs being pushed up to her and the door opening and then the busses pulled out to her side. My first reaction was OMFG!! IM ON DL!! so at this point I have to text Hannah and rub it into her that I was to be on her favorite aircraft 'DL' while she was in bed with a hang over, I don't think it went down well
.
And some pics
View Large
View Medium


Photo © Jid Webb
Boarding took a while as this was close to a full flight and mostly everyone was boarding via stairs. I was waiting in the queue to get on when the same lady that took my boarding pass came up to me and said, "I though someone would be happy" I agreed with her with a little grin and laugh.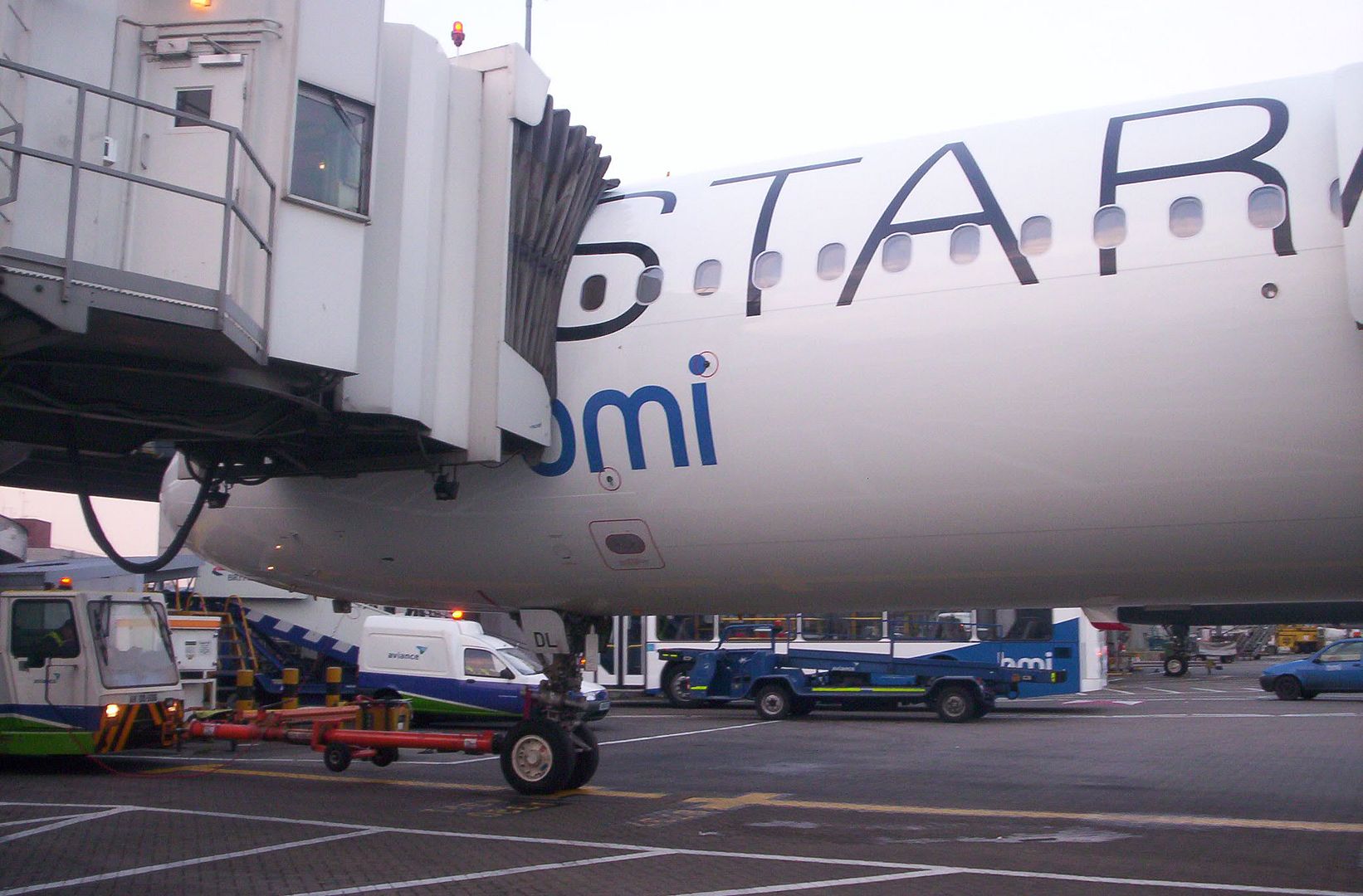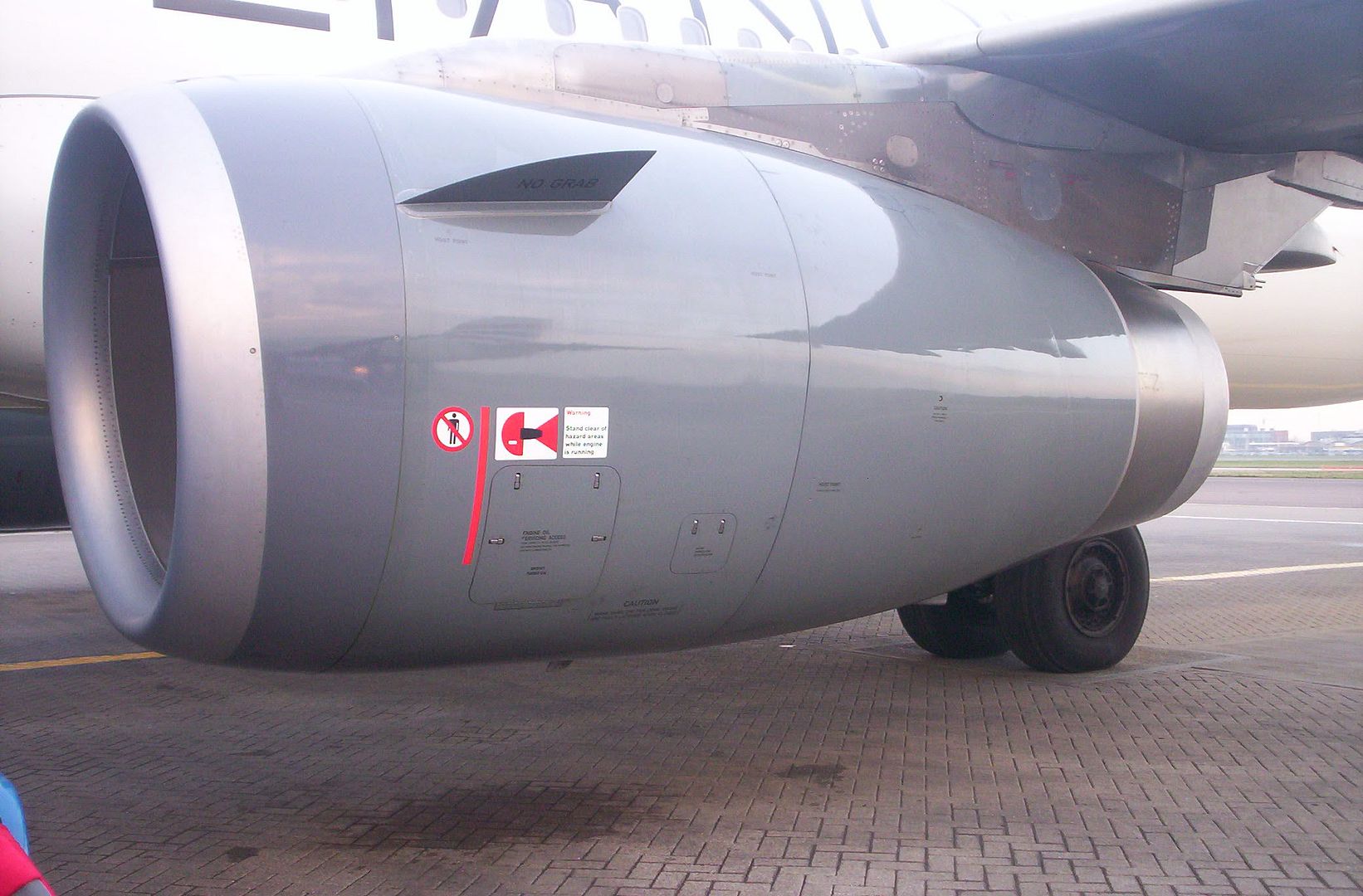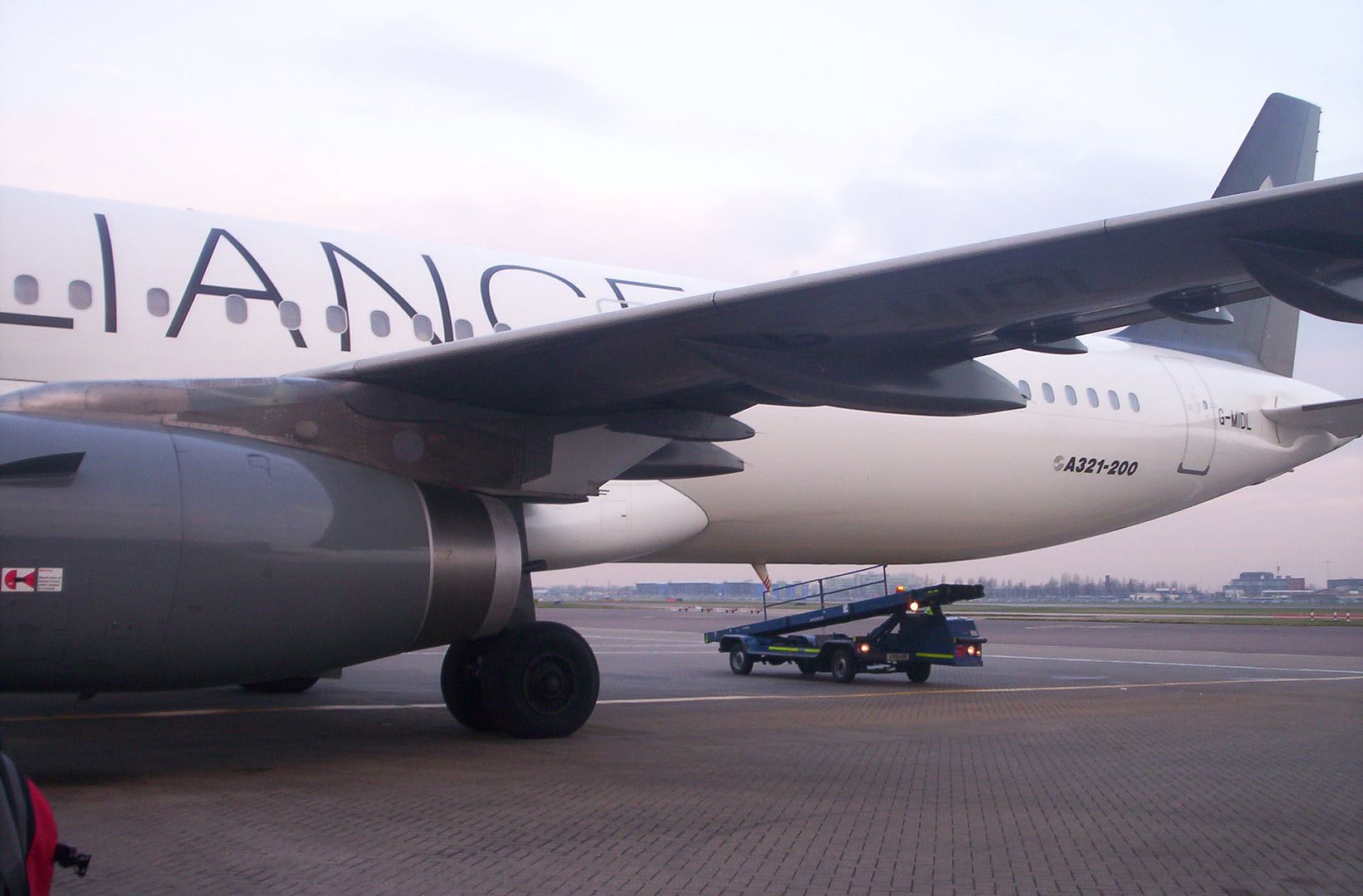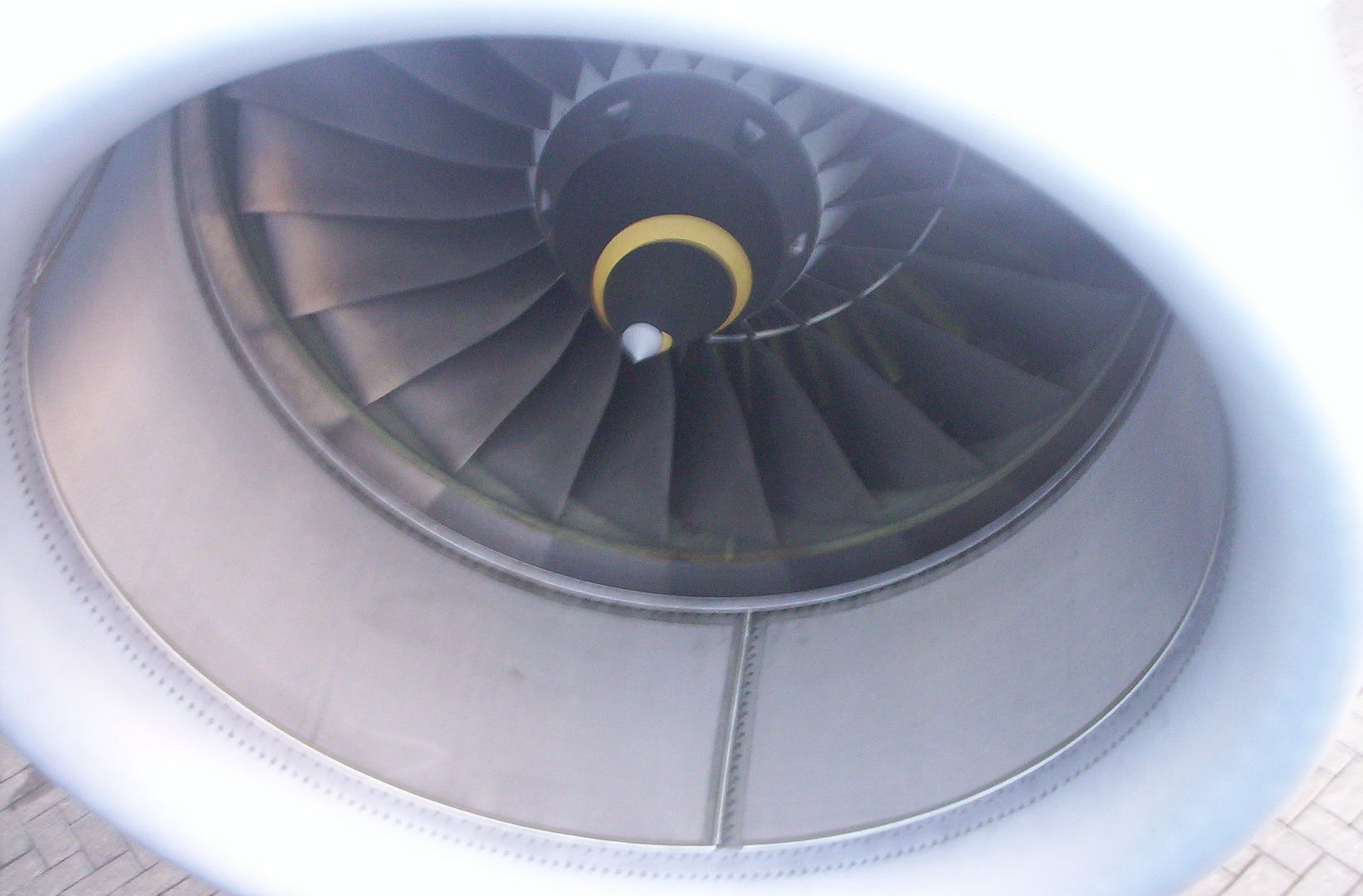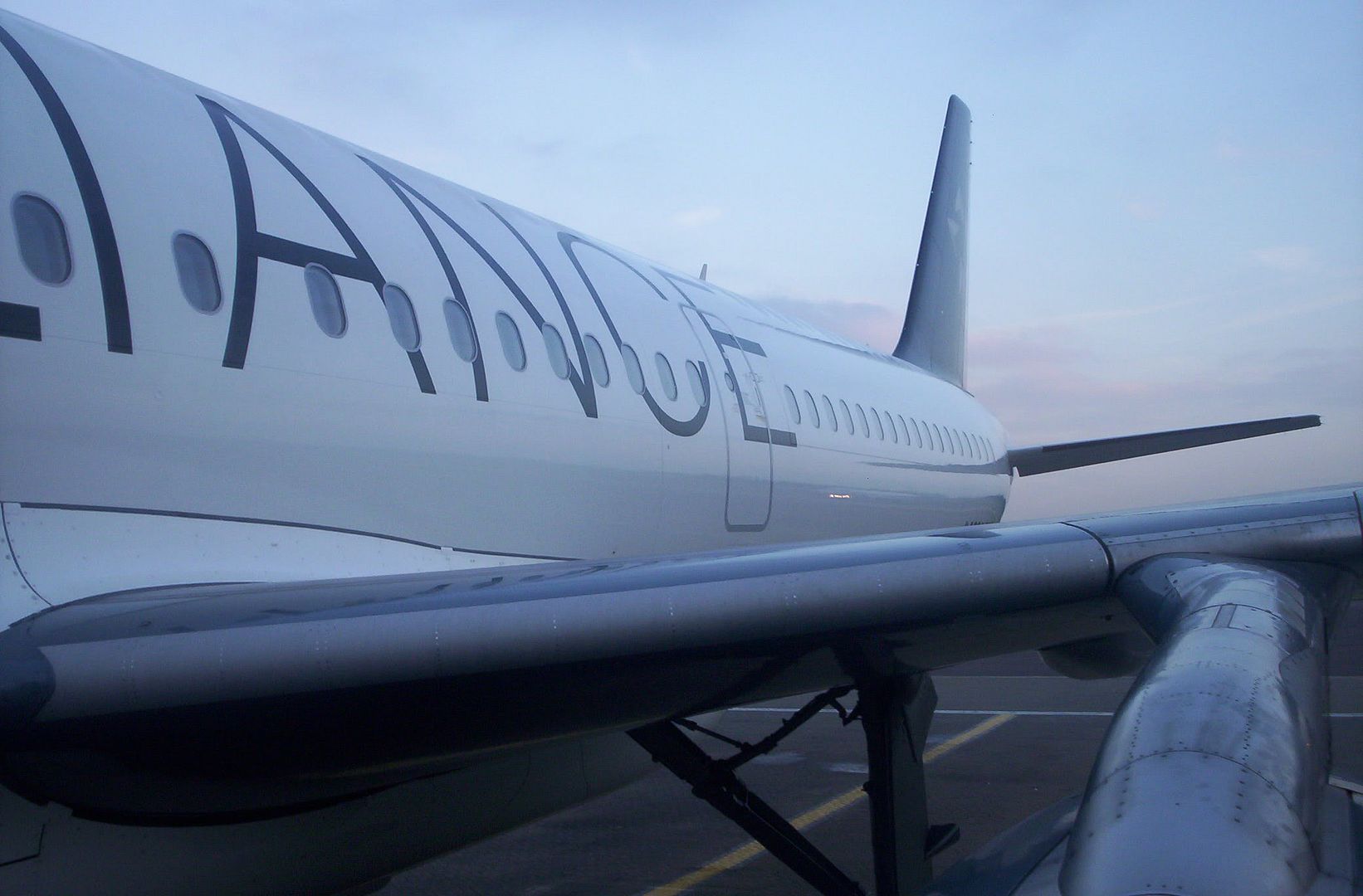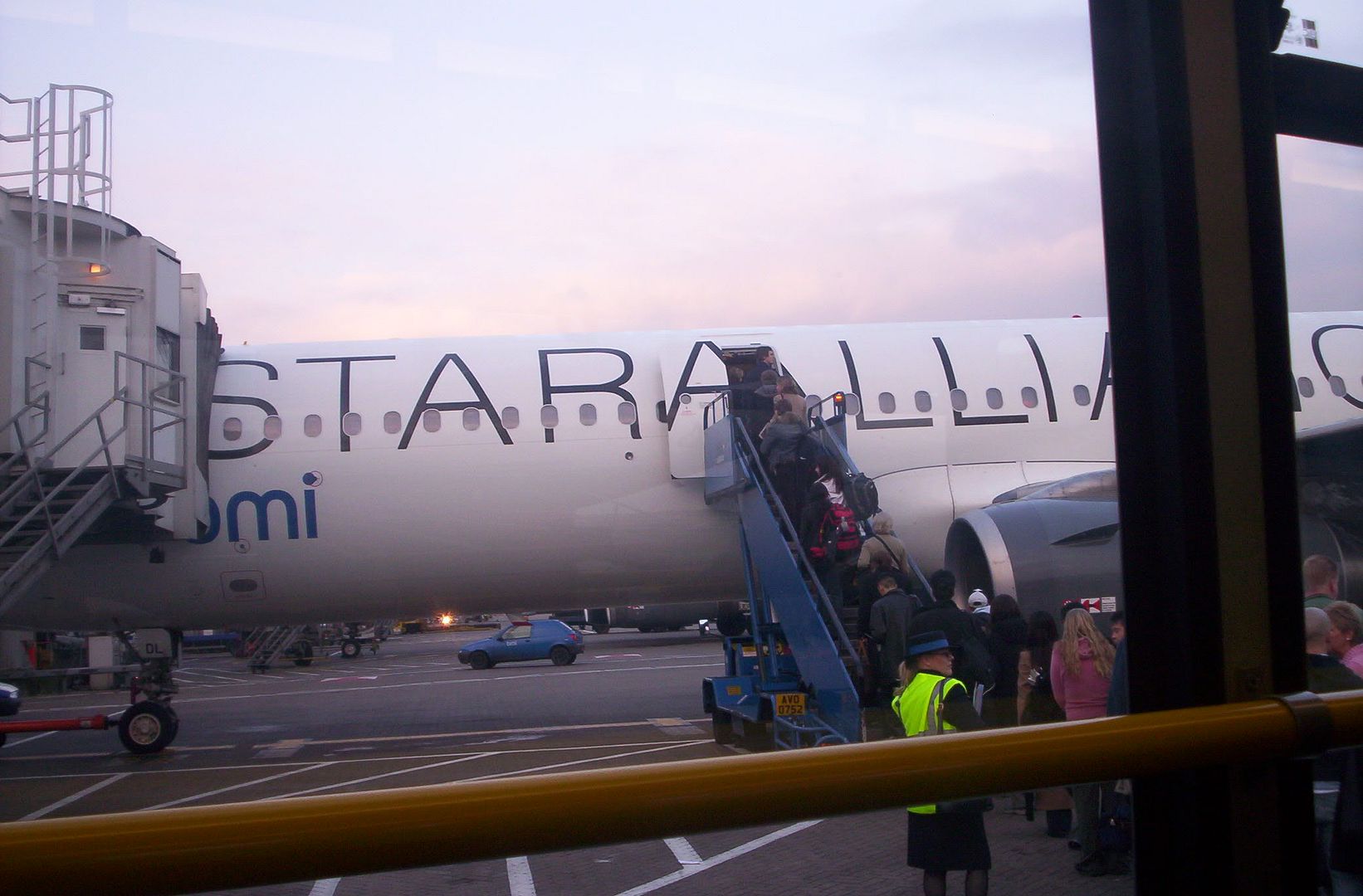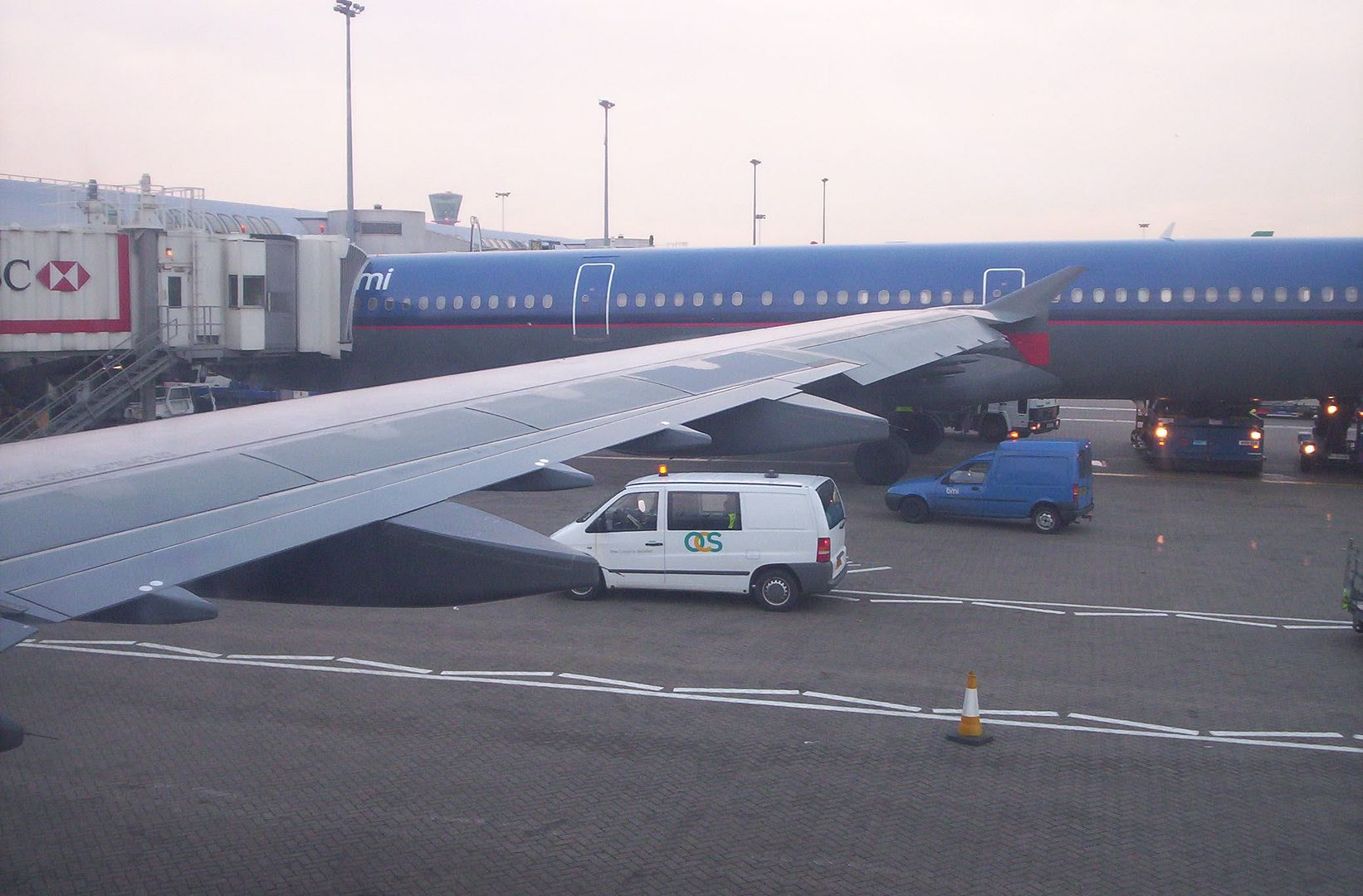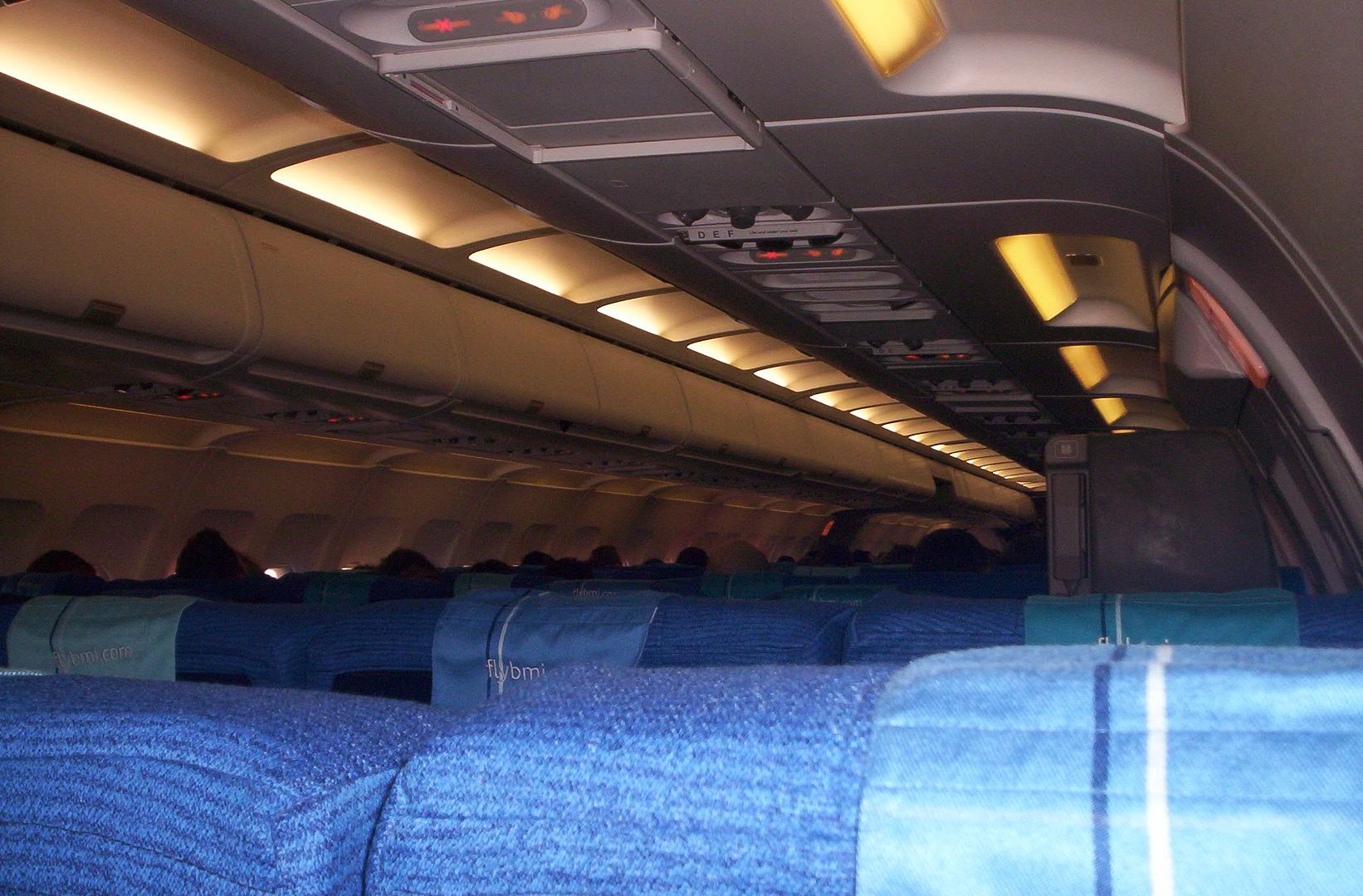 Soon enough I was on board my fist ever A321 and it felt so good
. We pushed back about 15 mins after the last person was seated and made a fast taxi to runway 09R.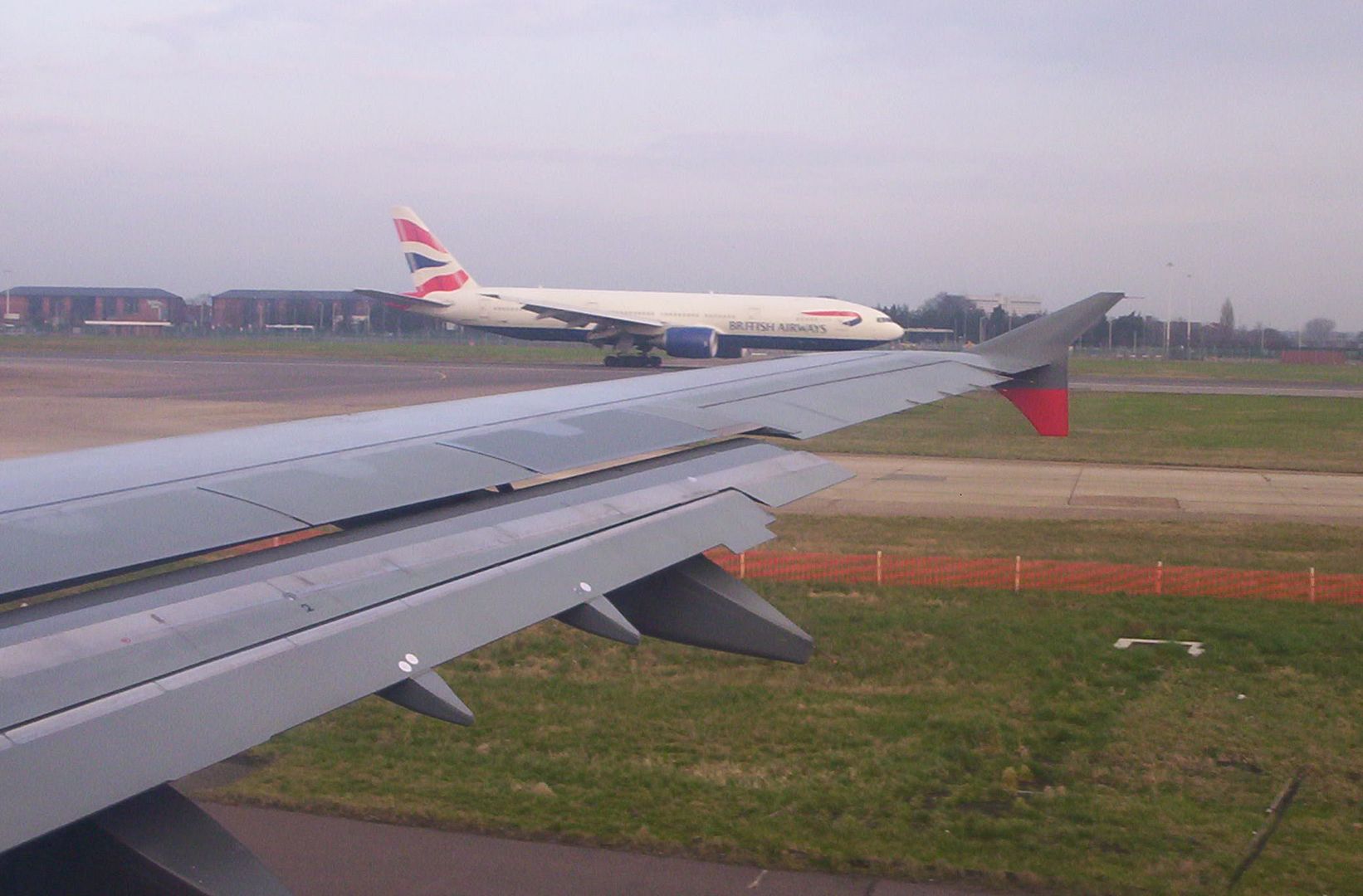 We did not taxi to the end which surprised me, we stopped at the 3rd exit and waited for a BA 757 to take off, once that had passed us a BA A319 lined up but did not move, We started to ease forward onto the runway and then applied power. So we just jumped in front of a Aircraft for take off. yayers. We rotated fast and steeply climbed out of LHR.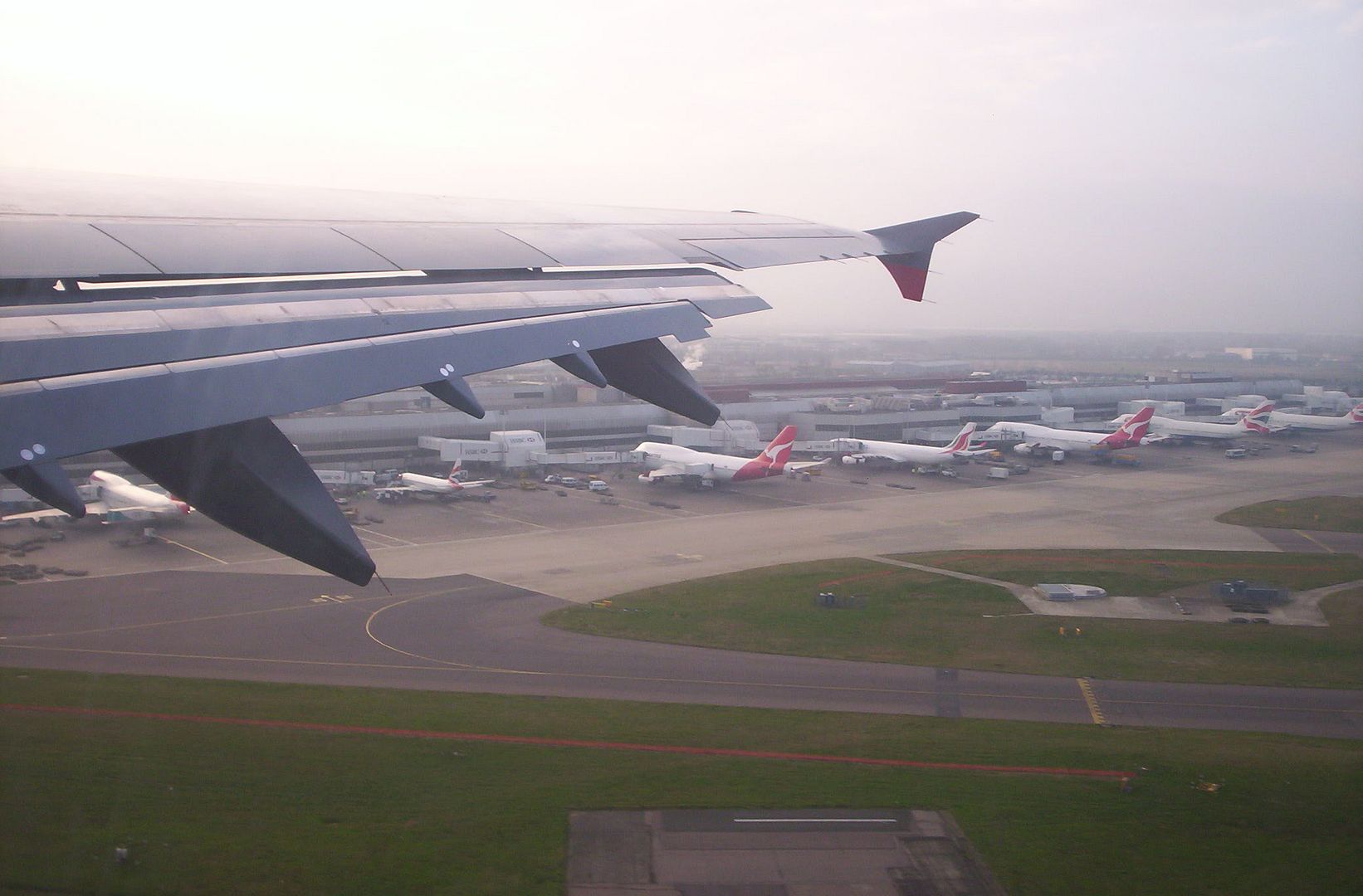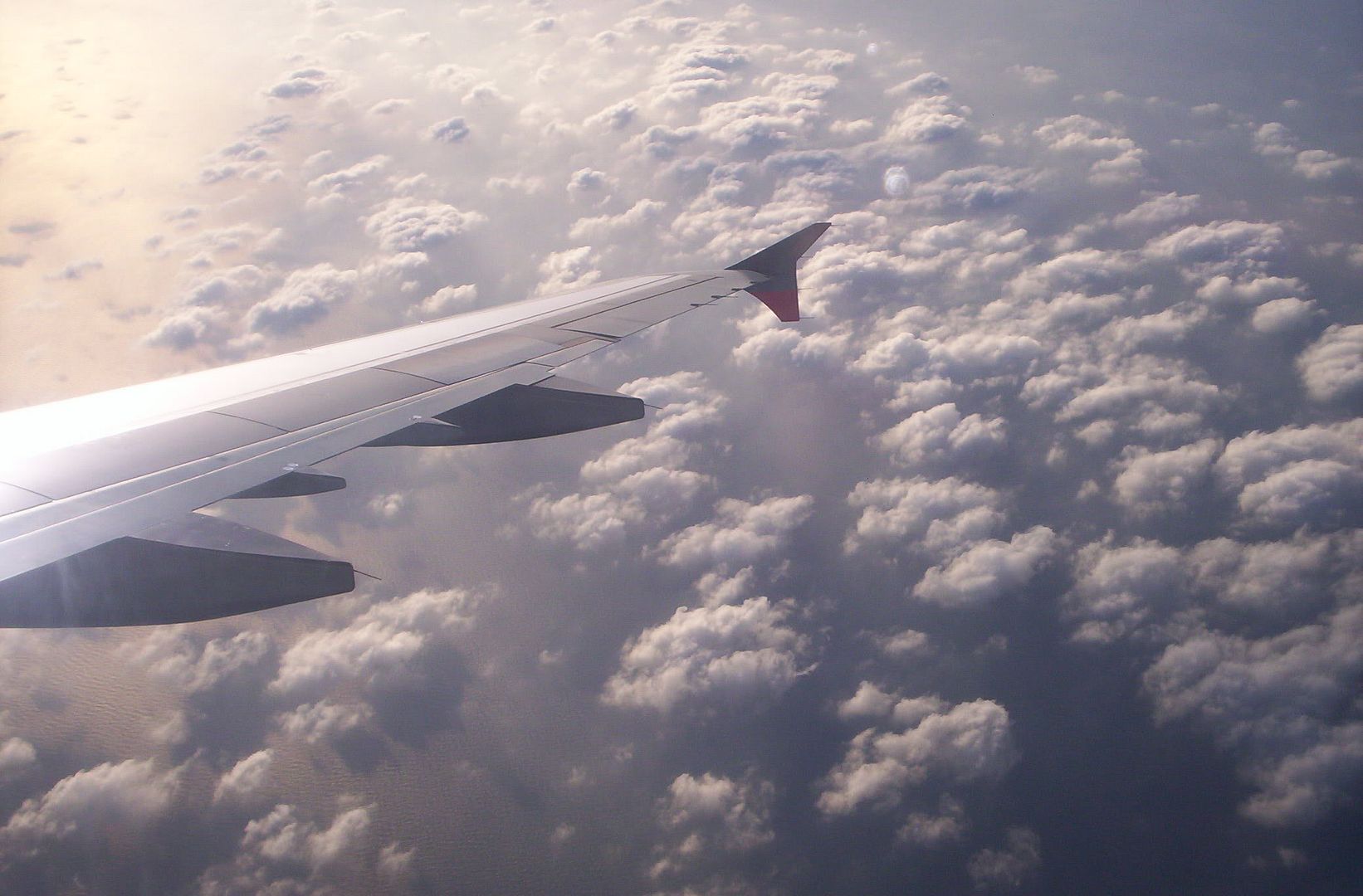 we turned on course and climbed to our cruising alt fast. The F/A were fast bringing round food for the pax, I choose a bacon roll which was yummy
. The flight was pretty un eventful, just another north sea crossing. soon enough we started our decent into AMS. The captain came over the PA and gave us basic information on the flight, 1 degree in AMS....great! And that after landing we had a bit of a long taxi.... oh know that could only mean one thing
landing on the runway which is like 60 miles from the airport itself (ok maybe not that far
) the
polderbaan
dum dum duuummmmmm....
So descending, Flaps down, the ground getting higher or us getting lower
the runway started coming bellow us and we touched down.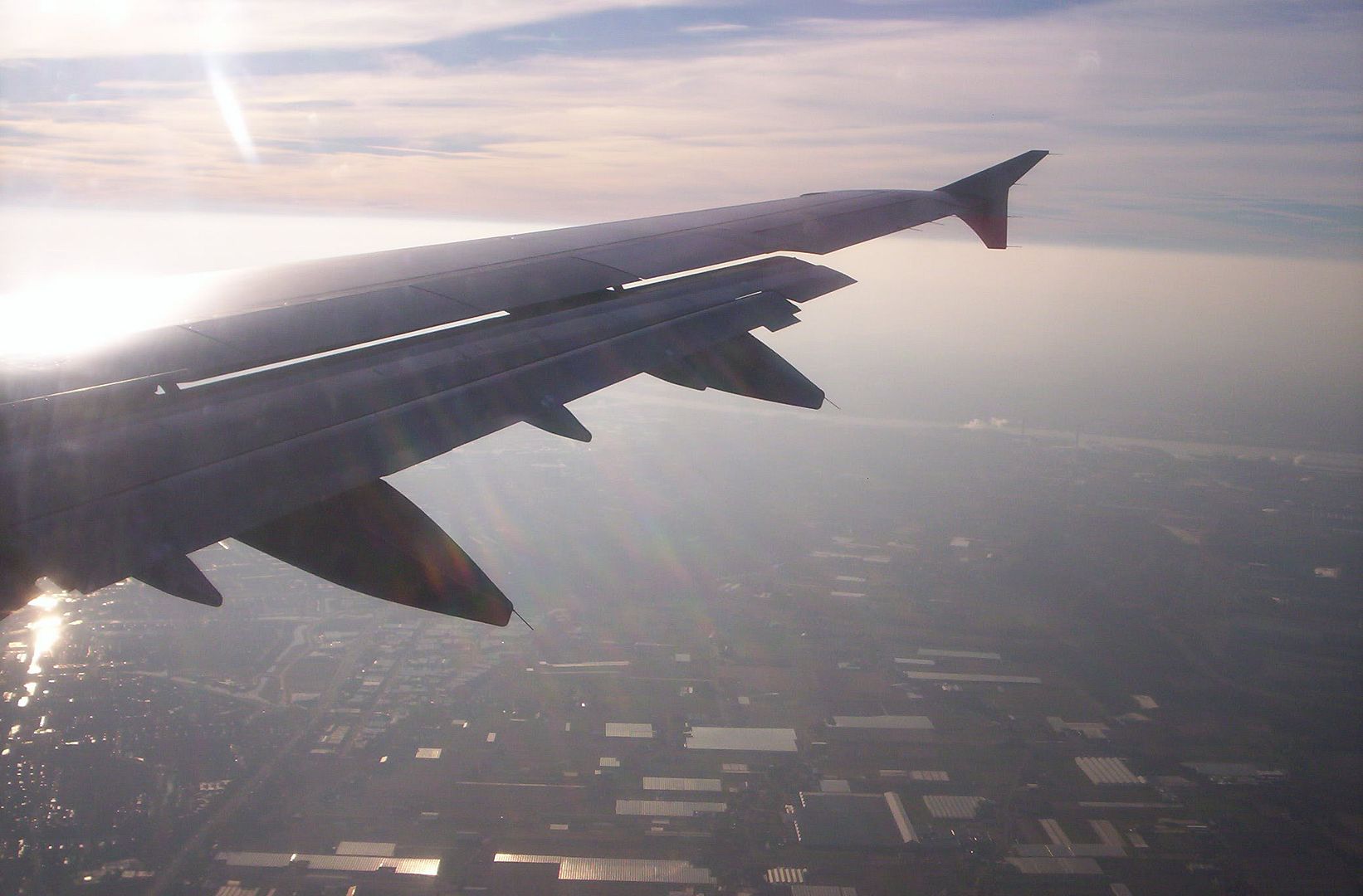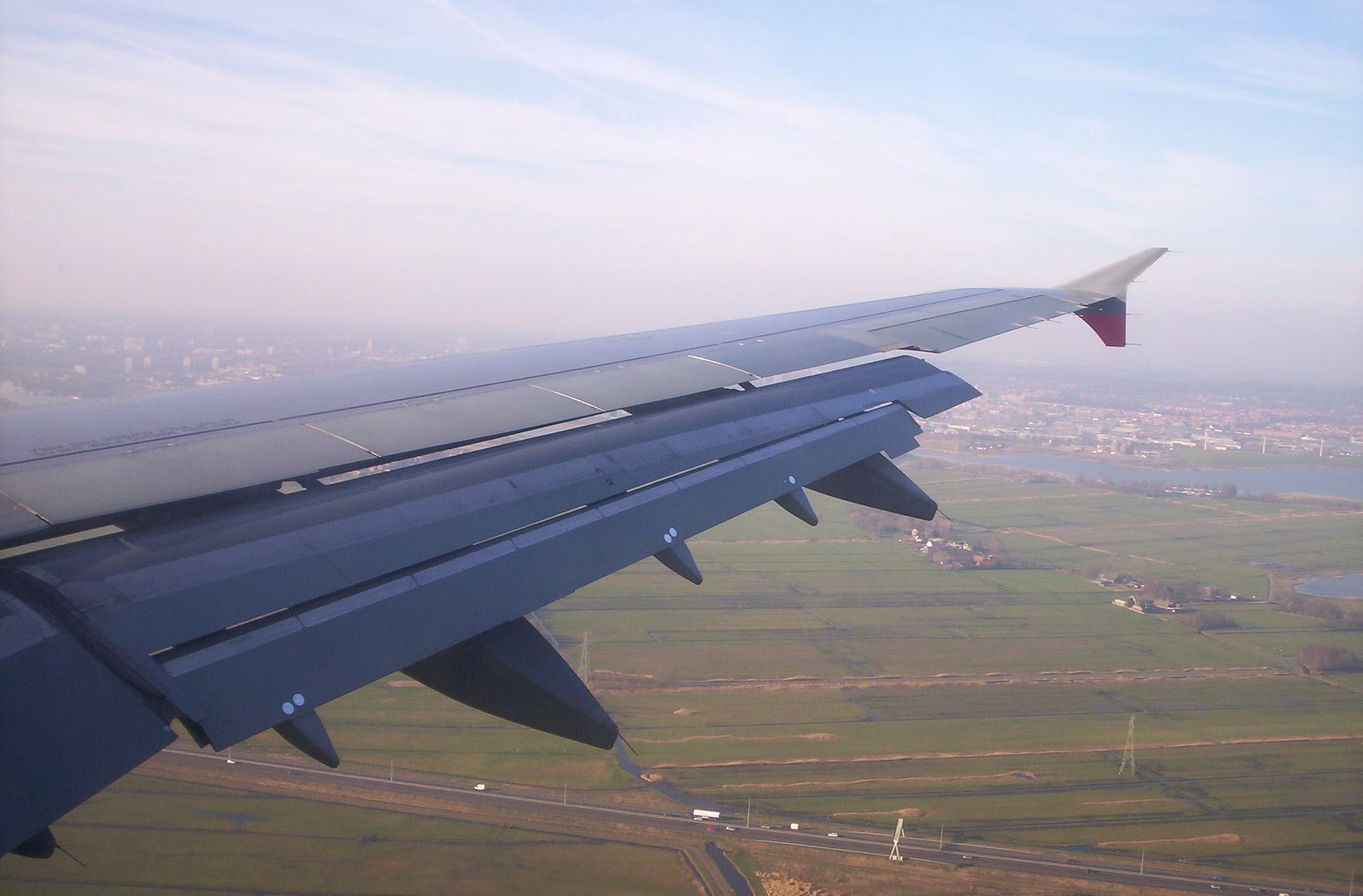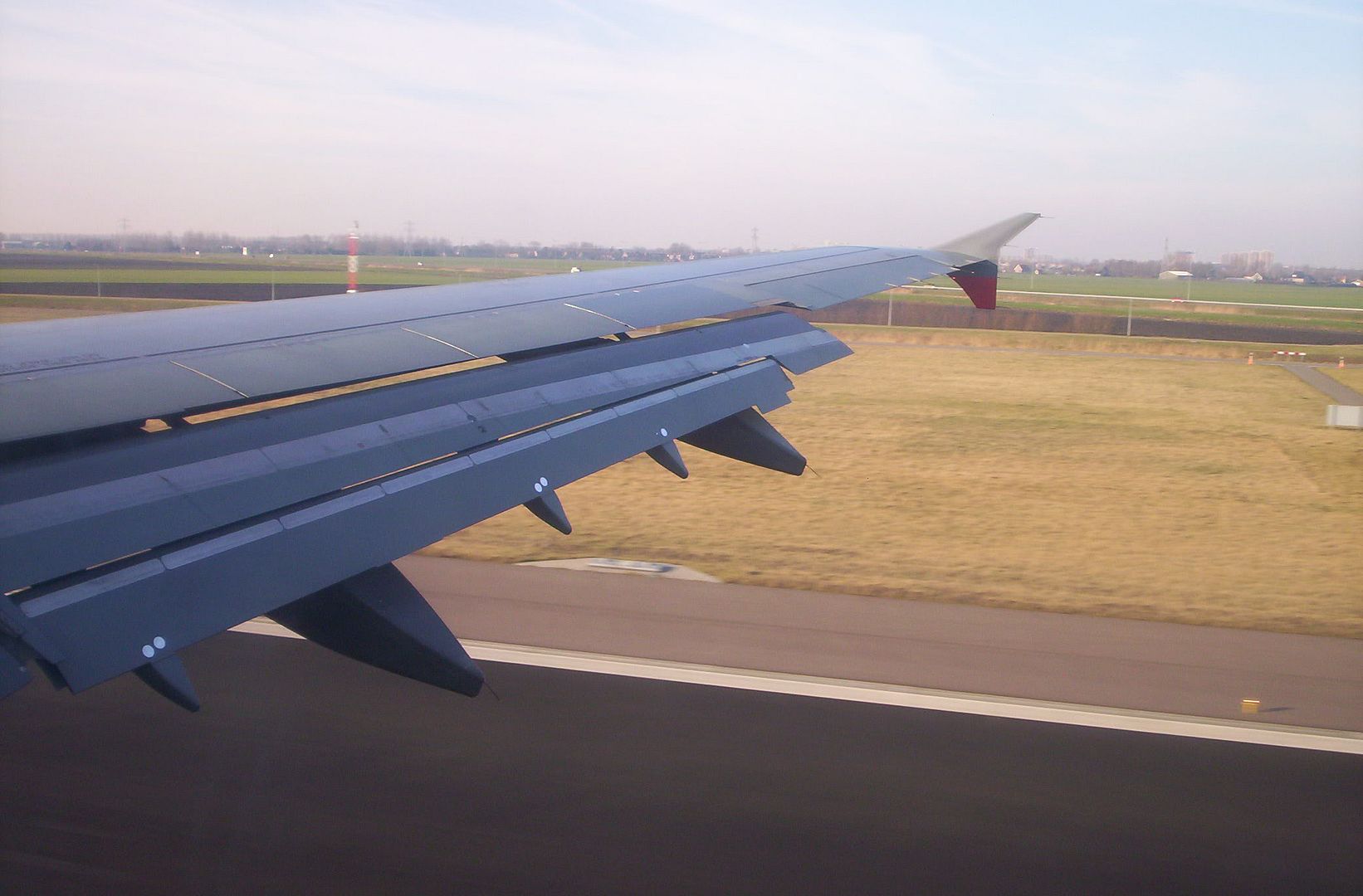 This was the lightest landing I had ever felt, so light I hardly felt it. so we exit the runway and start the loooooooooooooooong taxi to AMS airport hehe. Looking around I had a lot of memories from the AMS meeting. We pull up to the gate and shut down and de-boarding commenced. I was the last off as I wanted a quick trip into the cockpit hehe, so in there quick, they would not let me take any pics
. so I leave step onto the jetway and saw a familiar face already!, Sander (Aviationfreak) was standing there ready to greet me, this was quite a surprise
. so he walks me to the end of the jet way and we head our separate ways, he back to work, me to meet Jurgen and Kas (JRaider and AirKas1). After getting lost again and asking someone where to go I was shown the way to passport control. Out of the arrival doors now to see Jurgen and Kas right away, well how the hell can you miss them! Jurgen ia bloody sky scraper!.
the whole day was great, freezing our asses off and having a general laugh, we was later joined by Sander again and Erwin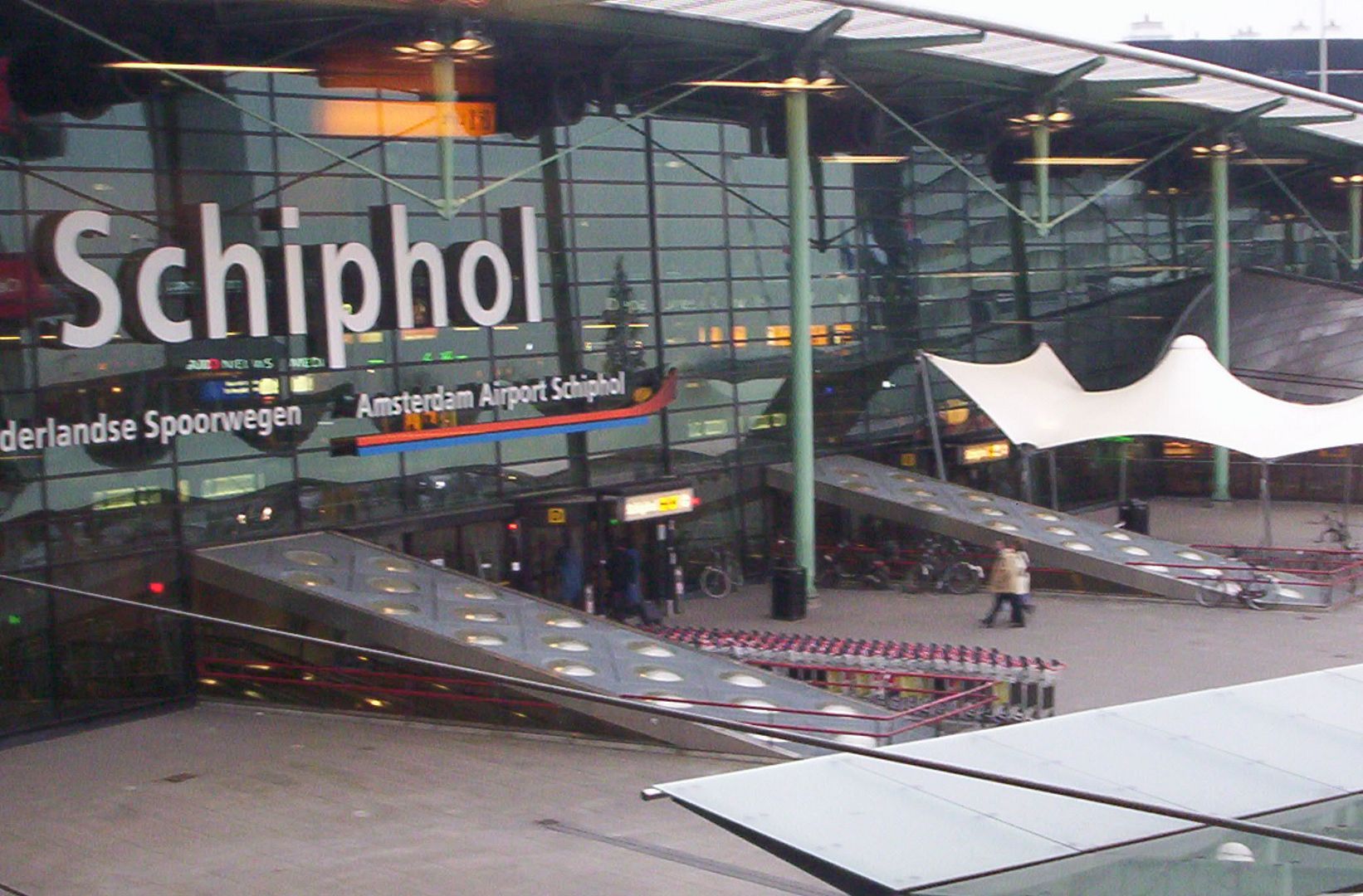 A BRITISH CAR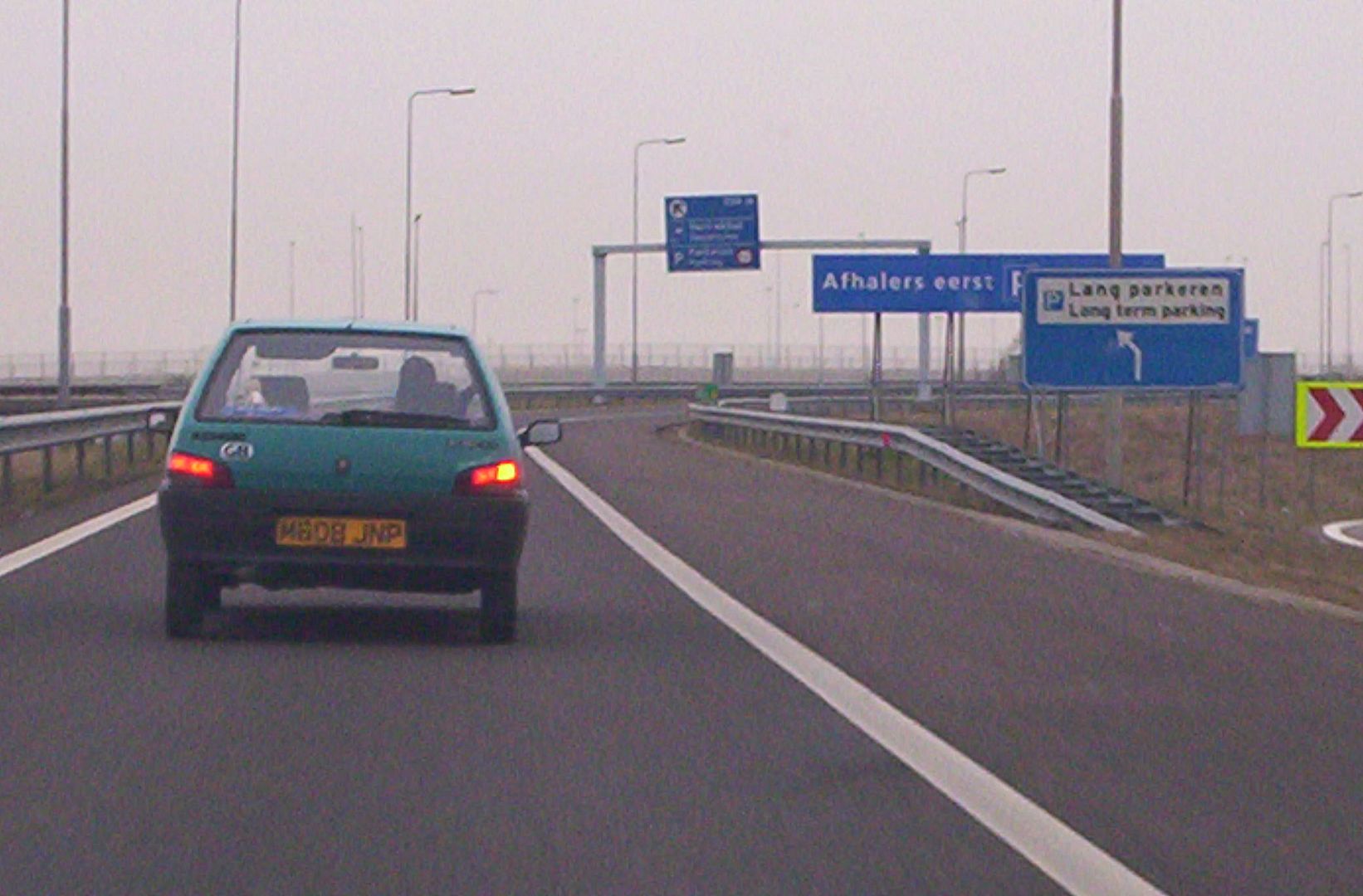 Kas..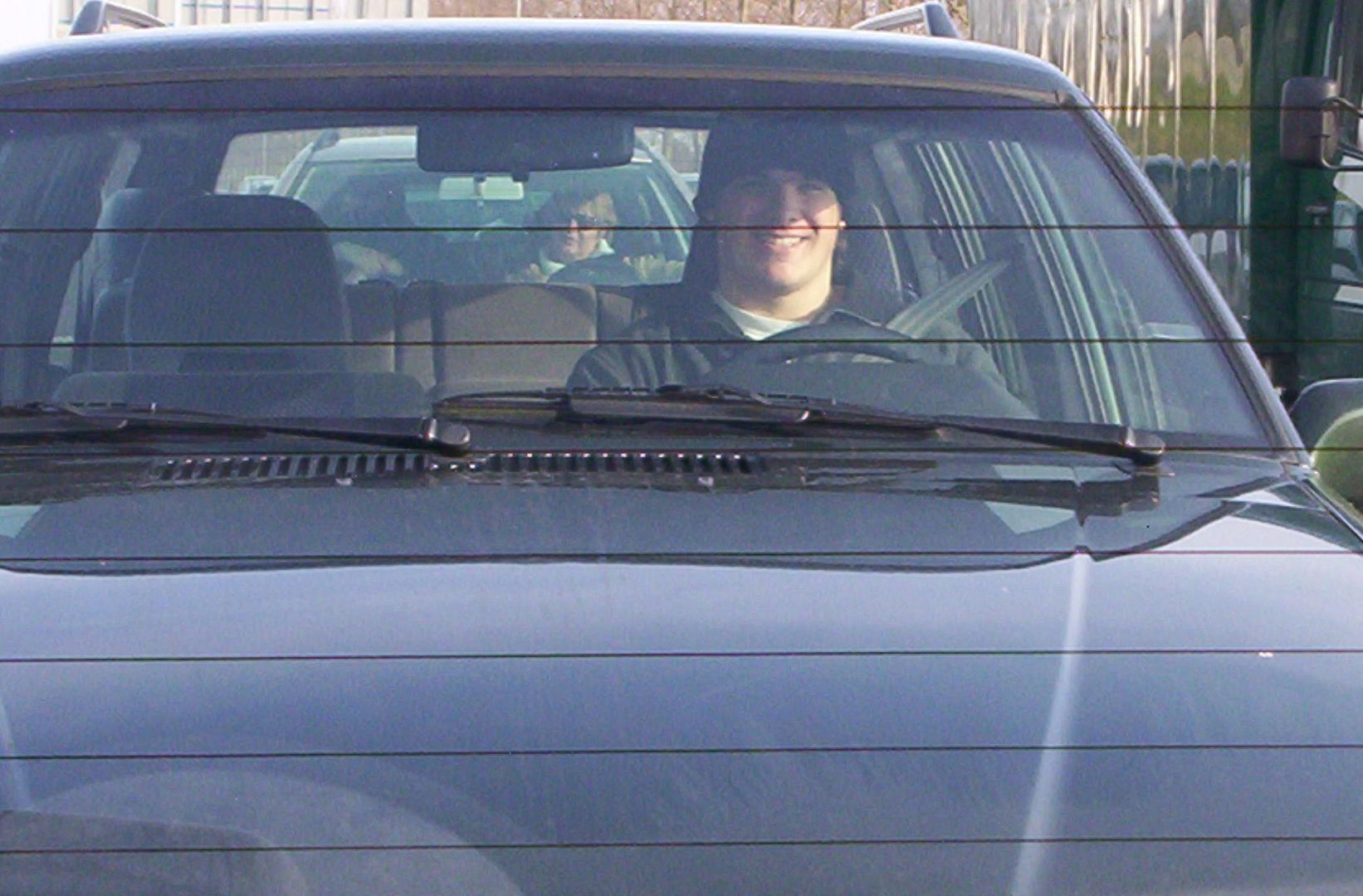 The usually busy pier...
View Large
View Medium


Photo © Dimitri Steendijk
to this...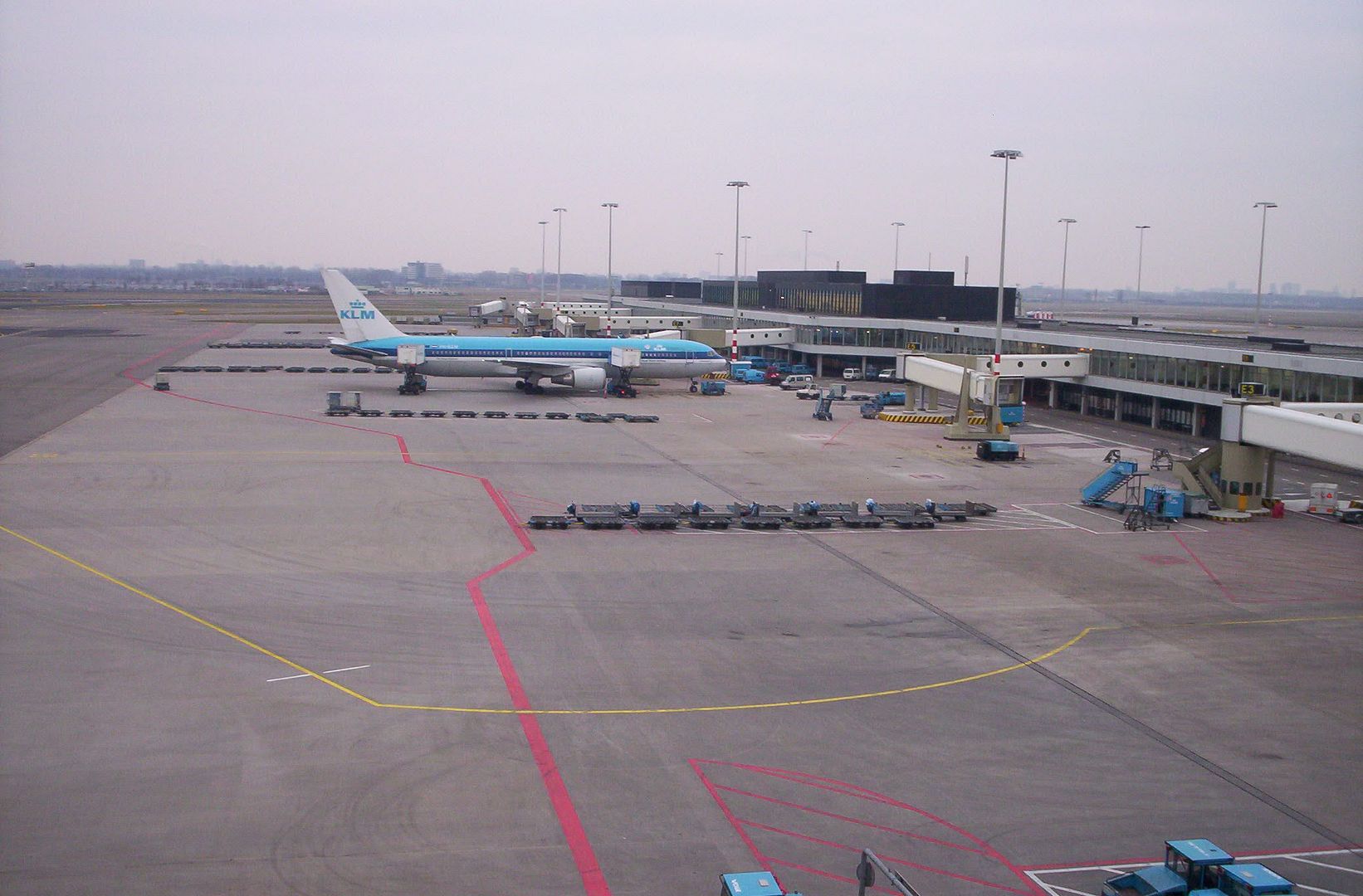 Ransom stuff...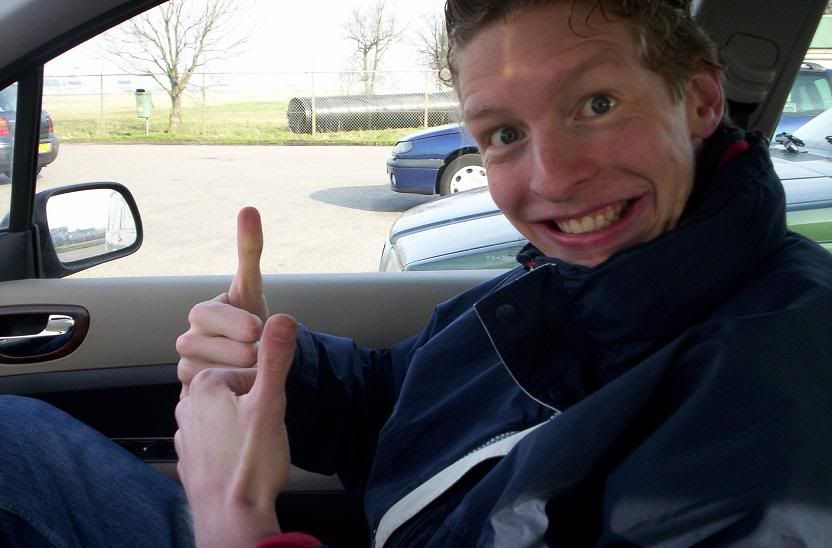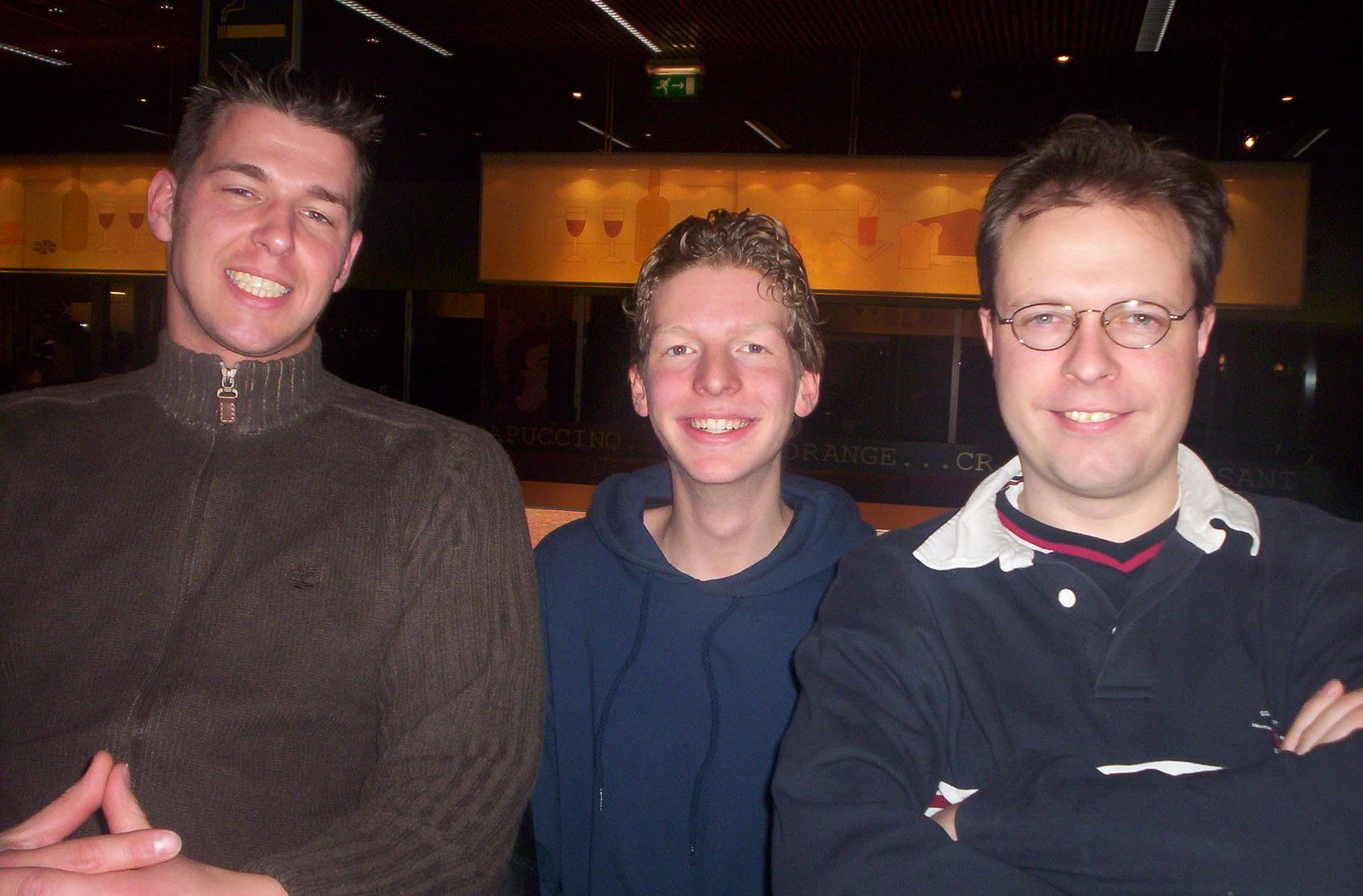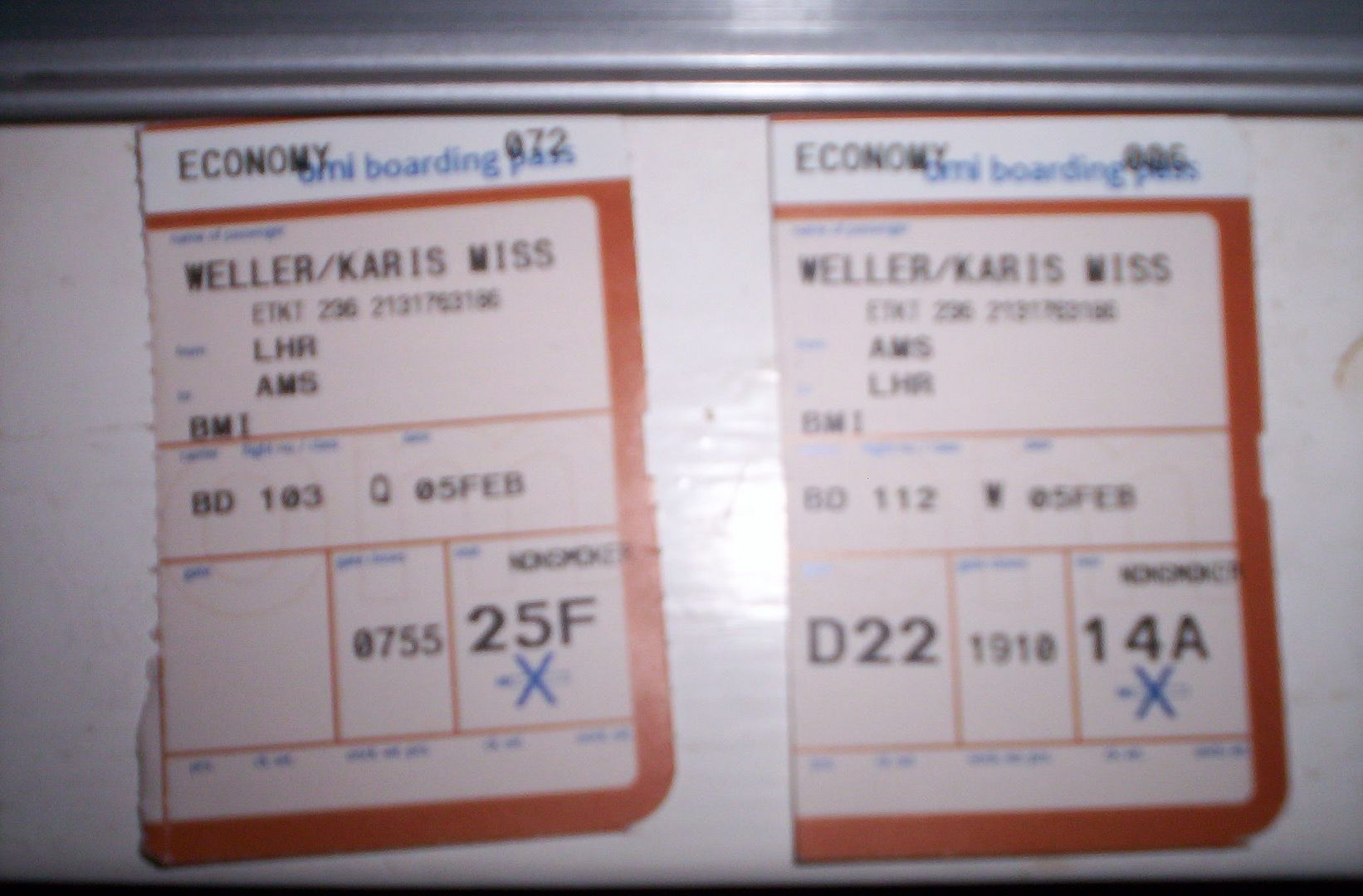 Great shooting Erwin! And Sander!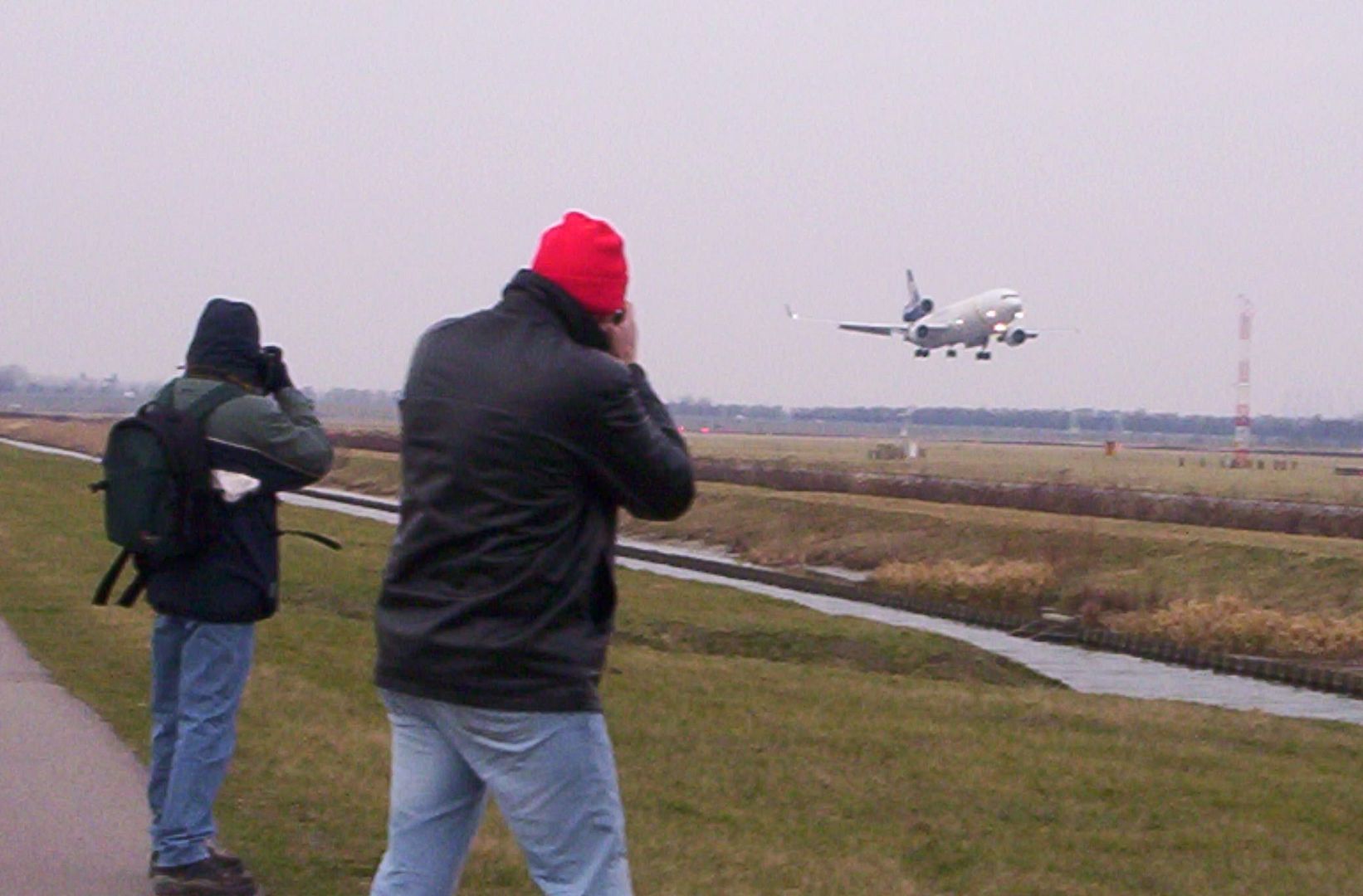 View Large
View Medium


Photo © Erwin
After a very fast day it was time to head back to the UK. so we went to departures and I said my goodbyes and headed back through security (and getting a nice AMS stamp on the way
) for the Departure lounge. I figure I should give my mum then my dad a call to let them know all was ok and my flight was on time. so onto the public phones (when I was there the last time I could not figure out how to use these phones!), I figured them out (yayers) and called mum. Then I called my dad to let him know my flight was on time and everything as he would be picking me up from LHR
. I wanted to take advantage of duty free while I was here so off to the duty free shops or so I thought. I looked at the departure board to see my flight was boarding!!! With a rush of panic of the boarding being earlier than planned I skipped a loo break and shopping trip and ran to my gate. I was expecting an A319 on this flight so I was pretty excited being I had not been on one yet hehe. I come closer to my gate and looking through the window I spot a star alliance Tail, Ah nice I though another alliance member is here. Little did I know that this star alliance tail was sitting on my gate. But wait? Bin had no A319's in the star alliance livery? That could only mean one thing! And aircraft change! There sat a A320! nooooooooooo lol. All the pax had boarded so there was no wait. I got on greeted by very friendly FA and I asked them if the aircraft was registration wise because I had already been on G-MIDW in the star alliance scheme. The FA came back to me telling me it was G-MIDX, so it was not all bad I had now been on W,X and L in the star alliance scheme not bad
, the FA directed me to my seat which was still 14A. I put my bag in the over bin and my coat on my seat and then quickly ran to the loo
. I cam out and saw a FA walking toward me, my reaction was, Oh shit what have I done wrong. But she came up to me with a smile and said, "I take it you like flying?" I replied with a yes I love it. so she offered me to go talk to the pilot before flight. I was quite surprised from this being that I have never been asked to go up, its always me asking them
. so in I go, The captain, was a very friendly guy along with the FO. They were chatty and a good laugh, the captain got up let me sit in his seat and showed me everything about flying the airbus, even told me to ply with the joystick (no comments please
) he allowed me to take pictures all
.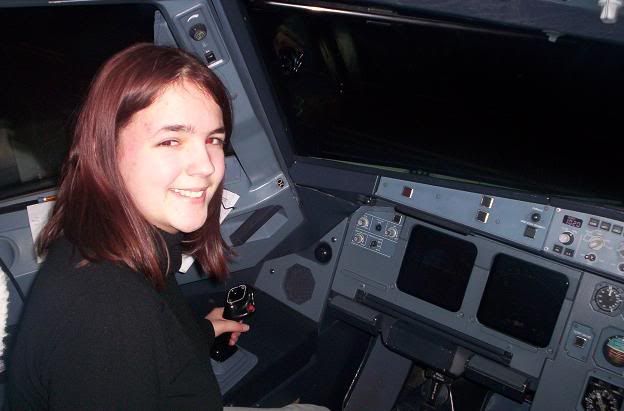 well I was in heaven, here I was sitting in the captain seat of an airbus plying with the controls and being shown everything
. About 15 mins later I was told that unfortunate I had to sit in the cabin so I bided the crew a nice flight and headed to my seat 14A.
AMS-LHR
Airline: Bin
Aircraft: A320
Flight number: BD112
Class: economy
Departure time: 7:50pm
Registration: G-MIDX (star alliance colors) haha Hannah!!!
ID: 755008,754548>
we taxied out to the cargbarhn runway which was not far from the airport thank god and got airborne quick, the flight was nearly empty. We climbed fast and turned toward LHR in the night sky. Soon food was brought around the cabin. The flight was fast and UN eventful again.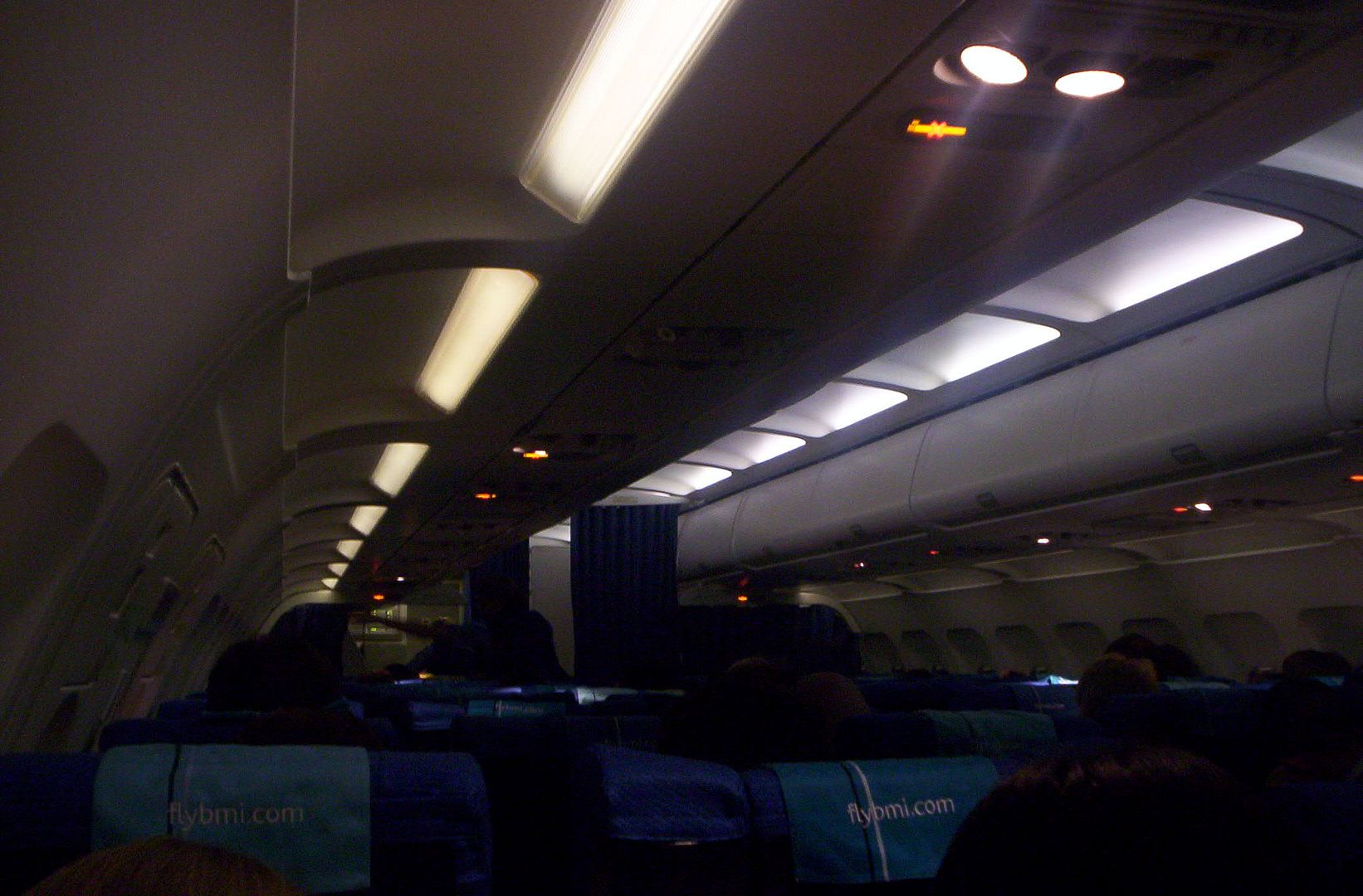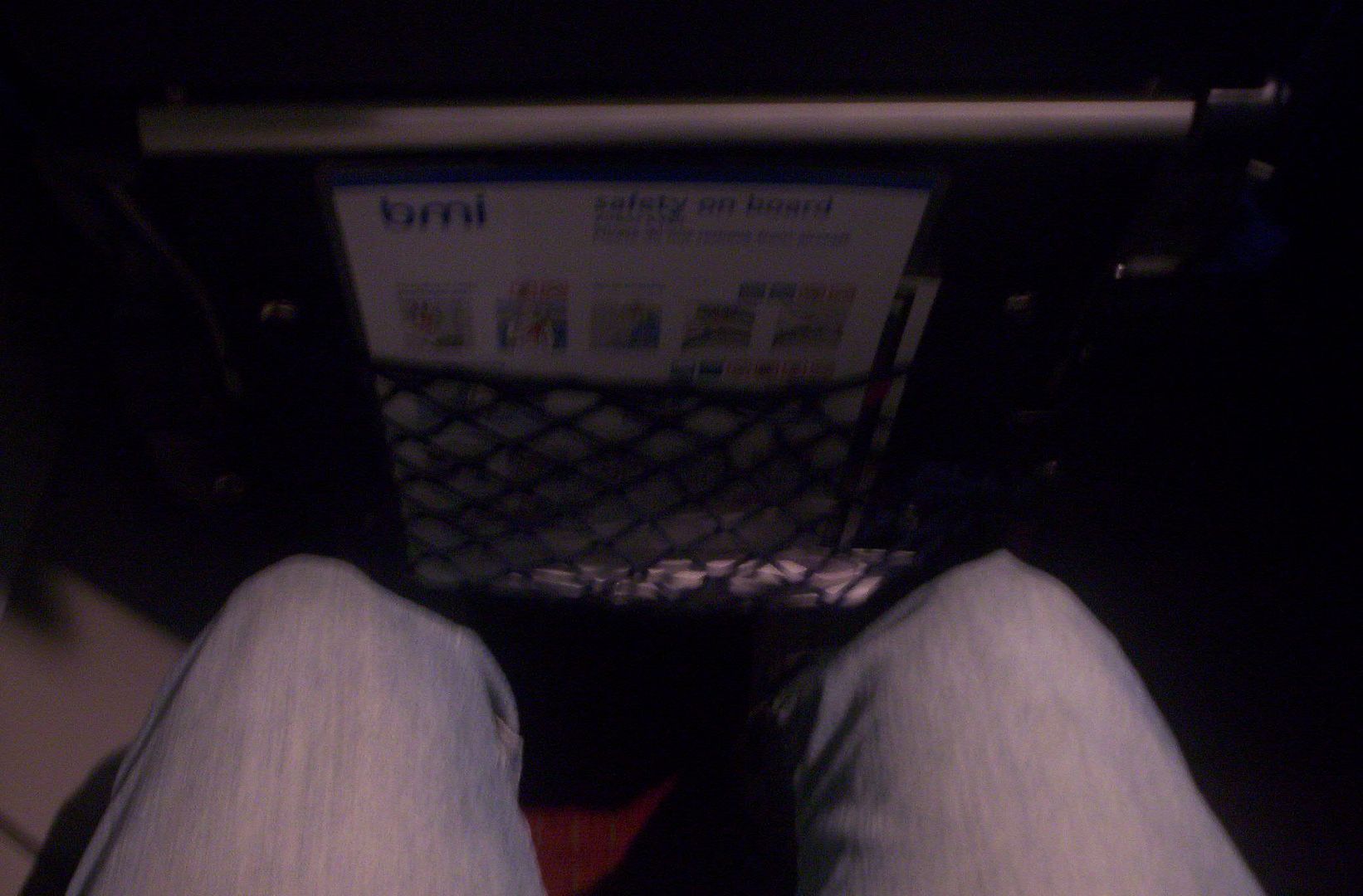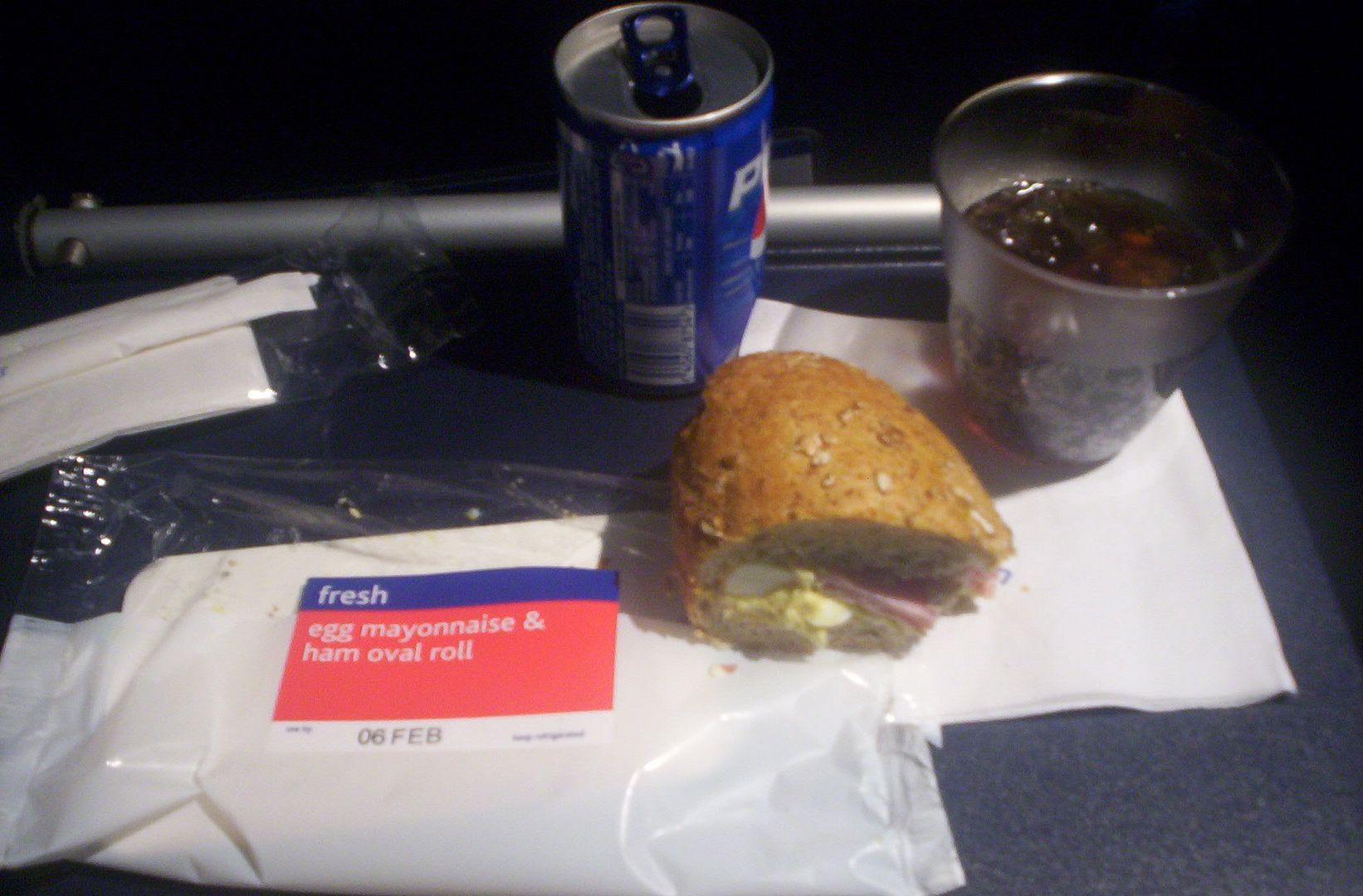 we soon started decent into LHR and made a quick but bumpy landing on 27R. we pulled up to the stand and I let the other pax get off before I left my seat as I wanted to visit my future office again, I went in and the captain and I had a little chat and he gave me some weather manuals. I left the aircraft with a smile and left the arrivals area with a nice new UK immigration stamp
.
Out the doors I go and see my dad and step mum waiting for me. All happy I am until I realize the worst I have not got my camera
.

We headed to the Bmi check in area of T1 and went to the Bmi special services. I told them my situation and they was very friendly and made a joke of me being a dappy cow which was all funny
. I was told the aircraft had been all shut down for the night which was not encouraging. About 5 mins later we was told they they had gone back into the aircraft and found my camera in the cockpit and that they were bringing it up to us
. The biggest sing of relief hit me. Thank god lol. so I was telling my dad and step mum about my day when another glitch happened.

"This is a fire alarm please leave the building"

Oh Yayers!! so we stood outside for 20 mins or so while the LHR fire dept inspected the terminal. Nothing at all. so we all headed back in and the buzz of T1 was alive once again. We headed back to Bmi services and 5 mins of waiting a Bmi uniformed person came up to us with a grin on his face holding out a camera. We thanked him and thanked the staff in the Bmi services and headed home.

So that was my day trip
I had a great time all in all and would like to thank the following..

Jurgen
Kas
Erwin
and Sander. Could not have had a great day with out you guys! Thanks a lot!


also thank you to Bmi for 10/10 service. By far the best airline I have traveled with


thanks for reading! Look out for LTN-DTM and the FRA meeting TR's coming soon



kazzie x