Hi,
2.5 Hours in CGN Courtesy of HLX
Back in January, just after returning from a trip to Belfast with easyJet and bmibaby, myself and Ryanair737 decided to search for our next trip. We came up with Hapag-Lloyd Express to Cologne Bonn. The date was set for the 18th February 2005 for a fare of £32 each. After booking we rechecked everything to ensure nothing had change and sure enough, it had! The outbound service had been cancelled effective from the 18th and they had rescheduled us (without notification) to fly out after our return flight! Anyway we rang them and after a lot of hassle, it was rearranged for 14th February - the Monday before.
So here's my trip report:
Airline -
Hapag-Lloyd Express (X3/HLX)
Depart -
Manchester - Ringway International Airport - MAN/EGCC (53°21'13"N 02°16'30"W) – Monday 14th February 2005 11:45
Arrive -
Cologne/Bonn (Köln/Bonn) - Konrad Adenauer Airport - CGN/EDDK (50°51'57"N 07°08'34"E) – Monday 14th February 2005 14:15
Flight -
X3/HLX 3251
Aircraft -
D-AGEQ Boeing 737-75B | MSN: 28103 | L/N: 23| Delivered: 31/07/1998 | SELCAL: PR-DL | Engines: CFM56-7B22
Seats -
Row 5 Seats E,F
View Large
View Medium


Photo © Danny Hill
View Large
View Medium


Photo © Paulo Carvalho
To see all
my
(good/descent) pictures from this trip in a larger size and indeed all my pictures; please see:
My Account @ MyAviation.net
At 5:00 am I was awoken by the sound of my alarm clock bleeping incessantly and so I jumped out of bed in readiness to leave for MAN. After a quick coffee out of my new Philips Senseo
machine it was time to leave. The reason we left so early is so we could make the most of our day since we would now have just 4 hours in Cologne! So after a short run down the M6 Motorway we arrived at 6:40 outside a bright Terminal 1. After seeing my Dad off, we entered the extremely busy Terminal area and checked our flights status - on time!
At this time, there was flights leaving to Palma, Las Palmas and La Romana from MyTravel Airways, Banjul Yundum, Varadero and Las Palmas from Thomas Cook and the usual scheduled services from Monarch. Other flights included Air Berlin to Paderborn and Berlin, bmi's heavies to the USA, Jet2's new services and much more! With all these passengers, there where queues back from security, all the way back to the check-in area and calls where being aired to passengers boarding after 10:00 am to stay landside otherwise they would be declined entry passed security.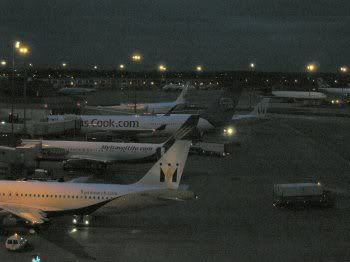 Awful picture but it gives you an idea of how busy it was!
So what do you do at Manchester Airport before sunrise? Go to Burger King for a sausage and egg sandwich meal of course! That is, if you can get served which was some trouble when a group and 5 people push in front of you! Oh well, I got it eventually and so ate mine in tandem with Daniel as the sun was rising over Terminal 3's pier.
After finishing that, we decided to go up to Level 13 (again) to see what was happening: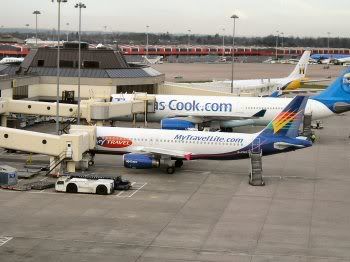 Still very busy
It was bitterly cold up there, so we didn't stick it for very long before returning to the warmth of the Terminal. It was now somewhat quieter but nevertheless, still busy with bmi's flights still checking in. We walked over to MyTravel's and Jet2's somewhat exclusive check-in area which was now quiet and checked the screens. It showed a 15 minute delay, not so bad! We could now check-in though and did just that. We where welcomed by Servisair Globe Ground's friendly CSA who issued us with our Boarding Cards.
The departure lounge restriction had now been lifted as the queues where now minimal and we proceeded to security where Daniel had a random bag search carried out. After security, we entered the very modern and spacious lounge where we re-checked the screens which where now showing an hour delay - thus meaning we would now have just 3 hours in CGN. We where somewhat annoyed but what can you do? With a bit of extra time, we went down to the end of Pier C to take some pictures: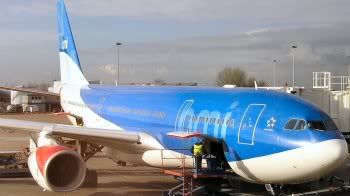 bmi's flight to Washington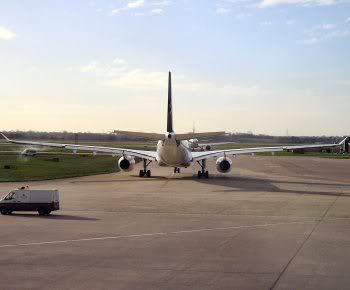 The flight control check is being carried out
So, after taking some pictures, we decided to have a look at Waterstones book shop and get a drink. There was nothing that appealed to me, but I did buy my Mum a guide to Malta for when she goes from BHX in March with Air Malta. I would have bought myself a guide to Santorini for May but they where so damn expensive!
After our browsing, we checked the screens with now should a departure at 13:15 and then 13:35! Disgruntled and annoyed we headed off down to Pier B the watch the departures and arrivals from 06L/R and the movements at the stands: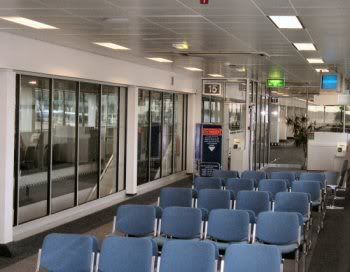 Our Spot for Some Time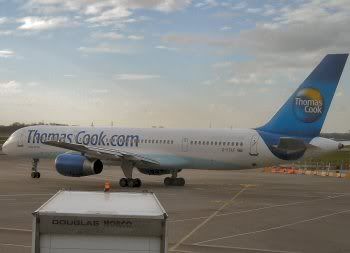 Thomas Cook's G-FCLF was the first thing to grab my attention as I flew on it just 359 days ago (at the time of taking the picture) to Monastir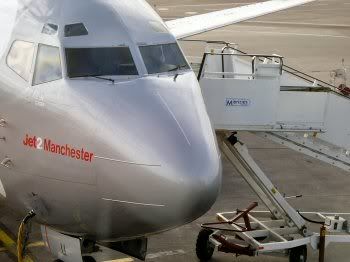 This aircraft had been parked for some time whilst waiting for its afternoon service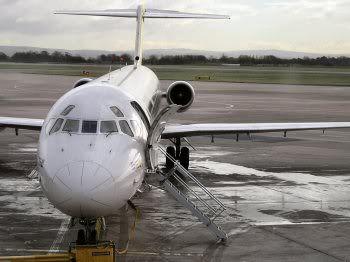 This Snowflake MD80 operating as SK540 made an emergency landing in Billund enroute to Copenhagen after smoke filled the cabin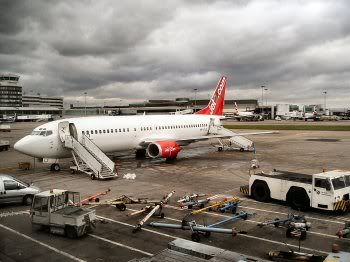 I love this picture for some reason - Jet2's newly leased 737-400 from Íslandsflug
At 12:55, much to our surprise, we could see our HLX 737-700 on its final approach to Runway 24R (The wind direction changed) and after it began to taxi in, as we where making our way to Pier C we walked passed none other the Roy Keane! We then followed a PSA for our flight who we spoke to earlier about the delay. It pulled onto Stand 25 where we where the first awaiting passengers: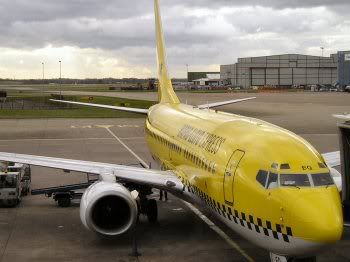 D-AGEQ, basking on stand
Soon enough, the rest of the passengers arrived at the gate. The PSA announced the flight by saying - "Good Evening… Morning Ladies and Gentlemen, the UK Department of….." and then a second announcement shortly after which was this time correct - "Good Afternoon….". We stepped up to the gate door and our boarding cards where taken - I was the first person down to the aircraft door.
The Cabin Crew where not quiet ready and asked me and Daniel to wait and put the barrier across the door before he walked back down to the rear of the aircraft. This sticker is on each of HLX's 737-700. It must be a similar concept to the UK's ChildFlight: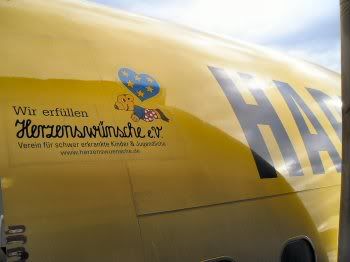 We Fulfil, For Children and Youths that Become Heavily Ill
The Purser returned in Hapag-Lloyd Flug uniform rather then HLX. We where also greeted by a very hot cabin crew called Sabrina Gabers. We decided on row 5 and took our leather seats for the flight. We had agreed that Daniel would have the window for take-off and me landing and visa versa for the return. The legroom was excellent and the cabin was clean. They didn't have any magazines though this time.
Here is my first short clip:
The Voice at the end isn't mine or Daniel's!
On Stand Video
Right Click - Save Target As
At this time MyTravel's Winter lease - C-FRAV joined us on the apron and parked on stand 28 fresh from Montego Bay. Several announcements where made in German then English to welcome us onboard followed by a brief from the Flightdeck. Our Captain was Ivan ……?? (Anybody know?). He was a HLF Captain as we later found out. He informed us of our routing, Cruising speed and FL of 310. He even told us the aircrafts weight which was said to be approximately 55 Tons. He also told us why the delay had occurred - it was due the weather back in Germany as on the aircrafts early morning service to Berlin it was very windy and snowing heavily so the ground crew had struggled to remove the snow while it was on turnaround. The door was closed and Safety Brief commenced at 13:27 just before pushback:
Safety Briefing Video
Right Click - Save Target As - Please not, this Video is in Real!
Our route would take us from Manchester towards Birmingham and Coventry down passed Luton towards the English channel down to Belgium descending finally into Köln - a distance of about 436 Miles.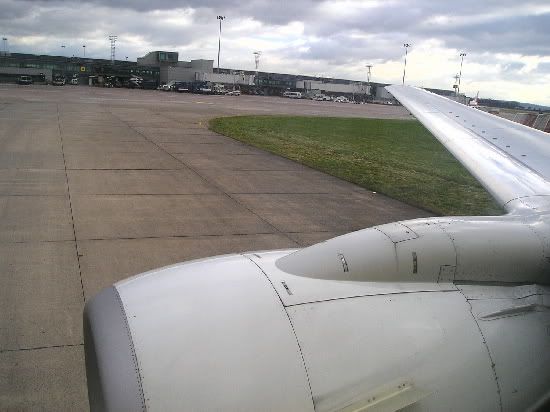 Both CFMs are alive
The two CFM56-7B22s lighted up slowly with the reminiscent hum and the unsurprising familiarity in terms of sound to the Airbus A32X.
The engines spooled up before returning to Idle and we began a relatively slow taxi out. Flaps where set to 5 degrees, the Cabin lights where dimmed and the Cabin Crew took their seats for departure: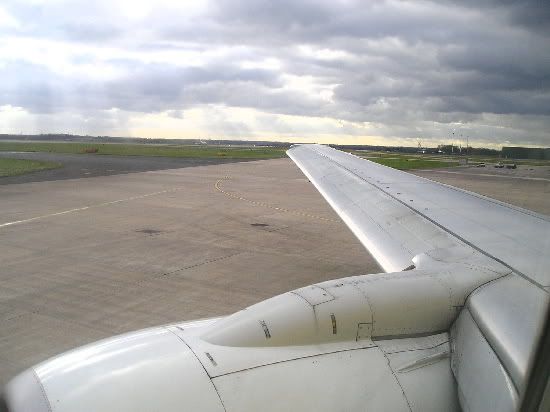 A Jet2 737 is rolling out
We taxied out passed T3 and a departing ERJ-145 before finding our place at the hold. After a few seconds, we where given take-off clearance and taxied right on to 24R: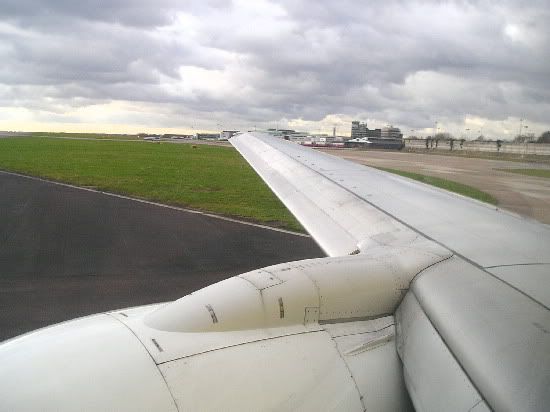 Crossing onto 24
Here is my next short video clip showing the beginning of our roll:
Spool Up Video
Right Click - Save Target As
So as you can hear and see from the video, we took it rolling with the engines spooling to around 40% first (but not for long), and then straight into TOGA as we began a powerful but somewhat long roll of some 50 seconds down 24. The nose gear thudded over the centreline as we gained speed passing the Terminals at around 100 Knots: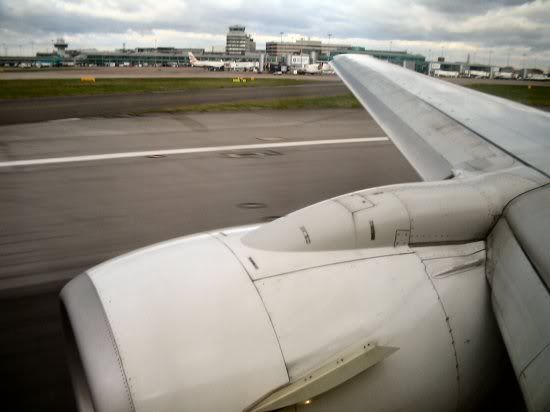 Pretty quiet at T3
…and here is another
very
short video:
Our Roll Video
Right Click - Save Target As
Ahem. I told you it was short!
Anyway we continued our roll: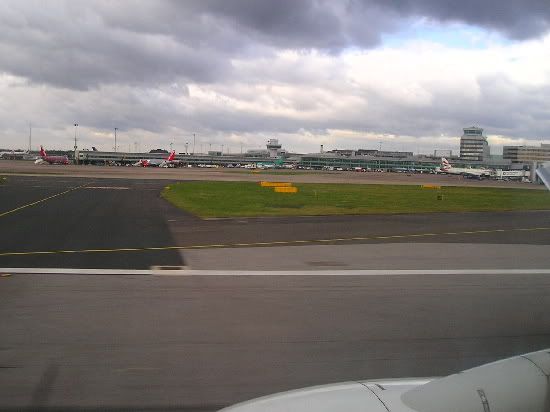 Jet2 and Aer Lingus on Stand at T1 and BA at T3
After 50 seconds we began to rotate adjacent to the engine test bay. We tail dragged slightly but who really cares? A swift climb out followed as we passed the viewing park and Concorde and climbed out on our DESIG1R SID.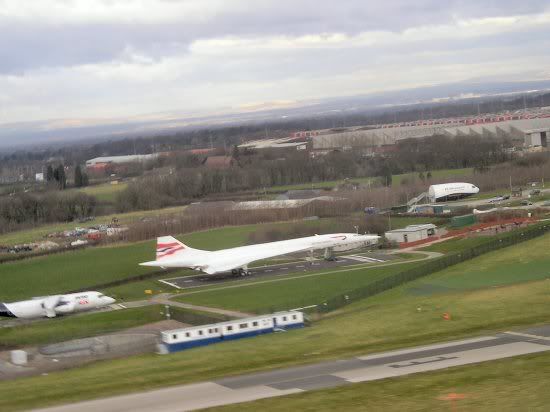 Concorde in all her majesty at the AVP along with the RJX and the DC-10 that I flew on many years ago - oh yeah, there are some spotters too!
We continued our climb out, pitching down slightly as we began our first turn on DESIG. The flaps where retracted quickly and the engines entered CLB as we climbed to our Transition Attitude of 5000ft.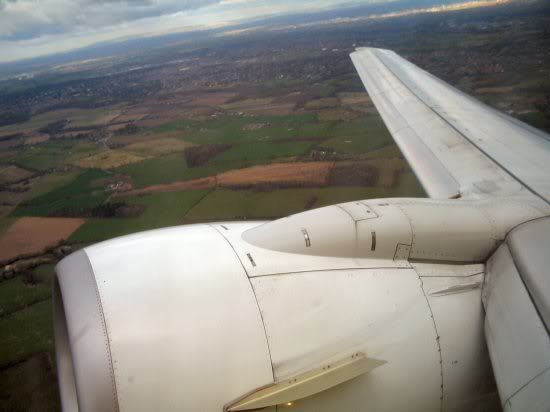 Our initial climb out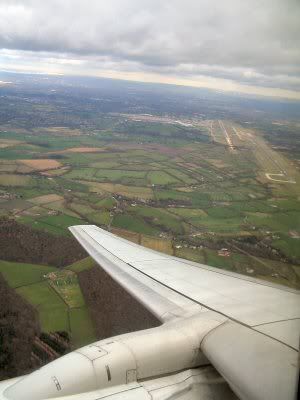 We got this fantastic view of MAN as we turned to our initial heading of 345° - Note the flaps and slats are already retracted!
At this time we entered some pretty thick cloud which to a few minutes to top at which time the view was amazing. The landing lights where turned off indicating that we where above 10,000ft and the Cabin Crew where released by the signal of the Seat Belt sign being switch off.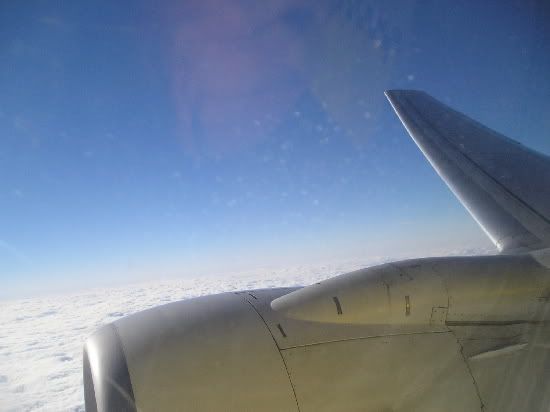 Just out of the cloud
The IFE screens dropped down and the airshow/advertisements started.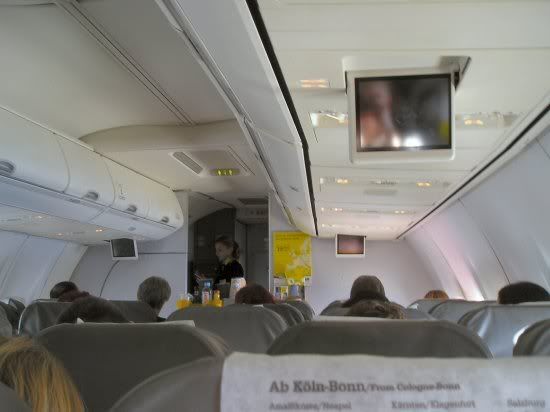 You can see the hot Cabin Crew in the Galley!
As you can see, Sabrina was preparing the drinks trolley and she soon brought it through the cabin, although, unfortunately she didn't serve us. The HLF crew member did but he was very friendly and even gave Daniel a free cup of Tea - his first ever and he thought it was disgusting… so I drank it after finishing the coffee I purchased for E2.00: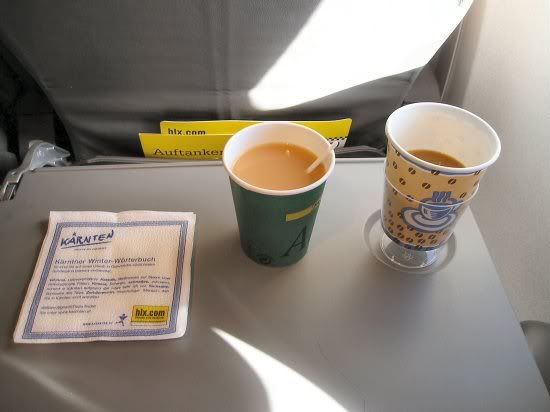 I enjoyed the drinks anyway!
We reached 31,000ft where it was a little bumpy so the Seat Belt sign was switched on. The Captain spoke to us again explaining the situation as it stood and we began to climb up to FL320. The Seat Belt sign soon went off and as I was drinking the beverages, we saw a contrail and much to my embarrassment, Daniel took out his binoculars to see what it was. It turned out to be A MyTravel Airways B757-200 bound for Manchester: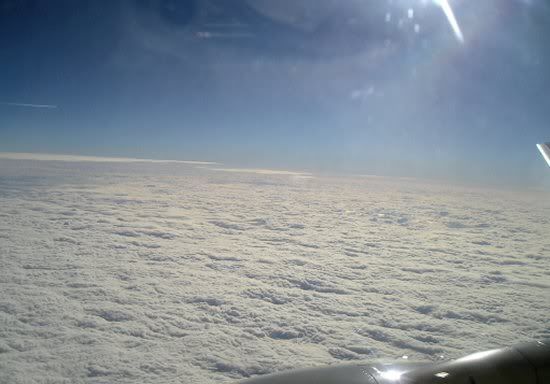 Very Shiny Engine!
After my drinks, I needed the toilet so walked down to the rear ones which where clean and tidy. Once I got back, I took the opportunity to change seats with Daniel. Sabrina was passing in the cabin so I took the opportunity to ask about a Flightdeck visit after landing. She mustn't have been the best person at English or I must slur my words but at least she spoke English to a degree. She got the gist of what I was asking but called for the HLF crew member as he was better at interpreting English. I asked him and he said that would be no problem - we got the idea he was going to let us in during the flight but as we where a bit late asking, we missed out. He was very helpful anyway and we where glad that we would be able to go up front!
As we reached our TD I got a nice reflection of our aircraft on the cowling: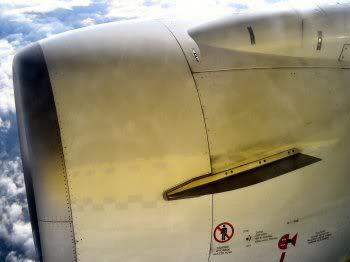 See the "Taxi in the Sky"! - I will explain later!
The engines spooled back at our ToD and the nose pitched forward quiet heavily. So much so that my cup slid down the tray table. Good job the crew soon came to collect litter!
On our descent I got these pictures: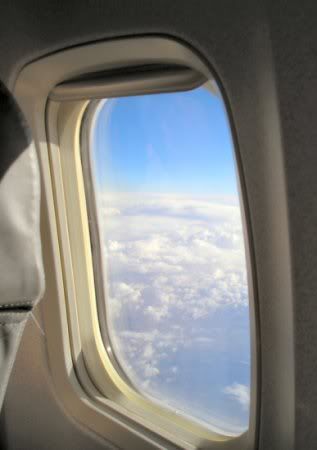 Interesting View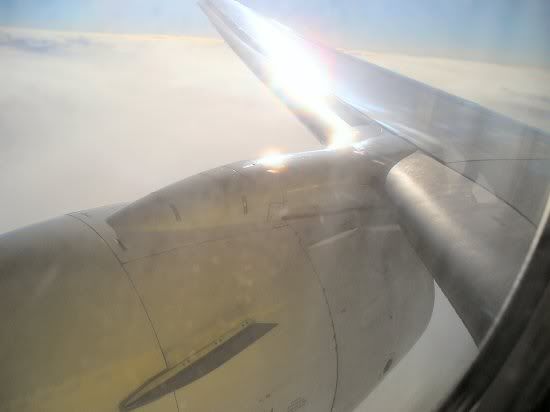 This view reminds me of PMDG 737NG
Nice Clouds
The Cabin Crew commenced the Duty Free service but as I hadn't yet changed an Euros I couldn't buy anything. The Seat Belt sign was illuminated and we entered some cloud as we continued our descent towards Bonn: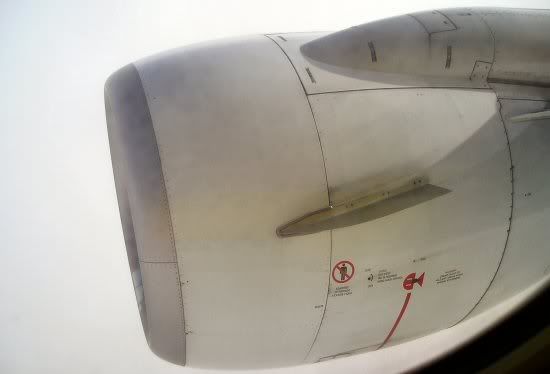 You can see the Taxi again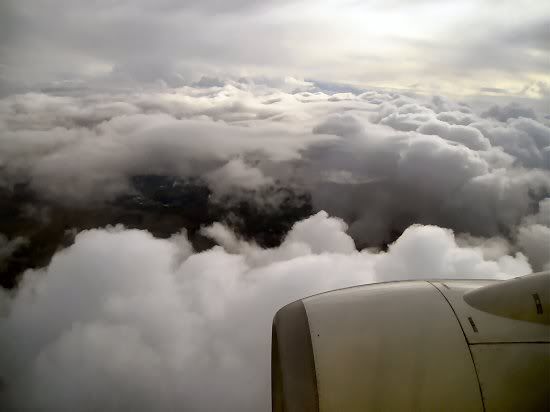 Some interesting clouds
Great picture of some cirrus type cloud rushing passed through the engine
The Cabin Crew packed away the trolley's and took their seats for landing in our final 10 minutes to go. The Airshow showed 8KM to go and jumped back to 16KM and then 21KM to go as we over flew the airport to align with 32R.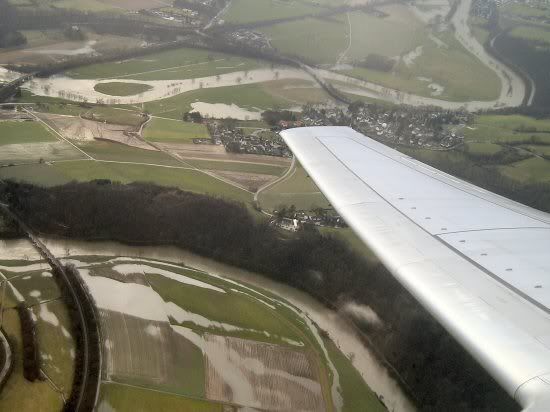 Nice picture of the wing flexing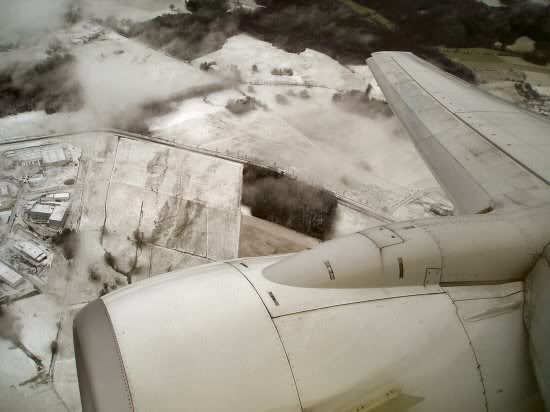 Over flying a snow field at which time the Landing Gear was lowered
As you can see from the above image, the flaps had now travelled to their first stage as we start our approach to Runway 32R.
The wings are flexing as we are on our final approach and the flap stages continue to travel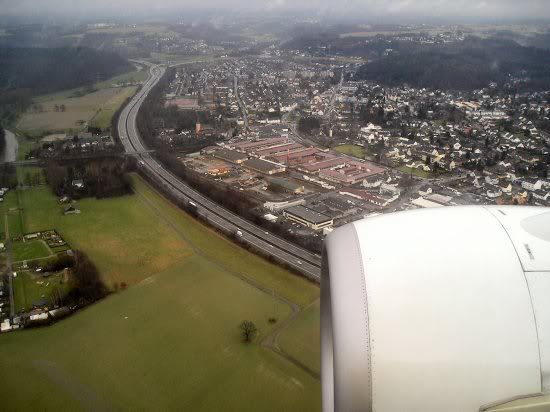 Over flying a pleasant looking town on final. Does anybody know what it is called?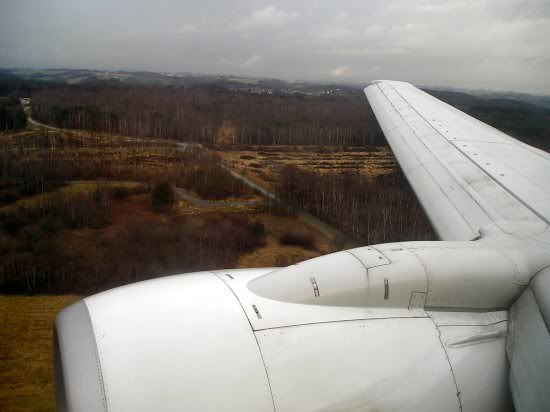 As with many of Germany's airports, CGN is set within/nearby a forest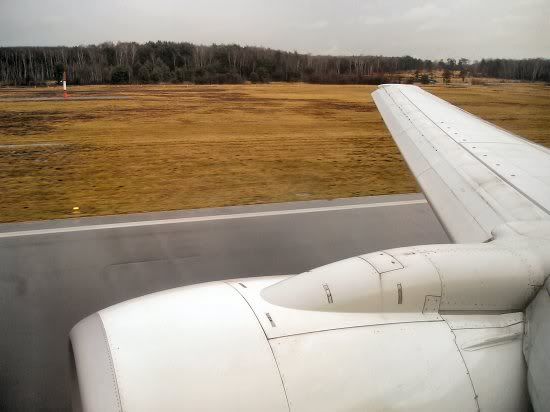 Just beginning to Flare over the Threshold of 32 Right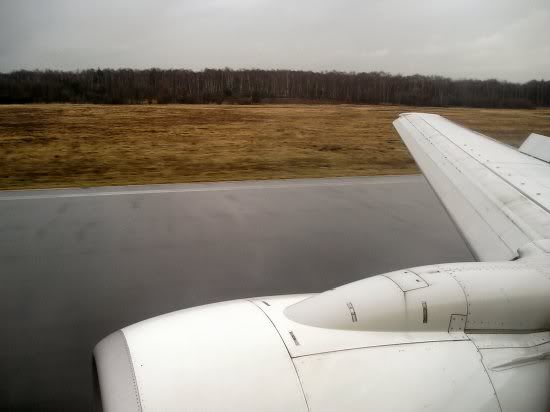 Touchdown! And a smooth one at that, no reverse selected and an Autobrake setting of around 3
Touchdown came at 15:48 - 1 hour 33 minutes behind schedule with a flight duration of 117 Minutes. We exited the runway on High Speed exit Alpha 3 continuing on to Echo and the Cabin Crew where given the sign to return to work.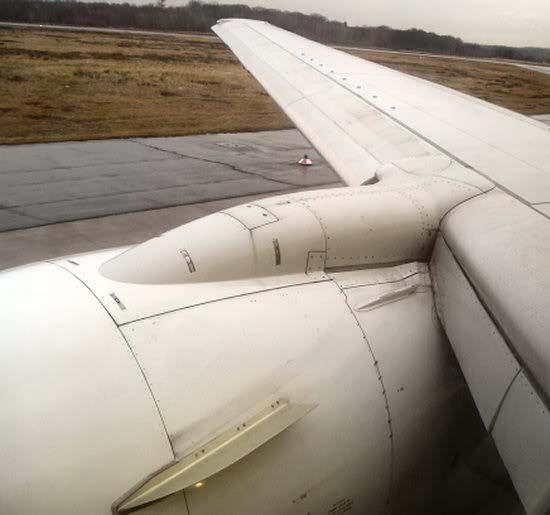 Speedbrake now in, flaps and slats are retracting and the landing light going out as we taxi to stand D10
We continued our taxi in on Echo extremely fast, passing a Germanwings A320 on its way out to 32R and the Cargo Terminal where there where 2 UPS MD-11s, B767 and Global Supply Systems B747-400. We turned on to Alpha passing the new Germanwings Terminal passed Apron Charlie still travelling at some speed onto Mike. We taxied all the way passed Delta Apron slowly sharply as we approached D8 in readiness to turn on our stand.
Just before our left, the number 2 CFM56 was cut-off. We turned slowly next to LTU A320 - D-ALTI. We stopped just short of the bar so the number 1 was spooled up to roll us into place. Just before we stopped a number of passengers decided to get up and start removing their hand baggage from there luggage lockers! When we did stop, the parking brake was put on and the number 1 was cut-off, whining down slowly. The Fasten Seat Belt sign was switched of simultaneously.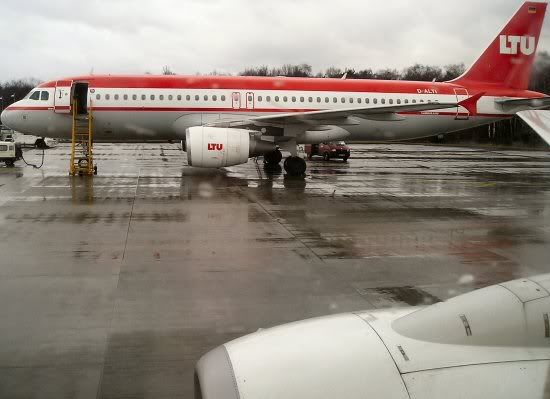 D-ALTI
Sabrina opened door 1L as you would expect and the excited passengers who couldn't wait to disembark, started to leave to the busses. We collected our things and with cameras in hand begin to walk up to the front. The TUI Purser immediately smiled and opened the Flightdeck door, saying "come right in".
So we did! The Captain immediately put his hand out and we shook and I immediately complemented the landing. He welcomed us to his Flightdeck and I proceeded to ask some questions. I said "So you're a Hapag-Lloyd Flug pilot then on the -800?" He said "yes, we signed an agreement about a year ago stating that we could also fly HLX". I asked him which did he prefer? He said "Flug, definitely, especially flying to the Canaries".
He told me I could take some pictures if I wanted, so I did. Of course, Daniel had already taken about 10!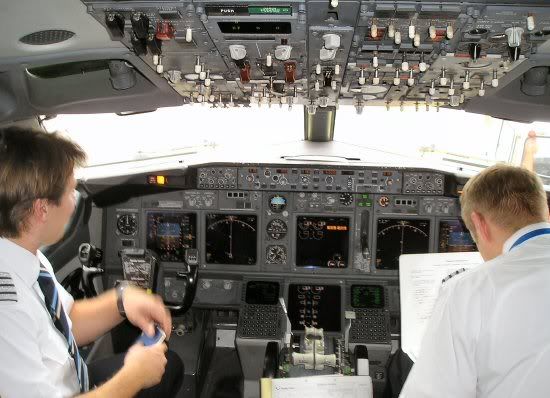 Our friendly Flightdeck crew!
I then asked where they where going next to which he explained to me that as they had done Berlin and Manchester that this would be their last flight of the day and that a crew was waiting outside to takeover.
At this time, we must have been in a few minutes so it was time to leave. We said our thanks to the crew both in the Cabin (who where offering HLX sweets to the leaving passengers) and Flightdeck and left down the steps to the waiting bus.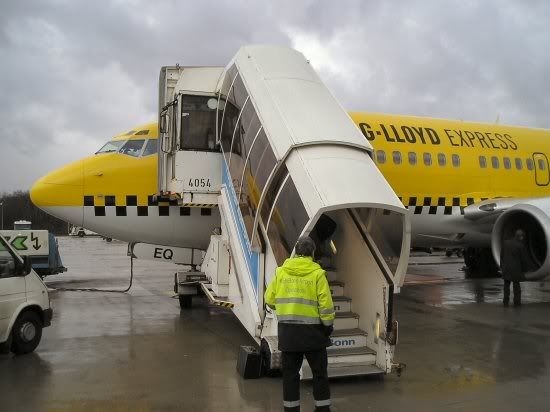 The new crew where waiting in the minibus just to the left of the picture
After getting my quick shot of our aircraft - which I'm proud of, the bus ferried us over to the security area where we entered the very modern hall to hear our welcomes over the tannoy. Our passports where scanned and we proceeded to the baggage hall - of course, we had none and went straight through 'Nothing to Declare' into arrivals. We made our way up to departure level past the masses of travel agencies and the HLX Hot Air Balloon advert and checked in for our return flight before heading up to the visitors area on the roof. We had just 2.5 hours here now due to the delay and sure enough, it started to rain!
So we decided to grab another Burger King and watch from inside. The rain was pouring down extremely heavily now and just as an easyJet B737-700 began to push, it started to thunder and fork lighten right over the airport! I suppose the delay was for the best as we didn't end up to disappointed by the weather.
To see all
my
(good/descent) pictures from this trip in a larger size and indeed all my pictures; please see:
My Account @ MyAviation.net
Anyway. HLX where great bar the delay! I hope you enjoyed reading, liked the pictures and didn't find the videos to short I will start writing my return on the -500 in due course!
Thanks for reading and please do post your feedback!
Regards
ThomasCook