My first trip report, I hope you like it
Summary
In April 2004 I went to Fiji for two weeks. I booked my ticket on the internet about three weeks before.
9 April 2004
Departing: Auckland AKL -New Zealand
Arriving: Nadi NAN -Fiji
Flight Time: 3:05 hours
Airline: Air New Zealand
Flight Number: NZ66
Cabin: Business Class
Seat: 1A
Aircraft: B767-319ER
Registration: ZK-NCK
I checked in about two hours before my flight at the Business Class check in area at Auckland International Airport. The line was quiet long which made the small area very cramped. After about 15 minutes it was my turn to check in. It was easy and the friendly lady gave me my preassigned seat of 1A.
I preceded up the escilator and through immigration, then straight to the Air New Zealand Business Class lounge. In the lounge they has a great breakfast selection of cereals, breads, juices, fruit and snacks. I took a seat by the window and watched the aircraft and read the news paper and some magazines.
About an hour later, there was a boarding call for my flight, so I left the lounge and went to the gate, where they boarded Business class first, then Economy class. I took my seat of 1A and was given a Business class pack and some juice. The flight seemed to be full and some of the passengers in business class were Air NZ staff going to a convention in Nadi. The guy next to me in 1B was one of them.
Soon enough we were up in the air and were given more drinks and snacks.
Here is a pic I took about 10 minutes after we left, just north of Auckland: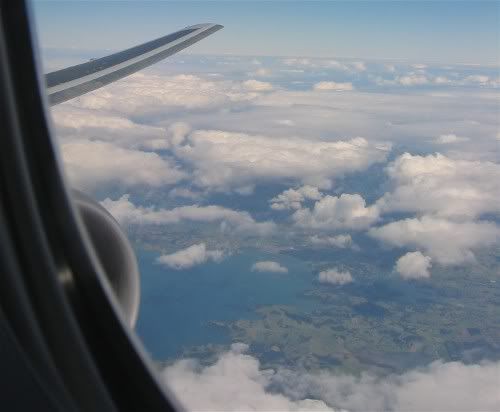 There are about 10 channels on the business class ptv's, but only about 7 were working. I had seen all the movies which were playing, so just watched the comedy channels.
Lunch choice was like this: entree - smoked salmon and Marlborough scallops
- salad
main - Beef fillet, with cooked vegetables
dessert - cream 'apple and cinnamon' and ' berry'
then coffee and a mint chocolate.
The flight went quickly and in no time at all we were on approach to Nadi Airport
The landing was smooth but we had a five minute delay at the gate due to paperwork. After I disembarked the plane, we walked through to immigration where there was a small band playing Fijian music. I collected my bag, which was almost first off and stepped out for my two weeks in paradise.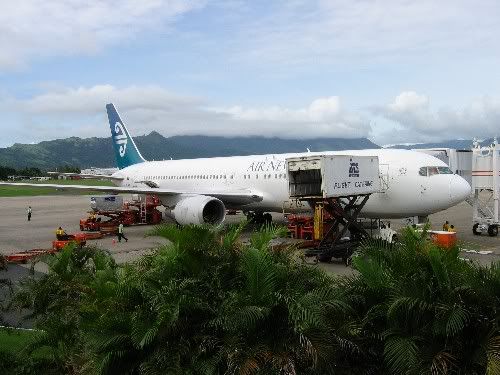 The Return Trip
25 April 2004
Departing: Nadi NAN -Fiji
Arriving: Auckland AKL -New Zealand
Flight Time: 3:05 hours
Airline: Air New Zealand
Flight Number: NZ55
Cabin: Business Class
Seat: 1K
Aircraft: B767-319ER
Registration: ZK-NCL
I had to be up at about 1am as my flight left at around 3am, so didn't really sleep that night. I left the hotel at around 1:30, and got a ride to Nadi airport.
The business class line was empty, so I didn't have to wait. My seat preassigned was 1K, which I got, along with an invitation for the Air New Zealand lounge. I said goodbye to my family and went through customs, then had a look at the duty free shops, but I didn't buy anything. After that I went to the Lounge, where there were about 6 people already there. They had sandwiched and drinks (not great for so early in the morning. The lounge is small with about 25 seats and not much window views.
At about 3am, they made a boarding announcement for Business Class passengers to board, so off I went.
In the B-class cabin there were four other passengers, all American, as the flight came from Los Angeles. I had the whole of row 1 to myself
.
After takeoff Breakfast was served, which I had Juice, fruit, and Pancakes with banana and bacon and maple syrup.
I watched a movie on the ptv, but spend most of the flight looking out the window at the amazing sunrise.
The flight went quickly and it was nice to have an almost empty cabin.
We arrived in Auckland at about 6am, but the immigration area was full, so it took a while to process
Thanks for reading, I hope you enjoyed it. I have another one of the same AKL-NAN flight but in a 747-400 with three videos and more pics. I just need to find a place to host them.