**
Departure Airport: Durham Tees Valley, United kingdom (EGNV/MME)
Arrival Airport: Dublin, Eire (EIDW/DUB)
Airline: Ryanair
Flight number: FR 603
Aircraft type: Boeing 737-204/Adv
Registration: EI-CJG (c/n 22058/629)
Date: 20th January 2005
Class: Y (Economy)
Ticket Status: Confirmed
Flight time: 55mins
This is the return part of my mad trip home to incorporate two (final?) flights on the Boeing 737-200 before Ryanair retire the type. You can view my outbound report here:
http://www.airliners.net/discussions/trip_reports/read.main/53744/
My first flight of the day was Ryanair flight FR 603 from Durham Tees Valley (which recently changed it's name from Teesside), to Dublin. Scheduled departure was at 1035, so I set off from nearby Darlington in time to check-in about an hour before the flight. I arrived at the airport at approx 0940 to find two check-in desks open, and not a single passenger in sight. I assumed from this that it was going to be a pretty quiet flight, and proceeded straight to one of the check-in desks. I was checked-in by one of the many familiar faces from my time working at this airport, and after a short conversation I was given my boarding pass. I always look at my boarding number to get an idea of the amount of pax on the flight, and in this case it was number 032. I was happy with this, as it increased my chances of getting of getting 3 seats to myself (and for my rucksack and camera of course).
After check-in I proceeded to Gate number 4 to find some former colleagues who had just handled the mid-morning bmi departure to LHR. Naturally, it was not long before I was relaxing in the bmi business lounge and chatting. You wouldn't normally find a Ryanair passenger in here.
As we chatted, I could hear the unmistakable sound of JT8D's, as my Ryanair 737-200 taxied onto the apron outside. Without even going out into the main gate area and looking, I knew I wasn't going to be suddenly disappointed by an -800! I sipped my orange juice a reassured –200 basher. It wasn't long before I decided to wander into the main gate area, and just as I did so, the boarding announcement was being made. There were also passengers waiting to board a KLM Cityhopper flight to AMS, but the total number of passengers in the gate suggested that neither flight was particularly busy. I joined the back of the small gathering who had promptly gone forward to board the Ryanair flight, and made sure my camera was ready to catch a quick snap of the aircraft once I got outside. I was hoping after the outbound leg on EI-CNT (an ex-Lufthansa machine) that it wouldn't be another of the EI-CN* range, so when I saw EI-CJG in full Ryanair colours on the apron, I was more than happy, suspecting it would probably be an ex-Transavia or Britannia aircraft.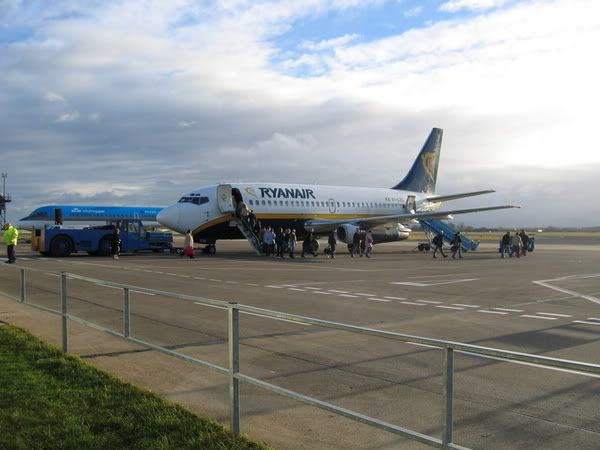 I walked along the terminal front and then across the apron to the aft steps, as always. Surprisingly the passengers were boarding in equal numbers at both the front and rear steps - I usually make a beeline for the aft steps because people generally all queue at the front. I waited in line at the top of the steps whilst people made their way through the rear galley, managing to take a quick pic of the clean-looking tail logo.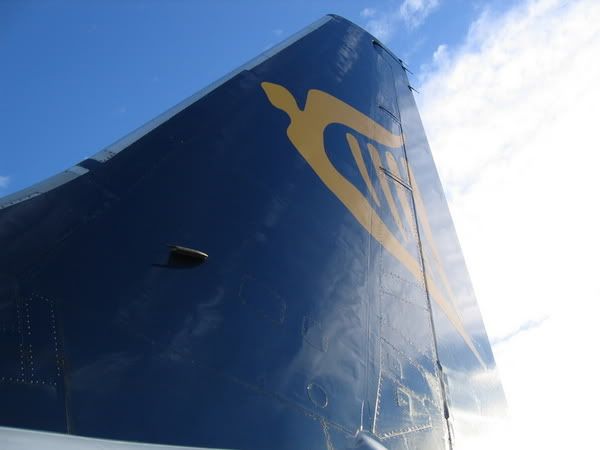 I entered the cabin, which was sparsely occupied, and took seat 19A. Not only did I have 19ABC to myself, but also seats 19DEF were unoccupied. I placed both of my cameras at my side, suspecting that the battery was likely to give up on my digital, and looked out of the window across the empty apron.
The boarding process was completed very quickly, and doors were closed in time for an early departure. After a few short minutes, pushback commenced, and the JT8D's whined into life. I savoured the sound as it may be the last time I heard it from inside a -200, and admired the view of what is a very tranquil airport in comparison to my final destination today - Manchester. We taxied from the apron towards the main runway, which meant we'd be backtracking down the main before take-off. This afforded a view of the hangar area, which nowadays tends only to be centered around TNT's operation. Several years ago, it would not have been unusual for overnight maintenance to take place on British Midland DC-9's in one of these hangars. Nowadays the bmi operation on the MME-LHR route is centered around A319 and A320 equipment, which recently replaced Fokker 100s on the route. The F R A area was also visible, with a number of Falcon 20's occupying the adjacent stands as usual.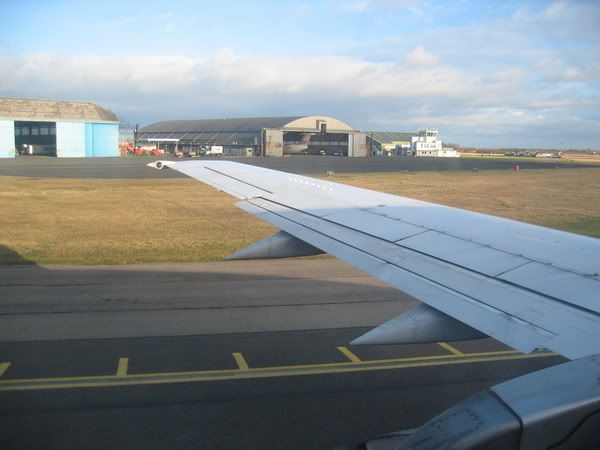 After a quick backtrack along the main runway, the aircraft was turned around in readiness for the take-off roll. Sadly my window was badly scratched, and the sun was shining into my window once the aircraft had turned around. The engines soon roared into life, and the brief take-off roll began.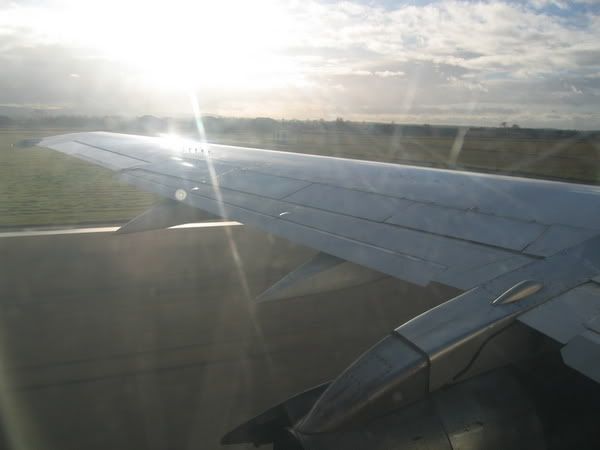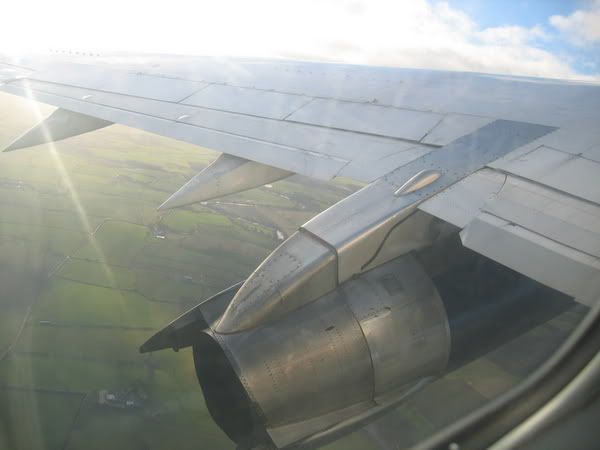 During the climb, the pleasant green landscape of North Yorkshire made for a nice view, and I relaxed into my seat. The cabin crew were extremely sales-oriented on this flight - even more so than usual on Ryanair. With the relatively light passenger load today, they were able to promote the on-board purchasables a lot more, given the extra time they would have to sell them. When the drinks & snacks service came around, I declined politely, but soon regretted it in the realisation that I had not actually drank anything since waking up that morning. During the cruise I took one more photo on my digital camera, but just as I suspected, the battery died straight after I took the shot.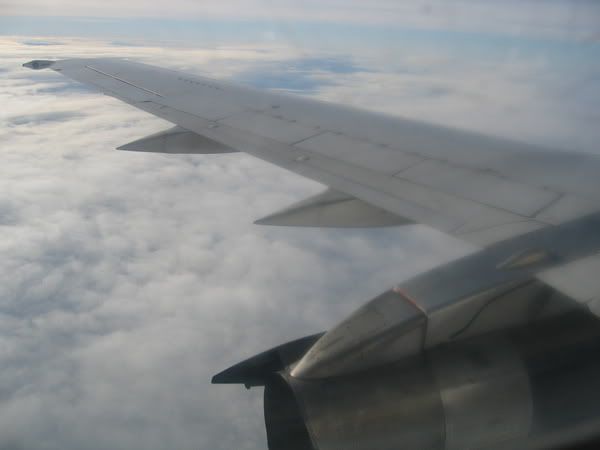 The descent commenced as we passed over the Irish Sea, and I replaced my Canon Powershot S500 (Canon Ixus 500 in the UK) with my trusty old Pentax P30 SLR, which I had not used for a few years. The sea looked as choppy as usual, but was a pleasant sight as we continued the descent, with the sun being in evidence today.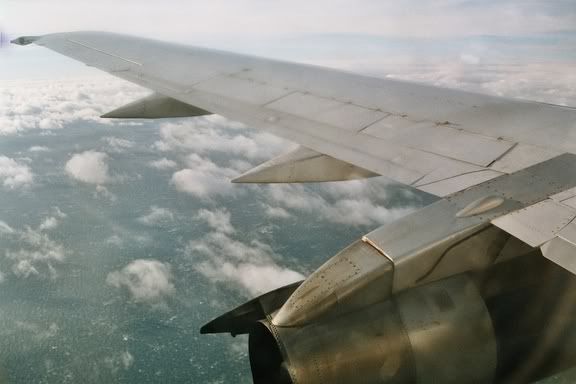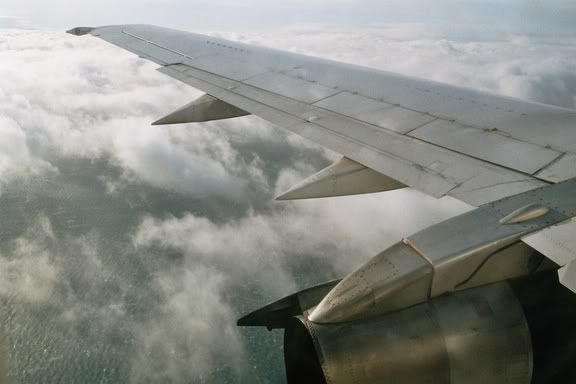 We were soon on a more or less straight-in approach to DUB, which was a little more dull once we were below the cloud base.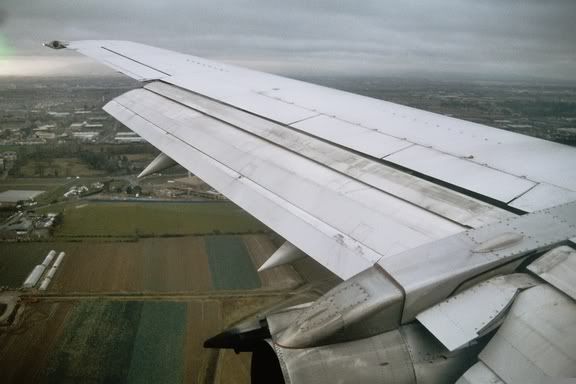 The final approach was somewhat bumpy, so I did not manage to get many shots before we were on the ground, thrust-reversers and clamshells kicking into action once more - this is what makes the subsequent 737 series' seem so boring on landing!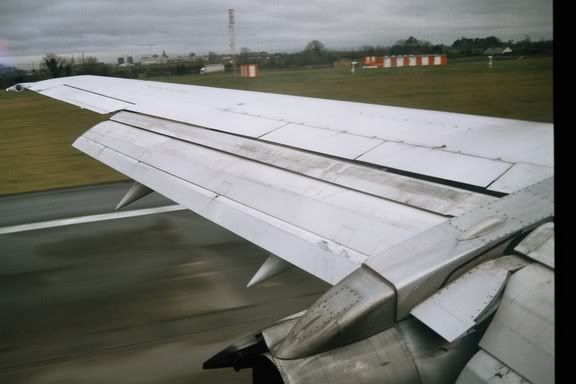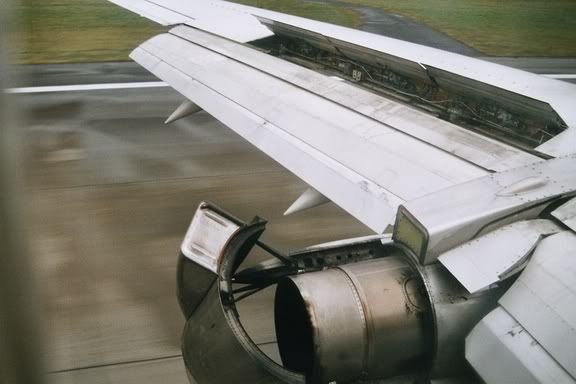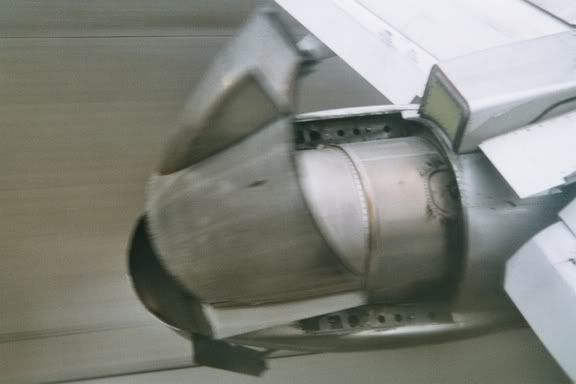 After a short taxi we arrived early at our gate on Pier A, and I took what was likely to be my last step off a Boeing 737-200. EI-CJG was looking particularly clean, although closer inspection revealed a lot of 'patch-up' work on the fuselage, as is the case with a number of Ryanair's -200s. I was also able to take another shot as I climbed the stairs up to the pier, just as sister-ship EI-CJC, the Hertz logo jet, taxied in.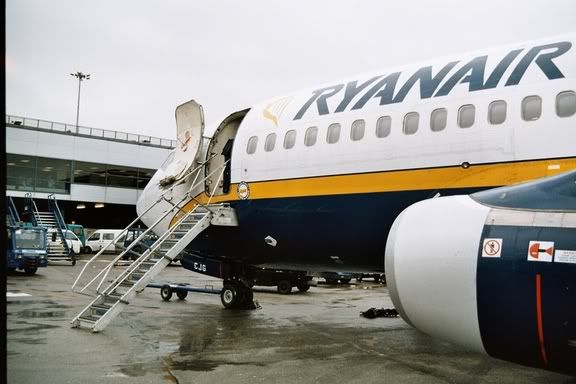 Another fantastic flight on a classic aircraft, which will no doubt be flying its last flight DUB-PIK very shortly, before making the final journey of all, by road to BOH for scrapping. It would be nice to think that this one gets away to a new life, as EI-CON and EI-CNY already have, but I guess we'll have to wait and see...
**
Departure Airport: Dublin, Eire (EIDW/DUB)
Arrival Airport: Manchester, United Kingdom (EGCC/MAN)
Airline: Aer Lingus
Flight number: EI 212
Aircraft type: Boeing 737-548
Registration: EI-CDE (c/n 25115/2050)
Date: 20th January 2005
Class: Y (Economy)
Ticket Status: Confirmed
Flight time: 55mins
After arriving from my Ryanair flight, I proceeded out through arrivals, and up to the Aer Lingus check-in area. I had an e-ticket reservation on this flight, and joined the queue at the dedicated UK check-in area. There were a number of people in line, but the check-in agents were extremely efficient in processing them. I noticed that almost all of the Aer Lingus signage had been changed to the 'aerlingusOcom' format, which emphasizes the transition of the carrier into more of a no-frills airline. This was even prominent at the transatlantic check-in area, which surprised me as I thought EI would rather emphasize the full-service image on this part of the operation. I was checked-in within a matter of seconds by a very efficient member of EI staff, and assigned seat 17A. With the 737-500 being more or less the same size as the -200, I knew this would be just behind the wing, which is where I prefer for photography purposes. I proceeded through departures, and back onto Pier A for the fourth time in as many days. No gate had been advised just yet, but it stated A on the gate section of my boarding pass.
On my way along the pier, I noticed that the 737-200 I had just flown in on, was being prepared for a flight to CWL, and was almost fully boarded already. I then came across another FR 732, EI-CNV, which is an ex-Lufthansa machine. I waited until 'JG pushed back, and managed to photograph them together: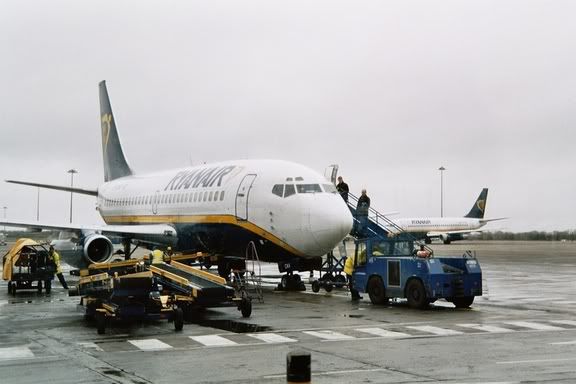 After making my way to the end of Pier A, I noticed that an adjacent gate had been assigned for my flight to MAN, and took a seat by the window so I could see my aircraft arrive. The flight was scheduled to be operated by a Boeing 737-500, but I was aware that an aircraft change may bring a surprise A320, or 737-400. A couple of 735's taxied past the gate - EI-CDG, and EI-CDC. 'DC was wearing the new SAS-style Air Baltic colours, in readiness for an impending move to even colder parts, minus titles. Finally, EI-CDE arrived at the gate, and was soon surrounded by ground service vehicles.
After the inbound crew disembarked, the new crew arrived, minus a member of cabin crew, who had presumably been called-out from standby to operate the flight. This held up boarding for a while, and an announcement was made, apologising for the short delay to boarding. Shortly after the final cabin crew member had boarded, passenger boarding commenced. There was already a queue at the gate, despite all EI flights having allocated seating. I took my place at the back of the queue once the flight was well into boarding, and soon made my way across the apron. There were no stairs attached to the rear of the aircraft, so all pax entered the aircraft using the integral airstairs. As I queued on the stairs, I noticed the aircraft was named 'Larflhaith'. Once in the cabin, I could see that the flight was pretty busy, and I took my allocated seat, 17A. Luckily, seats 17BC remained vacant, and I placed my camera on 17B. I wasn't quite as photo-happy on this flight, as I had flown on many -500s with bmi, before they were transferred to bmibaby. However, I was quite glad to be on an EI 737 today, as they are being phased out of the fleet in favour of Airbus narrowbodies, and this would probably be my first and final Aer Lingus flight on the type. The cabin was pleasantly presented, with seats in green and blue in different sections of the cabin - a lot nicer when compared to the Ryanair interior.
A little later than was scheduled, pushback commenced, and we were on our way. We taxied out to the active runway and held short at for a few minutes, before the aircraft lined up and the take-off roll began.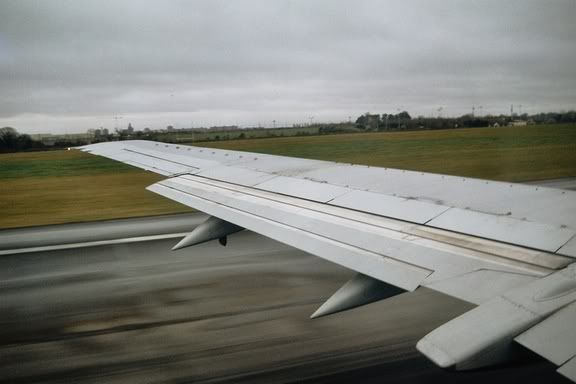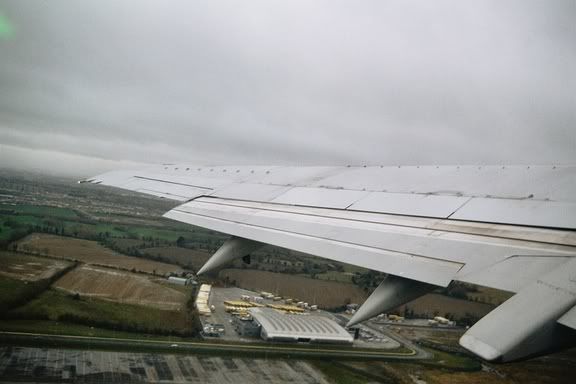 It was rather a grey day from here, but I knew it'd brighten up during the climb, as it had on the way across from MME. As we climbed, I read the literature in the seatback pocket, noticing that drinks and snacks were no longer complimentary on Aer Lingus. The transition into a no-frills business model was becoming increasingly more evident. I had flown on an Aer Lingus BAe 146-300 shortly before the type was withdrawn from the fleet not too long ago, and the service was still all complimentary. Still, with Ryanair on the scene, this is probably the only way to go for Aer Lingus. I decided not to purchase any drinks or snacks with it being such a short flight - I'd grab something from M&S on arrival at MAN. It was nice and bright above the clouds, as we passed back over the Irish Sea, and I admired the view from my window for a while.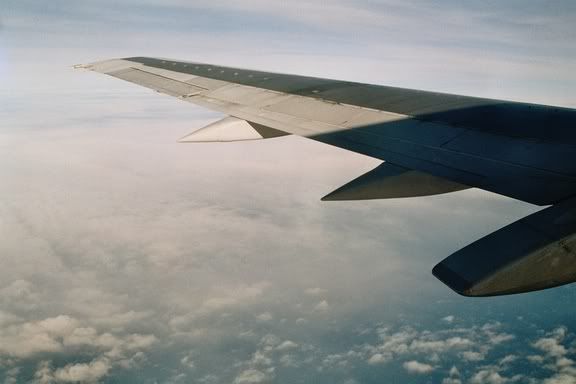 The cruise was only short, and before I knew it we were descending towards MAN. The weather in the North West of England was no better than DUB, and we were soon flying through clouds as we approached MAN.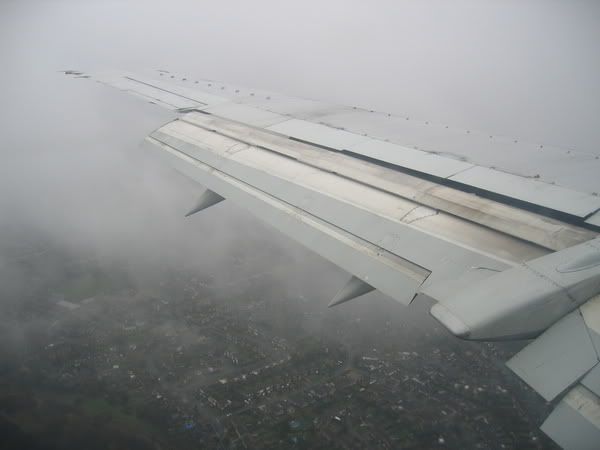 It was very choppy once again, and the cloud was rather low, restricting the views of the Stockport area as we were on finals. Once out of the low cloud, we were landing at a grey and rainy MAN.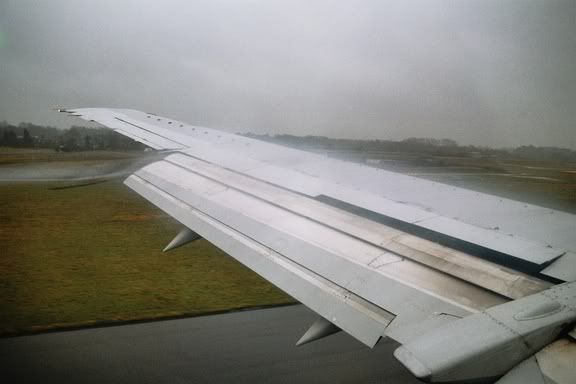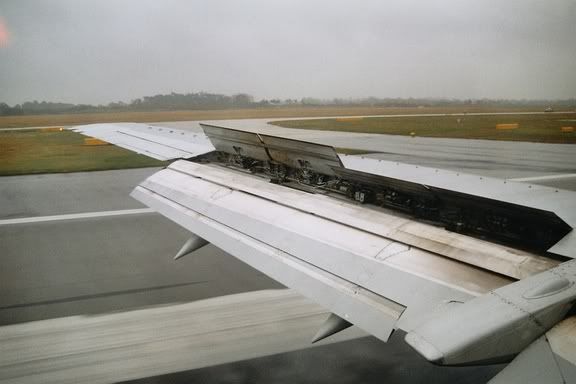 After a short taxi, we arrived at Gate 5 on Terminal 1's B Pier, and I was back at my place of work. Naturally I did not want to hang around here too long on a day off, but ended up chatting with a friend and colleague as I made my way to arrivals. I left the baggage claim area, and made my way to the staff car park (via Marks & Sparks for a nice chicken wrap!)
**
After arriving home, I checked up on the two aircraft I had just flown on.
EI-CJG was an ex-Britannia machine, which means I may have flown on it to sunnier climbs as a kid, but have no way of knowing.
The Aer Lingus aircraft, EI-CDE, appears to have been with the airline since delivery. Here is a photo I found of it wearing the old EI scheme in the early 90's:
View Large
View Medium


Photo © Oliver Stanek
**
I hope you enjoyed reading this report - any feedback would be most appreciated. Thanks.... Ian.