So I've had a little hiatus from writing trip reports – although I flew ORD-DFW-ORD back in December (to visit my parents at home in Texas). On that trip, I wound up seated next to an overzealous federal air marshal who detained me for questioning because I was taking pictures out the window in flight. Although he ultimately let me go and nothing came of it, the whole experience left me furious and I didn't really feel like writing a trip report.
Time heals all wounds, however, and so I'm back with a new report and a new digital camera for sharper, clearer photos (knocking on wood). The new camera can also take (drum roll)
movies
… good ones too. You'll find them in the text of the report – links to Flightlevel350.com, where they're hosted.
This whole trip got underway when I got an NetsAAver email alert from American, pointing me toward a $280 ticket to London in February. There's no reason anybody should pass up an opportunity like that, so I booked a three-day weekend in London. After some quick AIM conferencing, two of my best friends from high school (now ten years ago, yikes!) booked the same special fare into Gatwick from Dallas/Fort Worth. A great city and good company… I was all set.
*******************************************************
Thursday, February 24, 2005
Chicago O'Hare International Airport
After parking in a very full remote lot at ORD, I caught the train to Terminal 3. Construction on the FACE reconstruction project is really hustling along now – and the completed portions look really good. Newly expanded ticket lobbies are now open at each end of Terminals 2 and 3. The new areas are almost twice as wide (the ventilation spaces between the terminal and road have been filled in to create more space) and have lots of glass and steel. New floors, walls and ceilings are in place, so the rebuilt portions are almost unrecognizable. I didn't get a picture, but I'll try to take one on my next trip through.
American has also installed all-new ticket counters in the terminal, nice ones with granite countertops and a stainless steel background. International check-in has moved into the new ticket area, and the old domestic check-in is closed for reconstruction.
I checked in at the International First Class counter, where the agent told me that all of the bulky InVision screening machines will also be moving as part of the FACE project. American will relocate them into the baggage sorting rooms, getting them out of the ticket lobby and out of the flow of traffic. All I can say is it's about time – the airport will be much better off because of it!
Once through security I made my way down to Gate K16, where the departure lounge was already pretty full of people. American's LHR flights tend to leave from K16 or the adjacent K14, two of the only gates at Terminal 3 that can handle the Boeing 777 (although I've seen them parked on Concourse L from time to time as well.) Flights to Mexico City and Miami were going out across the concourse, giving the whole place a decidedly international feel. The rest of American's transatlantic 767 flights (going to Paris, Manchester, Brussels and Frankfurt) had already departed.
Boarding started on time, with First and Business Class passengers leading off. I did notice that my boarding pass had no group number printed on it, only a large PLATINUM designator. This was my first flight since achieving PLT status – is this normal? As a Gold member I was always given Group 1 and my boarding pass said so.
American Airlines Flight 46
Chicago O'Hare (ORD) – London Heathrow (LHR)
Departs ORD 8:15pm, arrives LHR 10:20am
Boeing 777, seat 38J
Flying time: 7 hours, 20 minutes
Because this flight left at night, I don't have any pictures until just before we land. Flight attendants generally don't like flash photography in a darkened cabin.
I took my seat, being careful to wedge my backpack around the AVOD unit under the seat in front of me. That's my only complaint about American's 777 – the steel box holding the in-seat video system is under every window seat, blocking some of your legroom. This 777 still appeared to have More Room Throughout Coach, though, which was a good thing.
The cabin filled up quickly – this flight was about 90 percent full. Only a few center seats in the middle of the rear coach cabin were unoccupied. My seatmate was, ironically enough, also going to London for the weekend (even more ironically, I'd wind up sitting next to her again on the return flight.) The usual flowery nature scenes and new-age music played on the PTV screens during boarding.
We pushed back on time and taxied very slowly past a pretty empty Terminal 5 (most of the European and Middle Eastern flights had already departed – only a Royal Jordanian A340, Lufthansa 747 and Kuwait Airways A340 were left.) Our 777 crossed the bridge over Interstate 190 and held briefly at the 32R threshold before making a swift takeoff to the northwest.
The cloudbase was pretty low this evening, but we made a low-altitude turn off the runway heading almost immediately after clearing the runway. We flew the usual route over Des Plaines before getting swallowed up by the cloudbase over the Tri-State Tollway.
Here's a pretty rudimentary map showing our departure route out of Chicago: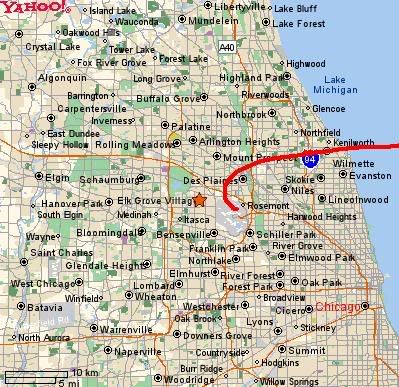 AAttractions video programming started once we hit our cruising altitude – three movie selections, two CBS Eye on American channels, a BBC channel, Cartoon Network, Animal Planet and the Airshow inflight map, plus eleven channels of audio selections. The video channels in coach are cyclical, while First and Business Class passengers have on-demand capability. Movie choices tonight weren't great – "Ladder 49," "Sky Captain and the World of Tomorrow," and "Alfie."
The clouds thinned out as we crossed Michigan, and I was treated to a spectacular aerial view of Detroit as we passed almost directly overhead. I could even see aircraft on final approach for the 21 and 22 runways at DTW. We crossed into Canada and flew over Toronto, although I was on the wrong side of the cabin and had a scenic view of dark Lake Ontario. Clouds rolled in again as we passed into Quebec and followed the St. Lawrence Seaway to the Atlantic.
The cabin crew – a middle-aged bunch who were a little friendlier than the usual American transatlantic types – came down the aisle with dinner as we neared Montreal. American has had the same choices on its eastbound transatlantic flights for a few years now: beef pot roast over mashed potatoes with mixed vegetables or barbecue chicken over rice. I picked the beef, which was a little mushy but not too bad otherwise. I did manage to drop half my salad dressing in my lap – it comes out of its little container faster than one might think. :-/
Once dinner was cleared away, the cabin lights were dimmed and most of the passengers attempted to get some sleep. I was able to get about an hour's worth of sleep (about what I usually get on an overnight flight) but for the remainer of the night I read a book or switched between video programs.
The sun came back up over the horizon as we crossed the coast of Ireland in the vicinity of Limerick and the Shannon airport. From there our route took us back out over the Irish Sea, across the southern portion of Wales and then over Bristol into London: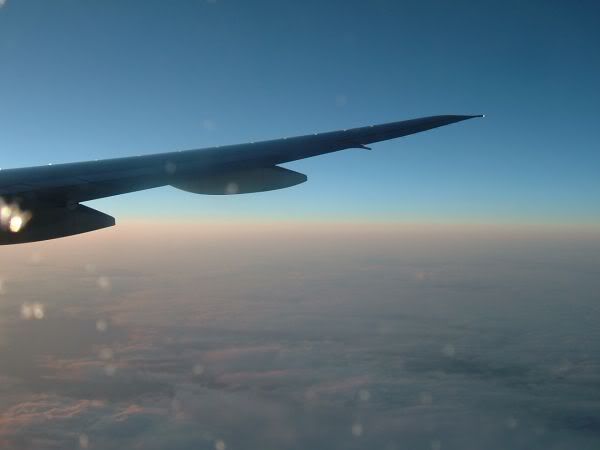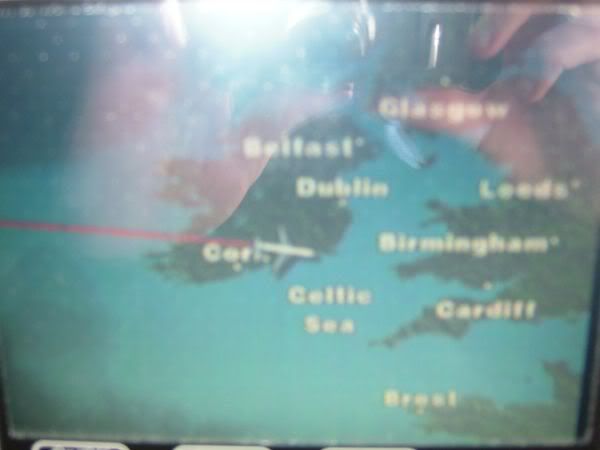 A light breakfast – really light – was served about an hour prior to arrival. Everyone got a warm croissant with jelly, a container of yogurt, a packet of raisins and a little tub of orange juice. The AArrivals video for London Heathrow was shown while we ate, although it was very garbled and blurry (some sort of problem with the video, presumably.)
As we crossed Ireland we flew alongside a fellow American 777 for several minutes, eventually overtaking it. I tried to get a picture, but there was condensation on the upper portion of my windowpane and it got in the way of a good shot.
Arrival into Heathrow
The crew came down the aisles to distribute UK landing cards and the plane throttled back to begin the descent into Heathrow. The captain came overhead to say we'd have about a ten-minute hold before we got landing clearance – long enough to fly past the airport, make a quick turnaround, and then rejoin the downwind leg for landing: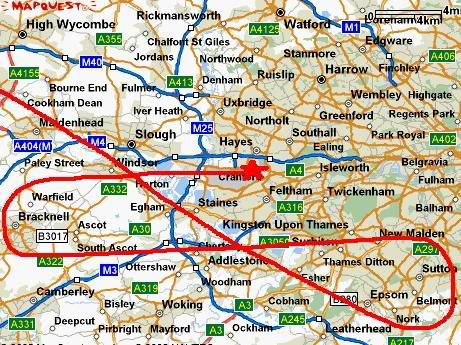 Spearing down into the clouds over Surrey – goodbye sun: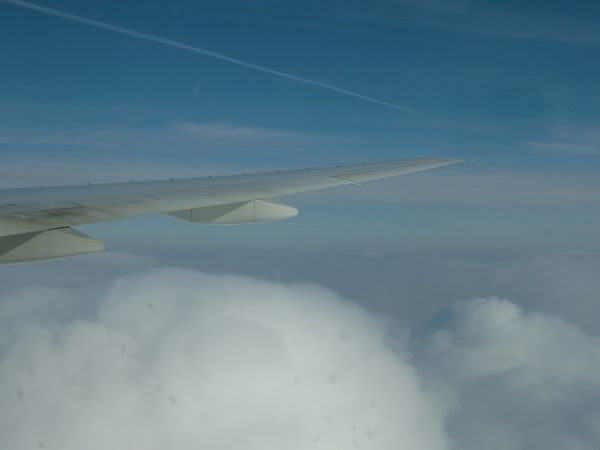 I'd been hoping for the more interesting 27L/27R approach into Heathrow, which passes over Central London on the early part of final approach. However, as we made a long, hard easterly turn in the clouds and the flaps dropped down, I realized we'd be landing on the less exciting western approach. Oh well, maybe next time.
I caught my first fleeting glimpse of England through a break in the clouds and was shocked to see a light dusting of snow on the fields below. When we finally dropped below the cloud layer, an almost-collective gasp came up from the passenger cabin – the whole landscape was covered in snow. It thinned out considerably as we got closer to the airport, but apparently snow in southern England is still rare enough to shock people.
LANDING VIDEO
: Final approach onto Heathrow's runway 9L, starting just west of Windsor and continuing down over the Queen Mother Reservoir, the M25 motorway and past the massive Terminal 5 construction site. You can see an Air Mauritius A340 on the taxiway right before we touch down, and the new LHR control tower is visible on rollout.
Clicking the link will take you to the video, which you can then download using the "Download" link if you'd like.
http://www.flightlevel350.com/public_viewer.php?cat=75&pic=2224
A company 777 (for all I know, it could have been the same one we saw over Ireland) landed on 9L right behind us: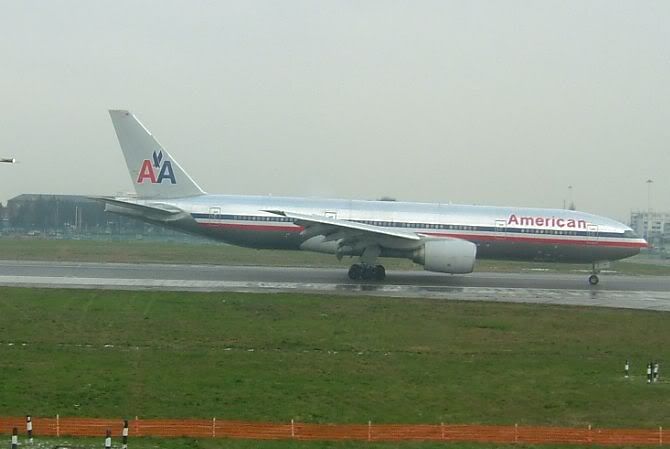 While taxiing in to our stand at Terminal 3, we passed a few of LHR's morning visitors: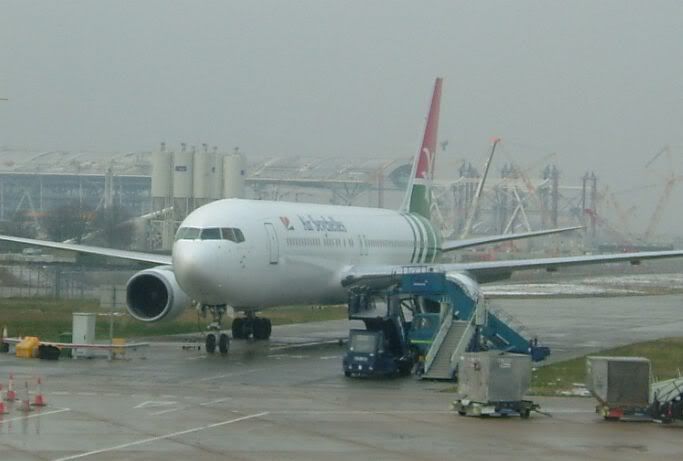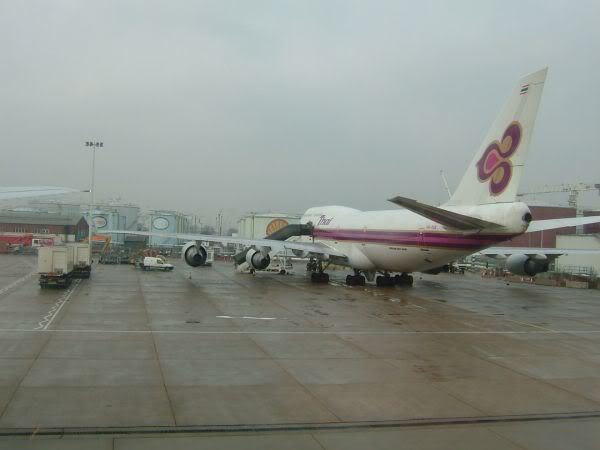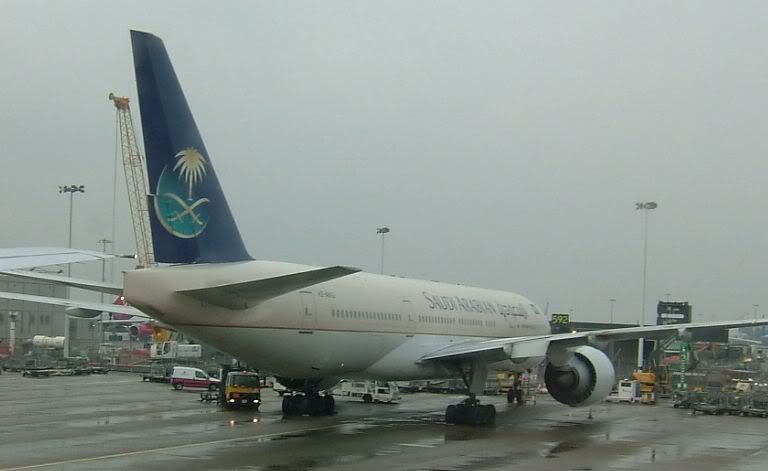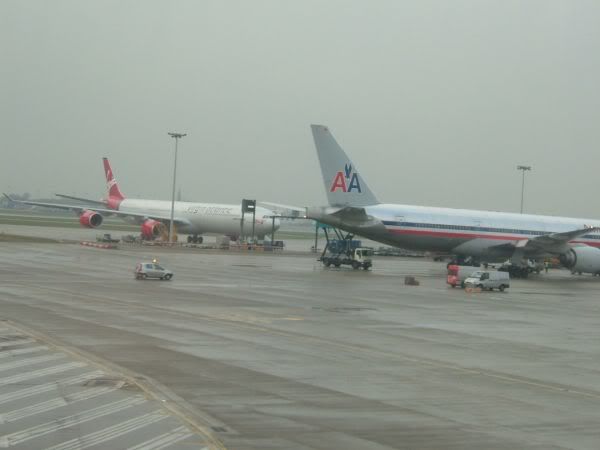 Turning onto the gate at T3's further pier – are you sure we're in the UK?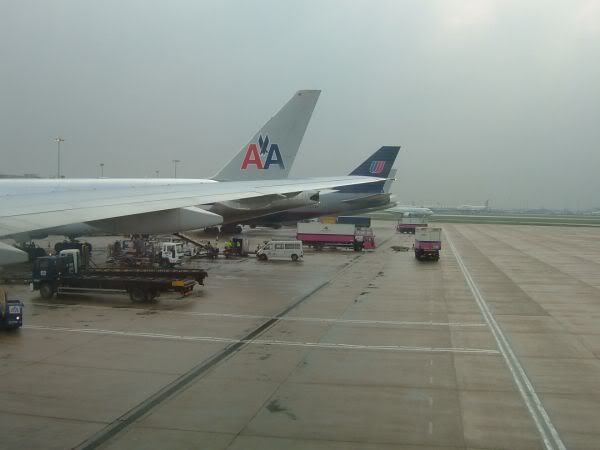 Terminal 3 seemed a little quieter at this hour – I've usually arrived between 6 and 7am and the immigration hall has been mobbed with passengers. This time we were the only group in line, so I was through immigration and at the baggage claim in about ten minutes. Once through HM Customs, I headed for the Heathrow Express station.
I hadn't ridden Heathrow Express before; on past trips I've used the Tube to get to/from LHR, but this time I decided to treat myself to a faster ride. What a great concept! The trains are some of the sleekest and most comfortable I've ever seen, and you get from LHR to Paddington Station in just under fifteen minutes. The ride is smooth as silk and each car has TV monitors playing BBC 24 news and weather reports. It'd be amazing if Chicago could create something similar to connect O'Hare and Midway to the Loop, but I'm not holding my breath.
******************************************************
Sunday, February 27, 2005
London Heathrow Airport
After two days of sightseeing and partying in London (a little too much partying) I pulled into LHR on the Heathrow Express once again. Making my way through the maze of underground tunnels connecting each of Heathrow's terminals to the train stations, I headed for Terminal 3 and the American check-in desk. There was no line at all, which surprised me – on past trips to London I've seen American's line stretching all the way down into the Virgin Atlantic check-in area. The agent took me suitcase off my hands and I was free to explore LHR.
A shot of the infamous Terminal 3: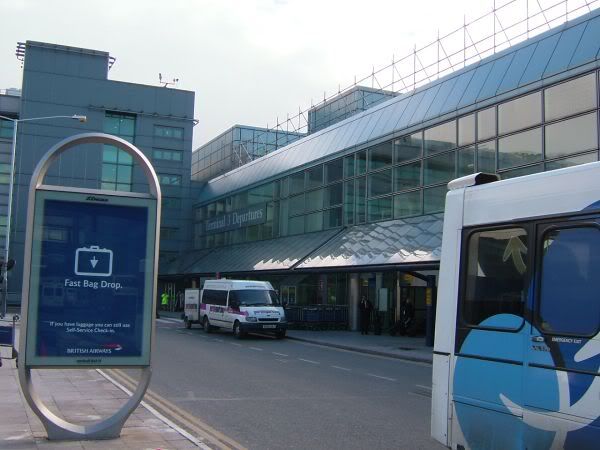 LHR is a frustrating place for aviation folks – so many enticing widebodies and almost no windows to see them from. The wonderful observation deck on the Queens Building is now rotting away, having been closed for almost three years now. The parking garages are monitored against viewing at an almost comical level, and the British Airports Authority have covered almost every window with tacky advertisements or even tackier shopping boutiques. BAA show almost no interest in maintaining any of the concourses or gate areas, so LHR is an interesting cross between a 21st-century shopping center and a Third World warehouse.
Terminal 2, as seen from the elevated skybridge connecting it to the car park. T2 is scheduled to be demolished and completely rebuilt after Terminal 5 opens: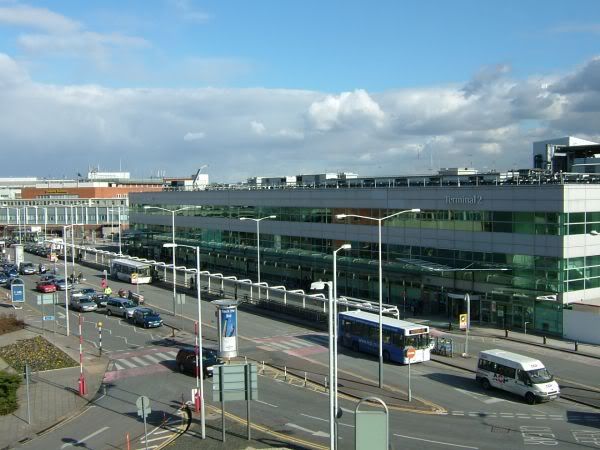 There's decent viewing from the Flight Connections Centre in between Terminals 1 and 2, and on past trips I've been able to clear security in T1, spend a few hours spotting, and catch the bus to T3 for my flight. This time the security officials refused to let me through, so I was forced to go back to Terminal 3 to go airside.
T3 is undoubtedly the worst of Heathrow's four terminals. It has a certain charm about it – it handles the bulk of Heathrow's more exotic movements, so it's usually jam-packed with people speaking dozens of different languages and holding passports from dozens of different countries. The massive departure lounge has
ZERO
windows – it's a maze of corridors connecting one fancy duty free shop to the next. The windows are all out in the decrepit concourses, so that's where I headed.
Air-India's 747-400 prepares for departure to Mumbai: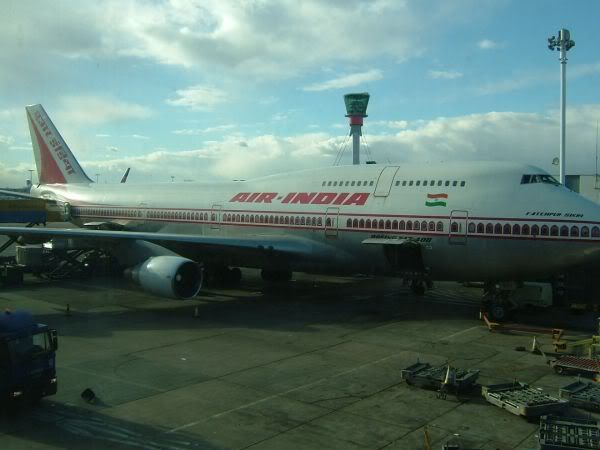 Looking across Heathrow toward the Terminal 5 construction site. This picture really gives an idea of the scale of the project. It's come a very long way since I last passed through Heathrow in April 2004: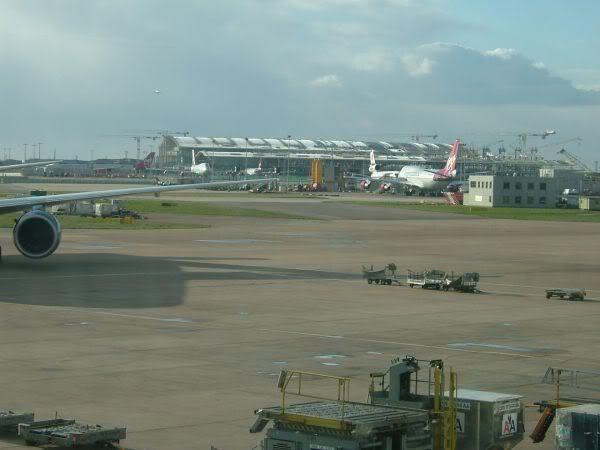 A Japan Airlines 747-400 pulling on stand, newly arrived from Osaka: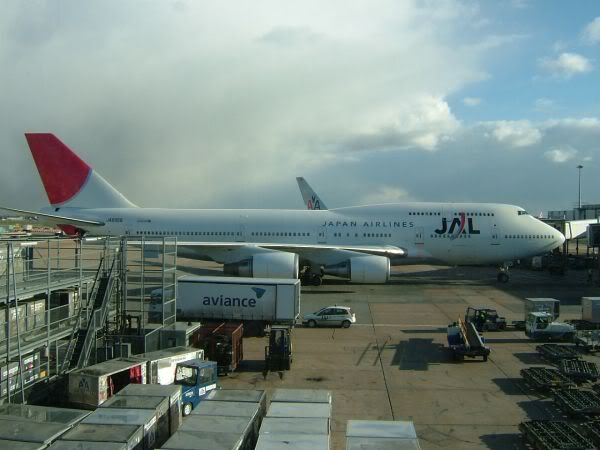 Here's my Chicago-bound 777 parked at Gate 19: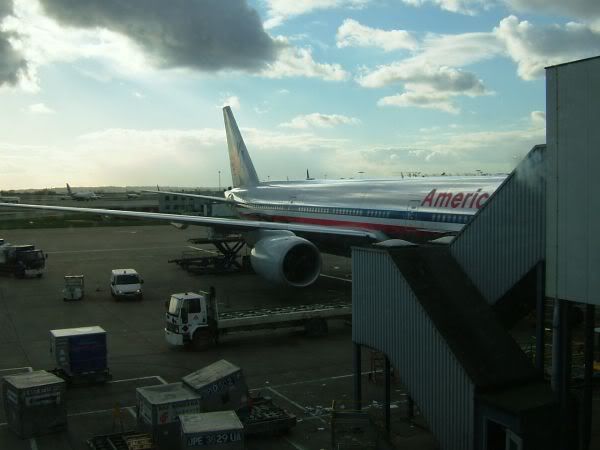 ***************************************************
American Airlines Flight 91
London Heathrow (LHR) – Chicago O'Hare (ORD)
Departs LHR 4:35pm, arrives ORD 6:25pm
Boeing 777, seat 38J
Flying time: 7 hours, 55 minutes
I took the same seat (38J) that I'd had on my eastbound flight, so I felt right at home as I settled in and wedged my bag under the AVOD unit once again. This flight was almost completely full, and it definitely felt like it. Once everyone took their seats, a more senior member of the cabin crew came through the aisle, stopping in front of each overhead bin and saying to the passenger seated under it, "I need you to close this bin" and then moving on without another word.
WARNING – RANT
This is my biggest gripe with the seniority system for flight attendants. While there are plenty of hardworking, friendly, dedicated cabin crew working for American, it's bad apples such as this one who ruin it for everybody. This woman clearly did not want to be on board the aircraft. Her appearance was sloppy – her hair was uncombed, uniform haphazard, she was wearing flat frumpy shoes and her idea of "service" was asking passengers (who had previously been asked to sit down and fasten their seatbelts) to do her job by closing the overheads. She spent the remainder of the flight either reading in the galley, telling passengers they couldn't wait in line for the lavatories, or passing out drinks without making eye contact.
There's usually at least one of these bitter old grandmas on every US-registered transatlantic flight, so I shouldn't be so incensed. But it burns me up every time. If you're tired of working as a flight attendant, retire and step aside so a friendlier face can take your place.
/END RANT
About to push back from the gate: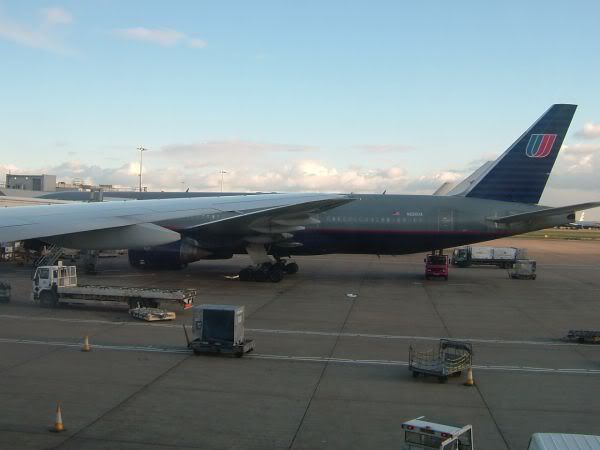 Taxiing away from Terminal 3, with the new control tower and lots of heavies visible: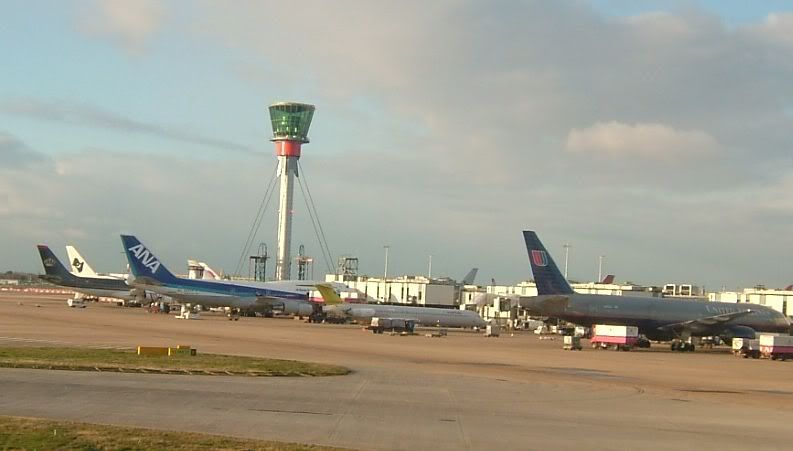 Heathrow was running landings on 9L and takeoffs on 9R this afternoon, so we wheeled around after pushback and joined the considerable queue for 9R. On the way we passed some interesting subjects parked on the new stands adjacent to the Terminal 5 construction site: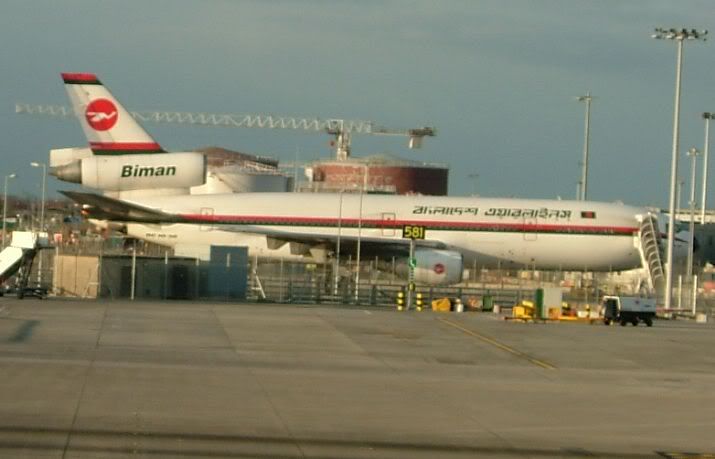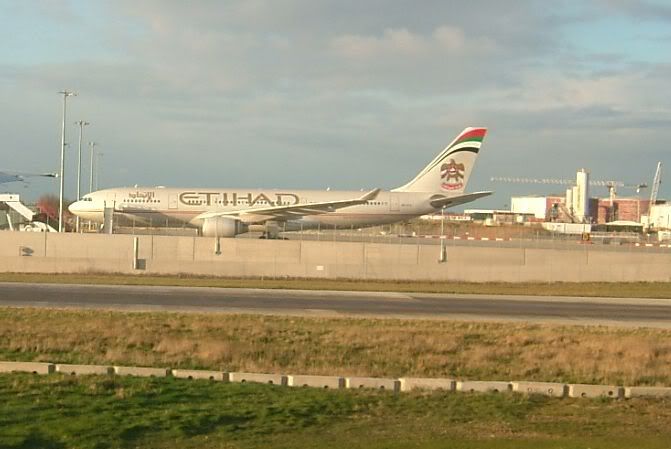 Turning onto the runway past T5. The picture doesn't do its size justice. I can't wait to see it when it's finished: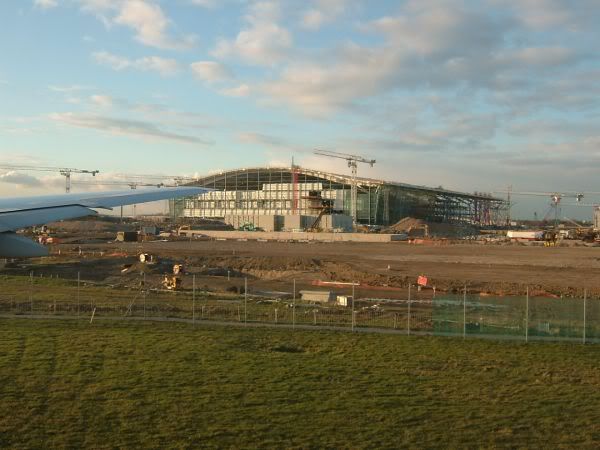 TAKEOFF VIDEO
: Eastbound takeoff from LHR runway 9R, passing the British Airways World Cargo base and lots of BA heavies at Terminal 4. A little shaky, but remember I was just using my digital camera and there's no image stabilizer built in.
Clicking the link will take you to the video, which you can then download using the "Download" link if you'd like.
http://www.flightlevel350.com/public_viewer.php?cat=75&pic=2223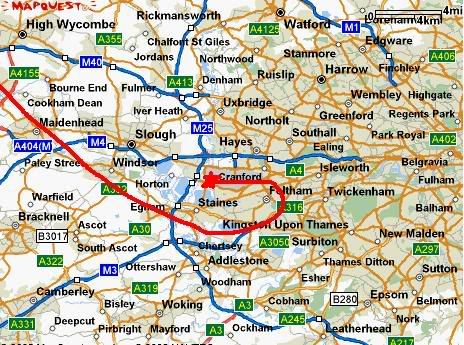 We made a sharp right turn shortly after liftoff and continued climbing out over the suburbs near LHR: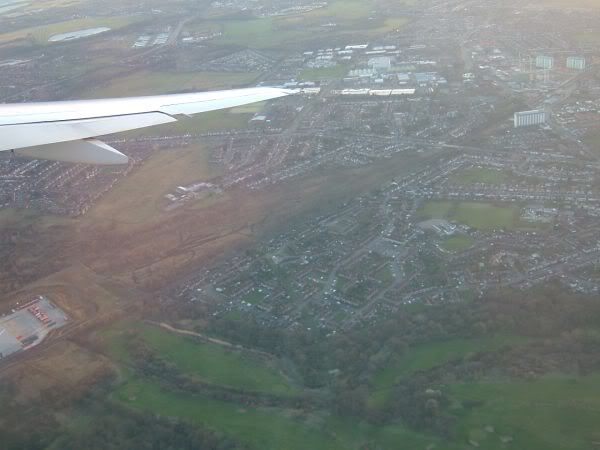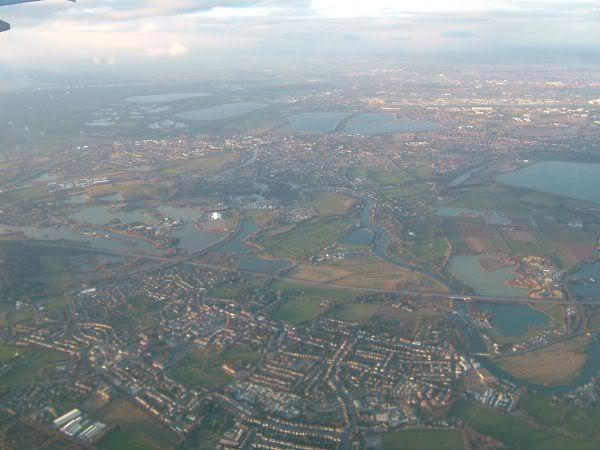 A grainy view back towards Heathrow:
We climbed up to our cruising altitude of 38,000 feet over south-central England, passing over Swindon and the mouth of the Severn River as we headed northwest: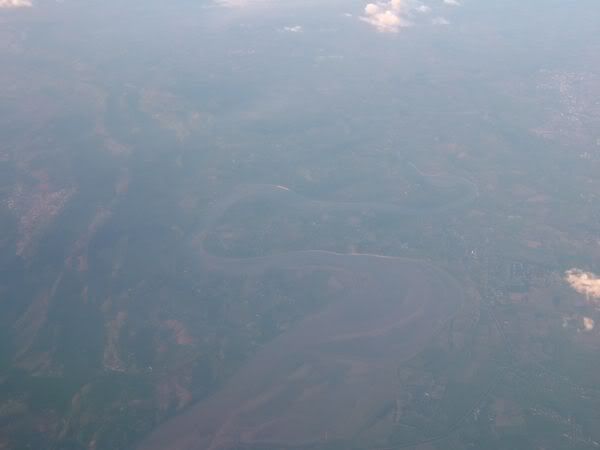 Snow-covered peaks in south Wales: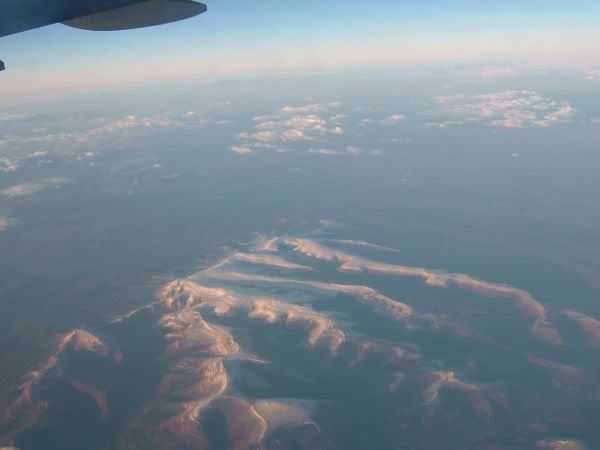 Our route took us over the Irish coastline near Cork and across the southern portion of Ireland before turning more northwest to follow the Great Circle route back to North America. Lunch was served about an hour and a half after takeoff – a choice of either chicken or barbecue beef. I had the chicken, which was grilled in a brown sauce and served over spinach and rice. It wasn't too bad; although instead of a whole chicken breast it looks like American has cheaped out and cut the serving down to a few "medallions" of white meat.
Movie choices on the AAttractions system were "A Cinderella Story", "Friday Night Lights" and "Sky Captain" yet again, as well as the same short-subject choices I'd had on the outbound leg. I watched both "Friday Night Lights" and, I'm ashamed to admit, "A Cinderella Story." It was pretty awful.
I chose a seat on the starboard side of the aircraft in the hope of getting a view of Greenland, but our flight was following a more southerly track today and we stayed well below the tip of the island. As we neared the Canadian coastline I sighted lots of broken pack ice down below. There was intermittent cloud cover, so I didn't have a perfect view of the ground, but northern Labrador in winter isn't much fun to look at anyhow.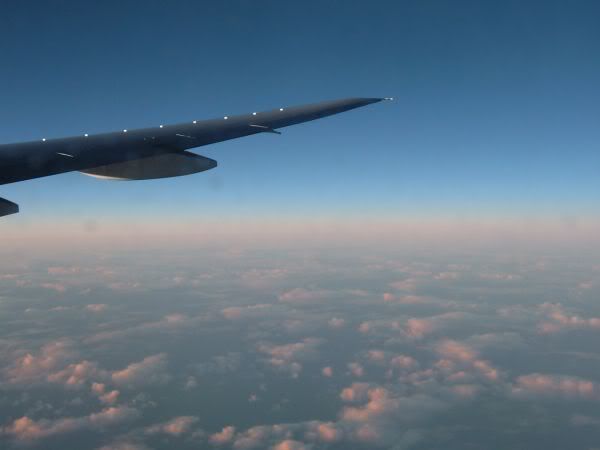 From Labrador we slowly turned southwest, flying just south of James Bay and then right between the towns of Sudbury and Timmins in northern Ontario. As we crossed into US airspace over Sault Ste. Marie, the crew served the pre-arrival snack – American's famous miniature pizza with grapes and a shortbread cookie. Although I don't usually get too worked up over inflight food, this pizza is really delicious. The grapes were seedless – a nice change from the jawbreakers I encountered on my last trip overseas with AA.
Darkness was falling outside as we begun our descent over Grand Rapids and headed steadily down over Lake Michigan. The captain came overhead, saying Chicago was experiencing a 'wintry mix' of rain and wet snow. Most of our descent was in the clouds; I could see water droplets going by every time the wing lights flashed.
The crew screened the AArrivals video for O'Hare, which was followed by lists of connecting gate information that were displayed on all the PTVs as well as the main screen. International-domestic connections at ORD can be frustrating for a first-timer, so I thought that was a nice touch.
Eventually we emerged from the clouds right over the Lake Michigan shoreline, somewhere in the Winnetka-Highland Park area. It was raining heavily, but I could see the lights of the Northbrook Court shopping mall through the mist and guessed (correctly, as it turned out) that we were on final for ORD's runway 22R.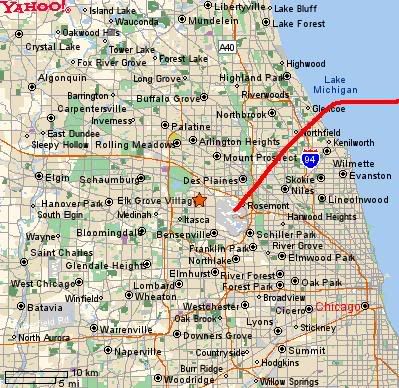 Short final was over the rooftops in Des Plaines and finally right above the top of the Target Greatland store on Mannheim Road (which has a giant Target logo painted on the roof for the benefit of arriving passengers). We touched down smartly on 22R and used LOTS of braking and reverse thrust to clear the runway quickly – I'm guessing there were several aircraft on approach behind us.
Our 777 taxied along the northern perimeter of the terminal area and crossed over the taxiway bridge to get to our stand at Terminal 5. We docked at Gate M9, which is immediately adjacent to the immigration hall … if you've ever arrived at Gate M1 or M2, you know how long the walk to immigration can be. Baggage claim was very slow tonight, and it was almost an hour before I was on the ATS train, headed back to the parking lot.
*******************************************************
Once again, a good trip on American. With the exception of the grumpy flight attendant, the inflight service was pleasant and reliable, and American's 777s are very roomy and clean. American definitely seems to regard the 777 as its flagship, so the cabins are always in great shape. The AVOD unit under the seat is a necessary evil, I guess … there's no way I'd ever take a non-window seat!
My next trip is in a few weeks – going to Nashville to visit a friend, on an ORD-BNA-STL-ORD routing with American and American Eagle. The trip will include my first-ever flights on the CRJ-700 and the Jetstream J41, which ought to be pretty interesting. The next week I'll be going to Mexico with Mexicana and AeroMexico, flying ORD-MEX-HMO-MEX-ORD. I'm really excited for that trip. Stay tuned until then!