Well the AB) (FRA / FRF / EDDF), Germany">FRA dates were announced it was time to book the flights  
.
Chapter 1, The booking
I looked over various Airlines. Bmi, LH, BA. All of the Airlines were tempting. Bmi for the service, and BA or LH for a new airline to try. I Decided to go for BA. It was cheaper, nice times and I have always had an urge to fly BA, plus there was 767 on the route which was a MUST do  
.
So all flights booked, all listed on the AB) (FRA / FRF / EDDF), Germany">FRA thread and everything paid and confirmed all I had to do was wait for 4 months until I departed. After talking to Chris Sharps (chris78cpr) about the AB) (FRA / FRF / EDDF), Germany">FRA meeting he decided to come online on my flight to AB) (FRA / FRF / EDDF), Germany">FRA but would return on another. So 2 of us on the flight, yayers I'm not alone 
.
Chapter 2, The preparation and non-flying transport.
The night before AB) (FRA / FRF / EDDF), Germany">FRA was boring, long and then hectic, after being told off by Hannah for not packing yet, or even thinking about it. So packed at 1-2 am only 1 hour until online check in opened. meh ill wait up. 3am comes and all excited I check in online for the first time. The flight looked empty at the moment. Lots of empty seats. I choose seat 20K. I wanted one of the nice ones, not a cloth one  
. so all checked in, now to pack my flight bag, check I have everything and sleep. Sleep was minimal, just the though of seeing everyone at AB) (FRA / FRF / EDDF), Germany">FRA again, and getting my first widebody flight was just too exciting. I nod off about 5am or so and then get woken again at 8am by mum leaving for work and to wish me a nice time. I bid her farewell and go back to bed for 1 or 2 hours more sleep, (or so I thought!). Just no more sleep at all. So I switch on GMTV and lay there watching that for around an hour or so. I get up about 9, bath, and dress and the usual get ready things. I go online to check flight is all ok, check the AB) (FRA / FRF / EDDF), Germany">FRA thread, Do my normal online things. My flight today was at 3pm so I wanted to arrive at LHR around 1pm. I was getting a coach there. I decided to get a 12pm coach, so I left my home at around 10:30am. Ok local bus, I get on with a massive bright blue suitcase, I'm stared at immensely!. The bus pulls into the town centre and I grab my stuff and walk into the town, my first stop... The bank. so looking like a complete fool I drag a suitcase through my local town getting weird looks and so on. So into the bank, get money out and now to get some Euros!. For some reason I though I could get them changed up at the flight centre, which was on the other side of the town, so a walk over there catching everyone's eyes blah blah blah and I arrive there to find them saying, you can get it done at your bank or post office. *sigh*, back across town not avoiding anyone's eyes to the bank. After about 10 mins I had my euros and everything I needed. So to the
BATMOBILE! dunna nunna nunna nunna
Bus station. I see a friend from work on the way. I say hi, then I go on. I arrive at the desk to buy my ticket and this crazy japanese guy was in front of me, after 10 mins of the clerk explaining that heathrow was londons main airport (me standing behind resisting the urge to drop on the floor laughing) I got served and got my coach ticket to LHR. Hmm still 30 mins to go..... Off to get drink then. Hmmm 27 mins to go... Ill just wait. so ear phones on, Muse CD in. I'm set. The coach arrived and on I got putting my suitcase in the luggage bit (I didn't look weird this time  
) sitting on the coach, pretty tired now. A ring from mum asking how I was going, I said was all ok, blah blah blah... so on down the M25 we go  
, I slept most of the way, I woke up just as we was leaving the M25, so pretty good timing. Well soon enough the giant Model Concorde (soon to be stolen) came into view. Under the bridge and at the coach station in an instant. so off the coach, grab my suitcase oh and look! Lots of people dragging suitcases! I'm normal! 
.
Chapter 3. Arrival at LHR
So at LHR, the smell of Aviation and the thought of flying immediately made me excited again J..... Whilst going to T1, I give Chris a call to check his status, he was still around 20 mins away. We arranged to meet at the self check-in area. In T1 20 mins later I get a call from Chris confirming he was at the other BA check-in bit  
. so we meet again Mwahahaha. My first impression, Are you planning to move to AB) (FRA / FRF / EDDF), Germany">FRA? He had so many lenses bless him lol, all good though  
. We checked in on the machine, Chris would be located 10 rows behind me but not to worry. Bags into drop off and away we go. Departures was well........ Boring one might say. After 20 mins or so our flight got a gate so we made our way down Pier 3 to gate I dunno, I think it was 124 or 126. We arrive to find the 767 sitting at the gate. WOW! My first 767 is right there! Chris fumbled around with his lenses some more and soon enough a familiar face appeared. Oh Mighty dispatcher Lee Greeves was joining us 
.
Chapter 3.. The boarding, the weird man and overall the flight  
Basic info..
Airline: British Airways (BA)
Aircraft Type: Boeing 767-300/ER (my biggest plane yet)
Routing: LHR-AB) (FRA / FRF / EDDF), Germany">FRA
Occasion: AB) (FRA / FRF / EDDF), Germany">FRA Meeting baby!
Departure from LHR: Around 3pm GMT
Arrival at AB) (FRA / FRF / EDDF), Germany">FRA: Around 5:20ish GMT+1
Class: M for economy
Reg: G-BNWX
View Large
View Medium


Photo © Jakub Michalak
Soon we were all called for boarding. ohh this is now getting very exciting, so tickets checked and put through the machine thing we was on our way down the jetty. We reached the door and were greeted by the crew. Walking down the Aisle (I wish!) was so cool, I was on a wide body plane woohoo. I found my seat and not long later Chris and Lee found their seats a few rows back. I took my seat (VERY impressed by these seats and the comfort) and started to settle in. I gave my friend Jo a quick call and then Gave Hannah a call to let her know I was on the plane and to tell her about an earlier cancellation of a AB) (FRA / FRF / EDDF), Germany">FRA flight. Well sitting there all happy, camera out, a business man comes and stows his bag and jacket. He looked a very friendly person. Soon after push back he started talking to me and in all honestly he was a very friendly person but OMG was he loud! He was chatting away like there was not tomorrow. I little bit of history I learned about him was.. He was born in Watford (strangely enough near my school), we was educated at the same school (freaky), he then moved to London and got a high well paying job (I forget what) he had a wife and 2 kids there and about 4 years later they was moved to Germany. He could speak Fluent German and his kids were getting better by the day though his wife had trouble. He flies between AB) (FRA / FRF / EDDF), Germany">FRA-LHR once a week on Work travel, (lucky so and so). He had been to so many different countries and told me all of them (not listing all of them). Yes all this information passed to me (in detail) in the time space of T1 Push back to a 27L departure.
Ohh yer the flight!
here are a few pics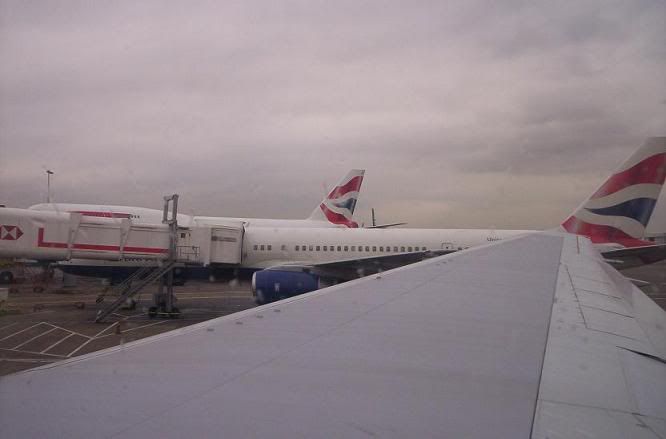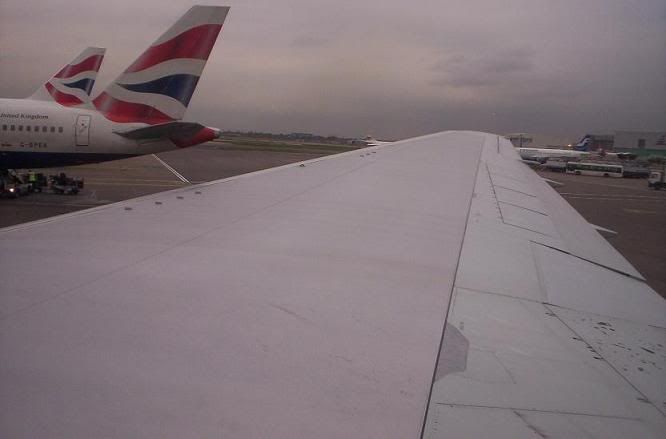 Even with the weird guy talking and talking and talking and talking and the most annoying laugh EVER! I still took the time to take photos and observed our taxi route etc.
We pushed back an started our short taxi from T1 to 27L, Those who know LHR will know that's a short Taxi  
. Flaps all set, checks being done we started to roll across LHR's fine Taxi ways. <-- Sarcasm.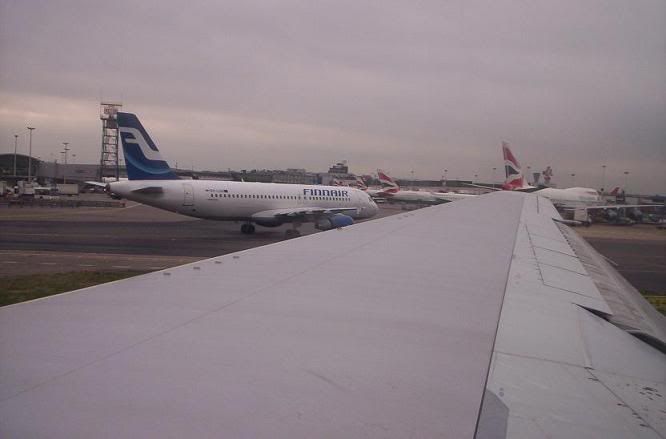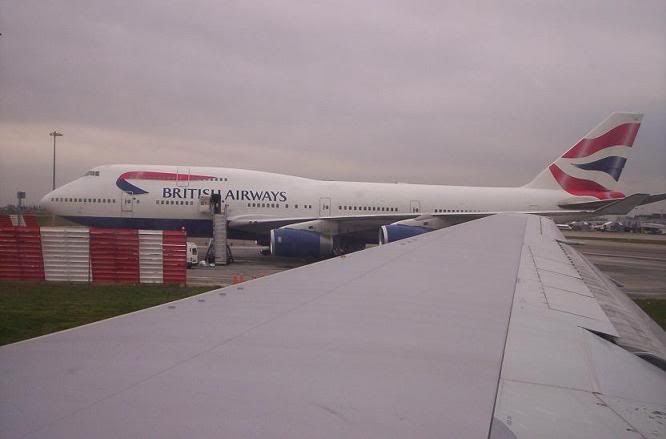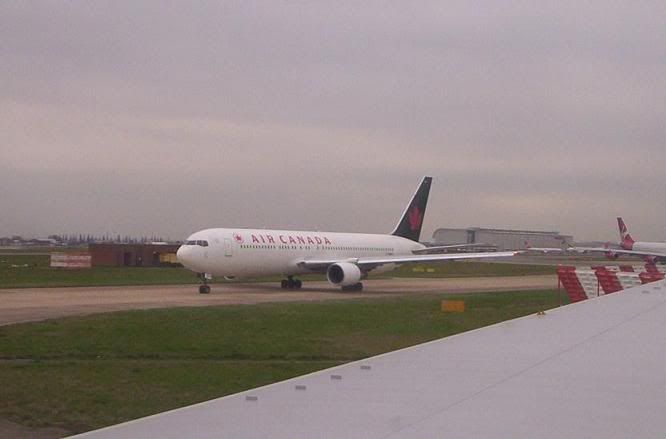 So 27L. we are next, Line up. The tension is high! the guy had shut up! and i was sitting on my first 767 at the end of the runway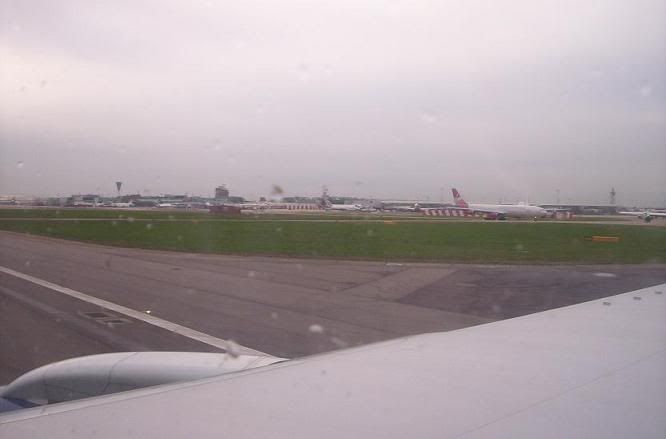 FRIKIN YAYERS!
. The take off roll started. The adrenalin rises. We move. Adrenalin rises, we gain speed. And I die from over excitement..
THE END!
Nah just kiddin you  
Go make yourself a Cup of Tea, coffee, Hot Choc, beer or whatever you drink because there's still a long way to go yet. Yes I know some of you are urging to click the 'X' on the top right hand corner. But it gets better!! Really!...
Yer Ok so down LHR's 27L we go, little 737's and stuff on the taxiway and the official thought in my head.. "PAH!". We gently rotate and take a nice climb away from the runway, the gear up and I snap some more pictures...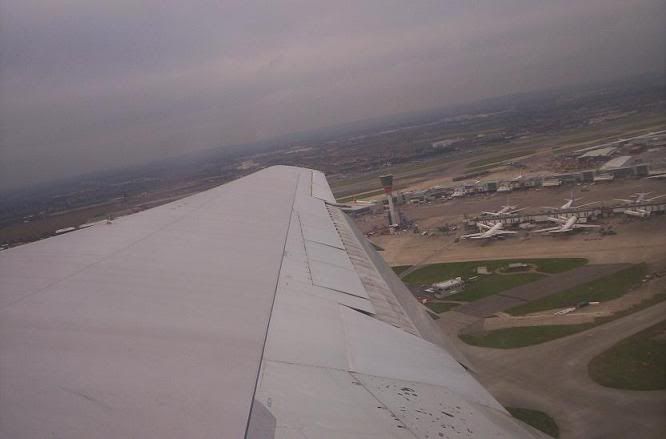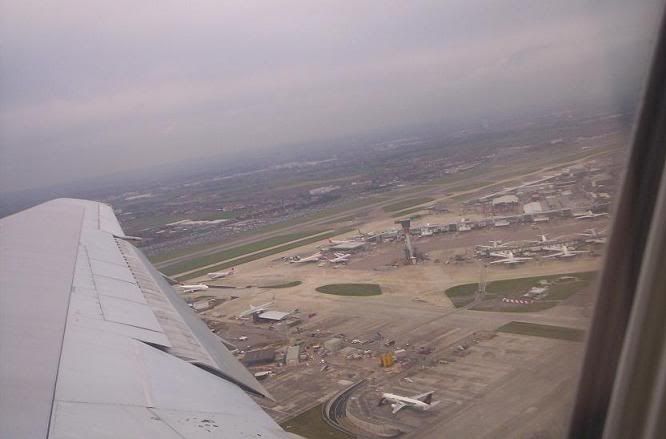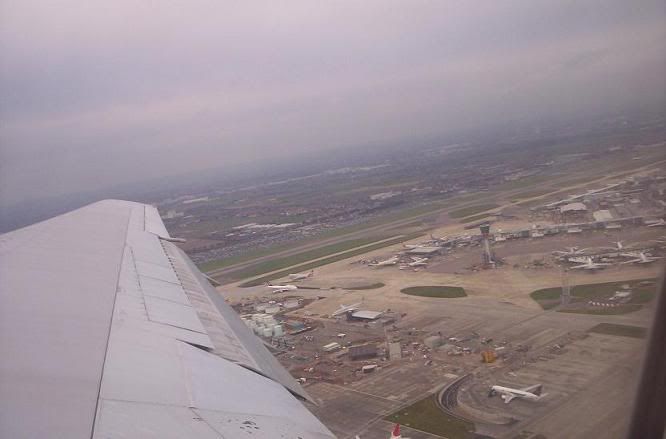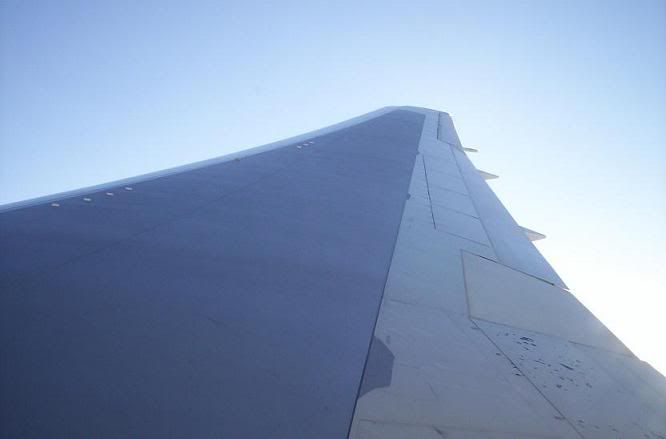 (I fillmed the takeoff, will try and get a movie for you soon  
)
Soon right into cloud and the wing is COVERED! With vapour!, twas very cool  
.
We glided above the clouds and soon enough the guy starts nattering away again  
. So here I am (well sorta we are moving pretty fast so I cant be here all the time  
). So there I was (that's better) on board 
, Food was soon served (I was looking forward to seeing a nice roll of some sort and then a little box of cakes and stuff was given to me. PAH! Is that it?, ah well it done the trick anyway. We reached our cruising Altitude and I think its time to go for a wonder  
, so I leave my seat and walk back to the next 'Empty' cabin where Chris and Lee was sat, we had a chat talk and stuff. Chris with his mighty camera, went to take some cabin shots and I go and talk with the crew for a while.
In flight pics: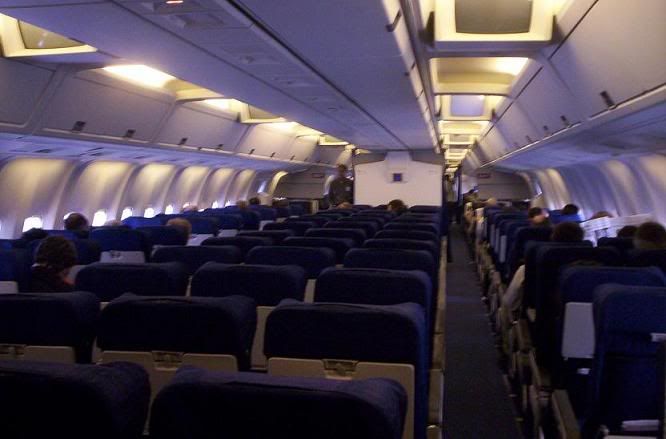 myself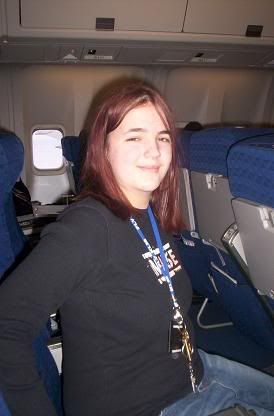 chris and lee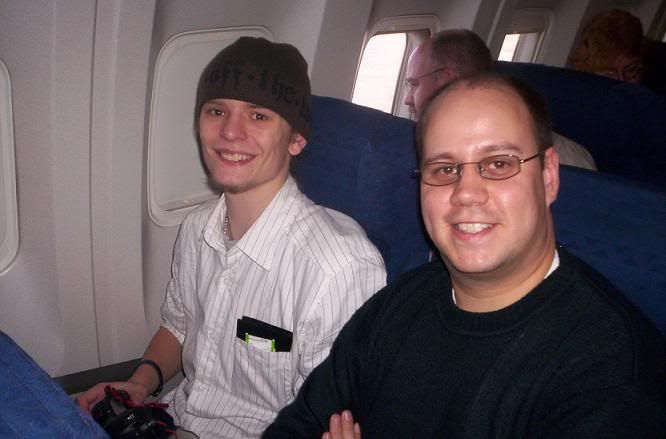 From A.net.. (note, this is the same aircraft.)
Now there is one more picture I cant upload yet, Chris and Lee know why, Im sure you will be able to see it soon  
I little peak out of the window and the dark ground was white?, this could only mean 1 thing.. SNOW! oh yes!.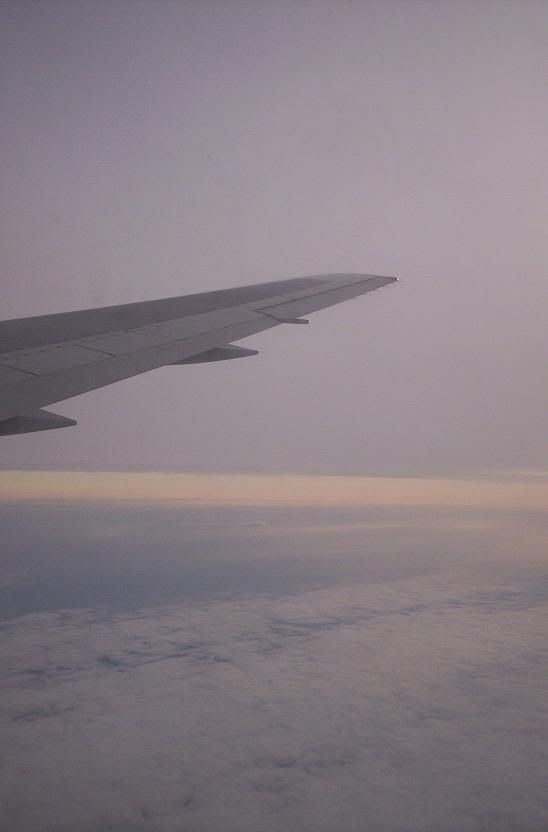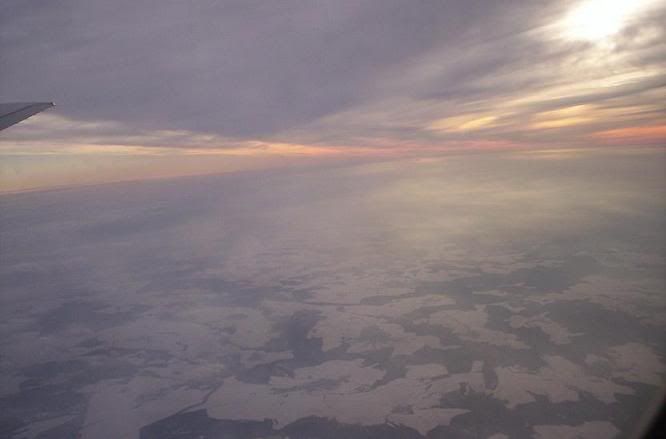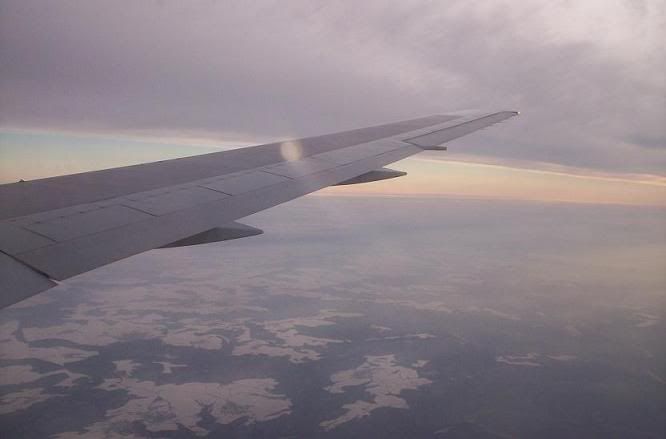 The rest of the flight was pretty uneventful, We started our decent and the seatbelt sign came back on. Time to return to the chatty man... oh yay!. So I take my seat and he was sitting there working away on his laptop, and started to pack it away as I settled back in. He was telling me about the German language and taught me a few words which I had totally forgotten within 3 mins. Well look out the window down to The Frankfurt land to see no snow, pity  
. Back through light cloud and final turns to AB) (FRA / FRF / EDDF), Germany">FRA. Flaps descending themselves as we the ground seemed to be growing.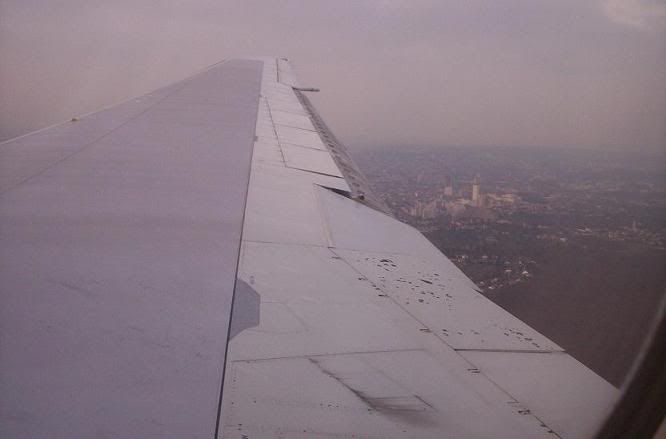 The chatty man pointed out all of the Frankfurt city and buildings and that on Approach. Now gear down we are on our final. My 767 flight was coming to an end. We glide over the threshold of Runway I don't know and touch down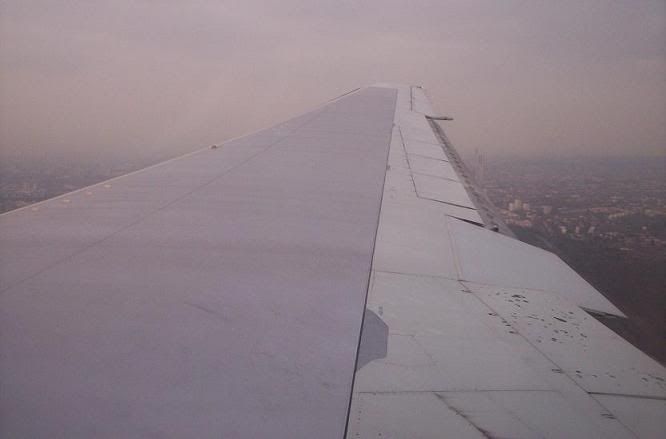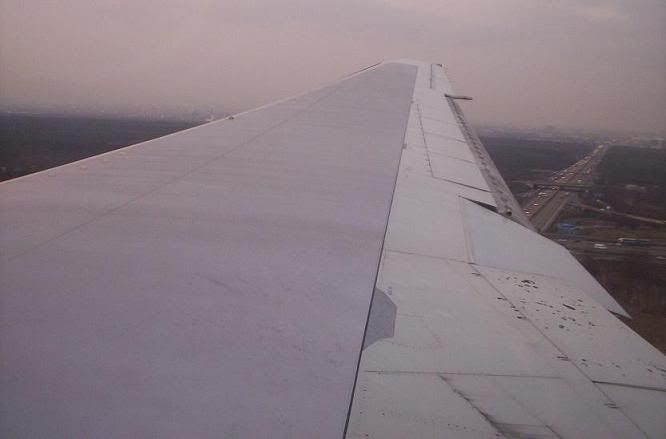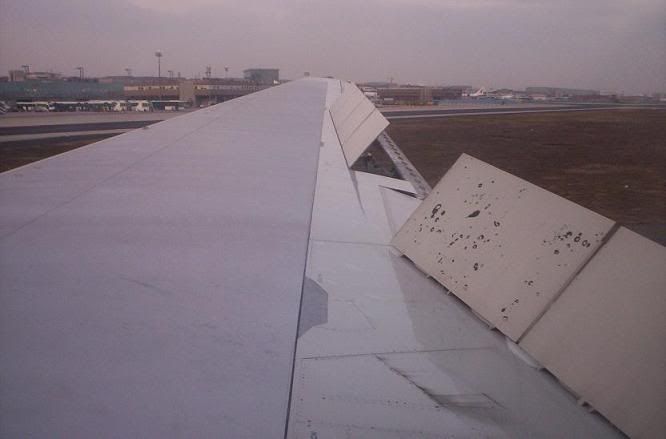 with a few bumps and all the stopping action came into action  
. We vacated the Runway and many new tails came into view, non-LHR/LTN ones  
and tones of LH ones  
.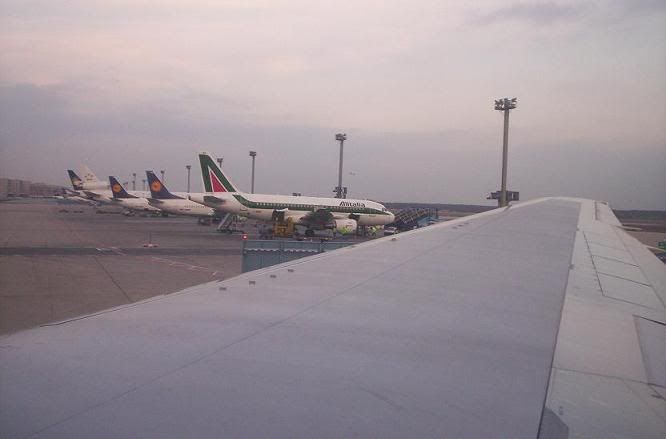 We pulled up to our gate at T1 and all engines shut down.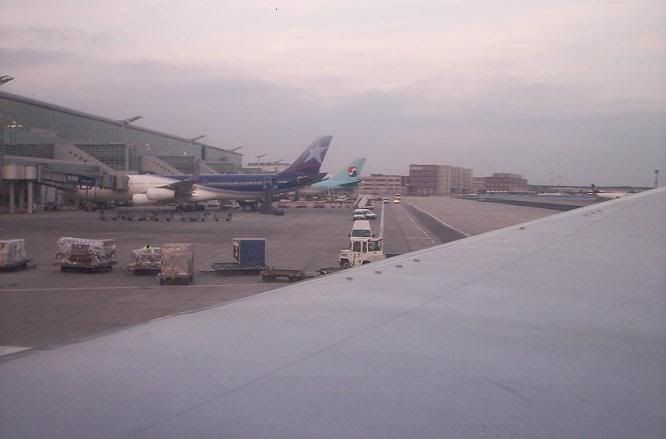 The whole cabin scrambles around getting there bags and stuff, but I waited until the cabin had been cleared and Chris and Lee came down, the chatty guy wished me farewell and he left the aircraft before us. I grabbed my stuff, checked the seat to make sure I had EVERYTHING this time. (For those who read my LHR-AMS-LHR trip with Bmi will know I left my camera on the plane  
), Ok I'm all set and we all step off the aircraft after being refused a cockpit visit  
.
Chapter 4.. The Arrival, The passport Stamp, the Stampless Passport and other bits and bobs  
.
So through Security, I kindly asked for a stamp, I got one 
and collect our baggage, It was not a long wait, like with charters you wait like 40 mins!. Well we grab them in 10 mins and head through the arrival doors. There was a BIG group of A.netters, and the first person I notice was the Sky Scraper! (Jurgen  
and then other people I know well are around and new people are there also, Phil, Sue, Dave, Alex, Dec, Jurgen, Jake, Alex, Dale, Jason, James, Bev, another Dave, Sander and more where all there, some people I recognized from pictures, most people I had met before  
. Ok first problem. I got to get my passport out of my pocket. Oops! Its not there, everyone else seemed to have the "OMG she has not been here 2 mins and she has already lost something!" Looks  
, there was no panic I had put it in my pocket before walking through arrivals so it must not be less then 5 meters away, about 10 mins later I get back through the arrivals bit and find a security Officer picked it up.  
so all sorted, NO worries  
. So another meet and greet to everyone, all happy everyone a tad bit excited but that is always the way at a A.net meeting. The next few hours consisted of drinking, EATING! Dropping bags at hotel, checking in and meeting more people like Hannah, James and Ben.
This weekend was amazing had to be one of the best weekends of my life!
And yes it snowed 
, pictures are all here:
http://www.airliners.net/discussions/non_aviation/read.main/749943/6/
Chapter 5.. The airport and the unexpected flight home.
!Warning! If you have expressed likeness in the trip report and cant stop reading then it is only fair that I warn you that it will soon end. Thank you for you time and patients, Thank you come again!!.
Ok back to the plot...
With most people flying home on this night it was goodbye time, so we all bid fare well and split in to separate groups. Us BA pax all checked in. Me, Hannah and Ben, was on the same flight, I had a window seat, Hannah was in the middle and Ben was on the other side of the aircraft. All checked in, bags gone, BA Luggage taken it was time to leave. Myself Hannah, Jamo and Dale (Ben went shopping somewhere) went to departures where a massssssive queue for security met us, Back through the Passport people and nice new stamps again we joined the metal detectors queue. I could not be assed to stand around as I Got separate from the rest! so I just walked through a Crew one as normal pax started doing, I was clear within 5 mins. But I had a 20 min wait for the rest of the slow pokes! Through they came and off we go to the Gates, no point in shopping, no money left  
. We went through another security with shoe checking HAHA where we met Sue and her Son. After shoes back on Sue wither her son went to there gate whilst me and Hannah walked down to gate D07 to see off Jamo and Dale as thier flight was boarding, Bub bye  
. Well Just me and Hannah now. We went to our gate, I planned to do my Essay there while Hannah done some BA crew stuff. We approached the gate and there was a service desk there with a BA staff working away, Us being sad plane people have to go up and ask the registration of the aircraft and to confirm that it was a boring A320. Hannah approached him and asked and he smiled and replied with "your aircraft will be G-BUSI" we thanked him and went to walk away and then he called back after us, "are you crew?" he called, Hannah replied with the yes in training bit and I stood there feeling sorry for myself not being crew  
, Anyway He smiled and said "do you have your BA pass?" Well Hannah pulled it out and showed it to him and then what came next was amazing!. "Would you like to sit up front? (no not jumpseat! C-Class), Hannah replied with a No because she didn't want to leave me in the back and she didn't want to sit on her own. He Replied with "I mean both of you". OK that was it we just had smiles so big that it reached our foreheads, ok not that big but it was pretty big. We agreed and handed over our original boarding passes and he said he would just go and check that he could get it confirmed and that there is enough C-Class meals. Well we take a seat absolutely stunned!. I was saying to Hannah do we get a classy lounge and she said nah don't be silly, about 10 seconds later the BA staff returns to us and said, "ok ladies if you would like to go and take that lift over there down to the executive club lounge I will give you your new boarding passes on boarding.
Chapter 6.. The lounge and the flight
OMFG! We make our way down to the lift and into the very very posh lounge where comfy seats, Tables, Free Drinks (a whole bar full!). I was absolutely shaking! This had to be a highlight, yes only on a short flight but wowie!. I Get out my laptop, on MSN and gloat my ass off to people and also on the chat room hehe.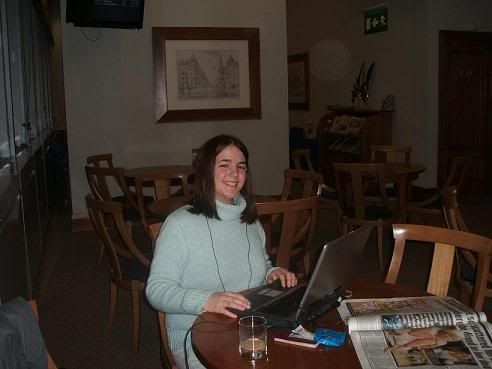 Airline: British Airways (BA)
Aircraft Type: A320
Routing: AB) (FRA / FRF / EDDF), Germany">FRA-LHR
Occasion: Going home to a crappy UK
Departure from AB) (FRA / FRF / EDDF), Germany">FRA: around 8:30pm GMT+1
Arrival at LHR: Around 8:40pm GMT
Class: C for business
Reg: G-BUSI
View Large
View Medium


Photo © Stefan Sjögren
Boarding was called around 50 mins later. So pack up and head back up stairs to the main gate. The flight had nearly finished boarding and as we jointed the short crew the very nice BA Man came and gave us our new C-Class passed, oh wow!, I had been assigned 04F. We bid him farewell and full of excitement we walk down the jet bridge. The A320 door cam into sight and we stepped aboard. We were greeted by a very friendly crew and then we walked a few passes to our club world seats. I felt snobbish, economy was Full but yet business was nearly empty. Ben stepped on bored, we said hello to him and he proceeded to his seat.
Oh WOW, how cool was this, I'm in C-Class of a major carrier!. About 10 mins later the flight was fully boarded. And Damp towel things were brought around to the business class pax, I was like what the hell do I do with this? Hannah explained its just to freshen you up, oh ok, umm kewl. We Push back on time and start a taxi to a de-icing ramp. I watched the de-icers do there work, It is a great sight!. Well the Cabin lights were "dimmed" ok more like a black out raid! no light at all, we suspected the FA had turned off more then they should have, including the reading lights, which they did, the problem was fixed, de-icing was done and we taxied on forth to the runway, It was pitch black outside, so nothing really to see, it seemed if more snow had fallen too. I didn't even know we were on the runway! And we started to gain speed. Well it was a normal boring A320 take off. We lifted off and climbed out of AB) (FRA / FRF / EDDF), Germany">FRA. Soon a meal (with real china!) was being passed out to the C-Class pax, Smoked Ham with salad and posh cheese. With a Fresh Warm bread bun and a Lemon cheese cake thing to finish, and loads of free drinks  
. It was yummy  
Well the rest of the flight was pretty normal a FA was talking to Hannah about FA stuff and I "Tried" to do some of my essay. So laptop back out, Essay on screen, I get distracted by watching Muse videos, start my essay, 1 line done and then I have to pack it away. Rhaa. so all packed away. The decent was pretty fast, Flying in the night sky of London. It is amazing to see it at night from the air!. Flaps start to move gear down and we touch down on RWY 27R pretty hard. Back home  
. (Ill make it quick now). Off the plane, thank the crew etc, I cant be assed to go to the cockpit. I see the 767 bird I flew on 2 days before  
. so Luggage collected, another UK stamp in the passport and through arrivals to see the one and Only Random Guy! oh and then Alex (Myt332) and Sean Mendis appear to meet us  
, so a quick drink and chat to Sean and stuff. And me and Hannah have to leave as I have to grab my last coach home and Hannah has to get a bus. So at the bus station we wait around 20 mins, My coach arrives, We say our goodbye and I head home in heavy snow that didn't last  
I hear a bit later on that Hannah ended up getting a taxi home and I realize Kev has still got my Little Britain DVD! Damn! oh well, get home, get to bed, Because school was in session the next morning  
.
The Real
END.
Id like to thank you for reading this report, Yes it is Long but it was some of my best flights ever.
Id like to make Thanks to,
Everyone who attended AB) (FRA / FRF / EDDF), Germany">FRA and BA for 10/10 service!
And a special thanks to,
Chris and Lee for being on my Flight
Phil (wilco) for all the Translation and help with the shopping.
Phil (again), Dave, Tobi, and Ben (british767) For a really nice meal on Saturday night.
And everyone who put an input in for organization!
Jakub Michalak - for the use of his photo.
And a
Very
special thanks to:
Hannah for the upgrade! Thanks mate!
And of course a Thanks to all of you for reading and coping with my crappy British Humour  
Good Night!
Kazzie.
[Edited 2005-03-13 03:00:00]