**
Departure Airport: London Heathrow, United kingdom (EGLL/LHR)
Arrival Airport: Abu Dhabi - International, U.A.E. (AUH/OMAA)
Airline: Etihad Airways
Flight number: EY 304
Aircraft type: Airbus A330-233
Registration: A6-EYB (c/n 259)
Date: 12th March 2005
Class: C (Pearl Zone)
Flight time: 7hrs 15mins
View Large
View Medium


Photo © Martin Aves
A friend and I decided to take a short 3-day break in the sun, and after a very nice trip to Dubai this time last year, another jaunt to the Middle East seemed very appealing. Dubai once again seemed the obvious choice, but I managed to persuade him to go for something a little different, so we chose to try a city that was new to both of us - Abu Dhabi. This also gave us the opportunity to try a new airline too, so we chose to fly with Etihad Airways, the national carrier of the United Arab Emirates.
We took a bmi flight from MAN-LHR, and proceeded from Terminal 1 to Terminal 3 to check-in with Etihad. We arrived at a somewhat chaotic Terminal 3 at approximately 1820, and wandered around in search of the Etihad check-in area. LHR T3 is not the nicest place in the world, and was very crowded with passengers and well-wishers. Etihad are handled by SAS at LHR, so we proceeded to the SAS check-in, where SAS, Varig, Air Baltic & Etihad all check-in together. There was only a small number of people checking-in at this time, so we found ourselves at the front of the queue within a couple of minutes. The SAS check-in agent showed our tickets to a very friendly Etihad Supervisor, and we were checked straight into Pearl Zone, seats 8D & 8G. The classes on Etihad are as follows:
F: Diamond Zone
C: Pearl Zone
Y: Coral Zone
After check-in, we could not get out of T3 landside quickly enough, and proceeded straight up to departures. The queues between the boarding pass check and the x-rays were quite slow, so we were sent along to the 'fast lane' for passengers travelling in Business / First. It probably took us just as long to get through here as it would have if we'd waited at the other security point, but never mind! Once in T3 departures, we had a couple of drinks in O'Neill's pub, and then proceeded along to Gate 14 where our aircraft would be boarding. Gate 14 is a 'closed gate', so SAS agents pulled our boarding passes before we went into the gate. I took a look out of the window and saw our A330-200, with 'B' annotated above the cockpit windows. I knew at this point that the full reg would be A6-EYB, having looked at Etihad's fleet on a.net prior to the trip. I had flown on the A330-200 several times before with bmi, and knew it was a nice aircraft on which to fly.
The first boarding call was made at approximately -25 STD, and the flight was boarded by seat row number, so Pearl Zone passengers were amongst the last to board. The seats were in dark blue fabric with thin grey stripes, and the cabin seemed pretty full, a lot of which was presumably due to Coral Zone being overbooked.
Pearl Zone passengers were offered drinks before pushback, then the cabin lights were dimmed and we departed at around the time scheduled - 2015. We taxied around the edge of Terminal 3, and past Terminal 1, where there was the usual array of bmi, British Airways, South African and El Al aircraft in evidence. The Captain spoke over the P.A. to welcome passengers, and to advise us that we were 4th in line for take-off. Within a few minutes we lined up, thrust was increased, and we were on our way. The take-off was very smooth, and we began climbing.
After only about 5 minutes of climbing, the thrust was suddenly eased to what felt like idle, and we suddenly stopped climbing. This seemed somewhat eerie, and people glanced at each other, not sure whether to be concerned or not. I have never known this happen so shortly after take-off, and at such low altitude. I found myself wondering whether we were going to return to LHR, or perhaps divert. I reassured my friend, who was slightly concerned, and said it was maybe normal practise in this busy airspace, but not knowing the real reason myself, I was just appeasing him. After about 5 minutes, the thrust was increased again, and we started to climb.
Once the aircraft was towards the end of the climb, the IFE system started, and the cabin crew distributed menus and amenity kits, and then began the first drinks service. I was aware that Etihad's current fleet was mainly made up of second-hand aircraft, and the IFE system gave away the aircraft's previous operator - TAM, of Brazil. There was still a TAM logo on the start-up screen, and I pointed this out to my friend.
The Pearl Zone amenity kits were very nicely presented, and included toothpaste & toothbrush, earplugs, hairbrush, body emulsion, lip balm, eye gel, refresher mist, socks and eye cover: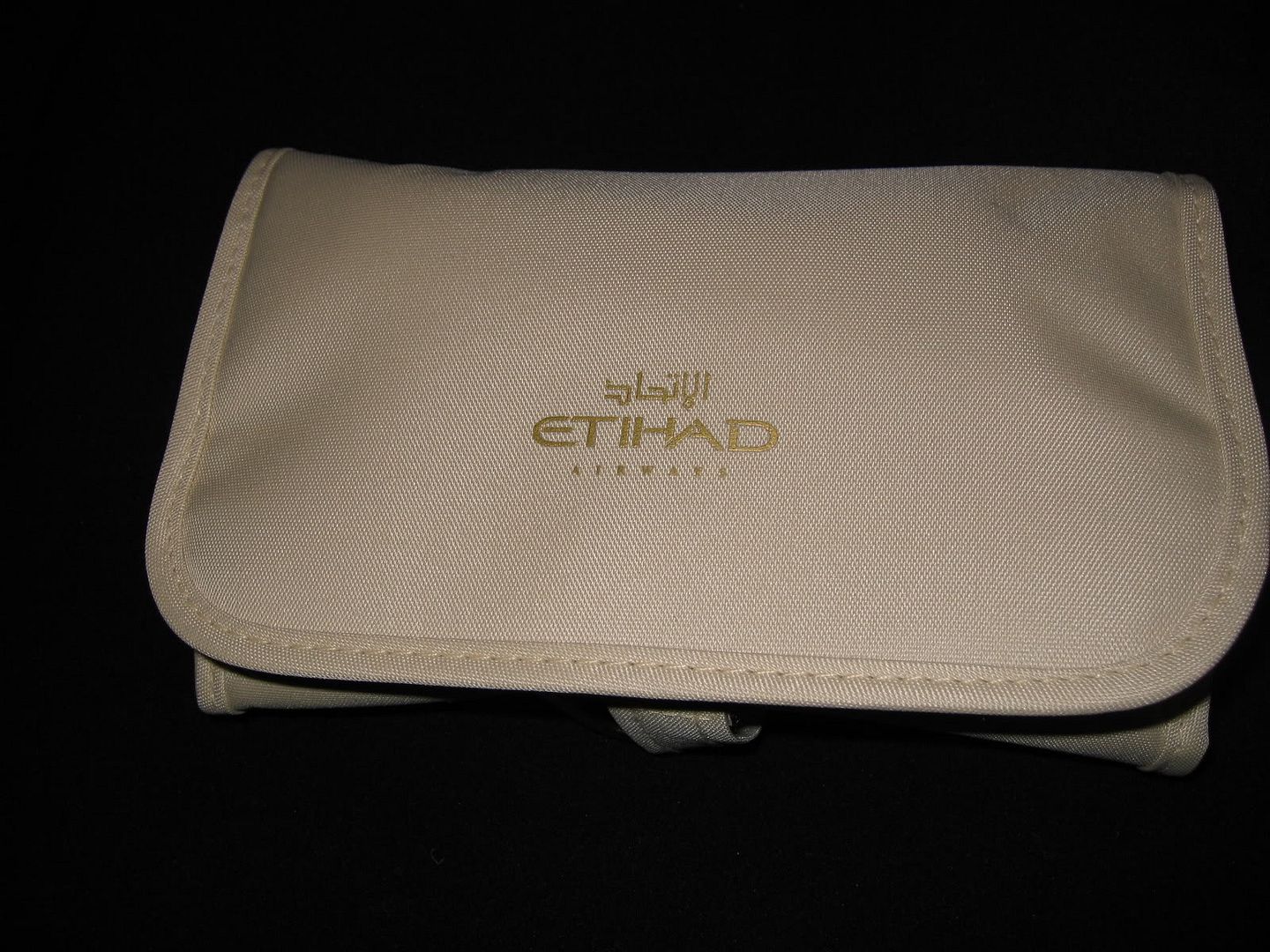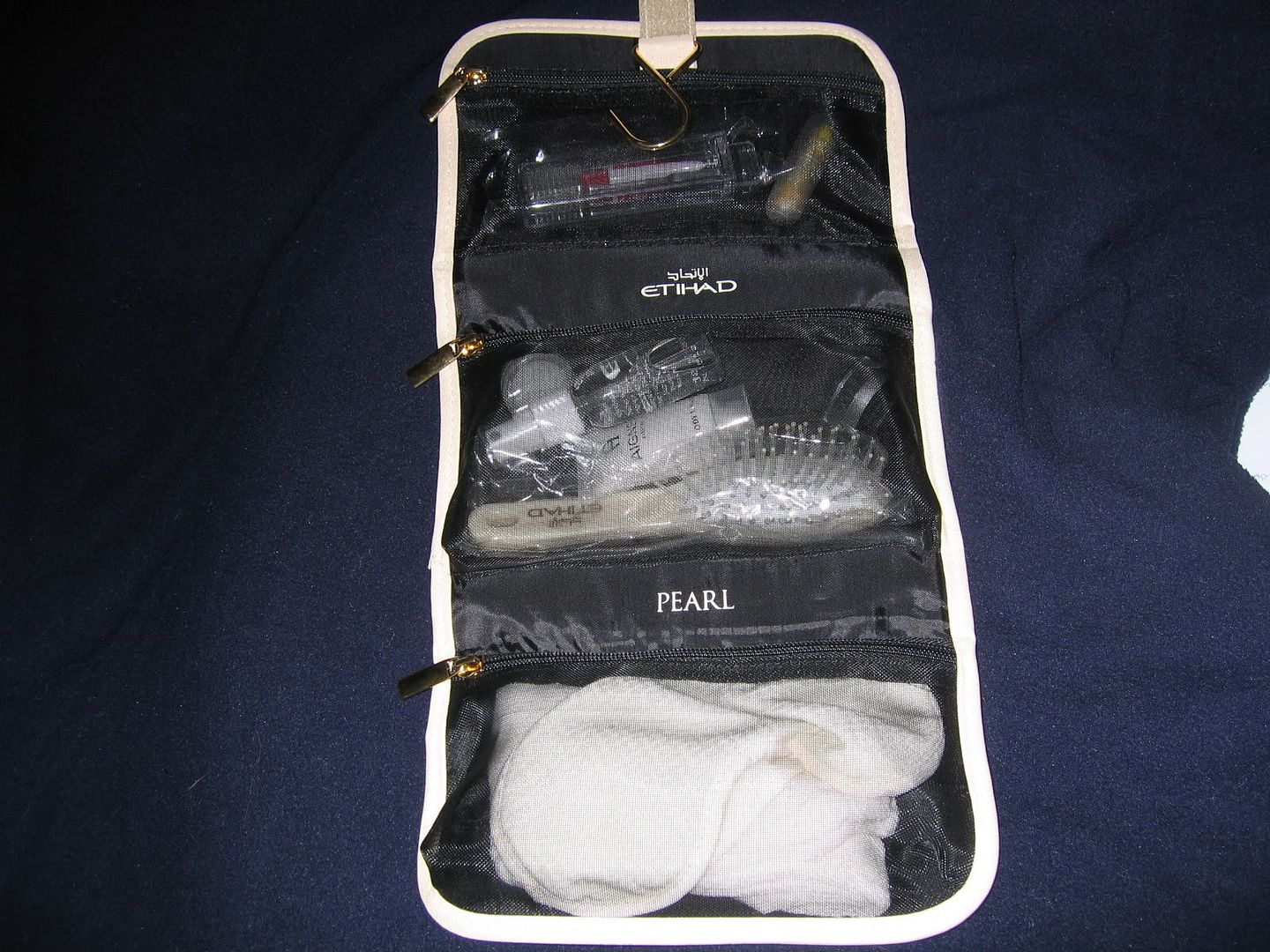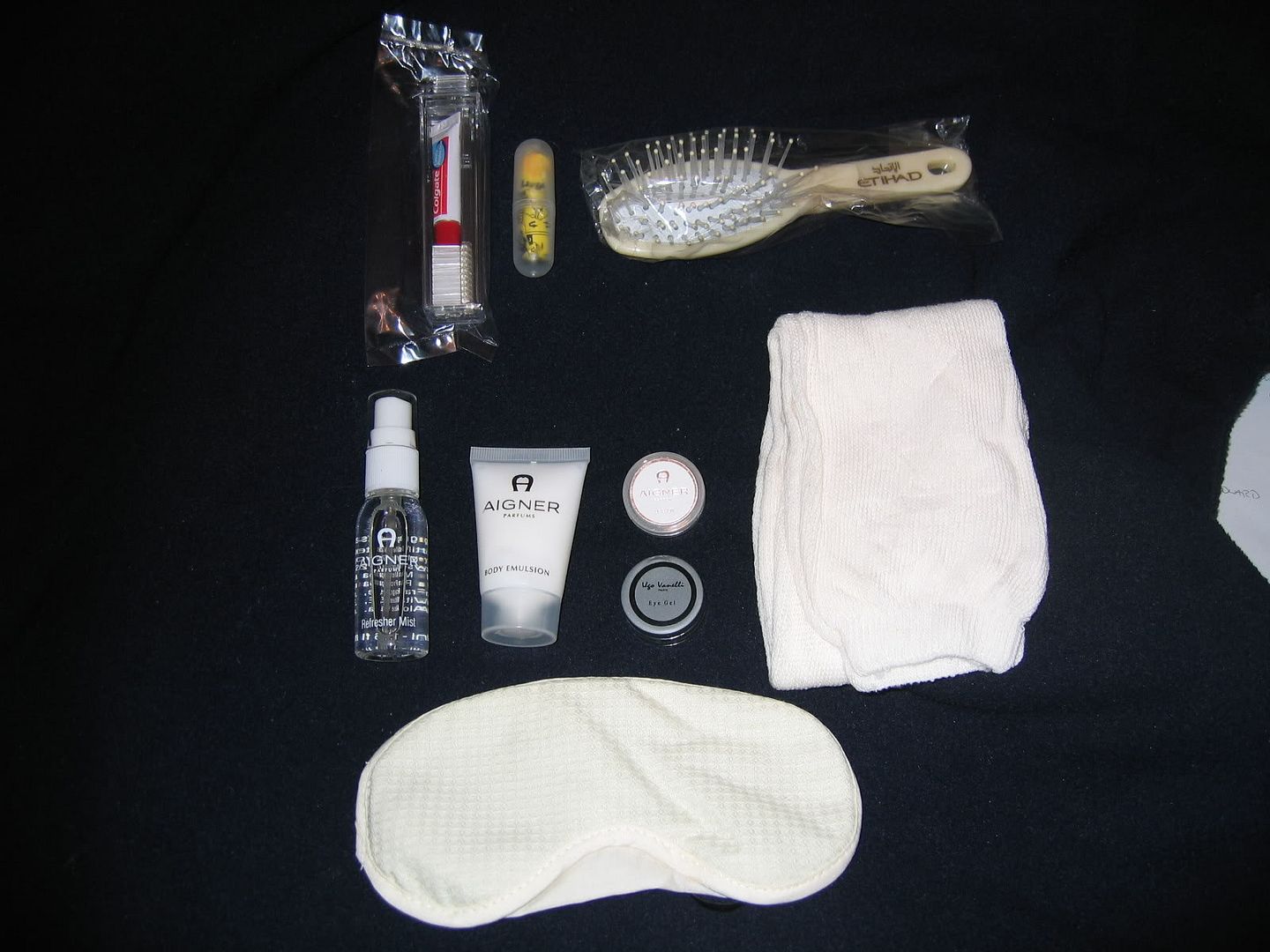 It was now time to decide what to have for dinner. There was to be a light meal at this point, and a continental breakfast before landing. The Light Meal section read as follows: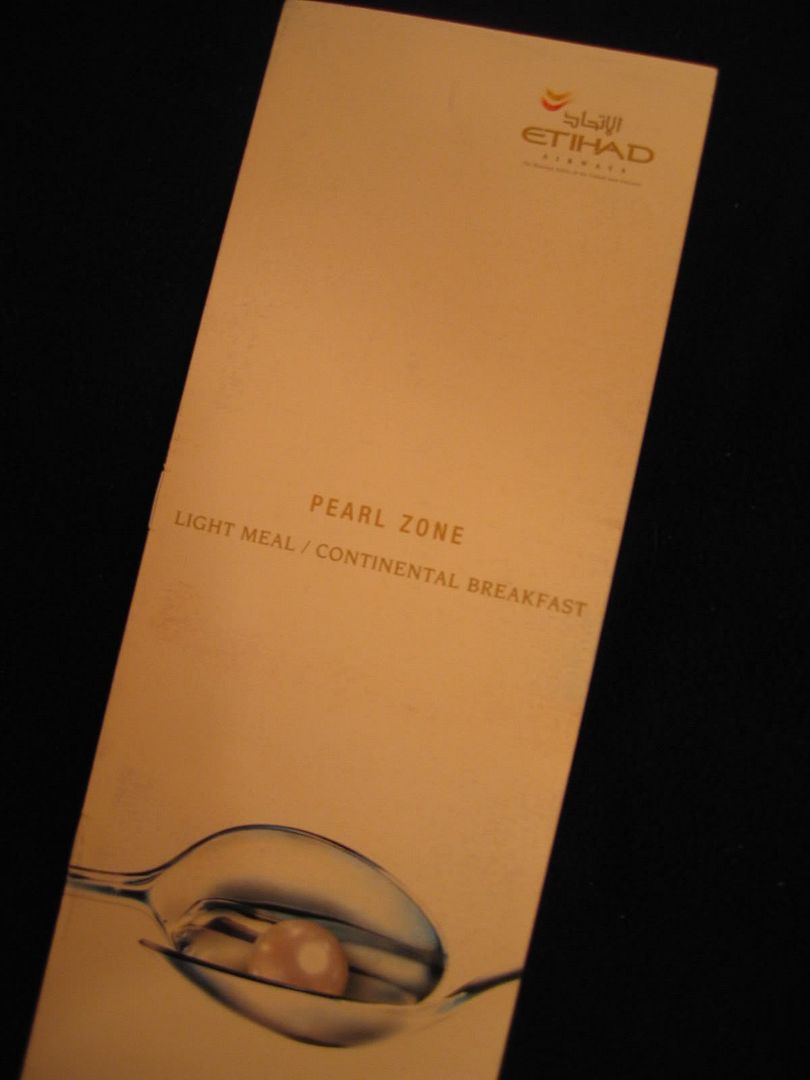 Appetiser:
Smoked Peppered Salmon
On a bed of grilled artichoke served with pesto and salad julienne
Main Course:
Thai Prawn Curry with Arabian Rice (signature dish)
Green Thai curry served with Arabic style rice, accompanied by baby squash, roasted red peppers and baby spinach
Chicken Korma with Lemon Risotto
An Indian style preparation of chicken in a rich, mildly spiced curry sauce, served with Italian risotto rice, and sliced green eggplant
Cold Selection Medley (light option)
Of hot smoked peppered salmon with artichoke heart, and garden salad
Dessert:
Marscapone with Mango Coulis
Italian Cheesecake garnished with summer fruits
Cheese and Fruit:
Cheese with Crackers
Fresh Fruits
Beverages:
Assorted Teas: Ceylon, Earl Grey, Green Tea
Coffee: Brazilian - Freshly Brewed, Decaffeinated, Cappuccino, Espresso
Hot Chocolate
I opted for the Appetiser, followed by the Thai Prawn Curry with Arabian Rice. The meal setup was presented on Wedgwood china, and the food was extremely good. I had a glass of white wine with my meal, followed by a cup of tea.
I usually take advantage of the IFE on long flights, but having been awake since 0430 for work, I wanted to try and sleep on this flight. After the meal service was over, the cabin lights were dimmed again, and I slept on and off for a few hours.
I slept a lot better than I thought I would, and woke up during the breakfast service. My friend had been served his breakfast, and once the FA noticed I was awake, she asked if I would like breakfast. I was only half awake and declined, but had a cup of tea to wake myself up a bit. The breakfast service on offer was as follows:
Juices:
Selection of Seasonal Breakfast Juices
Or Breakfast Energiser
Appetisers:
Fruit and Yoghurt
Assorted Fresh Seasonal Fruits
Fruit Yoghurt
Bakery Delights:
Breakfast roll and croissant
served with butter and preserve
Beverages:
Assorted Teas: Ceylon, Earl Grey, Green Tea
Coffee: Brazilian - Freshly Brewed, Decaffeinated, Cappuccino, Espresso
Hot Chocolate
It was now getting light outside, and we were soon beginning our descent towards Abu Dhabi. My friend and I chatted during the descent, and tried to see what we could through the windows from our middle seats. It was daylight when we touched down, and there were several other aircraft scattered around the airfield, including an AN-124, IL-76, Amiri Flight 747SP, Air India A310 and other Etihad A330-200s.
We arrived at the gate ahead of time, and were among the first passengers to disembark through door L2. The terminal at Abu Dhabi is extremely unique - there is a picture later in this report, which I took on my return journey. After a few minutes we had cleared immigration and customs, and headed through arrivals to get a taxi into the city. Before we were outside the terminal, a local gentleman approached me and said 'taxi?' I asked how much and he said '75 dirhams - good price for you'. This is about what I had expected to pay, and we began to follow him to the terminal doors. He then stopped and said 'one minute - there is police'. I realised at this point that he was an unlicensed taxi driver, and we then walked towards the official taxi rank, where we were quoted about 50 dirhams. Looks like we were nearly had!
**
A few pics taken in the city of Abu Dhabi: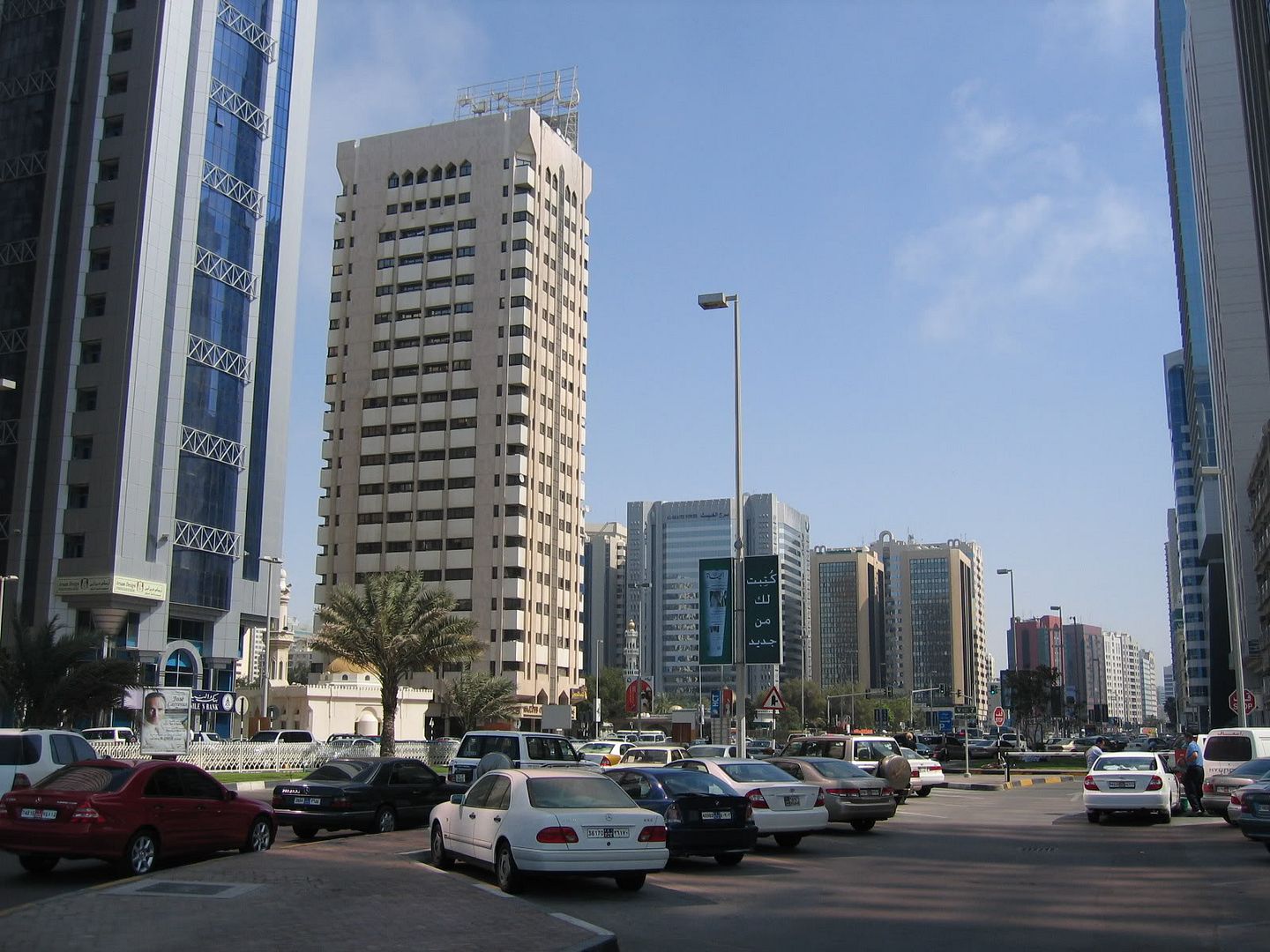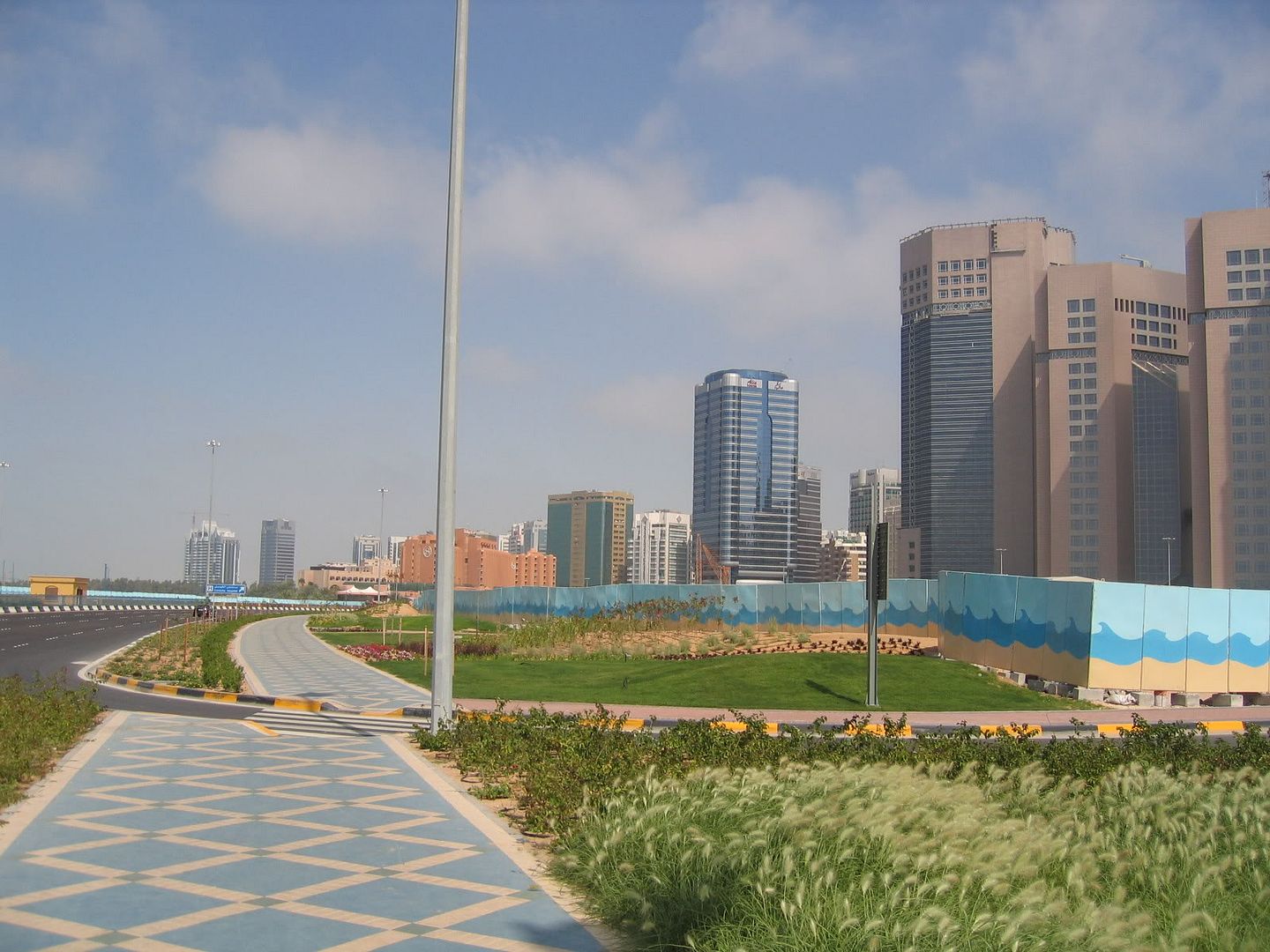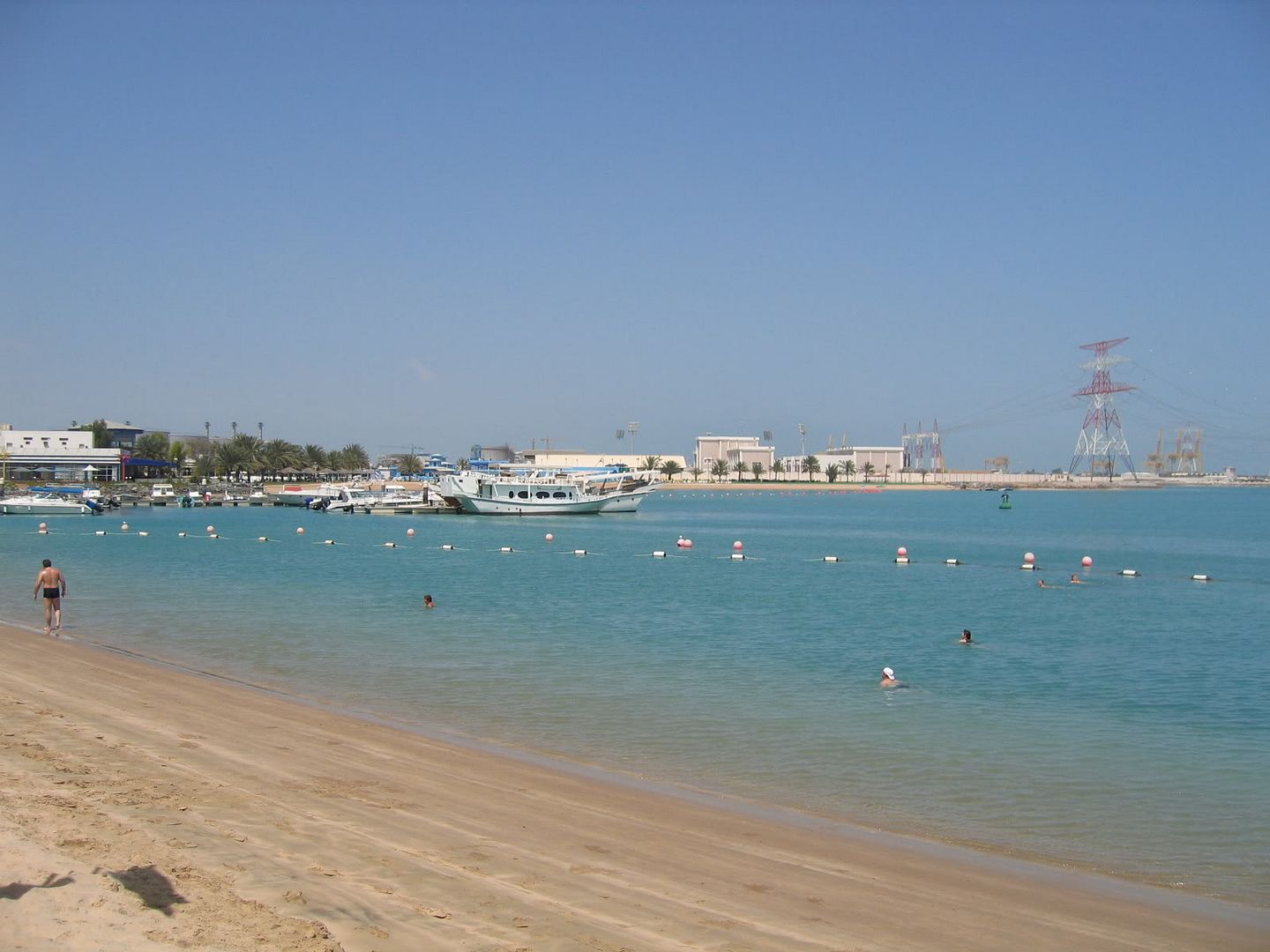 **
Departure Airport: Abu Dhabi - International, U.A.E. (AUH/OMAA)
Arrival Airport: London Gatwick, United Kingdom (LGW/EGGW)
Airline: Etihad Airways
Flight number: EY 305
Aircraft type: Airbus A340-313X
Registration: A6-EYC (c/n 117)
Date: 15th March 2005
Class: Y (Coral Zone)
Flight time: 8hrs
View Large
View Medium


Photo © SilverWingPix
For the return flight, we arrived at Abu Dhabi Airport at approximately 2345, for flight EY305 to London Gatwick at 0155. The check-in area at AUH is not particularly big, and there were several other flights to the UK also checking-in, with Gulf Air and British Airways providing competition to the national carrier. This flight was much quieter than the outbound flight, and we did not have to wait long before we were checked-in, by an agent from Abu Dhabi Airport Services. We were assigned seats 59A and 59C, and guessed from this that we'd be seated towards the back of the aircraft! We then proceeded through departures to check out the duty-free shops and make a few purchases. Most of the duty-free shops are on the lower level, and the departure gates are above, along with several more outlets. Here is the pic I promised earlier, taken on the upper level...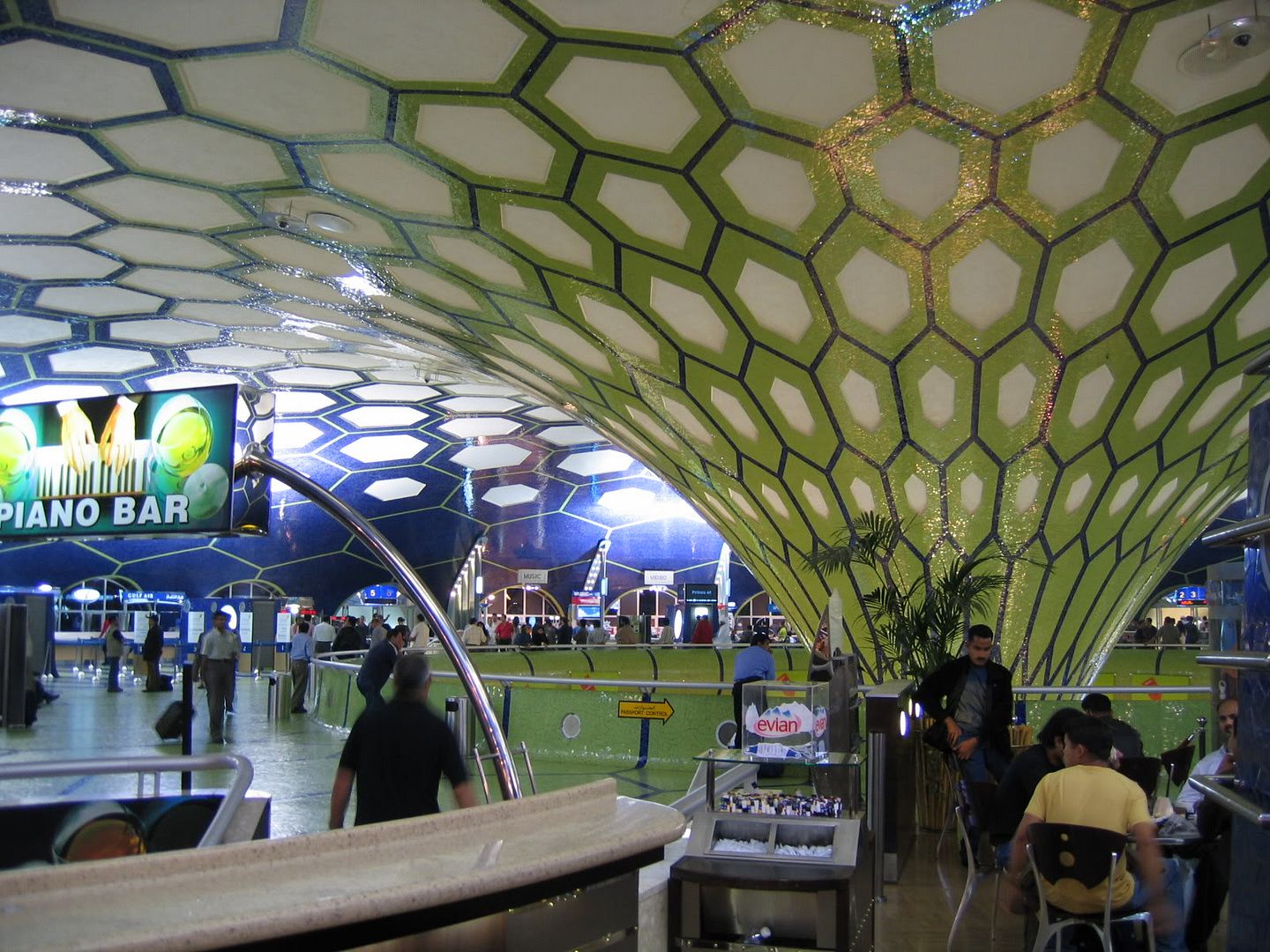 We were both very tired by now, having been awake for about 15 hours, and were eager to be on our way. We headed into Gate 8 where our flight would be boarding, and chatted for a while. I had to go to the window and check out the aircraft, just to make sure it was indeed Etihad's one and only A340-300, A6-EYC, as scheduled. I was reassured to see that it was 'YC on the apron, having never flown on the type before. It was not long before the flight started boarding, and due to the light load on the flight, the boarding process was completed quickly. We boarded through door L2, and walked through the Pearl Zone, which looked different from that on A330 'YB which we had flown out on. It was quite obvious that this was the interior as inherited from the aircraft's previous owner. We carried on into the Coral Zone, which was spread throughout two cabins. There were many spare seats due to the light pax load, so we were not too bothered about being in the 2nd from back row. Here is a picture taken from our seats in row 59: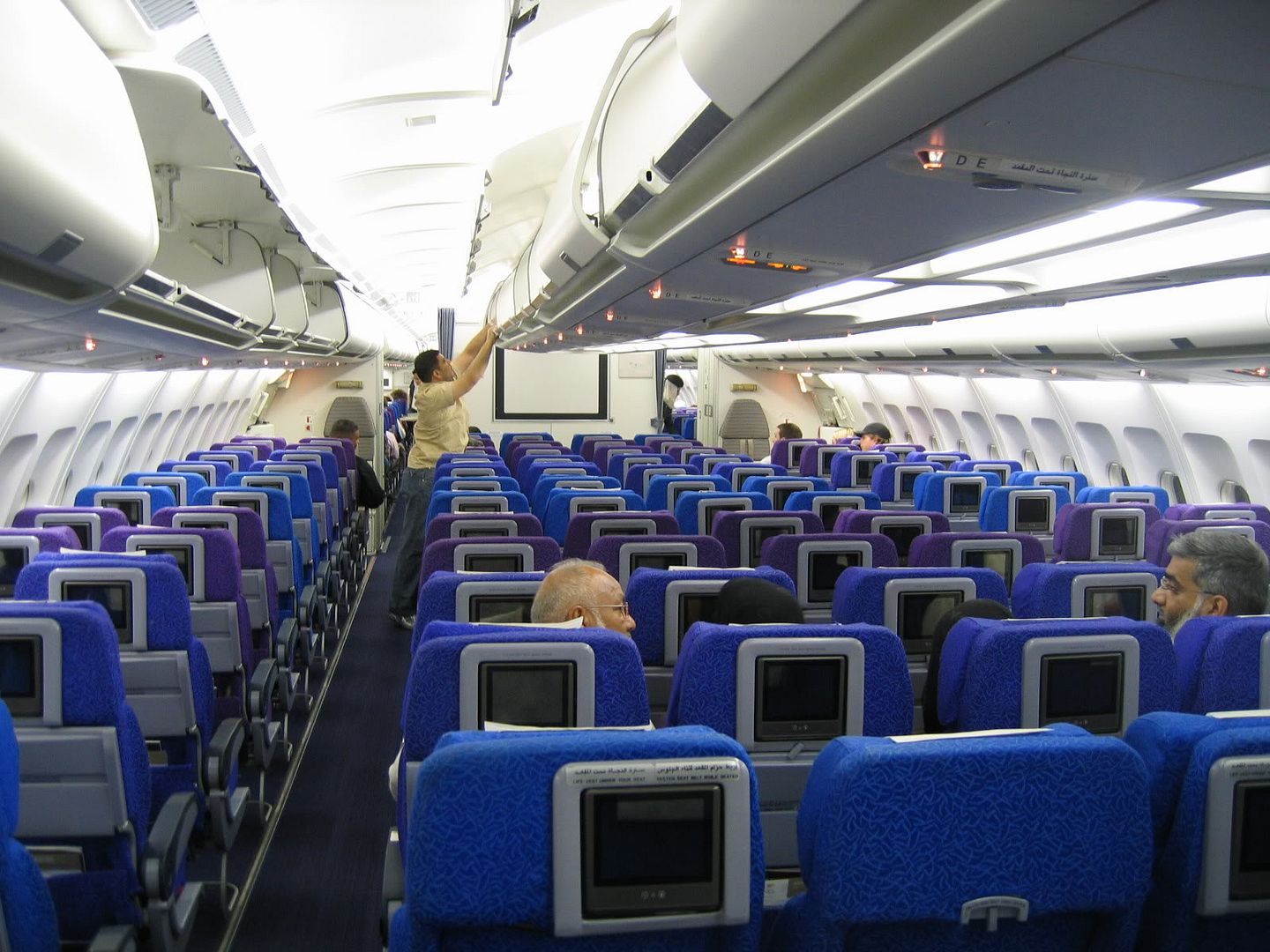 We were soon on our way, pushing back from the gate on time. As we taxied past the GAMCO maintenance area there were a couple of aircraft which I would normally associate with my local airport, Manchester, namely 2 Boeing 767-300s - one each from MyTravel Airways and First Choice Airways. There were also two Onur Air A300s among the other aircraft in and around the hangars. We were soon lining up on the main runway, and began what seemed a very long take-off run. Later in the climb, the cabin crew distributed menus. As was the case on the outbound flight, there was to be a light meal, and a continental breakfast before landing. The light meal in Coral Zone offered the following: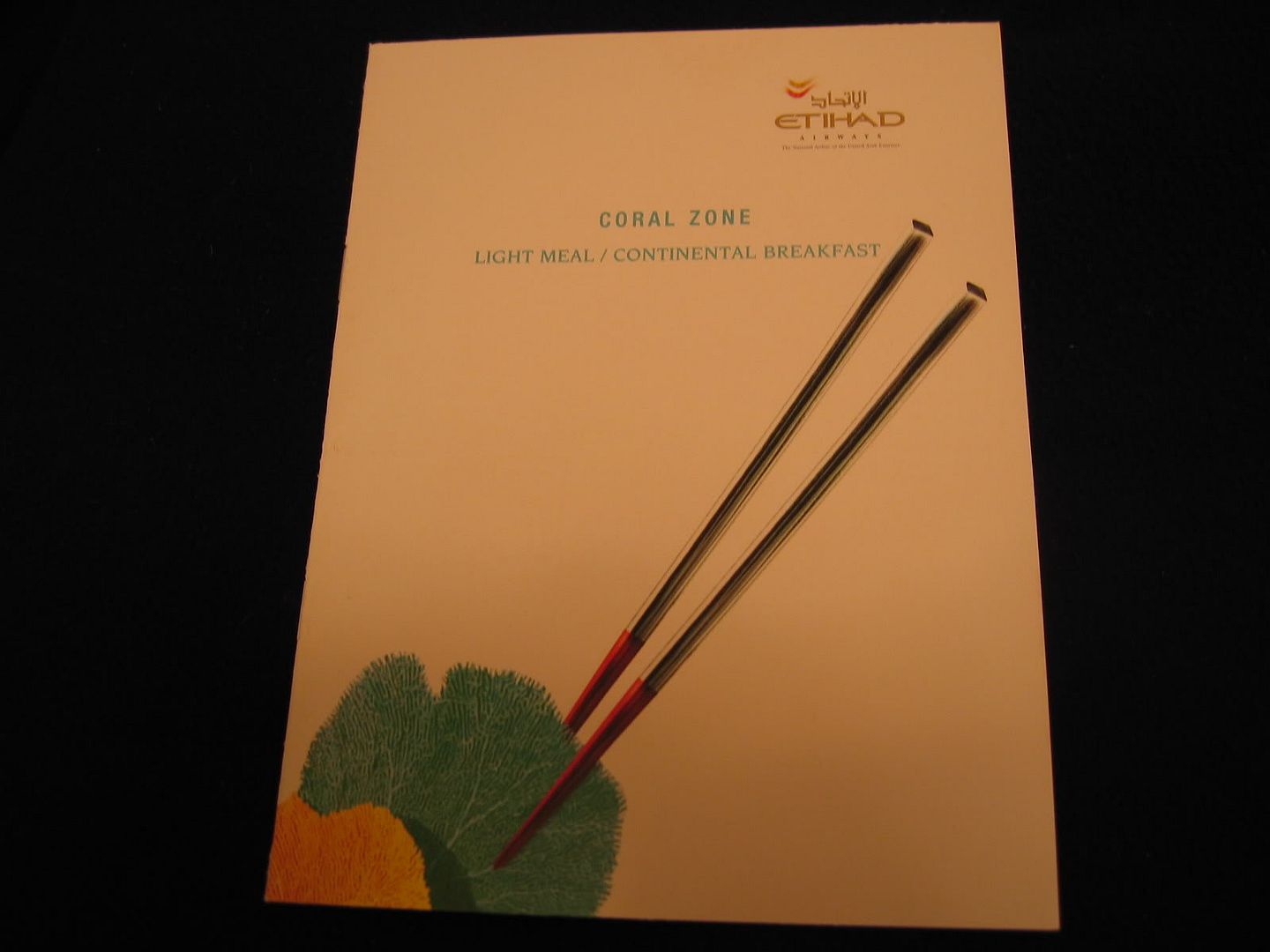 Appetiser:
Seasonal salad with Feta Cheese
Main Course:
Arabian Chicken Provencale (signature dish)
Grilled chicken prepared Arabian style, with onions, garlic and leeks flavoured with olive oil, accompanied by lyonnaise potatoes and saffron rice.
Lamb Biriyani with Vegetable Saloona
Lamb, marinated with yoghurt, Indian herbs and spices, cooked with basmati rice, and served with Arabic style mixed vegetables
Dessert and Chocolate:
Pista and Mint Mousse Cake
served with strawberry coulis
Bread Roll and Butter
Beverages:
Tea, Brazilian Coffee or Hot Chocolate
I opted for the Lamb Biriyani, being something of a curry fan, and it was quite nice. My friend popped to the toilet just after dinner, and arrived back to tell me that this aircraft was ex-Singapore Airlines, as there was a logo in the lavatory cubicle which gave it away. I went in to check this out myself, and he was right! Once the service was over, the cabin lights were dimmed, and I decided to try and get some sleep. Already many passengers had moved into our cabin from the one in front to lie across the centre seats. I'm sure this will have changed the trim somewhat! My friend moved to seats 60AC to sleep and I stayed on 59AC. I must have fallen asleep pretty quickly, as I remember just opening my eyes to find a steward putting a blanket over me - this was a nice touch, I thought. Within seconds I was asleep again, and I slept all the way through till breakfast.
Once again, my friend had started his breakfast before I woke up, and I was offered one when the F.A. passed by. I declined, but had my friend's yoghurt and a cup of tea. The breakfast menu offered the following:
Appetiser:
Seasonal Fresh Fruit
Bakery Selection:
Breakfast bread selection
served with butter and preserve
Beverages:
Tea, Coffee or Hot Chocolate
Shortly after breakfast, we were in our descent towards Gatwick. It was still dark, so again there were no opportunities for photography. We touched down early in Gatwick, and took a long taxi to the North Terminal. The cabin crew were very courteous as we disembarked - the guy who had put the blanket over me smiled politely and said goodbye, as did the two female FA's at the L2 door.
My overall impression of Etihad was very good - they seemed much more personal and friendly than Emirates, and I would certainly recommend them to anyone travelling to / through the UAE. The IFE left a little to be desired, but I'm sure that this is due to the current fleet having been procured from a number of previous operators. Such issues will no doubt be ironed out as the current fleet is replaced by brand new aircraft. An all brand new fleet of A330-200s, A340-500s/600s, A380-800s and 777-300ERs will gradually replace the current fleet of A330-200s, one A330-300 and two 767-300s.
**
As always, I checked up on the two aircraft I had flown on, on a.net.
The A330-200, A6-EYB, was an ex-TAM machine:
The A340-300, A6-EYC, was originally delivered to Singapore Airlines, before flying for Khalifa Airways. It spent a short time in basic Khalifa colours, before having additional Air Algerie markings applied as it was operated on their behalf for a short time:
View Large
View Medium


Photo © John W. A. Merer
**
Many thanks for reading my report. If you wish to take a look at my other recent reports, please click one of the links below:
My 737-200 Finale; MME-DUB-MAN With FR & EI (+Pics)
(by
UK_Dispatcher
Feb 28 2005 in Trip Reports)
MAN-DUB-MME With Luxair & Ryanair(+pics!)
(by
UK_Dispatcher
Jan 18 2005 in Trip Reports)
Ian.
**