Emirates Airlines Flight 412
Airbus 340-500
Seat 1A (F Class)
SYD-AKL
25th March 2005

I was hoping to go for a short trip during the Easter long weekend and decided to visit Auckland, New Zealand as I hadn't been there for a while. Booked a one way fare on travel.com.au and it wasn't as costly as I thought it would have been. I am flying LAN Chile back with my partner so I didn't fly with EK on my return leg.
Few days before my trip, I rang Emirates for the limousine service but was told by EK that I would have to get my travel agent to book it on my behalf. Told my agent what EK had conveyed me and also told them not to bother with the service from Auckland airport when I landed. True enough, one day before my departure, an extremely polite man from the limousine company rang my mobile and confirmed the time and pick up address with me.
Finally the day to Auckland had come! At 6.45am, the limousine man was early as our appointment was 7am. He was very well dressed, decked in suit and tie. He greeted me and helped me with my luggage to the boot of the car. We didn't communicate anymore while we were in the car until we arrived at the airport where he wished me a nice Easter holiday.
I proceeded to EK check-in counter which was very deserted at this time of the year. The Qantas and Singapore Airlines counters were packed with loads of passengers waiting to embark on their Easter holiday. In contrast, there wasn't any queue in Economy and certainly there was also no queue for me in the First class counter as well.
Check-in agent was very friendly and I handed her my Krisflyer card, passport, ticket and promptly, she handed me a handwritten invitation to the UA lounge and my boarding pass. I found this handwritten lounge invitation gesture a nice personal touch compared to the machine printed boarding pass issued by SQ.
The queue to clear immigration was massively long, snaking at least 4 rows of lines but I was relieved to be ahead of the 100 odd Japanese students that came in right after me! Everyone in Sydney was trying to get out early in the morning of Easter Friday for their holiday! I think I waited for at least 30 mins before I breezed through immigration and x-ray check.
The UA lounge was one floor below the departure gates and I found the entrance to be extremely inviting and tastefully decorated. A very chirpy lounge agent accepted my lounge invitation card and told me she would do a boarding announcement once EK 412 flight was ready to board.
There wasn't much to eat. Just some cereals and white/wholemeal bread for toasting. I took a can of orange juice and sit at one quiet corner. The lounge was massive but their First and Business class passenger were not separated at all.
UA Lounge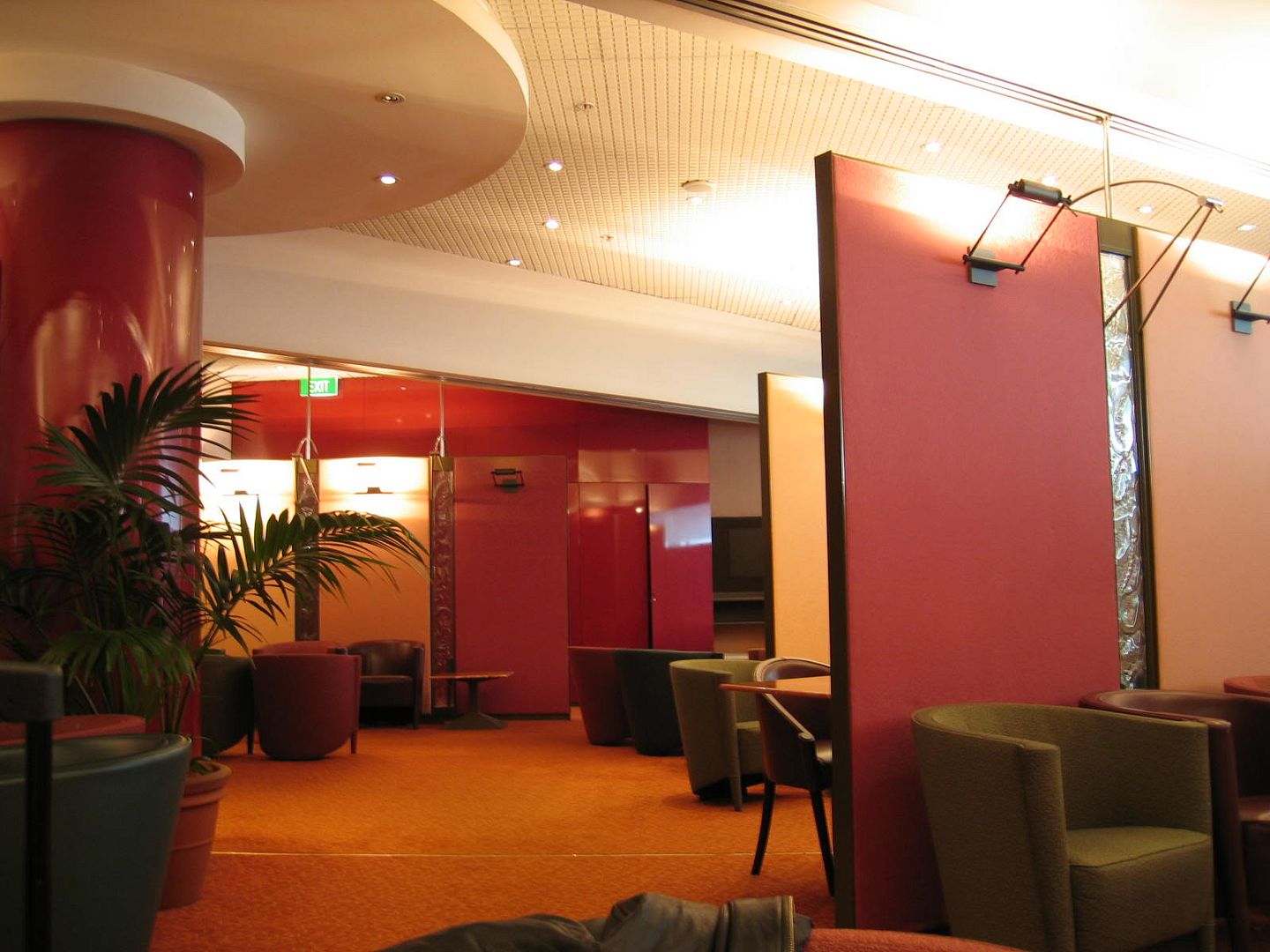 Boarding announcement was announced by the lounge age around the boarding time stated on my boarding pass so I took a lift and went back up to the departure gate, 53.
I boarded at first instance as I was excited to be on my very first A345. Heard so many great things about them, i.e. being the quietest aircraft, and I just can't wait for this wonder to take off so I can judge for myself!
In Sydney, only one aerobridge was used so everyone was jammed at the aircraft door as they were trying to show the cabin crews, who were standing at the door's left and right, their boarding passes. I showed them my boarding pass and all the crew said was, 'Seat 1A, to your left'. Didn't address me by my name and no one cared to walk with me to my seat so I turned left to get to the first class cabin myself, but to get to F class section, I had to walk through the business class section first. The F cabin's entrance was blocked by a cabin crew and a technician/engineer at the aisle of the cabin. Despite seeing me waiting with my luggage, they continued chatting and ignored me until I had to tell them, 'EXCUSE ME, PLEASE', before they moved their arses to the left and right of the suites respectively for me to pass through.
I had no idea where 1A was and no one was around to show me so I looked around the ceiling but found no row/seat numbers. After a few moment of random scanning, I noticed that the seat number was on the top right corner of each suite's sliding door. As there were no overhead luggage bins so I had to put my trolley bag on the floor near the foot rest of the suite. There was a cabin bag storage area on the floor, the left corner of the footrest area but it was simply too small for me to squeeze that in so I didn't bother putting it in that designated area. It certainly wasn't designed for a standard cabin trolley luggage.
Storage Area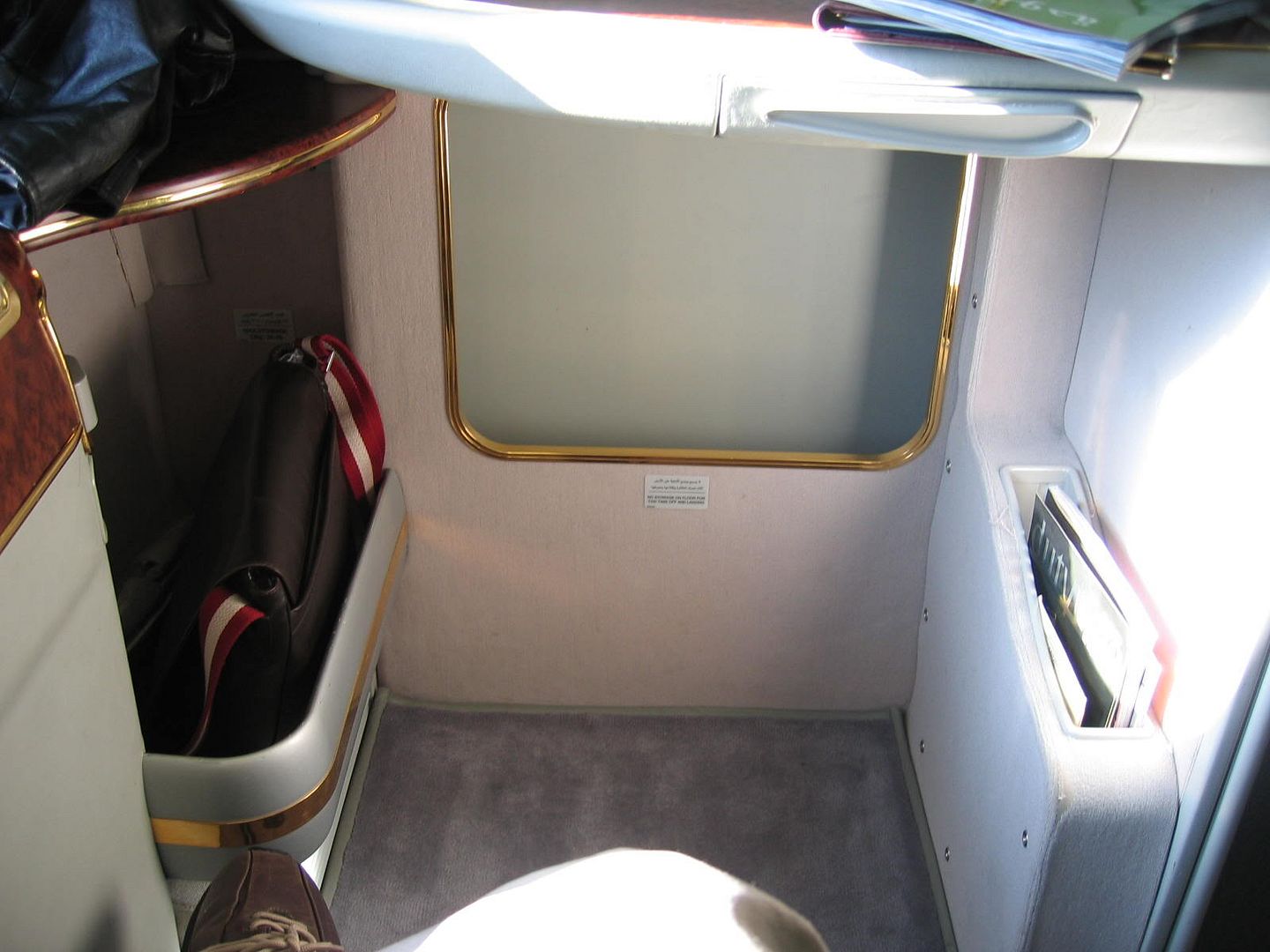 A while later, a crew member (Crew A) asked for my pre-departure drink and I ordered an orange juice. She conveniently placed the coaster and glass on the table in front of the IFE screen which was beyond my reach but at her arm reach. Would be a nice gesture if she were to place it by the armrest instead. Later, a very friendly Japanese crew came asking if I liked to have some Arabic coffee and I took the offer and the coffee was poured into a small cup and placed on the armrest, beside me. Crew A then came back and thrust a saucer in front of my face and said, 'Figs?'. That's all she said - 'Figs?' She placed it conveniently for her on the same spot far beyond my reach again. I had to unbuckle my seatbelt and reached for the saucer and OJ glass and placed it beside me.
Pre-departure drinks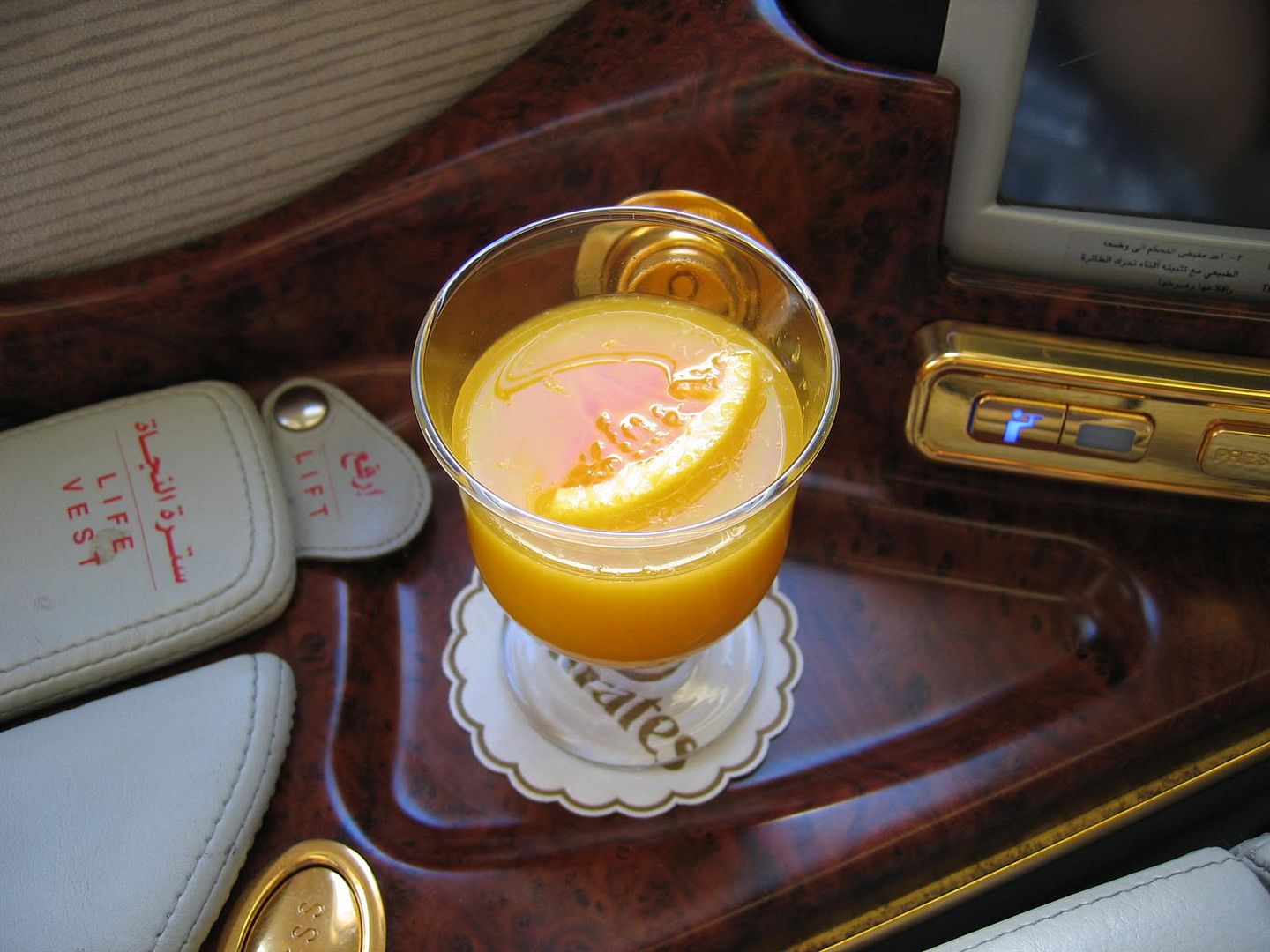 Arabic Coffee & Figs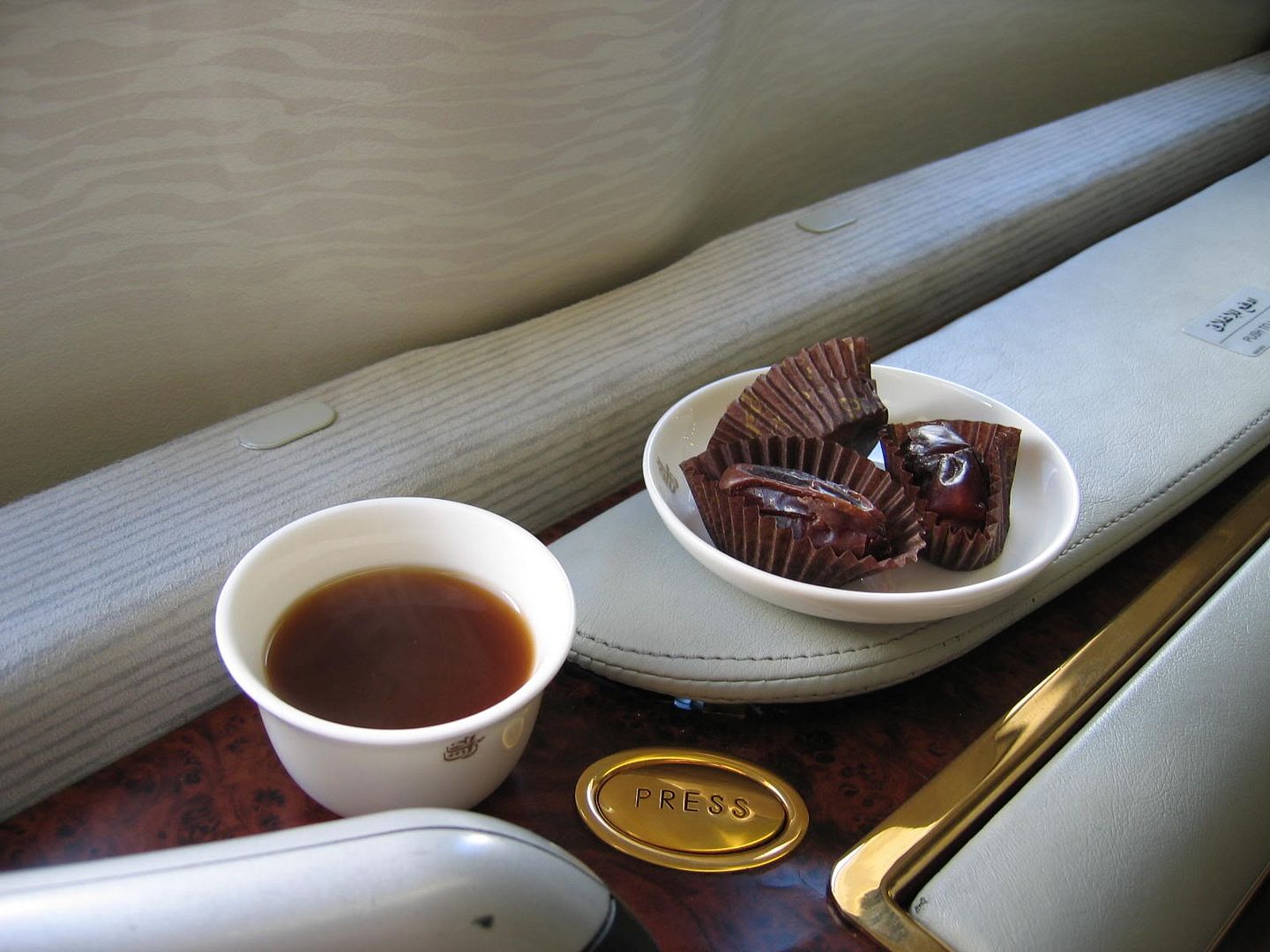 I started to look around the cabin and really liked the cabin ambience that was created by the lighting mood set by the LED. I found the gallery which was in front of my seat, behind the nose of the aircraft to be very messy with a half finished Starbucks coffee on the bar area and the Purser working away on her Compaq tablet and stacks of paperwork at the bar too. She did not come and introduce herself and my first conversation with her was when I came out of the lavatory later.
Mood lightings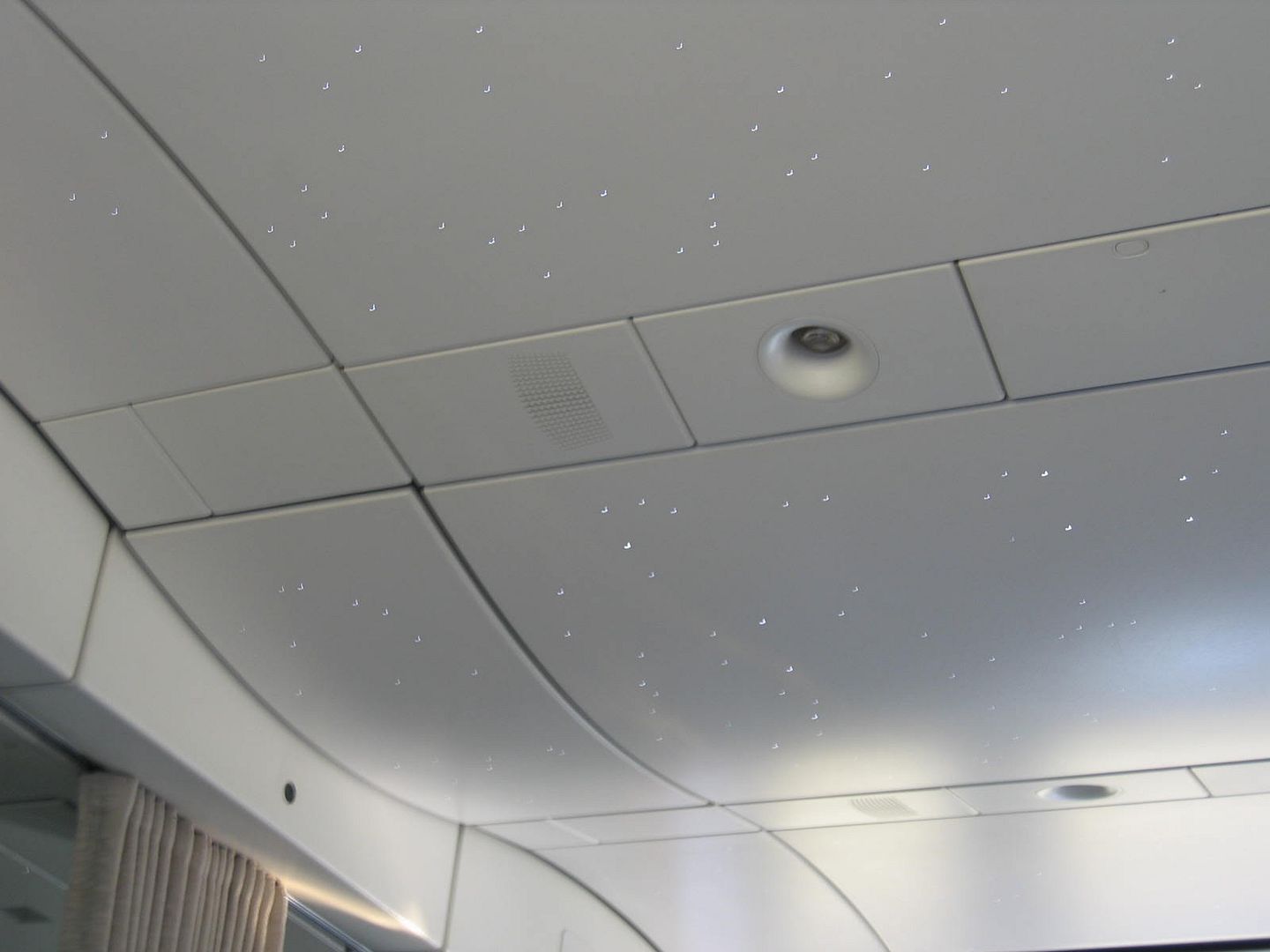 I noticed that there was a lot of wear and tear of the suite, especially around the walls near the foot area, with dirty shoe marks on the side of the wall. The gold painting on the trimmings of the sliding doors was peeling off, making the cabin looked tired and sloppily maintained.
Pyjamas and slippers were already placed on the floor of the cabin bag area and it was a size M. Was pleasantly surprised that they provided us with the PJs and slippers for flight time of just 3 hours.
Slippers & PJ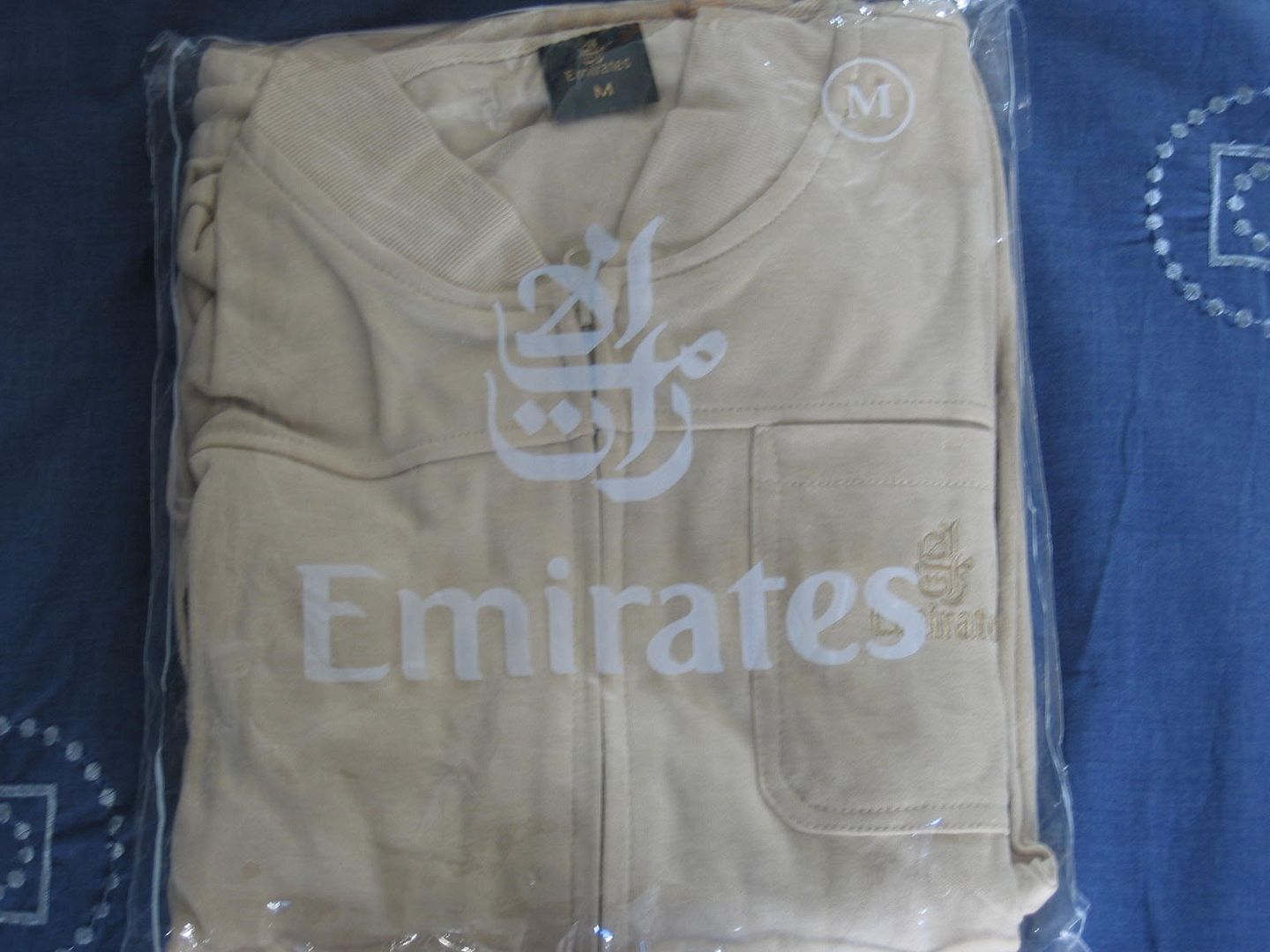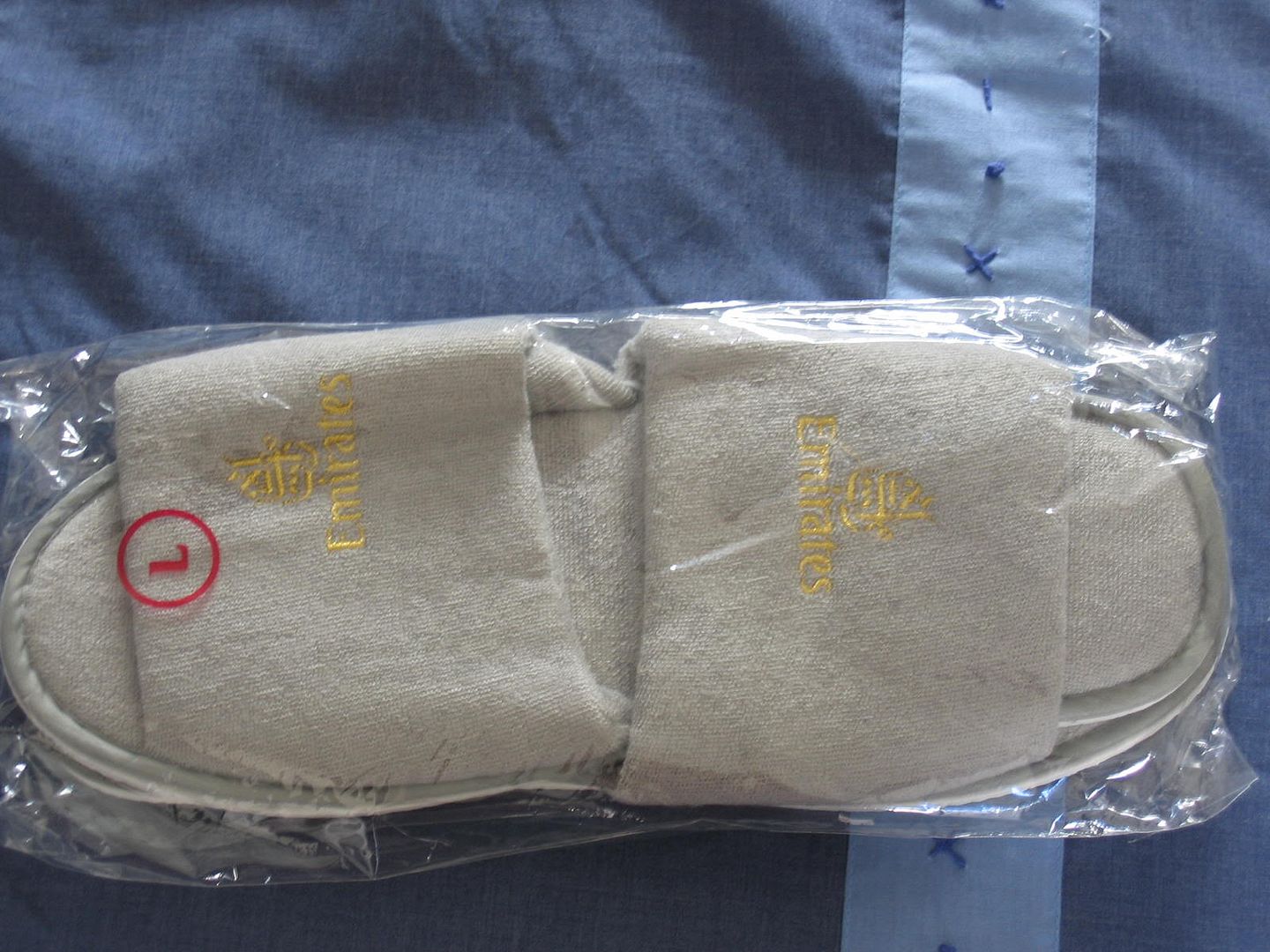 I went to the lavatory to visit the infamous toilet with a window above the toilet seat and found the cabinet to be wide opened, unlatched. I tried to latch it but it just wouldn't do it. The Purser came around and saw what I was doing and she gave the cabinet door a hard push, and then it was securely latched. Interestingly, the lavatory itself was so small! Also, if you wanted to look through the window, you had to crouch SO LOW that your face would literally be in front of the dunny! There was only one lavatory in F class. For today, it was enough for the 2 of us.
Doors were turned to automatic and Crew A came to pick up my glasses/saucer and she noticed I didn't finish my coffee and she asked me succinctly, 'Don't like it?', I only smiled.
This time the Purser, came out of the gallery and asked me if I could stow my trolley bag into the cabin storage space but I told her it can't fit in. She grabbed my bag and tried to squeeze it in, trying to slide the bag in from top down, sideways etc and I was extremely unhappy with her trying to manhandle my leather trolley bag the way she was! In the end, she said, 'That's alright, leave it there for the time being!'. Well, you can't blame me for not giving me an overhead compartment to stow my bags away!
Anyway, push back was on time at 9am sharp. We didn't have too many aircraft ahead of us and we pretty much lined up and took off without further delay. I must say the take off was much quieter than the usual B744 and B772 and I was very impressed with the noise reduction effect it had in the cabin.
Its strange having the gallery in front of me when most of the time, my experience was having the gallery behind me. During takeoff, the crews were very busy talking. The volume of their talking was definitely louder than the engine sound, with the Purser the loudest.
Sighting before takeoff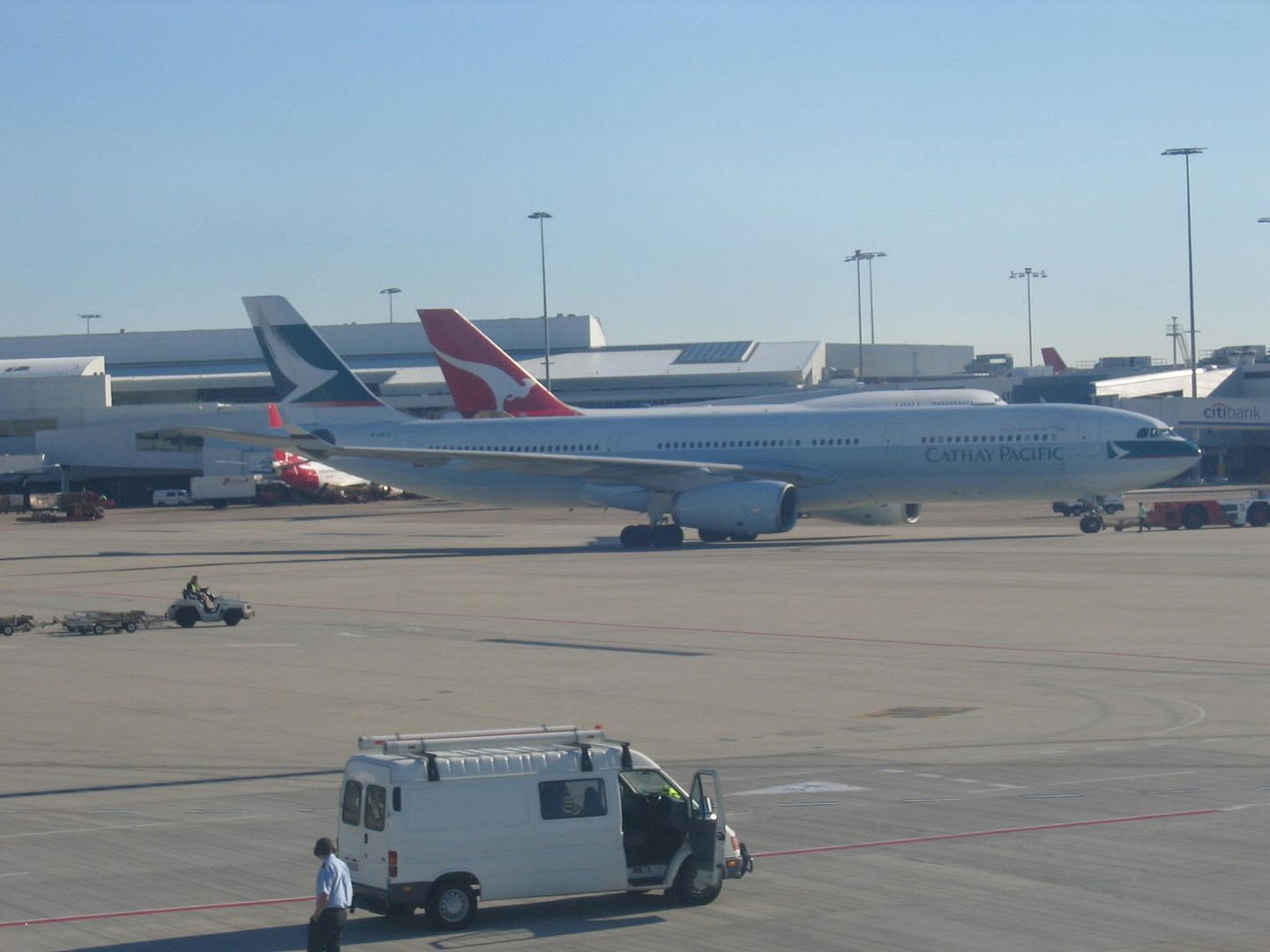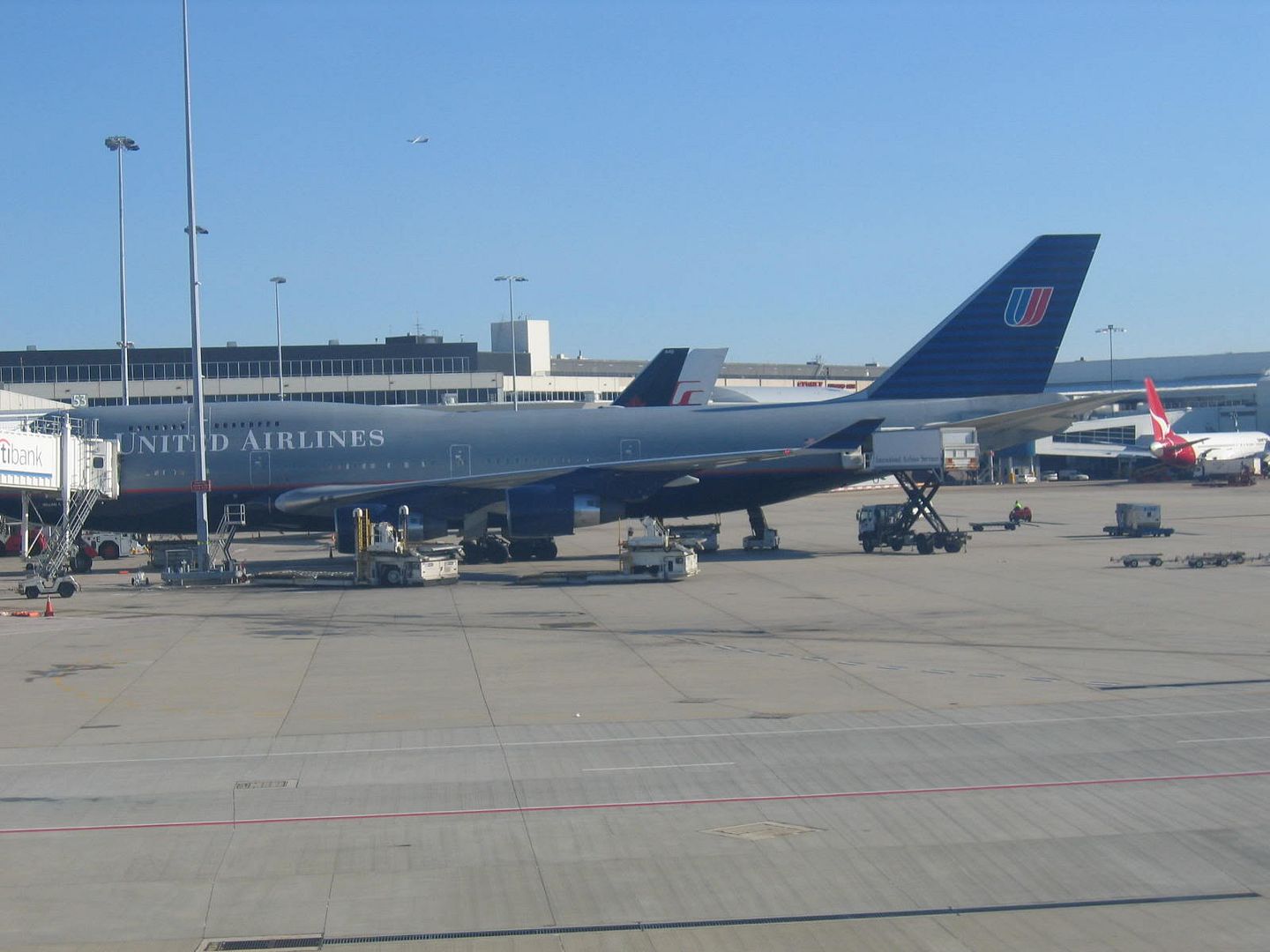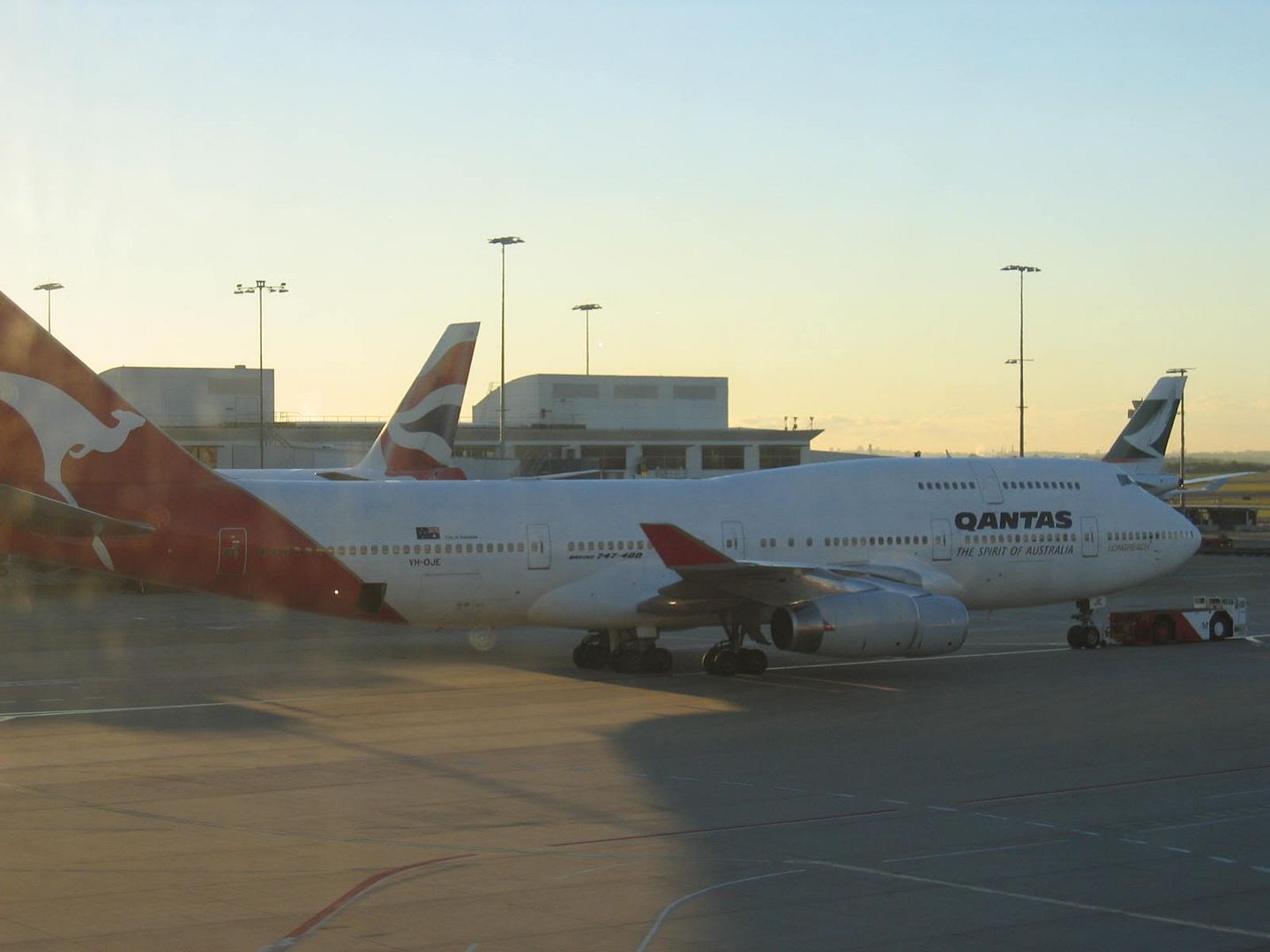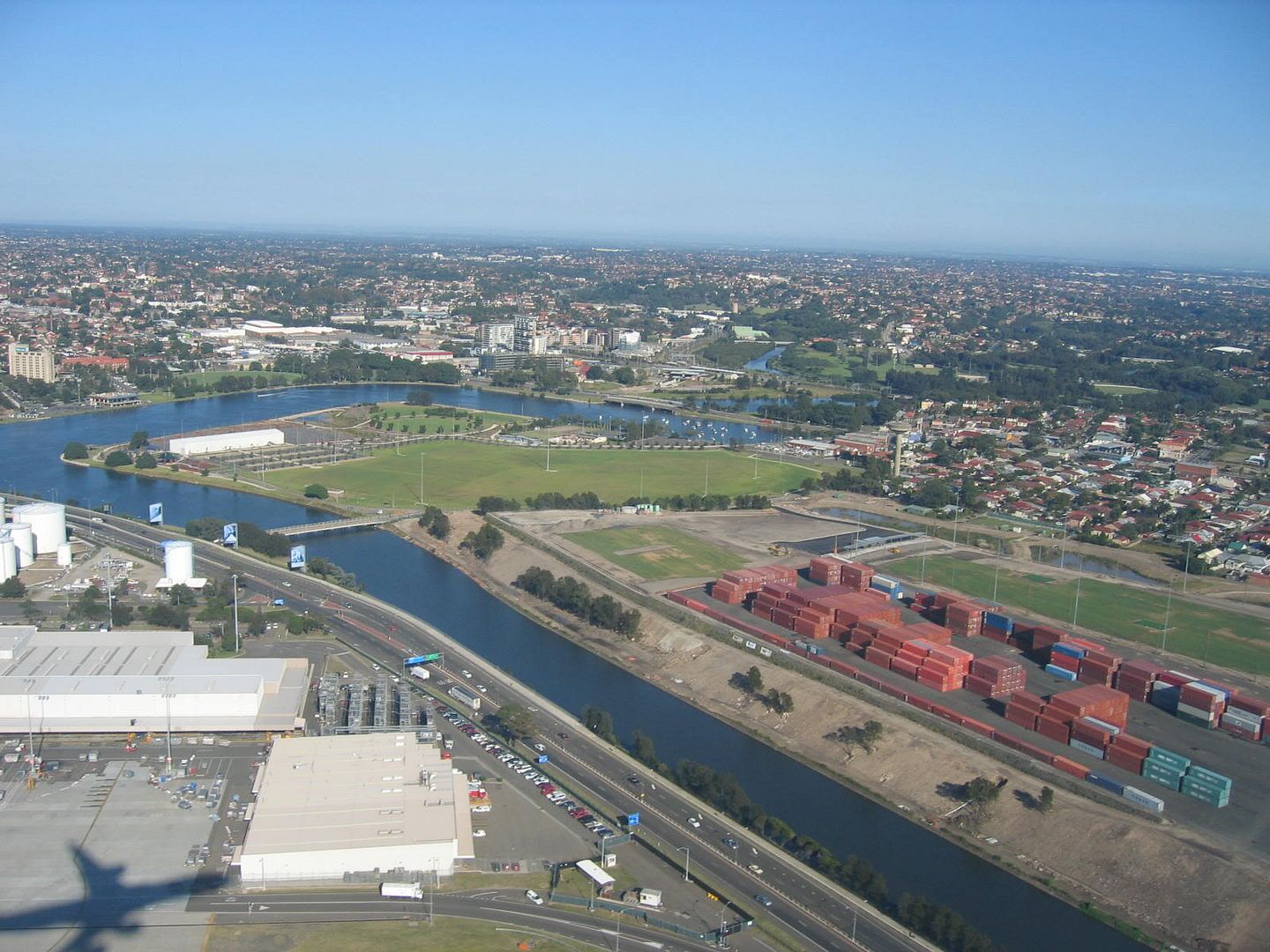 Engines while taking off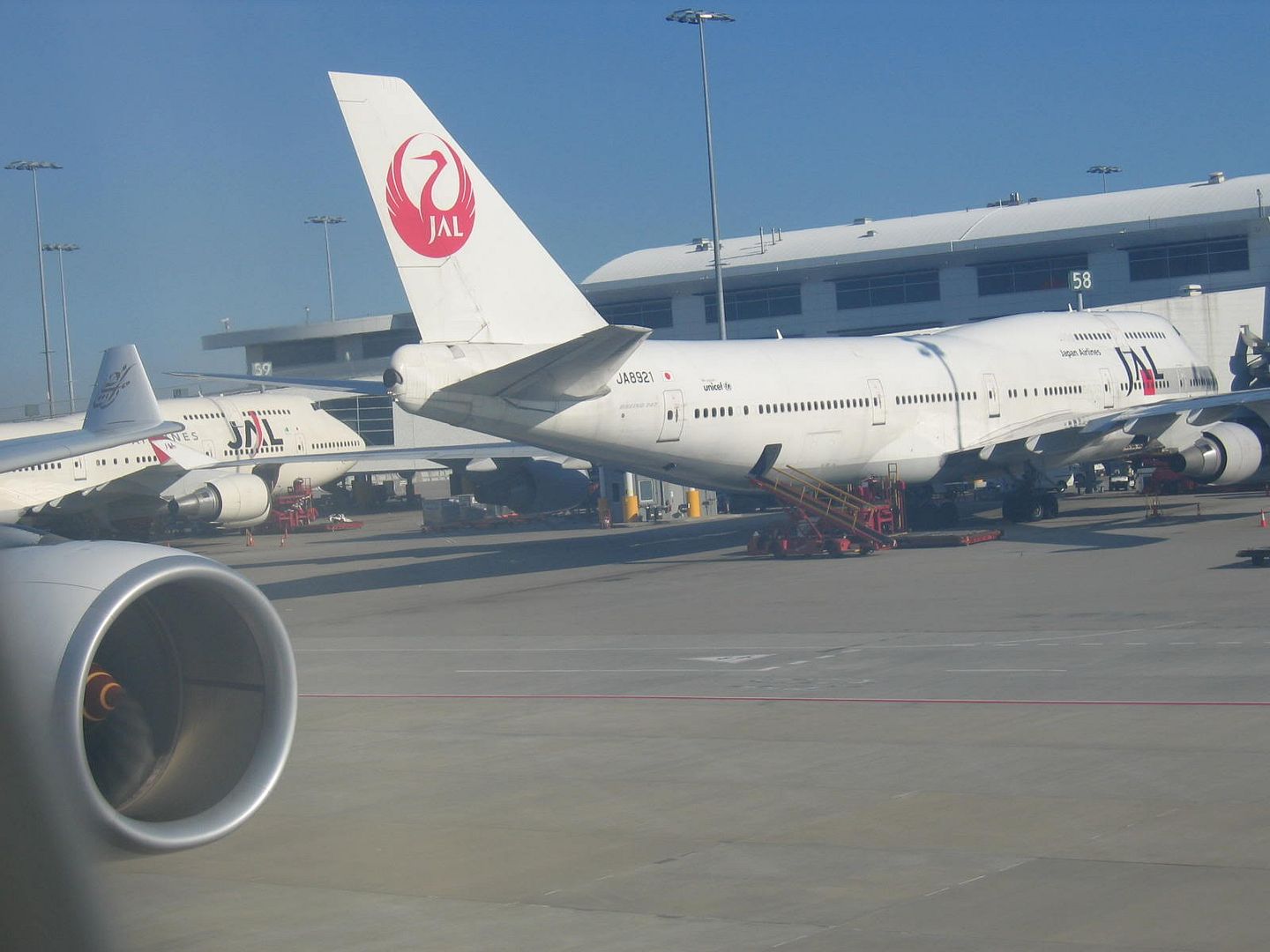 Once the seatbelt sign was turned off, Crew A came over and took my 'Brunch Order'. It was this part which I thought they really lacked training when they were taking meal orders from passenger. Questions were curt and abrupt like, 'Drinks?', 'Fruits?', 'Main?'. Also, on the menu for salad choice it was printed, 'Your choice of dressing' but she didn't even bother asking me. I told her I like to have a cafe latte but she said its found by my armrest! I told her maybe the cold ones but there were certainly no hot ones there and I like to have a coffee made straight from the espresso machine. She didn't seemed to encourage that and attempted again by asking me if I like to have the 'cold one' by my armrest mini bar instead! Firmly, I told her, 'I like to have a HOT café latte from your espresso machine'. Without concurring the drink order, she asked in the usual manner, 'Dessert?'. I didn't mean to be picky or overly critical but the experience she was giving me was like going to a Hungry Jacks fast food restaurant!
Menu in red leather folder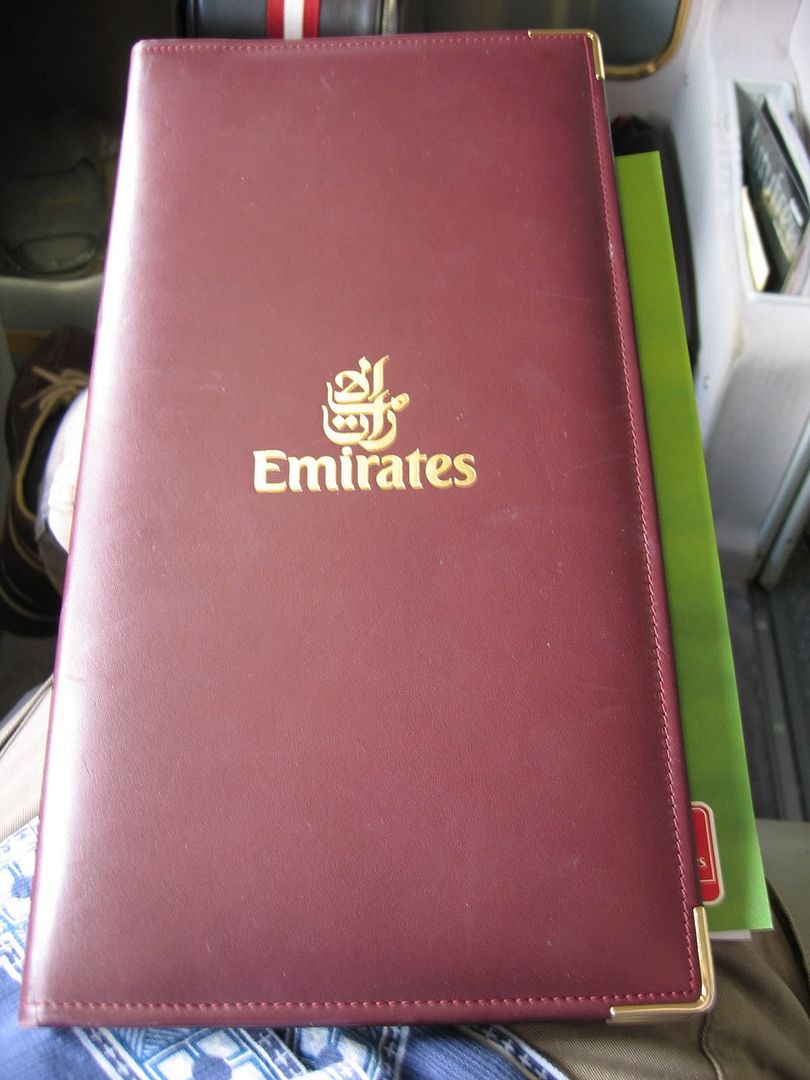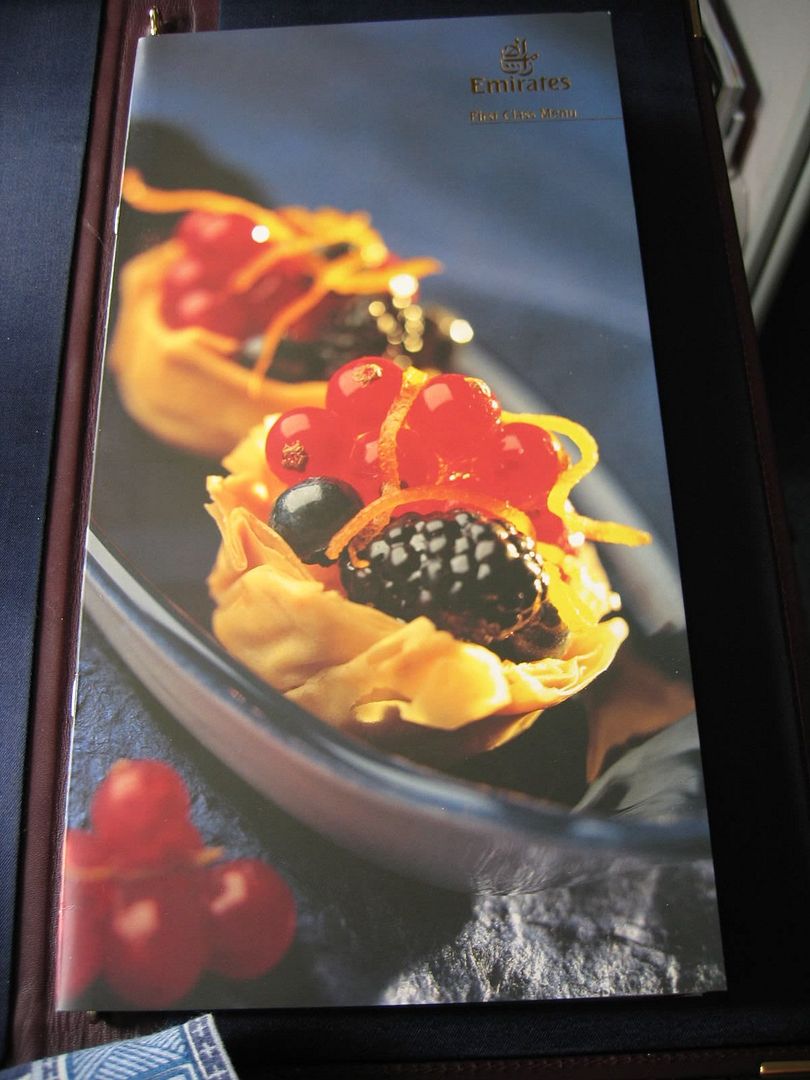 I tried to get the chair to move to a comfortable position and despite pressing on their elaborated touch screen console, it still wouldn't budge at all. The Purser noticed and came round asking me if everything was alright. I told her the remote seemed very complicated and she said, 'Oh is that so?'. Anyway, I told her I can't get the chair to move and she took over the console and tried it herself and, yes, the stubborn chair just wouldn't move as well. She then opened a panel on the side of the suite and was busy working away, seemingly trying to press some buttons to reset the system or something. After that, it worked.
I spent a while familiarising with the touch screen console to operate the IFE but a lot of work and precision were required by working on an array of arrows to move the mouse pointer to the precise position to point at the correct button. Main control buttons like stop/pause, play, fast forward/backward were not available separate on the other console that was found in the armrest. The screen itself was MASSIVE. I think its wonderful to have a screen of that size but as its mounted on the wall of the suite and if you like to lie down completely, you wouldn't be able to see much of any movie! The headset was in a black suede pouch and was already in your suite pocket by the IFE. The only thing handed out to you is the red leather folder containing your meal menu.
Touchscreen console & IFE Screens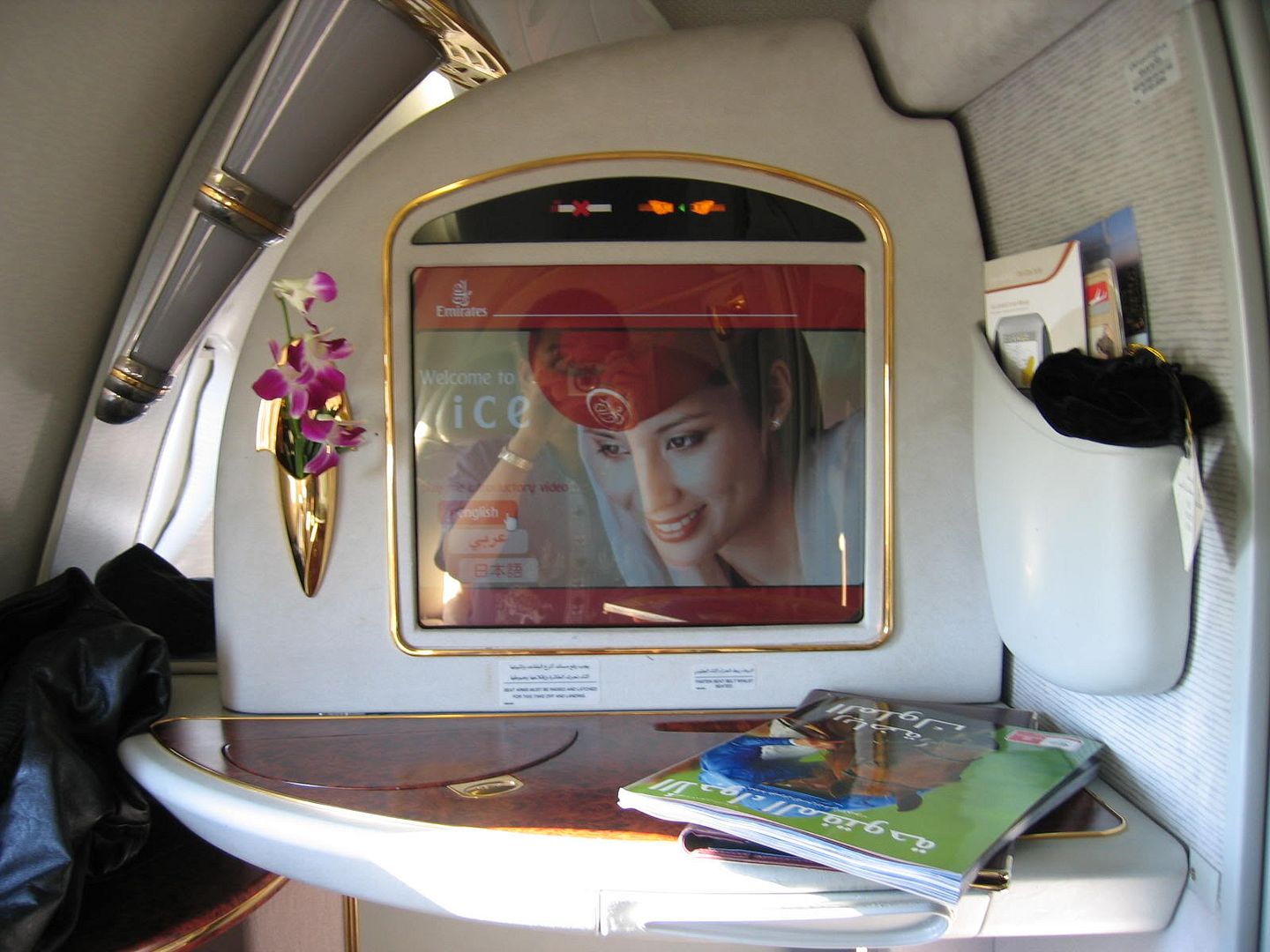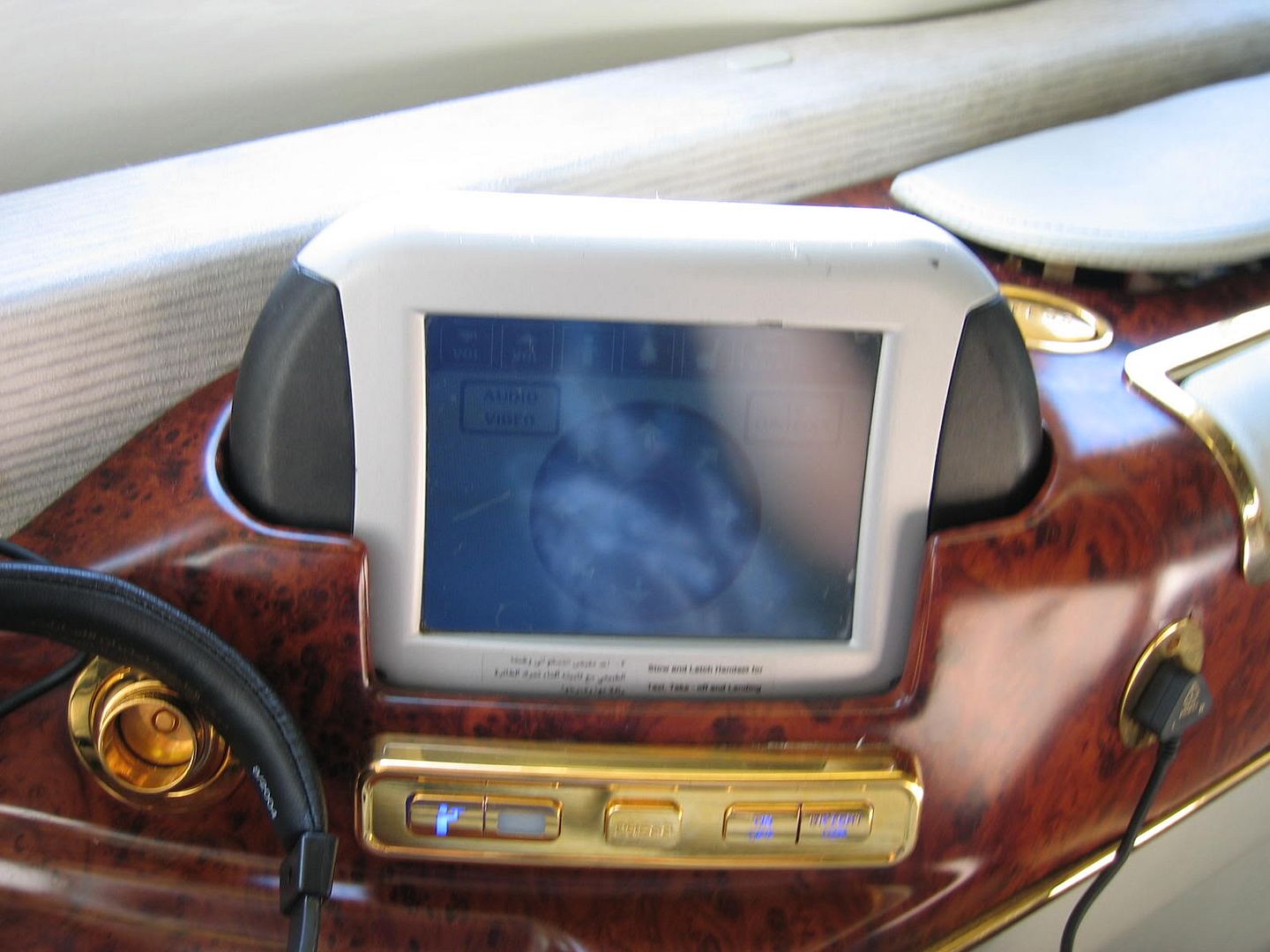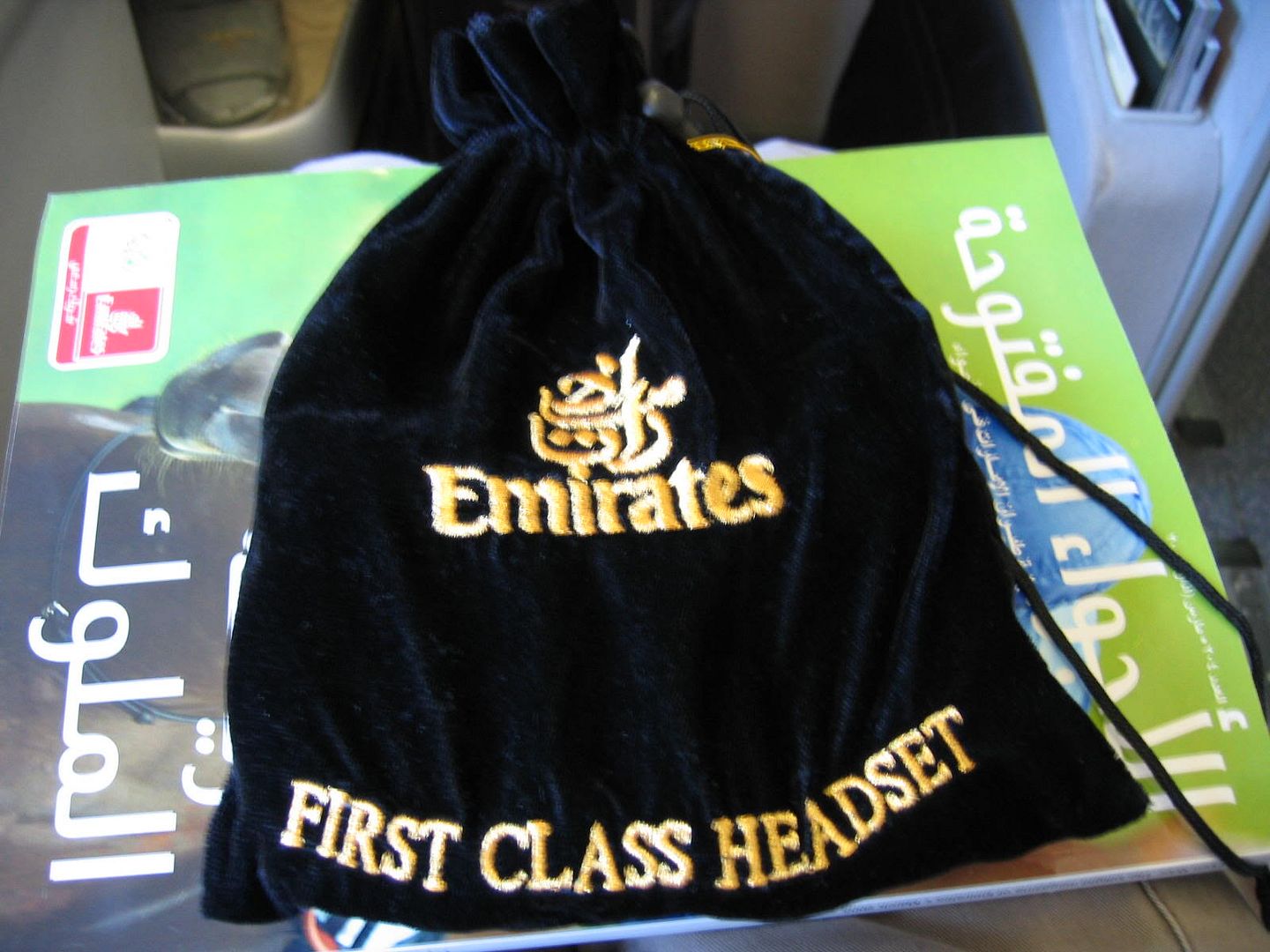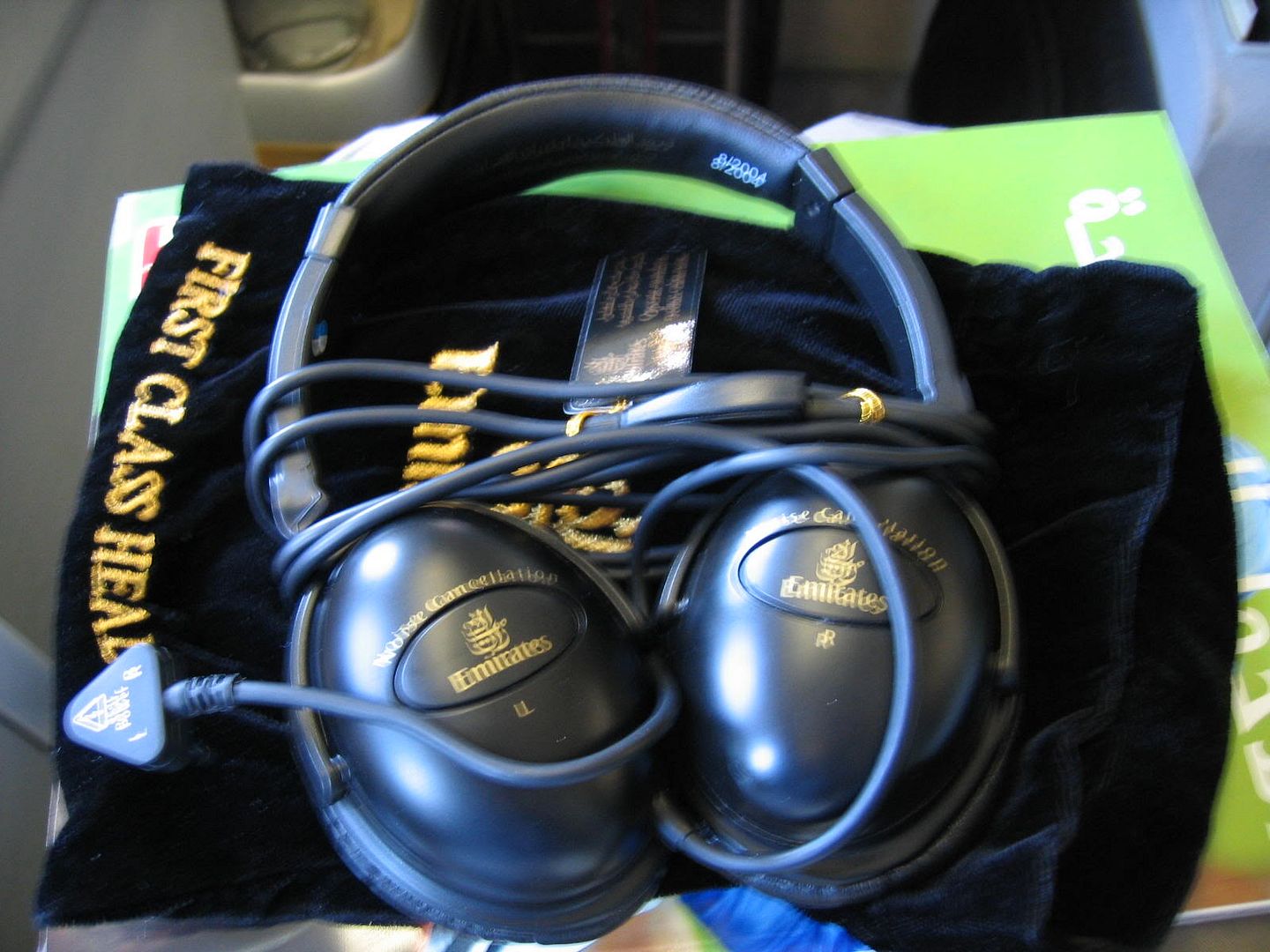 Now to the seat itself. The width of the seat was a tad too narrow, I reckoned. The armrest itself wouldn't come down when the bed was completely flat as well. I think only one side did but not the other. The cushion was upholstered in leather and there was a lot of soft padding in it and it was most comfortable to lie down for a snooze! Blanket was wrapped in plastic placed behind your seat and a big pillow in white cotton linen was placed on your seat. I did try to activate the seat massage and tried to activate all the 5 zones and none of them worked despite increasing the speed/intensity levels.
All about the seat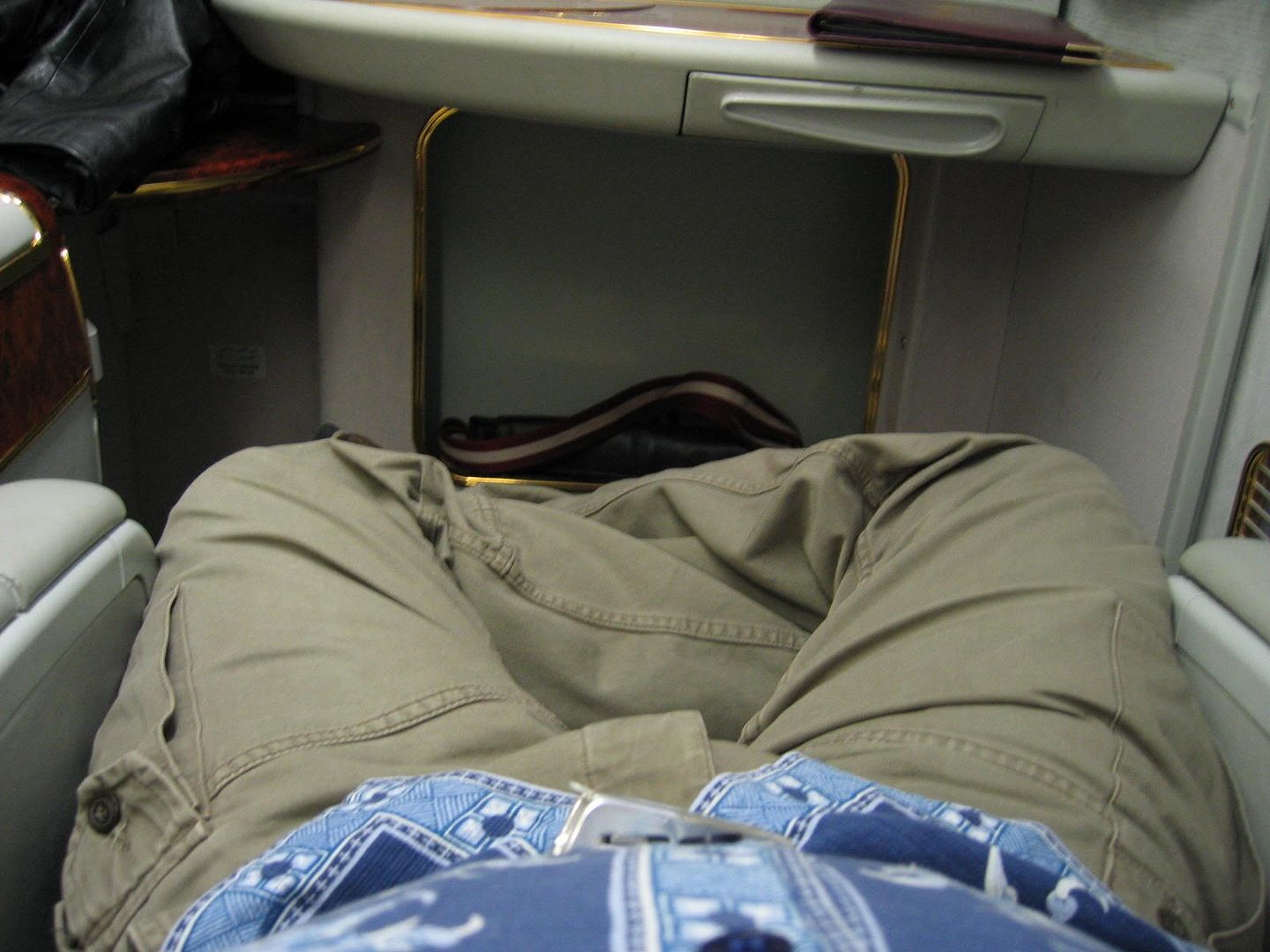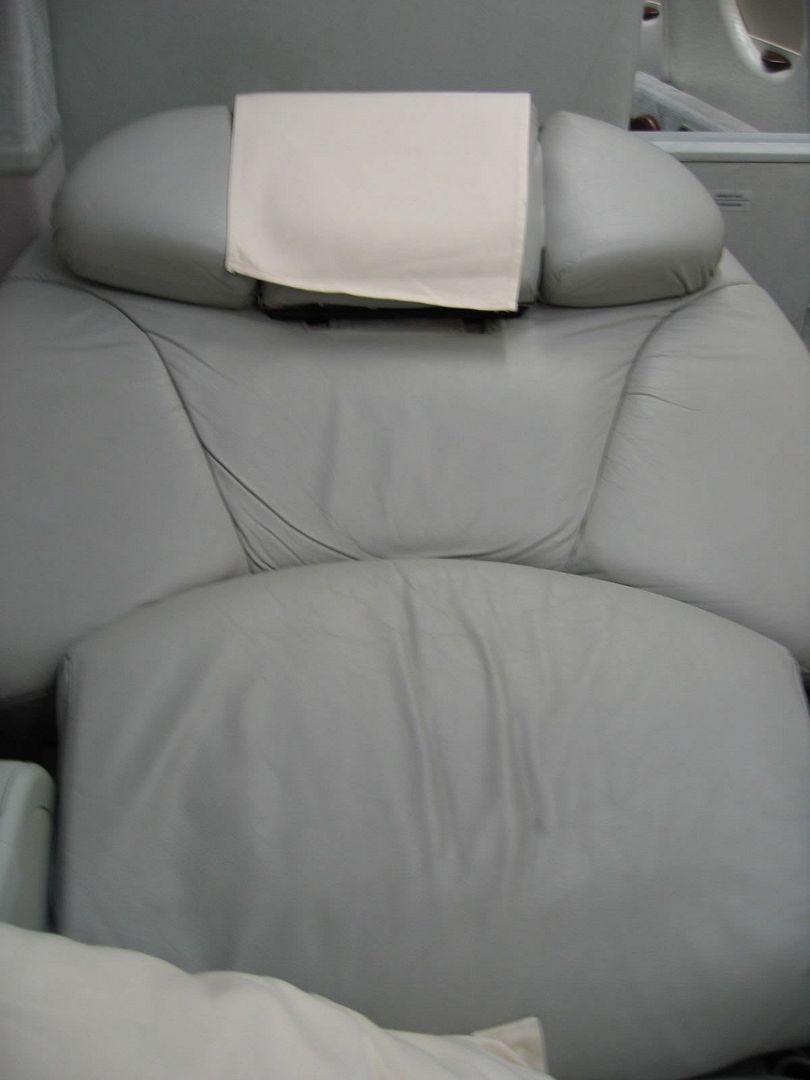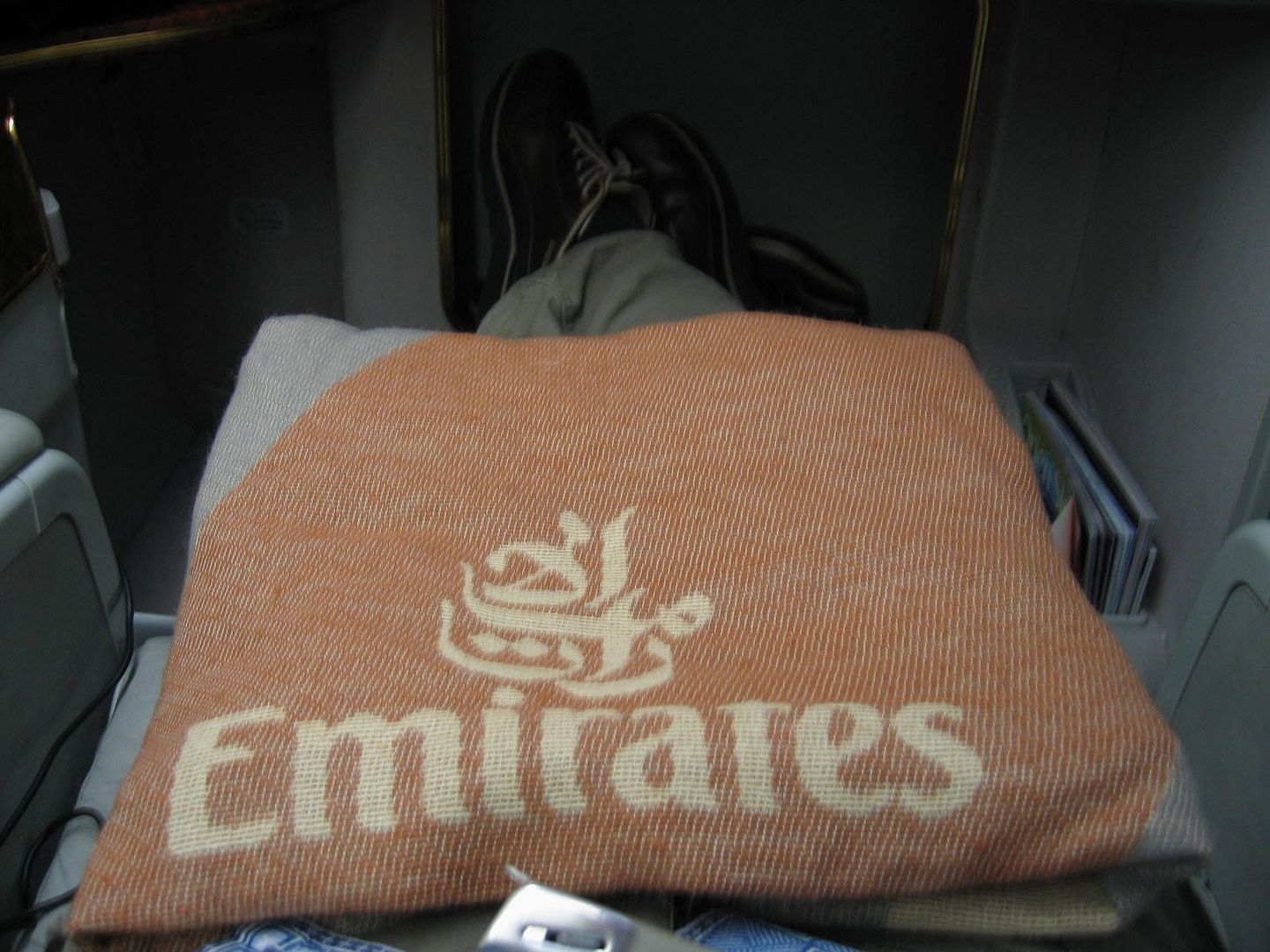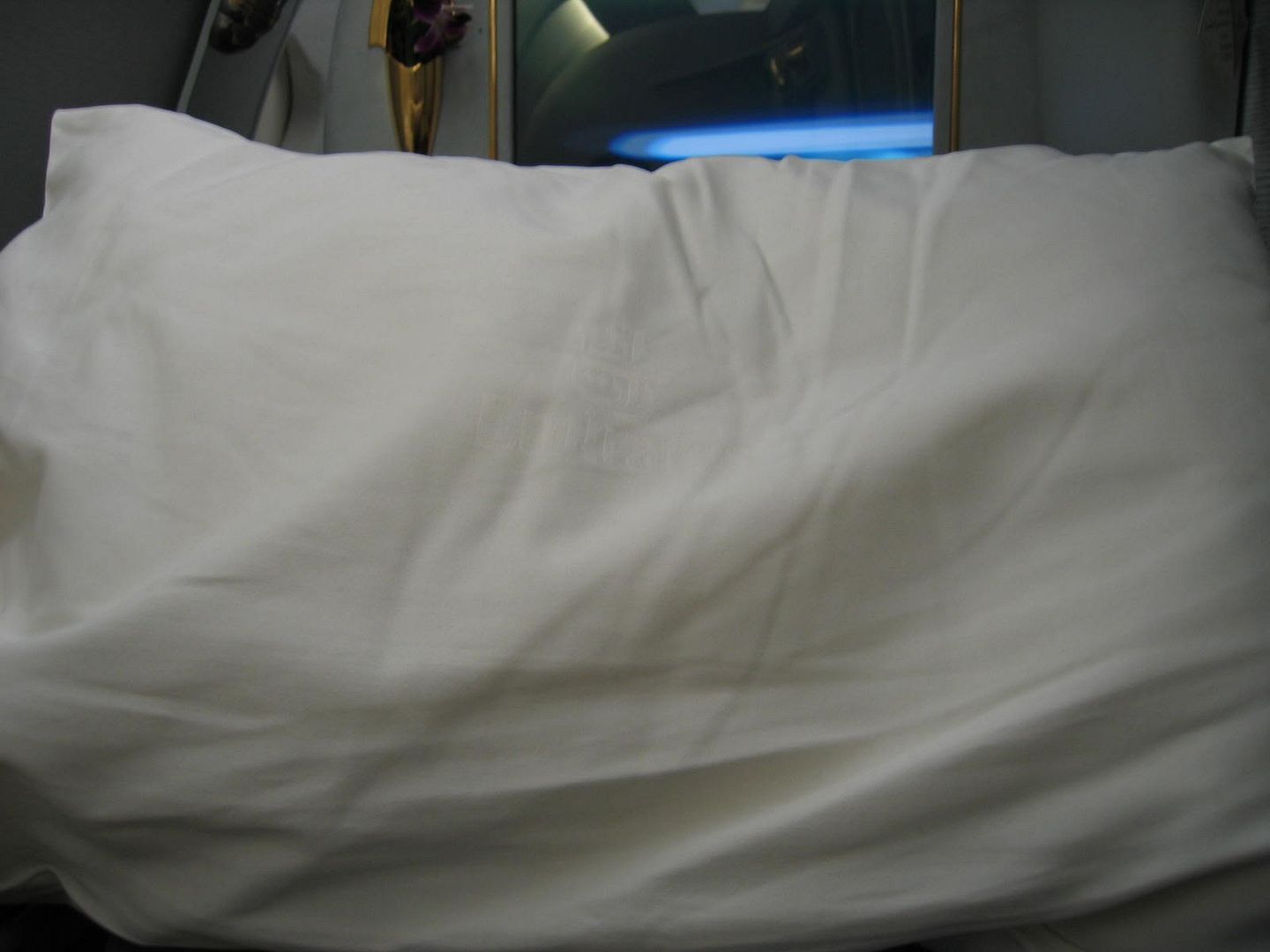 Vanity Mirror & Amenity Kit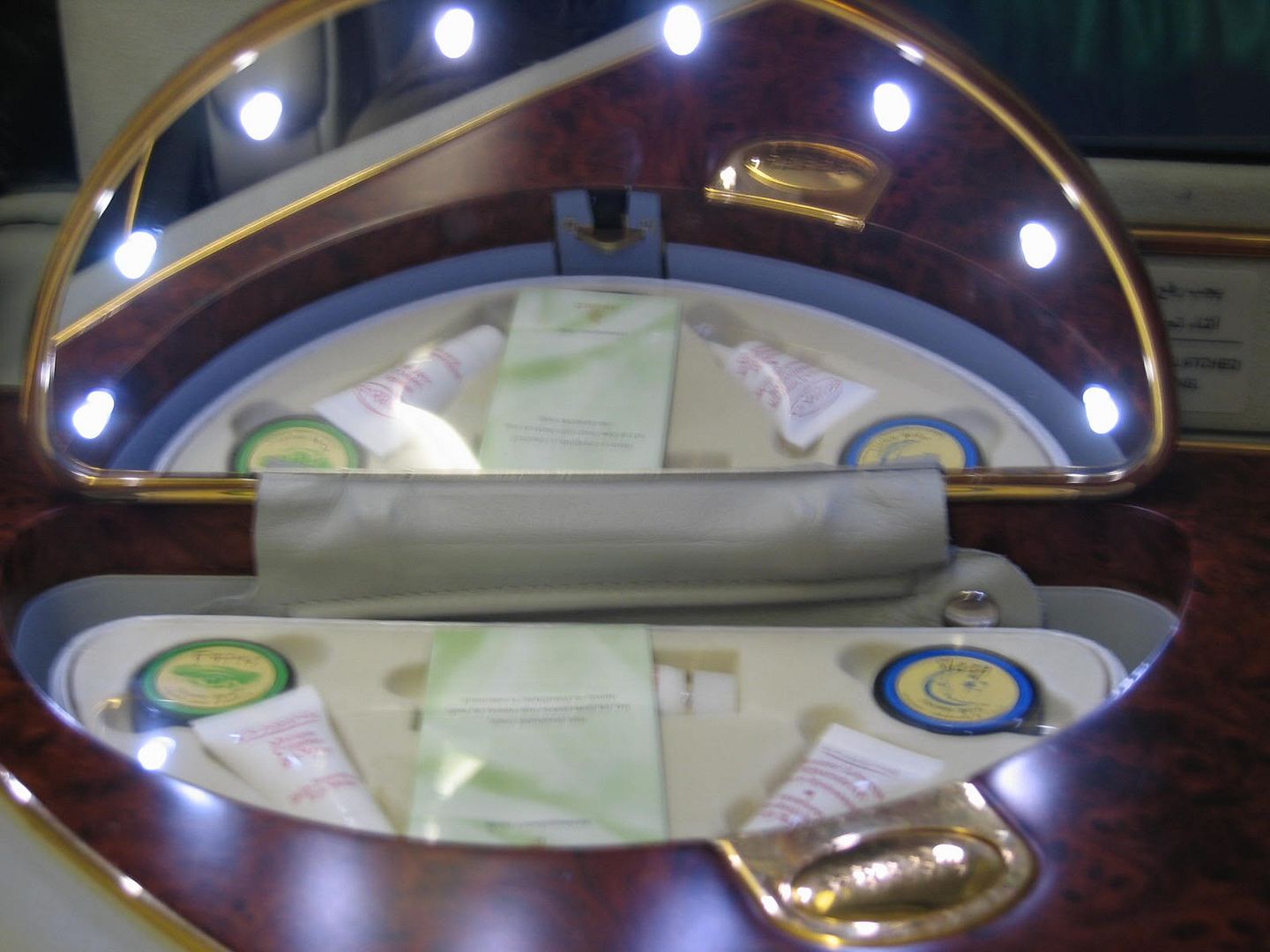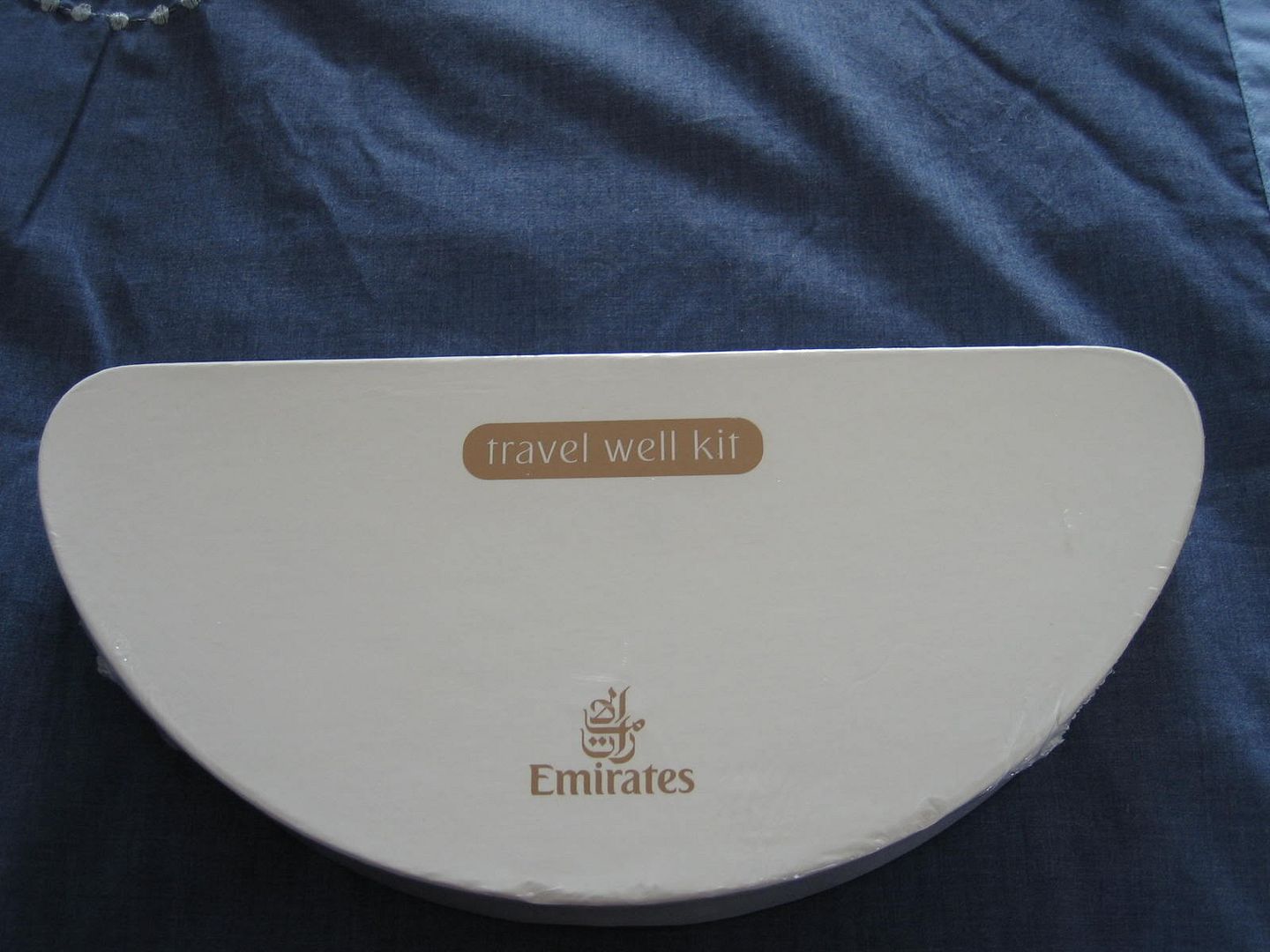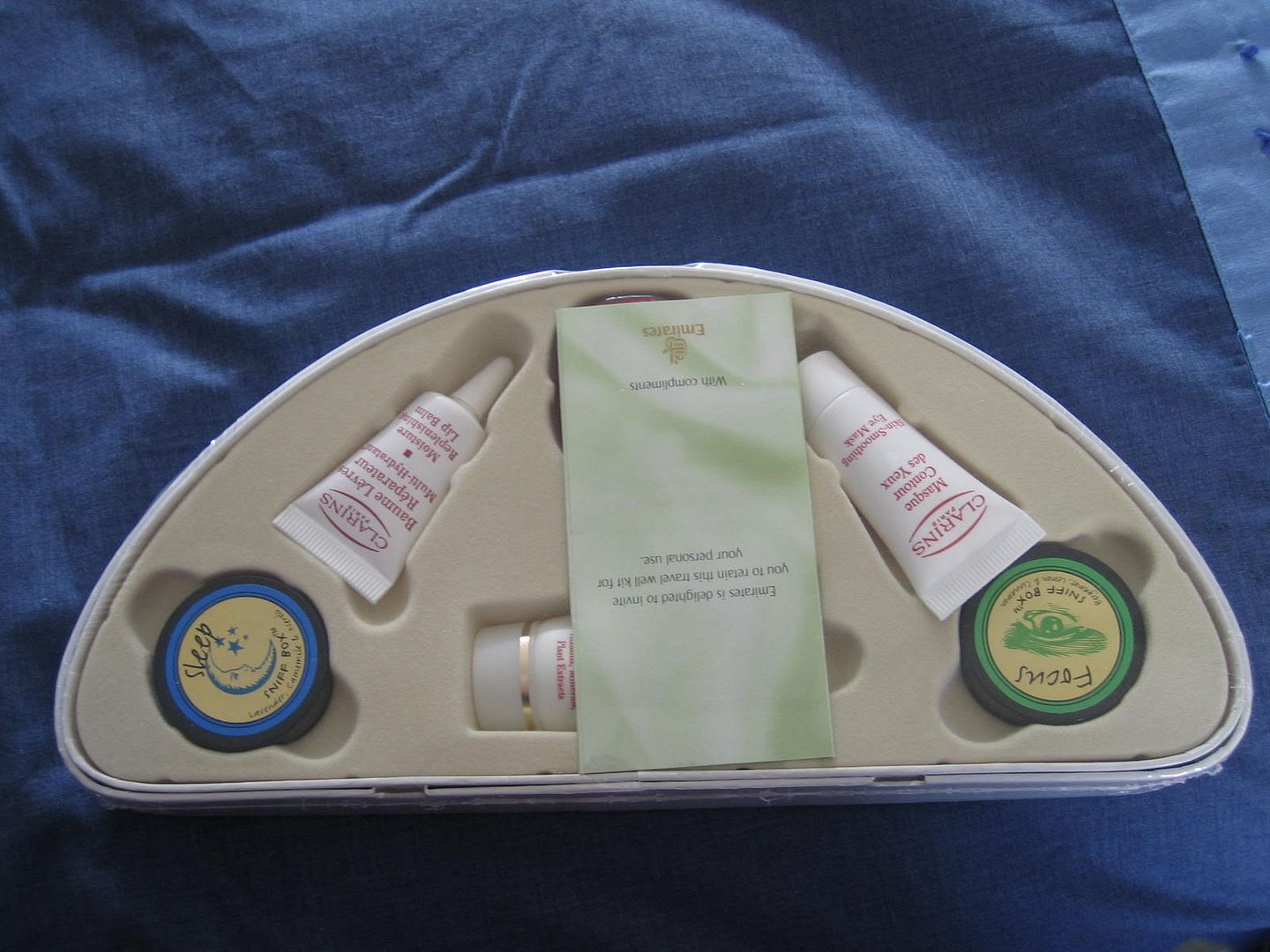 Meals today from Sydney to Auckland was a 'Brunch' Service:

Juices

Selection of fresh fruit juices
Orange, carrot and grapefruit

Appetisers
Assorted Fruits
Seasonal Fruits
Salad
Freshly prepared with your choice of dressing

Entrees
Australian Mixed Grill
Consisting of grilled beef tenderloin, lamb cutlet, veal sausage, sautéed field mushroom, slow roasted tomato, baby spinach and roesti potatoes

Omelette with Gruyere Cheese
Plain omelette, topped with grated gruyere cheese, accompanied with creamed spinach, red peppers, grilled veal sausage and roesti potatoes

Escalope of Chicken Parmigiana
Placed on spinach fettuccini accompanied with sautéed mushroom, broccoli, yellow squash and tomato ratatouille

Desserts
Fruit Pavalova
Light pavalova, garnished with fresh fruits

Beverages
Tea
Ceylon, China, Earl Grey, Camomile

Coffee
Freshly brewed or decaffeinated

Chocolates

Meal was served very quickly with the table cloth laid down first. I really appreciate the bread roll basket with an assortment of bakery in it. There was a croissant, 2 slices of white bread and 2 other bread rolls (no idea what their names were). Then a tray of the salt/pepper shakers, a small bottle of extra virgin oil with balsamic vinegar, a butter dish and a disposable size salad dressing was placed in front of me. The cutleries and a toothpick were clipped onto the napkins and placed on the right of the tray table. The toast was done well and not burnt and the bread rolls were warm. I could not spread ANY butter or try to even get the butter out from the dish itself. It was hard as rock! I ended up leaving it untouched and worked on the croissant and cupcake instead.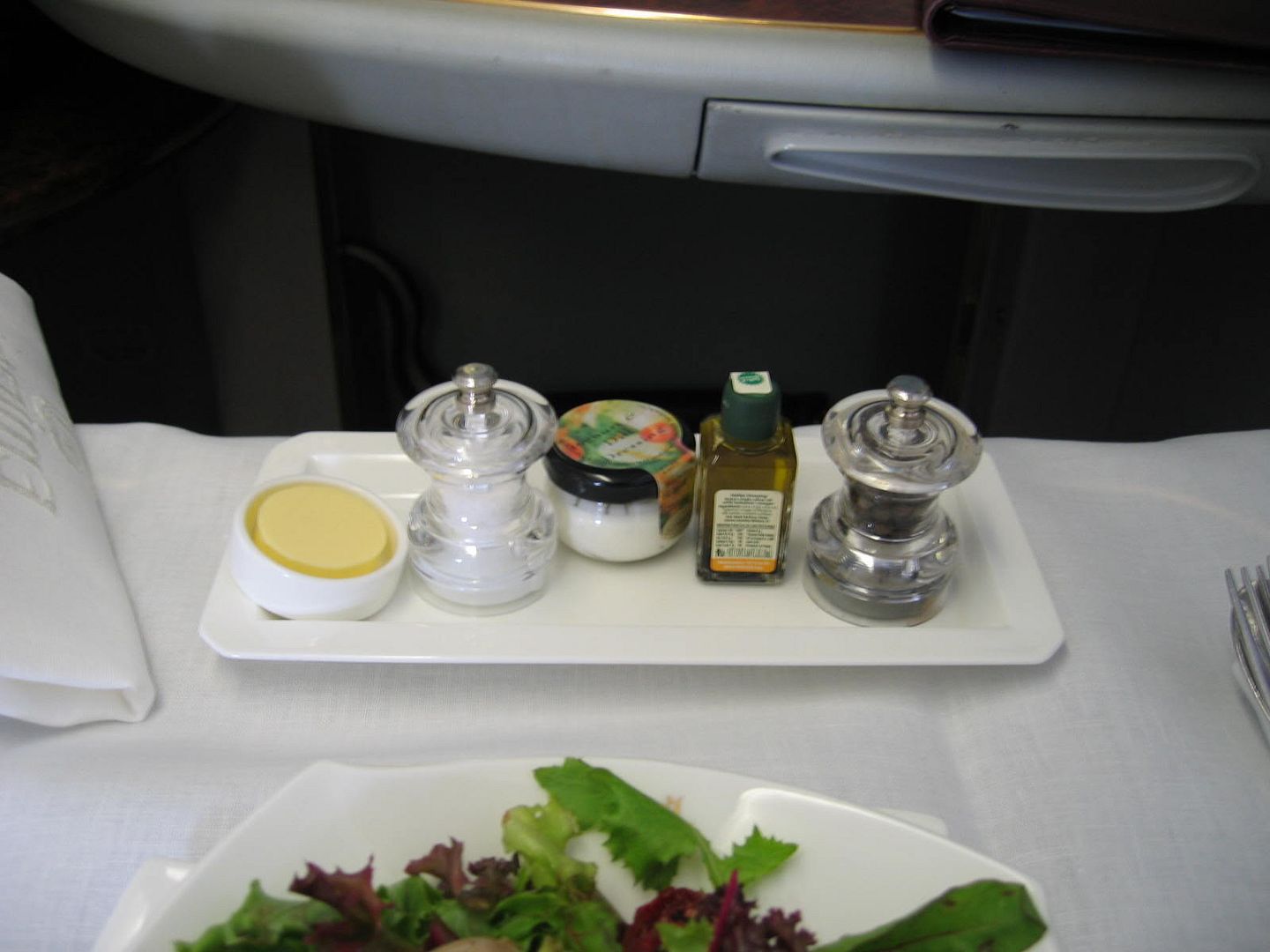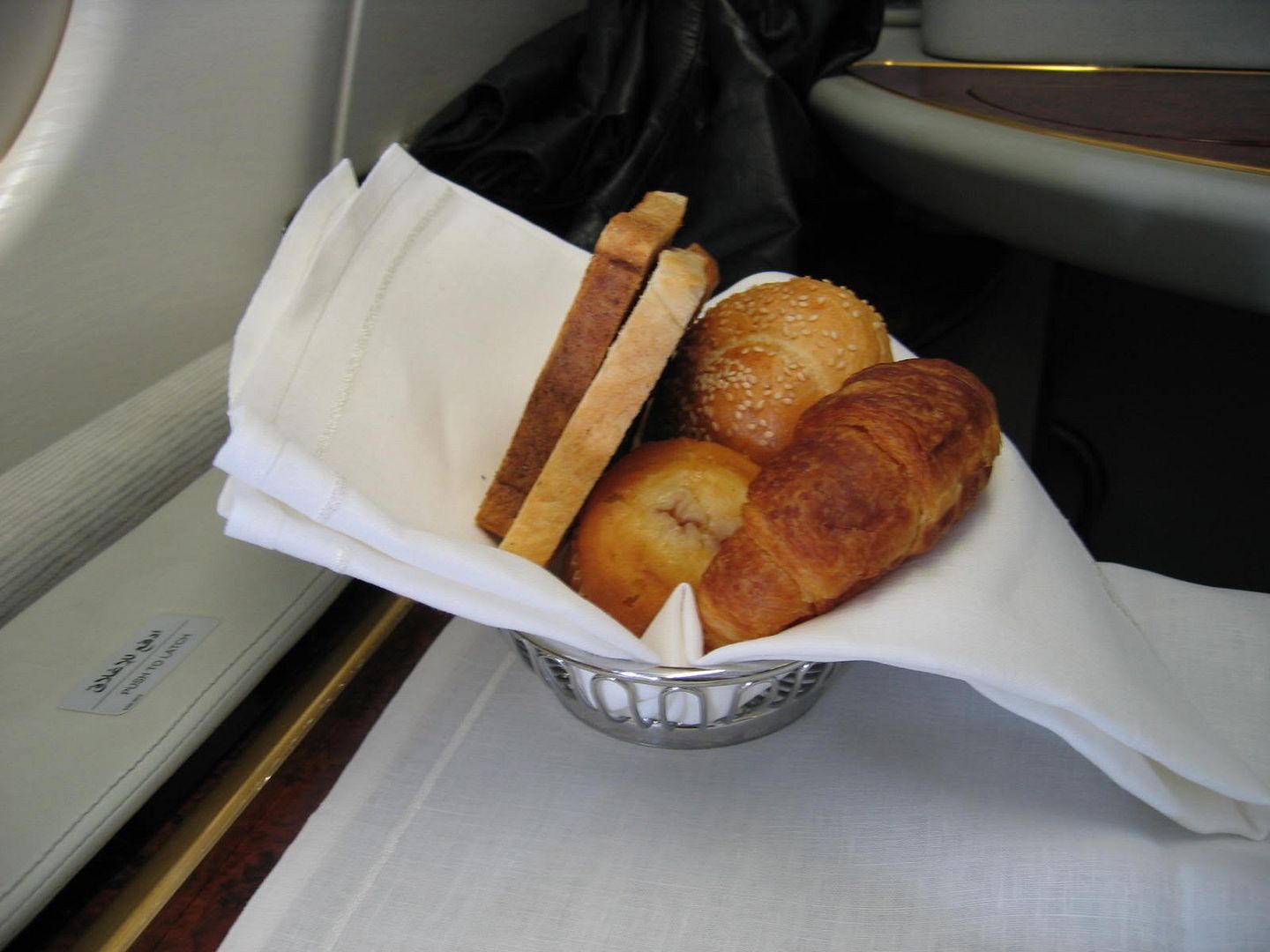 The salad was served next and it was fresh and of a good size portion. I found the salad dressing really appetizing and went really well with the choice of vegetables/mushroom.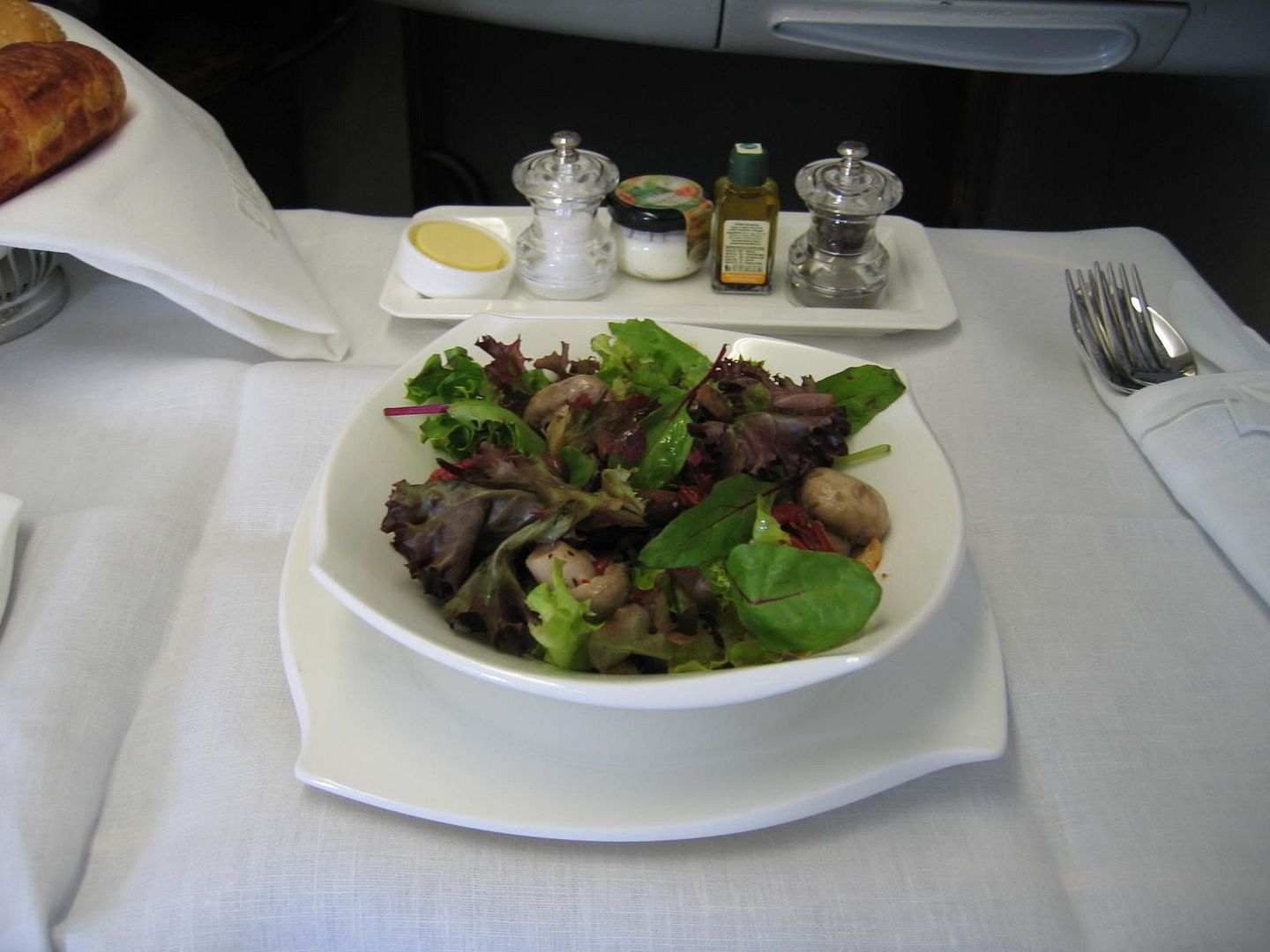 I ordered the mixed grill and the plate was placed in front of me after my salad plate was cleared. The beef and lamb were really tender and moist and the gravy went so well as condiments to the mashed potato, mushrooms and sausage. The vegetable and tomato were also cooked just right and had definitely retained its flavour in them, which were great accompaniments to the meat.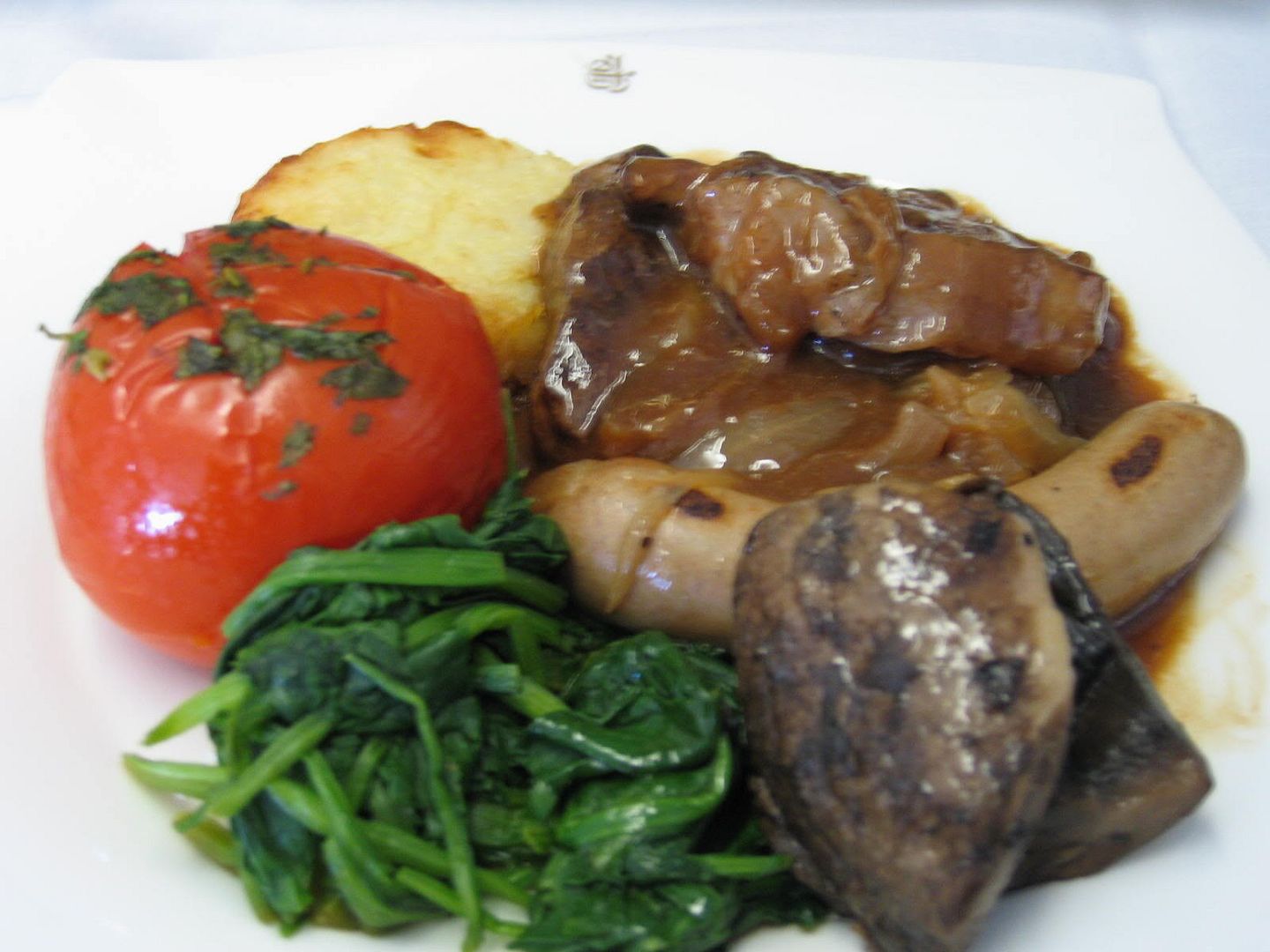 Finally, my café latte arrived with 2 cubes of sugar on the saucer. It was probably 2/3 full and 1/3 foam, leaving almost a mouthful of latte to sip but still it was great to see the espresso machine having a good workout!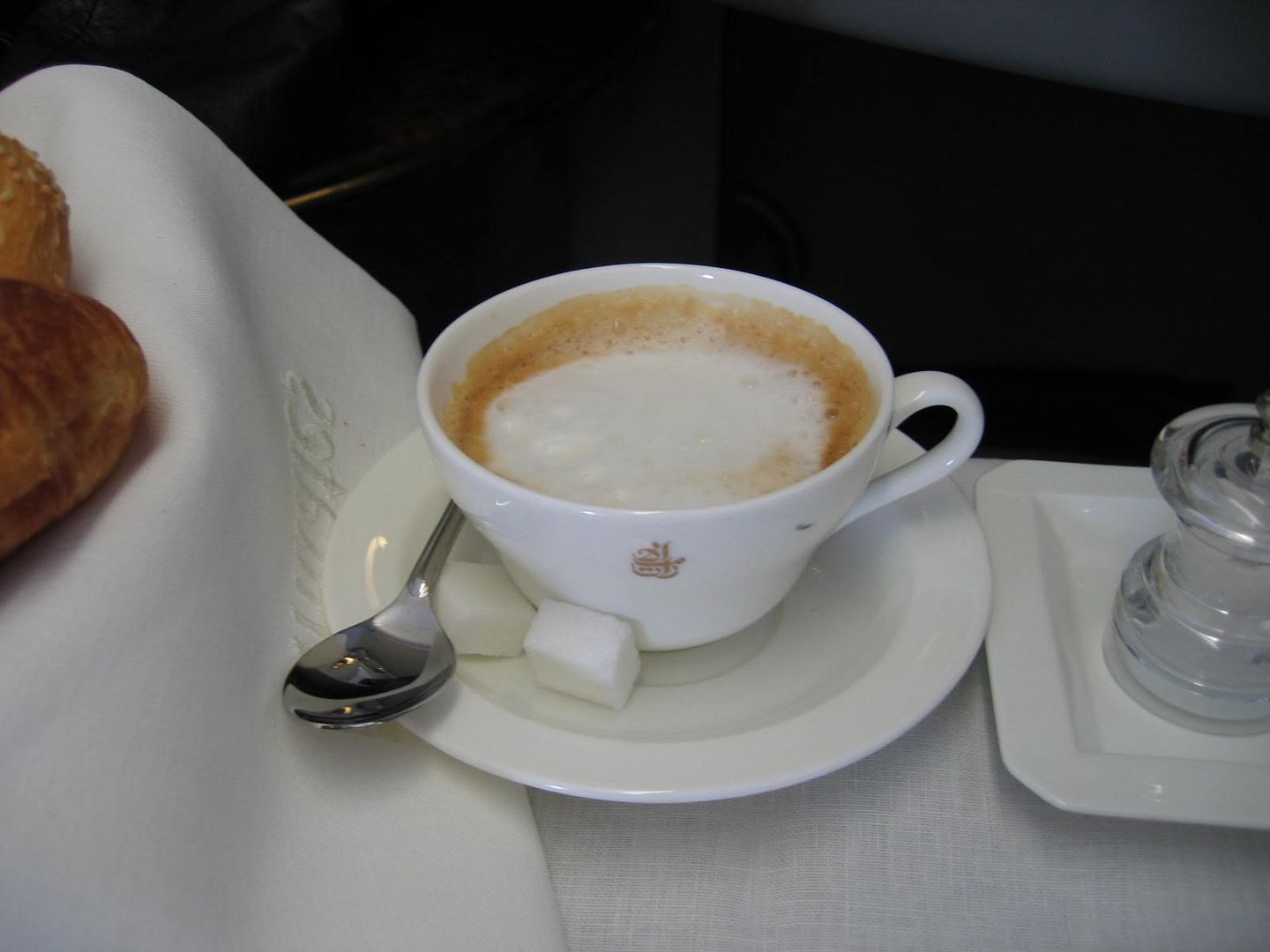 Lastly, the fruit pavalova came and it was a great dessert to round up the brunch service!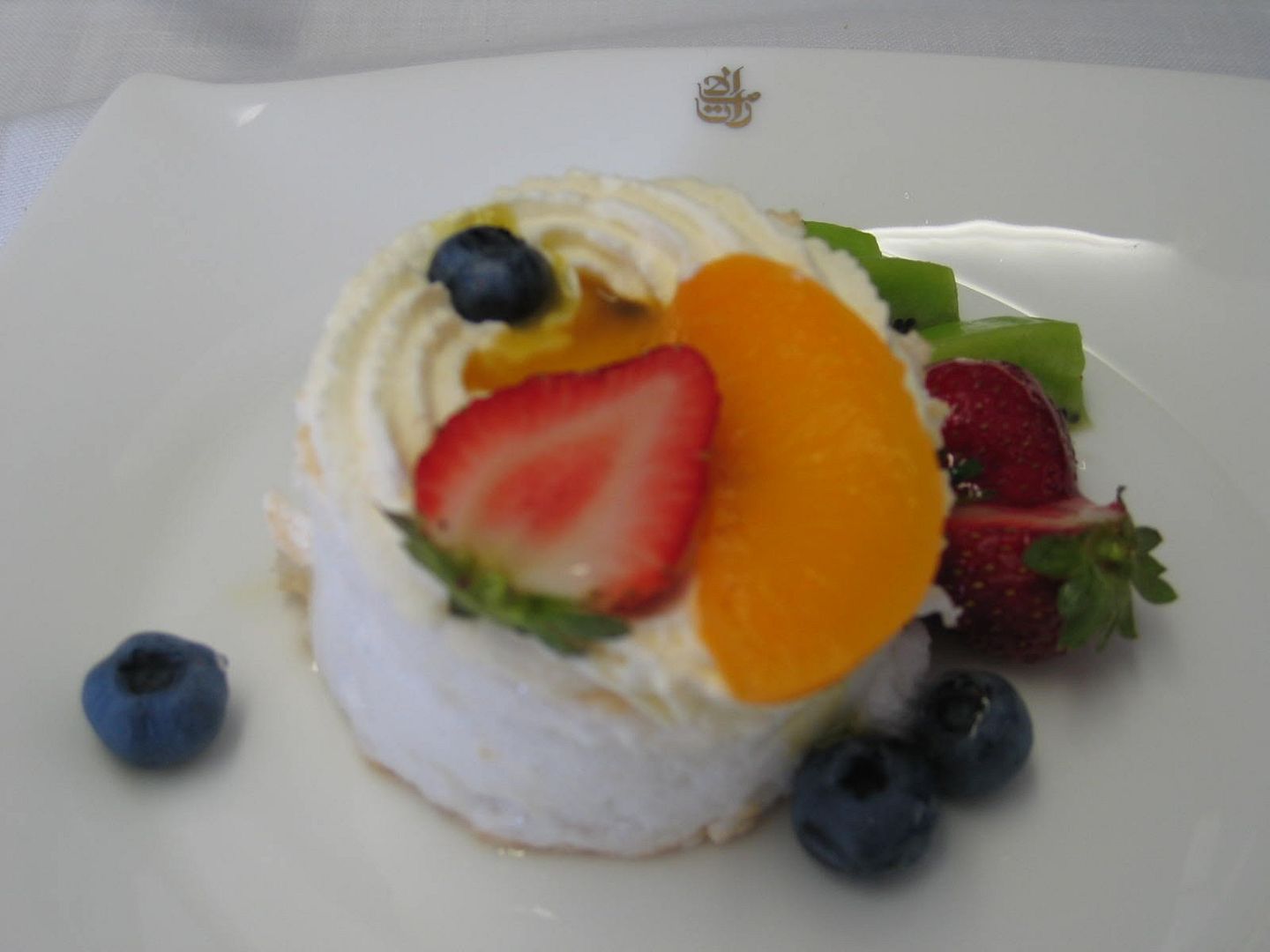 I though I was going to get some chocolates as it was on the menu and was quite looking forward to some pralines but wasn't offered any. Maybe they decided not to hand it out.
I had the opportunity to turn down the seat fully flat and closed the suite sliding doors. I certainly like the cushioning it had compared to the ones on SQ (even with the down-filled mattress laid on). I could imagine myself having hours of good sleep on those really soft leather cushions!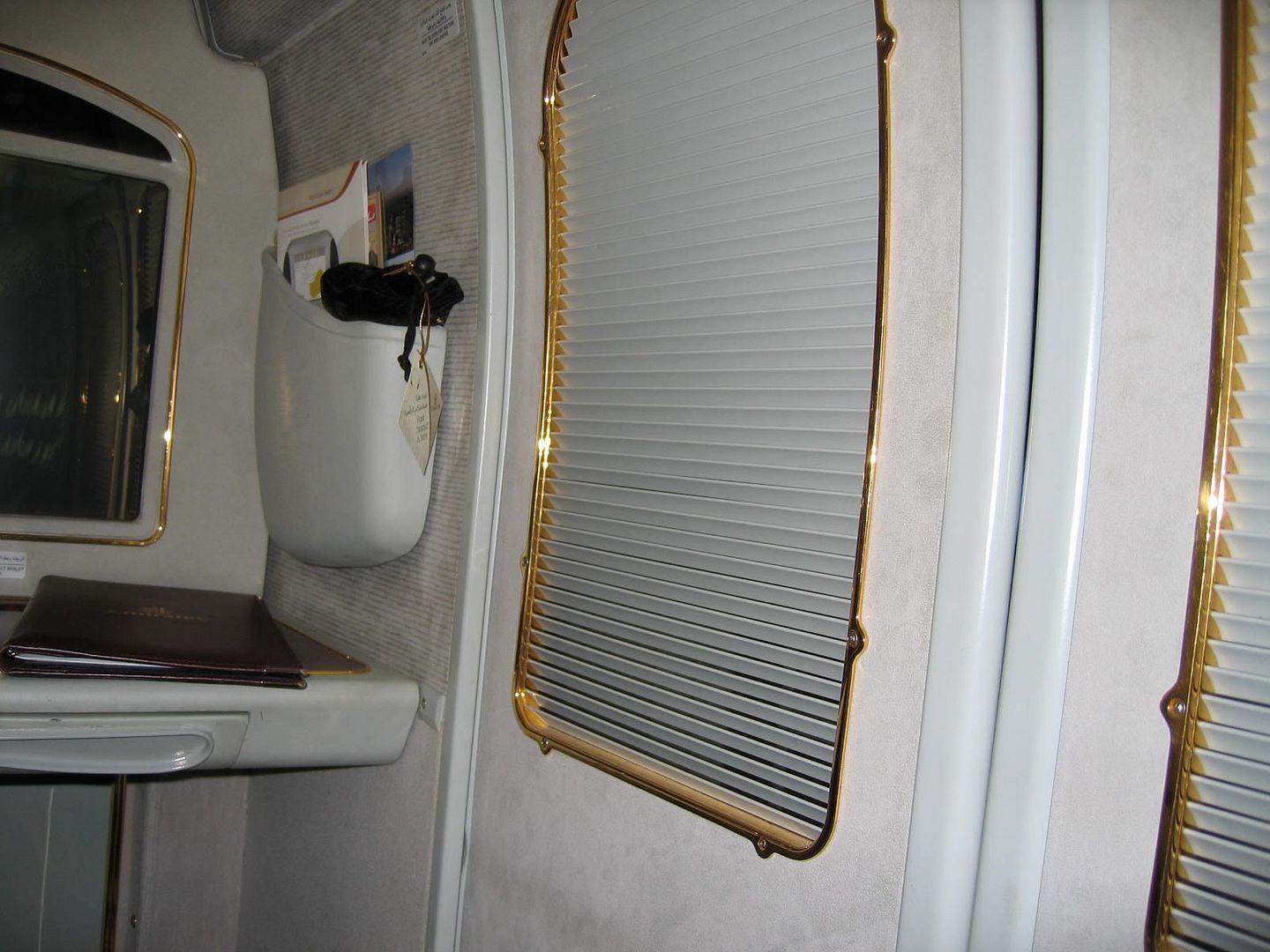 The mini bar was quite cool. There were cans of orange juice, peach tea, an empty glass, chocolate coffee and Evian water. The mini bar did not have a cooling unit to keep the beverages cold and it was kinda weird to drink 'iced' peach tea, at room temperature.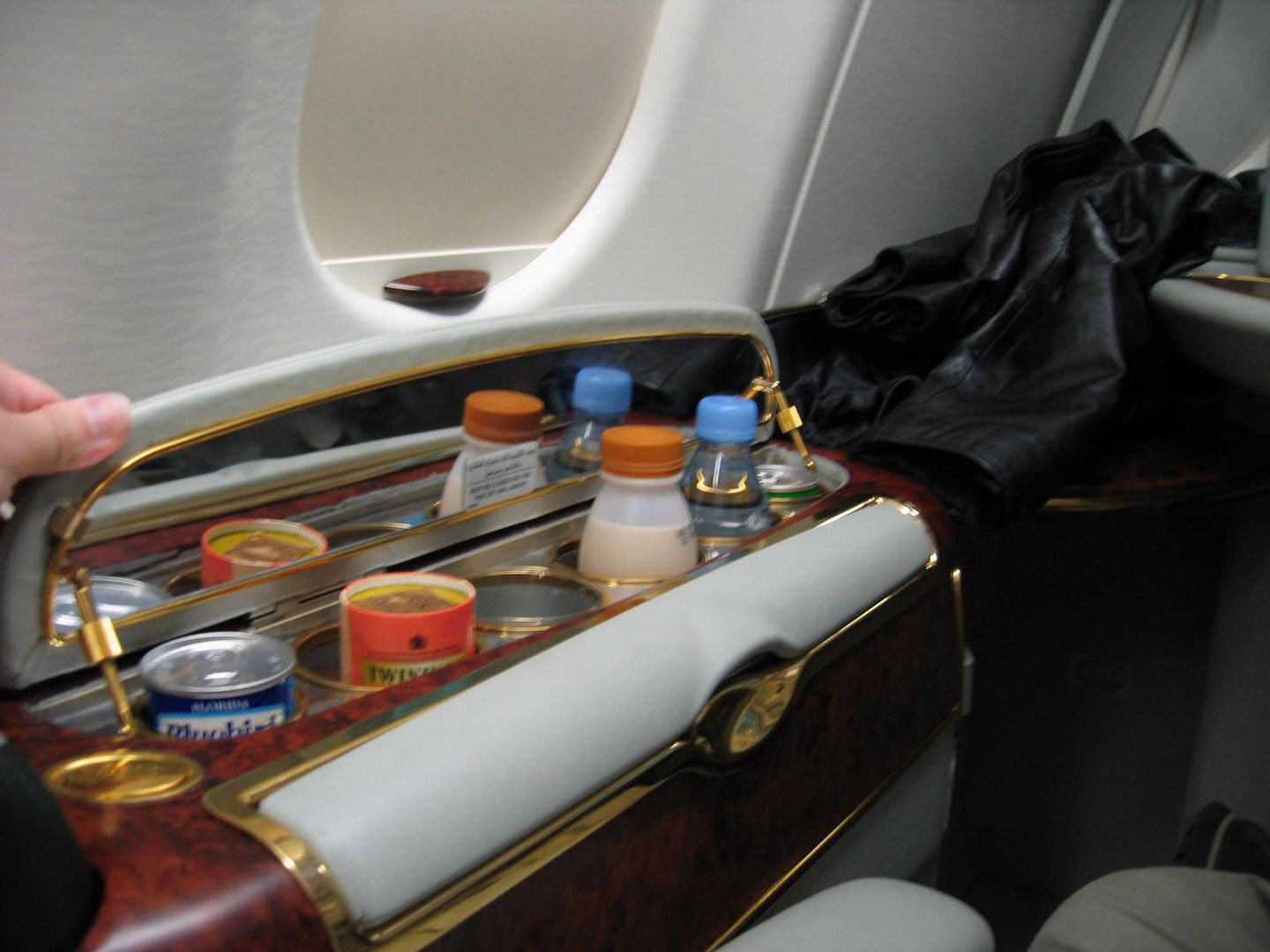 Photos on descent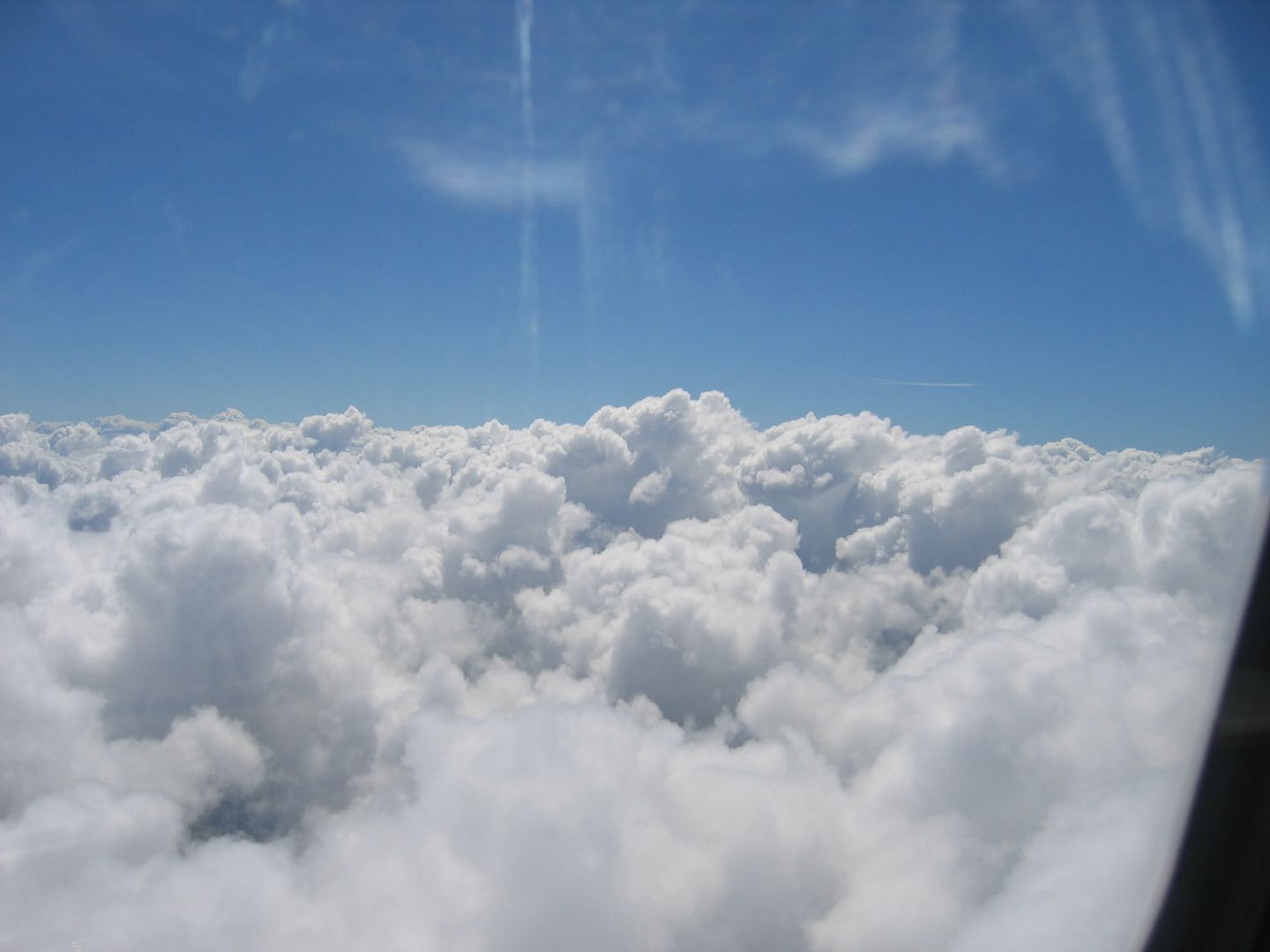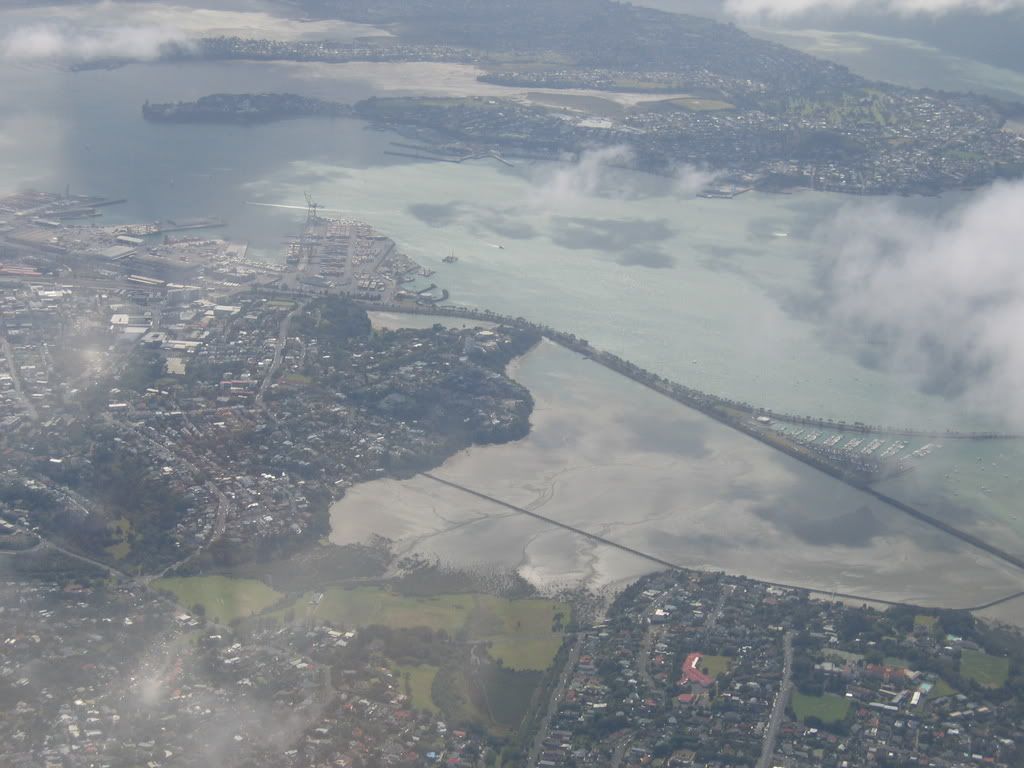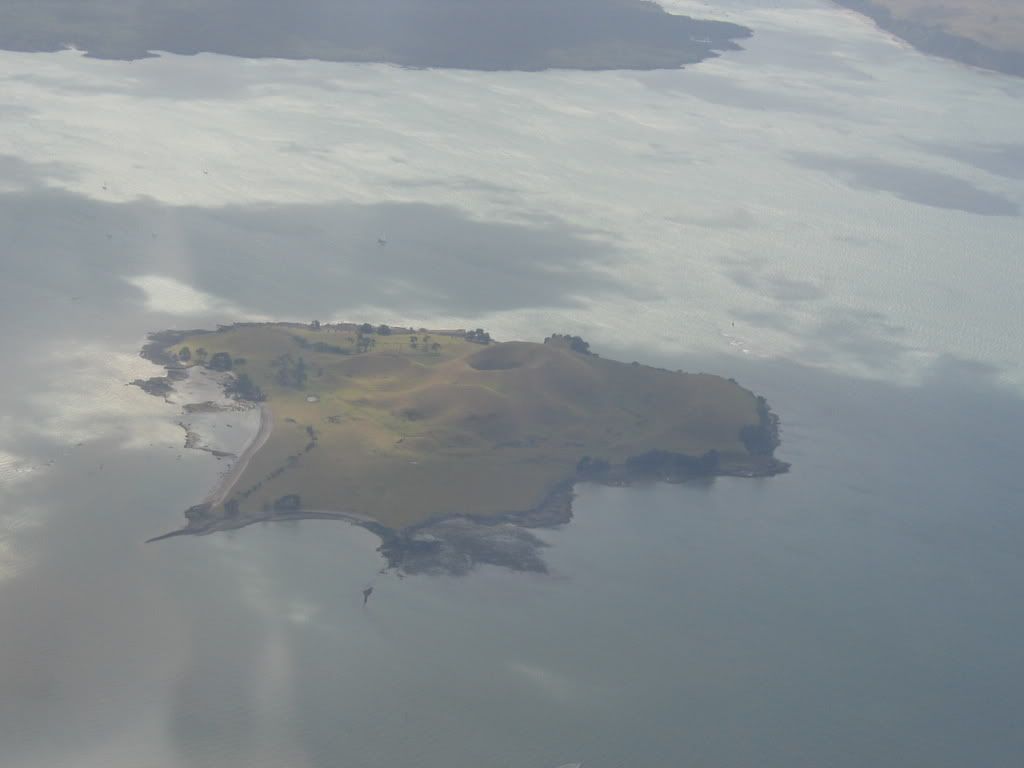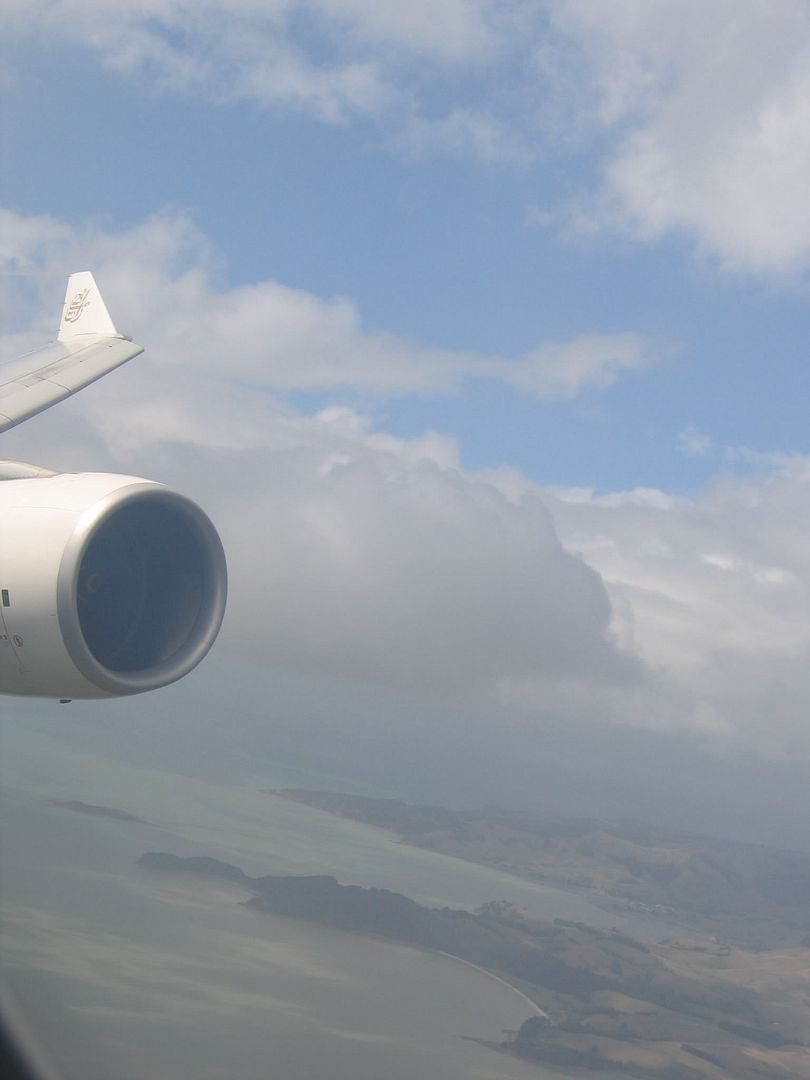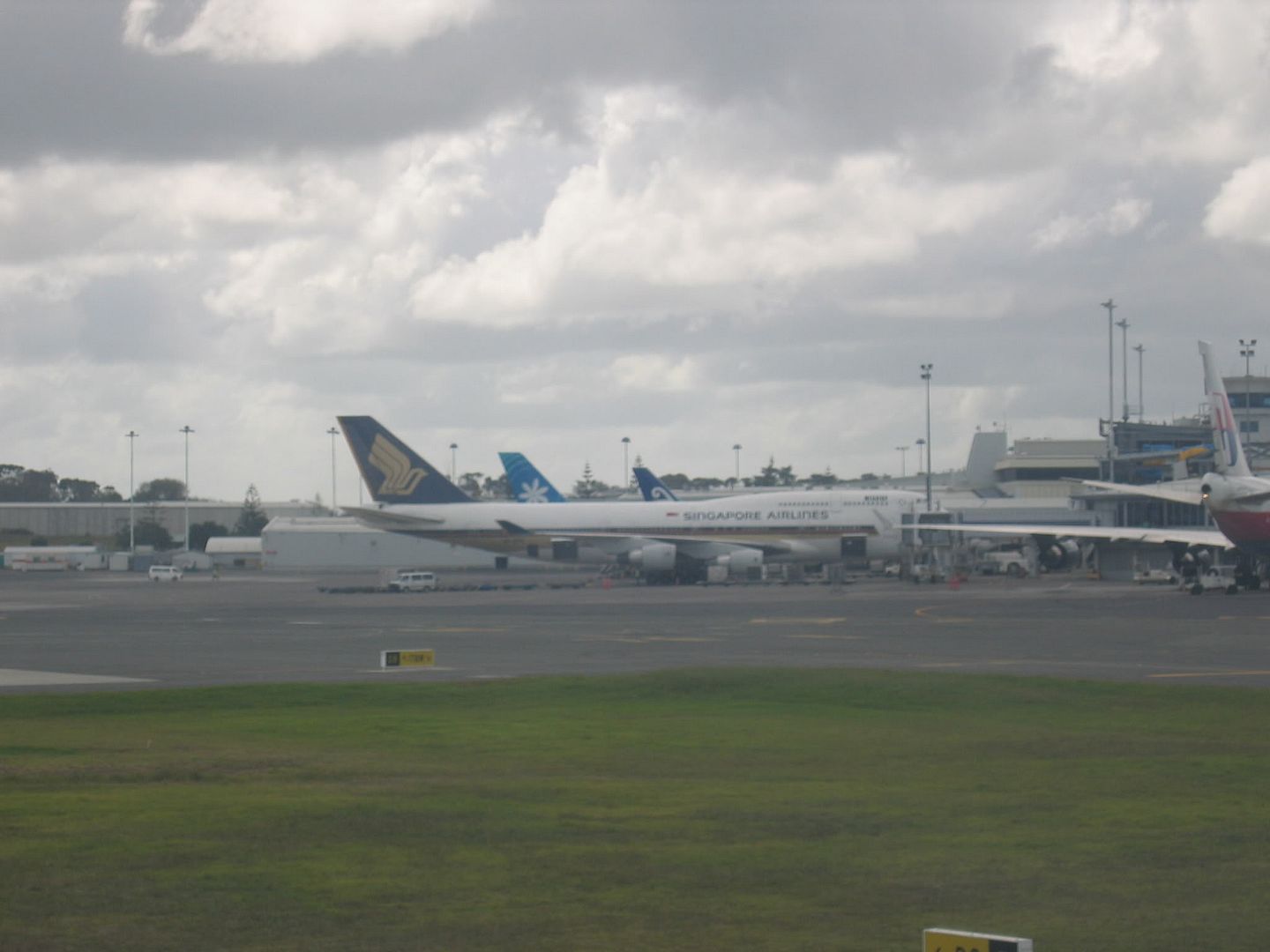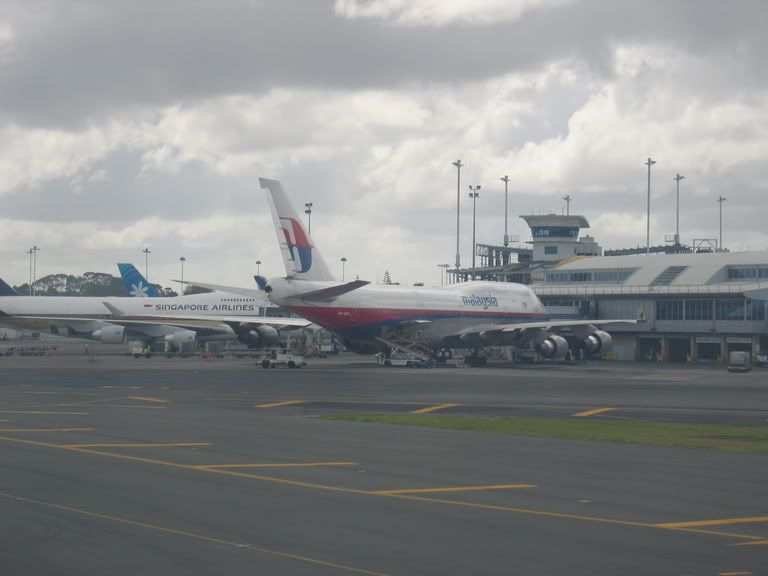 Overall, I find the service a tad cold and impersonal like they were not keen to give you a good run of their so called 'award winning service' as advised by the captain during his pre-departure annoucement. They certainly did not make me feel that it was an award winning service, let alone the service level I expected from their First class product. Questions were very abrupt and curt like they were there to just do the perfunctory routines, i.e. Predeparture drinks, collect glasses before takeoff, take meal orders, serve them, clear them and full stop.
I would say that the aircraft and seat rated highly in my opinion but the service I expected from Emirates especially in their new First class was sorely disappointing.
Food quality was of excellent quality and was very impressed with their quality and design of their china wares. It was a pity that I did not have the chance to sip Dom Perignon or any of their wines, or even try their caviar. Next time... maybe.
Check-in: 9/10
Food: 9/10
Service: 5/10
Ambience/Comfort: 10/10