Hey,
Weird you might say flying Air Malta to Paphos, Cyprus but this is actually one of the many charter flights they do from Manchester. This holiday was booked with Going Places, part of the MyTravel group, but the flight was going to be operated by Air Malta. I was quite pleased to be flying on them.
Enjoy!
March 27, 2005
Air Malta AMC/KM 4774
Manchester - International (Ringway) (MAN / EGCC) to Paphos - International (PFO / LCPH)
Airbus A320-214 9H-AER (CN 2178) Selcal B5-AK
Gate Departure Scheduled/Actual 1515/1516 Local Time
Gate Arrival Scheduled/Actual 2255/2255 Local Time
Seat 28A
MyAviation.net photo:


Photo © Andrew O'Dowd
9H-AER
in service with Spanish LCC Vueling.
Techie Details
Manchester Stand: 201
Paphos Stand: 8
Captain Name: M Newell (Based @ MAN)
First Officer Name: A Nocerino (Based @ MAN)
Passengers: 171
Blocks Off Time: 1416Z
Engines Started: 1417Z
Taxi: 1419Z
Diversion Fuel: 700
Reserve Fuel: 1600KG
Taxi Fuel: 200KG
Tanks @ MAN: 14500KG
Airborne Time: 1430Z
Estimated Arrival: 1900Z
Cruise Flight Level: FL330/350/370
Cruise Mach/TAS: 0.78/450
Cost Index: 31
Cruise N1: 81%
Takeoff Runway: 06L
Landing Rwy: 29
Estimated Flight Time: 4 hours 24 Minutes
Nautical Mileage: 1940 nm
Trip Wind Component: Plus 15kts
Trip Fuel: 10900 lbs/kgs
Taxiways For Departure: D-A
Routing
EGCC - HON UL186 BIG UL9 KONAN UL607 AMA51 UM149 DETEU UL603 VAL UN131 LATSA UL617 RAXAD UN128 FSK UG18 MES UL609 RDS UM601 DASNI W195 TOBAL - LCPH
Takeoff Data
Runway: 06L
Wind: 040/8kts
QNH: 1008
Takeoff Flaps: 1+F
FLEX TO Temp: 49
Takeoff N1: 89.6%
V1: 150 VR: 152 V2: 153
Clean Speed: 230 knots
Takeoff Fuel: 14300 lbs/kgs
SID: LISTO 1S
Trim: 0.5 DN
Weights
Takeoff Weight: 72300
Landing Weight: 61600
Max Landing Weight: 66000
ZFW: 58100
Landing Data
Elevation: 41 feet
Runway: 29
Forecast Wind: 280/11 kts
QNH: 1020
Clean Speed: 207 kts
Autobrakes: Non used, manual braking
Flap Setting: Full
VAPP: 134
STAR: Non used, direct arrival
Arrival Taxiways: A-B-C-H-1
Actual Fuel Burn: 11000 kgs/lbs
Alternates
LCLK - Larnaca
LGRP - Rhodes
Charts
Our actual departure out of MAN (SID), a LISTO 1S departure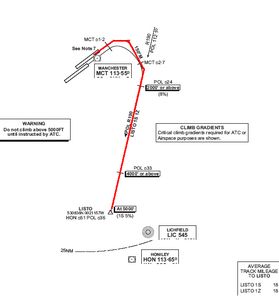 Some of you probably won't understand some of that, if you don't just ask and I will try and help you out.
Anyway let's get on with the trip report! We arrived at Terminal 2 at 1145 courtesy of my Grandad. We had a quick look at the departure screens and it said they would be opening at 1315, an hour and a half away. We were not too pleased about that, quite a few people were already waiting at the check-in.
Anyway we decided to check-in; this process took about 40 mins. Other flights checking in were the Syrian flight to Damascus, PIA flight to JFK and a First Choice flight to Dalaman.
While we were checking-in, I managed to get a quick shot of our queue.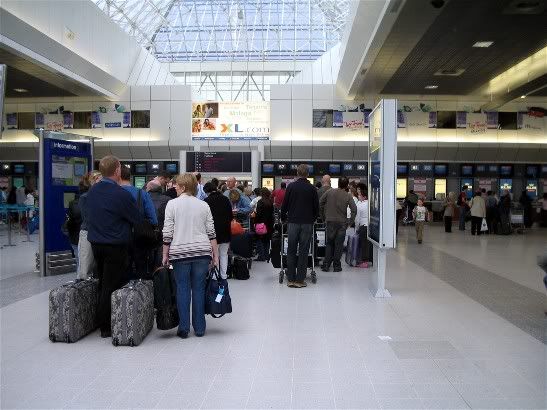 And one of Manchester's nice looking LCD departure screens. Here you will be able to see some of the flights going out, but stupid me took the photo when the destinations weren't showing!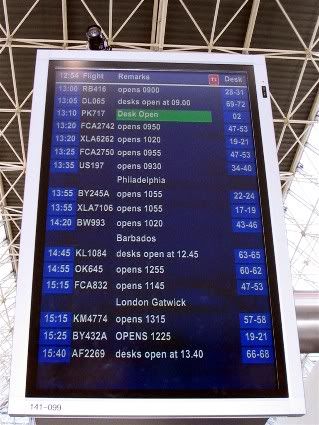 We soon got to the front and we requested a 3-1, because there were 4 of us. So we got allocated seats 28 ABCD, obviously I was going to occupy the window seat! We got handed some boring plain Globeground boarding passes, I have quite a few of these now. I was hoping for some Air Malta ones.
Here is mine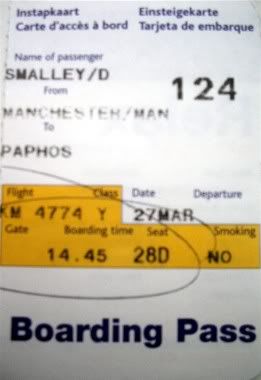 We went straight through with no problems at all really, and began to have a look around the terminal. To be honest it looked like it was falling apart. They seem to neglect Terminal 2 here @ MAN. I had a walk down to the far left end of the terminal, and I saw my aircraft. It had just arrived from Innsbruck; I knew it was going to be 9H-AER the night before. This aircraft had just come back into Air Malta service, after spending a period of time with Vueling. The aircraft doesn't carry the full Air Malta livery yet.
I fancied something to eat so I got my self a healthy Burger King. I then snapped a Virgin B744
G-VROY
"Pretty Woman" getting ready to push back for MCO, late as usual!
Sorry about the poor quality of this shot.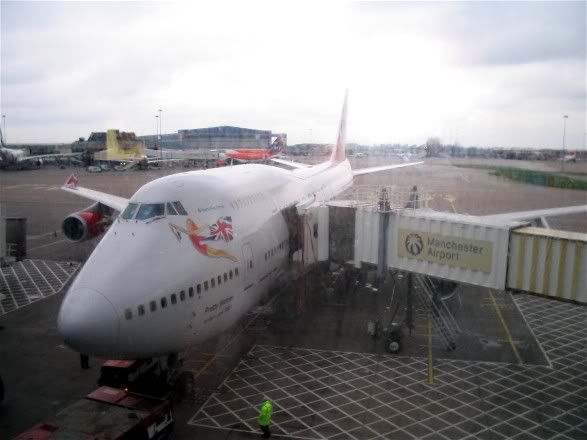 Nothing really much interesting was happening movement wise, didn't see the Syrian, must have been late.
Soon it was time to head to our gate 201. This is the gate right at the far left of the pier. Where you have to board the aircraft via steps. Quite a few passengers were already here. First Choice's flight to Dalaman was also getting ready to board.
Passengers seated on rows 15-30 were called first to board. That meant it was time for us to board. We handed our boarding cards in, and made our way down the stairs that led to the ground floor level. At this point it started to rain! I got an excellent view of our aircraft
9H-AER
, and also the First Choice B752
G-OOOG
, which was still in old livery (I think the only one left?).
We made our way up to the steps, and we were greeted by the cabin crew. I had a quick look into the flightdeck, and noticed that this aircraft (Delivered in Feb 2004) didn't have the LCD screens; it had the normal CRT's. I think this is because the aircraft is owned by GATX Leasing.
I sat down in my seat, and took a pic of the view outside.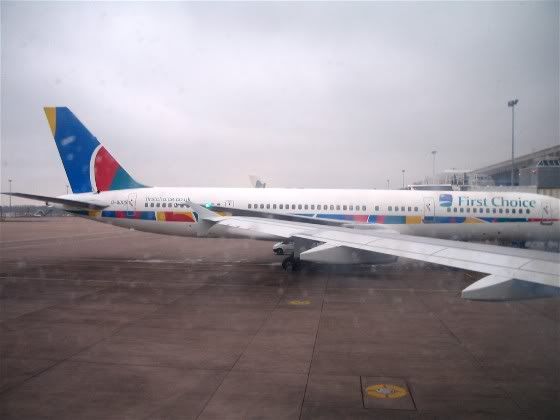 I also had a quick look inside the seat pocket. No Air Malta in-flight magazine, just a duty free guide, so no reading material.
I also noticed that there was going to be no in-flight entertainment, this aircraft was not fitted with it! That is a bit of a shame on a 4 hour 30 min flight! The seats were comfortable, but very high in length. And the seat pitch wasn't great either, my Dad was not too happy!
The Captain introduced himself, I noticed he was Australian. He said the flying time would be around 4 hour's 30 mins, he said that there were a few clouds around the area, but he mentioned that he would try and get out of them as soon as possible. Most of the passengers had now boarded, doors were shut, and we began pushing from stand 201. Safety demo had also started at this point.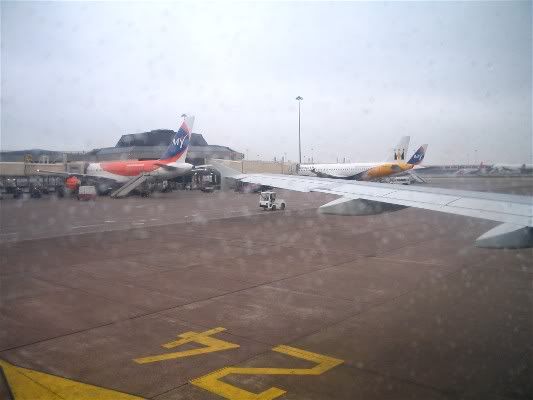 The number 2 CFM 56 was now beginning to slowly wind up. Same process was repeated on the number 1 engine. Both engines had now started, and Flap 1 was selected for takeoff.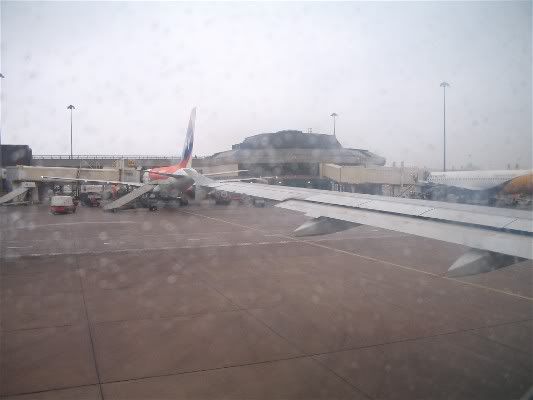 A little bit of thrust was applied to get us moving, and then the flight control checks was done. As I was right at the back, I could see the Elevator being checked also which is unusual to see from inside the cabin.
We then taxied pretty fast past the viewing park, but I was on the wrong side to see it. The First Choice B752 was now taxing behind us. We holded for a MON B752 to depart, and then we slowly lined up on runway 06L.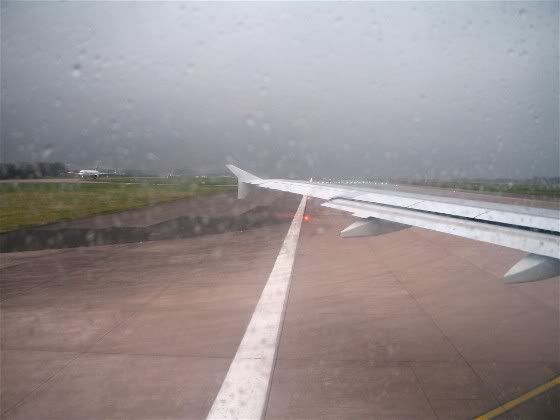 We were going to perform a rolling takeoff, as we lined up with the runway centreline the thrust was stabilised for about a second, and then the thrust levers were put into the FLX gate. It was a pretty powerful takeoff, even though we used reduced thrust.
Here you will be able to see the viewing park.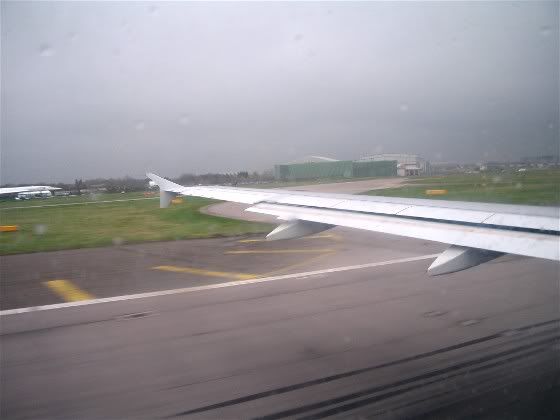 We started to rotate just past half the length of 06L.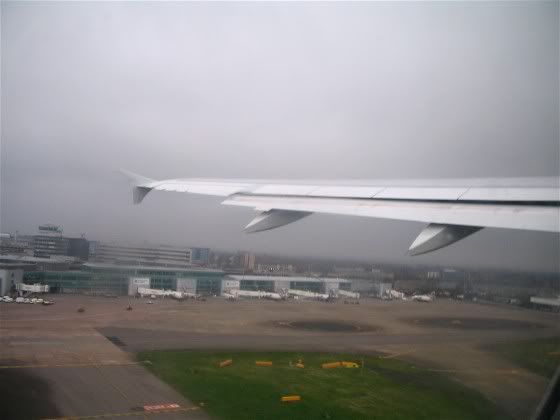 At this point the gear was selected up. We maintained a pitch up attitude of around 18 degrees.
Passing over Wythenshawe.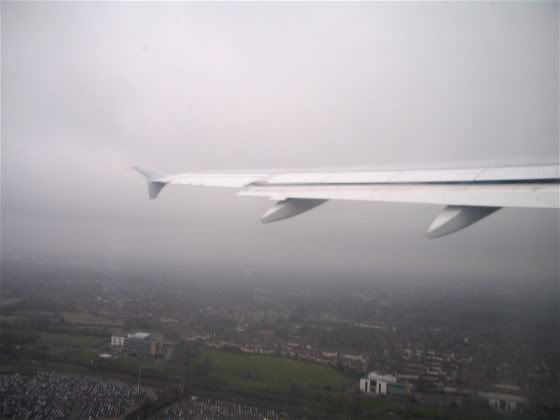 At this point we hit the cloud base at around 800 feet. Bit of Aileron was being used to keep us on a level track.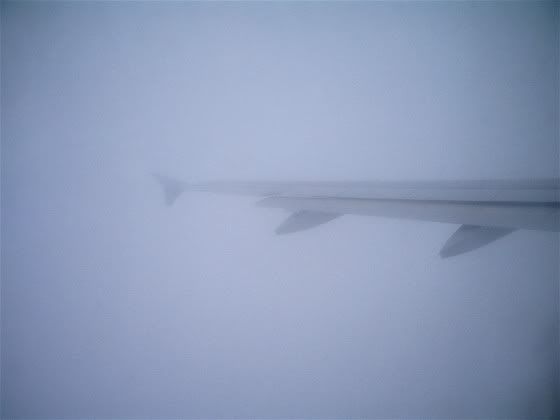 At 1.2 miles we started a right turn on to Track 150 degrees on the LISTO 1S departure. We were passing 1500 feet, at which time the engines were retarded into the CLB gate, which made the nose pitch down slightly. At which point the Captain was still manually flying the aircraft, which is good I think!
Flaps were now retracted into the UP position. AP1 was now flying the aircraft.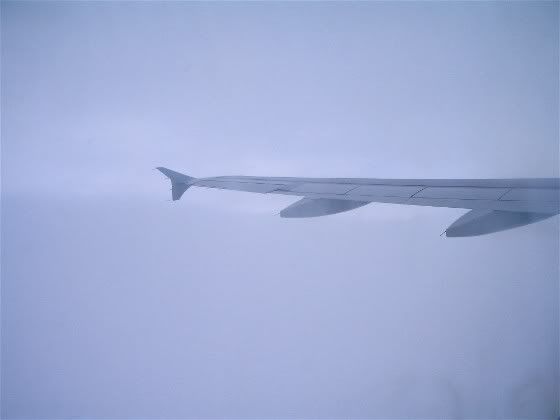 It took us a good 10 mins to clear the cloud, but it was surprisingly not bumpy at all.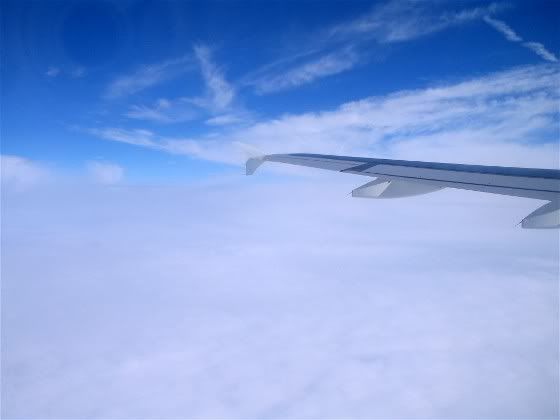 Seatbelt signs were now turned off by the Captain, and as usual everyone decided that they desperately need the toilet! We were now well into our initial climb of FL330. At this point the Cabin Crew said they were going to be offering drinks and snacks.
We had now pretty much had levelled off at FL330. It took us about 30 mins to climb to this altitude. Typical for an A320.
The First Officer then spoke to us, but he was hard to understand. I think he was just telling us some route information.
I noticed that there was a lot of heading changes on the early part of the flight; this would have been to avoid possible turbulence.
The route today would take us over Norwich, over Cologne, into Southern Germany, passing Munich, over the Austrian Alps, passing over Slovenia, Croatia, Bosnia and Serbia, then into Macedonia, passing over Eastern Greece, then passing over the many Greek islands.
Southern Cyprus bound flights are not allowed to fly directly over Turkey, so they have to fly along nearby the western coast of Turkey. From there the descent will start into Paphos. This also involves passing directly over Rhodes, which is actually the secondary alternate on this flight.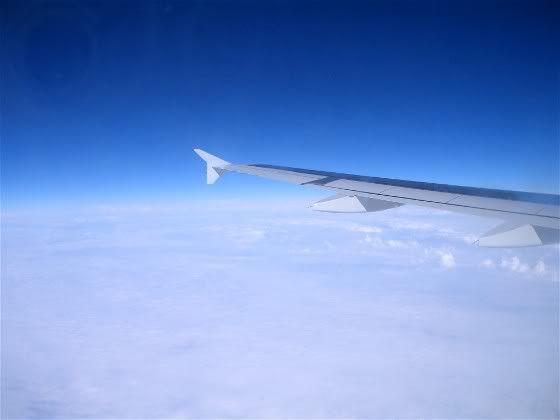 I then thought I would take a shot of the cabin of this A320. Although this aircraft was barely a year old, it was looking rather tired and tatty. Shame really.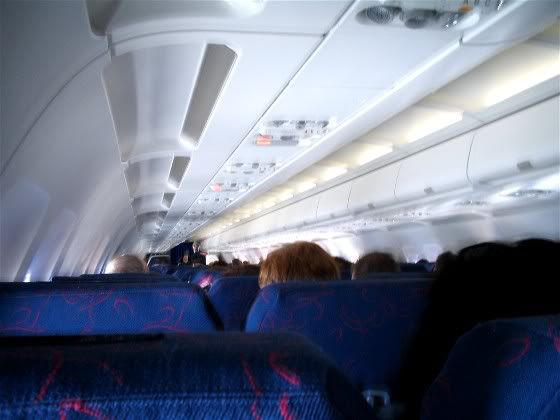 I thought I would buy a drink of Pepsi, because I'm so sad I decided to take a photo of it!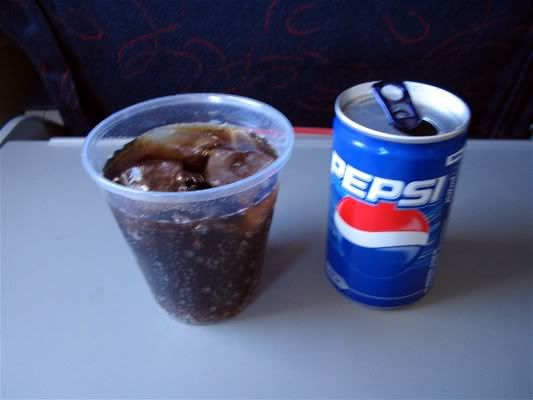 I also decided to take one of this rather nice looking flight attendant!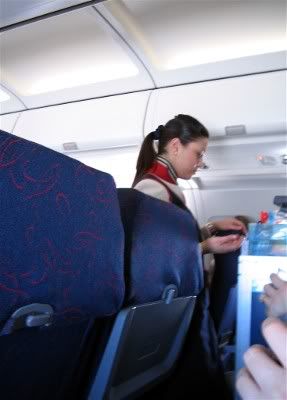 Nice uniform don't you think!
During this one of the cabin crew announced that one other member of the crew was getting married later this week, and to wish her good luck. Not many passengers actually clapped!
At around an hour into the flight we made a step climb to FL350, this was to avoid weather.
Nice CB below.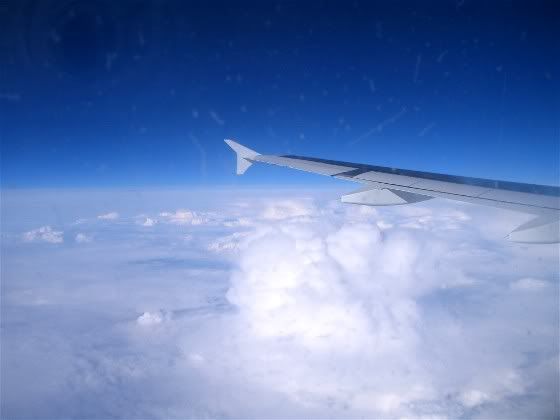 I could begin to smell Chicken, so I knew the meals would be coming down shortly. Being right at the back we got our meals fairly quickly. I reckon we were served the meals somewhere over Western Germany.
Here it is!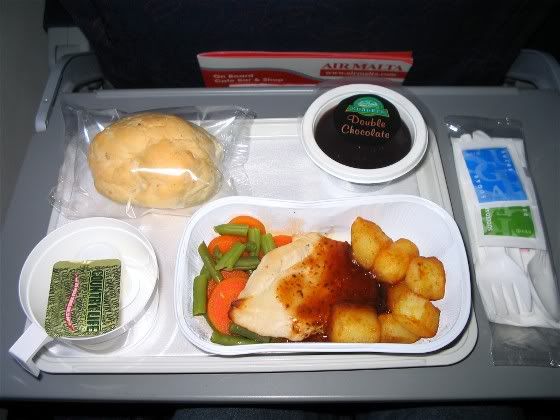 Quite a nice meal, with it came a choice of either Tea or Coffee.
Once I had finished my meal over Munich, I noticed we were coming into the very beautiful Austrian Alps. I managed to get some very nice shots of them, but at this point the window decided to ice over as you will see! This was a very spectacular to see at FL350.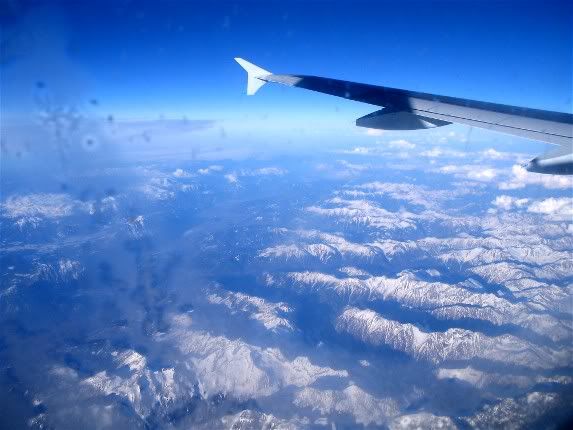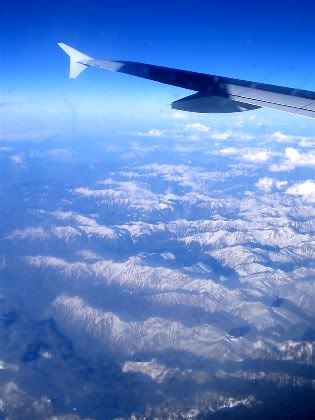 Meal was then collected, and the sun was now beginning to set. After this we didn't see the cabin crew until after landing! There was nothing worth purchasing in the in-flight shopping guide; they didn't sell models or anything like that.
My entertainment now was watching the sun set, over Slovenia. At this point we made yet another step climb, up to FL370. Again this was to avoid high clouds, they were about FL360. We never saw the ground again until we hit Cyprus!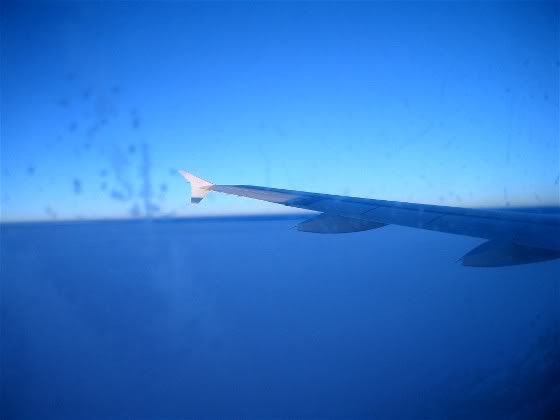 Weird lighting effect here!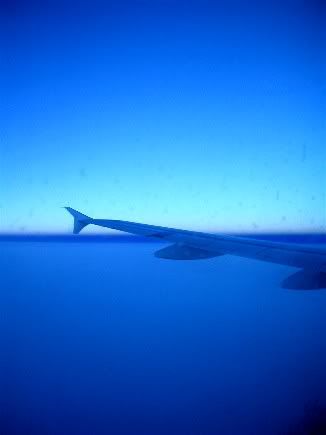 At about this time we hit an air pocket, and dropped about 50 feet. Lots of oohh's were heard in the cabin! Then some light turbulence started, and the seatbelt sign was switched on. This lasted for around 15 mins or so. It brightened the flight up for me!
The sun now had fully set, and there was about a 1 hour and a half to go. The First Officer then came on again, still was very hard to tell what he was actually saying. He mentioned that Cyprus was 3 hours ahead!? When Cyprus is actually 2 hours ahead, I bet that confused a lot of people!
Nothing really much to report, smooth flying conditions but still no sight of the ground below us. Soon enough it was time for us to start descending towards Paphos Runway 29. Engine power was reduced and we began our descent. The Descent was very smooth throughout; we didn't need to use Spoilers also.
Seatbelt sign was switched on as we were getting nearer and nearer to PFO. Through FL100 the landing light was switched on, and the cabin crew were told ten minutes to landing. Rather then using the TOBAL 2A STAR that most UK flights use, we were going to be using headings instead. We were now passing directly over Paphos itself, within a few minutes we were passing directly overhead the airfield. At which point I would think the AP would have been disconnected.
The cabin crew announced that they would be dimming the cabin lights, although they never actually did this! We then came over the sea, and began to establish ourselves on the VOR ILS DME approach for 29. We turned to intercept the inbound QDM which is 287 degrees at Paphos.
At this point the flaps started travelling, and I could see the PAPI lights, 2 white, 2 red, perfect!
Gear was brought down, and FULL flaps were selected. Quite a smooth approach, with very little thrust or pitch changes made. Soon enough we were passing over the runway TDZE, the verbal RETARD RETARD would have been heard in the flightdeck. And the engines were retarded to idle.
Quite a firm landing followed, which followed with a few oohh's from the passengers. Spoilers came out, full reverse was applied and we manually braked to a safe taxi speed. We did a 360 degree turn midway down the runway, and the flaps and spoilers were brought in.
Paphos ground chart, for anyone who is interested!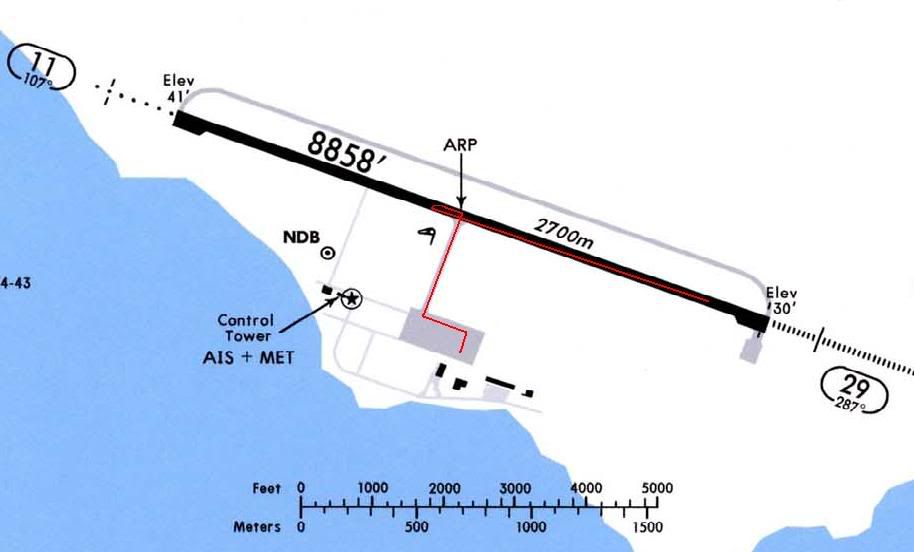 We slowly taxied to our parking stand, and I saw the marshaller directing our aircraft to stand safely. We parked up, the 2 CFM 56s where shut down. And the seatbelt sign was turned off. Everyone as always rushed to get off, but I wanted to ask for a flightdeck visit, which was granted!
The flightdeck looked spectacular lit up at night, and I said if it would be possible to take a photo. He said yes no problem. The flight crew even left there seats for me!
Here it is.
We had a good and interesting chat about the flight, and I said thank you to him for giving me all the technical information for the flight that you would have seen above. I said goodbye to the flightcrew, and then quickly boarded the bus to take us back to the terminal (If you could call it that!). Whilst on the way back, I saw a very rare Syrian B727 in the old livery!
Only two aircraft were at the airport at that time.
Our bags came through pretty quickly, and we made our way to the Avis Car Hire desk. While I was there I saw the Arrivals screen. With a few flights still to come in from Dublin, Manchester, Gatwick and Bristol. We then made our way to our hotel for the week, the Athena Beach Hotel. If any of you are thinking staying in Paphos I would recommend staying there. It is a great hotel!
Paphos is also a very nice place as well. I would definitely go back there.
Here are a few pics of it.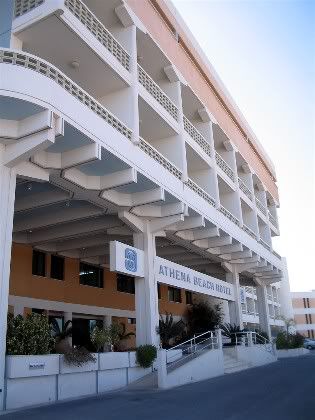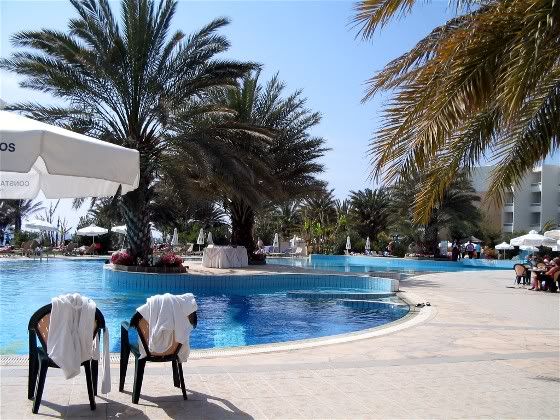 Overall Air Malta is a decent airline, and I would happily fly on them again. Don't forget that this flight was Air Malta's UK Charter Operation, mainline Air Malta might be a totally different experience.
I will not do a return trip report, as the flight was in the hours of darkness. But just to say, I got on a different aircraft
9H-AEF
, this aircraft had leather seating, more legroom, British Cabin Crew, and the aircraft just looked in better shape. Overall I wish I could have got on this aircraft both ways!
Here is
9H-AEF
, the aircraft I flew back on.
Anyway, hope you have enjoyed reading. It took me quite a long time to write it. Any comments or questions that you might have will be greatly appreciated!
Regards
Ryanair737