Trip Report: PBI-ORD-LHR-ZRH on UA/LX
Date: March 3, 2005
Leaving: West Palm Beach PBI
Arriving: Chicago ORD
Airline: United
Flight Number: 111
Scheduled Departure: 07:45
Actual Departure: 07:45 takeoff 07:53
Scheduled Arrival: 09:50
Actual Arrival: 09:45 landing 09:35
Departure Gate: C10
Arrival Gate: B9
Departure Runway: 27R
Arrival Runway: 4R
Cruise Altitude: FL400
Seat: 25F
Aircraft: Boeing 757-222
Registration: N537UA
View Large
View Medium


Photo © Paul Robbins
After a nice drive from Boca at the insane hour of 05:00, I arrived at the PBI Park N Ride lot exactly half an hour later. The joys of five lanes on the I-95 and no traffic. I was looking forward to this journey to the UK. I would then fly SWISS roundtrip to ZRH. What I wasn't thrilled about was the first legs' flight number: 111. If you flew Swissair often, that number does not go well. Bus service from the parking lot to the terminal is frequent and the ride only takes 3 minutes once out of the lot. Plus the lot is a mere 5 bucks a day.
Arrived at the terminal (PBI only has one terminal with two main concourses) and checked in using the electronic machines. My advice: if you're flying internationally just ditch the machines and just show your passport to an agent. The machine asks you everything about your passport and it takes a long while just to input all that data in. There was, indeed no line for the desks. I kept both my seat assignments, which were window seats. As I was carrying a small-to-medium size suitcase and that was it, I walked over to an agent to ask if the bag was too big to bring on board. She seemed very friendly and told me she thought I could bring it on board but advised me to go to security early to see what they said.
One other advantage to flying out of PBI besides the short ride from the parking lot to the terminal is the multitude of extremely comfy lounge chairs downstairs. As PBI is not that busy of an airport, almost all the time there is a chair unoccupied. The airport has a golfing theme to it as well as it should. It just adds to the tranquility of things. Things were quiet just before 06:00. There is a bar that also serves breakfast nearby but it doesn't open until 10:30 (which really defeats the point of serving breakfast).
I went towards security where there was a small line. There were various B767s departing for Atlanta, including one early departure, which was the reason for the line. At PBI you still have to take your shoes off. I walked all the way to the other end of the concourse, collecting some B767 registrations along the way. One of them was Ship 125, the sole DL 763 I actually flew on and the one I'd been trying to photograph. Unfortunately for me, it is impossible to get decent shots from inside the terminal. At the far end was parked a UA 757 in the old colors, in fact the first plane I spotted right after parking my car. When the sun came up, I checked the nose, where the numbers 5437 were.
The gate area is a relaxing area to be. In fact, I waited there until boarding call. Boarding was on time. Judging by the gate announcements, United is committed to offering friendly service, one of the key parts in me feeling "at home" in the skies. I entered the B757 and was surprised at how clean the cabin was. The seats were also in the older style. Arrived at seat 25F to find the latch to my tray table was broken. I scoured the cabin for other broken objects but did not find any. The seat itself was extremely hard. There was virtually no padding. United did offer a blanket and a pillow, something nice on a domestic flight. I tried to sit on the pillow but that wasn't too much more comfortable. I was sure hoping my 8-hour flight to London on the B777 was going to be more comfortable. One of the flight attendants passed around free headsets.
Pushback was right on time at 07:45. We began the taxi to runway 27R. During the engine spool-up, I switched the audio channel to 9. Channel 9 is the famous channel where you can hear live ATC transmissions. The second I tuned in, I heard the something like the following: "United 111 cleared for taxi." With that, the PW engines spooled up and we were on our way to 27R. Takeoff was at 07:53, just behind a Song 757 to LGA. I was able to get some overview shots but none of them came out well with my new Panasonic Lumix FZ3 digicam.
The climb was quite smooth up to FL380. At that point, the snack service began. It was two things of Biscoff, something that I actually prefer to pretzels. I guess I've actually been spoiled flying Song for the last few flights as this flight seemed to be decisively boring with no Live TV, no having the whole row to myself, no comfortable 33-inch pitch leather seats. I just dozed off for a bit. At least the middle seat was empty. Possibly the only way I even managed to fall asleep was how tired I was from not getting enough sleep the night before. Someone wishing to rest but who is not tired will not be able to fall asleep – that is how hard those seats are. In fact, after ten minutes of sleep, I woke up never to be able to fall back asleep. It was then that I heard ATC instructing us to climb to FL400. The engines gained power and I felt a slight pitch upwards.
The staff on the flight may have been quite nice but even with Channel 9 the flight became boring. I just stared out the window at the endless farms of Anystate. Which, not surprisingly, turned out to be Indiana. The FO came on the PA stating the weather in Chicago was going to be clear though chilly and a bit windy. In fact, there were practically no clouds in the sky. Indiana soon turned to Michigan, at which point we made a 90-degree left turn westbound. A bit after, the many farms of Michigan gave way to The Lake. Lake Michigan had a nice color to it. I was hoping we'd be flying south of the city, so I could see actually see it from my window. Turns out I was able to see the entire city. With that, the 757 lined up with runway 4R.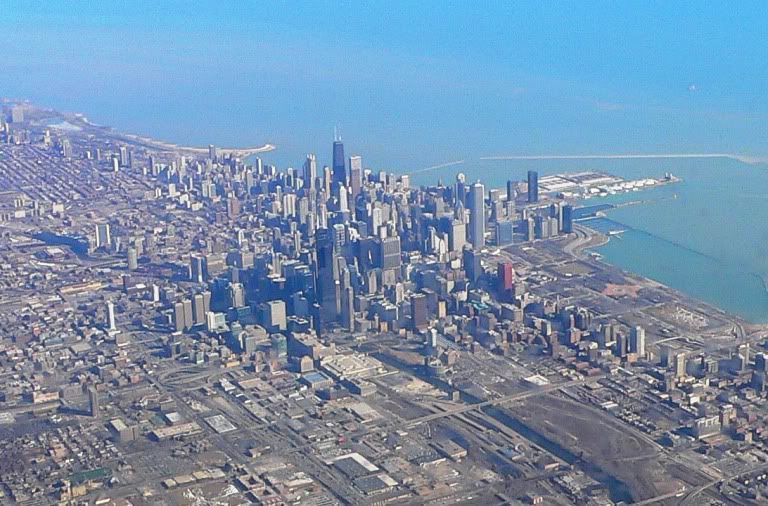 The approach was pretty good and we made an early arrival. The taxi to the gate was a bit lengthy and I noticed that Terminal 5 (the international terminal) was virtually empty as it was barely 10:00. Arrival gate was B9. Overall, the flight was OK for what it was and the plane, despite my latch being broken (it was usable), was in very good condition. I just wish the seats had a decent amount of padding on them. The deplaning procedure took about 5 minutes. With that, I exited into the terminal with a 7-hour layover ahead.
Chicago airport:
Entering the famous UA terminal, the first thing I noticed is just how much nicer it is than the AA terminal. The distances are not that great between gates, which makes it a fairly good terminal for connections. Of course, I had plenty of time so the first thing I did was check out the display of lights in the tunnel between the two UA concourses, eager to compare it with the one at the Detroit McNamara terminal.
The tunnel (I will post the pic in my return report) had two moving walkways for each direction compared with one in each direction in DTW. But I preferred the light show at DTW since it was more calming, not to mention more technical. Most passengers just want to get to their gates in time, so they would appreciate the extra moving walkway as it distributes the pedestrian traffic. I did a bit of spotting at the other end but only saw one B777. The lighting was very good for photography but the majority of the planes had various objects around them so I didn't bother with taking photos.
The UA terminal besides being very modern has a good selection of stores and places to eat. I noticed a bundle of McDonald's, Starbucks, Pizzeria Unos, and Wolfgang Puck eateries throughout the entire airport. One thing I like, something that persists throughout the airport is that security is literally a few meters away from the entry to the concourses, leaving a narrow walkway in between. In fact, even though I stayed airside throughout my layover, I could very easily see the cars on the access road. It is a very well-designed airport.
I read on the forums the best spotting location inside the terminal was at gate K19 at the end of the AA concourse. The walk from the UA concourse took about 15 minutes. With great weather, it was a good spot for photos and just to watch planes. There aren't many security guys in that area and the passengers didn't really care that you were checking out planes.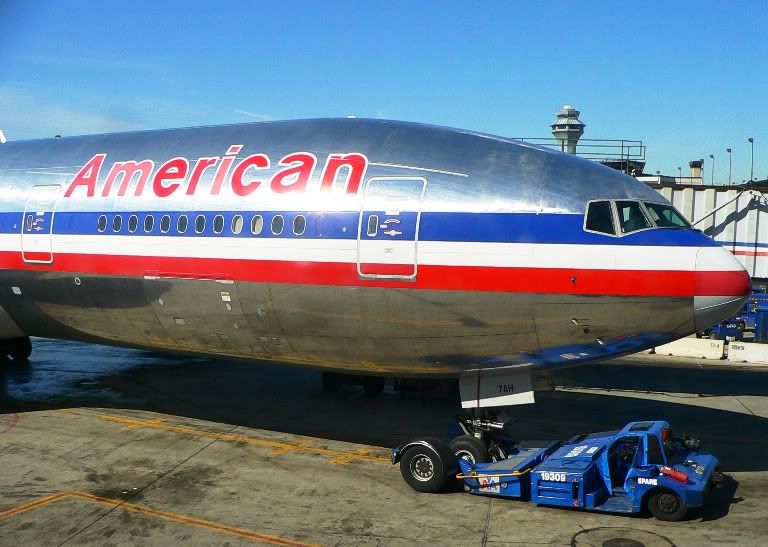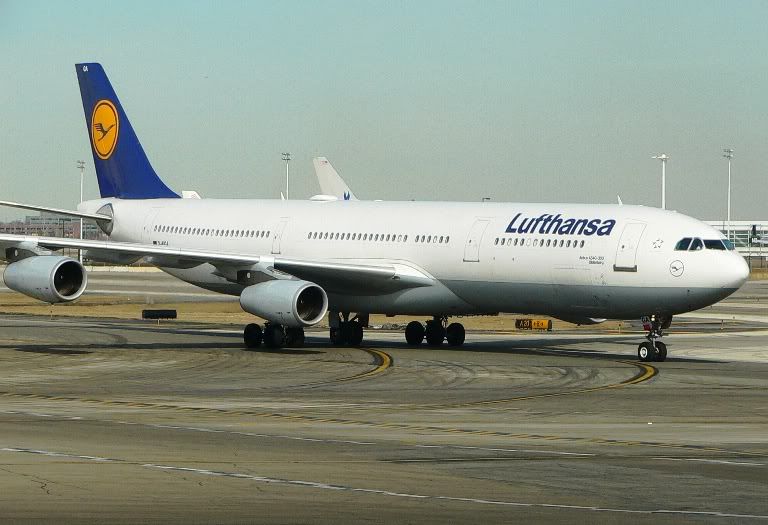 As it was at the end of the concourse, it was very quiet. This is where I stayed during the majority of the time there and managed to rest a little. After that, I got a nice local-brewed beer at the Chicago Bar and Grill near concourse G. I decided to check out the AA concourses for something to eat.
The AA area has two large food courts where you can grab some fast food. They reminded me of the ones you would find at a mall. Now with limited time (blame it on poor time budgeting) to catch my flight, I settled for a quick burger at one of these places. No time for a sit-down burger. Even though there are many places to sit down, I still had trouble finding a good place since lots of other people were eating as well. The service at the joints here are very quick and efficient unlike the ones outside the airport (and the burger was much better, too!). If you have a tight connection (with AA, of course) and just have to eat, come here. I was in and out in 10 minutes.
With that, I started a brisk walk over to gate C18. There was a currency place where I exchanged U.S. dollars for pounds. I would recommend doing this at your bank as here it cost me nearly $24 for 10 pounds! I checked out a few ERJ-170s over at one end and then headed back to C18 to wait. Overall, I was very pleased with the whole layout of the airport and the ability to get something really quick to eat before catching your flight.
Date: March 3, 2005
Leaving: Chicago ORD
Arriving: London LHR
Airline: United
Flight Number: 958
Scheduled Departure: 16:45
Actual Departure: 16:45
Scheduled Arrival: 05:55
Actual Arrival: 06:01 landing 05:53
Departure Gate: C18
Arrival Gate: 315
Departure Runway: 4L
Arrival Runway: 27R
Cruising Altitude: FL350
Seat: 37A
Aircraft: Boeing 777-222/ER
Registration: N793UA
View Large
View Medium


Photo © Juan Carlos Guerra Aviation Photography of Mexico
I arrived at gate C18, the same gate flight 958 almost always departs from as well as the one indicated the previous day on the United website. Outside, I was able to make out the B777. I zoomed in to check the registration, which happened to be N793UA. I later found out this was the plane that operated the first UA B777 service to the South Pacific. The waiting area itself has enough seats for a B777-load of passengers. Boarding call was at 16:20 for First/Biz/Elite passengers made by an Asian guy with a really, really thick accent. He was trying to explain how there were two doors, marked C18 and C18A and that First Class members only should go through the first door (eventually leading to the 1L door). The second air-bridge, naturally, led to the 2L door.
I stood on the lengthy line at the call for Zone 2 even though I was in Zone 3. This way, by the time I reached the actual gate, Zone 3 would be called. However, the wait between 2 and 3 was much longer than I expected. By the time I was near the machine, I had to step aside from the line as Zone 3 hadn't been called yet. I joined the line right after a man with a boarding pass marked Zone 3. By the time he reached the gate, the announcement was made.
Making my way down the air-bridge there weren't too many people waiting to get inside. I guess this Zone boarding is quite efficient. Entering the plane, I touched the fuselage and saw the cabin of this 1997-vintage 777 was in perfect condition as well as very clean. A male FA greeted me at the door. To my left was the F Class with its new Sleeper seats and to my right was C Class (not bad; the seats were quite roomy) and Economy Plus. The seats on Economy plus do look like they have more legroom but not as much as I would have otherwise thought. Plus, the seats are as narrow as the ones in regular economy. Maybe there is some sort of real benefit (maybe no risk of DVT) to justify the premium over regular Economy but at the moment, I can't find any.
Alas, I entered my cabin, the regular Economy one. The seats were arranged in a 2-5-2 arrangement, just like Economy Plus. This arrangement is absolutely great when you have a window seat but absolutely sucks when you're stuck in the middle row. I took seat 37A, which was towards the middle of the rear section. On these 777s, only the rear-most cabin is for regular Economy. The last time I flew on the 777 was with Air France and the Economy section started much earlier on (about where Y+ starts on UA 777s). Seat pitch is 31", which is barely acceptable. The seats themselves would have to be comfortable if I wanted anything resembling sleep.
I am happy to report the seats were comfortable, far and away better than the seats on the UA 757 I flew earlier in the day. There was ample padding and the headrests were winged. Still, they were narrow. I peered outside the window and saw the Star Alliance B763 parked right next to us. What a beauty. Pushback was on time and we began the trek to 4L. Channel 9 was also switched on for this flight. The mighty PW4090s spooled up. I have to say the noise and vibrations are harsh, especially compared with the GE90s. As with my previous flight, the Captain introduced himself and the First Officer (though it may have been the other way around), something I find a nice touch. The taxi took quite a while since there were a few planes in front. ORD has series of parallel runways rather far apart so planes land on one runway and take off from the parallel. For such a busy airport, this feature is a must.
Takeoff was at 17:00 and was very powerful. We flew north over Illinois then Wisconsin, where I was able to get a crappy overview shot of MKE, before turning eastbound over Lake Michigan. What I didn't realize is that nearly 40% of this flight is over North America! The 777 climbed to FL380 rather quickly. I heard the various handoffs addressed to us, United 958 heavy. During this time, I was able to better evaluate the IFE.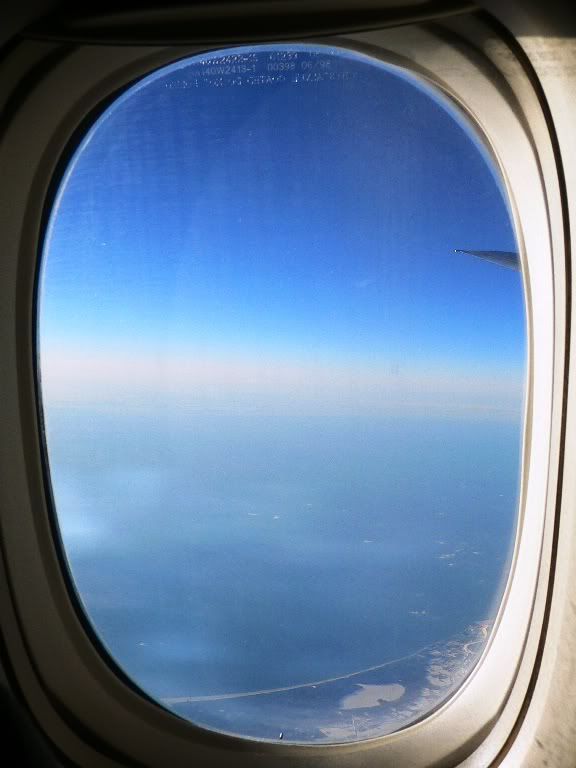 One thing, by far, that sets United IFE apart from the rest is Channel 9. Not only that, but you can listen to Channel 9 broadcasts (or whatever music station you desire) and watch any channel showing on the PTV. Flight enthusiasts can listen to Channel 9 and watch Air-Show at the same time! First, I checked out the music channels. I found the next best channel, which happened to have a lot of dance music. I promptly decided I was going to leave that in the background as I attempted to sleep later on. The movies, about 6 or so separate ones, showing on the various channels, were quite good. After a movie is done, the movie is repeated on that very channel. I decided to ditch the movies in favor of a good nights' sleep. The PTVs themselves are small when compared with other airlines. The ones on NW's A330s come to mind. They are comparable in size to those on Air France. As the IFE system is a bit antiquated compared to NW's, there is no jukebox feature. Nor are they any games. For what I use it for, UA's system is great, due partly to the ability to listen to Channel 9 and watch the channels simultaneously. Overall, it gets a 9 out of 10.
Upon reaching cruising altitude, the flight attendants got right to work serving the post-departure snacks. Now, for a nightly eastbound flight across the Atlantic, the whole snack idea is ridiculous, in my opinion. I know every airline does it, but by the time you get to dinner and dinner is over, the flight is well into its progress. That leaves little time to actually sleep. Airlines should ditch the snacks and serve dinner right away and offer snacks maybe midway through the flight as optional to those who aren't already sleeping. I headed to the back part of the cabin to take some photos. No one seemed to mind. The lavatories are quite nice but nothing compared with almost-palatial ones found on NW's A333s.
Compared with NW, this staff was far younger. None of the women were really young attractive, like the ones you might find on transatlantic legs operated by European airlines (KLM comes to mind) but better than NW and DL for sure. They were also quite friendly and didn't look like they'd get irritated at a less-than-polite passenger. I was served by a male FA. Overall, I rank them comfortably half-way between the OK ones found on other U.S. airlines and the excellent crews found on pretty much all the European airlines I've flown on (AF, BA, LX, and KL). There is not an airline in the U.S. offering better service than United except for, maybe Continental, which I haven't tried on long-haul flights yet.
The snack was a mix of pretzels and cheddar snacks. However, it was about 80% pretzels, 20% the other stuff. I had a soda with it. From then on, I just waited for dinner to be served. I had to eat, as I was quite hungry. The B777 is nowhere near as quiet at cruise as the A330s/A340s, especially in the back, something I do not understand. It is still better than the B747. Then again, maybe it's the engines as I remember my flight on the GE-powered B777 with AF was very silent.
During the time before dinner, I asked my seatmate if he was able to select a seat on his return flight from LHR to ORD. He said he did. I was wondering why, then on United.com, I could was not able to select my seat on the LHR-ORD leg. Once I arrived at Heathrow airport, I found out the flight was really full but I booked my tickets back in January!
Dinner was served after, about two hours into the flight. The two options were (yawn) chicken and lasagna. I chose the chicken, as did most people. The chicken option came with rice and beans. There was some bread and a cake. The meat was quite good but the rice was way awful. It was so undercooked that it tasted raw and stale. I didn't touch the beans. The cake was excellent. Unlike NW, there is no free alcohol. I already had some great beer at the airport so it wasn't like I was missing anything. If it wasn't for the cake, I would have given the meal very low marks. With the cake, it was probably a 5 out of 10 (the cake itself was a 10). The dinner on NW was quite a bit better and it was about the same as the meal I had on DL. I was sure hoping the breakfast was going to be much better than the horrendous one I had on NW.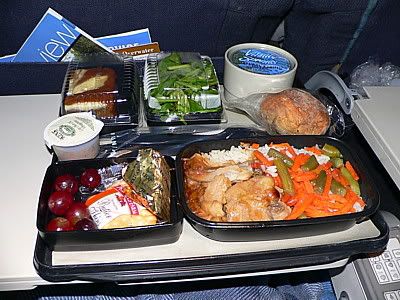 The flight attendants came around twice to collect the remains from the dinner. About half an hour later, they started serving hot drinks. That was a nice touch. I had a tea, which was pretty good. By then, the flight had been in progress for 3+ hours and we still hadn't reached the end of North America yet. We were close, though.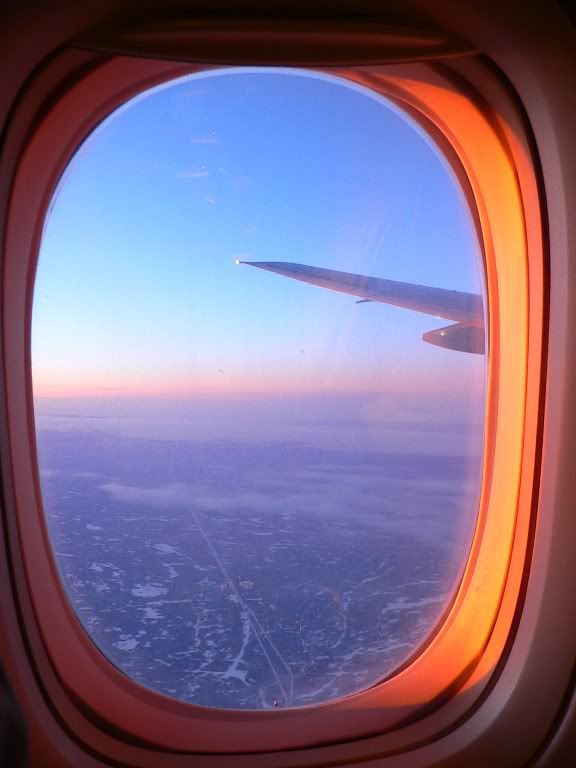 The Atlantic stretch is longer but ever so slightly than the portion over North America. The final, shorter section is over Europe. I dozed off for a bit. As I mentioned, the legroom really should be a little bit more. At 31 inches, the pitch is equal to those found on KL and BA but it falls really short of AA's class-leading 33/34 inches. I also had the chance to fly on AA on the route but I was hoping the service on United would be even better than that on American. At least on AA, I would have slept better. I fell asleep for a while but then woke up and failed to fall back asleep.
At this point over the Atlantic, Channel 9 is pretty much dead, which leaves the movies as the only possible option. I had been awake since 04:15 in the morning and gone through a seven-hour layover. Once in London, I couldn't slack either; I needed to take a few train rides to reach my destination. At least the seats made it rather easy to find a comfortable position.
The flight reached rather far north, coming close to Greenland's southern tip. From there, it was a steady line to Northern Ireland and England. As the plane was due at 05:55, the darkness outside remained. In fact, we would later land when it was still dark outside. About 1.5 hours before arrival, breakfast was served. Now, I was hoping it would be better than last's night dinner disappointment. For breakfast, there was a can of orange juice and some fruit. Along with that, came this warm bread-like thing that tasted very much like a good croissant. It wasn't as soft as I would have liked but at least it tasted like a real croissant I'd find in France. The breakfast was definitely better than that on NW and about on par with European airlines. An 8 out of 10.
During the descent, I listened to ATC broadcasts. We were the main "attraction" since the ATC guys mentioned us the most. The thing I find quite neat is listening to them say "Descend and maintain FL XXX" and then seeing the altitude drop on the Air Show to the aforementioned flight level. Not much could be said about the outside scenery since, other than patches of lights as towns, it was completely dark. We flew north of London and then made a 180-degree turn to head for Heathrow. No need to circle around, there's not much inbound traffic before 06:00. The landing on 27R at 05:53 was extremely transparent following an equally smooth approach. In fact, my seatmate asked me whether we'd landed or not, to which I replied yes. He said he didn't even notice the plane touching down. Actually, the nose gear was still in the air, so the pilot needed to ease it down by applying the reverse thrust a little early. The nose eased down in an equally transparent manner. Definitely one of the better landings I've witnessed.
Terminal 3 was not far from the point we turned off the taxiway, but we actually had to taxi around it to reach gate 315. Apparently this gate requires some skill to maneuver, especially with something as big as a Triple Seven. From the taxiway, the pilot needs to do a very sharp 180, done at a very slow but steady speed. By the time the plane is straightened out, it is almost at the gate. Arrival at the gate was just after 06:00. Deplaning took some time but at least we were the first flight to arrive at T3. All in all, it was a quality flight with the exception of the dinner meal.
If they had better food, I would consider them to come very close to European airlines. I was impressed with United and they surely did live up to their "Friendly Skies" moniker and wishing they'd live up to it again on the return.
It was one heck of a walk from the gate to immigration. Terminal 3 looks like a real dump from the arrivals level and it probably won't be that much better from the departures level. Once at the immigration hall, I noticed the line wasn't moving. In fact, there were only two immigration officers. Whenever I fly on a European carrier, the majority of the passengers are European, so they use a different line for immigration so for us U.S. citizens, the process takes little time while the Europeans wait for a long while. When I fly on an American carrier, the majority of the passengers are U.S. citizens, as was the case with this flight. So there I am standing in the middle of a very long line with nothing but other U.S. citizens waiting for more officers to arrive so we can proceed. About 10 minutes later, more officers arrived and started processing passengers. From there, the line moved rapidly. After clearing passport control came the worst part.
I headed towards the customs area when I was approached by a large Scotsman. Let's just say he was not very refined. I was carrying my entire suitcase with all my clothes in it. He laid it out and I had to help him taking out all those clothes I so neatly packed as well as other items in there. He then became suspicious of the gap between the hard outside and the soft inside, something he checked over and over again. So he puts it through the machine. This guy was the only guy controlling bags and was busy with me so everyone else just flew through. That aggravated me so much. It was awful. And embarrassing. Once through, I needed to put everything back in its place and get the hell out of there.
Terminal 3 is a disorganized mess outside the secure area. First of all, only the upper two levels are connected by elevator and everyone else wishing to go upstairs must use a long flight of stairs without a ramp. It just makes no sense when one has bags. There is no easy way to take them upstairs. Then, I had to navigate around just to find the UA ticket counters. I needed to see what the status was with the LHR-ORD flight and whether I could get my seats then. The agents explained that the flight was so full and they would try to do what they could. The only thing they could guarantee me was a seat on that flight. That meant I would spend my break worried about being assigned the highly dreaded middle seat in the middle row.
As the weather was quite nice when I landed, I went for the Underground to take one stop to Hatton Cross, do some spotting and come back to take the Heathrow Express. It is a Jesus walk from Terminal 3 to the Underground station. Once I arrived at Hatton Cross, a 7-minute ride on the tube, I saw the weather was not looking good but it had just gotten light out. As I was finding the actual spot, an AA 777 landed. I ended up settling for this overpass pedestrian bridge connecting the two sides of the Hatton Cross roundabout. It would shake every time a plane would fly by. I took a few photos in the bad weather of a VS A340 and B744. The photos came out awful. The weather turned even worse, so it was back to the underground to Terminals 1,2,3. It was a short walk to the Heathrow Express. I would recommend it highly as it takes just 15 minutes (versus about 40 minutes on the underground) to get to Paddington station and the train is very modern (even has LCD TV's throughout the train). And so my European vacation started.
Date: March 6, 2005
Leaving: London LHR
Arriving: Zurich ZRH
Airline: SWISS
Flight Number: 339
Scheduled Departure: 19:45
Actual Departure: 20:20 takeoff 20:38
Scheduled Arrival:
Actual Arrival: 22:58 landing 22:53
Departure Gate: 204
Arrival Gate: E46
Departure Runway: 27L
Arrival Runway: 34
Cruise Altitude: FL330
Seat: 10F
Aircraft: Airbus A321-111
Registration: HB-IOK
My dad and I arrived at Heathrow airport at 16:15 with hopes of switching to the 17:15 flight to ZRH as our current flight would get us into Switzerland quite late. LHR does not yet have the e-ticket machines, so all passengers must wait on the normal line. There were about three agents, so the line moved rather quickly. A nice, attractive female agent told us we needed to go to the ticket counters to arrange for a ticket change. Unfortunately, we were on a non-refundable/changeable ticket so that didn't work. I guess all we could do was wait until the late flight. Headed back towards the check in line and we got the same agent. She didn't know whether we would be able to check our bags yet as it was really early but she made the effort to make a quick phone call. Turns out, SWISS could already process our bags for the late flight, so we checked in right there without having to return later to check in.
As it was early, I headed straight back for the Underground to take to the Hatton Cross stop. I'd stopped there coming into Heathrow a few days earlier but the weather turned very bad very quickly, so I was unable to get any good shots. It is about a 6-minute journey to get to Hatton Cross. Once there, I went to the dodgy, at best, bridge right near the station stop. I don't know where the real Hatton Cross spotting area is, but the bridge offers an unobstructed view of 27L arrivals. However, runway 27R was in use, which was way to far away, which really sucked as I saw two BA 777s land. The weather really wasn't all that good and it was freezing. I went straight back to the station to go back to the terminal.
The Terminal 2 check-in area is a dump at the lower level but once you take the escalator upstairs, you will find a myriad of duty free shops and cafés, something that continues past security. That area is rather nice. There is also a large waiting area, which is not particularly quiet but will do the trick. We proceeded to the security line at around 18:00, which was quite short, despite quite the many European departures. Once past, my dad and I headed to the upper level to enjoy once last pint each of Guinness on draft.
Once thing I absolutely hate about Heathrow airport as that your gate doesn't show until the very last minute, at which point people start rushing to make their flight. It is much nicer when you know your gate ahead of time so you can take your time going there. Another thing is, despite all the duty free shops, there is no place to buy a six-pack of beer! We just sat down and waited for our gate to show.
At 19:15, or 30 minutes (!) before schedule departure, our gate was not up yet. Yet, there was no indication of a delay. All I saw was "Swiss 339 to Zurich, please wait". The five or so flights scheduled after ours had gates already assigned to them. What was going on? I promptly looked outside the windows for any indication of a SWISS plane but didn't find any. Five minutes later, I returned to the same spot to see, what I thought was a SWISS tail parked at 204. I quickly went over to the monitors but no gate was listed. My dad and I headed over towards that gate to find no plane parked! I walked back to the main area and STILL there was no gate listed for our flight and it was almost 19:30! On my way back to gate 204 to get my dad, I noticed a SWISS tail pulling into 204. Very strange. First there's a plane. Then there isn't. Then I see the same plane from before pulling into that very gate.
Back, yet again, at the gate, I noticed two others standing there but our gate was still not listed. Actually, it wasn't the waiting area but a line outside a locked door that takes you to the gate. My dad and I were at the head of the pack. About 10 minutes later, one of the gate agents opened the door and we were allowed inside.
I was expecting an A320 for the flight since that's what it said on my schedule. However, I noticed it was an A321 outside, registration HB-IOK. This was to be my first time flying on the type. Boarding commenced at 20:00 for rows 23 and higher. Later, the rest of the plane was allowed on board.
Upon entering the plane I was greeted by two F/As. The cabin was completely clean and in excellent condition. All the seats are leather; rows 15 and less include headrests and greater recline. Rows 1 through 8 comprises the C cabin, which is in a 2-3 configuration. I took seat 10F. Legroom was more than adequate and the seat was very comfy. There were quite a few LCD monitors dispersed throughout the cabin.
The maitre de cabin came on the PA apologizing for the delay and saying we should be arriving in Zurich before 23:00. As usual, all the announcements were made in English first, then German, then French. Pushback was at 20:20. Terminal 2 is very close to the threshold to 27L and the taxi would have been very short if it wasn't for the fact we yielded to about three BA planes. At 20:38, the pilot applied full power and we were airborne. There was a great view of what will become the new terminal. Once airborne, the captain came on the PA again apologizing for the delay and that the flight time would be 1 hour 15 minutes and that the drink service would be started shortly.
I reclined my seat into a very comfortable position. I would love to stay in these seats on a longer flight. Throughout the flight, the Air show program was showing on the LCD screens; not really enough time for a film. I made a short trip to the back of the plane where there are not two but three lavatories. Those lavatories are spotless, just like the rest of the plane. The A321 really looks much longer from the inside than its smaller siblings.
The one thing about SWISS on short routes that really makes it lag even in comparison to domestic service on U.S. carriers and even European carriers is that you have to pay for EVERYTHING you're served. They could at least give passengers free soda but even that costs CHF 3-. The flight crew is very friendly and helpful but they can't serve us a lousy free drink. On Song, another airline where you have to pay for all the food, offers soda for free. The only advantage is to those passengers who just want to sleep and not have any service, but then again, they can always say no to the free drinks if they're flying with another airline.
That passenger would be me. I had just traveled, by train, from Cambridge and I was exhausted. I took full advantage of the comfortable seats and got a bit of sleep. The A321 is a great aircraft despite what some people may say about it. My only gripe is that it is loud during taxi. During cruise, it is quite silent. Our flight path took us over the Channel to Belgium, Luxembourg, France, and Basel. We flew eastbound over Northern Switzerland, made a series of turns, and lined up with a northeast-bound runway.
I was anticipating a runway 14 arrival, as I thought all the 34 arrivals were in the morning. I was proved wrong as soon as I noticed some familiar buildings down on the ground that are south of the airport as well as all the city lights. As I was on the port side of the aircraft, I saw the hangars, the ex-SWISS MD-11 still parked down on the tarmac, and all the terminals all lit up. The landing was very smooth and we used up much of the lengthy runway, only taxiing off of it towards the end. In fact, we had to yield to a Jumbolino that landed after us that used an earlier taxiway off of 34. We taxied to the E-terminal to gate E46, arriving just before 23:00. The deplaning procedure was extremely organized and we were off the plane within three minutes.
The trains running between the E-gates and baggage claim run very frequently and the journey takes 2 minutes. The lines for passport control were very short and the bags came out very quickly despite the long way from the E-gates to the main terminal area. We were the only people in the baggage claim hall. The baggage handlers take twice as long in West Palm Beach and Fort Lauderdale to transport the bags one-fifth of the distance. Bravo for Swiss efficiency. With that, we were comfortably able to make the 23:33 train into Zurich main station. In fact, the train was filled with passengers from LX339 from LHR and upon arrival in Zurich, I saw nothing but people with bags, all of them from my flight. And so started my weeklong stay in Switzerland.
SWISS has proven to be a great airline that offers great service be it on shorter routes or longer routes and, in my opinion, somewhat lives up to the legendary reputation of Swissair. The planes are in great condition, the crew is great, and everything is done with utmost precision and efficiency. I am willing to accept not getting any free drinks if it will make or break the future of SWISS as an independent airline and will directly contribute to its financial stability as it sure has a lot going for it.
As usual, comments are welcome. Hope you enjoyed the read!