3 weeks back i had a nice time in paris.heres how i got there
It was march 26. A Saterday.My spring break.We packed our bags and went off to IAD at 12:30. Our flight would depart at 5:50pm and we had nothing to do. Traffic on I-495 was perfect. If only it was as perfect as my flight.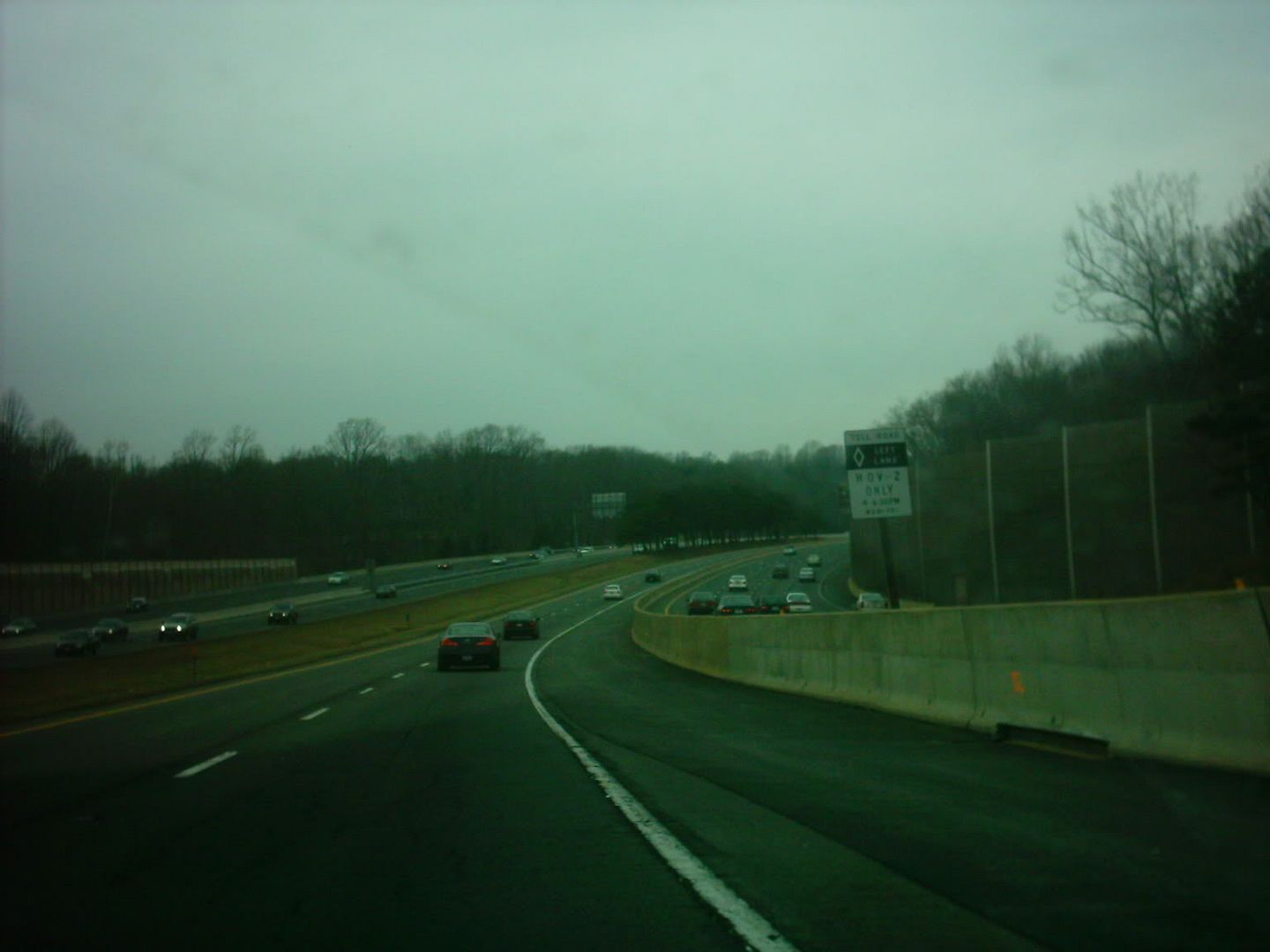 We arrived at the airport at 1pm. We tried carefully to look for the right turn into economy parking but we missed it since there was some construction going on and it looked like a construction area rather than a lot. we kept driving until we hit employee parking,and headed back. We entered and were greeted to a full lot. No worries-lets drive down to the Gold lot. FULL! We ended up at the furthest parking lot from the terminal,the purple lot. No problem-a shuttle pulled up to the nearest stop right when we got there.
At 1:10 we were at the Terminal. the bus driver asked everyone the airline they were travelling on. He didnt hear us say "air france" which ended with me walked down the entire terminal to Air France check in.
at check in we were greeted with 2 forms to fill out (1 for each passport).The woman at the front of the check in line asked to see our tickets. we told her we had electronic tickets. "ok,i would like to see the confirmation." We showed her that and went along. It was Ok though since we were checking in 4 hours before departure and there was 2 people ahead of us. It did get me thinking. I had checked seatguru.com an hour before we left on air france's 777s. only problem we would have would be row 26 (only row missing a window). No problem i thought-what are the chances we would get that row? We came up to the desk. Electronic ticketing was no problem. the woman at checkin asked "do you have any bags to check?"
"no just carry on" we showed the bag (it was a pretty big bag-right on the limit).
"oh im sorry your going to have to check that." ugh-checked luggage always frightened my mother ever since my dad went on a business trip in the 90's and the airline lost his bag.inside-a $400 suit,several $100 ties,and some other real expensive stuff. Ended up with only $200. Not to worry,we got our bag this time. Along with our regular bag was a gift for the sister of the guy i know who works at the local exxon. She was to pick it up at the hotel.
Then we were given our boarding passes.
"ok,you seats are 26A and 26B"
wooohooo i got a window seat i thought for a nano second but then i remembered something-ROW 26 IS THE ONLY DOWN ROW ON THE PLANE WITH NO WINDOW!!!!!!!!!!!!!!!!!!!!!! I tried to change rows but it was the only "window" seat left on the plane. I was still thankful of Air france's IFE.
After that i look through the large windows of IAD's terminal to the B concourse to see our bird sitting there-waiting for departure.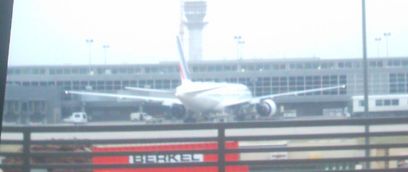 We proceeded through security (short line,usual stuff). nothing special. there was stuff on the walls showing the new additions to dulles being added. After check in we went down into the brand new walkway.Long way down and long way up. One thing that i found interesting was the fact that the walkway continued past the escaltors at the concourse B extended about 100 feet forward. Looked like wasted building to me.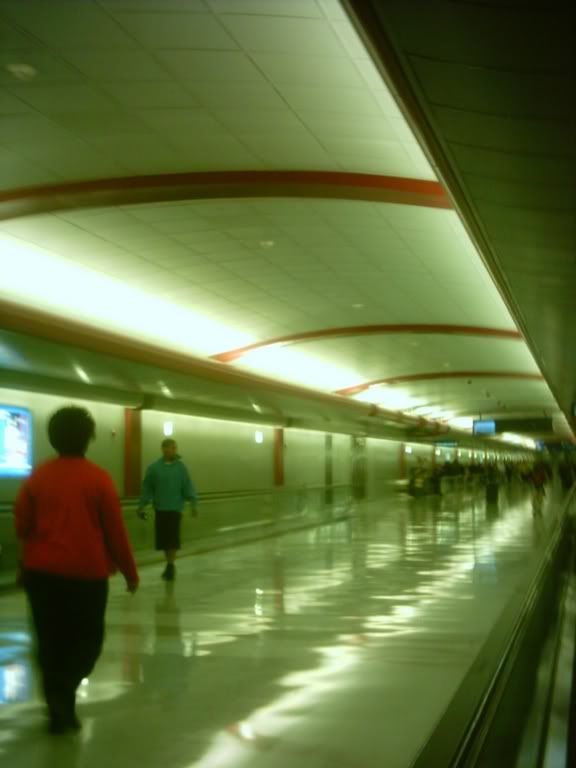 sorry for the motion blur-i took it on the moving walkway.
a short walk to our gate (26 i think or something) revealed that the flight was on time. A couple people were already there for departure. I had 3 hours to kill and a terminal to walk around in. i walked to the end of the concourse to look at the planes parked just west of the gates. an alitalia 777 was parked there. I made my way back to the A gates with my new Ipod in hand. Nothing special there.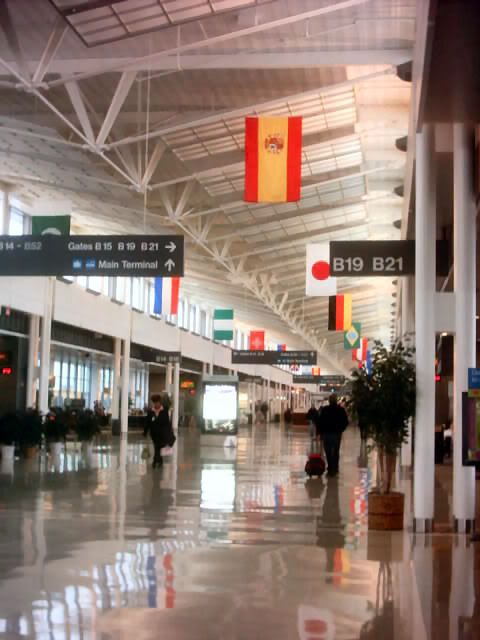 at about 3pm i went to get lunch. I went to this small place next to the burger king in the food court. Only reason i went there is because i remember they had really good fajitas.i get my food and proceed to the bridge between the A and B gates (i like eating with a view). Nothing special that day,just the usual traffic. Oh and a new control tower being built.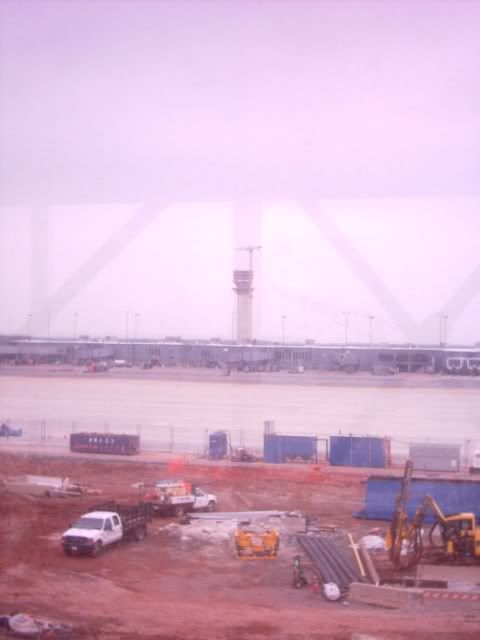 And two United 747s at the C concourse. One is in the new colors and the other in old. Oh ill miss the old livery.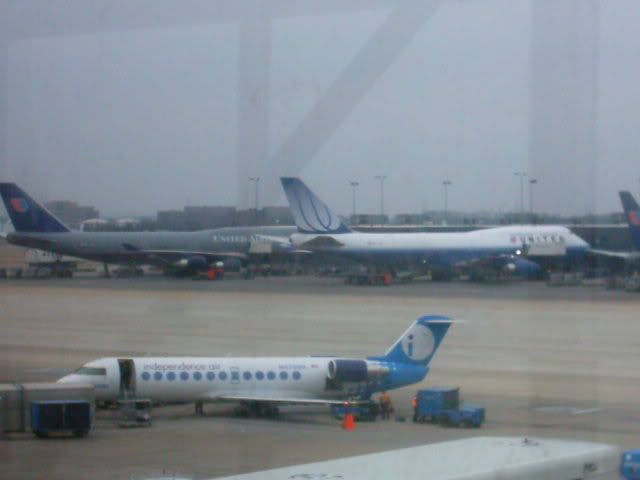 i made another round and went the the starbucks (theres two starbucks in the B concourse-go figure) and got a white mocha. whatever. after more walking i come back to our gate. It was filled with people ready to go to paris. We tried to switch windows seats again but it was a full flight.
Boarding started shortly after 4:10pm. It was the usual-everyone got up at once. Ok fine-I really didnt care i just wanted to get some really good steak tartare in paris ASAP. The line slowly crept toward boarding. We get our boarding pass stubs and off we go down the jetway.
Before getting on i tap the fuselage for good luck and into the 777. Man those AF F/As were hot
they pointed us to our seats (i already knew where my cursed window seat was) and went back to the row. I sat down to a panel. But there was salvation- half a window was peaking out behind me seat. No problem-i could just recline. or could i......
A group of teenagers sat ahead of us. They were ok until i peaked down at their bag right where my feet should be. Any more pissed off and they would be missing a game boy DS.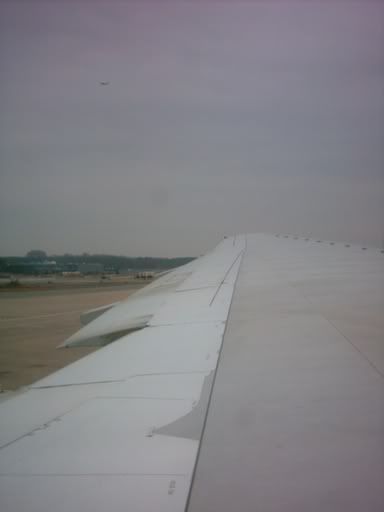 Right above the wing we were. A large black woman (reminds me of aretha franklin) sat down in the aisle seat. my mother and her talked,laughed,etc. whatever.it was a cloudy day and i havent seen the giant ball of fire in the last 3 days.
An F/A came through and passed out amenity kits to economy passengers. It consisted of a pair of those eye covering things,crappy disposable earplugs,mints,cheap $1 earbuds,and a moist towelette (hey its still an amenity kit and those mints were good
)
Some people call it the sun-i call it a big flaming ball of fire. After a quite lengthy little stay at the gate we push back. I peak out the window to see-us pushing back (what else was there?). it was the usual-a taxi to some runway (i was to lazy to notice which one but it was either 19L or 19R). We were cleared and started rolling. To the tune of steppenwolf's "born to be wild"we accelerated really fast - we lifted off when we were paralell with the main terminal. A quick break through the low ceiling revealed a beautiful sunset.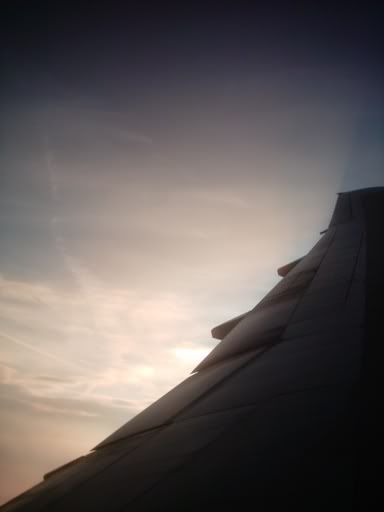 We Climbed and the Flaming ball of hydrogren ummm didnt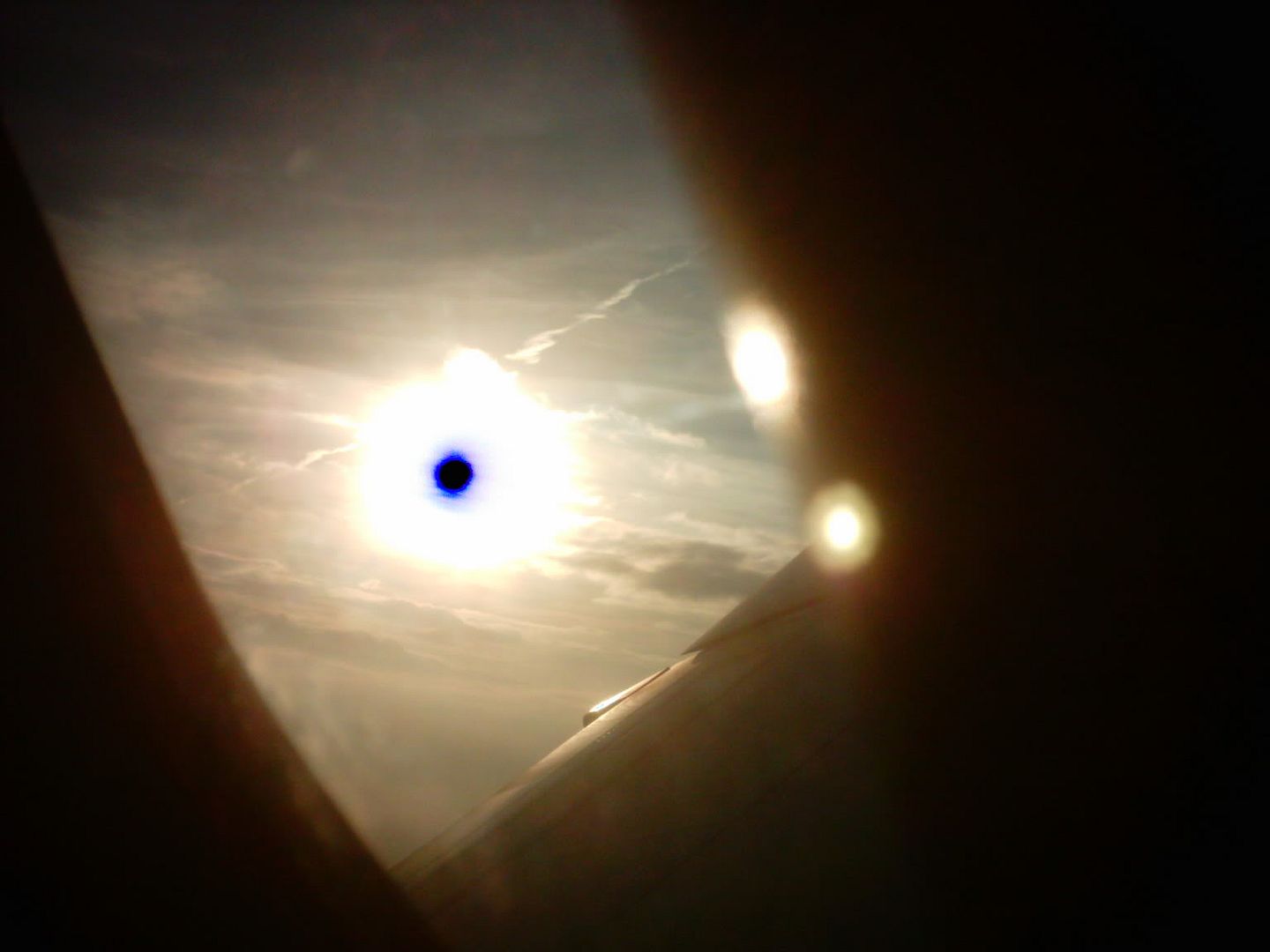 We kept climbing but i didnt care since i did nothing but listen to my ipod.We climbed to 38000 feet really quick. I continued to listen to queen's "bohemian rhapsody" as the sky grew dark and i grew kinda sleepy.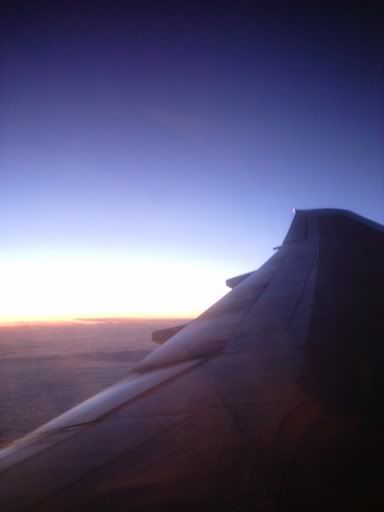 Another flight attendant came through with a drink cart. and passed out menus (amenity kits,menus-in economy? oh lord i forget these existed after flying on the US legacy carriers). One thingy came to my attentions- they had Fanta aboard. I havent had good fanta in years. Of course i asked for that from the F/A. The full Can=false. Meh-i still had fanta and a little pack of pretzels and something else.
Shortly after the IFE was activated. To my dissapointment All the movies listed either sucked or i saw them. I decided to take a look at "sideways". it was ok but not a movie that grabs my attention on a screen the size of an index card. I tried to recline-but it didnt. "oh well i dont need to recline anyway" i thought to myself. Those buttons are sometimes hit or miss.
About 1 hour after takeoff meals were served. I opted for the chicken. The main course consisted of a whole chicken breats and some 'tators. (Potatoes-ya know you cook em,bake em,or fry em up real crisp). The chicken was ok but kinda tasteless. it was still good (i have yet to meet an inflight meal i couldnt swallow). It came with a side of salmon and a salad. That was a good treat. about 30 min later another F/A came around with tea and coffee. I asked for coffee. I mixed it with a little cream that came with the mean (contrary to what i told one girl how i take my coffee the same way i take my women-black
) All in all the food was GOOD and filled me up.
After that i was exceptionally bored. I kept switching back between "sideways" and "sky captain and the world of tomorrow" sky captain was ok even though i already saw it ( im a big fan of film noir style crap ) For the next several hours i did absolutley nothing-i cant fall asleep on planes and i only had my ipod to keep my from dying of boredom.
I went to the lav once. instead of stopping in the middle of the economy cabin i went to the back ( i dont know why i felt like it). All were full so i waited and noticed how exceptionally loud it was next to the exit ( alot more than on any 767). I go in and find my self surrounded by mirrors. Whatever. I do my usual business in a lav i found cramped for a 777. It was definetly not the best way to join the mile high club. The mile high club thought did remind me of one song-TISM's "everyone else has had more sex than me". Its a song. google it. The flight proceeded like a regular day at school. I couldnt wait for it to be over.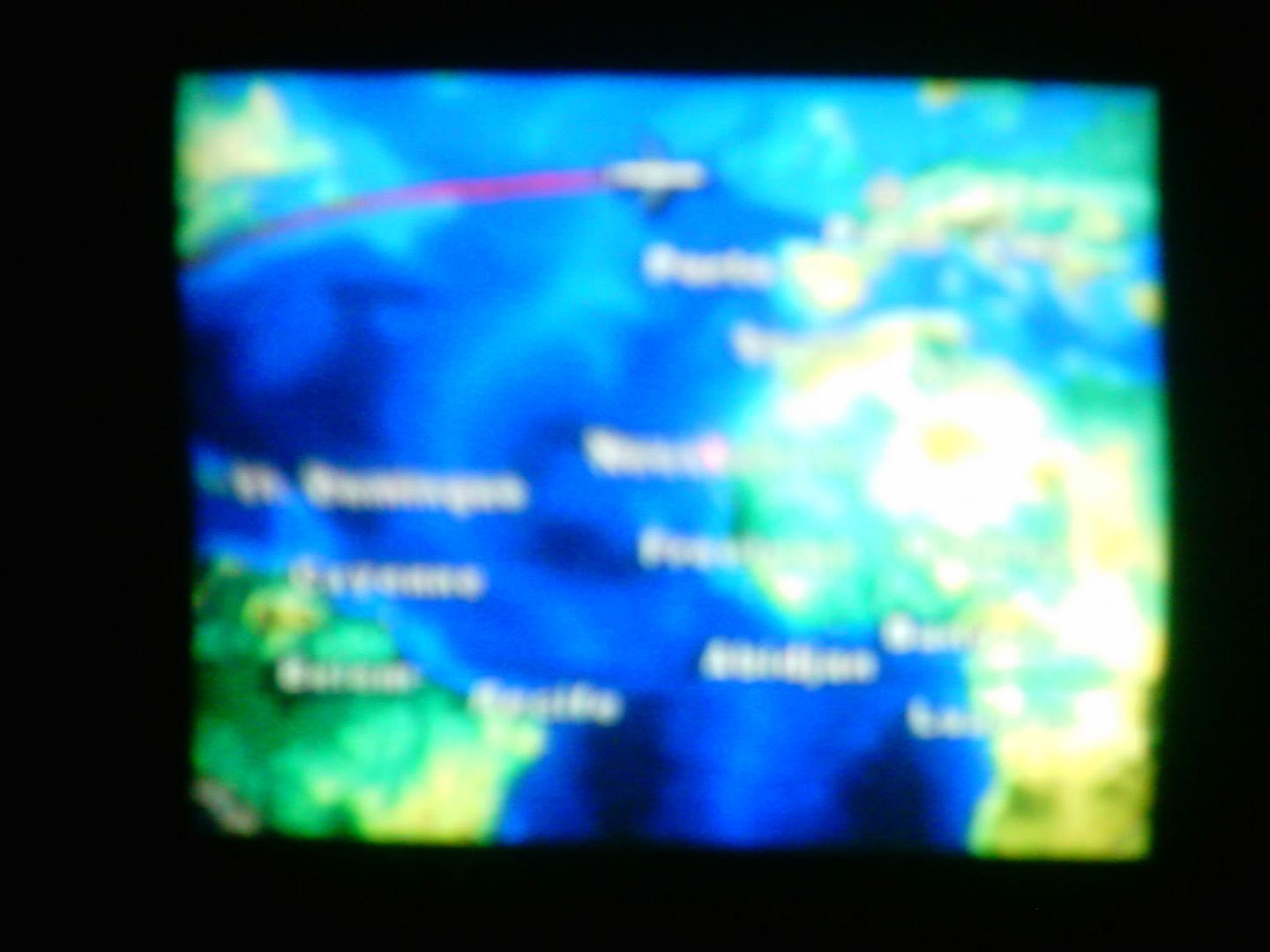 I tried to recline the seat again-and of all things it didnt. I would either break an arm or the seat before it reclines. and i thought. then i almost screamed. HOW UNLUCKY DO I HAVE TO BE TO NOT ONLY GET THE 1 ROW WITHOUT A WINDOW,BUT THE ONE SEAT THAT DOESNT RECLINE?????????
After a few hours i saw light again. Right then the F/As passed out breakfast. It was some raison bread,some little pastry,a little yougurt,and orange juice. For a pre-arrival snack it was good and woke me up. I heard from a few people not to eat 2nd meals on flights since they have been on the plane for 8 hours but hell i have things in my fridge for longer than that and they always taste good anyway.
After a couple incredibly bored hours i saw light again. Woohooo i thought. I turned on my ipod and shuffled the songs.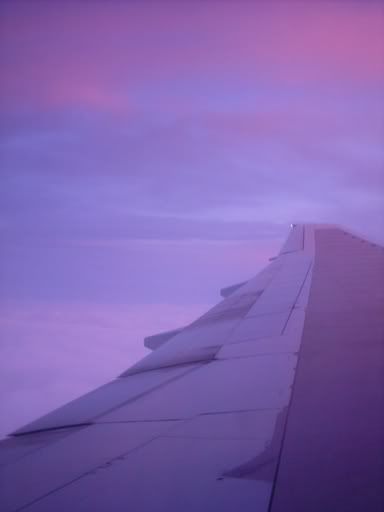 We started descending. I looked down to startus clouds below us. Oh jeez. Every single time i go to europe we always land in the crappiest weather.The last time i landed in europe to sunny weather aeroflot still used A310s on their IAD-SVO route.
The lower we got the more condensation we got. Closer and Closer we got. Then i notice something. My seat is reclined-by half a bloody inch. whatever.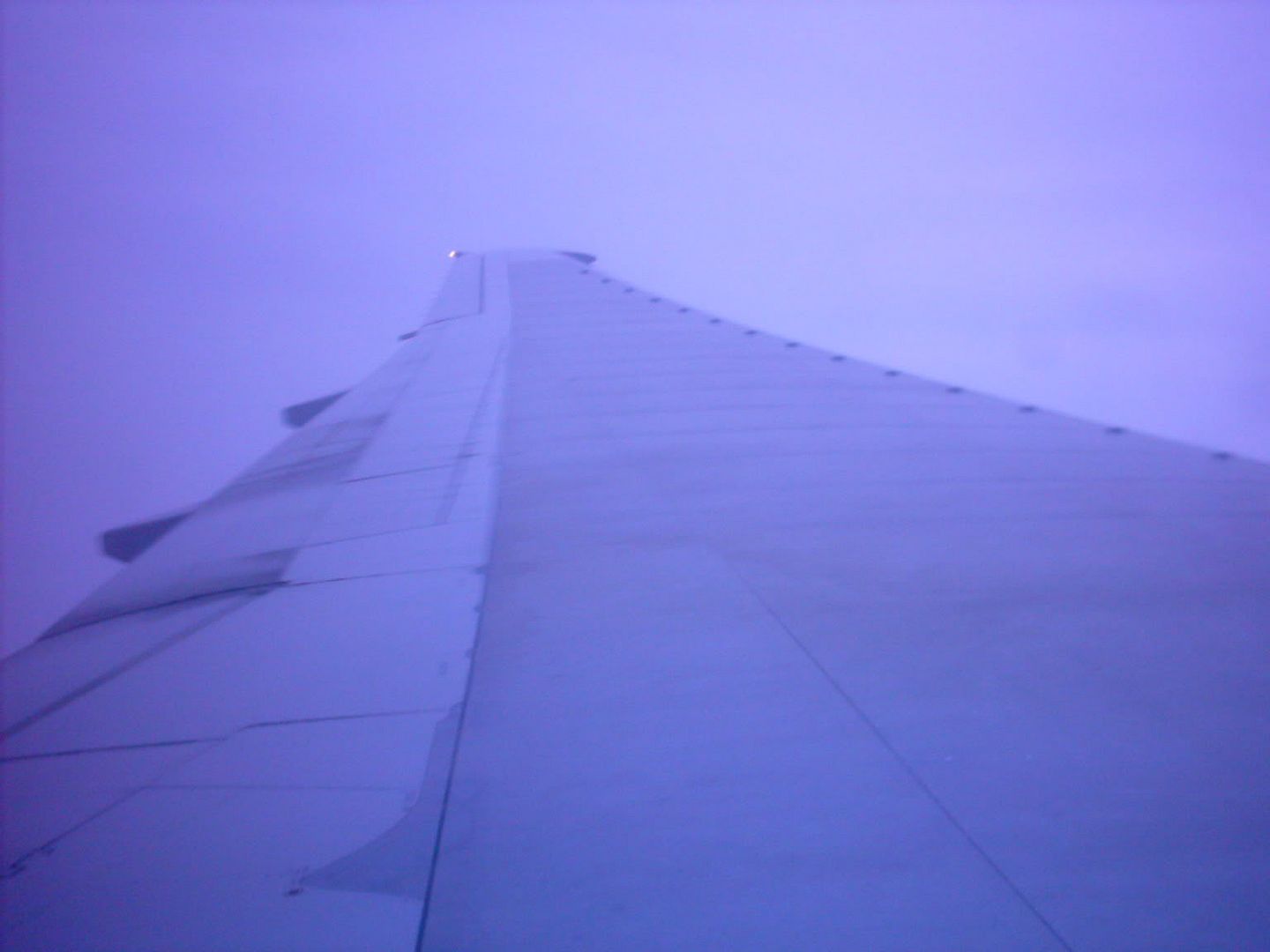 it was a quick descent and we went straight into the airport,no holding pattern or anything. Then the flaps started going down. We were close and I think my ipod was reading my mind because we were descending to guns and roses's "take me down to the paradise city". Right about that point the condensation started getting kick-ass.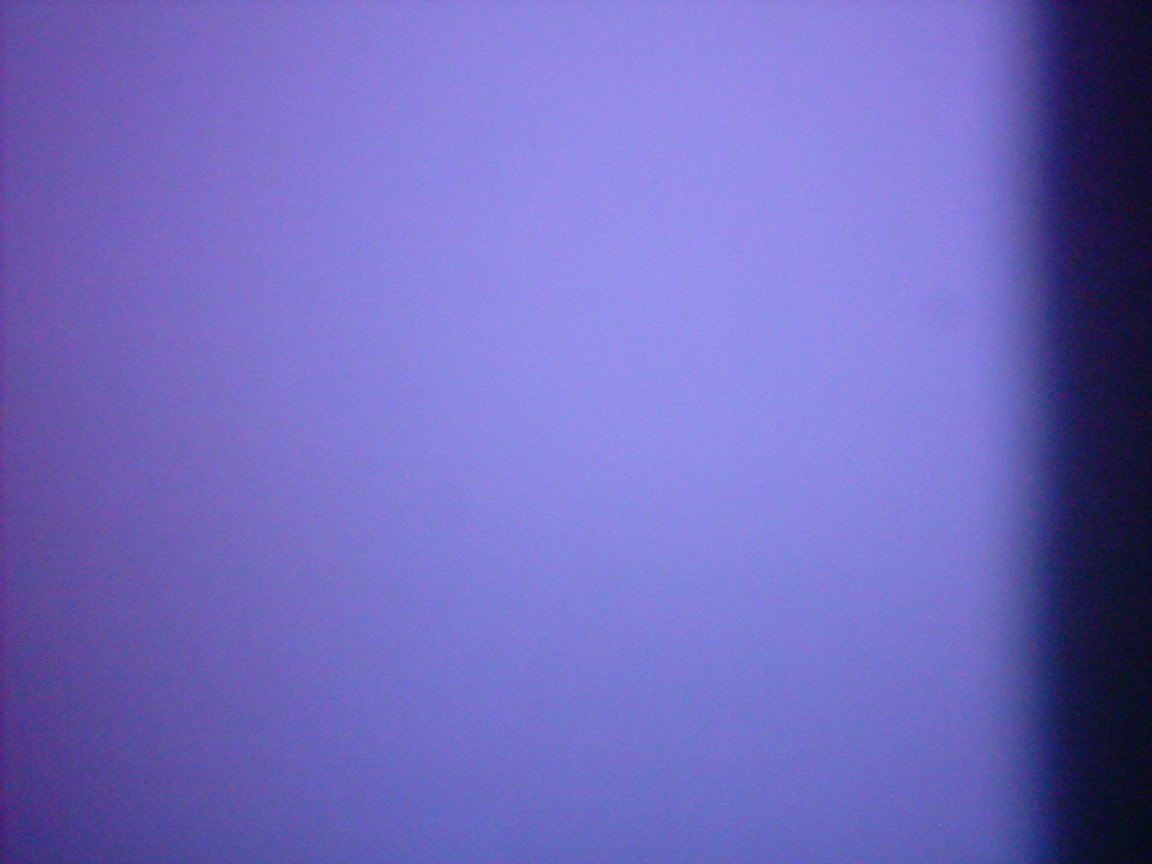 This is the view out the windows for a few seconds at a time.Then out of no where was the ground. And we came down-pretty smooth landing for the weather.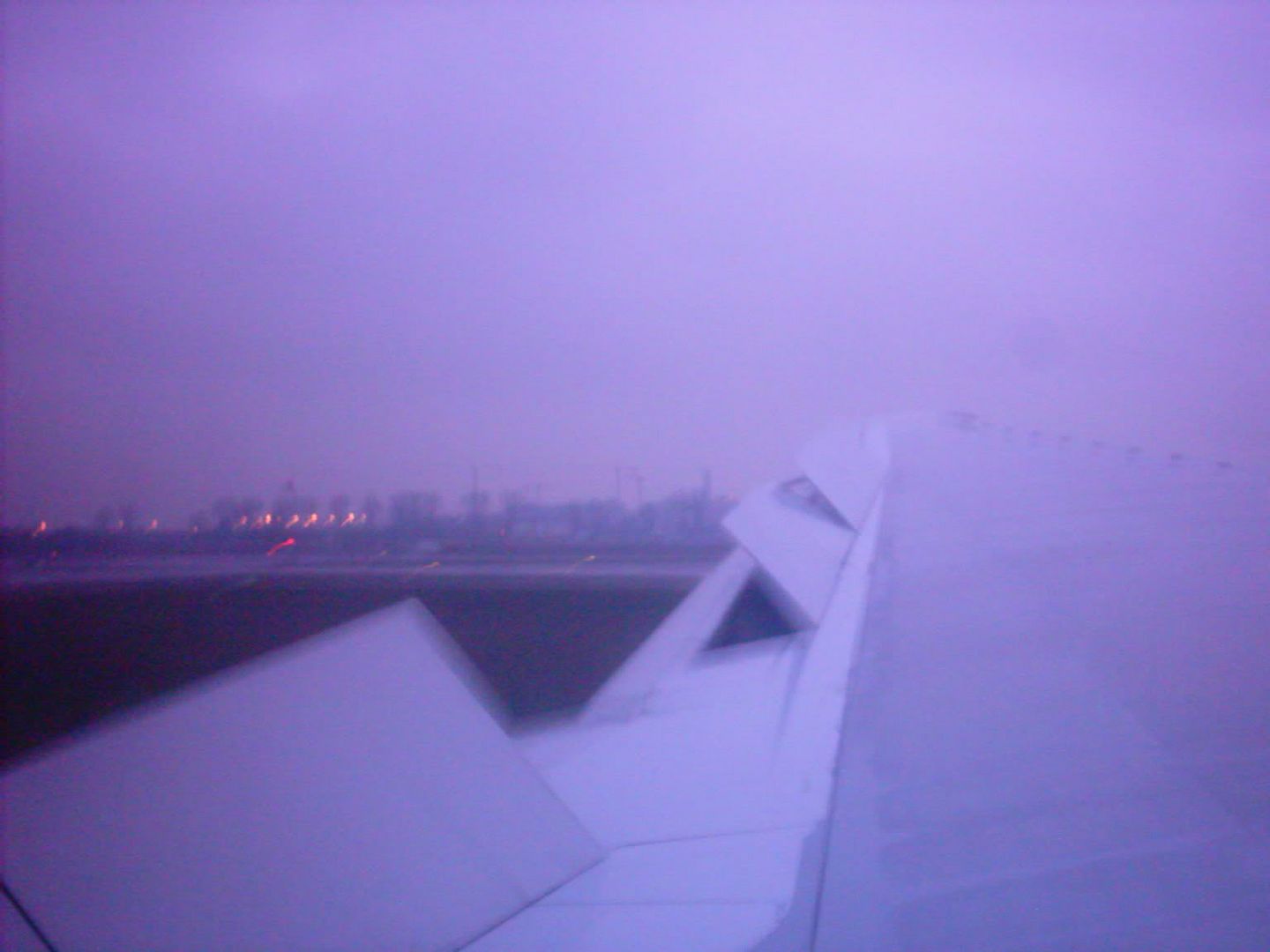 the pilot kept spoilers up the whole taxi to the gate.No idea why but it was one long taxi. I could not see where we were since The windows started fogging up as soon as we were going freeway speeds. Finally we hit the gate. Before we got off i asked the F/A if i could get a pic of the cockpit. long story short,yea i could.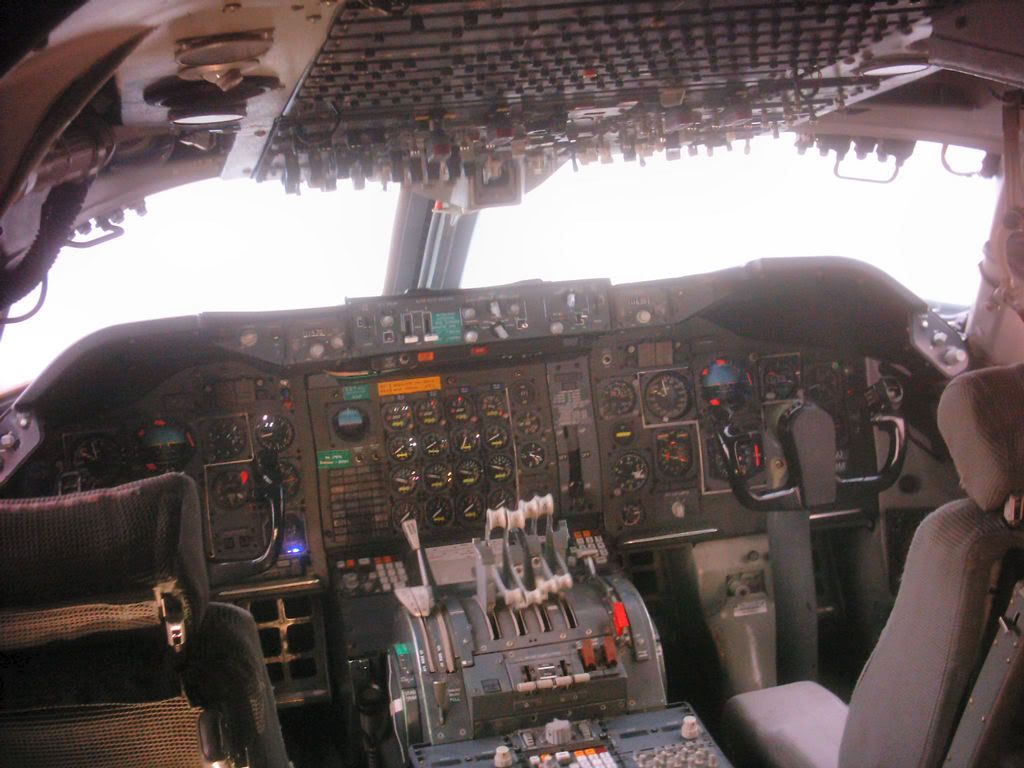 and that 777 suddenly turned into a-747-100?????? hehe thats the cockpit of the AF 747 in the le bourget air and space museum (concorde hall was cool btw). heres the 777 cockpit (sorry for the darkness i took it on the fly)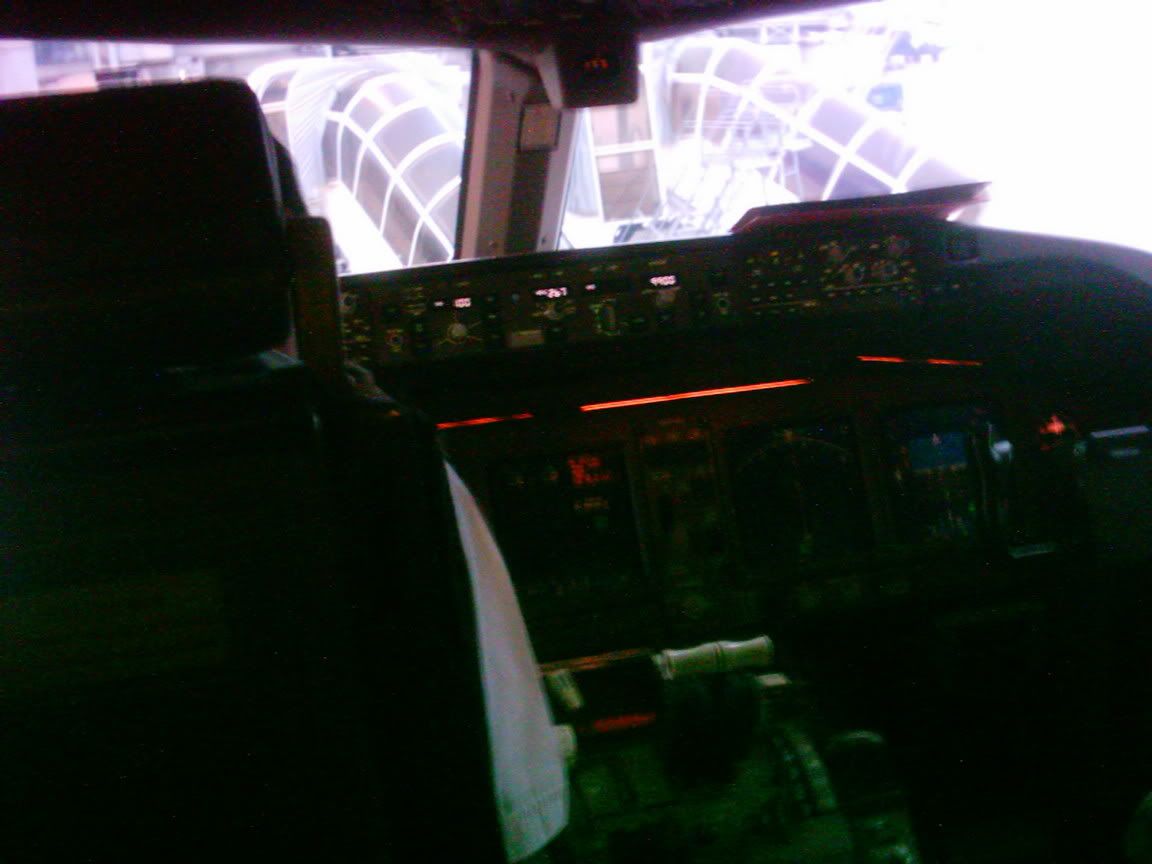 We procedded through check-in which was no biggie to baggage claim. I was tired,and baggage claim reminded me of the novel "1984". It looked cool in futuristic,but the atmosphere was depressing. We got our bags and an hour later checked in at the aida opera( oh and that gift was delivered successfully
)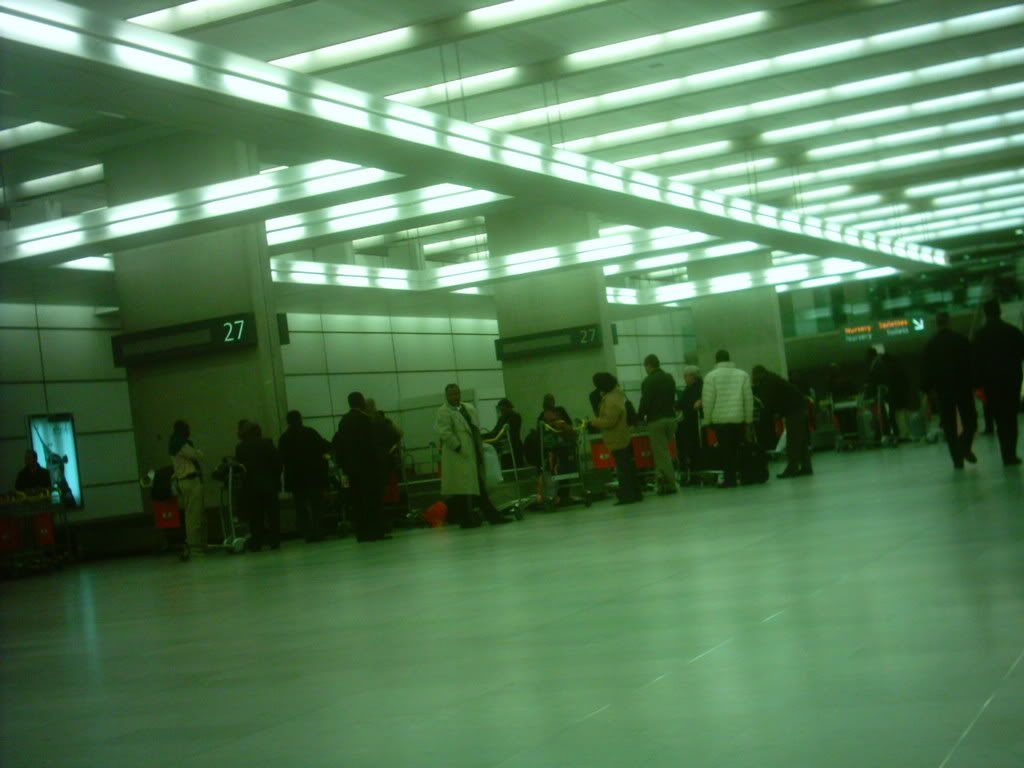 Thanks for reading my report. Ill post the CDG-IAD part later on when i feel like it. Please leave your comments