This is the first half of one of the more exotic trips I've taken – a flight to Mexico to visit some friends (Americans) who work for the Ford Motor Company in the city of Hermosillo. As soon as they found out they were moving there on a nine-month assignment, I began making plans to visit… Hermosillo isn't a beach resort, so the odds of me ever going there again were pretty slim.
I nosed around for airfares and all of them were pricey. American could take me from Chicago to Dallas to Tucson, where I could transfer to an AeroMexico flight across the border. America West could get me there through Phoenix. If I flew to Los Angeles, Aero California would take me there as well. Ultimately, I opted for a slightly longer route – Mexicana to Mexico City, then AeroMexico back up to HMO. I'd never flown through Mexico City before, but was eager to see the city and the airport.
**********************************************
Thursday, April 7, 2005
Chicago O'Hare International Airport
I arrived at Terminal 5 about two hours before my departure was scheduled. If you've ever been to Terminal 5 at O'Hare, odds are you've seen the Mexicana check-in line – it's always the longest one. In addition to Mexico City, MX has nonstops from ORD to a number of second-tier Mexican cities like Guadalajara, Monterrey, Leon, Morelia and Durango. Many passengers are Mexican nationals bringing home gifts, cheap electronics and clothing for their relatives, so lots of luggage and baggage carts are almost a given.
Fortunately, when I arrived at the Mexicana counter the line was fairly short – check-in was only open for the flights to MEX and Guadalajara. I got through the line in about 15 minutes and headed for security.
This was my first time going airside in Terminal 5… I've arrived there on dozens of international flights, but I'd never seen the upper-level gate areas. It's very modern and spacious, particularly early in the morning, when most of the gates are empty: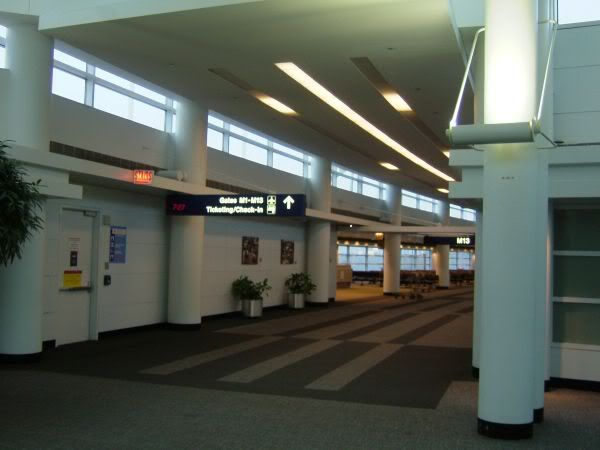 ***********************************************
Mexicana Flight 4078
Chicago O'Hare (ORD) – Mexico City Benito Juarez (MEX)
Departs ORD 8:15am, arrives MEX 12:40pm
Airbus A320 (N292MX, "Oaxaca"), seat 7A
Flying time: 3 hours, 50 minutes
When I booked my tickets on Mexicana.com, the itinerary called for 757s on the flights to and from Mexico City; I was disappointed to see the A320 when I got to the gate area. I don't really have anything against the A320, but I like the 'big jet' feel of the 757.
The cabin was in pretty sad shape for a relatively new aircraft (although some of Mexicana's A320s are pushing 15 years old at this point, I suppose). The overhead panels were grimy, the walls were grimy, the carpet was worn, and the seats felt very thin. My seat was slightly reclined when I sat down, and didn't come up when I pressed the button. When I put down the tray table, it had pen markings all over it. The US legacy carriers have some fairly dirty aircraft, but I'd never seen anything on this scale. Fortunately, the service would more than compensate for the cabin condition. The flight seemed to be about 60 percent full – the middle seat in our group of three was open, which was nice.
Cabin crew seemed to be everywhere – unlike US carriers, which staff their flights with the FAA minimum of flight attendants, Mexicana had (I believe) a purser, a first-class attendant and three main cabin crew. That's two more than an A320 flight in the US would have.
At the gate, preparing to push back: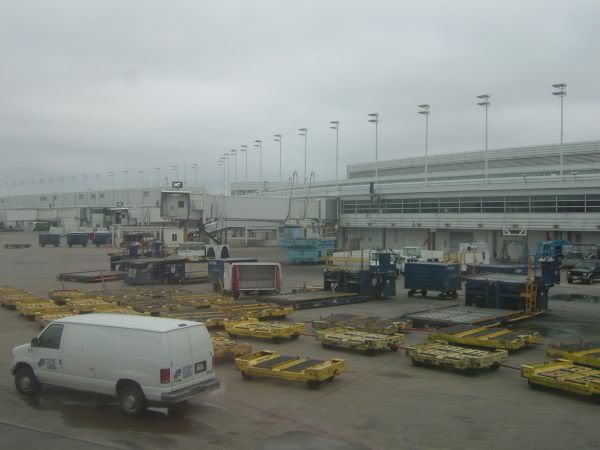 We pushed back in tandem with the Guadalajara flight, which then followed us to the runway threshold. Although the A320 had fold-down video screens, the safety demo was performed by cabin crew standing in the aisles. Every announcement on this flight was prerecorded and played first in Spanish (male voice) and then in English (female voice). Not once during the entire flight did the cabin crew (or the captain) address us directly over the PA.
ORD was running departures on 9L, 9R and 4L today; arrivals were on 14R, 9R and 4R. We headed for the 9R threshold – since the runway was in 'mixed mode' (takeoffs and landing) we had a much longer wait. Finally we turned onto the runway: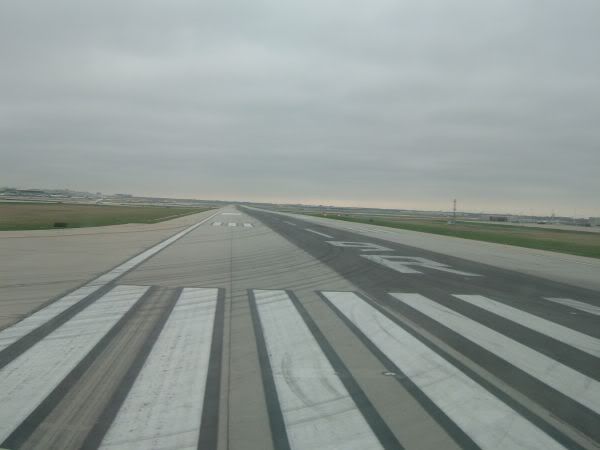 Takeoff to the east, past a very deserted Terminal 5: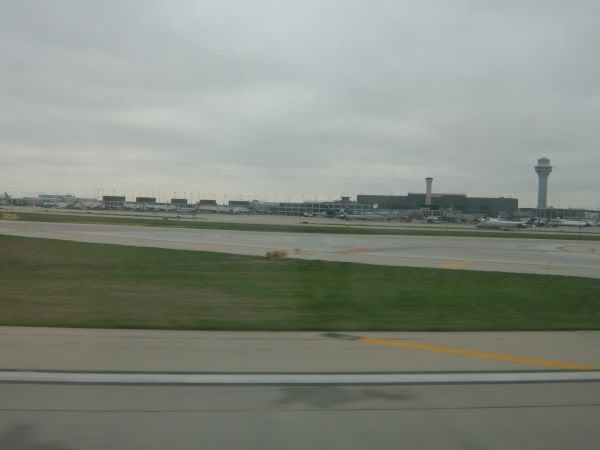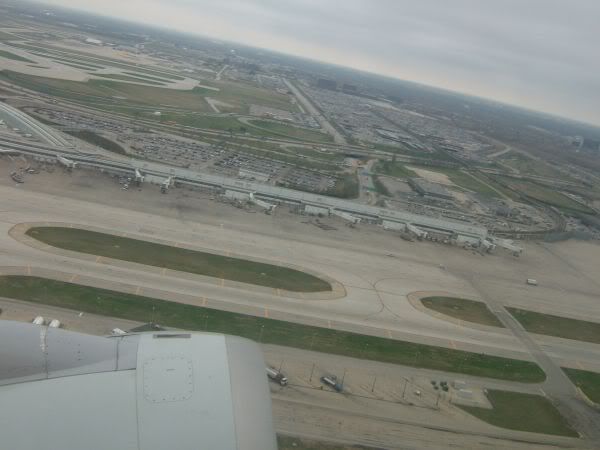 The cloudbase over Chicago was low this morning, so we were swallowed up by the clouds less than a minute after rotating. We popped into the sunlight a few minutes later.
Once we were established at cruising altitude, the cabin crew came through the aisles with breakfast. It was interesting to note that the cabin crew addressed ALL passengers, even Anglos, in Spanish. If you replied in English, they would speak English, but all greetings were made in Spanish. I speak Spanish, so I was happy to get some much-needed practice in conversation.
The breakfast choices were burritos or an omelet. I opted for the omelet and was surprised to find it didn't have any filling – it was literally a tube-shaped chunk of scrambled eggs, topped with salsa and spinach, with potatoes and a muffin on the side. Still, it was nice to get a hot meal on such a (relatively) short flight: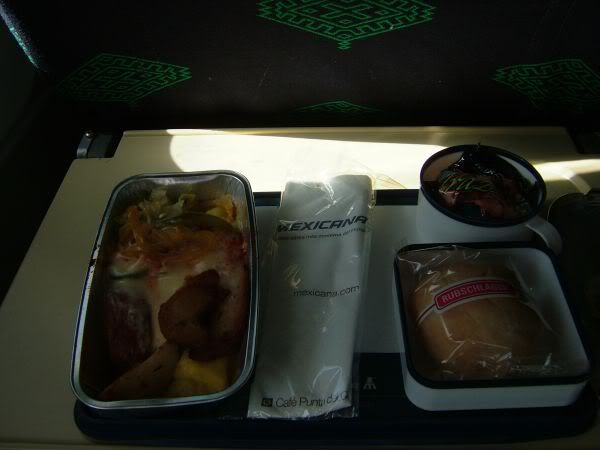 Drink service followed breakfast, and then we were pretty much left alone for the duration of the flight. The cabin crew handed out headsets, but they were apparently just for audio programming – the flip-down screens remained up and locked the entire flight. I figured a near-four-hour flight would merit a movie, but perhaps the IFE system wasn't working.
A view of the cabin while cruising inflight. Since Mexicana isn't beholden to the security-obsessed US government, you'll see that the curtain between coach and first class is drawn shut. I'd forgotten how a closed curtain can make the plane seem more intimate, even in coach: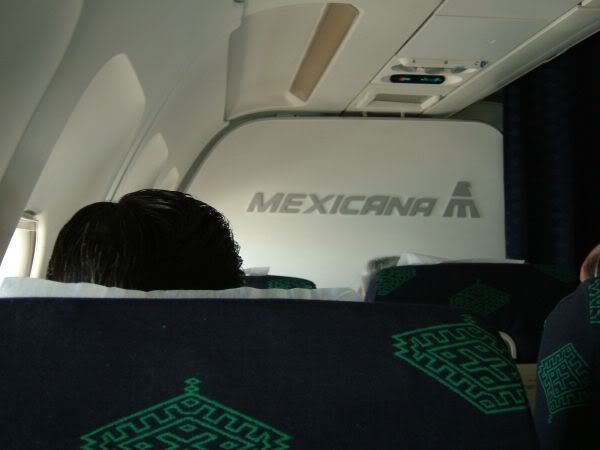 The dense cloudbase remained beneath us all the way down across Illinois, Missouri and Arkansas. I finally got a clear view over southern Texas, just in time to get a fuzzy shot of downtown Houston: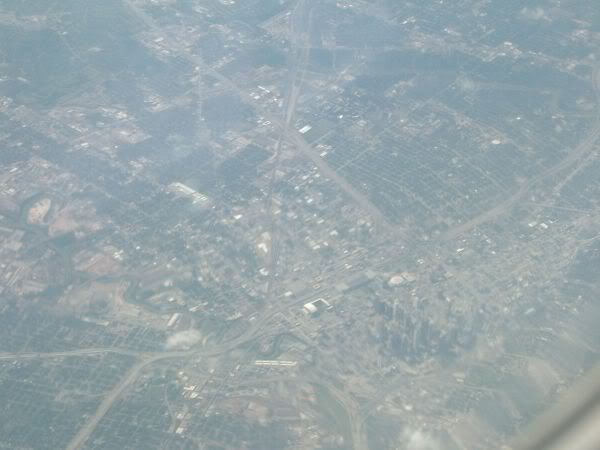 We turned southwest and traced the Texas coastline, heading for the border: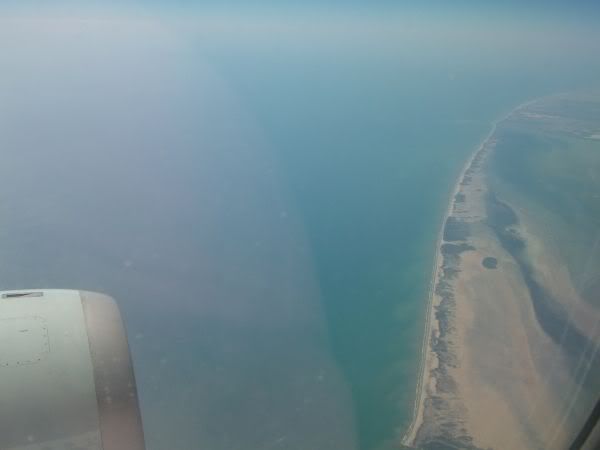 Our route took us back over southern Texas and directly over the Brownsville-Matamoros area on the Rio Grande. Things grew hazier as we flew across Mexico – unchecked brush fires start up in the spring and burn through the summer, sending smog and haze north into Texas. The landscape also grew more mountainous as we followed the Sierra Madre Occidental down toward Mexico City.
Shortly before we started our descent into MEX, the cabin crew came through with duty-free items and arrival documents for customs in Mexico City. Although I was continuing on to Hermosillo, I would still need to clear customs before proceeding to the domestic terminal.
This was my first time flying into MEX, so the landscape down below was completely alien to me. The haze and pollution grew worse and worse as we descended. I was hoping we'd come in from the south, over the central city, but as we made one sharp turn after another inside the murk I became completely disoriented. Eventually the ground appeared again, just as we flew over some kind of military or general aviation airfield.
We passed the small airport and began flying over the outer fringes of Mexico City – lots of raw, very similar-looking new housing developments. New streets were being dug everywhere; it looked sort of like Phoenix or Las Vegas. We then flew over a small ridge of mountains topped by TV antennas, and the sprawl thickened into a massive urban clot – factories, shopping centers, elevated highways and two- and three-story apartment buildings, growing denser and denser the further in we flew: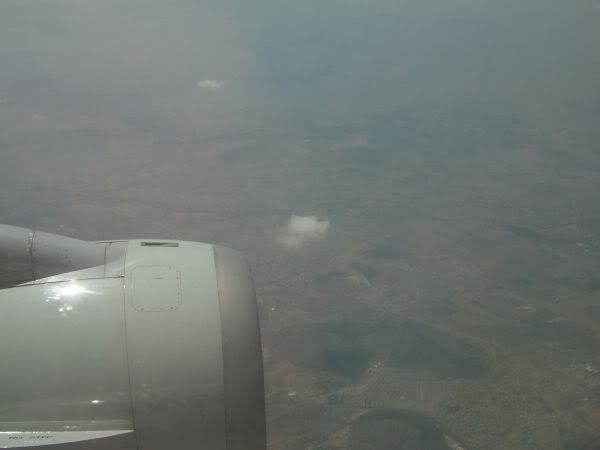 By now I guessed we'd be coming in from the south, and sure enough, as the wheels dropped down we made a long, hard turn right over Chapultepec Park and the central core of the city: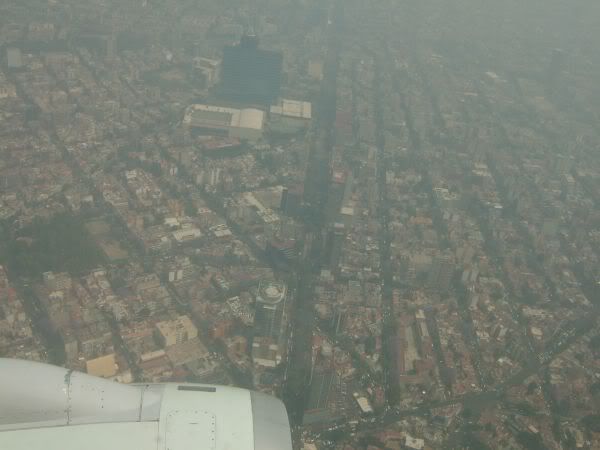 VIDEO: LANDING AT MEXICO CITY
The video starts right after we leveled off on final, but before Mexicana turned off their cheesy onboard Muzak. The density of this city was absolutely amazing – the video doesn't do it justice. Although it's a little fuzzy, you can see (among other things) an elevated Metro station, a large Home Depot store and a Renault car dealership (with RENAULT written on the roof in large letters). Shortly before we touched down a helicopter went whizzing by us at very low altitude, but unfortunately the video doesn't pick it up. Landing is on runway 5R – you can hear the prerecorded landing announcement as we make a very long rollout.
http://www.flightlevel350.com/public_viewer.php?cat=85&pic=2527
Turning off the runway and crossing parallel runway 5L-23R (being used for takeoffs):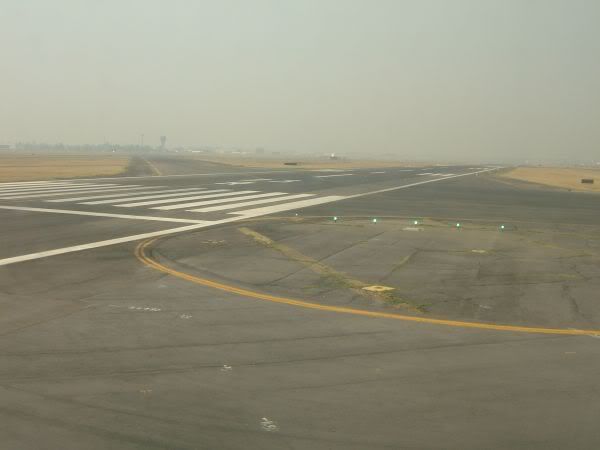 We made a very slow taxi back to the terminal – MEX has only one taxiway fronting the terminal area, so anytime an aircraft pushes back, everyone behind it has to wait. As we turned toward the international terminal, we passed EC-GOK, one of Iberia's two daily A340s preparing to depart for Madrid: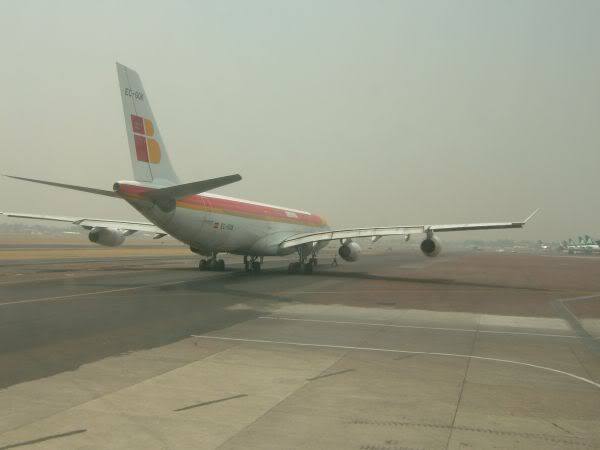 Pulling into our stand at MEX's relatively new international terminal: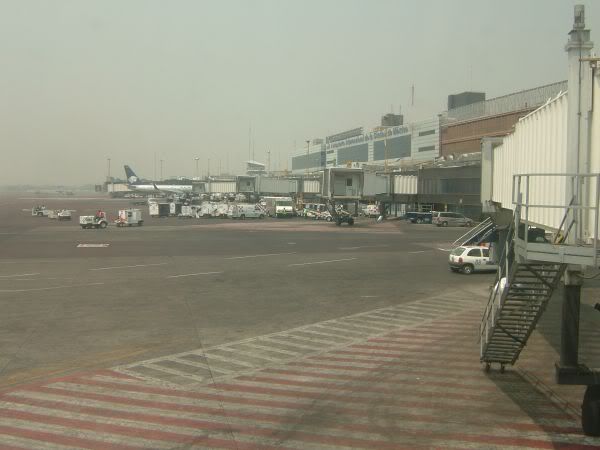 As soon as the engines had shut down, baggage handlers (all male and wearing orange vests) and cabin cleaners (all female, in yellow vests) swarmed around the aircraft. We were fortunate to get a jetway instead of a mobile lounge… I wouldn't be so lucky on the return trip.
***********************************************
Mexico City Benito Juarez Airport - layover
We deplaned into the large new departure lounge at the far end of MEX's international terminal (there's also a new remote pier, accessed by a VERY long connector walkway, although fortunately we didn't dock there). This part of the terminal was superficially modern, although that changed as soon as I walked into the older portion of the terminal.
MEX is hot, crowded and undersized – but it's an incredibly busy and exciting place. The exit and connection to the domestic terminal were at the opposite end of the building, so I had quite a long walk ahead of me. When I reached the customs desk (adjacent to the almost comically crowded mobile lounge departure gates) I stopped and asked if I could clear customs and leave the secure area. The woman behind the desk said "of course… just clear customs and then re-enter security in the domestic terminal."
I walked through the deserted baggage claim and customs area (getting a Mexico stamp in my passport along the way) and through the large sliding doors into MEX's subterranean international arrivals hall. It was a surreal place – full of people, all speaking Spanish. At this point I was definitely starting to get a stranger-in-a-strange-land vibe… but it was really interesting.
Once through arrivals, I went upstairs to the departure hall to look for timetables. Most of the European carriers (except for Iberia) hadn't opened their ticket counters yet – flights to London, Paris, Amsterdam and Frankfurt wouldn't be leaving for a few more hours. I did manage to pick up timetables for Mexicana, AeroMexico and Aviacsa.
Next I headed to the domestic terminal – MEX is basically one giant terminal building divided into international and domestic zones. The domestic terminal was even more crowded, although cleaning women were vigilantly sweeping and polishing the marble floors. It was sweltering hot inside as well; a huge new canopy is being built over the arrivals roadway, so the whole building is (temporarily) open to the hot, choking Mexico City air.
I'd had enough of the landside at this point and went back to the domestic security checkpoint. I was through in no time at all – it was fast and efficient. No removal of shoes, no patting down of old ladies, no frisking of toddlers. Once through security I set out to explore the long airside pier of MEX's domestic terminal, which was packed with flights headed for exotic-sounding destinations.
Here's
San Andres
, one of Mexicana's brand-new A318s, preparing to depart for Merida: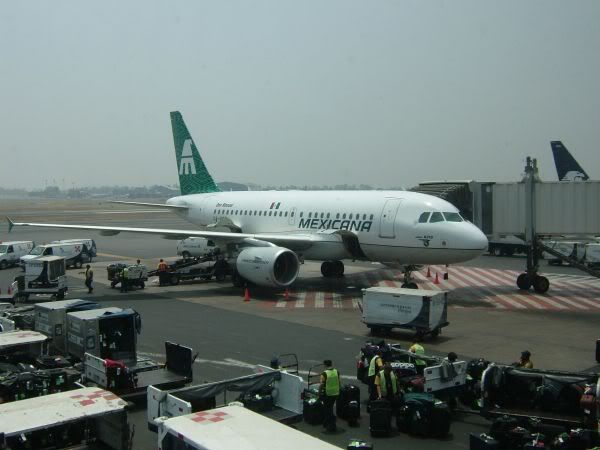 Mexicana's 'retro' A320, N405MX, in the company's 1950s livery: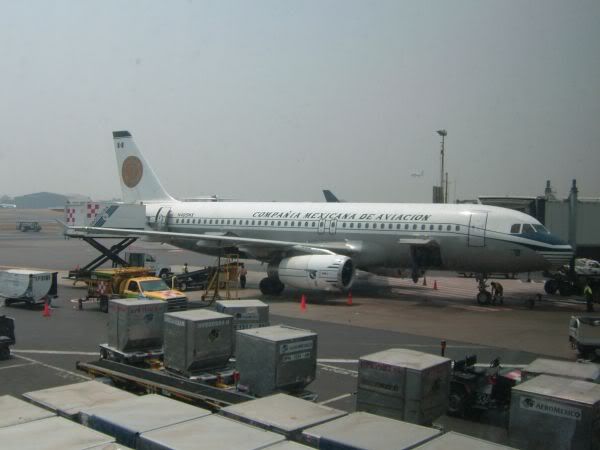 One of AeroMexico's very smart-looking wingletted 737-700s, N906AM: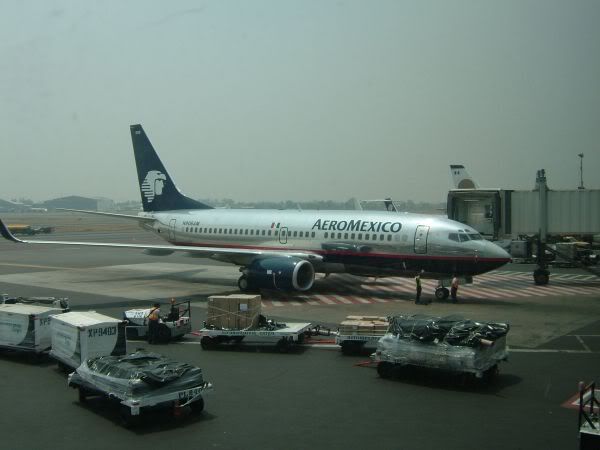 About 30 minutes before departure time, I headed to the gate for my flight to Hermosillo. Here's the MD80 that would take me there parked at the gate: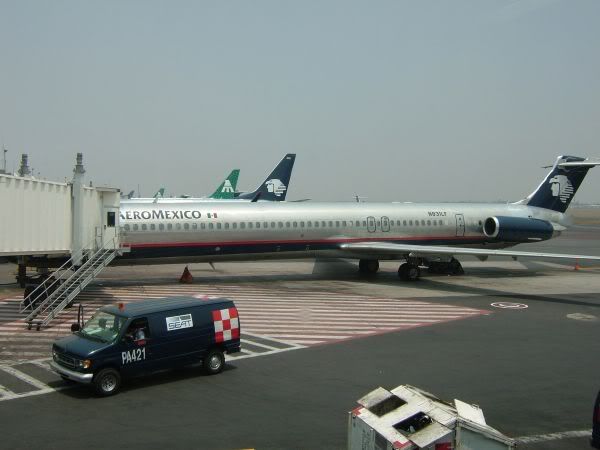 ***********************************************
AeroMexico Flight 5712
Mexico City Benito Juarez (MEX) – Hermosillo General Ignacio Pesqueira (HMO)
Departs MEX 2:45pm, arrives HMO 3:50pm
McDonnell-Douglas MD80 (N831LF), seat 29E
Flying time: 2 hours, 30 minutes
This flight was boarding through a jetway as well – AeroMexico had parked a cart by the aircraft door with complimentary newspapers, magazines and candies. A nice touch!
Our MD80 was in much better shape than the Mexicana A320, although it was starting to look a little worn. The load on today's flight was pretty light – maybe 50 passengers. I was one of the few passengers in the rear cabin… most folks sat up front. If I'm flying an MD80, I like to sit in back, behind the wing where I can hear the engines.
At the gate, with a company 737 next door: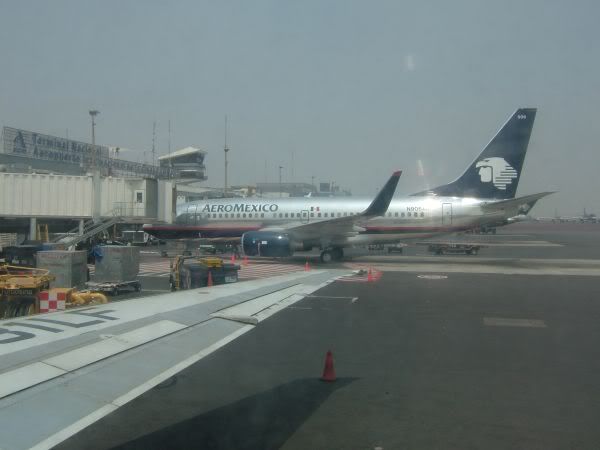 Like Mexicana, this aircraft had a full complement of cabin crew, and all announcements were prerecorded. The crew was a mix of males and females – the males seemed to young (one in his twenties, I'd guess) while the ladies were a bit longer in the tooth.
We pushed back on time and headed for the 5L threshold, passing the domestic terminal's remote stands. An Azteca 737 was parked there: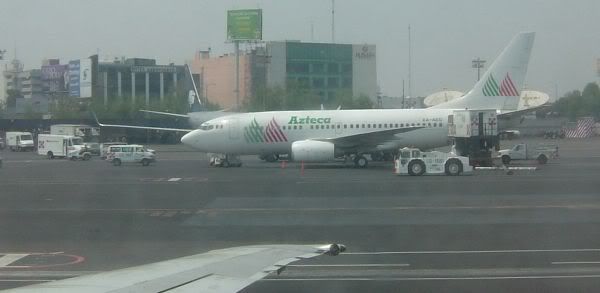 VIDEO: TAKEOFF FROM MEXICO CITY
Takeoff was to the northeast. If you watch the video, you'll note the takeoff run seems very long. Mexico City is at such a high altitude that on warm days (like this one) aircraft need every foot of runway to get airborne. I can't imagine what departing in a fully-loaded widebody must be like!
http://www.flightlevel350.com/public_viewer.php?cat=85&pic=2542
Climbing out over the dry Lago de Texcoco lakebed… before the Spanish conquest, all of Tenochtitlan (the Aztec capital) was built over a lake. The Spaniards drained the lake and built modern-day Mexico City in its place. Today only this portion of dry lakebed is left – it'd be a perfect place to build a new Mexico City airport, but conservationitsts (yes, they have them in Mexico too) have blocked those attempts so far: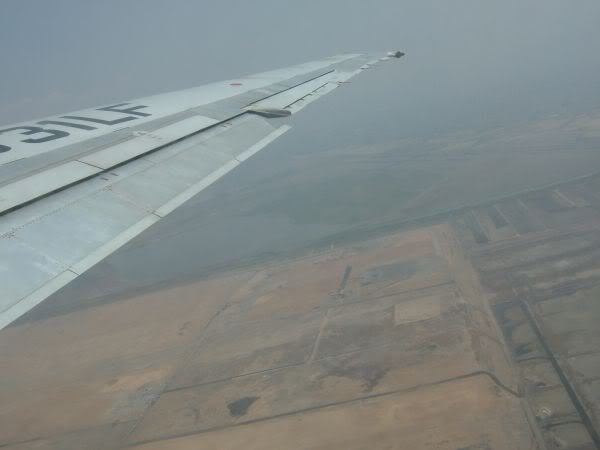 We turned northwest off the runway heading, climbing out over the extreme northern reaches of Mexico City: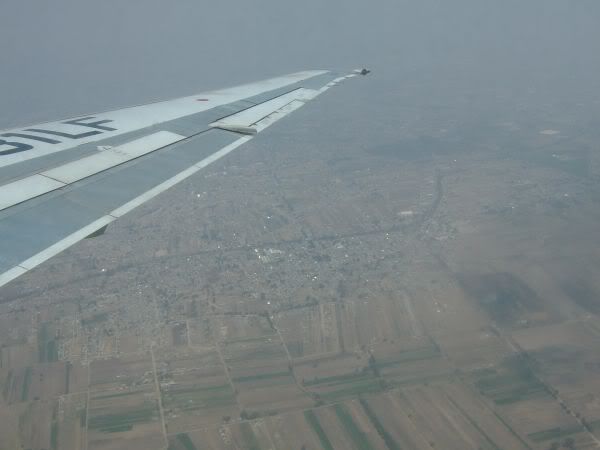 Once we got up to cruising altitude, we basically followed the Sierra Madre Oriental (the western chain of mountains that divides Mexico) all the way up to Hermosillo. The Orientals eventually cross the US border and become California's Coastal Range, while the Occidental range crosses the Rio Grande and morphs into America's Rocky Mountains. Either way, the rugged scenery was impressive: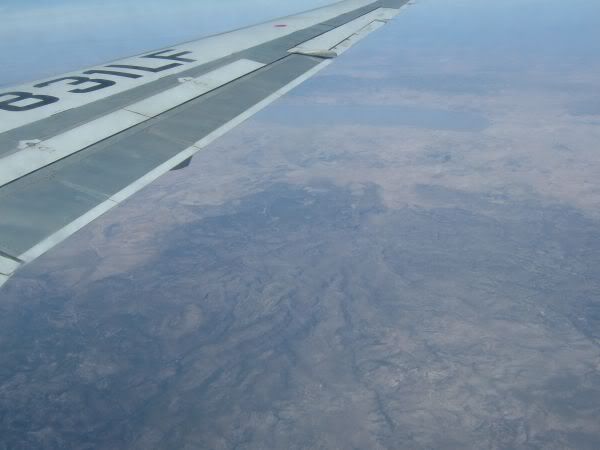 A cabin view once we reached cruising altitude: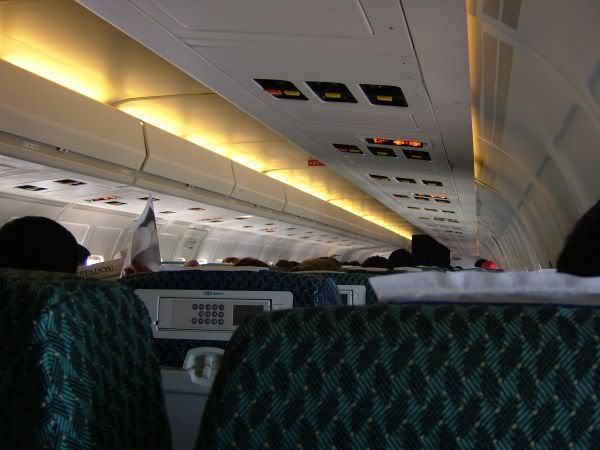 The cabin crew came down the aisles with lunch – one of the best meals I've had on any flight. We weren't given a choice, but the entrée served was excellent… small cubes of chicken in some kind of chili-pepper cream sauce, with spinach and diced potatoes. We also got a roll, a small salad, and some kind of dessert made from rice, milk and cinnamon (what's this called? It was excellent.)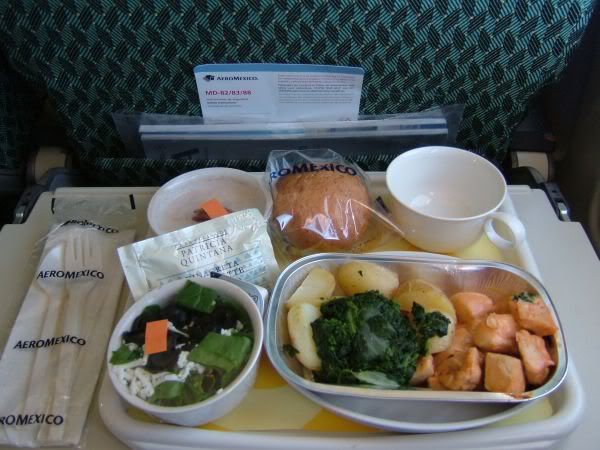 This flight was longer than I'd anticipated; I had read my book on the flight down to MEX and consequently found myself with little to do for the two-hour haul to Hermosillo. I thumbed through the
Escala
inflight magazine, but mostly I looked at the window: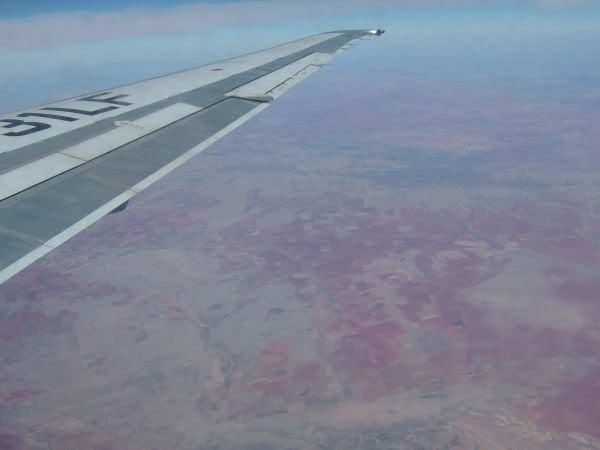 A few hours later, the engines eased back and we started our descent into Hermosillo. We were now flying over the Sonoran Desert, although it looked like they'd had quite a bit of rain – the desert was surprisingly green: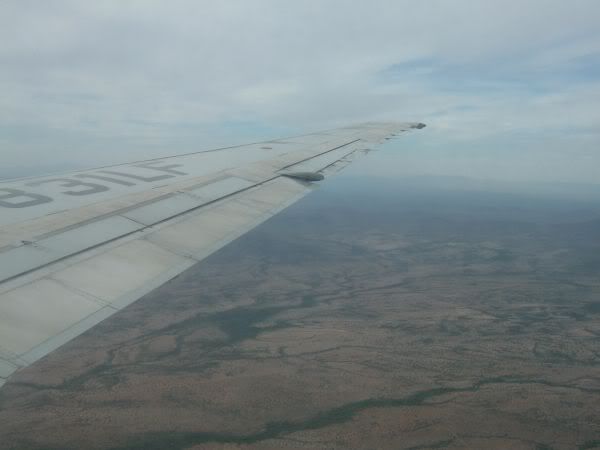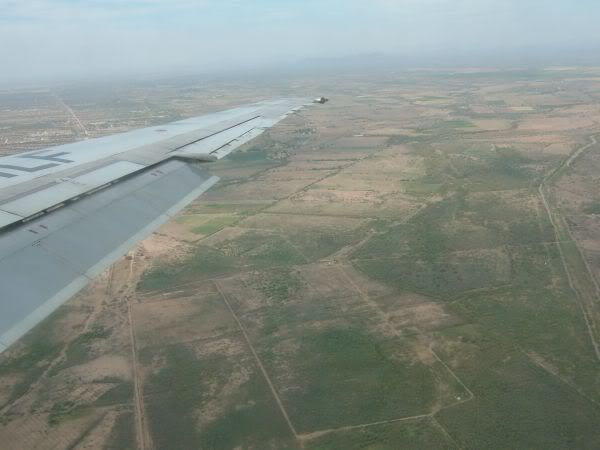 We came closer and closer to the desert, passing over some kind of large mining facility, then over a low range of mountains, and suddenly there was the city: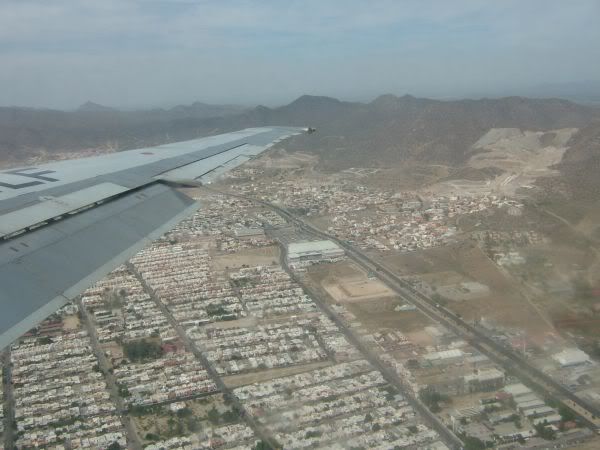 Descending over the heart of Hermosillo: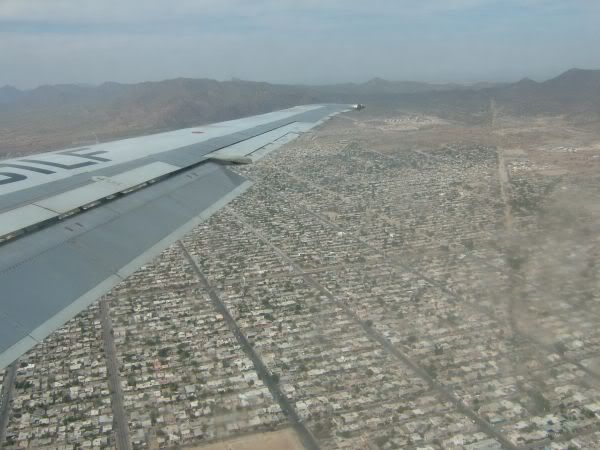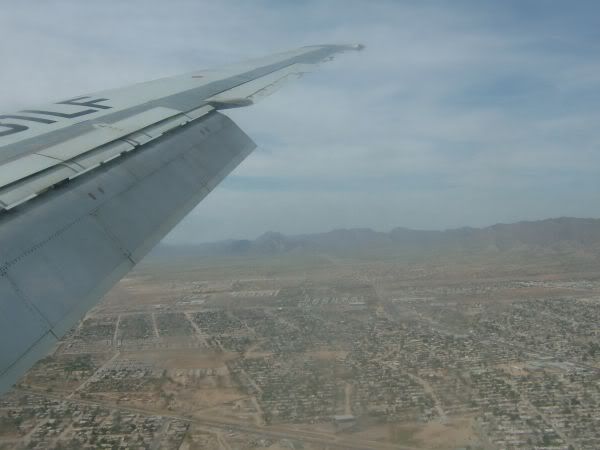 VIDEO: LANDING AT HERMOSILLO
Final approach over the western reaches of Hermosillo and down onto runway 23. The airport is on the far western side of town, pretty much in the middle of the desert. I had to cut the video a little bit short, as my camera ran out of video memory shortly before touchdown.
http://www.flightlevel350.com/public_viewer.php?cat=85&pic=2529
We turned off the runway and taxied back toward the terminal building. The main highway between Hermosillo and Bahia Kino runs parallel to the runway:
Turning onto the terminal apron, with two AeroLitoral Saab 340s parked on the apron. AeroLitoral (the regional arm of AeroMexico) flies to Ciudad Juarez, Monterrey, Los Angeles, Tucson and a few other points from Hermosillo: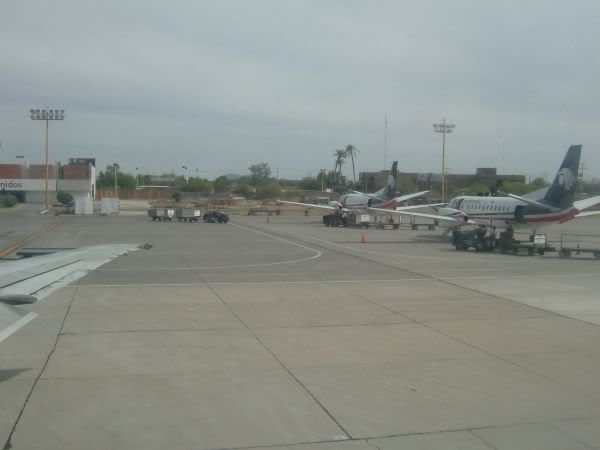 Hermosillo is one of Mexico's top ten busiest airports and is considered a 'hub' for AeroMexico; there were two other company MD80s on the ground when we pulled in, along with an Azteca 737 and the aforementioned AeroLitoral Saabs. Once the engines were shut off, the lead flight attendant announced that we would be disembarking through both the forward and rear doors to expedite the deplaning process. I've deplaned through the tail one other time in my life – from a Hawaiian DC9 on Kauai – and didn't miss the chance to do it again: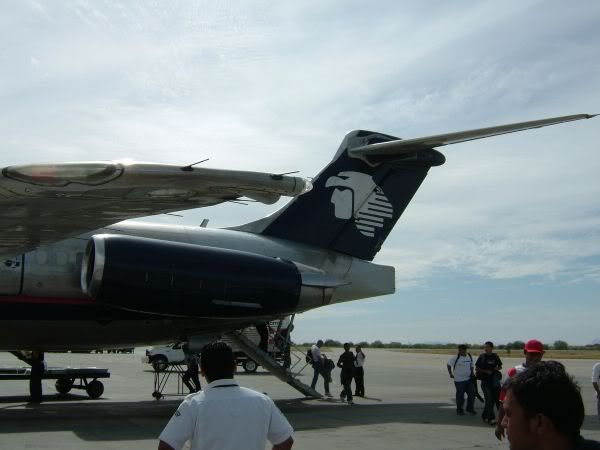 Forward door deplaning: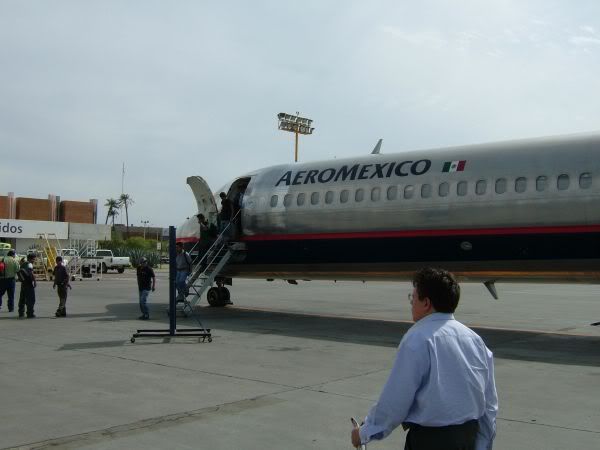 Walking toward the arrivals hall of Hermosillo's small terminal. A few days later, one of my hosts' Mexican coworkers asked me if there had been a proponderance of young men with backpacks and no other luggage on my flight. I realized that yes, there had been – you can even see some of them in this picture. The coworker explained the Hermosillo is a popular jumping-off point for migrants looking to enter the United States, and that they fly in from the south with only what they can carry on their back. Who knows – some of the guys in this picture could be in the US by now: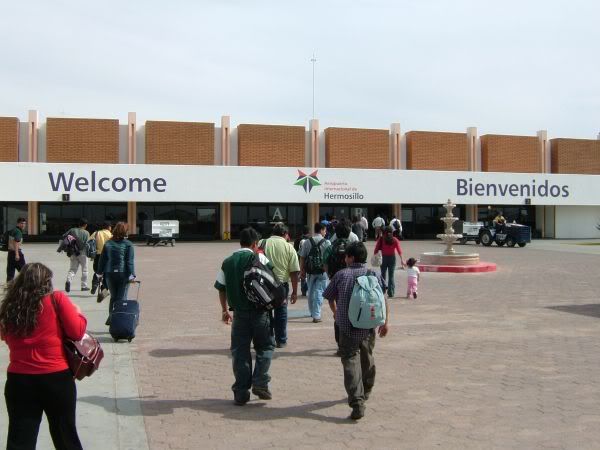 When I showed my American passport at the terminal entrance, I was directed through a door marked 'llegadas internacionales.' I had been the only Anglo on my flight, and as far as I could tell I was the only person to use the international arrivals hall. My suitcase was hand-delivered to me (there was a baggage carousel in the domestic arrivals hall, but not in international arrivals) and I proceeded to the customs desk, where I pushed a button that randomly determined whether my luggage would be searched or not. I got a green light – "pase," said the official – and I was through the double doors and into the terminal lobby, where my friends were waiting.
***********************************************
As soon as I get the second half of the report written – the return journey – I'll get it posted here. Thanks for reading!