Finally I can find some time to write a trip report. I have more 'old' reports pending. I hope you don't mind this trip was a while ago now. O well, here it goes.
I had made a few trips with EZY already and I was looking for a chance to try FR. I really didn't mind they fly from remote airports because I never departed from another airport than AMS. I always like to try something else.
For FR flights I could choose out of 3 airports: EIN, NRN and GRQ.
Then one day FR announced they will discontinue STN-GRQ from April 28th because it wasn't as profitable as they expected. People were booking flights well in advance for the cheapest fares. Well I can say that is kind of what you can expect from a Dutchman, especially from people living in that part of the country.
So GRQ it would be as long as I still could fly out with FR from this very remote airport. I have to say FR is honoring his name for flying to airports like this because GRQ is situated in a part of the country known as the outback in the Netherlands.
Besides I live between AMS and GRQ anyway. Only I live less then an hour away from AMS by car and say 2.5 hours from GRQ.
2 friends wanted to join me. Samuël, who is also a big aviation enthusiastic and Randy who never has flown in his live. Since FR was only flying once a day to GRQ we had to stay overnight somewhere in London. So we booked GRQ-STN on April 24th and the return leg for the next day April 25th. The return fare was €10.98 each but with the taxes and the credit card penalty the fare was exactly €60 each.
April 24, 2004
GRQ-STN
737-3Q8 G-BZZH
Scheduled departure time: 18:25
Scheduled arrival time: 18:30
Pax on board: 67
This is the a/c which took us to STN. Former Buzz and ex Continental.
View Large
View Medium


Photo © Georg Noack
On a nice and sunny day we departed for Groningen / Eelde Airport early in the afternoon. We wanted to be the first to check in because I was eager to have boarding pass # 1 once in my lifetime. FR have the same boarding procedure as EZY. Families with children are among the first to board and then pax with boarding pass # 1 to 30 an then 31 to 60 and then the remaining pax. Needless to say I, as an aviation enthusiast wanted to have a good window seat hence aiming for a low boarding pass #.
When we arrived there we were kind of surprised to see how small the terminal building is. Anyway we were quite early and used our time to look around which only took about 2 minutes. Here are a few pictures from the outside and the inside and a scan of the terminal layout as well.
Terminal view from the outside: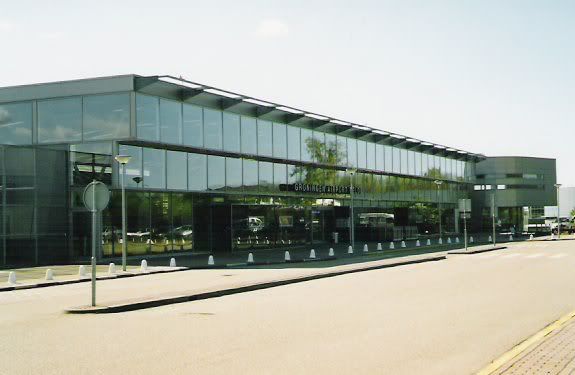 This is the layout of the main terminal building. It is in Dutch but I'm sure you'll be able to read the map. Vertrekhal = departure lounge and aankomsthal is where the pass control and the baggage reclaim is.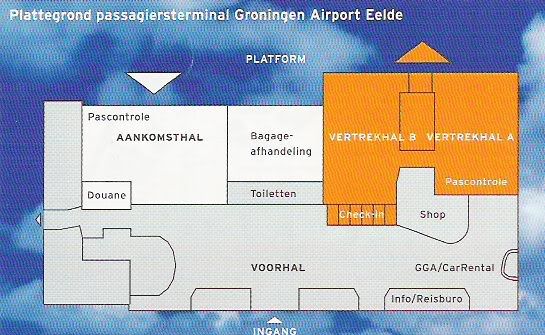 Terminal inside and check in area: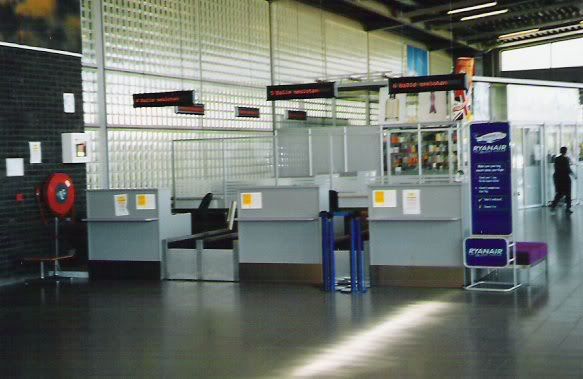 Here is a little explanation about the airport layout with pictures:
View Large
View Medium


Photo © Paul Stienstra
There are two short taxiways which connects the apron with 2 different runways. The one in the upper left corner leads to the 19 end of runway 01-19 and the one below right leads to the 23 end of runway 05-23. Both runways cross eachother at the 05 end and the 01 end. You can clearly see that in the picture below. So basically both runways together with the taxiways and the apron forms one big triangle. The runways are also used as taxiways.
Runway 01-19 is 1500m / 4922ft long. Runway 05-23 is 1800m / 5904ft long and equipped with ILS.
On short finals for runway 05:
View Large
View Medium


Photo © Paul Stienstra
When check in opened we were the first in line and I got what I wanted. Boarding pass # 1!! We decided to have a drink at the terrace outside the restaurant between the terminal building and the control tower. You can see the terrace also on one of the pictures above. It is the little area with the white wall with windows just left of the control tower. This terrace gave us an excellent view on the tarmac and the 2 runways. The a/c below were standing in front of our nose:
A citation with American registration and an all white Swedish registered Saab 2000:
We enjoyed watching the movements of small props landing on runway 05 until it was about time to go to the departure launch to go through security. We waited in one of the only 2 departure lounges this airport have. We could still watch the movements outside when we suddenly saw a quite bigger a/c on approach for runway 05. It appeared to be a 737. It was the FR flight coming in quite early. This was also the moment when preboarding was announced. Unfortunately my friends weren't aware of the premium boarding privilege our boarding passes gave us and weren't bothered by pushing forward.
We saw the a/c arriving at the ramp and parking in a position like the a/c in the pictures below. This way a/c can taxi right away and don't need a push back. I BTW handled that Dutchbird regularly at AMS. Unfortunately they are no more.
Here we saw the FR 737 arriving at the ramp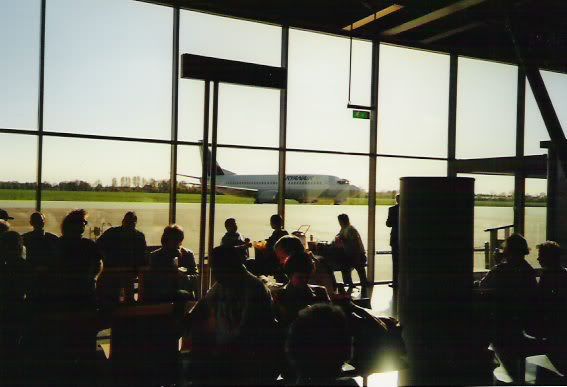 Same view, better pictures, other a/c:
View Large
View Medium


Photo © Martin Hulshoff
The deboarding/boarding procedure really amazed me. While the last passengers disembarked the a/c and were still walking on the tarmac, outbound passengers were already cleared for boarding. So we were allowed to walk to the FR 737-3Q8 with reg. G-BZZH. Obviously ex Buzz. It still had the Continental livery with only the Ryanair titles painted on it and only the Continental titles and logos removed. We entered the 737 from the back and found enough free window seats due to the low load factor. The whole interior was still in Buzz configuration.
Boarding the obvious ex Continental a/c: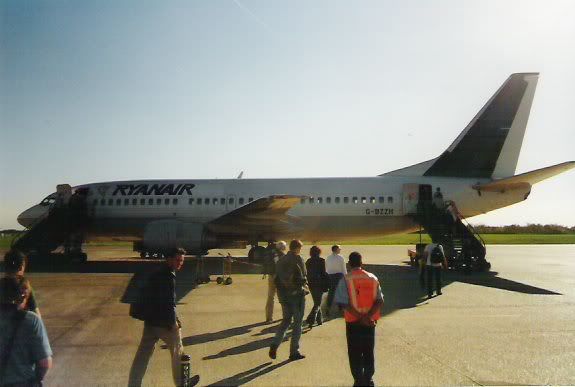 As soon as we boarded we occupied both emergency rows at the right side with the three of us. I noticed the a/c was quite dirty inside. I found food remains on the floor and the seats weren't that clean either. I guess you get where you pay for.
As soon as all 67 pax boarded, the a/c was ready for departure. Apparently when all pax are on board they don't wait for their departure slot. After a short taxi we lined up on runway 05 and a quick take off followed. The take off was one of the best I've had experienced. It was more like we were launched and I really enjoyed the steep climb and the sharp turn afterwards.
KLM Flight Academy seen from the a/c during taxi: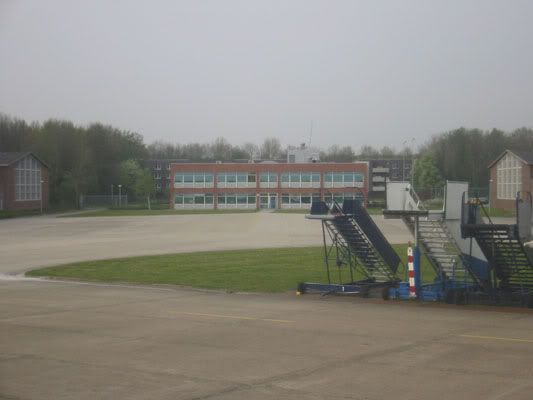 This very quick turn around still amazes me: a/c arrives at gate, pax disembark, pax board as soon as the last inbound pax walks away and the a/c is gone before you know it. I saw it landing at aprox. 1750 and we were already rolling on the runway at 1806 while the scheduled arrival time was 1800 and scheduled departure time was 1825.
After the sharp turn the FR 737 head west to STN. We kind of followed the path I drove to GRQ earlier that day so in a certain stage of our flight we were flying above the region I live. One of us made the picture below. You can clearly see the contours of the northern part of the province of Noord-Holland and the Wadden Islands (?Frisian Islands?) in the the distance. My town is right under the only cloud in the clear sky. Isn't that funny?
.
Flying over my region: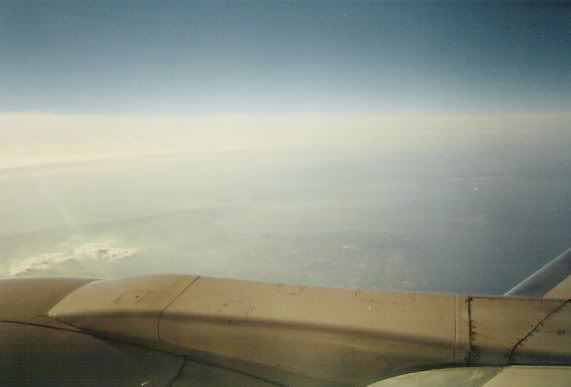 We enjoyed ourselfs very much during the flight. I noticed the front rows were empty and thought that would give us a better sight without the wing blocking our view. But we weren't allowed to move into this seats because of weight and balance issues. However the cabin crew kindly allowed us to make pictures from the front rows. After we crossed the North Sea we were descending already into STN. After a few twists and turns we landed on runway 23 with quite a fast break. We felt we were pushed forward because of that. Nice
From our position we could look right into the engine when trust reverse was applied. Nice flight especially for Randy who flew for the first time.
We landed at 1800 local time, 30 minutes early. That was good because we needed some time to get in downtown London.
Nice flight but I didn't like crushing peaces of cookies previous pax had left on the floor with my feet and the overall impression I had of the cabin crew was they were a bit grumpy. Like they didn't enjoy their job at all. Although one of the f/a's gave me information about passenger loads and capacity but he gave me the feeling I was really bothering him with my question.
Anyways we were the last to deboard the a/c via the stairs and wanted to make photo's of "our" 737 while we were outside but were friendly told that it isn't allowed to. However we were allowed to make pictures from the terminal from behind the dirty glass and a pile blocking the view. Here it is: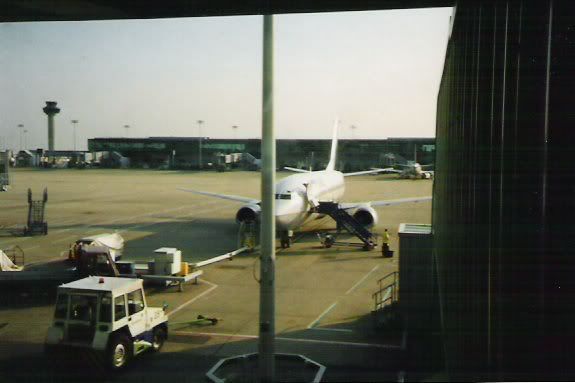 We proceeded to the transit train in order to get to the main terminal building. Here are some pics: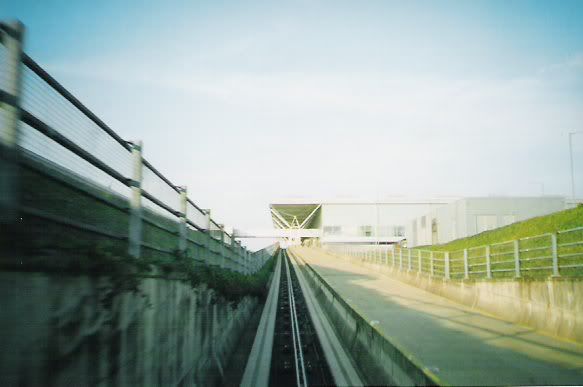 Arriving at the main terminal building.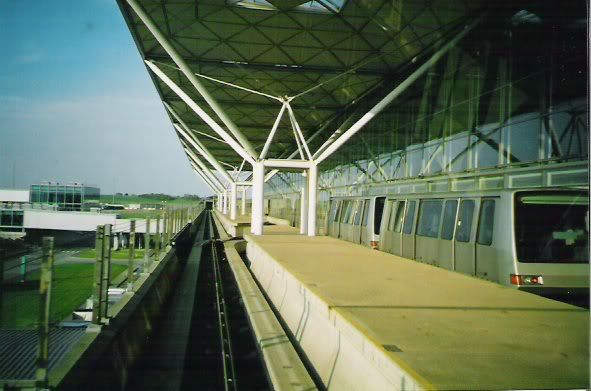 As soon as we went through customs we took a coach to Victoria station. When we found a place for the night there was plenty of time left to go out and see London by night. Got up early next morning so we could see more of London before we head back to STN at about noon. Now here is the weird part. When I was looking at the citymap at Leicester Square suddenly 2 familiar faces were standing before me. 2 other a.nutters: Trekster and MYT332. What are the odds!!
I met them earlier that month at the LHR meet. What a coincidence to bump into them in such a big city with millions of other people while they like me don't even life in London.
After this weird but nice occurrence we walked around a bit then it was time to go back to STN.
April 25, 2004
STN-GRQ
737-3Q8 G-BZZF
Scheduled departure time: 1555
Scheduled arrival time: 1800
Pax on board: almost full
This bird took us back to the Netherlands. It is now Flying for Bmi baby.
Checked in, went through passport controls, wandered around the shopping area and took the transit train to the international pier. When we arrived our a/c was already sitting at the gate. It was another ex Buzz 737. Was FR only using ex Buzz a/c on their flights to GRQ? Here is a picture: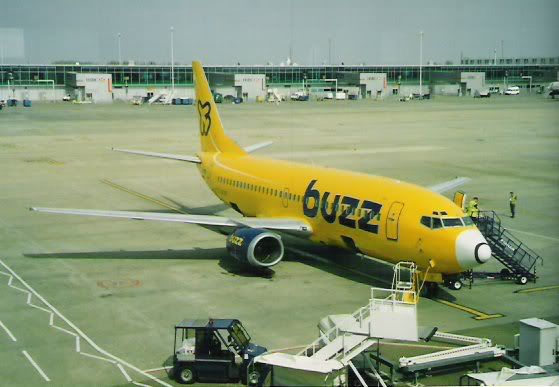 Apparently FR didn't bother taking of at least the Buzz titles like they did with the continental titles of G-BZZH.
Anyways, it wasn't yet boarding time so we proceeded to the end of the pier to watch the movements at the runway and sat down to rest a bit.
Boarding was announced and at this point I really felt ashamed as neither of my fellow countrymen had the patience to wait for the premium boarding to be finished. We managed to get through the scramble though and boarded the a/c via stairs. Despite the flight was jam packed all three of us got ourselves a window seat.
On time departure and an uneventful flight all the way. When the Dutch coast was reached the a/c began her descent into GRQ and after a lot of twists and turns and eventualy a touchdown, again a fast break followed on runway 23.
When the FR737 arrived at the gate I was planning to wait as usual until everyone deboarded the a/c. But then I saw a little wallet containing an ID, creditcards and an oyster card in the seat next to me. I quickly jumped out of my seat and told the F/A in the back that I found a wallet. I tried to ask whether I should take it with me in order to make sure the owner would get his wallet back or leave it there with her, but before I could finish my sentence she ripped it out of my hands and shouted: "Well, thank you then!!". In a split second I felt an enormous anger coming up so I rushed outside.
Now I was standing on top of the stairs I stepped aside and thought this would be a good moment to make a picture. There was space enough to let other pax through so why not. Now the same F/A came to me and shouted me that I wasn't allowed to make pictures. What a bullshit!! The BAA doesn't rule here! This is Holland, we have other regulations. Needless to say she didn't quite make me happy... again! So before I would say or do things I will regret I walked down the stairs onto the tarmac and made this picture there: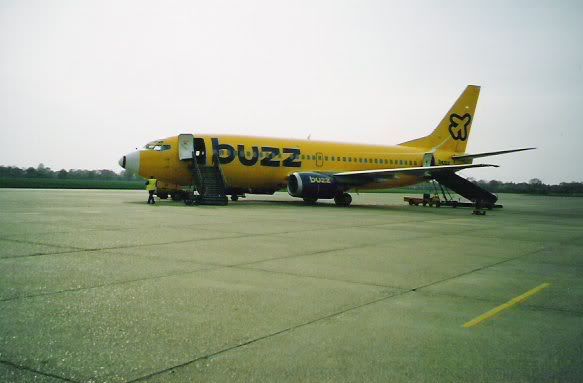 Now I was standing in the row for passport control outside. The customs where just around the corner of the entrance and as soon as you get through customs you are standing next to the (only) baggage belt behind them. Imagine how small this airport is. Well, we only had hand luggage so we were standing outside in a minute. We picked up the car and went to the treshold of runway 23 to watch 'our' yellow 737 taking off and then drove back to the civilized world.
So far my trip report about my first time, and until now the only time, with FR. And the impression I have so far about them isn't too good, mainly due to the crew, especially when I compare them with EZY. But this may not be a fair comparison considering the fact I have flown numerous times with EZY and only had good experiences with them, so my expectations could have been too high. Besides it could very well be possible these were their last flights of the day and they were just tired out, although I've had late flights with EZY too.
Maybe I should try FR again... or maybe not.
Only problem is; I have to drive ours to reach a Ryan Air airport while AMS is just a 45 min. drive for me