London Gatwick, SOuth Terminal (LGW) - Sharm el Shiekh, International Terminal (SSH)
Flight: BY770A
operator: Britannia
Aircraft: Boeing 767-300ER
Reg: G-OBYE
Titles: ThomsonFly.com
Seat: 07G
Boarding Time: 09:45
Scheduled Depature Time: 10:45
Actual Departure Time: 11:05
Scheduled Arrival Time: 17:10
Actual Arrival Time: 16:55
View Large
View Medium


Photo © Bjorn van der Velpen
Check-in & Departure:
We arrived at Gatwick's south terminal at 7AM, we made our way to check-in, the flight was not open yet. Many passengers were puzzled as to what desk the SSH flight would check in at. After 15mins the flight opened and we were 2nd in line for the flight! We asked for right hand side seats as Horus advised (thanks for that)! Once we had checked in we went through immigration and into the Departure area. There were many shops in the South Terminal, and all were very busy! Whilst shopping we saw Gary Linkear in WhSmiths
! We then went up to the viewing area near the pub upstairs. The viewing area provided good views across the runway and the terminals. Gatwick was very busy at this time and we saw many heavies including VS 744's and 343's, BA, AA, CO & DL 777's and US 333's! The flight was annouced soon after and we made our way to the gate. The aircraft was located next to 2 CO T7's! We walked strait onto the plane and took our seats in the front cabin. We were very pleased with how quick boarding was. After having a little trouble with the ground handling staff (apparently the belts broke) the aircraft pushed back and headed to runway 8L. We were 3rd in line after an Excel Airways 738, BA 735 and Etihad 343, we made our way onto the runway and had a very smooth takeoff to the London skies.
In-flight:
We departed just 20 mins late and soon made up time. The flight was very comfortable, even though the seats were very cramped, but I expected this from a charter airline. The cabin crew were very polite and helpful.
Landing:
The pilot annouced landing into SSH and then the crew made their final checks for landing.We approached over Na'ama bay and we had excellent views of the beach and the Bay, many thanks to horus for recommending these seats! The landing was very smooth. We then made our way to the stand, we passed Eurofly A320's, Egypt Air A321's and an Air Cairo A321. We parked next to a BY 752 that was about to depart to MAN, the reg was G-BYAE! We walked of the aicraft through the row 15 left door, the aircraft was facing towards the terminal Billings. We took the buses to the terminal and made our way to Immigration.
Arrival:
Immigration was very slow and their was only 4 desks open, not a good idea when you've got 2 LGW flights coming in 15mins apart, along with other flights. After a 1h 40m que we collected our luggage and drove to the Marriott Hotel, Na'ama bay.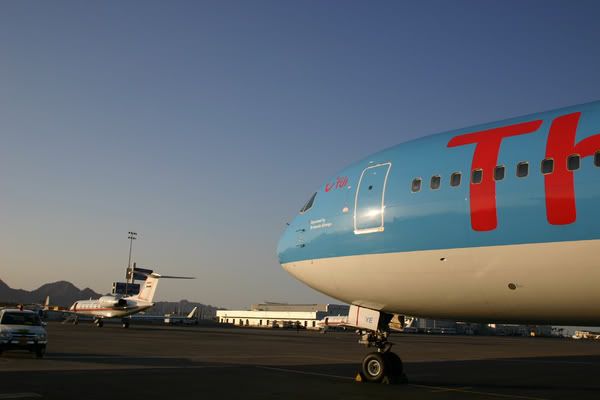 -----------------------------------
Flight: BY770B
Operater: Britannia
Aircraft: Boeing 767-300ER
Reg: G-OBYB "Sir Bobby Moore"
Titles: Thomson.co.uk
Seat: 42G
Boarding Time: 17:40
Scheduled Depature Time: 18:10
Actual Departure Time: 18:35
Scheduled Arrival Time: 22:35
Actual Arrival Time: 22:30
View Large
View Medium


Photo © James Gauci
Check-in & Departure:
We were picked up from our hotel at 3:30 and made our way to SSH airport. We got of the coach, collected our luggage and made our way to check-in via the AirMall (What is the point in the AirMall?). The Ramp looked very busy, with IL-86's, TU-154's, A321's, A320's, 757's and TU-204's. Check in for LGW was very disorganized as people were queuing outside. They were trying to check-in people to 2xLGW,2xMAN,DME,PRG,MXP... all at the same time, baring in mind the check-in hall is tiny. We finally checked in and again got in another queue for immigration. Immigration wasn't as slow as the outbound flight and we eventually arrived in the departure hall. The hall was very cramped as many people were packed in there. There was 1 duty free shop, a pizza shop, and many small shops including a jewelry store in the hall. The flight was soon called for boarding, even before the aircraft had arrived. The aircraft (G-OBYB) arrived from LGW and prepared for the return flight to LGW. We shortly boarded through the rear left door. The aircraft departure shortly after the safety video was shown. Sharm el Shiekh was very hazy and the sun was starting to fall. We sat back and enjoyed the takeoff towards the north. I loved the takeoff, and was my most powerful 767 take-off I've ever had!
In-flight:
Shortly after take-off we made a sharp turn to the right to avoid the mountains. We flew towards Cairo then we flew onto Crete,Athens,Geneva, Paris and eventually London.
Landing:
We approached onto runway 8L and landed 5mins early. The landing was very bumpy and hard, but I enjoyed it. We turned back to the south terminal passing a Phuket Air 743 (Why was this there at 22:30?). An BA A319 landed after us and cut in front of us as we taxied to the gate. We arrived at the gate and deplaned the aircraft.
Arrival:
After one last look at G-OBYB we walked towards immigration, passing EZY A319's an TAP A320 and 2 BY 767's and 757's. Immigration was very quick and we then made our way up to the baggage belts. The flight had not shown up on the screens yet, so we sat patient and waited with another 300 passengers for our luggage. Many people were going up to the Servisair counter and asking them what was taking so long, they just replied "we are sorry for any inconvenience but our staff are currently busy servicing other aircraft...!" After a long wait we collected our luggage and walked towards the bus stops.
My ratings:
London Gatwick Airport: **** Very pleased with how quick we went through LGW!
Sharm el Shiekh Airport: * Only liked the ramp, other then that extremely poor and disorganized!
Britannia Service: **** Excellent flight, and BY didn't have one fault (except poor charter seats)
London Gatwick Immigration: *** Not to slow but still not fast enough for me!
Sharm el Sheikh Immirgation: What a joke, extremely slow and very, very disorganized!
London Gatwick Ground handling (Servisair): * Very poor and disappointing, also poor attitudes!
Sharm el Sheikh Ground handling: *** Quite quick, but not much care for peoples luggage.
Aircraft: ***** 5 Stars for me, I love the 767!
Pilot and Co Pilot: ***** Again 5 stars, they kept us very well updated and made an excelltent landing.
Spotting at Gatwick:
The previous day to our flight we went to crash gate at LGW and took some photos (well around 200
). For those of you that don't know what crash gate is; its a safety gate at the end of runways 8/start of runway 26! It provides good spotting for A/C landing, taxing and taking off. Landings were on runway 8R on the day I did spotting, which was a real bonus! I saw aircraft such as: 767's from BY & Holland Excel, A321's, A319's and 737's from BA, 757's from BY,First Choice,Flyjet... and many more. The highlight was seeing to A330-200's landing right over my head, one from Monarch and one from Emirates. My advice is you go to Crash gate in the morning when the heavies all arrive and depart.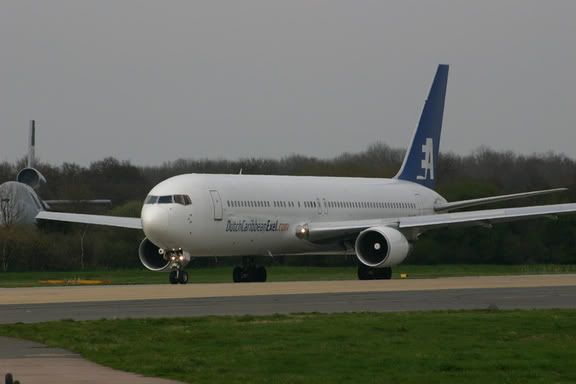 Spotting at Sharm el Sheikh:
When arriving in Sharm el Sheikh try and pre-book right hand side seats as you approach over Na'ama bay; the major resort in Sharm el Sheikh. When we landed on the runway at SSH we saw IL-86's, A321's, TU-204's and many other aircraft on the ramp. When departing the aircraft you see a lot of the aircraft on the ramp, this is a good time to take some photos. Next to us was a BY 752 from MAN and a IL-86 from DME. There was also Egypt air and Air Cairo aicraft on the stand next to us. In front of our aircraft was two Egyptian GUlfstreams that were both being guarded by Egyptian officals. When in the terminal building spotting isnt so good, you have very limited views, except when being in the departure area. You can also try walking up to the perimeter fence and taking some photos. In Na'ama bay, where the majority of the hotels are you can get a good view of aircraft approaching SSH. over the Marriot Mountain resort is where the flightpath is, you can get excellent views on the hill behind the stage, near to the pool (mountain hotel). You can also get good views from the beach and also from the Sofitel hotel, but you can just about see arriving aircraft all over Na'ama bay. My advice is you have a good zoom on your camera to get close ups on the aircraft. At SSH you can catch aircraft such as, IL-86's, TU-204's, TU-154's, A321's, A320's, 737's, 757's, A330's, A300's, A340's, 777's (Sometimes), 747's, 767's, A310's and more. SSH is a spotters paradise, I highly recommend it.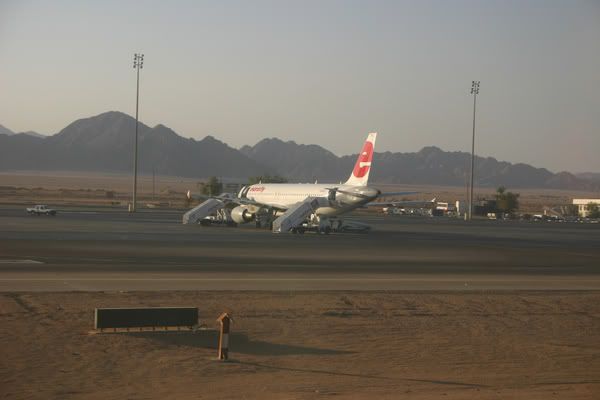 Hope you enjoyed it, it was my first time writing a trip report!
Thanks,
Rob!